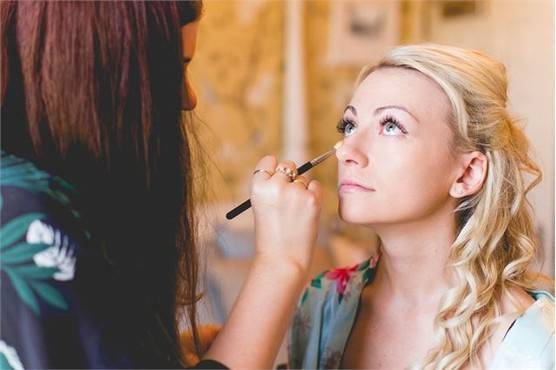 Get ready to look ravishing on your wedding day with these amazing hair and beauty hacks – they're especially useful if you're planning on doing your own wedding makeup.
Avoid Breakouts with Clean Brushes
Wash your makeup brushes once a week to help prevent breakouts. Wash them with antibacterial soap once a week and swill thoroughly before allowing them to air dry.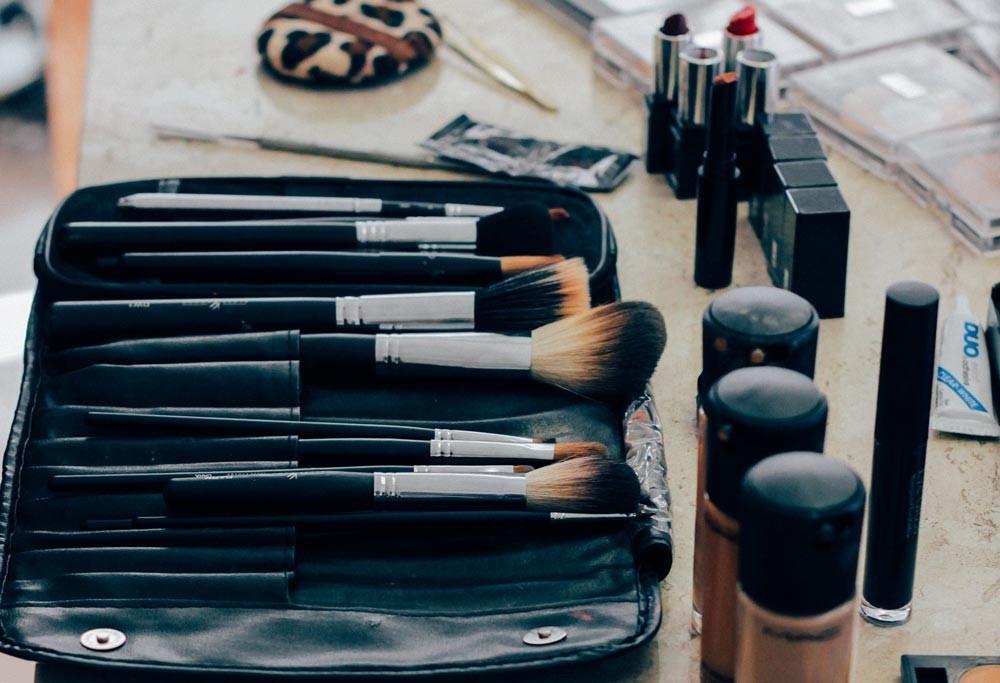 Perfect Your Smoky Eye
If you want to rock a dramatic smoky eye on your wedding day, practise getting it perfect beforehand. Place under-eye treatment patches below your eye when you apply your makeup – it'll catch any stray makeup and will refresh your eyes.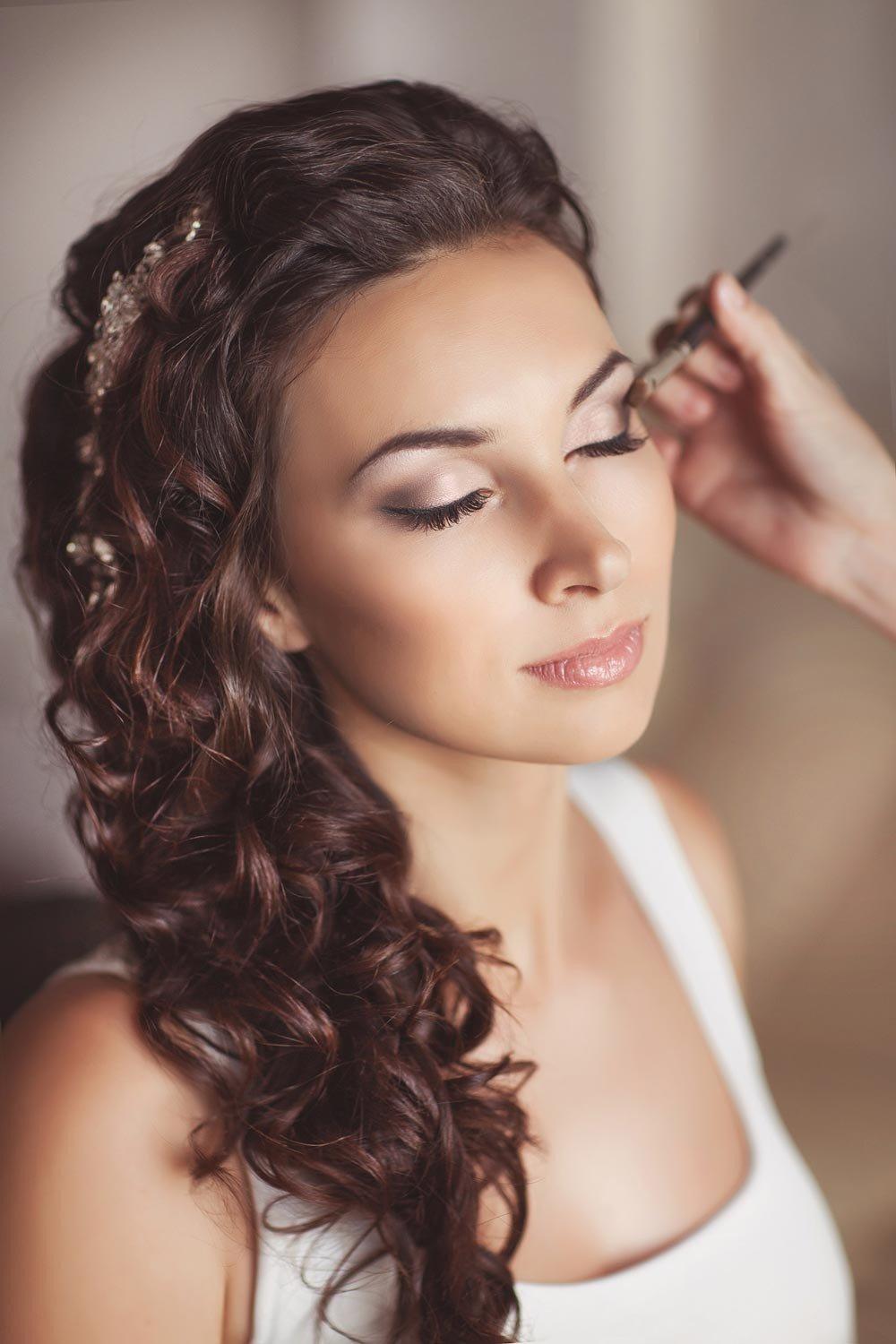 Nail That Eyeliner Flick
Love a dramatic cats-eye eyeliner flick? Get it perfect every time by apply a little scotch tape to the outer corner of your eye before you draw it on. When you peel the tape off you'll have an immaculate flick.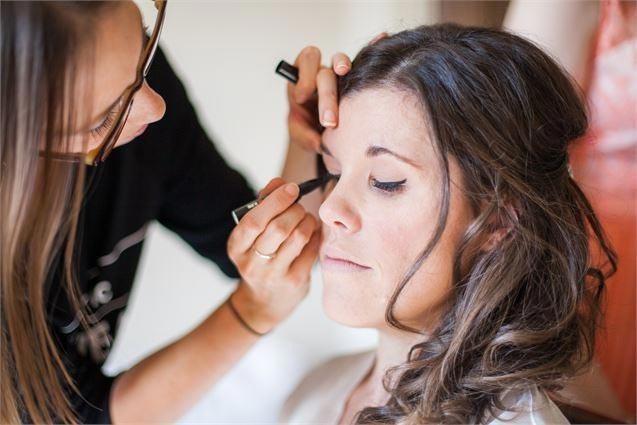 Image credit: Hayley Rose Photography
Get a Rosy Glow
The blushing bride look is makeup goals right, but the red-faced bride is not. Apply your blusher to the apples of your cheeks and then add a drop of powder or liquid foundation over it to blend it in – it'll give you a natural rosy glow.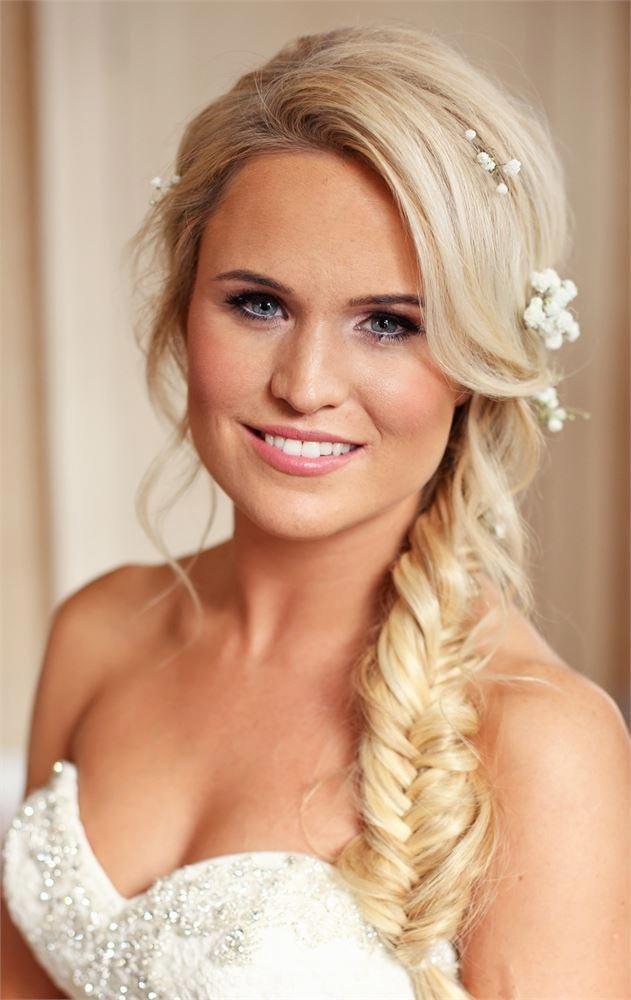 Image credit: Kristina Gasperas Makeup Artist Ltd
Banish Eye Bags
Are your unreasonable wedding worries keeping you up at night? A dap of haemorrhoid cream under your eyes can tighten up the skin and reduce puffiness. Only use a small amount though and be careful not to get it into your eyes. Don't too this too often though, as it can be drying.
If you don't fancy that, apply a cold green tea bag under each eye for five minutes or so.
Condition Your Lashes
Coat your eyelashes in Vaseline each night before sleeping. It'll have them feeling silky and glossy, and your mascara will just glide on the next day.
Thicken Them Up
If you'd rather go thicker than longer looking, add a gentle dusting of baby powder to your lashes with a cotton bud in between mascara applications. It'll give you thick lashes perfect for batting at your other half.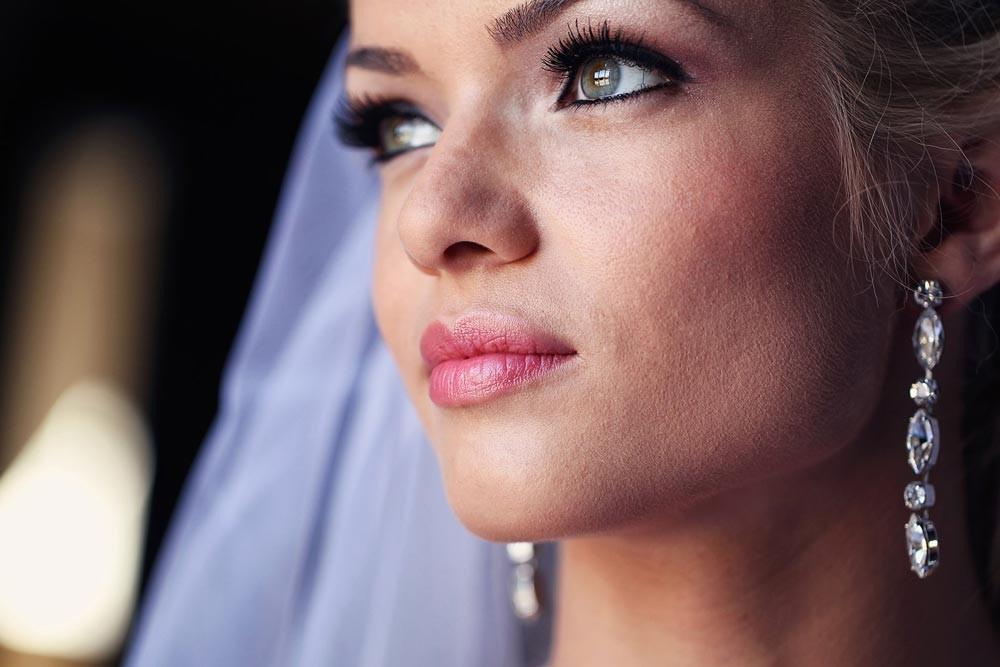 Make Your Mascara Last
Got a favourite mascara that's running low? Add a couple of drops of saline solution (what contact lenses come in) to the tube and gently warm it with a hairdryer for about half a minute – it'll loosen up the mixture.
If you're on the hunt for a wedding mascara, make sure you read about the time the Hitched team got super emotional to put waterproof mascaras to the test.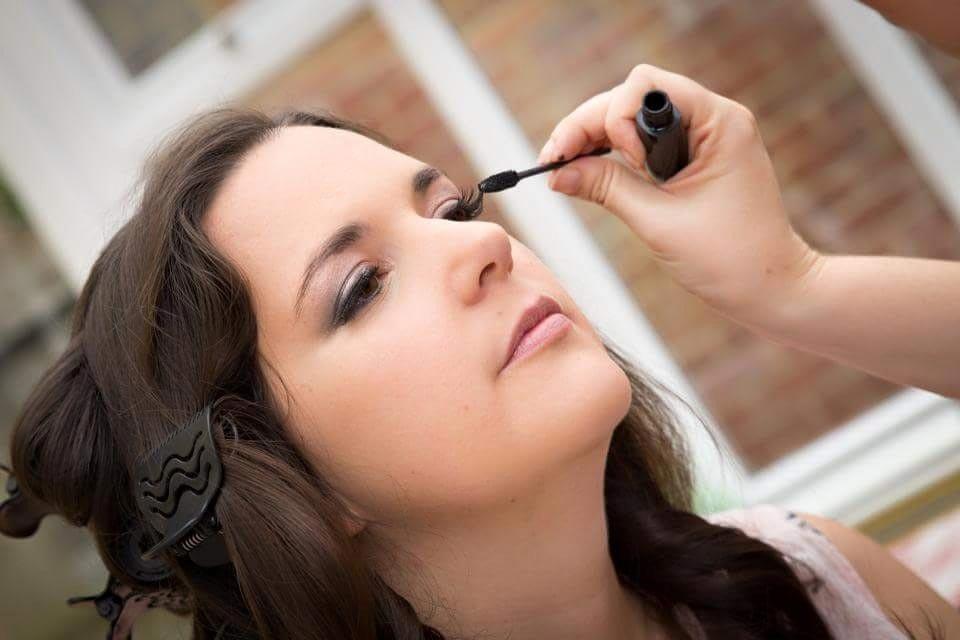 Image credit: LK Makeup Artistry
Keep Your Hair in Place
No matter how simple of a wedding hairstyle you're planning, you want to keep it in place all day. An easy way to make sure your hair stays where you need it to is to spritz your hair grips with hairspray before fixing them into your 'do.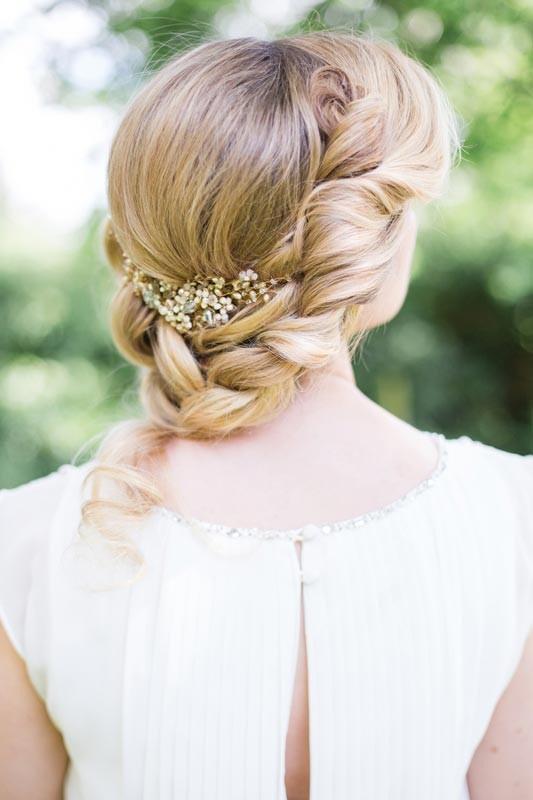 Image credit: The Bridal Stylists
Get More Wear Out of Your Lashes
Love a glamorous pair of false eyelashes? Us too. Keep them in good condition by steaming them off your face, not just pulling them off. Hold your face over a bowl of hot water and gently ease them off.
Avoid Stained Nails
Experimenting with wedding nail art? Whatever design you decide on, make sure your nails and fingertips don't get stained from all the different colours by applying cuticle oil around your nails before removing your varnish. It will stop the colour transferring to your skin.
Ready, Set
Set your nail art super quickly by plunging your fingers into a bowl of icy cold water. It'll help you avoid smudges as the iced water will set your nails in no time.
Make Your Eye Shadow Last
Ever looked in the mirror in the middle of the afternoon and thought 'I'm sure I applied way more eye shadow than this today?' Make sure your eye shadow stays in place for longer by colouring in your lid with an eye pencil in a matching colour before putting the shadow on top.
Put Kim K's Contour to Shame
We could study Kim K's face endlessly (and if you fancy it yourself, check out the 27 stages of wedding planning in Kim Kardashian gifs, it's hilarious – we promise) because of her flawless contouring. What if we told you contouring for your wedding could be just as simple? Switch your bronzer for a nude toned blusher. It's less orange-y, which creates a more realistic looking shape on your face.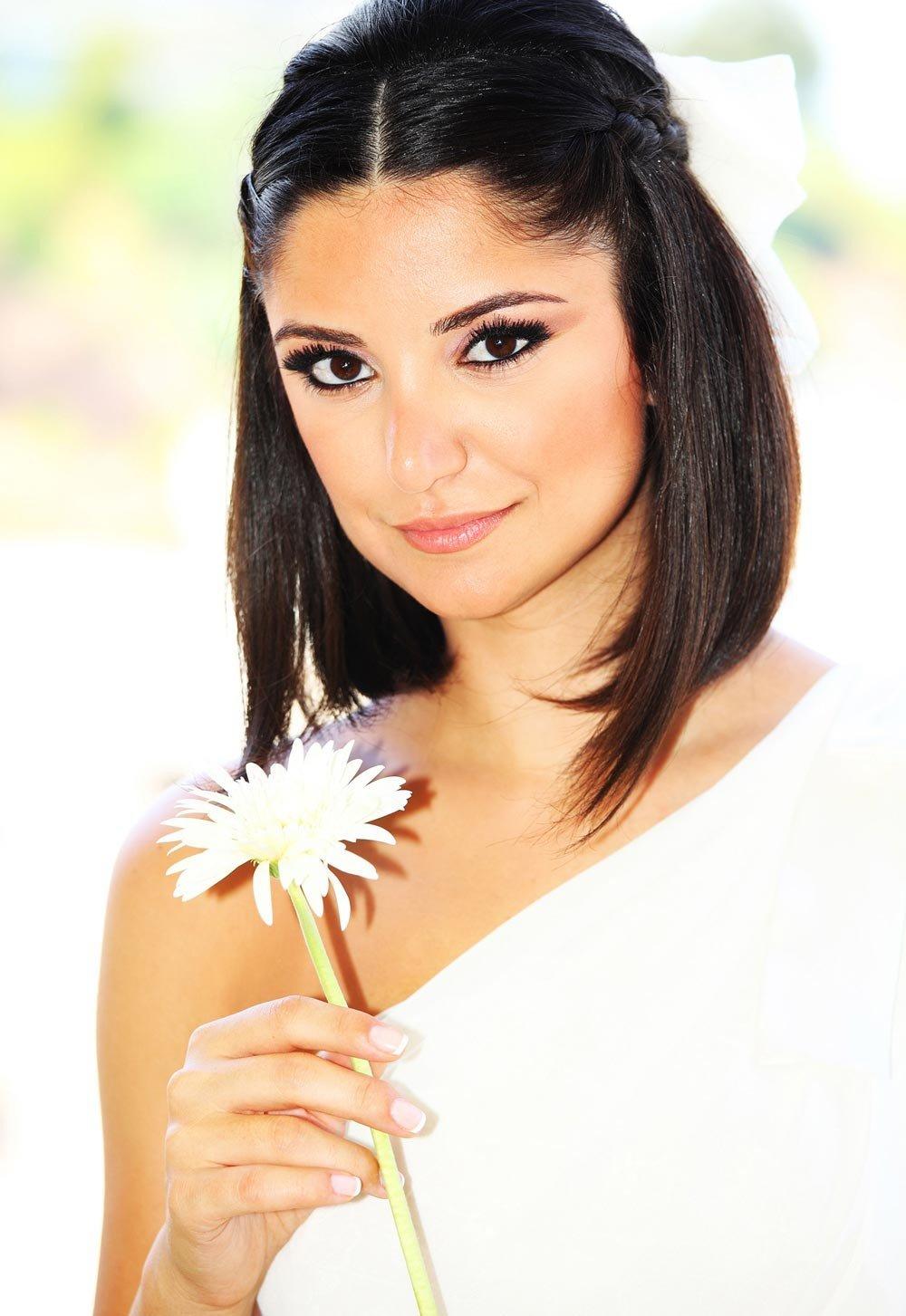 How to Highlight
Talking of contouring, are you baffled as to where you highlight? Lightly draw a backwards number three on your face with your highlighter – start above your eyebrow, bringing it around the inside of your eye and up along the top of your cheek bone, before finishing it in the hollow of your cheek.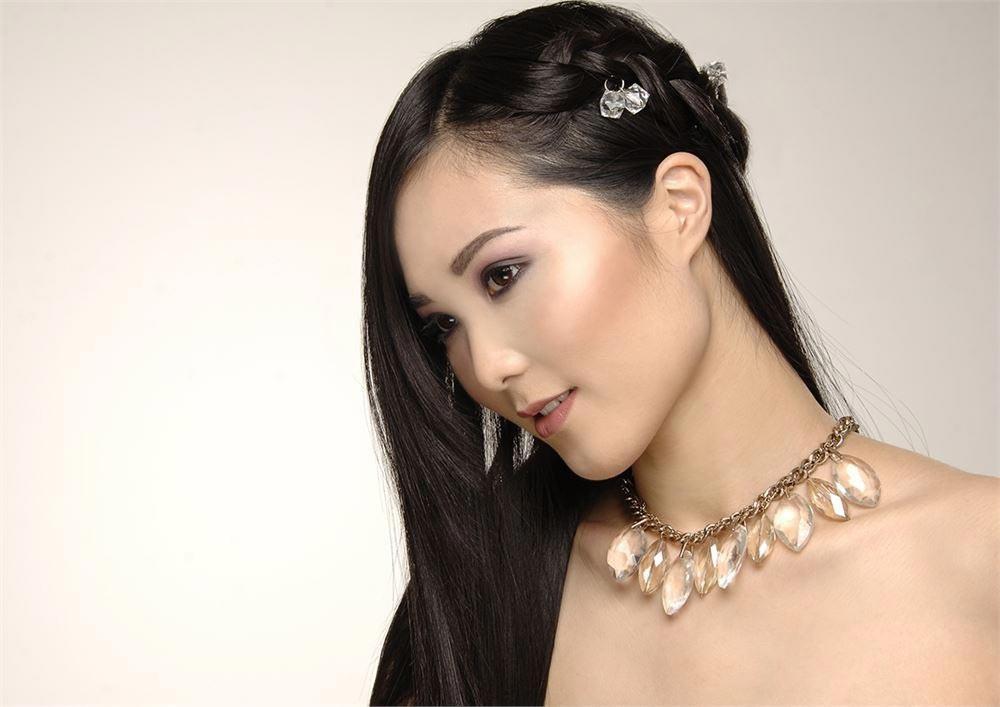 Image credit: Hayley De Beers
Bronzer Basics
Once you've done your inverted '3' in highlighter, do it the other way in bronzer – essentially the highlighter and bronzer should almost form an '8' shape on your face. Then blend, blend, blend.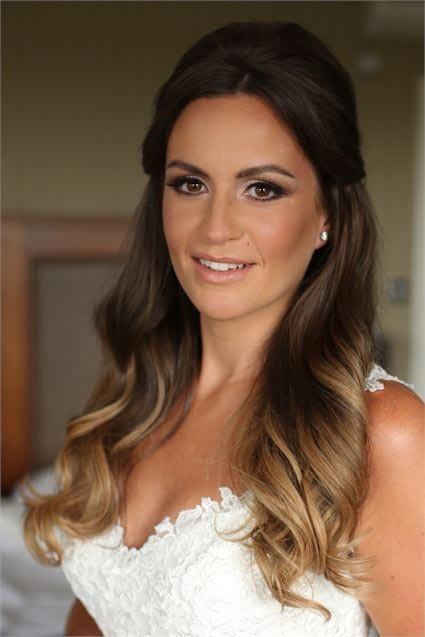 Image credit: Kristina Gasperas Makeup Artist Ltd
Plump Your Pout
You can give your lips a boost by dabbing on a little eye cream. Look for eye creams made with hyaluronic acid as they will plump up your lips and help to minimise fine lines.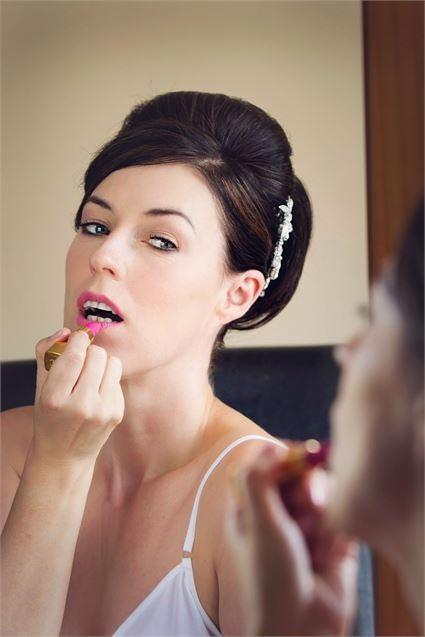 Image credit: Siobhan H Photography
Minty Fresh
If you don't fancy putting eye cream on your lips, add a drop or two of peppermint oil to your lip gloss. It'll make your mouth smell minty-fresh and will give your pout a boost.
Tone Down Your Lippy
Love your favourite lipstick but worried it's too bold for your wedding day? Make your own lip tint version of it! Find an eye shadow in a similar shade and scrape a little off – mix it with Vaseline and you have a DIY lip tint.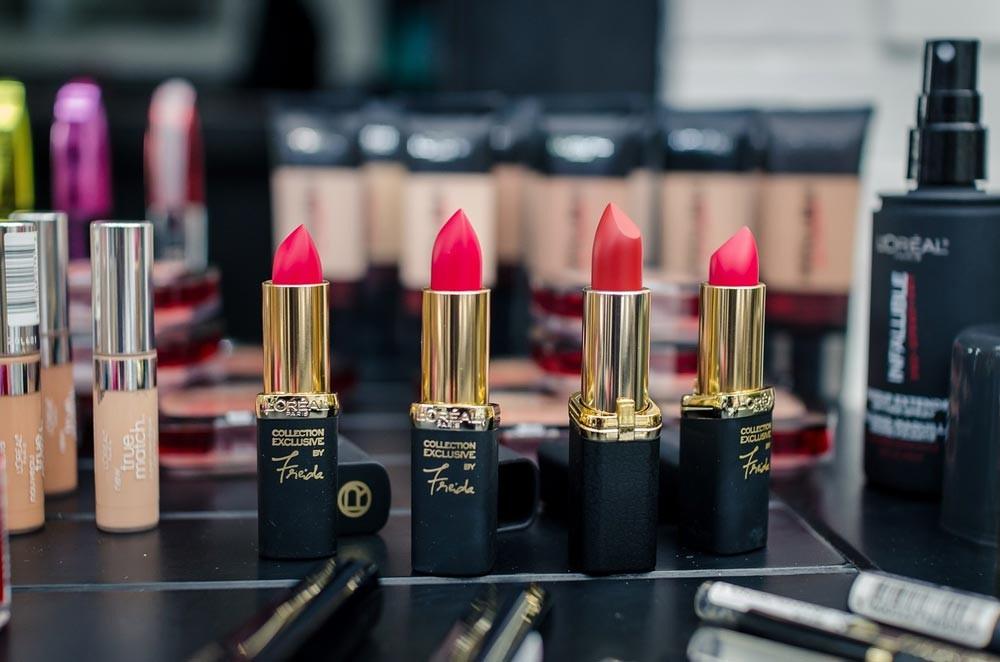 Super Smooth Eyeliner
If you want your eyeliner pencil to glide on, warm it up before applying. You can use a hairdryer, but to avoid melting it, just tuck it into your bra as you're getting ready until you need to use it.
Two for One
You can also line your upper lashes as you curl them. Run your eyeliner across the edge of your eyelash curler before clamping over your lashes. If you warm the lash curler gently beforehand the curl will hold even better.
Avoid Mascara Marks
Is your pet hate getting spots of mascara on your eyelid after you've applied it? Avoid this by holding a credit card over your eyelid as you apply your mascara.
Green Skin Hides Spots
Yes, really. Use green toned concealer over any spots – the contrasting colour will completely mask any redness.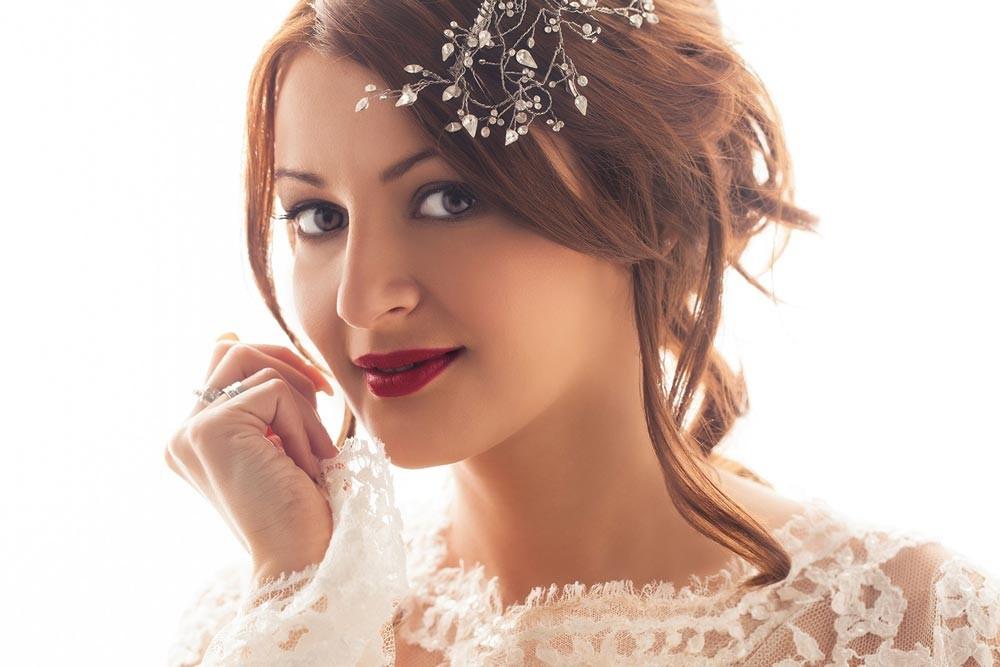 Work from the Inside Out
When it comes to applying foundation, start at the centre of your face and blend it out. If you go from the edges in you'll get that tell-tale foundation line.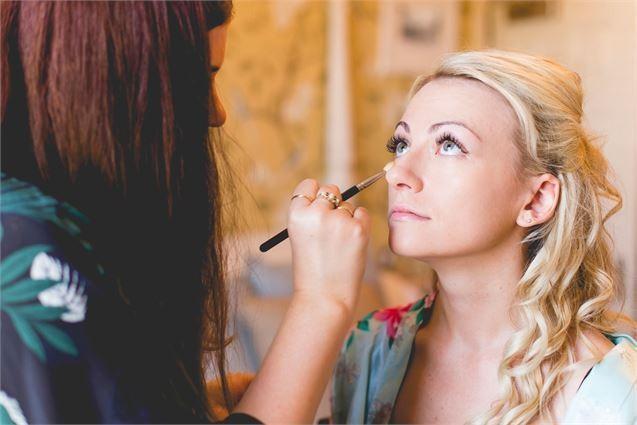 Image credit: ELS Design – Creative Wedding Photography
Make Your Eyes Look Bigger
Dab a light coloured eye shadow into the inner corners of your eyes, and line the rim of your eye with a white eyeliner to make your eyes look even bigger.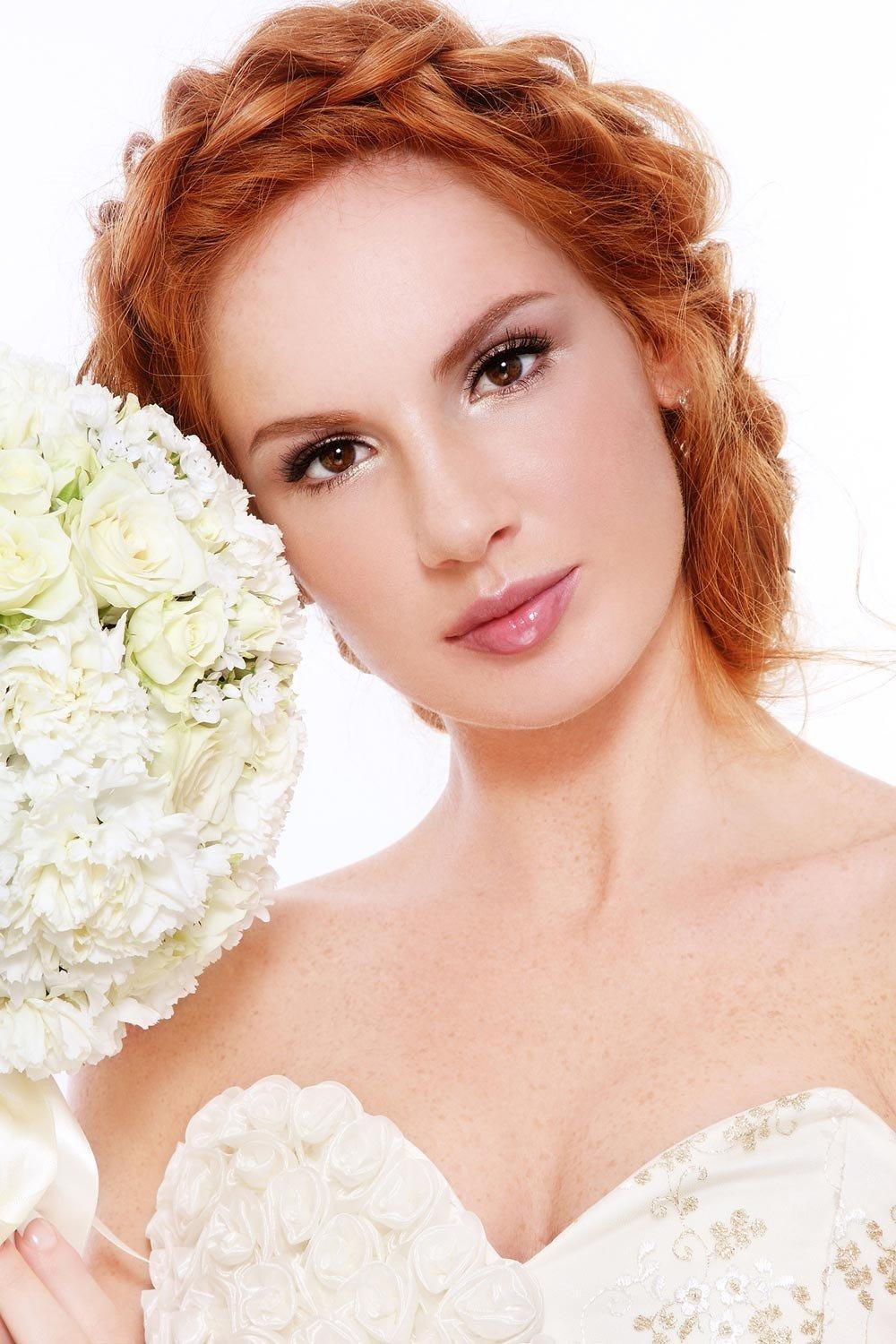 Consider a Makeup Sealer
This is especially useful if you are doing your own wedding makeup. Invest in a makeup sealer to hold your makeup in place all day. In a pinch, a spritz of hairspray across your face will help to set your makeup, but hold it a safe distance away and do not breathe in!
Lip Liner Your Way to Fuller Lips
If you haven't already got a lip liner that matches your natural lip colour, get one now. Lining the edges of your lips and colouring them in with the liner will give the impression of a plump pout. Blend in a shade lighter in the centre of your lips and they'll look even fuller.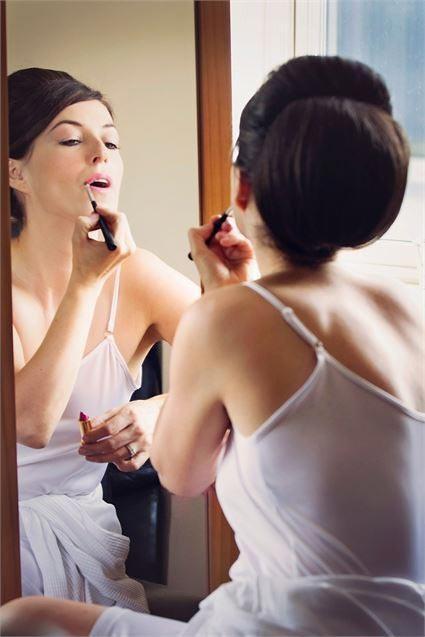 Image credit: Siobhan H Photography
Cross Your Cupid's Bow
This is useful for lip-lining novices. Draw a small cross in the centre of your lips, in line with your cupid's bow. This will help you shape your lips and apply your lipstick accordingly.
Make Your Perfume Last All Day
Apply your perfume in the right places and it'll last all day long. Spritz it in your hair, behind your ears, on the inside of your elbows and down your back. You can even add it behind your knees, if you want to smell nice to dogs too.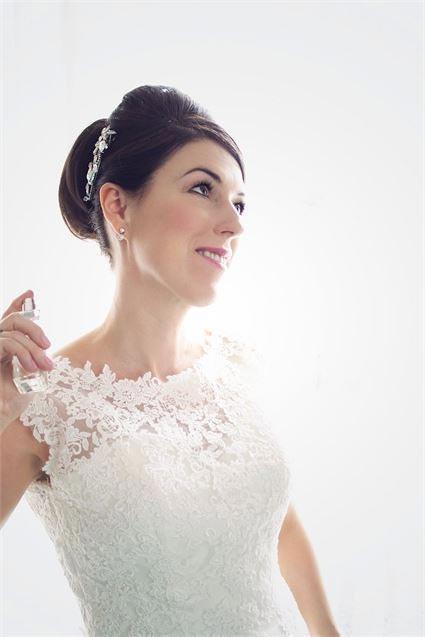 Image credit: Siobhan H Photography
Conceal, Don't Feel
Sorry if that header just got a Disney song in your head…but we digress. When you're applying your under-eye concealer, rather than go in a half moon under your eye, aim for an upside down triangle. It'll brighten up your whole eye area.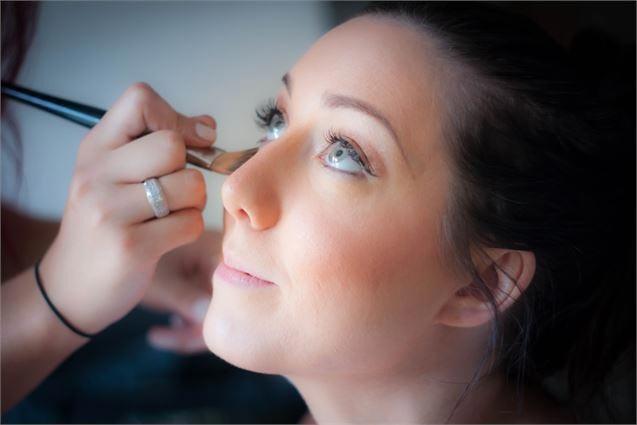 Image credit: Peanut Studios Photography
Moisturise in Your Sleep
Make sure your hands and feet are at their beautiful best for your big day – apply moisturiser before you sleep and then wear cotton gloves and socks to lock the moisture in. Make sure you always wear gloves when washing up too to make sure your hands look gorgeous in your wedding snaps.
Read our guide to matching your nail polish to your bouquet to make even more of your hands on your wedding day.
Even Out Your Hairline
If you're considering a wedding up do, but are worried about your hairline, you can always even it out with a little brow powder and a makeup brush. This also works along your parting to make your hair appear thicker.
Bye Bye Fly Aways
Smooth over your hair do with a little hairspray on a soft toothbrush – it'll smooth down fly away hairs without leaving your hair stiff or looking like it's been overly sprayed.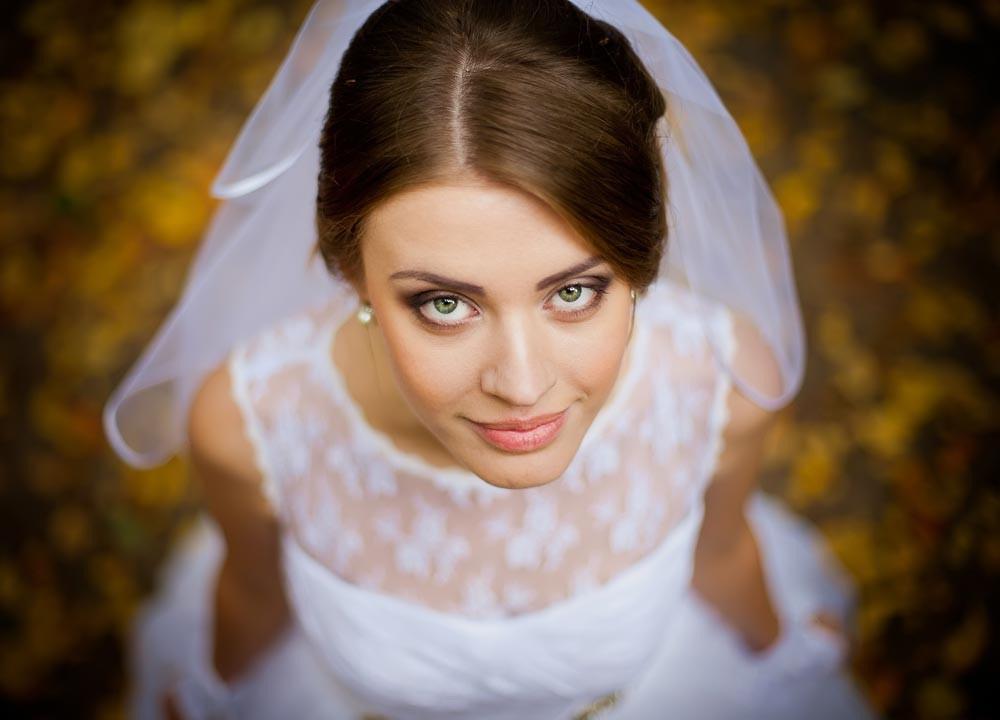 Use Dry Shampoo Wisely
What did we actually do before dry shampoo? Apply your dry shampoo the night before so your locks have time to absorb it overnight. It also helps to add texture to your hair, making it easier to style.
Be Kind to Your Hair
You want your hair to be in perfect condition for your wedding, so treat it well. Stop roughly towel-drying it and instead wrap your hair in a soft cotton T-shirt after washing it. It'll absorb all the excess moisture and reduce breakages.
Banish Excess Oil
If you suffer from oily skin, we feel from you. Keep blotting wipes handy to freshen up your face throughout the day, but if you need some in a pinch, a toilet seat cover (unused, need we mention?) will do the trick.
Join the Dots
If you suck at drawing on a flawless liquid liner line – and it's hard to do – simply apply dots of liner across your lash line and work slowly on joining the dots. Practise makes perfect!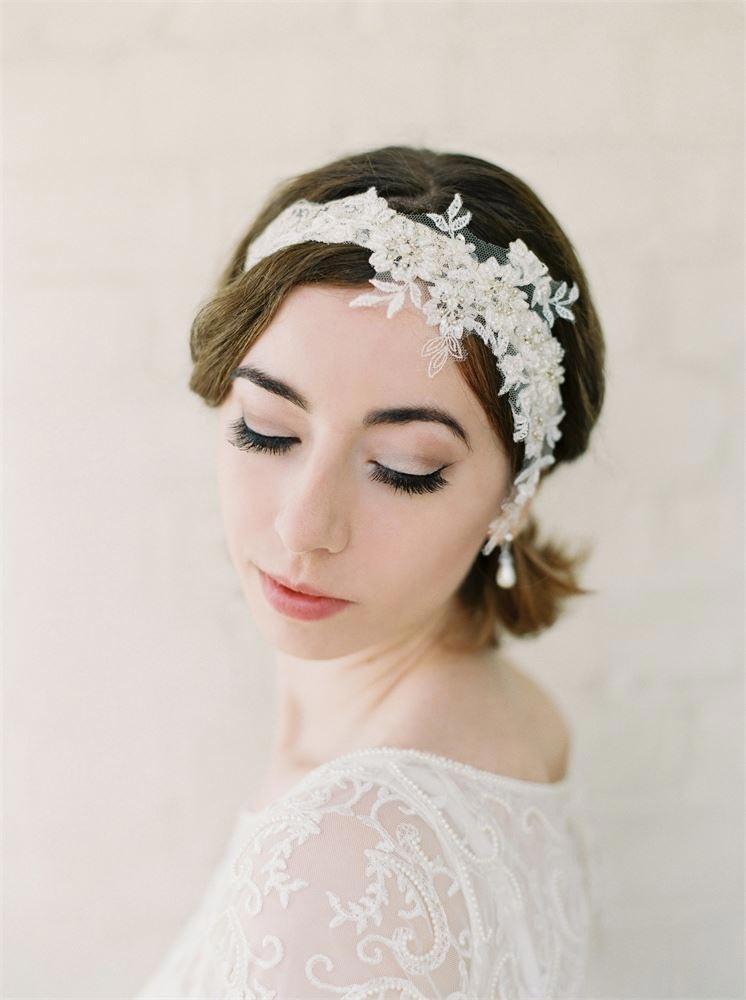 Avoid In-Grown Hairs
This hack is perfect if you've just snapped up the sexiest bridal bikini for your honeymoon. After shaving your bikini line, run over it with an unscented stick deodorant – this will minimise the chance of any painful in-grown hairs.
Hashtag It
If you struggle with blending your eye shadow, draw a hashtag on the outer corner your eyelid with an eye pencil and blend it in with your finger. The more you smudge it out, the smokier it will look.
Once you've hacked your way to a new bridal beauty regime, why not read our grooming tips for the groom to help your other half along too?