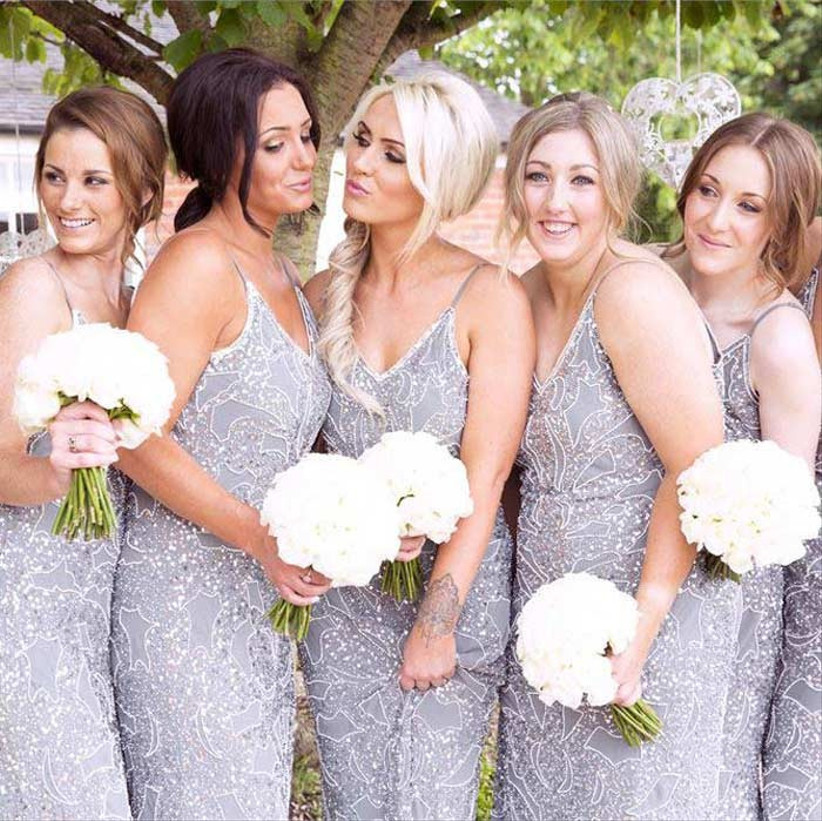 There's lots of reasons why the ever popular updo would be a great hairstyle for your bridesmaids – it's versatile, it's pretty and it's the perfect do for an occasion as special as a wedding. And if you've got killer bridesmaid dresses on, you'll want to show them off in all their glory too!
But there's so much more to an updo than just scraping the hair back. From plaited buns to wedding hairstyles with flowers, we've shared our favourite bridesmaid updos that we hope you and your best girls will love as much as we do.
Pretty Plaits
Makeup artist Carrie Jessup recommends finding inspiration on the catwalk when considering the bridesmaid updos. "London Fashion Week certainly saw the return of the plait" she explains. "Plaits are going to be seen everywhere this year and it's a really lovely way to add detail to any hairstyle."
If you don't want the updo to look too harsh, then the addition of a carefully placed plait will soften the look. "I have found a huge rise in the number of bridesmaids requesting romantic soft updos." Continues Carrie.
We love the plaited bridesmaid updos below which Carrie has styled – the more intricate the style, the bigger the wow factor.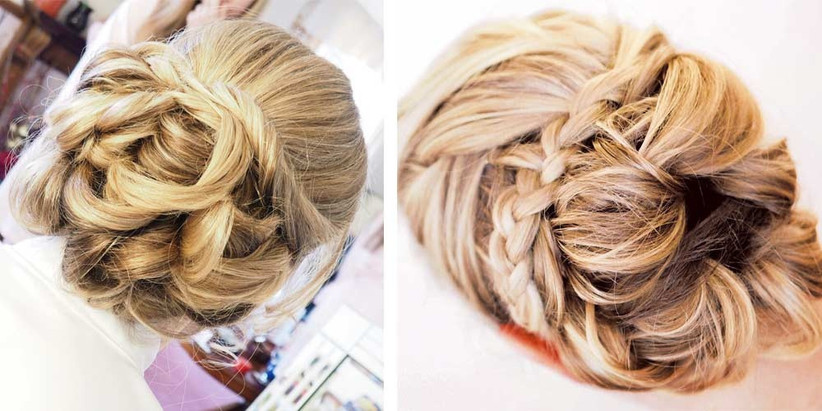 There's hardly a week that goes by where we're not girl crushing over Blake Lively, especially her gorgeous blonde locks. If any of your girls have long hair but aren't keen on a full updo, then a creatively styled plait like Blake's one here would be a great look for the wedding.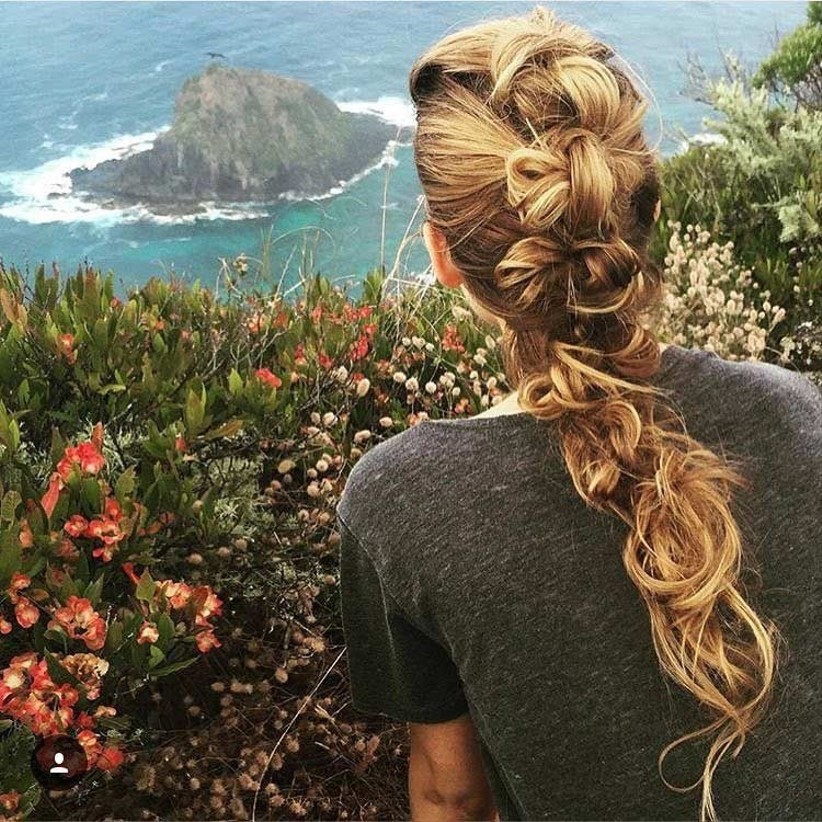 instagram.com/blakelively
These romantic updos, styled by Hair and Makeup Artist Linda Conran, are the perfect match to those one shoulder bridesmaid dresses. The addition of plaits and loose, wavy strands at the front gives the styles a softer touch.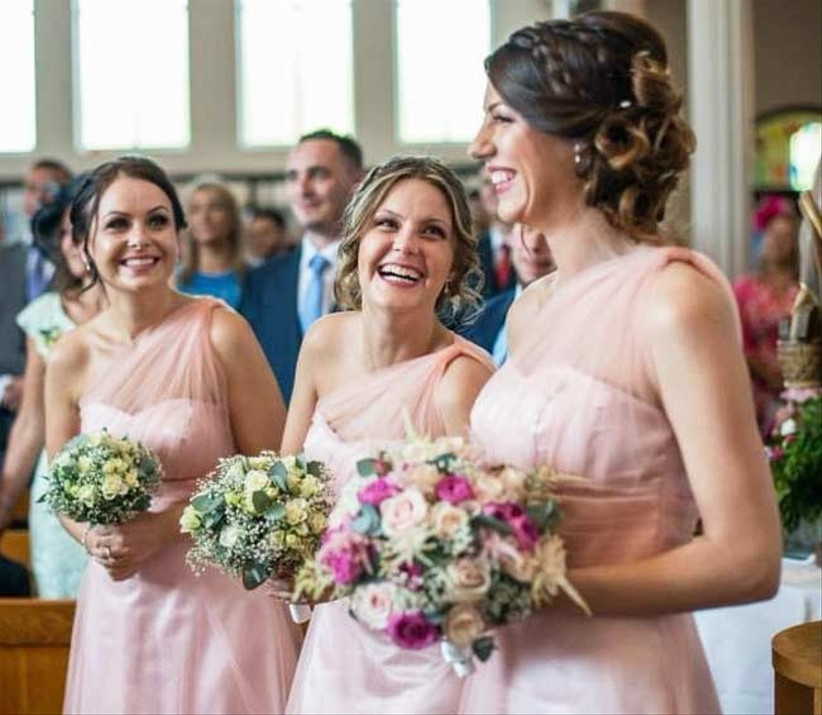 Fabulous Flowers
Photographed beautifully by John Mason Photography, we love this shot of a bride and her bevy of bridesmaids – the pretty sprig of gypsophila is the perfect finishing touch to the bridesmaid on the right's updo.
We're so inspired by this festival ready look from Bridesmaids by Romantica. A statement flower crown is a cool and creative way to jazz up an otherwise simple updo. For extra style points you could match the flower crown to the colour of the dresses, like Romantica have done here with the 'Ariel' purple bridesmaid dress.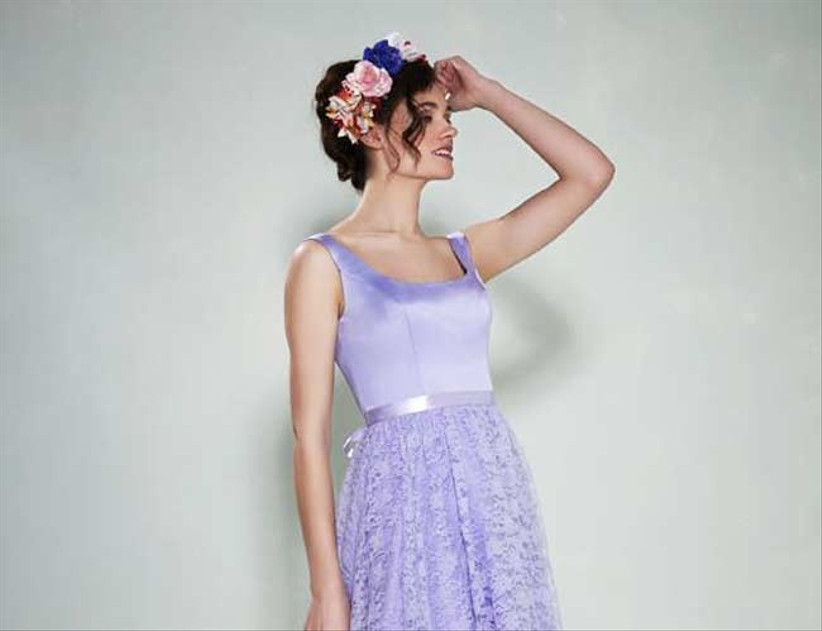 If your wedding is filled with flowers galore, give your bridesmaids an eye catching look by popping statement flowers into their polished updos – as seen at Kelsey Rose.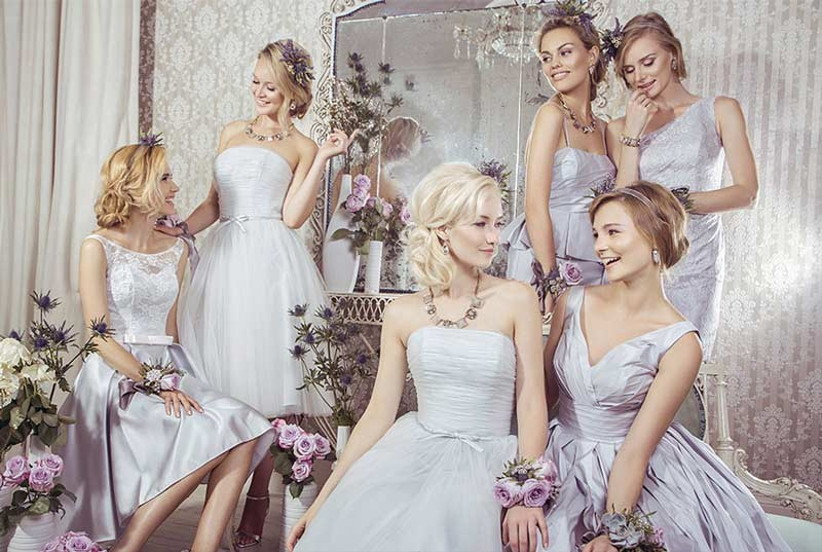 If you're inspired by Kelsey Rose to mix and match your best girls' gowns, then take a look at our guide to mastering the mismatched bridesmaid dresses trend.
Relaxed Updos
If you've got a big bridal party then it's important to choose flattering hairstyles that will please everybody. We love this stunning bridesmaid group shot, photographed by Mr and Mrs I Do, which shows just how versatile a relaxed updo can be. Try low chignons and curled ponytails with wavy strands left loose at the front.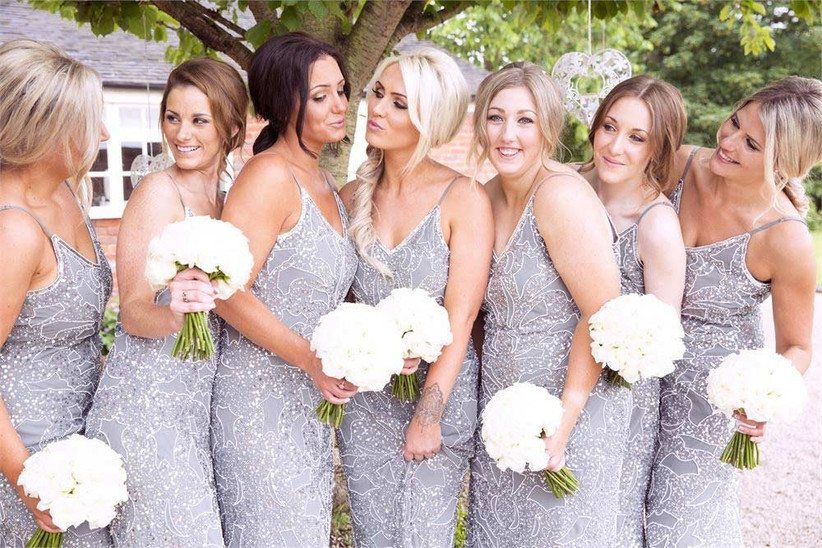 A laidback updo is the perfect style for a wedding in the warmer months. The best part about this style is that it works for everyone, as the 'do can be altered depending on the hair length. Don't forget to complete the look by giving your bridesmaids bouquets filled with fragrant summer wedding flowers.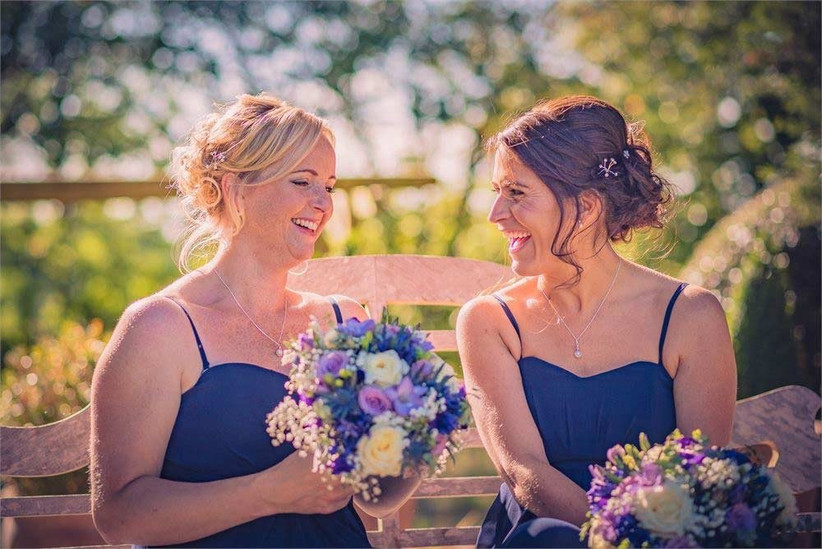 Image credit: Phillip Dignum Photography
Vintage Inspiration
If you're planning a vintage themed wedding, then the occasion calls for some seriously stylish hairstyles. If you're inspired by this 1920s look from Dessy, turn up the glamour by asking your hairdresser to give your bridesmaids similarly waved updos.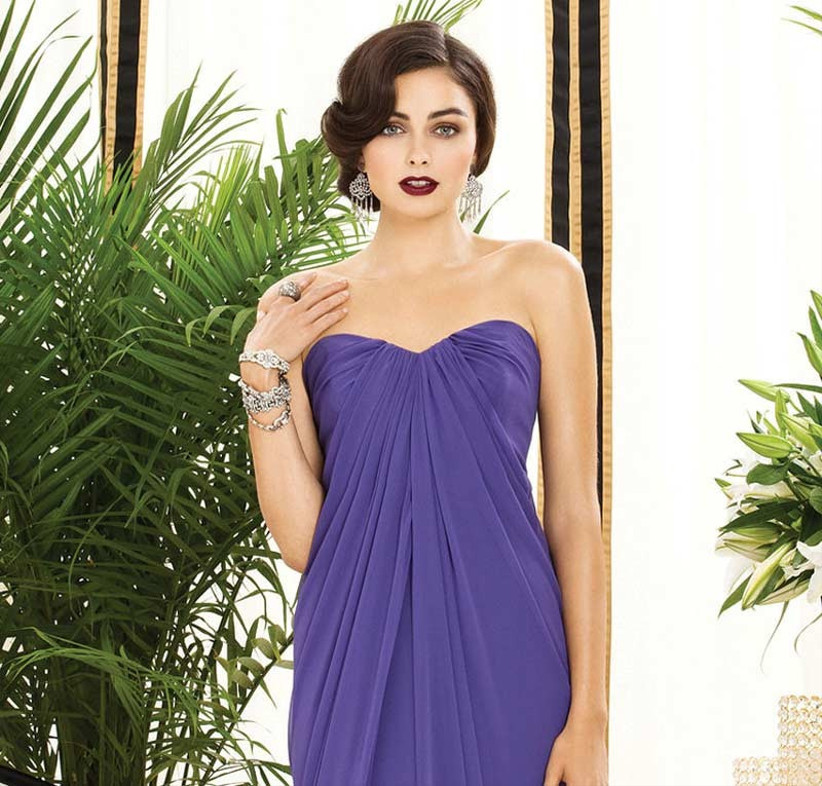 If your best girls are wearing vintage bridesmaid dresses, then make sure the look is completed with a fabulous hairstyle. Victory rolls are a surefire way to nail the vintage trend, as proven by this glamorous updo from Lipstick and Curls.
For more retro wedding inspiration to go with the hairstyles, check out our guide to nailing 1950s wedding makeup.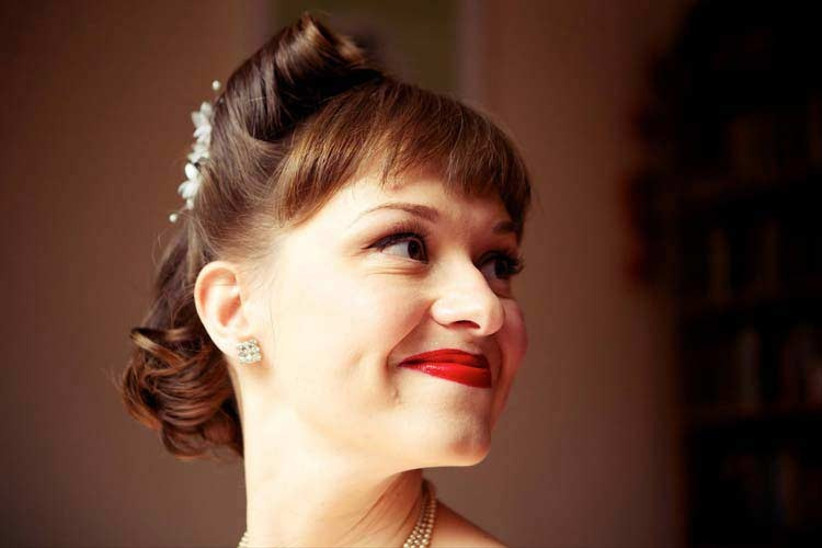 High Buns
Yes a high bun can be wedding appropriate! A great trick to achieve this style is to use a doughnut hair ring, especially if any of your girls have fine hair. PS – how cute is the middle bridesmaid's cropped hairstyle?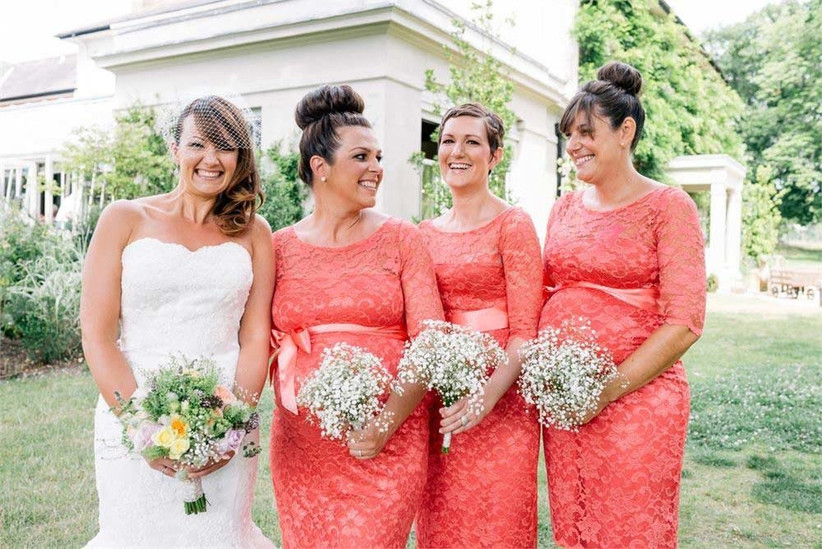 Flowers by Louise Avery Flowers
Boho Beauty
No one does boho beauty quite like Sienna Miller which is why she's one of our favourite style icons. Her Instagram would provide a great source of inspiration for your bridesmaid updos if your wedding is all about the laidback vibes. Our favourite Sienna styles are her plaited updo on the left and the look on the right which she styled up with a gorgeous headpiece.
If you're inspired by this trend for your own bridal look, take a look at our edit of boho wedding dresses.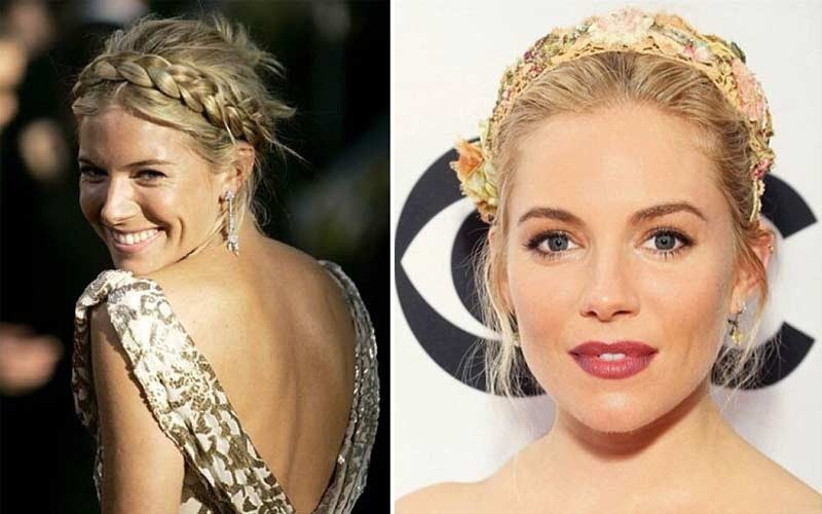 Instagram.com/siennamiller
Half Up Half Down
If your best girls are shy about having their hair fully up, then get them to meet you halfway with half up half down hairstyles for the wedding. Three of the bridesmaids here were given elegant updos by Kate Pope Makeup Artistry and Hair Design, which is a rather romantic look to go with their pink gowns.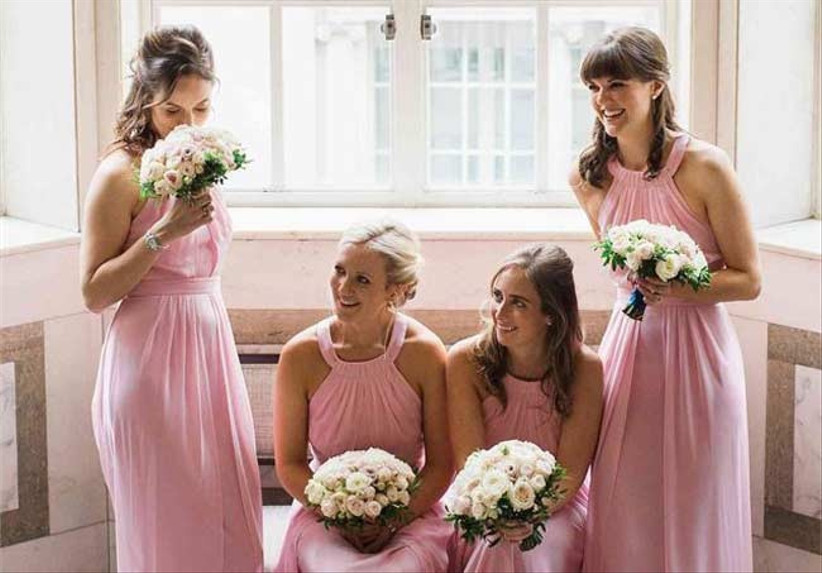 Image credit: Stephanie Swann Photography
Elegant Embellishment
Another winning style from hair and makeup artist Linda Conran, this chic chignon has been given a finishing touch of sparkle with a silver hair clip – perfect if your bridesmaids' gowns have embellished detail.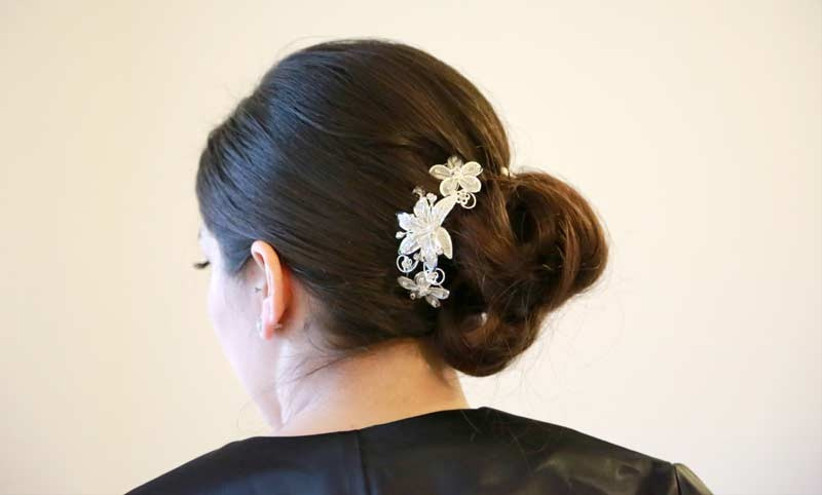 Mix and Match
Highlight your girls' individual styles by giving each of them different updos to suit their personalities. We're inspired by this bridal party line up, which shows how cool different bridesmaid updos look. To retain some uniformity, add the same flowers or hairclips to each 'do.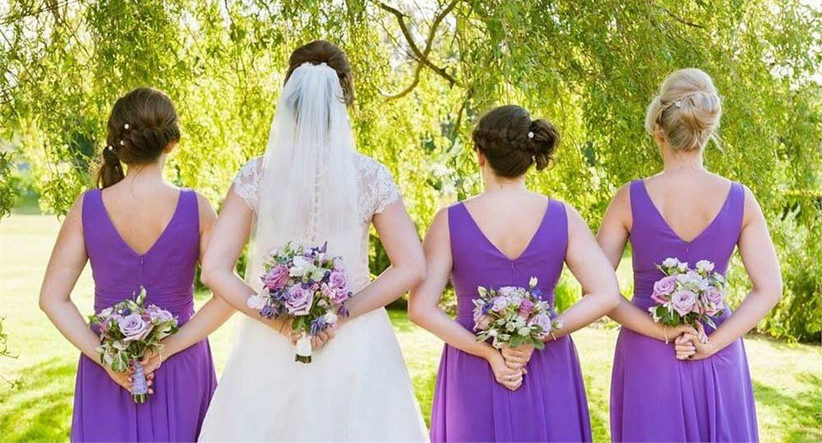 Flowers by Louise Avery Flowers
Turn Up the Volume
If you saw Annemarie and Rhys's real wedding, you'll have noticed the bride's stunning beauty look and her glamorous bridesmaids! Her best girls sported voluminous updos with backcombed sections at the top for added drama, which also complemented Annemarie's chic beehive without overshadowing it.
Image credit: Siobhan H Photography
Slicked Back
Did you catch this breath taking Love Enzoani gown from our edit of bold cobalt blue bridesmaid dresses? If your girls are wearing statement dresses like this one, then keep the hair simple by slicking it back into a low updo. This style works very well on fine or short hair.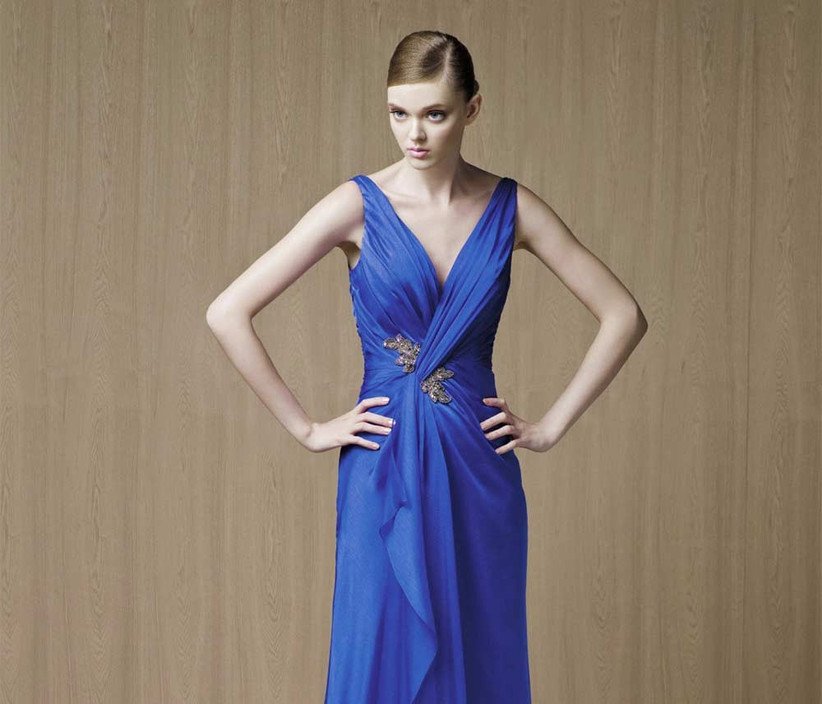 To browse more hair-spiration for yourself and your best girls, check out our complete guide to wedding hairstyles.