Hitched Hacks: Three DIY Food Wedding Favour Ideas
Simple, cheap and utterly delicious - these fun DIY wedding favours tick all the boxes!
We have included third party products to help you navigate and enjoy life's biggest moments. Purchases made through links on this page may earn us a commission.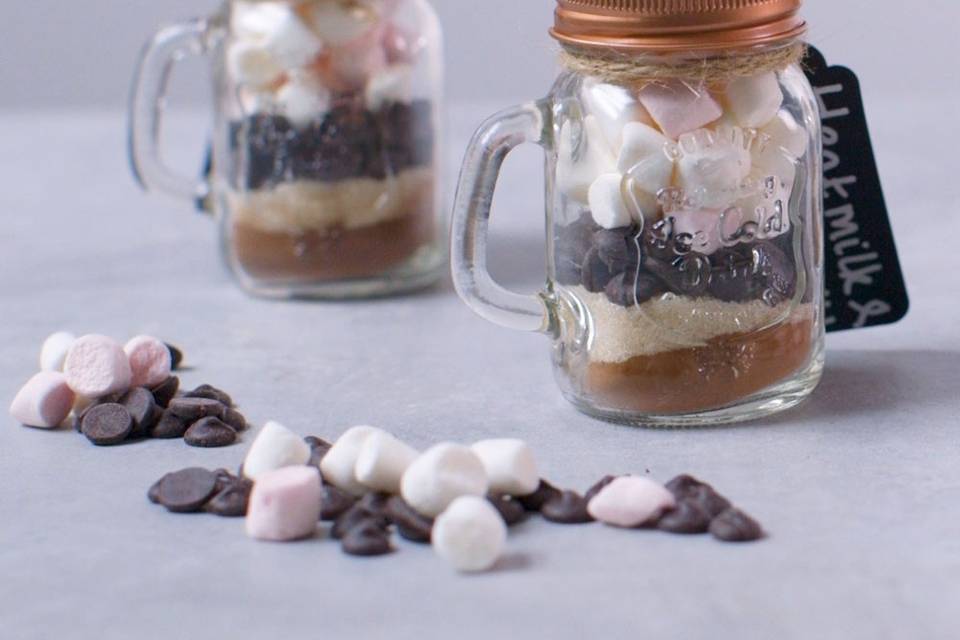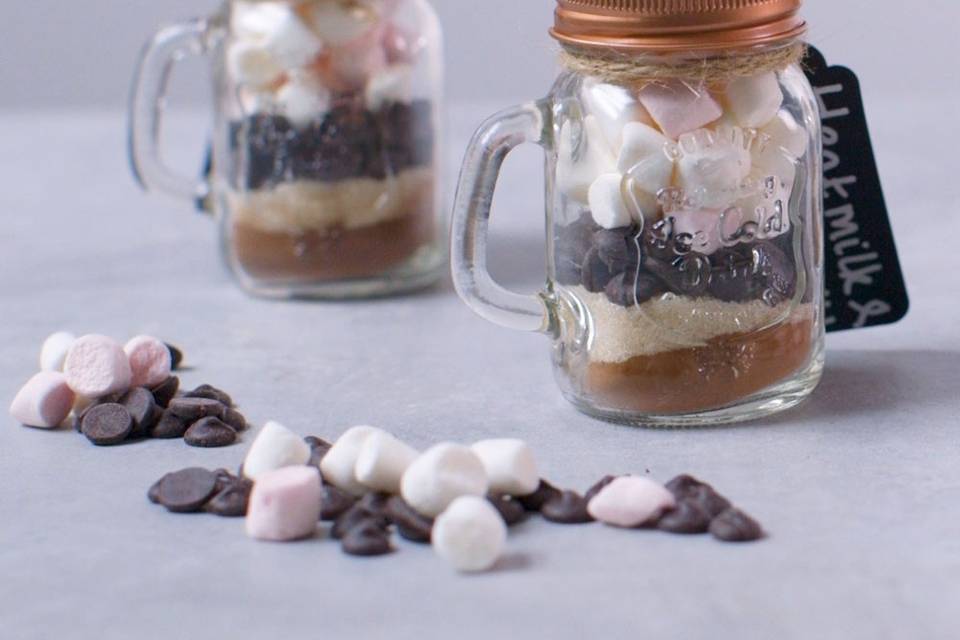 We all know the best wedding favours are edible ones!
Gone are the days of sugared almonds and in are lots of sweet treats, cocktails, mini bottles of spirits and spice mixes that your guests can take home or gobble up during the evening.
Wedding favours are also such an easy thing to DIY, especially if you go down the foodie route. We've come up with ideas for a hot chocolate mix, perfect for autumn and winter weddings; flavoured gin, rum and vodka, which always goes down a treat; and a simple, delicious no-cook fudge, which you can make in advance.
Here's our step-by-step guide to our three favourite DIY food wedding favour ideas.
1. Rich Hot Chocolate Mix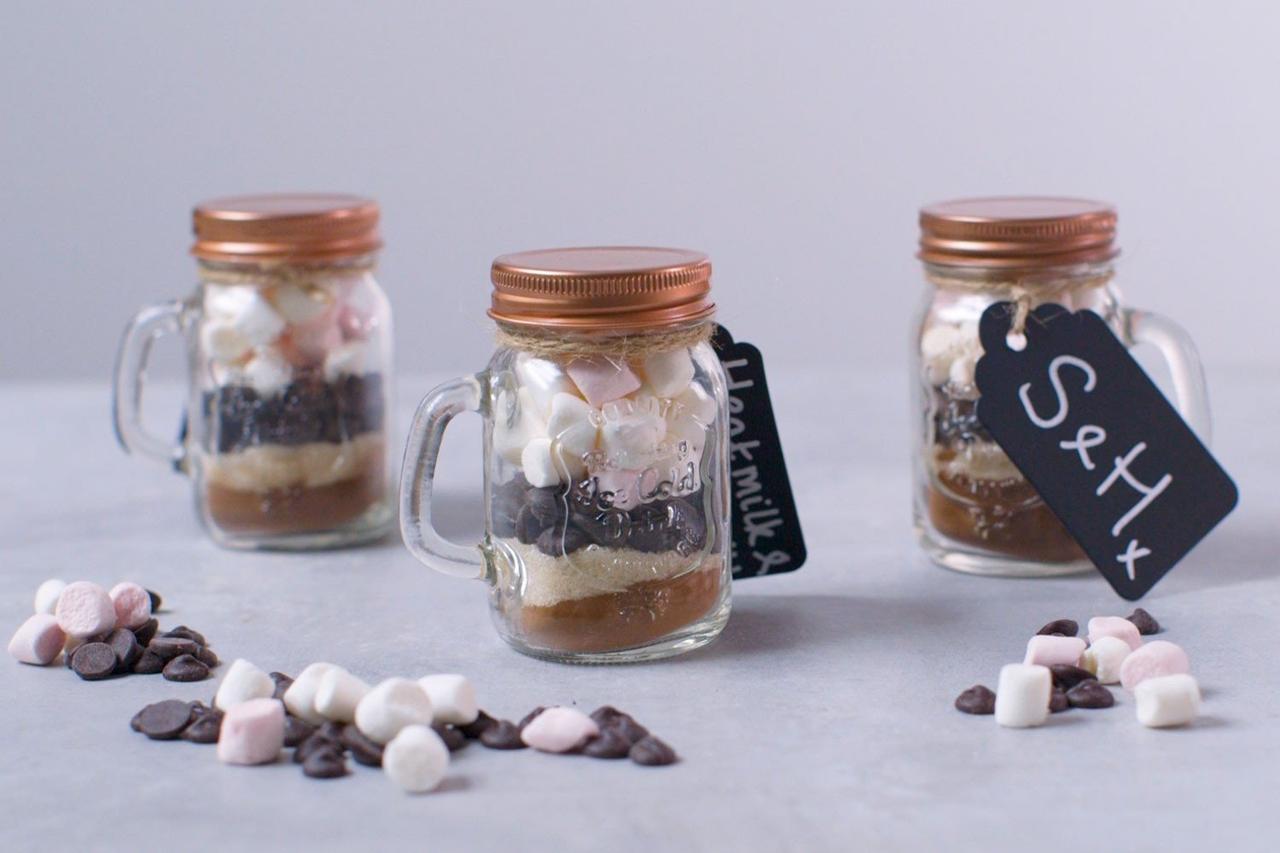 What You'll Need
Ingredients (per jar)
6 tsp good quality cocoa powder
3 tsp demerara or golden caster sugar
2 tbsp dark chocolate chips
Mini marshmallows
Instructions
Step One
Ensure the jars are clean and completely dry by wiping them with kitchen paper.
Step Two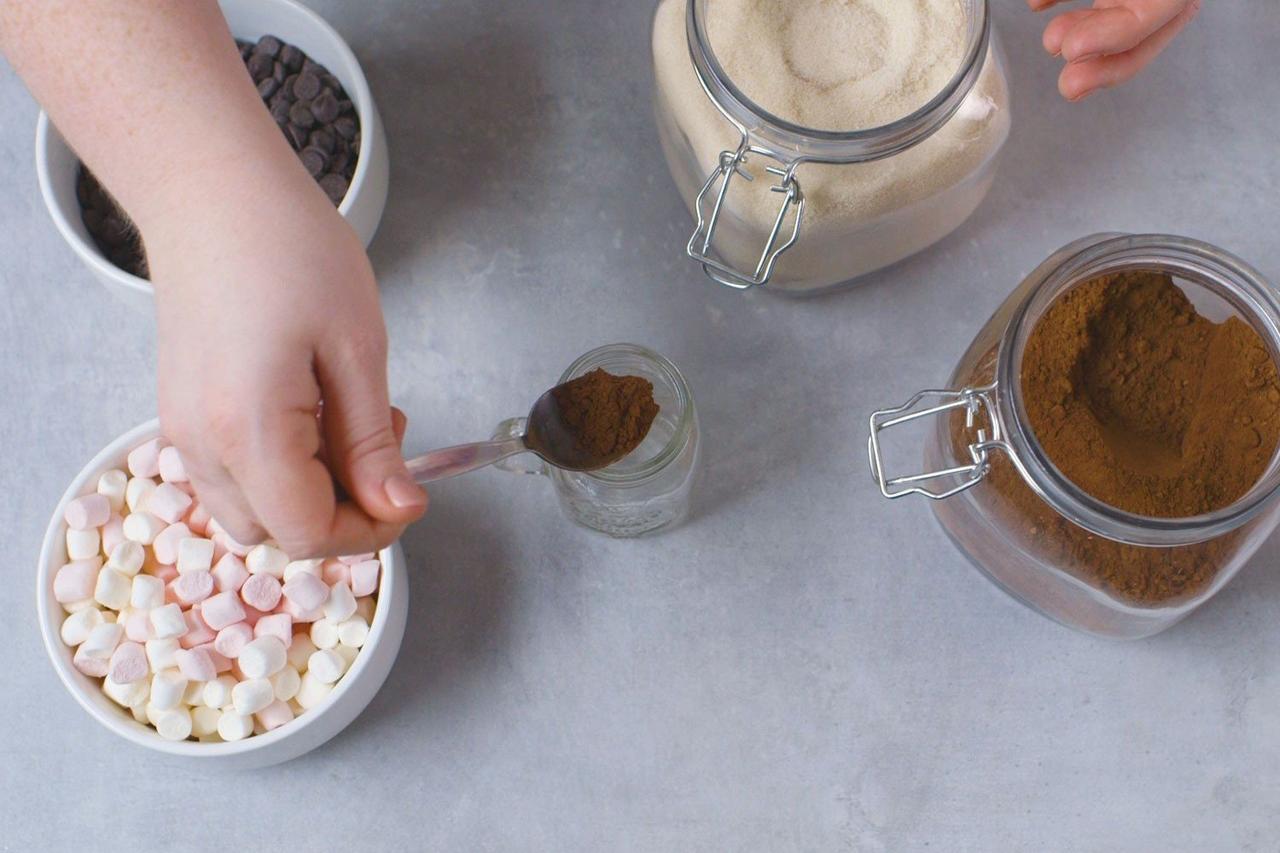 Layer up the jars, starting with the cocoa powder. Shake this to make sure it's level, then layer on the sugar. Gently pour the chocolate chips on top making sure you spread them in an even layer. Finish the jar with mini marshmallows.
Step Three
You can go wild with your flavours, just make sure to label the favours in case there are any allergies. Options include a pinch of cinnamon, salted caramel nibs, crushed peppermint candy canes, peanut butter powder, desiccated coconut, orange zest and dried raspberry powder.
Step Four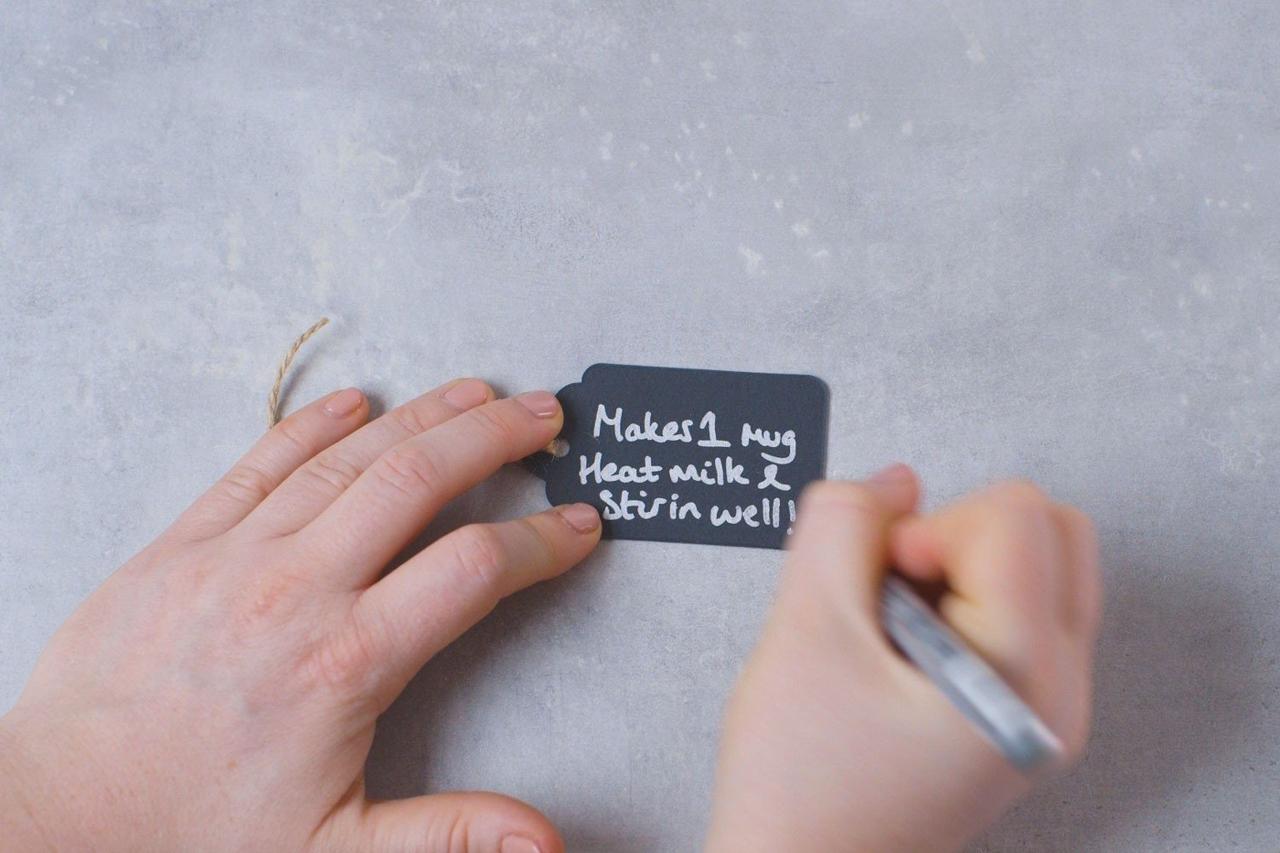 Write hot chocolate instructions on a paper tag: 'Makes one mug. Heat milk and stir in mixture well.' Finish off the jars with some twine or ribbon and the tag.
2. Mojito Rum, Blackberry Gin and Skittles Vodka Shots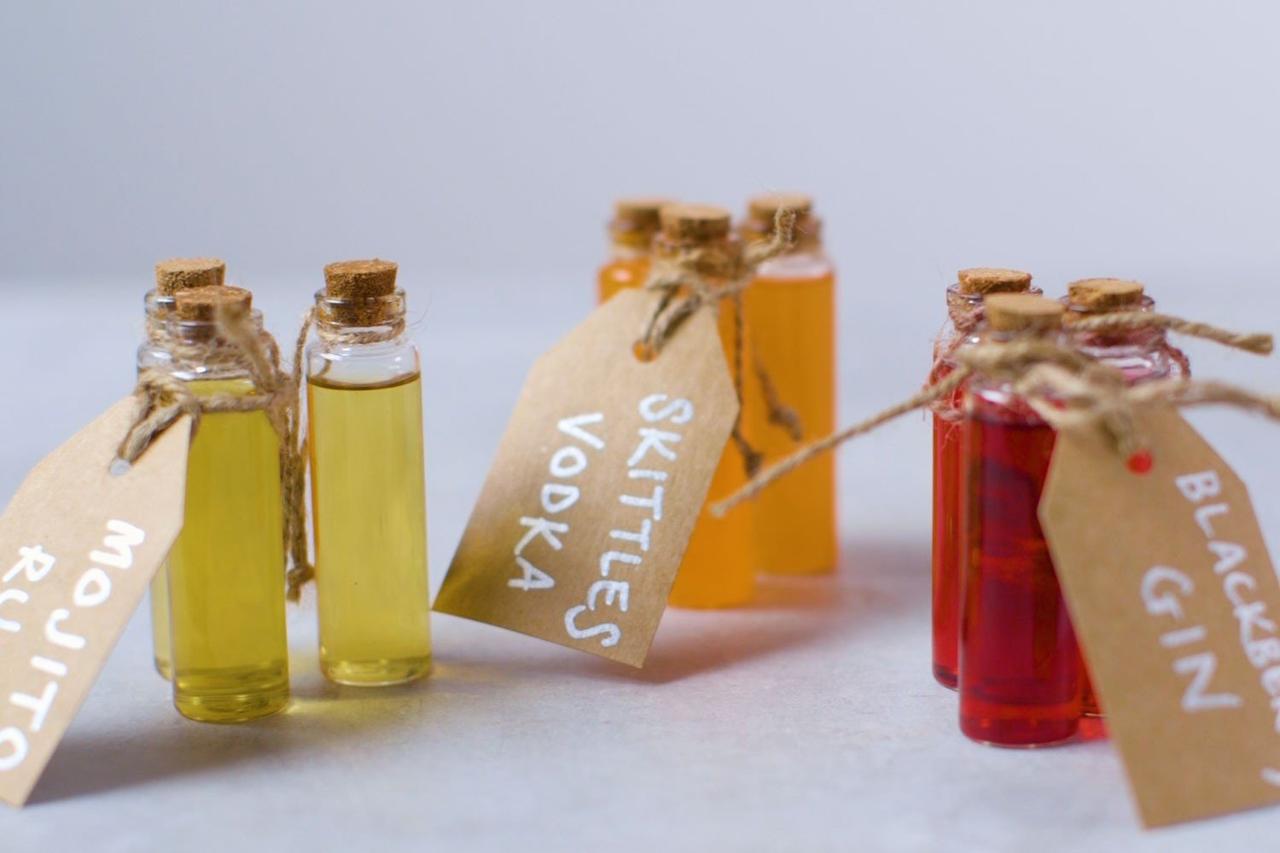 What You'll Need
Large air-tight jar (we used this preserving jar)
1 litre bottle of spirit – good quality but not budget-breaking
Flavourings (see ideas below)
Sugar (optional)
Muslin or fine mesh strainer
Funnel
Large bowl
Measuring jug
Individual bottles/jars (we used these mini bottles with cork stoppers)
Labels
Flavouring Ideas For Your Spirit Infusions
Vodka – a neutral base: citrus, chilli, vegetables (celery for a Bloody Mary vodka), coconut, cocoa nibs, fruit, sweets, spices (cinnamon, vanilla, lemongrass), coffee.
Gin – choose a less perfumed and spiced brand as your base: citrus, fruits (sloes, blackberries, pomegranate), herbs (rosemary), spices (fresh ginger, cinnamon), flowers (rose), cucumber, tea.
Tequila – blanco tequila works best: citrus, chilli, exotic fruits (pineapple, mango).
Rum – use a light rum: spices, coffee, pineapple, mint, citrus
Instructions
Step One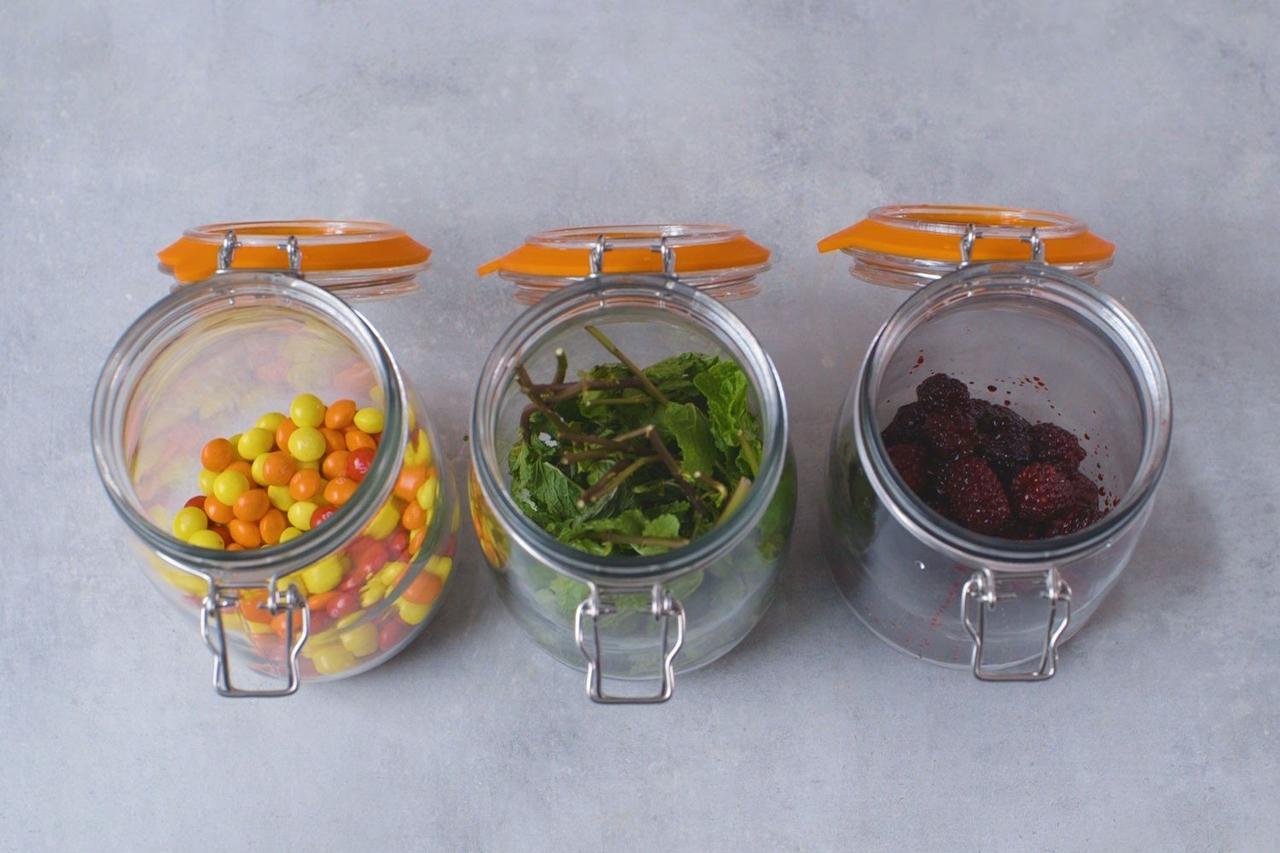 Prepare your infusion ingredient. Here's what to do:
Berries: Wash and add in whole if soft; score the skin on harder berries like cherries. You'll need around 400g per litre of spirit.
Stone and exotic fruits: Wash, remove pit and slice thinly. You can leave the skin on or remove. 400g of fruit is needed.
Citrus: Wash and slice or just use strips of the zest (avoid the bitter rind!). Around 3-4 fruits per litre of spirit.
Vanilla bean: Wash and cut lengthwise. One bean is enough.
Herbs and chilli: Rinse and use whole. If you want to increase the chilli's heat, cut in half but remove the seeds. Use one chilli or a large bunch of herbs.
To make our infusions we used: a bottle of white rum, the zest of three limes and a large bunch of mint; a bottle of gin and 400g blackberries (frozen and thawed); a bottle of vodka and 300g of red, orange and yellow skittles.
Step Two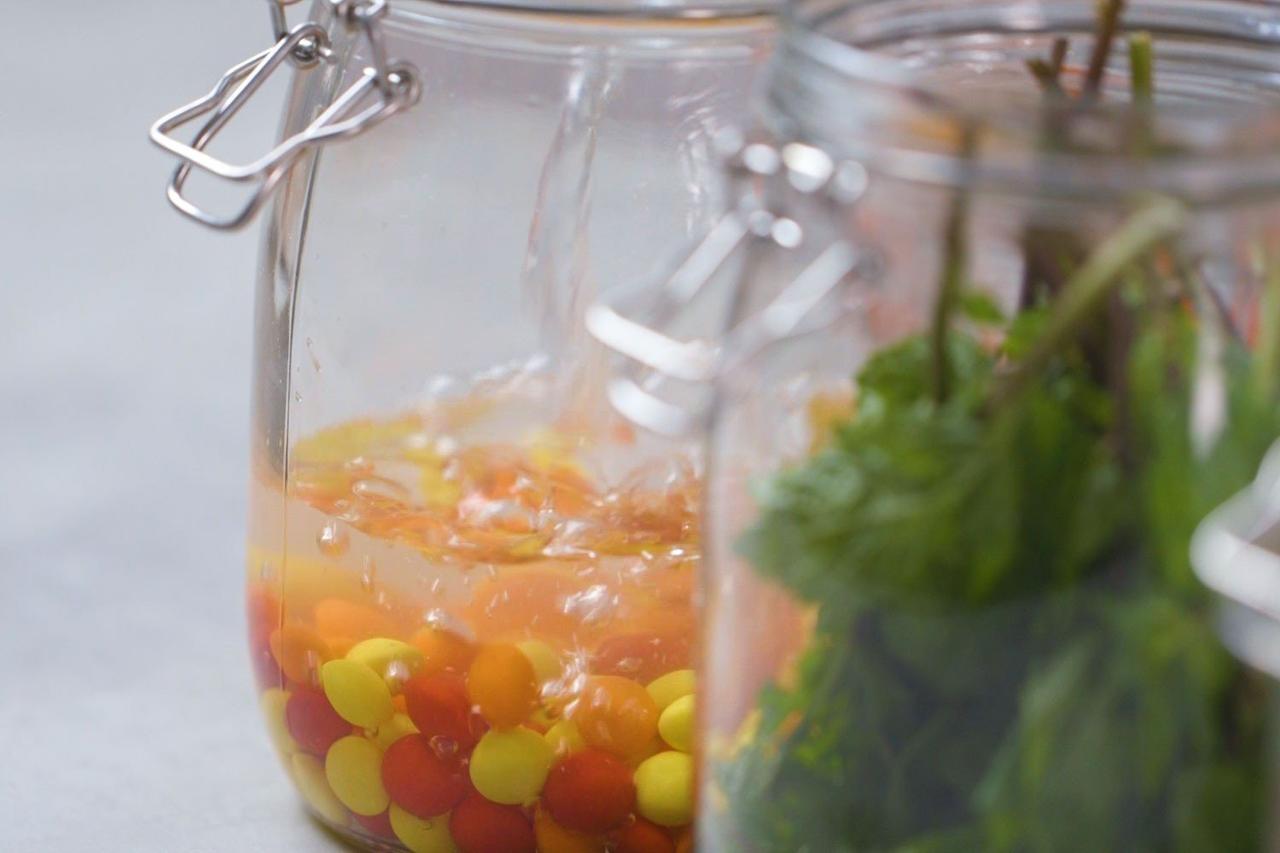 Put infusion ingredients into an air-tight jar and pour over your spirit. It's essential this jar is air-tight when sealed, however if you can't get a jar big enough then a pan with a tight-fitting lid and a weight on top to stop any air getting in will do. You might want to try smaller jars with different flavourings in until you find your favourite.
Tip: If adding sugar to your fruit flavourings, this is the time to do it; it will give you a sweet, syrupy liquer rather than an infused spirit. Around 3-4 tablespoons of caster should be enough.
Step Three
Stir or shake the ingredients and seal the lid tightly. Label the date you made it on a bit of masking tape.
Step Four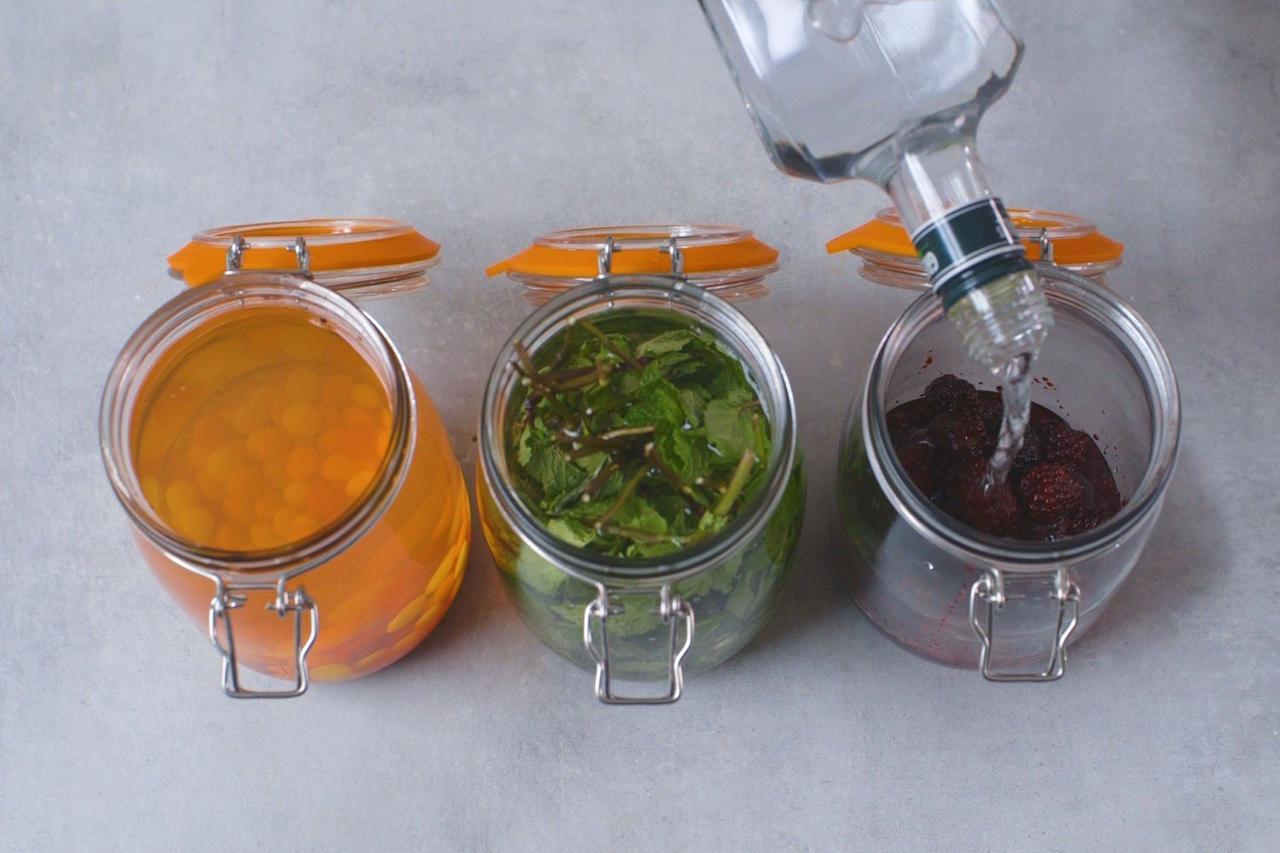 Leave to infuse in a dry place, shaking once a day for the first week, and taste the infusion every 3-4 days for strength.
Here's how long to leave your flavourings infusing:
Less than a day: Chilli, coffee, tea
3-4 days: Citrus, vanilla bean, sweets like skittles
5-7 days: Hardy herbs like rosemary, basil and mint, spices and vegetables, like celery and cucumber
3-4 weeks: Berries and strong fruit
One month: Mild fruit like apples or pomegranate, lemongrass and florals
Step Five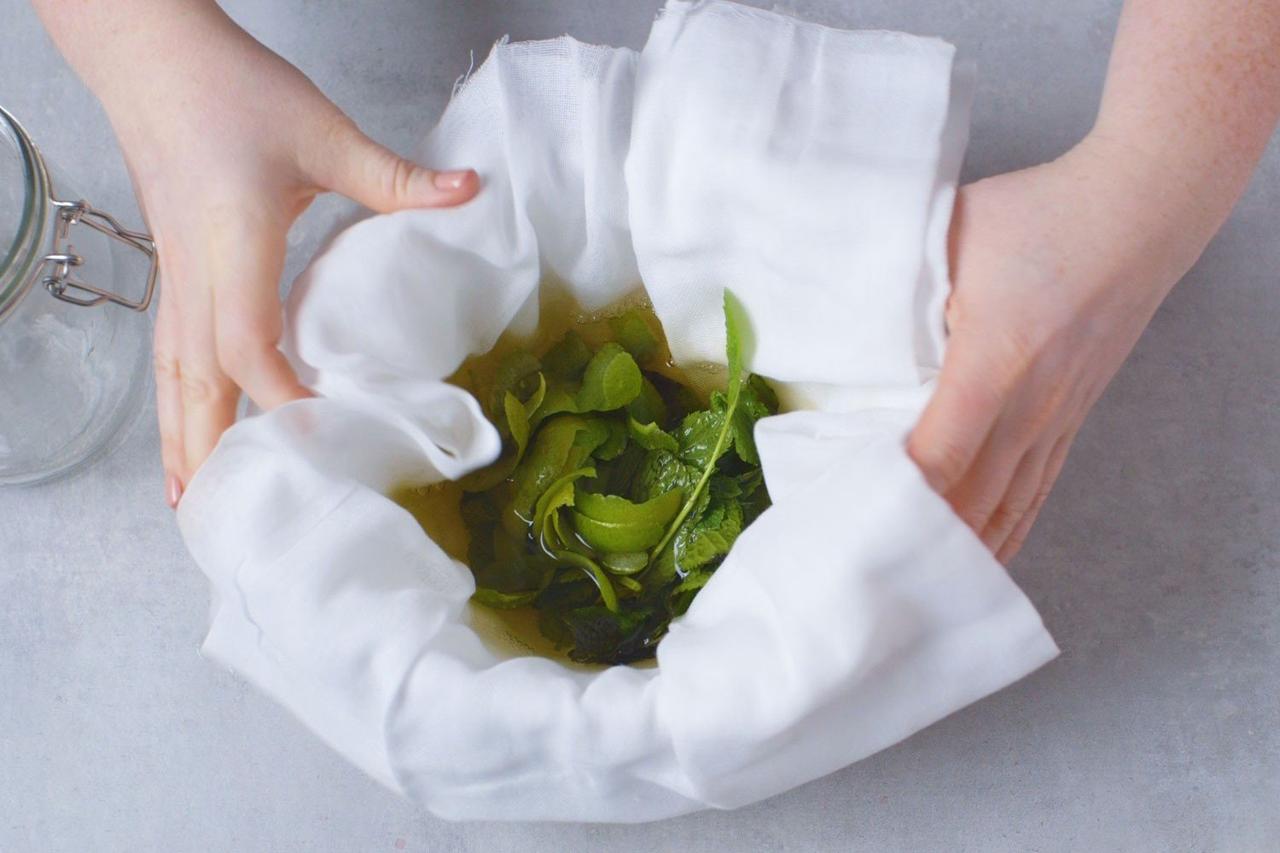 When at desired flavour, sieve it through the muslin into a bowl to remove any solids. This is essential as any sediment can make your spirit go off.
Step Six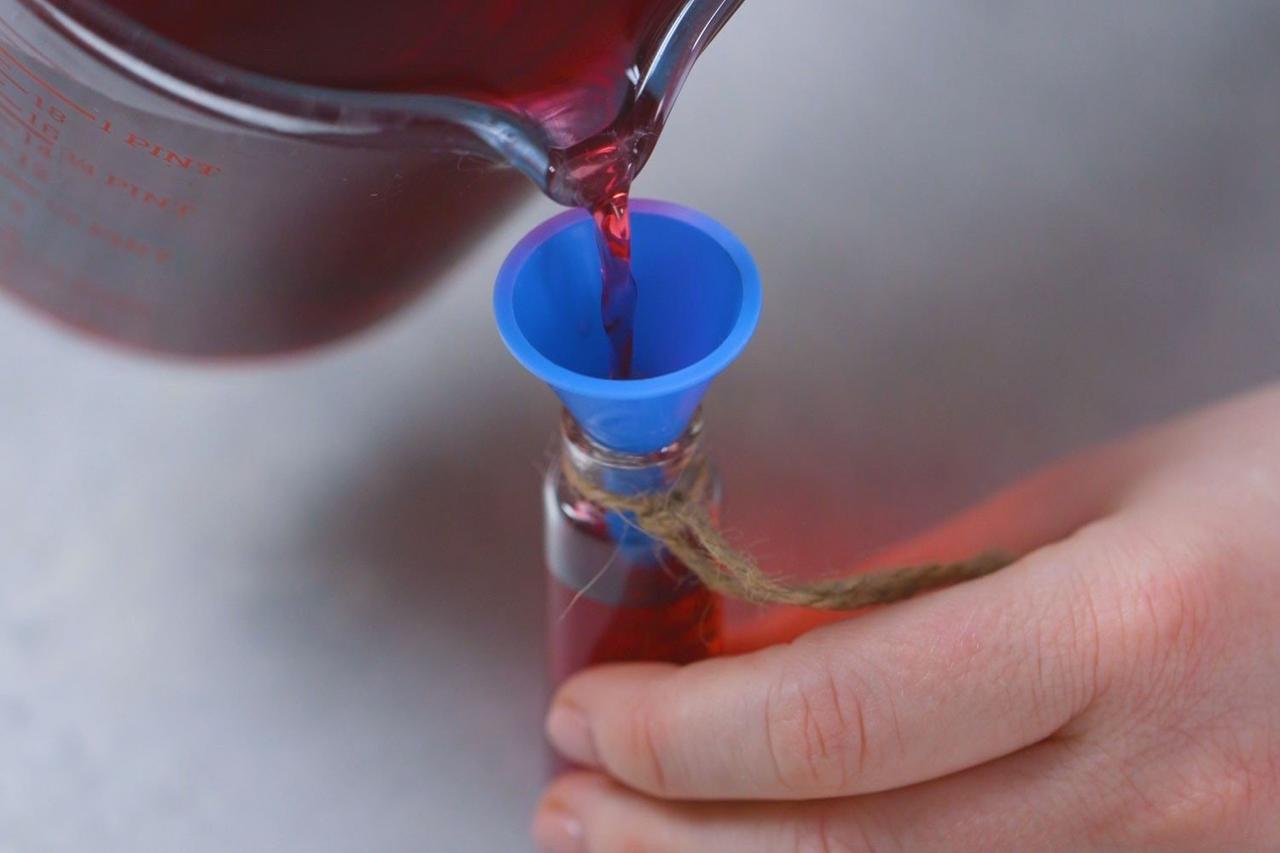 Either decant back into your air-tight jar to store until needed, or into your measuring jug and decant through the funnel into individual mini shot bottles. Label and decorate the bottles, if desired.
3. No-Cook Fudge Hearts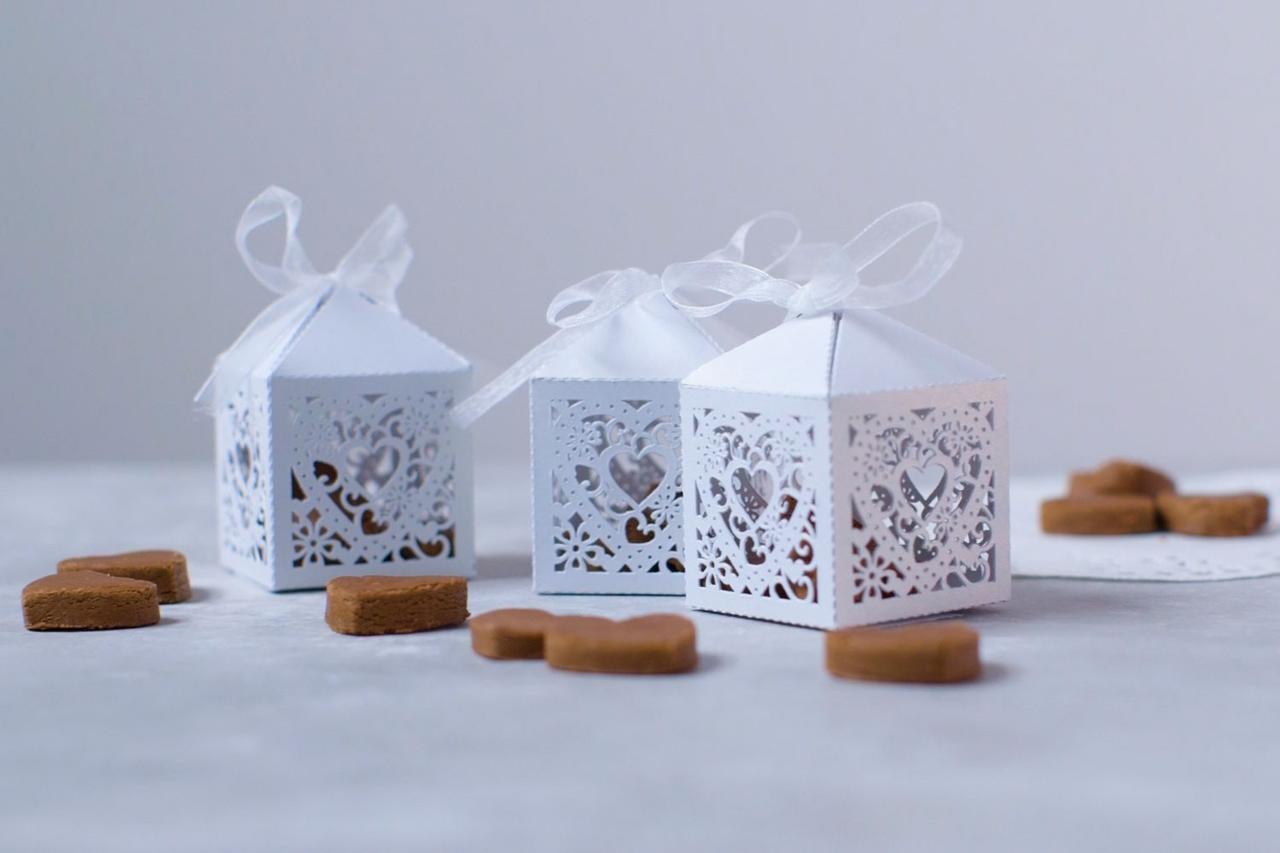 What You'll Need
Mixing bowl
Rolling pin
Wooden spoon/electric mixer
Sieve
Flat tray
Parchment paper
Cookie cutters/knife (we used this heart-shaped cutter set)
Favour boxes (we used these white favour boxes)
Ribbon to tie
Ingredients (makes 30 pieces)
75g unsalted butter, softened
4 tbsp condensed milk
½ tsp vanilla extract
400g icing sugar, plus extra for rolling
25g cocoa powder
75g raisins, dried fruit, chocolate chips or nuts (optional)
Instructions
Step One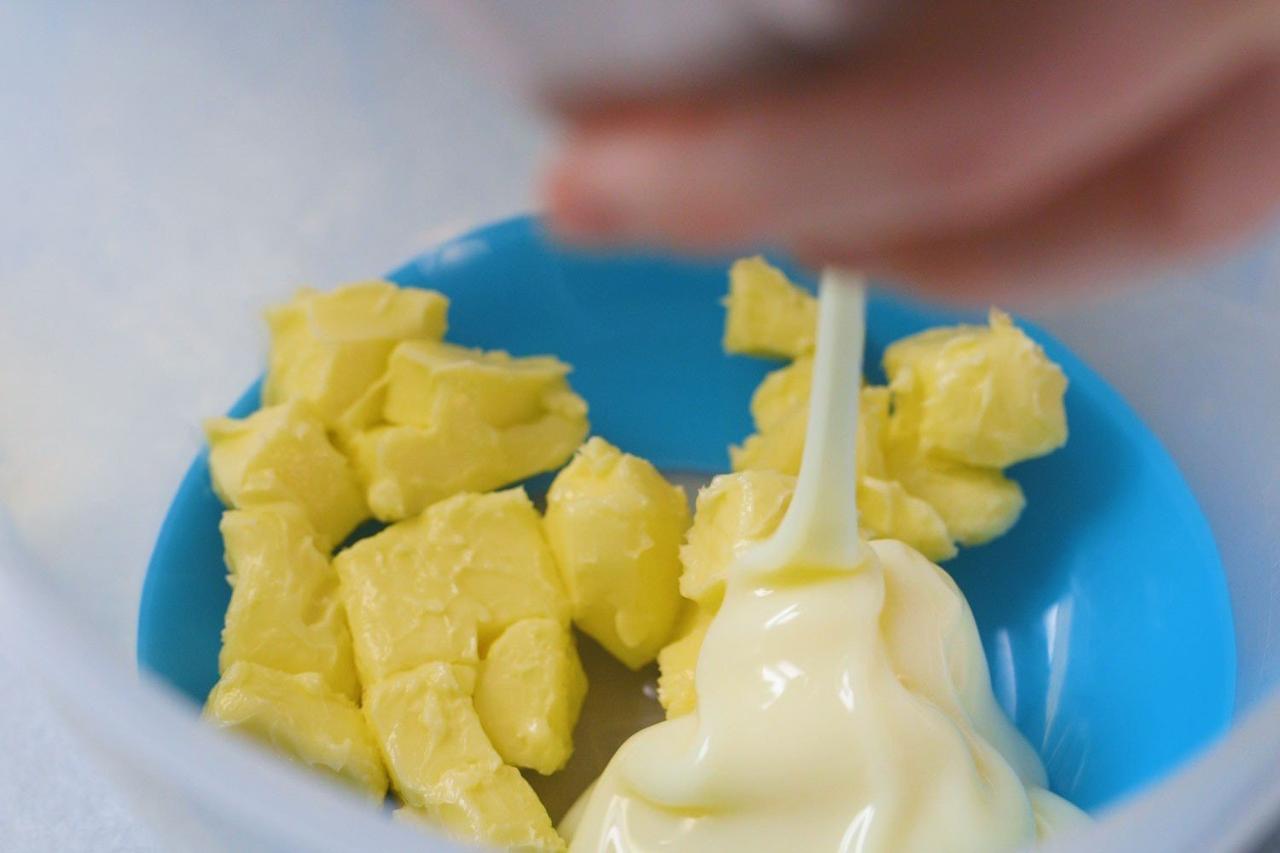 Beat the butter, condensed milk and vanilla extract together in a bowl.
Step Two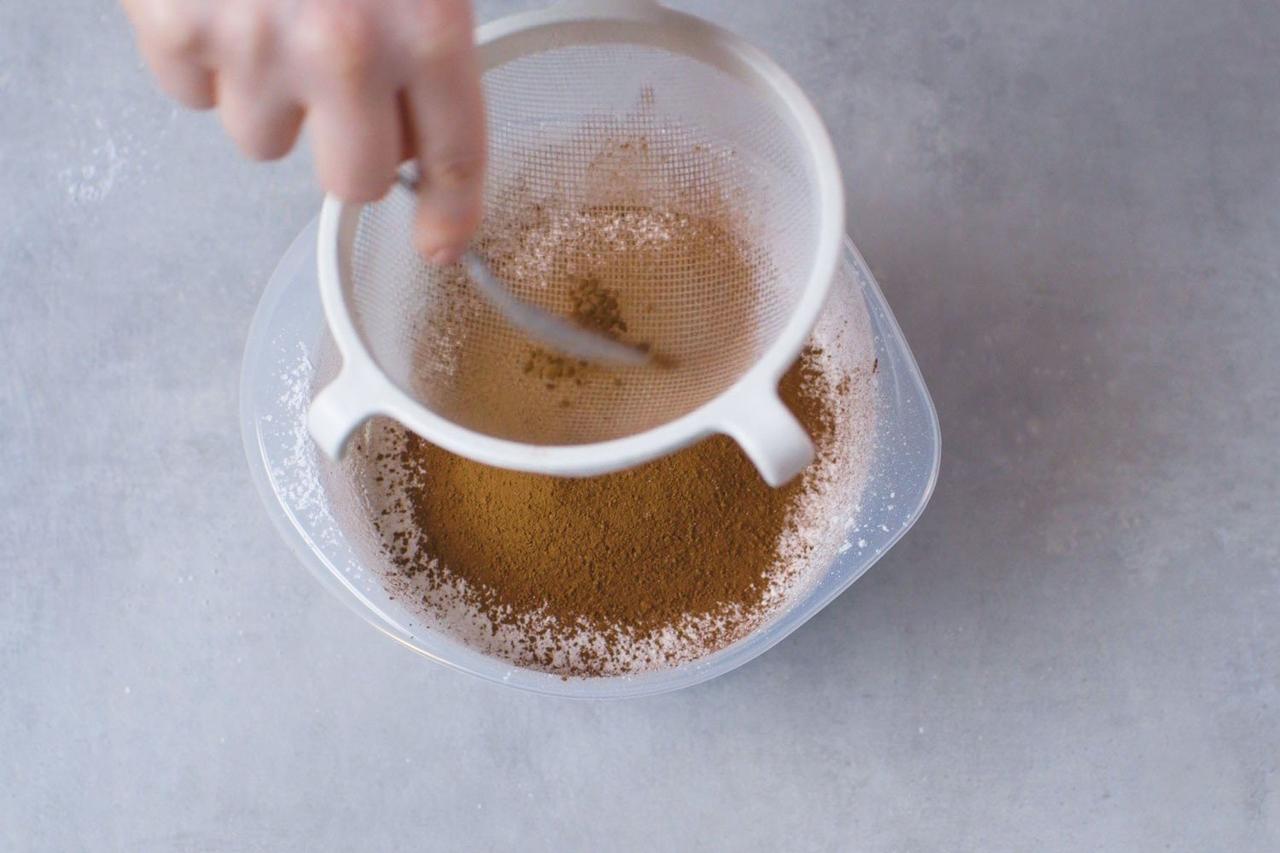 Sift in the icing sugar and cocoa powder and stir into the butter mixture. You'll need to use your hand to bring the mixture together and knead it into a ball. If adding extra flavourings, add them now – we love a teaspoon of almond essense instead of the cocoa powder and chopped glace cherries.
Tip: The mixture will look like it's never going to come together but we promise it will, just keep kneading!
Step Three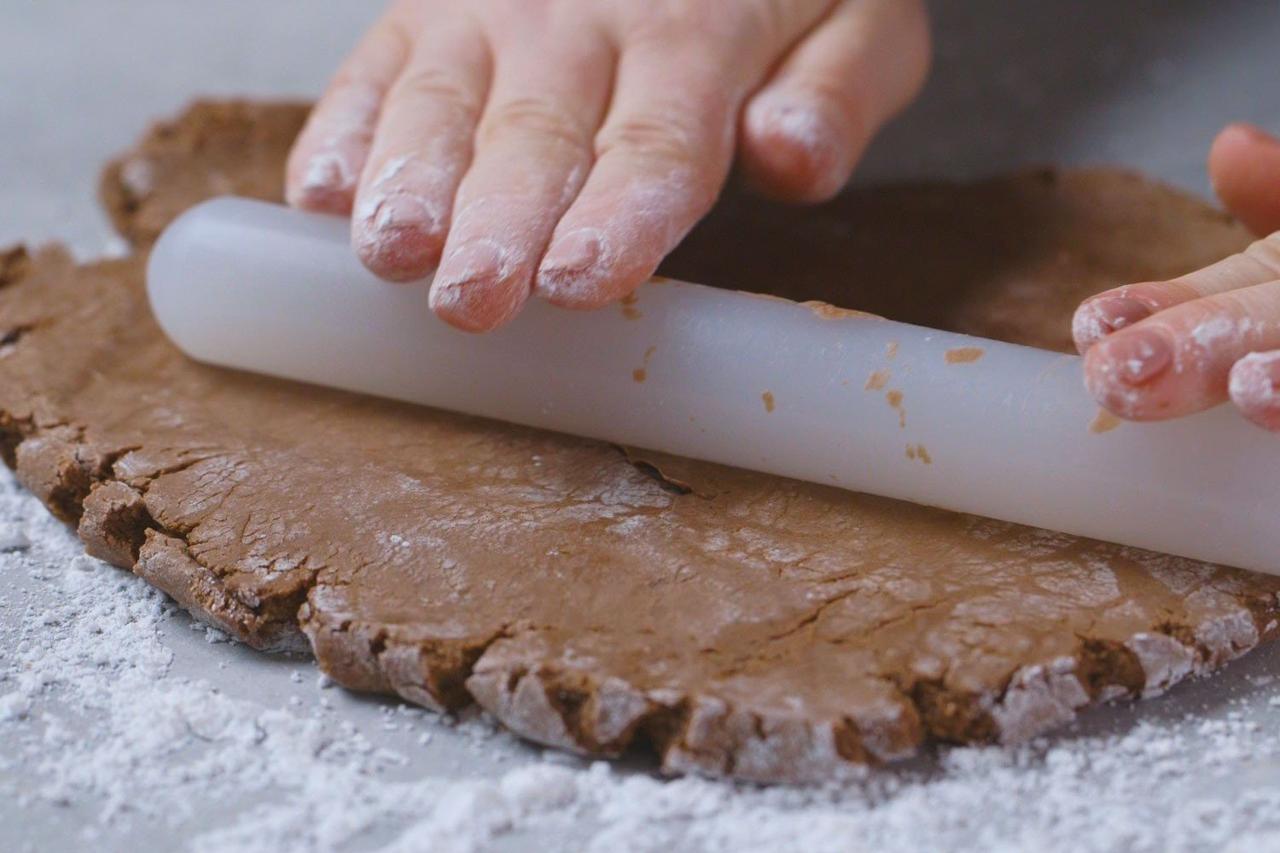 Dust a work surface with icing sugar and roll out the fudge into a square 1cm thick.
Step Four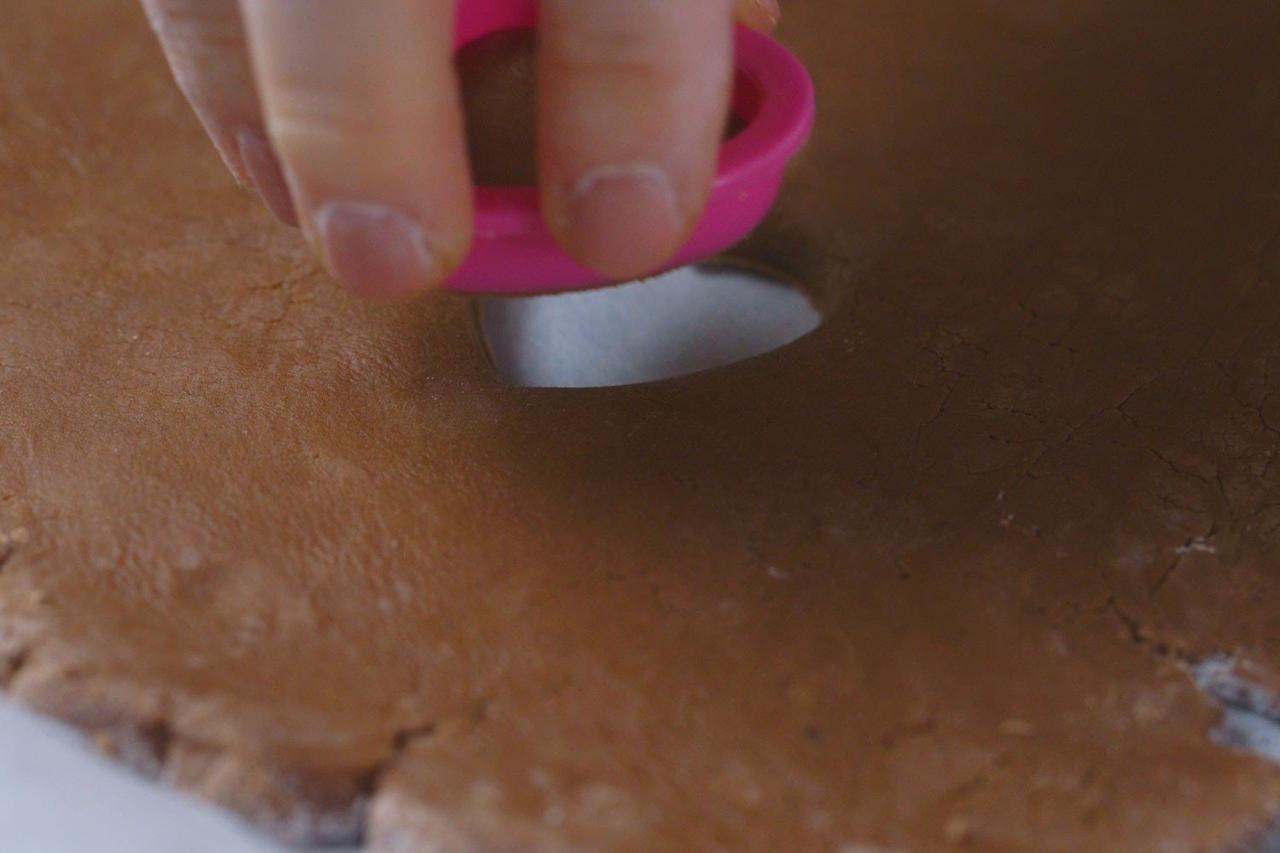 Use a heart shaped cutter to cut out 30 pieces. You'll need to gather up the excess and roll in out again as you cut out the shapes. Alternatively you can just use a knife to trim the edges and cut into squares.
Place the hearts/squares on a tray lined with parchment paper, cover and leave to refrigerate overnight.
Step Five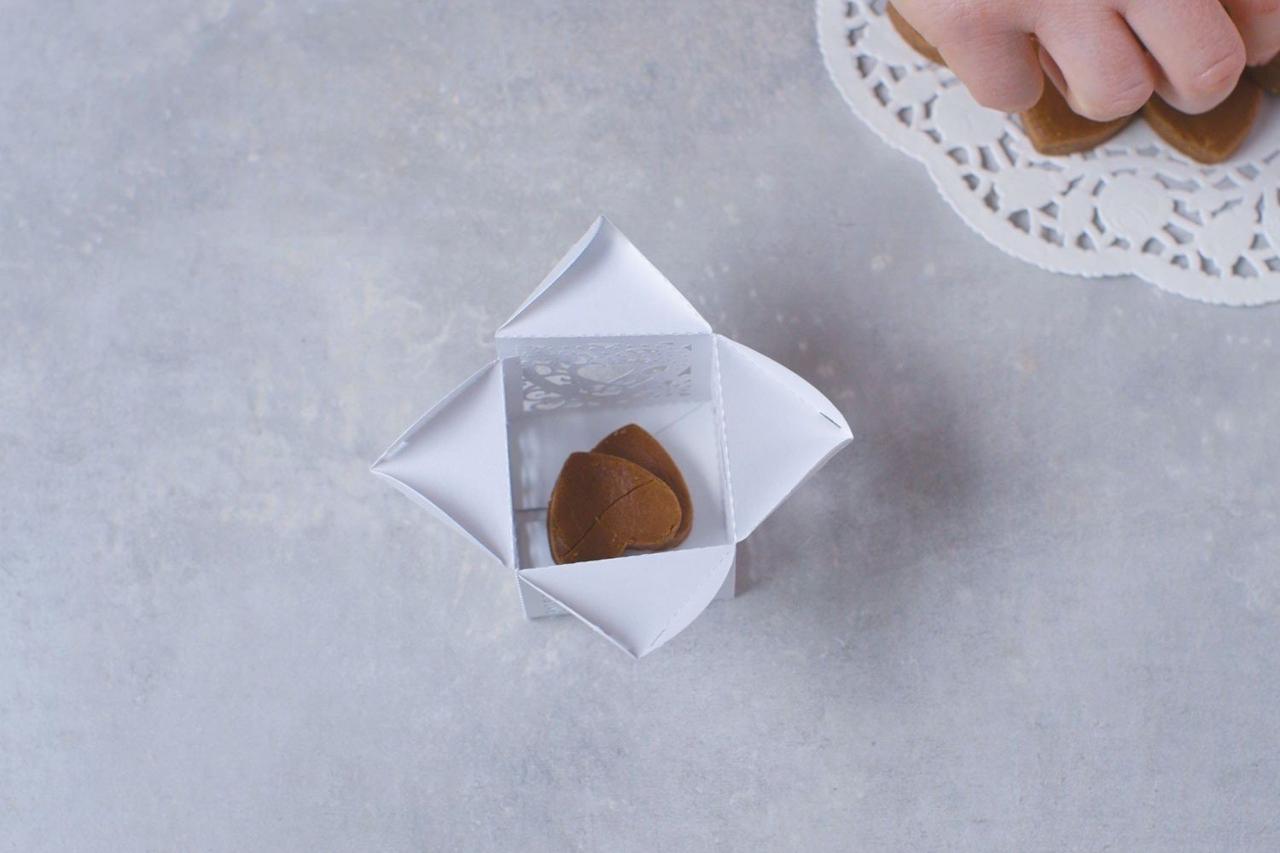 Make up your wedding favour boxes and place 3 or 4 pieces inside with a label.
Step Six
Enjoy!
If you'd loved these DIY wedding favours, make sure you check out our tutorial on how to make confetti cones and how to preserve your wedding flowers.