27 Things You Need to Know Before You Go Wedding Dress Shopping
Planning on going wedding dress shopping soon? We asked a bridal boutique owner what the key things you need to know because you go to a wedding dress shop are...
We have included third party products to help you navigate and enjoy life's biggest moments. Purchases made through links on this page may earn us a commission.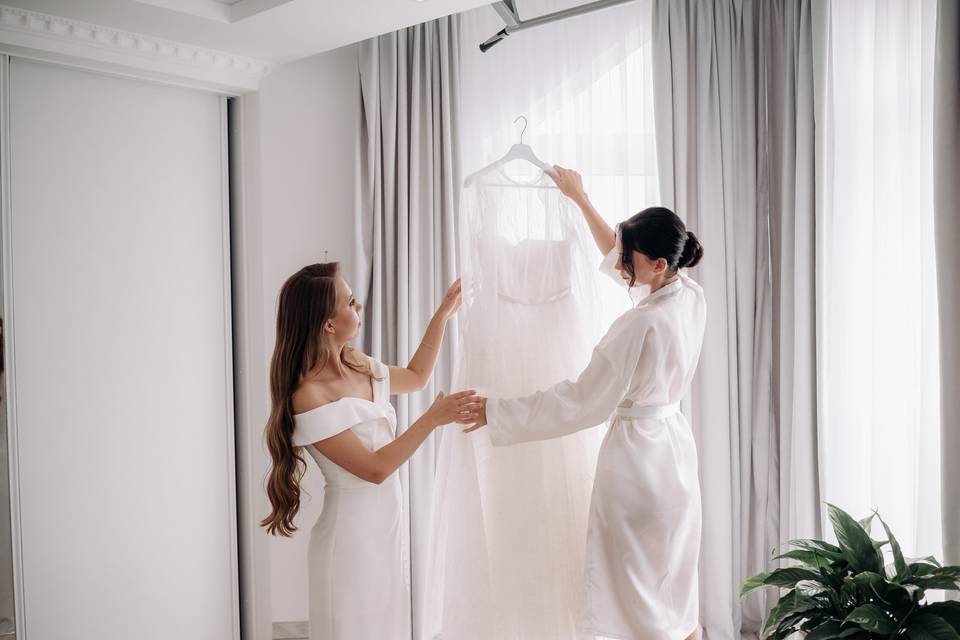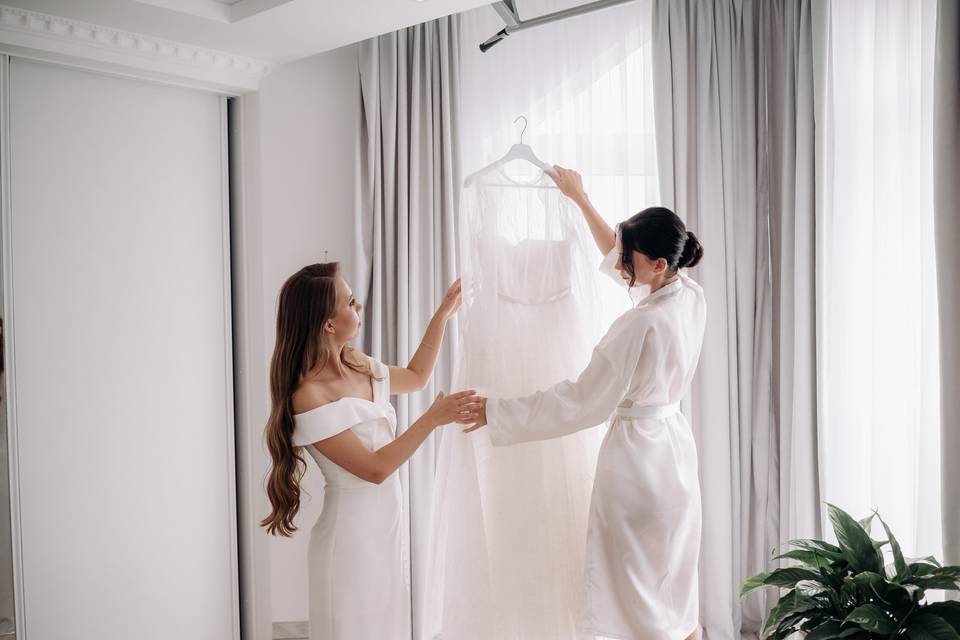 There's nothing more exciting than going wedding dress shopping! Getting to try on lots of gorgeous dresses and imagining what you're going to look like on your wedding day - it's an unbeatable experience.
However, there are a few things to think about - such as what not to do at your bridal boutique appointment, but also what you need to consider before you go wedding dress shopping. We've rounded up - with some advice from the experts - exactly what you need to think about so you're prepared for your wedding dress shopping experience.
Watch our video to see what Vicky Pattison learnt when she went wedding dress shopping with Hitched!
26 Things to Think About Before You Go Wedding Dress Shopping
1. Who Are You Taking with You?
Rebecca Baddeley, owner of award-winning bridal shop TDR Bridal Birmingham, explains why it's so important to think carefully about who comes with you: "Ask yourself, do you trust them to be honest with you but kind and sensitive too, towards your feelings?
"It's lovely to have advice from family or friends but if you have the slightest doubt that the people you choose to share this occasion with, will not listen to YOU and what YOU want or won't take your feelings into consideration when being brutally honest (in their opinion) then they are not the people you should choose to share your buying experience with."
2. Book Appointments at the Shops You Want to Visit
You're going to need to book appointments - very few bridal boutiques offer walk-in appointments. Check when the people accompanying you are free and book a series of shopping appointments.
3. Spread Out Your Bridal Boutique Visits
You might be tempted to block-book a day of visiting every bridal shop in your area - but think carefully before you do this. You want to have plenty of time at each appointment and not feel rushed, and you want to be able to clearly remember the dresses you tried on. You'll get fatigued if you try to cram in too many in a day!
4. Understand Exclusivity Agreements
"Okay, so here's the thing," explains Rebecca, "Every bridal shop has a 'radius of exclusivity' on each dress label they carry.
"Depending on the label, it can be as little as a five-mile radius up to a 25-mile range on more exclusive brands. So, based on that, it is much better to choose to visit shops within a five-mile radius of each other. That way, you get to see lots of different designers, labels and brands and styles."
5. Call Ahead If You Want a Specific Dress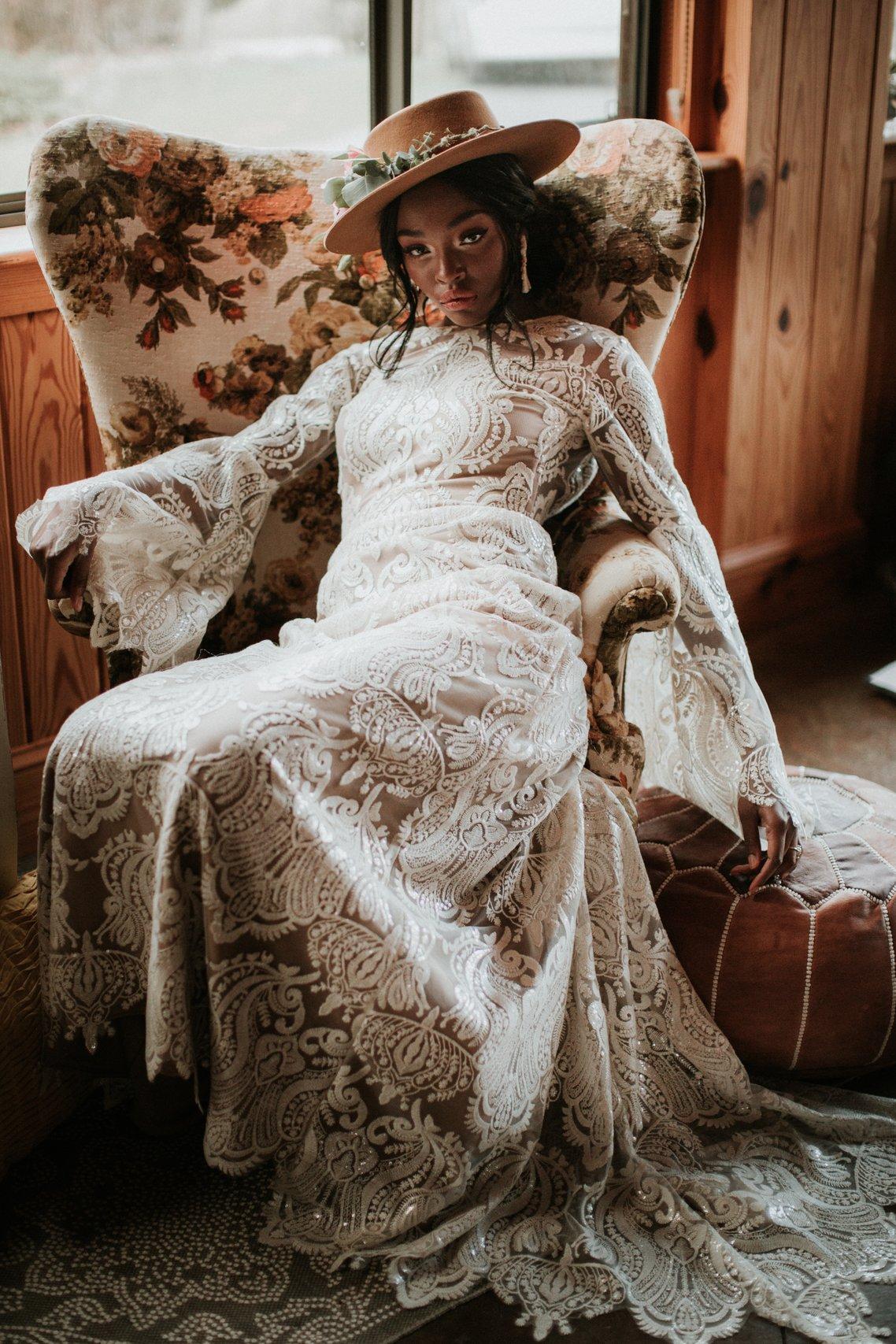 Similar to Rebecca's point above, lots of wedding dress brands bring out a huge number of different dresses every year, so just because you're visiting a stockist of one, it doesn't mean they'll carry all their designs. If you're fixated on a particular one, make sure the shop your visiting stocks that actual design, or can at least call it in.
6. Read the Bridal Boutique's Reviews
You wouldn't buy a new laundry rack on Amazon without reading the reviews, so treat your wedding dress shopping experience with the same respect (if not more!). "Every shop you visit must have reviews somewhere on the internet," says Rebecca. "If you have planned to visit a bridal shop with no reviews, you must ask yourself why?
"Don't be fooled by glossy websites and lots of Google listings if there are no genuine reviews online to back that up. Honesty and transparency are absolutely imperative when it comes to your wedding dress."
Don't forget, you can browse bridal boutique listings and see lots of reviews in the Hitched marketplace!
7. Ask for Recommendations
As well as reading all the reviews, ask your married or engaged friends where they bought their wedding dresses and if they would recommend their bridal boutiques. It should be such a special experience, so having a word-of-mouth recommendation from someone you trust definitely helps!
8. What Day Will You Go?
When you're booking your bridal boutique appointments, think about what day you'll visit. It's easy to assume you'll go on a Saturday if you work a typical 9-5, but that is what everyone does. If you and your group can go on a Wednesday, you're more likely to have a less busy, more leisurely experience.
9. When Do You Need Your Wedding Dress For?
It can take between eight and six months for your chosen wedding dress to arrive in store. That's not to say you can't find the perfect wedding dress and plan a wedding in three months, but you need to let the shop know your timeframes and allow as much time as you possibly can to give yourself as many options as possible!
10. What's Your Budget?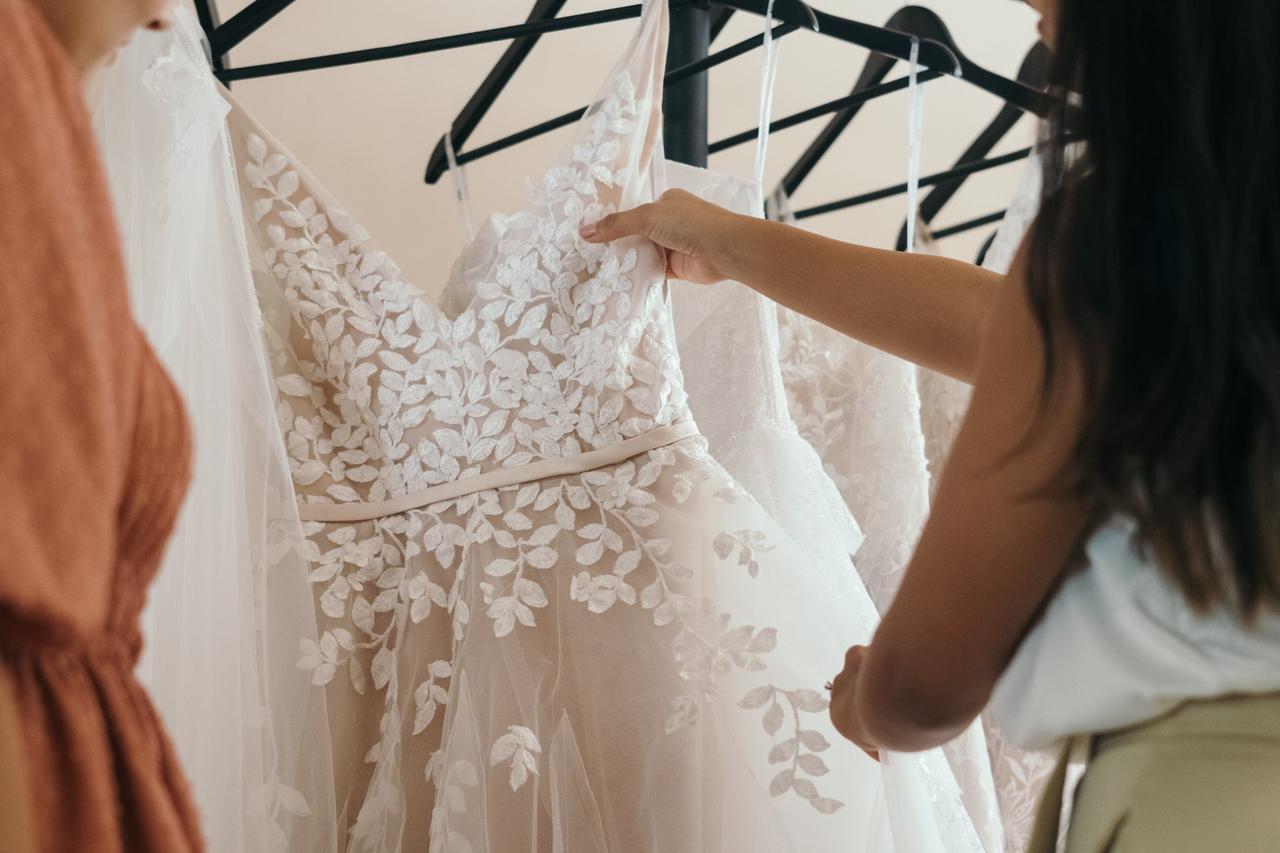 "If you are going dress shopping, be prepared to buy. Don't treat wedding dress shopping as just a happy day out because that mindset will not help you to find 'the one'," says Rebecca. "Have a clear understanding of your budget and discuss this if you need to with each shop before you book to visit them."
Being upfront about what you have to spend will help the shop staff pull the right dresses for you to try on, as pricing can be a bit secretive and confusing in the bridal industry.
11. Would You Consider a Sample Dress?
A great way to get more for your budget when wedding dress shopping is to consider sample sales. Lots of wedding dress shops will sell off their sample dresses for a cheaper price when they get new stock in. It will have been tried on before, but if you have a limited budget, it's a great way to make it go further.
12. Think About Accessories
Some shops will do deals if you buy accessories from them as well as your dress, and even if they don't, they'll definitely have lots of lovely wedding accessories for you to try on. Think about what kind of accessories you might like and factor them into your shopping budget too.
13. Consider Customisation and Alteration
Some wedding dress brands offer customisation options with their dresses - this is perfect if you want a unique look or just have a few details you'd like tweaked to turn it into your dream dress. Ask your bridal shop if it's a possibility, and remember to also factor in alterations into your final spend. You want your dress to be tailored to a perfect fit, and that comes with an additional cost.
14. Does the Shop Charge for Appointments?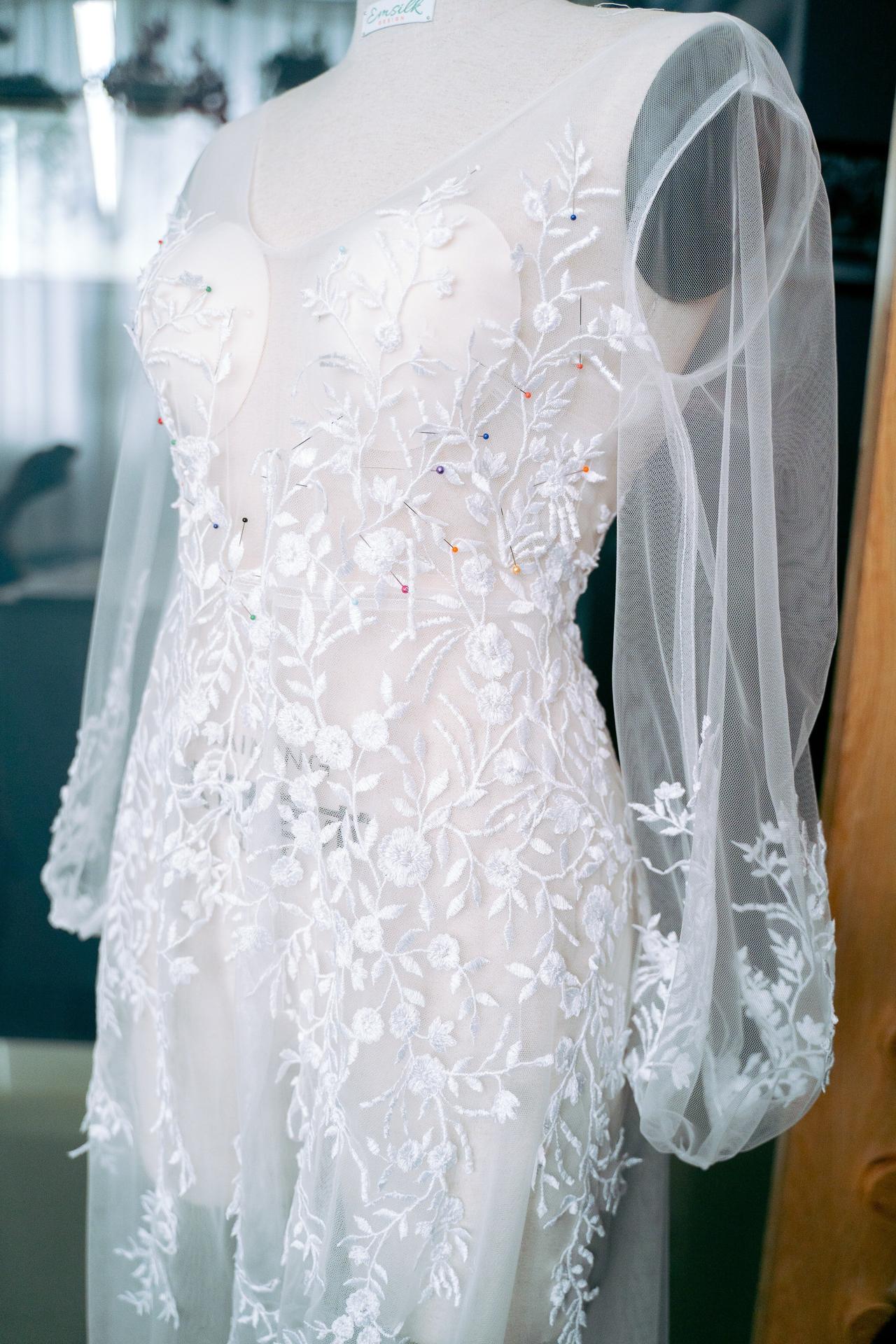 Some bridal boutiques charge for appointments - this is to deter no-shows, and in some cases for extra package details like luxury fitting rooms, bubbly and gift bags. Find out if the shop charges, and if it's just a deposit redeemable against a purchase, or if you can buy an upgraded appointment so you know exactly what you're paying for.
15. What's Your Venue Like?
It's important to think about your venue before you go wedding dress shopping. If you're having a religious ceremony, you don't want to have too much skin on show, so you might need to shop for a bridal cover-up too.
If you're marrying in a rustic barn wedding venue, you probably want something a bit more boho to suit the surroundings, whereas a stately home wedding venue suits a more traditional ball gown.
16. What Suits You?
It's also really important to consider what suits you and what styles you feel most comfortable in. Look at the clothing you love and feel your best in, and think about what details make it work for you - is it a V neckline, an empire waist or a sassy thigh split? Look for wedding dresses with these details so you'll feel as comfortable and as good as you do in your favourite outfit.
17. What Hairstyle and Makeup Will You Have?
If you hate having your hair up, and you know you want long, loose waves on your wedding day, consider that when dress shopping - you don't want an overly embellished neckline your hair will tangle in. If you want a chic wedding updo, look at dresses with lots of detail to show off!
If you know you want vintage-inspired wedding makeup, with a bold red lip and sleek winged eyeliner, look at dresses inspired by the same era so your dress won't look at odds with your makeup.
Don't go to your appointment with loads of makeup on though - nothing stresses out a wedding dress shop team than seeing someone arrive in heavy makeup and fake tan to try on ivory dresses!
18. What's Your Wedding Theme?
Even if you don't have a 'theme' for your wedding as such, you'll definitely have a vibe or a feel that you're going for. Describe your day to your bridal shop - you can show them pictures of what you're going for - and they'll be able to match dresses to suit that vibe.
19. You're Going to Need Practical Underwear
Either wear your plainest, most practical underwear - think flesh coloured and strapless - to the appointment, or take some with you. An intricately detailed, black lace bra might look great on you, but it'll look a mess when trying on an ivory wedding dress with a sheer bodice!
The thing about what underwear to wear when wedding dress shopping is it will depend on the style of dresses you try on. Take a few different options, and if in doubt, ask for input or advice from the wedding dress shop you are visiting.
20. You Might Have to Get a Bit Naked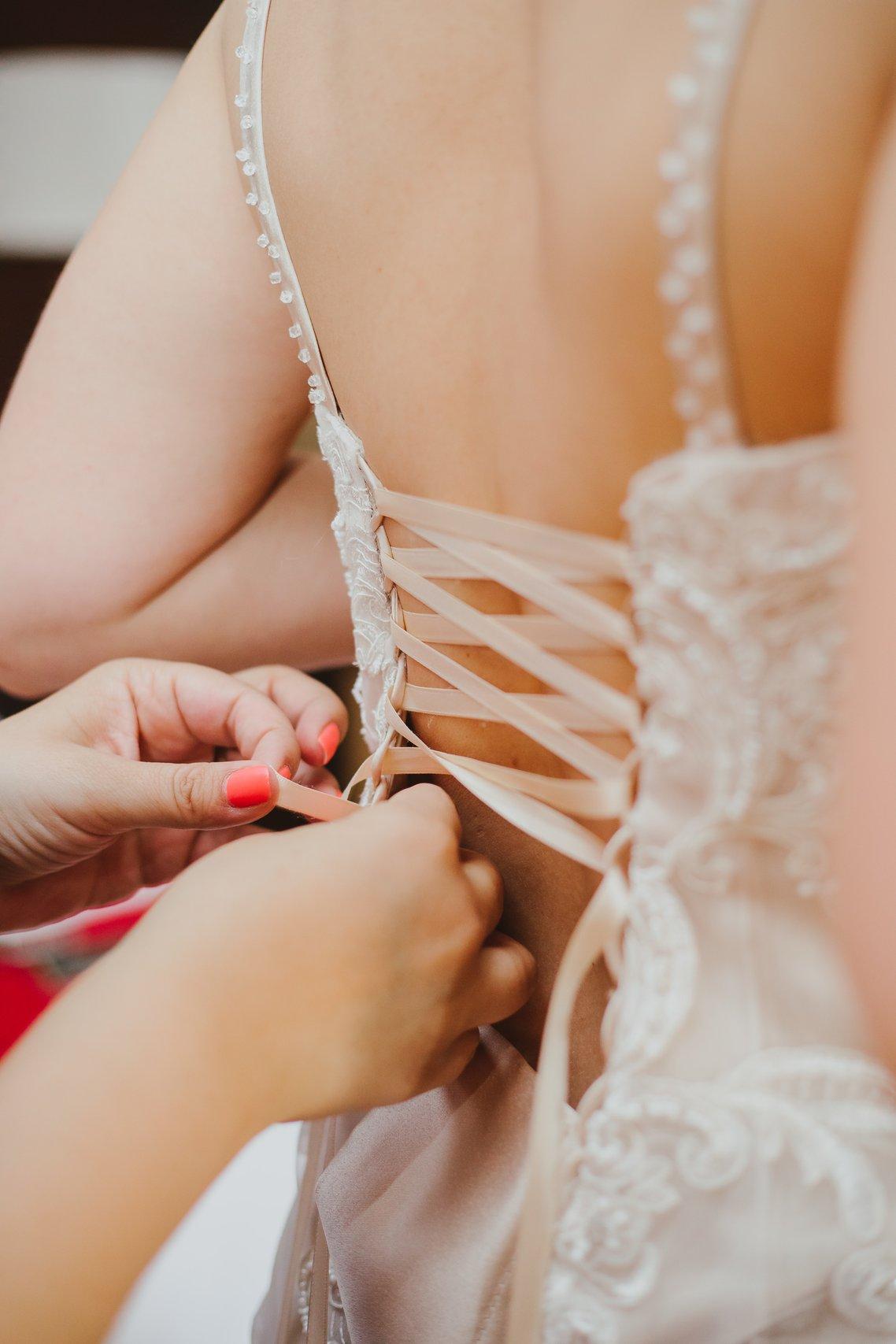 Prepare yourself for not wearing your bra at all actually - lots of dresses have built in support. The staff member helping you at your appointment will most likely be in the fitting room with you, helping you in and out of those tricky gowns, just so you know. They've seen it all before.
21. Make a Shoe Plan
You might not have your wedding shoes yet, but you've probably got an idea of what you want - whether it's cute but comfy bridal flats or towering designer wedding shoes. Take a similar pair shopping with you, or just let the shop staff know, so you can get a better idea of what works with the dress and how it'll fall when it's on.
22. Know Your Wedding Dress Terms
Do you know your bateau from your bustle? You're going to need to know the names of the wedding dress features you love, so you can accurately describe what you're looking for. Luckily for you, we have a guide to all the wedding dress styles and terms you could need to know.
23. Where Will You Store Your Wedding Dress?
Think about where you'll store your wedding dress, especially if you're shopping with plenty of time to spare. Ask the bridal boutiques if they offer storage, as some do for a fee, and if not, get tips on how to store your dress at home.
24. It Might Be Hard Work
We've all seen the TV shows where she emerges from the fitting room and her guests daintily dab at their eyes and then someone rings a bell and everyone whoops. It might not be like that for you, but don't be disheartened. It can take time to find perfection!
If you start to feel burnt out by dress shopping, take a little break from it. The right one is out there, waiting for you, but there's no harm in taking time to regroup.
25. Trust Your Instincts
"Most brides instinctively know when they have found 'the one'! You just know it's right. However, if you are indecisive and worried about committing to buying, you really shouldn't be,' says Rebecca. "Statistics show that only over 70% of all brides find their dress in the first bridal shop they visit. We have so many brides who LOVE LOVE LOVE the dress, then say, oh but I can't buy it just in case I see something else.
"The fact is you will always see something else, of course you will, but there has to come a point where you say 'you know what, I'm sticking with this one', otherwise you could just keep on looking forever!"
26. You Might Fall in Love With the First One You Try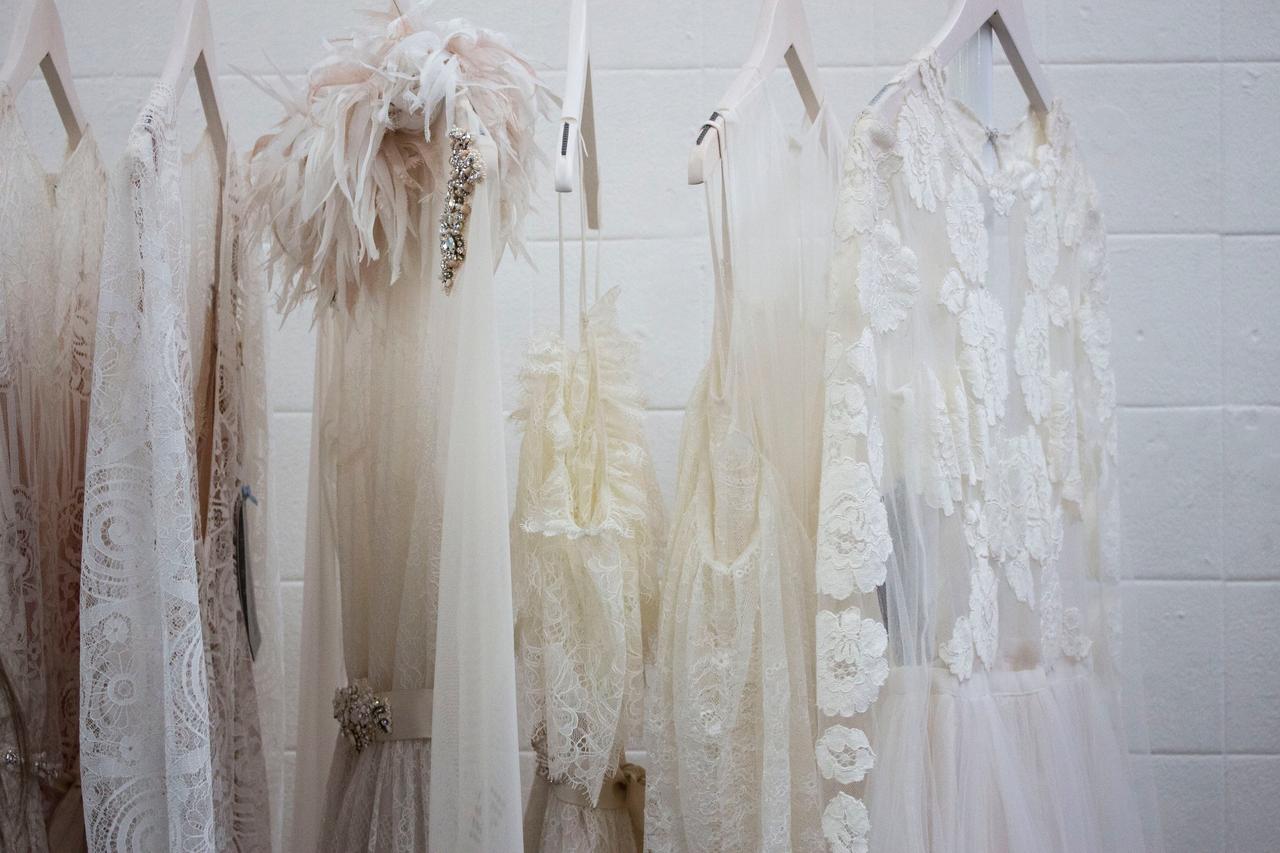 As Rebecca says, most brides find their wedding dress in the first shop they visit! There's something magical about the first wedding dress you try on - it's what transforms you into a bride!
"So many brides are amazed when they see their dress at the first shop they visit, but why?," asks Rebecca. "For instance, if you are going to Jimmy Choo London to buy a pair of shoes, why would you be surprised to find them at Jimmy Choo?"
27. Think About What You'll Wear to Go Wedding Dress Shopping
We've touched on what underwear to wear when you go wedding dress shopping, but what about the outfit that you wear? You'll going to want to wear something that's easy to get in and out of in a changing room - avoid lots of layers or tricky fastenings. Also, think about the style of outfit you're going to be trying on. If it shows a lot of skin, avoid clothing that will leave imprints on your skin, such as super fitted skinny jeans.
This will allow you to have a more clear visual of what the dress will actually look like on the big day.
Don't question it too much if you fall in love with one straight away - you went out to find a wedding dress that you love, and you found it!