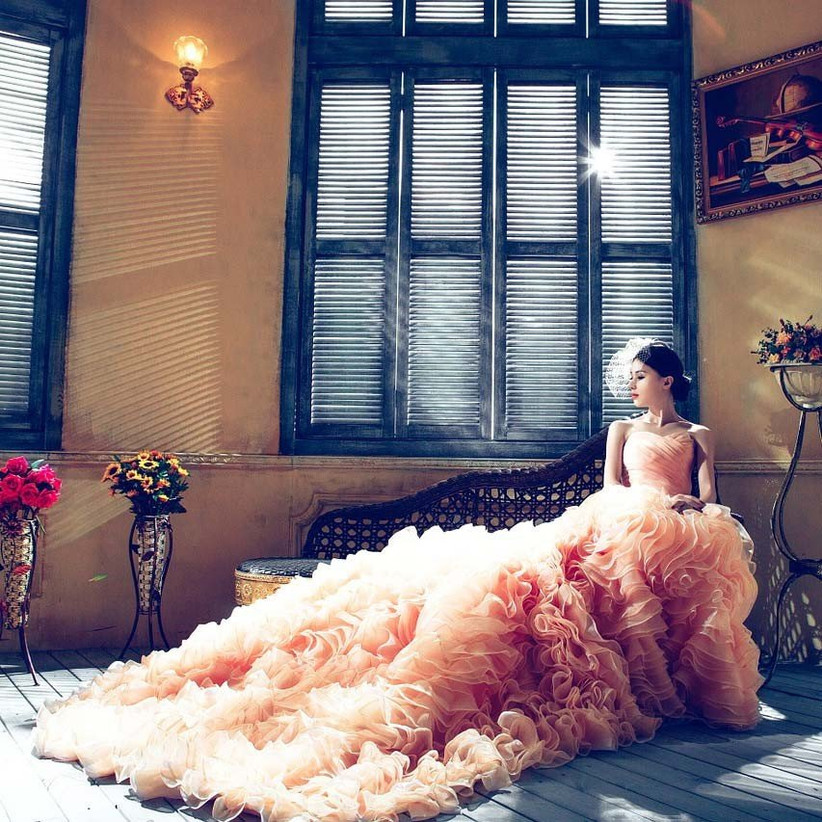 There are a few things you need to do once you're engaged, but when all that's out of the way it's time to start dress shopping. We've rounded up 29 things you have to know before you head wedding dress shopping!
1. Know Your Budget
And stick to it. Yes, that super expensive designer's dresses are so pretty and will make anyone look like a fabulous princess but there's no point even considering them if it's outside of your price range. Repeat your budget in your head like a mantra and don't let anyone show you anything above that.
2. Reduce Your Entourage
Your whole bridal squad might want to come with you when you go dress shopping, but it's important to know that less is more. If you take lots of people with you you're going to get a lot of opinions and that's not what you need. Take your mum and your MOH – that's all you need.
READ MORE: How to put together the ultimate bridal squad
3. Bring Extra Underwear
Take options with you – a strapless bra and a skin-tone coloured pair of knickers is a good place to start – you might want to change into these if you try on a strapless dress or a gown made from sheer lace.
4. But Prepare to be Naked
You might want to try on a dress that doesn't need a bra with it – and the shop assistant may come in to help you into it. But don't worry, they've seen it all before.
5. Talking of Underwear…
Last time, we promise. You might have some seriously sexy bridal lingerie in mind for your wedding night, but it might not work with your dress. Be open to the idea that you might have to put it on after you've taken your dress off.
READ MORE: The ultimate guide to bridal lingerie 
6. Shop for the Weight You Are Now
A lot of brides up their health regime in the run up to the big day, but when you're shopping for your dress go with the shape and weight you are now. It's easier to alter a dress and make it smaller if you're planning on losing weight.
7. Take Shoes with You
Already found the perfect wedding shoes? Make sure you take them with you so you can try them on with your dress. If you haven't got them yet, take shoes in a similar height to what you think you'll wear so you can see how the dresses fall.
8. Remember it's Not Just the Dress
Your budget will also need to cover accessories such as your veil and potentially bridal jewellery too. Don't splash all your cash on the dress.
9. It's Wise to Call Ahead
Wedding dress shopping is a lengthy experience and it's pretty special too – you can't just drop in to most places with your friends and try on several gowns. Look for stockists of designers you like and call ahead to book an appointment.
10. A Sale isn't Always a Good Deal
Don't get caught up in the hype of a sale – only buy the dress if you really love it. If you get over excited and snap up a bargain, but don't truly love the dress you'll only regret it later.
11. But Don't Dismiss a Deal Outright
Don't turn your nose up at the idea of buying from a sample sale or a last season dress.
12. Know Where You're Going
Ask for recommendations from married friends and brides – if someone has had great service and a lovely experience they will let you know and you can go and enjoy the same.
13. Go on a Weekday
Weekends are busy times for bridalwear shops. Book a day off work and take advantage of the quieter time.
14. Give Yourself Plenty of Time
It can take six to eight months for your wedding dress to arrive in the shop with all the alterations done, but that doesn't mean you can allow six to eight months for shopping. Give yourself as much time as you can to make sure you don't run out of time to find the one.
15. It Might be Hard Work
You might not love every second of it – trekking from shop to shop may get tiring, and you might find it frustrating not finding the one right away – but it's worth it in the end!
READ MORE: The emotional stages of choosing a wedding dress
16. Don't Go Overboard on the Makeup
Go for a light, natural look – you don't want to be the person who leaves foundation marks or lipstick inside the dresses…
17. Trends Aren't That Important
Sorry, fashionistas! Don't let trends influence your choice too much. Go for what suits you and what you truly love – you'll be looking at these pictures forever and if it suits you, it's timeless.
18. You Might Not Cry
We've all seen it in the movies where everyone wells up in sync as the bride walks out of the fitting room. That might not happen and it's fine. Save your friends' mascara.
19. Where You're Getting Married Can Impact Your Dress Choice
Getting married in a church? That strapless, plunging neckline might not work for you. Got a fancy stately home wedding venue lined up? A dress with a ruffled mini-skirt might not fit the brief.
READ MORE: Beautiful stately home wedding venues
20. Being Spoilt for Choice is a Real Thing
We're all about the Pinterest board and the stack of bridal magazines but if you look at too much you'll only confuse yourself.
21. Be Open to Different Hairstyles
You might have a particular hairstyle in mind but we say be open to the idea of changing it – you might be a hair down kind of girl, but if you fall for a dress with stunning back detail do you really want to hide that under your hair?
READ MORE: 47 wedding hairstyles that are easy to master 
22. Size Doesn't Matter
Bridal sizes are different to normal sizes. It's just a thing. Don't read into it too much.
23. There will be Fine Print
Read it! If you fall for a dress and put down a deposit, make sure you read the fine print, paying particular attention to the information about exchanges, refunds and whether the shop will keep the dress in-store for you.
24. Alterations Cost Money
And they might not do them in house – you might even choose to go to a different seamstress altogether for your dress alterations.
25. Some Shops Charge for Appointments
Find out if they do before you turn up and if the cost is redeemable against any purchases made.
26. Some Shops Charge for Refreshments
We know! But the bubbly isn't always complimentary, just so you know…
27. You Might Fall for the First Dress You Try On
And that's totally fine. It's also fine to try on a few more, just to be sure.
28. You'll Have to Learn Things
What is a bustle? What kind of bustle do you want? How will the dress be done up and how will you get out of it? It's a learning curve.
29. You Might Just Love It
It's one of the most exciting times and one of the most special purchases you'll ever make. Don't be afraid to relish every second of it.
Ready to get on the dress shopping hype? Make sure you read about the 43 wedding dress sins every bride needs to avoid.