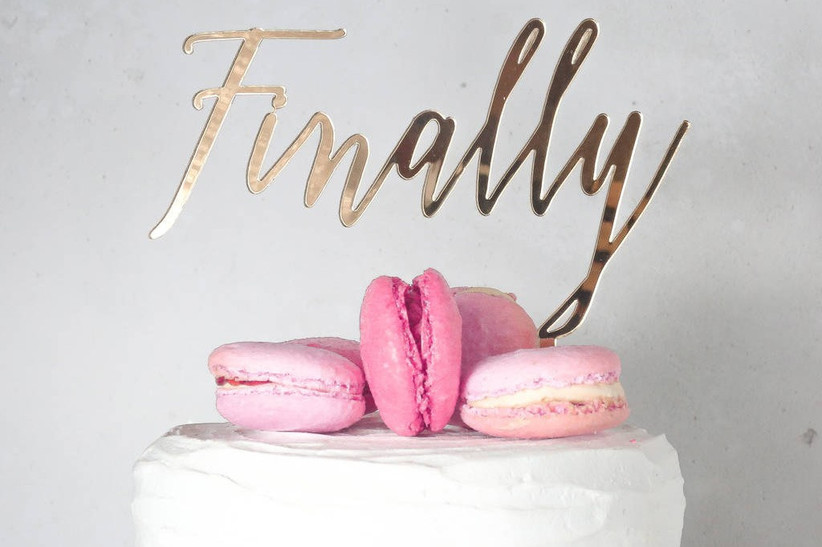 If you and your partner are considered the jokers of your group, then a unique wedding cake topper that has comedy value is a great way to grab your guests' attention.
Whether you both have a funny in-joke or you just simply want to celebrate your quirkiness, check out these funny wedding cake toppers that we've rounded up – we challenge you not to have a chuckle.
Posh Party Cake Topper – £20.50, Clara Ivy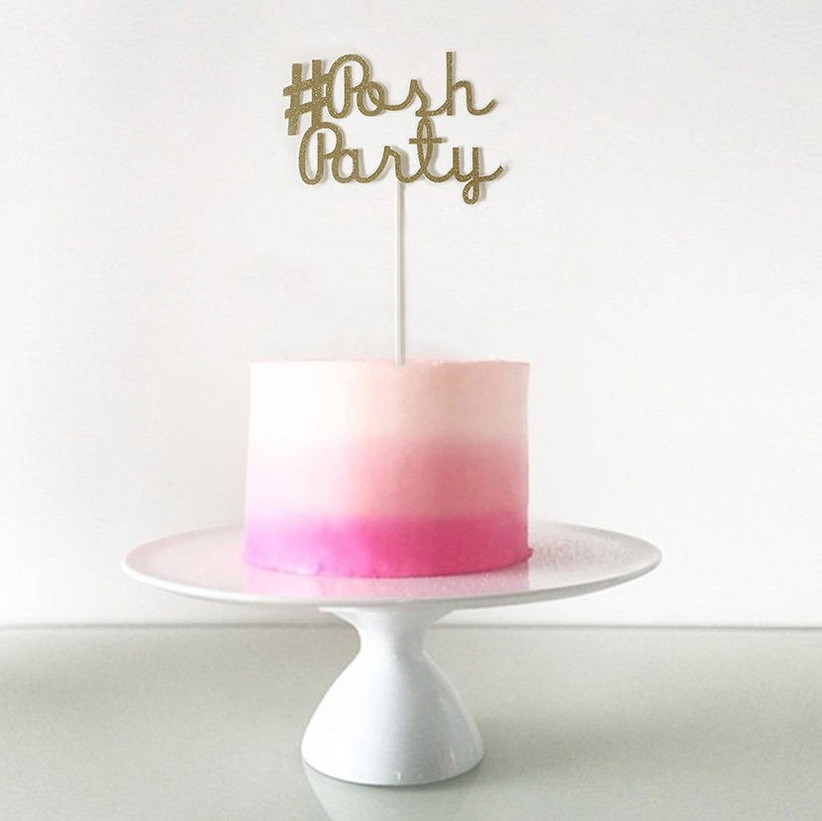 If you're both social media obsessives then a hashtag cake topper is the perfect way to poke fun at this. This sparkly topper can be personalised with any wording you want. PS – an Instagram selfie with the cake is mandatory.
We Did What? Cake Topper – £8.37, Paper Candies Shop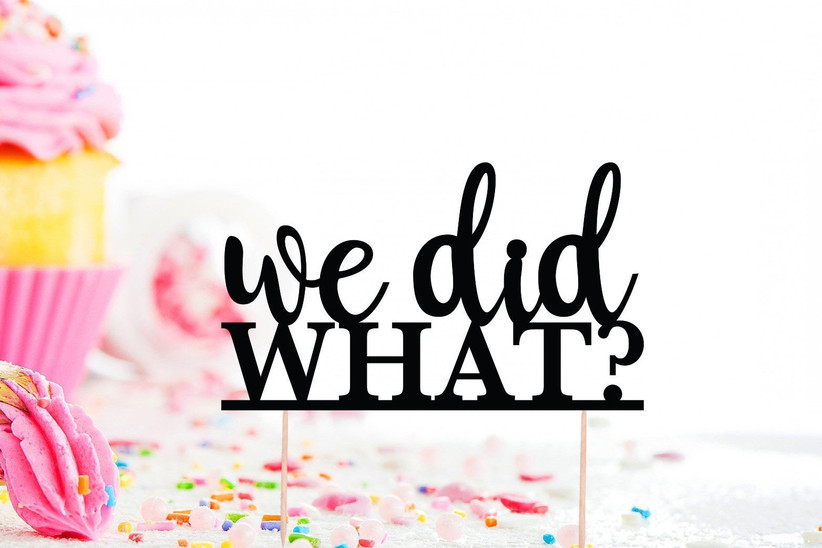 Add a brilliantly light-hearted touch to your day with this 'We did what?' cake topper. If you're a non-traditional couple who might have had reservations about the concept of marriage, then this cake topper would be the perfect way to poke fun at that.
He Put a Ring on It – £16.99, Funky Laser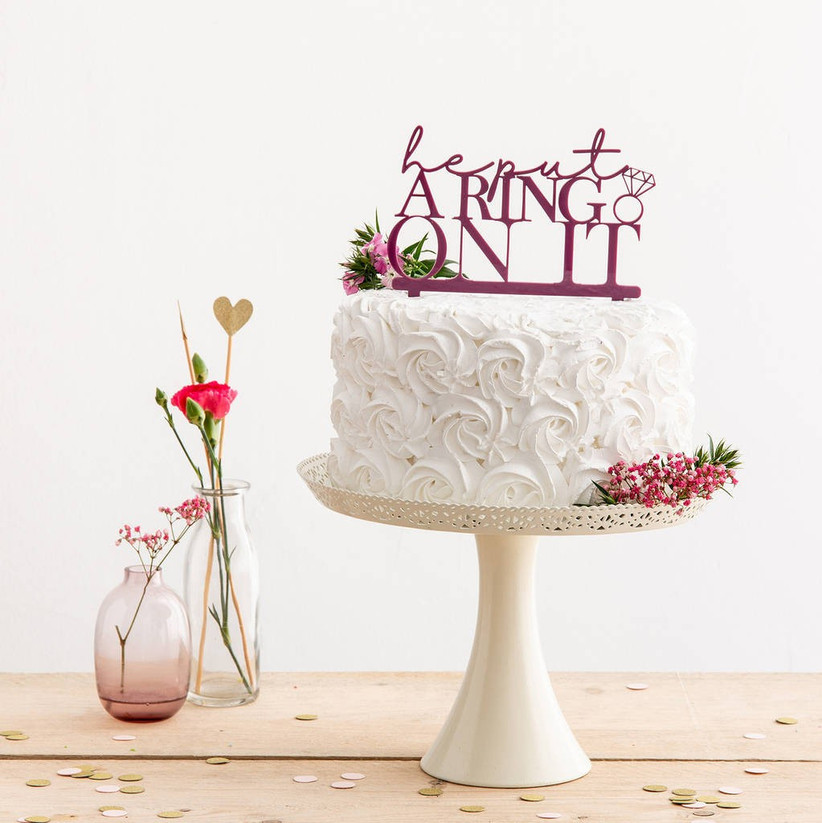 If, like us, you get over excited at the prospect of all things wedding and engagement related (or just feel the need to embrace your inner Beyonce), then this fun cake topper would save you from screaming it out loud on your actual wedding day.
He's Her Lobster – £15.00, Bash and Vibe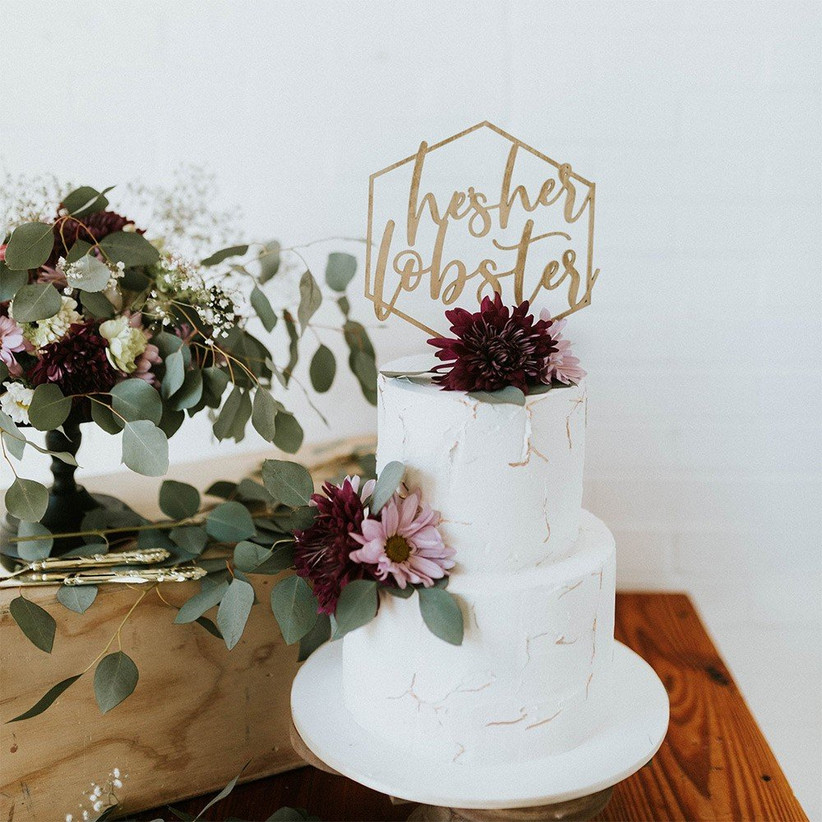 If this iconic line from Friends has always stayed with you, then this cake topper will let everyone know that you've found your lobster. It also shows how a funny wedding cake topper can still be beautiful and elegant.
READ MORE: 23 Wedding Lessons We Learned From Friends
Lobsters Cake Topper – £25, The Letter Loft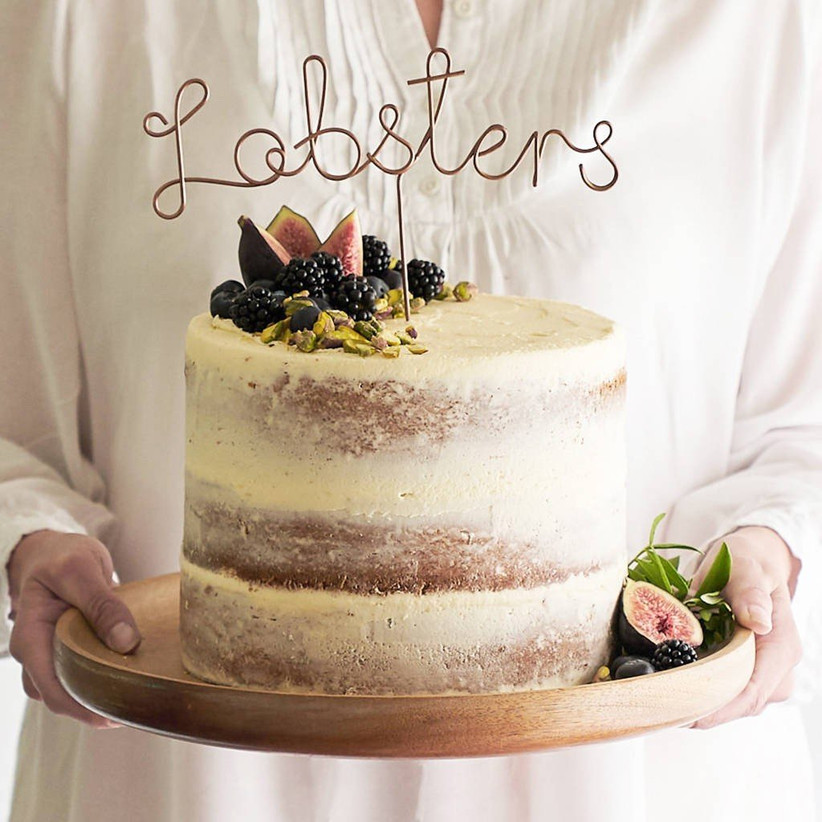 Love the lobster theme but want to keep it more subtle? Then this simple wire cake topper would be ideal for you and is available in a gold, silver or copper finish.
Mr and Mrs Darth Vader – £13.33, Special Designs For You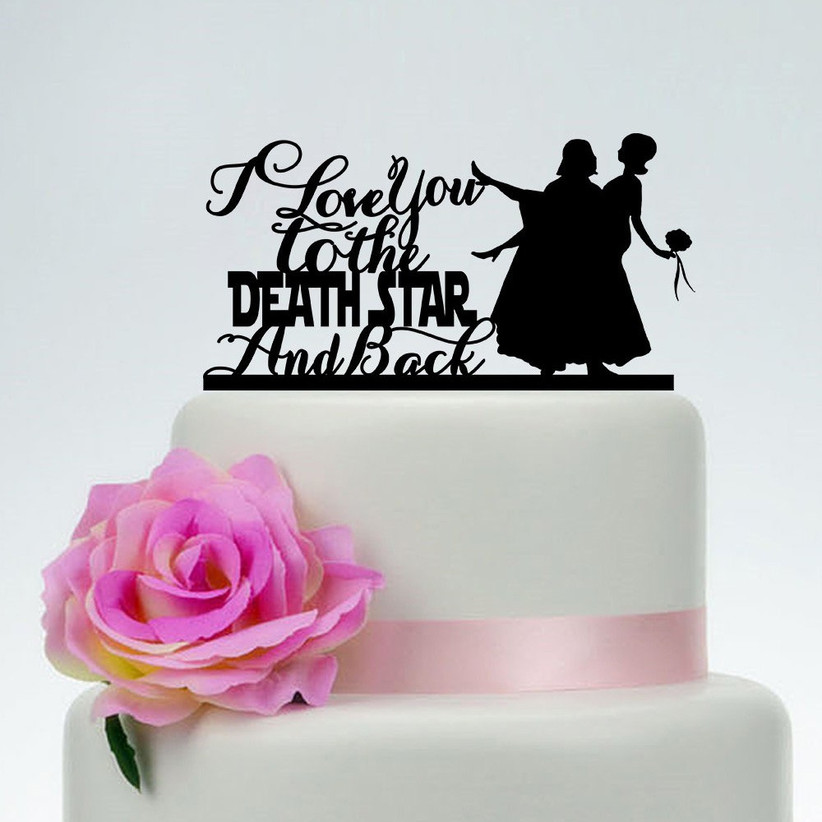 Here's another brilliant wedding cake topper for a pair of movie buffs. This Star Wars cake topper would be ideal if you're both fans of the franchise and want to keep your wedding light-hearted.
READ MORE: Wedding Cake Toppers for TV and Film Buffs
Married AF Wedding Cake Topper – £17.47, Inked Icing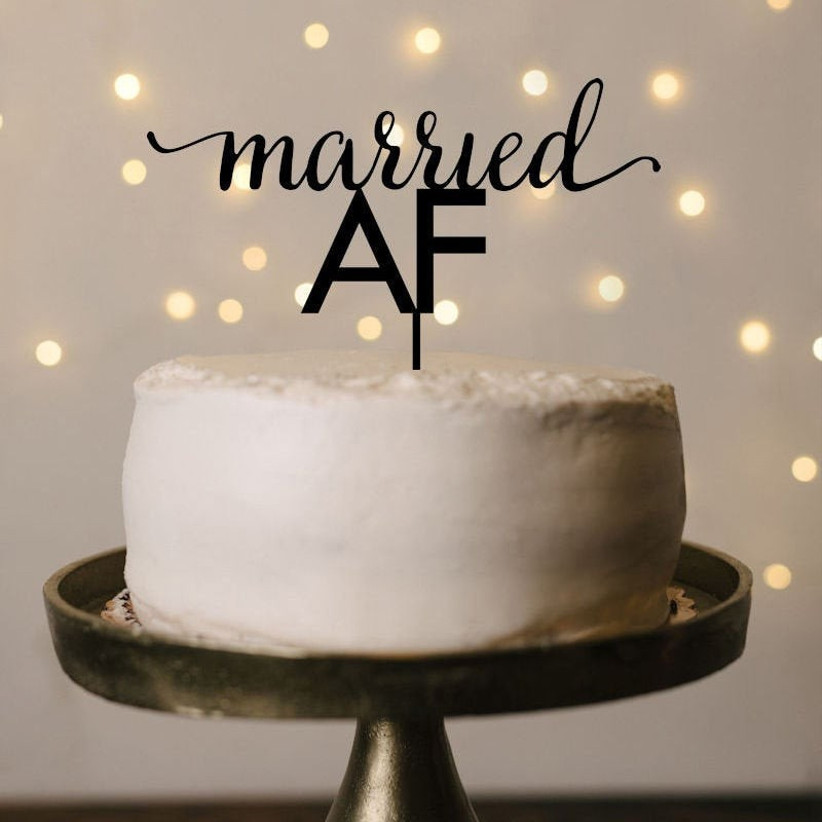 Add some cheeky humour to your wedding cake by topping it with this Married AF sign. Available in 22 different colours, from rustic wooden shades to gold glitter or pretty pastel tones, you'll be able to choose a shade to suit your big day.
Minnie & Minnie Cake Topper – £13.75, Unique Cake Topper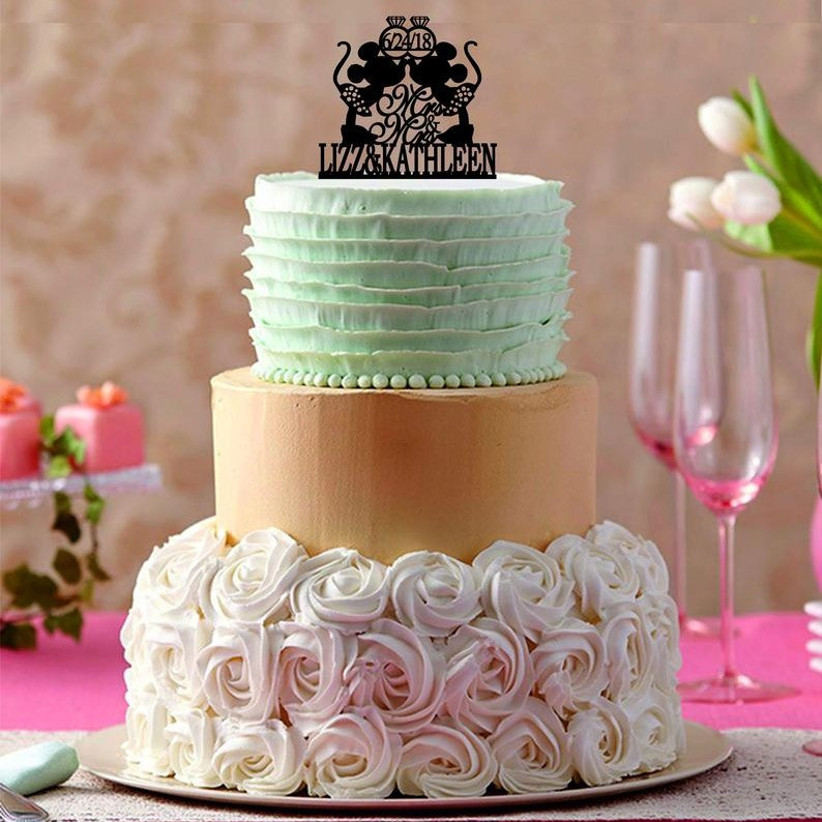 If you and your other half are big Disney fans (or maybe you even got engaged at Disneyland?), then this adorable Minnie & Minnie cake topper is a super cute choice. Mickey & Minnie and Mickey & Mickey designs are also available.
Motorbike Wedding Cake Topper – £16.99, Amazon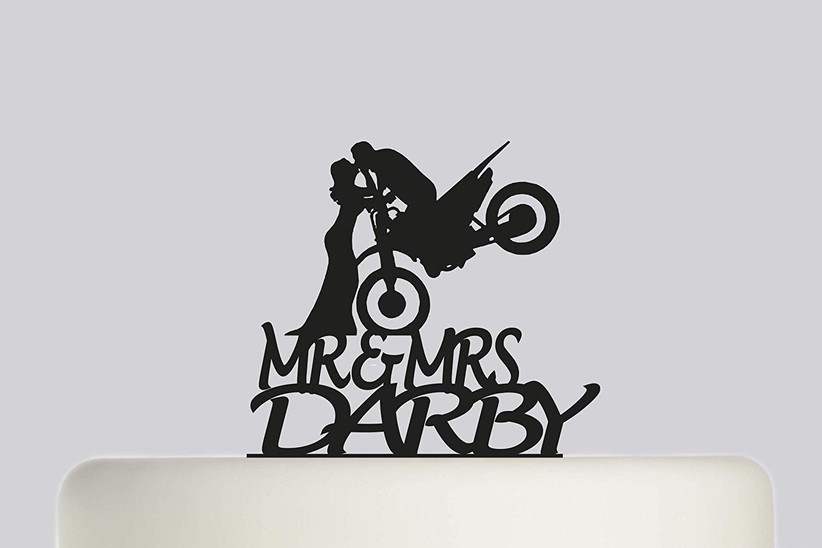 If you or your partner are motorbike fans then this romantic motorbike kiss cake topper will be a fun nod to that, plus it can be personalised with your both of your names too.
Yasss Wedding Cake Topper – £19.13, Inked Icing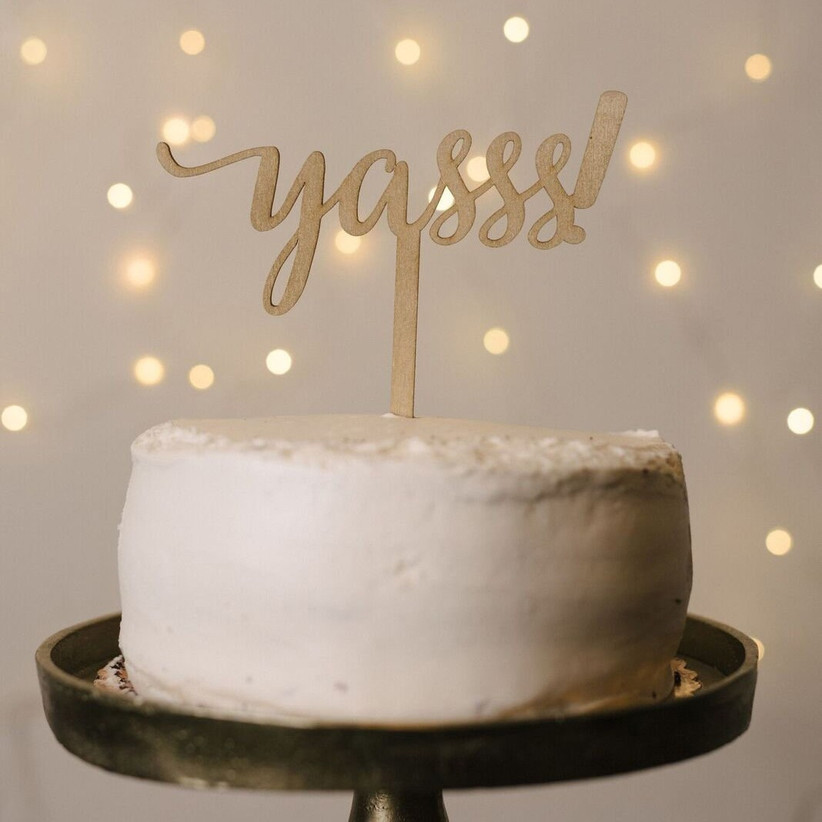 Are you just completely over the moon to be saying 'I do'? Then this Yasss cake topper is the perfect way to show your wedding guests just how excited you really are.
At Last Wedding Cake Topper – £16.99, Funky Laser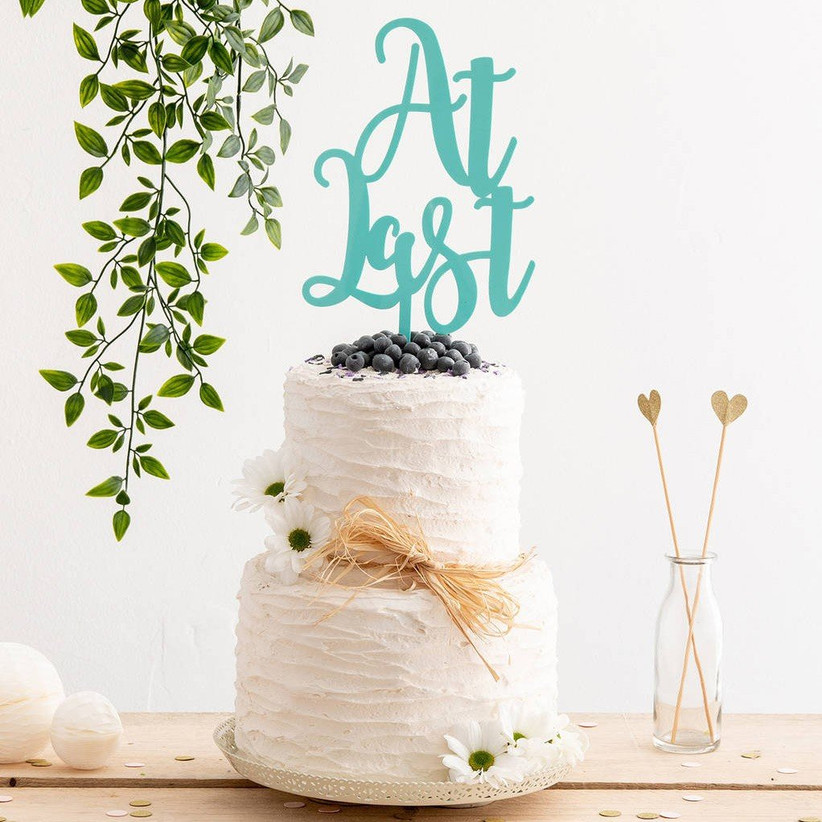 Are you one of those couples who spent years and years engaged before walking down the aisle? Poke fun at your long engagement with this 'At Last' cake topper – available in over 30 different colour choices.
The One Where They Get Married – £10, Thee Cake Top Shop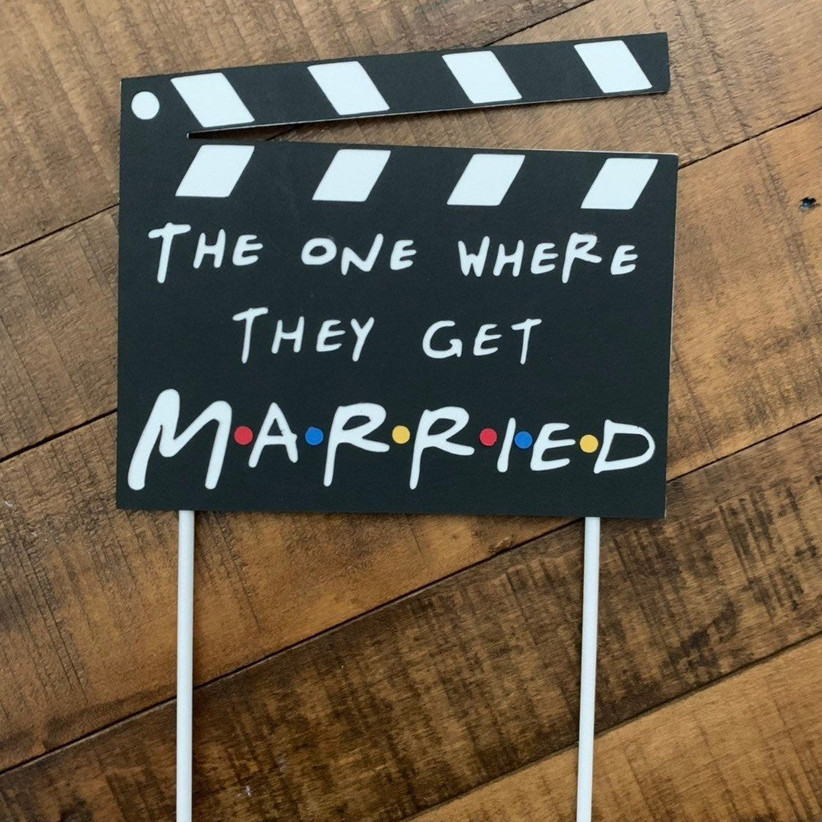 Another cake topper that is made for Friends fans! Take your Friends theme to the extreme with this fun cake topper that is written in the style of the episode names.
Finally Cake Topper – £14.95, Here's To Us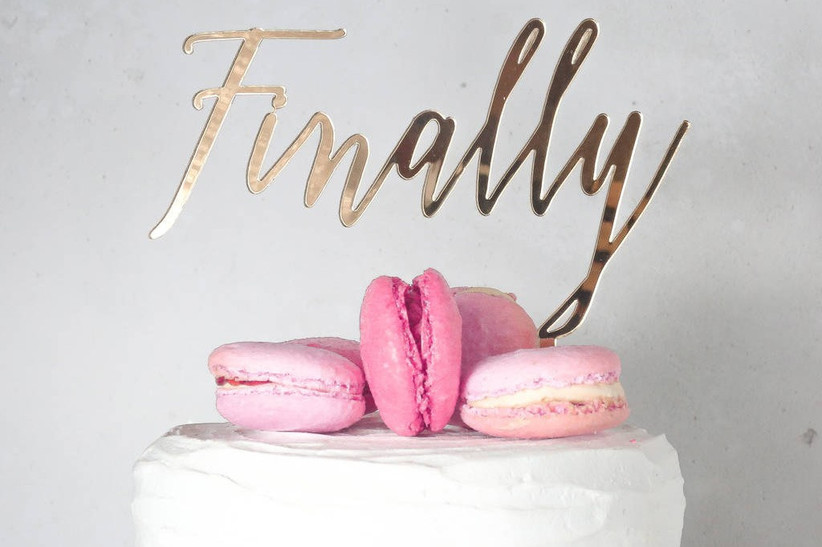 This elegant 'Finally' cake topper is a fun choice for couples who had a long relationship before getting engaged. If you are one of those couples then you can make a joke to your friends and family – finally they will stop asking when you are getting married!
Achievement Unlocked Cake Topper – £13, Amazon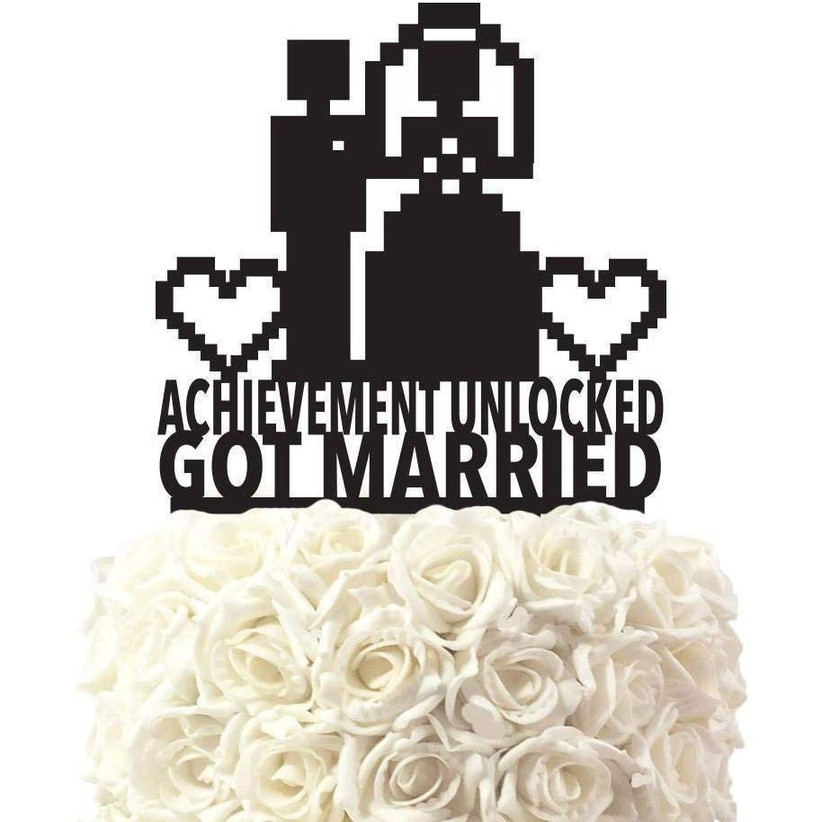 If you're gaming fans then why not make this the theme of your wedding cake with this topper? It's the perfect way to show how you have taken your life and your relationship to the 'next level'.
Handmade Cake Topper – £158.72, Doye Art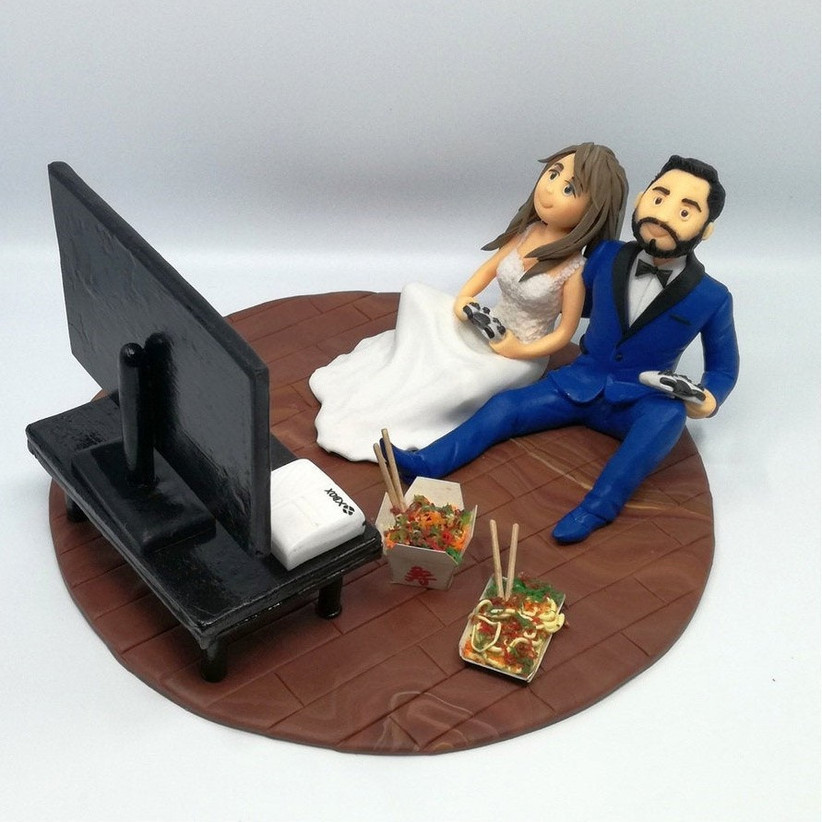 Gaming fans – don't look away just yet because this personalised cake topper is also a great one for you. Send your photos and details about your wedding outfits and you'll receive your very own personalised and handmade characters ready to sit on top of your wedding cake.
Say Cheese Cake Topper – £25, The Letter Loft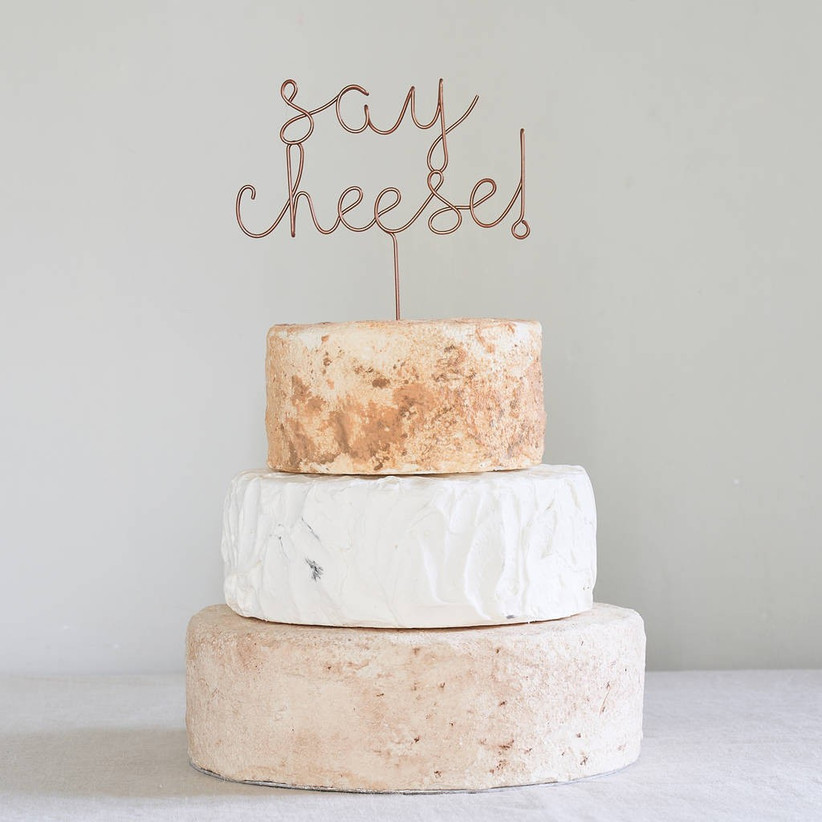 Are you having a cheese wedding cake? Then this wire 'Say Cheese' topper is exactly what you need to complete your cake. We love that it's fun but subtle so won't detract from your overall wedding theme.
READ MORE: Cheese Wedding Cakes: Our Favourite Picks for Cheese-Lovers
Dancing Couple Cake – £10, Ardere Designs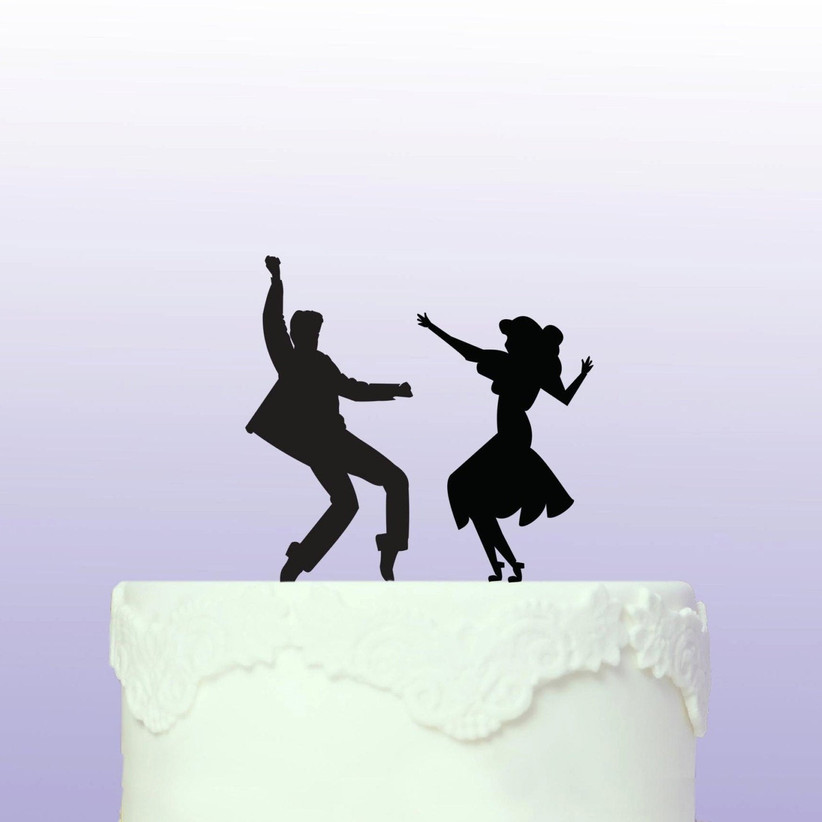 If you and your partner were literally jumping for joy when you got engaged, then why not capture that feeling forever with this cake topper? It's a fun way to show your guests you are ready to get the party started.
Superhero Wedding Cake Topper – £13.38, Special Designs For You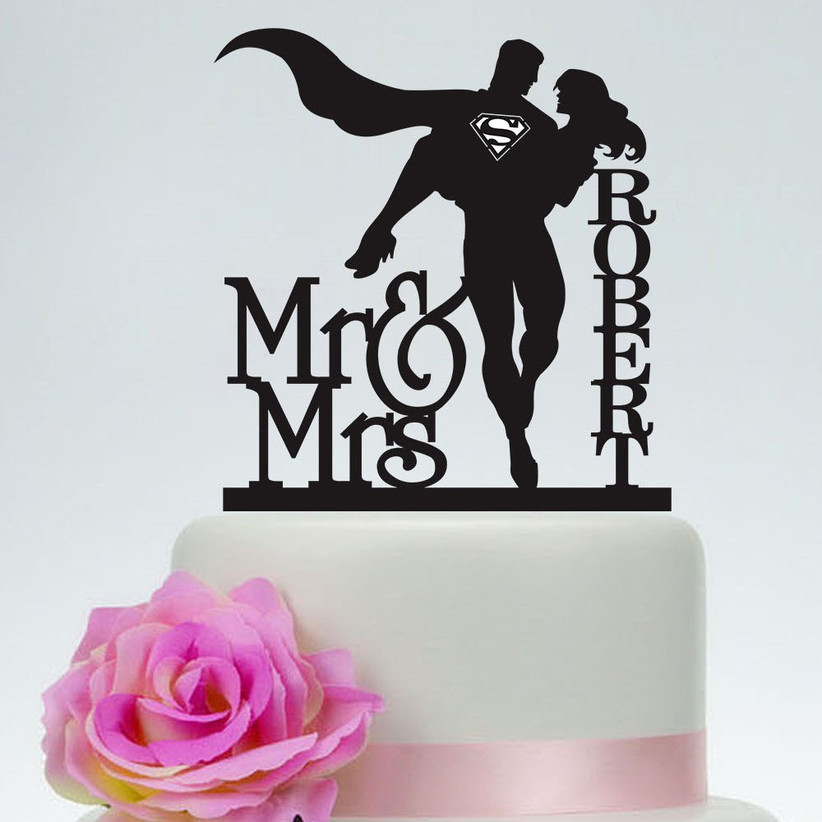 Have you found the Superman to your Lois Lane? Then this funny comic book-inspired cake topper is the perfect way to show that to your guests. Available is 18 bold colours, you will definitely be able to find one to suit your colour scheme.
If you love this selection of funny wedding cake toppers, then don't forget to browse our edit of alternative wedding cakes for something quirky to place them on.