Sweet Engagement Captions for Your Big Announcement
Let's make it Instagram official! We've picked the best engagement announcement captions for when you're ready to let the world (ok, your followers) know you're getting married, from funny quotes to ideas for captioning an engagement ring picture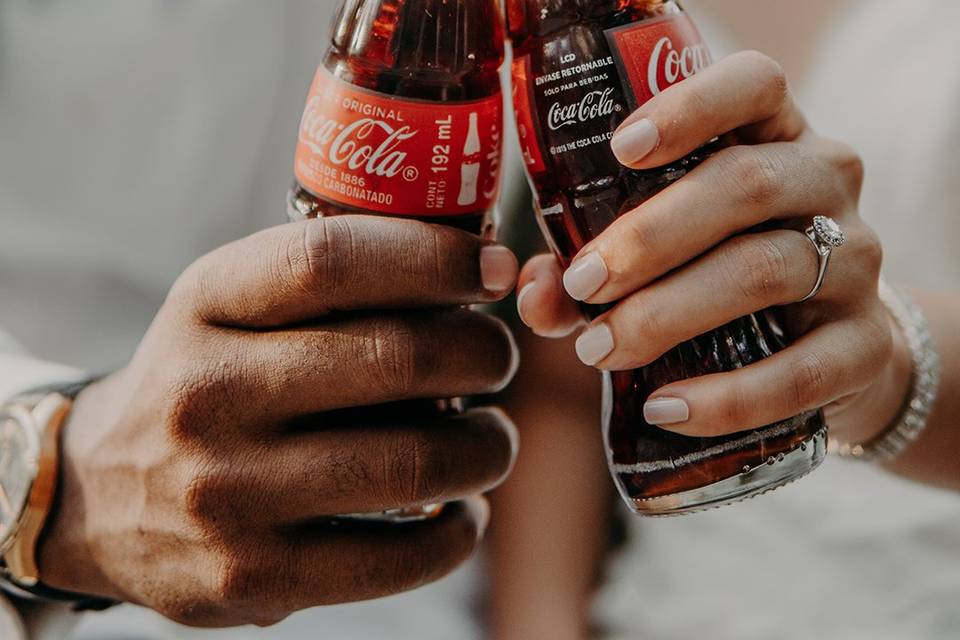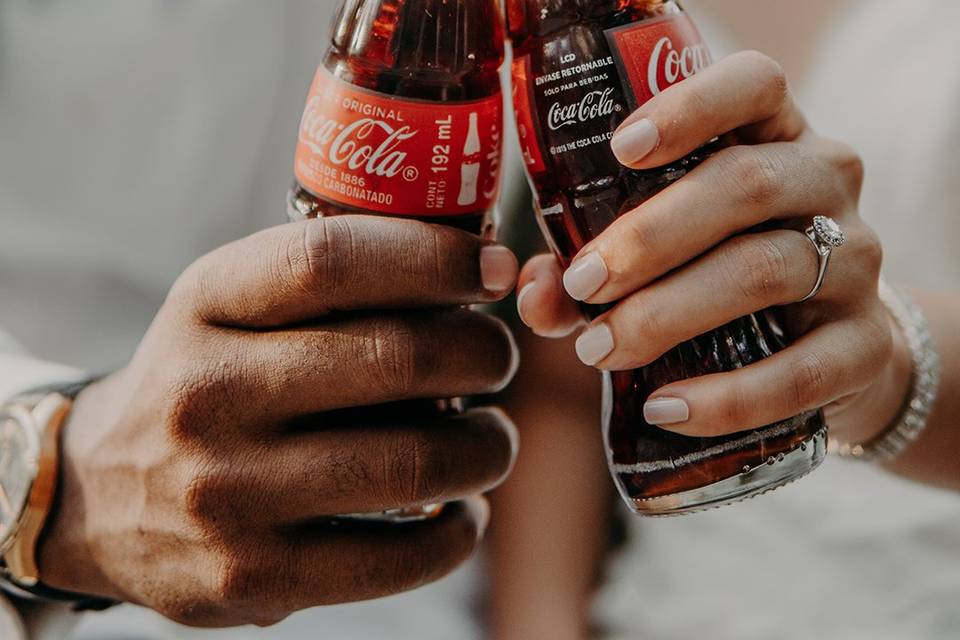 You're engaged! Now what? Well, after you've told your closest friends and families, it's time to make it official on social media with an engagement announcement - which means you need a great engagement caption.
Whether your social media of choice is Instagram, TikTok, Facebook or Twitter, the first thing to do is decide on the visuals. That's true for both photo and video. Only once you've chosen a 'we're engaged' picture or shot your announcement video will you know which mood your engagement caption needs to match.
And we have a caption to match every mood, from heartfelt and romantic to funny and tongue in cheek. Our engagement edit includes thoughtful film quotes, lines from the most-bingeworthy TV shows and original ideas to show off your personalities.
Get ready to be inspired - and don't forget, if you love more than one line, you can always mix and match them for your own unique engagement caption.
READ MORE
Engagement Captions Using Quotes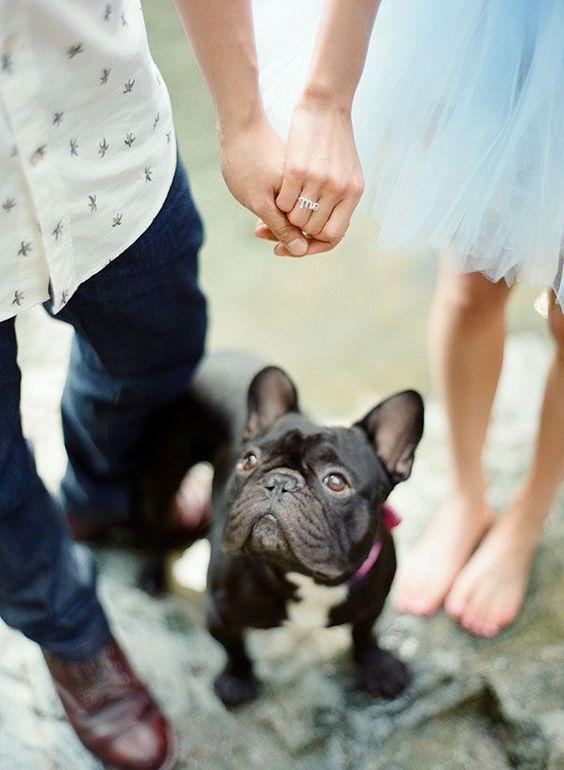 Pop culture quotes are a popular choice for engagement captions, whether romantic or funny. These are some of our favourites.
Film Quotes
'If you're a bird, I'm a bird' - The Notebook, Noah Calhoun
'I don't want to sound foolish, but remember love is what brought you here. And if you've trusted love this far, don't panic now. Trust it all the way' - If Beale Street Could Talk, Sharon Rivers
'It doesn't matter if the guy is perfect or the girl is perfect, as long as they are perfect for each other' - Good Will Hunting, Dr Sean Maguire
'I promise to never forget that this is a once in a lifetime love' - The Vow, Leo Collins
'In my opinion, the best thing you can do is find someone who loves you for exactly what you are' - Juno, Mac MacGuff
'Swoon. I'll catch you' - The English Patient, Count László de Almásy
'It was a million tiny little things that, when you added them all up, they meant we were supposed to be together' - Sleepless in Seattle, Sam Baldwin
'I love you. I knew it the minute I met you. I'm sorry it took so long for me to catch up' - Silver Linings Playbook, Pat Solitano
'If you can promise me anything, promise me that whenever you're sad, or unsure, or you lose complete faith, that you'll try to see yourself through my eyes' - P.S. I Love You, Gerry
'This kind of certainty comes but just once in a lifetime' - The Bridges of Madison County, Robert Kincaid
'Some people are worth melting for' - Frozen, Olaf
'Call me by your name, and I'll call you by mine' - Call Me By Your Name, Elio
'There are millions of people in this world, but in the end it all comes down to one' - Crazy/Beautiful, Nicole Oakley
'Maybe it is our imperfections which make us so perfect for one another' - Emma, George Knightley
'You ever put your arms out and spin really, really fast? Well, that's what love's like' - Practical Magic, Gillian Owens
'Soul mates. It's extremely rare but it exists. Sort of like twin souls tuning into each other' - What Dreams May Come, Albert Lewis
'The greatest thing you'll ever learn is just to love and be loved in return' - Moulin Rouge, Henri de Toulouse-Lautrec
READ MORE: The 25 Best Wedding Films on Netflix, Amazon Prime and Now TV
TV Quotes
'When something dope comes along, you gotta lock it down' - The Good Place, Jason Mendoza
'I think he's properly beautiful' - The End of the F***ing World, Alyssa
'She's got that giant heart that's part-compass and and part-flashlight. And she's just the greatest person I have ever met' - New Girl, Nick Miller
'I think it's important for us to remember that sometimes, it does work out. And even though everything inside us is telling us to protect ourselves, when you've got it, don't let it go' - Schitts Creek, David Rose
'If soulmates do exist, they're not found. They're made' The Good Place, Michael
'It has been a pleasure to watch your distracting, childish rivalry evolve into a distracting, childish courtship and now into what I'm sure will be a distracting, childish marriage' - Brooklyn Nine-Nine, Captain Holt
'Spoiler alert, I love you' - Modern Family, Manny Delgado
'It's a known fact that lobsters fall in love and mate for life. You can actually see old lobster couples, walking around their tank, you know, holding claws' - Friends, Phoebe Buffay
'Saying, "I want to let you know I'm inviting you into my life, and I want you to be a part of it," is the healthiest thing you can do' - Queer Eye, Karamo Brown
'I thought that it mattered what I said or where I said it, then I realised the only thing that matters is that you make me happier than I ever thought I could be. And if you let me, I will spend the rest of my life trying to make you feel the same way' - Friends, Chandler Bing
'It's all any of us wants, to find a nice person to hang out with 'till we drop dead' - Gilmore Girls, Lorelai Gilmore
'Love is totally nonsensical. But we have to keep doing it or else we're lost and love is dead, and humanity should just pack it in. Because love is the best thing we do' - How I Met Your Mother, Ted Mosby
'Imagine a future moment in your life where all your dreams come true. You know, it's the greatest moment in your life and you get to experience it with one person. Who's standing next to you?' - One Tree Hill, Peyton Sawyer
'I love you, in a really, really big, pretend to like your taste in music, let you eat the last piece of cheesecake, hold a radio over my head outside your window, unfortunate way that makes me hate you, love you. So pick me, choose me, love me' - Grey's Anatomy, Meredith Grey
'The only thing that ever made sense to me was you, and how I felt about you' - Boy Meets World, Cory Matthews
'You're all I need. I love you and I like you' - Parks & Recreation, Leslie Knope
'True love is the rarest magic of all' - One Upon a Time, Killian Jones
'Love is when you give your heart and soul to another, and they give theirs in return' - Outlander, Jamie Fraser
'I mean, there's seven billion people on the planet. I know one of them is gonna climb up on a moon for you' - Sex Education, Otis Milburn
'Marriage is the greatest adventure of them all. It's filled with pitfalls and setbacks and mistakes... but it's a journey worth taking because you take it together' - Star Trek: Deep Space Nine, Chief O'Brien
READ MORE: The Best Wedding Readings from Movies and TV Shows
Song Lyrics
'And when you smile, the whole world stops and stares for a while' - Just the Way You Are, Bruno Mars
'At last, my love has come along' - At Last, Etta James
'How sweet it is to be loved by you' - How Sweet It Is, James Taylor
'You make me feel so brand new, and I want to spend my life with you' - Let's Stay Together, Al Green
'Never before has someone been more unforgettable' - Unforgettable, Nat King Cole
'You're still the one I want for life' - Still the One, Shania Twain
'My heart's been borrowed and yours has been blue, all's well that ends well to end up with you' - Lover, Taylor Swift
'Here I am baby, signed, sealed, delivered, I'm yours, you've got the future in your hands' - Signed, Sealed, Delivered, Stevie Wonder
'Some people want diamond rings, some just want everything, but everything means nothing, if I ain't got you' - If I Ain't Got You, Alicia Keys
'And all my life I've prayed for someone like you, and I thank God that I, that I finally found you' - All My Life, K-Ci & JoJo
''Cause all of me loves all of you' - All of Me, John Legend
'I've got sunshine on a cloudy day, when it's cold outside, I've got the month of May' - My Girl, The Temptations
'I thought I was dreaming when you said you love me' - Ivy, Frank Ocean
Hey baby, I think I wanna marry you' - Marry You, Bruno Mars
'This is the one she's waited for' - This Is the One, The Stone Roses
'I wanna love you and treat you right, I wanna love you every day and every night' - Is This Love, Bob Marley
'Whenever I'm alone with you, you make me feel like I'm at home again' - Lovesong, The Cure
'I'll be you and you'll be me, there's lots and lots for us to see' - She's Electric, Oasis
READ MORE: 37 Romantic Love Song Lyrics to Use in Your Wedding
Holiday Engagement Captions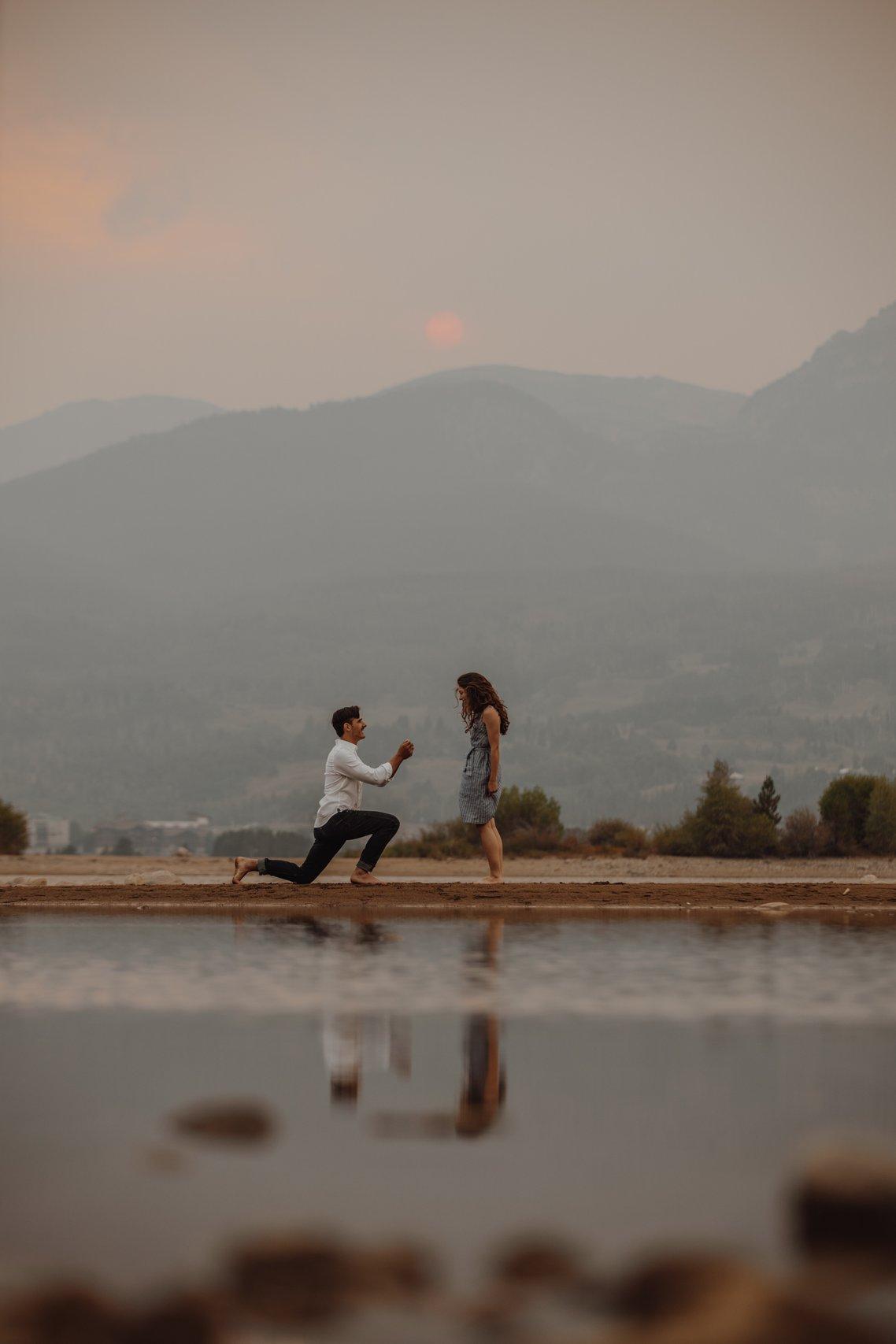 Did you get engaged on a special staycation or trip abroad? Make it part of your engagement caption.
Went to XXX with a boyfriend/girlfriend, coming back with a fiancé/fiancée
And the real adventure begins
So this holiday's going well...
Next holiday: honeymoon
Can we skip the planning and go straight to the honeymoon?
So, I'm on holiday with my boyf- oh wait, fiancé/my girlf- oh wait, fiancée
Love without borders
It really is the holiday of a lifetime
Never thought I'd come back from holiday with this souvenir
So happy to be continuing my journey with this one
Here's to making memories together for the rest of our lives
I've found my forever travel buddy
Looks like we'll be taking the rest of life's journey together
READ MORE: The 21 Best Places to Propose in the World
Winter Engagement Captions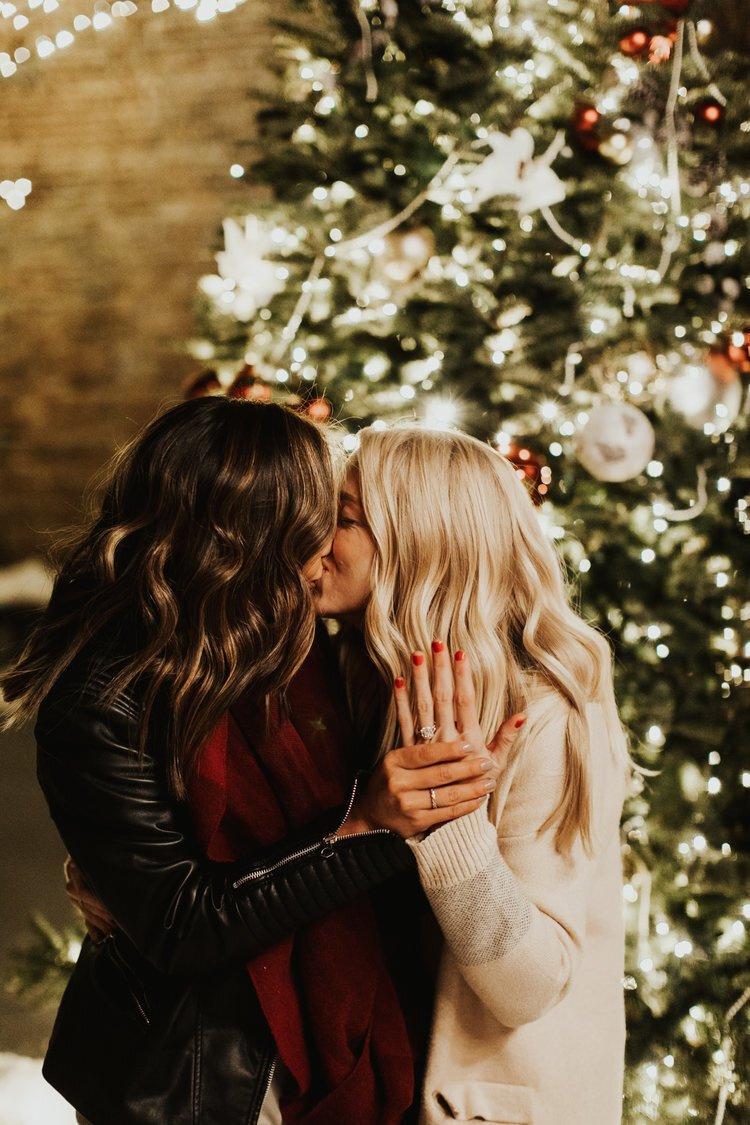 If you got engaged at Christmas, New Year or Valentine's Day, there are some cute options for captions.
Christmas came early
Best Christmas present ever: a fiancé/fiancée
Looks like I was on the nice list this year after all
Marry Christmas!
'Tis the season to be married
This is how we decided to [ring emoji] in the New Year
New Year, new fiancé/fiancée
The best possible way to end the year
New Year's resolution: plan a wedding
Seeing in 2021 with my brand-new fiancé/fiancée
I've found my forever Valentine
This definitely makes up for the time he/she forgot Valentine's Day
So our engagement anniversary is going to be pretty easy to remember...
READ MORE: 23 of the Most Romantic Christmas Proposal Ideas
Engagement Captions for a Ring Picture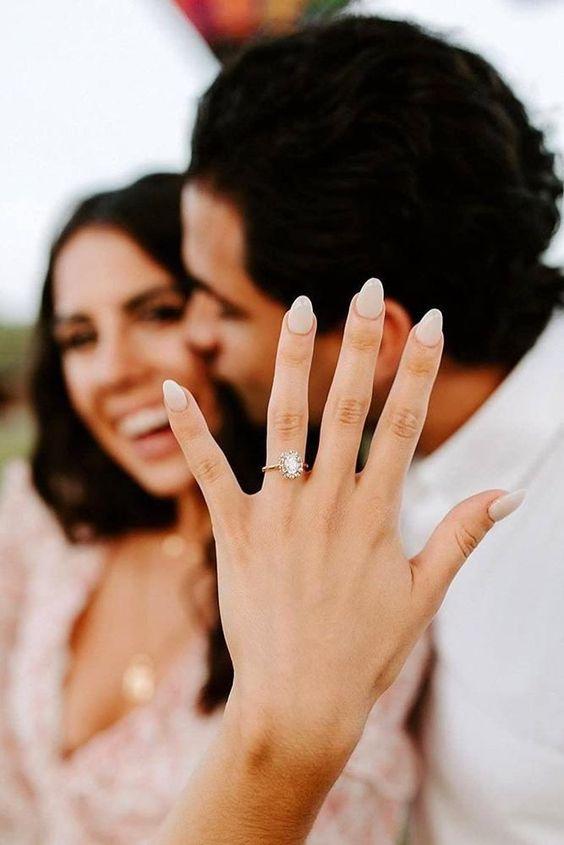 Decided to announce your newlywed status with a close-up of that ring? These are the captions that specifically reference the new finger bling.
Poll: Does this ring make me look engaged?
Mr & Mrs/Mr & Mr/ Mrs & Mrs [your surnames] - has a nice ring to it!
Shine bright like a diamond
Diamonds are forever...
Life just got sparkly
I've got the whole world on one finger
Good news: we're engaged! Bad news: I can't legitimately do the Single Ladies hand flick any more
New ring, who dis?
Married life: ring it on!
Does this ring any bells?
Ring out the old, ring in the new!
My heart is lighter, my hand is heavier
READ MORE: 45 Best Engagement Rings: Where to Buy the Best Engagement Rings Online in the UK
Couple Photo Engagement Captions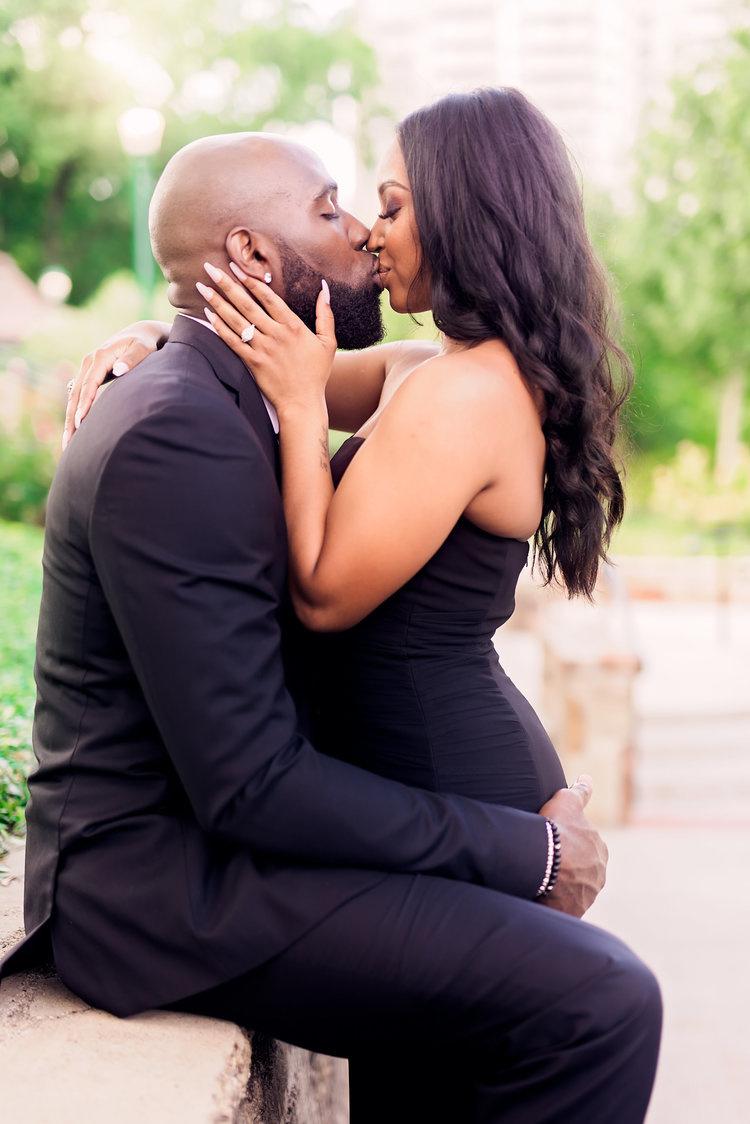 These are some lovely ideas to go with your favourite just-the-two-of-us photo. Ideally get that newly ringed finger in shot to make it obvious.
When date night turns into a proposal...
She/he/I said yes!
We decided on forever
Now I get why he insisted on wearing his best suit
So, this happened
I'm marrying my best friend
The easiest 'yes' I've ever said
Dream guy/gal, dream life
When you know, you know
My best friend is engaged - to me!
I can't wait for my best friend's wedding - because he/she is marrying me!
Today I said yes to forever
We put a ring on it!
We're getting married!!!
Will we ever stop smiling? Unlikely
Don't marry the person you can live with; marry the one you can't live without
The love of my life just gave me the surprise of my life
Mood: engaged
READ MORE: Engagement Photos: 7 Top Tips for Your Engagement Photo Shoot
Funny Engagement Captions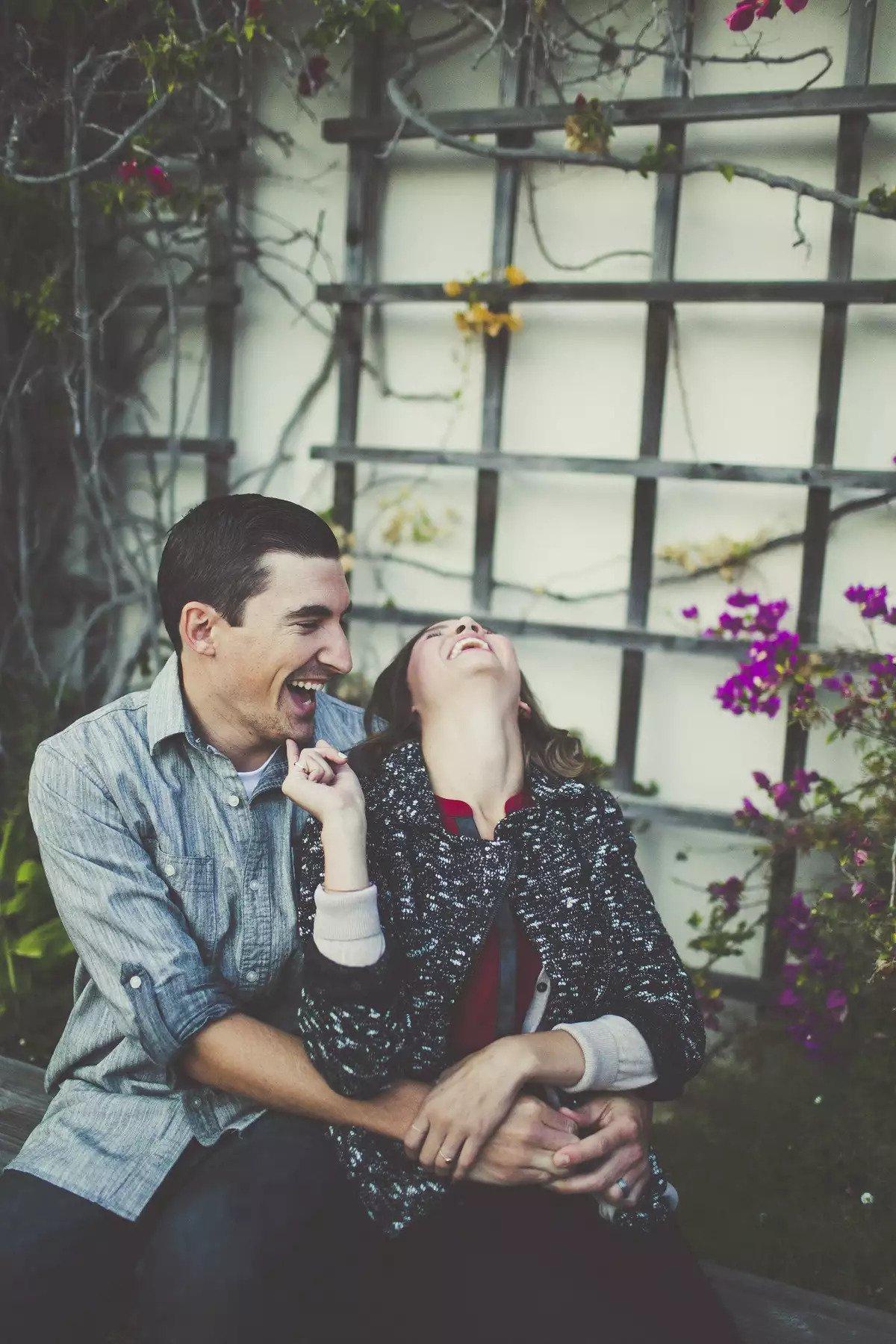 I just took a DNA test, turns out I'm 100% getting hitched
Sorry, Timothée Chalamet [or any hot celeb you fancy]: looks like I'm off the market for good
I said no. Oh wait, I mean yes
Hang on, does this mean we have to plan a wedding now?
Instagram Husband/Wife to IRL Husband/Wife with one simple question
Get ready for some serious engagement ring spam
So you know how I said I was never going to get married...
Really glad I swiped right
So much for playing hard to get
Does this mean I have to delete Hinge?
Any excuse for a party...
How much is a wedding again?
Do you think this means he/she likes me back?
I'm marrying my partner in crime. That way he/she can't cut a deal and testify against me
Seriously, this couldn't have waited until I'd had a manicure?
You know all those annoying 'we're engaged' Instagram posts clogging up your feed? I have news...
We looked around the house and realised we could really do with upgrading our stuff, so this was what we came up with
Want more inspiration for your engagement announcement? These are our favourite funny quotes about love and marriage.