Everything We Know About Jamie Laing & Sophie Habboo's Wedding - Including the Date!
Set to marry in Marbella next May, we have the lowdown on everything you need to know about Jamie and Habbs' wedding so far and a full timeline of their relationship since April 2019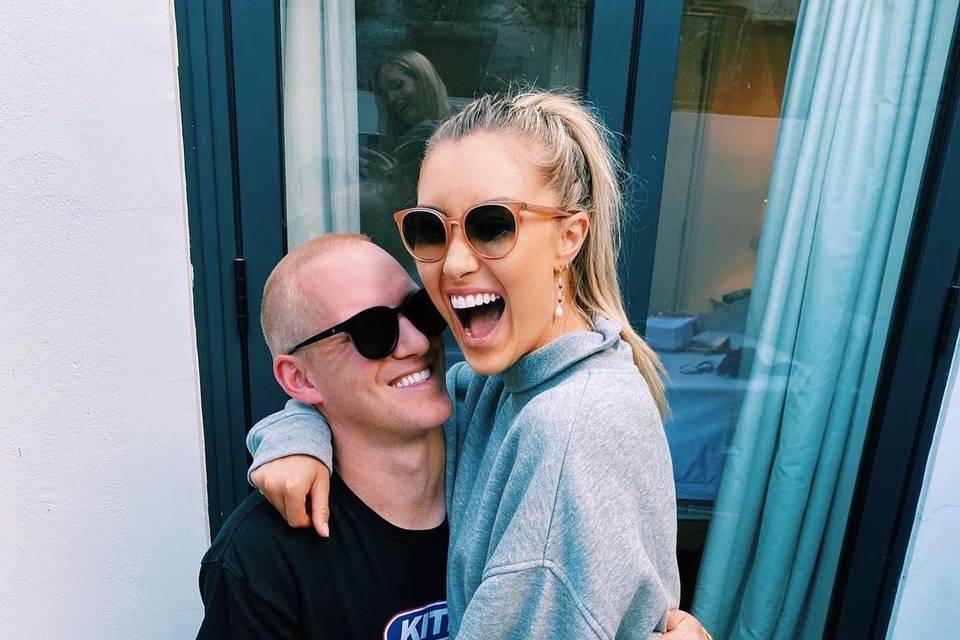 After weeks of watching the will-they, won't-they back and forth on Made in Chelsea, Season 17 of the reality show saw Jamie Laing and Sophie Habboo finally make things official. Unlike many reality television couples, the pair's relationship has seemingly gone from strength to strength. Moving in together, getting engaged and planning a wedding are just a few of the huge relationship milestones that Jamie, 32, and Sophie, 28, have begun to tackle.
Read on to find out everything we know so far about Jamie Laing and Sophie Habboo's wedding including that moment Sophie accidentally told the world their wedding date. As well as that, we have a complete rundown of the pair's relationship timeline, from the 'friendly' flirting in 2019 to the launch of their increasingly popular Nearlyweds podcast. Details aside, their nuptials are set to be yet another iconic UK celebrity wedding!
Are Jamie Laing and Sophie Habboo Still Together?
MIC fanatics will be pleased to know that the reality TV stars Jamie Laing and Sophie Habboo are in fact still together. Their relationship has gone from strength to strength since their engagement in December 2021.
READ MORE: Everything You Need to Know About Stacey Solomon's Wedding to Joe Swash
Jamie Laing and Sophie Habboo's Wedding: Everything We Know So Far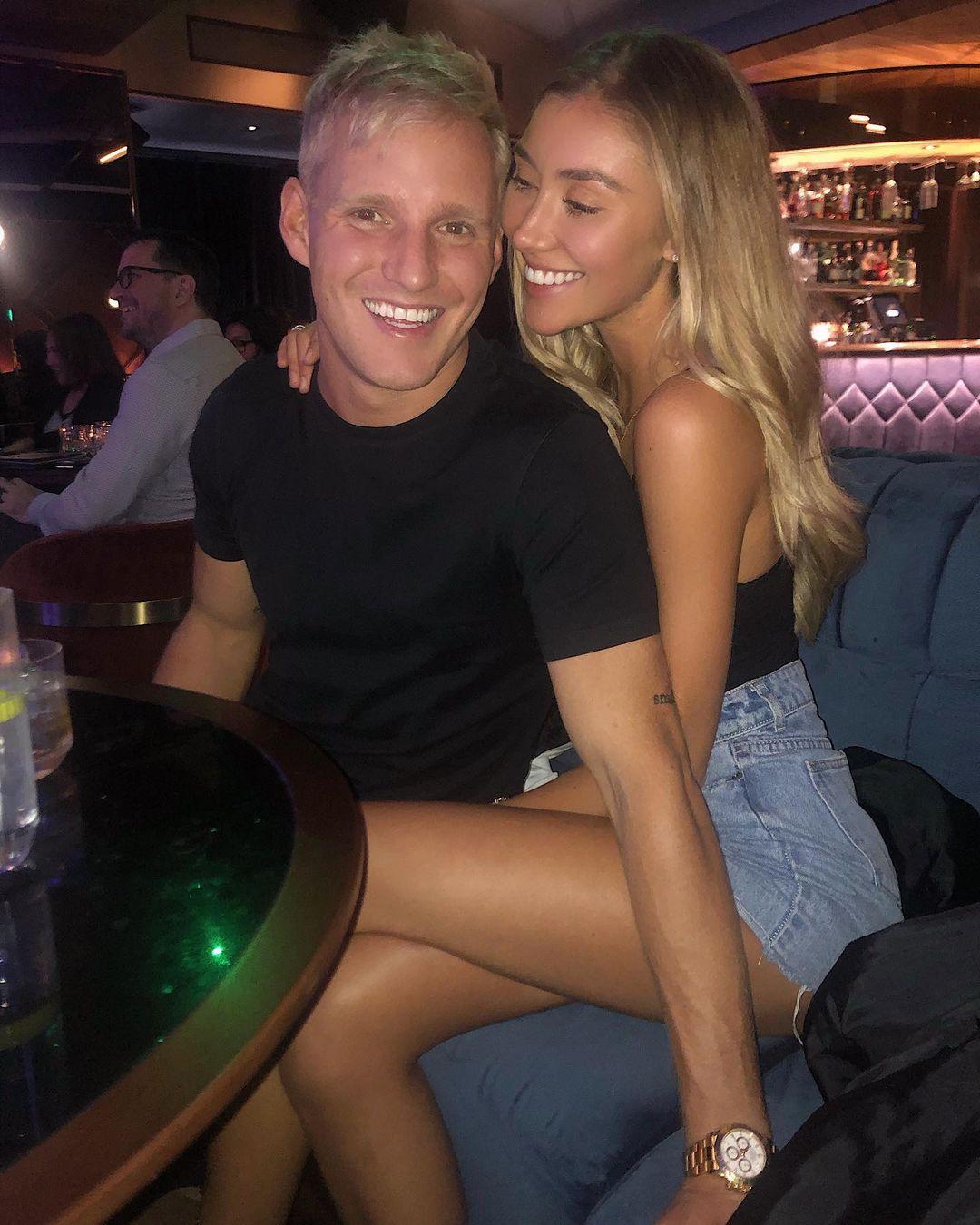 Thanks to the launch of their wedding podcast, Jamie Laing and Sophie Habboo have invited us to have a front row seat in their wedding planning journey. Through the gripping (and absolutely hilarious) episodes of their Nearlyweds podcast, the couple have revealed a number of details about their upcoming wedding - with some revelations being deliberate, and some accidental.
Where Are Jamie Laing and Sophie Habboo Getting Married?
During an episode of his podcast Private Parts, Jamie revealed to co-star Alex Mytton that he and Sophie had considered a number of locations for their wedding and Alex shared a list of destinations that listeners had suggested for their wedding including Croatia, Mykonos, Barbados and South Africa - the spot where their relationship first began.
Jamie admitted that they'd considered getting married on New Year's Eve in Cape Town, but decided against it.
Eventually, Jamie said that they had settled on Seville, Spain. Their plans soon changed and the couple have since confirmed that they will be tying the knot at the luxurious Marbella Club, a 5 star hotel with its own private beach and spa facilities.
READ MORE: Love Island's Cara & Nathan Reveal the Secret to Their Marriage
When Are Jamie Laing and Sophie Habboo Getting Married?
View this post on Instagram
Jamie had previously stated 2023 was his and Sophie's wedding year on his podcast Private Parts. Later, on the couple's Nearlyweds podcast, the pair confirmed that they would be getting married in May 2023. Whilst they planned to keep their exact wedding date a secret, during an interview on GMB in August 2022, Sophie accidentally revealed the precise day that they are set to wed.
During the interview, presenter Richard Madeley asked the couple when they planned on getting married. "May 19th next year (2023)" replied Sophie. Suddenly gasping, it became clear that revealing the date of their nuptials was not part of the plan. In true Jamie and Sophie style, the couple laughed it off.
Who is Invited to Jamie Laing and Sophie Habboo's Wedding?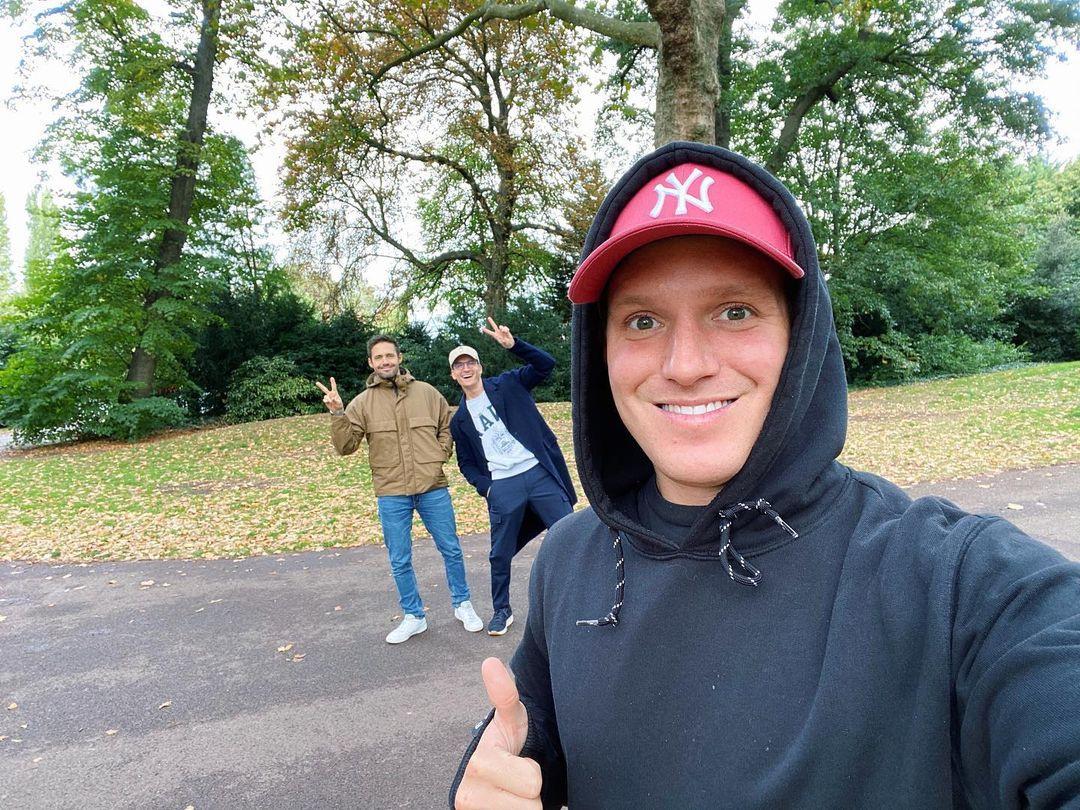 Early on in the planning process, Jamie asked ex Made in Chelsea star Spencer Matthews to be a groomsman. During an episode of the '6 Degrees from Jamie and Spencer' podcast, he popped the question to Spencer, who said yes without hesitation.
Since then, Jamie has revealed that he will be having three best men - one of whom is rumoured to be ex MIC star Alex Mytton - and that Spencer will also be his master of ceremonies.
Speaking to their guestlist on their Nearlyweds podcast, the couple confirmed they have a guestlist of around 220 which includes more celebrity faces including Oliver Proudlock, Millie Mackintosh, Caggie dunlop, Hugo Taylor and Jamie's Strictly friend Giovanni Pernice.
Sophie has confirmed that her bridesmaids are her best friends Chrissy and Bella, her sister Georgia as well as Melissa Tattam - another Made in Chelsea cast member.
READ MORE: Celebrity Wedding Guests Who Looked Incredible
Where are Jamie Laing and Sophie Habboo's Hen and Stag Dos?
Sophie hasn't made any mention of her hen party as of yet, but Jamie has said that he wants to have his stag do in Nashville, Tennessee, dubbing it 'the new Vegas'.
What Wedding Dress is Sophie Habboo Wearing?
Whilst the exact design of her wedding dress is unknown, Sophie has confirmed that she will be wearing two outfits, a main dress and an evening dress - admitting she would have three if she could! Speaking to Mail Online, she said: "I tried on a big Cinderella gown and I loved it and my bridesmaids loved them all on me but my dress isn't like that."
READ MORE: Iconic Celebrity Wedding Dresses You'll Want to Copy
Jamie Laing and Sophie Habboo: A Full Relationship Timeline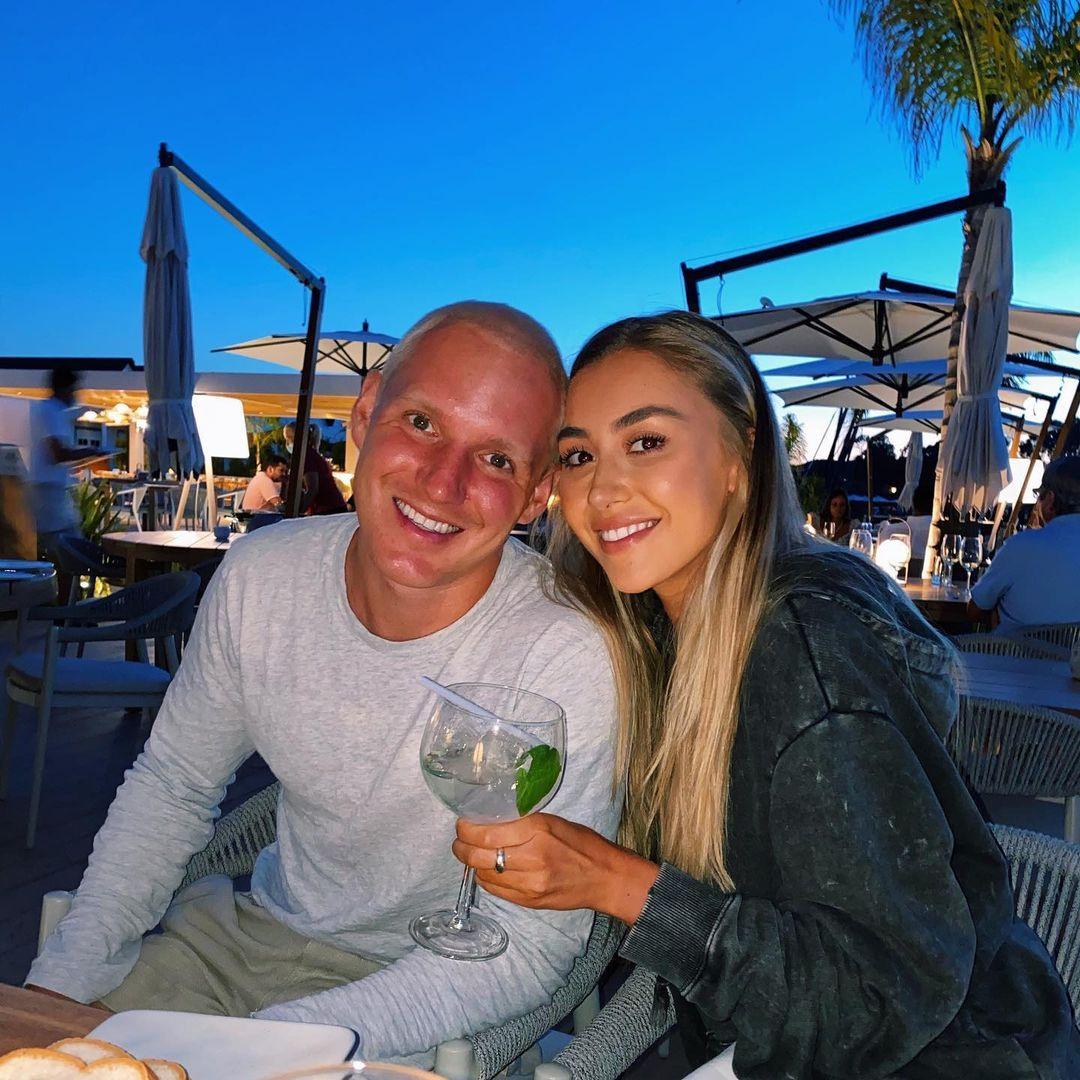 April 2019: Jamie and Sophie's close friendship on Series 17 of Made in Chelsea began to spark a rumour mill amongst co-stars, tabloids and the British public. At the time, Jamie had not long split from ex-girlfriend Heloise Agostinelli. The rumour mill created friction between Jamie and friend Sam Thompson (also Sophie's ex boyfriend) and upset Jamie's ex Heloise.
After softly broaching the 'feelings' conversation, they decided that it wasn't worth all the upset.
June 2019: After remaining in the friendzone for most of the series, Jamie and Sophie decided that, seeing as everyone was already angry at their non-romance, actually going on a date couldn't make things any worse than they already were. On the last episode of the season, the pair agreed to go on a date and see where things could go.
September 2019: After a few on-screen dramas with another co-star Rosi Mai, the pair seemed to be going strong as an exciting opportunity presented itself for Jamie. In Autumn 2019, he signed up for the coming series of Strictly Come Dancing, a show that had become synonymous for splitting up couples with a trend dubbed as the 'Strictly Curse'.
Jamie, well aware of the curse, felt confident that his and Sophie's relationship would go unaffected. Speaking on his podcast he said: "The 'Strictly Curse' is where you dance with your dance partner, get really close to them… So many people have got with their Strictly dancer. I will still be seeing Habboo, I'm not going to start kissing my dancer!"
Jamie later had to drop out of the show because of a foot injury sustained in his opening number.
READ MORE: The Most Incredible Celebrity Engagement Rings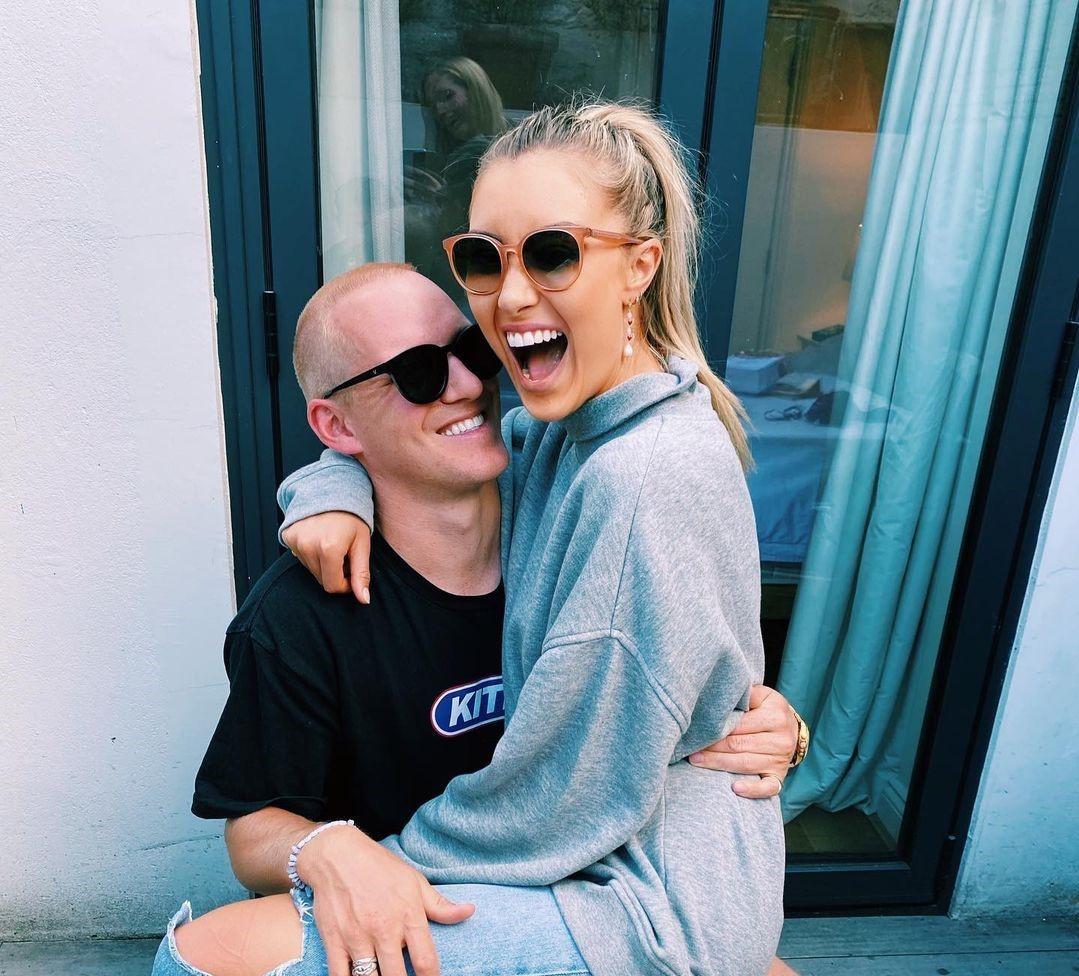 October 2020: Fast forward a year and Jamie and Sophie's relationship has been going steady for over a year having moved in together, proving critics of their romance wrong every step of the way. After having to back out of Strictly due to a foot injury the previous year, Jamie returned to the show and competed with dance partner Karen Hauer and made it all the way to the semi-finals.
At this point, he also stepped away from the filming of Made in Chelsea whilst Sophie was still very much a main cast member.
May 2021: Speaking to Mail Online, Jamie reveals it's time for him to quit Made in Chelsea after being one of the show's stars for over 10 years. Sophie remained a cast member and is still a part of the show in its current 21st series.
December 2021: After much speculation, Jamie and Sophie announced their engagement in December 2021.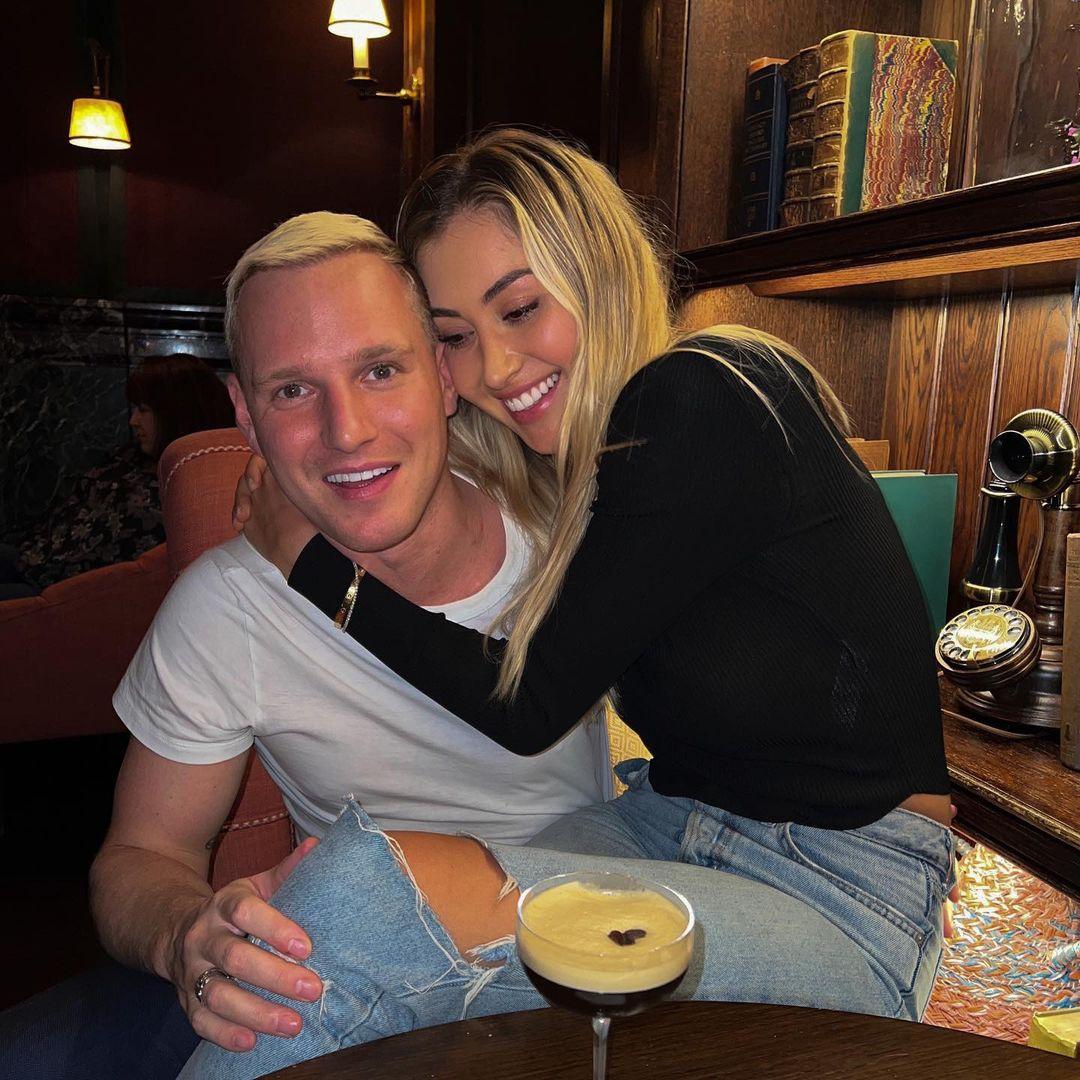 Taking to Instagram to share the exciting news, Sophie posted a picture of her sitting on Jamie's lap, and a white cap that said 'Mrs Laing to be' along with the caption: "WE ARE GETTING MARRIED!!!!!!!!!!!! I cannot wait to spend the rest of my life with you @jamielaing ❤️❤️❤️".
Following on from the initial announcement post, Sophie added another album of images showing the stunning hotel room where Jamie proposed, along with a snap of her wearing the white cap, holding a bottle of champagne whilst surrounded by four bunches of stunning white roses.
Jamie also shared the news on his Instagram, posting a video with the caption: "I couldn't think of anything better than spending the rest of my life with you @habboosophie."
READ MORE: Love Island Star Nathan Massey Shares His Proposal Secrets
March 2022: Jamie and Sophie announce the upcoming launch of their Nearlyweds podcast on Instagram. The podcast wouldn't be the first in Jamie's portfolio, which the pair addressed in their launch post, saying: "Guys we couldn't be more excited to announce that Sophie and I are launching our own podcast NEARLYWEDS.
"Yes I know what you're thinking "but Jamie you already do 2 podcasts?" - Yes I know, but the journey that Sophie and I have been having, wedding planning, finding venues, choosing guests and of course arguing…. It was just too funny, chaotic and wild that we couldn't not document it.
"We're launching on the 4th April (our trailer ep is out tomorrow on all podcast platforms) and we're not leaving a stone unturned in the podcast. So, if you're getting married, planning to, finding yourself in a whirlwind of "wedmin" and worry Or just fancy a laugh come listen to our podcast @nearlywedspodcast every Monday!! 💙"
READ MORE: The Celebrity Weddings to Look Out for in 2022
April 2022: Jamie and Sophie confirm that their wedding won't be aired on Made in Chelsea, a show that Sophie is still very much a part of. Spelling to Mail Online, the couple confirmed that they have turned down offers to film their wedding for a MIC special. Jamie admitted that, in his opinion, relationships have a better chance of surviving away from the cameras.
Speaking to his departure from the show the previous year, Jamie said: "I left Made in Chelsea because I didn't want my relationship with Sophie on camera. There were lots of other reasons, but that was the big one. I've seen so many relationships fail on reality TV shows and I didn't want that to happen."
May 2023: Whilst this date hasn't quite happened yet, May 19th 2023 is set to be the official date of Sophie and Jamie's wedding in Marbella, Spain.
Check out the upcoming celebrity weddings we just can't wait for here!