Jamie Laing and Sophie Habboo Are Married! Everything We Know About Their Wedding
With *two* weddings under their belt, Sophie Habboo and Jamie Laing have certainly caught our attention - here's everything we know about both their London and Marbella weddings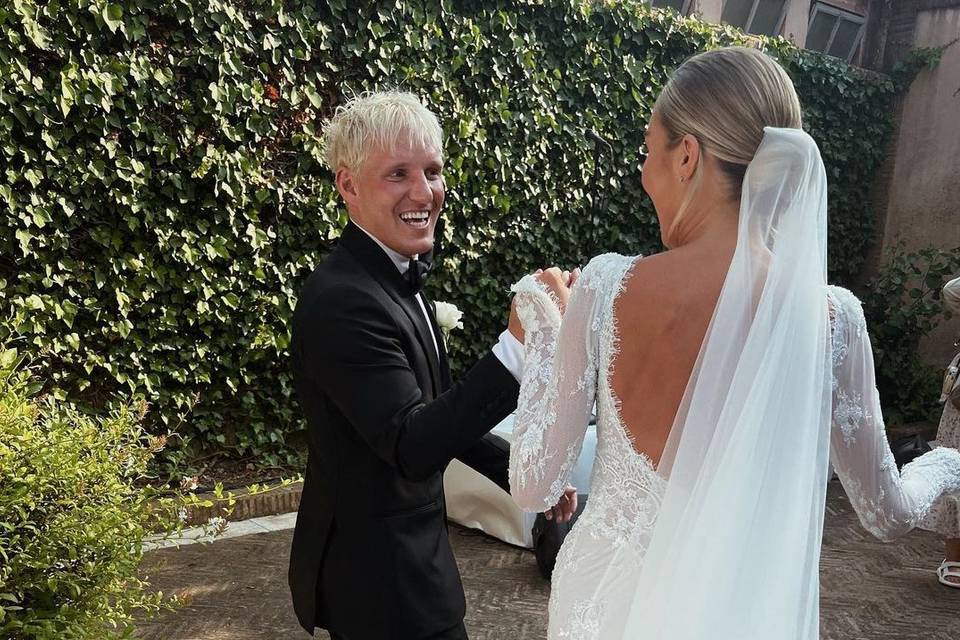 After weeks of watching the will-they, won't-they back and forth on Made in Chelsea, Season 17 of the reality show saw Jamie Laing and Sophie Habboo finally make things official.
Unlike many reality television couples, the pair's relationship has seemingly gone from strength to strength. Moving in together, getting engaged and planning a wedding are just a few of the huge relationship milestones that Jamie, 32, and Sophie, 28, have begun to tackle.
Read on to find out everything we know about Jamie Laing and Sophie Habboo's wedding including that moment Sophie accidentally told the world their wedding date, and details on the Spanish wedding of the century which took place just days ago.
As well as that, we have a complete rundown of the pair's relationship timeline, from the 'friendly' flirting in 2019 to the launch of their increasingly popular Nearlyweds podcast. Details aside, their nuptials were yet another iconic UK celebrity wedding that we'll be talking about for a long time to come!
Are Jamie Laing and Sophie Habboo Married?
Yes! Jamie Laing and Sophie Habboo are married! The couple tied the knot in London in April before jetting off to Marbella with friends and family to celebrate the wedding of the year in style.
Read on to find out everything there is to know about Jamie Laing's London and Marbella wedding celebrations, what Sophie wore and *that* hilarious place card everyone's talking about.
Jamie Laing and Sophie Habboo's Wedding in Marbella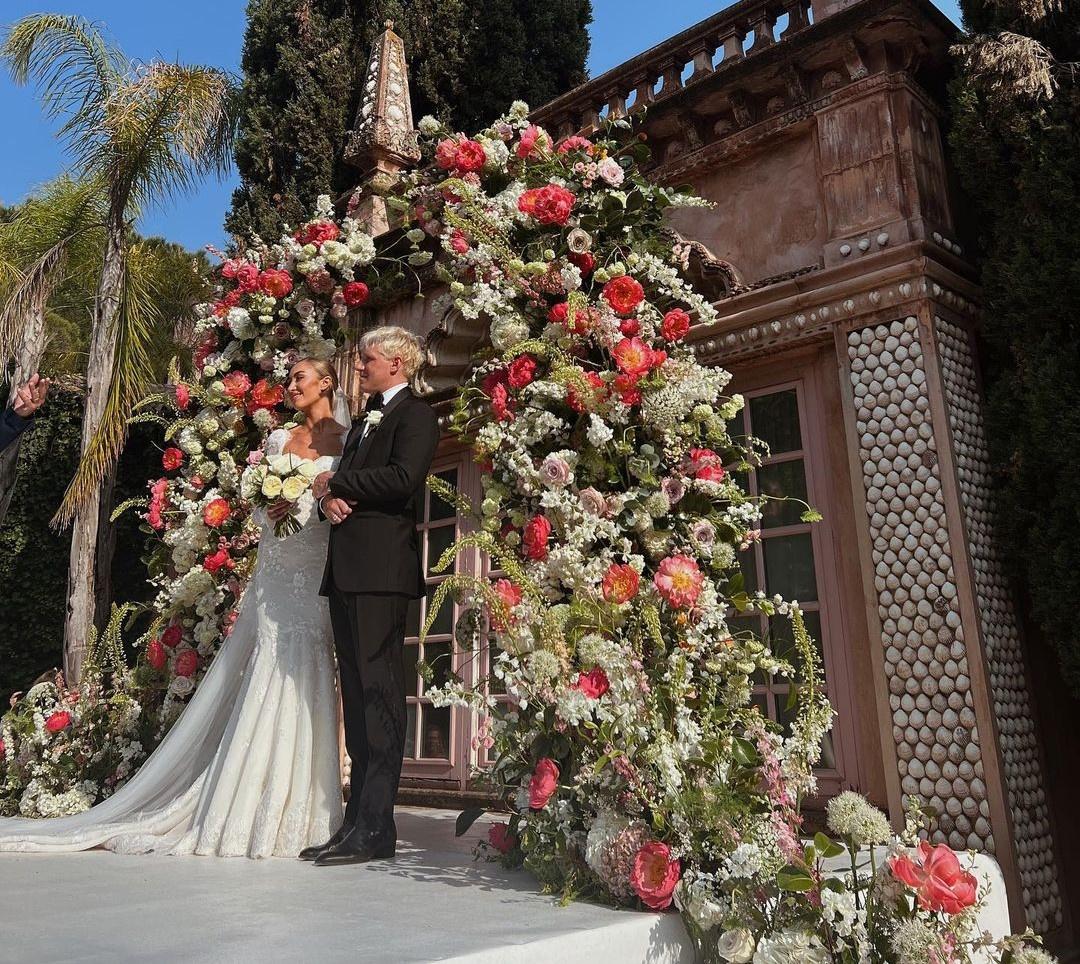 Following their Chelsea registry office wedding in April, Jamie Laing married Sophie Habboo in the Marbella stretch of their celebrations. The couple tied the knot in Andalusia's largest privately owned residential development, Sotogrande, and no detail was forgotten about.
Sophie wore a long sleeve lace wedding dress, ivory satin court shoes and a beautiful veil for her ceremony. She had two dresses, however, and later changed into a slinky satin reception wedding dress for the evening's entertainments. Both dresses had low back detail and were styled beautifully.
Her wedding hairstyle of choice was a low chignon bun styled by hair stylist Willis Galbraith, and her wedding makeup was dewy and natural, with glowy skin and a subtle pink lip.
Sophie's bridesmaids wore ivory white coloured bridesmaid dresses from Maids to Measure which all differentiated in style and shape, proving that mix and match bridesmaid dresses can look completely unified and elegant.
Unlike their intimate London ceremony, this time, everyone was invited. The star-studded guest list included many a Made in Chelsea face, TV presenters, showbiz names and more. Guests were treated to personalised place cards and each one had a short description about the person.
Zara McDermott shared hers and boyfriend Sam's on her Instagram. Hers read, "Trailblazing presenter and documentary maker galore, she's beaut and funny and making the world a better place for sure."
While Zara's was as sweet as can be, her boyfriend Sam's place card made a hilarious dig at his previous relationship with the bride. It's well documented that the pair dated before they parted ways and Sophie later pursued a relationship with Jamie, one of Sam's best buds.
It's clear to see that there's certainly no hard feelings there, with Zara and Sam gushing about the couple on the day, but we love that Jamie and Habbs made light of the threesome's intertwined history. His card read, "The nicest bloke in showbiz, he keeps it pretty real, is he the reason we're all here today? Don't make it a big deal!"
Of course, he totally made it a big deal and shared a video of himself having a heated conversation with Jamie when he first started dating Habbs, saying, "I wish you'd just marry the girl so it was worth it," - and it's safe to say, Jamie called his bluff on it!
Scroll down to see more pictures of the happy couple and their guests on the day, including their stunning wedding arch and that place card...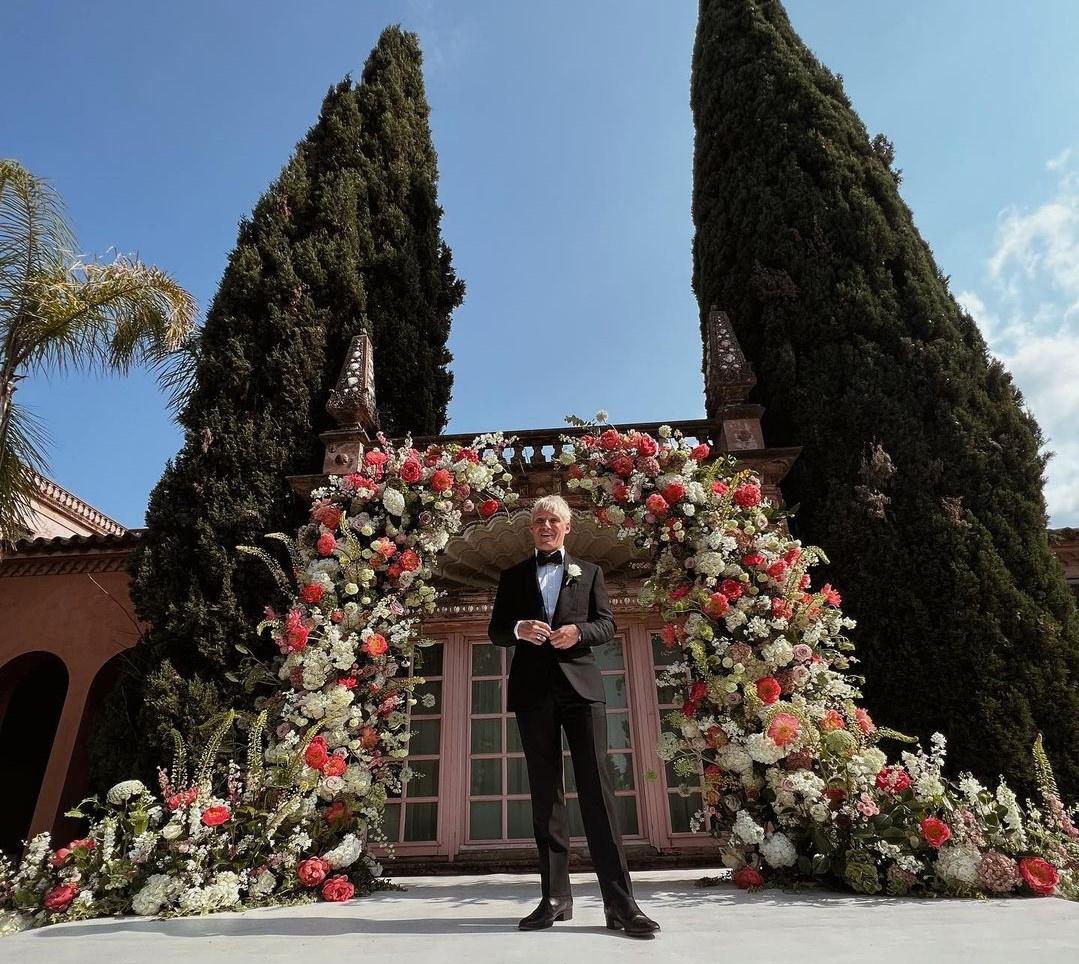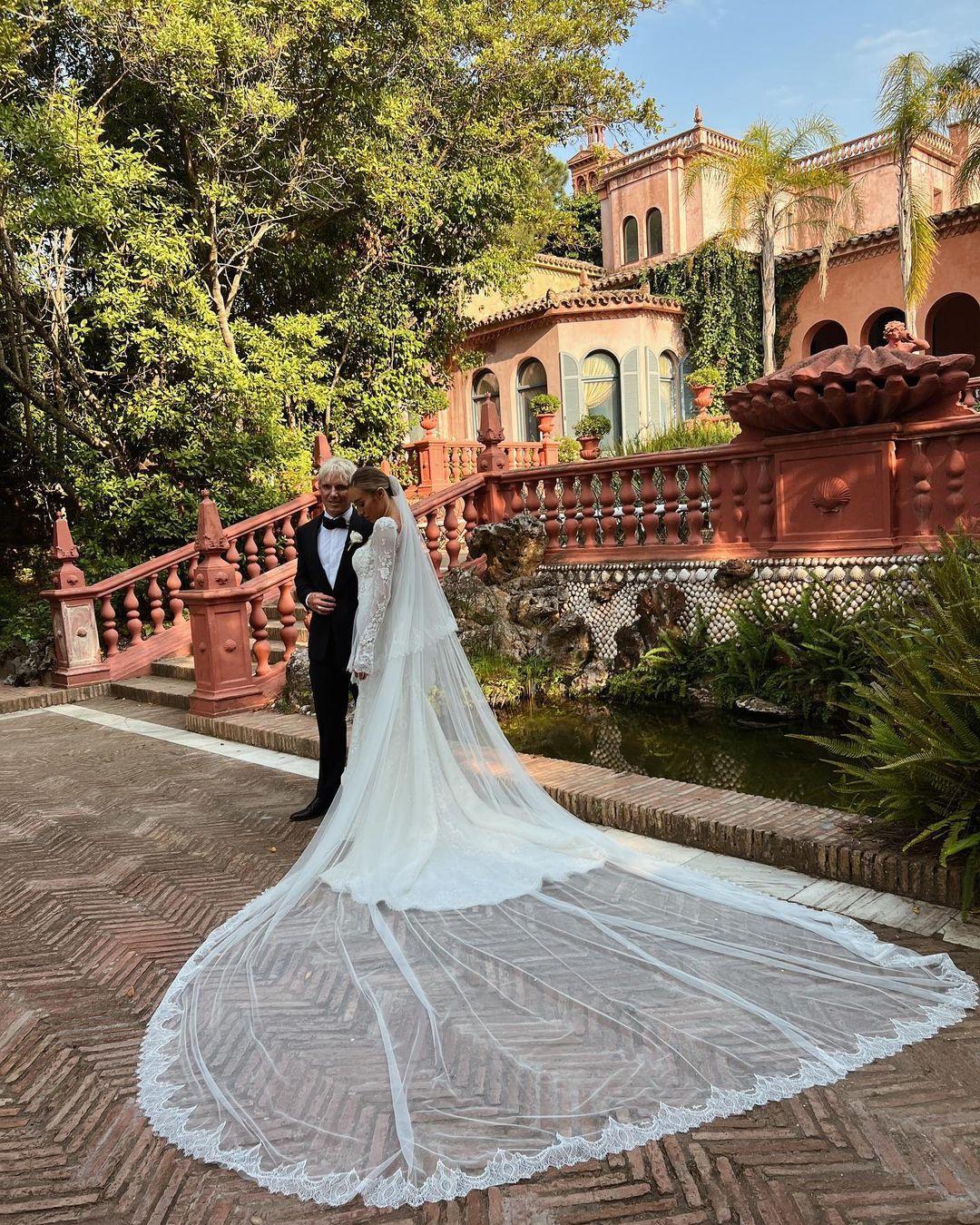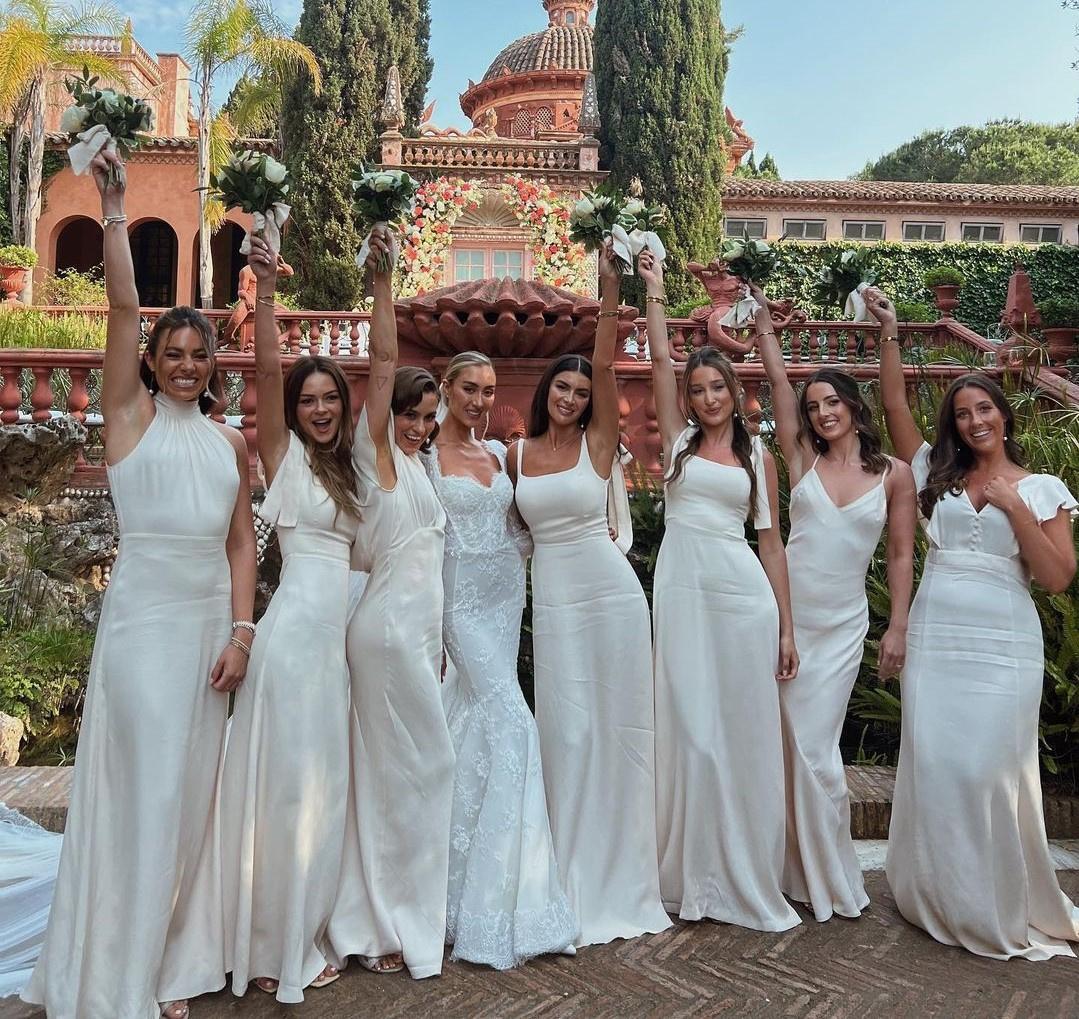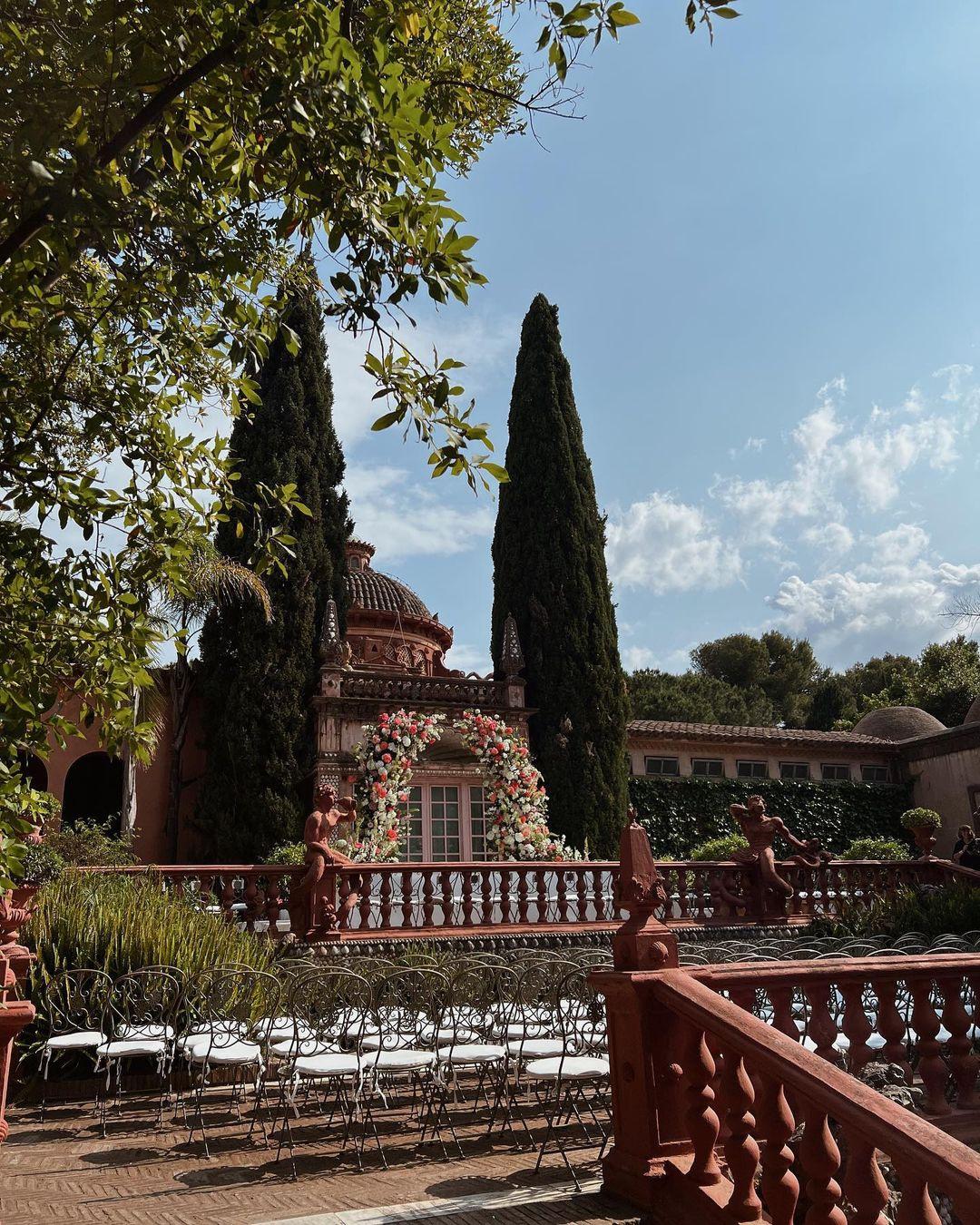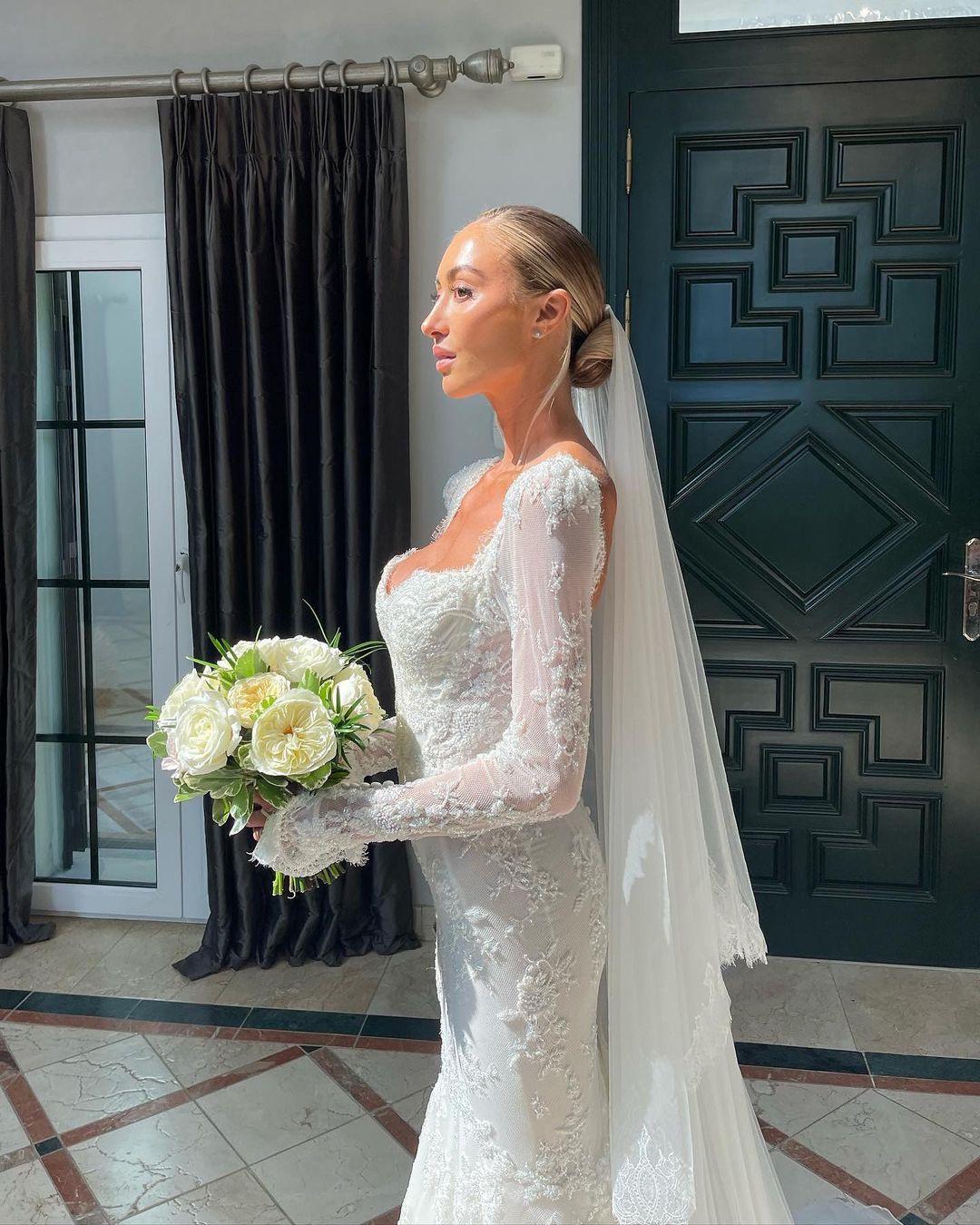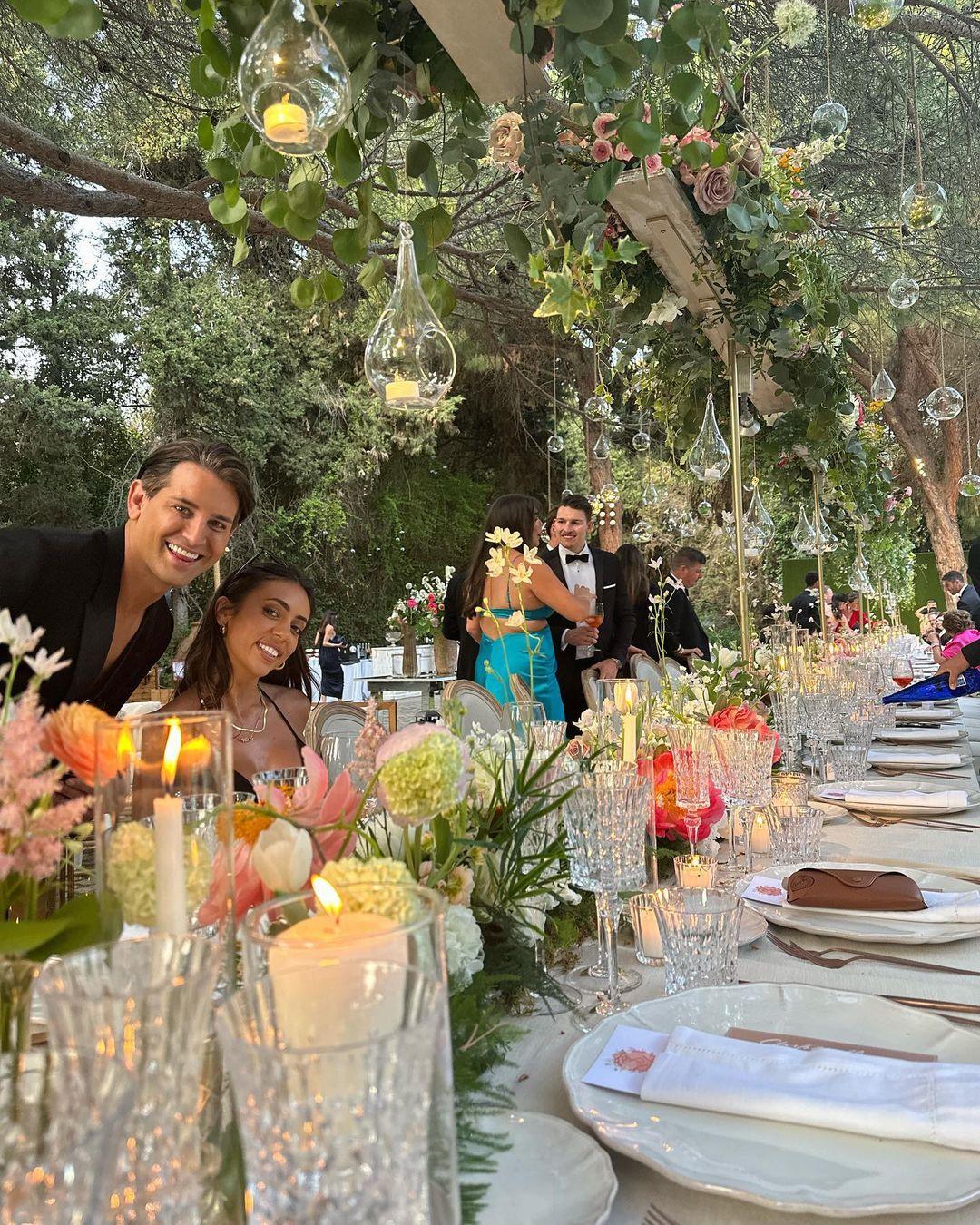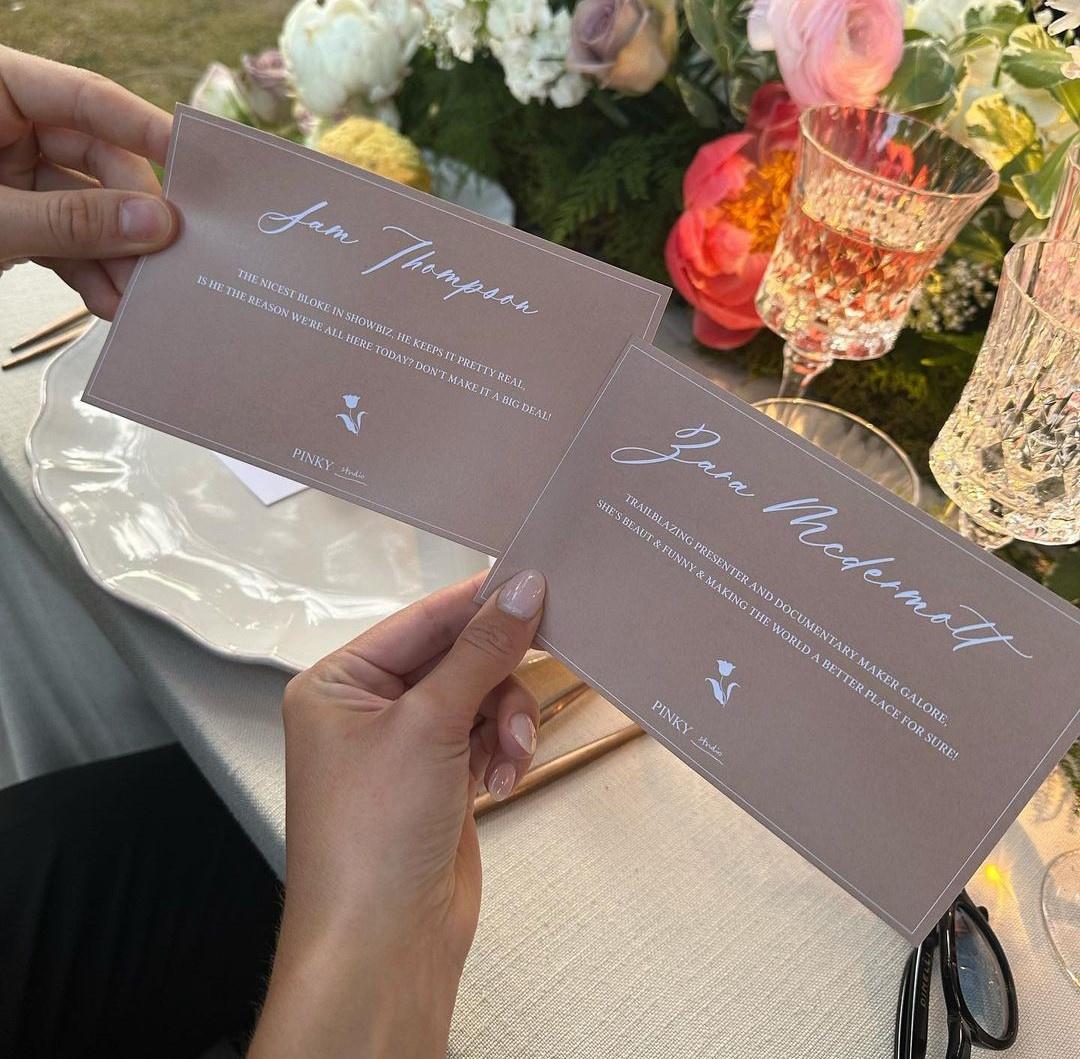 Jamie Laing and Sophie Habboo's Wedding in London
Jamie Laing and Sophie Habboo got married on Friday 14th April 2023 at Chelsea registry office.
The Made in Chelsea stars had a legal ceremony attended by friends and family in London, ahead of their big Spanish celebration which took place three weeks after. Sophie Habboo wore a striking bridal mini dress paired with a Gigi & Olive veil, as well as ivory bridal heels, sunglasses and an iconic Sophia Webster 'Wifey for Lifey' bridal clutch bag - you can read all about her outfit further down...
Jamie rocked a double breasted wedding suit with a black tie and coordinating shades. Gigi & Olive founder Georgie Leroux shared a series of pictures of the celebration on her Instagram story. Scroll on for some highlights, including a delicious red velvet wedding cake!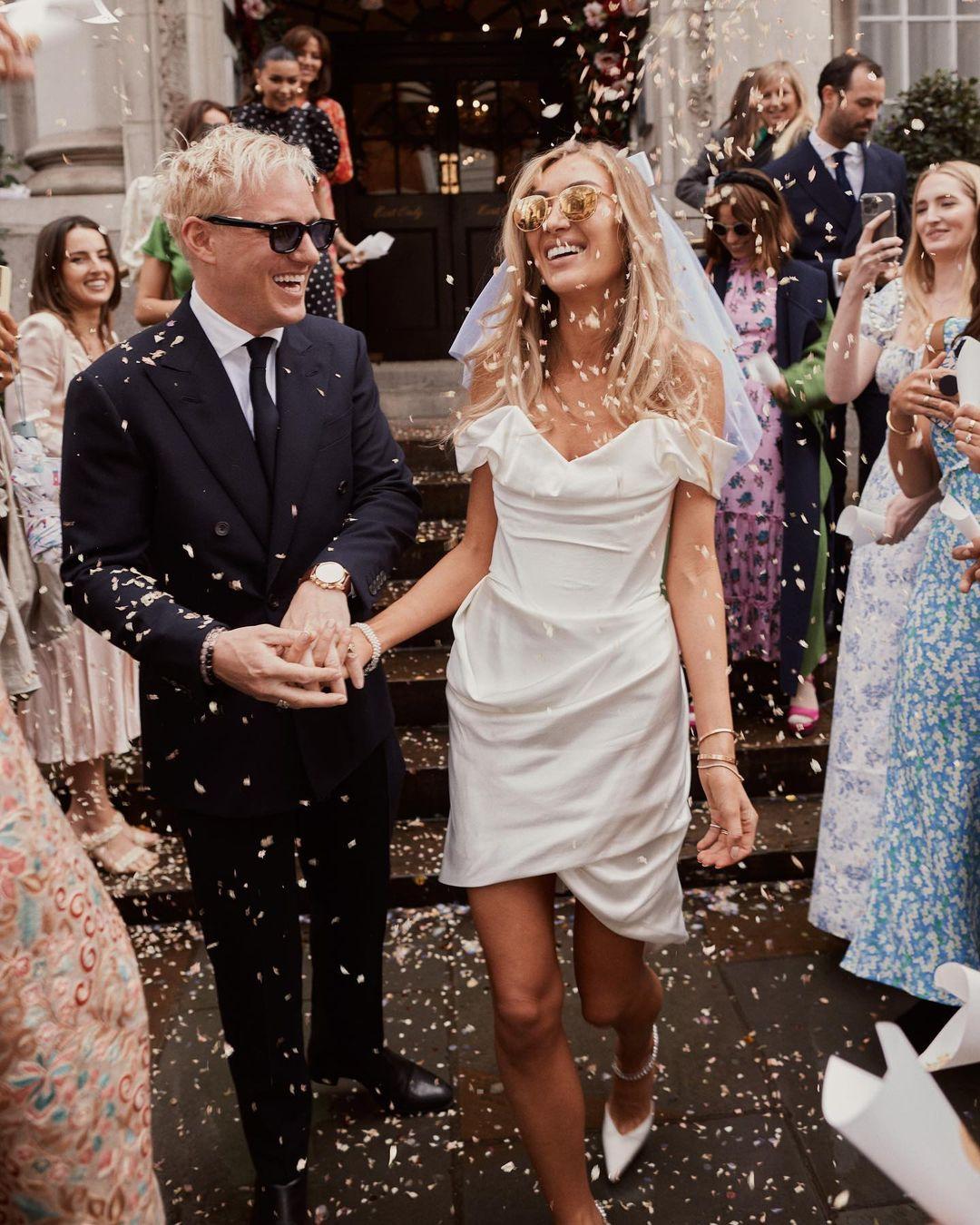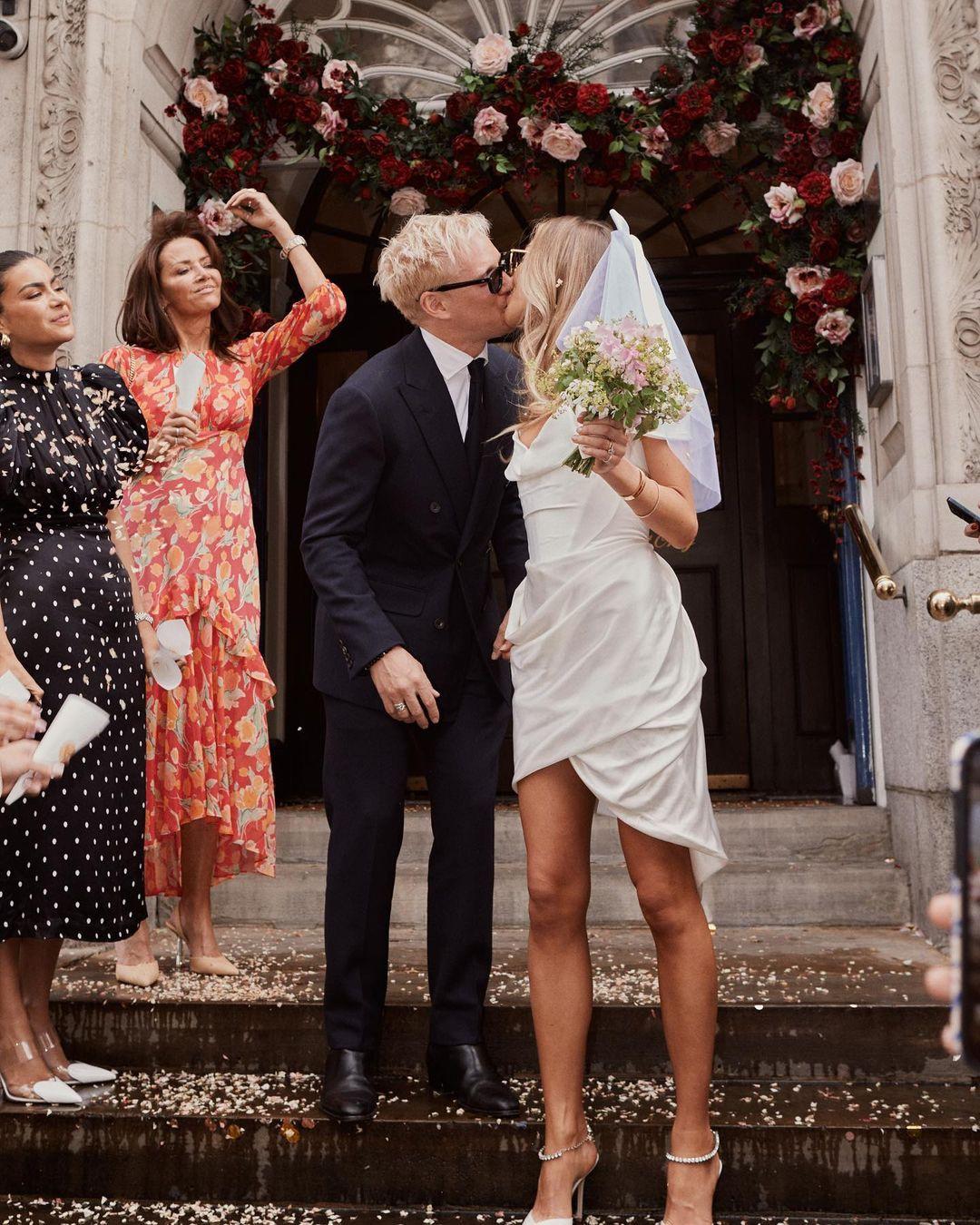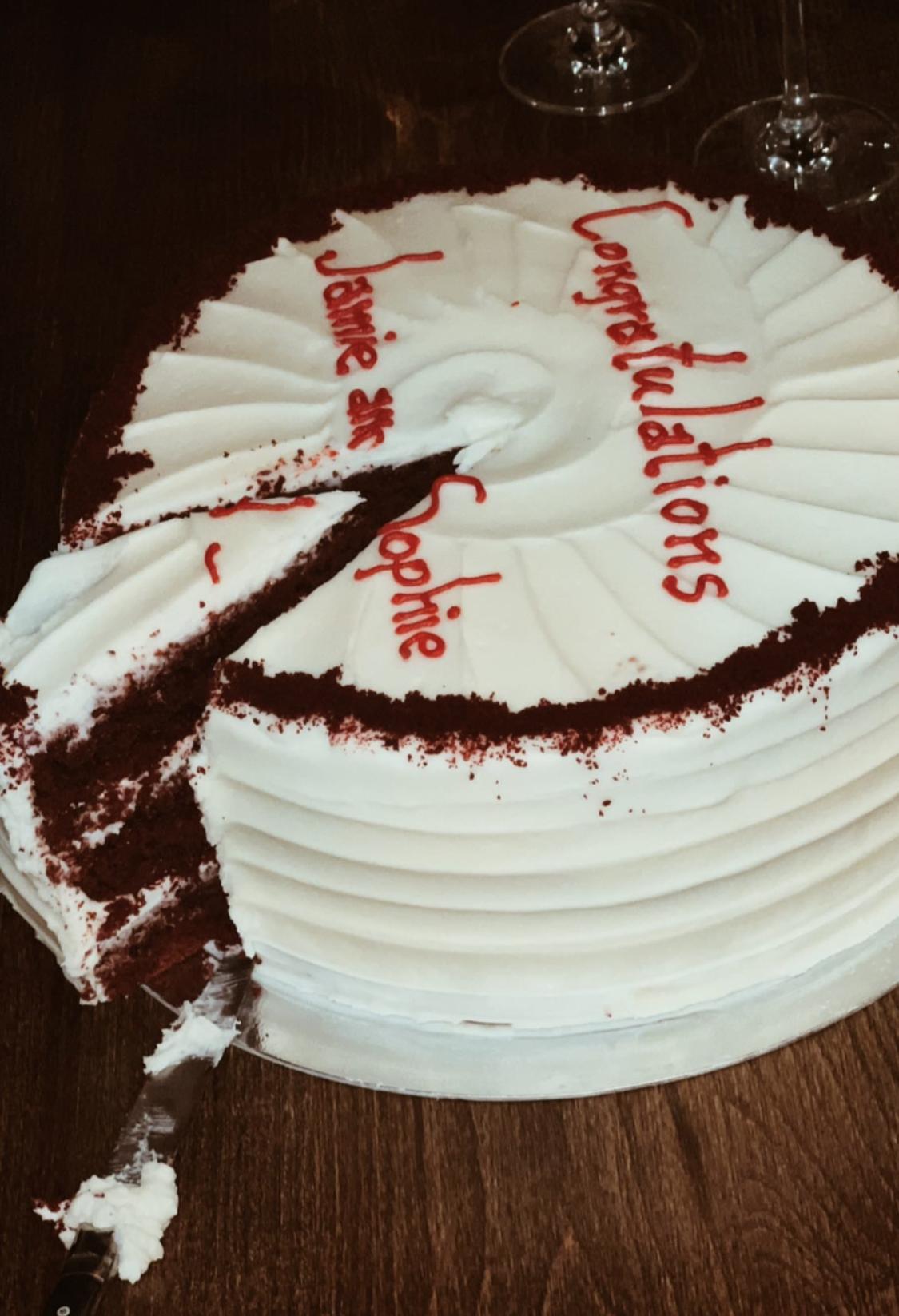 Sophie Habboo's Wedding Dress & Accessories: Get Her London Look for Less
Sophie has confirmed that she will be wearing two outfits, a main dress and an evening dress - admitting she would have three if she could! Speaking to Mail Online, she said: "I tried on a big Cinderella gown and I loved it and my bridesmaids loved them all on me but my dress isn't like that."
Whilst the design of her Spanish wedding dress is still unknown, here's what she wore, and advice on how you can get Sophie's London wedding look.
Sophie Habboo's Wedding Dress: Sophie's short wedding dress was stylish and iconic - no surprises there! She wore a short Vivienne Westwood wedding dress costing around £3,800. The off the shoulder wedding dress featured a boned corset, draped asymmetric skirt and a sweetheart neckline.
The £3,865 Mini Cora Cocotte corset wedding dress is said to be inspired by the Cocotte shape and was originally designed for Vivienne Westwood's granddaughter's 21st birthday as a full length gown. The mini can be bought in three different fabrics; heavy silk, peace silk or crepe satin.
Inspired by Sophie's look? Browse more short wedding dresses here.
Sophie Habboo's Wedding Veil: Sophie Habboo's wedding veil was perfectly chic, to go with her stylish wedding dress. She opted for a short Gigi & Olive wedding veil which featured two layers and a pretty satin bow at the top. Costing just £60, this chic wedding accessory really completed her look.
Sophie Habboo's Wedding Shoes: Opting for a gorgeous set of designer wedding heels, Sophie wore the Saeda 100 Jimmy Choo wedding shoes. Made in Italy, the gorgeous pumps have a high stiletto heel, court shape and a beautifully embellished ankle strap. Priced at £850, these heels are well worth the splurge and worked so well with her short wedding dress.
Sophie Habboo's Wedding Clutch Bag: Completing the look, Sophie opted for a Sophia Webster bridal clutch bag. The £400 'Wifey for Lifey' clutch bag comes complete with a marbled acrylic finish, detachable chain strap and sparkling clasp.
Fancy copying Sophie Habboo's wedding dress and style but without the £5,000 price tag? Here's some of our favourite dupes for a fraction of the price, but all the same style.
Off-Shoulder Wedding Dress - House of CB, £189
At less than £200, this high street wedding dress from House of CB is the spitting image of Sophie's designer gown and comes in sizes UK6 - UK14. The boning on the bodice gives it a gorgeous corset feel and and we love the scoop neckline - so elegant!
Tia Dorraine Mini Dress - £650, Wolf & Badger
The Signature of the Sun dress from Wolf & Badger is about as close to Vivienne's own design as you'll get, and it costs a fraction of the price at £650. Available in both ivory and black, those who really love Sophie's look could get one in each colour and wear it as an engagement party dress or a honeymoon outfit.
Structured Satin Bardot Wedding Dress - Coast, £139
For a maxi version of Sophie's mini dress, opt for Coast's satin bardot gown which comes in at less than £1509. It's available in size 8 - 18 and has a little mini-slit at the bottom for added movement.
Diamante Detail Pointed Satin Heels - London Rebel, £45
These satin ivory heels from London Rebel have the same style ankle strap that Sophie's Jimmy Choos had, with the added detail of diamante embellishments for that extra wow-factor. The white satin heels can be bought in sizes 3 - 8 and have been awarded five stars by all reviewers!
Diamante Bow Heel Bridal Shoes - Be Mine, £40
At just £40, these wedding shoes are an absolute steal. The diamante double bow is giving us serious designer vibes and the double strap is bang on trend. We also love the unique shape of the heel - it's super high and glamorous in equal measures.
They are also available here in wide fit.
White Chiffon Bow Wedding Heels - Forever New, £65
If you love the style of Sophie Habboo's wedding heels but prefer something with a bit less sparkle, you'll love these Forever new wedding heels. The simplistic design is effortlessly chic and the chiffon bow on the back is all the detail you need. If you copy Sophie's veil you'll have a completely bow-obsessed look.
Are Jamie Laing and Sophie Habboo Still Together?
MIC fanatics will be pleased to know that the reality TV stars Jamie Laing and Sophie Habboo are in fact still together. Their relationship has gone from strength to strength since their engagement in December 2021. They are officially married as of last week, and are set to tie the knot yet again in a lavish Spanish ceremony next month.
READ MORE: Everything You Need to Know About Stacey Solomon's Wedding to Joe Swash
Jamie Laing and Sophie Habboo Play Mr & Mrs Wedding Quiz
The nearlyweds battle against each other in a hilarious Mr & Mrs Quiz, react to saucy Hitched user confessions and reveal details about their wedding including their first dance song!
Jamie Laing and Sophie Habboo: A Full Relationship Timeline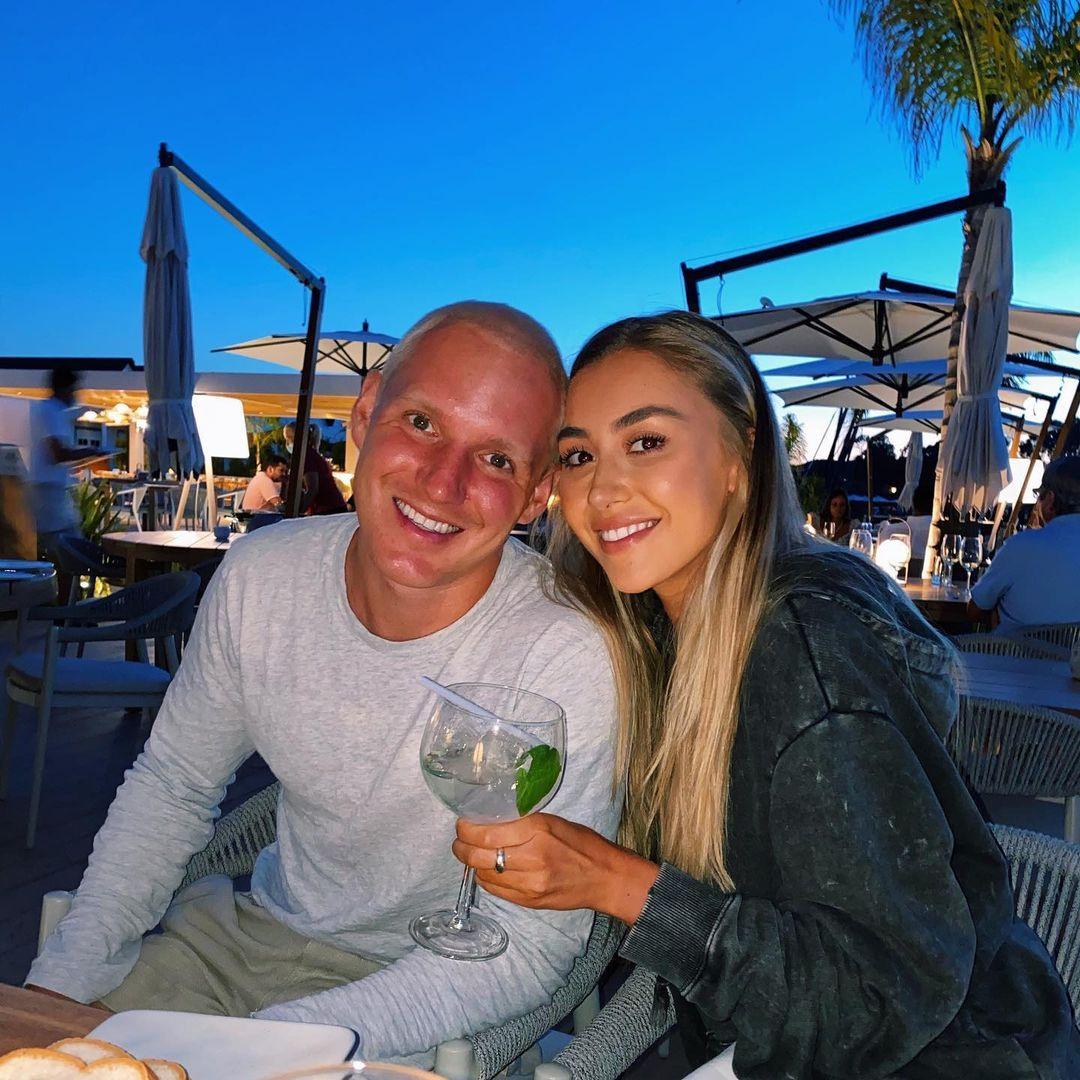 April 2019: Jamie and Sophie's close friendship on Series 17 of Made in Chelsea began to spark a rumour mill amongst co-stars, tabloids and the British public. At the time, Jamie had not long split from ex-girlfriend Heloise Agostinelli. The rumour mill created friction between Jamie and friend Sam Thompson (also Sophie's ex boyfriend) and upset Jamie's ex Heloise.
After softly broaching the 'feelings' conversation, they decided that it wasn't worth all the upset.
June 2019: After remaining in the friendzone for most of the series, Jamie and Sophie decided that, seeing as everyone was already angry at their non-romance, actually going on a date couldn't make things any worse than they already were. On the last episode of the season, the pair agreed to go on a date and see where things could go.
September 2019: After a few on-screen dramas with another co-star Rosi Mai, the pair seemed to be going strong as an exciting opportunity presented itself for Jamie. In Autumn 2019, he signed up for the coming series of Strictly Come Dancing, a show that had become synonymous for splitting up couples with a trend dubbed as the 'Strictly Curse'.
Jamie, well aware of the curse, felt confident that his and Sophie's relationship would go unaffected. Speaking on his podcast he said: "The 'Strictly Curse' is where you dance with your dance partner, get really close to them… So many people have got with their Strictly dancer. I will still be seeing Habboo, I'm not going to start kissing my dancer!"
Jamie later had to drop out of the show because of a foot injury sustained in his opening number.
READ MORE: The Most Incredible Celebrity Engagement Rings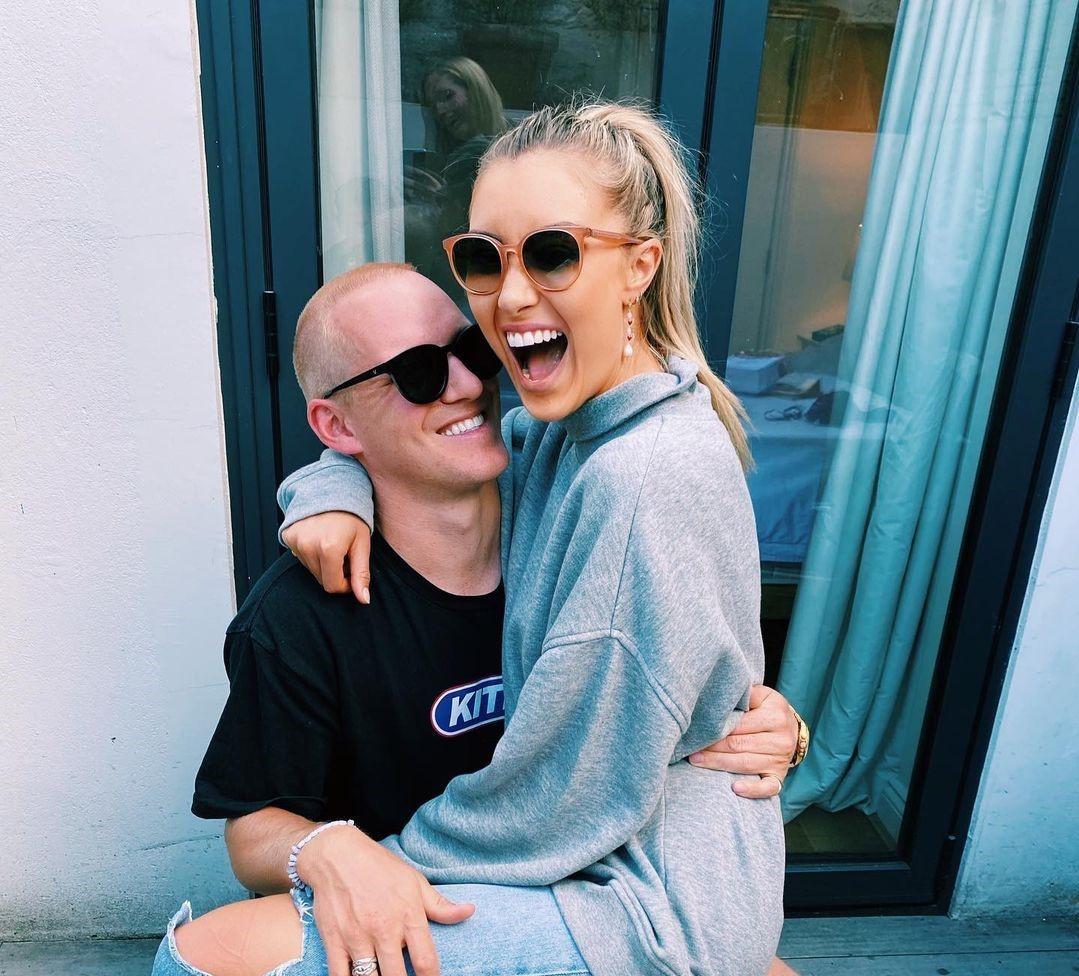 October 2020: Fast forward a year and Jamie and Sophie's relationship has been going steady for over a year having moved in together, proving critics of their romance wrong every step of the way. After having to back out of Strictly due to a foot injury the previous year, Jamie returned to the show and competed with dance partner Karen Hauer and made it all the way to the semi-finals.
At this point, he also stepped away from the filming of Made in Chelsea whilst Sophie was still very much a main cast member.
May 2021: Speaking to Mail Online, Jamie reveals it's time for him to quit Made in Chelsea after being one of the show's stars for over 10 years. Sophie remained a cast member and is still a part of the show in its current 21st series.
December 2021: After much speculation, Jamie and Sophie announced their engagement in December 2021.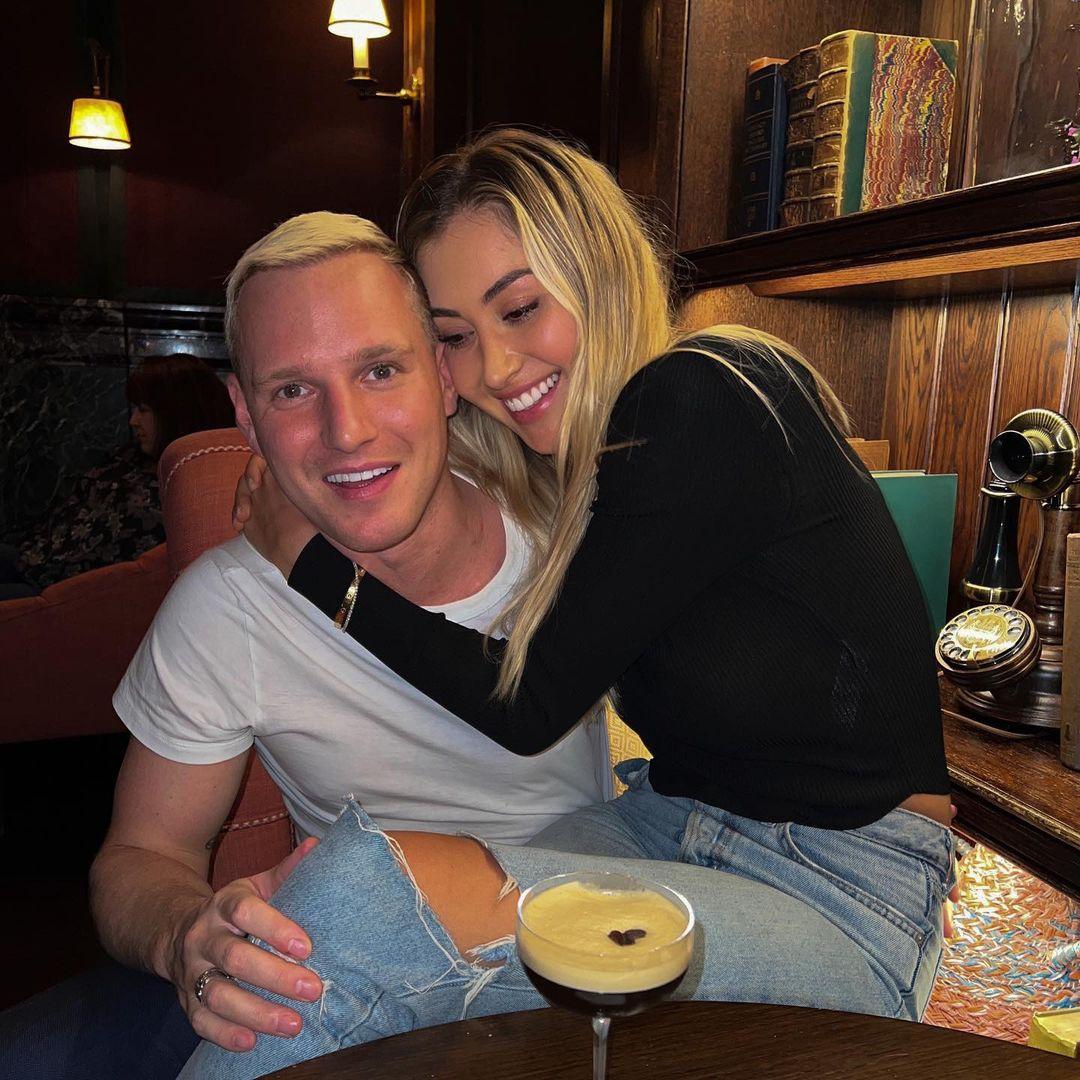 Taking to Instagram to share the exciting news, Sophie posted a picture of her sitting on Jamie's lap, and a white cap that said 'Mrs Laing to be' along with the caption: "WE ARE GETTING MARRIED!!!!!!!!!!!! I cannot wait to spend the rest of my life with you @jamielaing ❤️❤️❤️".
Following on from the initial announcement post, Sophie added another album of images showing the stunning hotel room where Jamie proposed, along with a snap of her wearing the white cap, holding a bottle of champagne whilst surrounded by four bunches of stunning white roses.
Jamie also shared the news on his Instagram, posting a video with the caption: "I couldn't think of anything better than spending the rest of my life with you @habboosophie."
READ MORE: Love Island Star Nathan Massey Shares His Proposal Secrets
March 2022: Jamie and Sophie announce the upcoming launch of their Nearlyweds podcast on Instagram. The podcast wouldn't be the first in Jamie's portfolio, which the pair addressed in their launch post, saying: "Guys we couldn't be more excited to announce that Sophie and I are launching our own podcast NEARLYWEDS.
"Yes I know what you're thinking "but Jamie you already do 2 podcasts?" - Yes I know, but the journey that Sophie and I have been having, wedding planning, finding venues, choosing guests and of course arguing…. It was just too funny, chaotic and wild that we couldn't not document it.
"We're launching on the 4th April (our trailer ep is out tomorrow on all podcast platforms) and we're not leaving a stone unturned in the podcast. So, if you're getting married, planning to, finding yourself in a whirlwind of "wedmin" and worry Or just fancy a laugh come listen to our podcast @nearlywedspodcast every Monday!! 💙"
READ MORE: The Celebrity Weddings to Look Out for in 2022
April 2022: Jamie and Sophie confirm that their wedding won't be aired on Made in Chelsea, a show that Sophie is still very much a part of. Spelling to Mail Online, the couple confirmed that they have turned down offers to film their wedding for a MIC special. Jamie admitted that, in his opinion, relationships have a better chance of surviving away from the cameras.
Speaking to his departure from the show the previous year, Jamie said: "I left Made in Chelsea because I didn't want my relationship with Sophie on camera. There were lots of other reasons, but that was the big one. I've seen so many relationships fail on reality TV shows and I didn't want that to happen."
April 2023: Then, on Friday 14th April 2023, Jamie and Sophie tied the knot at a Chelsea registry office. Celebrating the London leg of their nuptials, the couple said 'I do' in their legal wedding ceremony ahead of their Spanish celebration in May this year.
May 2023: Following on from their London ceremony, the couple said 'I do' in front of hundreds of friends and family in Marbella, Spain on Saturday 20th May.
Hungry for more celebrity nuptials? If so, check out more upcoming celebrity weddings set to take place this year.