Whether you're looking for a cute Christmas gift for a couple, a present for your newly-engaged friends or something fun for your other half, matching his and hers pyjamas are a gift that will always raise a smile and create some serious #couplegoals.
Cosy nights in watching Netflix can have the cute factor upped by wearing matching PJs with your partner. And these days, there are plenty of great options to choose from. Whether you want something that's suitable all-year round, a summery short and t-shirt duo or some fun Christmas jammies, you'll be able to find the perfect set.
Start browsing our favourite his and hers pyjamas available online and on the high street and get cosy!
Cute His and Hers Pyjamas
1. Personalised Cotton Family Pyjamas – £95, Not On The High Street
These soft cotton pyjamas come in sizes and colours to suit the whole family, so why not get cosy for a night in your matching PJs? The super soft cotton has a luxury feel, plus you have the option of personalising each set with the owner's initials – an absolute must!
2. Tembo Pyjamas – £160, PJ Pan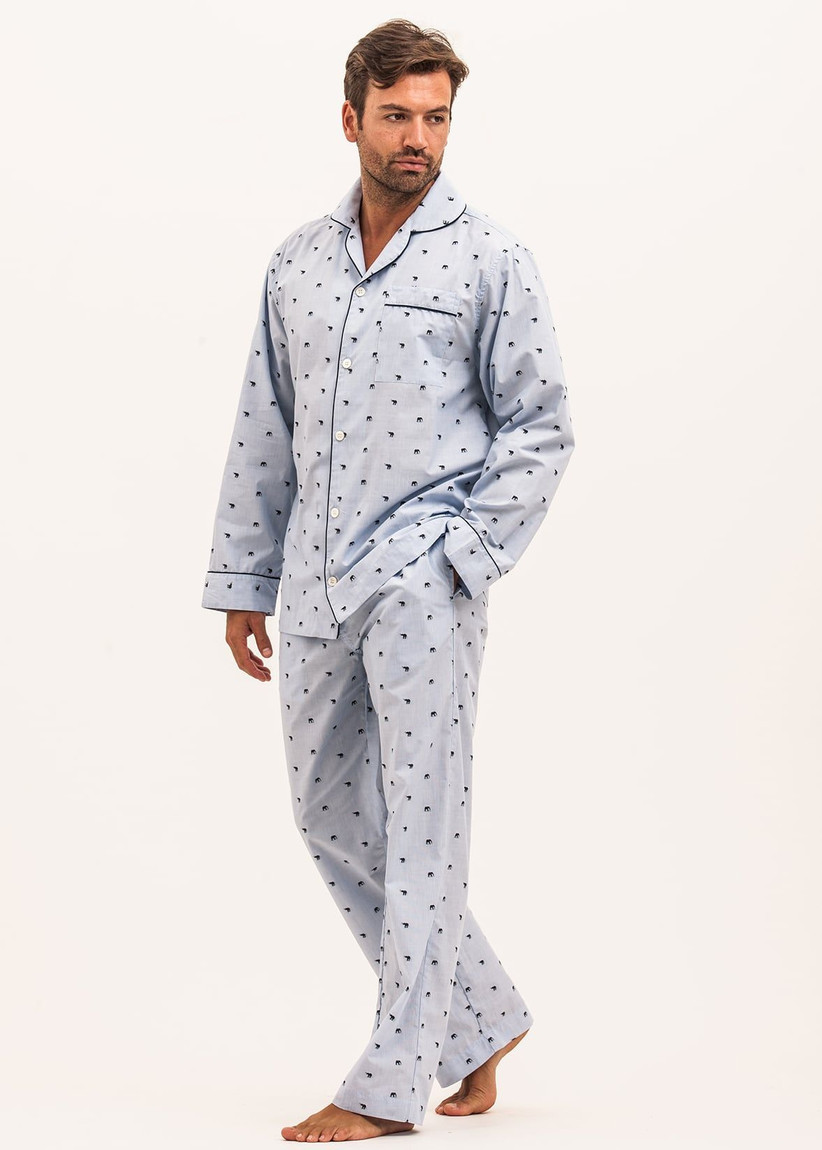 For every pair purchased of these fun elephant print pyjamas, PJ Pan will donate £10 to Tusk Trust - an organisation that invests in the future of Africa by protecting wildlife, supporting communities and promoting education. You can also buy the matching women's set.
3. His and Hers Pyjamas – £30, Lovelei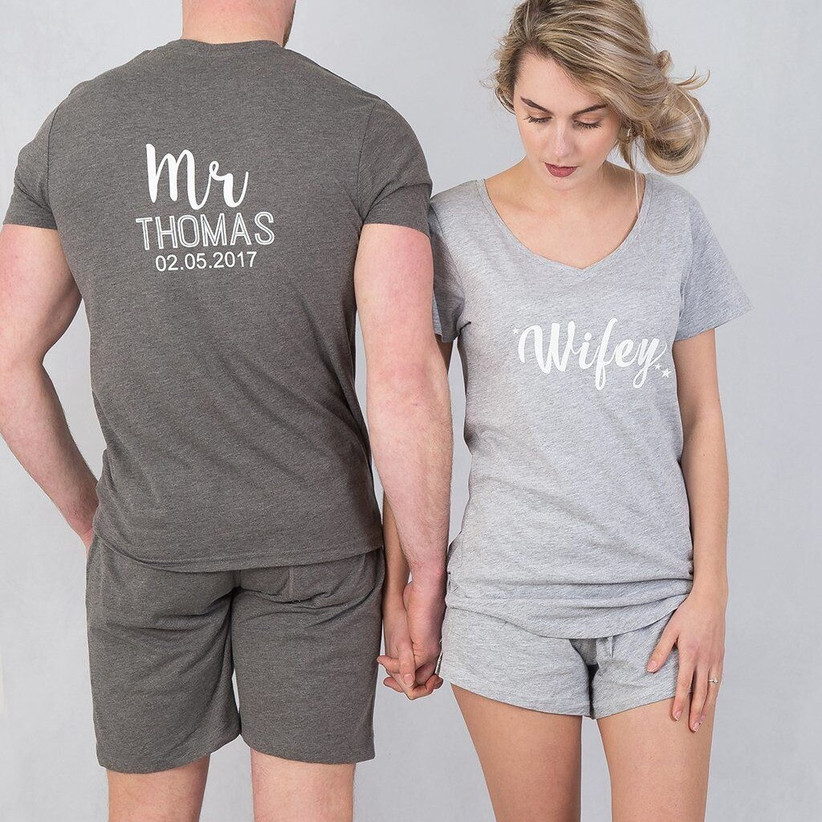 Don't want to get too hot at night? These super soft his and her short pyjamas will ensure you won't have to stick one leg out of the duvet. We love how you can personalise the date and surname on this pair.
4. Couple Avocado Pyjamas – £34.89, Etsy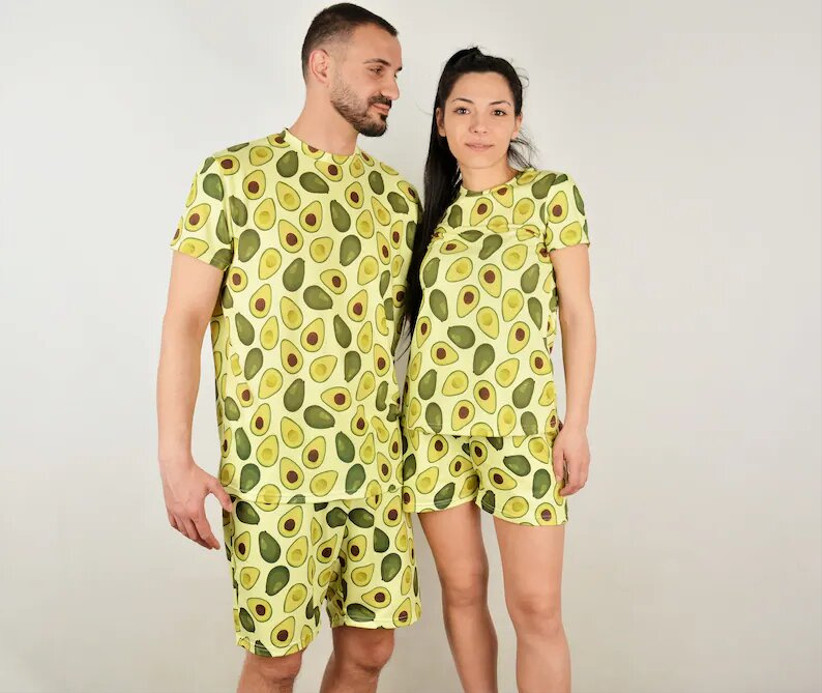 If you and your partner enjoy tucking into avocado on toast at breakfast, what better way to do so than while wearing these cute pyjamas! They're available in a range of sizes from XXS - 5XL.
5. Matching Couples Pyjamas – £62.43, Etsy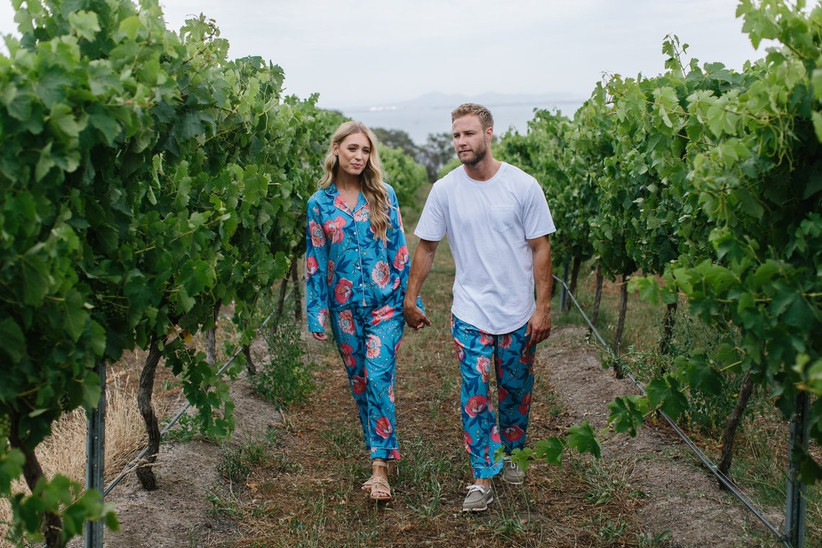 We're obsessed with the stylish design on these his and her pyjamas from Posy Sleep Co. They'd be lovely to pop on while you're getting ready on your wedding day or for lounging around the house.
READ MORE: The Best Bride and Bridesmaid Dressing Gowns & PJs for Your Wedding Morning
6. Linen Couple Pyjamas – £194.11, Etsy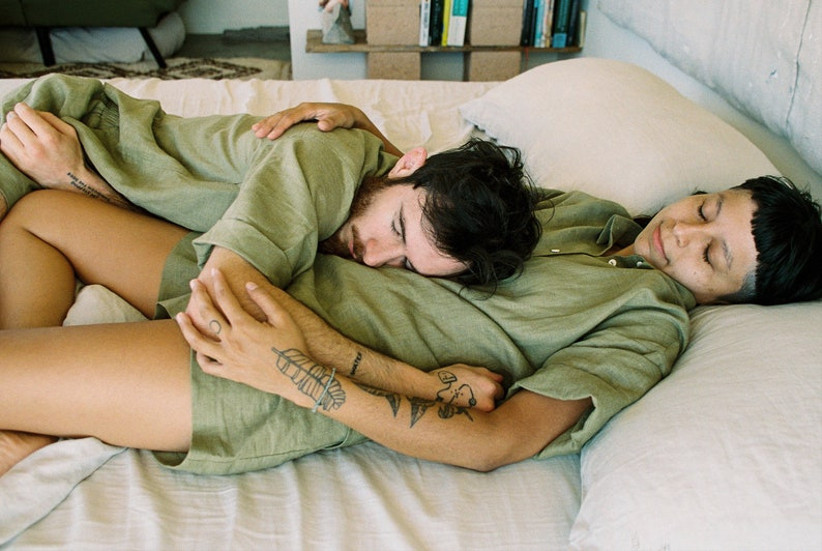 Cool couples, you need these chic matching pyjamas in your life. Crafted from super soft olive green linen they're not only totally on trend, they'll keep you cool in the warmer months too.
7. Moustache and Lipstick Pyjamas – £19.99, Amazon
If you know that you and your other half just couldn't agree on what pyjamas to wear, then you could compromise by just wearing matching t-shirts. It's also a less matchy-matchy option if your other half is resisting the cute couple vibe you're after.
8. King and Queen Pyjamas – £60, Etsy
If you have found the king to your queen then these checkered pyjamas would be the perfect fun take on this. Using the king and queen signs from a pack of cards, it's a subtle nod to his and hers pyjamas.
9. Big Spoon and Little Spoon Pyjamas – £14.99, Etsy
Are you a couple who love to spoon? Then these big spoon and little spoon pyjamas are pretty much made for you.
10. Romantic Couples' Pyjamas – £55, Etsy
These matching his and hers pyjamas are ideal if you are looking to buy a romantic and thoughtful gift for your partner. The top of the pyjamas includes a heart and arrow and can be personalised with your initials and wedding date. They could also be perfect for your cotton wedding anniversary.
READ MORE: 2nd Wedding Anniversary Gift Guide: Cotton Present Ideas
11. I Don't Do Matching Sweatshirts – £42, Etsy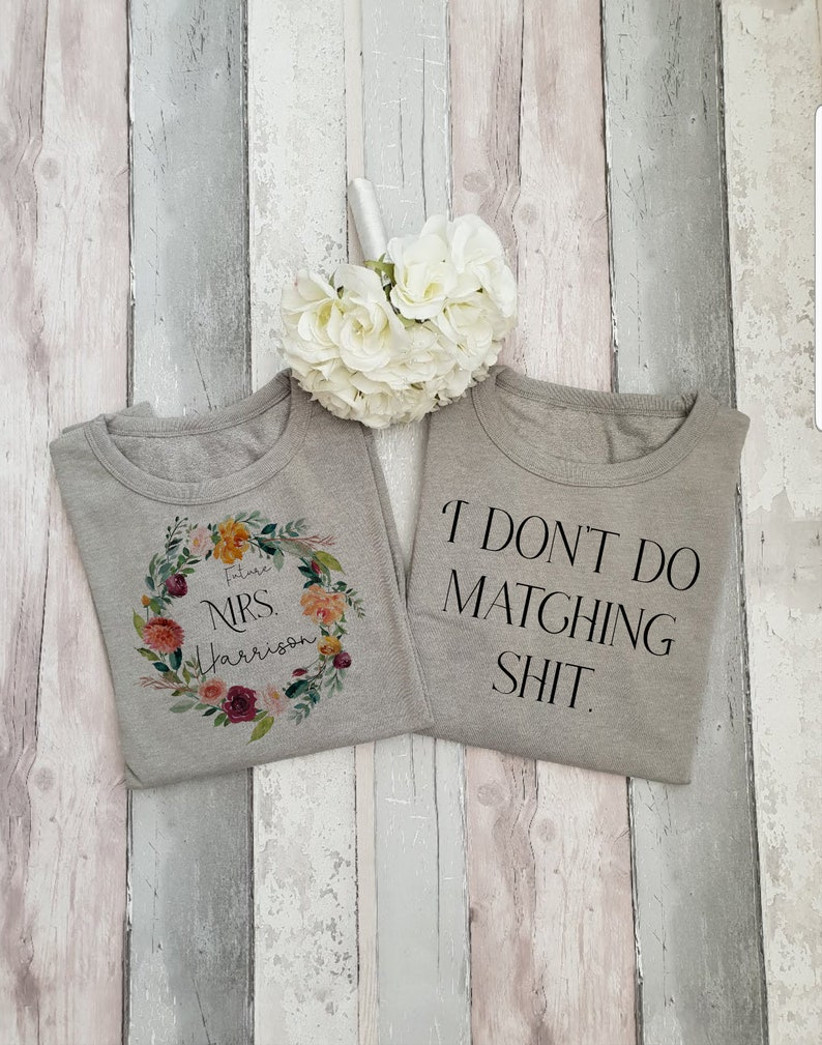 For a humorous take on matching pyjamas look to these funny sweatshirts from Holly and Fred. Even if your partner isn't a fan of cute couple outfits, they won't be able to resist wearing these.
12. Monochrome Pyjamas Set – £54, Not On The High Street
This top and shorts combo makes these PJs an ideal gift for a couple going on a honeymoon in a hot country. The monochrome style is fun and stops them being too matchy-matchy.
13. Her Duke His Duchess Pyjamas – £55, Etsy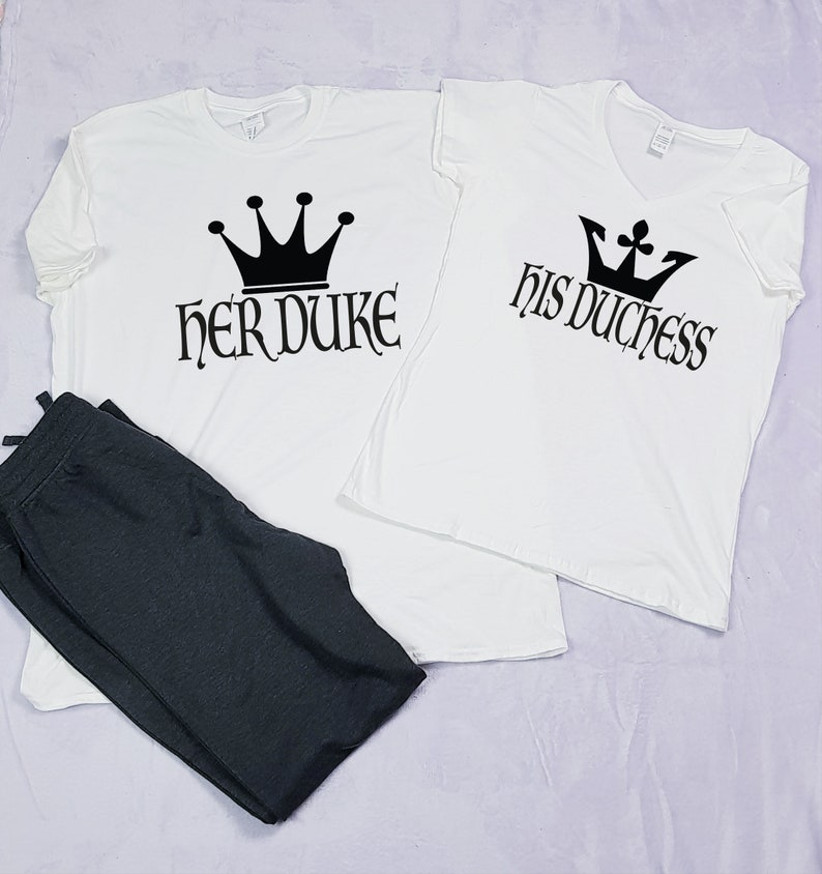 While you and your other half snuggle on the sofa watching the latest series of Bridgerton put on these Duke and Duchess pyjamas and play the part. They have a comfy elasticated waistband so you can scoff all the popcorn you like!
14. Mr and Mrs Pyjamas – £45, Etsy
These Mr and Mrs pyjamas would be a great unusual wedding gift if you are looking for something a little bit different. We love that they can be personalised and the happy couple could take them on their honeymoon.
15. He Snores, She's a Duvet Thief Pyjamas – £45, Not On The High Street
If he wakes you up with his snoring or she is always stealing the duvet in the middle of the night then these adorable matching PJs are especially for you. Make fun of your partner and buy this as a funny gift.
READ MORE: Marriage Advice: 19 Top Tips for a Long and Happy Marriage
16. Slumber Party Pyjamas – £52.08, Etsy
These cosy matching pyjamas are super comfy and also remind you both just how easy it is to be happy in each others company. We love the pretty pastel shades and they are perfect for relaxing nights in at home.
17. Personalised Matching Pyjamas – £55, Etsy
These simple and stylish matching PJs can be personalised with the name of the couple and the year they said 'I do'. If you are looking for an unusual wedding gift that is totally unique then this could be the perfect choice.
18. Together Forever Pyjamas – £50, Etsy
These soft cotton pyjamas have to be seen together to get the full message, which is a cute detail. If you are about to celebrate your second wedding anniversary – cotton – then these tartan and navy matching pyjamas would be a fun choice.
19. Striped Pyjamas Couple Set - from £41.28, Etsy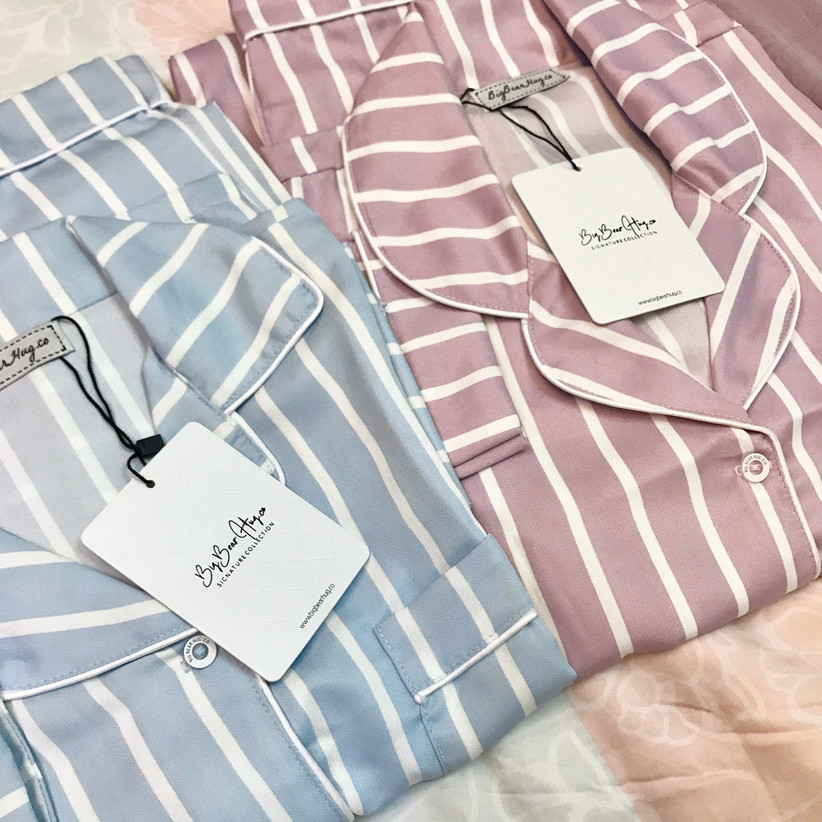 Matching PJs can absolutely be sophisticated and classy; case in point, these lovely satin striped classic pyjamas, which will be a joy to wear.
20. Couple Jammies - from £41.80, Etsy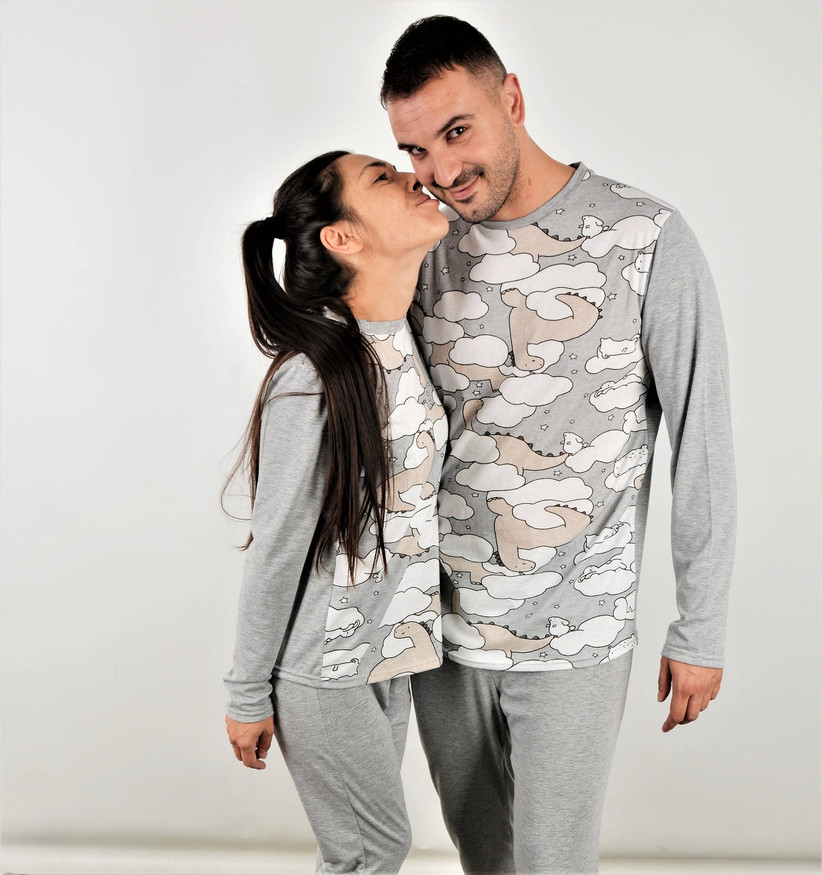 We can't get enough of these grey marl jammies, which are printed with cute clouds and dinosaurs. And not a Christmas reference in sight!
READ MORE: 50 of the Best Christmas Gifts for Couples
His and Hers Christmas Pyjamas
21. First Christmas Sweatshirt Tops – £40, Lovelei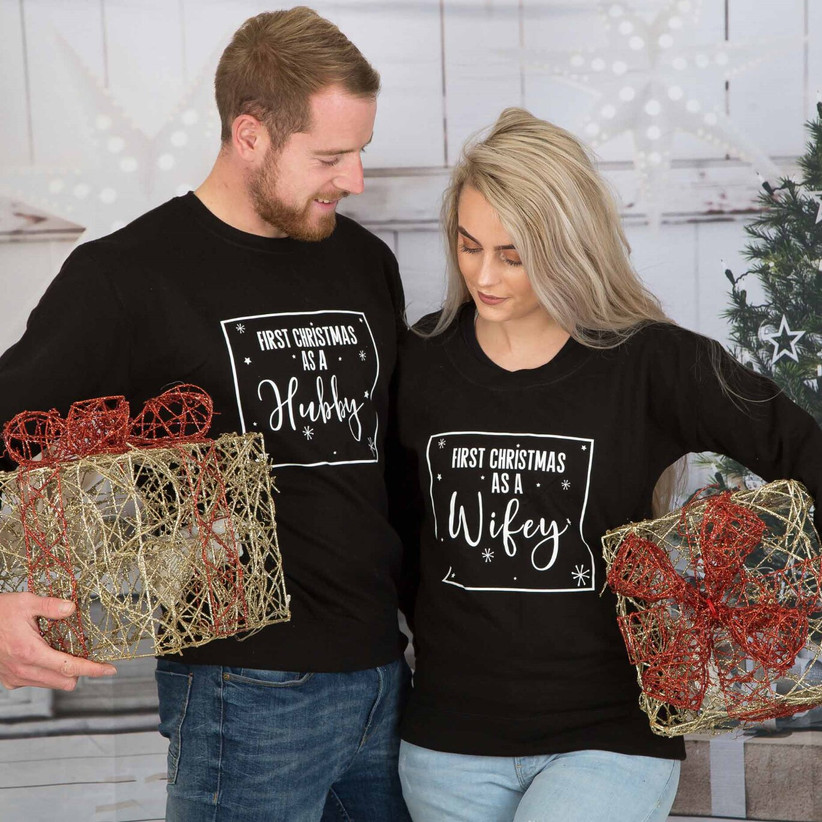 Whether you're wearing these 'First Christmas as a Hubby & Wifey sweatshirts' while decorating the tree, or keeping cosy by the fire, they'll look adorable! You can even get away with wearing them out of the house...
22. Couples Matching Christmas Pyjamas – from £15.50, Etsy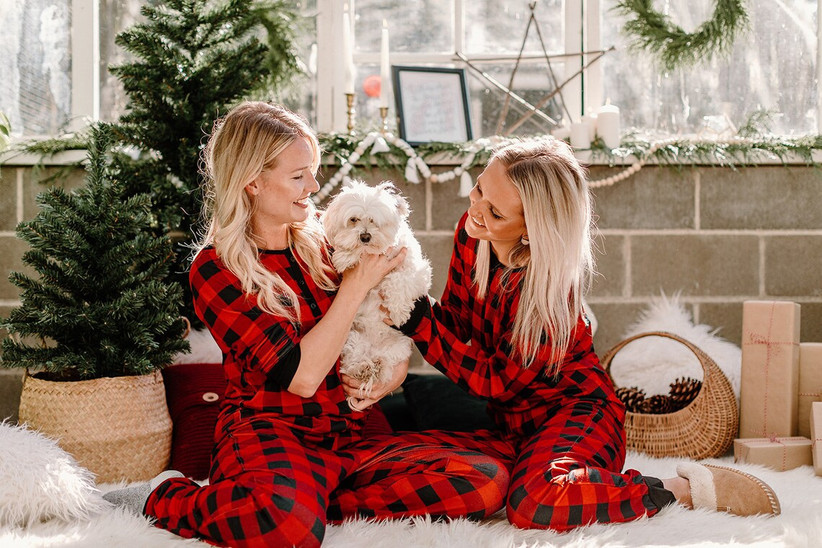 You can't beat a pair of red and black checked jammies on Christmas and we adore this long sleeved option from Lace On The Beach. They even come with a matching onesie for a baby or toddler.
23. Couples Christmas Pyjamas – from £9.95, Etsy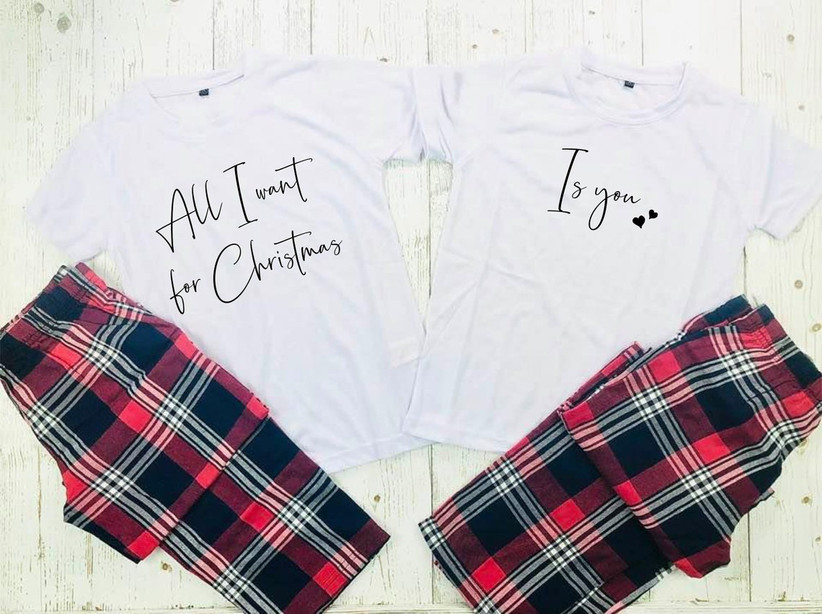 In the wise words of the Queen of Christmas, Mariah Carey, if all you want for Christmas is your partner then these adorable pyjamas will be right up your street. Available in seven different font colours including rose gold and silver, they're simple yet seriously sweet.
24. Penguin Pyjamas – £55, Etsy
Couples' pyjamas seem to be everywhere in the run up to Christmas. If you are looking for some fun festive PJs then these cute matching penguin pyjamas could be perfect. Penguins mate for life so we also like the sentimental meaning behind this design.
READ MORE: The Most Romantic Christmas Present Ideas
25. Thanksgiving Couples Pyjamas - £19.24, Etsy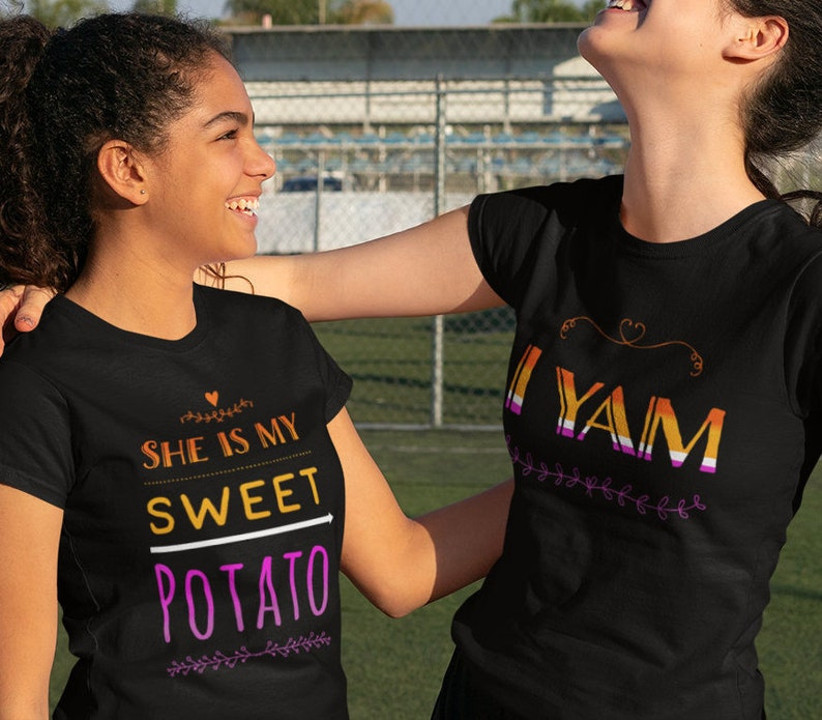 Celebrating Thanksgiving this year? Here at Hitched we love a pun and can't get enough of these sweet potato tops. They'd make a lovely gift to give a comedic couple.
26. Family Christmas Pyjamas - from £26.09, Etsy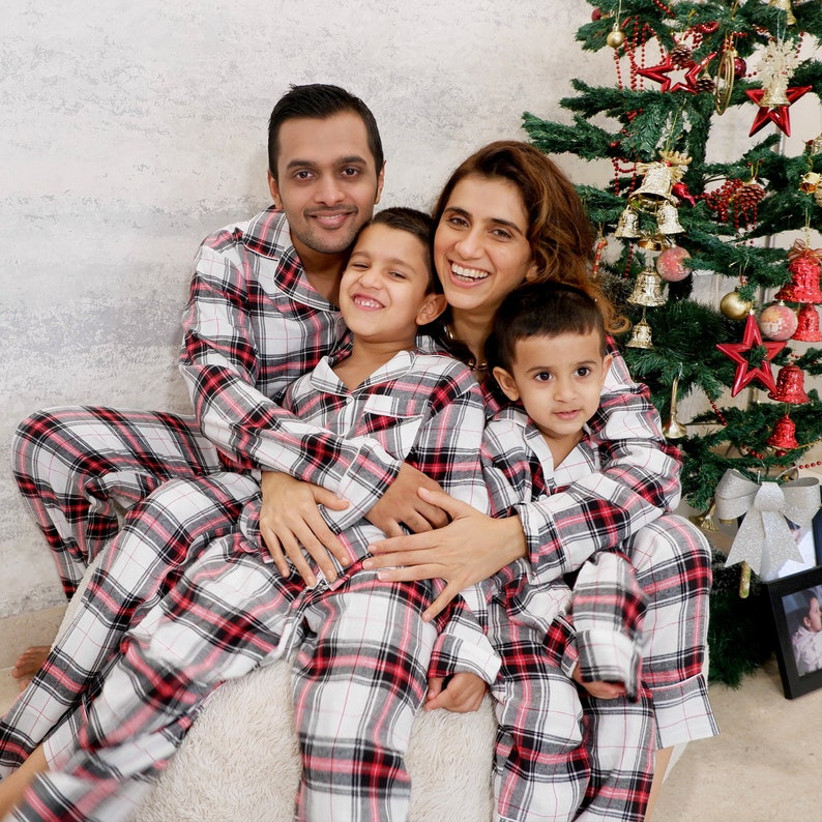 Get the whole crew together with these family Christmas pyjamas from Blush Bride Co. You can choose from long trousers or shorts, varying shades of plaid and can even get them embroidered with everyone's names.
27. Matching Love Christmas Pyjamas - £9, B&M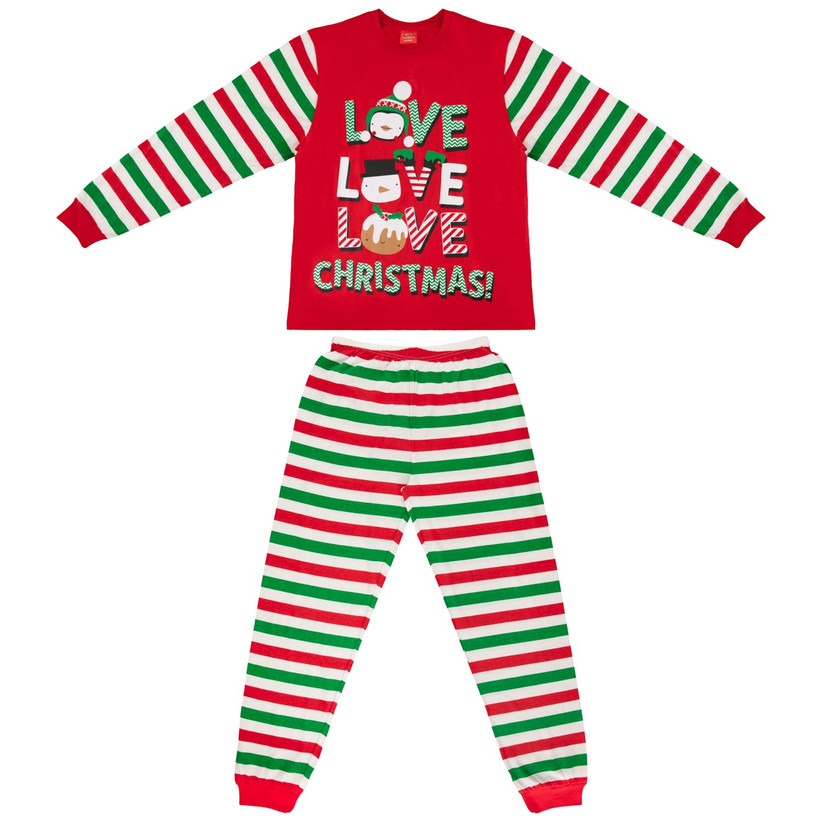 B&M offers up a whole range of affordable and fun his and her pyjamas but our favourite has got to be this love set. Available in sizes S-XL and with a candy stripe design, pj's don't come much more festive than these!
28. Couples Pyjamas Polar Bear - £60, Not On The High Street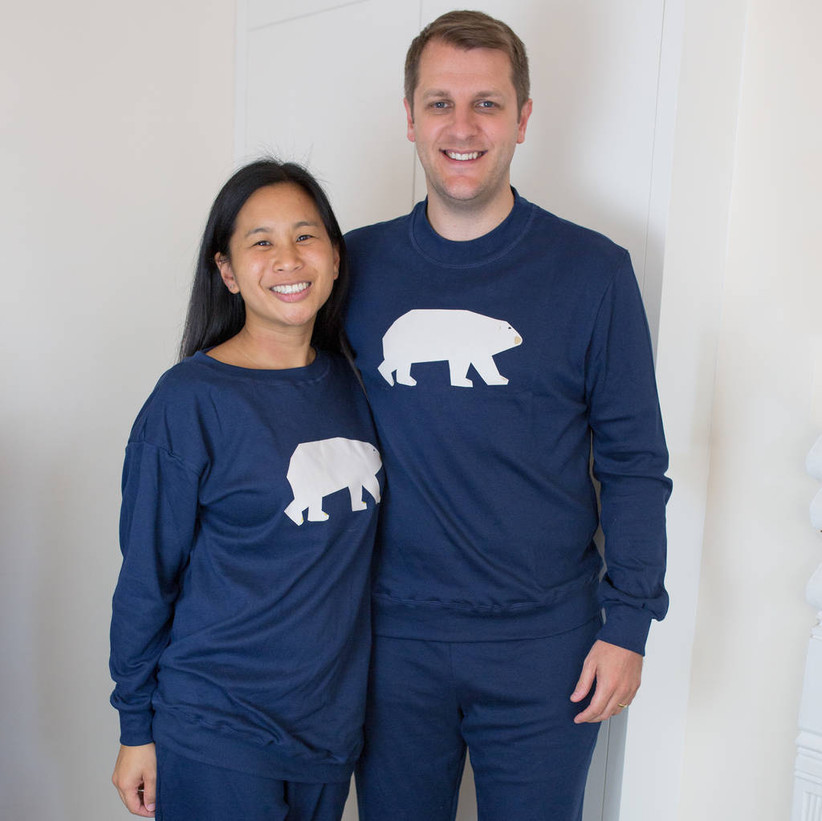 We can't get over the cuteness levels of these polar bear jammies, which come in a matching drawstring bag to keep them safe when you're not wearing them.
29. Couple Pyjamas For Christmas - £55.81, Etsy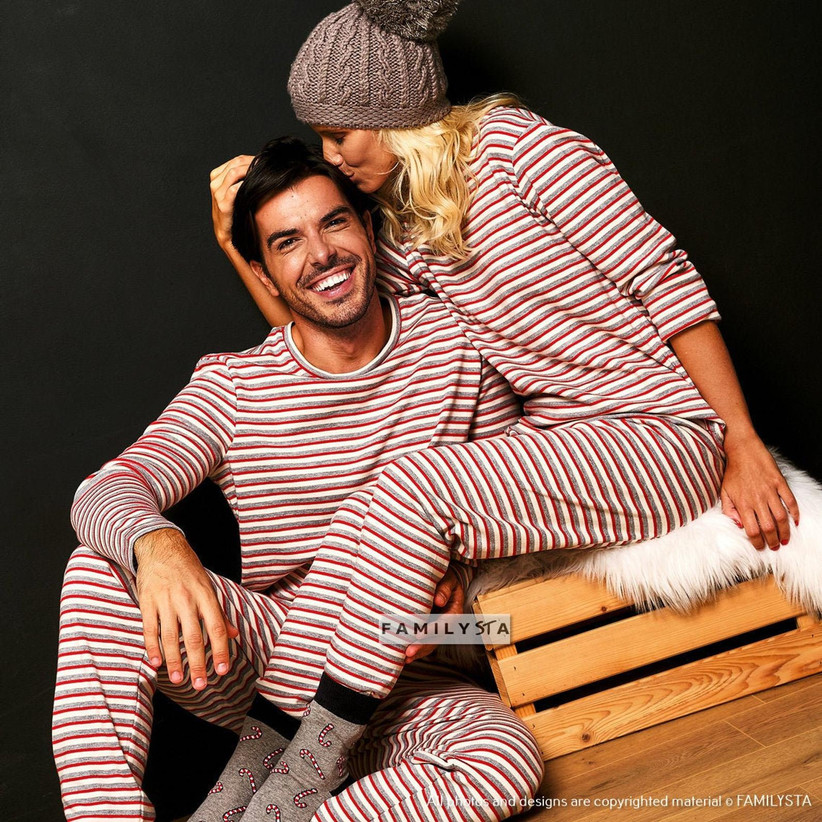 We love a good striped pair of PJs, and these are not just for Christmas. You can also get them in kid's sizes if you have a family to match with too!
Are you looking for more super cute gift ideas? Then start browsing our favourite personalised wedding gift ideas.