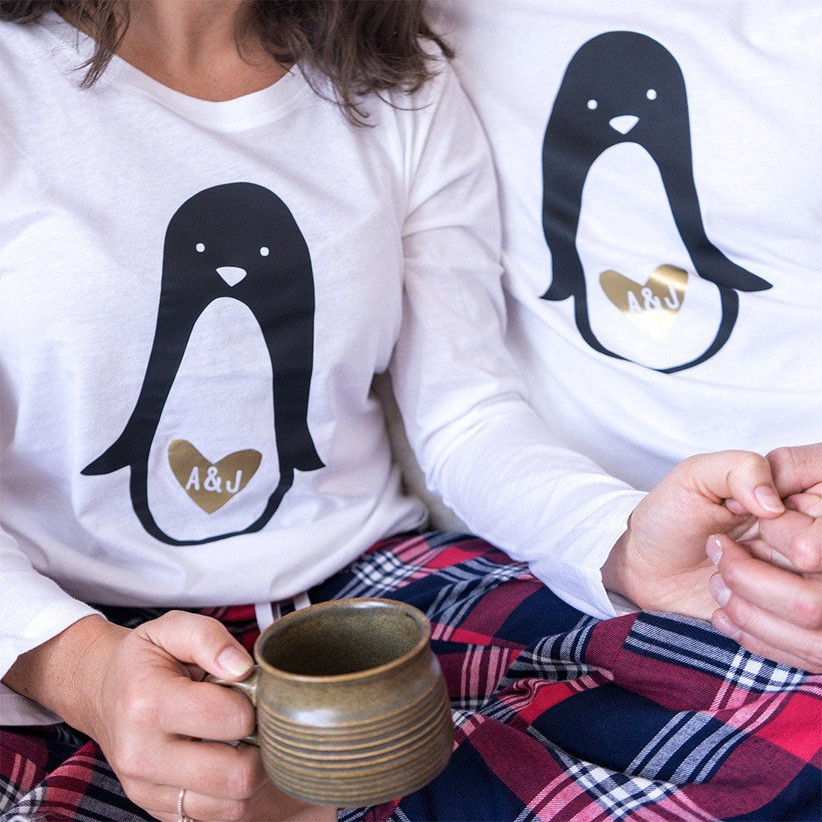 Whether you're looking for a cute Christmas gift for a couple, a present for your newly-engaged friends or something fun for your other half, matching his and hers pyjamas are a gift that will always raise a smile and create some serious #couplegoals.
Cosy nights in watching Netflix can have the cute factor upped by wearing matching PJs with your partner. And these days, there are plenty of great options to choose from. Whether you want something that'll be suitable all-year round, a summery short and t-shirt duo, or some fun Christmas jammies, you'll be able to find the perfect set.
Start browsing our favourite his and hers pyjamas available online and on the high street below, and get cosy!
NB: We have included third party products to help you navigate and enjoy life's biggest moments. Purchases made through links on this page may earn us a commission.
1. Hubby and Wifey Pyjamas – £22.95, Bespoke Gems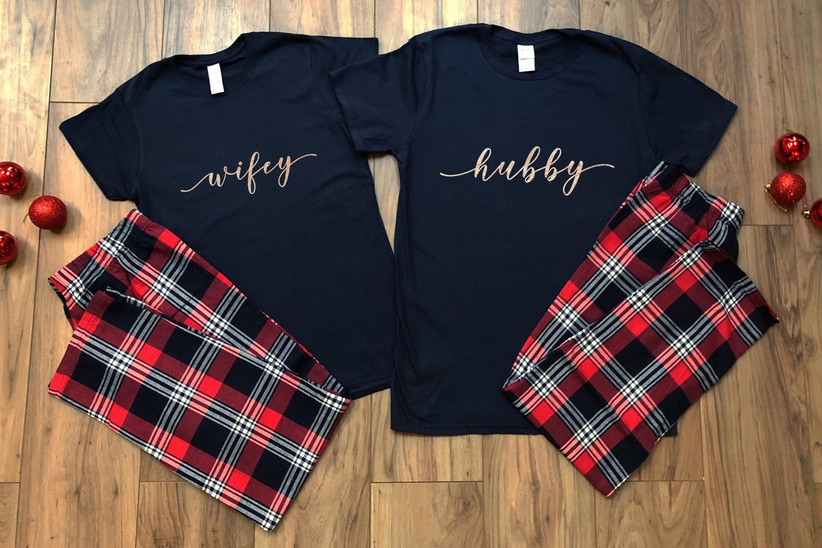 These adorable hubby and wifey pyjamas were made for cosy nights in during the winter. The dark navy and red check look great together and the wording can be personalised if you wish. If you are looking for a gift to give to a newly married couple then we think these would be perfect.
2. Personalised Cotton Family Pyjamas – £95, Mini Lunn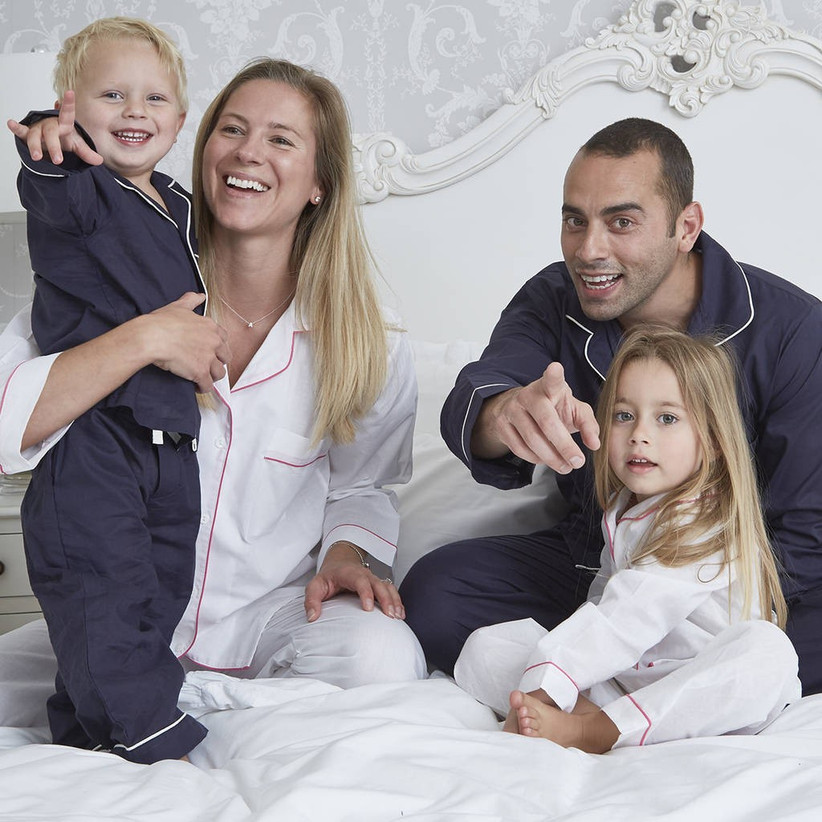 These soft cotton pyjamas come in sizes and colours to suit the whole family, so why not get cosy for a night in your matching pjs? The super soft cotton has a luxury feel, plus you have the option of personalising each set with the owner's initials – an absolute must!
READ MORE: The Best Bride & Bridesmaid Dressing Gowns & Pyjamas for Your Wedding Morning
3. Moustache and Lipstick Pyjamas – £19.99, Amazon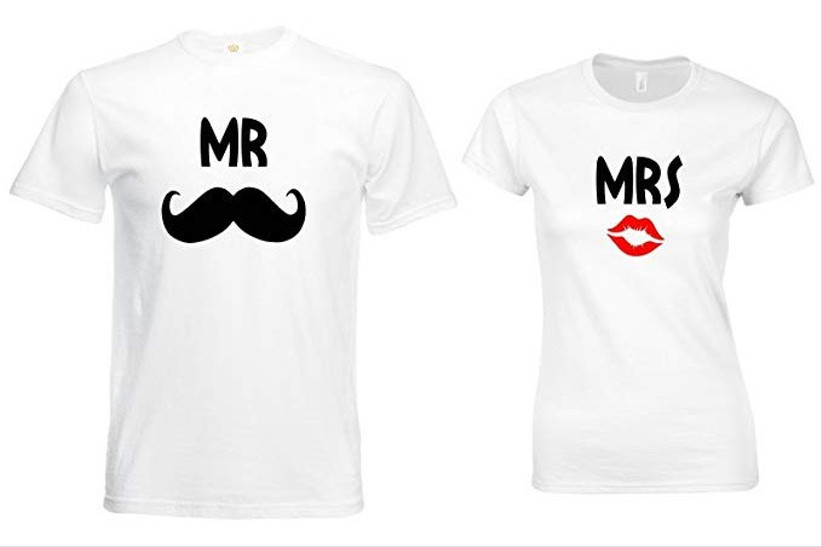 If you know that you and your other half just couldn't agree on what pyjamas to wear then you could compromise by just wearing matching t-shirts. It's also a less matchy-matchy option if your other half is resisting the cute couple vibe you're after.
4. King and Queen Pyjamas – £70.99, Little England Gifts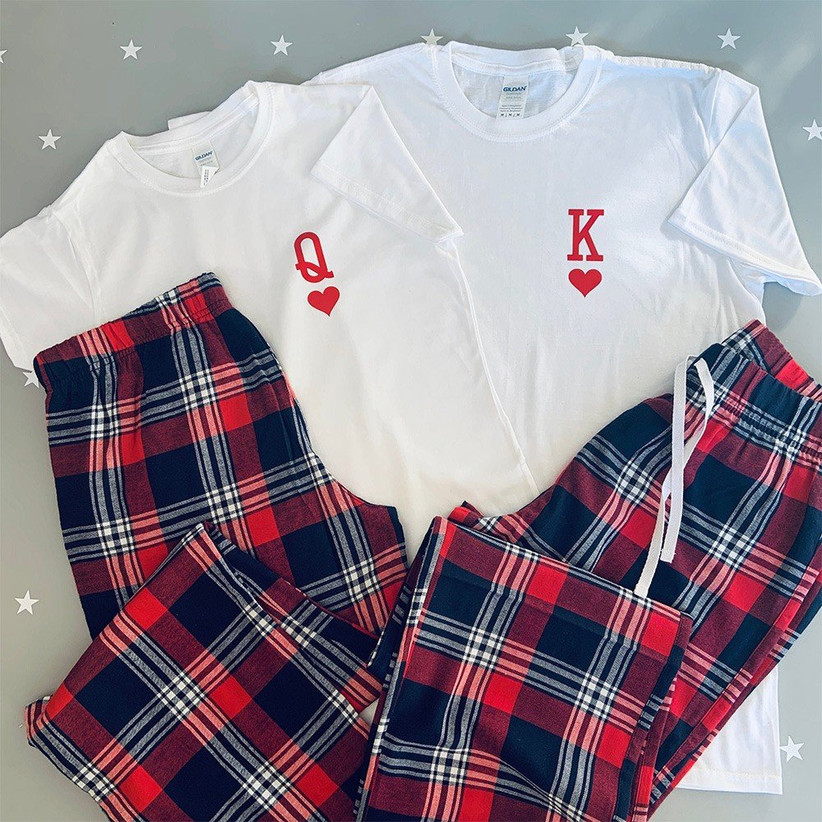 If you have found the king to your queen then these checkered pyjamas would be the perfect fun take on this. Using the king and queen signs from a pack of cards, it's a subtle nod to his and hers pyjamas.
5. Big Spoon and Little Spoon Pyjamas – £40.75, Amazon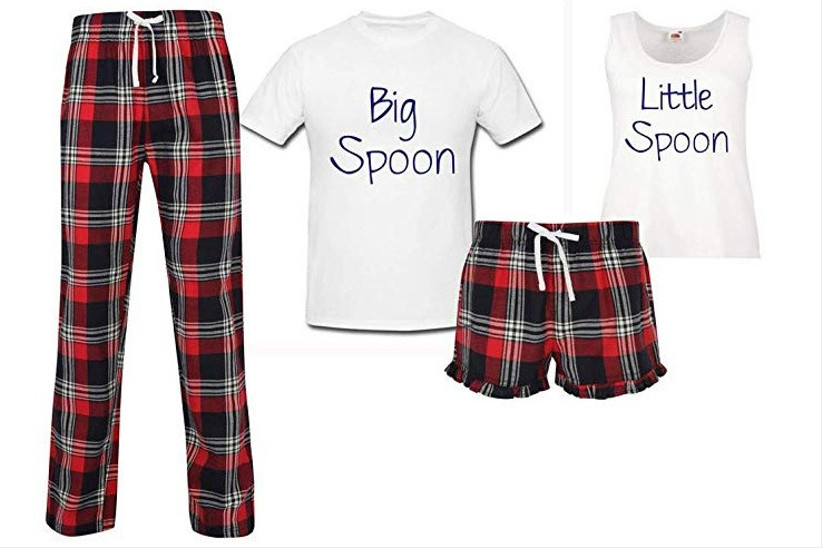 Are you a couple who love to spoon? Then these big spoon and little spoon pyjamas are pretty much made for you. Available in red check or green check, the big spoon pyjamas come with full length bottoms, while the little spoon design is available with shorts.
READ MORE: 29 of the Best Christmas Gifts for Couples
6. Penguin Pyjamas – £55, Sparks and Daughters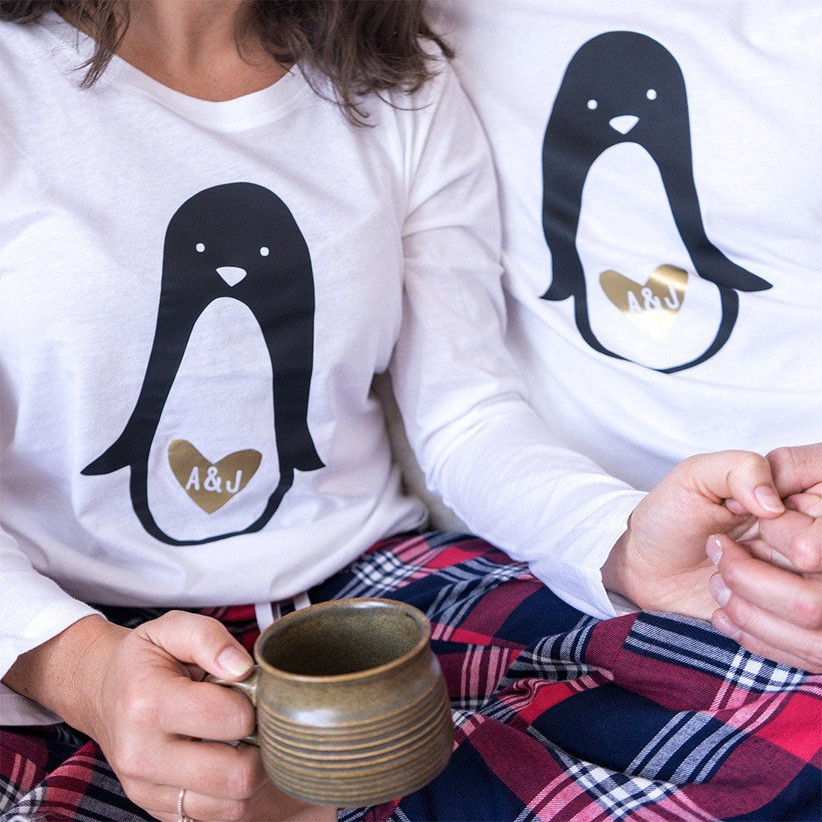 Couples' pyjamas seem to be everywhere in the run up to Christmas. If you are looking for some fun festive pjs then these cute matching penguin pyjamas could be perfect. Penguins mate for life so we also like the sentimental meaning behind this design.
READ MORE: The Most Romantic Christmas Present Ideas
7. Romantic Couples' Pyjamas – £55, Sparks and Daughters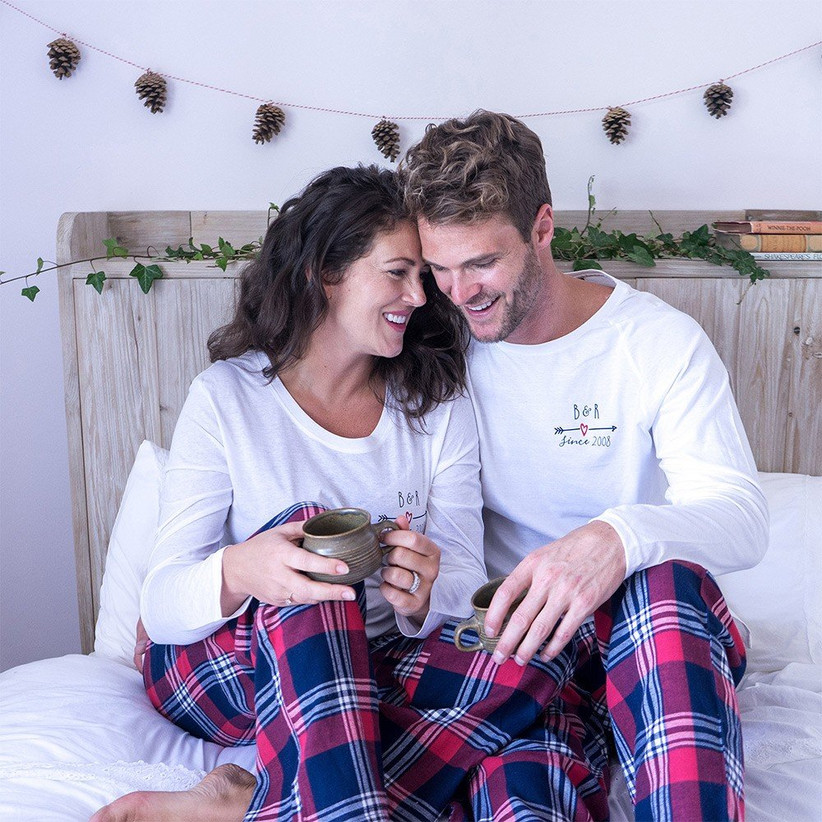 These matching his and hers pyjamas are ideal if you are looking to buy a romantic and thoughtful gift for your partner. The top of the pyjamas includes a heart and arrow and can be personalised with your initials and wedding date. They could also be perfect for your cotton wedding anniversary.
READ MORE: 2nd Wedding Anniversary Gift Guide: Cotton Present Ideas
8. Monochrome Pyjamas Set – £54, Precious Little Plum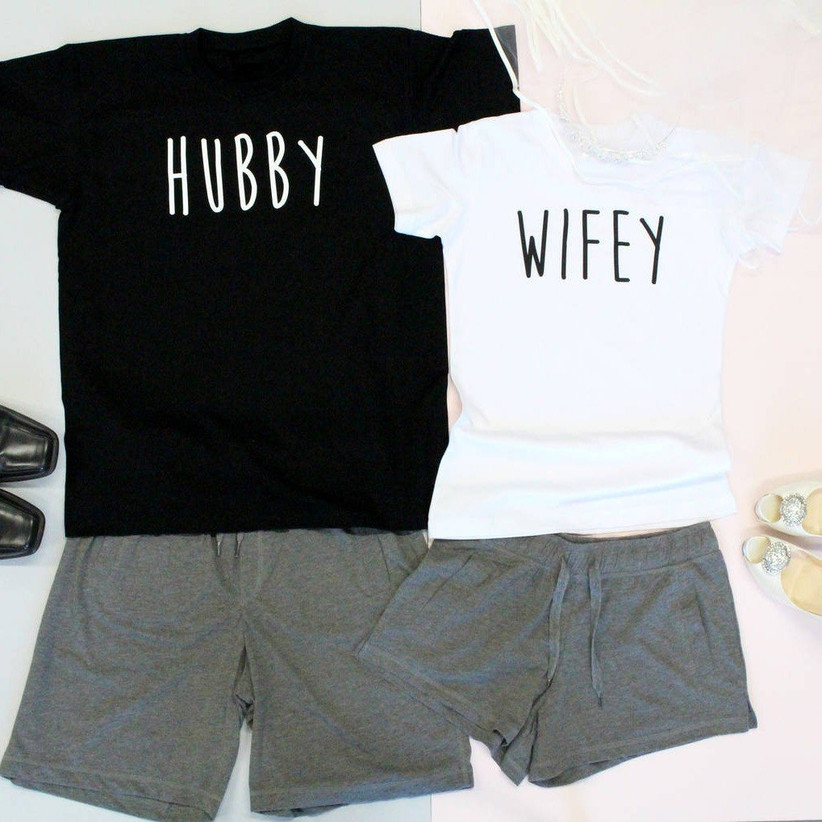 This top and shorts combo makes these pjs an ideal gift for a couple going on a honeymoon in a hot country. The monochrome style is fun and stops them being too matchy-matchy.
9. Mr and Mrs Pyjamas – £45, Sparks and Daughters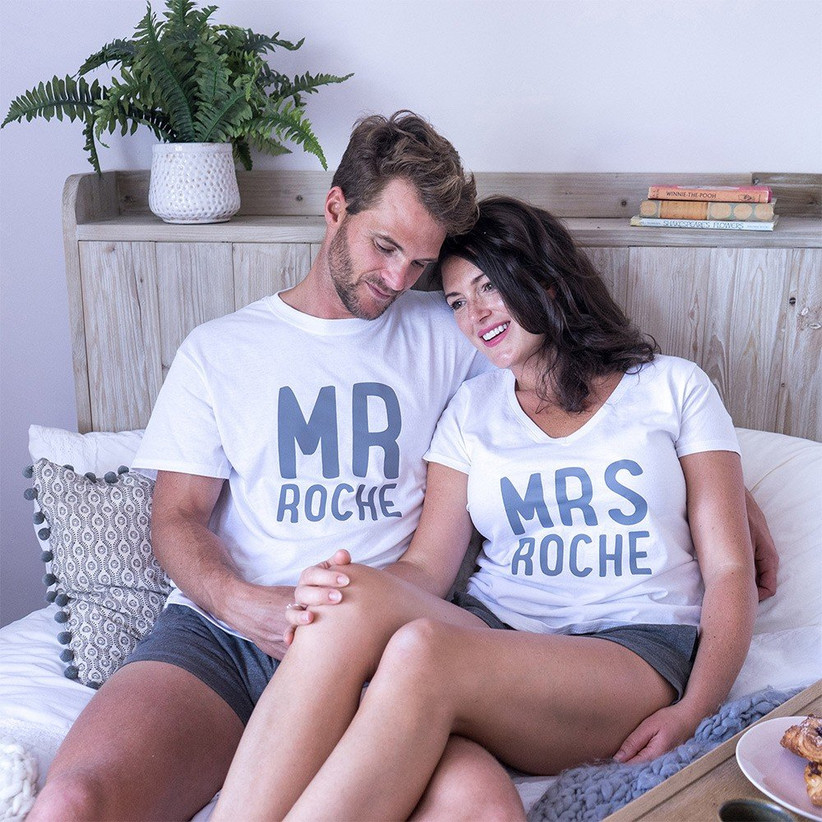 These Mr and Mrs pyjamas would be a great unusual wedding gift if you are looking for something a little bit different. We love that they can be personalised and the happy couple could take them on their honeymoon.
10. He Snores, She's a Duvet Thief Pyjamas – £45, Sparks and Daughters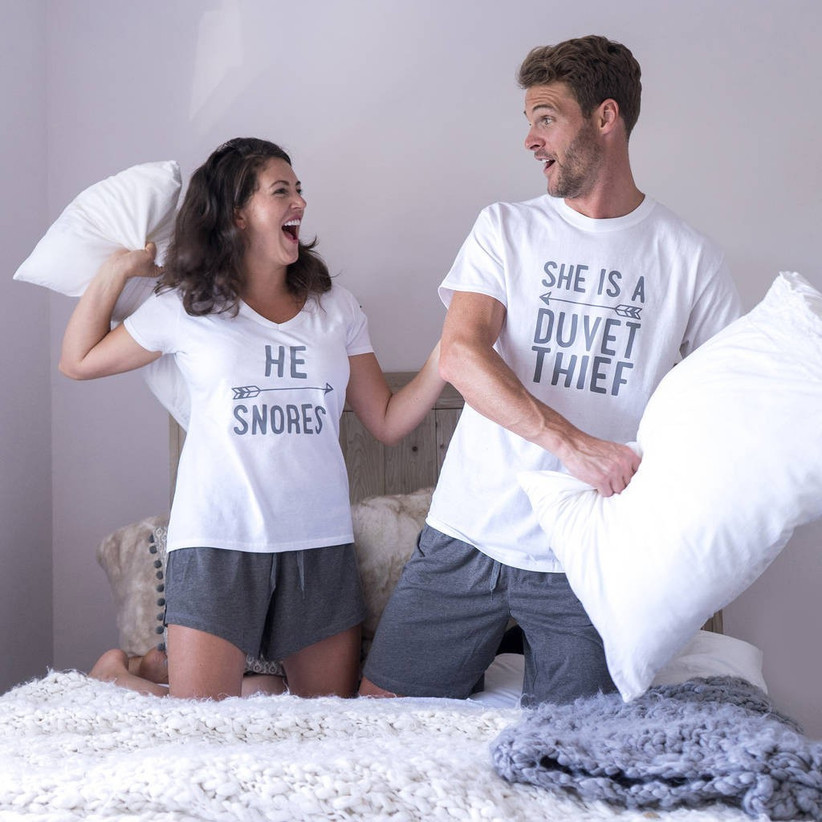 If he wakes you up with his snoring or she is always stealing the duvet in the middle of the night then these adorable matching pjs are especially for you. Make fun of your partner and buy this as a funny gift.
READ MORE: Marriage Advice: 25 Top Tips for a Long and Happy Marriage
11. Slumber Party Pyjamas – £43.99, Family STA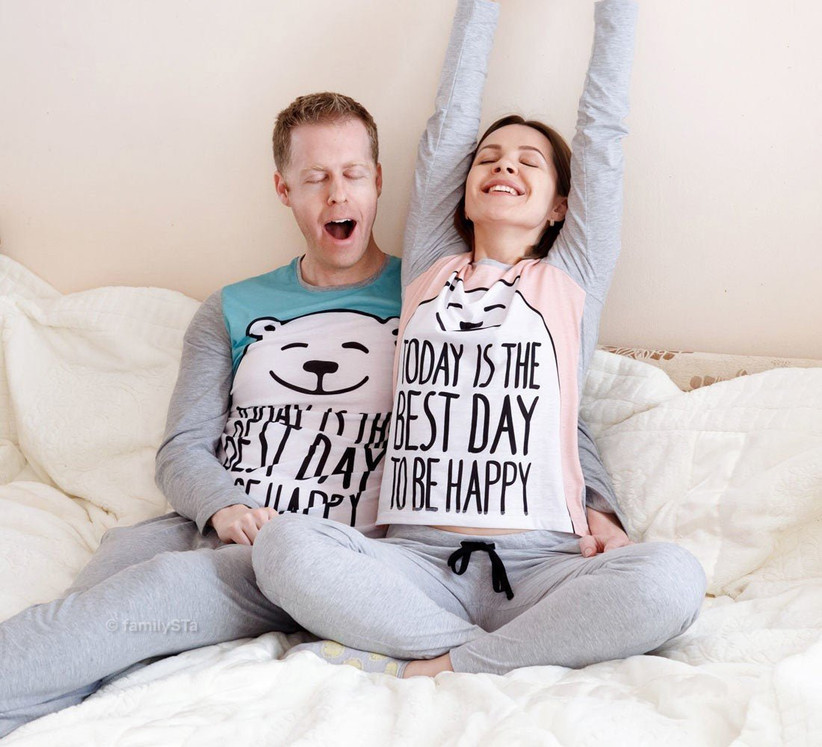 This cosy matching pyjamas are super comfy and also remind you both just how easy it is to be happy in each others company. We love the pretty pastel shades and they are perfect for relaxing nights in at home.
12. Personalised Matching Pyjamas – £50, Flourish Store Gifts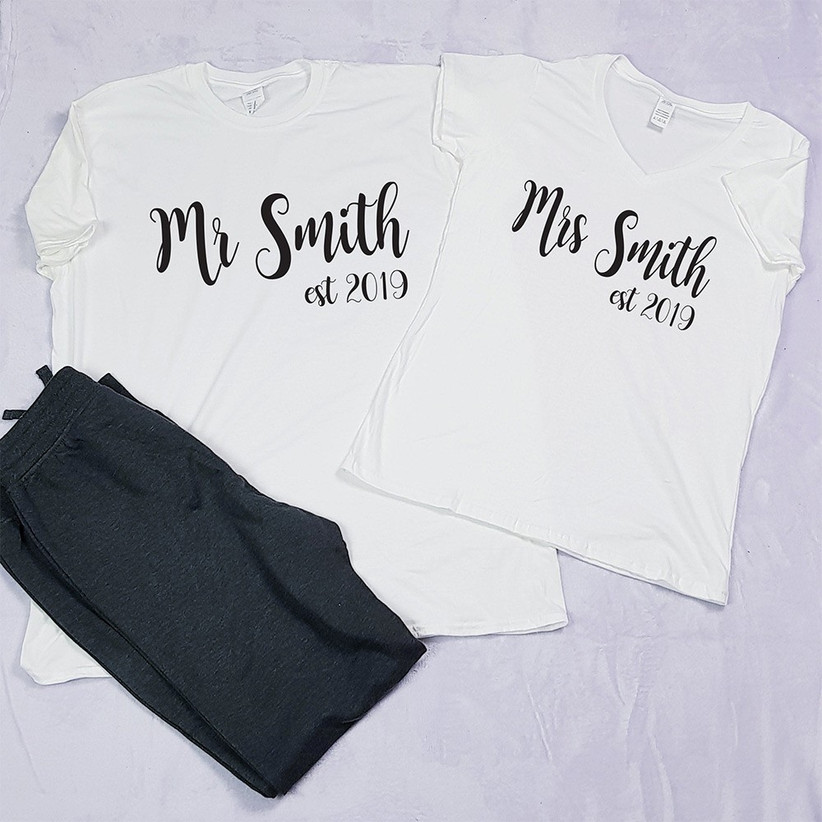 These simple and stylish matching pjs can be personalised with the name of the couple and the year they said 'I do'. If you are looking for an unusual wedding gift that is totally unique then this could be the perfect choice.
13. Together Forever Pyjamas – £48, Jade and Matt's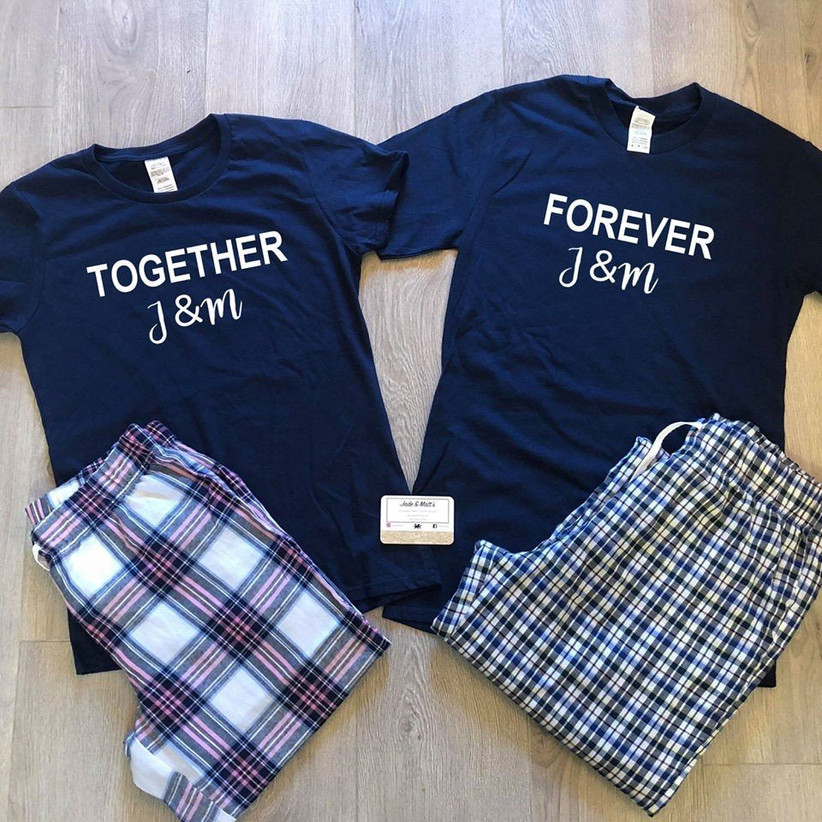 These soft cotton pyjamas have to be seen together to get the full message, which is a cute detail. If you are about to celebrate your second wedding anniversary – cotton – then these tartan and navy matching pyjamas would be a fun choice.
14. Couples Pyjamas Polar Bear - £75, PJ Mamma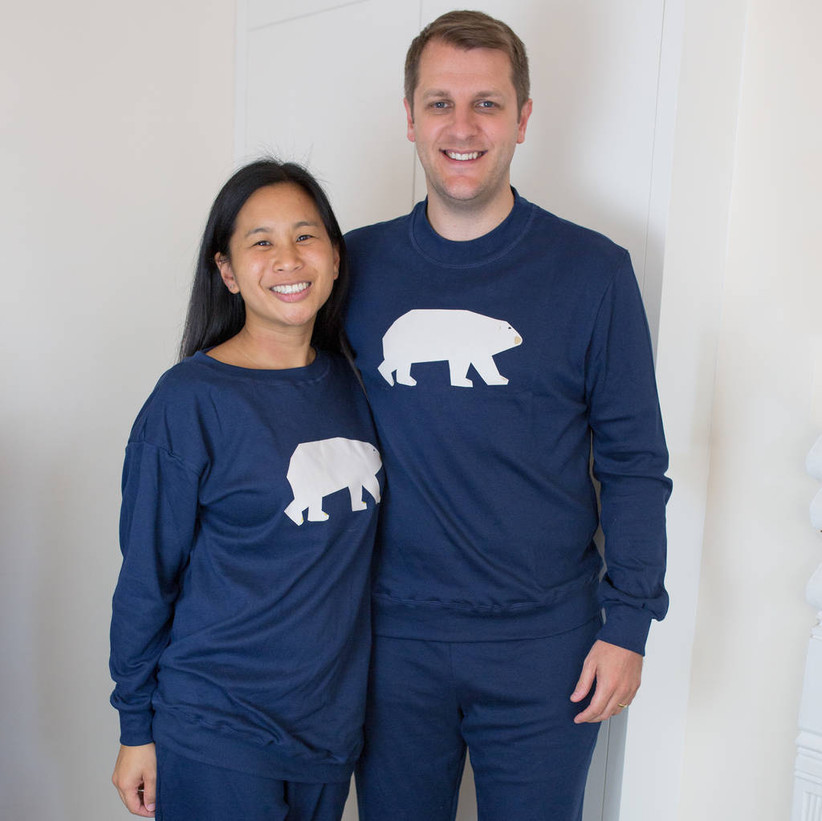 We can't get over the cuteness levels of these polar bear jammies, which come in a cute matching drawstring bag to keep them safe when you're not wearing them.
15. Couple Pyjamas For Christmas - £47.20, FamilySTa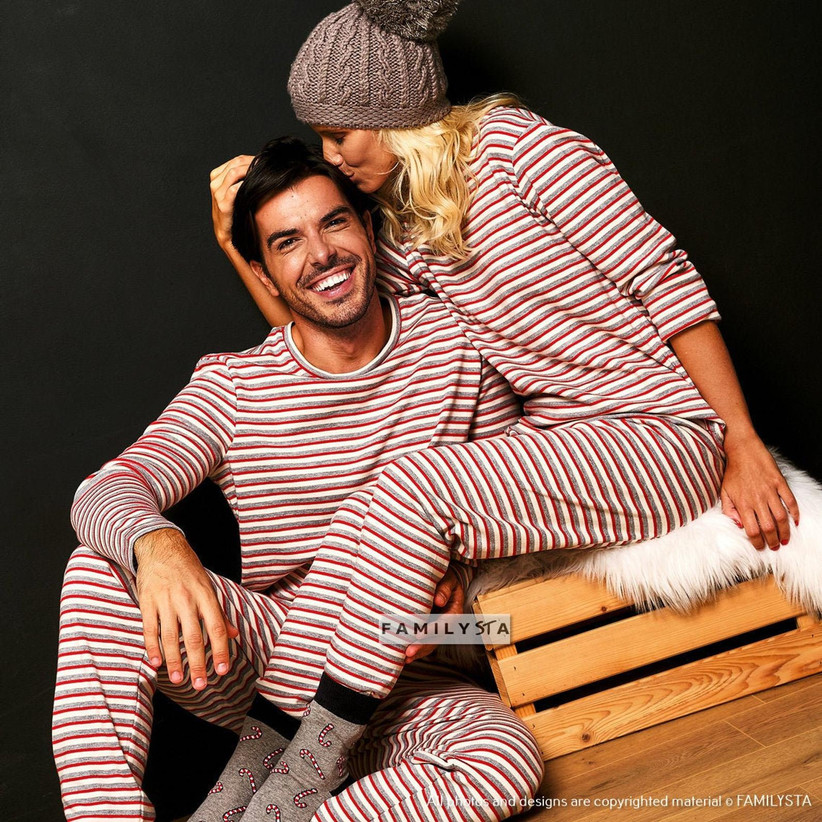 We love a good striped pair of pjs, and these are not just for Christmas. You can also get them in kid's sizes if you have a family to match with too!
16. Striped Pyjamas Couple Set - £27.37, Big Bear Hug Co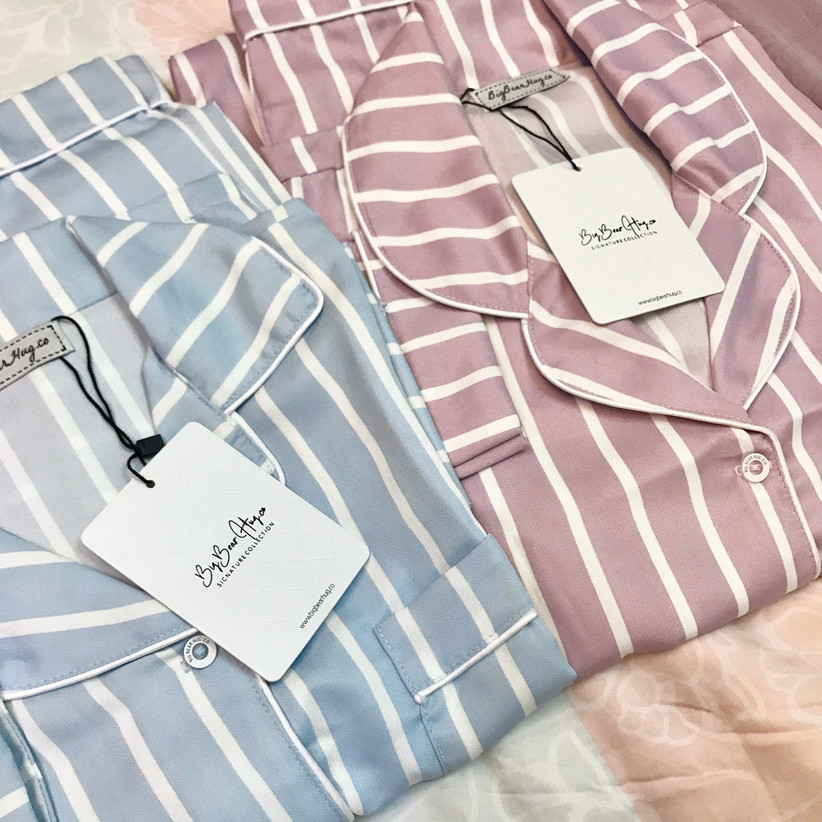 Matching pjs can absolutely be sophisticated and classy; case in point, these lovely satin striped classic pyjamas, which will be a joy to wear.
17. Embroidered Heart Hands Couples Pyjamas - £55, Sparks and Daughters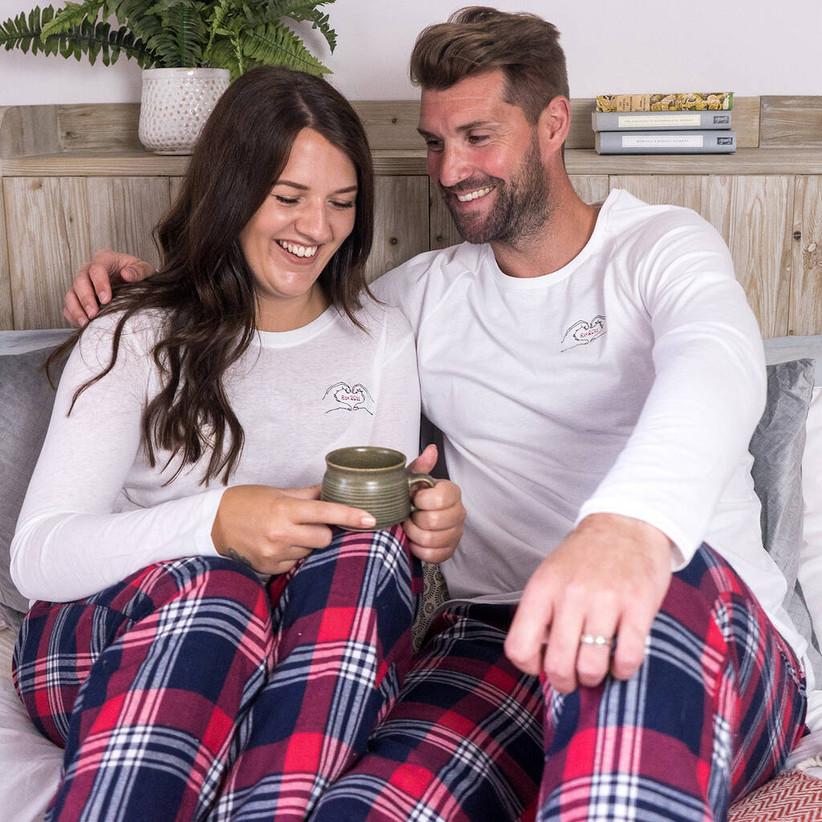 These lovely embroidered pjs are so heartwarming! Personalise them with a special date and surprise your partner.
18. Love like gnome other- His and Hers gnome pyjamas set - £39.90, Bespoke Wedding Gift Co.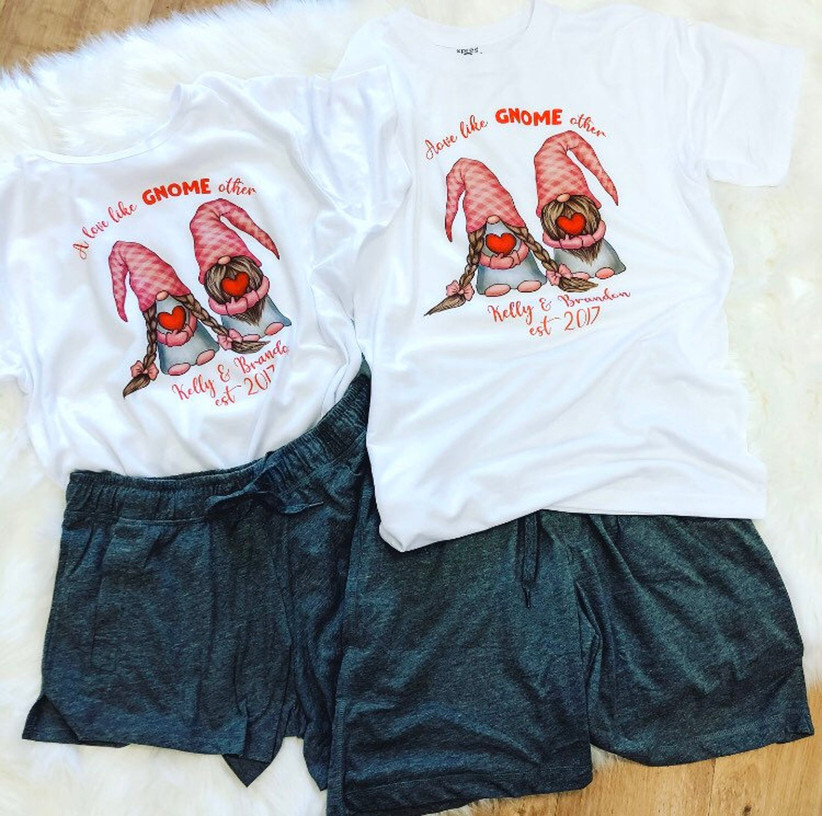 It's hard not to become obsessed with these kitschy pjs, which are ideal for the warmer summer months thanks to their t-shirt and shorts.
19. Couples pyjamas - £180, Charm Shape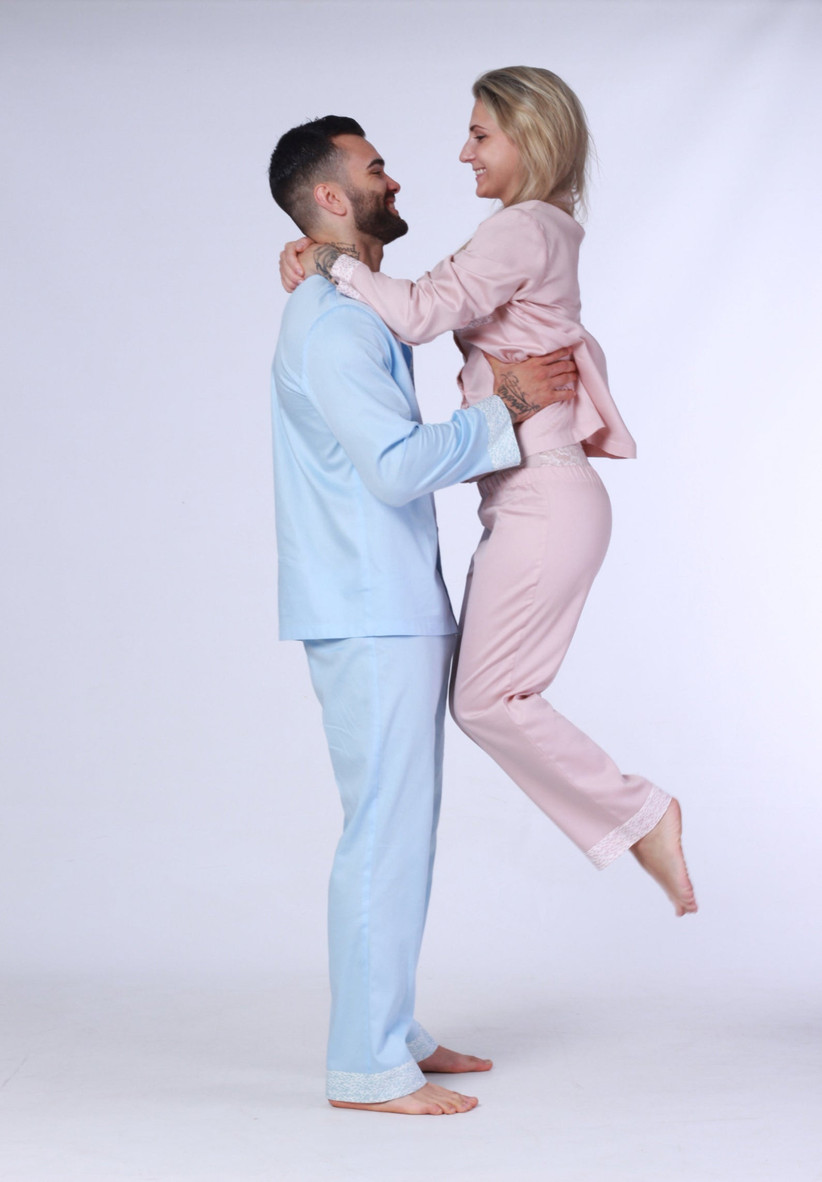 Keep it simple and invest in these understated pink and blue classic pjs, which look super soft and chic.
20. Couples Pyjamas - £50, Sparks & Daughters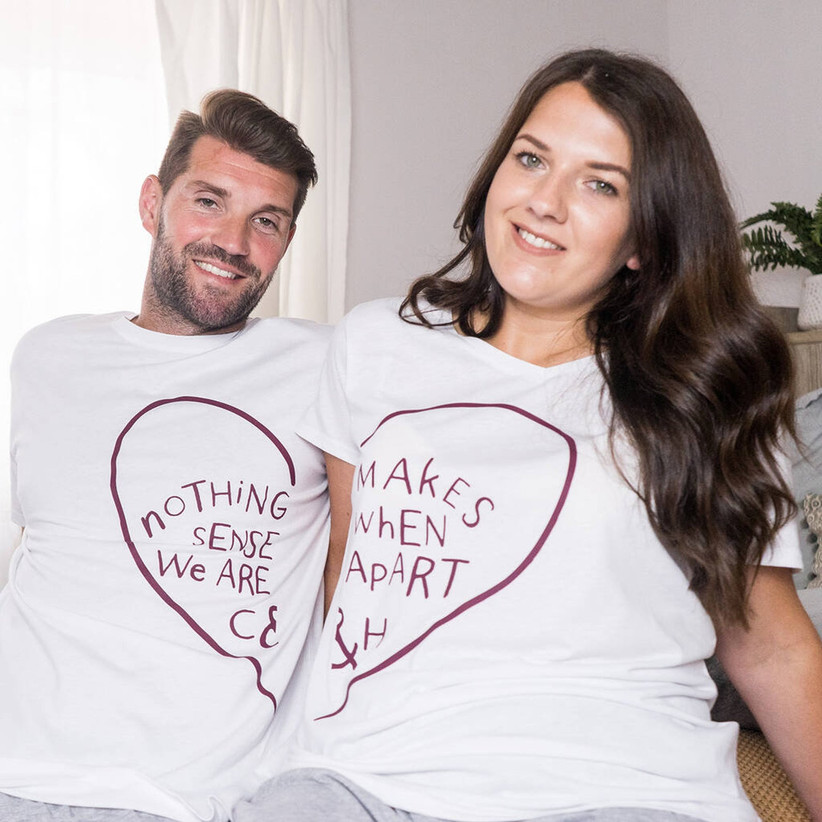 This pair of super sweet pjs is a lovely gift for a long distance couple. Every time you wear yours, you'll think of your loved one!
21. Couple Jammies - £32.17, Terra Caeli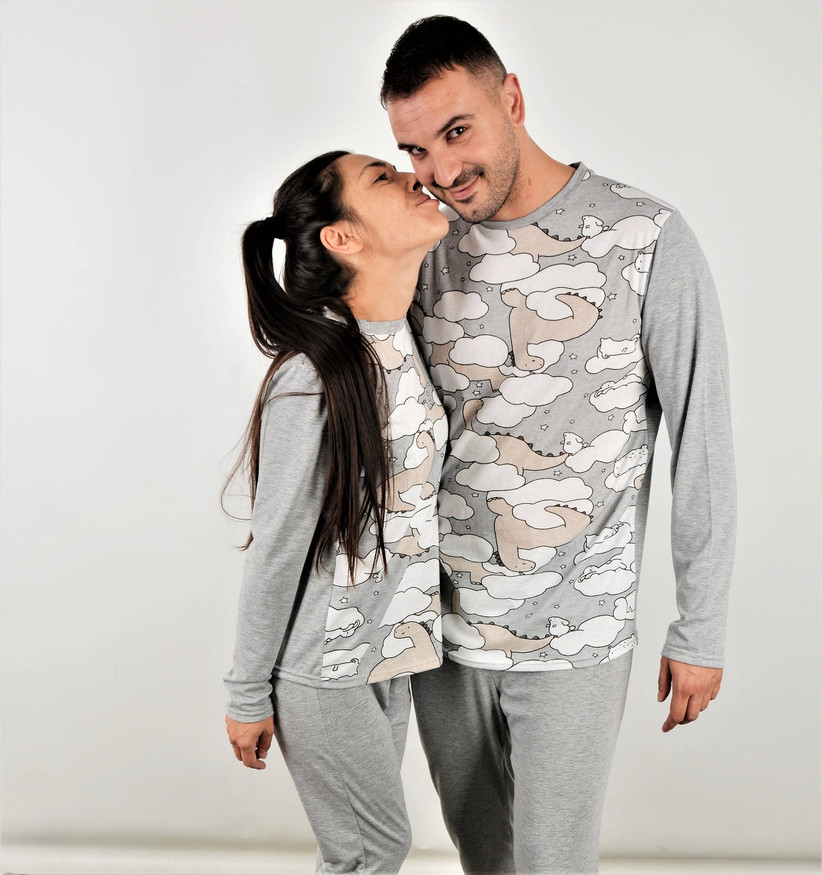 We can't get enough of these grey marl jammies, which are printed with cute clouds and dinosaurs. And not a Christmas reference in sight!
22. Family Christmas Pyjamas - £13.99, Lace On The Beach Co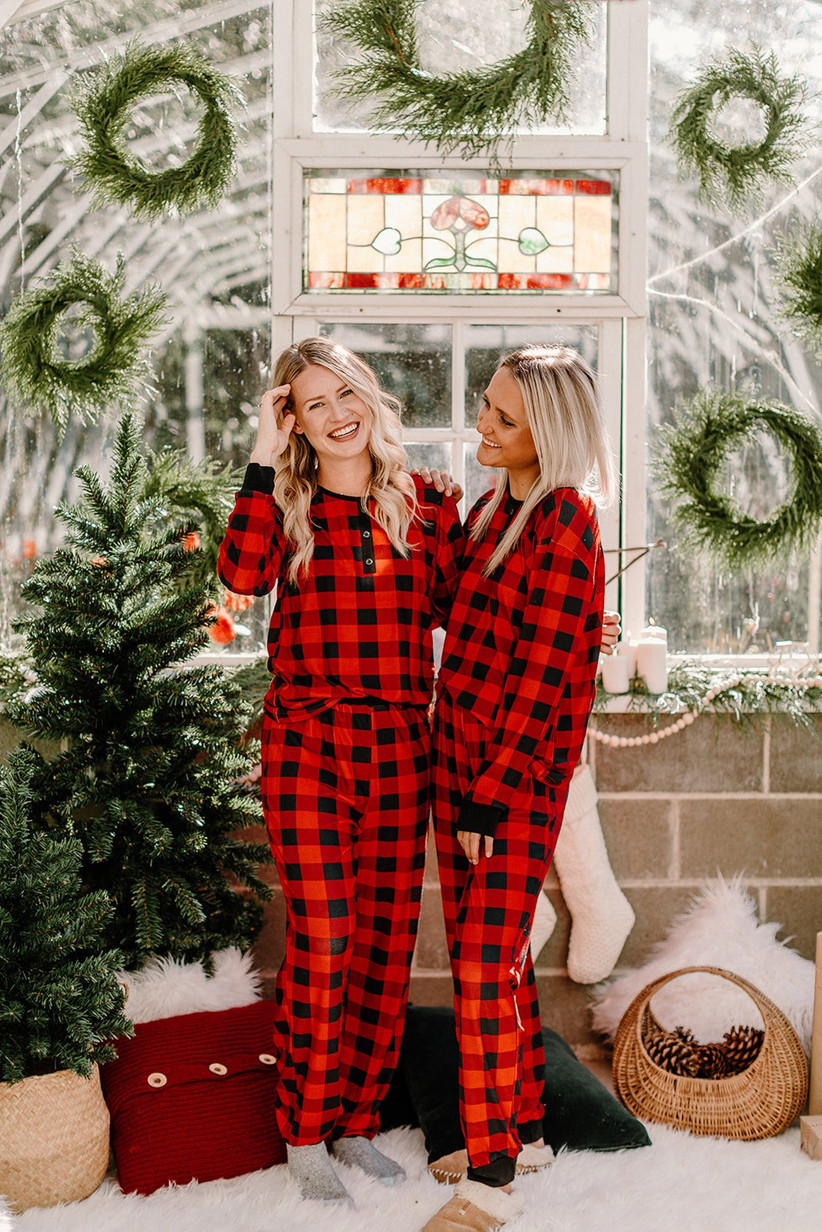 We can't think of a person alive who wouldn't love these red and black pjs, which can be personalised with text for an extra fee.
Are you looking for more super cute gift ideas? Then start browsing our favourite personalised wedding gift ideas.