Buying an engagement ring is one of the most exciting yet nerve-racking things you'll ever do, and there are hundreds of factors to consider before you make your final choice. Thinking of popping the question this year? We've made things easier for you by whittling down the very best engagement rings.
Of course, there are engagement ring trends to consider – and we're all more aware of sustainability and ethical purchasing than ever before. There's also celebrity influence: one look at Lily Collins' unique rose-cut diamond, Jourdan Dunn's 2.5 carat oval sparkler or Emma Stone's shiny new pearl solitaire and a lookalike band will be top of your list.
However, a good engagement ring never goes out of style. Remember, the best engagement rings aren't generic; they suit the person you're shopping for, so always keep your partner's style and taste at the forefront of your mind.
The Biggest Engagement Ring Trends for 2021
If you're a looking to follow the big engagement ring trends, we've got a whole article dedicated to what to look for. Here's a quick rundown of what's popular this year and going into next.
Coloured Stones
Coloured stones are back in a big way, according to London-based bespoke jeweller Emma Clarkson-Webb. "As well as sapphires, rubies and emeralds, I'm seeing a real demand for unusual coloured stones like tsavorites, aquamarines and black diamonds," she notes.
Dependable Diamonds
Arabel Lebrusan, founder of Lebrusan Studio and co-founder of The Vintage Ring Company, says diamond ring sales reigned supreme in 2020 and show no sign of abating.
"While the world is up in arms, facing a global pandemic of unprecedented scale, the diamond remains a firm symbol of foreverness; a timeless romantic gesture. When all else fails, love prevails; a message just as dependable as the diamond engagement ring's ability to woo."
Interesting Cuts
When it comes to shape, "single-stone rings are having a revival, especially oval diamonds," Emma adds. "It's an elegant, timeless cut and a great way to elongate shorter fingers!"
Arabel says that the other big hitter is cushion cut gems, with their vintage shape, rounded edges, large facets and old-school romantic feel. It's a favourite among celebrities, but that doesn't mean you're following the crowd. "It's the ultimate for brides-to-be who like their jewellery unique, as no two cushion-cut gemstones are ever the same," she explains.
Vintage Settings
Speaking of vintage, there is also a revival of old-fashioned settings and stones happening – Emma cites old mine and rose-cut diamonds as especially popular, as well as cluster and button-back settings. And seeing as we've just entered another decade of roaring '20s, it's not surprising that Art Deco designs – characterised by clean bold lines and geometric patterns – are on the radar as well.
READ MORE: How Much Money Should You Spend on an Engagement Ring?
No matter what your budget may be, there are some seriously beautiful options available, and they're all easily ordered online. Just remember to use an incognito browser window to maintain the element of surprise.
NB: We have included third party products to help you navigate and enjoy life's biggest moments. Purchases made through links on this page may earn us a commission.
The Best Engagement Rings Under £1,000
1. The Diamond Store Halo Baguette Diamond Asteria Collection Ring – £885
For when subtle definitely won't cut it, you can get this ring from The Diamond Store in 18k gold or white gold to suit your partner's preference. The focal point is the three baguette-cut stones in the centre, but there are so many other round diamonds surrounding it they won't know which one to admire first.
2. Taylor & Hart Astral Ring - from £780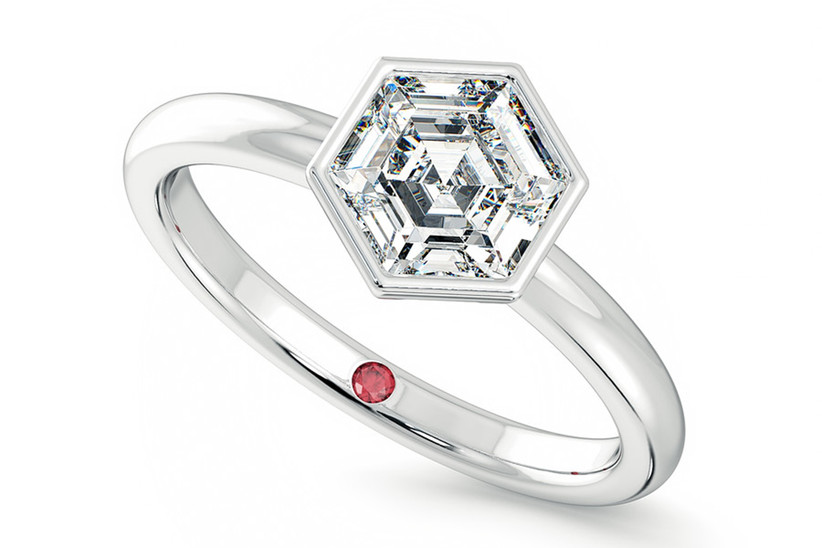 Like this stellar name suggests, this hexagonal step-cut diamond commands attention. The facets catch the light for a dazzling, unique cut that anyone who wants something a little different will love. Even if you choose the platinum band, this ring comes in under £1,000 which is exceptional value for such a showstopping look.
3. Chisholm Hunter 18ct Rose Gold Round Brilliant Diamond & Oval Cut Morganite Halo Cluster – £995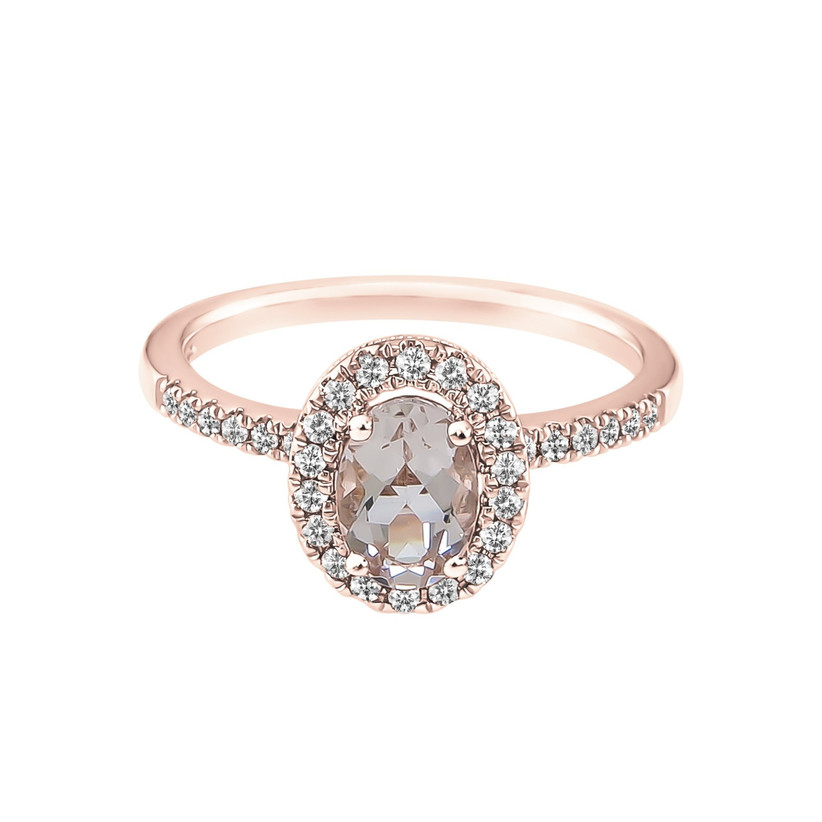 Rose gold engagement rings have been growing in popularity over the last few years and they're showing no signs of slowing down. This feminine Chisholm Hunter option is incredibly pretty from all angles, combining an oval-cut morganite with a halo cluster of round brilliant diamonds.
4. Ernest Jones 9ct White Gold Sapphire & Diamond Ring – £599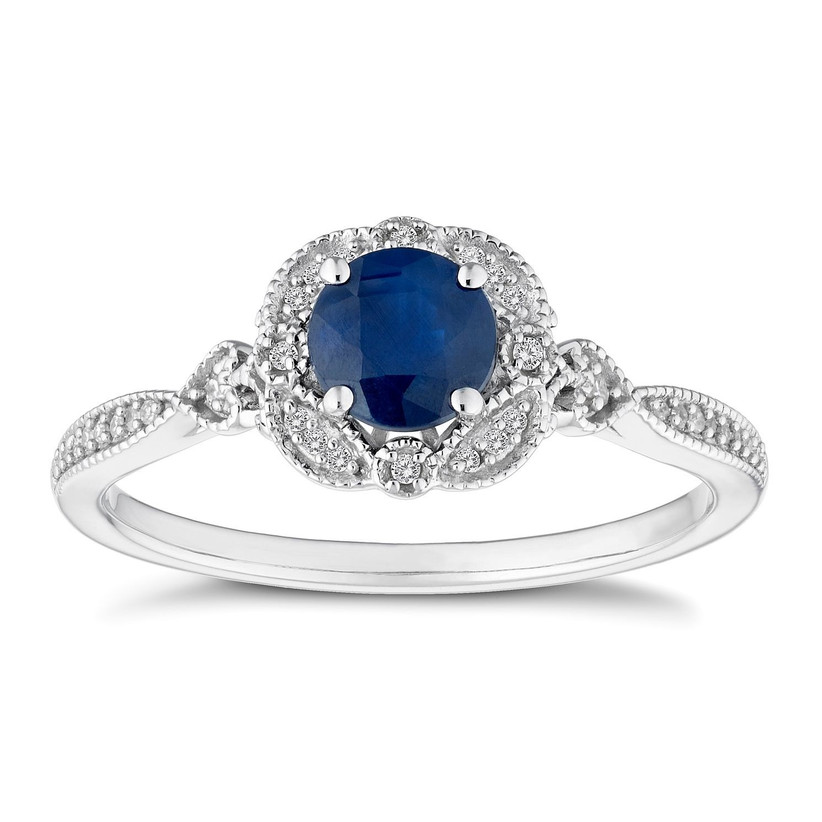 Ever caught your partner admiring the Duchess of Cambridge's engagement ring? A sapphire engagement ring could be the one for them. This vintage-looking Ernest Jones number channels some of the same royal style with its own twist (and it's a fraction of the price of Kate's, too).
5. Drajee London Cecile Mother of Pearl Ring – £498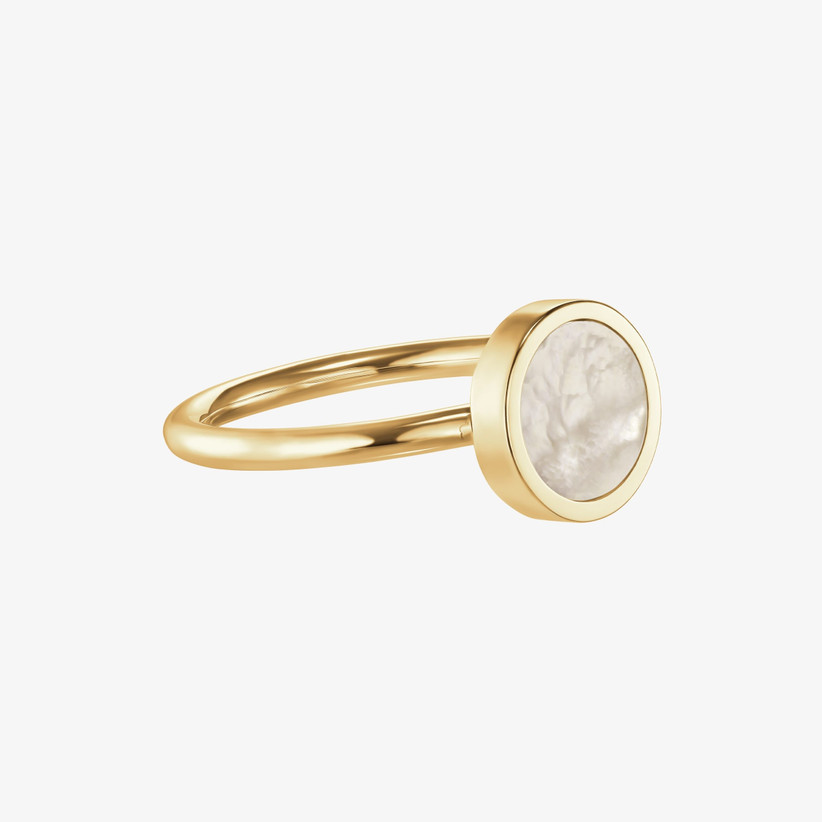 It may be slightly less flashy, but mother of pearl's iridescent tones are said to symbolise good luck and prosperity, making them a lovely alternative to a typical diamond. Drajee's Cecile ring has all the makings of a modern classic, complemented by an 18ct solid gold band.
READ MORE: Temporary Engagement Rings: The Best Proposal Rings to Pop the Question
6. Taylor & Hart Hope Radiant Diamond Four-Claw Solitaire in Platinum – £720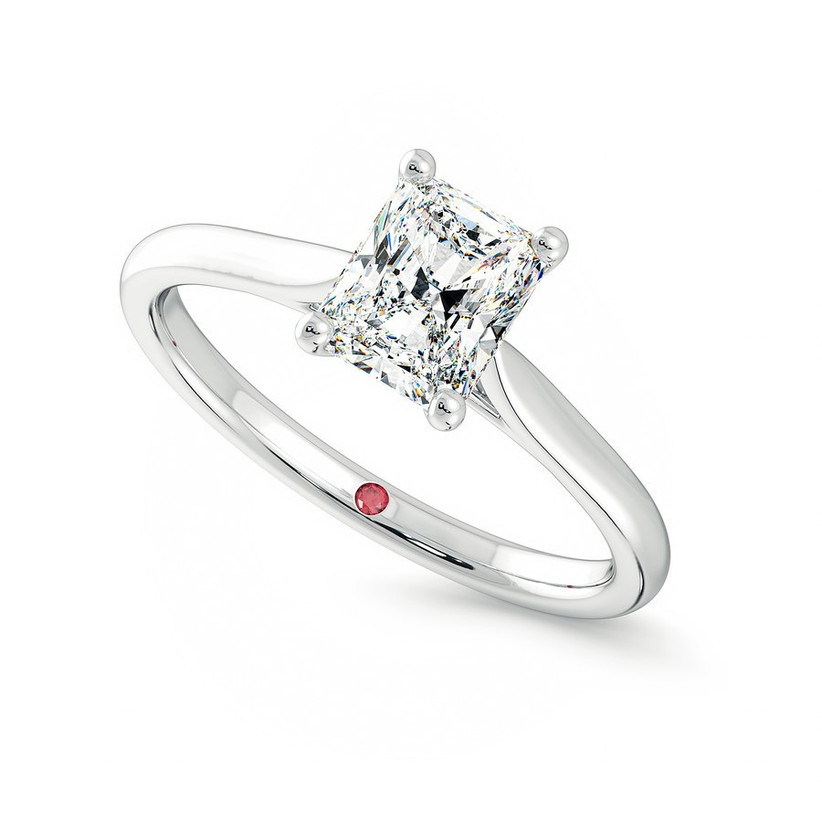 Taylor Heart has every shape, size and clarity of diamond you could dream of for very impressive prices, like this four-claw Hope solitaire style. That little red dot at the back is a complimentary ruby.
7. Laura Lee Jewellery Baroque Pearl Ring – £975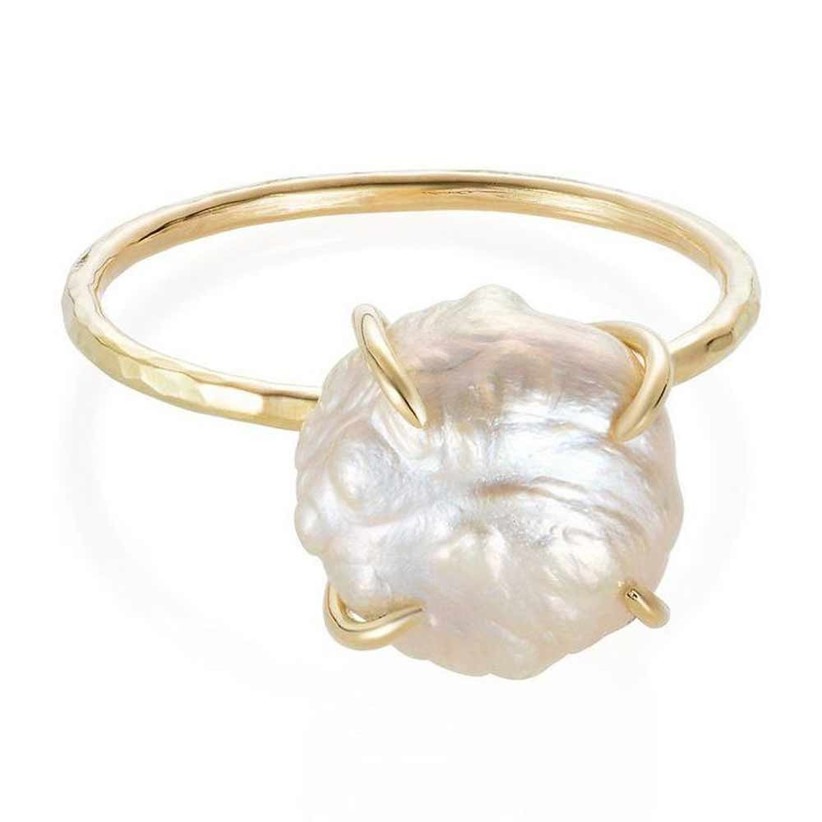 At just under the £1,000 mark, this unique pearl ring with a yellow gold band is a great investment. Pearls are having a big moment in engagement rings at the moment, so this ring is perfect for modern, on-trend brides.
8. F. Hinds 9ct White Gold Diamond Oval Starburst Cluster Ring – £599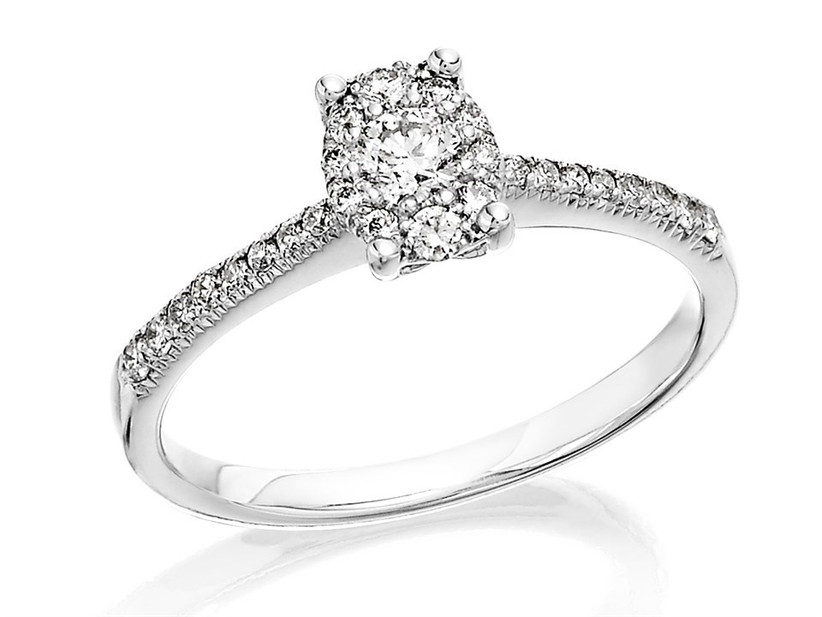 Oval diamonds are a big trend this year and we love the added sparkle around the band. The central oval stone is surrounded by a starburst configuration of matching stones for a ring that's bright and shiny while still being elegant.
9. The Vintage Ring Company 'Rose' Antique Diamond Engagement Ring – £795
The clue is in the name. The Vintage Ring Company specialises in all things retro, just like this scalloped-set, floral Rose ring. It's full of lovely little details, like the milgrain detailing on the tapered band and the accent diamonds on the shoulders.
10. Alex Monroe Morganite Hoya Ring – £745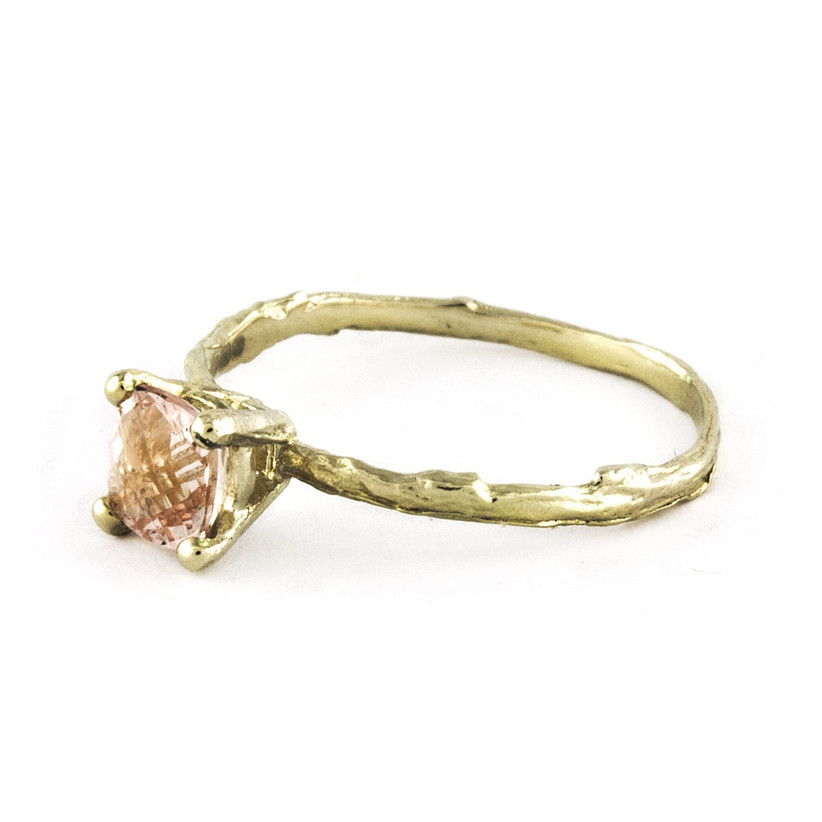 All of Alex Monroe's jewellery has a natural, botanical influence, which you can see here in the vine detailing on the handcrafted band. We're also huge fans of the colour of the precious morganite gemstone, which glimmers as a soft pinky peach in person.
11. Angara Vintage Inspired Oval Emerald Ring with Engraved Shank - from £529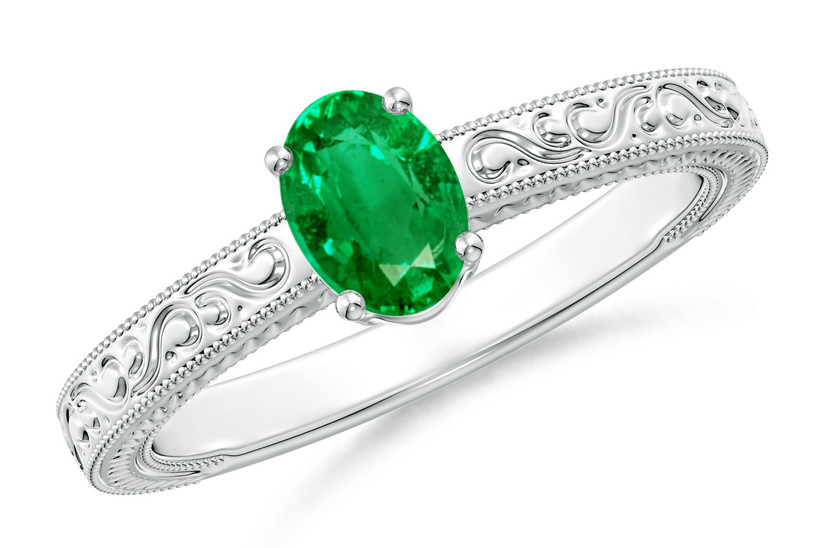 Angara have a clever system where you can choose the quality of your gem - going from good to heirloom - as well as the carat weight and the metal type. You can get this ring from under £600 to over £7,000 depending on what you choose - and you can still get a 'best quality' gem for under £1,000. We love the on-trend vintage engraved shaft and the milgrain detailing on the edges, plus we wouldn't say no to that lush green emerald in the centre.
12. Hearts of London Longmore Ring - £700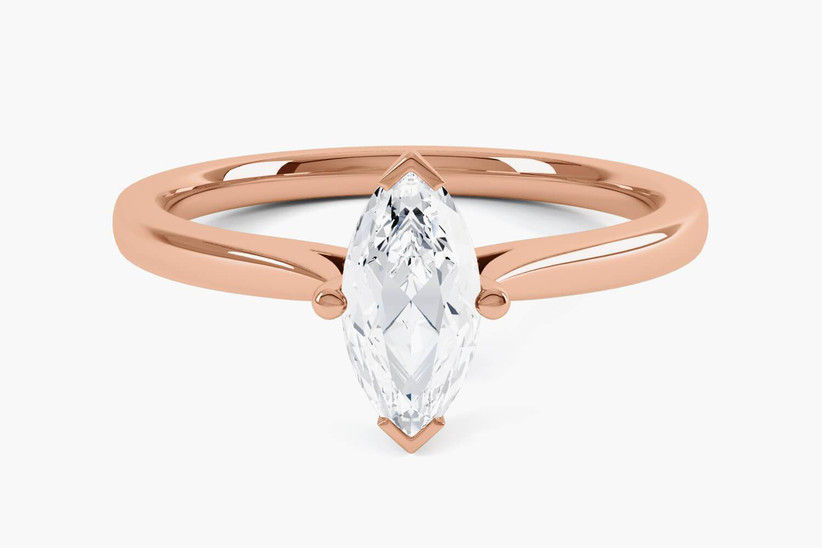 Marquise shaped diamonds are one of our favourite cuts. This ring is simple, elegant and modern: perfect for a refined bride. It's beautiful in this rose gold metal, but looks great in platinum, yellow and white gold too.
13. Suzanne Kalan Gold Hexagon Cut Black Spinel and Diamond Ring – £540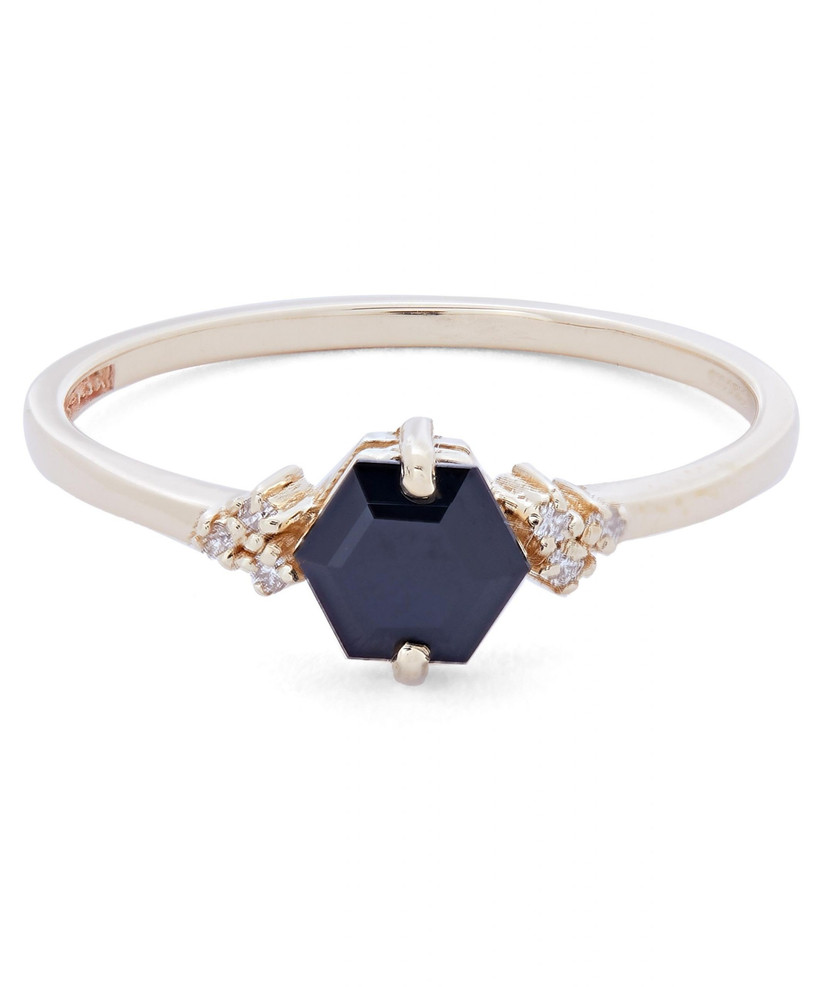 Black stones can shine just as brightly with the right polish, especially when they have a setting as attractive as this Suzanne Kalan engagement ring. The hexagon shape is flawless, as are the trios of diamonds that flank it on either side.
14. F. Hinds 9ct Gold Ruby And Diamond Cluster Ring - £450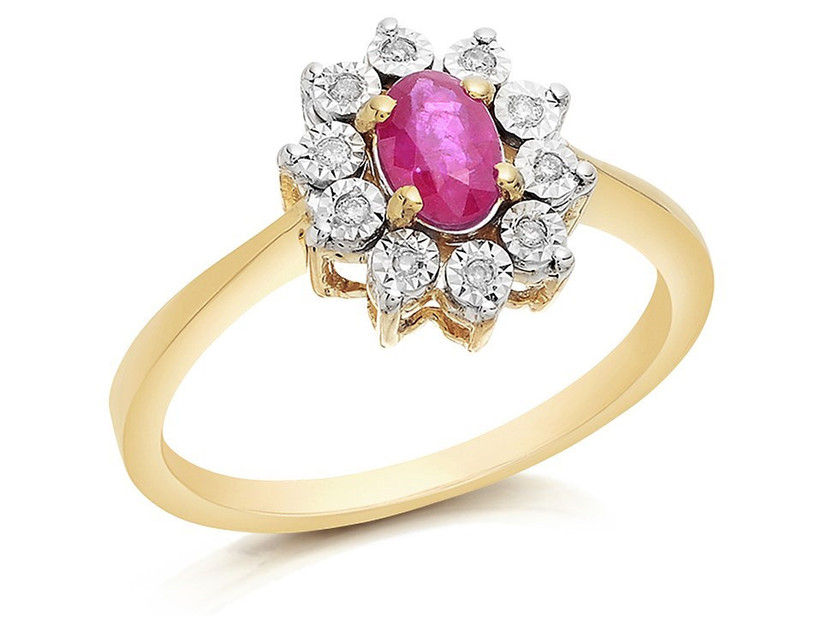 This beautiful ruby and diamond ring is reminiscent of Princess Eugenie's gorgeous coral-coloured halo engagement ring. The illusion set diamonds look larger than they are, creating a really sparkling eye-catcher. For those who want a durable coloured stone, ruby is a fantastic choice.
15. The Vintage Ring Company 'Olive' Sapphire and Diamond Engagement Ring - £950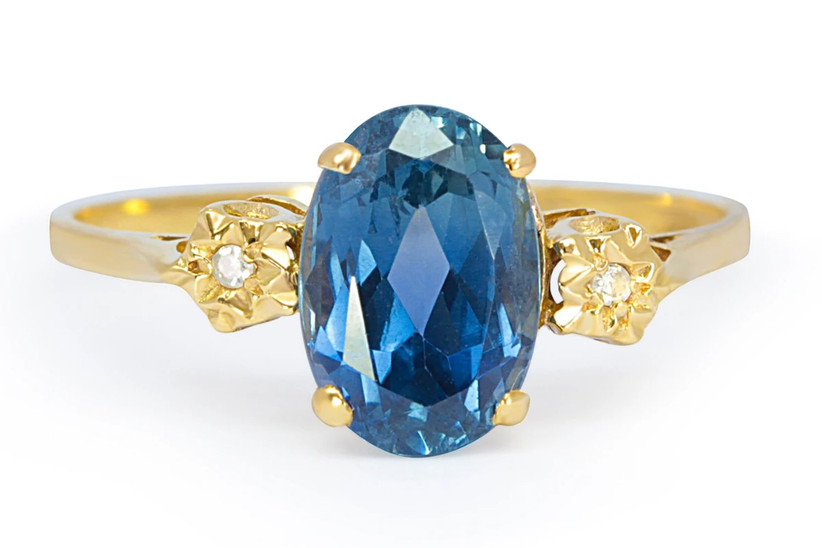 The star of the show is an ethical, fair-traded 0.43 carat oval shape sapphire from Malawi, with little diamonds in star-shaped settings at the side. The teal-blue colour of this vintage ring is stunning.
16. Hearts of London Merrick Ring - £900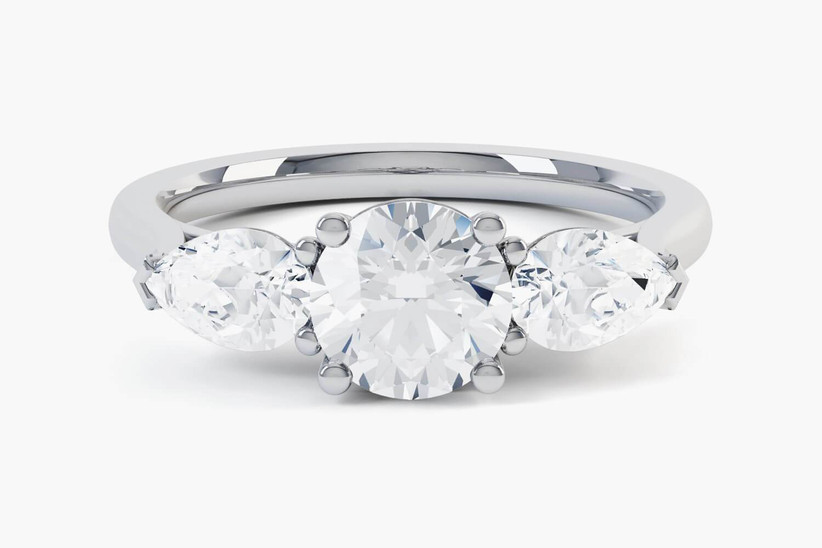 Two teardrop-shaped pear diamonds frame the stunning central, brilliant cut diamond. If you're looking for a classic style with a contemporary upgrade, this is the perfect ring and comes in with change to spare from £1,000.
17. Carrie Elizabeth Luna Statement Ring in Green Amethyst & Diamond – £800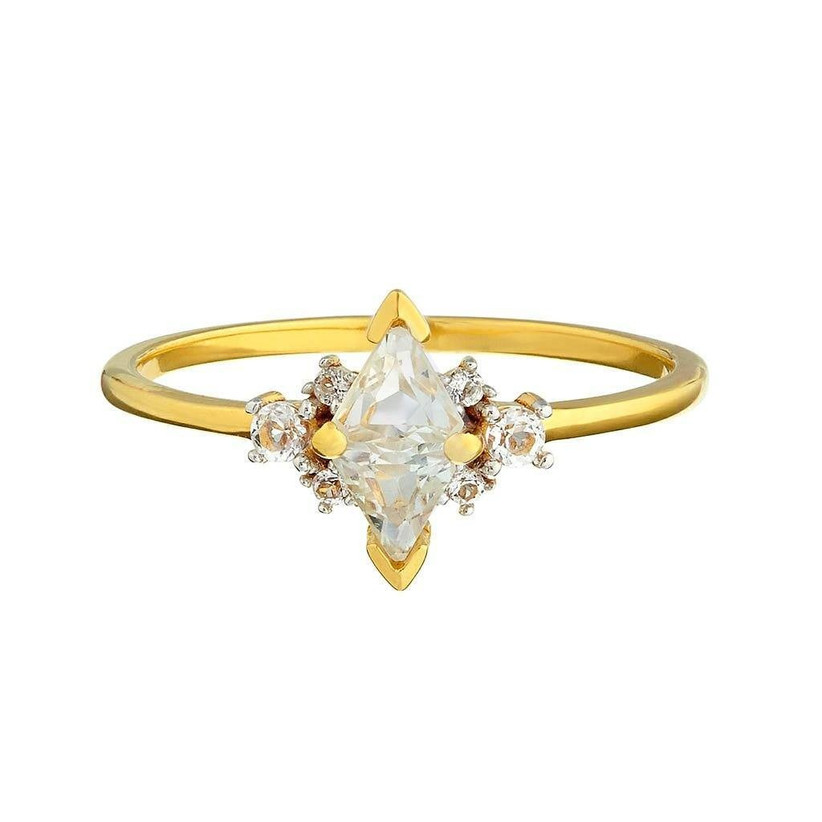 For engagement rings on a budget, we can't recommend Carrie Elizabeth Jewellery enough – our pick, the Luna, is £800, but many of her gemstone-packed designs start from even less. If you prefer, you can swap the 14k yellow band for white gold or rose gold instead.
The Best Engagement Rings Under £5,000
18. Goldsmiths Diamond Flower Cluster Ring in Platinum - £2,250

Cluster rings are a great choice as they give such an impressive effect, and for an extra romantic touch you really can't go wrong with a flower-shaped design. We love this stunning design, which will definitely last the test of time.
19. Sweet Pea Pink Pear Shaped Diamond Ring – £4,740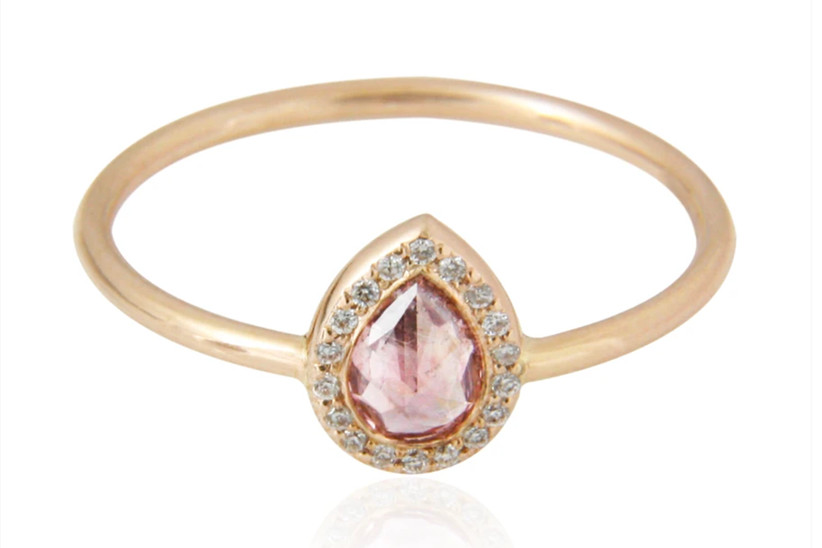 If you're looking for a slimline ring that's not too fussy but still feels special, Sweet Pea is a fab place to start. Pastel gemstones are hugely popular and the blush pink diamond at the heart of this ring is feminine, dainty and oh so pretty.
20. Lark & Berry Aerides Diamond Dress Ring – £3,500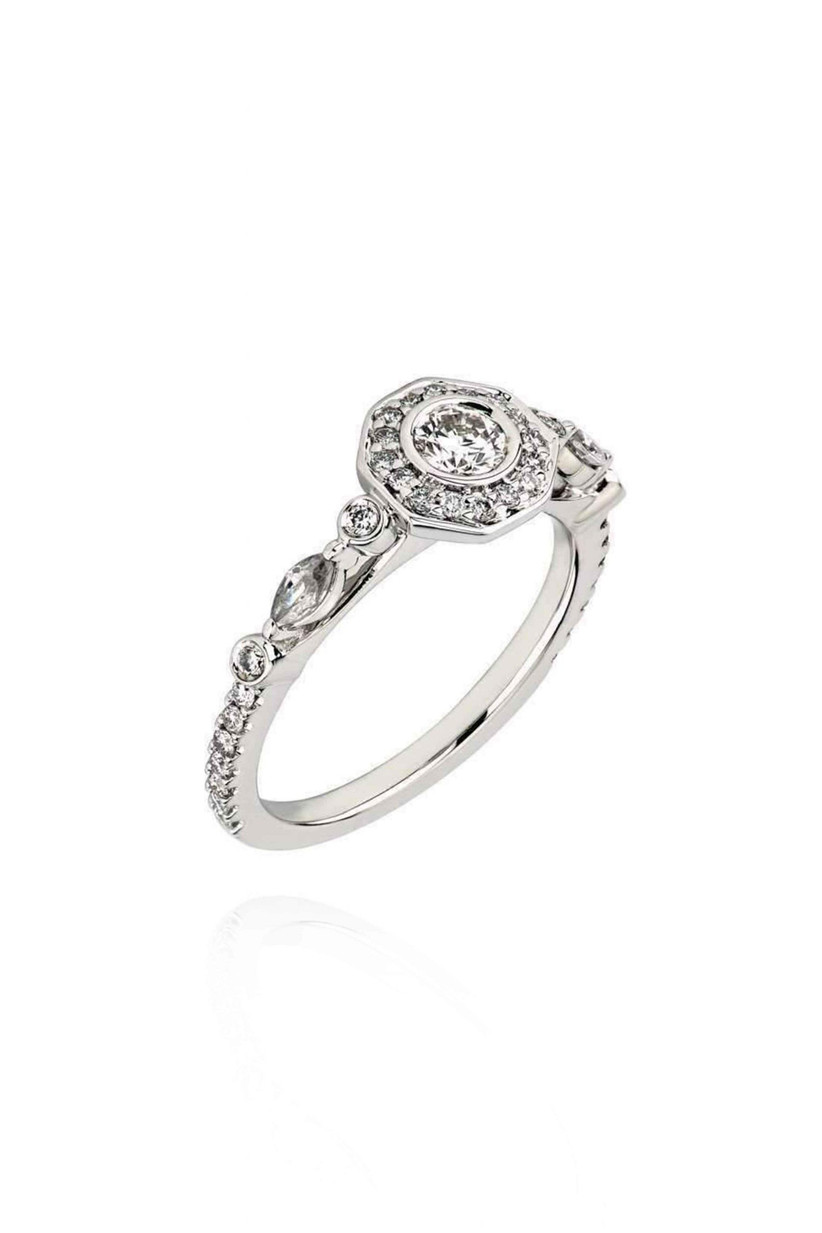 Lark and Berry specialises in ethically and sustainably made rings; the perfect choice for the eco-conscious bride. This dress ring combines diamonds and white sapphires for a stunning octagon-shaped centrepiece.
21. Gee Woods Callisto Ring - £2,895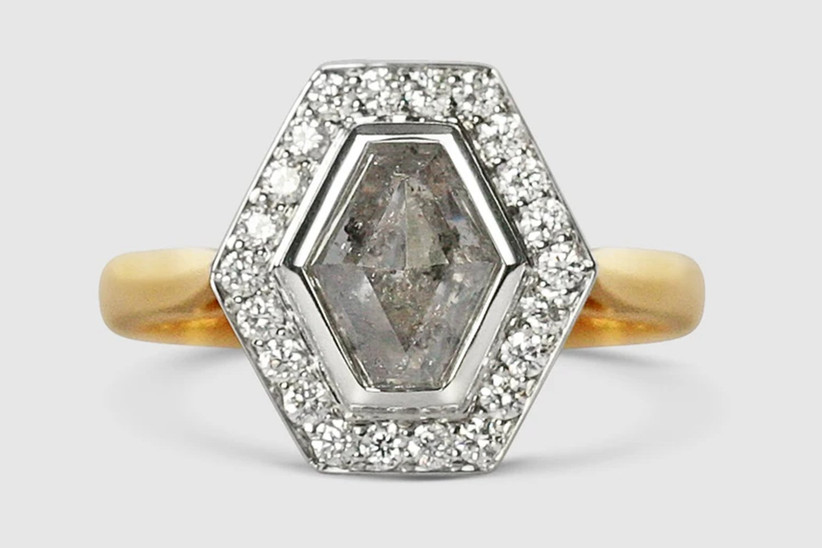 A salt and pepper diamond makes it a true one-of-a-kind ring; it's unique and will speak to brides who want something original and cool. The central gem is surrounded by a halo of white brilliant cut diamonds.
22. Rachel Boston Contra Emerald Ring – £3,450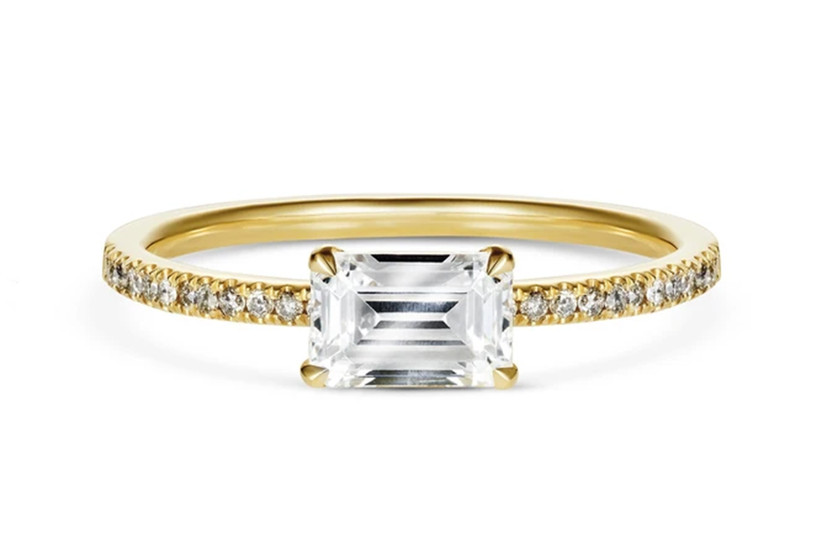 This horizontal, emerald cut ring is playful and fun, and will stack beautifully with wedding and eternity bands further down the line. It's finished with a white or grey diamond micropavé band for added shine. Perfect for quirky, cool brides.
READ MORE: Alternative Engagement Rings for Untraditional Couples
23. De Beers Classic Solitaire Ring – from £2,025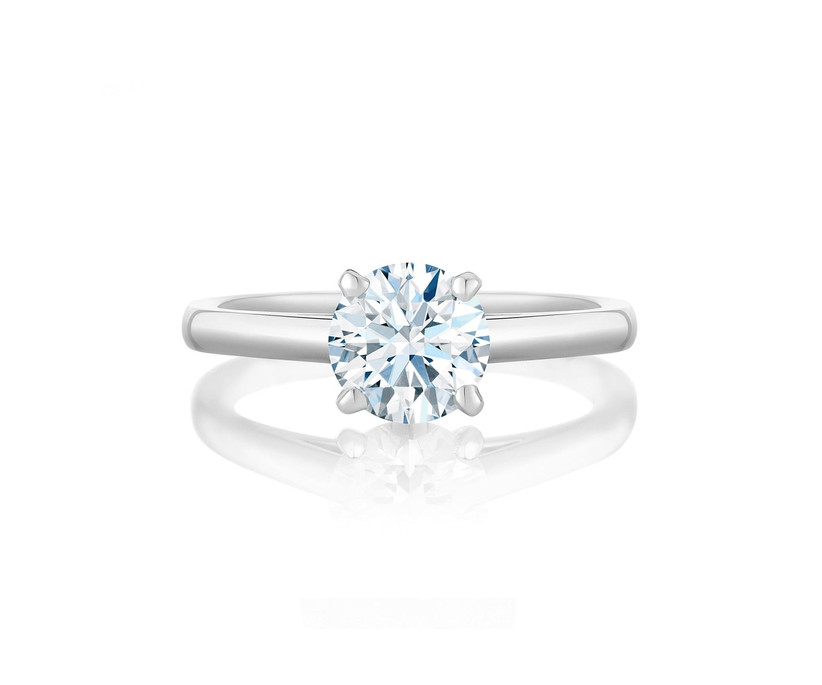 Simple doesn't have to mean plain, as this De Beers classic diamond ring demonstrates. If you're looking for a refined, classic engagement ring it ticks all the boxes – amazing quality, perfect proportions and a four-prong-set bright white diamond in the centre.
24. Shimmell & Madden White Mini Solar Ring – £2,525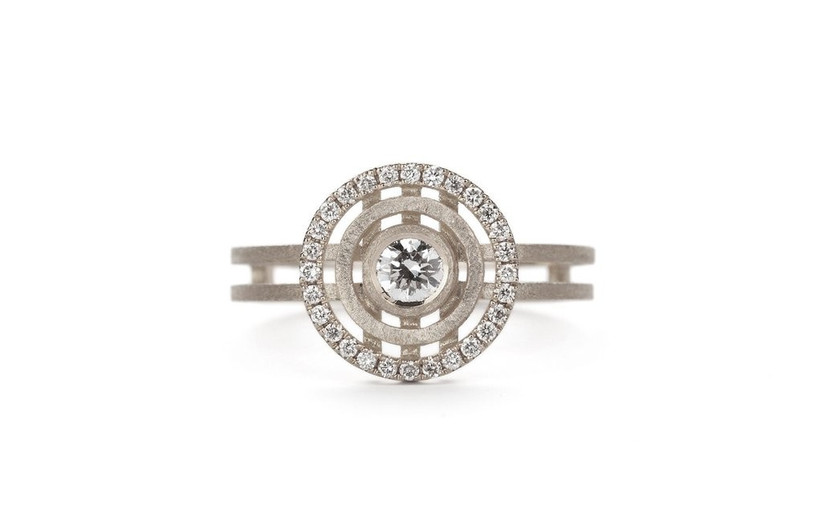 Remember the Art Deco influence we mentioned earlier? You can see it throughout Shimmell & Madden's collection, which made it very hard for us to pick just one piece. The White Mini Solar Ring takes engagement ring conventions and plays with them beautifully; it might be generously sized, but the setting has been shaped so you can fit another band on the same finger on your big day.
25. Fenton & Co Aquamarine 18k Yellow Gold Ring – £1,950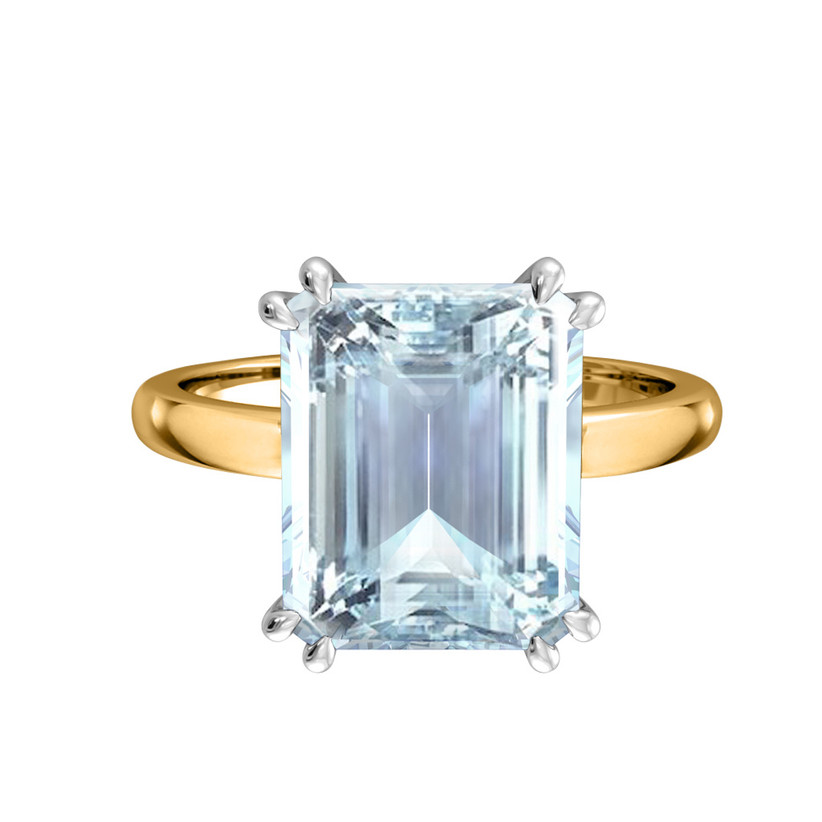 Emerald-cut stones are great statement pieces – we adore this Fenton & Co engagement ring because the sleek yellow gold band lets the aquamarine gem do the talking. You can also customise yours by engraving it with a date or initial.
26. Holts Gems Poppy Ring – from £1,622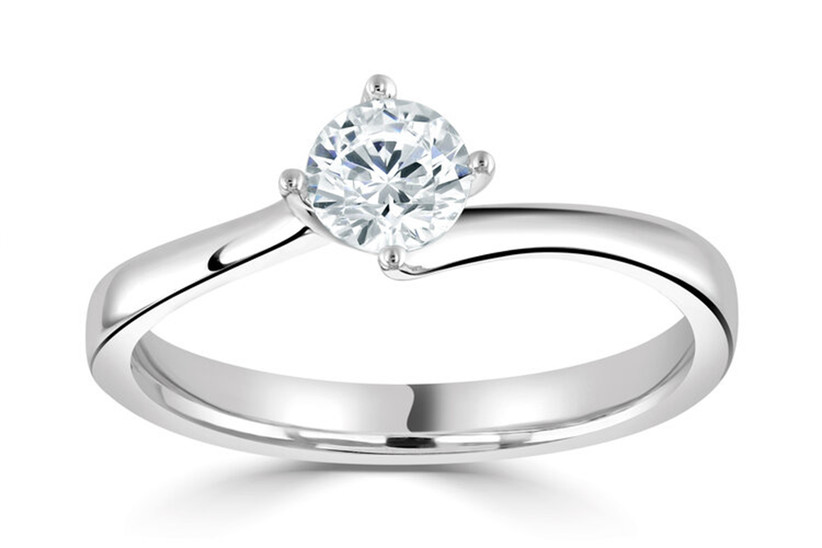 If you had to add a little twist to the perfect traditional engagement ring, you'd probably come up with something like the Poppy. Delicate claws are placed in a compass arrangement around the solitaire diamond that gives it a delicate sweep and elevates that central gem.
27. Diane Kordas Spectrum 18kt Rose-Gold Diamond and Sapphire Ring – £1,457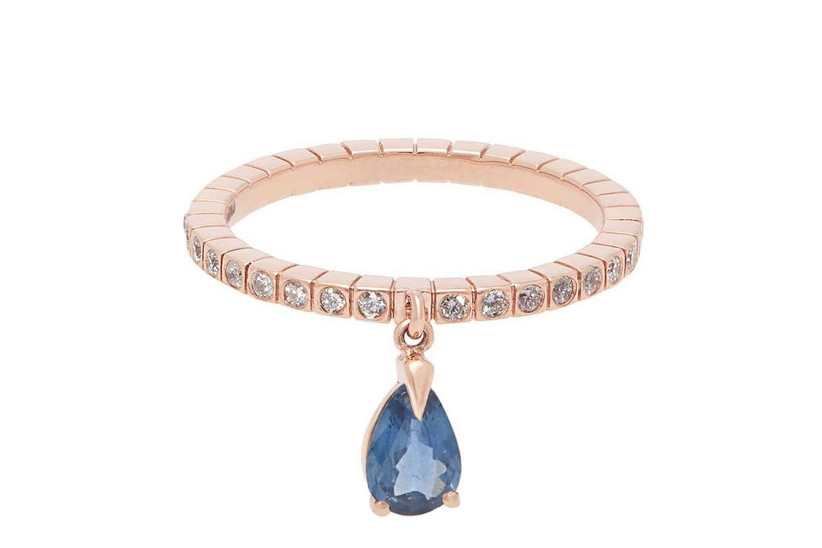 For those who like to think outside of the usual (ring) box, we'd suggest this unique Diane Kordas ring, which is sold via Matches Fashion. The rose-gold band is dotted with faceted pave diamonds, and fitted with a suspended teardrop-shaped blue sapphire charm. If you were hoping for a red gemstone ring, try the two-band ruby version.
28. James Newman Salt And Pepper White Diamond & 18ct Yellow Gold Trilogy Ring ­– £1,600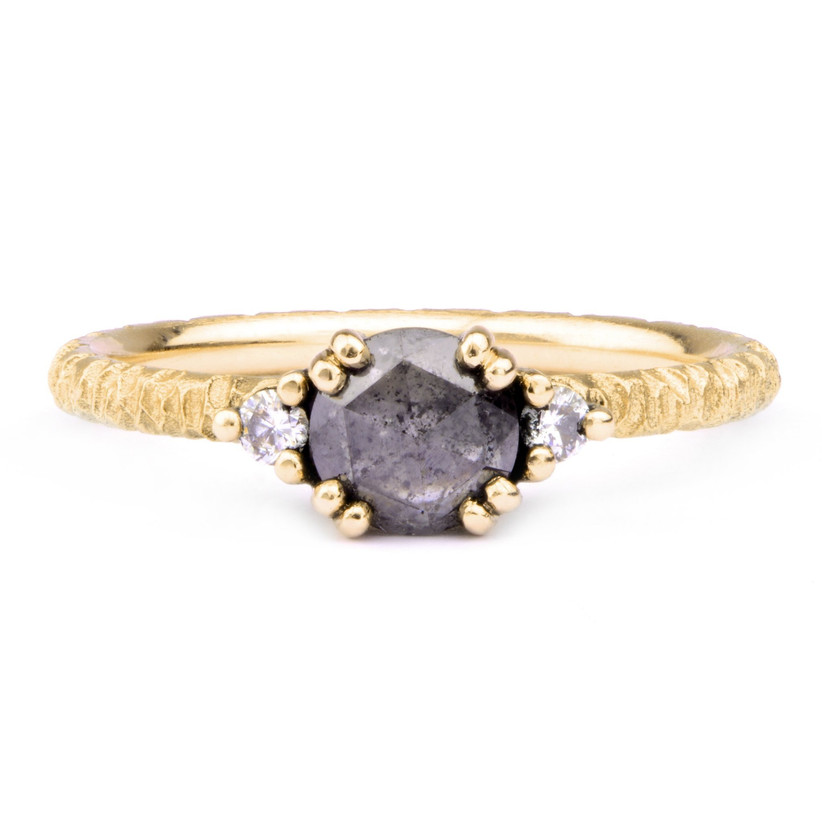 A salt and pepper diamond might be an unexpected choice, but that's precisely why we love them. This rose-cut James Newman stone is nestled between two smaller brilliant cut white diamonds, while the textured yellow gold band makes it a real standout piece.
29. Zoe & Morgan Freya Engagement Ring – from £5,000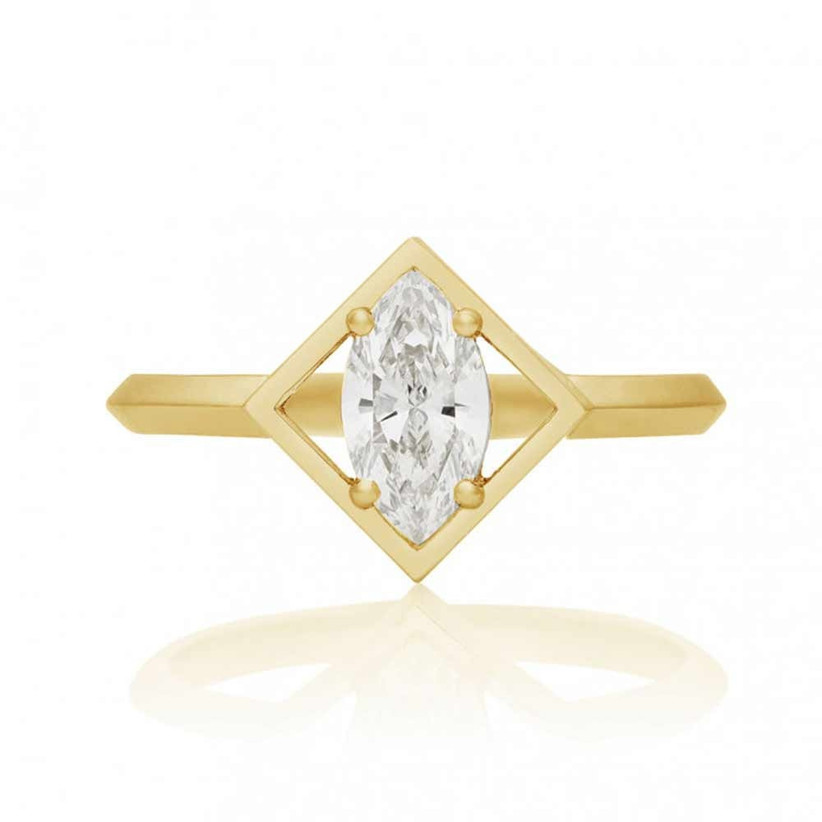 Zoe & Morgan prides itself on offering alternative engagement rings that stand apart from the norm, just like this Art Deco Freya ring, complete with incredible marquise-cut diamond. Freya is the goddess of love and beauty, so this jewellery is packed with even more meaning than most.
30. Ruth Tomlinson Four Stone Sapphire Ring with Granules – £2,200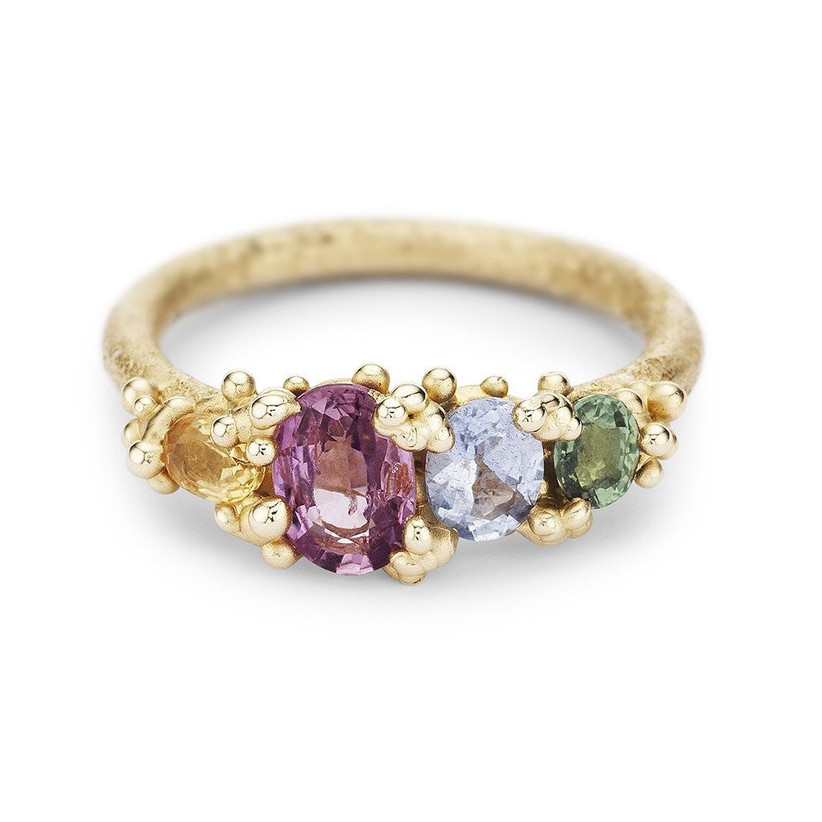 Some brides want a sparkling white stone, but others want colour, and lots of it. If that's the case, we'd suggest this unconventional Ruth Tomlinson ring, with four pastel-coloured sapphires sat side by side.
31. Samara James 'Mercedes' Ring - from £1,349.64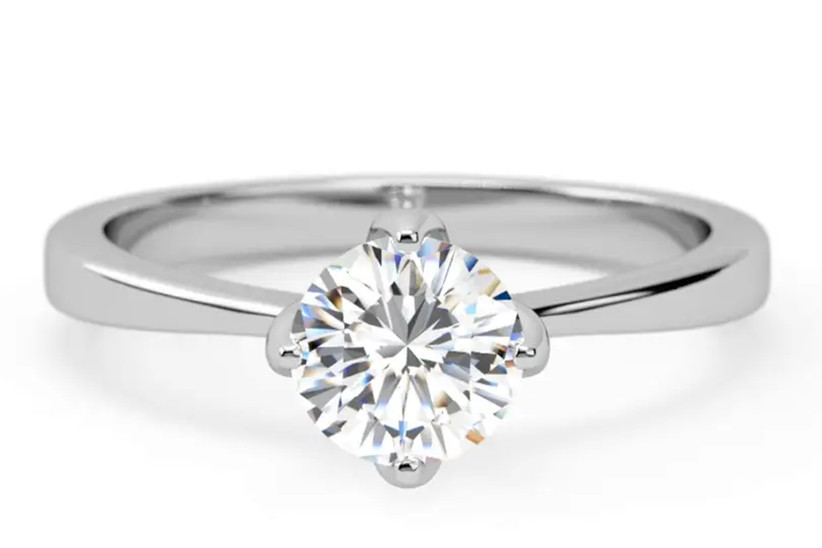 If you have a beautiful diamond, you don't need to surround it with anything extra to show it off to its full potential. The Mercedes ring is simple, timeless and will suit everyone. You honestly can't go wrong with a brilliant cut diamond.
32. Michelle Oh Marissa Ring – £3,550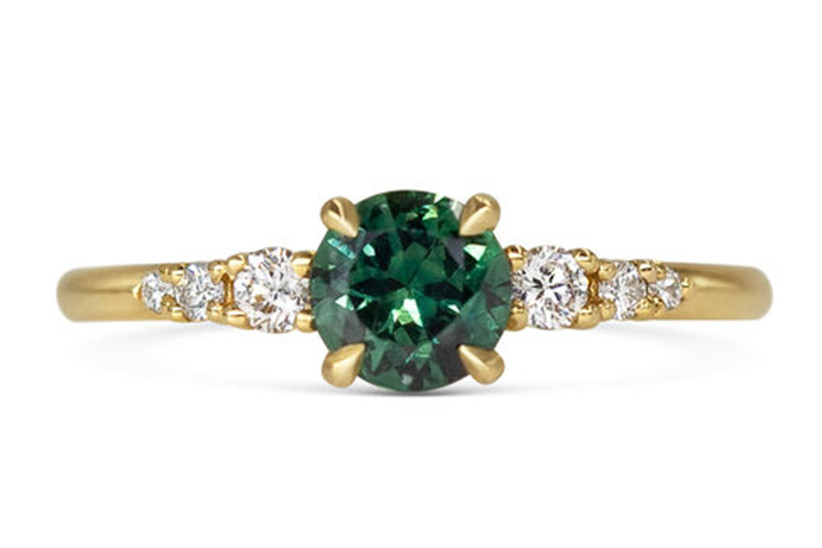 How beautiful is this teal sapphire! This ring is traditional with a twist and it will look perfect with a simple gold wedding band tucked beneath it.
33. Cartier Etincelle De Cartier Ring – £3,050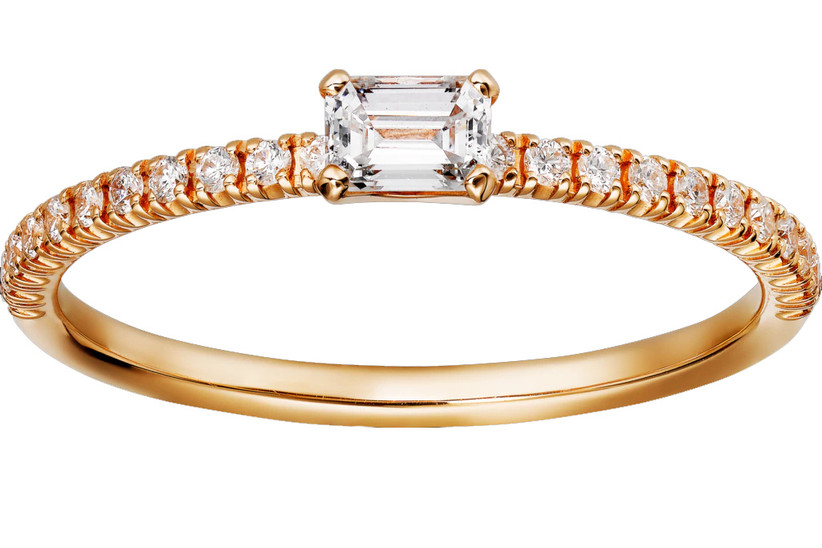 Cartier jewellery has been synonymous with excellence for centuries, and this understated Etincelle De Cartier ring is the ideal way to own a little slice of its legacy. The emerald-cut central diamond is flanked by a staggering 22 brilliant-cut stones on the white gold band.
34. Pomellato Rose Quartz Nudo Petite Ring – £2,250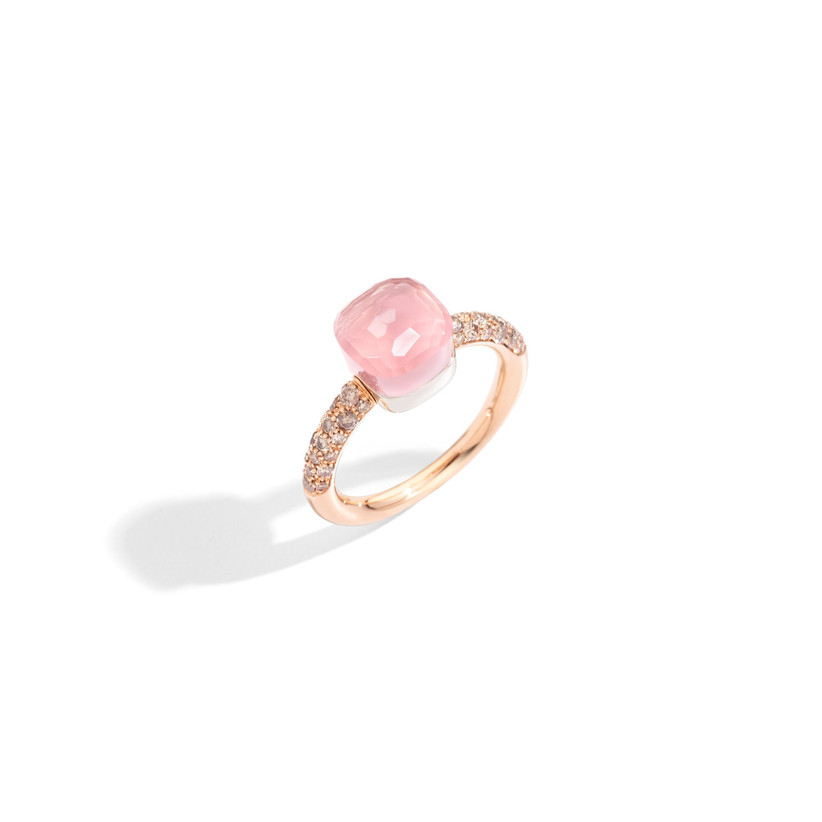 Think pink with this rose quartz ring from Pomellato, an avant-garde brand founded in Milan in the 1960s. The shade of the main stone is complemented by the rose gold band, while the extra embedded gems up the dazzle factor.
35. Flora Bhattachary Aditi Gold Constellation Ring – £2,690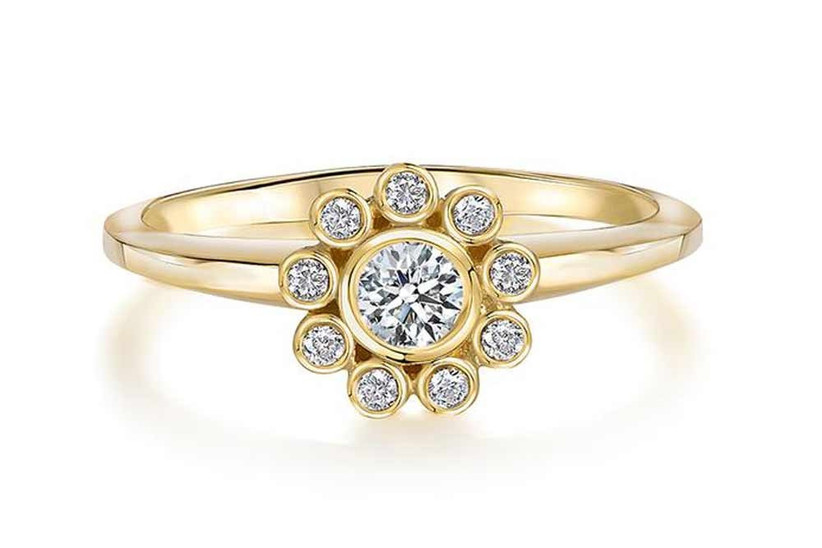 A different take on the usual halo design, Flora Bhattachary's constellation ring will spark genuine oohs and ahhs from everyone who sees it.
36. Lebrusan Studio Efflorescence Ethical Pink Ruby Gemstone Engagement Ring – £2,773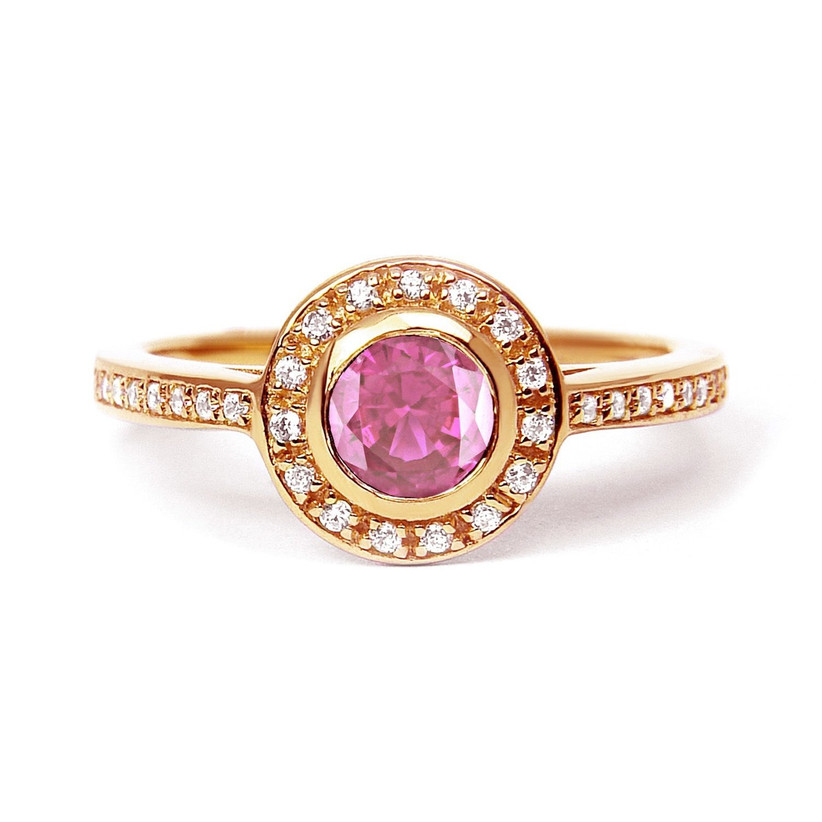 Glamorous and girly is the order of the day when it comes to this pink ruby ring with a rose gold halo setting – it's a super romantic choice. The metal and stone are both certified Fairtrade too.
READ MORE: How to Clean Your Engagement Ring at Home
37. Jessica McCormack Signature Diamond Button Back Ring – £4,250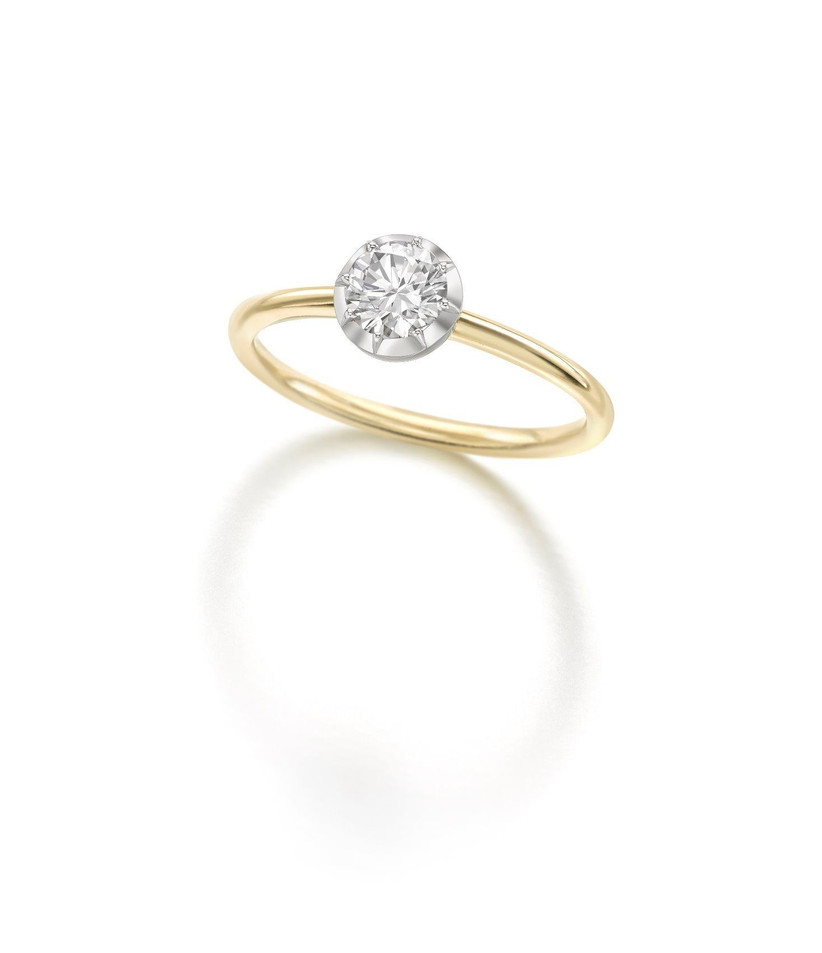 Jessica McCormack's couture rings used to be the stuff of millionaire's dreams, but the signature collection has a more accessible price point. This universally-flattering ring boasts a 0.4 carat diamond in a Georgian cut-down setting for less than £5,000.
38. Lark and Berry Aspen Diamond Ring - £2,100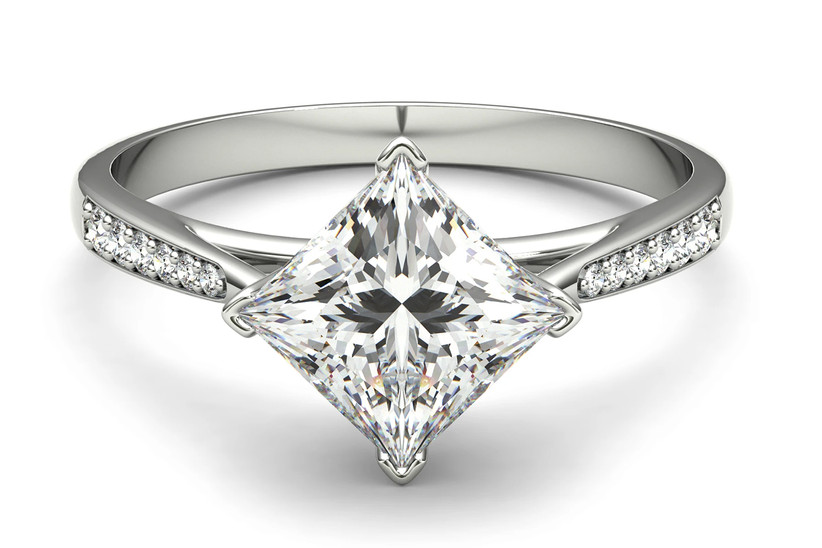 The princess cut diamond takes centre stage here; by turning it on its side, it makes the timeless style modern and contemporary. Delicate paved diamonds lead up the shoulders of the band and add to the dazzling sparkle of that main gem.
39. Lily Kamper Brilliant Engagement Ring – £4,900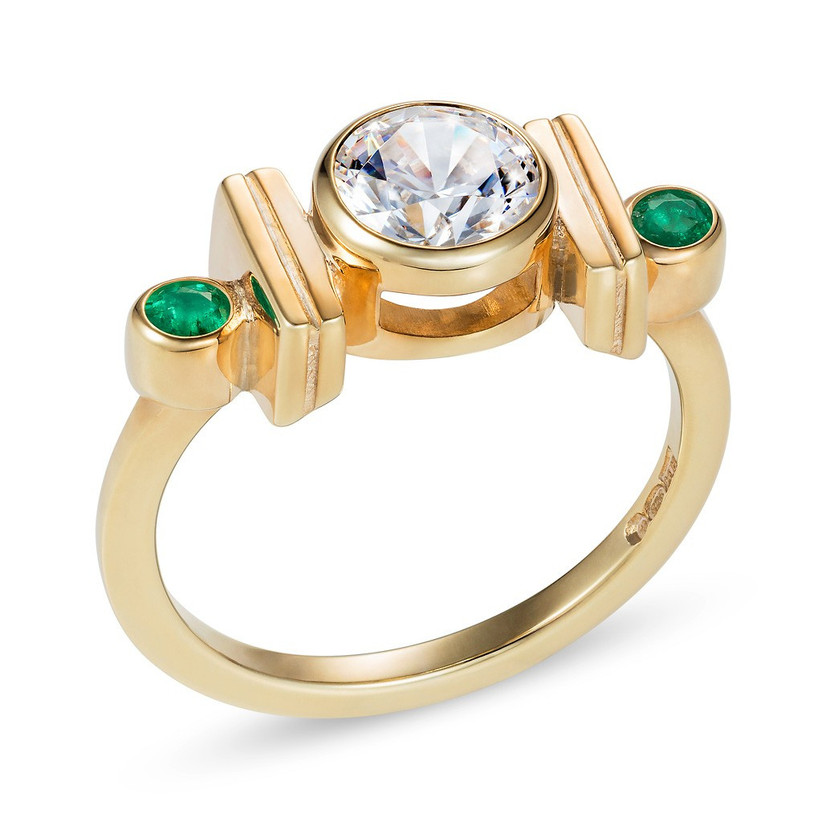 Lily Kamper is not afraid to play with colour, so if your beloved isn't either, her website is the perfect place to browse. The emeralds make all the difference on this chunky-look Brilliant Ring – but it can also be made to order with coloured stone combinations of your choice.
40. Blue Nile Classic Halo Diamond Engagement Ring – from £1,770
The only downside to this Blue Nile ring is that it's so covered in bling that it might start to weigh down your other half's hand! If you know they've got their heart set on a ring that twinkles from every conceivable angle, you're onto a winner here.
41. Gee Woods Ida Ring – £3,610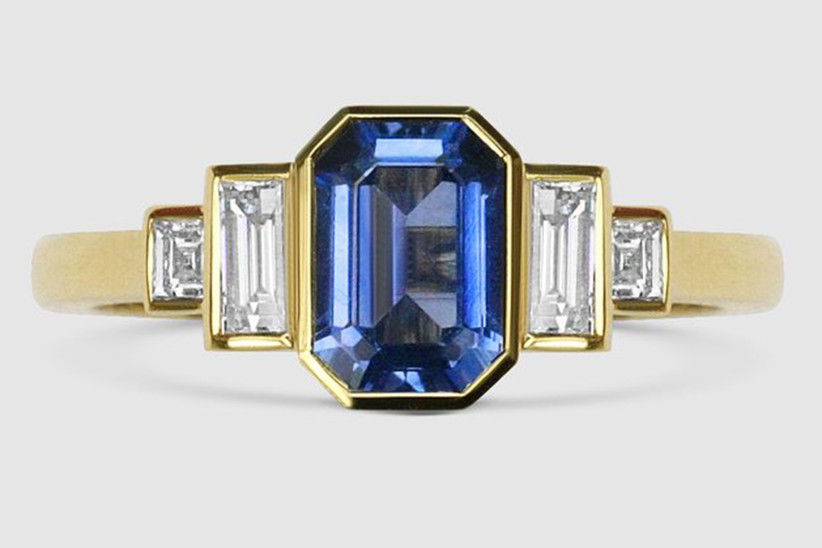 The blue in this Gee Woods sapphire engagement ring is so rich you could almost dive right into it. Framing the emerald cut stone with two baguette diamonds adds an air of old-school opulence that make this a real heirloom-esque find.
42. Fenton & Co Vintage Aquamarine Ring - from £2,850
You can choose what kind of stone you'd like in your Fenton & Co ring, but we're drawn to this stunning red ruby. It sits in their regal 'Vintage' setting, which is inspired by delicate, 18th century antique rings.
The Best Engagement Rings Under £7,000
43. Chanel Camelia Ring – £5,800
It doesn't get much chicer than Chanel. With its double 18k white gold bands both studded with diamonds and a sparkling central diamond, no fashion-conscious fiancée could ever say no to this beauty. The Camellia flower, from which this ring borrows its petal-inspired shape, was Gabrielle Chanel's favourite.
READ MORE: Emerald Engagement Rings: 17 of the Most Dazzling Designs
44. Tiffany True Engagement Ring with a Tiffany True Diamond in Platinum – from £5,875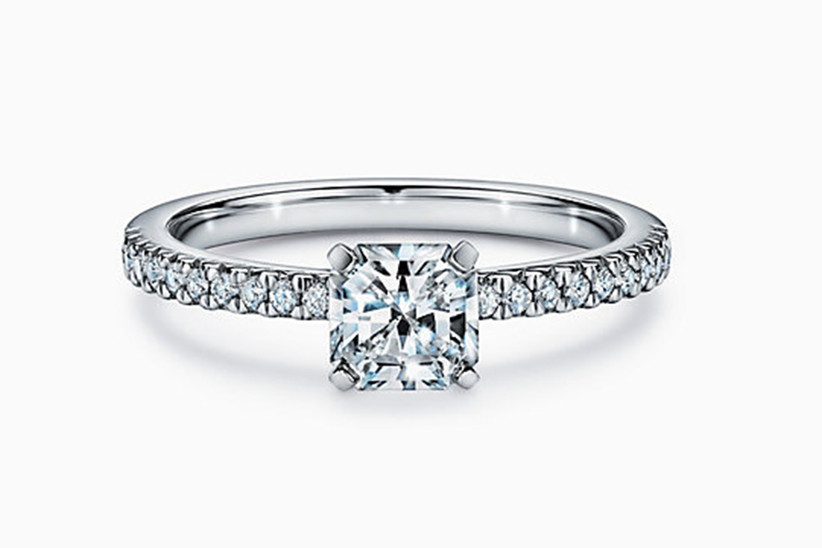 The moment you pull out a Tiffany blue box is one your fiancée-to-be will remember forever, especially if the ring inside looks like this. The geometric square diamond and platinum band keeps it a timeless choice that will never go out of style.
45. Van Cleef & Arpels Couture Solitaire – £5,450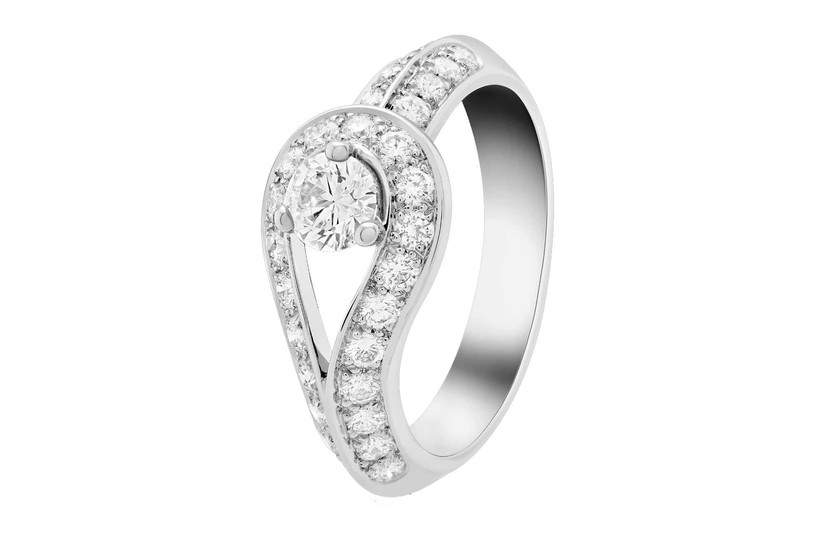 Van Cleef & Arpels jewellery is the stuff of legend, and your other half will love having something that's so rare and unusual. Not only do you get the usual central diamond solitaire, it's surrounded by a diamond ribbon of the most exquisite quality.
46. Jenny Packham Oval Cut Solitaire Diamond Ring in Platinum – £5,500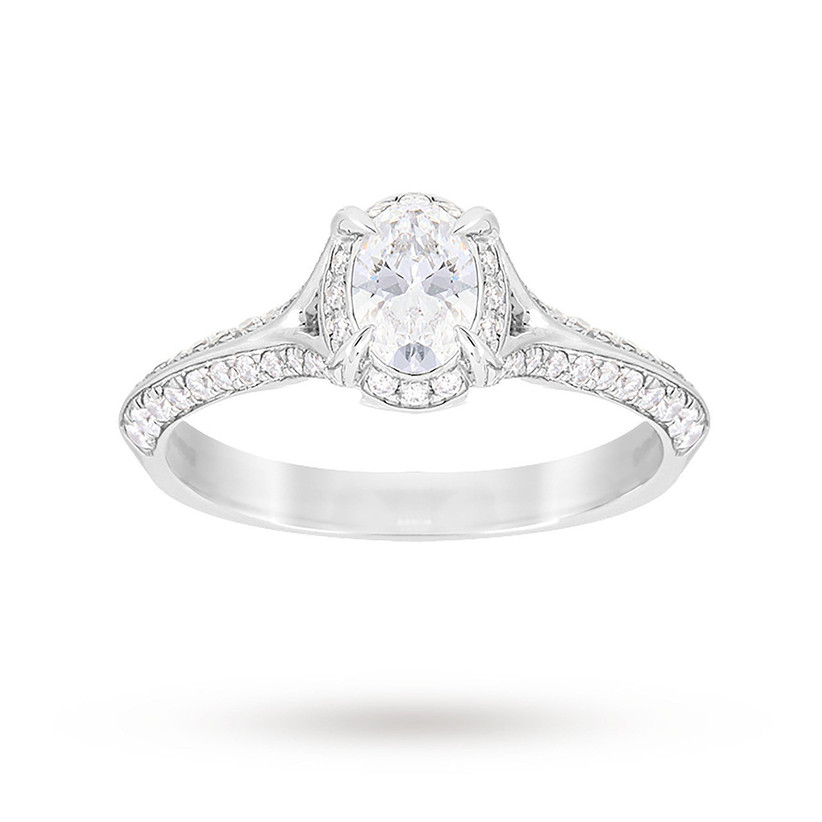 If there's one thing Jenny Packham knows, it's magnificent wedding design, both when it comes to gowns and rings. This sophisticated platinum band teams traditional hallmarks of luxury with a contemporary oval stone – the result is something to treasure for generations to come.
Fell for a pearl ring? Here's our pick of the 35 best pearl engagement rings you can buy – it's one of our favourite timeless looks for 2021 and beyond.