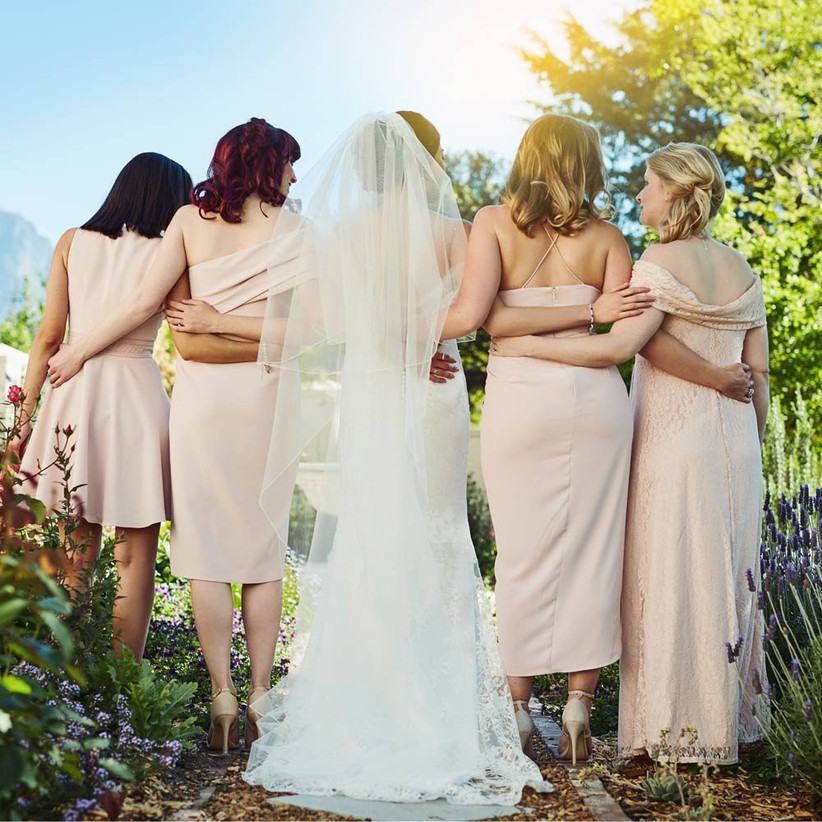 When it comes to picking your bridal squad, it's likely that your select group of VIGs (that's Very Important Girls, obviously) will consist of a whole bunch of different personalities!
From the party animal to the highly emotional 'maid, we've rounded up a list of the different types of bridesmaids out there that we bet you'll come accross! But which ones are in your squad?!
1. The Organised Bridesmaid
From timelines and spreadsheets to checklists and group chats, the organised bridesmaid is always on hand to keep everyone in agreement and make sure everything is going to plan. She's a great asset to have especially when it comes to the wedding day itself – she'll give your wedding co-ordinator a run for her money.
READ MORE: Bridesmaid Roles Explained
2. The Party Animal Bridesmaid
With this crazy lady in the squad, you can guarantee yourself a hen party to remember. No relaxed spa trips for you – it's straight to Vegas (or your local equivalent), and she'll also be the one getting the party started at your reception, just make sure you have someone sensible keeping an eye on her…
READ MORE: The Ultimate Guide to Planning a Hen Party
3. The Life Saver Bridesmaid
When your bridesmaids can't come to a decision on what dress suits them all, and organising your suppliers becomes way too stressful, you'll be so thankful you asked this person to be a bridesmaid. Anyone who's planning a wedding will know there are plenty of problems to be solved, so having this one by your side is a total blessing.
READ MORE: Example Maid of Honour Speeches To Inspire You
4. The Control Freak Bridesmaid
We all have that one friend who is a total utter control freak, and if you don't, you're that friend! A control freak bridesmaid can come in handy if you're super relaxed and easy-going, but if you're keen to do things your way, it could become an issue. To keep her busy, give her a part of the day to be responsible for – that way she'll feel like she's helping without annoying you.
READ MORE: Cute Gifts For Your Bridesmaids
5. The Emotional Bridesmaid
From the moment you told her you were engaged to the last song playing at your wedding reception, one thing the emotional bridesmaid can guarantee you is tears – and lots of them. You'll find her sobbing with your mum in the corner of the ceremony blubbering over how beautiful you look – what a cutie!
6. The Like-a-Sister Bridesmaid
Whether you've known each other since you were in nappies or you lived together for years at university, this bridesmaid is the one who knows you the best and her opinion is priceless. She's the one who, when everything feels like it's all too much, makes the stress and panics just disappear.
READ MORE: The Emotional Stages of Being a Bridesmaid
7. The Painfully Honest Bridesmaid
Uttering the words 'what do you think, honestly?' is pretty dangerous – she does not hold back. Honesty is great when you're looking for opinions, but it can hurt when it comes to something like your dream wedding dress. This bridesmaid will come in handy however, when you get a little too 'bridezilla' for everyone's liking!
8. The Serial Bridesmaid
This girl is an expert, she's been a bridesmaid more times than you've been out for dinner and she knows the deal, making her the perfect maid to show the others the ropes!
READ MORE: Celebrity Bridesmaids Who Stole the Show
9. The Super Positive Bridesmaid
Whilst too much positivity can be annoying sometimes, having a bridesmaid who is always happy about everything will nicely balance out the typically less enthusiastic girls in the group and remind them how fun being a bridesmaid can actually be.
10. The Always Late Bridesmaid
It's nothing new, this bridesmaid has always had an issue with turning up on time, but when she eventually arrives she's totally fun to be around. To solve the problem of lateness, just make sure you always give her a false start-time for bridesmaid duties so when she turns up 'late', she's actually on time. Genius, right?!
READ MORE: 15 Things You Should Never Say to a Bridesmaid
11. The Impossible to Please Bridesmaid
From the dress colour to the hen party plans, this bridesmaid is simply never happy. The best way to deal with this is to just ignore her moaning – eventually she'll realise that there's more to being a bridesmaid than the dress she wears!
READ MORE: How to Turn Down Being a Bridesmaid
12. The Easy to Please Bridesmaid
The easy to please bridesmaid is your most chilled maid of all. She's the zero-effort one who makes your life so easy and you absolutely need a friend like this as a bridesmaid because her relaxed energy will help to calm the group when things get a bit heated.
13. The Fresh-From-a-Breakup Bridesmaid
There's always going to be someone close to you who's just had their heart broken whilst you're planning your wedding and as hard as it is to see their world falling apart, you can't let that stop you from enjoying yours. P.S – Make sure the other maids keep this one away from the womanising usher!
READ MORE: How to Handle a Bad Bridesmaid
14. The Know-it-All Bridesmaid
It doesn't matter what you've done, this bridesmaid has done it before and actually it was way better when she did it. If you've been to Tenerife, she's been to elevenerife and she won't let you forget it.
15. The Selfie-Obsessed Bridesmaid
You could literally be in the middle of trying on your wedding dress ready to show the girls and you'll spot this one with her phone in hand, trying to get a selfie with you in the background – she's obsessed, but her pictures will make for some amazing memories.
READ MORE: Wedding Selfies You'll Love
16. The Perfect Bridesmaid
This absolute babe is the crème-de-la-crème of bridesmaids and you'll have her to thank for so much when the wedding is over. When you need space, she gives you space, when you need help, she helps, when you need wine, she brings you wine – she just knows everything!