The 15 Best Charlotte Tilbury Products for Your Wedding Day
Treating yourself to some special makeup products for your big day? Create a glowing bridal look with Charlotte Tilbury's tips for nailing your wedding day makeup, along with our edit of their most popular products
We have included third party products to help you navigate and enjoy life's biggest moments. Purchases made through links on this page may earn us a commission.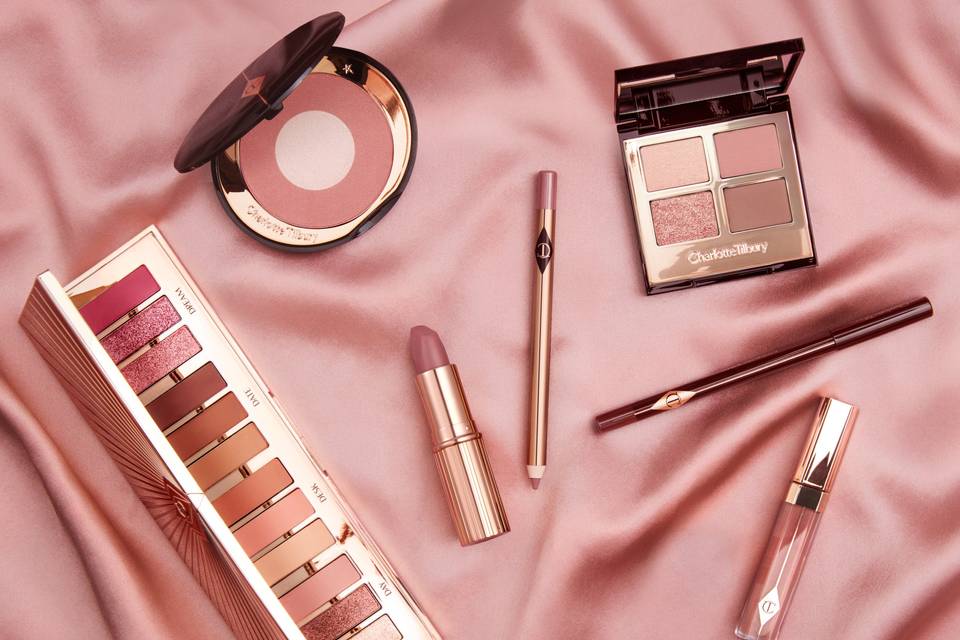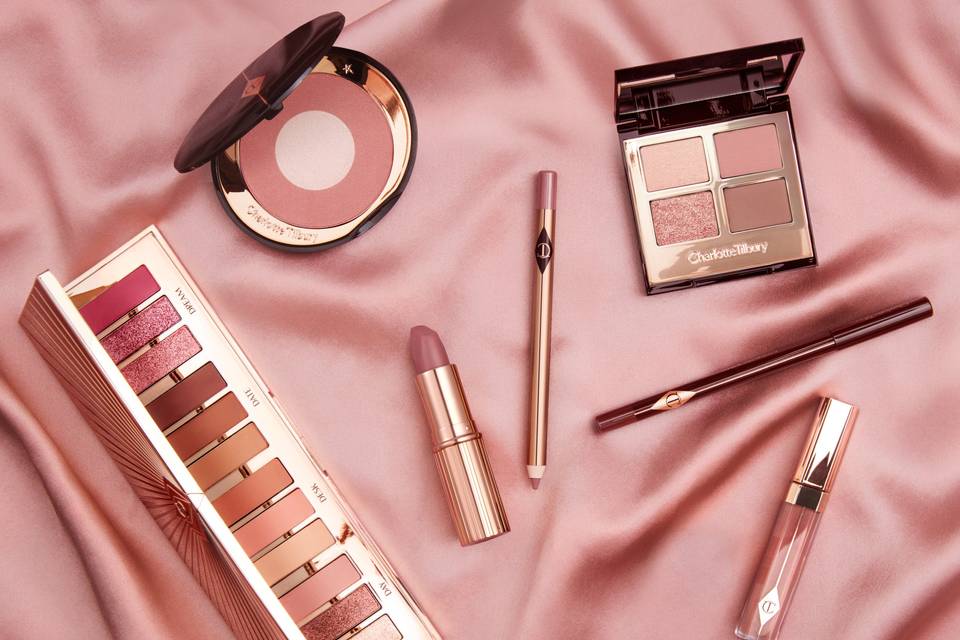 Legendary makeup artist Charlotte Tilbury is behind one of the most iconic beauty ranges in the world.
Having worked with A-listers across fashion and film (including Amal Clooney's wedding day makeup), she launched her eponymous makeup line in 2013. Now, it's packed with award-winning, cult products for face, lips and eyes – all in very glam packaging.
Ask any Charlotte Tilbury fan for their favourite product and the Pillow Talk lipstick will undoubtedly come up, but the whole range is bursting with bombshell products which we guarantee will become a makeup bag staple long after your big day is done.
But which are the best Charlotte Tilbury products for your wedding day? If you're buying a luxe new product or two for your special day, you can't go wrong with one of our top picks below - from their most iconic items to their dreamy Look Of Love collection.
So, whether you're doing your own wedding makeup, or you just want a few tips so you can touch up your look throughout the day you've come to the right place. We spoke to Charlotte Tilbury pro-artist Helen Warwick-Drake who gave us the low down on everything you'll need to know.
Plus, Tilbury even has her own YouTube channel which is full of makeup tutorials, including a whole playlist of wedding day looks! Or, if you want even more Charlotte Tilbury action you can book a virtual consultation with a Bridal Beauty Expert and experience a 1-2-1 beauty lesson for yourself or your whole party.
The Best Charlotte Tilbury Products for Your Wedding Day
1. Charlotte Tilbury Look Of Love Lipstick Matte Revolution Wedding Belles – £28, Charlotte Tilbury
READ MORE: The Best Tried-and-Tested Lipsticks for Your Wedding Day
2. Charlotte Tilbury Pillow Talk Push Up Lashes! Mascara – £23, Charlotte Tilbury
You can forget the need to use an eyelash curler with the Pillow Talk Push Up Lashes! Mascara - even the straightest of lashes will look lifted after just a few coats. This powerhouse mascara has a long-wear, smudge-proof, humidity-resistant, intense black formula that will create a seriously flirty flutter. It's a fab clump-free alternative to waterproof mascara and can save your face in a humid honeymoon destination.
3. Charlotte Tilbury Flawless, Poreless Skin Secrets – £69, Charlotte Tilbury
For the full Tilbury effect, use Flawless, Poreless Skin Secrets. The Airbrush Flawless Foundation is essentially a hybrid skincare foundation packed with Replexium to reduce the appearance of wrinkles and MossCellTec to boost hydration. After applying the foundation, it's important to set your makeup and minimise shine on your wedding day: enter Airbrush Flawless Finish. It's a micro-fine finishing powder with 'soft focus' nano-particles that blur fine lines and brighten skin. It doesn't cake, is brilliantly breathable and goes on like a velvet dream.
READ MORE: The Best Foundations to Last All Day
4. Charlotte Tilbury Look Of Love Instant Look in a Palette Pretty Blushed Beauty – £55, Charlotte Tilbury
Inspired by the power of love, joy and happiness (making it totally wedding appropriate), the Look of Love Instant Look in a Palette is all you'll need to create a fresh and effortless face of makeup. Ticking off your face powder, bronzer, blusher, highlight and eyeshadow all in one handy palette if you're only going to buy one Charlotte Tilbury product to deliver a huge impact to your look, this is it. Available in two colourways, Pretty Blushed Beauty if you're into rosy hues or Glowing Beauty for a bronzed look, it'll make touching up your face on the day so easy as you won't need to carry tons of products around.
5. Charlotte Tilbury Science-Powered Serum & Magic Cream Kit – £128, Charlotte Tilbury
Skin that's crying out for moisture and glow needs Charlotte Tilbury's Science Powered Serum & Magic Cream. Yes, it's pricey, but it's worth it if you've got a big event coming up and a little goes a long way so it'll last you ages. Magic Cream is a blend of oils and skin-saviour actives like hyaluronic acid, vitamins C & E, BioNymph peptide, aloe vera and shea butter. It was 20 years in the making, created by Charlotte while working backstage on shoots. Used alongside the Magic Serum Crystal Elixir, lacklustre skin will be transformed into a luminous, healthy-looking, richly moisturised canvas for your makeup.
READ MORE: The Best Anti-Redness Products to Calm Your Skin
6. Charlotte Tilbury Pillow Talk Push Up Eye Kit – £60, Charlotte Tilbury
7. Charlotte Tilbury The Look Of Love Kit – £118, Charlotte Tilbury
Charlotte Tilbury is famed for creating a face of makeup that appears to glow from within and The Look of Love Kit is the secret weapon if you want to achieve that. Each kit is completely customisable to suit your preferred shades, so you can cater the products depending on what look you're after. A summer garden celebration might call for a flushed pink cheeks and rose bud lips, whereas a darker pout and a bronzed face might be best for a sophisticated evening soiree.
READ MORE: The Best Eyebrow Kits to Frame Your Face
8. Charlotte Tilbury Morning Magic Skin Kit – £149.50, Charlotte Tilbury
9. Charlotte Tilbury Instant Glow Facial Dry Sheet Mask – £18, Charlotte Tilbury
In just a 15 minute application, this dry sheet mask smoothes fine lines, lifts, tightens and hydrates for up to eight hours. Inspired by Korean beauty technology, it can be reused up to three times, and because it doesn't have a wet formulation, there's no drips.
READ MORE: 53 Ways to Wear Your Wedding Hair
10. Charlotte Tilbury Super Radiance Resurfacing Facial – £52, Charlotte Tilbury
Anything that says it's for 'skin that looks reborn' we want in on and Charlotte Tilbury's Super Radiance Resurfacing Facial promises and delivers just that. The at-home facial treatment uses a clever combination of exfoliating AHA's, BHA's and PHA's to buff away dead skin cells and reveal radiant looking skin. The nourishing formula is packed with calming aloe vera and avocado oil to soothe even the most sensitive skin. We recommend using this two weeks before the big day to clear up any dry patches and leave your complexion positively glowing.
11. Charlotte Tilbury Airbrush Flawless Setting Spray – £26, Charlotte Tilbury
After you've completed your makeup masterpiece you're going to want to ensure it won't budge throughout the day and your makeup looks just as flawless at your reception as it did at the ceremony. Tilbury's Airbrush Flawless Setting Spray is a must-have product to use as your final step, extending your makeup's longevity for up to 16 hours. Simply spritz the fine mist over your finished look and the weightless veil will lock it in place without feeling heavy or clogging your pores. It also has a fabulous floral fragrance that'll instantly uplift you.
READ MORE: The Best Five Tried-and-Tested Waterproof Mascaras
12. Charlotte Tilbury Tinted Love Petal Pink – £25, Charlotte Tilbury
Perfect your pout with Charlotte Tilbury's Tinted Love lip tint. Enriched with hyaluronic acid and vitamin E, lips will be left plump, soft and oh so kissable (just what you'll want after you say 'I do'.) The buildable formula allows you to add as much colour as your desire - ideal if you want a slighter softer look during the day and a more dramatic look for the evening. Available in five universally flattering colours, we love the dreamy shade Petal Pink.
13. Charlotte Tilbury Eyes to Mesmerise – £22, Charlotte Tilbury
Designed to be applied with your finger for a buildable wash of colour on your eyelids, Charlotte Tilbury's whole Eyes to Mesmerise cream eye shadow range is excellent. We're particularly in love with the rose gold shadow, packed with illuminating pigments and skin-nourishing ingredients. If you want an effortlessly easy-to-wear and apply shadow that lasts all day, choose this.
READ MORE: The Best Contour Kits to Chisel Those Cheekbones
14. Charlotte Tilbury Pillow Talk Lips and Dreams Lashes Kit – £43, Charlotte Tilbury
Sometimes less is more, and if you're dreaming of a natural look for your wedding day look no further than Charlotte Tilbury. You might just want a simple slick of mascara and lipstick and The Pillow Talk Lips and Dreams Lashes Kit comes with the fail-safe Push Up! Mascara and the gorgeous Pillow Talk Lipstick ensuring you'll have the prettiest of pouts and the most fabulous flutter.
15. Charlotte Tilbury Pillow Talk Lip Kit – £37.50, Charlotte Tilbury
All hail the holy grail lip combo! If you haven't tried the iconic Pillow Talk lipstick and lip cheat lipliner duo, you need to ASAP. Choose from the original shade, a medium hue or a slightly more intense colour depending on your preference. The lip cheat and lipstick will allow you to create a full lipped effect that'll last up to 10 hours - no matter how much kissing you do on the day! You save 10% when you buy these two products together making it an offer that's hard to refuse.
READ MORE: 11 Top Tips for Growing Your Hair Longer Faster
8 Expert Wedding Makeup Tips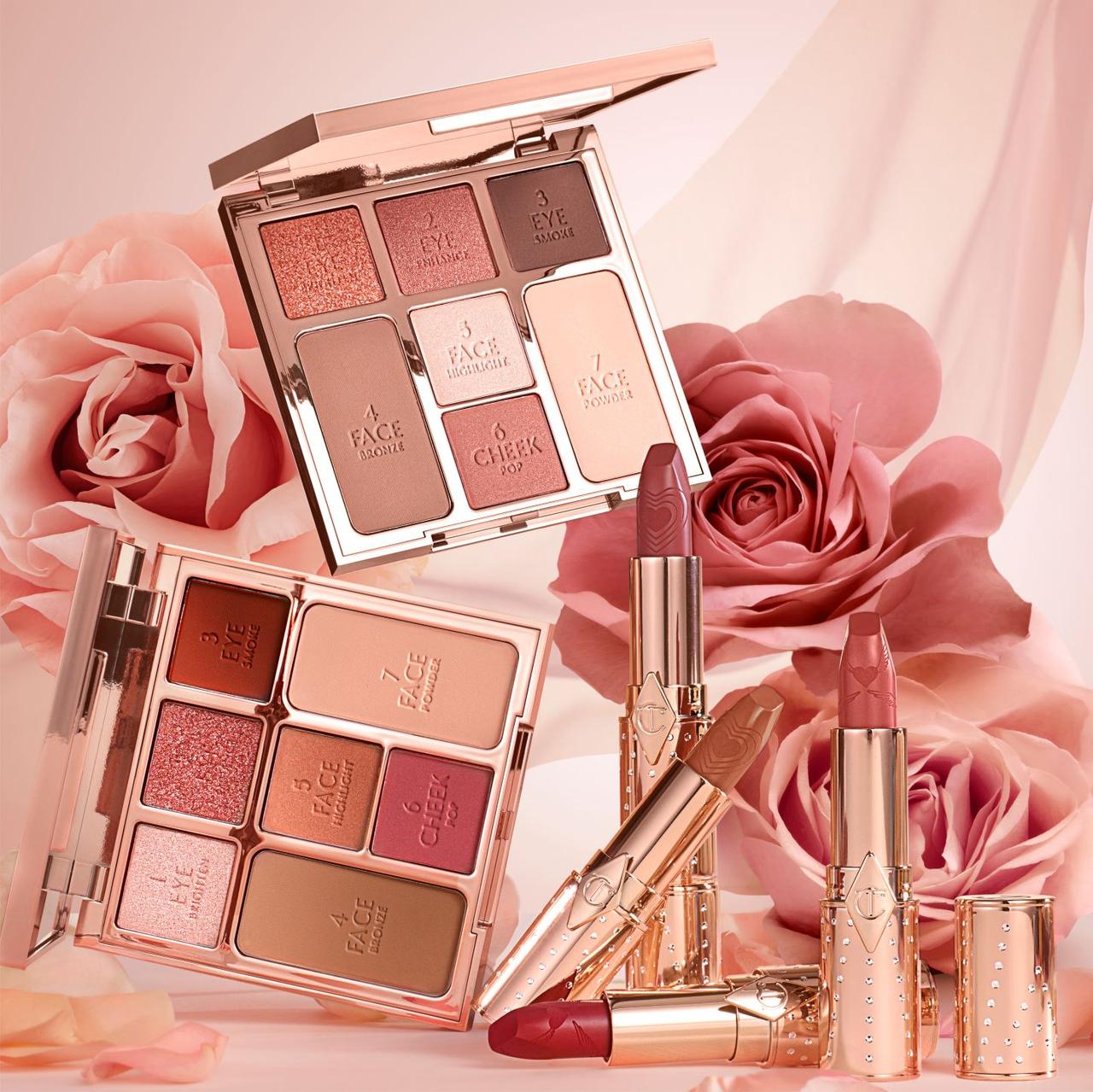 So, now you know the best products to buy, follow these tips from Charlotte Tilbury pro-artist Helen for the ultimate bridal makeup guide.
1. How Should I Prep My Skin Before My Wedding Day?
Skin prep is the most important step of bridal makeup! The wrong skincare can be catastrophic to the wear of your look. I recommend a simple but effective cleanse, serum, eye care & hydrate! My favourite cleanser to use for bridal is the Multi Miracle Glow Balm which will cleanse the skin whilst doubling up as a moisture mask. Magic Eye Rescue is an absolute life saver for puffy eyes, and then I always use the Magic Serum and Magic Cream for that ultimate plump glow.
2. How Should I Apply My Foundation?
Buff into the brush and then stipple onto the skin starting from the centre of the face working outwards, I like to finish with a little tap of my fingertips all over to melt the product further into the skin.
3. How Do I Pick the Right Lipstick?
Pick something that is complimentary to your overall look, that makes you feel super confident but that's also comfortable to wear. My top two most used bridal shades are Pillow Talk & Penelope Pink!
4. Are there Any Tricks for Avoiding Flashback?
Avoid anything with too much SPF, also beware of some translucent powders! The amazing thing about the creams and products from Charlotte Tilbury that do contain SPF is that they are tried and tested on the red carpet so you are guaranteed no flashback!
5. What Are The Best Ways to Avoid Shine?
Don't oversaturate your skin with too much moisture and I swear by the Airbrush Flawless Finishing powder to control shine.
6. How Can I Make Sure My Makeup Lasts All Day?
The Airbrush Flawless Finishing powder and Airbrush Setting Spray are the holy grail to lock in your makeup all day! And Lip Cheat liner is waterproof so makes the perfect long wearing base for lipstick.
7. What Common Mistakes Should I Avoid?
It's important to look and feel like the best and most beautiful version of yourself but also make sure you don't wear a look that doesn't feel like you!
8. What Products Should I Keep on Hand All Day?
Airbrush Powder, lip cheat liner & lipstick.
Now you have the makeup down, start planning your hair with these gorgeous half up half down hairstyles.