Wedding Dress Shopping: How to Choose Your Wedding Dress
Finding your dream dress is never going to be a doddle (there's so many to pick from!) but these 10 tips will make wedding dress shopping as enjoyable as possible
We have included third party products to help you navigate and enjoy life's biggest moments. Purchases made through links on this page may earn us a commission.
Buying your wedding dress is one of the most exciting purchases of your life. With all the pressure to find 'The One', dress shopping can be stressful and the choice overwhelming too.
Before you end up crying in a changing room, we spoke to the experts to get the practical advice you need to know before stepping foot in a boutique.
From finding a dress shape that works for your body to who to bring, what underwear to wear and how far in advance to start looking, this is your ultimate guide to how to buy a wedding dress.
With advice from Say Yes To The Dress' David Emanuel, Second Chance Dresses' Olivia Bowen Buckland, and Curvy Brides' Boutique stars Alison and Jo, wedding dress shopping can actually be enjoyable!
1. Do Your Research Beforehand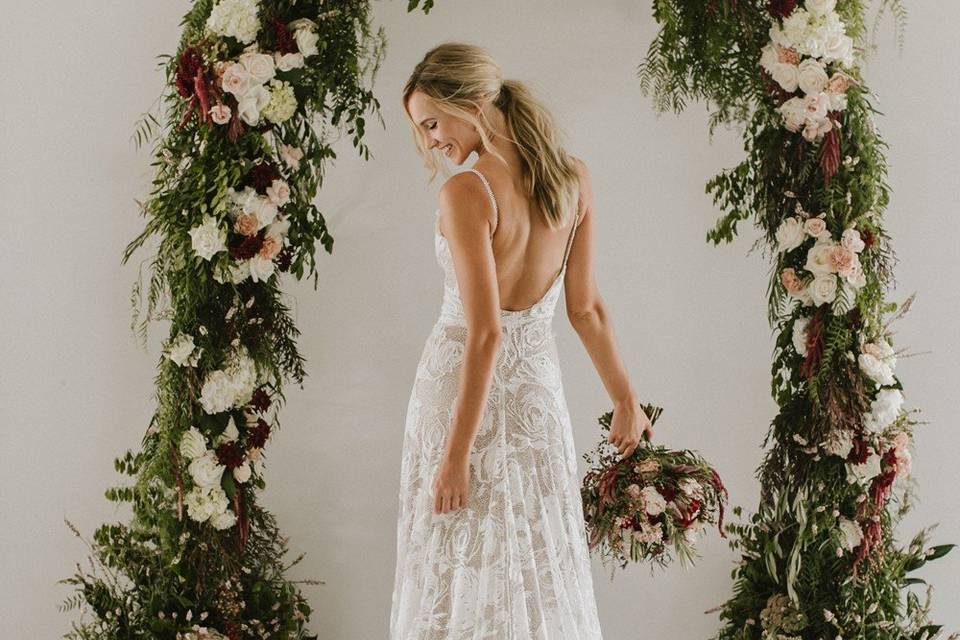 Image: Grace Loves Lace
The right dress takes time and research to find so do your homework. Pinterest is your best friend, as are real weddings.
The key to actually figuring out what styles and colours you like is to look for models that represent your body type and skin tone. If you're athletic with a completely flat chest, you need to be searching for images of dresses on similar build models. Short and curvy? The column dress isn't going to look the same on you as a 6ft model.
Really stuck? Go to a large bridalwear shop like David's Bridal just to browse. Don't try anything on, just get a feel for what the terms you're seeing online actually look like (illusion, bateau, sweetheart etc.) and any designers who jump out at you.
Once you've seen a few dresses online that you like, you need to make sure you can try them on in person. You can find local stockists on Hitched or on the designer's website. Always call ahead to find out if they have the dresses in stock and to book an appointment.
READ MORE: David Emauel's Dos and Don'ts of Wedding Dress Shopping
2. Start Your Search at Least Nine Months Before the Wedding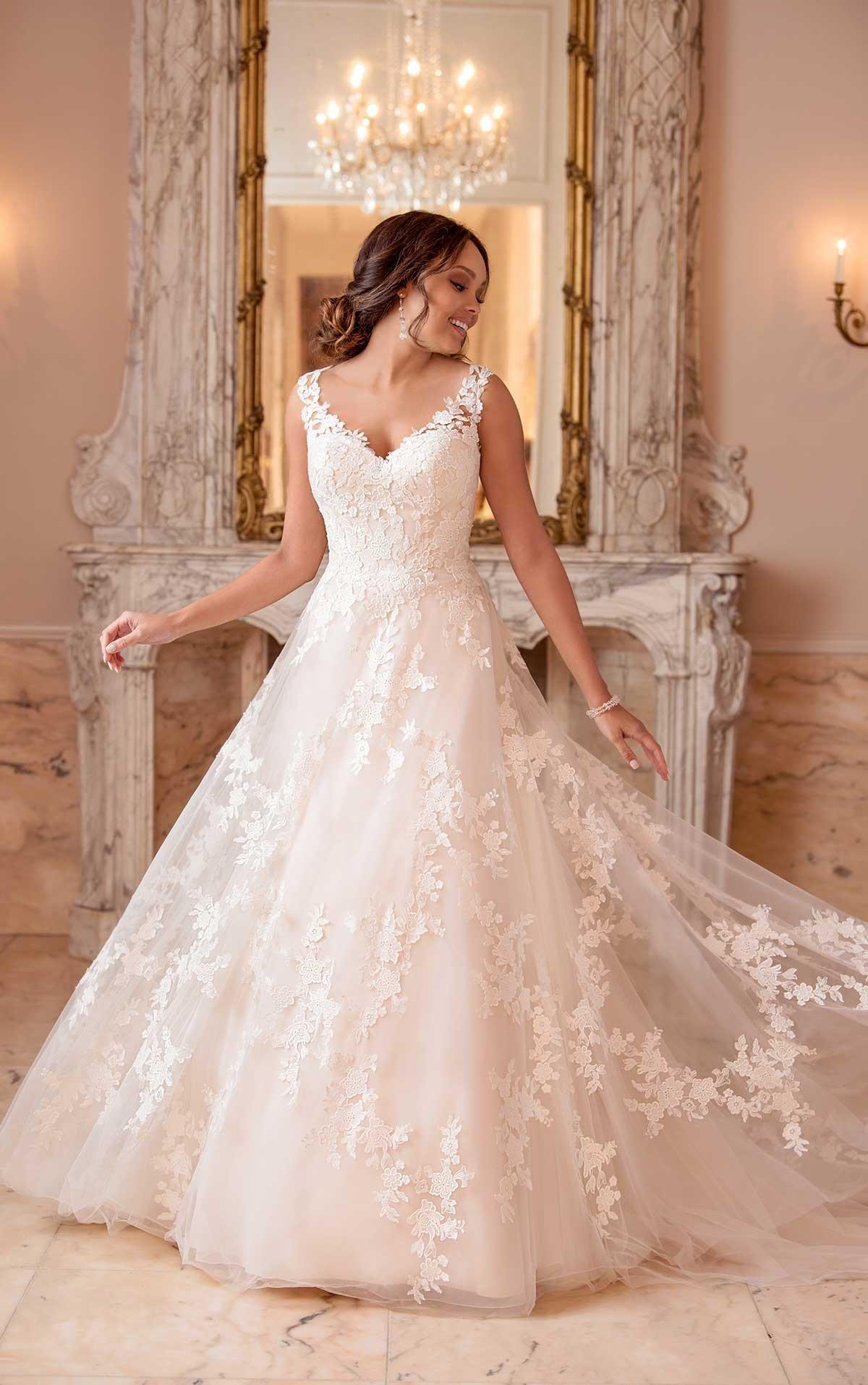 Image: Stella York
Nine months is the minimum amount of time you need to leave to find your wedding dress. If possible, start 12 months before your wedding so you have enough time to order the dress in and for alterations.
Knowing your venue is also essential. Bridalwear expert Karen Taft explains, "Nowadays weddings are often themed so if it's a festival style barn wedding with bales of hay to sit on and a hog roast, a sophisticated, glittering, mermaid style gown may not suit the venue as well as something a bit more comfortable and relaxed would!
"Consider the venue and the kind of wedding you're planning before rushing off and placing a deposit on something that might not work."
Your body can change a lot in a year, so you'll need to get your alterations done at a point where you know your body will be very similar to what it will look like on your wedding day. While we don't recommend trying to lose weight for your wedding (remember, your partner loves you just as you are!), if you plan to, don't go dress shopping until you've reached and maintained that weight for a little while.
3. Not All Boutiques Are Equal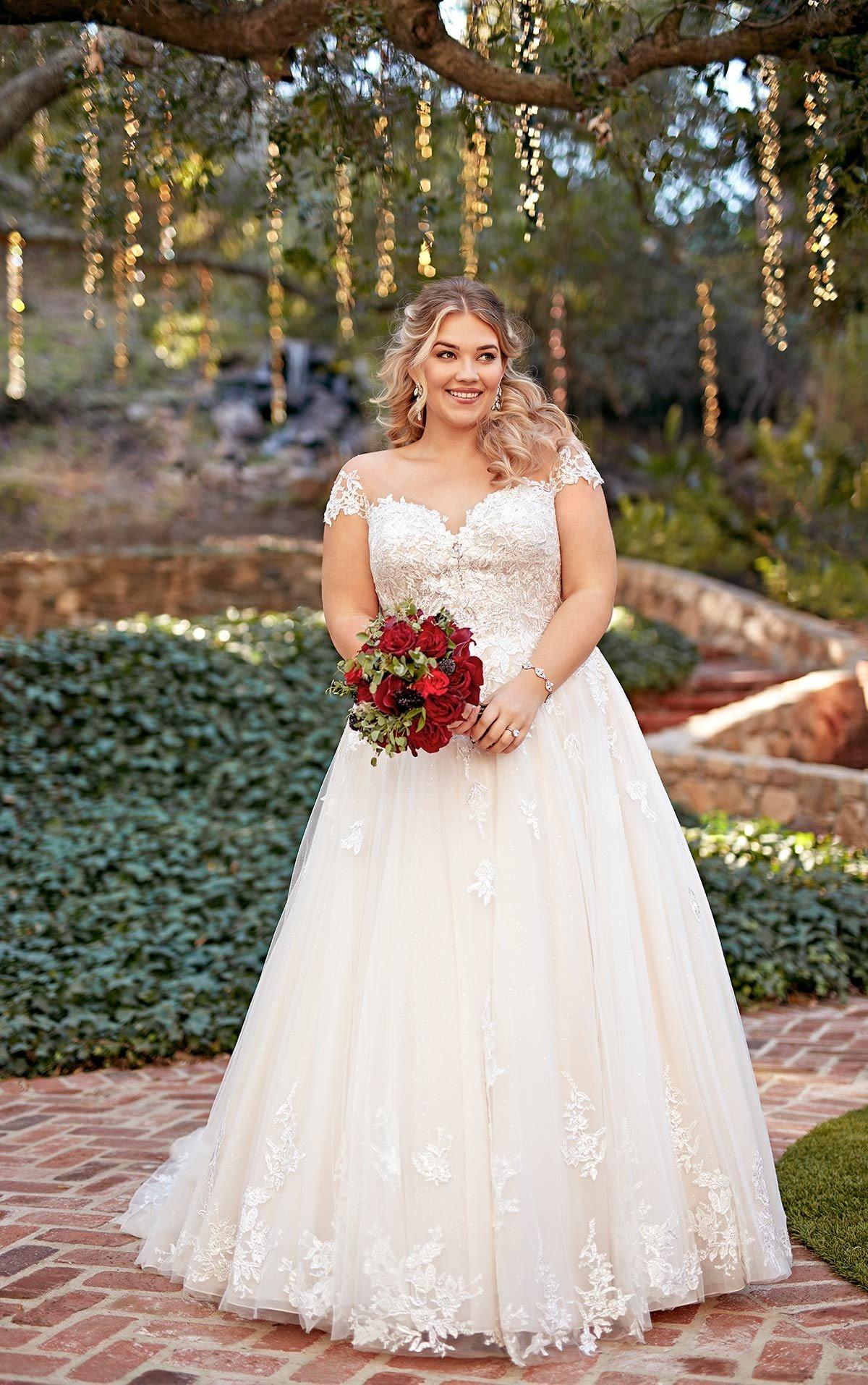 Image: Essense of Australia
"For our plus-size sisters out there, don't feel you can walk into a regular high street boutique and you will have lots to choose and try – you won't!" say Jo and Alison of Curvy Brides' Boutique.
"That's not because the shop is fattist but it all comes down to buying collections and territory. Go to a specialist boutique for choice and an altogether better experience. If you are happy and confident your dress-buying experience will be a pleasant and memorable one that will stay with you forever."
It isn't just plus-size brides who need to be choose their boutique wisely. Some stores make every client feel special, others don't have the time or resources. Read reviews and go for one where you feel comfortable and paid attention to. This is one of the most important – and expensive – purchases of your life and you should be made to feel important.
A handy way to suss out whether a boutique is right for you is to call ahead and ask to come in and browse (if they allow that) – it'll be very telling if they're friendly and welcoming to you and are happy to answer questions.
READ MORE: 6 Essential Rules for Plus-Size Dress Shopping
4. Keep Your Entourage Small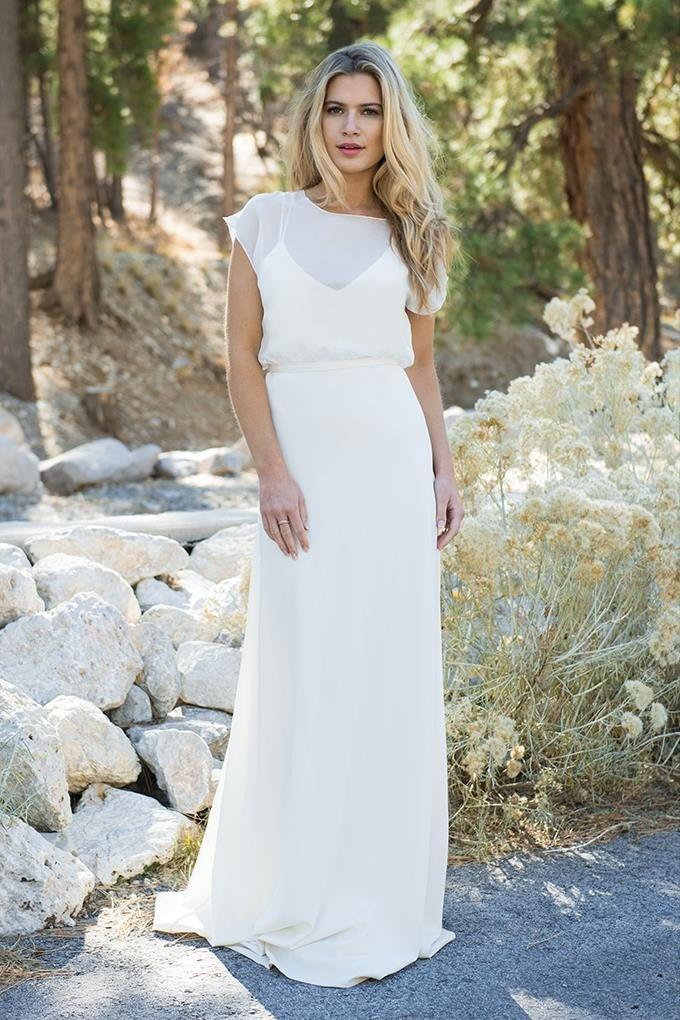 Image: Ivory & Co.
Say Yes To The Dress UK's David warns, "Think carefully about how many people you bring shopping with you. Don't take everyone with you just to keep them all happy, take one or two people who you can trust and will give you honest feedback."
Conflicting opinions will make you second guess yourself. "I've had tears of sadness because the bride is pulled by her entourage, and she doesn't know who to listen to.  I keep on reminding my brides that they are the star of the show; they have to feel good in this dress and be confident; they have to wear the dress, the dress doesn't wear them," says David.
On the day, make sure you bring a maximum of two people: your mum and your maid of honour are great choices.
READ MORE: 15 Perfect Plus-Size Wedding Dresses
5. Try on Between Four to Seven Dresses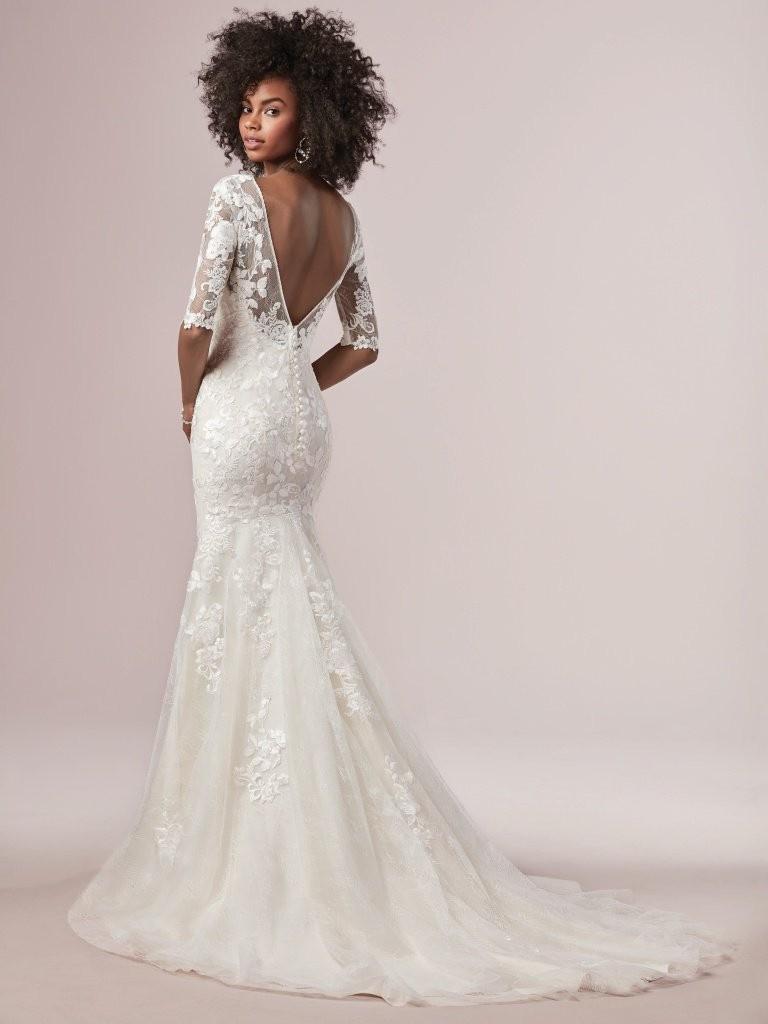 Image: Rebecca Ingram
Trying on 10 or more dresses will only confuse you. Make a shortlist of styles you like before you start as it's best to not go in totally blind – you'll only end up overwhelmed. Among your four to seven, allow for a wildcard (a dress you ordinarily wouldn't consider) just in case it turns out to be perfect.
Listen to the shop assistants too, they're an invaluable source of information (it's their job, after all!). They might suggest a style you haven't considered but be prepared to give it a go. You might find you absolutely love how a ball gown/two-piece/jumpsuit/blush pink dress shows off your figure or enhances your best features.
READ MORE: The Best Long Sleeve Wedding Dresses
6. Remember Bridal Sizing Lies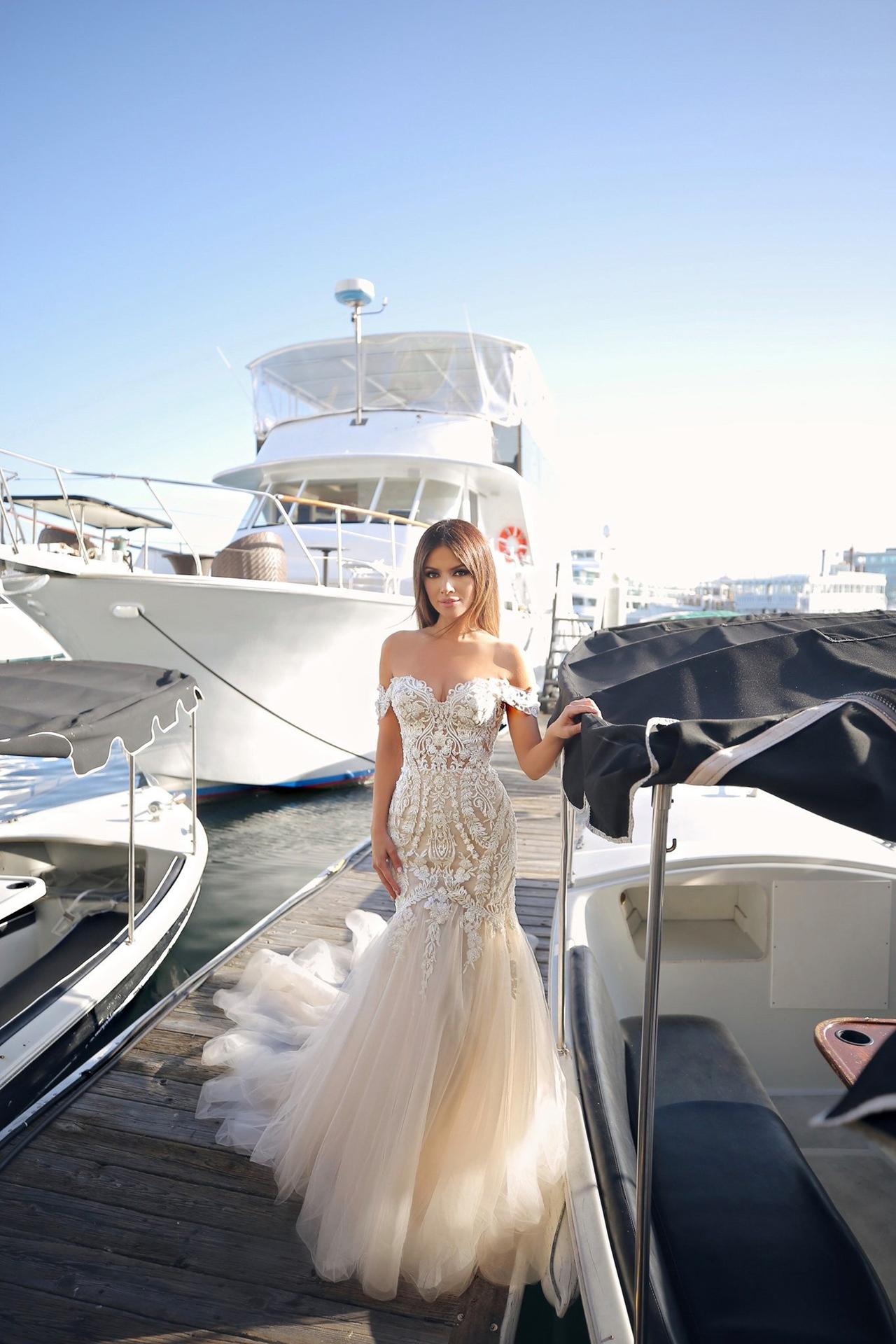 Image: Enzoani
Bridal sizes come up small. It's an unpleasant but true fact that can leave you feeling deflated. Ignore the label. If it fits, that's all that matters.
Don't fall into the trap of buying a dress that you vow to slim down into – no one needs that extra pressure when you're already putting on an event for 100+ people! It's much easier to have your dress taken in that let out.
READ MORE: Gok Wan's Secret for Finding the Right Dress for Your Body Type
7. Sit Down in Your Dress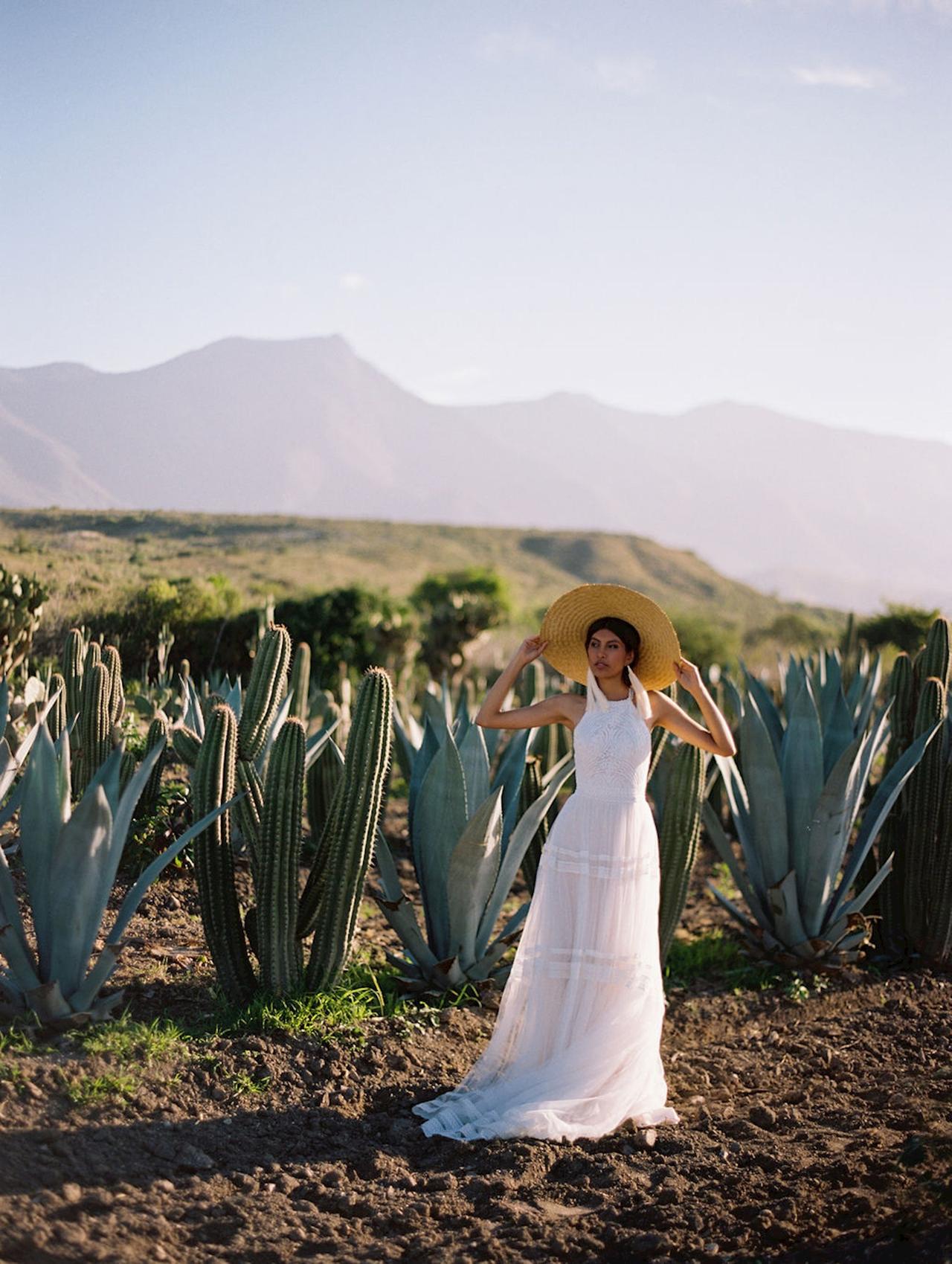 Image: Wilderly Bridal
We're sold that Disney-princess-dancing-in-her-ballgown-all-night-long fantasy. More likely, your dress will be heavy, you'll have drunk a lot of Prosecco and need a wee, and you'll only have your clumsy-fingered new spouse to help you out of it at the end of the night.
Think about the less glamorous aspects of your day to make sure the dress can cope. How will you go to the bathroom in it, can you sit down comfortably whilst wearing it, and how easy is it to get in and out of?
Whether you have to transport the dress to another country, or just wear it for hours on end, think about how much it weighs. You want to be able to dance the night away so make sure you can spin around in your gown!
READ MORE: The Most Beautiful Lace Wedding Dresses
8. Be True to Your Style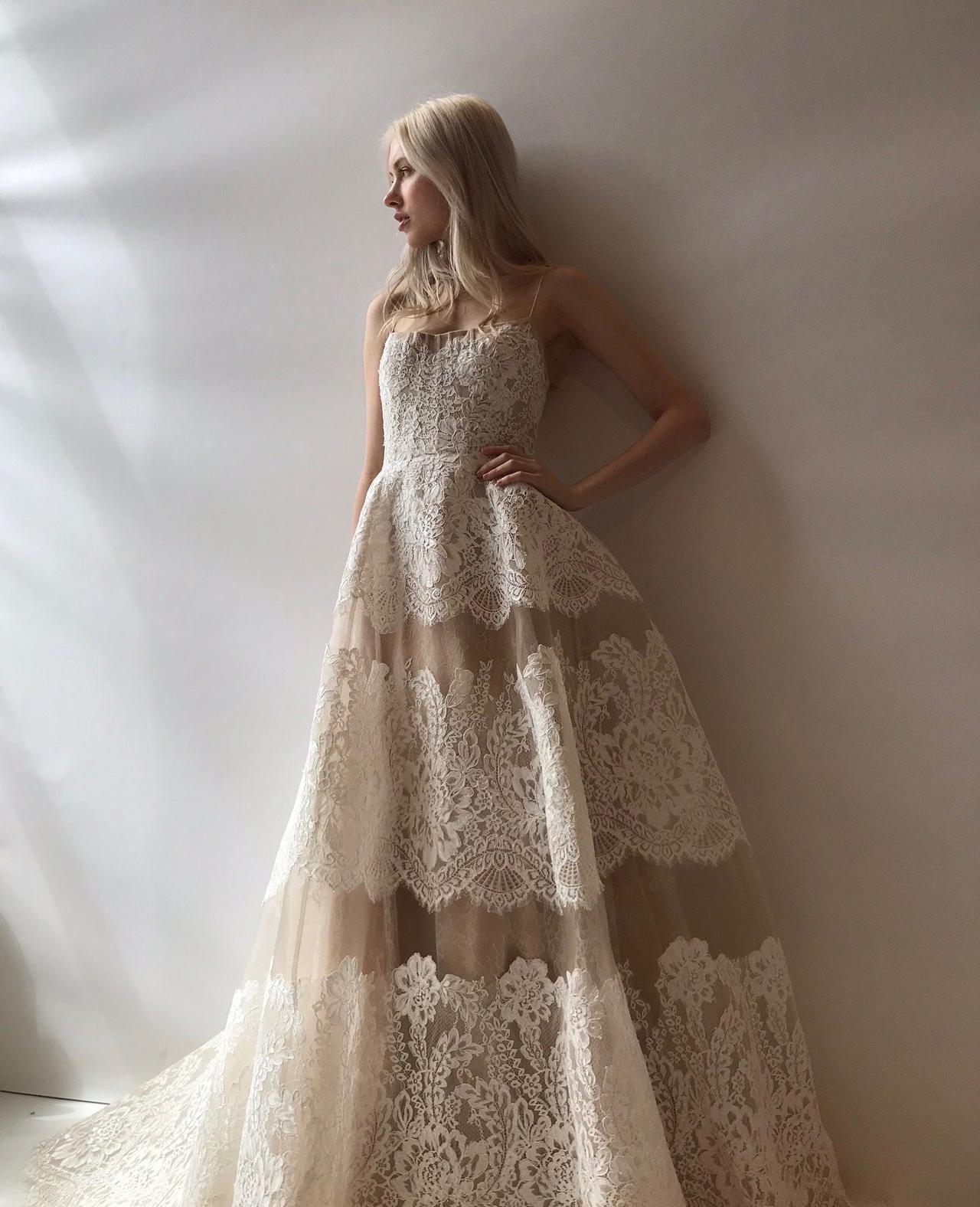 Image: Watters
No one knows better than you what style of dress you like and feel comfortable in. It's cliche but true, you wear the dress, the dress doesn't wear you, so make sure you're not so bowled over by a gorgeous gown you forget to ask whether you feel like you in it.
Second Chance Dresses' Olivia Bowen Buckland admits she felt "dress blind" after trying on wedding dresses. "My top tip is to imagine walking to your husband-to-be down the aisle. Imagine that moment. This may sound silly, but I found myself staring at these beautiful dresses and forgetting to look at me in the dress. I forgot to look at the whole package. It's all about you on your day, so make sure you search for a dress that makes you happy and you feel like the best version of you in it."
David says not to listen to people who warn against following the latest dress trend. "Fashion doesn't stand still. To find a gown that's going to be classic at the time and last 30 years, that's a big ask! More importantly, it's got to suit your figure and suit your personality."
9. Take Your Time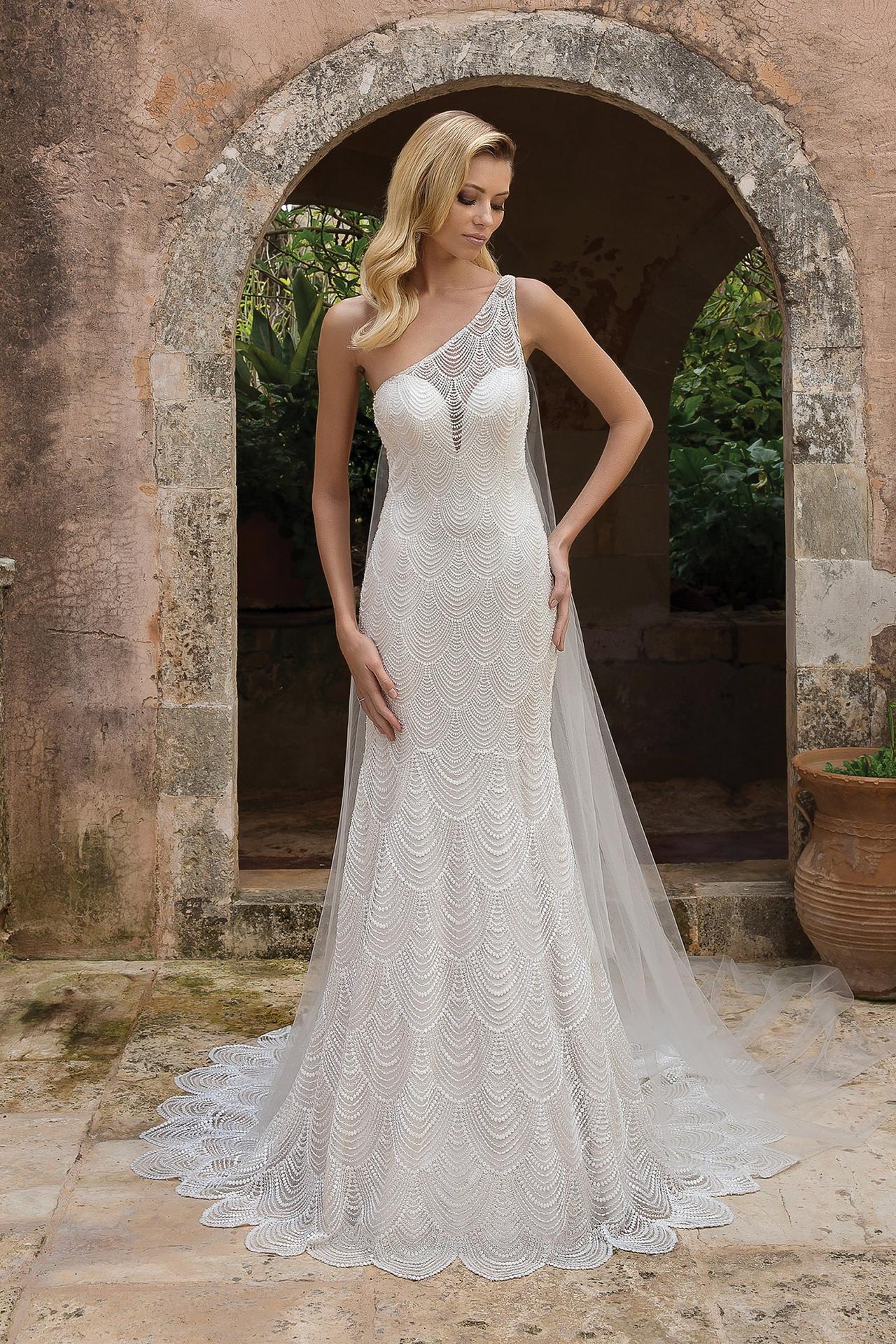 Image: Justin Alexander
Even if you think you've found 'The One' within seconds of arriving at your first boutique, try on a couple more dresses to make absolutely sure. It could just be excitement from actually trying on wedding dresses that has made you feel that way. On the other hand, don't ignore the goosebumps you get from your first dress just because it's the first.
If you have any reservations at all, keep looking. When you've found 'The One', you'll know. Don't worry if you have wobbles after buying your dress though – this is totally normal. As soon as you see it (and try it on again) you'll remember why you fell in love with it.
What might surprise you is that most bridal boutiques don't let you take photos in your dress until you've bought and paid for it. Even if you fall in love on the day, you don't need to commit to anything. Go away for a week and then try the dress on again – do you love it as much as the first time?
READ MORE: 37 of the Best Short Wedding Dresses
10. Stick to Your Budget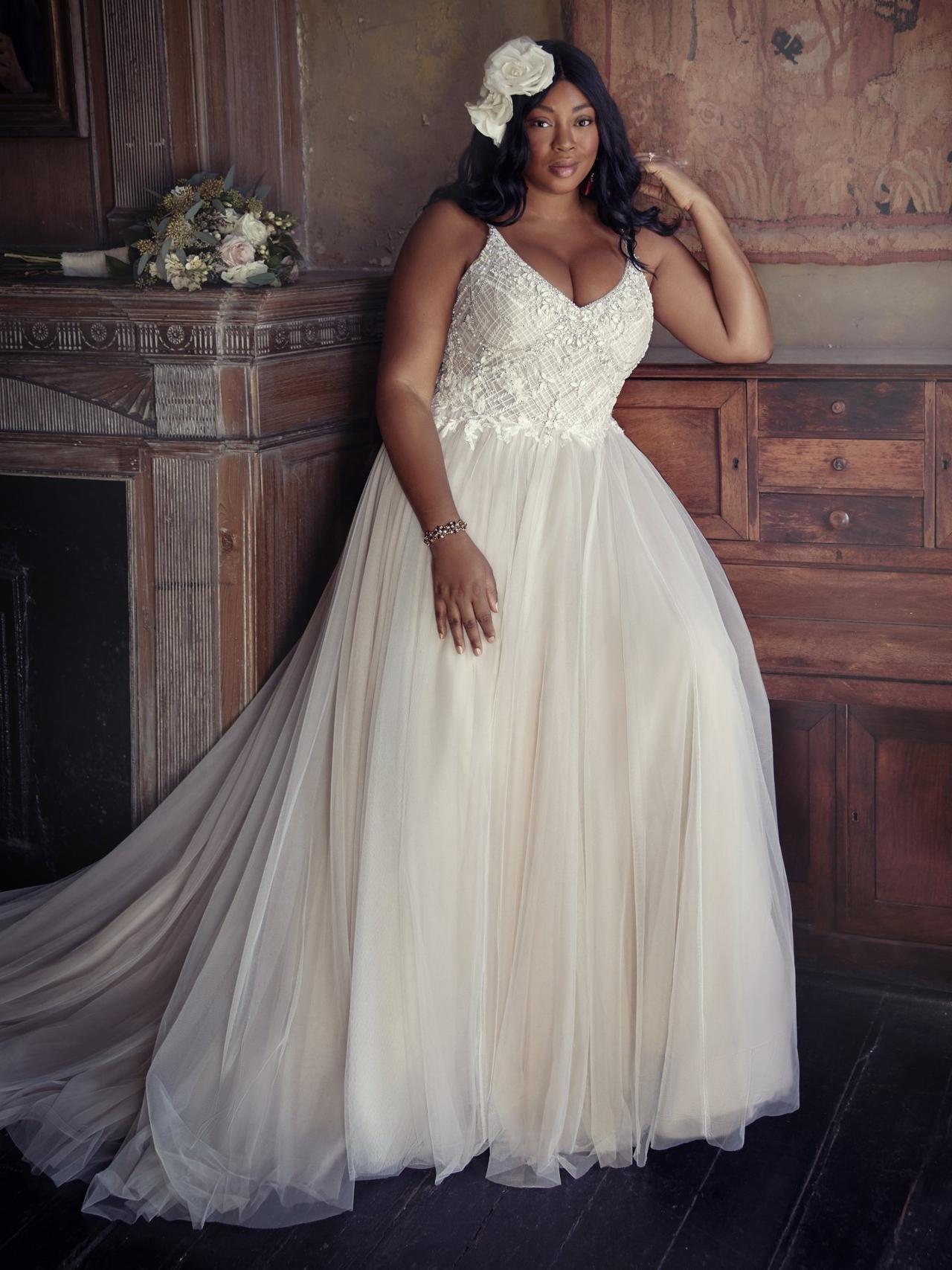 Image: Maggie Sottero
It's torture if you fall in love with a dress you can't afford.
Here's what to remember:
A wedding dress should suit you and you should love it, irrespective of the designer or price tag. It doesn't matter where it's from or who it's by as long as you can't imagine yourself wearing anything else. If you find a dress for £250 on the high street that you adore, never feel like it's not a 'proper' wedding dress.
If you're after a certain designer, or you've found your dream dress in a store but the cost of it is keeping you at bay, go pre-loved. Great second-hand dress sites include Still White or Bridal Reloved.
"If you are on a lower budget, all boutiques sell off samples at the end of the season so you can still have your dream dress without feeling like you have to compromise on quality, i.e. buying a replica online from China," says Jo.
If someone else is paying for the gown (a parent, your partner), get a firm limit on your budget or be prepared to pay the difference yourself.
READ MORE: Your Guide to Sample Sales in the UK
10 Things Not to Do When Choosing a Wedding Dress
Buy a too-good-to-be-true discount 'designer' dress online. It's probably a scam.
Dismiss colour. White or ivory don't work on everyone; be bold!
Ignore your budget. We can't say this enough.
Not communicate with the shop assistant. They need to know what you and like and what you don't.
Take dodgy underwear. You'll be getting pretty intimate in the changing room with the shop assistant, and you'll want to wear underwear similar to what you'll wear on the day.
Feel embarrassed to ask questions. However silly, they'll have heard it before.
Forget to calculate in alteration costs and extras.
Do it all online. You'll want to feel the fabric and try on the dress in person.
Go to an unregistered boutique. Make sure your bridalwear shop of choice is RBA (Retail Bridal Association) registered.
Forget to have fun!
If you're starting the search for your wedding dress, our wedding fashion section is full of articles to help you. Our current obsession is wedding dresses with pockets!