The Best Hen Party T-Shirts, Including Friends, Disney & More!
Looking for the perfect hen party t-shirt? Our edit has a style to suit all budgets and tastes - from personalised prints to chic tees starting at just £9!
We have included third party products to help you navigate and enjoy life's biggest moments. Purchases made through links on this page may earn us a commission.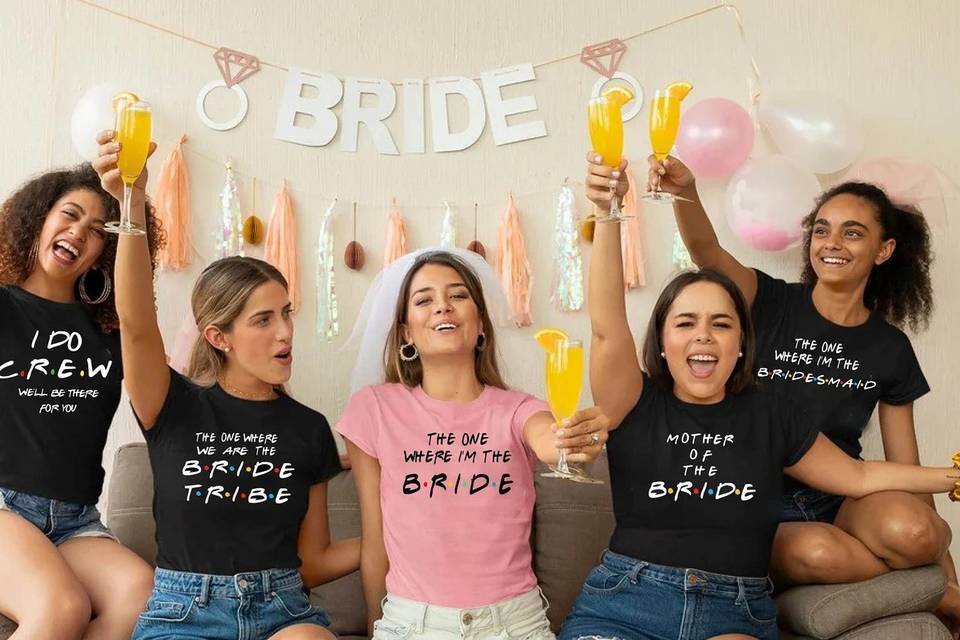 Once you have the hen party plan sorted, next on your to-do list will be to organise outfits. While we love a dress (and have plenty of those to choose from in our hen party outfit edit), you can't go wrong with hen party t-shirts. They're practical, easy to style and you can get the whole crew matching!
Need help deciding which hen night t-shirt design to go for? Consider your nearlywed's personality and the kind of hen party it is. Funny hen do t-shirts will work brilliantly on a night out and have everyone laughing, while personalised hen party t-shirts make a lovely keepsake.
We've found the very best hen party t-shirt ideas on offer to keep everyone happy and looking the part - from Disney-inspired hen do t-shirts, to fashion-forward festival ready tops and classy hen party t-shirts.
15 of Our Favourite Hen Do T-Shirt Ideas
1. I'll Bring The Funny Hen Do T-Shirt - from £21.50, Etsy
Let every member of the hen party's character shine by opting for these 'I'll bring the..' hen do t-shirts. Available in over 20 colours, you'll have so much fun deciding who gets which design.
We love the idea of making it a part of your hen party game to guess which you paired up to each person - whoever gets the most right wins a prize.
Sizing: XS-2XL
Pros & Cons: These t-shirts work best if you know the hen party attendees quite well so you can match them up with their personalities. If you don't, put your idea on the hen party group chat and get some help from the other hens.
2. Hen Party T-Shirts - from £8.95, Etsy
Hen do personalised t-shirts are thoughtful and lovely keepsake that your nearlywed will really appreciate. You can customise these tees to match your favourite colours, the date you are celebrating and the destination. It's also a great way to reveal the location to your pal, if you'd been keeping it a surprise!
If you've left ordered the hen party t-shirts until the last minute, these are a great pick as reviews state they arrive quickly. "With a hen party in less than a week I was in a little bit of a panic getting everything organised. Caroline responded to my messages so quickly and the t-shirts arrived promptly. Definitely recommend for future hen parties!" says one customer.
Sizing: S-XXL
Pros & Cons: It's an excellent choice if you are wearing your hen party t-shirts on a long journey as it'll be so comfortable. You can surprise them at the airport with this and they'll be delighted!
3. Little Miss Bride Vibe T-Shirt - £15.99, New Look
One of our favourite pieces from New Look's hen party collection is this cool Little Miss bride vibe t-shirt. You've probably seen the the Little Miss trend all over your social media, so it's right on trend.
Remember to get the matching Little Miss Bride Tribe tees too!
Sizing: 6-16
Pros & Cons: This is a really unique and funny hen party t-shirt - you'll be hard pressed to find this design anywhere else.
4. Personalised Hen Party T-Shirt - £19, Hitched Shop
If you are bringing together people who haven't met before at the hen party, we love the idea of giving everyone a personalised name t-shirt. This option from the Hitched Shop is available in black, pink or white.
Sizing: XS-1XL
Pros & Cons: The simplicity of this design means it'll go with any outfit or colour theme, however it is far from boring. We love the option of metallic lettering.
5. Personalised Festival Hen Do T-shirt - £22, Not On The High Street
Fun-loving nearlyweds will adore the idea of throwing a festival hen party so if that is what you have planned, this colourful t-shirt is a fabulous thought. It comes in, white or cream and you can add a card and gift wrap.
Pop them in your hen party bags and you'll have some very happy hens!
Sizing: 8-24
Pros & Cons: They're made from 100% making them perfect for day or outdoor activities or to wear for a night out so you can stay warm and comfortable. The front is pretty plain - it's all about the back, so make you get some snaps from behind.
6. Personalised Hen Party T-Shirt - from £8.97, Etsy
These adorable t-shirts will work for all kinds of hen parties - whether you're hitting the club or throwing a hen party at home. They can be personalised with your own text and are available in black or white but if you want another colour, you can message to enquire.
Sizing: S-XL
Pros & Cons: According to the reviews, these t-shirts run small so be mindful of that when ordering if you want an oversized look.
7. I Do Crew Slogan T-Shirt - £12.99, Yours
Made from soft jersey fabric, you'll all look amazing and stand out from the crowd in this hot pink 'I Do Crew' t-shirt. Complete the look with jeans and trainers or dress up with heels.
We're big fans of the bride squad and bride design too, if you want to include the word 'bride', but the 'I Do Crew' wording is super inclusive.
Sizing: 14-40
Pros & Cons: These hen do t-shirts are machine washable so you won't have to worry about any spilt drinks. We would recommend washing them inside out though, to protect the lettering and design.
8. Nautical Hen Do T-Shirts - £12.99, Etsy
Deck your brides-mates out with these nautical t-shirts for a sea-riously fun night of celebrating! They are excellent quality and you can personalise them with names on the back, plus they come in various colourways.
If you're planning a hen party that is near the coast, these are for you.
Sizing: XS-3XL
Pros & Cons: They're a great choice if it's not just a group of girls going out together too, as they've got more of a gender-neutral feel to them. One review said that they have a long body and long style sleeves, but these can be rolled up if needed and the sides tied into a knot if you want a closer fit.
9. Don't Cha Wish Bride-To-Be T-Shirt - £24, Not On The High Street
A brilliant gift for the bride, this fun slogan t-shirt is available in white or pale pink and can be wrapped in a gorgeous box so it'll feel extra special. It's simply asking to be worn to a karaoke bar while you belt out Pussy Cat Dolls!
Sizing: 8-18
Pros & Cons: All t-shirts are approved by the Fair Wear Foundation and are made from ethically sourced, 100% organic cotton. You'll be doing good, while looking good.
10. I'm Getting Meowied Cat Hen Party T-Shirt - £14.99, Etsy
Cat lovers rejoice, if your bestie's four-legged friend is their world, she'll adore these feline t-shirts. Pair with ears, a tail and whiskers to truly look the part! One shopper said that it was a "Good quality t-shirt, arrived on time and exactly as described."
Sizing: 8-20
Pros & Cons: They use high quality vinyl to ensure that the lettering stands out. If you are unsure on sizing, we recommend sizing up as they won't accept returns.
11. I'm Getting Married Hen Party T-Shirts - £17.95, Etsy
Whether you're the one getting married, the one getting drunk, or both, these hen personalised t-shirts are super stylish. They're the perfect combination of fun and chic! Crafted from soft cotton, the rose gold lettering is stunning.
One shopper stated that they, "Ordered these for my hen do, they were great quality and sizing was true to size. I couldn't fault it at all as was delivered on time too. Definitely recommend."
Sizing: XS-5XL
Pros & Cons: It'll take a second or two to read what these hen party t-shirts say but once everyone has they are bound to be laughing.
12. Man I Feel Like a Bride T-Shirt - from £14.15, Etsy
These affordable t-shirts are so cute we'd wear them even after the hen party celebrations are over. Pick from ten different colours to suit your taste and you're good to go!
They'll look lovely when tied in a knot like the above photo, with jeans and heels. And who DOESN'T love a low-key Shania Twain reference? If you know your bestie will adore these, you might want to point them in the direction of these country wedding songs...
Sizing: S-XXL
Pros & Cons: These classy hen party t-shirts are available in colours that are different from what you'd usually find - expect heather, teal and peach.
13. Drunk In Love Hen Party Bridesmaid Shirts - £16.99, Etsy
If the hen party is gonna be a night of drinking, you'll need an appropriate hen night t-shirt to wear and we reckon these 'Drunk in Love' and 'Just Drunk' tees do the trick. Each soft cotton jersey shirt has a crew neck and is printed with a text colour of your choice.
Sizing: XS-XXL
Pros & Cons: The t-shirts are unisex sizing for a loser fit which makes them ideal for customising. Take inspo from above and roll up the sleeves, or tie the side up with a knot.
14. Personalised Friends Hen Do T-Shirts - from £11.99, Etsy
We've learnt some valuable wedding lessons from Friends and if you have too, it's only right to wear these awesome TV-inspired t-shirts. There are so many fun slogans to choose from - we're loving the 'we'll be there for you' design.
They're ideal if you are planning a night-in watching all the best wedding films and TV shows.
Sizing: S-XXL
Pros & Cons: These funny hen party t-shirts will make an amazing photograph - gather the whole crew and set your phone up with a timer to get everyone in.
15. Disney Hen Party T-Shirts - £15.99, Etsy
Will you be attending a Disney themed wedding? Nod to this at the hen party with these amazing Disney inspired t-shirts. They come in white, pink, black, grey or navy with rose gold lettering that will shine beautifully and let everyone know you're celebrating a hen do.
"Great Disney themed t-shirts for a hen party! Correct colours and sizes arrived in good time," explains one reviewer.
Sizing: S-3XL
Pros & Cons: These are instantly recognisable as Disney but they are aren't too in your face so can still be worn with all kinds of outfits. If you want to go all out, pair with mouse ears or tiaras!
What to Wear With a Hen Do T-Shirt?
The great thing about a hen do t-shirt is their versatility - you can pretty much style them with anything! If you are taking part in an activity hen party, pair with trousers and trainers and for a night out or classy hen do, dress up with accessories.
You can also personalise your hen do t-shirt by cutting the sleeves, tucking it into a skirt or tying the front up in a knot.
Find even more hen party outfit ideas in our edit - it covers everything from wedding-white dresses to cool co-ords