44 Cosy, Cheap & Cute Winter Date Ideas That'll Turn Up the Heat
Whether your vibe is cute and cosy, or romantic and intimate, these winter date ideas have something to suit every couple *and* budget
We have included third party products to help you navigate and enjoy life's biggest moments. Purchases made through links on this page may earn us a commission.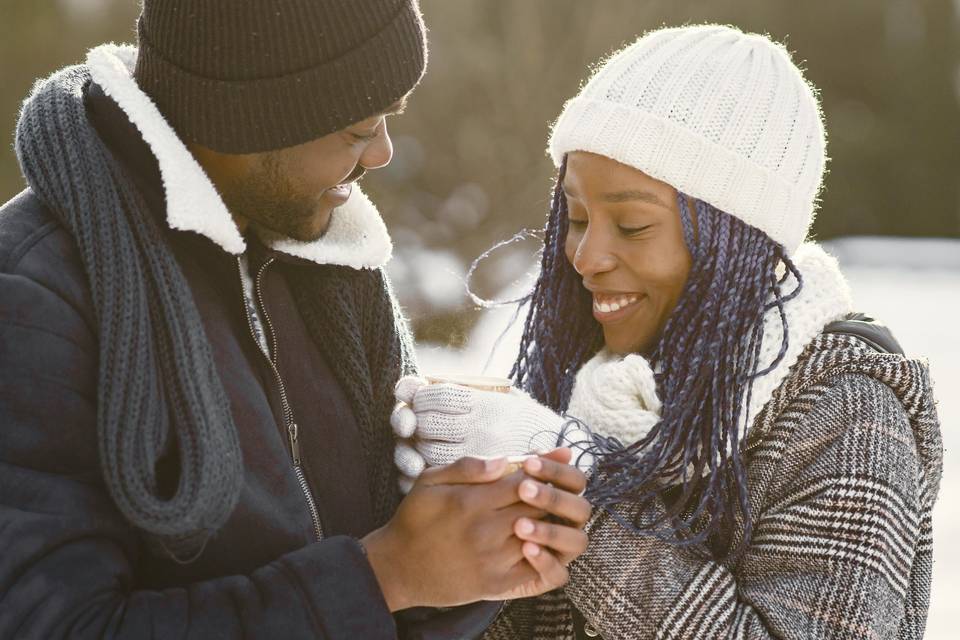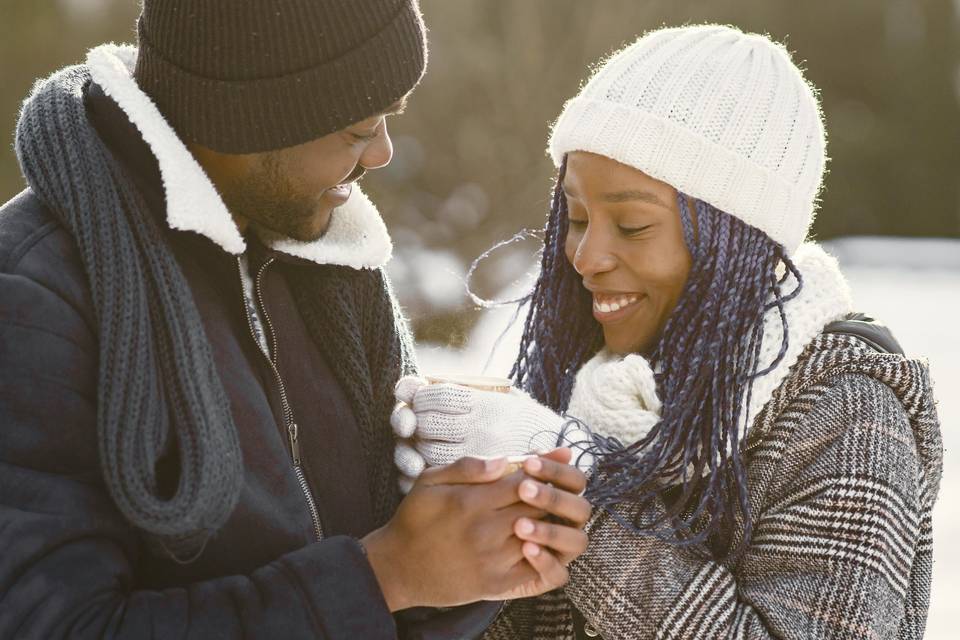 The colder months are perfect for amping up the romance between you and your love, and there are so many winter date ideas to enjoy.
Whether it's staying in watching movies and sipping on mulled wine, or getting out and about and exploring Christmas markets, there are dozens of awesome winter date ideas in the UK to keep you busy during the festive season.
And it doesn't matter whether you're planning a first date or you're celebrating a milestone wedding anniversary, our selection of date ideas all offer fun ways for you and your partner to connect.
We know how tight wallets can feel during the winter, because you've either got Christmas on the horizon or just gone, so we've also found you the best cheap and even free winter date ideas - you're welcome!
Winter Date Ideas: 44 Cost, Cheap & Cute Ideas to Help You Turn Up the Heat
Let's be honest, life is not like the rom-coms, there's no carriage rides in the snow in this list. instead there's pub quizzes, hot tubs, independent cinemas, gingerbread houses, board games and all those other things that make winter the best time of the year, whether you're looking for winter dates in London or across the UK.
Free Winter Date Ideas
Winter dates don't have to cost you a penny. Don't believe us? These free winter date ideas prove we're right!
1. Play Christmas Light Bingo
Get that scarf on and head out into your neighbourhood for one of our favourite date ideas in winter.
Step one is to write yourself a bingo grid of Christmas light displays – Rudolph, Santa falling off a roof, house with enough fairy lights to be visible from space, nativity scene, sled. Next step - go for a wintery walk as a couple and shout bingo whenever you've seen a whole row.
Last one to get a full house buys the drinks/cooks dinner/walks the dog. It'll give you lots of ideas of how to then decorate your own house/flat/terrace – which is your task for the next day.
2. Visit a Christmas Lights Display
Lots of stately homes and gardens across the country have started hosting Christmas light displays offering a magical walk through their grounds with Insta-worthy spots aplenty.
Many towns and cities also put on pretty impressive light displays and visiting them is a perfect, free winter date idea. Grab a mulled wine and have a stroll around, followed straight after by a visit to the pub to warm up.
3. Take a Hike
It might sound crazy to suggest going outside as one of our favourite winter date ideas, but hear us out. That crisp, cold air, paired with some takeaway coffees can make for a really nice couples activity.
On a crisp autumn day, you'll see orange and red leaves float down around you, while in winter, you might catch a sprinkling of snow. It's a free winter date that you can do any day, at any time.
4. Play a Board Game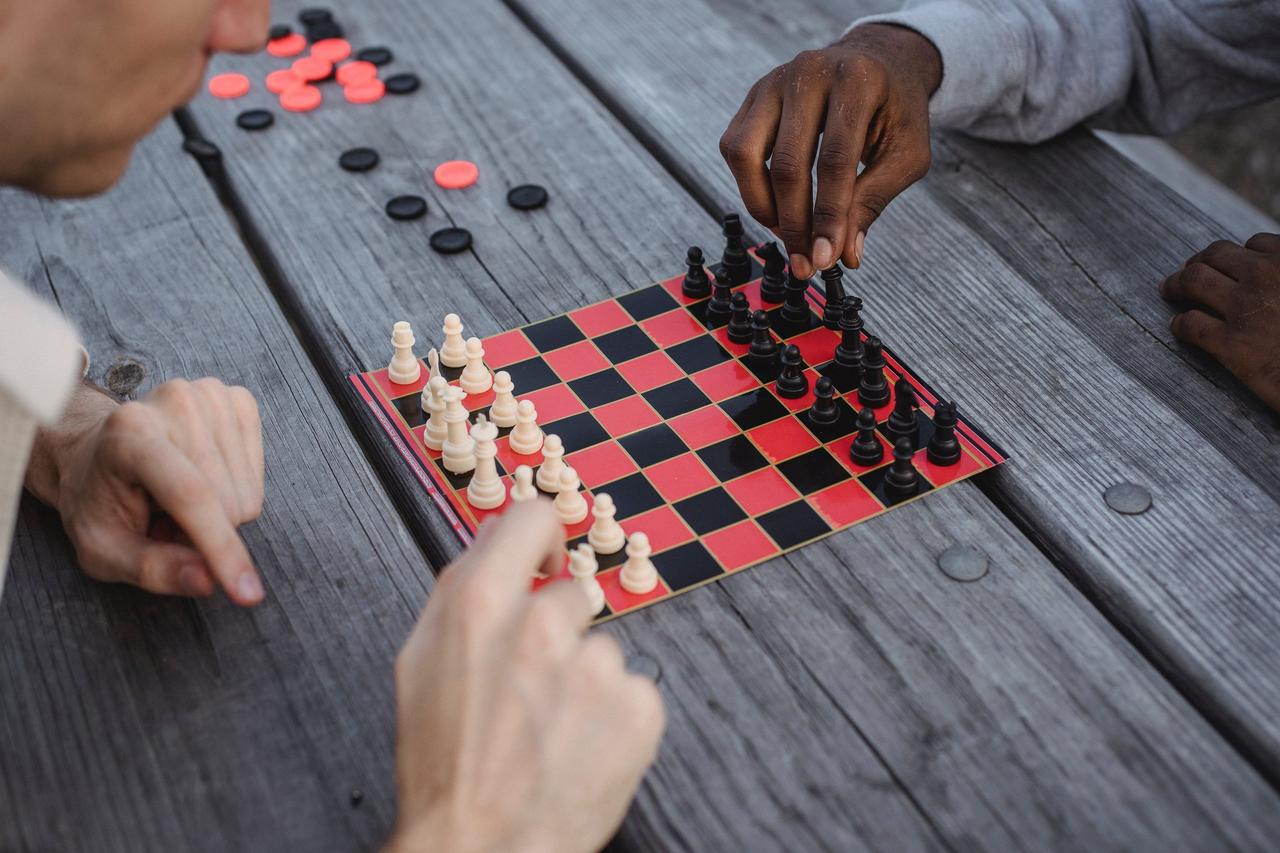 We love winter date ideas that make the most of what you already have at home - and this is one of them. Either dust off one of those old games gathering dust in a drawer or head to a board game café for a cheap few hours of winter date fun.
You could even elevate the at home version with a charcuterie board and a bottle of wine - how cute?
5. Head to a Bookshop
Warm, indoors, romantic? Tick, tick, tick. Going off to your local bookshop is the perfect winter date idea! Set each other little challenges like finding the silliest or funniest titled book you can or an author with the same name as you.
End by buying each other one of your favourite books as a present; it's a hugely enlightening way to get to know someone and adds a thoughtful element to your winter date.
6. Create a Cocktail Party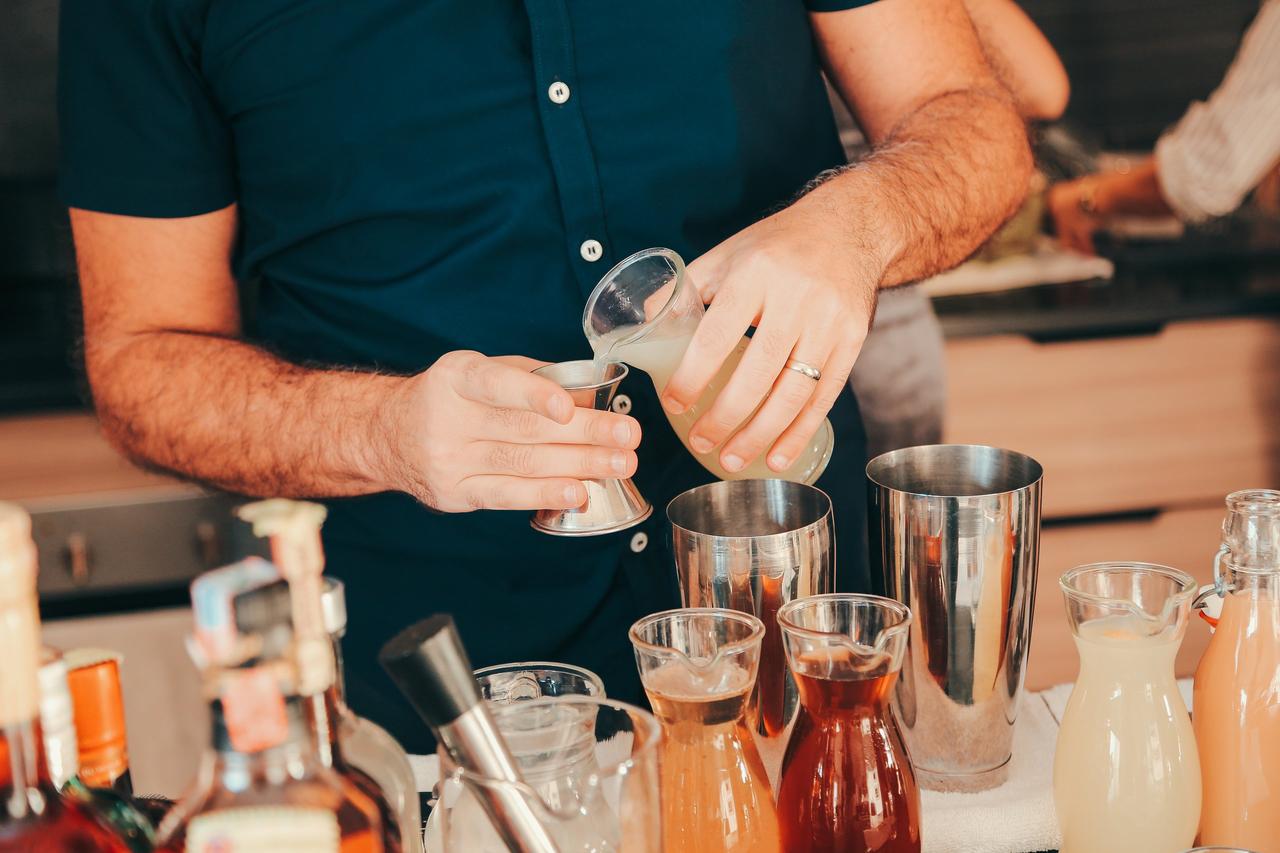 You know all those half drunk bottles of spirit and liqueurs getting dusty in the back of your cupboard? Maybe they've been left over from a party or used once in a recipe? Well, we say put them to good use on a cold winter night and get mixing.
It's another free winter date idea that utilises what you already have at home, and can even be made into a group activity. Get your friends round for a double date and task yourself with creating a festive cocktail out of all the forgotten booze.
7. Warm Up in a Museum
Most big cities have a free museum or two that you can visit, and almost all with have special seasonal activities going on, perfect for winter dates. Stately homes and even garden centres are fab for activities too: normally you can sign up for cheap classes like wreath making and card printing, attend a storytelling session or theatre performance, or stop by a Santa's grotto - it's not just for little ones!
If you can combine a museum date with a day in London, the Natural History Museum has a beautiful ice rink, and it even does night time sleepovers for adults with live music, stand-up comedy, a pub quiz, insect tasting and more.
8. Sledding, Snowmen and Snow Angels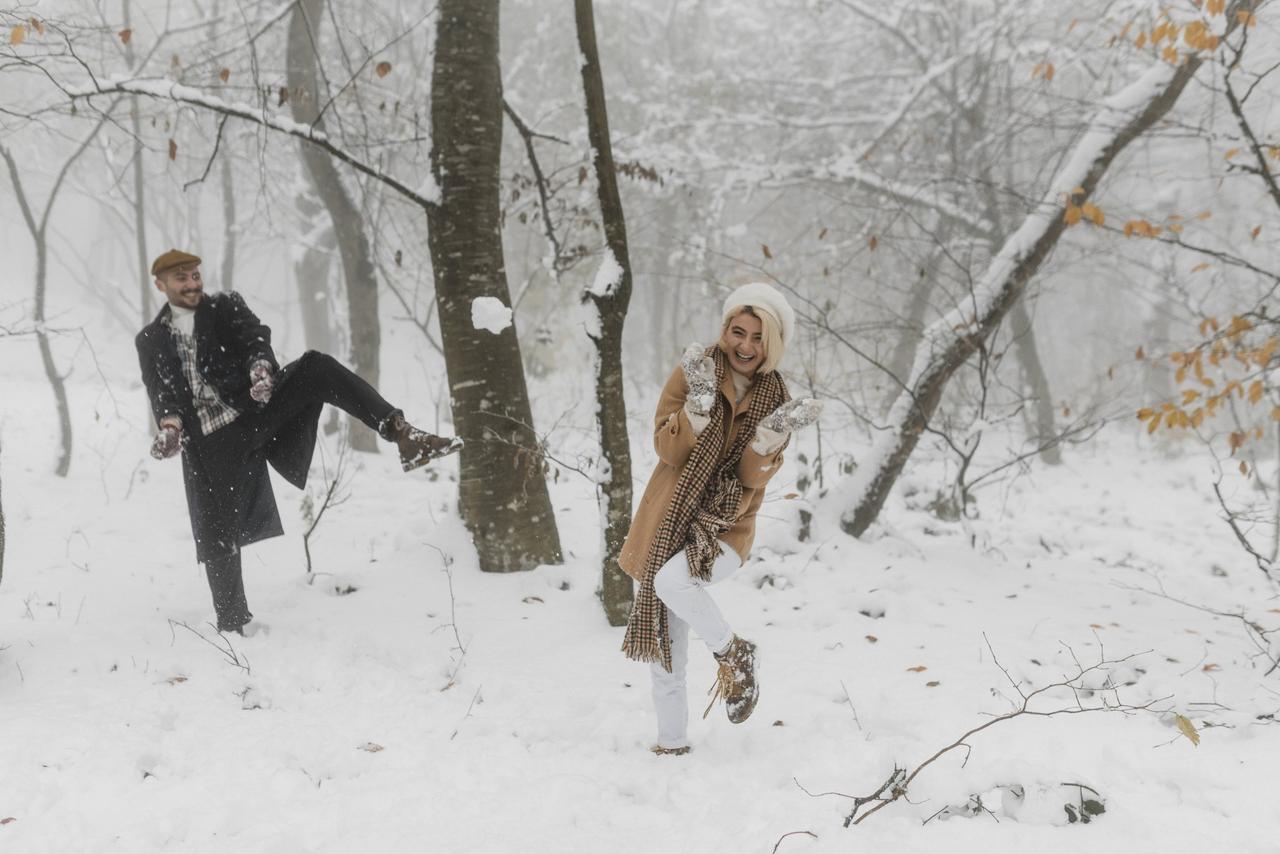 If there's a nice layer of snow on the ground, make full use of it for a totally free winter date idea. Snowball fights and making a snowman and snow angels are totally cute and romantic, while a plastic sledge is cheap as chips and you can have so much fun on the hills near your house. Warm yourself up with a hot chocolate after (we won't tell if you add a little rum).
9. Volunteer
Animal shelters and homeless charities need even more help in the winter months when the weather turns cold.
Choose a cause that means something to you both and get volunteering for a winter date that gives back – it's also a great way to find out even more about each other's values. If you don't have a lot of time to spare, spend some quality time walking a cute pooch: find one on Borrow My Doggy or take out a friend's.
10. Stargaze
A dark, clear night is the perfect time to get outside and spot some constellations. An app like StarView Lite is a free planetarium in your pocket; all you need to do is point it at the sky and it'll identify the stars, satellites and more above your head.
You can also take your winter date night to the next level and buy stargazing experiences where your own astronomer will set up telescopes and guide you through a tour of the solar system.
Cheap Winter Date Ideas
If you've got a few pennies to spend on an evening together, you'll love these cheap winter date ideas that prove romance doesn't have to mean splurging.
11. Have Breakfast for Dinner
Pancakes, waffles, French toast: breakfast really is the best meal of the day. Cook yourself up a breakfast treat for dinner or head to a restaurant like The Breakfast Club for an all-day dining treat.
We love this as a winter date idea because in the colder months, all you want is warmth and comfort, and there are few things more warming and comforting than a hearty cooked breakfast or delish stack of pancakes. Yum!
12. Explore a Christmas Market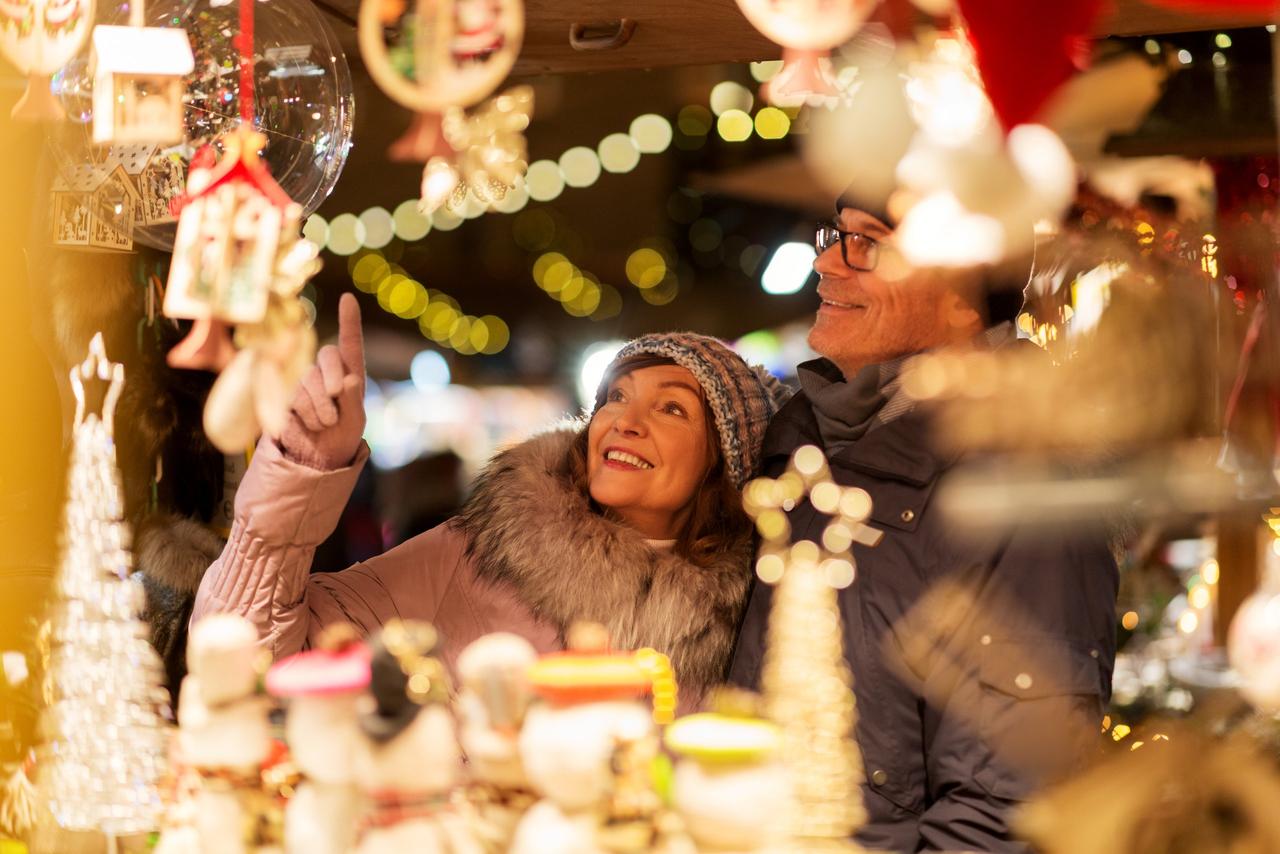 Under the twinkling lights of a giant Christmas tree, you'll find delicious food, drinks, crafts, carol singers and more at during a Christmas market date day. There's some famous ones around the country which are well worth the visit, like the German market in Birmingham, Winchester Cathedral's Christmas market and Winter Wonderland in Hyde Park.
This website lists the Christmas markets in the UK and there's definitely going to be one near you where you can top up your dose of good cheer.
13. Laugh at a Comedy Club
No better way to get your date laughing than at a comedy club. It's such a great winter first date idea, but is also great if you've been together 10+ years too.
You can go to a comedy store in your city, but some of the best, under-the-radar comedians can be found at comedy nights at your local pub. Even if they end up dying on stage, you're guaranteed a laugh for less than £10.
14. Pub Quiz Time
Get a group date going at a pub quiz, or tackle one as a pair.
A little healthy competition is essential for any relationship, so hit it off with some intellect-testing trivia and good conversation, and it always helps if you win the bar tab at the end too. If you've got a joint interest – Harry Potter, Game of Thrones, pop music, Dingbats – we recommend you try to find niche pub quizzes in your area.
15. Take a Brewery Tour
Most brewery tours start at around £12 - £15 each with tastings and a pint included, especially incredible seasonal flavours – you can't ask for better value than that for a winter date idea.
And if beer isn't your thing, gin distillery tours or a guided wine tasting evening are brilliant too.
Prepared to splash the cash? Try a 'brew your own' session. At London Beer Lab, you spend the day brewing your own beer from scratch and collect your own bottles three weeks' later when it's ready to drink. The perfect excuse for a follow up date!
16. Go Ice Skating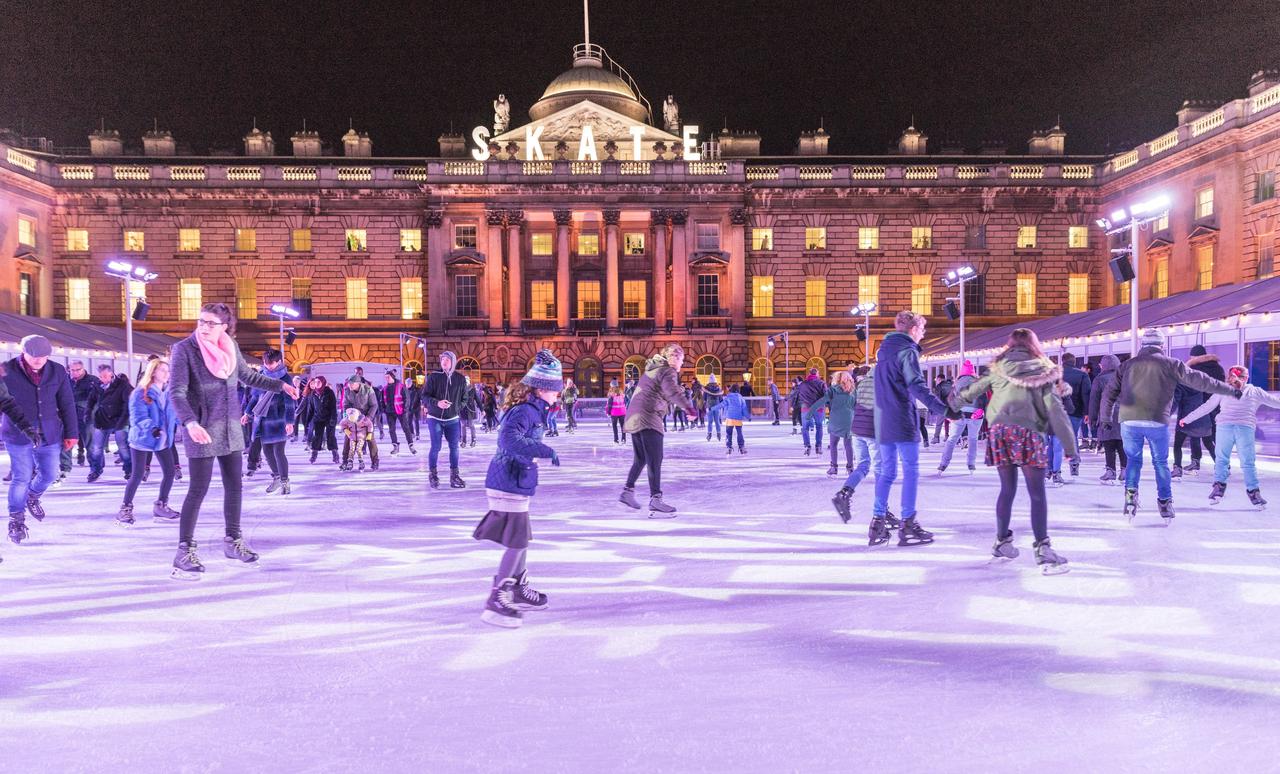 A winter date idea classic that's straight out the movies is taking your love ice skating.
If you can't skate, you can hold each other up at the side of the rink and laugh as you slip and slide your way round followed by a much-deserved hot choccy. If you can skate, you'll feel like the rink's resident Torvill and Dean as everyone looks on with jealousy and awe.
It's the perfect way to spend an hour and during the winter months you'll find a number of seasonal outdoor rinks set up near you.
17. Pick a Random Groupon Date
On the Groupon website, you'll find a section called 'Things to Do' with tons of offers in your local area.
Make a pact that you must do one of the first 10 activities that shows up, whether that's indoor skydiving or trampolining to axe-throwing and a murder mystery night. They're all excellent value and guaranteed spontaneous fun.
18. Charity Shopping
Vintage, second-hand or charity shops are goldmines for ugly Christmas jumpers. See who can put together the most garish outfit for each other. Loser has to buy at least one of the articles of clothing and wear it for the rest of the day (hey, at least you're supporting charity, even if you look awful).
Romantic Winter Date Ideas
Winter is a season to up the romance on your dates, get cosy and spend quality time together. Here are our favourite and most romantic winter date ideas.
19. Seek out a Hot Tub
Most spas will have a hot tub – you can check out the best couples spa retreats here – or combine it with a weekend away and hire a cottage that comes with a hot tub.
There's nothing more special than sinking into a hot, bubbling tub with a glass of wine to escape the chilly air around you.
20. Do a Winter Wonderland Photoshoot
Nope, not a photoshoot in Hyde Park. If you're looking for some cute couple photos, hiring a photographer to shoot you is one of our fave winter date ideas.
You only need them for a few hours, shooting some seriously magical portraits of you.
A snowball fight, decorating your tree, with your pet or out in nature are all great photo shoot ideas. No money? Use a self-timer.
21. Go on a Weekend Getaway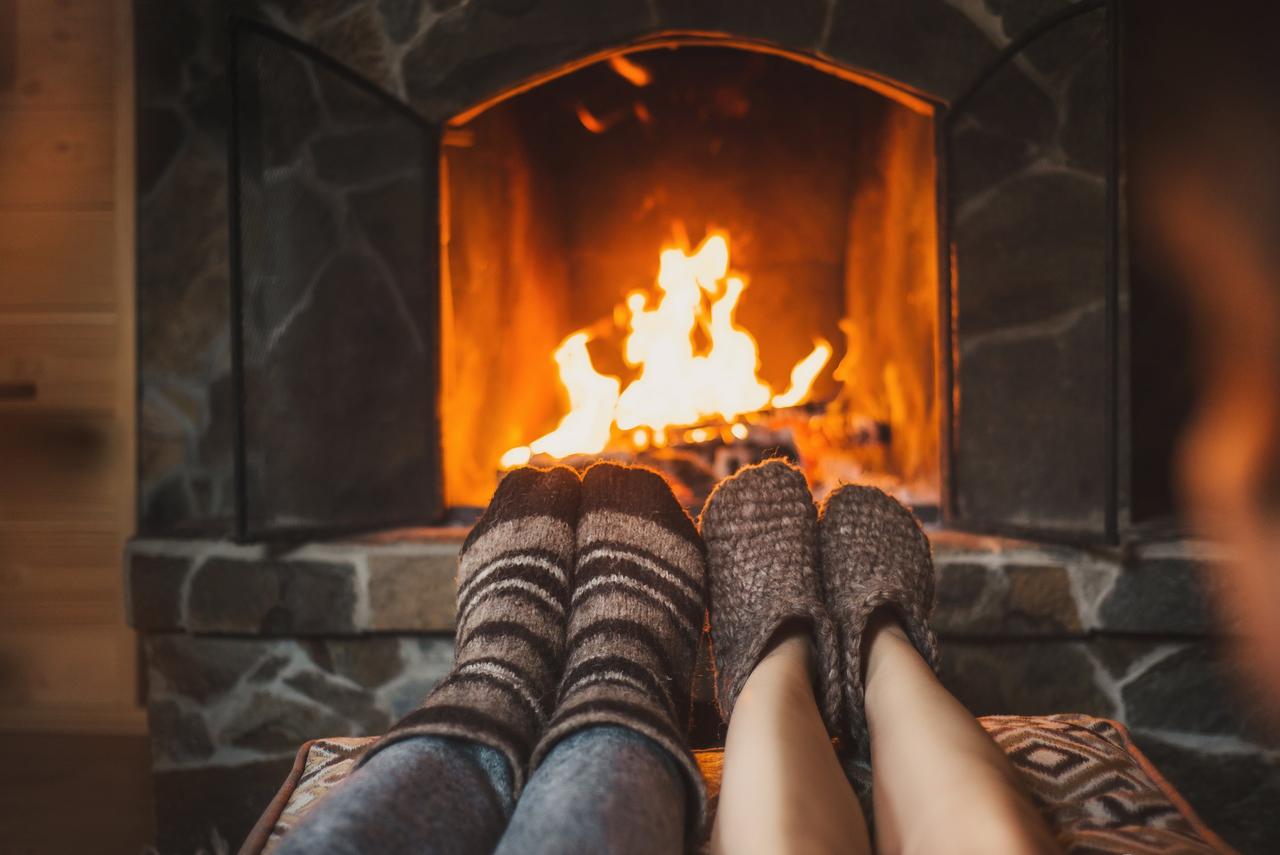 Go on a road trip to a cute country hotel where you can go on long walks, snuggle up in front of a fire and plan your retirement in the sweet little villages all around the area. A winter sun break might be appealing, but we promise the UK in the winter months is where the romance is really at.
These are our favourite minimoon hotels in the UK that are also perfect for a romantic getaway in winter.
22. Take a Cooking Class
Cooking classes are great for a date as they involve you working together and you get something delicious to eat at the end.
In winter, most cookery courses cover lots of warming, vibrant cuisines to keep the dark nights at bay, like Mexican street food, Thai feasts, and Bombay café favourites.
23. Cook a Romantic Dinner
It sounds simple, but one of the most tried and tested winter date ideas is to simply cook your partner's favourite meal and plan a candle-lit dinner at home.
Shop for their favourite ingredients, tell them to leave you alone in the kitchen and relax as you prepare the dinner of dreams. Trust us, it'll go down a treat.
24. Make a Relationship Scrapbook
Cosy up in front of the fire and spend a winter date night putting together a scrapbook of your entire relationship.
All you need to do beforehand is get lots of pictures printed and you're good to go.
Unusual Winter Date Ideas
25. Be a Tourist in Your Own City
We mean off-the-beaten-track touristy things. The best place to find something really unusual to do is by searching the Atlas Obscura: it lists all the strange, cool and hidden things to do in your region.
Secret gardens, awesome arcades, tiny museums and art galleries in an unmarked house; they're all waiting for you if you just go looking.
26. Try Hot Yoga
Freezing outside? Warm yourself up with a hot yoga session as a winter date idea.
You can do hot – or Bikram – yoga at any level of fitness and it involves doing a series of poses in a room heated to between 35 and 42 degrees.
There's loads of physical benefits to the heat and you could discover a new hobby you love doing together.
27. Go Indoor Rock Climbing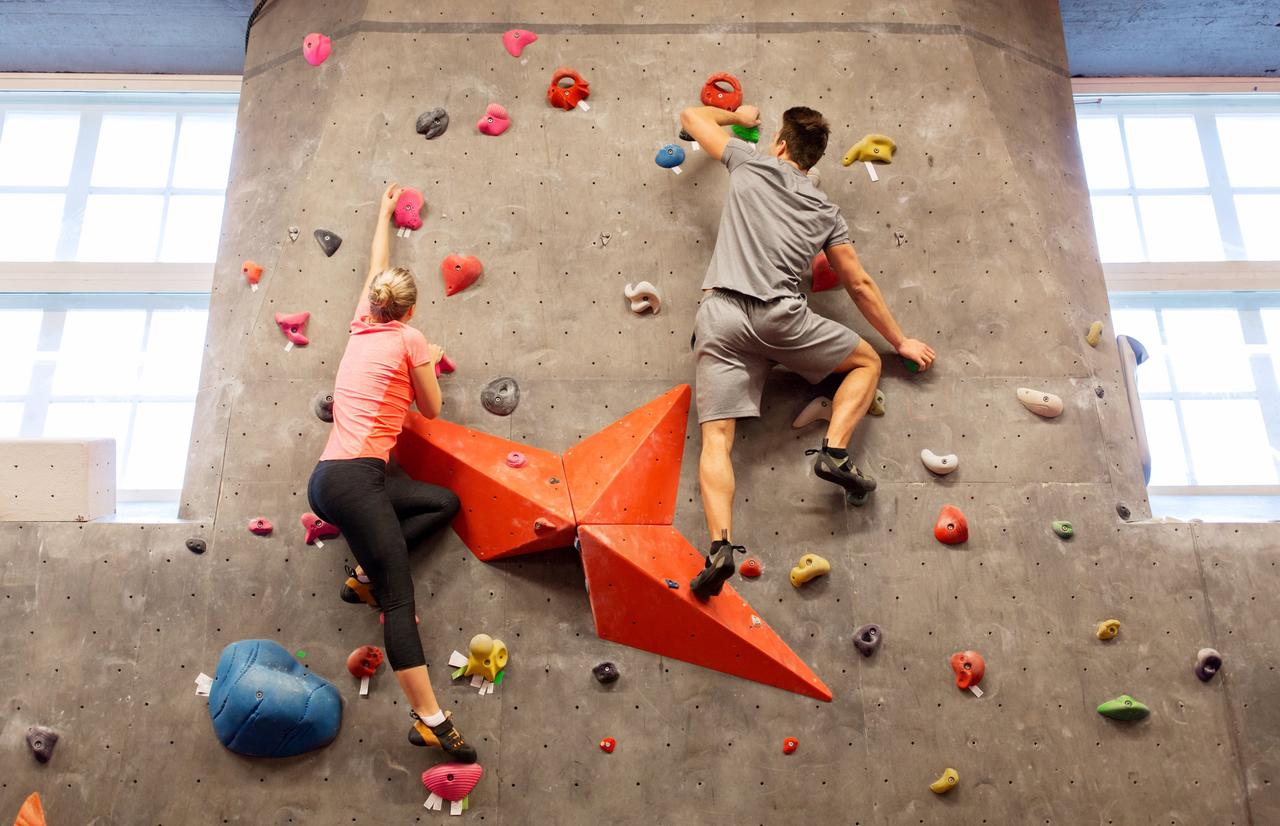 Outdoor activities are pretty much off limits once the cold and dark has set in, so find an indoor activity to challenge you both and learn a new skill. Rock climbing is fab for this – just Google an indoor wall near you. Did you know adrenaline helps couples bond too?
28. Catch a Match
Rugby and football seasons in the UK take place over autumn and winter, so make the most of the events by having a sporty winter date day.
Sports fans can find local games on near them or pester a pal with a season ticket to let you take your beau on a date to a big name match.
At-Home Winter Date Ideas
29. Throw a Gingerbread House Making Competition
Each person gets a gingerbread house kit; either go for a Biscuiteers ready-made set or (Mary Berry, eat your heart out) make and bake your own using cookie cutters.
The idea is you each get the same items to decorate with – icing, sweets, strawberry laces, Smarties etc – and 15 minutes to create your masterpiece. At the end, it's reveal time! Do this as a double date and each couple can pick a winner from the other team.
30. Build a Fort
Pillow forts aren't just for kids. Take the cushions off the sofa, build yourself a magnificent hideout and top the whole thing with a blanket. Bring in some torches, snacks, a pack of cards and some spiked hot chocolate.
And if you want to turn your winter date day into a date night, mix things up at home and sleep there for a night – you might find you have even more fun than in your bedroom.
31. Go Wild With a Chocolate Fondue
Chocolate fondue kits are pretty cheap, and we promise you'll be using it time and time again. It's powered by a tea light so get your chocolate melting and set yourself up a midnight feast (it's absolutely okay to eat it at 5pm too).
Strawberries, frozen grapes, marshmallows, brownie bites, mini meringues, banana, honeycomb: sometimes you can create a dessert way better than a restaurant at home.
32. Movie Night and Mulled Wine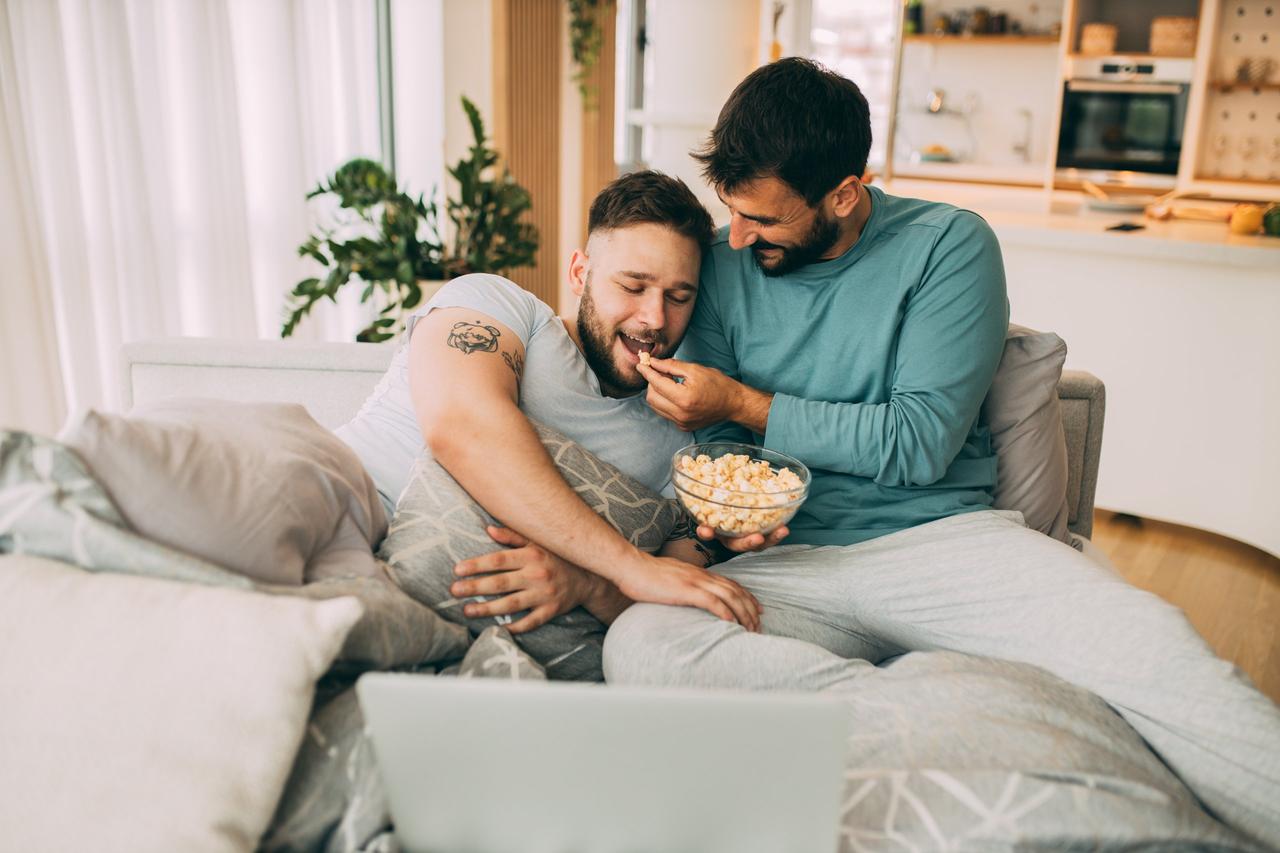 Mull yourself some wine (follow this easy recipe here), wrap yourself up in blankets and snuggle up in front of a movie. So simple, but seriously romantic. If you want go the whole hog, buy a projector and set it up against a white wall or screen and surround yourself with all the blankets and cushions you can find. It brings a whole new meaning to Netflix and chill.
We've rounded up our favourite Christmas films on Netflix for you here, and they're all perfect for winter dates.
33. Living Room Picnic
Too cold to go outside? Indoor picnics are the way to go. Throw a warm rug on the floor, put a classic Christmas movie on the TV (The Holiday and Home Alone are our winners), open a bottle of wine and order in some takeaway. It's a cheap, fun and romantic winter date you can do again and again.
34. Spend a Night by Candlelight
Try a whole date night pretending the power's gone out and using only candlelight.
Firstly, everyone's skin looks fantastic in candlelight.
Secondly, you'll only be able to eat things cooked with a candle, i.e. toasting marshmallows and melting a fondue.
Finally, you won't be distracted by your phones or the TV – instead play a board game or spend quality time talking to each other and planning your future.
35. DIY a Spa Day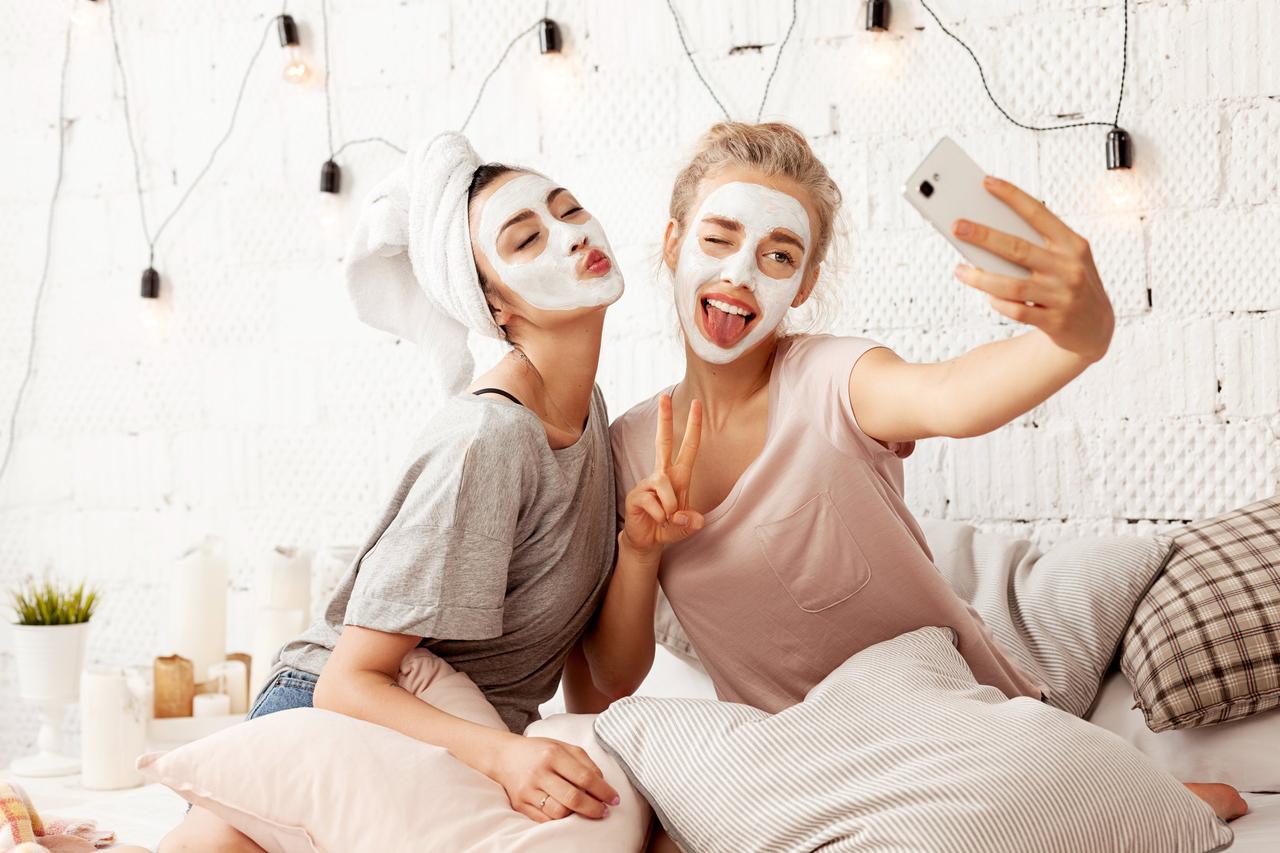 If you've got a sheet mask, a bath bomb and some massage oil at home, this is a completely free date idea. Even if you've got to pop to Superdrug it's a cheap one. An at-home spa experience is all about pampering and relaxing. Take a bath together or trade massages for a romantic night in. Try this aromatherapy massage oil with the sensual scents of ylang ylang and patchouli for only £5.99 from Amazon.
36. Make a Hot Chocolate Station
Make some hot chocolate and then scour your cupboards – or go to the shops – for all those delicious toppings: a can of squirty cream, some crushed up biscuits, chocolate chips, Minstrels, marshmallows, caramel sauce, candy canes. Go wild. The one who can squeeze on the most toppings wins.
37. Read to Each Other
It might sound cheesy, but reading to each other has been scientifically proven as a way to foster intimacy and connect with your partner.
Find a great winter book (check out Waterstones' book of the month) and take it in turns to read a chapter to each other in front of the fire. Much more enjoyable than an audio book.
Winter Date Ideas in London
38. See a Movie
Heading to the cinema is always the best thing to do when it's pouring with rain outside, and it's ideal for those looking for winter date ideas in London, as there are so many unique cinemas to choose from.
In London, we love the movie marathons at The Prince Charles Cinema and the winter night garden at the Backyard Cinema. Loads of pop-up cinemas arrive during the winter months too, so look out for other ones in the city, too.
39. Dine in an Igloo
During the winter, some London restaurants and bars have pop up igloos that you can dine in. One of our favourites is the ones at Aviary - they are set up on the rooftop so you get all the gorgeous views the setting offers, whilst remaining cosy in a winter-themed igloo. So cute.
40. Kew in the Dark
Wedding venue and botanical hotspot Kew Gardens in Richmond has the most incredible winter activities, the best one being their Kew in the Dark event which runs every year. The team here light up the entirety of the venue and put on a show for people to come and see.
It's an absolute must activity to add to your list of winter date ideas in London - trust us.
41. Visit a Market
London is full of Christmas markets, from Southbank Centre's Showcase to the ones in Leicester Square, Trafalgar Square, Covent Garden and more, you will never run out of ones to visit and explore on a winter date in London.
42. Admire the View
Another brilliant reason to embrace winter dates in London is the fact that you have so many places to choose from to get a view of the city looking all crisp and festive.
From the rooftop at Wagtail (grab a cocktail while you're there, to the pods on the London Eye and the View from the Shard experience, you can catch a view of London in winter from almost every angle, and they're all worth a visit.
43. Head to Winter Wonderland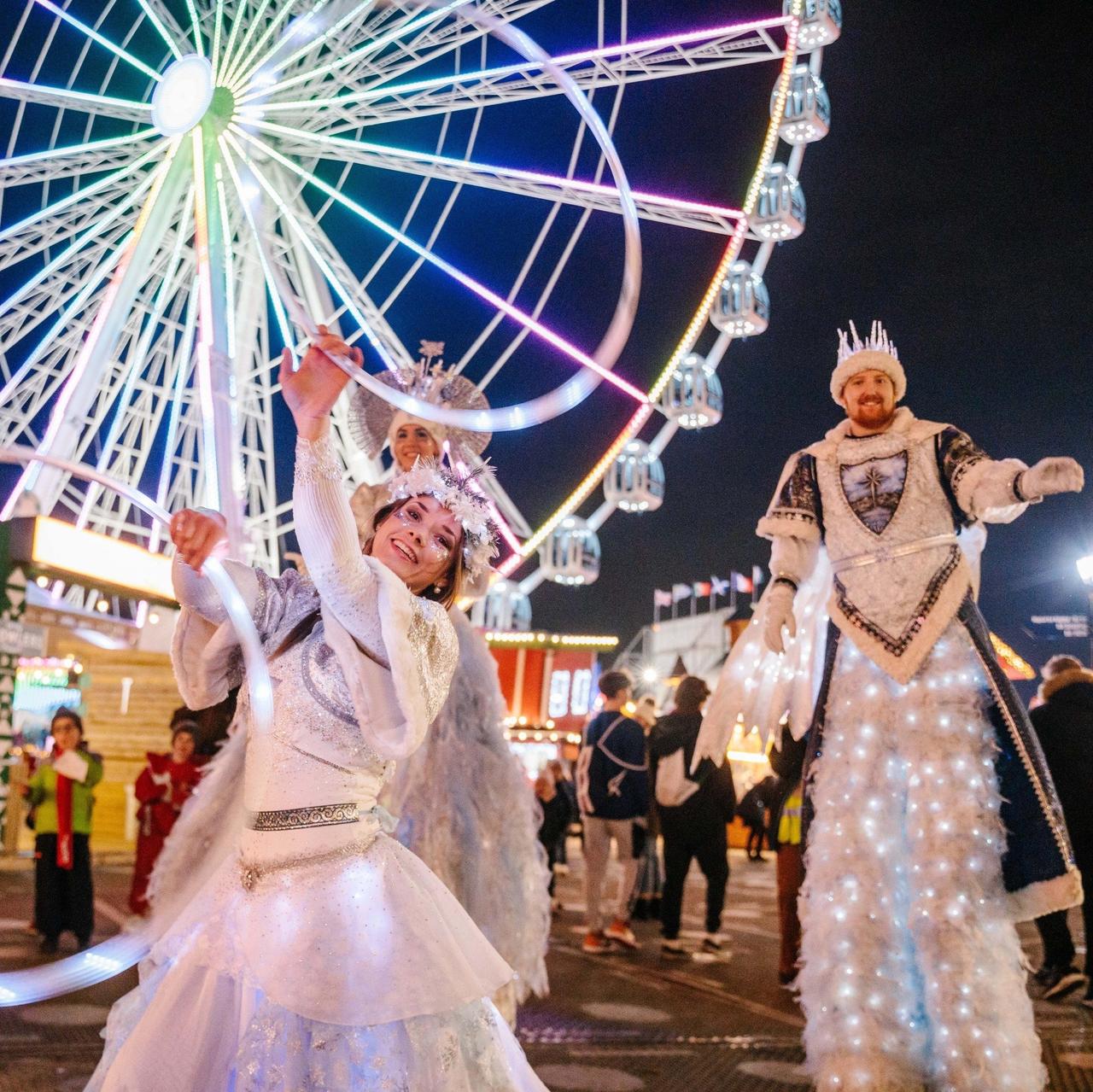 Perhaps one of the most popular date ideas in London is visiting Winter Wonderland in Hyde Park. It's a must-do (preferably at the time when the crowds aren't too big).
From karaoke bars and ice sculpting workshops to fairground rides, Zippos Circus, a comedy club and more, you can spend a whole day exploring.
44. Sit at a Chef's Table
Getting a seat at a chef's table in a London restaurant is a real treat, but considering the heat and the fact that they're all indoors, they aren't that suited to summer dos.
They are, however, a great date in winter, and luckily for London couples, the city is filled with swanky restaurants that offer this kind of experience. Just book in advance to avoid disappointment.
45. Drink at a Winter Terrace
Restaurants and bars in London really go all out during the festive season - they fully understand the assignment and make it so easy for couples planning winter date days and nights in the city.
Places like The Exhibit in Balham, The Queen of Hoxton and Padington's Pergola are just a few of the London date day spots that make winter drinking and dining even more special.
For more date ideas, check out our roundup of the best at home date night ideas perfect for cosy evenings together.