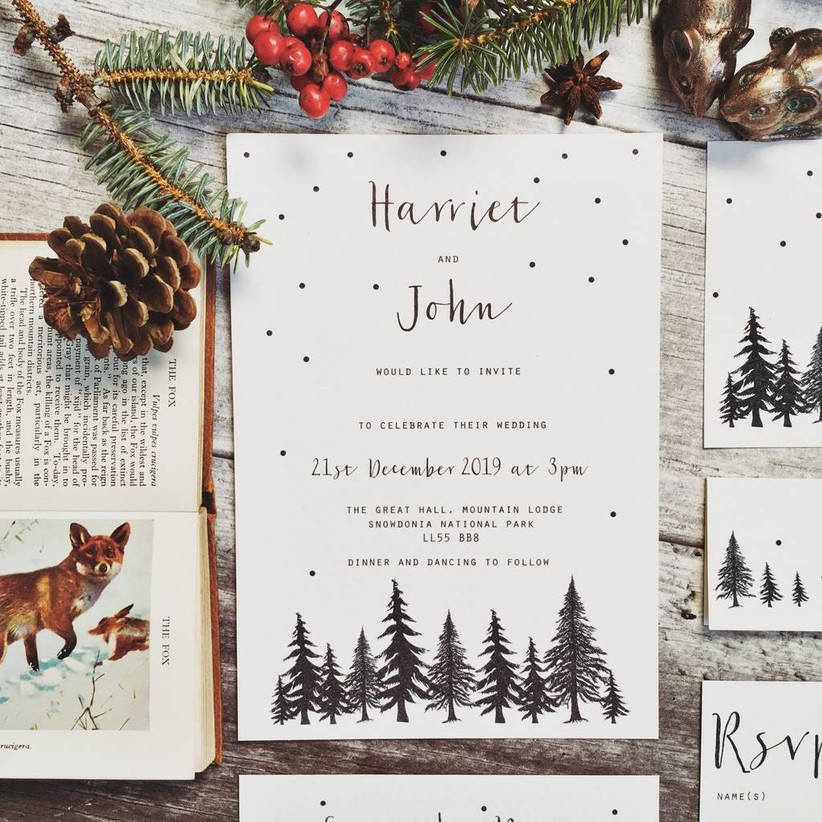 Winter is one of the most atmospheric times of year to host your wedding.
Whether it's among the festive cheer of the run-up to Christmas, the excitement of the New Year or even romantic Valentine's Day, you'll find so much to celebrate with a winter wedding.
Set the tone for your big day by choosing one of these winter wedding invitations. With everything from Christmas-inspired wreaths and robins to sleek monochrome designs for a white wedding, whatever your winter wedding theme, you'll find the right invite for your loved ones.
We've split our 27 invite ideas up into winter wedding invites, Christmas wedding invites and modern winter invites.
NB: We have included third party products to help you navigate and enjoy life's biggest moments. Purchases made through links on this page may earn us a commission.
Winter Wedding Invitations
Frosty branches, icy lakes, hibernating animals, bright red berries and lush evergreens are classic winter designs that will make every invite look cheery and bright. Here's a few of our favourite winter wedding invitations.
Winter's Tale Concertina Invitation – £1.79, Not On The High Street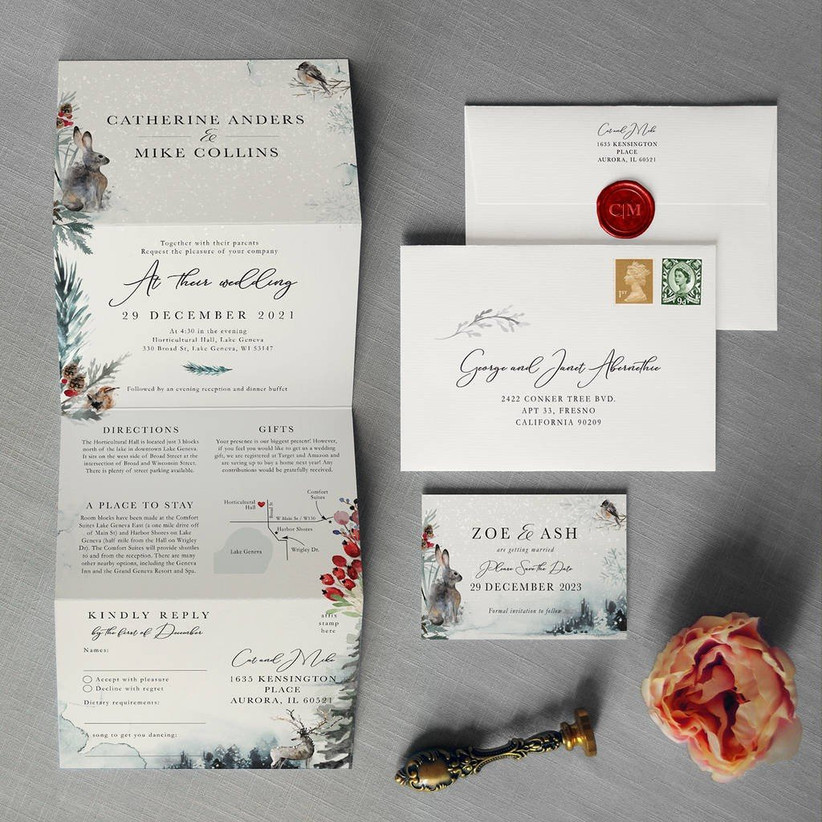 This beautiful concertina card features a snow-scattered woodland scene filled with rabbits, stags and robins, berries, snowflakes and foliage. Special pigment ink is even used to ensure the colours say bold for 20 years – if you're planning on saving copies of your invite as a keepsake this is the perfect one to choose.
Winter Woodland Stationery- £2, Not On the High Street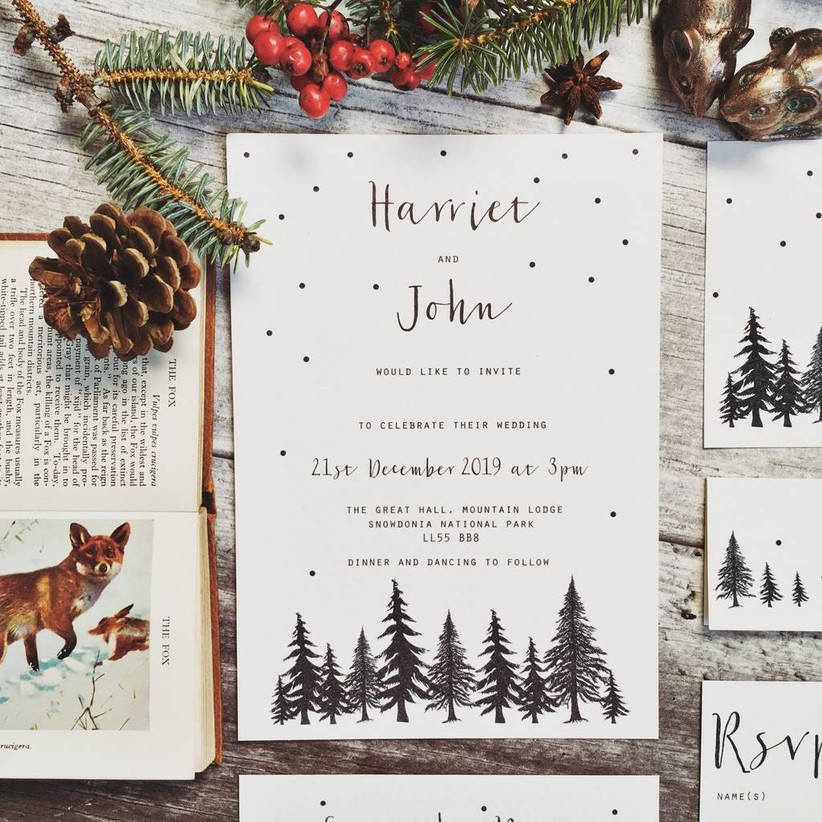 A monochrome design, like this one by Summer Lane Studio, instantly looks chic. The cool tones complement the crisp forest scene and cool modern calligraphy. Buying these invites also donates money to help plant trees in Borneo so they look good and do good.
Winter Red Berries Invitations – £22 for 10, Papier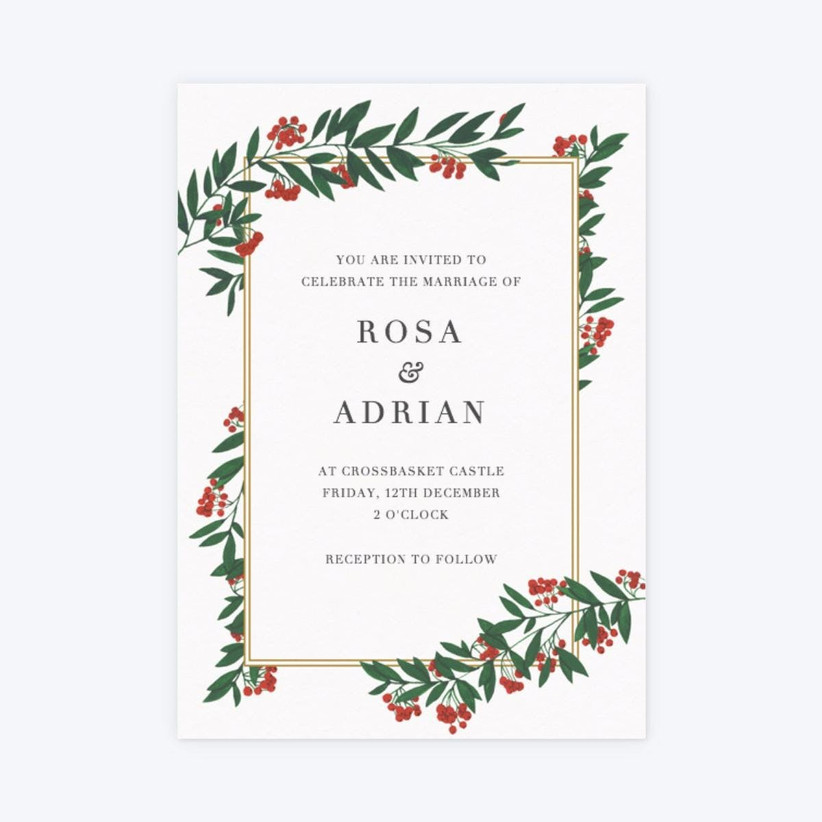 Go for a minimalist style with just a burst of red berries around your invite. This Papier design oozes winter chic without being in your face. Ideal if you've got a few Grinches on your guest list.
A Winter's Day Invitation – £2, Not On The High Street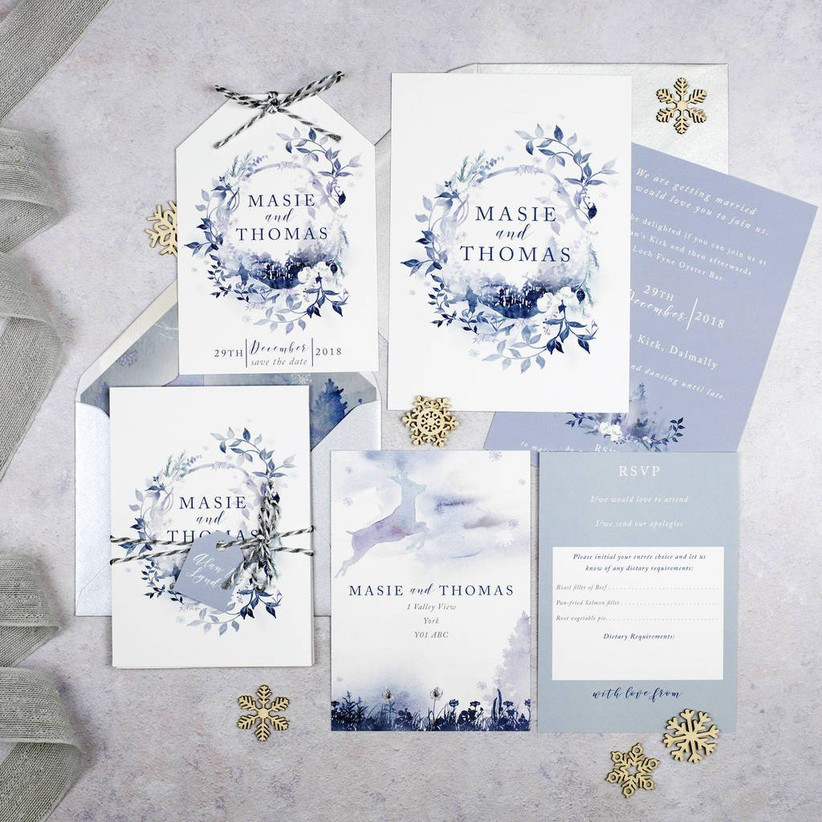 How stunning is that watercolour leaping reindeer illustration on these winter wonderland invites! The elegant blues and silvers will set the tone for a chic and luxurious Christmas wedding.
READ MORE: The Most Unique Save the Date Ideas
Holly Winter Wedding Invitation – £5.52, Etsy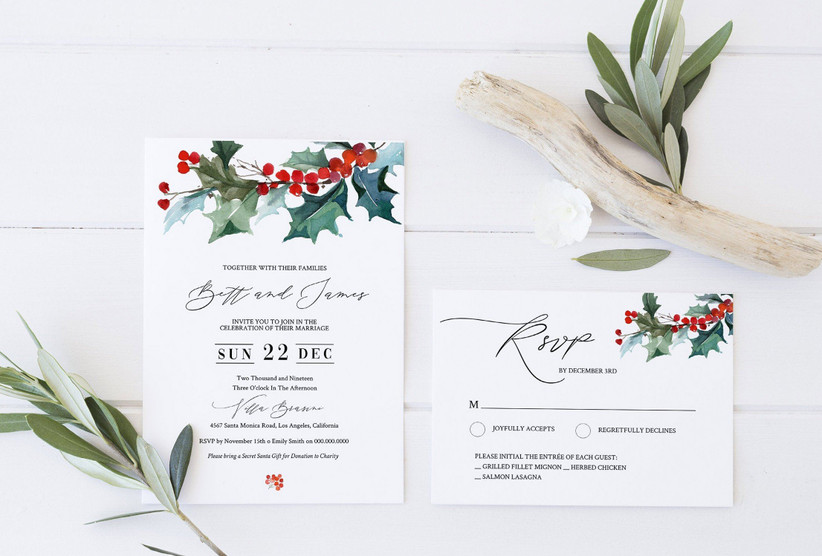 A simple sprig of holly and some modern calligraphy combine for a really stylish winter wedding invite. For this price, you get an editable PDF that you can customise with your names and wedding info. As you print it yourself, it's great value but looks so professional.
Highland Wedding Invitation – £1.50, Not On The High Street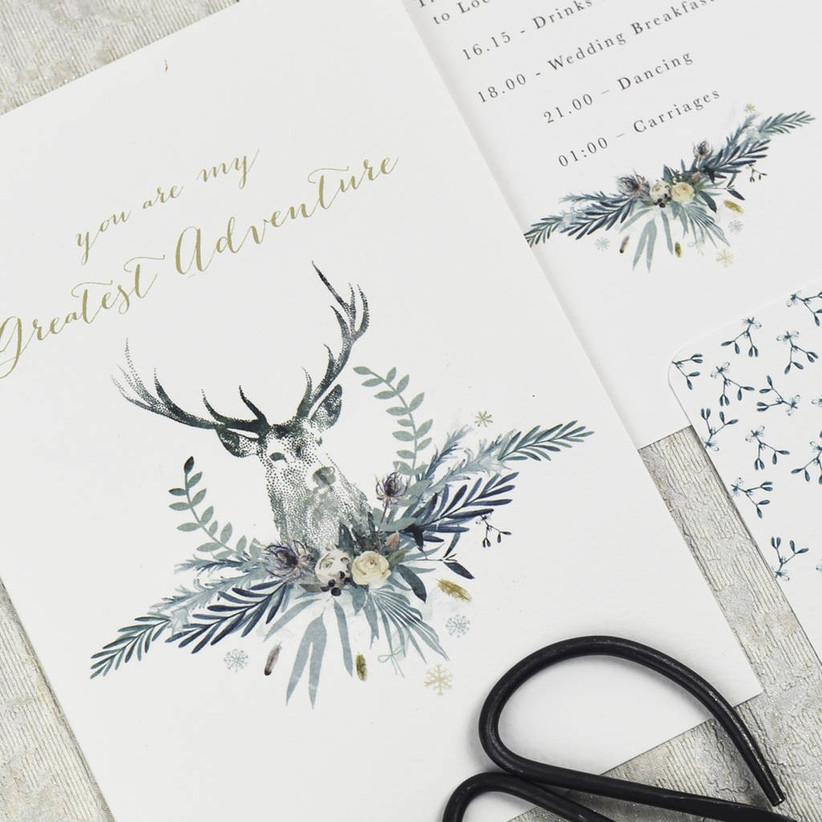 This highland stag design comes in three colourways for summer, autumn and winter. Our favourite is the icy blue winter theme, featuring holly, mistletoe and snowflakes that would suit any countryside wedding.
Rustic Woodland Wedding Invitation – £1.50, Etsy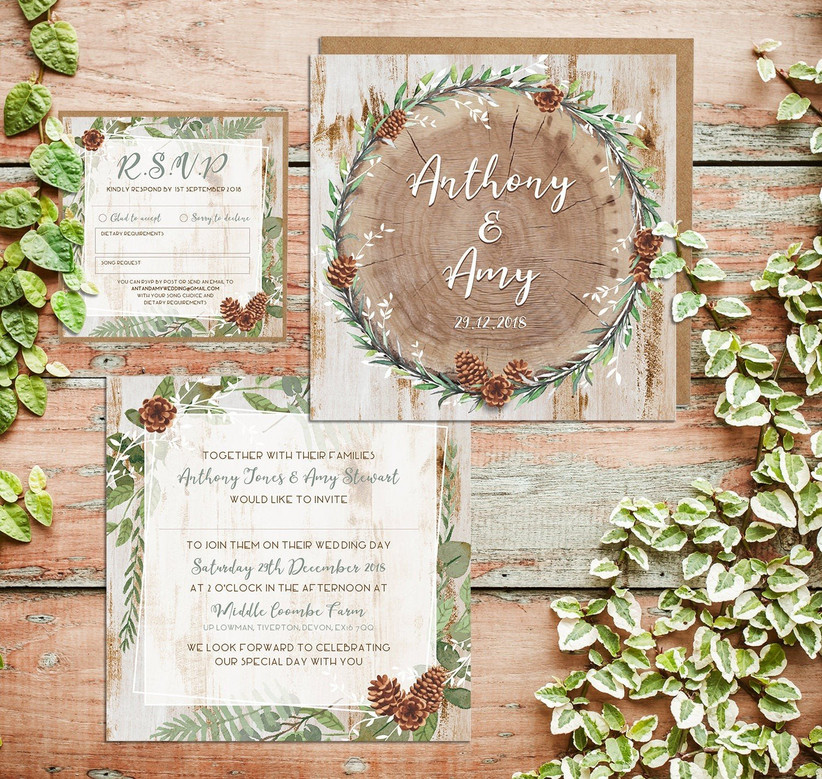 With a log slice as a background, pines cones and a leaf wreath, this rustic invite is perfect for any country or woodland themed winter wedding.
Winter Cocktail Wedding Invitation – £1.50, Not On The High Street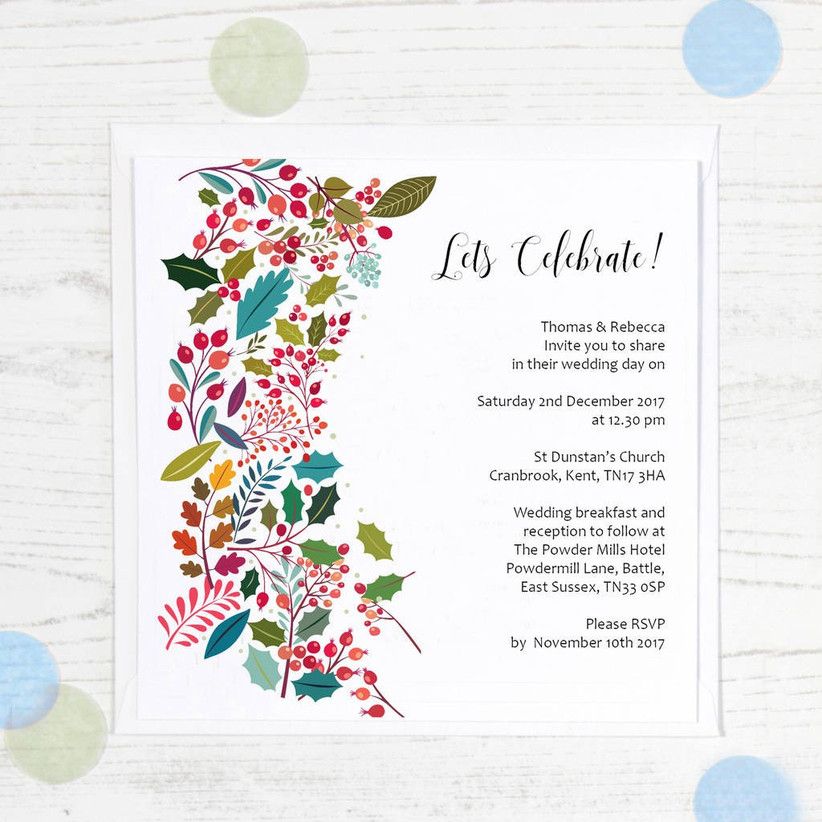 The vibrant and colourful stripe of winter-themed confetti down the side of this card is wonderfully whimsical. If you want something simple that still celebrates the joyful hues of winter, we can't think of anything lovelier to receive.
Snowflakes Wedding Invitation – £1.49, Not On The High Street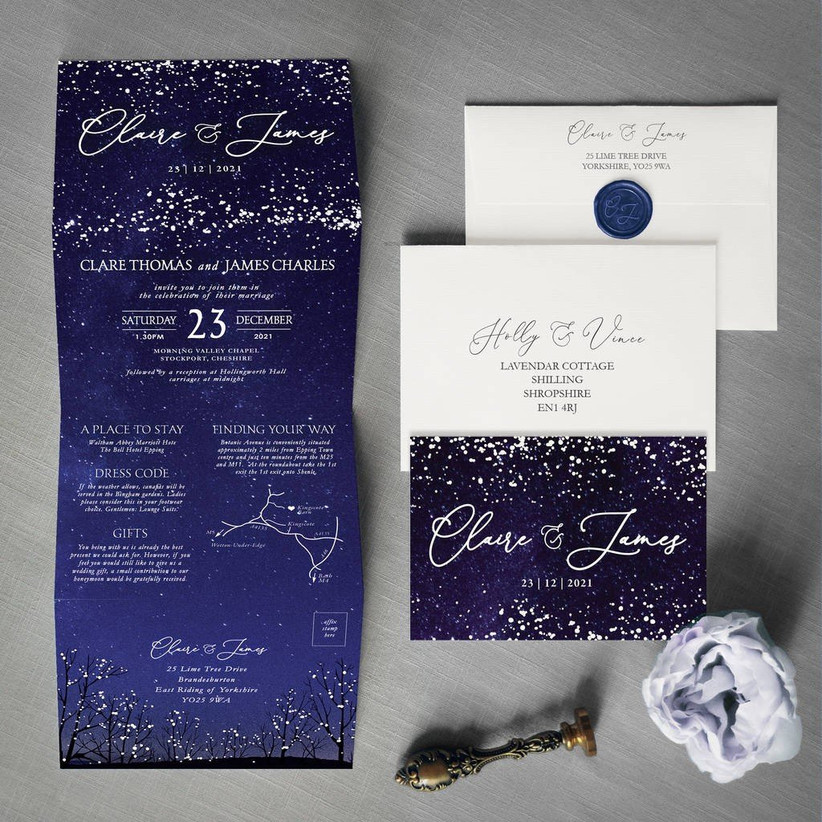 Live in a part of the country where you're almost guaranteed snow this winter? Make a subtle nod with this elegant snow-dusted invite set against an inky night sky background. It's made from lovely textured card.
Modern Winter Wedding Invitations
Winter weddings lend themselves to plenty of contemporary and on-trend themes: sleek monochrome; rich, jewel colours; elegant marble. We've got lots of winter wedding invitation ideas that give more of a subtle nod to the season that the bells and whistles of Christmas.
Grace Berry and Gold Wedding Invitations – £2, Not On The High Street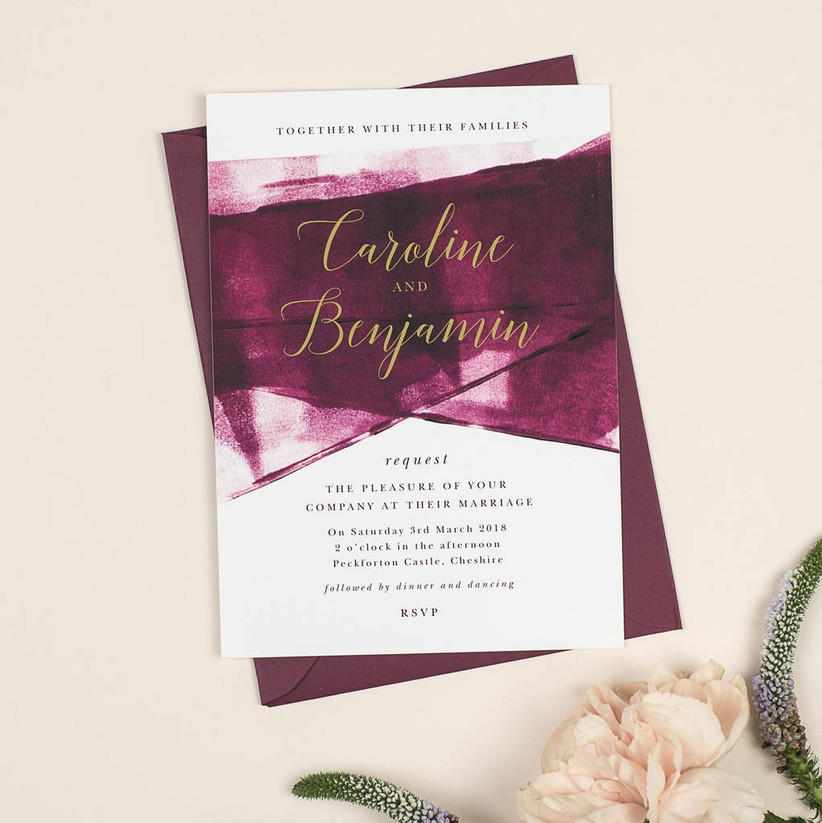 Burgundy and gold. Colours don't come much more wintry than that. With a gorgeous stripe of colour and stunning calligraphy, this design is the ultimate in chic. It also comes in a deep navy blue if that suits your colour scheme more.
READ MORE: 9 Ways to Save Money on Your Wedding Stationery
Navy Wedding Invitations – £16, Etsy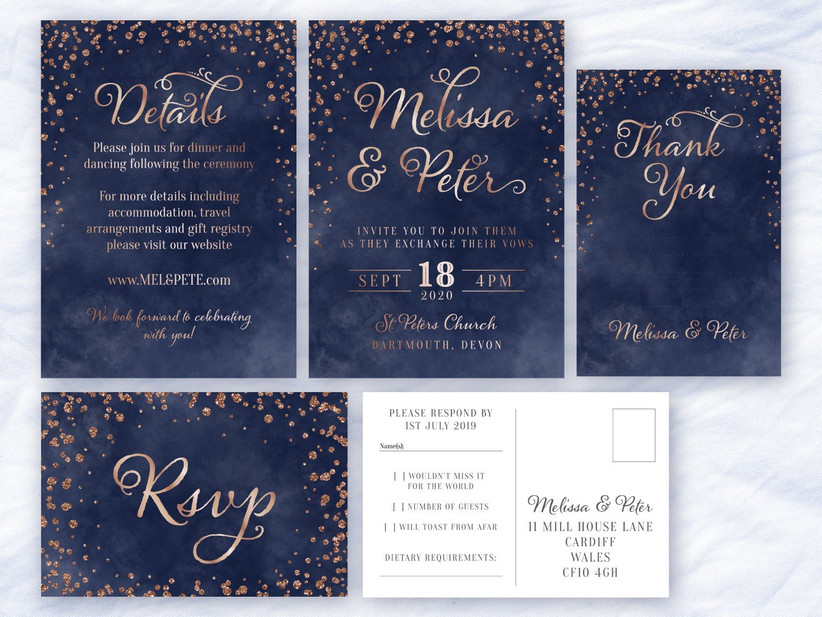 This navy, watercolour-effect printable design comes with a choice of five metallic lettering shades, and our favourite is definitely the rose gold above. The colour scheme is rich and warm, with a strong yet simple style.
Kate Wedding Invitations – £2, Not On The High Street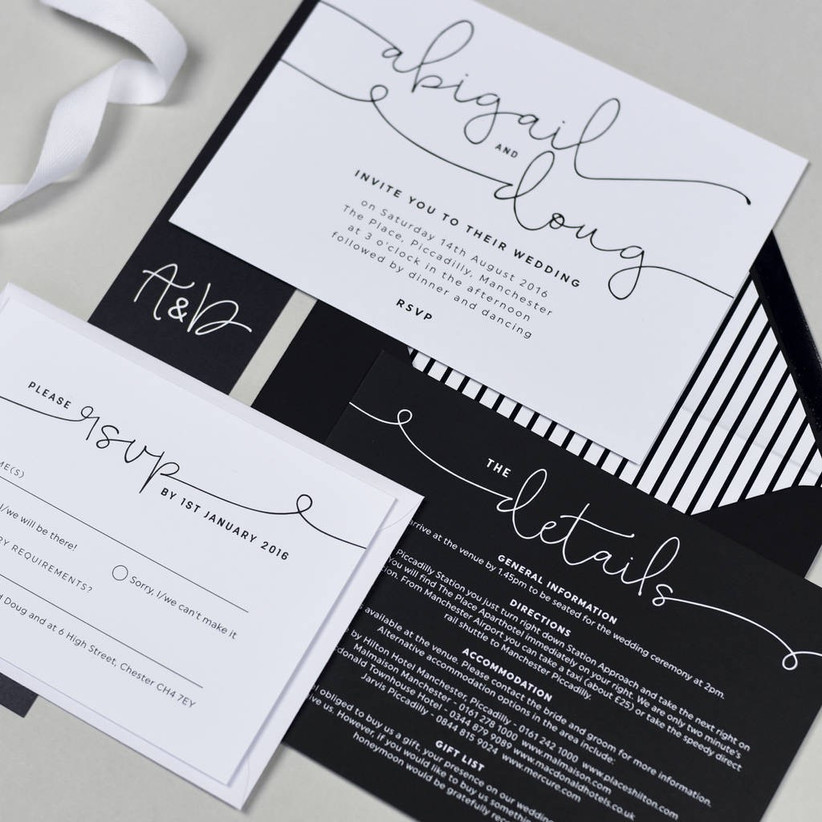 Monochrome is sleek and striking, which makes it perfect for a white wedding. This design comes on luxury, textured card so it even feels stylish. If you;re having a glamorous or black tie winter wedding, these are perfect.
Perspex Wedding Invitation – £2, Not On The High Street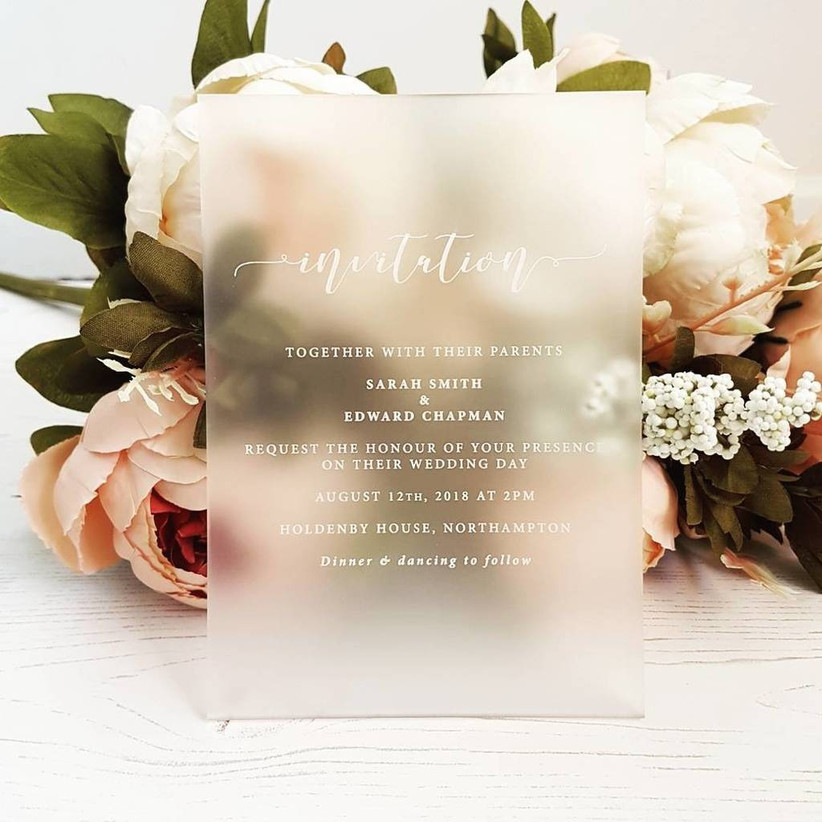 What a fabulous and unusual idea for your wedding invitations! The frosted design has the look of a cold pane of glass on a winter morning, but you can also get the invites in crystal clear perspex and tinted green. All of the colours lend themselves so well to a modern invite that everyone will want to get their hands on.
Prism Geometric Wedding Invitations – £1.30, Not On The High Street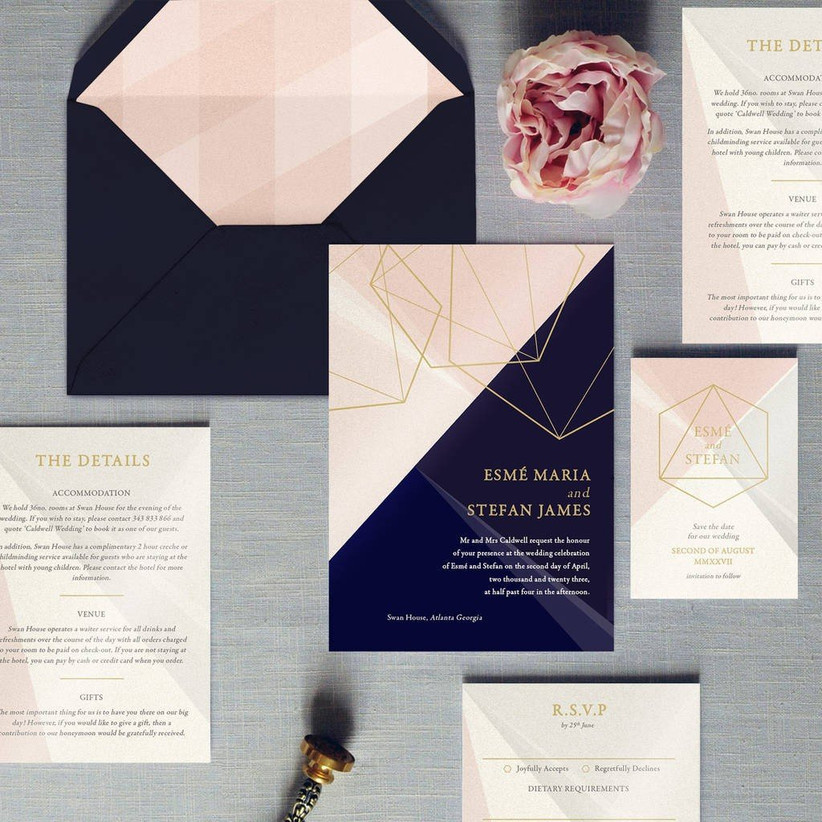 While there's nothing technically 'wintry' about geometric designs, we think you'll agree the dark royal blue and the crisp, clean lines seem at one with the season. Go bold with these and you won't regret it.
Foiled Venue Wedding Invitations – £1.50, Not On The High Street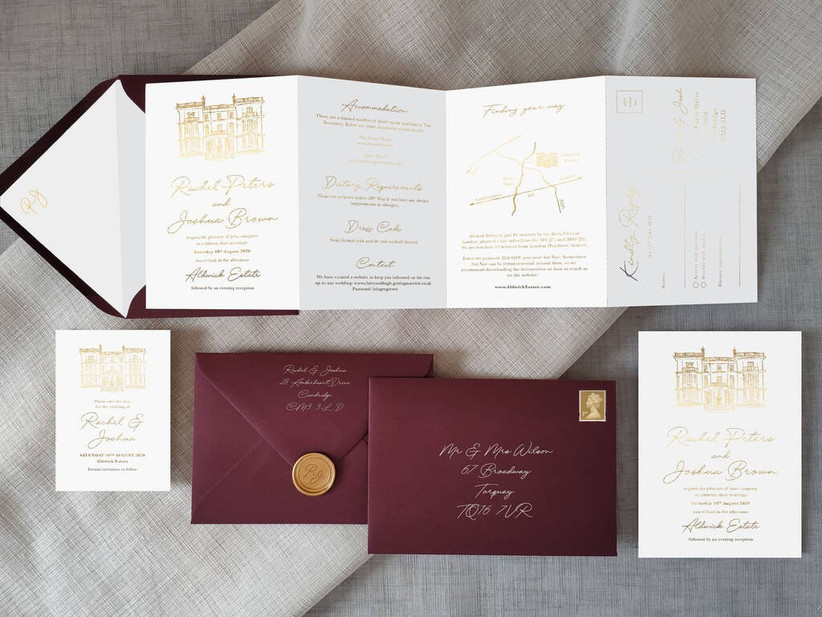 How special is it to have your venue turned into a custom gold foil sketch for your invites? We love these burgundy and gold luxury invites, all wrapped up with a special gold seal!
Winter Wonderland Wedding Invitations – £5.00, Etsy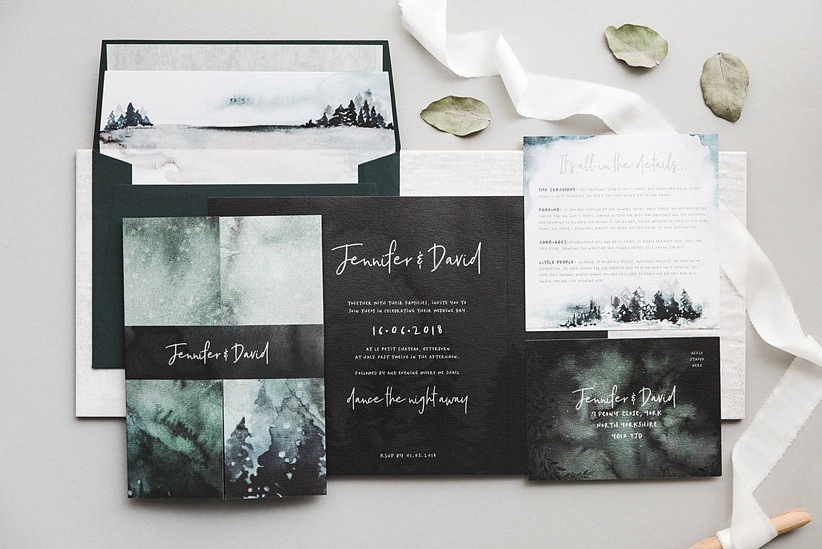 Featuring a picturesque snowy scene and earthy tones, these elegant woodland invites make an amazing first impression for your wedding. There's more than a feel of the northern lights to this invite theme and it's incredibly beautiful.
READ MORE: The Best Eco-Friendly Wedding Invitations
Red Skies Modern Wedding Invitations – £2.50, Etsy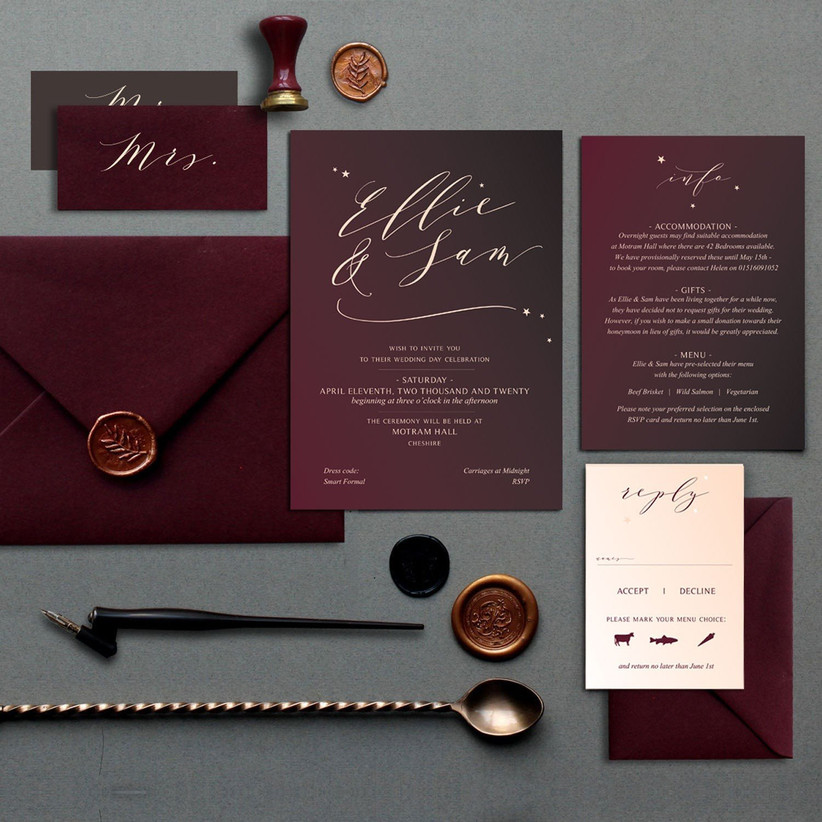 Dark, vampy and completely captivating, these modern invites are ideal for a glamorous wedding. We love the ombre red background and the delicate stars.
Christmas Wedding Invitations
If you're having a December wedding, you might want to tie it in with the other big event that happens that month: Christmas! Both are full of joy, love, friends and family, and festive cheer. String up some mistletoe, send out one of these invites and wait for the excited replies.
Noelle Wedding Invitation – £1.49, Not On The High Street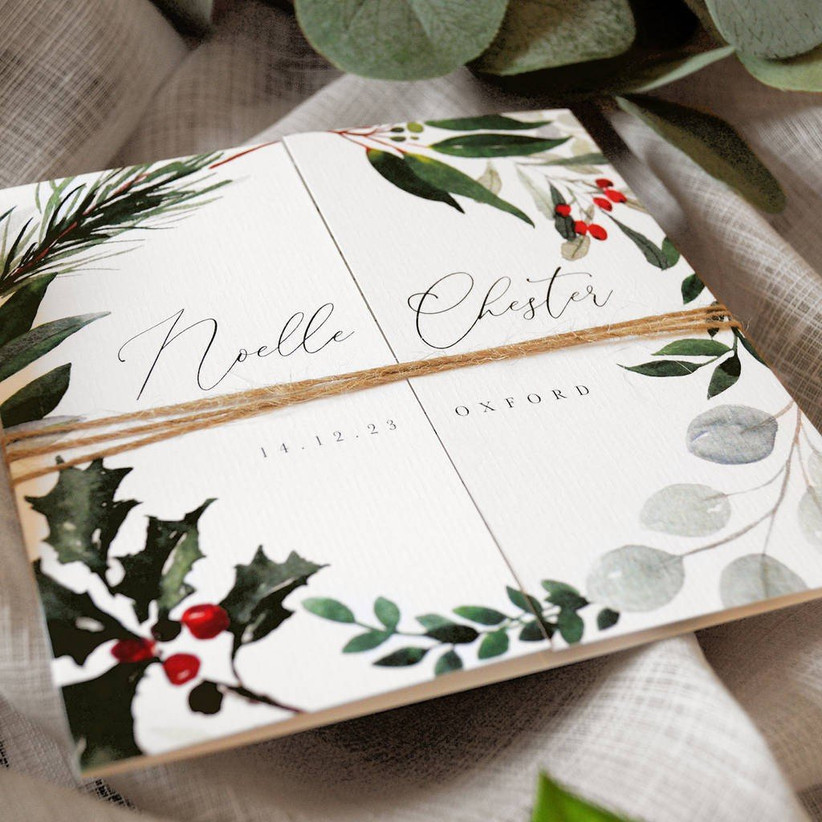 Featuring festive rustic greenery and holly, this luxury gate-fold card opens to a customised map and all the information about your day. Then it's neatly wrapped up with rustic twine like a much-anticipated Christmas present.
Robins Invitations – £22 for 10, Papier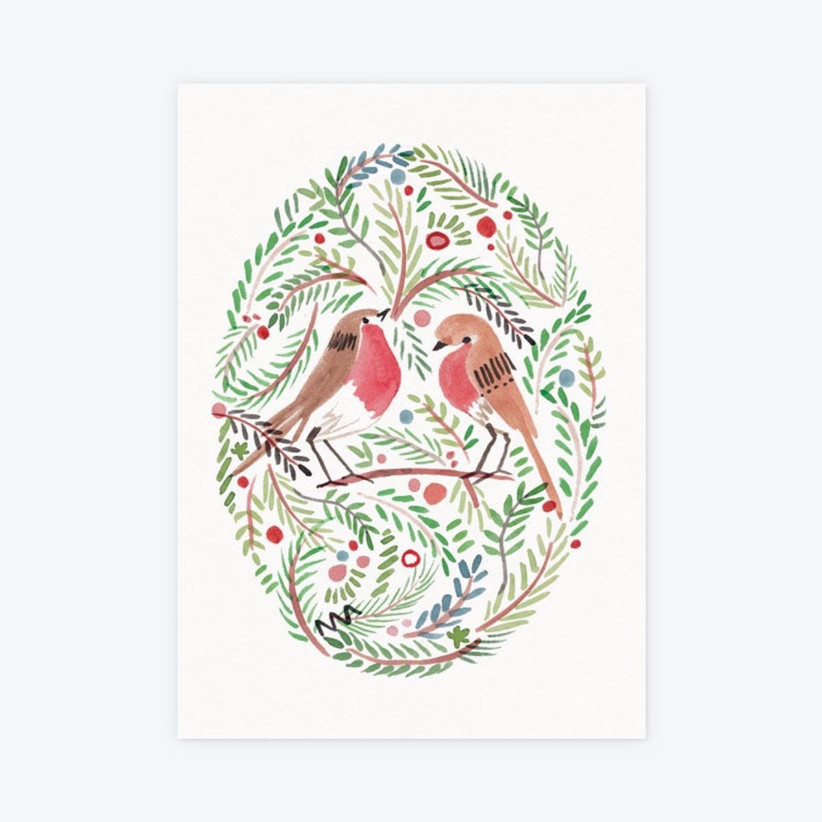 Papier are one of our favourite brands for personalised wedding invitations and they have a beautiful range of Christmas-inspired designs. We love this robin themed range, which features this red-breasted duo across invites, RSVPs and more.
Christmas Pocketfold Wedding Invitations – £2.75 – £3.25, Bluebird Wedding Stationery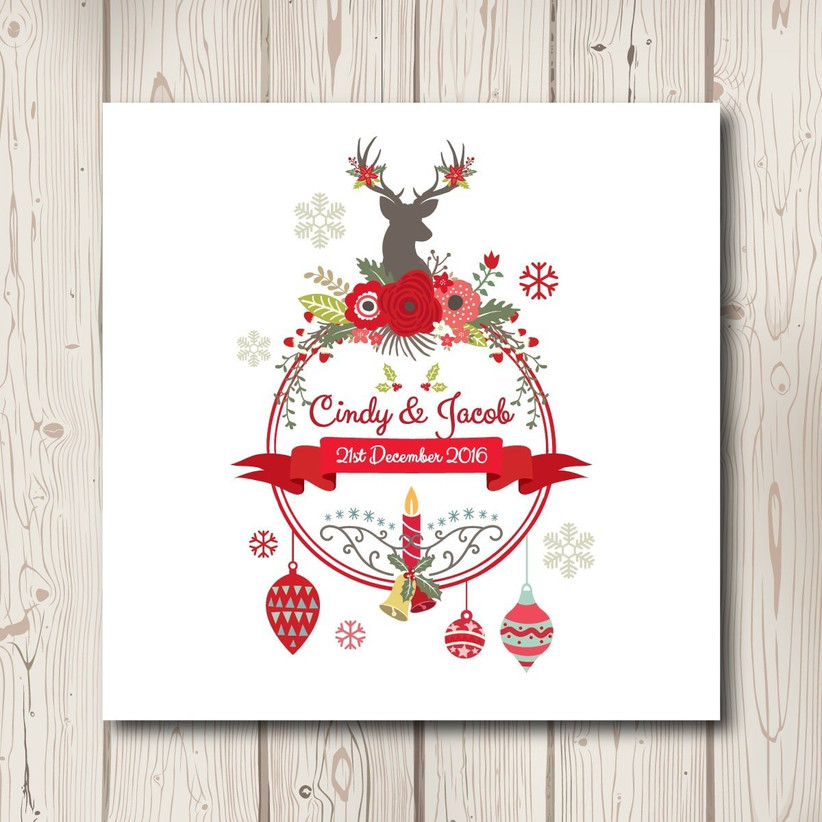 Snowflakes, reindeer, baubles, candles, bells, holly: Christmas is all wrapped up in this festive illustrated wedding invite. It's vibrant, merry and inviting, which is exactly what you want to welcome guests to your wedding plans.
Enchanted Yuletide Luxury Invitation – £1.00, Etsy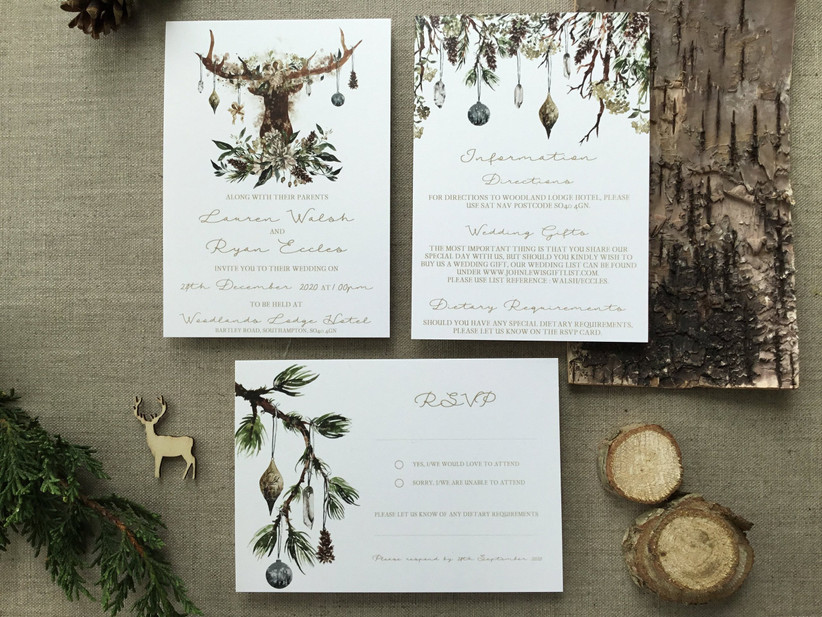 A stag adorned with baubles is a pretty festive yuletide design. Topped with delicate snowflakes and in warming russet, chestnut and gold tones, this enchanting invitation set is ideal for a magical wedding.
READ MORE:13 Perfect Shabby-Chic Invite Ideas
Poinsetta Scatter Invites – £22 for 10, Papier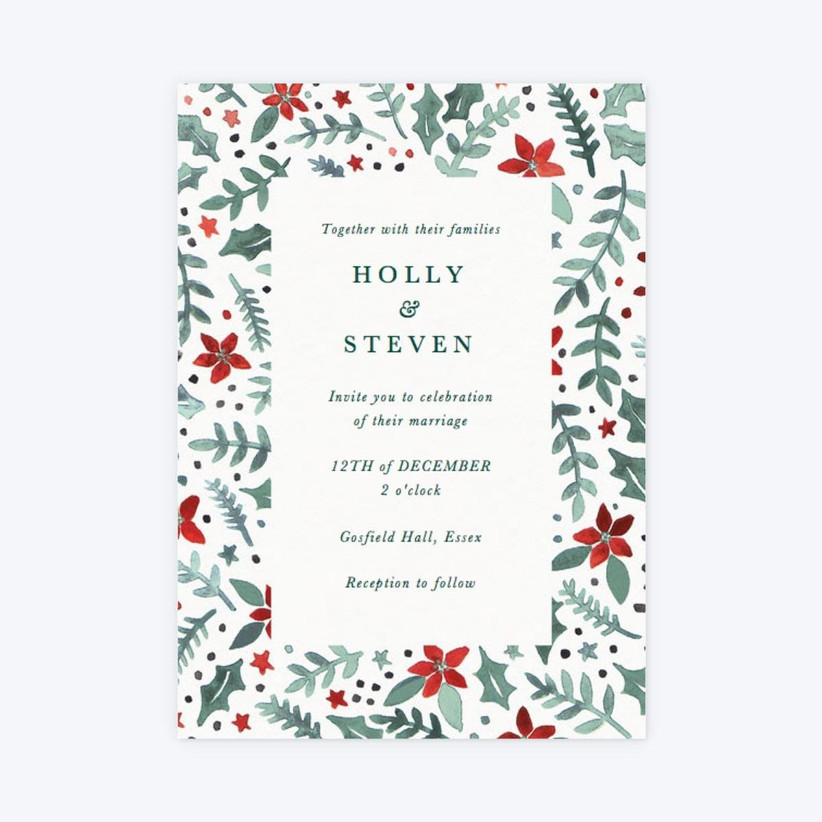 Poinsettia look ready-made for Christmas with their Rudolph red leaves and green foliage. Pass that cheering feeling onto your invites with this cute watercolour design.
Winter Robin and Seasonal Foliage Invitations – From £55 for 20, Etsy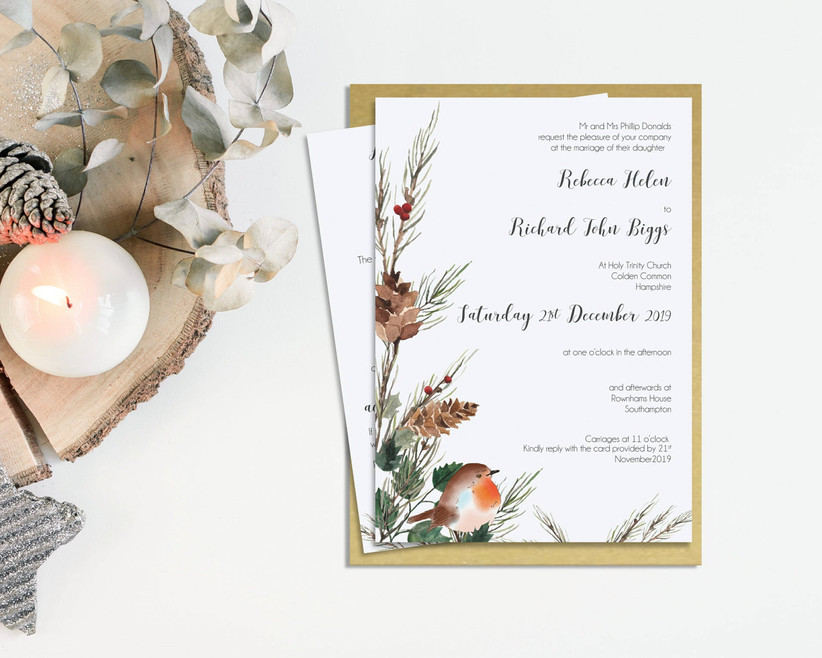 Robins are synonymous with Christmas and look incredibly cute on wedding invitations. The warm wintry browns, greens and oranges are a great way to link your invites to the décor and colour scheme you'll make a nod to in your venue.
Festive Heart Invites – £22 for 10, Papier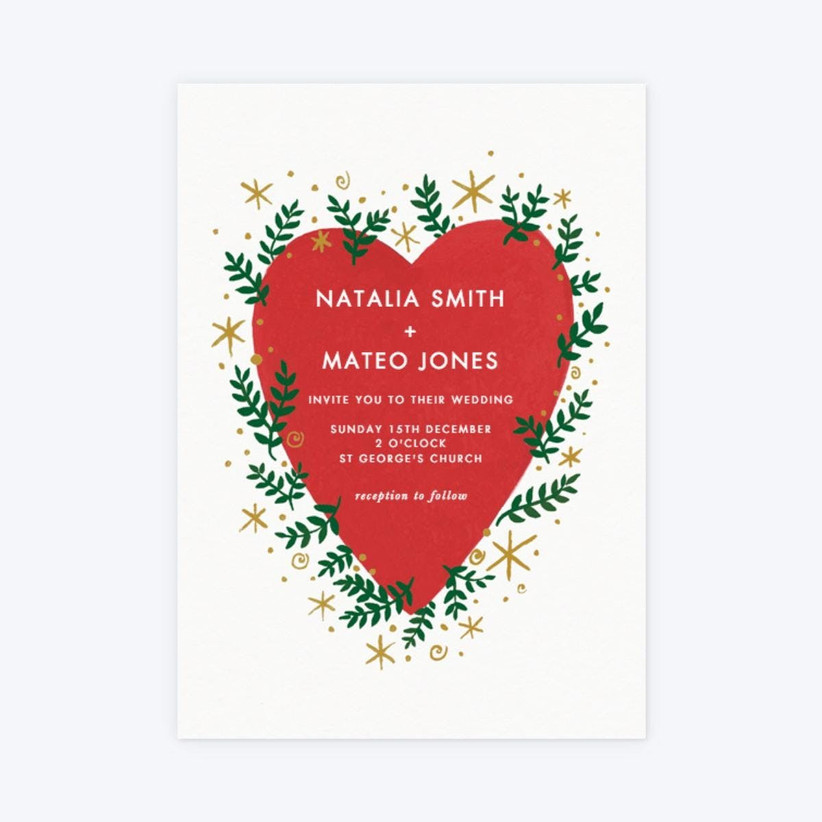 There's a feeling of the childlike joy of Christmas to this playful heart design that's exploding with gold stars, swirls, splashes and festive foliage. This would suit a couple really embracing a fun Christmas theme.
'Tis the Season Wedding Invitation – £17.50, Etsy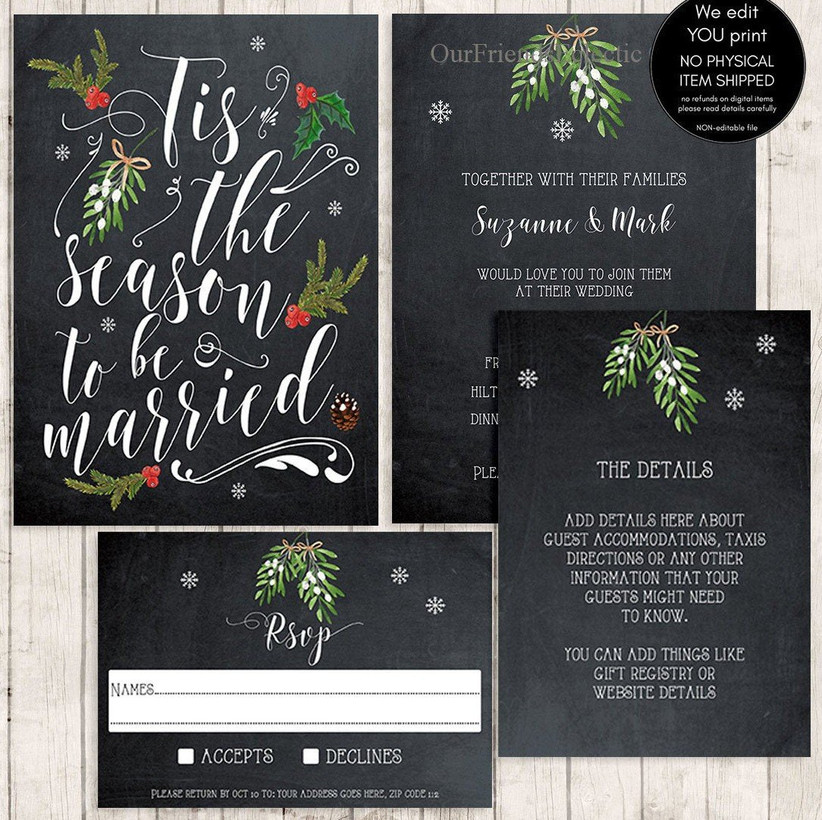 This chalkboard effect wedding invite is fun and quirky. The 'Tis the season to be married' slogan and sprigs of mistletoe and holly make your Christmas theme unmistakable. As you print the design at home once it's been customised by this Etsy designer, it's a great value option for your invites too.
'Tis the Season Wreath Invitation – £2.20, Etsy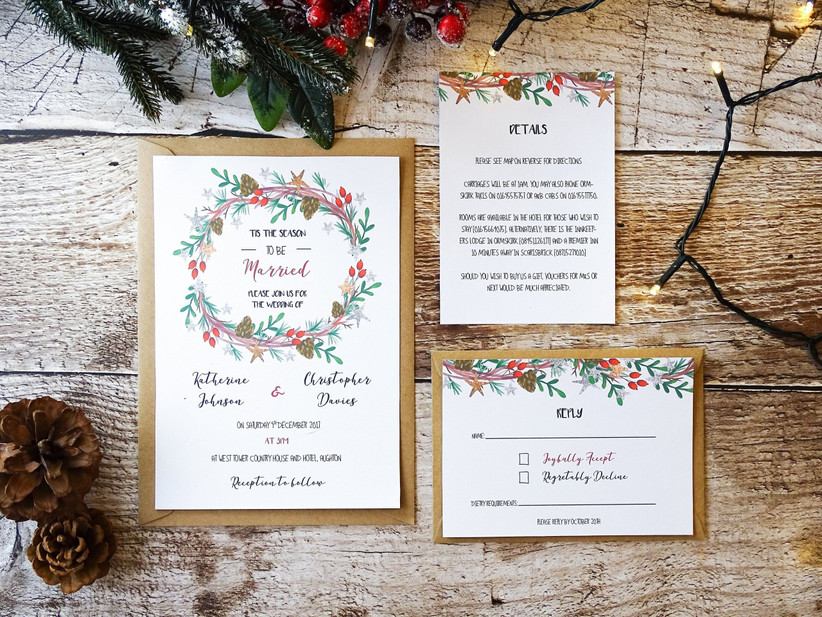 We're sneaking in another 'Tis the season' because we love it so much. This invitation comes with a wreath of pine, holly, mistletoe and stars around it and looks wonderful.
Henley Rustic Kraft Stationery Set – £1.50, Not On The High Street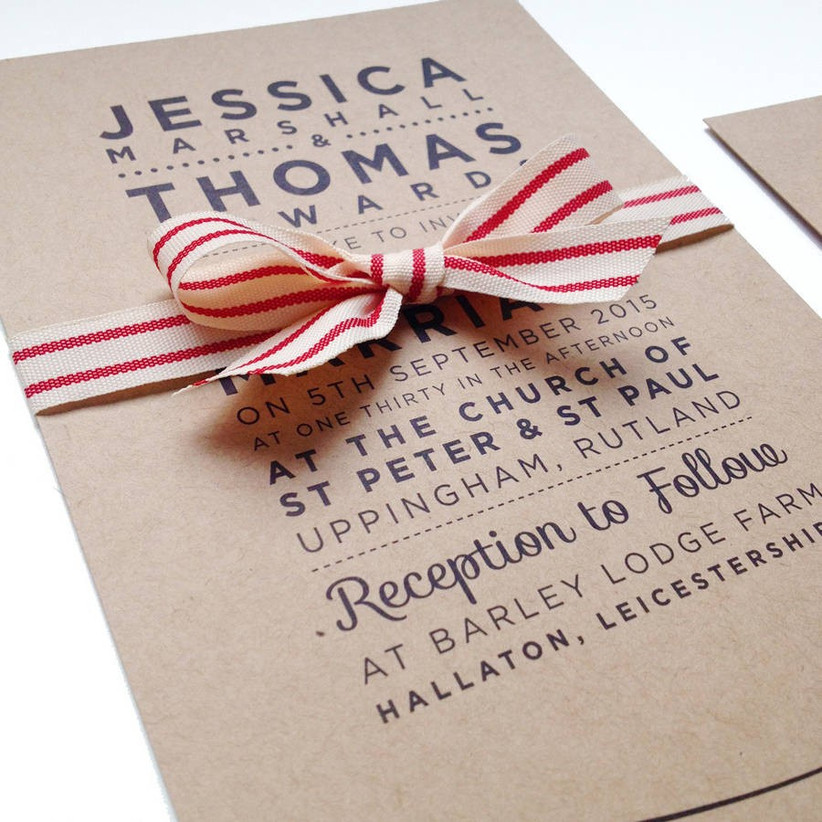 Make a subtle nod to your festive theme with these simple rustic invites that come with a candy cane-striped ribbon. It's ideal if you're having a barn or vintage winter wedding as it's a festive twist on shabby-chic.
Still not sure what kind of invites you want? Check out these awesome alternative invitation ideas.