28 Magical Winter and Christmas Wedding Invitations For Your Festive Do
Get your guests excited for a winter wonderland wedding with one of these beautiful invitations
We have included third party products to help you navigate and enjoy life's biggest moments. Purchases made through links on this page may earn us a commission.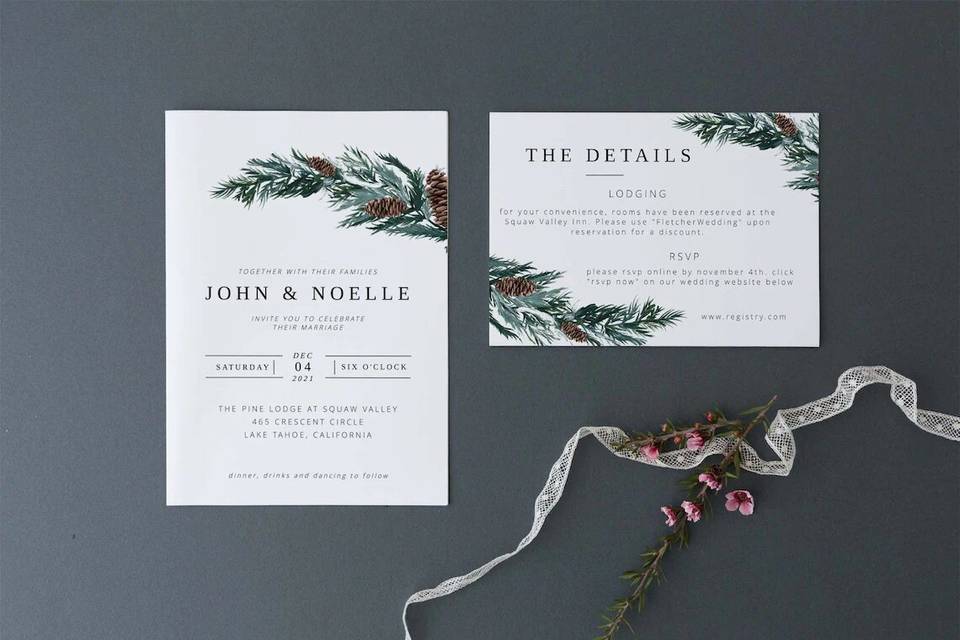 Winter is one of the most festive and romantic times of year to host a wedding - and festive weddings wouldn't be complete without some gorgeous Christmas wedding invitations!
From the festive cheer of the run-up to Christmas to the excitement of the New Year fast approaching, hosting a Christmas themed winter wedding is always a good idea!
Set the tone for your big day by choosing one of these winter and Christmas wedding invitations to perfectly match your winter wedding venue. With everything from Christmas-inspired wreaths and festive robins to sleek monochrome designs and stylish snow-themed styles, whatever your winter wedding theme, you'll find the perfect Christmassy invite for your big day.
28 Winter and Christmas Wedding Invitations For Your Festive Do
To make your search for the perfect Christmas wedding invitation even easier, we've split our 28 invite ideas up into winter wedding invites, Christmas wedding invites and modern winter invites. With something to suit every style of winter wedding, you're bound to find your dream design here.
Winter Wedding Invitations
Frosty branches, icy lakes, hibernating animals, bright red berries and lush evergreens are classic winter designs that will make every invite look cheery and bright. Here's a few of our favourite winter wedding invitations.
1. Rustic Winter Woodland - Boutique Wedding Invitation & RSVP – £3.85, Tree of Hearts Wedding Stationery
This beautiful rustic invitation and RSVP features a woodland scene with a doe and stag, stars, and lofty pine trees. Each set includes a beautiful bohemian invitation, RSVP, and a band to neatly bind them. The Rustic Winter Woodland collection is made from Conqueror high-quality 300gram ivory textured card.
Tree of Hearts' wedding invitation website enables you to customise your invitations with ease, and envelopes come free. You'll receive a free proof of your order via email one business day from ordering, with same-day dispatched before 12:30 pm.
2. Painted Mountains Wedding Invitations – £2.50, Hitched Stationery
The painted mountains design from the Hitched stationery collection is ideal for an outdoor wedding in a woodland wedding venue. You can choose between five different formats and even order free samples to give you an idea of the high-quality finish before you buy. The stationery takes just five to six business days to produce before being shipped directly to you.
3. Winter Red Berries Invitations – from £30 for 10, Papier
Go for a minimalist style with just a burst of red berries around your invite. This Papier design exudes winter chic without being in your face, made with warm-white Mohawk paper finished with matte eggshell. Each set takes approximately three to four business days as they are made to order. The timeless red and green holly design is ideal if you've got a few Grinches on your guest list.
4. A Winter's Day Invitation – £1.50, Julia Eastwood
How stunning is that leaping reindeer illustration on these floral watercolour invites? The elegant blues and silvers will set the tone for a chic and luxurious Christmas wedding. These invitations can be printed single-sided or double-sided, giving you more space for information. Dispatch can be up to seven days from you approving your dreamy design.
READ MORE: The Most Exquisite Personalised Wedding Stationery
5. Holly Winter Wedding Invitation – £16.58, Etsy
A simple sprig of holly and some modern calligraphy combine for a really stylish winter wedding invite, like this bright design from Etsy. For this price, you get an editable PDF that you can customise with your names and wedding info. As you print it yourself, it's great value but looks so professional. Inspired? You can learn how to do modern calligraphy for your wedding here.
6. Highland Stag Wedding Invitation – £1.50, Julia Eastwood
This highland stag design comes in three colourways for summer, autumn and winter weddings. Our favourite is the icy blue winter theme, featuring holly, mistletoe and snowflakes that would suit any countryside wedding venue. The colour scheme on these winter wedding invitations lends itself to an elegant wedding theme and the accents of gold really elevate the overall design.
7. Snowflakes Wedding Invitation – 99p, Feel Good Wedding Invitations
Are you getting married in a location where you're almost guaranteed snow at your wedding? Pay homage to your natural surroundings with this elegant snow-dusted invite set against an starry night sky background. It's made from lovely textured card which gives it an expensive finish and we love the starry night theme. Not only is it super wintery, but it's also really romantic, too!
READ MORE: The Most Unique Save the Date Ideas
8. Rustic Winter Wedding Invitation Suite – £5, Quaintly Kate
Speaking of snow, just look at this gorgeous rustic design by Quaintly Kate. From the craft card and brown twine to the snow-speckled tree envelope, this winter wedding invitation suite is just heavenly. It's the perfect way to introduce guests to your rustic wedding theme without giving away too much. We also love how much the white snow stands out against the brown background.
9. Elegant Winter Pine Wedding Invitations – £6.96, Etsy
If you like the idea of printable wedding invitations and templates, look to this chic pine cone design - not only can you personalise the writing and font, but you can pay to download the design and have it printed yourself. The cool tones complement the crisp forest sprigs and modern calligraphy perfectly. It's proof that simple wedding invitations can really stand out at the same time.
10. Winter's Tale Concertina Invitation – 99p, Feel Good Wedding Invitations
This beautiful concertina card features a snow-scattered woodland scene filled with rabbits, stags and robins, berries, snowflakes and foliage. Special pigment ink is even used to ensure the colours stay bold for 20 years, so if you're planning on saving copies of your invite as a keepsake, this is the perfect one to choose.
We also love an illustrated wedding invitation - it adds something really special to a design that makes it feel super unique and really bespoke.
READ MORE: Genius Ways to Save Money on Your Wedding Stationery
Modern Winter Wedding Invitations
Winter weddings lend themselves to plenty of contemporary and on-trend themes like sleek monochrome, rich jewel colours, elegant marble and so many more. We've got lots of winter wedding invitation ideas that pay homage to the Christmassy season without being too festive - if that's even possible...
11. Grace Berry and Gold Wedding Invitations – £2, Project Pretty
When we're thinking about festive colours, there aren't many combinations more wintery and elegant than burgundy and gold, right? With a gorgeous stripe of colour and stunning calligraphy, this design is the ultimate modern winter wedding invitation. It also comes in a deep navy blue if that suits your colour scheme more - navy is equally perfect for a winter wedding invitation - what a tough choice!
12. Kate Winter Wedding Invitation – £2, Project Pretty
Monochrome is a sleek and striking colour scheme, which makes it perfect for a white winter wedding. This design is printed on luxurious textured card, so it not only looks stylish, it feels stylish. If you're having a glamorous or black-tie winter wedding, or a super simple winter wedding theme, these designs are perfect for you.
13. Perspex Wedding Invitation – £2, Design by Eleven
What a fabulous and unusual idea for your winter wedding invitations! The frosted design on these Perspex Christmas wedding invitations mimics the look of a cold pane of glass on a winter morning. For an even more elaborate look, you can also get the invites in crystal-clear Perspex or a Christmassy tinted green.
All of the colours lend themselves so well to a modern invite, whilst still really embracing the festive season.
14. Prism Geometric Wedding Invitations – 99p, Feel Good Wedding Invitations
Some may struggle to see the winter connection with this stunning geometric wedding invite - but we think the subtly in this style is what makes it so magical. Dark royal blue, crisp clean lines and accents of gold help to emulate a seriously luxurious feel that is totally wintery.
Couples who are looking for a winter or Christmas wedding invitation that steers clear of the expected, go bold with these, and you won't regret it.
15. Foiled Venue Wedding Invitations – 99p, Feel Good Wedding Invitations
How special is it to have your wedding venue turned into a custom gold foil sketch for your invites? It adds a personal and bespoke touch to your wedding invitations and gives your guests a teaser of what to expect from the big day. Everyone will instantly feel excited about the big day and want to know more.
We love these burgundy and gold luxury invites, all wrapped up with a special gold seal. As we've mentioned before, burgundy and gold are the ultimate winter wedding colour combination without going all-out-Christmassy.
READ MORE: 27 Perfect Shabby-Chic Invite Ideas
16. Celestial Winter Wedding Invitations – £6.50, Paper Cactus Prints
Celestial wedding themes are ideal for winter, so if that's what you are planning, why not go all out and opt for matching celestial wedding invitations too? This ethereal ensemble is a gorgeous nod to the starry theme and the colour combination of deep emerald green and gorgeous metallic gold is to die for. If that holly-green doesn't get your guests in the Christmas wedding mood, we're not sure what will!
17. Luna Foiled Wedding Invitation – 80p, Peach Wolfe Paper Co.
We also adore the Luna wedding invitation from Peach Wolfe Paper Co. The gold foiling is a really luxurious touch and one that'll make your wedding invitations stand out for all the right reasons. Couples who want to embrace the celestial winter wedding theme in a classy and elegant way should seriously consider this design.
We love the contrast between the deep navy background on the main invitation, and the simple white background on the RSVP - having two different backgrounds makes each one stand out in its own right.
18. Emerald Green Winter Wedding Invitations – from £1.19, Etsy
Minimalistic couples, you can't go wrong with a sophisticated and simple wedding invitation with a seriously cool font. This design doesn't have any typical winter features, but the deep emerald backing makes it undeniably seasonal. The Christmas-tree-green shade is so striking, and pairing it with the gold font is complete genius.
There's so much more to love about these invitations than just the look. How cool that you can have a QR code for your RSVPs? And we love the visual timetable of the day too.
19. Midnight Sky Snowy Wedding Invitation – £29.50 for 10, The Seed Company
This midnight sky wedding invitation from The Seed Card Company is not only stunning and completely biodegradable but it is also embedded with wildflower seeds so your guests can plant the card after they're finished with it, and it will grow into beautiful flowers. Couples who want a winter wedding invitation that is sustainable and eco-friendly - your search is finally over.
READ MORE: Everything You Need to Know About Wedding Paper
20. Monogrammed Wreath Wedding Invitation – £4, Millie Stone UK
This chalkboard effect wedding invite is simple and stylish. It's made from premium card and handmade ebony envelopes, so you can be sure that they won't bend or crease while being transported in the post. The striking black background gives it that undeniable wintery feel, and the use of black makes the gold emblem stand out even more.
Christmas Wedding Invitations
If you're having a December wedding, you might want to tie it in with the other big event that happens that month: Christmas! Both are full of joy, love, friends, family, and festive cheer. String up some mistletoe, send out one of these Christmas wedding invitations and wait for the excited replies.
21. Noelle Christmas Wedding Invitation – 99p, Feel Good Wedding Invitations
Featuring festive rustic greenery and festive holly, this luxury gate-fold card opens to a customised map and all the information about your day. Then it's neatly wrapped up with rustic twine like a much-anticipated Christmas present. What better way to get your guests excited for your Christmas wedding than an invitation that literally looks like a present?
22. Robins Christmas Wedding Invitation – from £30 for 10, Papier
Papier is one of our favourite brands for personalised wedding invitations, and they have a beautiful range of Christmas-inspired designs for couples to choose from. We love this robin-themed range, which features this red-breasted duo across invites, RSVPs and more. Robins are heavily associated with Christmas and are a great way to pay homage to your wedding month.
23. Christmas Pocketfold Wedding Invitations – £2.75 – £3.25, Bluebird Wedding Stationery
Snowflakes, reindeer, baubles, candles, bells, holly - Christmas is all wrapped up in this festive illustrated wedding invite, complete with everything you could possibly associate with the festive season. It's vibrant, merry and inviting, which is exactly what you want to welcome guests to your wedding plans.
No one will have to guess what your wedding theme is - this invitation screams Christmas in all the best ways.
24. Fairy Lights Wedding Invitation – from £1.50, Etsy
Excite your future guests with this gorgeous, minimalistic fairy light wedding invitation. The smooth grey background makes the font and fairy lights glow, getting your loved ones in the mood for a winter celebration illuminated by beautiful lighting décor. The fairy lights mimic what you'd expect to see on a Christmas tree or a window pane in December.
A more subtle nod to Christmas, it's the perfect festive wedding invitation to tease your theme to your guests.
25. Poinsettia Scatter Invites – from £30 for 10, Papier
We love this poinsettia Christmas themed wedding invitation for so many reasons. The ready-made Christmas wedding invite comes complete with its Rudolph-red leaves and festive green foliage. Pass that cheering feeling onto your invites with this cute watercolour design.
READ MORE: 50 Festive Christmas Wedding Songs
26. Festive Heart Wedding Invites – from £30 for 10, Papier
There's a real feeling of Christmas joy in this playful heart design that's exploding with gold stars, swirls, splashes and festive foliage. This would suit a couple really embracing a fun Christmas wedding theme with all the bells and whistles. It also gives you a few different colours to play with when it comes to choosing your wedding colour scheme.
27. 'Tis the Season Wreath Invitation – from £5, Etsy
We adore a 'Tis the season' design, and this invitation comes with a wreath of pine, holly, mistletoe and stars around it and looks wonderful. If it's a charming Christmas wedding invitation you're after, this is a serous contender. We also love the brown envelopes that the pack comes with - it reminds us of rustic brown wrapping paper around presents underneath a tree.
28. Henley Rustic Kraft Stationery Set – £1.50, Megan Claire
Give a subtle nod to your festive theme with these simple rustic invites that come with a candy cane-striped ribbon, synonymous with Santa's elves. It's ideal if you're having a barn or vintage winter wedding, as it's a festive twist on shabby chic and doesn't overdo the Christmas wedding invitation theme.
Still not sure what kind of invites you want? Check out these awesome alternative invitation ideas!