Our Complete Guide to Wedding Catering
Started thinking about your wedding catering? From the questions to ask your caterer to what kind of food to serve your guests, we answer all of your wedding catering questions in our complete guide
We have included third party products to help you navigate and enjoy life's biggest moments. Purchases made through links on this page may earn us a commission.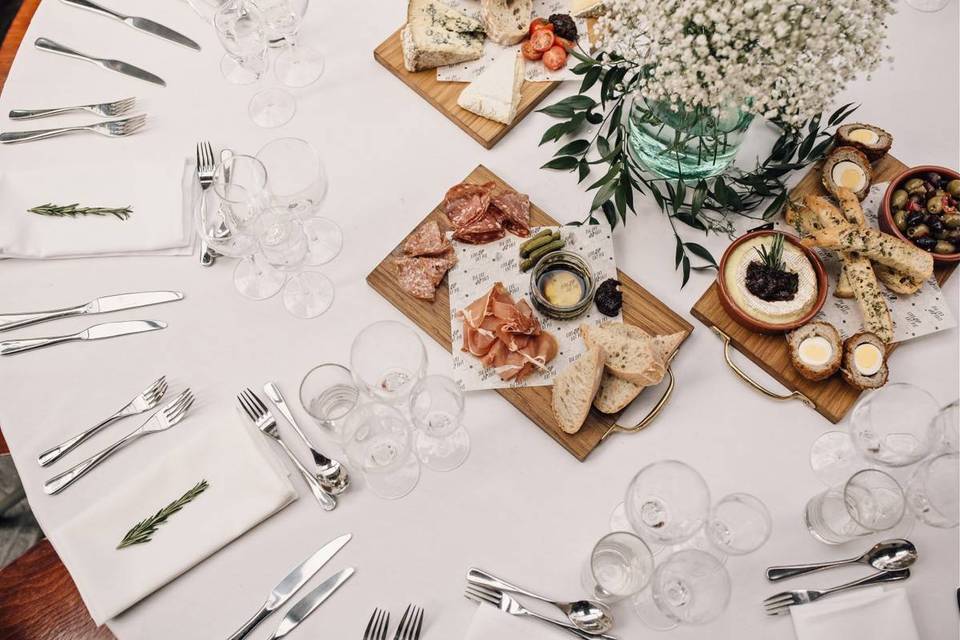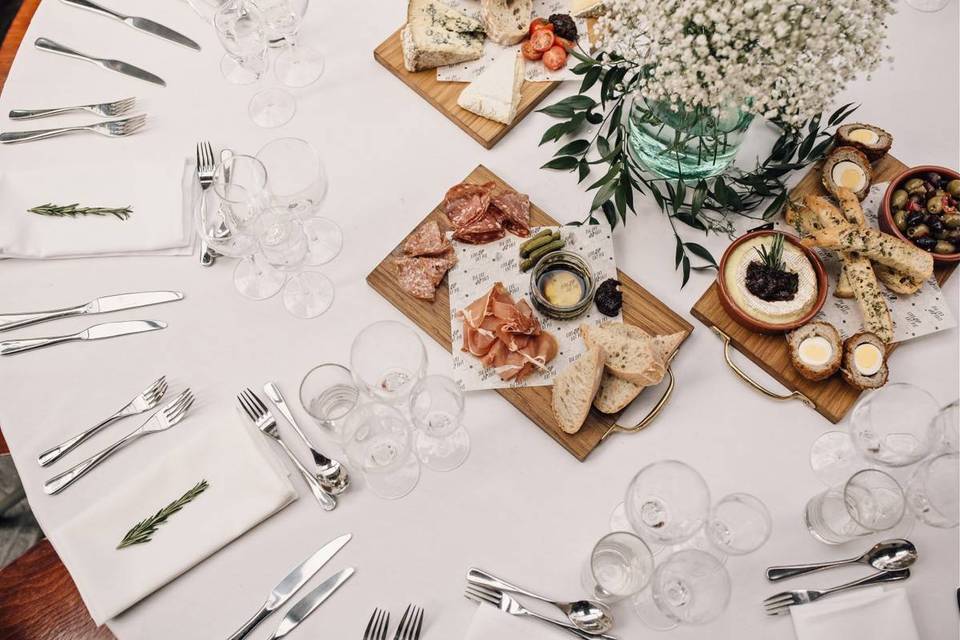 If you've booked a dry-hire wedding venue or you're after a specific type of cuisine that your venue just doesn't offer, you're going to need to book wedding catering.
Choosing and booking your own wedding catering should be a fun experience – who doesn't like talking about and eating food?! But if you don't know your canapés from your bowl food or your grazing tables from your sharing boards, things can quickly get confusing. Add to that working out how many portions you'll need and how much of your wedding budget you'll need to set aside and things can quickly get stressful. Not so fun.
To help you nail your wedding menu and find the right wedding catering for you, we've answered the most frequently asked questions about wedding catering. Now all you need to do is make it through this article without getting hungry!
READ MORE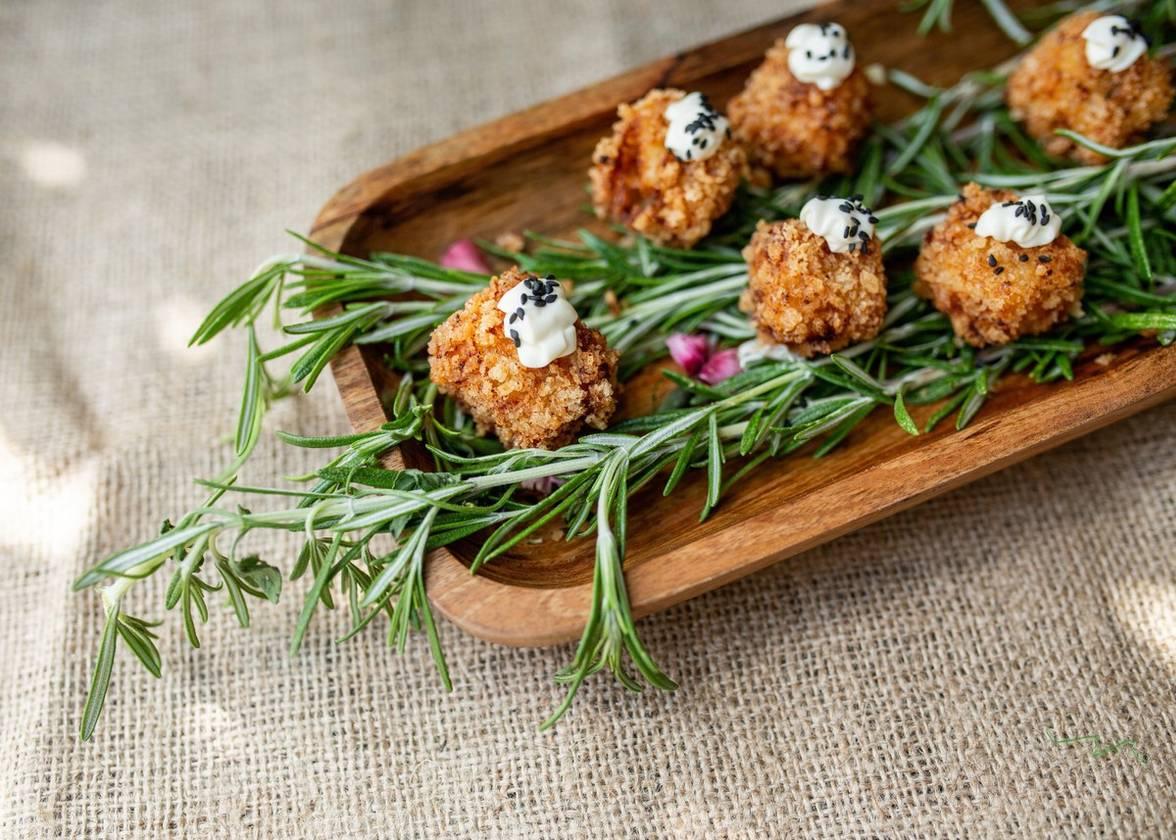 How Do I Book a Wedding Caterer?
First of all, it's worth looking through our wedding catering suppliers and checking out the options in your area. There's everything from grazing tables to BBQs and formal sit-down caterers here.
It's also worth asking your venue if they have a list of recommended caterers that have worked at the venue before - it's always good to know who previous couples recommend and it's handy if the caterers you choose are already familiar with the venue's set-up.
Once you've narrowed down a caterer or two that you like, contact them and ask to arrange an informal chat. Initial consultations are free and offer you the chance to share your ideas and must-haves with the caterer. The caterer can then let you know what's possible and offer up some ideas you may not have thought of.
Once you're happy with your caterer, you can then secure your date with a deposit. Remember, always check that the caterer is available on your wedding date before booking your consultation to avoid major disappointment.
READ MORE: 19 Alternative Food and Drink Ideas for Couples Looking for Something Different
Will My Venue Do My Wedding Catering?
It depends! Some wedding venues require you to use their in-house catering team while some will allow you the choice. Some venues don't have a catering team on-site but have a partnership with a local catering company that requires couples to use them when they book the venue, and some simply offer a list of approved catering suppliers.
There are also plenty of venues, particularly outdoor and festival wedding venues, that don't have a set caterer or catering facilities. Don't panic though, caterers can sort everything from power supplies to ovens, you just need to let them know the situation at your venue from the very first consultation.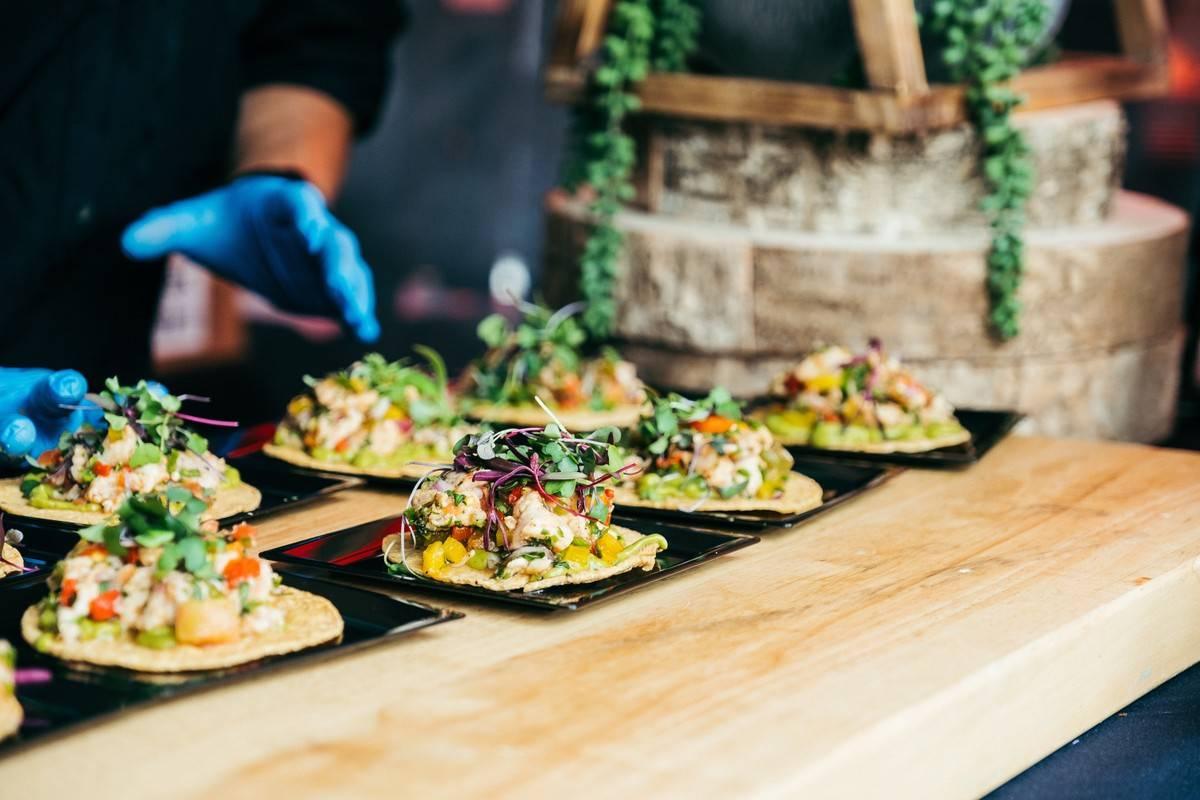 What Do I Need to Ask My Wedding Caterer?
Every couple and their requirements are different, but starting with the questions below will really help:
Are you free on my wedding date and do you have any other commitments that day?
Is your menu set or do you offer a bespoke service?
Can we see a sample menu?
What are your most popular dishes?
Do you charge a bulk fee or cost per head?
Do you have pictures of the food?
Have you worked at my venue before?
Do you offer a complimentary food tasting? Can I bring along more people at an additional cost?
When will you need final numbers?
When will you need a final decision on the menu?
What desserts do you offer?
Do you offer drinks packages?
Will you provide bar staff?
How many serving staff will you have on the day?
What is your staff dress code?
Do you make wedding cakes?
Do you offer a wedding cake cutting service?
How do you cater for dietary requirements and allergies?
Do you offer halal and kosher options?
Do you offer a children's menu?
Will you provide plates, cutlery and table linen?
Do you need access to a power source (if working outside)?
How much do I need to pay to secure my booking and when is the final balance due?
What is your cancellation policy?
READ MORE: 32 Questions to Ask Your Wedding Venue
What Kind of Food Can I Serve at My Wedding?
Anything you like! Well, within reason. Weddings these days are getting increasingly creative and more couples than ever are giving the traditional three-course meal a miss in favour of something a little more relaxed.
One of our favourite ideas is grazing tables, a table stacked high with anything from traditional charcuterie delights to sushi rolls. We also love the idea of pie, pizza and burger stands – they're guaranteed to be crowd-pleasers!
If you fancy something a little more traditional like a sit-down meal, you don't have to go full silver service. Plenty of caterers offer family-style sharing menus and build-your-own dessert options that can be done as part of a sit-down meal set-up.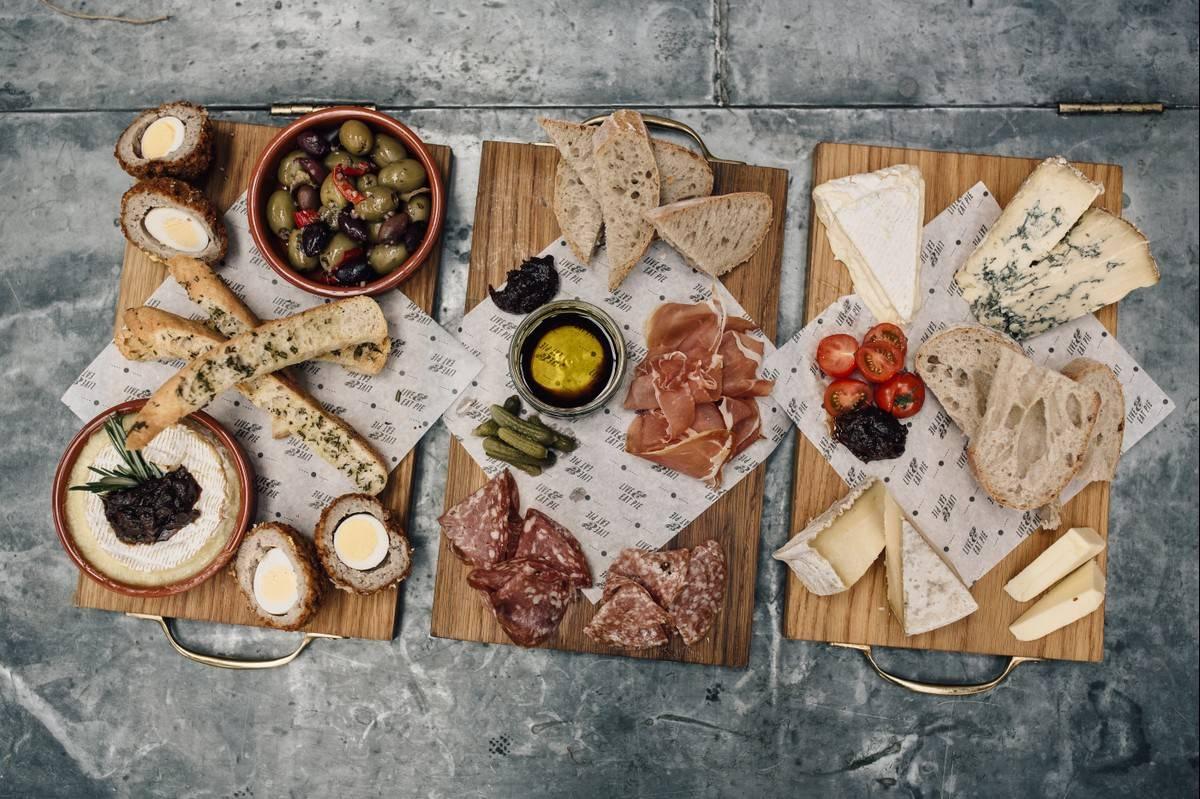 Can I Have On-the-Day Meal Choices?
This really depends on the caterer's rules and the number of guests you have. Most weddings have a set menu, with different meals provided only to those with specific dietary requirements or allergies.
To avoid guests turning up to a meal they're really not keen on, tell guests what you're planning on serving as the main meal in advance. For example, if you're serving up sea bass, you may have one or two guests who don't like fish and they can simply select the vegetarian option on their RSVP instead. This won't increase the number of dishes being prepared on the day or the cost.
If you're really set on having menu choices on the day, speak to your caterer about narrowing it down to two or three dishes that can be easily made on the day or opt for a casual dining experience such as a taco or pizza bar where guests are able to customise their orders or build their own.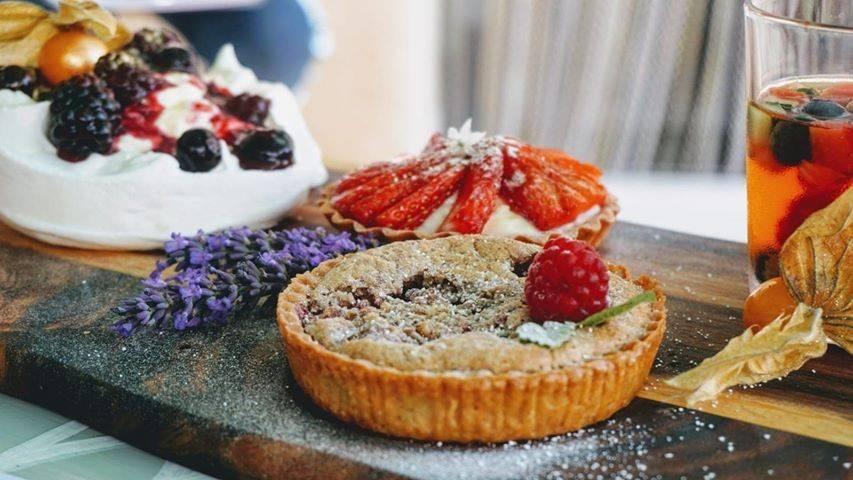 Will My Wedding Caterer Create Dishes for Guests With Dietary Requirements?
Every caterer will work to make suitable dishes for dietary requirements. Keep in mind, this is for guests with allergies and intolerances and your caterers are unlikely to cater for individual preferences, especially when requested on the day.
Make sure you include a dietary requirements section on your wedding invitations or wedding website to make it easy for guests to let you know. You can then pass the list of guests with special requirements directly to your caterer.
READ MORE: Wedding Invitation Wording: 17 Example Templates to Make Your Own
Do Caterers Have Reviews?
Yes. Check their social media pages, the testimonials section of their website and their Hitched listing if they have one. You should be able to find reviews from previous couples as well as venues. If you're struggling to find any online, don't be afraid to ask.
Do Caterers Provide Serving and Bar Staff?
Yes, most caterers will provide serving staff and bar staff if you have hired a drinks package from them. Check how many waiting staff they have per table and whether their services also include things like manning the cloakroom, helping guests find seats and cutting and serving the wedding cake.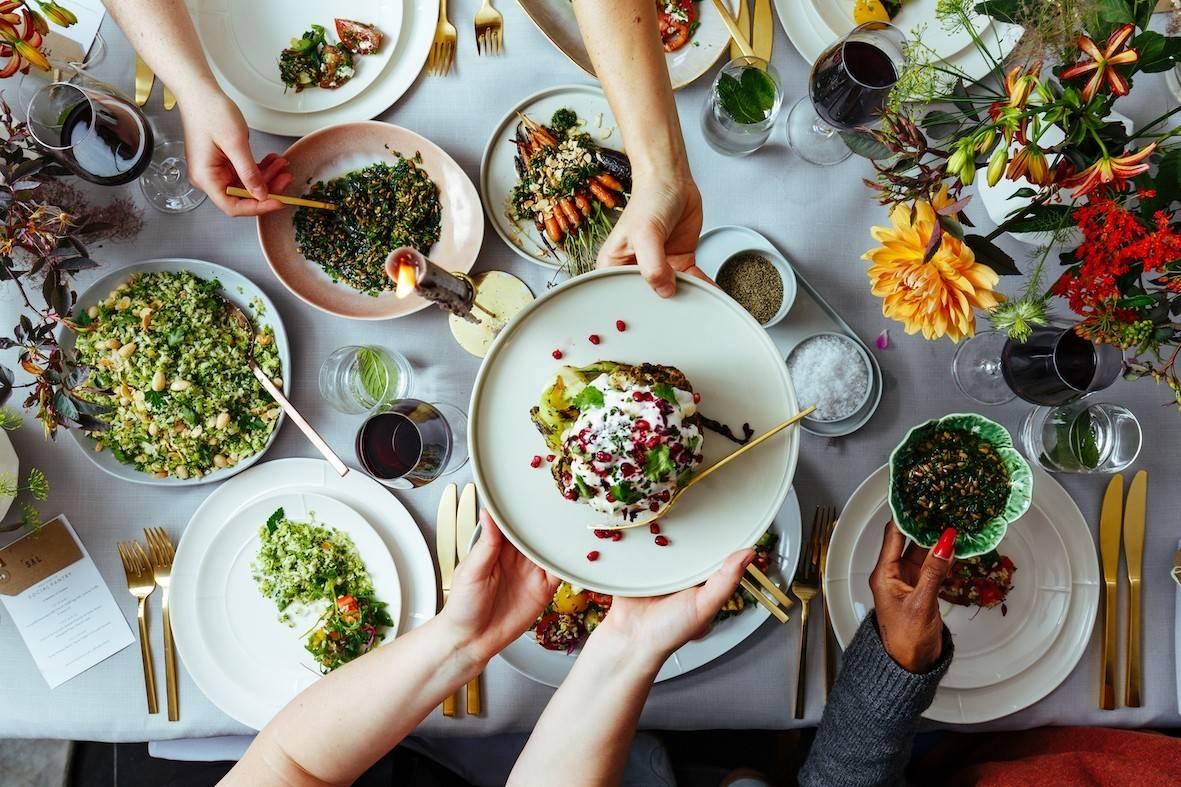 Do I Need Evening Food?
It depends on the time of your wedding reception but generally we think you should. If you're not inviting more guests for the evening and your wedding breakfast was after 7pm, then some cheese and biscuits or small grazing boards served a couple of hours later should be fine.
If your wedding breakfast is in the afternoon then guests will begin to get hungry before the end of the celebration and you'll want to keep them fuelled long enough to fill the dance floor until the last track, right? A hot or cold buffet, pizza van, hog roast or mini fish and chip cones are all super-popular choices that will provide guests with all the energy they need to throw out their best shapes.
If you're inviting evening guests, we think it's especially important to hold something special back for their arrival. No one likes to feel like an afterthought when they arrive as an evening wedding guest and having a delicious evening menu to welcome them with will have them feeling like VIPs. Provide some food and think about hosting a cocktail hour to allow evening guests to mingle with day guests and get everyone in the mood to party.
Even if you're not keen on splashing out on cocktails, ensure that some welcome drinks are provided for evening guests and that your drinks package hasn't been drained by your day guests!
READ MORE: How to Throw an Amazing Wedding After Party: 20 Fun Ideas
How Much Evening Food Should I Provide?
A general rule of thumb is to provide for 75% of total guests as not all guests will be in the mood for more food and some will be happy to stick with wedding cake – particularly if you've settled on a cheese wedding cake!
Ask your caterer for their recommendations, they'll have plenty of experience in working out how much food to provide. It's sensible to slightly overestimate - better to risk having leftovers than have anyone feel as though they need to swing by the chippy on the way home!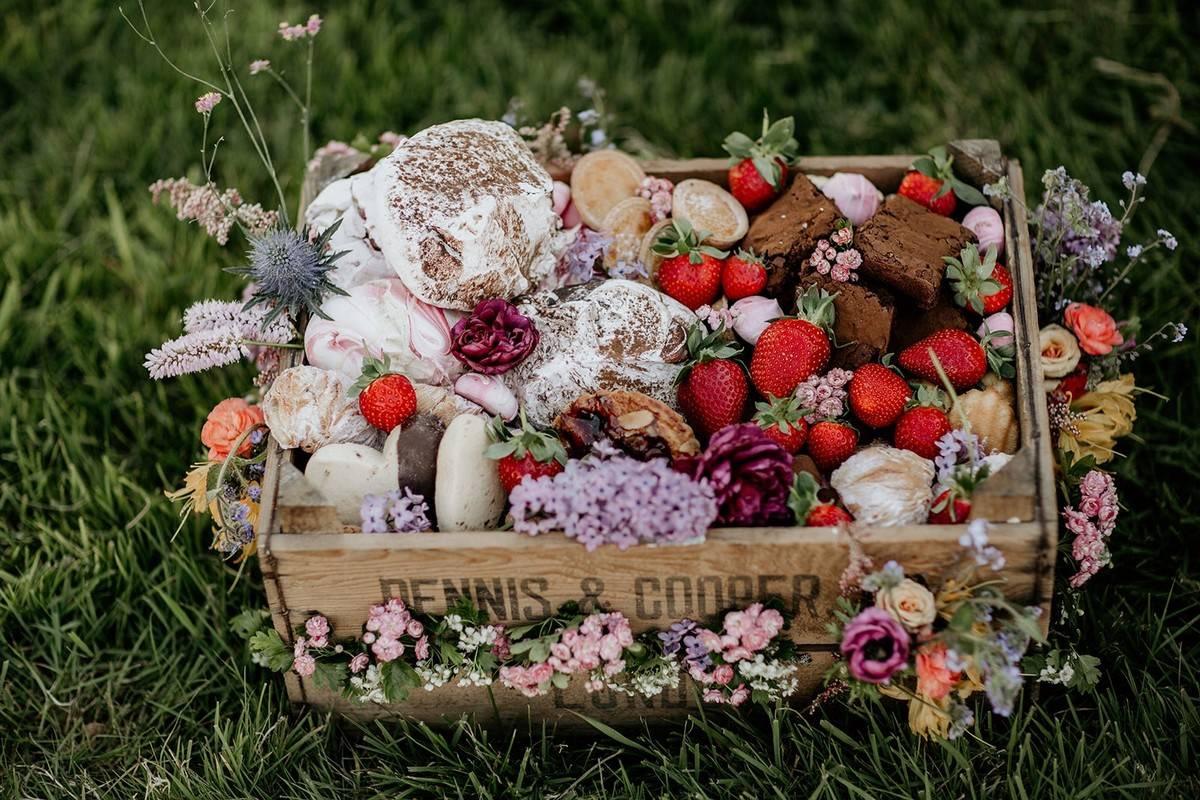 How Much Will My Wedding Catering Cost?
This totally depends on guest numbers and the type of food you're planning on having. If you're serving up steaks for all you can expect it to be a lot more than chicken, for example, and if you'd like to serve up multiple options on the day, you can expect to be charged a little more by your caterer.
Casual dining options such as street food vans should come out cheaper than three-course meals, so if you're looking to save, we'd go relaxed with your dining. Remember, the more self-service your catering is, the less caterers will need to charge for staff. You can also skip cutlery and table linen hire and cleaning costs when you opt for finger food and buffets.
Now you know what you need to do when you're planning your wedding food, why not check out these delicious wedding canapé ideas for more inspiration?