The Best Disney Quotes for Your Wedding Ceremony
If you and your partner are fans of Disney and Pixar then pick one of these cute quotes to include in your ceremony or speech... tissues at the ready!
We have included third party products to help you navigate and enjoy life's biggest moments. Purchases made through links on this page may earn us a commission.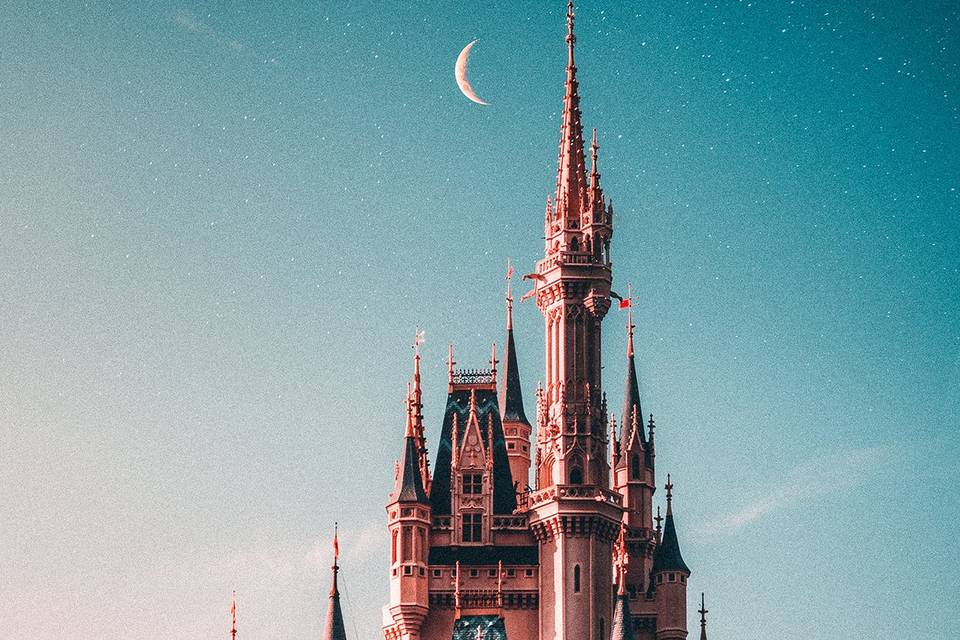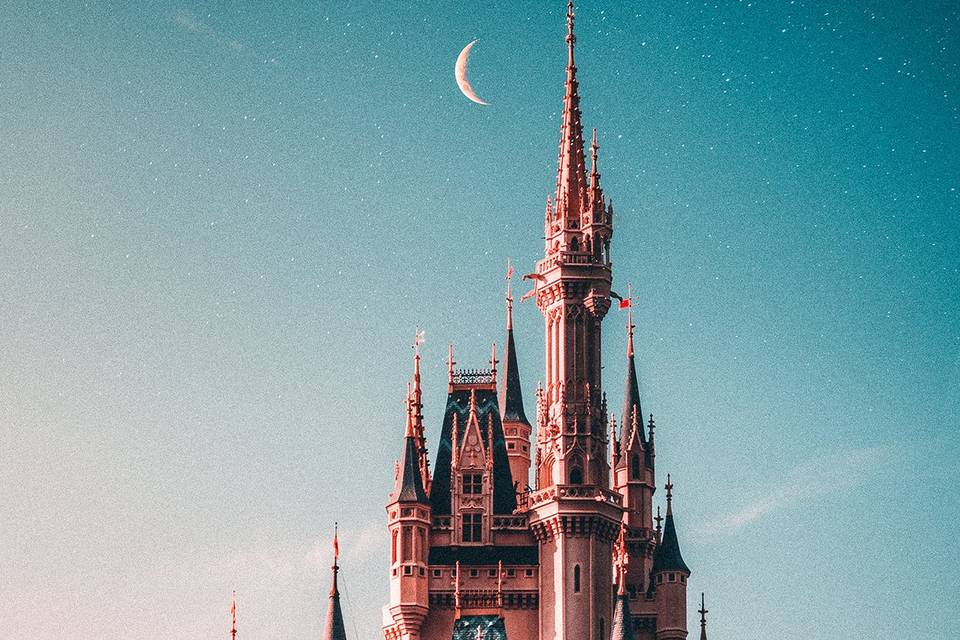 After months of planning, your wedding ceremony is sure to be beautiful, but a quote from your favourite Disney film could be just what you need to add a final touch of magic to your wedding ceremony
Whether you're a lover of Finding Nemo or a die-hard Cinderella fan, there's sure to be a lovely Disney quote here which will work perfectly on your big day.
Tangled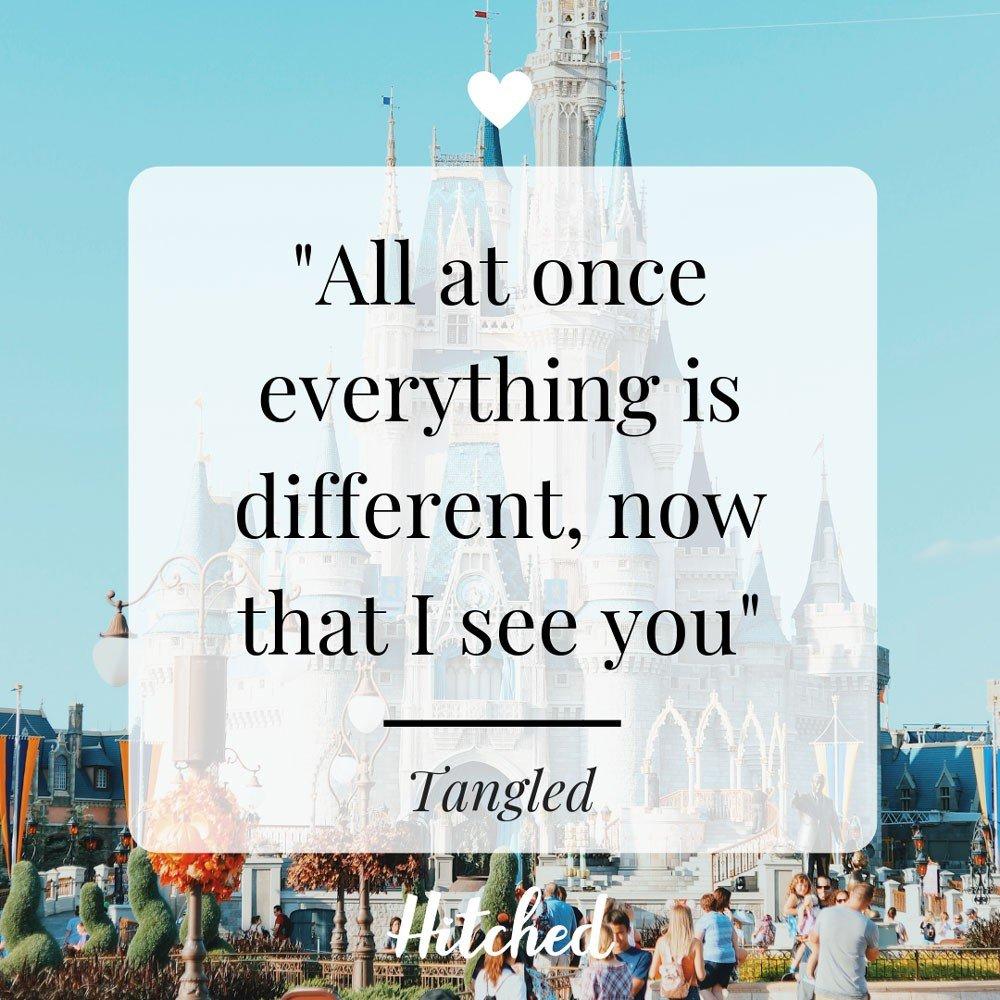 "All at once everything is different, now that I see you"
If you love the idea of a Rapunzel-themed wedding then this Tangled quote could be perfect for your special day.
Bambi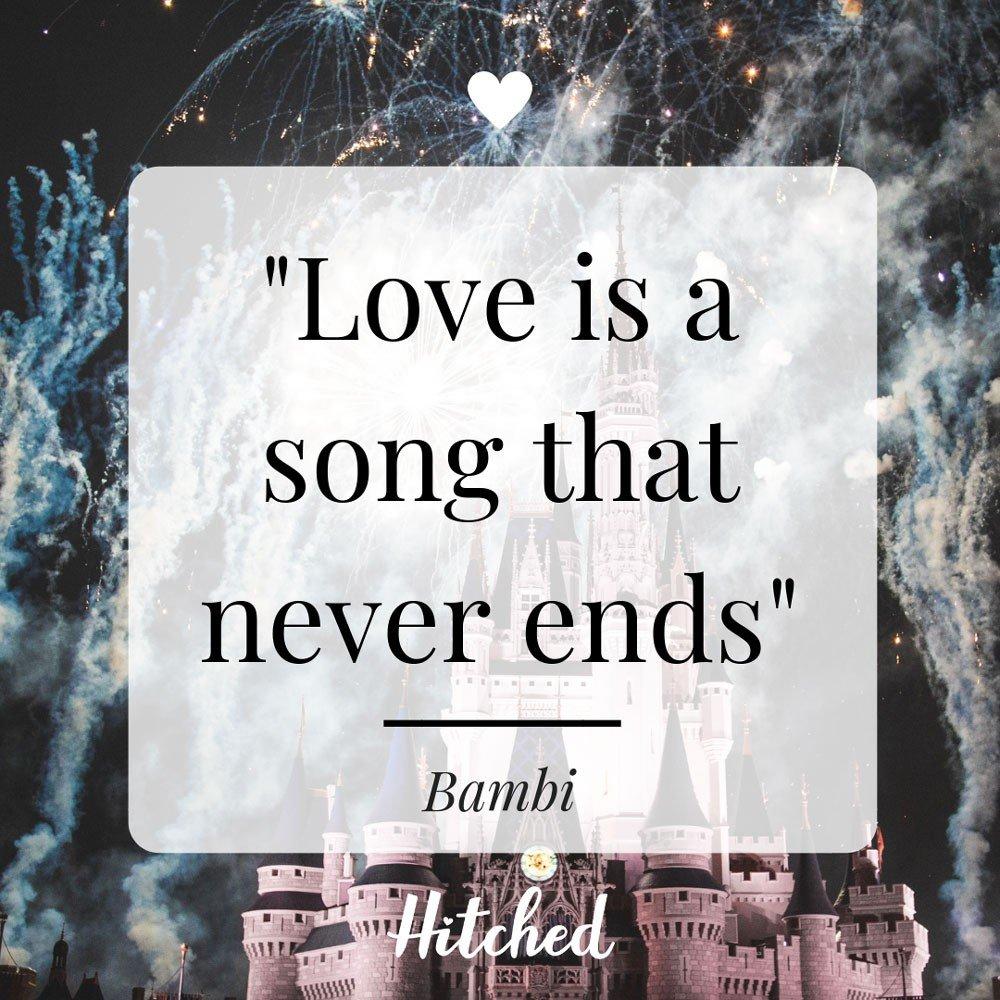 "Love is a song that never ends"
If you are a musical couple this romantic quote from Bambi will be beautifully suited to your wedding.
Pocahontas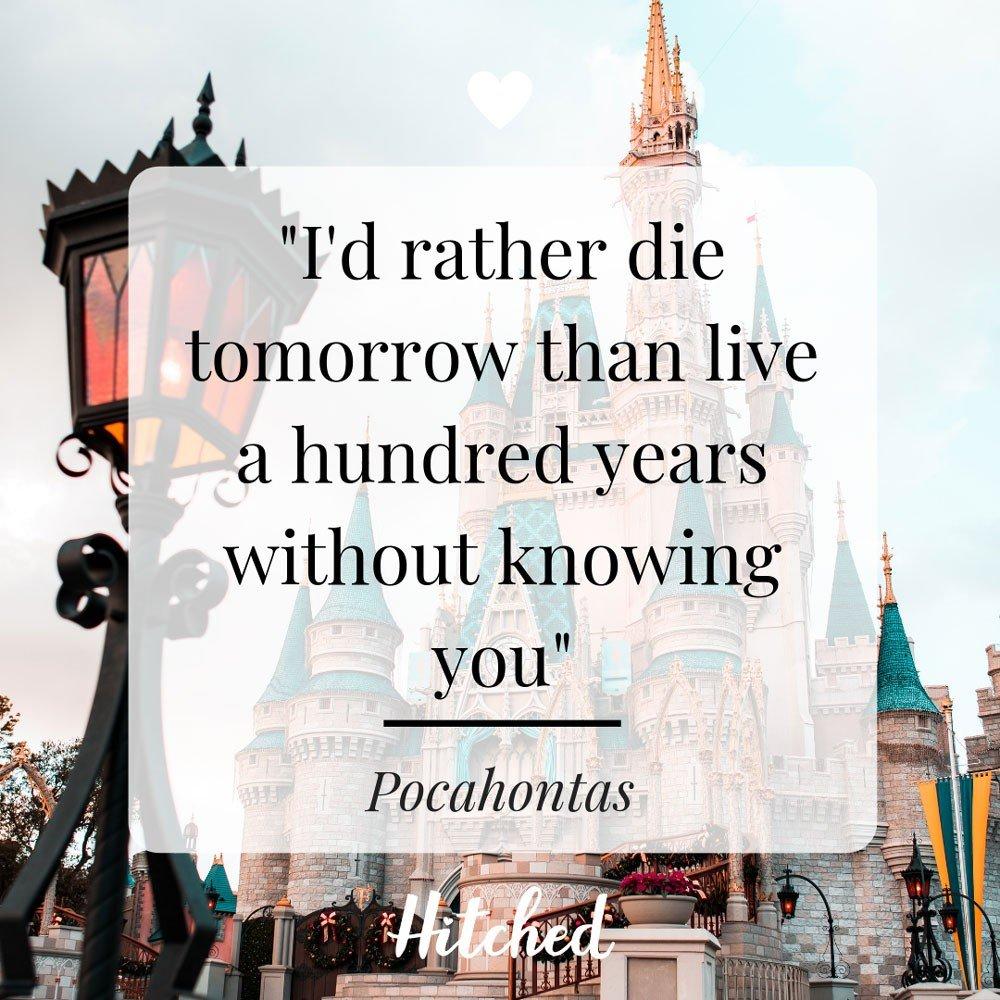 "I'd rather die tomorrow than live a hundred years without knowing you"
We loved the forbidden love between Pocahontas and John Smith and this quote sums it up beautifully.
Tarzan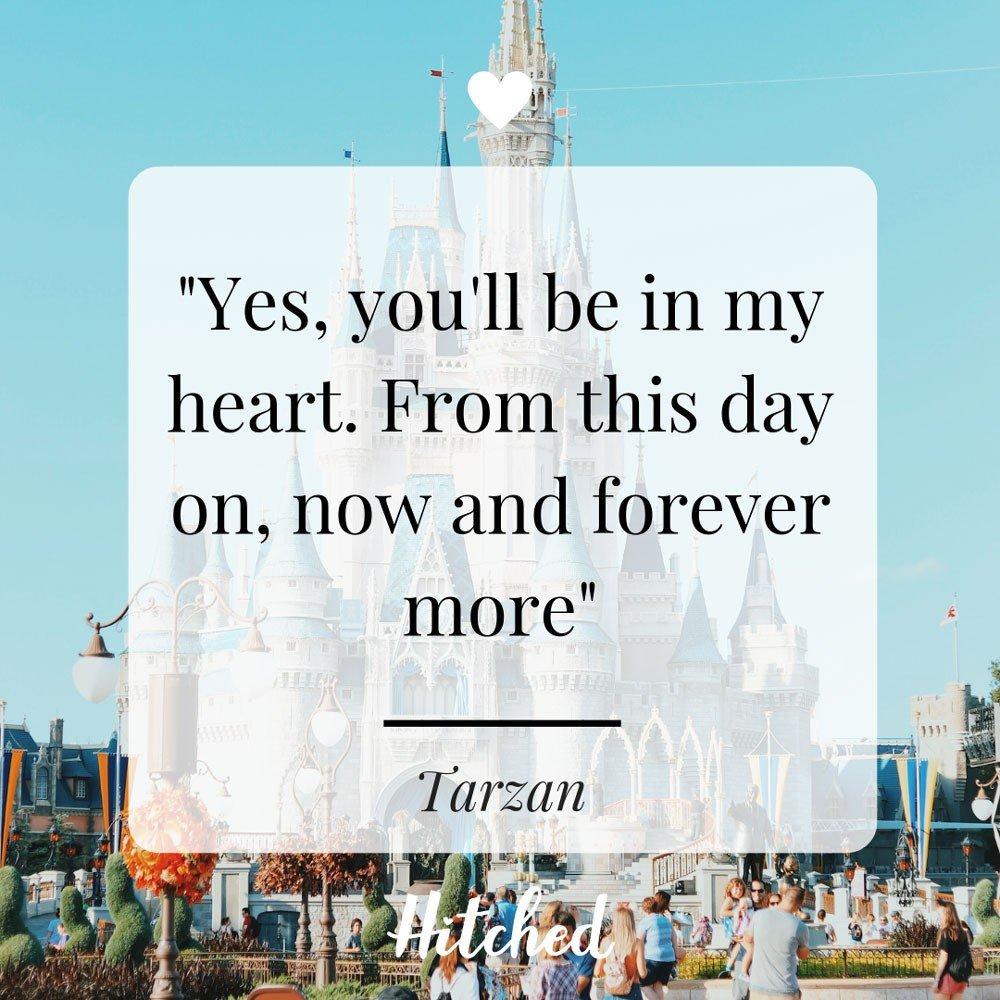 "Yes, you'll be in my heart. From this day on, now and forever more"
If you have found the Tarzan to your Jayne then this dreamy quote will perfectly suit your wedding day.
READ MORE: Gorgeous Personalised Wedding Gifts
The Princess and the Frog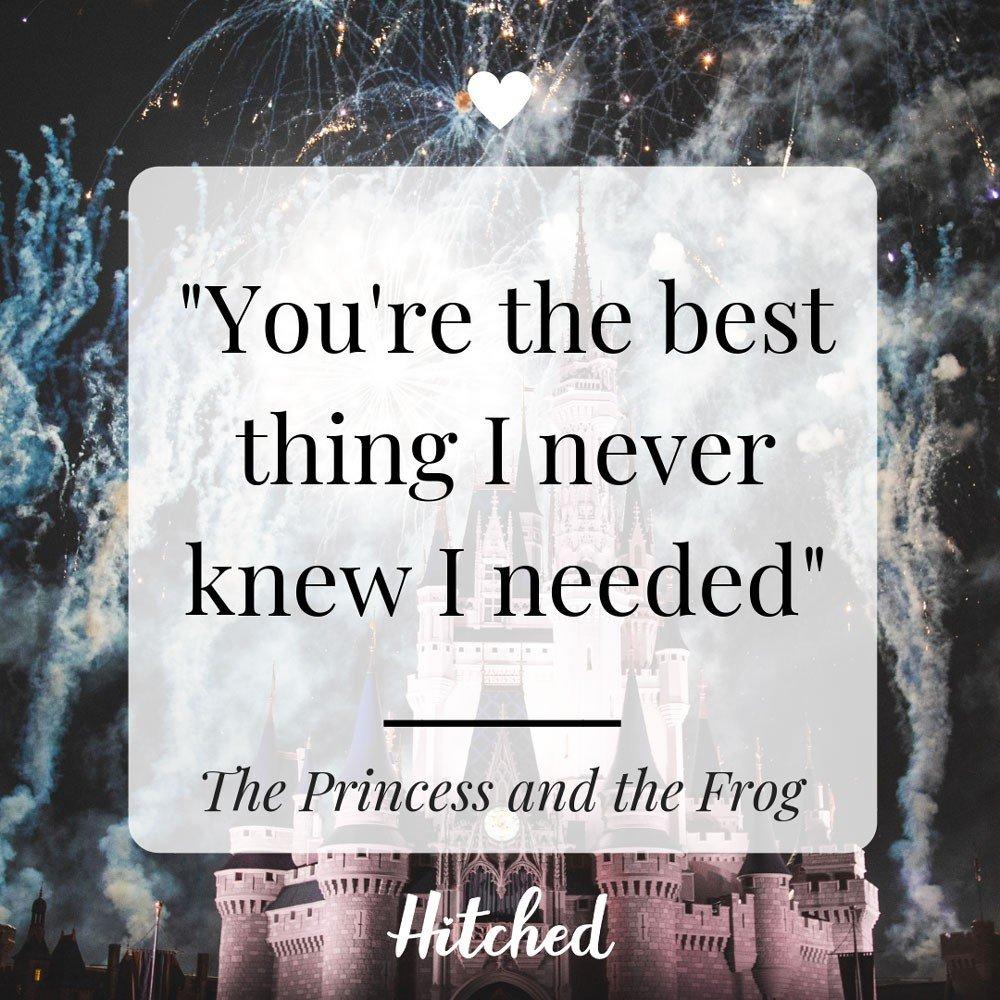 "You're the best thing I never knew I needed"
For couples that have been totally independent and then happened to have stumbled across each other and fallen in love, this quote sums it all up.
Finding Nemo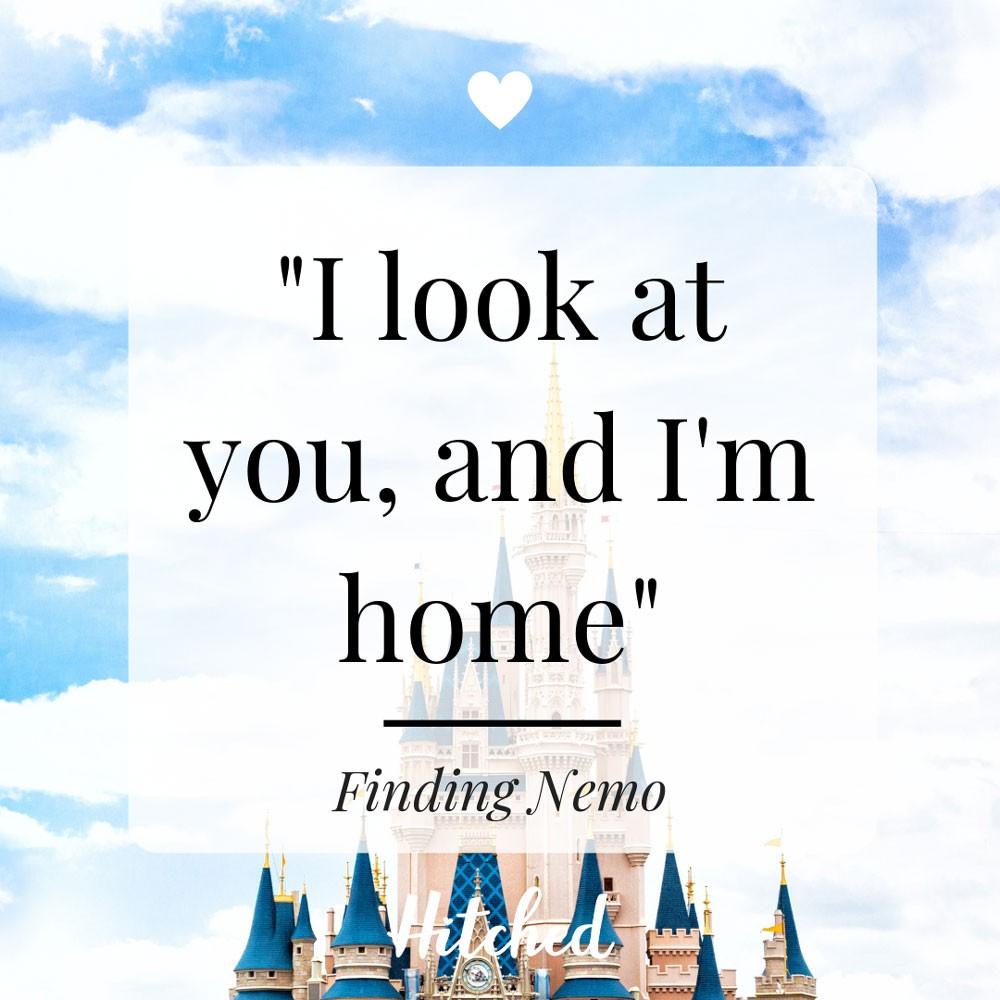 "I look at you, and I'm home"
Who doesn't love Finding Nemo – we love the cute sentiment in this quote.
READ MORE: Bridesmaid Gifts For Every Budget
Peter Pan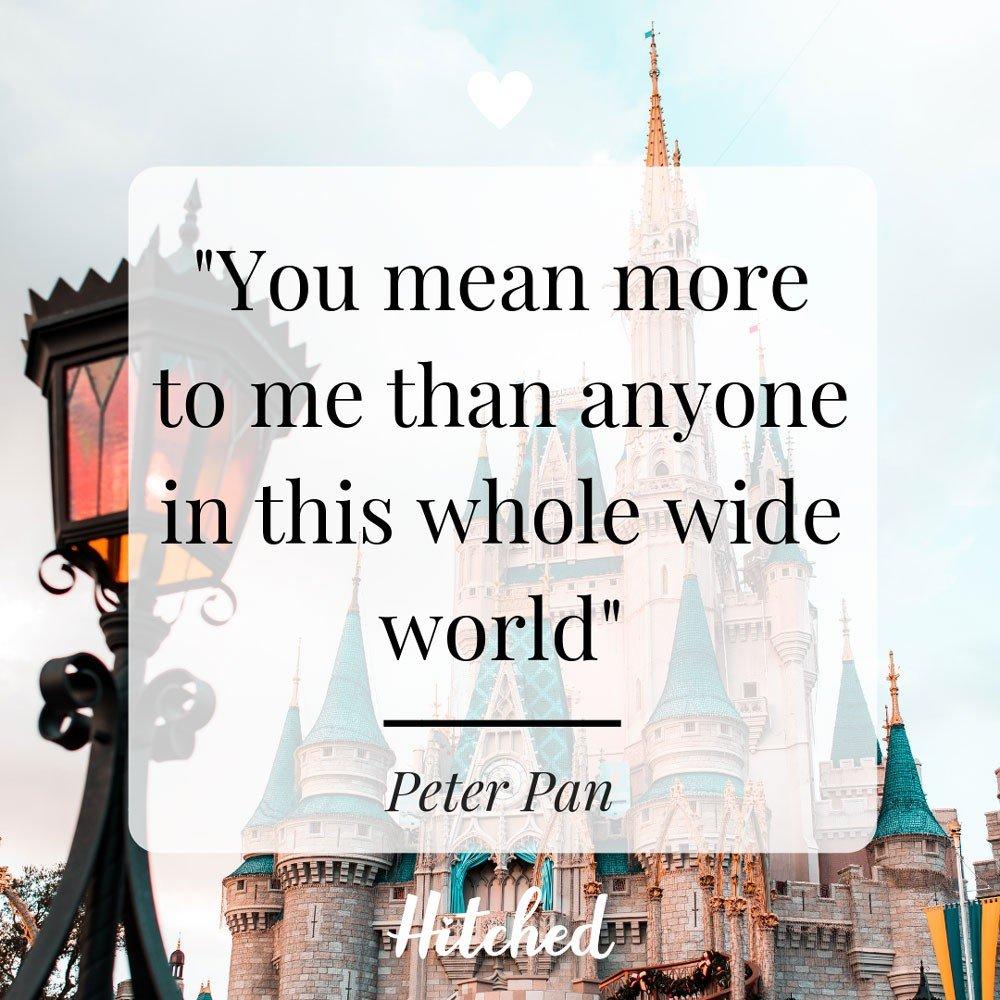 "You mean more to me than anyone in this whole wide world"
If your partner means the world to you then this Peter Pan quote could be the perfect message to write in your wedding card to them.
The Incredibles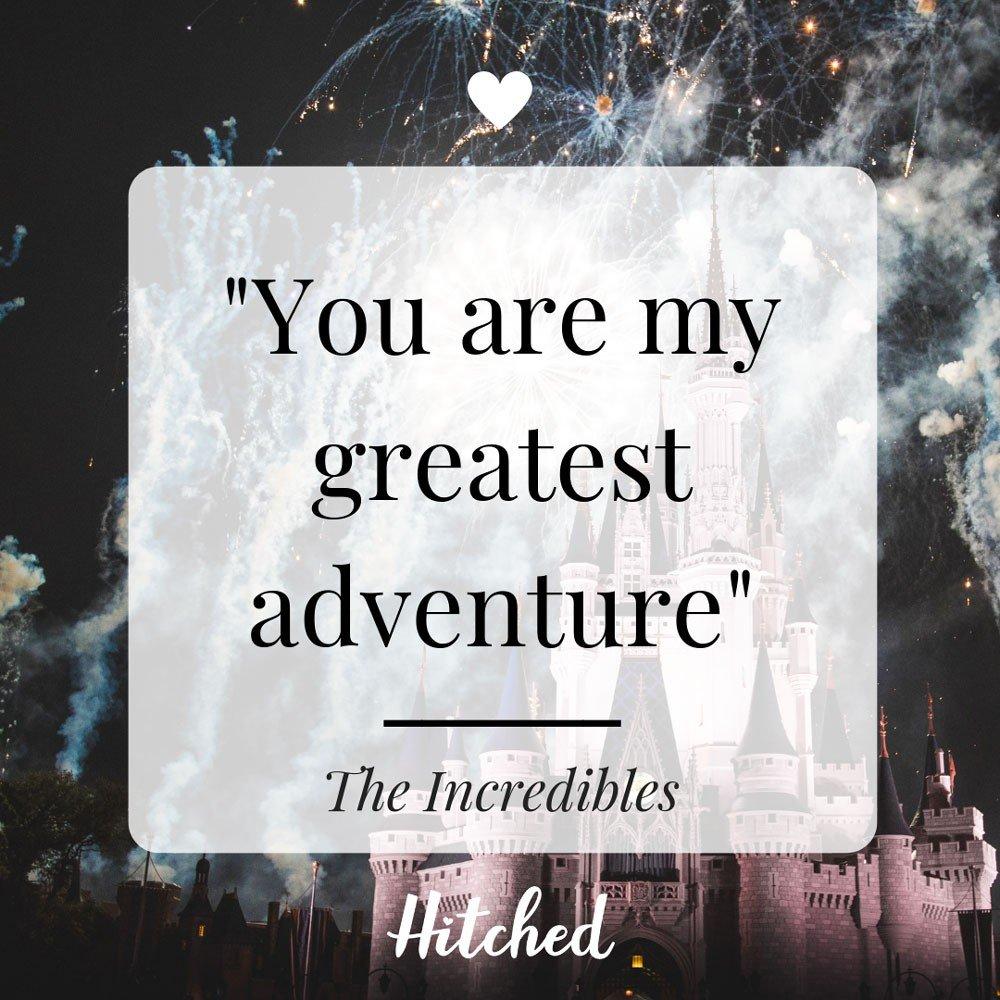 "You are my greatest adventure"
Perhaps you've been exploring the world together? Or simply having the time of your lives? Then this quote is just for you.
Up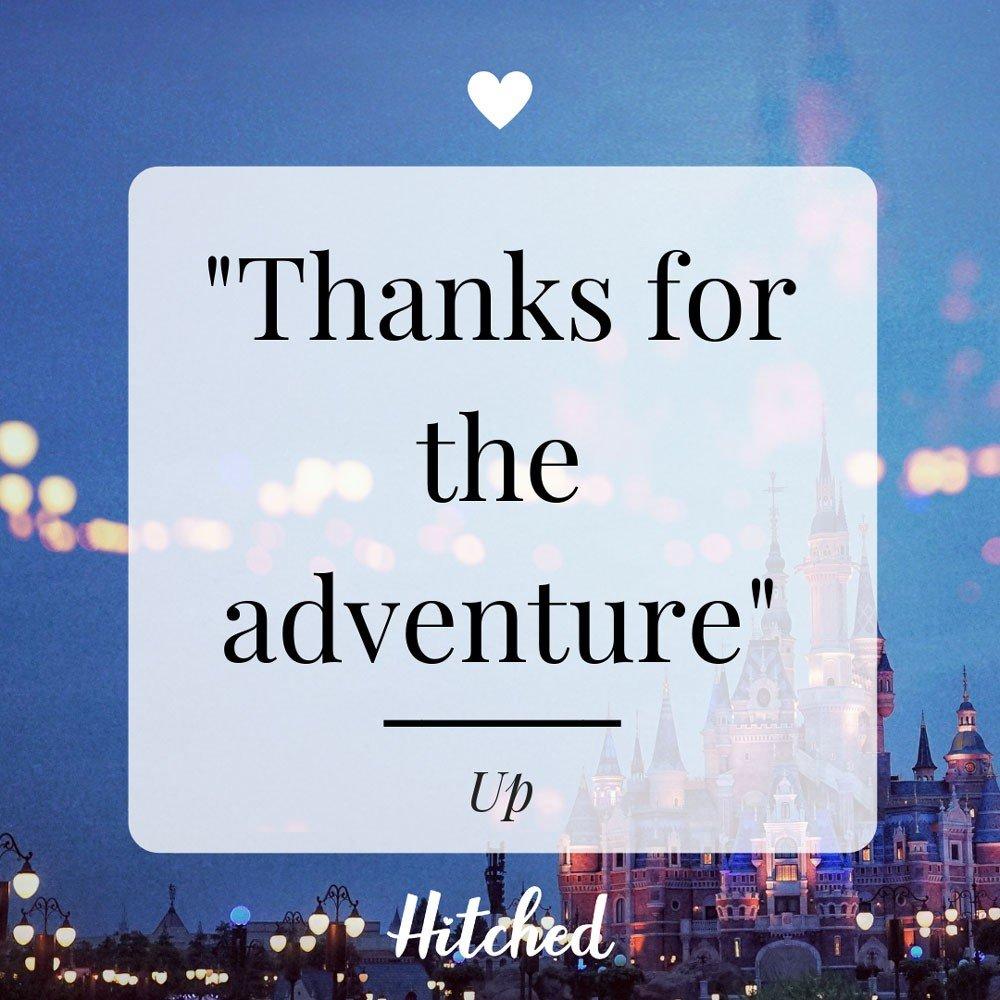 "Thanks for the adventure"
Another beautiful quote for couples that love adventure is this tearjerker from Disney Pixar's Up.
READ MORE: Disney Wedding Dresses for Fairytale Weddings
Aladdin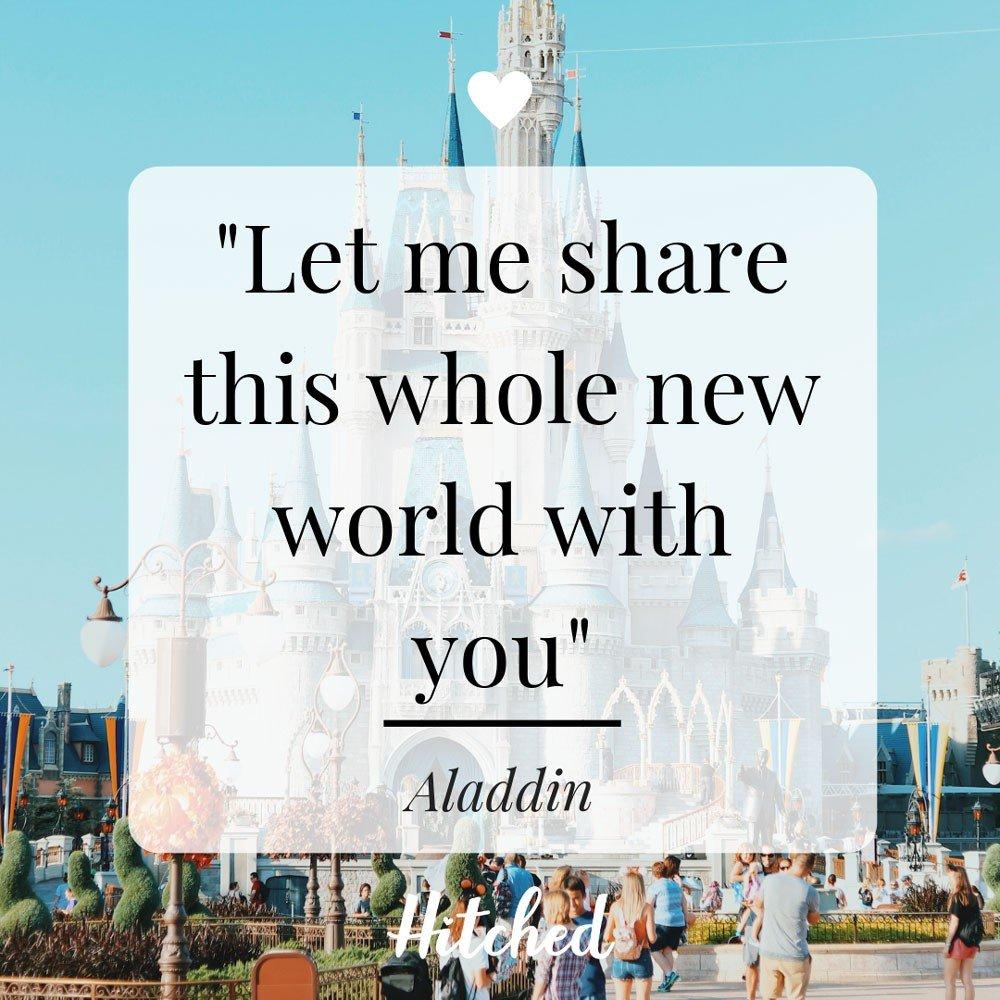 "Let me share this whole new world with you"
If you're both fans of classic Disney then these words from Aladdin could sit perfectly on your order of service.
READ MORE: The Ultimate Mr & Mrs Quiz
Hercules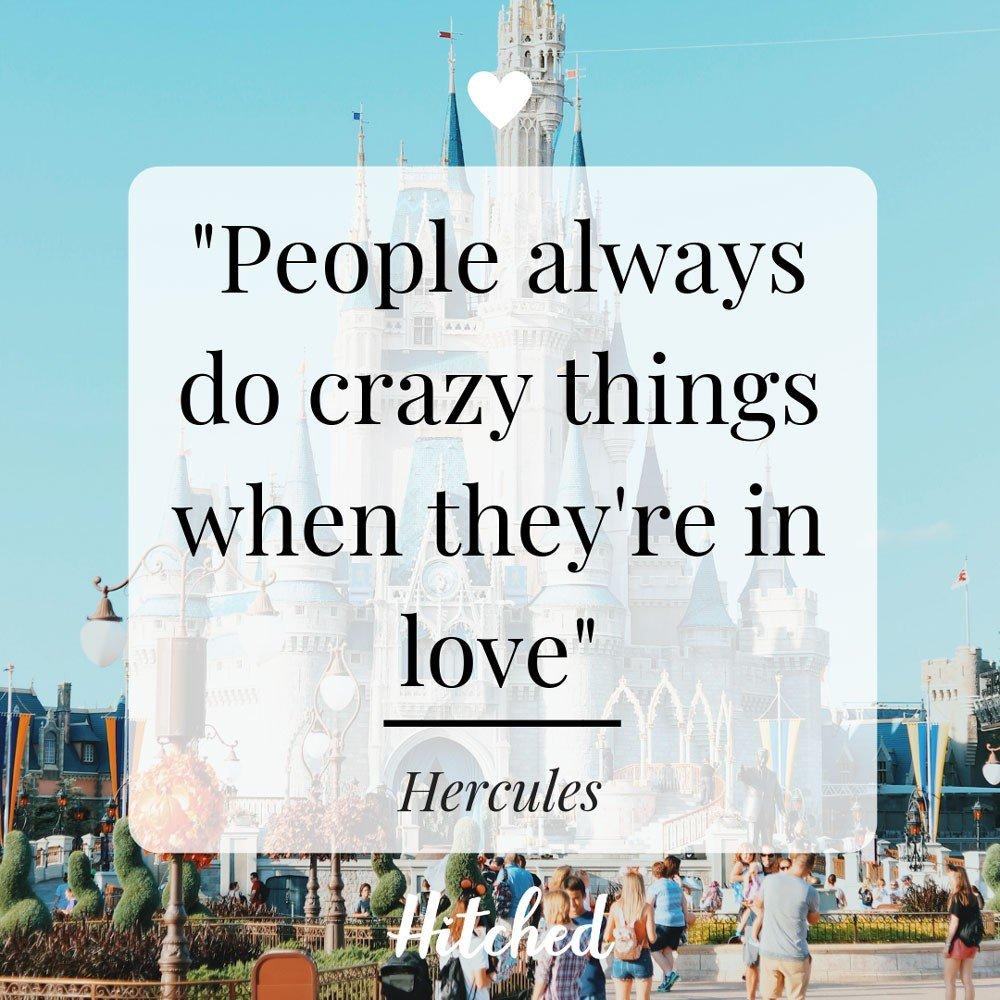 "People always do crazy things when they're in love"
We love that this quote from Hercules embraces the crazy side of love.
READ MORE: The Most Enchanting Disney Wedding Cakes
The Nightmare Before Christmas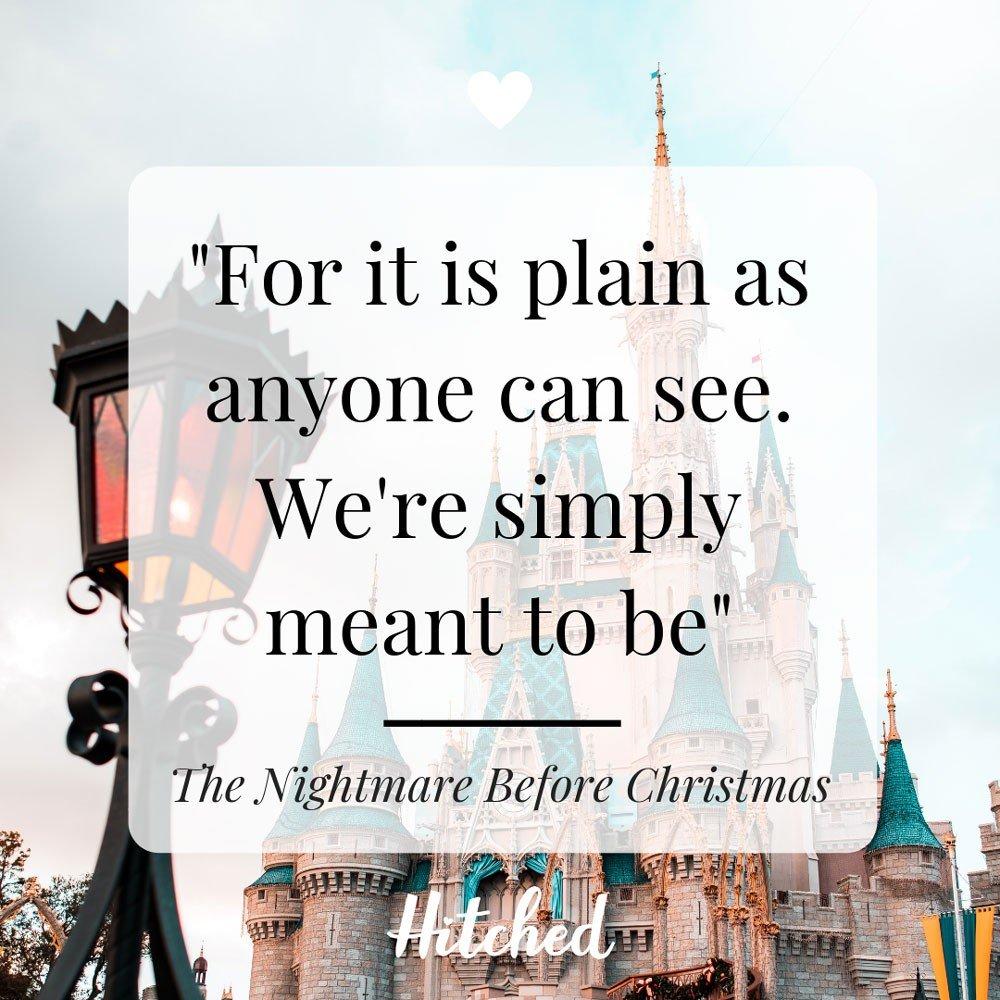 "For it is plain as anyone can see. We're simply meant to be"
If you like the darker side of Disney then this quote from The Nightmare Before Christmas will be perfect for you.
Cinderella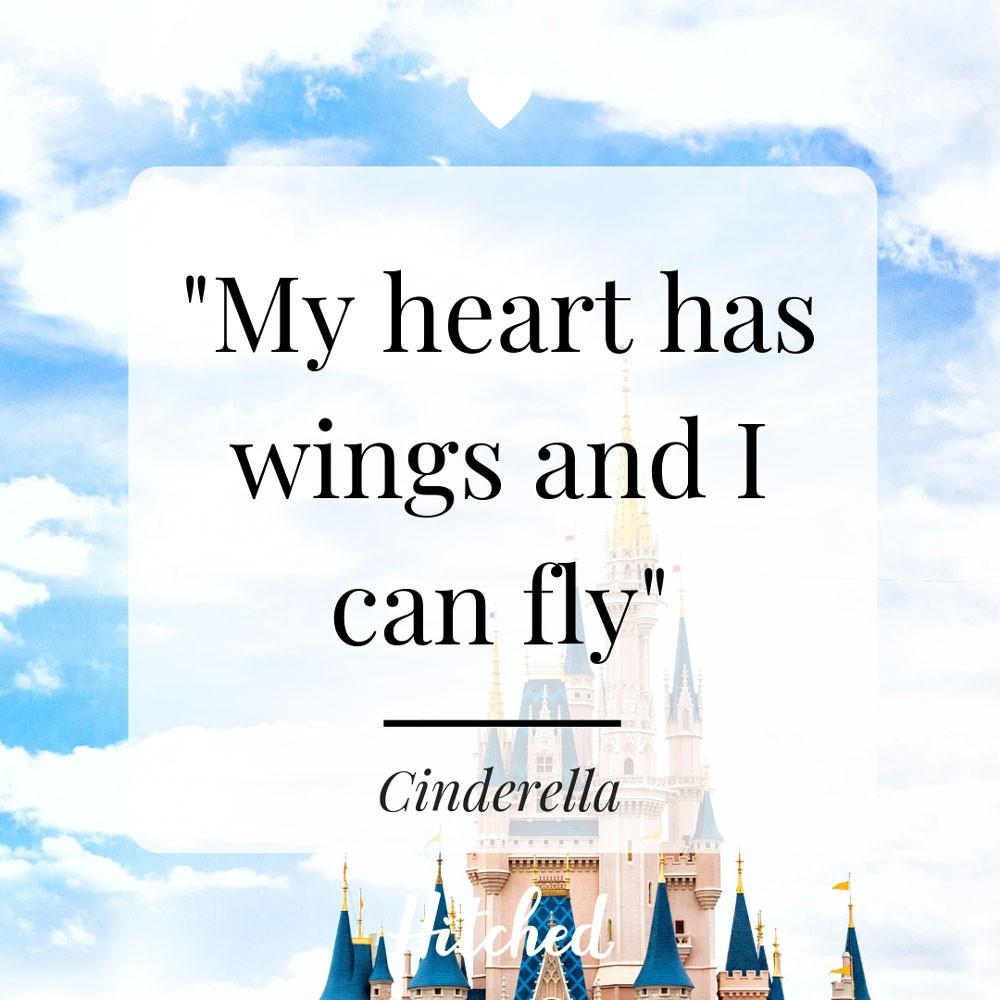 "My heart has wings and I can fly"
Another great quote for classic Disney fans is this romantic line from Cinderella.
READ MORE: Hilarious Quotes About Love & Marriage
Alice in Wonderland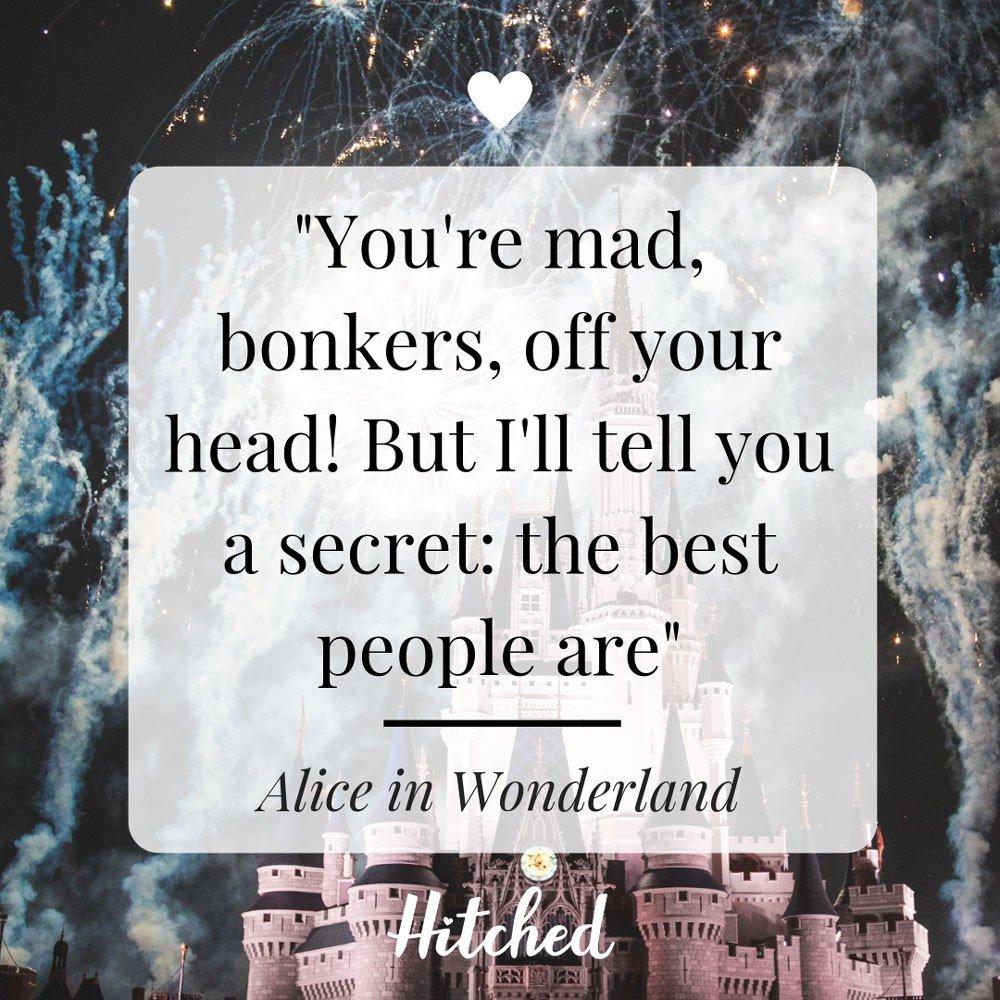 "You're mad, bonkers, off your head! But I'll tell you a secret: all the best people are"
For those planning an Alice in Wonderland style wedding, this quote will suit the tone of your day beautifully.
READ MORE: Magical Disney Wedding Songs
Love these quotes? Save your favourite, share it on Instagram and Facebook, and tag us so we can spread the love too!
Our Favourite Disney Quotes – Prints and Gifts
If including a Disney quote in one of your readings isn't quite enough, you could frame one (or two) of your favourite quotes and have it on display as part of your wedding day decor. There are also some romantic gift ideas that would be perfect for your other half.
READ MORE: Inspiring Quotes About Love & Marriage
Alice In Wonderland Quote – £13.49, Amazon
If you know your guests are just as bonkers as you are then we think this print of the famous quote from Alice in Wonderland would be perfect.
Up Inspired Printable Poster – £6.41, Mir Designs
This Up inspired poster reads "you are my greatest adventure" and is totally adorable! It would look great framed and on display at your wedding, or on the wall of your home.
Princess Tiana and the Frog Framed Print – £9.60, DMC Designs Inc
"You are the best thing I never knew I needed. So now it's so clear that I need you here always."
This gorgeous, illustrated print would look lovely on display at your rustic themed wedding! The design is just so pretty.
READ MORE: How to Save Thousands on Your Wedding Venue
Floral Watercolour Wreath Print – £4.32, Min Table Printables
"Once in a while in the middle of an ordinary life, love gives us a fairytale".
The colours in this print are so pretty – it would make a lovely addition to your bedroom wall and look amazing in a rose gold frame!
READ MORE: The Ultimate Rose Gold Wedding Guide
Peter Pan Typography Poster – £5.19, Aenaon Artwork
"You mean more to me than anyone in this whole wide world" is a lovely sentiment for your wedding day.
This framed Peter Pan quote would look adorable on display for all of your guests to see.
READ MORE: Winter Wedding Guest Dresses
Simba and Mufasa Watercolour Print – £9.61, Drop In Drop
Who doesn't love The Lion King? Frame this brightly coloured painting for a lovely addition to your wedding day decor.
Once the fun is over, you can hang it on the wall in your home for a romantic reminder of your happiest day!
Can You Feel The Love Tonight? Print – £6.29, Amazon
On another Lion King note, we have this quote from perhaps the film's most famous song.
Hosting a barn wedding? Pop this framed print on your dessert table for a gorgeous finishing touch.
"I Look At You and I'm Home" Digital Download – £4.80, Century Sign Co
Pay homage to the Disney Pixar favourite Finding Nemo at your wedding with this lovely Dory quote. "I look at you and I'm home" – how romantic!
If you are both die-hard Disney fans then don't miss our best Disney wedding songs, the most amazing Disney wedding cakes and our pick of the most stunning fairytale wedding dresses.