44 Disney Couple Costumes for Halloween
These Disney couples costumes will bring all of the magic of your favourite films to your Halloween party – here are 44 of the most brilliant ideas.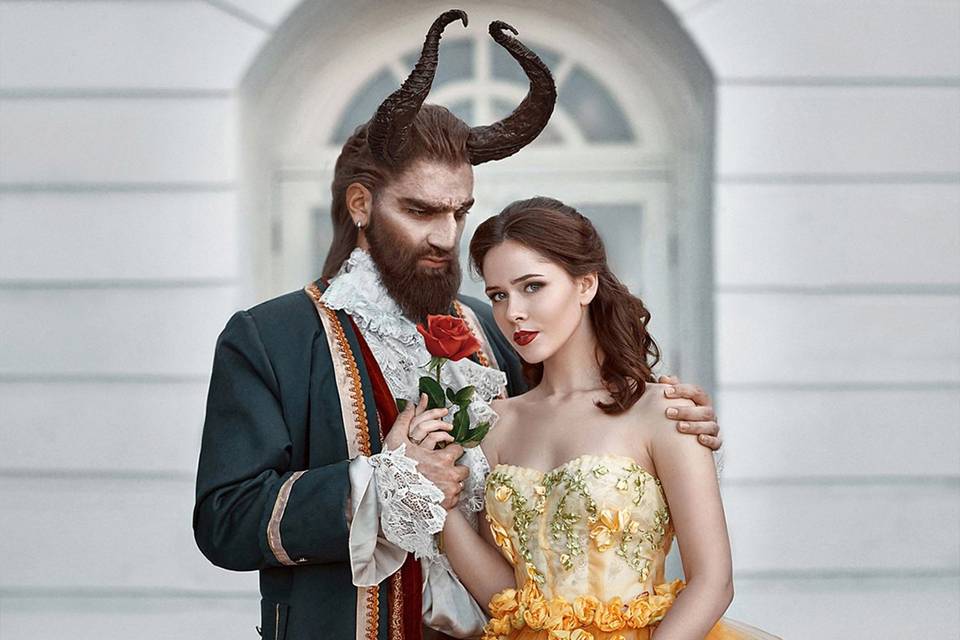 The only thing better than a great couples Halloween costume? A great Disney couples costume, of course – and we've got plenty of ideas to help make this your most magical Halloween yet.
The beauty of the Disney universe – songs, stories and happily ever afters aside – is that most of its characters come in pairs. From Mickey and Minnie to Cinderella and Prince Charming, there are so many Disney couples costumes up for grabs for you and your partner to transform yourselves into this October – and for a more contemporary twist, you can look beyond the classic animation to the realm of Pixar.
We've rounded up 44 of the best ideas the internet has to offer, plus all of the tips and tricks you'll need to pull them off yourselves, and even an edit of ready-to-wear costumes if you're not up for DIYing your looks. Welcome to a whole new world (sorry, we couldn't resist) of Halloween costume joy…
READ MORE:
1. Cinderella and Prince Charming (Cinderella)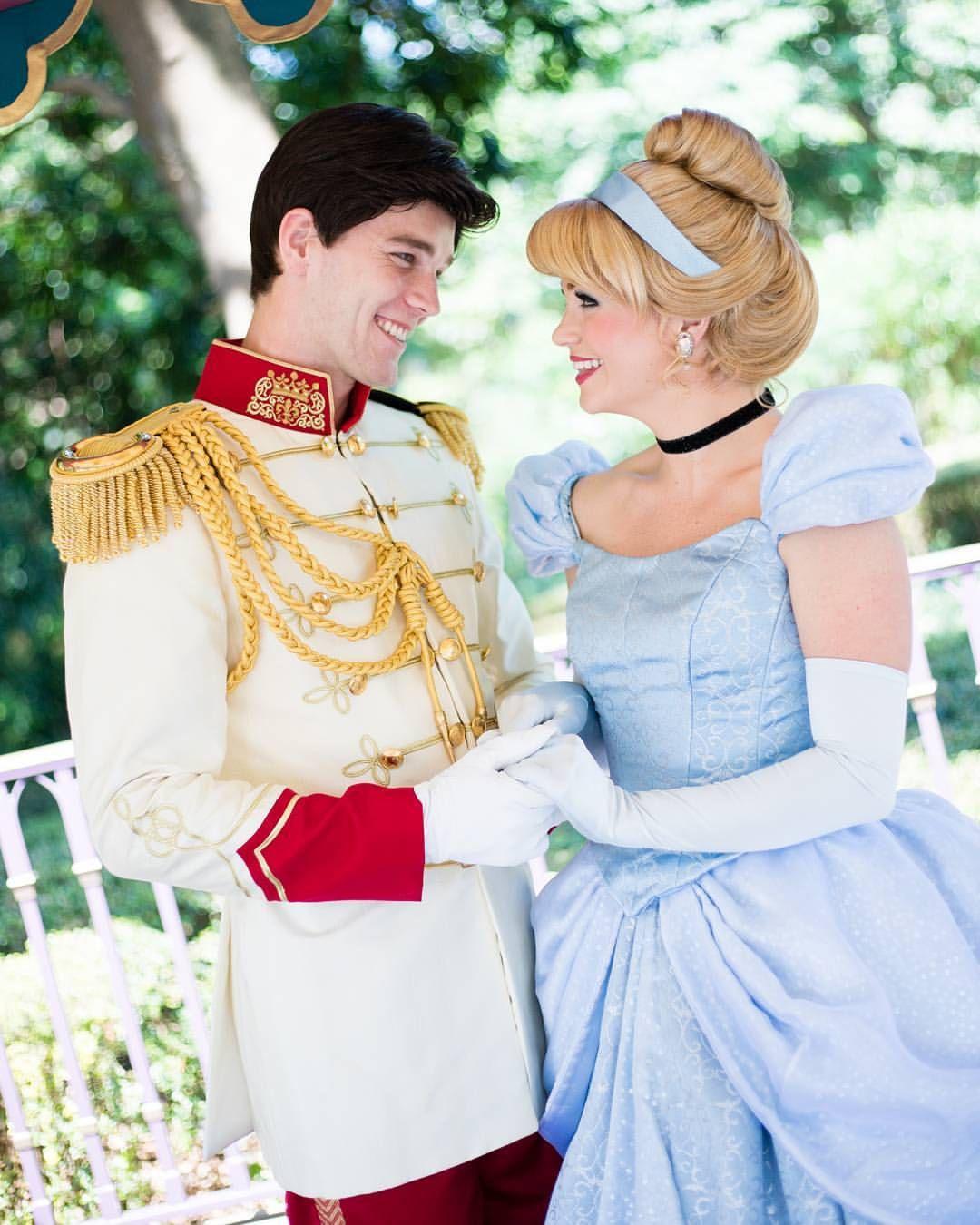 We're opening with a classic – the ultimate romantic Disney couple! These two are professionals, but you could get the same idea with a blue dress and headband – the long gloves and black choker are small details, but really complete the look.
2. Wendy Darling and Peter Pan (Peter Pan)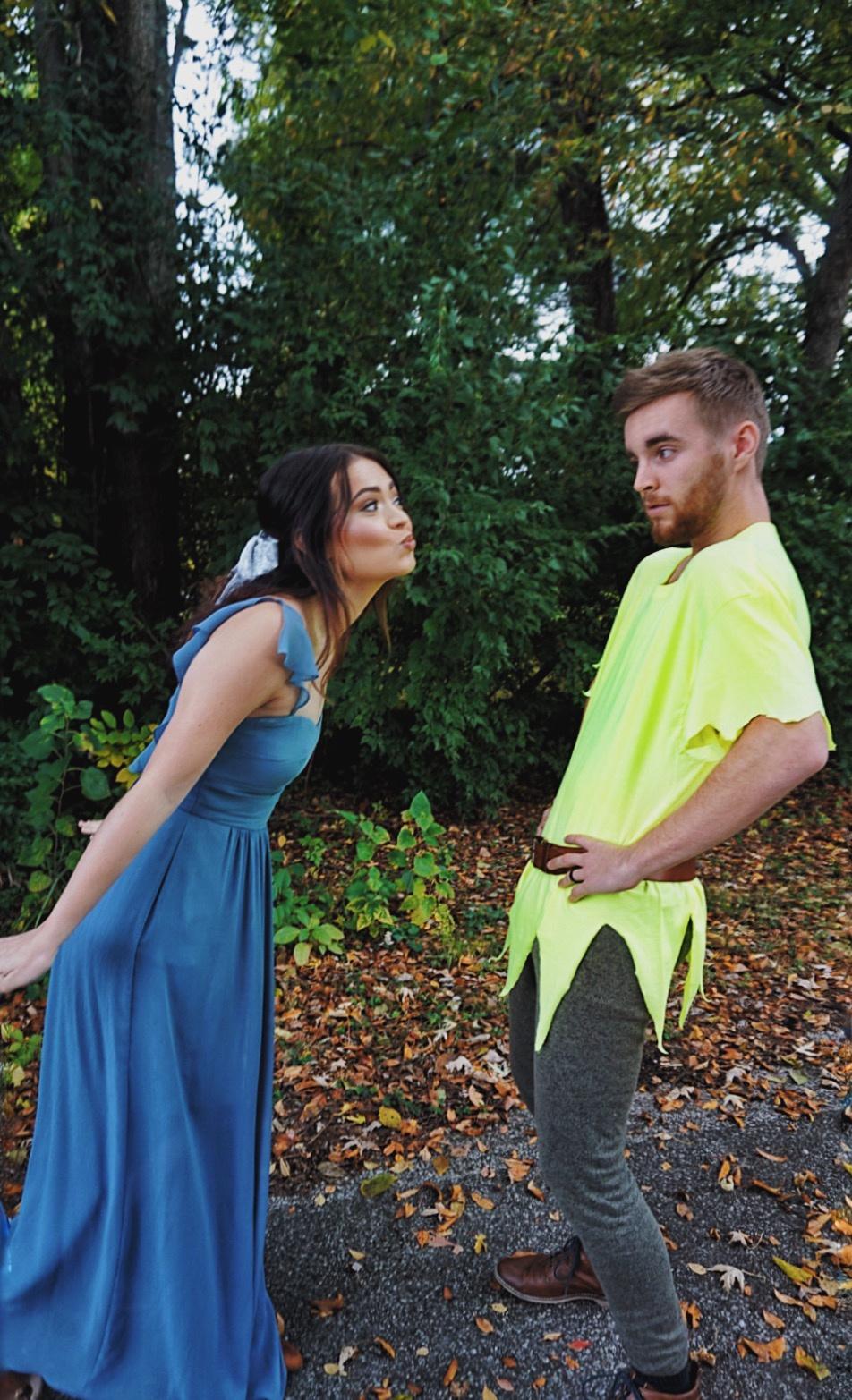 Speaking of blue dresses, how cute is this Wendy and Peter costume? We've also seen lots of couples dressed up as Peter and Tinkerbell, and for a more outside the box option, even Peter Pan and his shadow (morph suits are your friend for that one).
3. Belle and The Beast (Beauty and The Beast)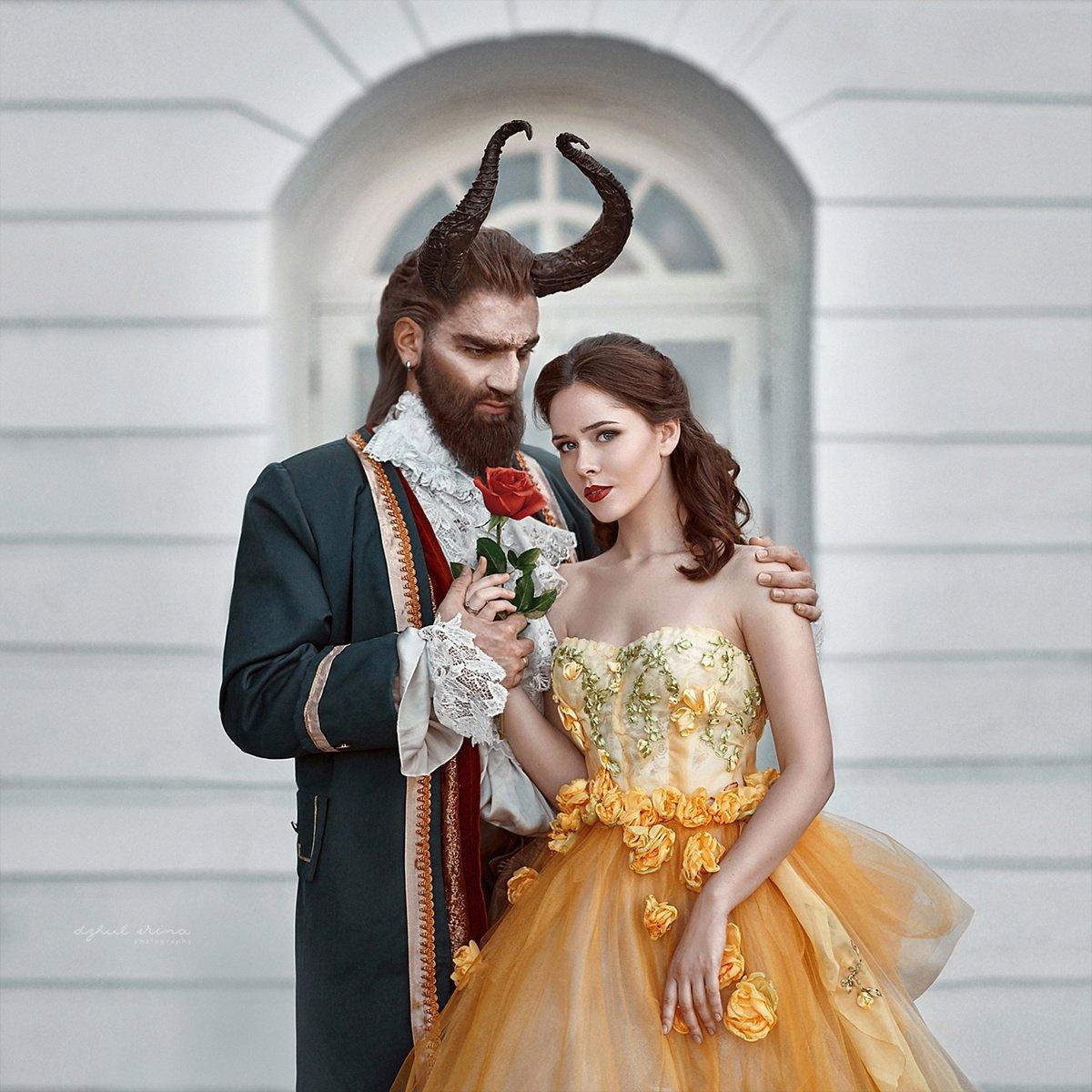 You can't go wrong with a tale as old as time… choosing Belle gives you a choice of either the blue pinafore or yellow dress, and your other half the choice of going as the prince before or after his transformation (or alternatively, as Gaston if he looks better in red). Either way, don't forget your rose.
4. Lumiere and Plumette (Beauty and The Beast)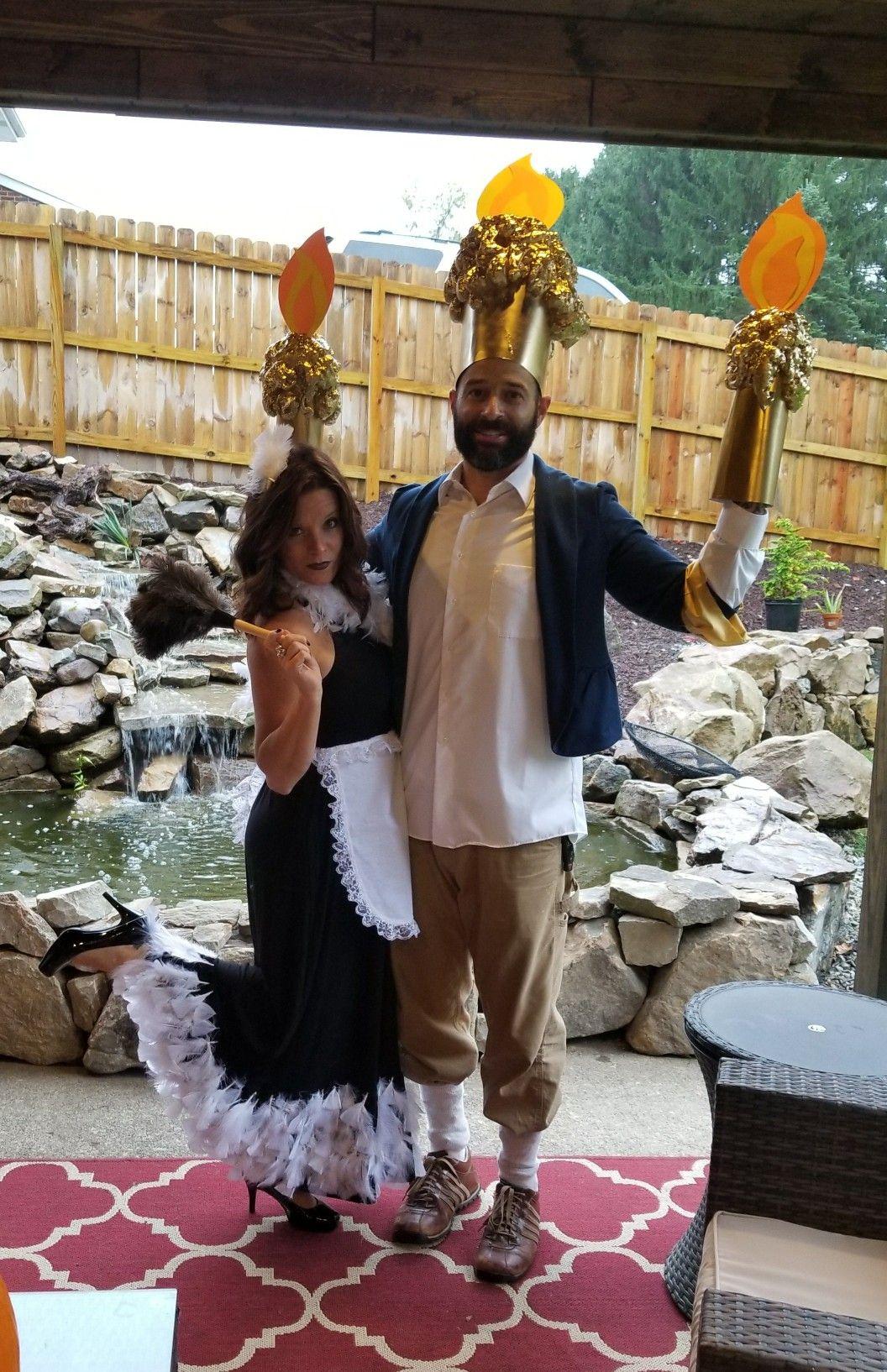 However, an honourable mention has to go to these guys for their genius Lumiere and Plumette costume. Remember, sometimes the most creative ideas come from not picking the main characters.
5. Jasmine and Aladdin (Aladdin)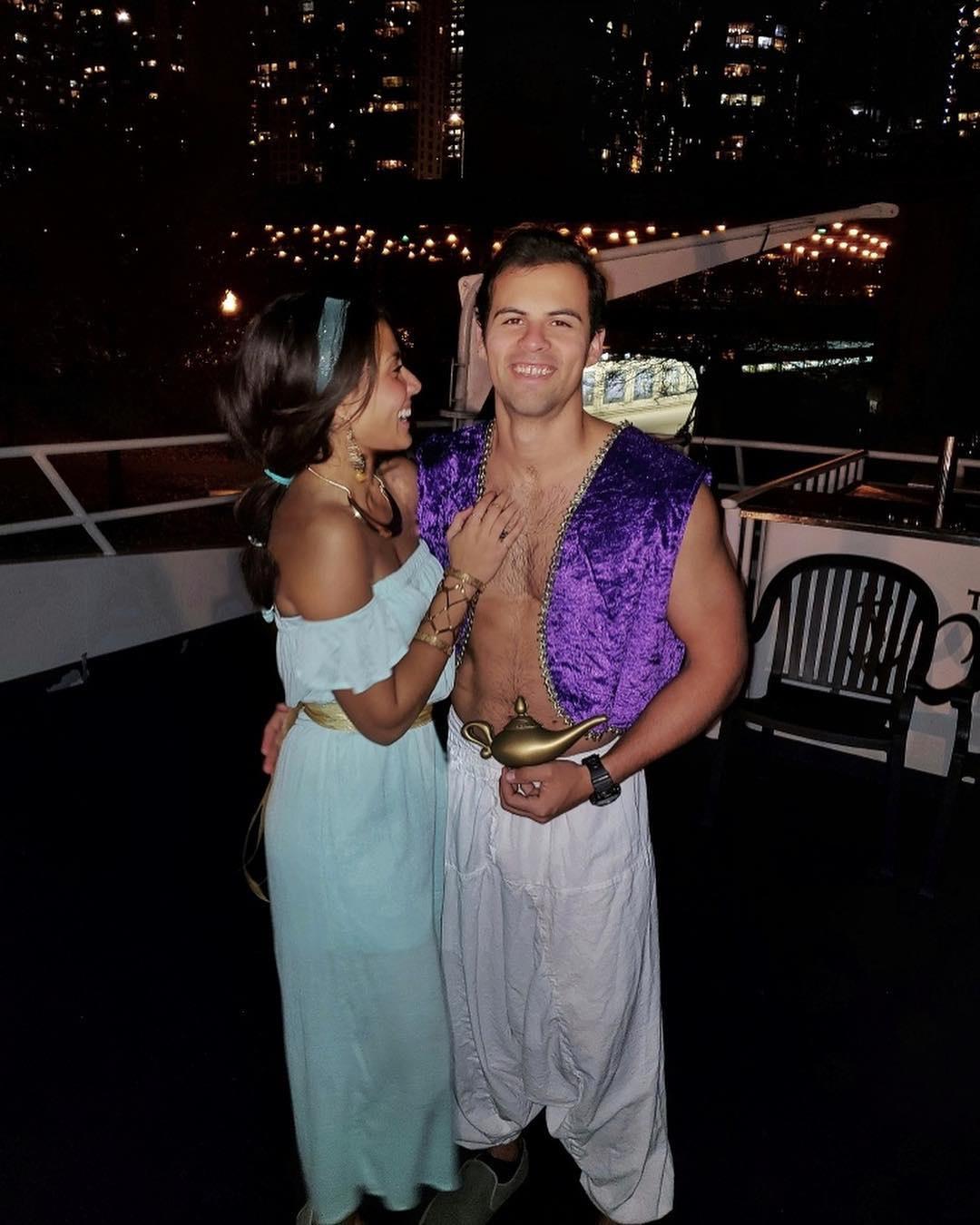 Another of all-time best Disney love stories – who could resist a Jasmine and Aladdin couples costume? Flying carpet optional, purple waistcoat essential – and consider investing in extensions to nail Jasmine's signature long pony.
6. Rapunzel and Flynn Ryder (Tangled)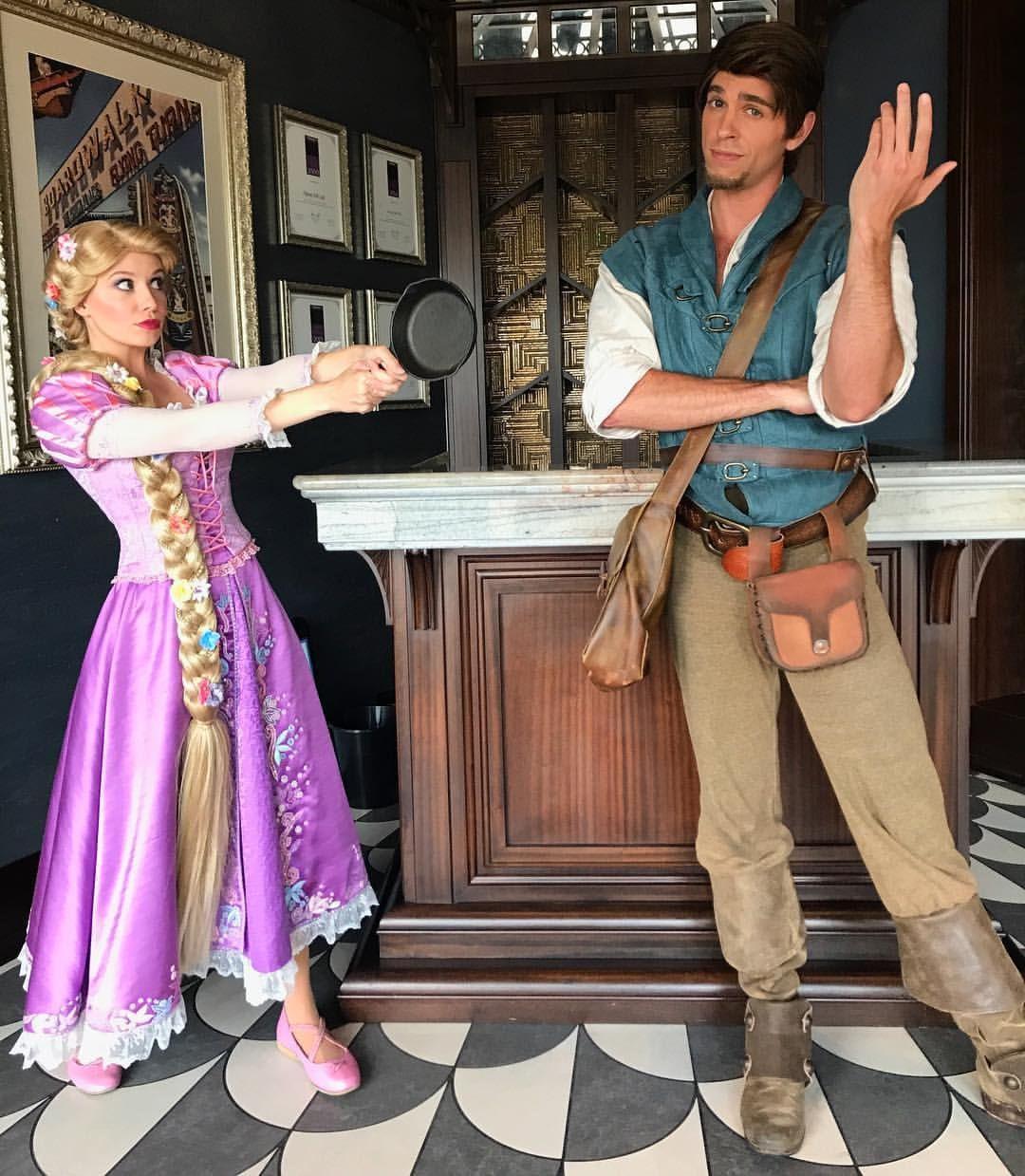 Long hair is also crucial for a great Rapunzel costume – as is that all-important frying pan! As a a character, Flynn Rider was apparently based on a combination of Han Solo and Indiana Jones, in case you need a hand convincing your husband or boyfriend of his cool credentials.
READ MORE: Our Favourite Disney Wedding Venues That Are Fit for a Princess
7. Aurora and Prince Philip (Sleeping Beauty)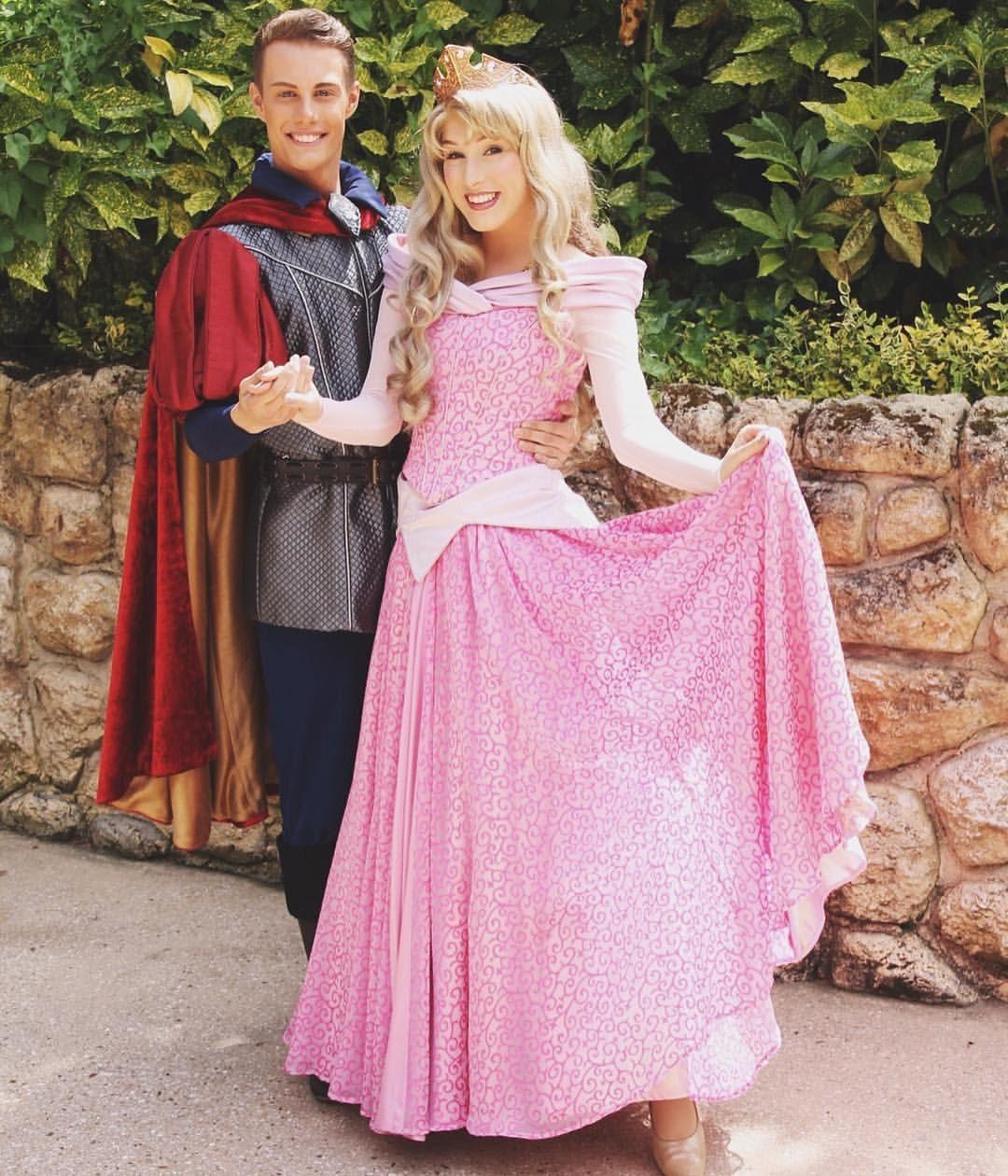 Dressing up as Aurora will allow you live out all of your wildest fairytale fantasies – just look at that tiara. However, if you love the story but not pink, you could also opt for her more conservative black corset and headband combo from the beginning of the film – we guarantee that your Philip will be smitten either way.
8. Ariel and Prince Eric (The Little Mermaid)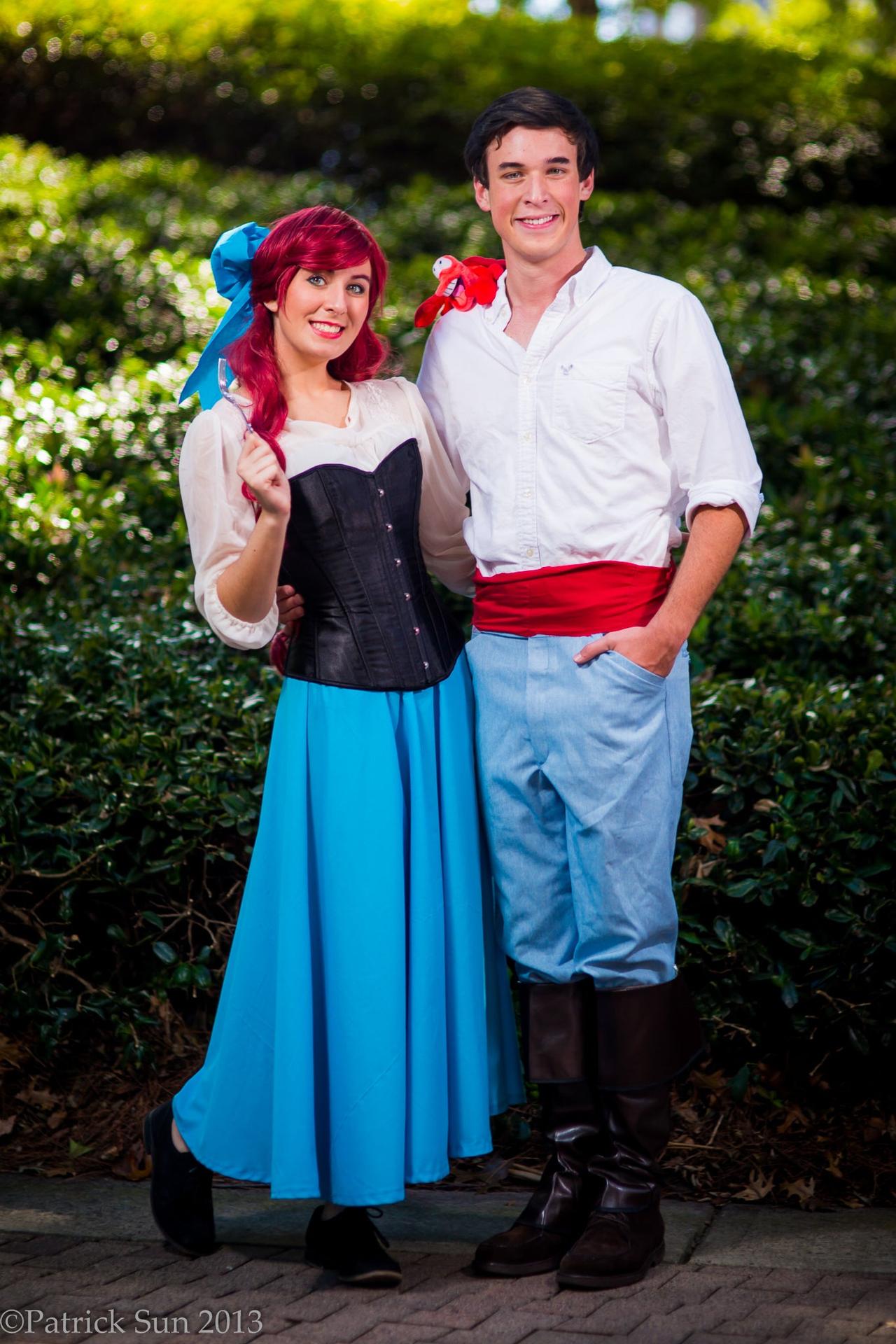 We love how this couple has used basics like white shirts to transform themselves into everyone's favourite prince and princess of the sea. Ariel is another character who has tons of iconic looks you can riff on – as well as this look, you could go for the shell bra and tail, shipwreck dress or the full-blown turquoise princess number.
9. Snow White and Prince Charming (Snow White and the Seven Dwarfs)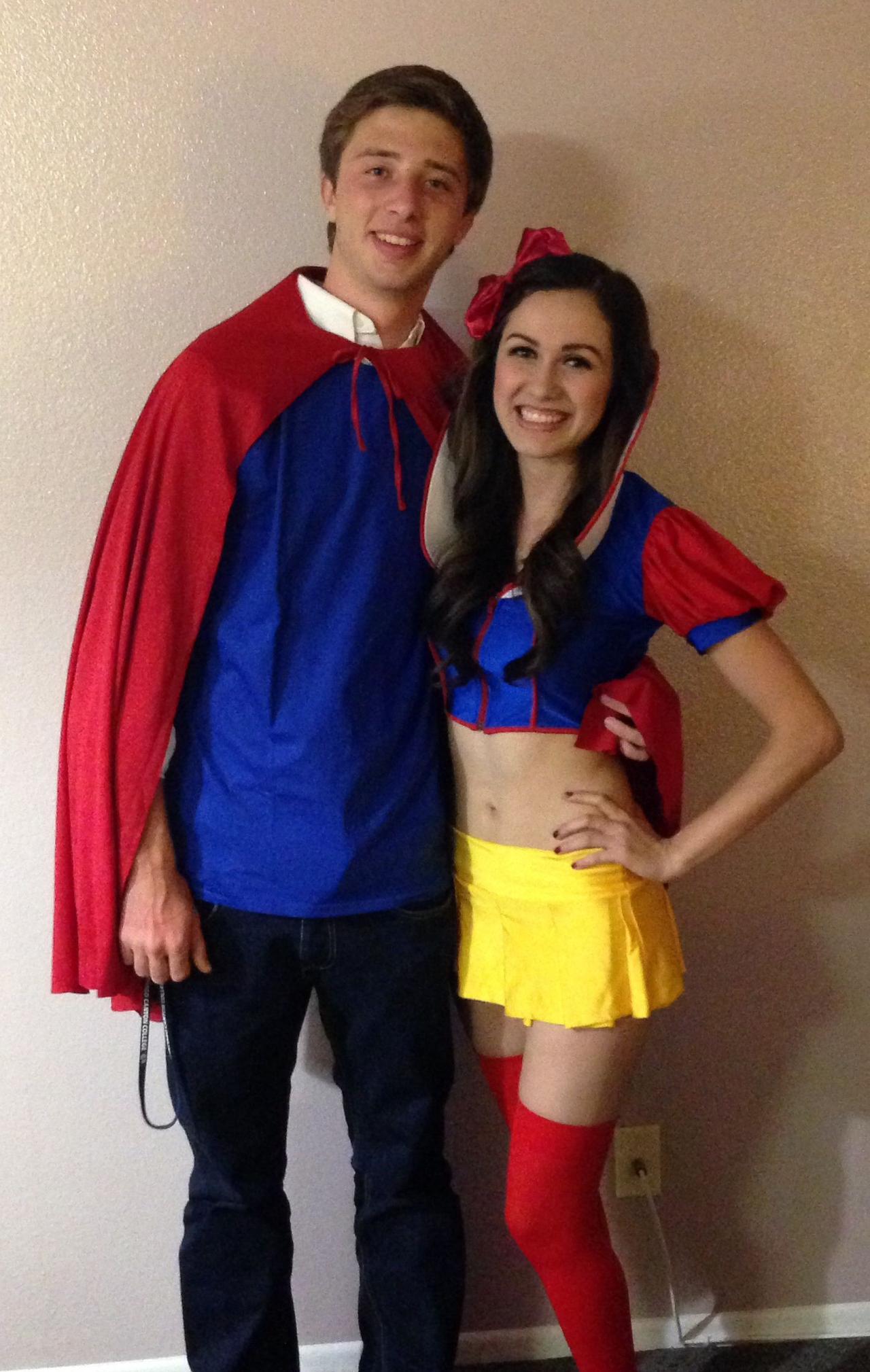 Snow White's attire has so many fun colours you can play with to really make your costume pop. And if your other half isn't feeling very princely, they could pick any one of the seven dwarfs to accompany you instead.
10. Tarzan and Jane (Tarzan)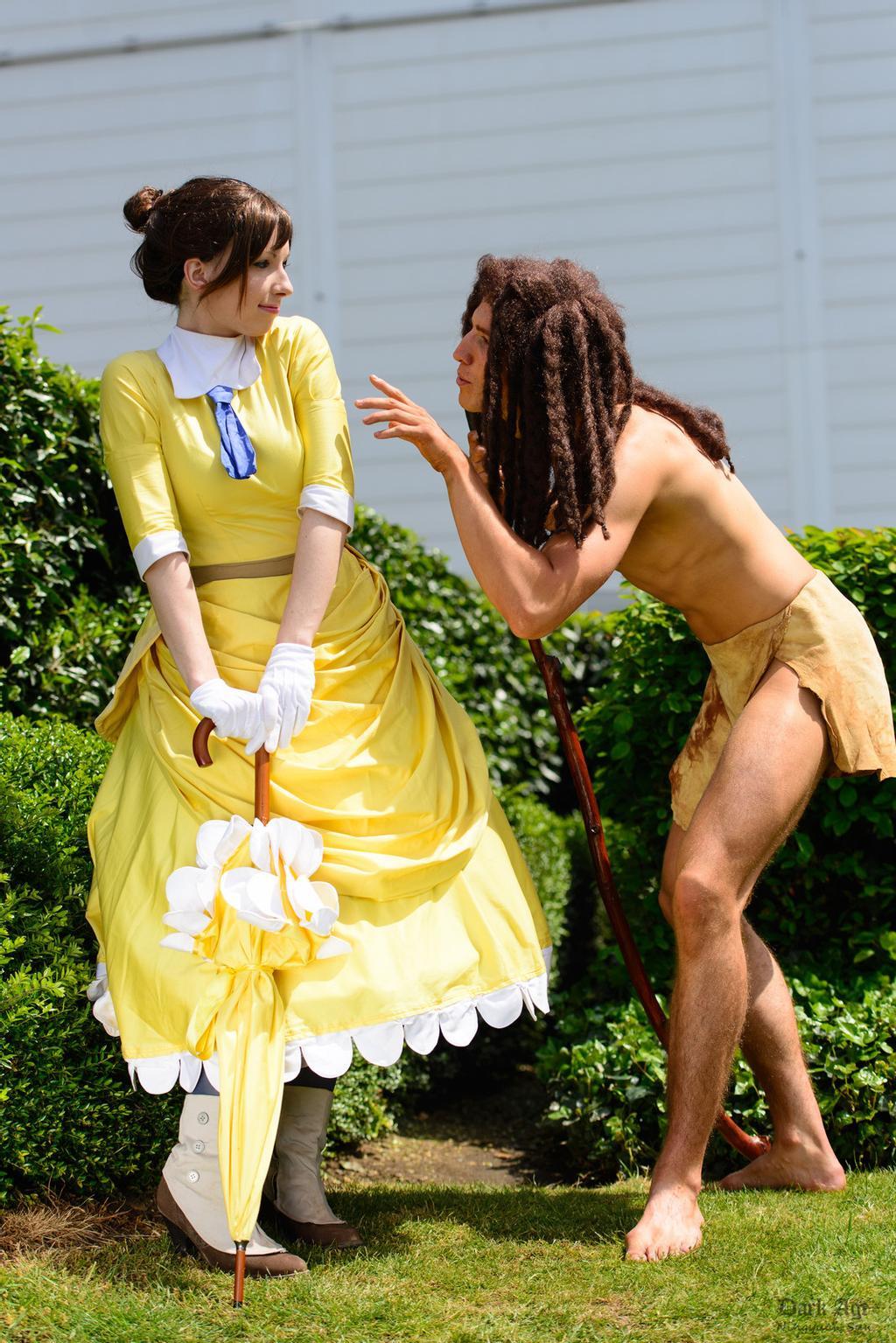 Okay, so this costume does require one of you to be basically half naked for the duration of the Halloween merriment, so that's definitely something to factor in. However, if he's game, we say go for it – and just look how gorgeous you can go as Jane.
11. Pocahontas and John Smith (Pocahontas)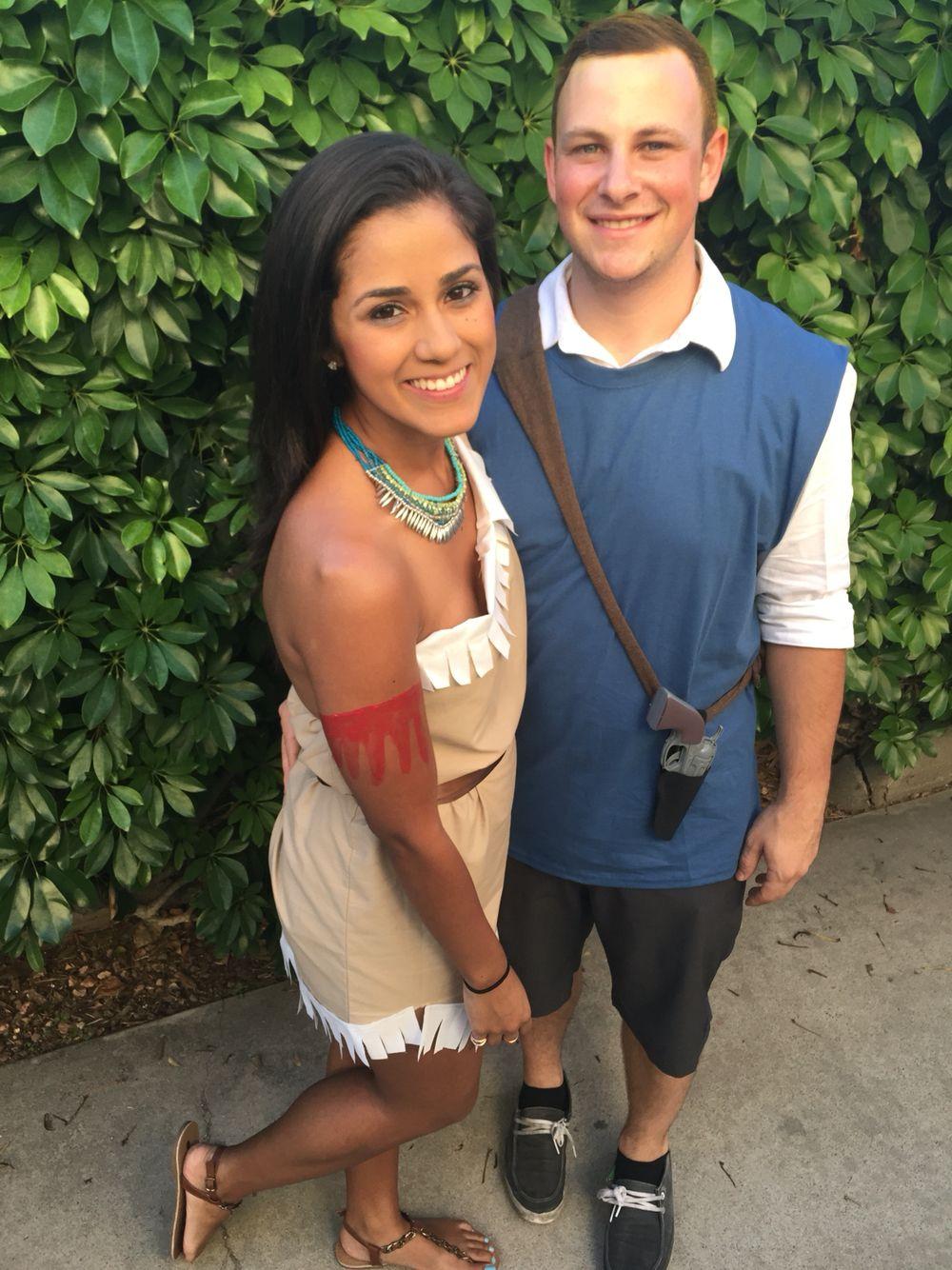 If the thought of spending the night in a full ballgown fills you with horror rather than glee, Pocahontas's less restrictive outfit could be the option for you. You'll need her trademark necklace (which you can actually buy an exact replica of on Etsy), while your John Smith can don a white shirt and blue vest.
12. Mulan and Li Shang (Mulan)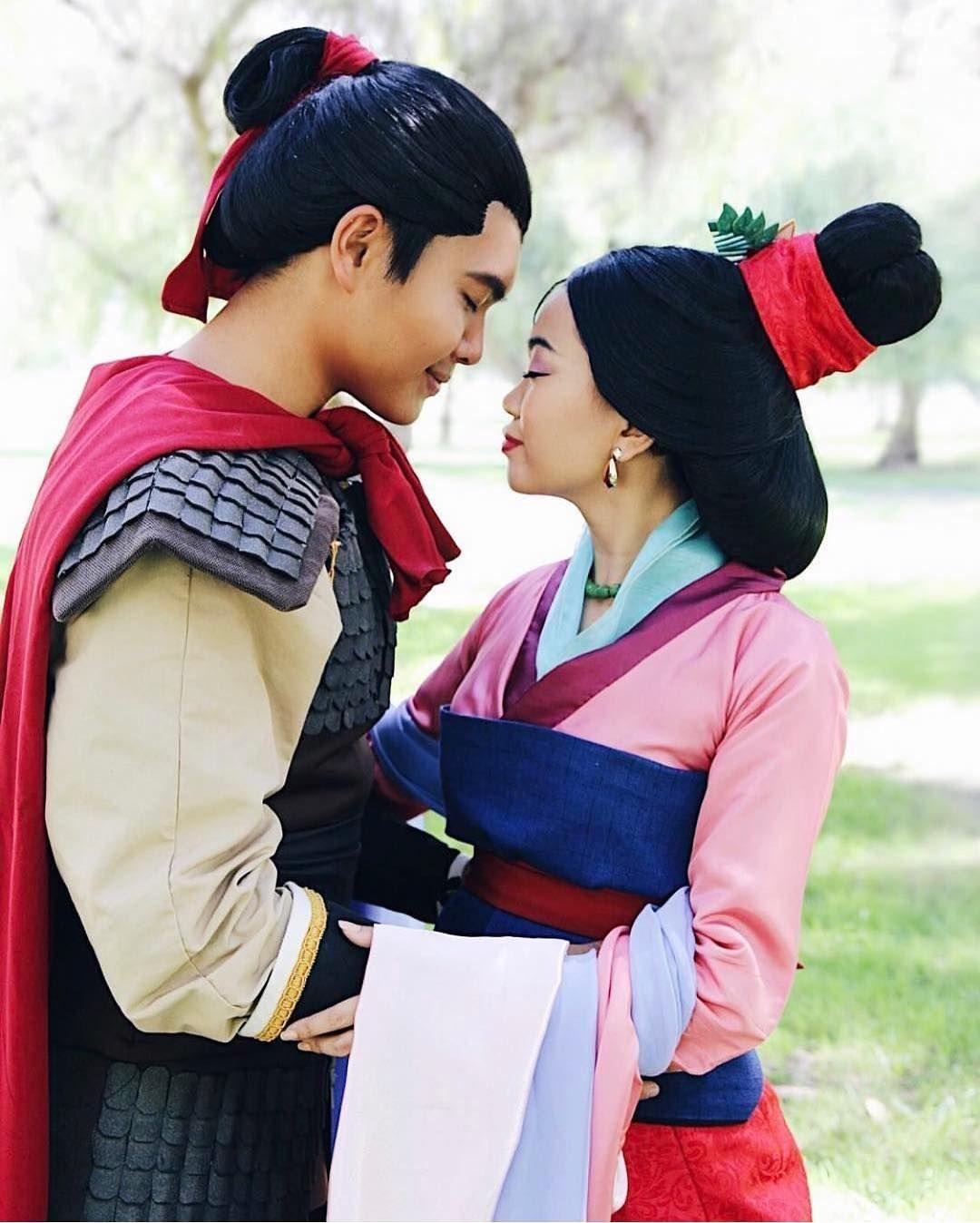 Mulan features some of the most beautiful outfits of any Disney film – and while your finished product might not look quiteas on point as this couple's, you can still use more affordable wigs and accessories to totally style it out.
13. Lady and The Tramp (Lady and The Tramp)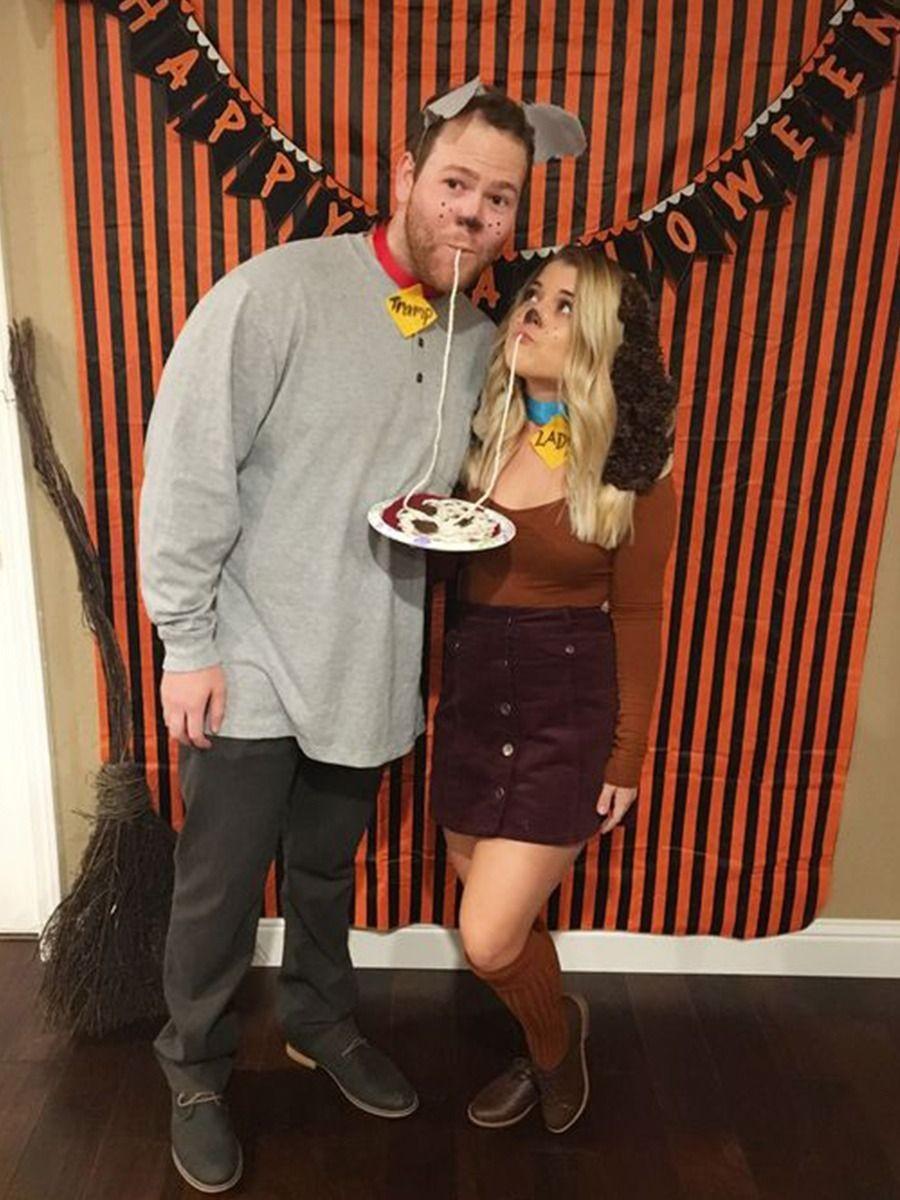 Our hearts melted instantly when we saw this Lady and The Tramp idea – it's ridiculously simple, but so sweet. Bonus points will be awarded if you commit to carrying a plate of spaghetti and meatballs around with you both all evening.
14. Alice and the White Rabbit (Alice in Wonderland)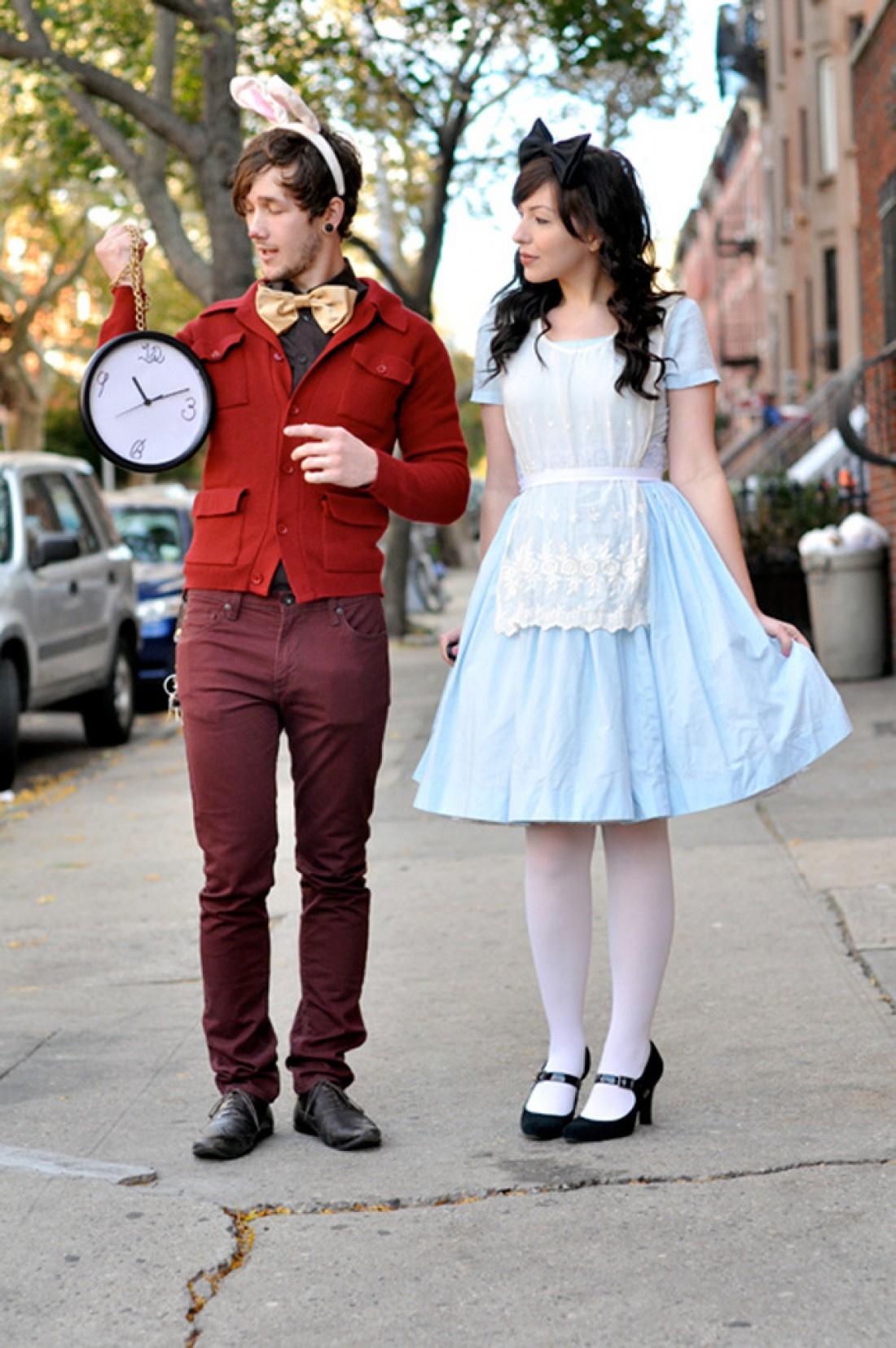 Even if you are late for a very important date, you'll both look great when you get there! Alice also works with the Mad Hatter, Cheshire Cat and more, so choose the pairing that suits you best as a couple.
15. Tiana and Prince Naveen (The Princess and The Frog)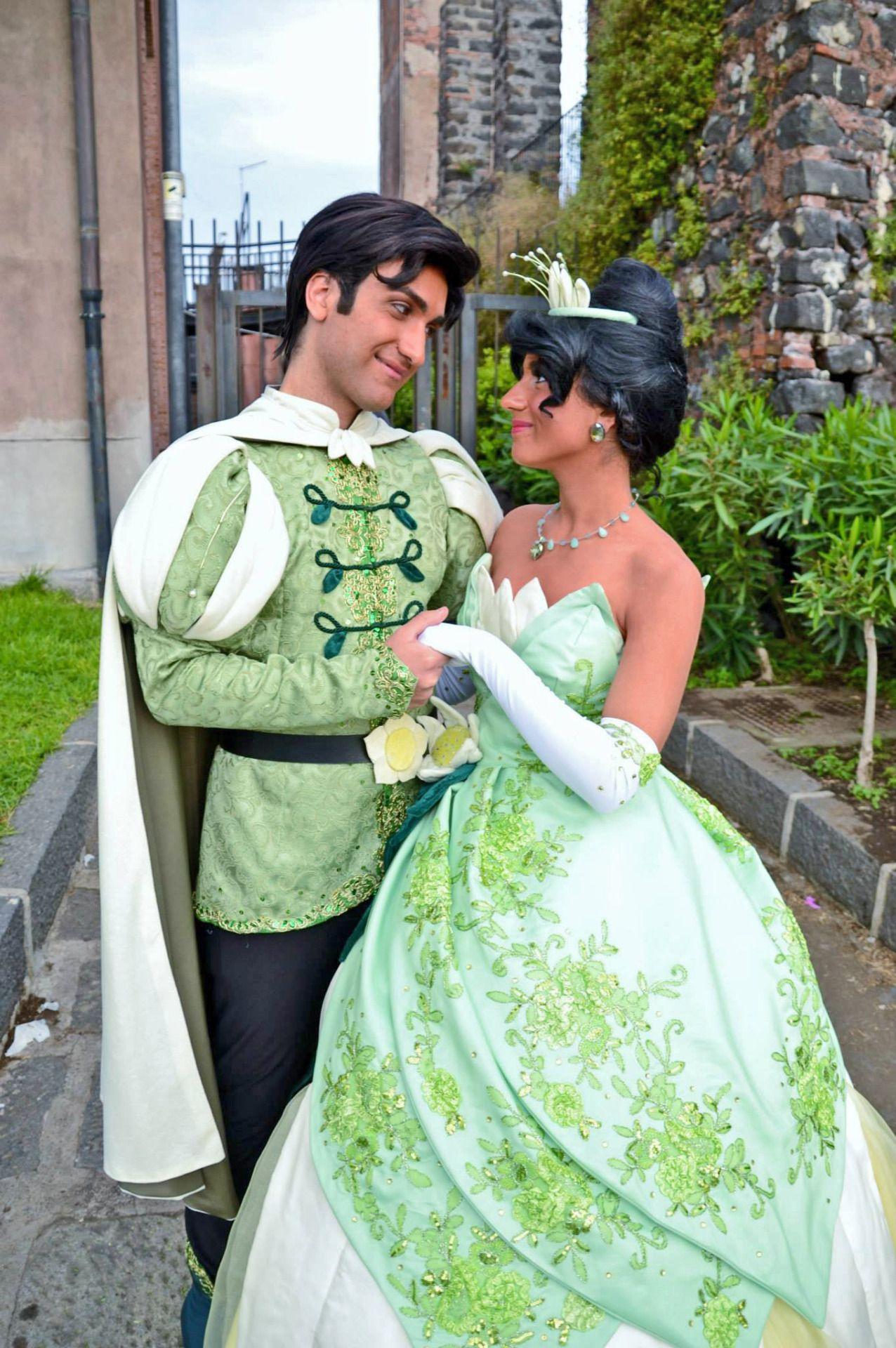 Dressing up as a frog would be pretty difficult, so if you want to depict the tale of Tiana and Prince Naveen, best to stick to their human forms, hey? The crown and jewellery are both really key here, as is Naveen's puffed shoulders.
16. Hercules and Meg (Hercules)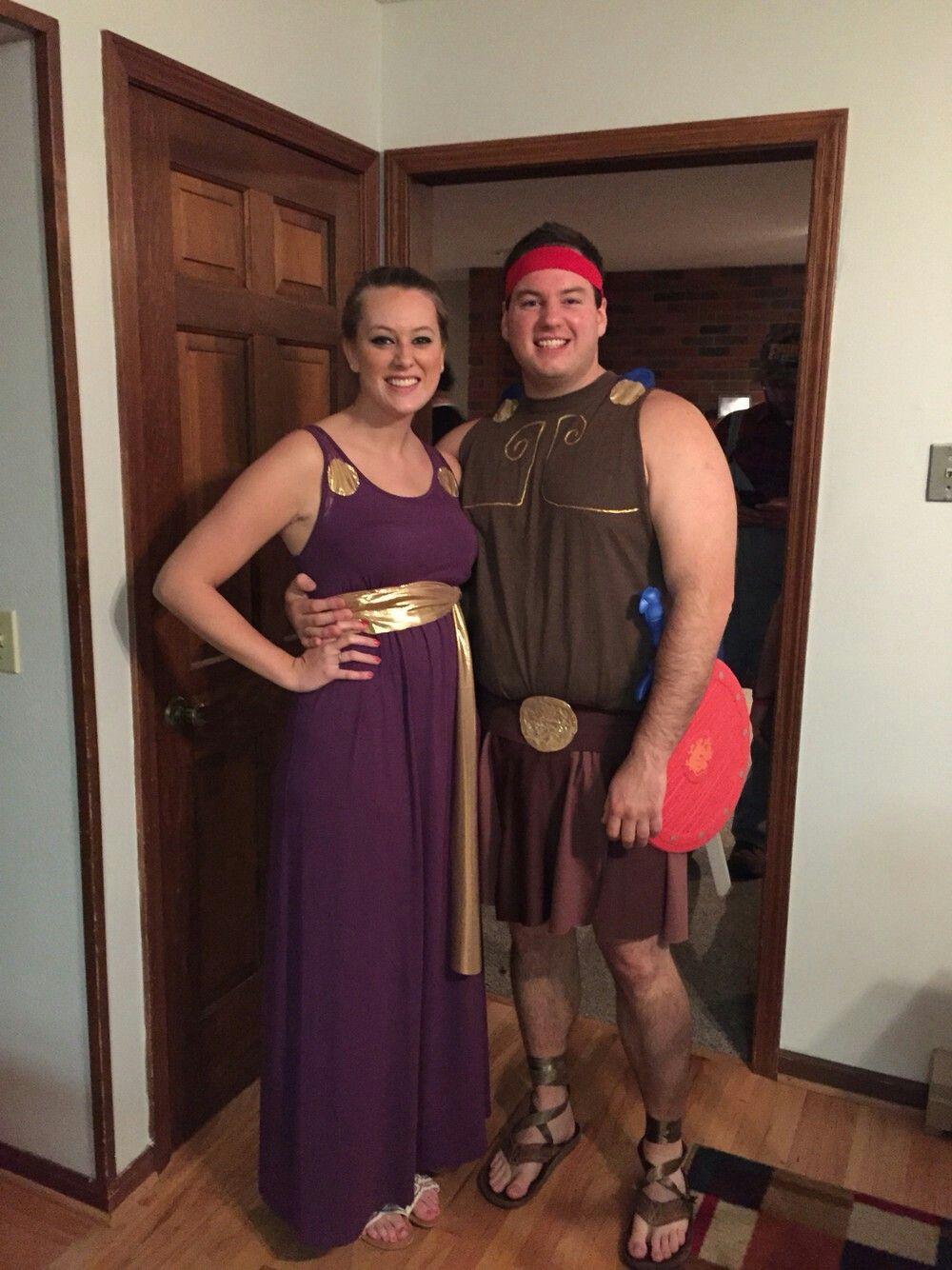 If you can track down a purple maxi dress, you can unveil your inner Meg – and your partner will probably relish the chance to play the son of Zeus for a night, too.
17. Minnie Mouse and Mickey Mouse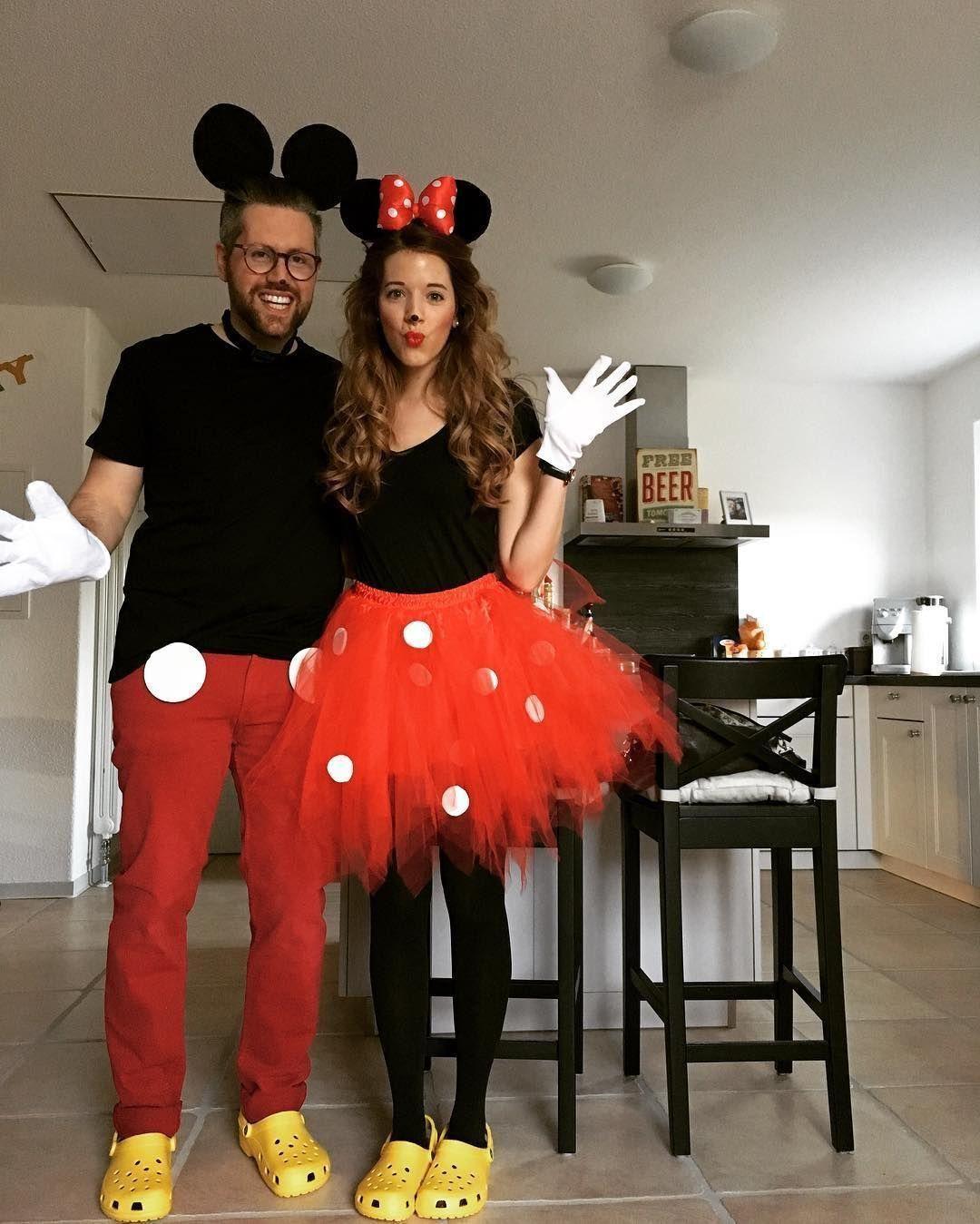 Got ears and a black tee? You've got yourselves an easy yet effective Disney costume – to upgrade it, simply add white gloves and subtle make-up (a dot on the nose each and a red lip for Minnie is really all you need).
18. Donald Duck and Daisy Duck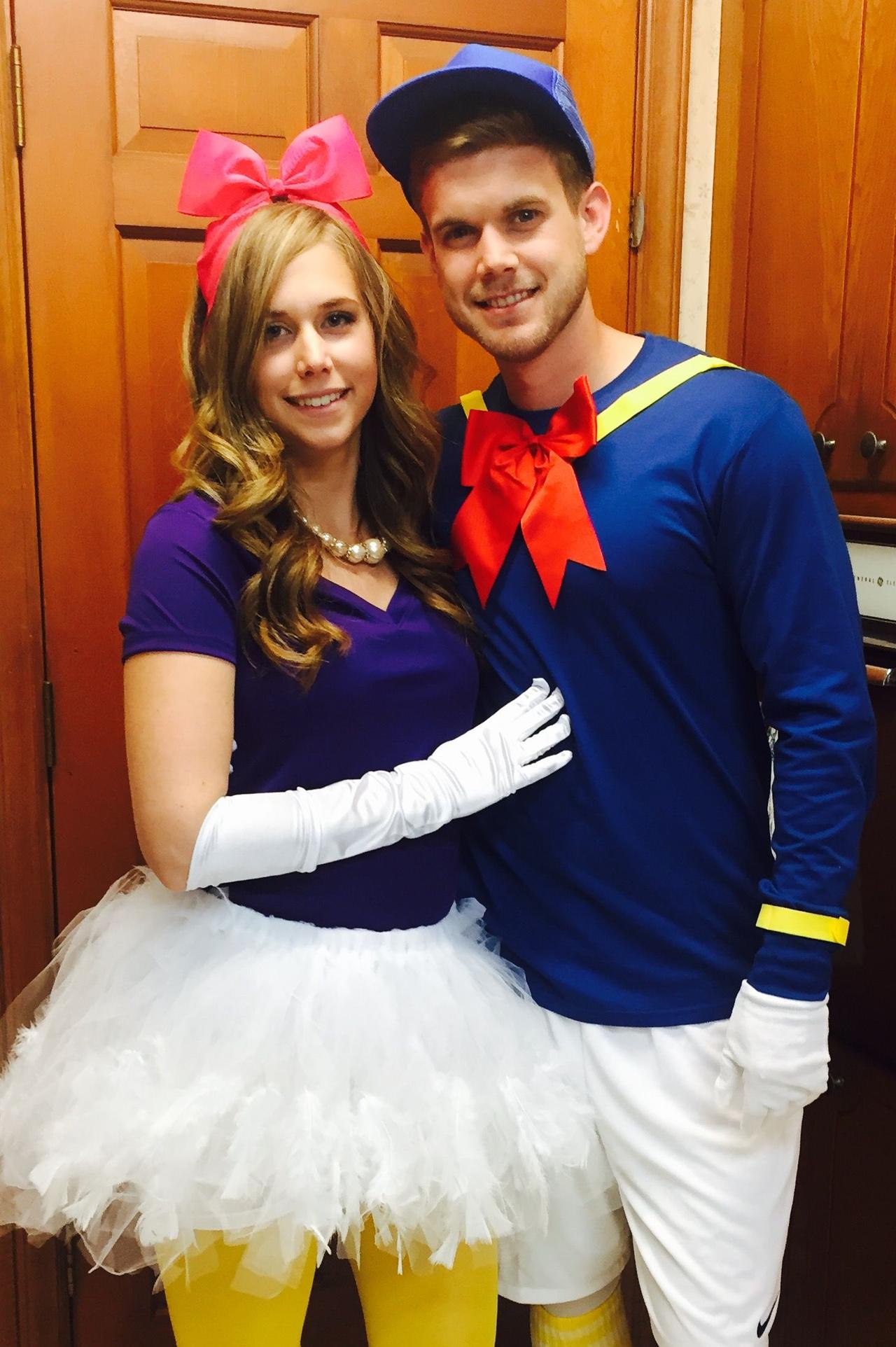 Or how about repping the other arguably most famous couple from the original Disney franchise? As this couple proves, you don't even have to wear bills – and we'll definitely be stealing the idea of using a white tutu to emulate feathers.
READ MORE: Disney Wedding Cocktails Perfect for a Magical Hen Party
19. Winnie The Pooh and Christopher Robin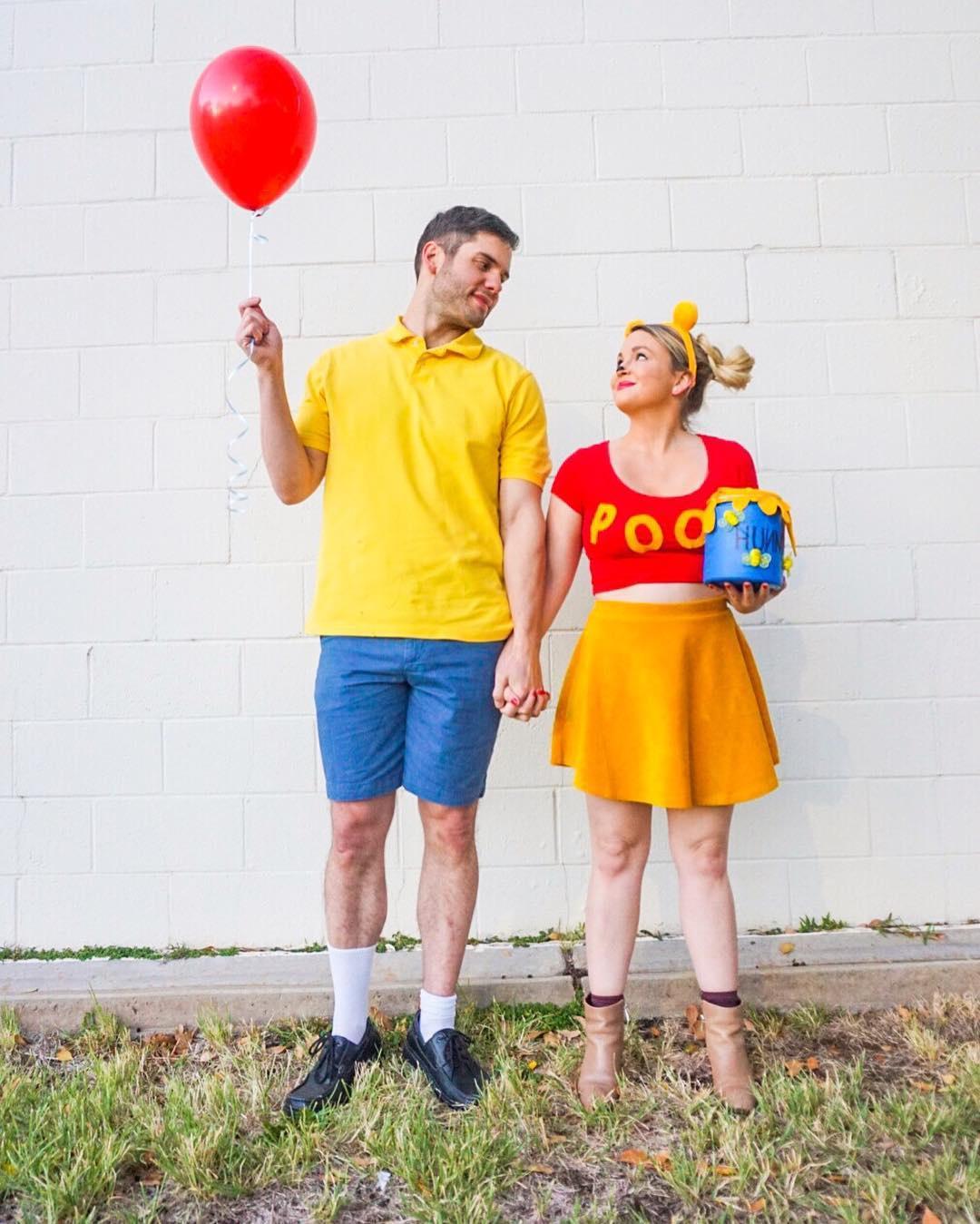 This Disney couples costume is great if you're working on a budget – brightly coloured t-shirts and a pair of ears are all you need. Winnie also makes a fun maternity costume idea – well, he does have a naturally rounded tum!
20. Mary Poppins and Bert (Mary Poppins)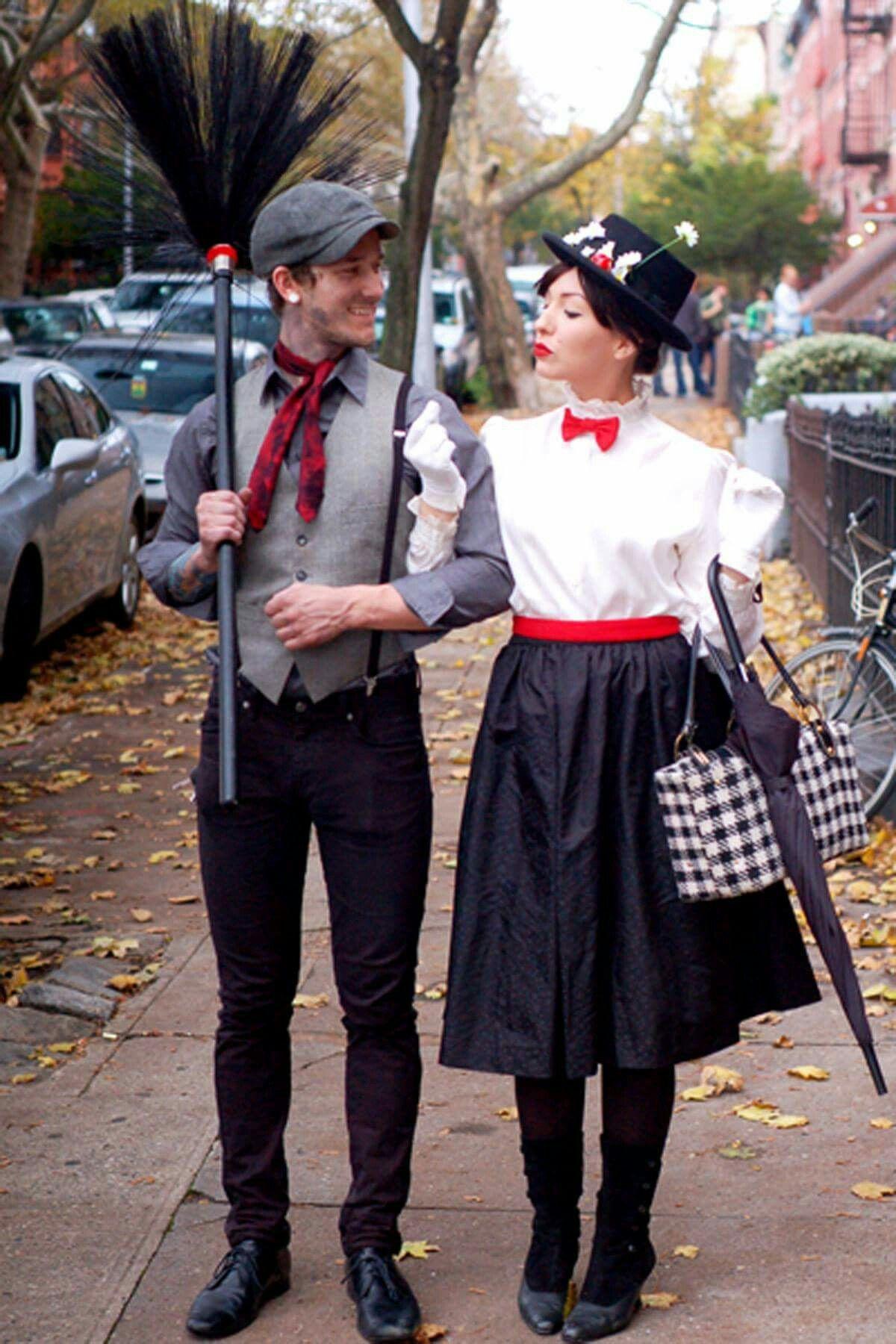 It's an oldie but a goodie – Mary Poppins and Bert makes a timeless Disney couples costume idea that'll never go out of style. Hit up your local charity shops for the accessories, like both of your hats and that mysteriously bottomless bag.
21. Pinocchio and Geppetto (Pinocchio)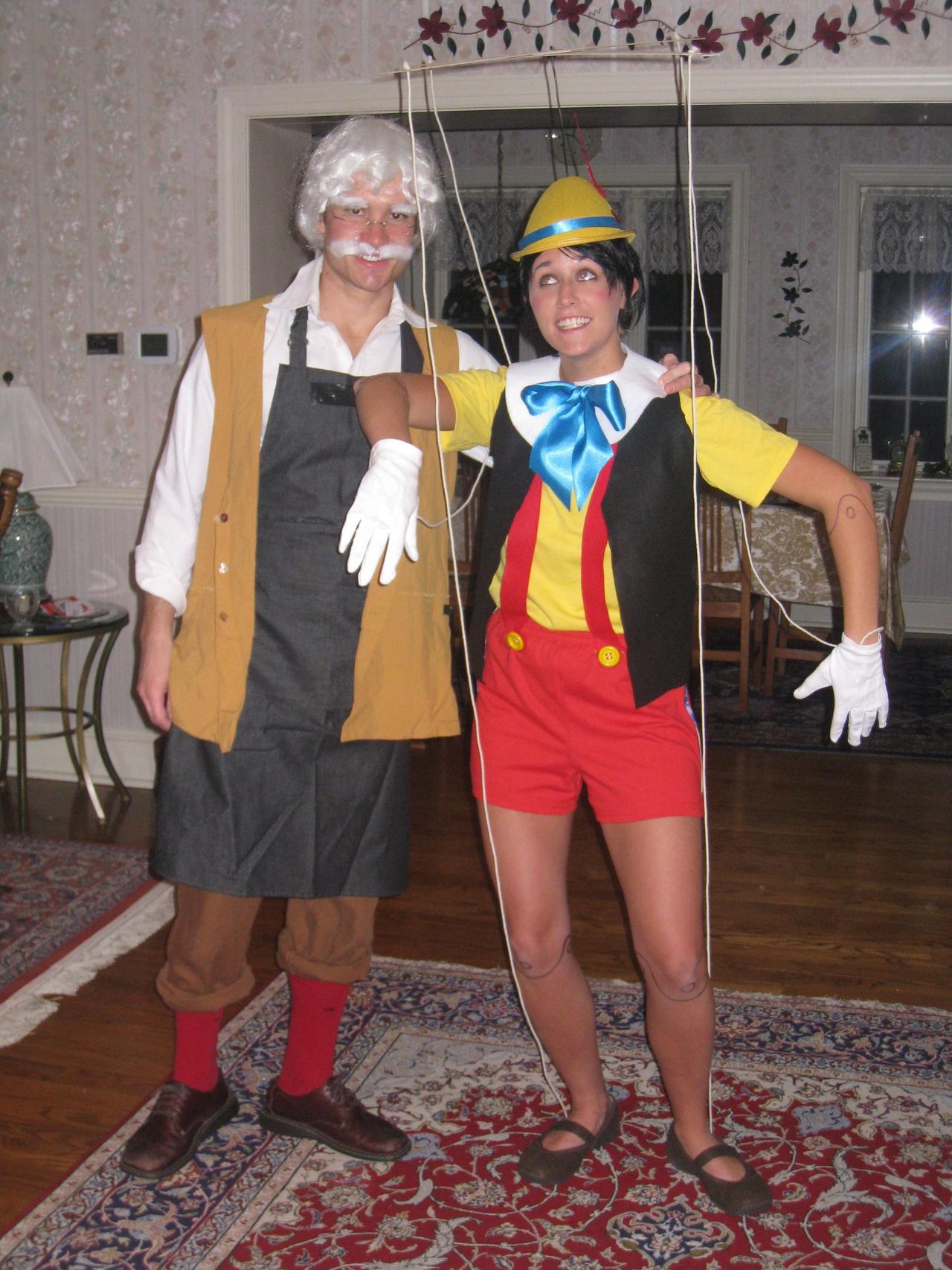 This is such a playful, whimsical costume idea – whether or not you include the strings! For partners who aren't quite going grey yet, you can get a £5 wig and eyebrow set here.
22. Simba and Nala (The Lion King)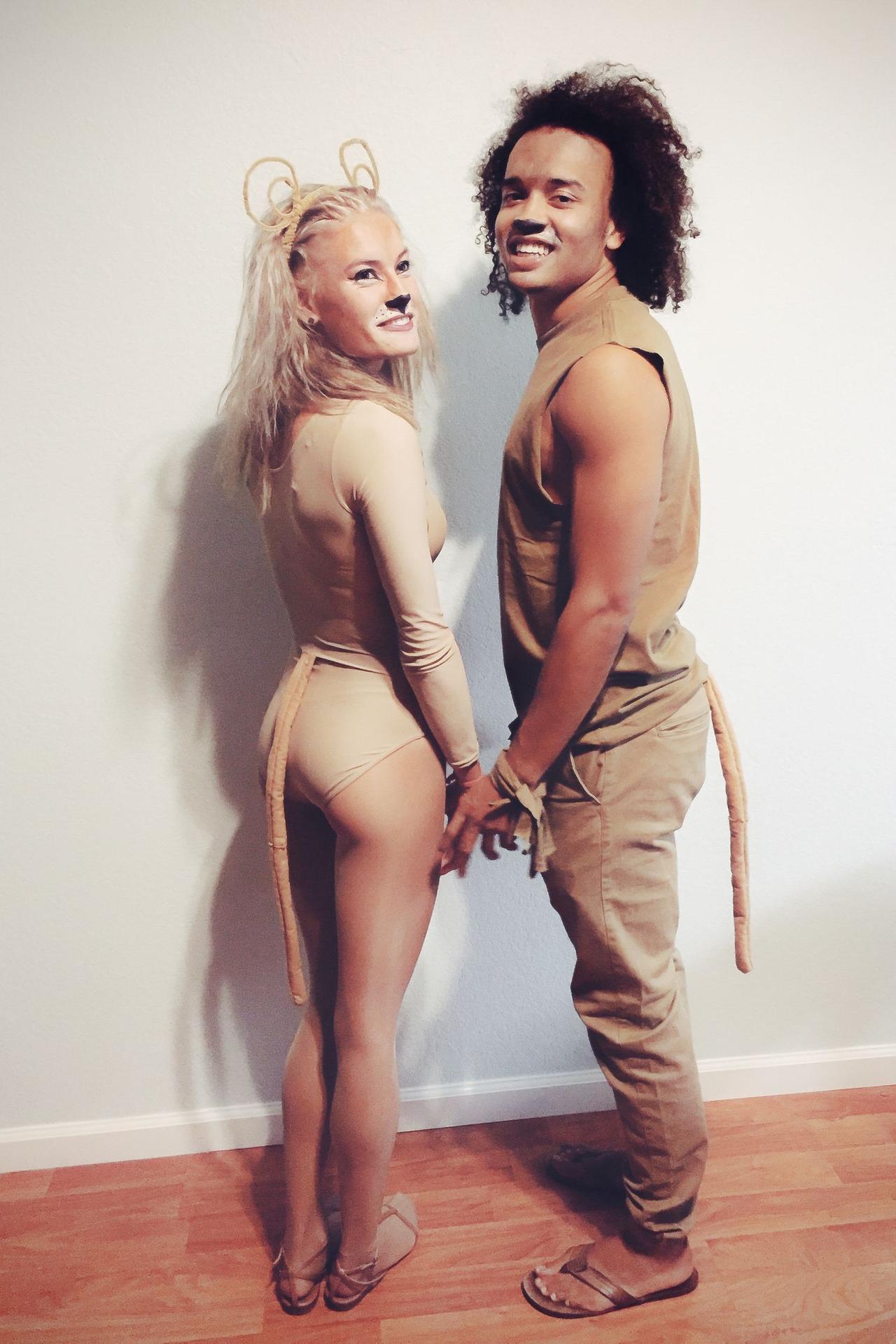 Hakuna Matata, what a wonderful costume! Simba and Nala are brilliant options for couples who want to swap the usual prince and princess narrative for something a little different – and if you have kids together, they'd made adorable cubs.
23. Timon and Pumba (The Lion King)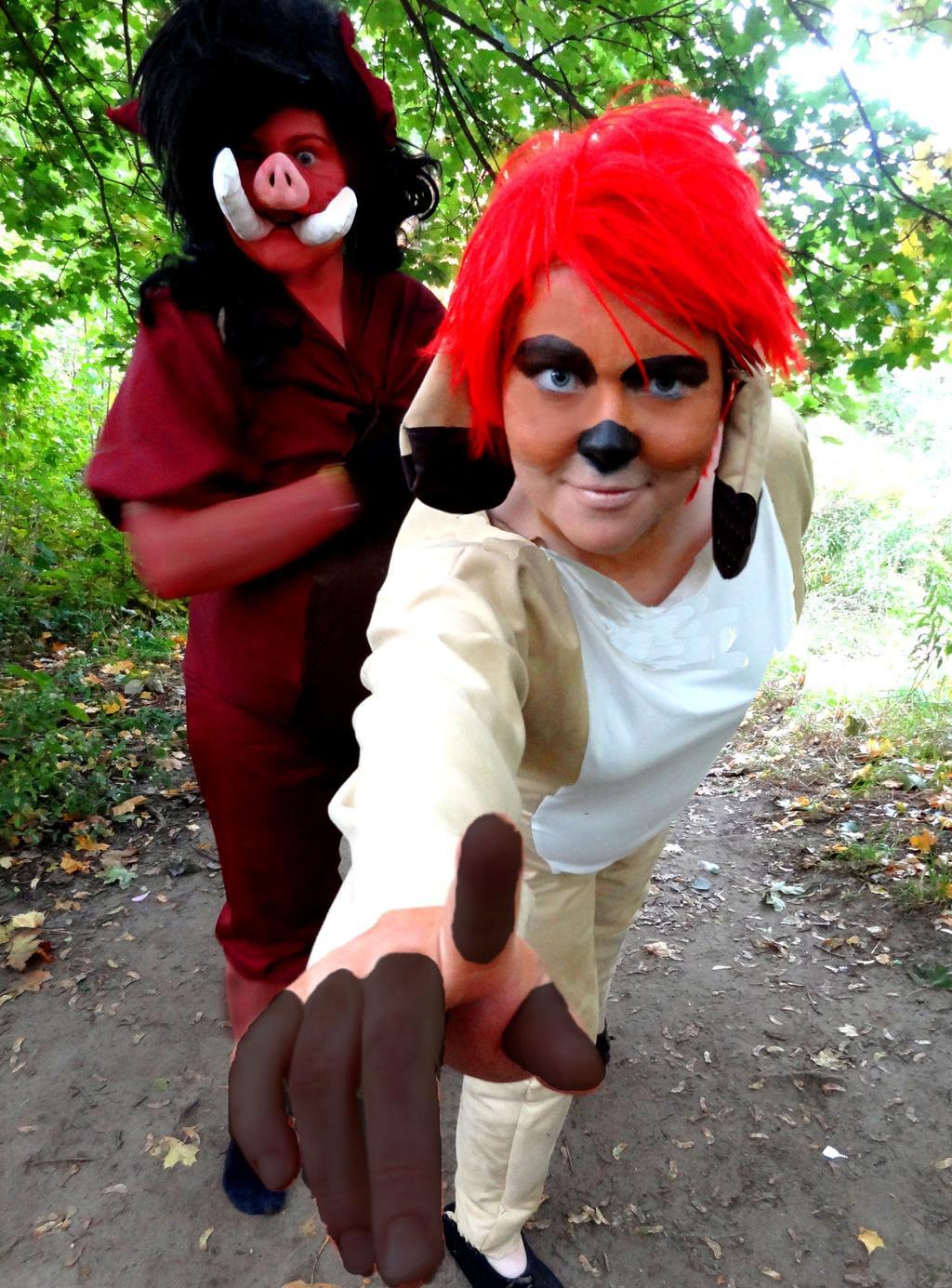 A more comedic option comes in the form of Timon and Pumba – we've genuinely got nothing but respect for the half of your couple that goes for 'warthog' as their Halloween 2020 look.
24. Cruella De Vil and Dalmatian (101 Dalmatians)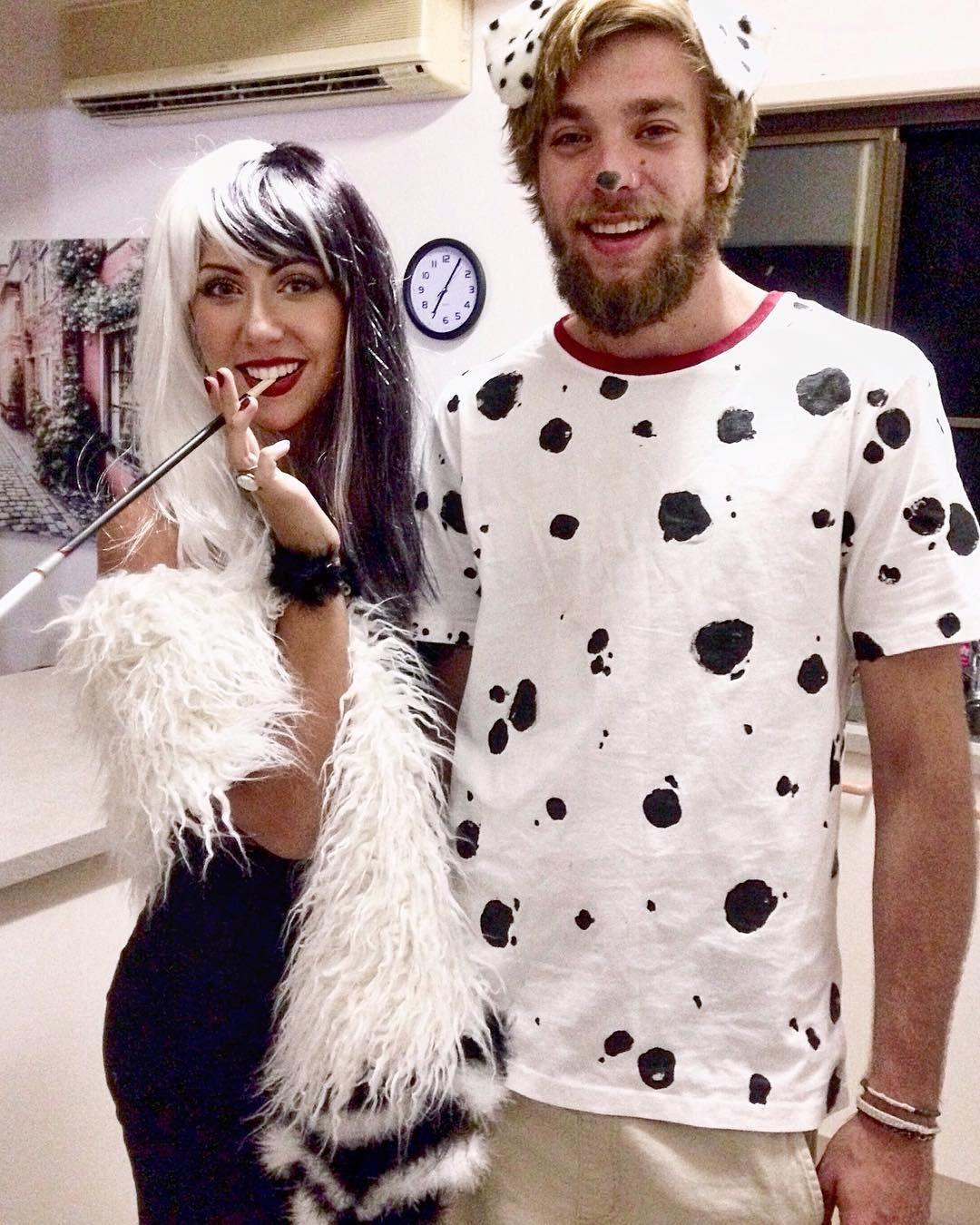 Cruella in the film might be… erm… a little intense, but we love this more glamorous interpretation – the perfect excuse to rewear a staple LBD. The dog costume is a doddle to craft – you can use an old white tee and add dots of dye or marker pen.
25. Roger and Anita Radcliffe (101 Dalmatians)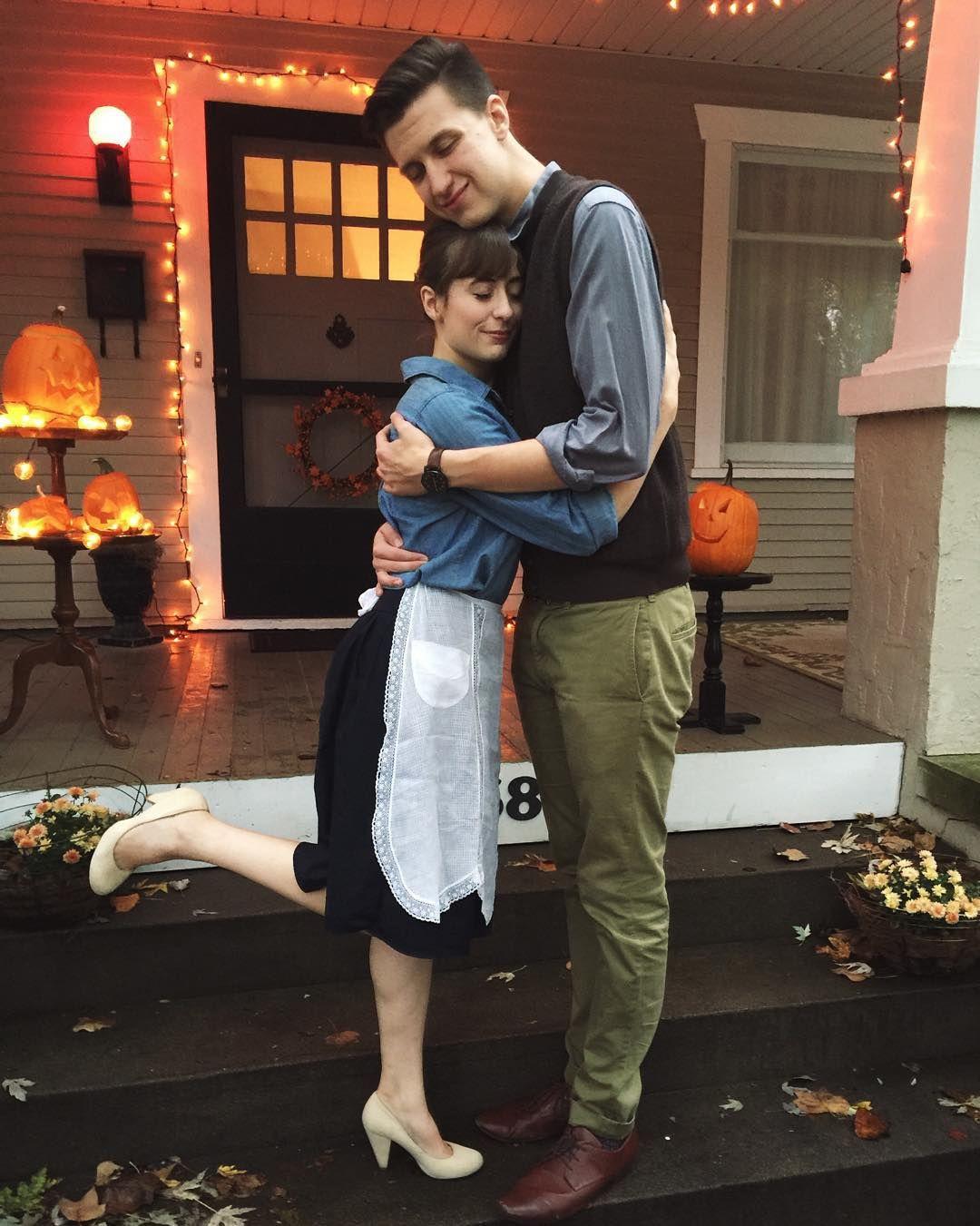 For a softer, sweeter take on the 101 Dalmatians theme, how about puppy parents Roger and Anita? Add a stuffed dalmatian or two to the basic outfits and everyone will get it instantly.
26. Fox and the Hound (Fox and The Hound)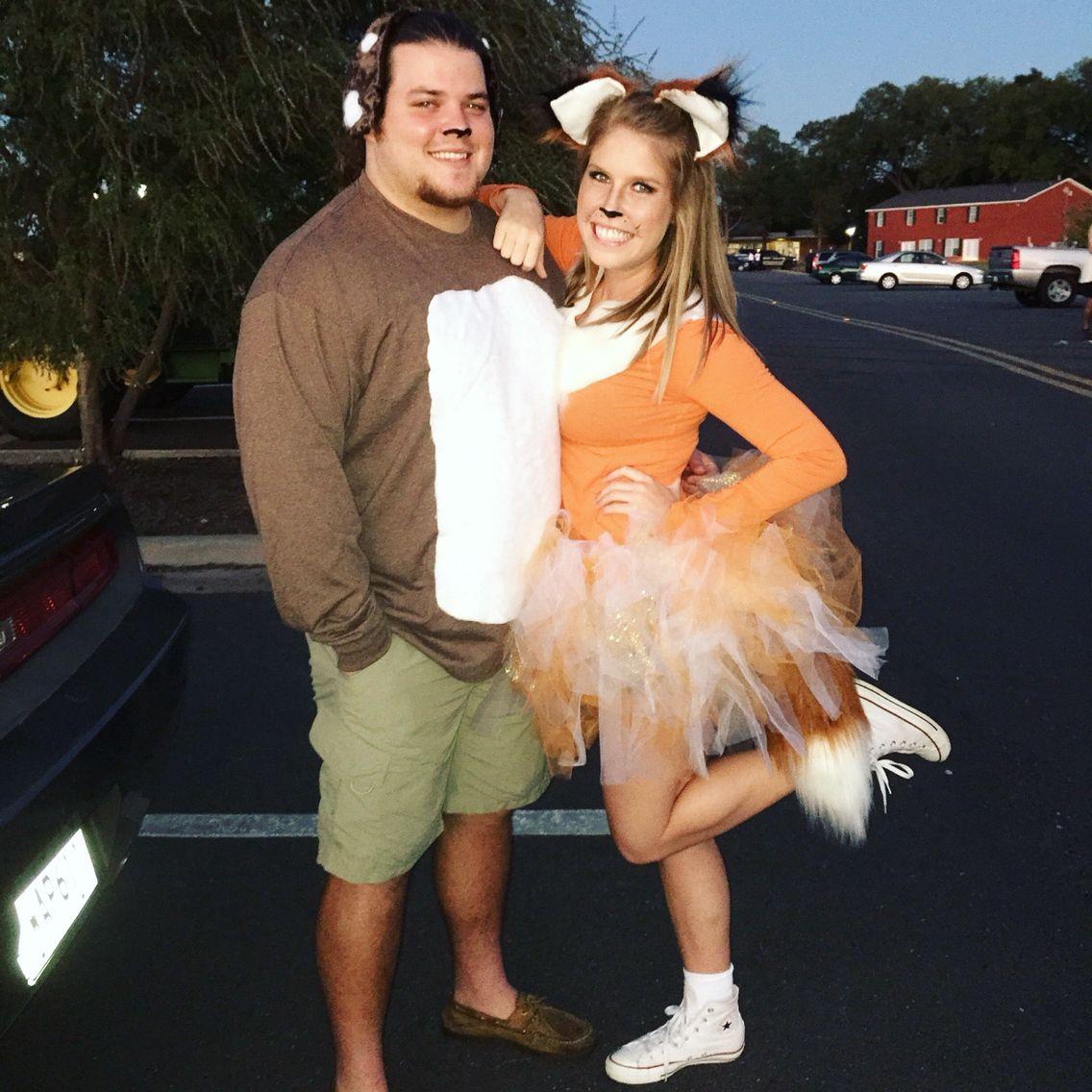 Another animal costume that anyone who wore out the VHS of this movie as a kid will love. The face paint is really easy to freehand and you can make the actual costumes as casual or elaborate as you like.
27. Thomas O'Malley and Duchess (The Aristocats)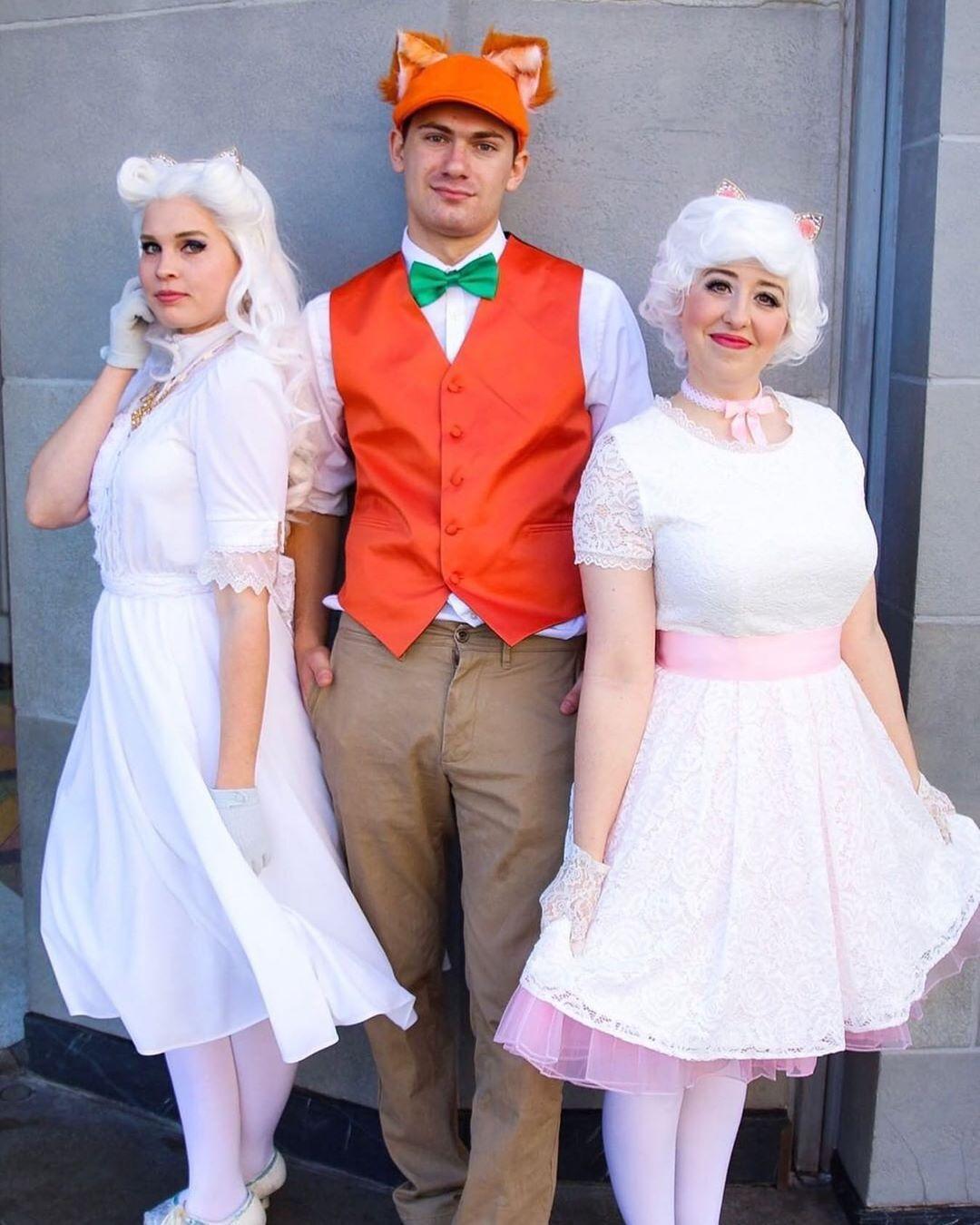 As the song goes, everybody wants to be a cat! This group have made their costumes into a trio with the addition of Marie, but there's no reason why you couldn't go just as Thomas and Duchess – their vintage-inspired rendition is v. chic.
28. Boo and Sully (Monsters Inc)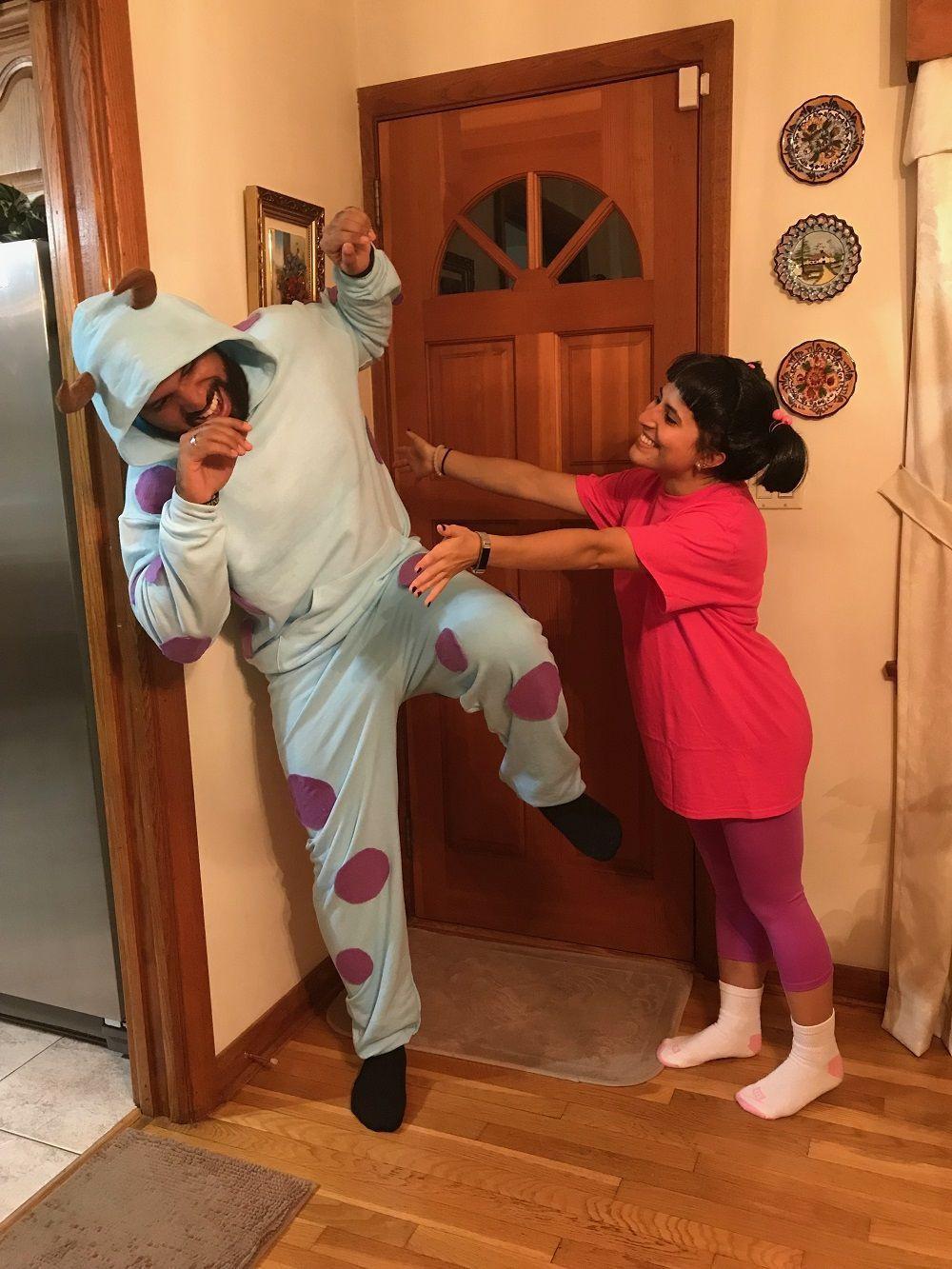 Could this set of costumes be any more adorable? Boo and Sully would be an especially clever pick for couples with a height difference – and considering the attire consists of a onesie and an oversized tee and leggings, you'll both be comfy all night long.
READ MORE: Disney Proposals Guaranteed to Make You Cry
29. Lilo and Stitch (Lilo and Stitch)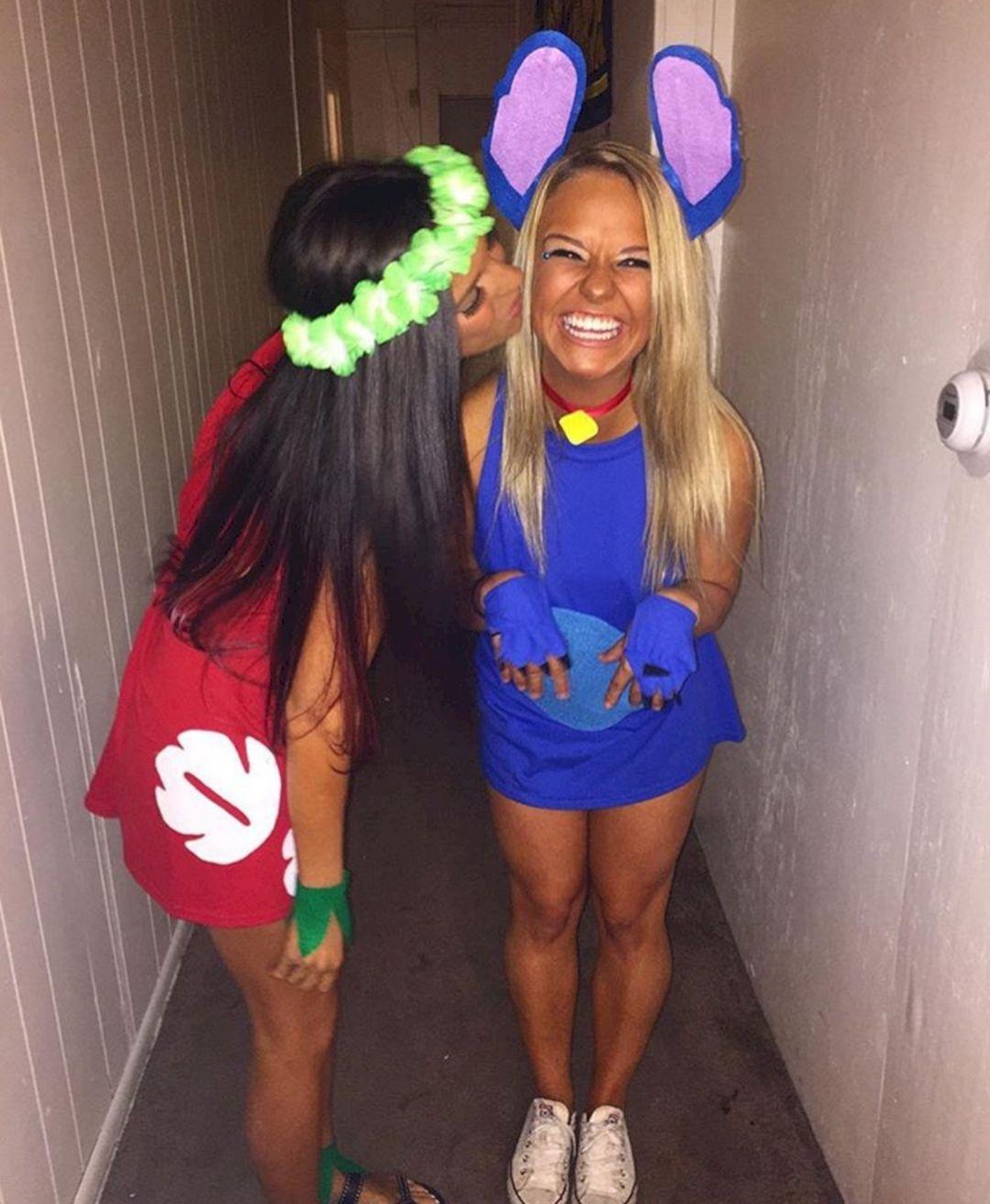 From the ears to the lei, almost every part of this Halloween costume could be made at home. Pick up a palm print top or shirt and simple blue dress and then build from there.
30. Woody and Bo Peep (Toy Story)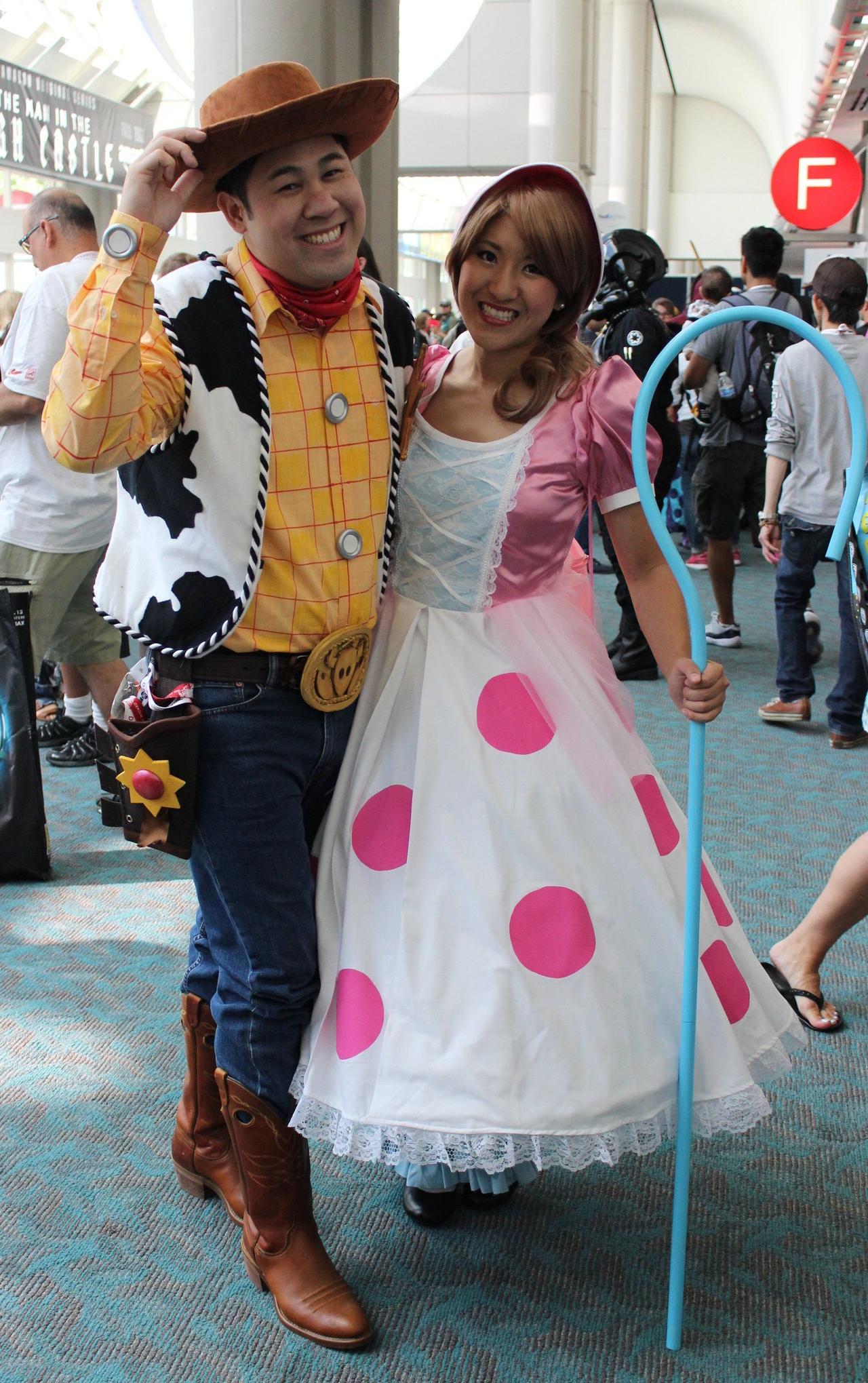 You've probably come across lots of Jessie and Woody costumes on your search for Disney couples costumes already, but true Toy Story fans know that it's Woody and Bo who are destined to be together. Now, where can we get our hands on a crook and a baby pink bonnet?
31. Slinky Dog (Toy Story)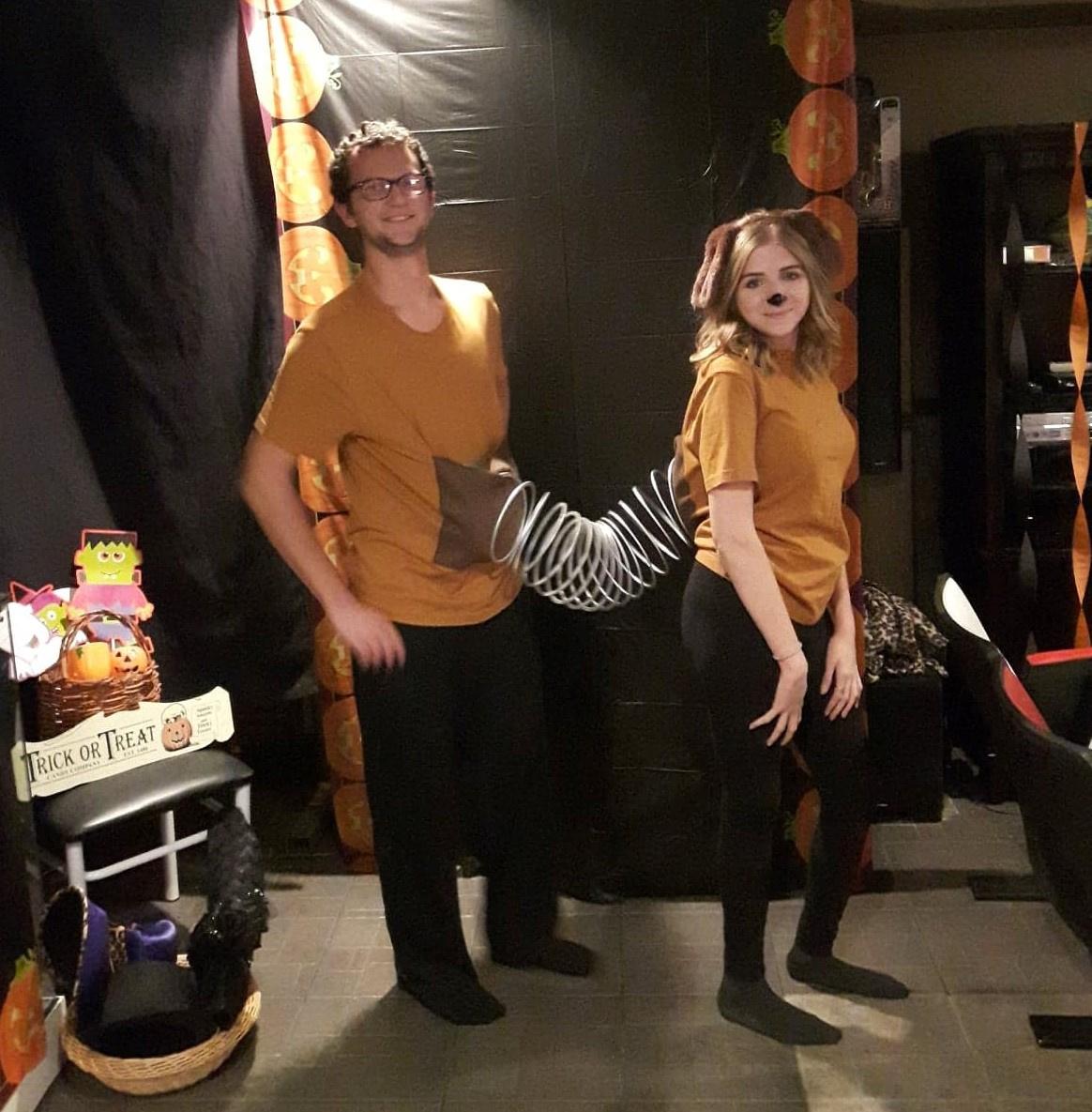 The only couples costume in our edit that is actually just one character – this Slinky costume made us laugh for all the right reasons. You can fight over who gets to be the front and the back…
32. Mr and Mrs Potato Head (Toy Story)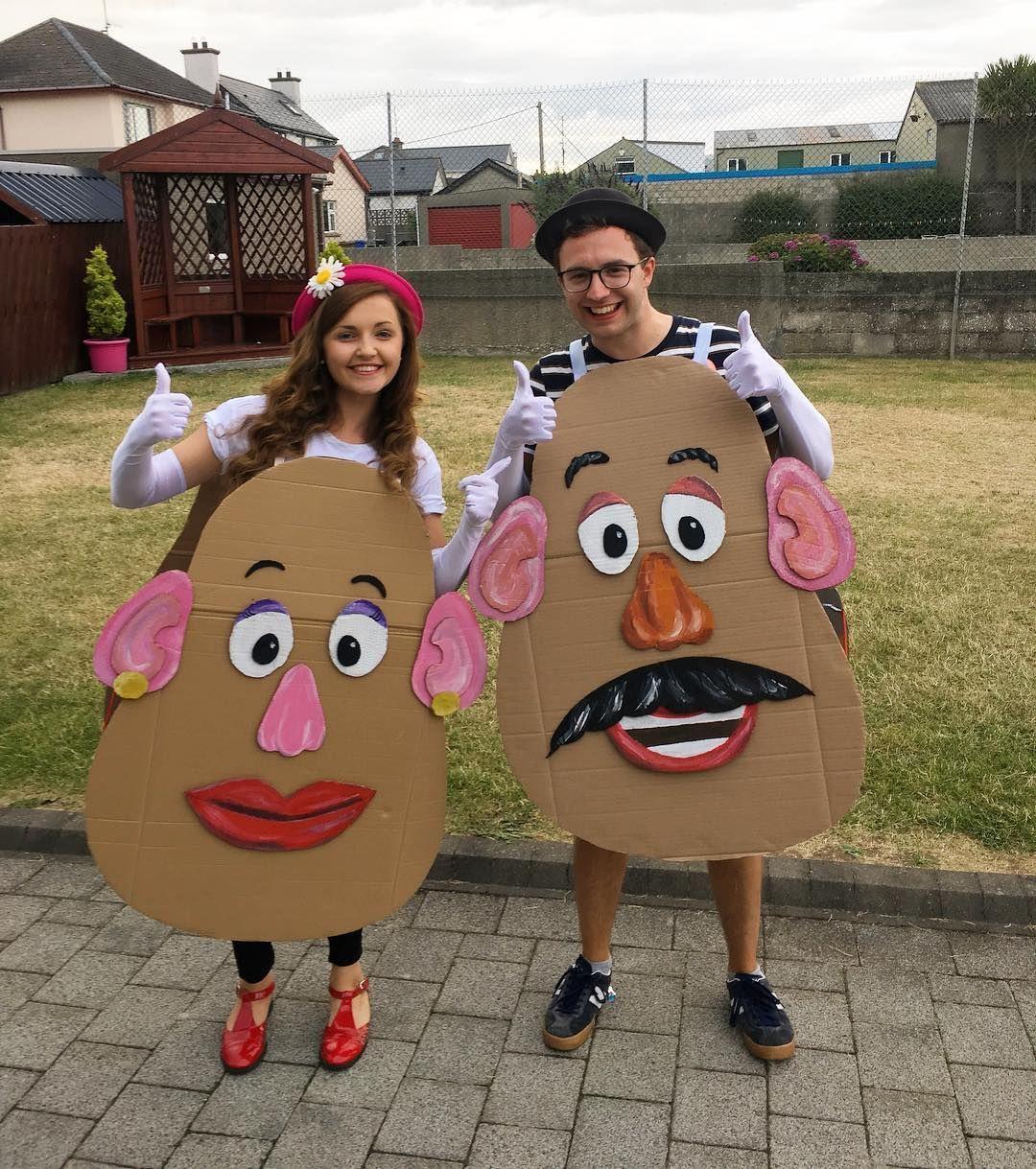 Please indulge us in one more Toy Story concept, because how good are these potato head costumes?! We're also big fans of anything you can make out of cardboard, as it doesn't get much easier on the purse strings.
33. Yzma and Kronk (The Emperor's New Groove)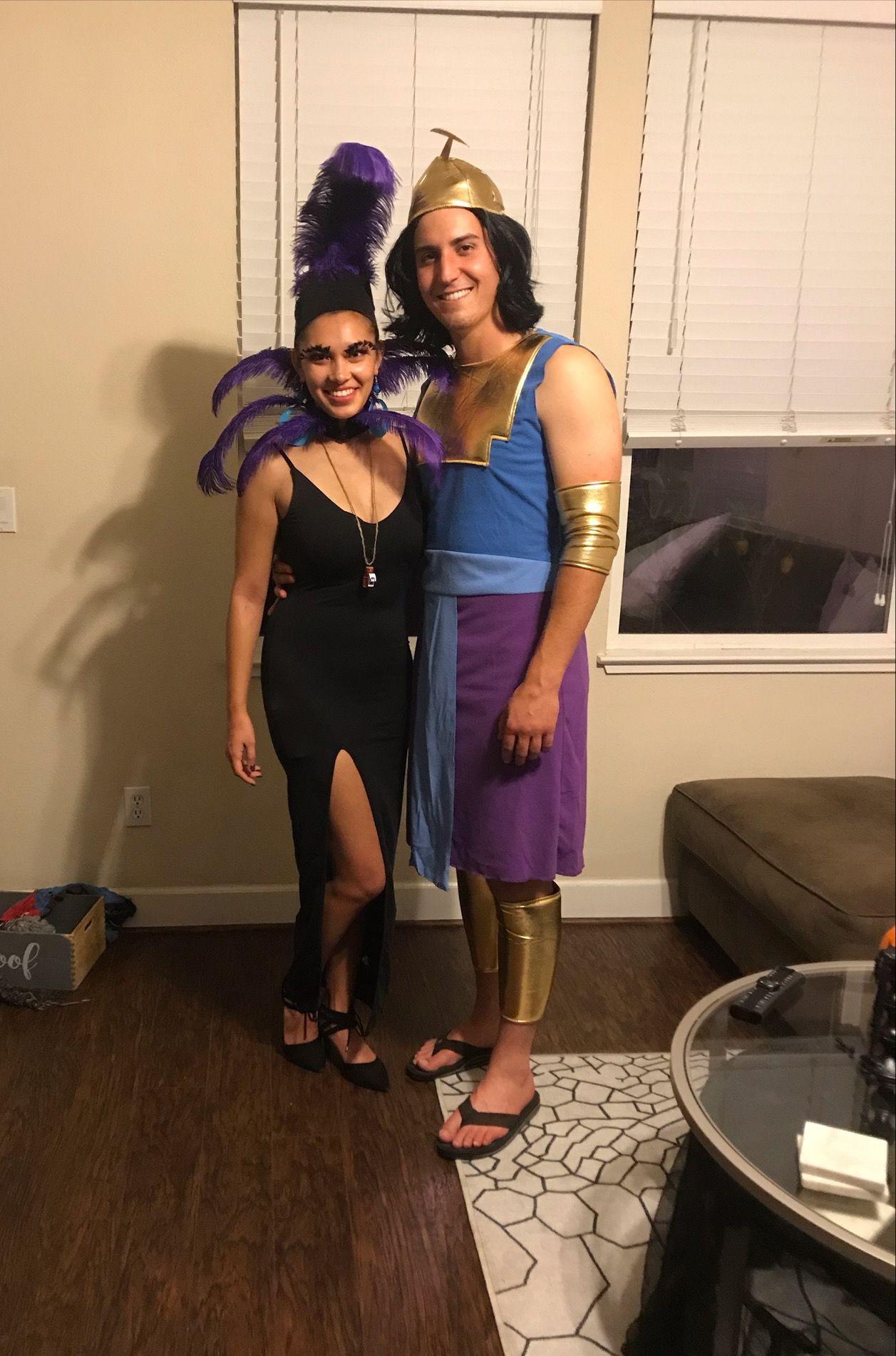 The Emperor's New Groove is all too often underrated in line-ups of best Disney movies, in our opinion at least. If you agree, this Yzma and Kronk costume could be right up your street (if your better half doesn't mind being your henchman, that is).
34. Milo Thatch and Kida (Atlantis)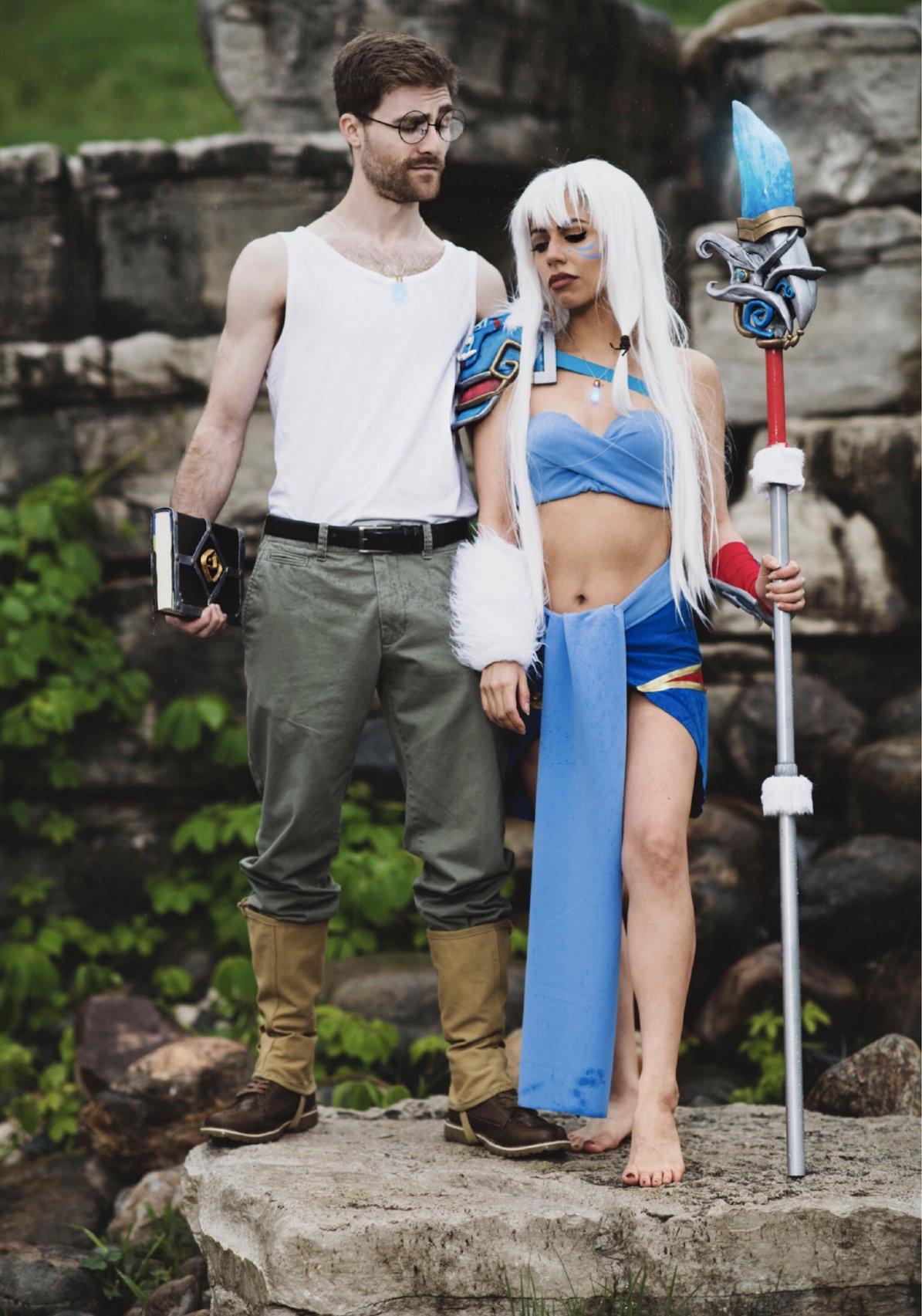 Another all too often unsung Disney hero, Atlantis can provide brilliant and crucially, more unusual couples costume inspiration. You can basically guarantee that no one else at your party will have the same idea.
35. Remy and Alfredo Linguini (Ratatouille)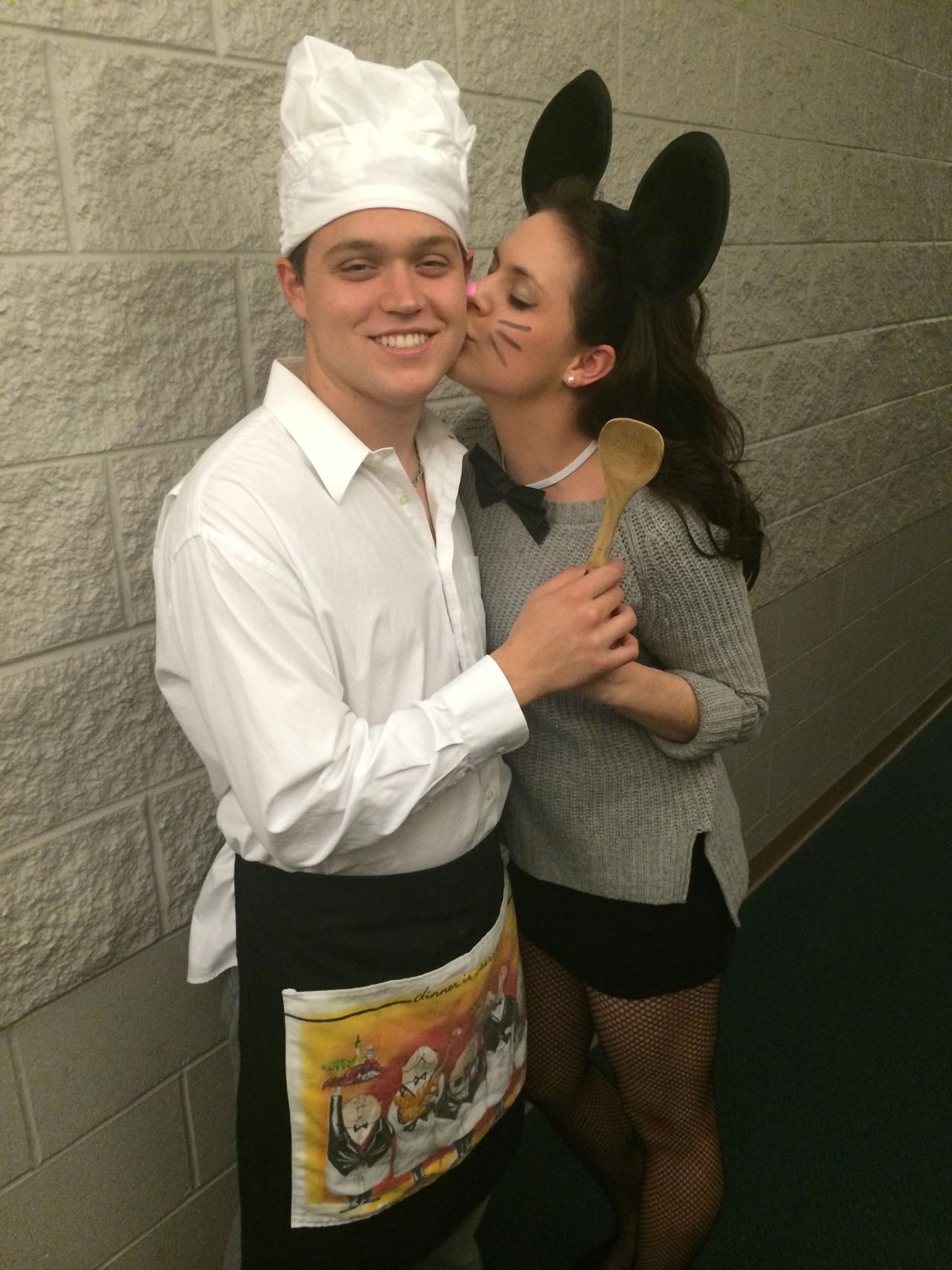 'Rat' might not seem like the most flattering of costume ideas initially, but we've been well and truly won over by this Remy and Alfredo costume, inspired by the masterpiece that is Ratatouille. If you're a couple who spends most of your time together in the kitchen (or just eating) this is the Disney costume for you!
36. Bob and Helen Parr (The Incredibles)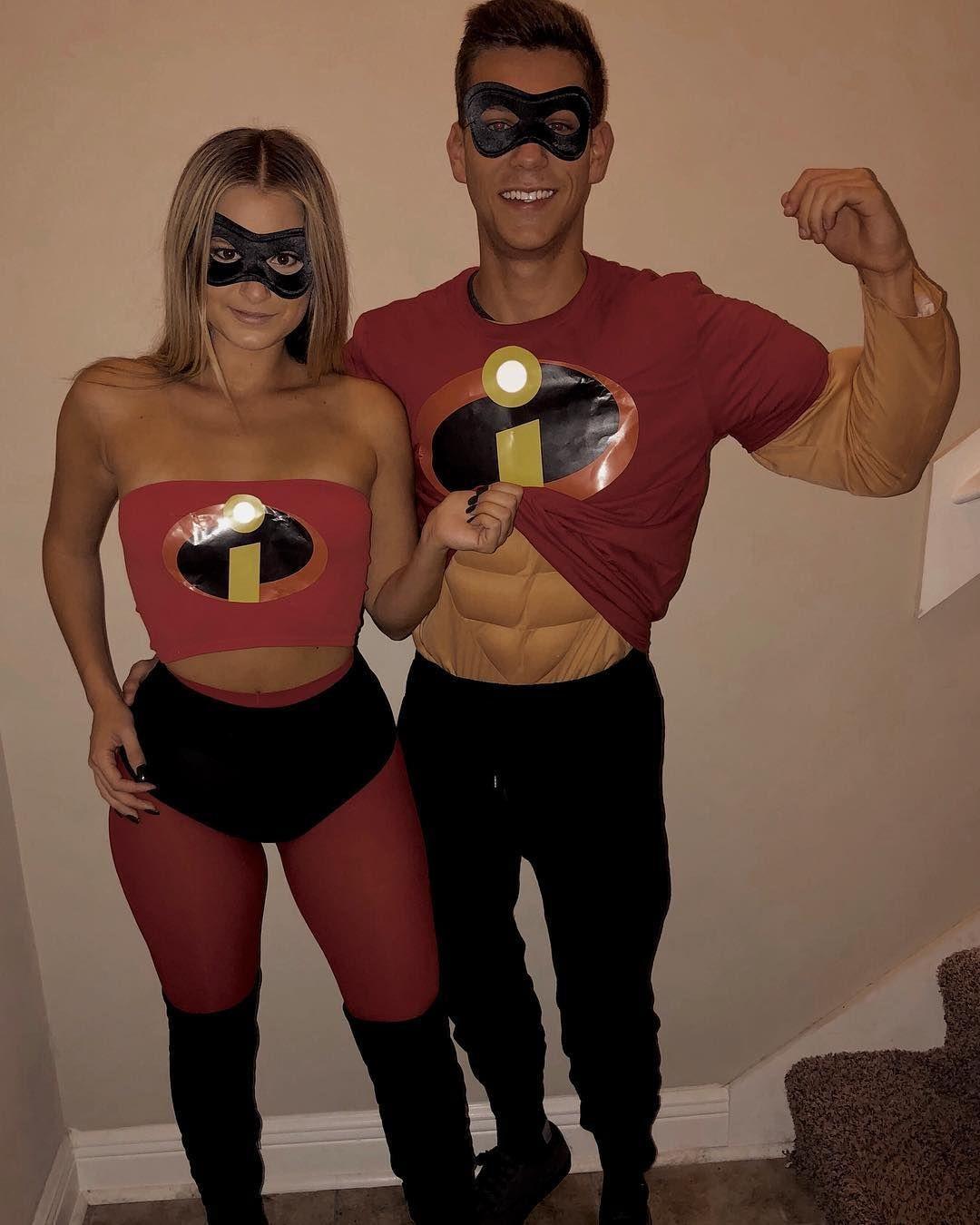 It's Mr Incredible and Elastigirl! But before Mr Incredible starts an intense workout regime of crunches and core work, rest assured that those abs are fake, and can be purchased separately here for less than £10.
37. Ellie and Carl (Up)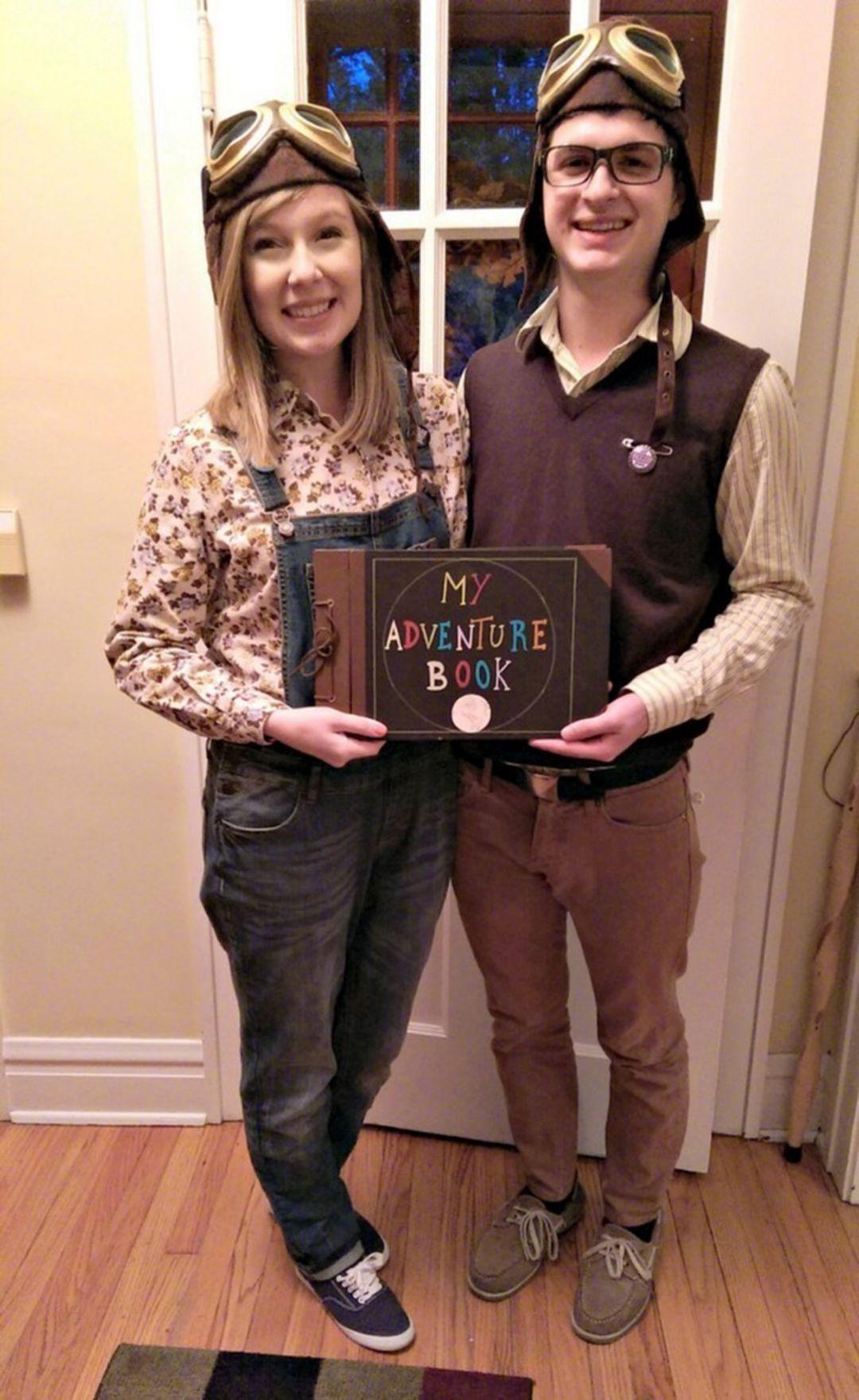 Possibly the most tear-jerking relationship in the whole Disney universe, but you can pay tribute to their happier times with this costume. Plus, goggles aside, you probably already have most of the components of these ensembles in your wardrobe.
38. Russell and Kevin (Up)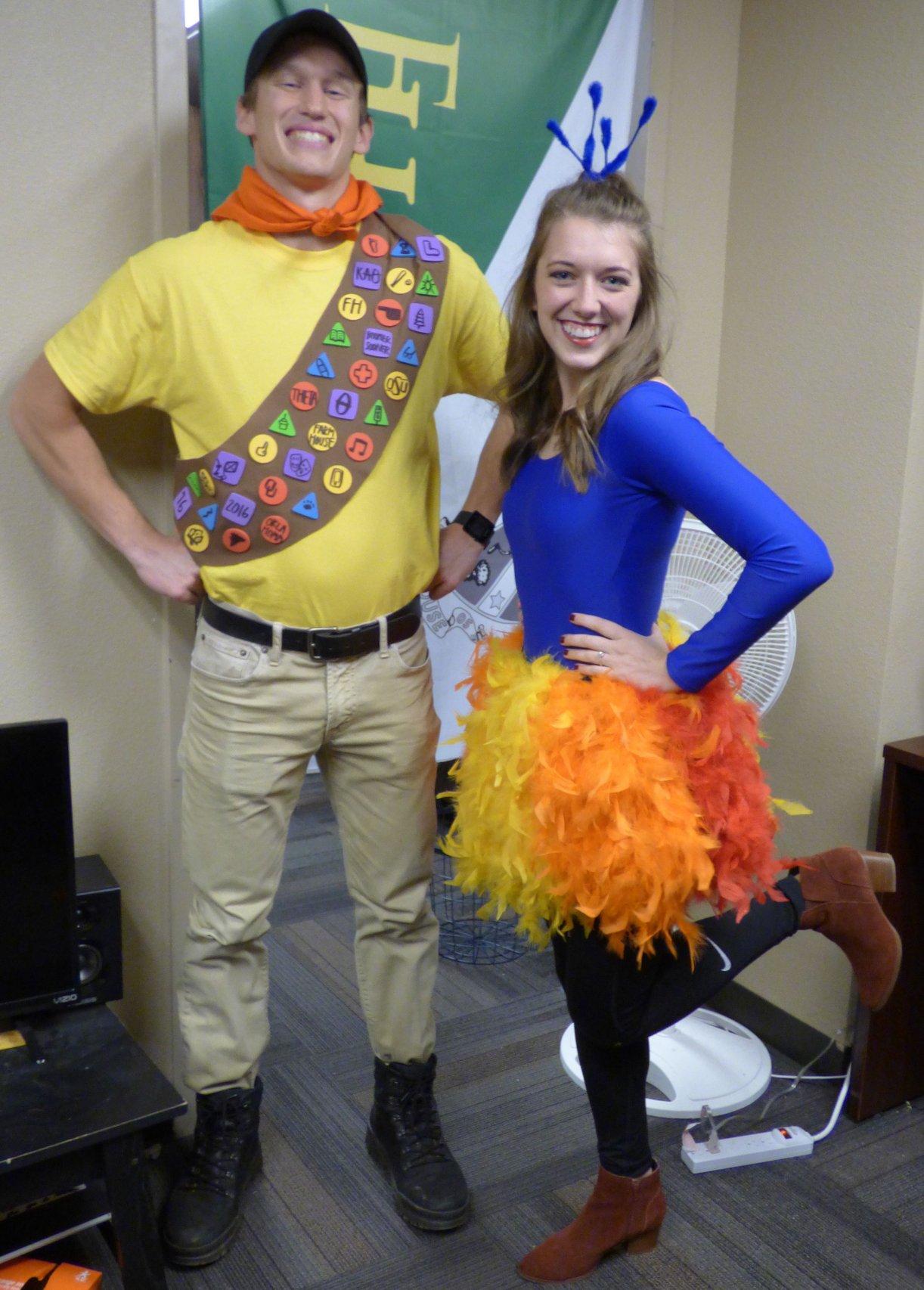 Of course we all adore Carl and Ellie, but we couldn't bear to leave out this alternative Up costume idea – Russell and Kevin the bird (who, yes, is actually a lady).
39. Anna and Kristoff (Frozen)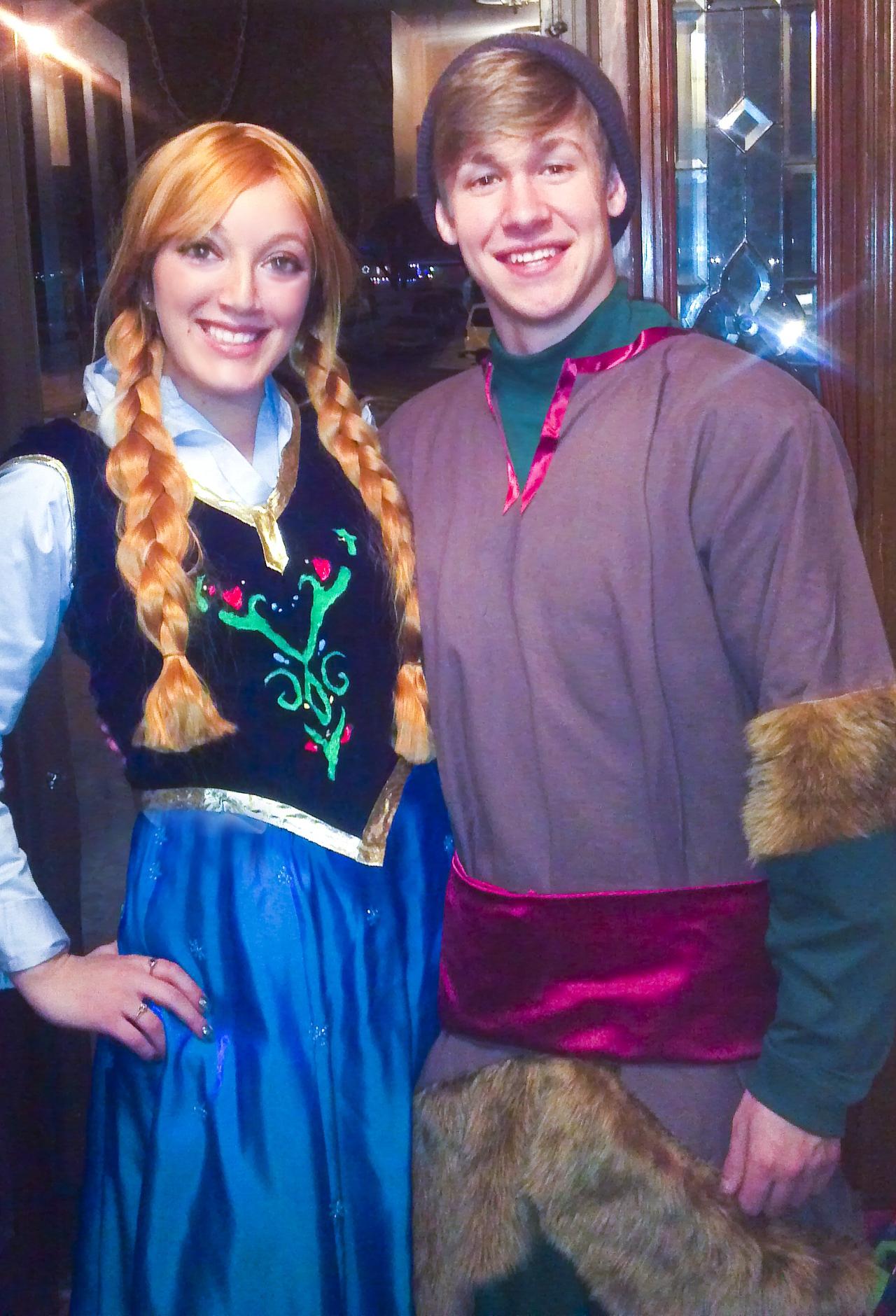 Find yourselves some faux furs and practice your braiding skills, and you'll be well on your way to an Anna and Kristoff costume – perfect if 31st October is set to be even chillier than normal this year.
40. Elsa and Olaf (Frozen)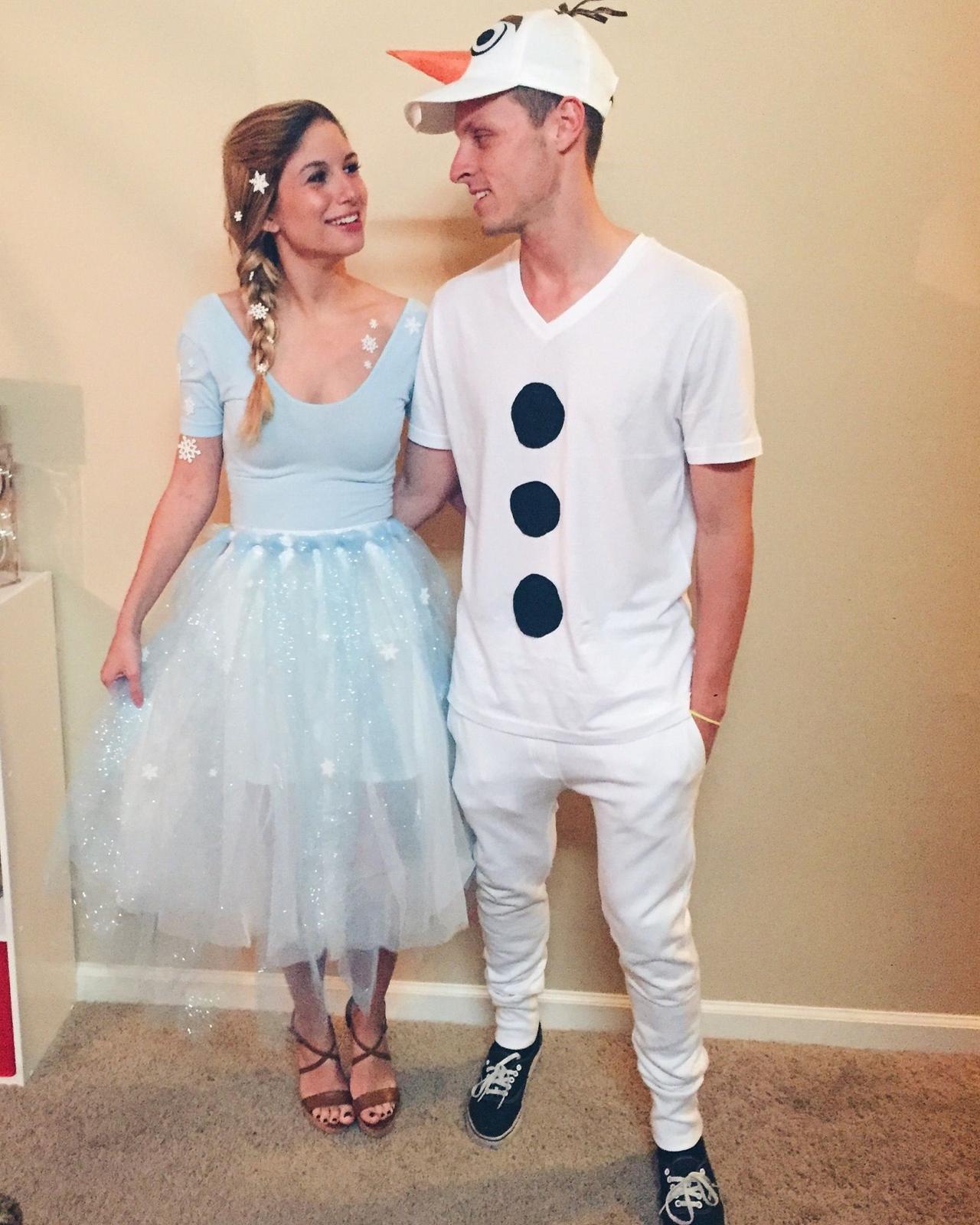 Do you wanna build a snowman? If you answered yes, forget Anna and Kristoff and get your Frozen on with this Elsa and Olaf idea. It's smart to swap Elsa's princess dress for a more accessible tutu and leotard – then you can add your own snowflakes to set it off.
41. Wreck it Ralph and Vanellope Von Schweetz (Wreck It Ralph)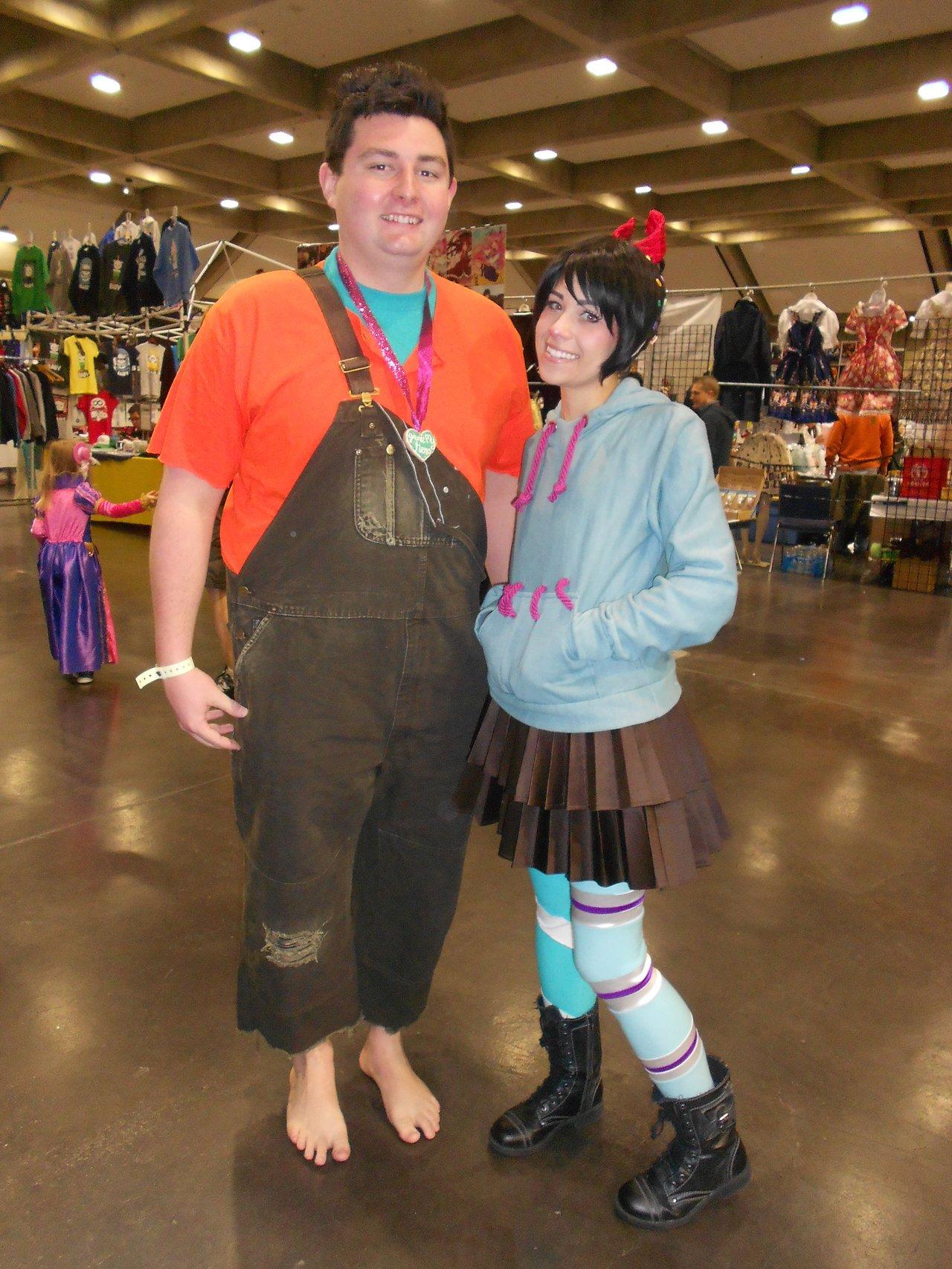 The burlier the better when it comes to this Wreck It Ralph costume – plus you get to wear a cosy hoodie all night. If you're not particularly fussed about going as a girl and a guy, couples have also pulled off amazing Wreck it Ralph and Fix it Felix outfits in the past.
READ MORE: Disney Wedding Songs: 31 Tracks That Will Melt Your Heart
42. Joy and Sadness (Inside Out)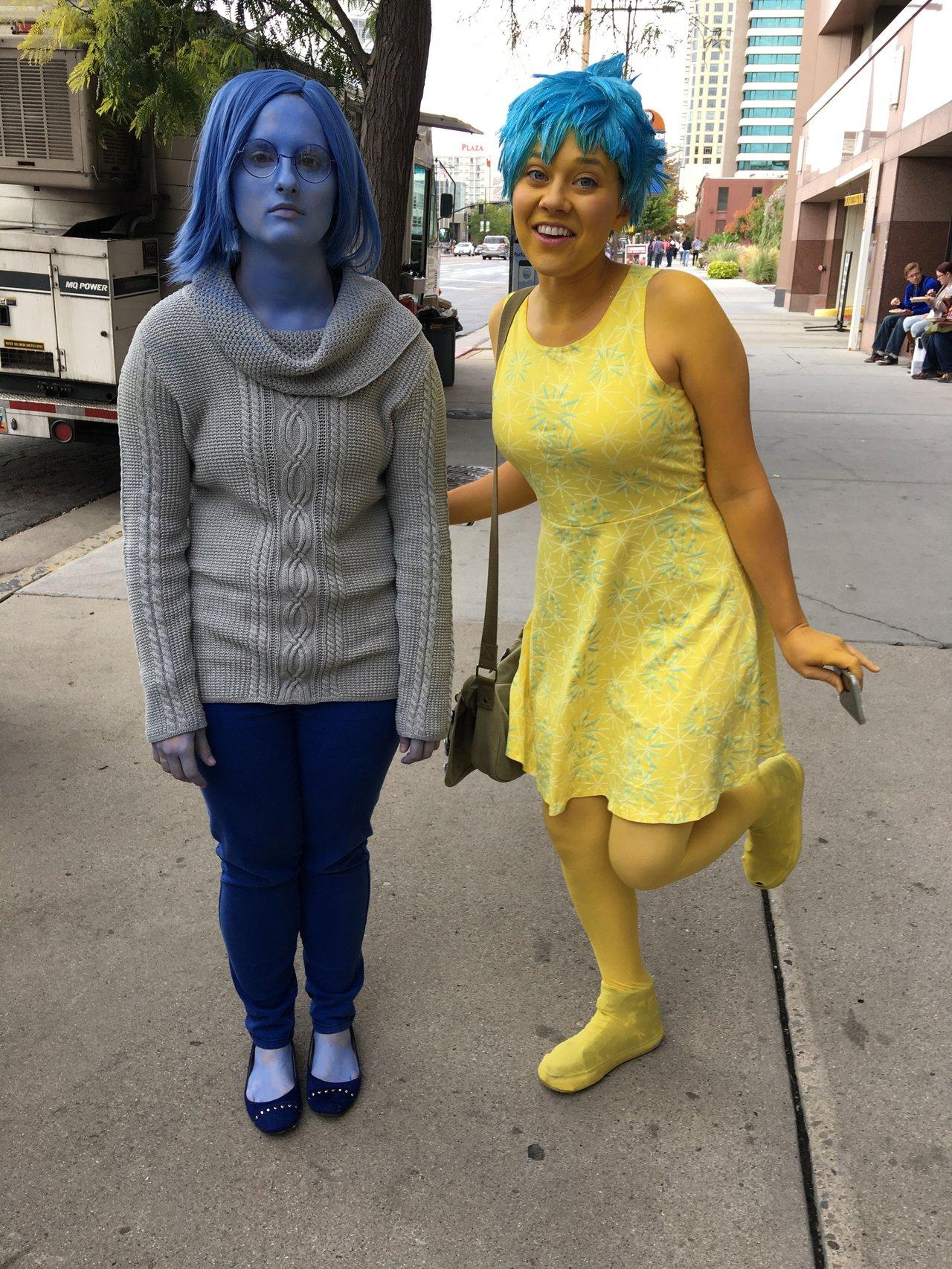 Going all out for Halloween this year? Crack out the body paint and blue wigs for top to toe Joy and Sadness vibes. If you're going on a double date with another couple or two, see if they want to join you as Disgust, Anger or Fear, or our personal fave, Bing Bong.
43. Maleficent and Crow (Maleficent)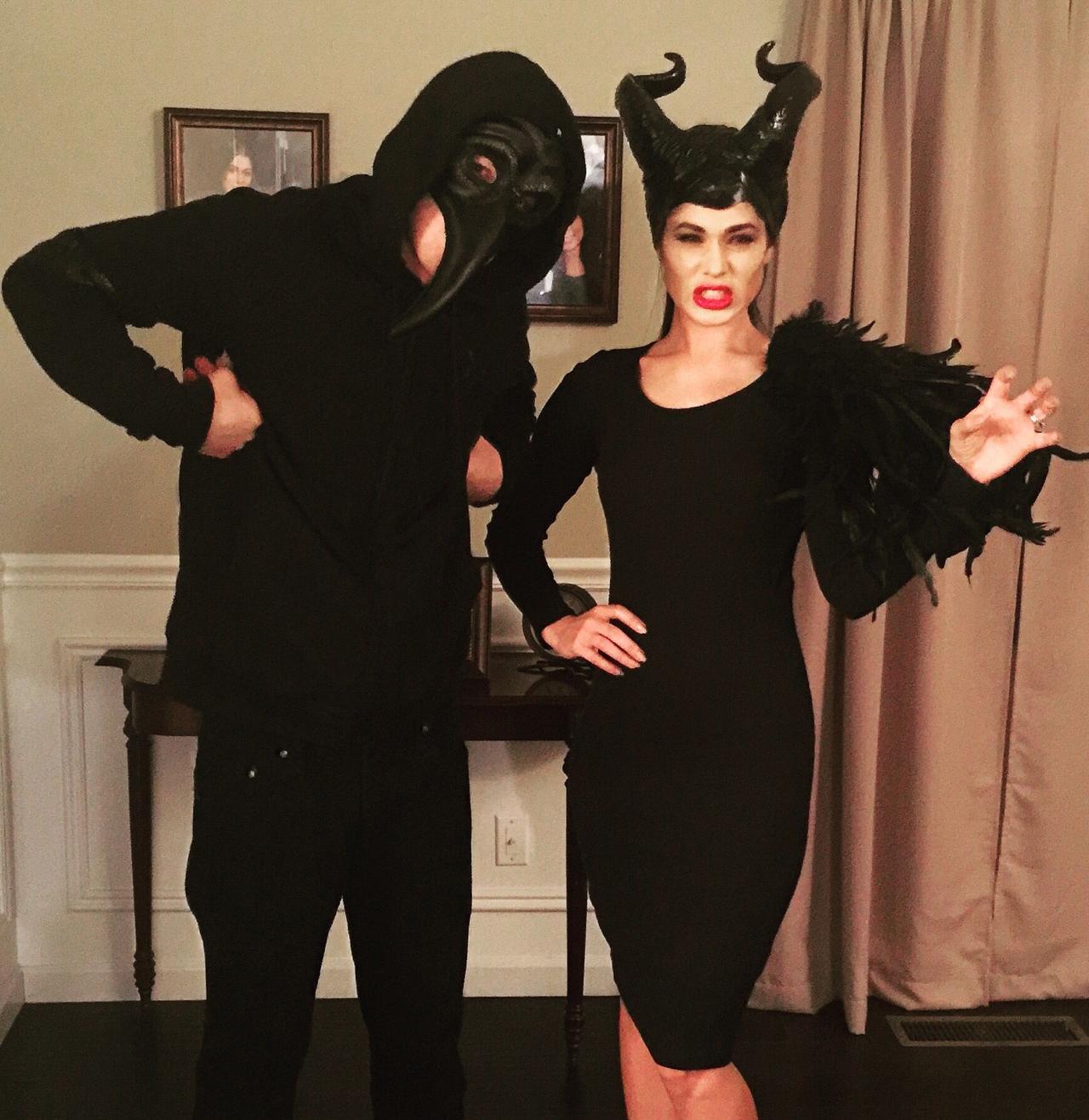 Maleficent is a standout spooky Halloween costume all on her own, and if you've seen the movie, you'll know she doesn't need a Prince Charming on her arm. However, if you do want to channel her this October, you can follow in this couple's footsteps and create a costume for two by turning your partner into a (much lower maintenance) crow.
44. Troy and Gabriella (High School Musical)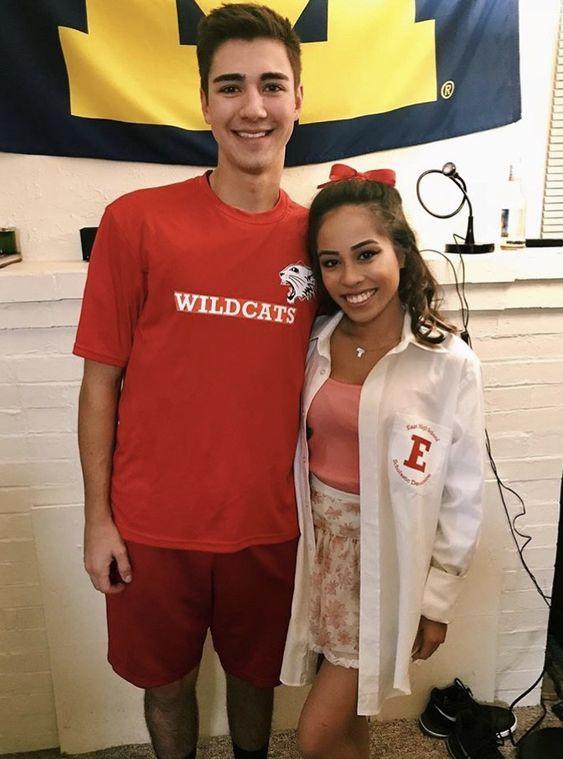 Don't forget, High School Musical is a Disney Channel original movie, which means you can definitely fit Troy and Gabriela into to category of Disney couples costume. All together now, we're soooarrringg, flyyyyinnng…
Still not found the perfect Halloween look? Don't miss our round up of the best couples Halloween costumes.