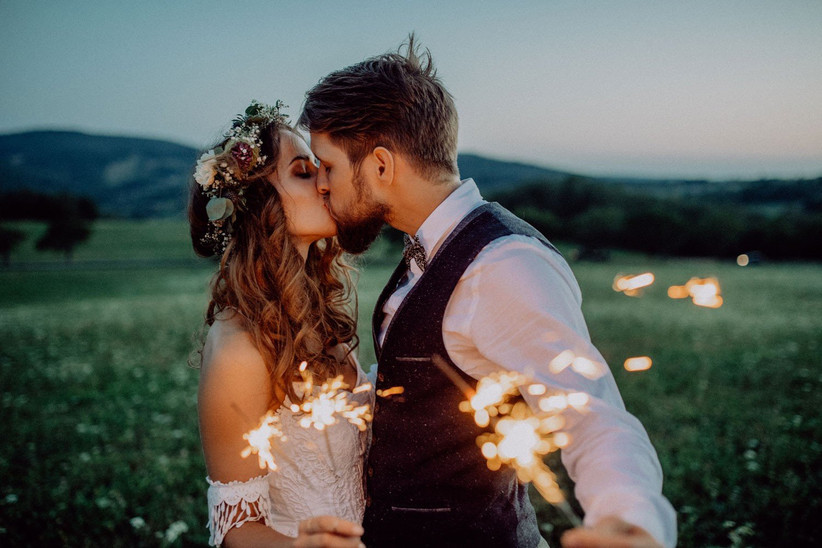 If there is one thing that is completely timeless, it's a person's love of Disney. You don't have to be a child to still enjoy the fairytale films and more importantly – the songs.
Magical anthems make the perfect wedding songs for any part of the day and we have the best selection that will have you dreaming of Disney forever and ever. Scroll to the bottom for a full Spotify playlist of the best Disney wedding songs.
Kiss The Girl – The Little Mermaid
Perfect for: Your first dance.
From one of our all-time favourite Disney movies, we have the famous 'Kiss The Girl'. It may not have been your first choice before but we really think this could make for a really comical, but romantic dance between you and your new husband. You get to play Ariel and he can be your handsome Prince Eric!
When You Wish Upon A Star – Pinocchio
Perfect for: Playing while you walk down the aisle or even while your guests wait for you to sign the official wedding documents.
This song was the first ever Disney song to win an Oscar and represents love and dreams coming true which fits a wedding perfectly. The lyrics are positive and hopeful, which is exactly the way you want to be feeling on your wedding day. This would be a super cute song to walk down the aisle to.
Can You Feel The Love Tonight – The Lion King
Perfect for: First dance or last song of the night.
What better way to dance the night away at your wedding than to a song all about feeling the love. If there is one day in your whole life where you will most definitely be able to feel the love, it's that one. Elton John has an amazing version of this song which is just perfect for the occasion.
Crazier – The Hannah Montana Movie
Perfect for: The bride's walk down the aisle or first dance.
The nation's favourite blonde country girl, Taylor Swift, featured in the 2009 movie of Hannah Montana. The stunning song expresses uncontrollable love for another person, which is exactly what you want for music at a wedding. Being crazy about someone is something everyone should be proud of after hearing this.
Beauty and The Beast – Tale As Old As Time
Perfect for: First dance.
If there is any record which could bring a tear to your, and all of your guest's eyes, it is this one. It is a very romantic and classic song from an iconic Disney movie. The Celine Dion and Peabo Bryson version is a perfect modernised version which you may also want to consider – it would sound beautiful as a wedding ceremony song.
Love is a Song That Never Ends – Bambi
Perfect for: Ceremony music.
Bambi is a favourite Disney movie for many people and this love song is exactly what Disney and marriage is all about. It expresses very clearly that as everything else dies, love never does. It has a very sweet message within it which is truly fitting for a wedding.
Be Our Guest – Beauty and The Beast
Perfect for: Guests entering the reception.
What better way to greet your reception guests than to have this song playing as they walk in. It is totally charming and has great humour in it. Everyone will be in awe of your unique song choice and we are so sure it will go down well.
Start of Something New – High School Musical
Perfect for: First dance.
Whether you were a High School Musical fan or not, there is no denying that this song is strangely catchy and very relevant. Even though you have been together for a long time before marriage, your wedding day is the start of something new so we think this love anthem is very fitting. And who doesn't want some part of Zac Efron at their wedding?
A Whole New World – Aladdin
Perfect for: The first dance.
Probably one of the most popular Disney songs, Aladdin and Jasmine showed us all how to really start a love story. Having this at your wedding could be the perfect way for you and your husband to start the next stage of your love story – but maybe stick to the original and not Katie Price and Peter Andre's take on the classic song.
Gotta Find You – Camp Rock
Perfect for: Reception music, couples dancing.
In 2008, we saw the on-screen romance blossom between Demi Lovato and Joe Jonas (before he got so good looking) and this song is the heartfelt love anthem he sang about Demi's character Mitchie Torres. It's about being in love with someone and figuring out how to really find them. We see this being a really romantic first dance, now that you have 'found each other'.
Bless The Broken Road – The Hannah Montana Movie
Perfect for: First dance or ceremony music.
This song by Rascal Flatts has some of the most gorgeous lyrics in it which would have you, your partner, and all of your guests melting at the knees. It talks about the journey one goes on before they meet their special someone, which is something that any couple can relate to. It truly is a beautiful piece of music worthy of any wedding.
Everyday – High School Musical 2
Perfect for: Beginning of the reception dancing.
The second of the HSM films saw this stunning song being performed by the young love birds, Troy and Gabriella. It has a slow and romantic start and then picks up half way through. This is a song which you could share with your partner for your first dance and then invite everyone to join you on the dance floor when it speeds up. We adore the idea of this at a wedding.
Love is an Open Door – Frozen
Perfect for: The party.
We had to put a Frozen track in the mix because let's face it, it's everyone's guilty pleasure. This upbeat tune is all about the potential of love and Princess Anna's Prince may have turned out to be a frog, but that doesn't mean yours will be. We would LOVE to see this being used!
You'll Be in My Heart – Tarzan
Perfect for: Any time during the day!
Phil Collins sings the beautiful soundtrack to Disney's Tarzan. The amount of love spoken about in this song is beautiful and so heartfelt. If you and your partner are a team who always protect each other and stand together, this could be the perfect way to represent your relationship.
Can I Have This Dance – High School Musical 3
Perfect for: First dance.
This song is all about the man taking control and having the perfect dance with the love of his life.
We love these lyrics: "It's one in a million, the chances of feeling the way we do. And with every step together, we just keep on getting better."
Butterfly Fly Away – The Hannah Montana Movie
Perfect for: Father-daughter dance.
Father daughter dances are really common now and this song has the perfect amount of emotion. It focuses on a daughter leaving the nest and becoming a woman which is exactly what getting married means for a lot of brides. Billy Rae Cyrus and his daughter Miley show their bond singing this song and you can do the same, dancing to it.
Bella Notte – Lady and the Tramp
Perfect for: Background music at the wedding breakfast.
Make sure you have spaghetti for your wedding breakfast to really embrace the film that this fab music comes from. We will be super impressed if anyone is able to recreate this scene as cute as the original stars… We need evidence!
I See The Light – Tangled
Perfect for: Before the ceremony – waiting for the bride, or walking down the aisle.
You couldn't get a more perfect song if a Rapunzel themed wedding is what you're after. It is so cute and we love how it has a male and female verse which represents how both people feel within the relationship. They sing about how their whole lives have changed now that they see each other – it brings a tear to our eye.
Once Upon a Dream – Sleeping Beauty
Perfect for: As your guests are entering the ceremony.
"But if I know you, I know what you'll do. You'll love me at once, the way you did once upon a dream" – Such romantic lyrics, and these are the perfect words to be heard in the background of your wedding ceremony whilst your guests take their seats.
Once Upon A Dream – Maleficent
Perfect for: The first dance.
Lana Del Ray added her star touch to the timeless Sleeping Beauty classic so if you want a more gothic and modern version of the song, here it is. The tone is super dramatic and eery – perfect for couples who want an unusual first dance song.
I Won't Say I'm in Love – Hercules
Perfect for: Wedding reception.
This song is one of the greatest Disney songs ever and all the girls at your reception will be in their element dancing to it and singing it in humour to their beaus.
True Love's Kiss – Enchanted
Perfect for: First marital kiss.
This song would sound stunning played by a string quartet or sung live as the bride and groom take their first marital kiss at the ceremony. It will be accompanied by people cheering and will end up as a really special moment that everyone can cherish.
"So to spend a life of endless bliss Just find who you love through true love's kiss." These lyrics say it all!
You've Got a Friend In Me – Toy Story
Perfect for: A father-daughter dance, the bridesmaids entering the ceremony, or for the newylweds to leave the ceremony to.
This song is fitting for either having a dance with your bridesmaids/best men or even the father daughter dance. Those traditions are all about friendship and close relationships which is exactly why this song is the perfect choice.
I'm Wishing – Snow White
Perfect for: The ceremony.
I'm Wishing is a beautiful song, sung beautifully, with even more beautiful lyrics. Wishing for the one you love and then marrying him is what has happened to most brides – that is why we love this for a wedding song.
Never Knew I Needed – The Princess and the Frog
Perfect for: First dance.
This song is a more modern Disney song sung by superstar Ne-Yo. The lyrics express someone showing appreciation for a person who they can't live without and how they never knew they needed them until they had them. Not wanting to lose someone is why a lot of people get married and we think this song is so sweet.
Married Life – Up
Perfect for: Background or entrance music for the ceremony.
Not all wedding music needs words and this instrumental from the amazing film Up is the perfect example of how beautiful a piece of music can be all by itself. The upbeat and chirpy vibe it has gives positive impressions about the idea of marriage and we love that.
Hello Hello – Gnomeo and Juliet
Perfect for: The reception.
The duet by Lady GaGa and Elton John is a true work of genuis and sounds so fantastic. It is about meeting new people and not knowing who is waiting for you arouond the corner. This can be related to your relationship, friendship or family and what better time to celebrate all of your amazing relationships than on your wedding day.
We love this bit: "Sniffing on a flower, running through an autumn shower, bumping into someone else like me. Hello, hello."
So Long – Winnie The Pooh
Perfect for: Wedding reception, bridesmaids or groomsmen dance.
This song is super cute. Sung by Zooey Deschanel, it talks about strong and annoying friendships that you couldnt live without and that is something that we have a lot of time for. Weddings are a day which brings everyone together and the funny lyrics in this track will only add to the high spirits.
This bit is our favourite: "You test my nerves and make me stronger, so can you bother me a little bit longer?"
You could even have it as your's and your partner's song!
Can't Help Falling in Love With You – Lilo and Stitch
Perfect for: Wedding reception.
Elvis Presley's classic love song was covered by A Teens for the much loved Disney movie, Lilo and Stitch. This song is the perfect way to get the party started and still keep romance in the air.
Friend Like Me – Aladdin
Perfect for: Bridesmaid and groomsmen dances.
So funny and full of attitude, your girls and guys will have the time of their lives busting some moves to this huge tune. We can already picture it now!
He's A Tramp – Lady and The Tramp
Perfect for: Setting your friends up.
This song is so funny and sassy, we really like it. Some may class this as an inappropriate wedding song but we think it'd be an amazing track to play at the reception for comical reasons. Playing matchmaker at weddings is super fun and if you have a best man and chief bridesmaid who just must be set up, have them dance to this.
If all these beautiful songs have convinced you that a Disney wedding is for you, be sure to check out our Disney wedding dresses and enchanting Disney wedding cakes. You won't regret it!