12 Iconic Royal Wedding Dresses Throughout History
Royal wedding dresses are the most exciting of all wedding dresses - check out the most iconic bridal gowns from British royalty over the past 100 years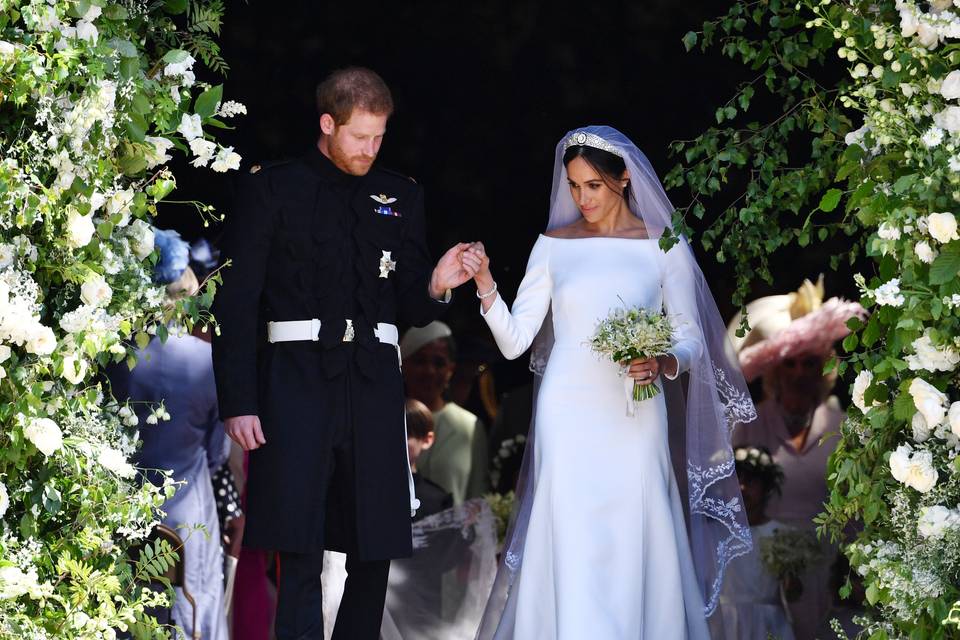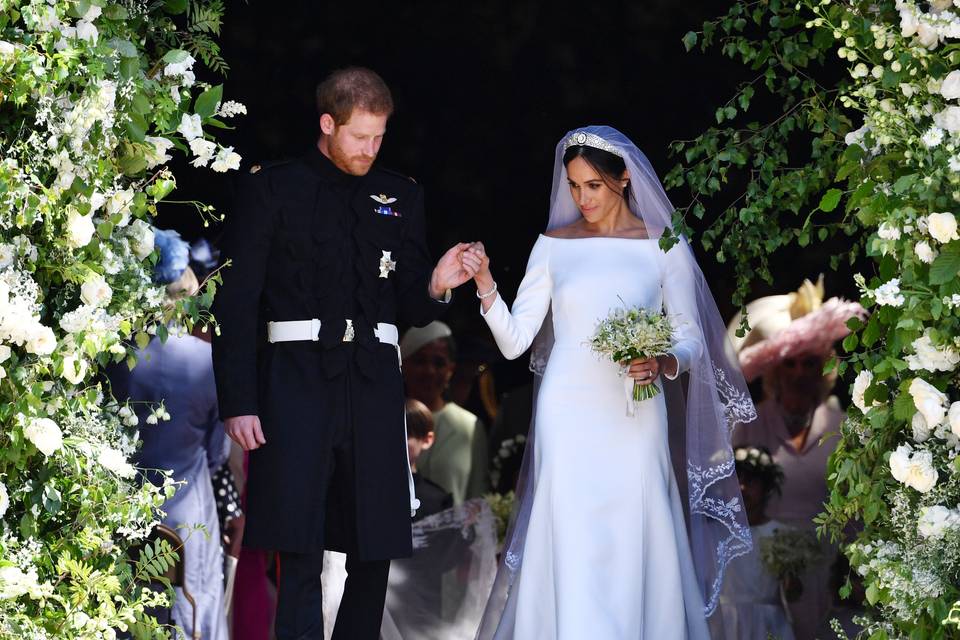 There's no wedding dress like a royal wedding dress - whilst we may all obsess over celebrity wedding dresses in general, royal wedding dress fever is a whole other level.
Typically, royal wedding dresses are always kept a closely guarded secret and we don't even know who the designer will be until the big day itself. From Kate Middleton's iconic lace wedding dress to Princess Beatrice's upcycled, vintage gown, we simply can't get enough of royalty and their iconic wedding dress choices.
Read on to familiarise yourself with some of the greatest and most famous royal wedding dresses ever, chosen by the British Royal Family.
UK Royal Wedding Dresses Over the Past 100 Years
1. Wallis Simpson's Wedding Dress - 1937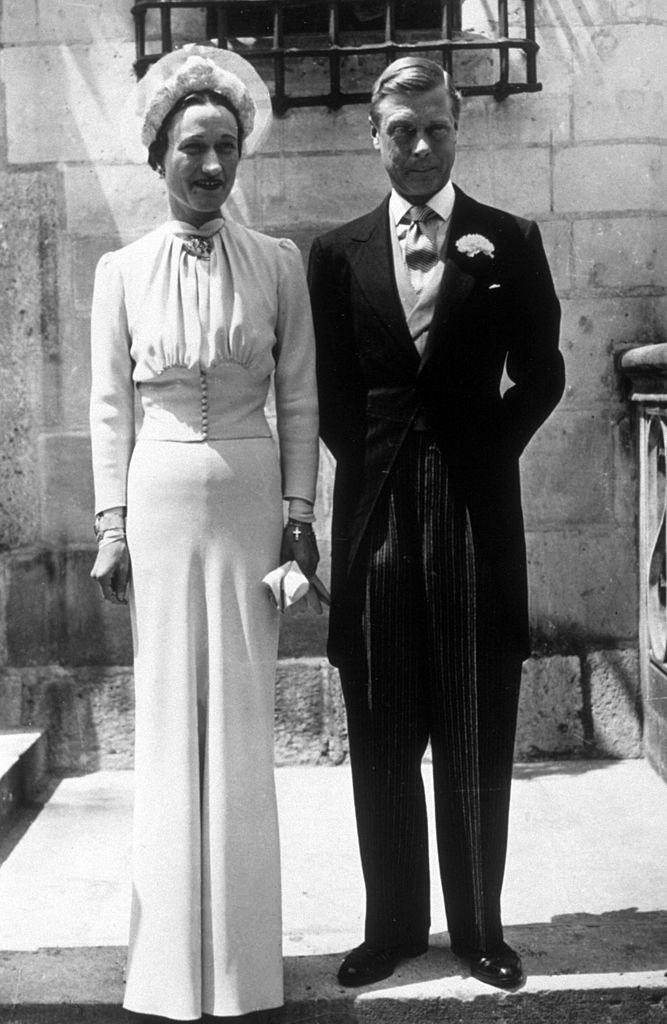 Wallis Simpson married Edward, Duke of Windsor - formerly King Edward VIII - on 3rd June 1937.
Their love story made headlines as she was a twice-married American divorcee, and Edward abdicated the throne in order to marry her, as she wasn't considered a suitable wife for the King.
He was succeeded by his younger brother - father to Queen Elizabeth II - King George VI, and no members of Edward's family attended his wedding to Wallis in France.
We already know that Wallis and Edward didn't feel bound by tradition, so it's not surprising that she made her own rules for her wedding dress too.
Breaking tradition with the royal wedding dresses we're used to, Wallis opted for a figure-skimming dress in her signature shade of 'Wallis blue', created by Paris-based fashion label Mainbocher, founded by the American couturier Main Rousseau Bocher. She accessorised with a halo-shaped straw hat, and gloves that were specially made to accommodate her emerald and diamond engagement ring.
In 1950, 13 years after her wedding, she donated her iconic dress to the Metropolitan Museum of Art but sadly, over time, the blue dye faded away.
2. Queen Elizabeth's Royal Wedding Dress - 1947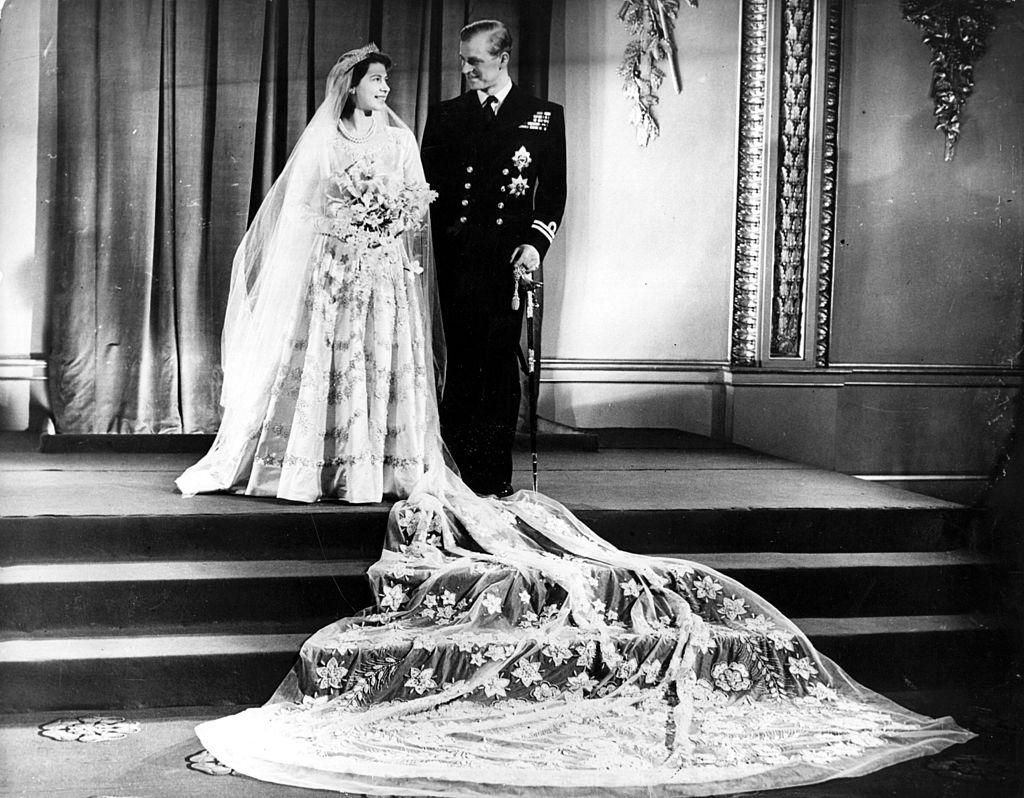 Queen Elizabeth's wedding dress designs were submitted by royal designer Norman Hartnell with less than three months to go before her big day!
He was inspired by Botticelli's painting of Primavera, and proposed a pearl-detailed wedding dress with floral embroidery, made from duchesse satin.
As rationing was still in place post-war, the Queen had to purchase the fabric for her wedding dress using ration coupons. The UK government allowed her an additional 200 coupons to make the purchase, but women all over the country also sent their rationing coupons to the future Queen to help her out - they all had to be returned though, as it was actually illegal to give your coupons away!
The iconic royal wedding dress featured an incredible 13-foot long embroidered silk tulle train, attached at the shoulders. The interest in the then-Princess's wedding dress was so intense that Norman Hartnell was forced to keep the curtains drawn at his workroom and to whitewash his windows so no one could get a glimpse ahead of it's big unveiling at the Queen's wedding to Prince Philip on 20th November, 1947.
3. Princess Margaret's Wedding Dress - 1960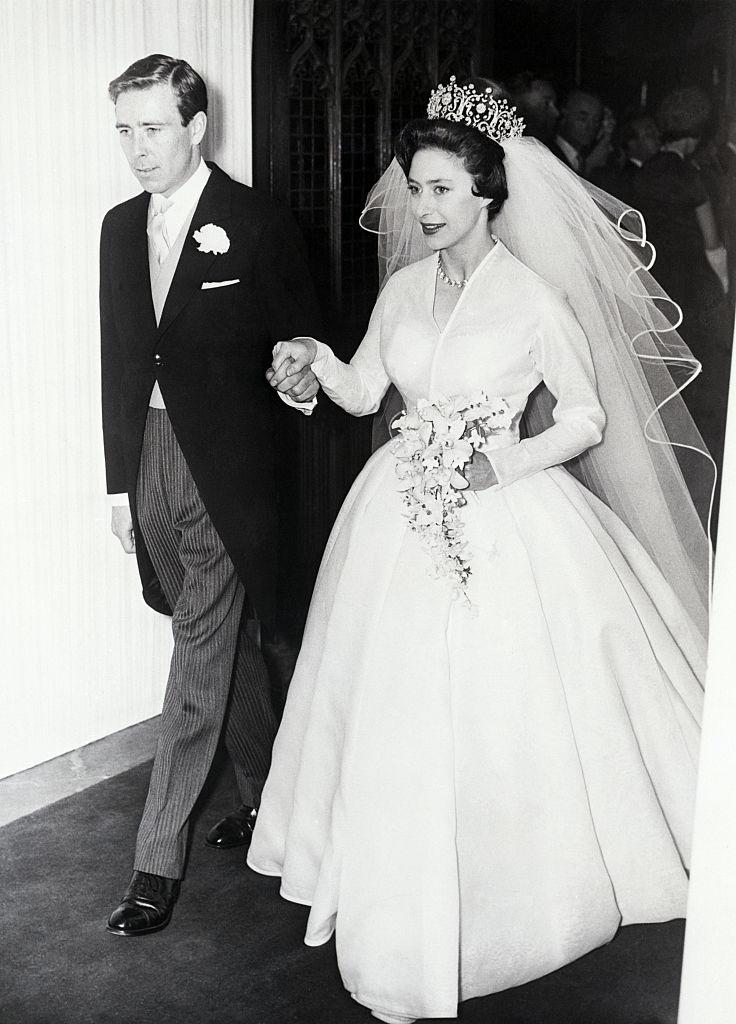 The Queen's younger sister, Princess Margaret, married photographer Antony Armstrong-Jones on 6th May, 1960 at Westminster Abbey, in the first ever televised royal wedding.
She was walked down the aisle by her brother-in-law, the Duke of Edinburgh Prince Philip, as her father had passed away. The bride chose the royal designer Norman Hartnell, who had designed her sister's royal wedding dress over a decade earlier, to create her bridal gown.
Princess Margaret's choice of wedding dress was unusual in its simplicity - despite Norman Hartnell being famed for his embroidery skill, she had a plain, silk organza dress. What it lacked in detail, it made up for with volume, with 30 metres of fabric being used to create her full, ball gown shaped skirt.
In contrast with her sister, she had a small train and zero embellishment or embroidery - it was a modern take on bridal fashion for the time, and Life magazine described it as 'the simplest royal wedding gown in history'.
4. Princess Anne's Wedding Dress - 1973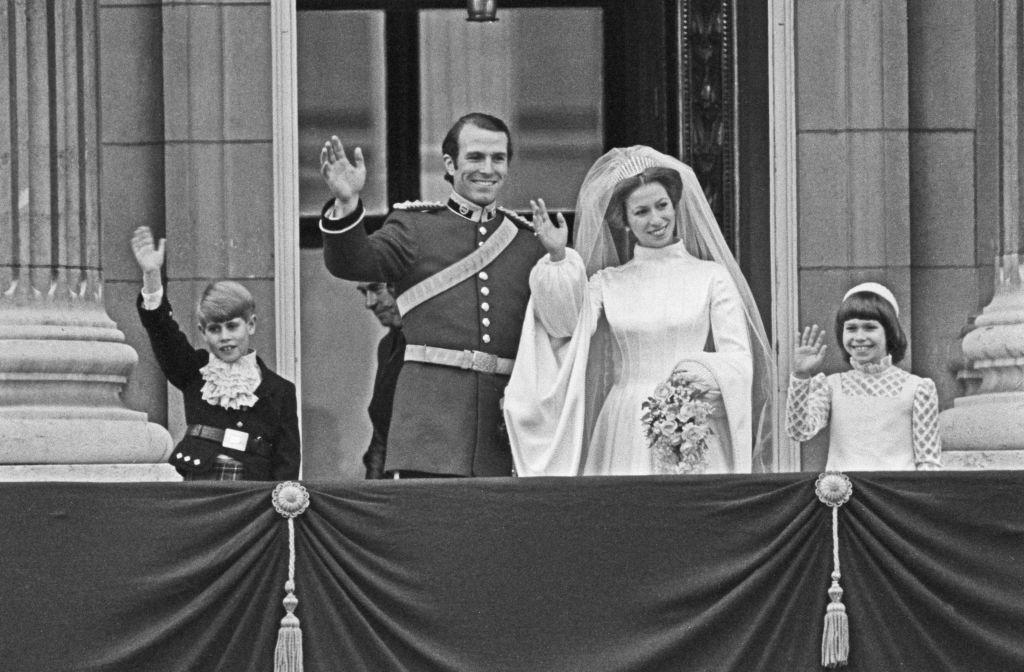 Queen Elizabeth II and Prince Philip's only daughter, Princess Anne, married Captain Mark Phillips on 14th November, 1973, at Westminster Abbey.
She chose a local dress maker named Maureen Baker, who at the time was chief designer for ready-to-wear label Susan Small, to make her wedding dress. Maureen Baker had previously designed clothes for the princess, so it was clear she trusted her with such an important decision.
Anne was the first of the Queen's four children to marry - and happened to pick her brother Charles' 25th birthday as her wedding date. You can see the influence of the decade in her choice of dress - the gown featured long, trumpet sleeves which add real 70s flair to her look.
The dress was finished with a relatively modest seven-foot train and was edged with pearls. To complete her look, Princess Anne chose to borrow the same tiara her mother had worn at her own wedding 26 years earlier.
5. Princess Diana's Wedding Dress - 1981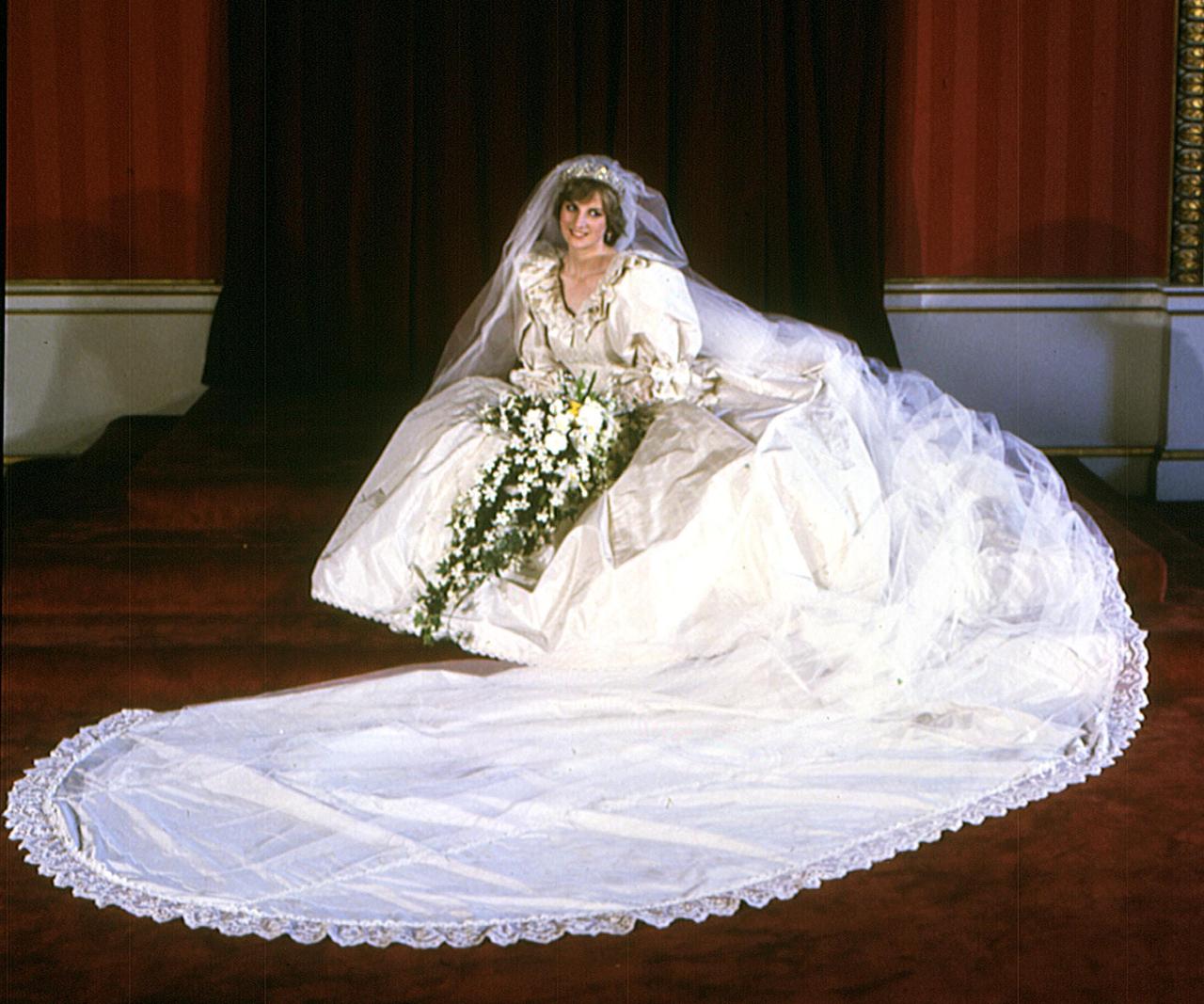 Probably one of the most famous wedding dresses in the world, Princess Diana's wedding dress is synonymous with the term 'royal wedding dress'.
She married Prince Charles, the eldest son of Queen Elizabeth II and Prince Philip, on 29th July, 1981, in one of the most expensive wedding dresses in history. 3,500 guests attended the wedding, and a further 750 million people watched it on television.
The dress, designed by husband and wife designer duo David and Elizabeth Emanuel, was made from ivory silk taffeta and featured antique lace.
Designer David Emanuel told Hello Magazine: "After all the photographs, they went in to have the wedding breakfast and I went back to my studio in Mayfair. All of my workroom ladies were there so we had a glass of champagne.
"We had a little party and just as I'm about to lock up, the phone rings… I thought who's calling? It was Diana! She said 'I just wanted to say thank you so much for the gown. I loved it. Prince Charles loved it. All the family loved it.'
"It couldn't have been more special for me to hear from the client. When you design for a bride you want her to be happy. As long as the bride is happy that is all that matters. The fact she took the time before she went off on honeymoon… that's genuine kindness."
The royal wedding gown had a 25-foot long train - the longest in royal history - and was paired with a tulle veil made from 153 yards of fabric. The large puff sleeves and bow detailing are signature trends from the 80s, but both voluminous sleeves and bows are still popular features on wedding dresses today.
6. Sarah Ferguson's Wedding Dress - 1986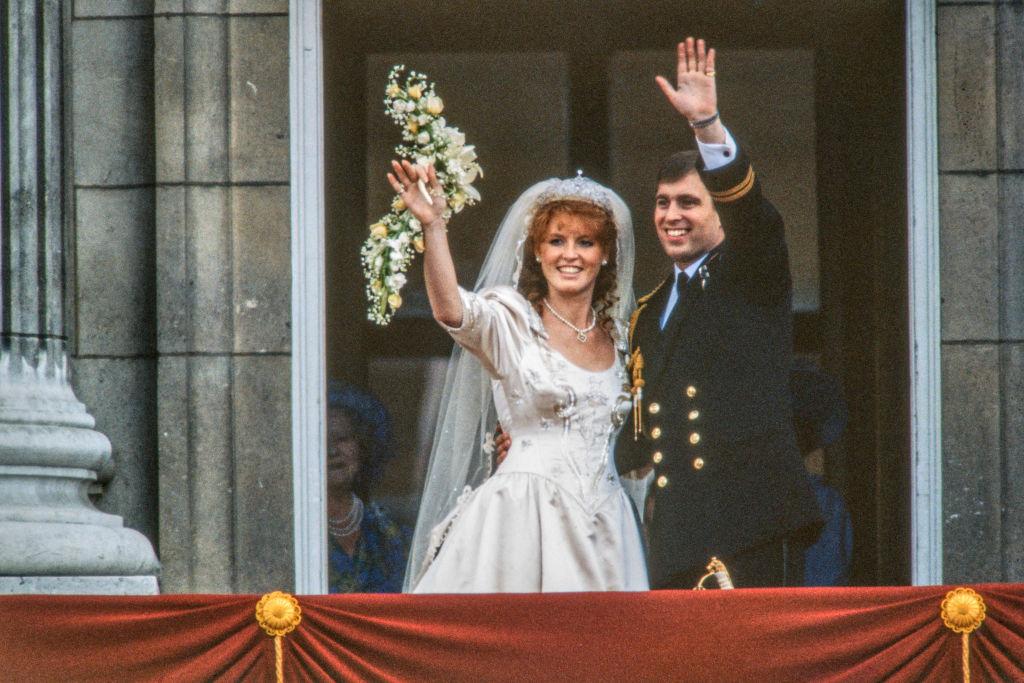 Sarah, Duchess of York, married Prince Andrew on the 23rd July, 1986 - almost exactly five years after Princess Diana and Prince Charles' wedding.
The press wasn't exactly kind to Sarah in the run-up to her wedding - she received lots of criticism for opting for an 'unknown' designer to create the gown for her royal wedding. However, the dress, designed by Lindka Cierach, sparked copies across the country.
The dress featured lots of personalised details - the beadwork depicted various symbols including hearts for romance, anchors and waves to represent Prince Andrew's background in sailing, and bumblebees and thistles, which came from the Ferguson family heraldry.
The bride also had a 17-foot long train - not quite as long as Princess Diana's, but still impressive. The train was decorated with silver beads which where sewn into an 'A & S' shape.
Speaking about her dress in her 1997 autobiography 'My Story', Sarah said: "Lindka was a genius; I knew she could make the most flattering gown ever, and she had. It was amazingly boned, like a corset."
7. Sophie, Countess of Wessex - 1999
Sophie, Countess of Wessex - formerly Sophie Rhys-Jones - married Prince Edward, the youngest son of Queen Elizabeth II and Prince Philip, on 19th June, 1999.
The couple requested that guests did not wear evening gowns or hats to give their wedding a more modern, relaxed feel, but the Queen and the Queen Mother both chose to wear hats anyway. Both Sophie and Sarah Ferguson chose to keep the word 'obey' in their vows, whilst Princess Diana did not.
The bride's wedding dress consisted of a long, fitted coat worn over a simple ivory dress, with long sleeves and an ivory train made from silk organza and silk crepe designed by Samantha Shaw. Her outfit was hand-dyed and decorated with rows of pearls and crystal beading. Sophie borrowed a tiara from the Queen for the occasion and wore a pearl necklace and earrings that were a wedding gift from her new husband.
Interestingly, Prince Edward wore a cat-themed tie for the occasion, a tradition which he has since continued at other royal occasions since.
8. Kate Middleton's Wedding Dress - 2011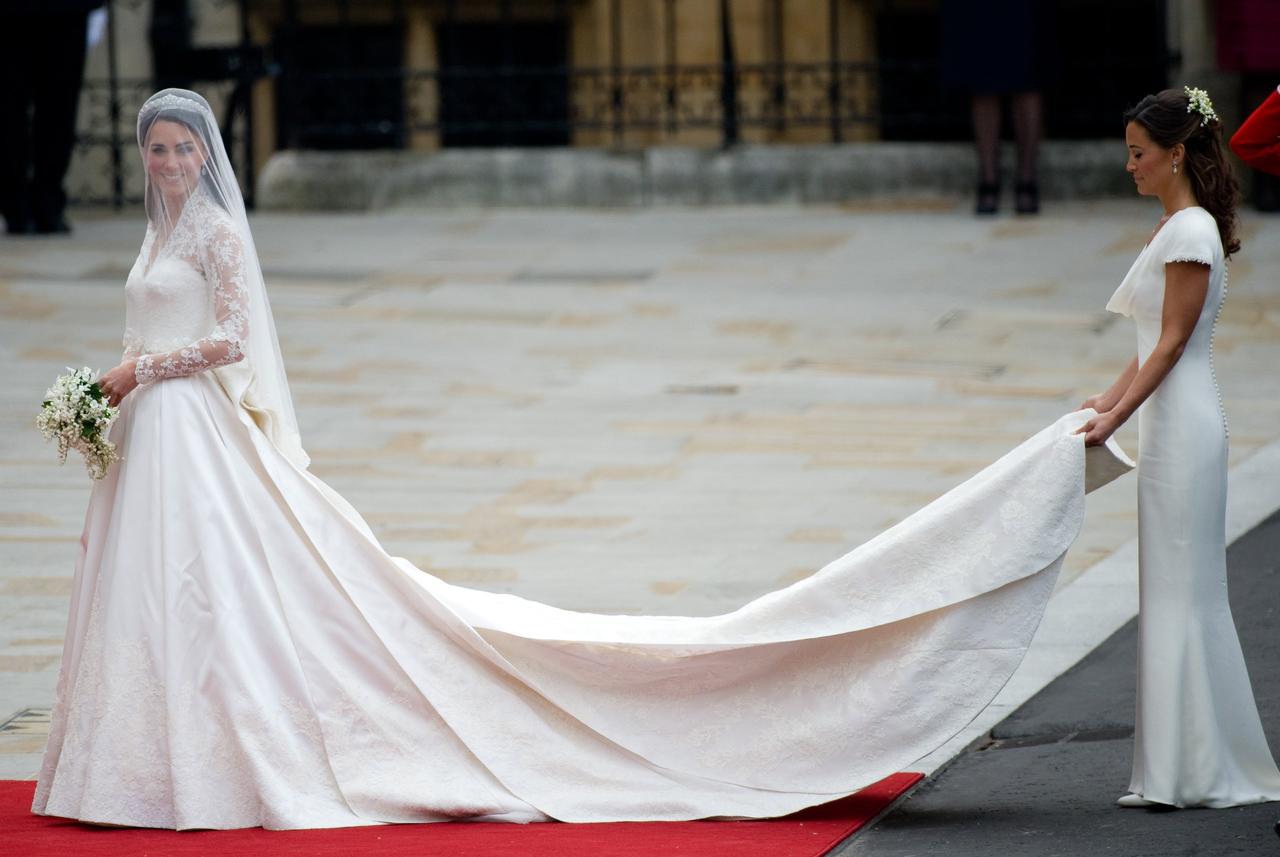 Catherine Middleton - aka the Duchess of Cambridge, aka Kate Middleton - married Prince Willaim, the elder son of Prince Charles and the late Princess Diana on 29th April, 2011. The couple had been in a relationship since 2003.
The couple broke with royal tradition by choosing to have a best man - Prince Harry - and a maid of honour - Pippa Middleton.
London-based designer Sarah Burton, of Alexander McQueen, was chosen to create the royal wedding dress. This was a somewhat surprising choice at the time as Alexander McQueen had a reputation for being something of an enfant terrible in fashion, but it's safe to say the definitely delivered!
Kate Middleton's wedding dress sparked an intense revival in lace wedding dresses, due to the overlaid, long-sleeved lace bodice. The full skirt featured unusual box pleats, and led to a nine-foot train. The lace applique on the gown included roses, thistles, daffodils and shamrocks to represent the countries that make up the United Kingdom. A blue ribbon was sewn into the bodice, to honour the tradition of a bride having 'something blue'.
9. Zara Tindall's Wedding Dress - 2011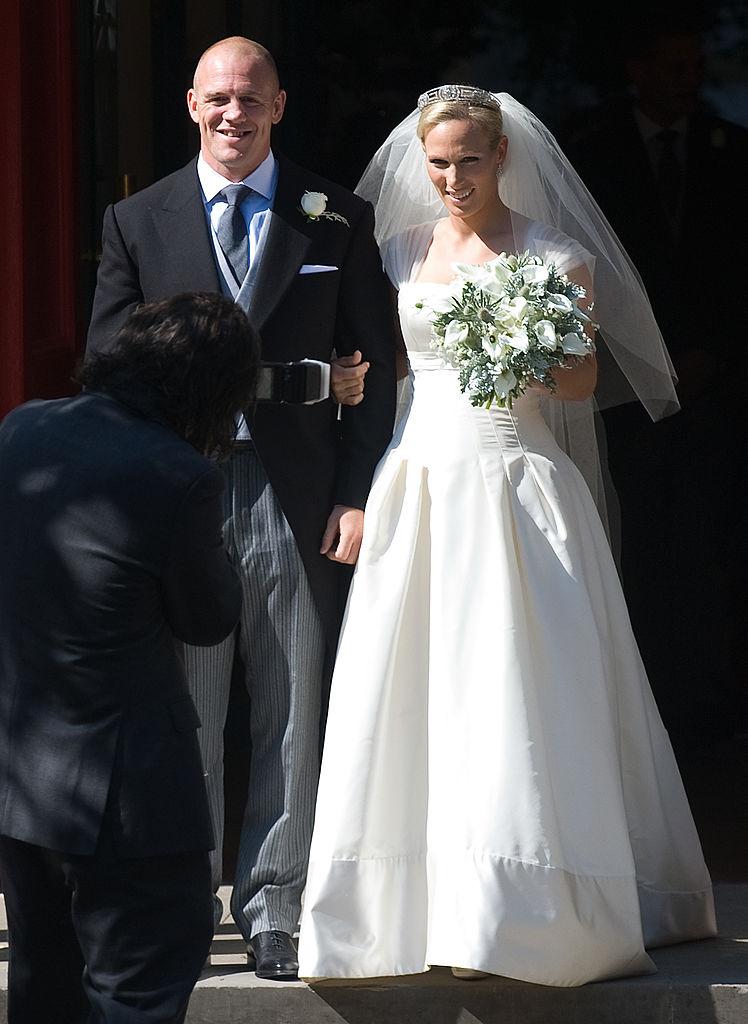 Princess Anne's daughter, Zara Tindall (formerly Zara Phillips), married rugby player Mike Tindall on 30th July, 2011 in Edinburgh.
She chose a simple, princess-style wedding dress designed by Stewart Parvin - one of her grandmother Queen Elizabeth II's favourite designers. Her dress featured a full skirt, fitted bodice, and sheer tulle shoulder straps.
She paired her dress with a glittering tiara befitting a royal bride - it was borrowed from her mother, Princess Anne, but had been passed down from the Greek royal family on her grandfather Prince Philip's side.
10. Meghan Markle's Wedding Dress - 2018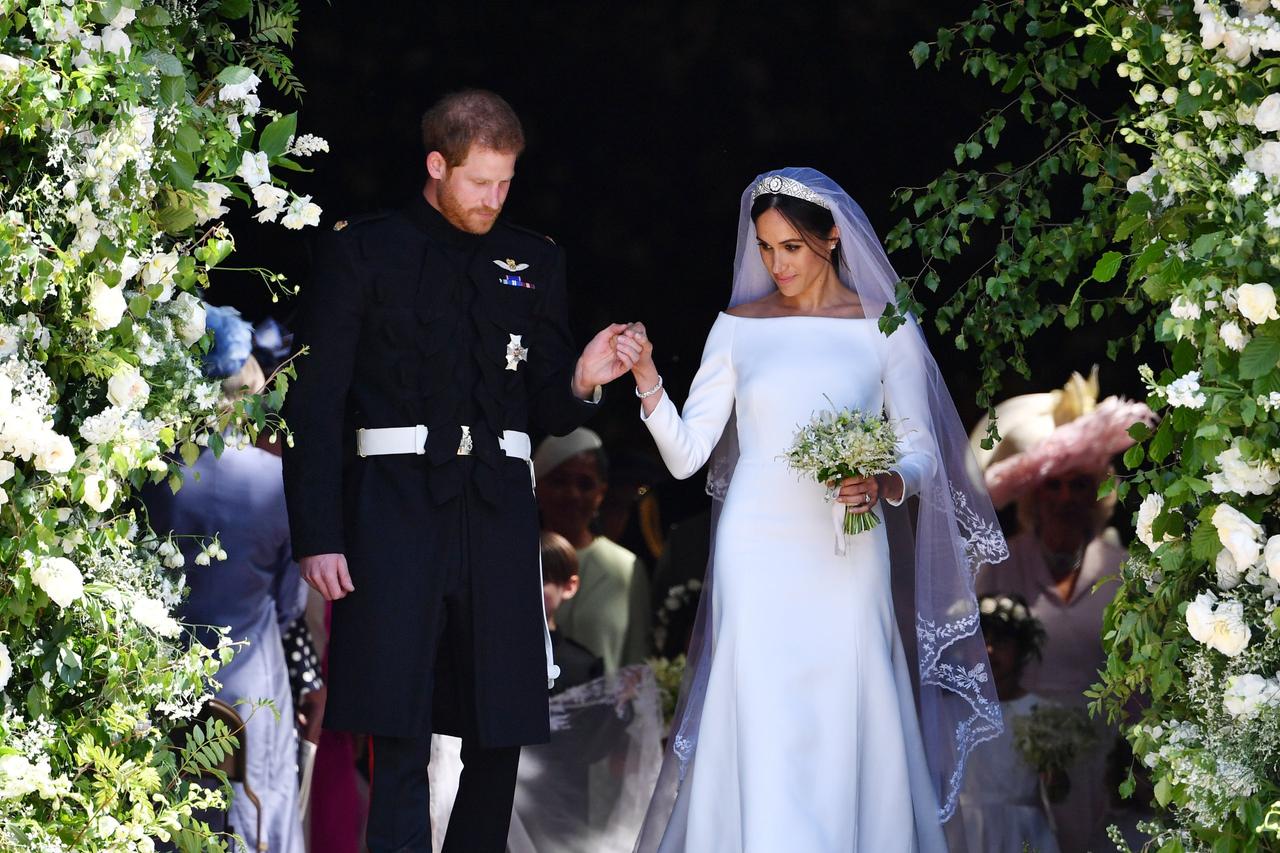 American actress Meghan Markle became the Duchess of Sussex when she married Prince Harry on 19th May, 2018, at Windsor Castle.
Meghan was the second American to marry into the royal family, after Wallis Simpson, and the first person of mixed race heritage to do so - making their wedding a historic occasion. It was also notable for being held on a weekend, breaking the royal tradition of having a weekday wedding.
Meghan Markle's bateau-neckline wedding dress was designed by British designer Clare Waight Keller at Givenchy. The silk gown had long sleeves, a sweeping train and was accessorised with a 16-foot long silk veil, embroidered with 55 different flowers - 53 of them were picked as they represent the countries of the Commonwealth. Wintersweet and the California poppy were also chosen as wintersweet grew in front of their home and the California poppy is the state flower of California, where Meghan is from.
The tiara was held in place by a diamond bandeau tiara which dates back to 1932 and was lent to the bride by Queen Elizabeth from her personal collection.
11. Princess Eugenie's Wedding Dress - 2018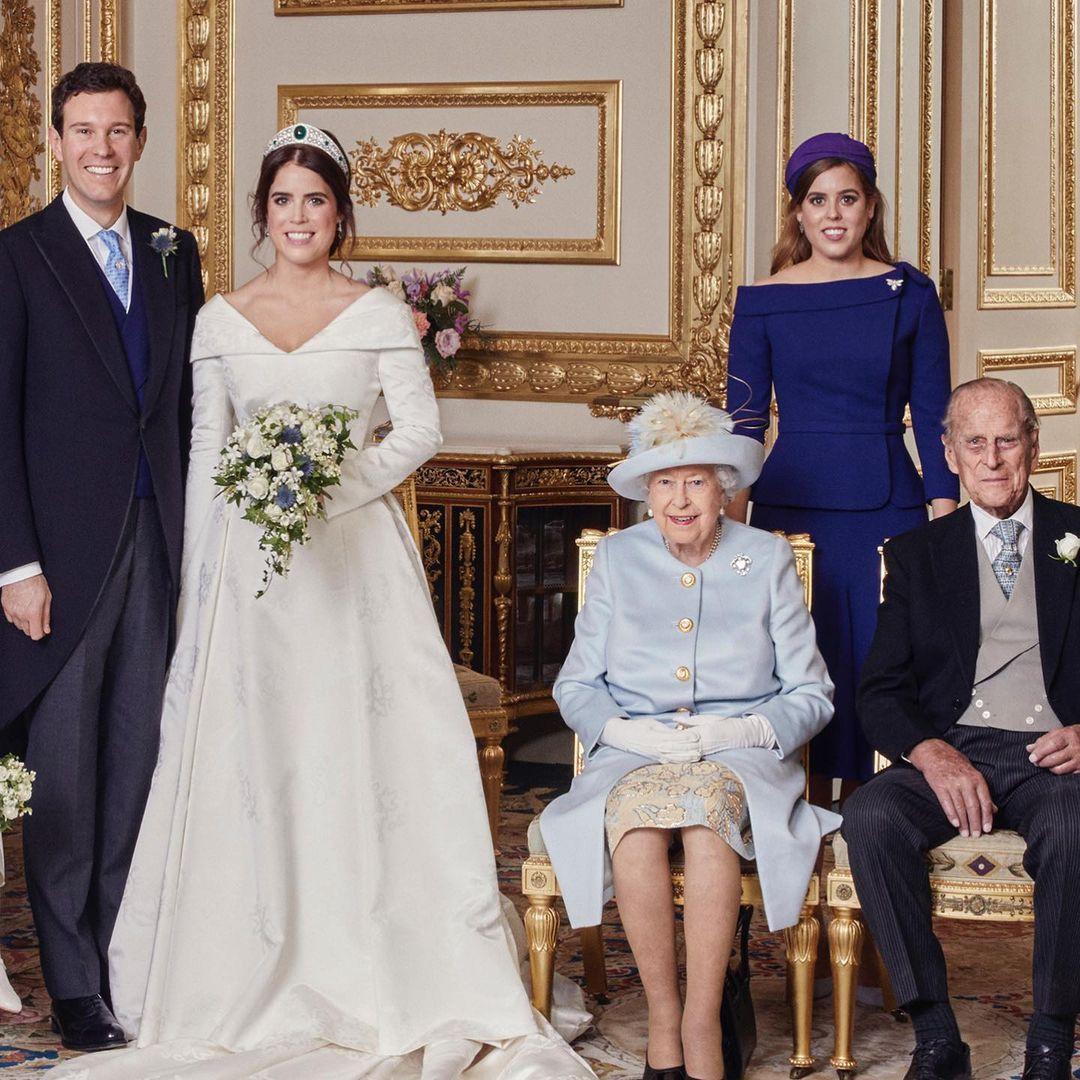 Princess Eugenie chose to make a style statement with her choice of dress for her wedding to Jack Brooksbank, which took place on 12th October, 2018.
Her long-sleeved wedding dress had an open back, and she chose not to wear a traditional bridal veil - these decisions were made to allow the scar on her back from the scoliosis surgery she underwent at the age of 12 to be visible.
Her striking wedding dress featured an unusual folded neckline and flowing train, and was designed by Peter Pilotto and Christopher de Vos. The bride wore diamond and emerald earrings which were a wedding gift from her groom and complemented the diamond and emerald tiara she was lent by her grandmother, Queen Elizabeth II.
12. Princess Beatrice's Wedding Dress - 2020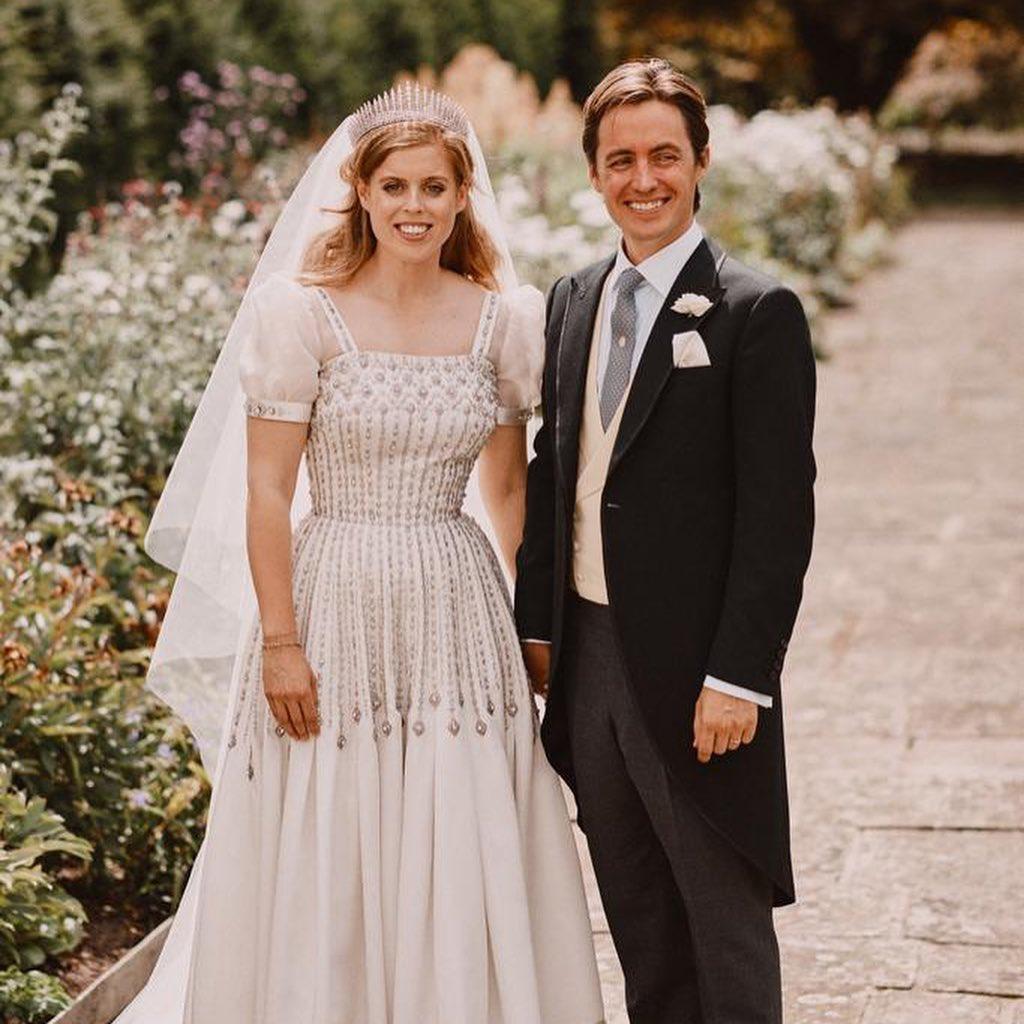 Princess Eugenie's elder sister Princess Beatrice married Edoardo Mapelli Mozzi in a micro-wedding on 17th July, 2020. The couple were originally due to marry on 29th May that year, but it was delayed due to the pandemic.
Princess Beatrice made the boldest style statement ever made by a royal bride when it came to her choice of wedding dress for her secret wedding. The private event was attended by just 20 guests, and the bride borrowed a dress that belonged to Queen Elizabeth II.
The vintage dress was designed by royal designer Norman Hartnell. It was modified by Angela Kelly and Stewart Parvin, both trusted designers to the Queen, and was trimmed with duchess satin and encrusted with diamante.
Princess Beatrice also wore champagne coloured satin shoes by Valentino, which she had previously worn to the 2011 wedding of her cousin, the Duke of Cambridge to Catherine Middleton.
Can't get enough of A-list fashion choices? Make sure you read our edit of the best celebrity wedding guest dresses!