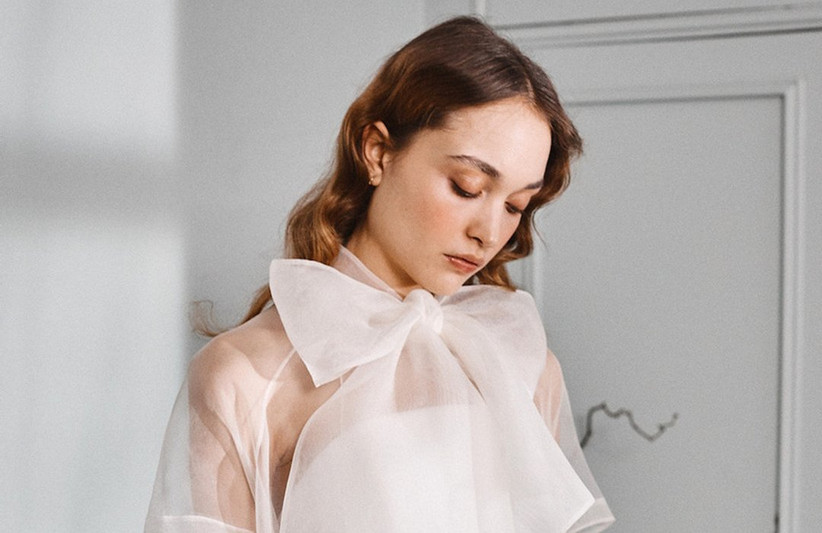 Strange as it may sound, bridal cover ups are probably the most important of all wedding accessories.
You can use them to add drama to a simple wedding dress, or make a daring gown more modest for a religious wedding. You may have fallen in love with a strapless dress but feel that covering your arms better suits your personal style.
Then, of course, there are the practical benefits. If you're getting married in autumn or winter, a bridal cover up is essential to keep you cosy. You may even want something for a spring or summer wedding in the UK, as evenings can be chilly.
On the other temperature extreme, if you're having a beach or other destination wedding outdoors, you can get some lovely light-as-air bridal cover ups to protect you from the sun, particularly if you're prone to burning.
There are as many gorgeous bridal cover ups as there are wedding dresses, from chiffon shrugs to fur capes. When making your choice, think about the silhouette and neckline of your dress, as well as your personal style and the effect you want to achieve. We always advise trying on your cover up with your gown, to check the whole thing comes together perfectly.
To help make your decision easier, we've assembled our favourite bridal cover ups – there's something for everyone, so get ready for some serious wedding fashion inspiration.
NB: We have included third party products to help you navigate and enjoy life's biggest moments. Purchases made through links on this page may earn us a commission.
Bridal Boleros & Shrugs
A bolero is basically a cropped jacket. It's usually structured in terms of the silhouette, and is associated with a more formal bridal look. A bolero traditionally has long sleeves, but you'll find bridal versions with short sleeves, too. A shrug is a similar type of bridal cover up, but the term refers to looser styles in softer fabrics.
1. Fay Fluffy Bolero - £69, Phase Eight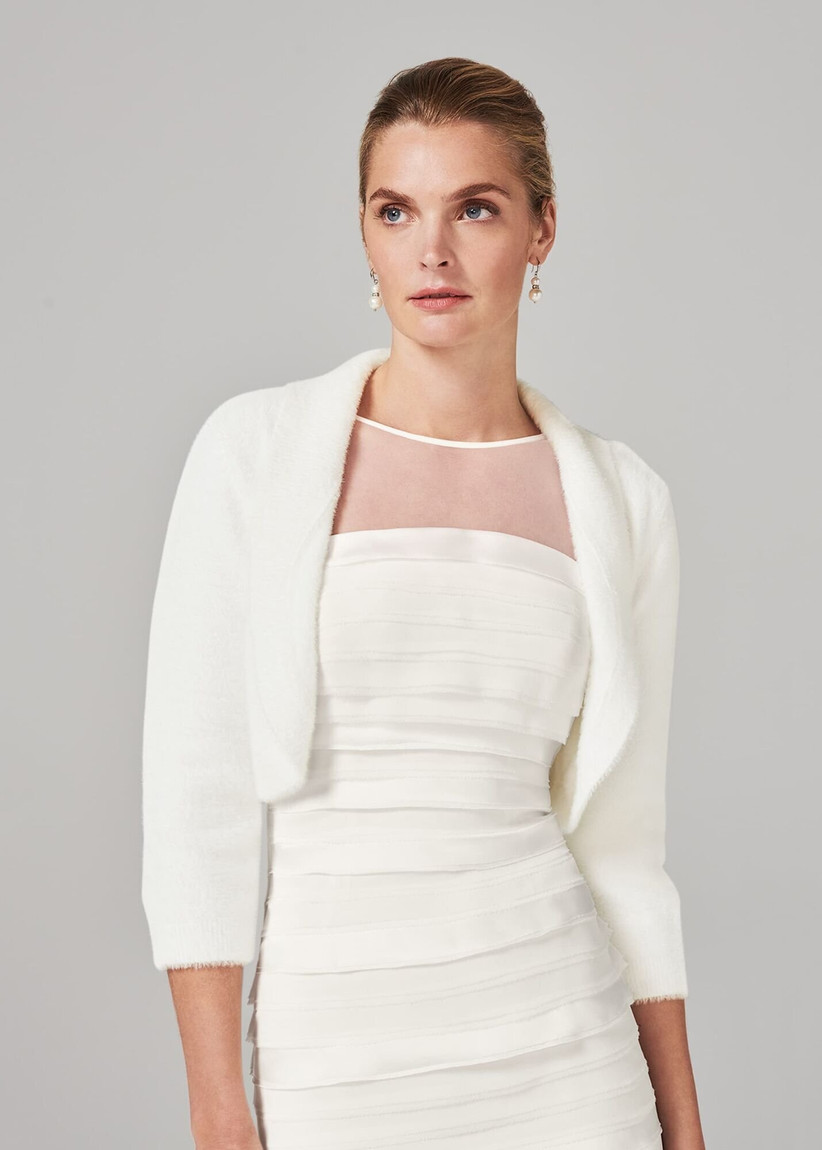 This Phase Eight bolero hits right at the waistline, for a flattering effect. The cosy fabric makes it ideal for winter and autumn weddings.
2. Chiffon & Satin Bolero - £39.50, Etsy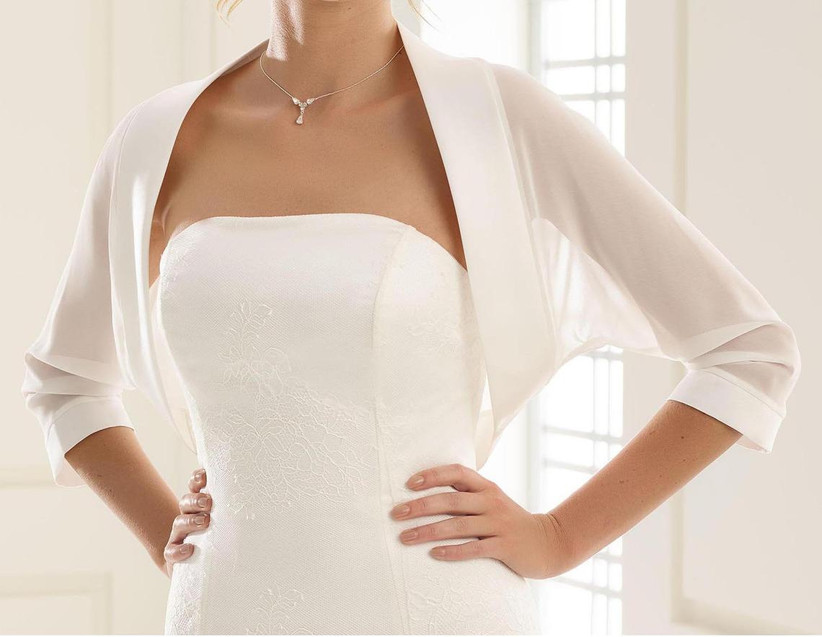 This chiffon bolero
is elegant in its simplicity, and the fact that it's so pared back means it won't overwhelm your wedding dress. It's available in ivory, white and black.
3. Ostrich Feather Bridal Bolero - £230, Liberty in Love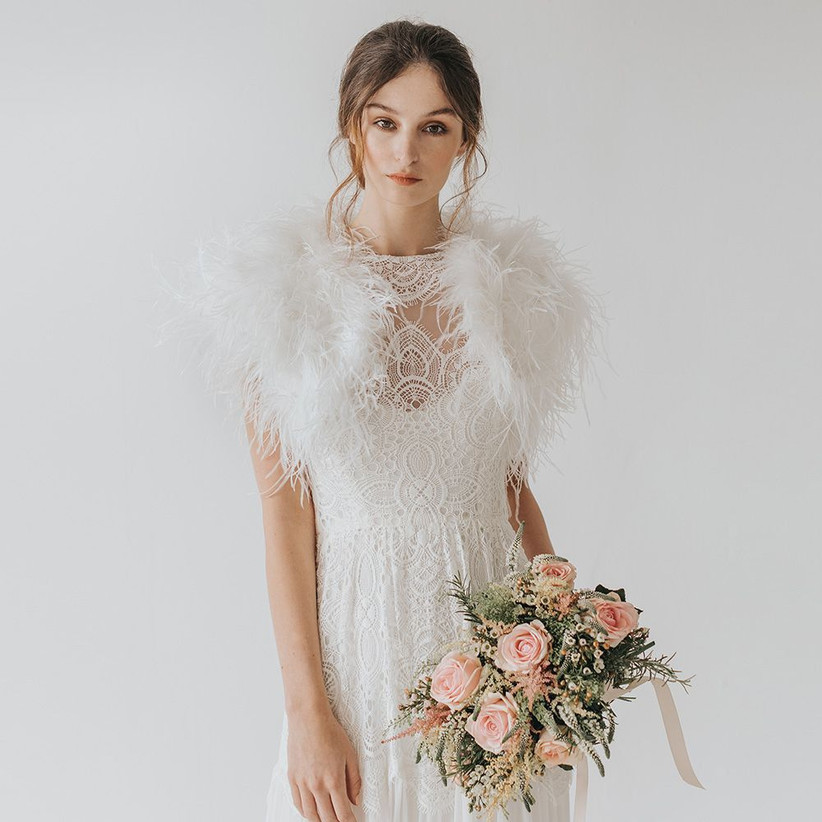 The short sleeves mean this ostrich feather bolero isn't the warmest of option, but it's a perfect bridal cover up if you want a glamorous finishing touch.
4. Embroidered Beaded Bridal Cover Up - £105, Chesca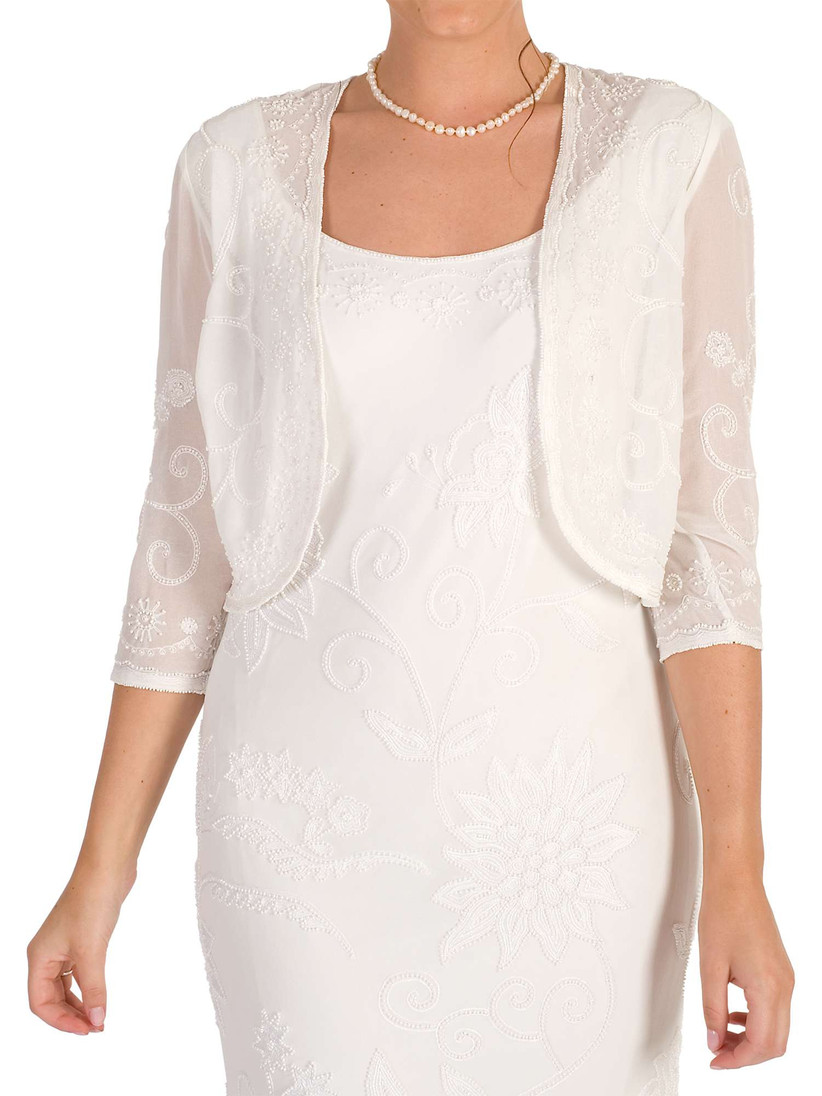 This delicate bolero from plus-size brand Chesca features pretty beading against semi-translucent fabric. Again, it won't keep you snug on the chilliest of days, but it'll work as part of a romantic bridal look.
READ MORE: The Best Plus Size Wedding Dresses
5. Ivory Cropped Crepe Jacket - £795, Safiyaa at Net-a-Porter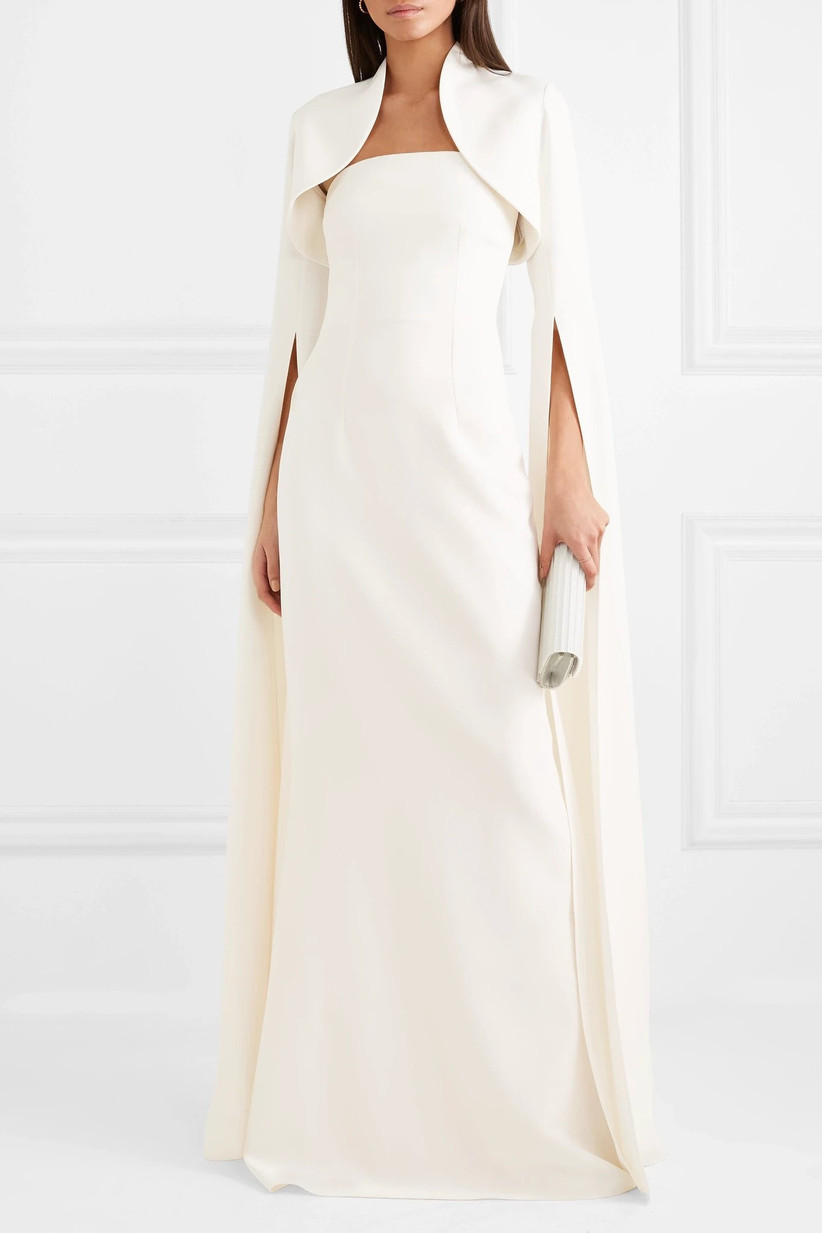 Looking for a contemporary-cool bridal cover-up? This Safiyaa cropped jacket is a high fashion take on the classic bolero, with statement sleeves. It'll look wonderful paired with a sleek, simple wedding dress.
6. Callie Satin Back Cover Up - £59, Phase Eight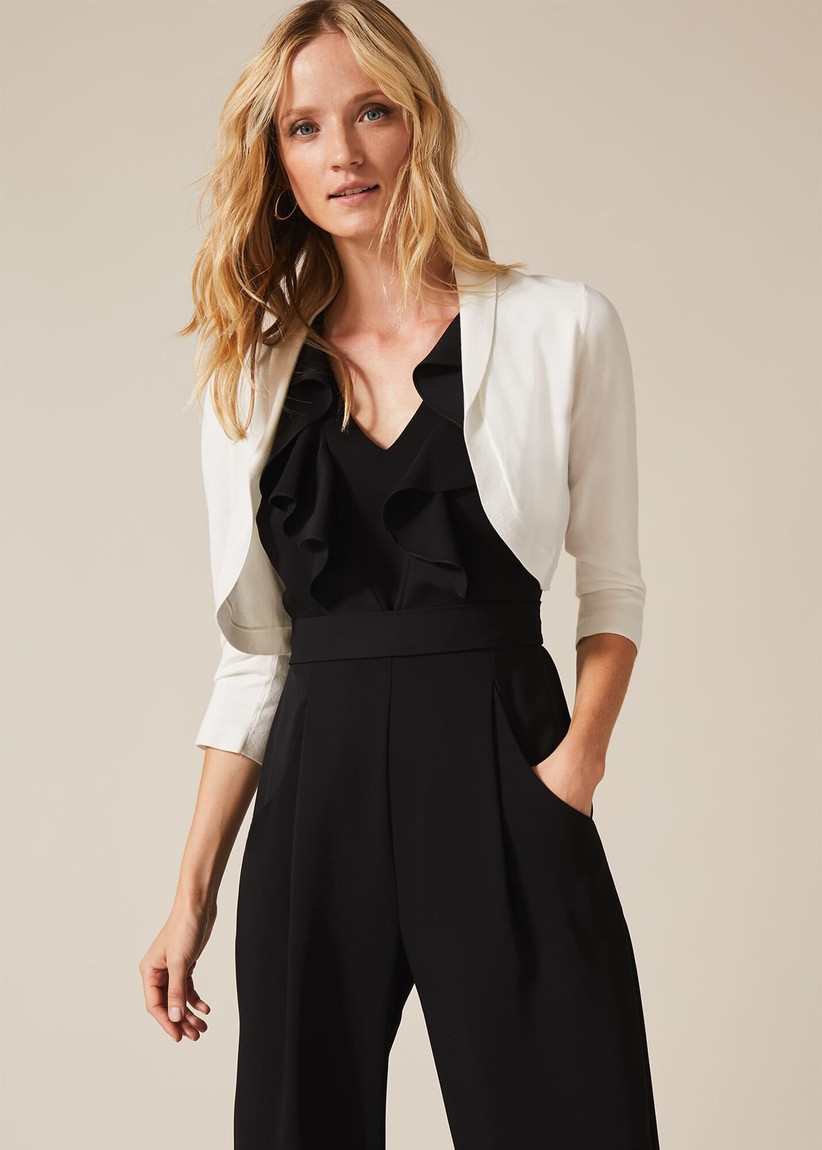 What we love about Phase Eight's Callie is that you can easily wear it again after the wedding as a chic cropped jacket for evenings out.
7. Lace Bridal Bolero - From £22.99, Etsy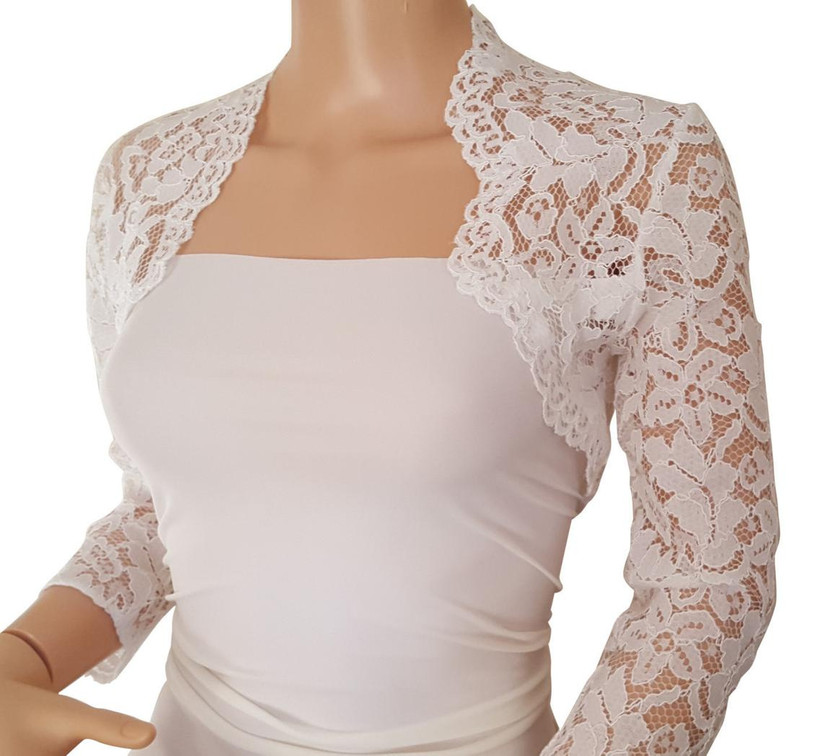 This affordable lace bolero is ideal for brides on a budget. Choose between three-quarter or short sleeves to suit your wedding dress style.
READ MORE: The 53 Best Wedding Dresses on the High Street
8. Pure Cashmere Bridal Shrug - £135, Not on the High Street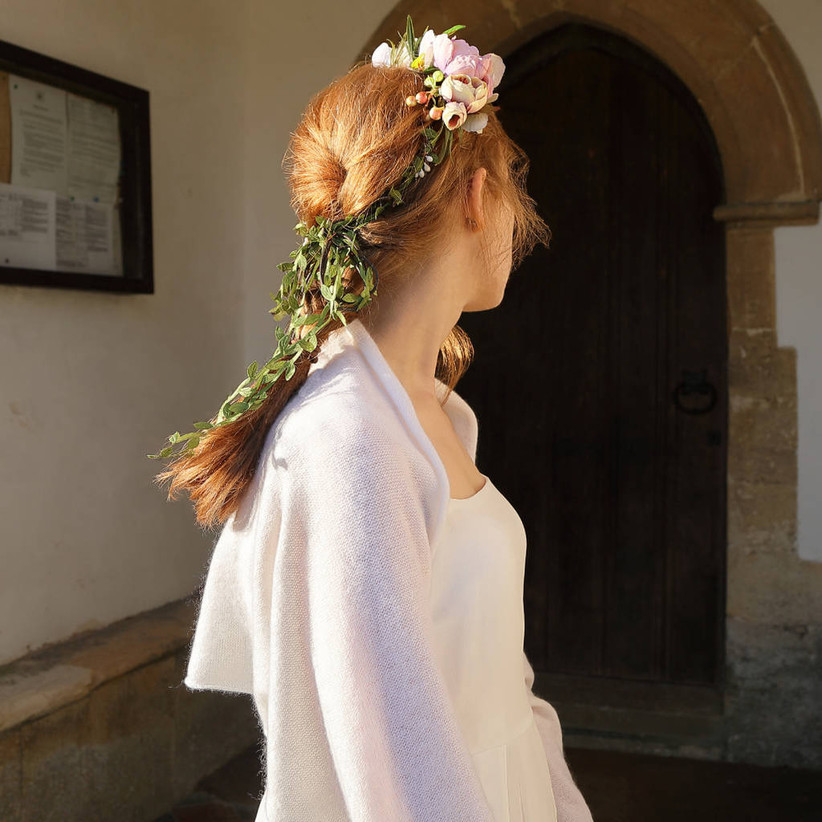 Nothing says winter luxury quite like cashmere, although this classic shrug is light enough for autumn, too. The sleeves are trimmed with silk, as an extra luxe touch.
READ MORE: 41 of the Best Winter Wedding Dresses
9. 3/4 Sleeve Bridal Bolero - £43.68, Etsy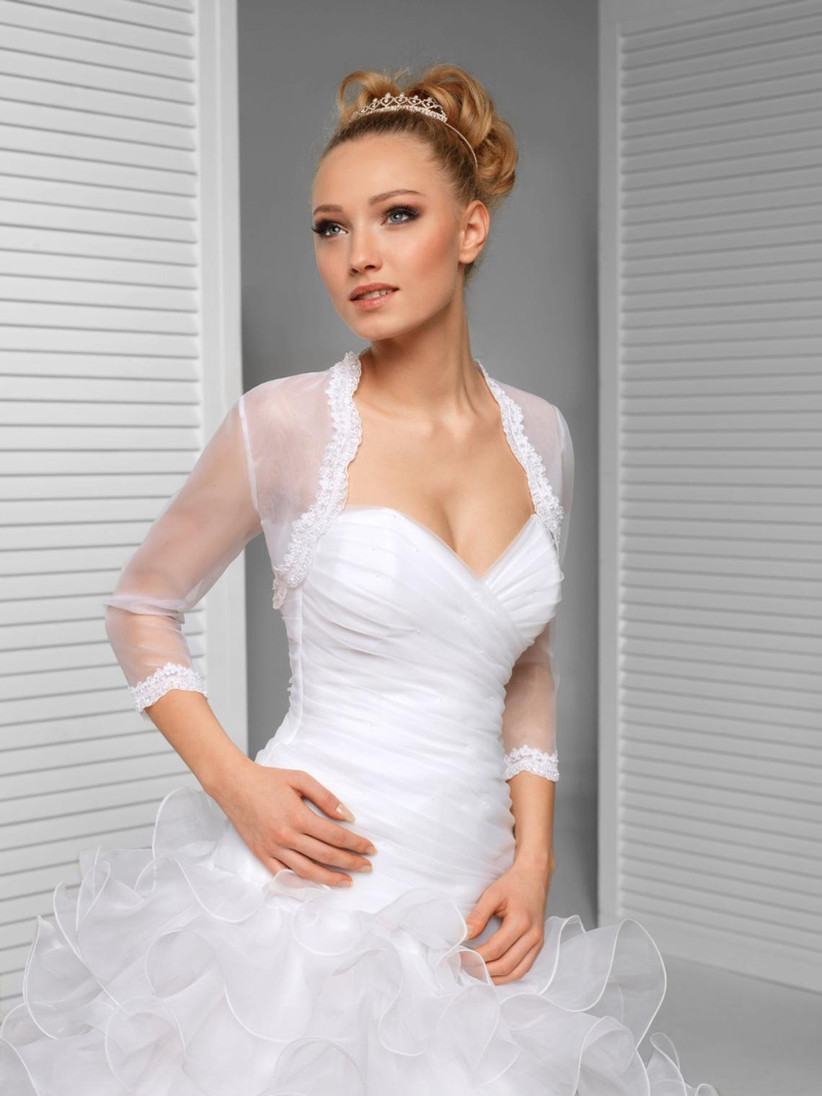 Light and pretty, this sheer bolero will go with all different styles of wedding dress. It comes in white and ivory.
10. Lucy Bolero Jacket - £159, Raishma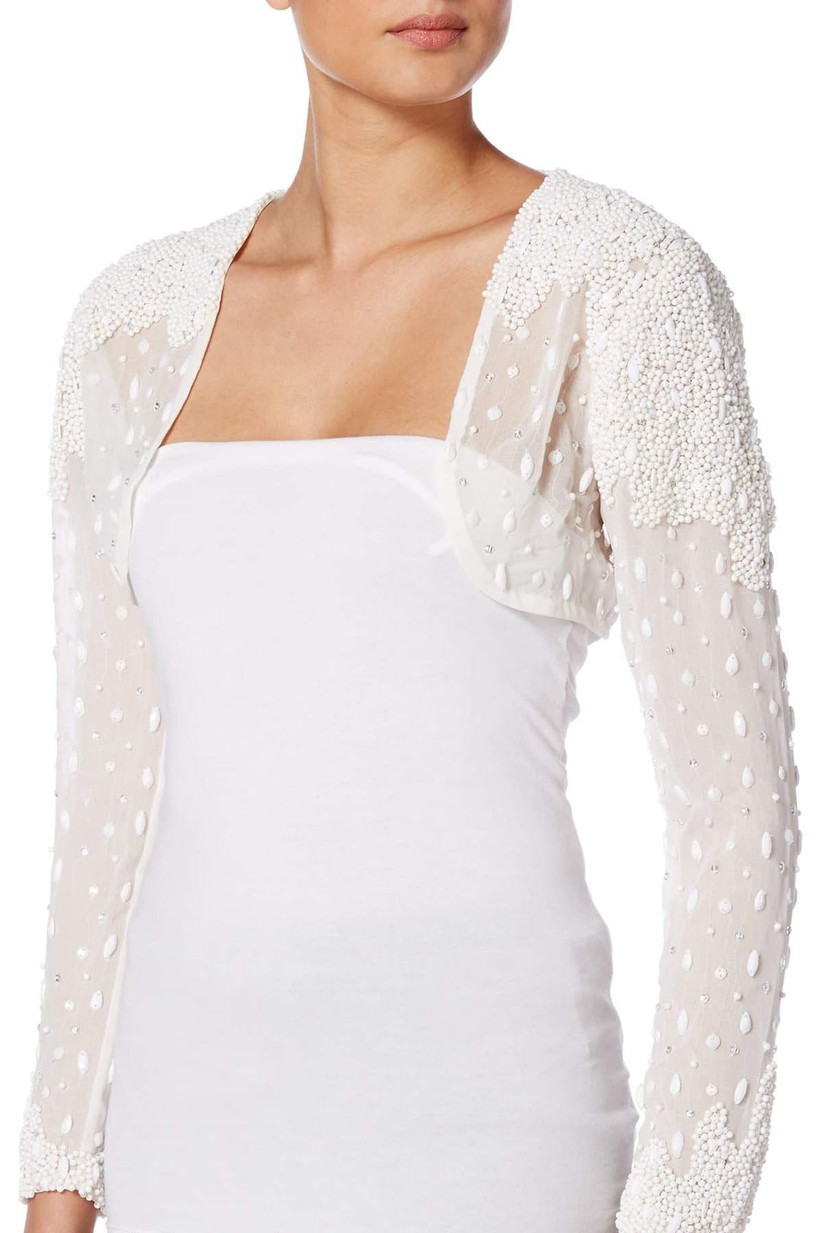 While light-catching crystal embellishment is undoubtedly lovely, for a sophisticated look, you can't beat ivory beading, as seen on this beautiful Raishma bolero. It's ideal for adding interest to a minimalist wedding dress.
Bridal Capes
If you prefer a sleeveless style, a cape is a versatile option. They come in all kinds of styles, and can give your bridal look a polished yet romantic finish.
11. Palmer Cape - £147.47, Terani Couture at BHLDN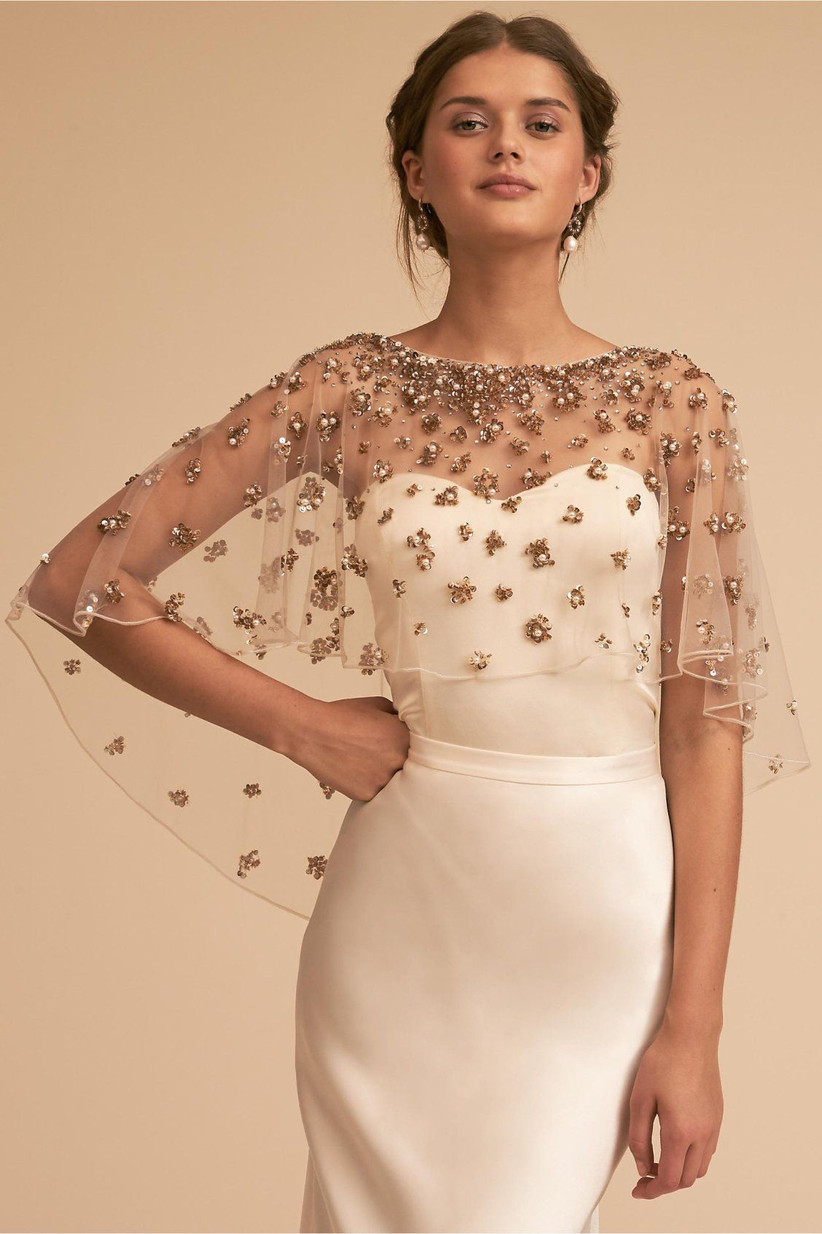 Terani Couture's Palmer cape is a delicious combination of contemporary design and timeless romance. We love the gold and pearl embellishment against the sheer fabric. As it's sold through BHLDN, you'll have to allow for shipping from the States.
12. Crystal Tulle Cape - €392, Sibo Designs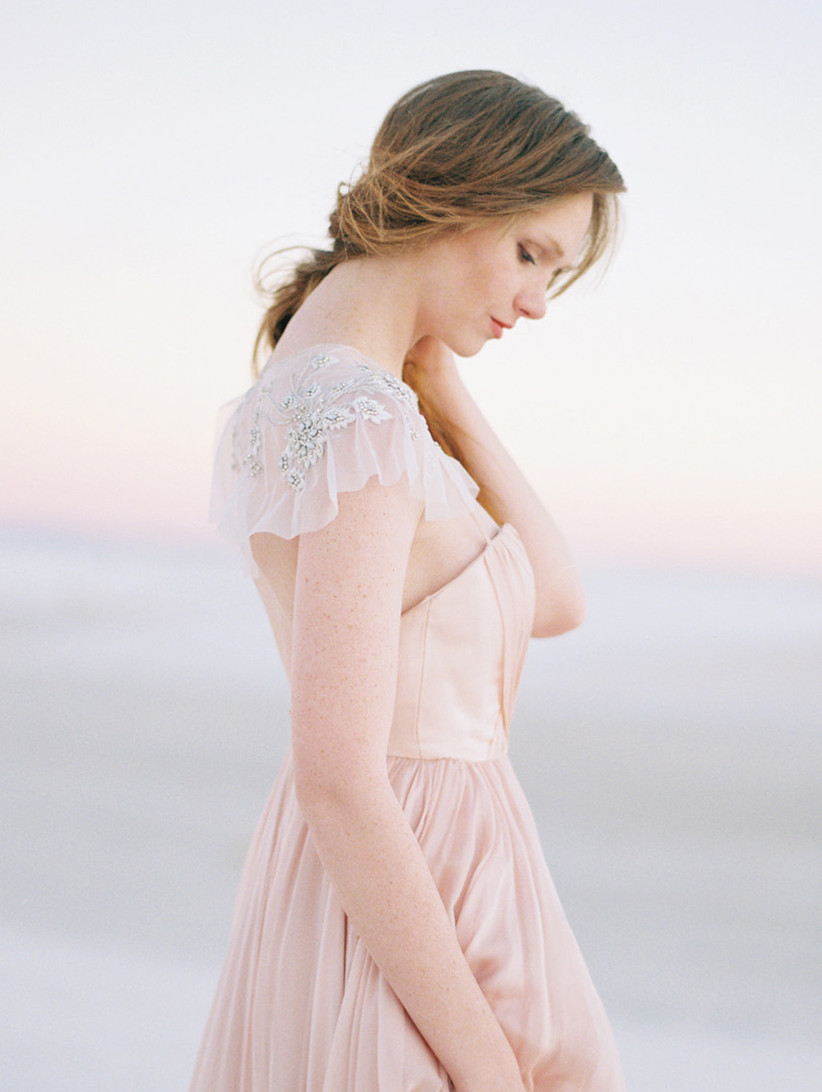 Based in The Netherlands, Sibo Designs create bewitchingly pretty handmade bridalwear, like this tulle cape. The beadwork is truly exquisite.
13. Plain Bridal Cape - From £46.84, Etsy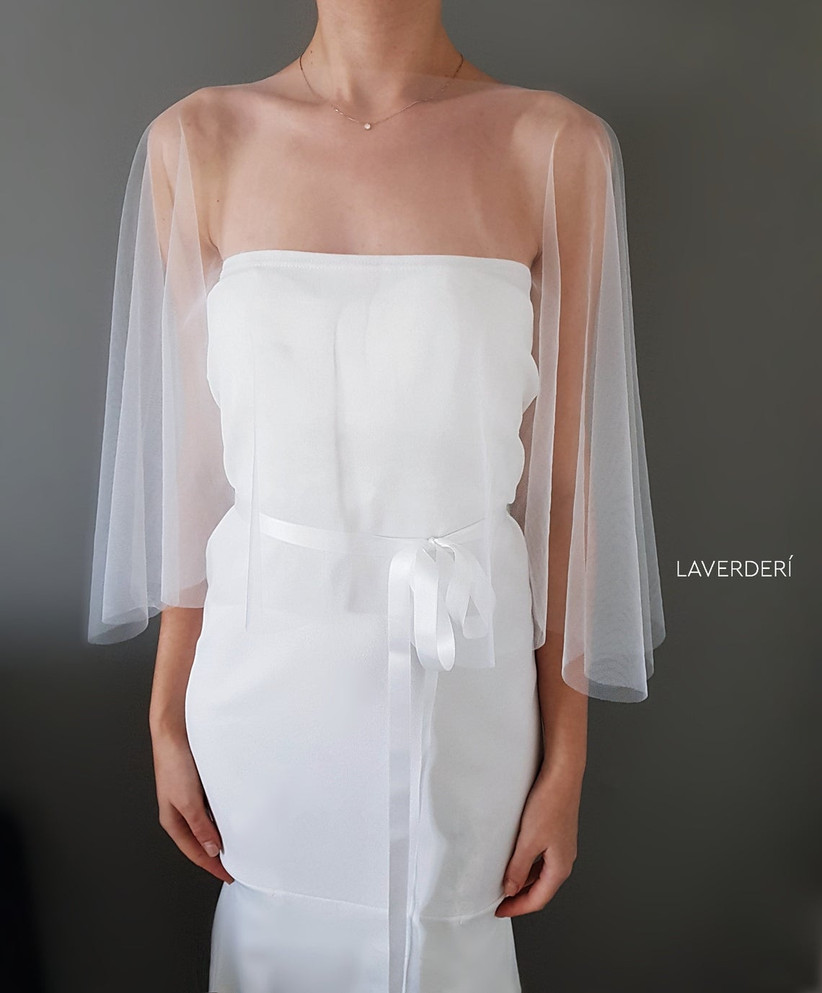 This sheer bridal cape is all about modern minimalism. It can do double-duty as a cool alternative to a veil, thanks to the flowing style.
READ MORE: Simple Wedding Dresses: 51 of Our Favourite Gowns for Modern Brides
14. Bonnie Cable Cape - £300, Needle & Thread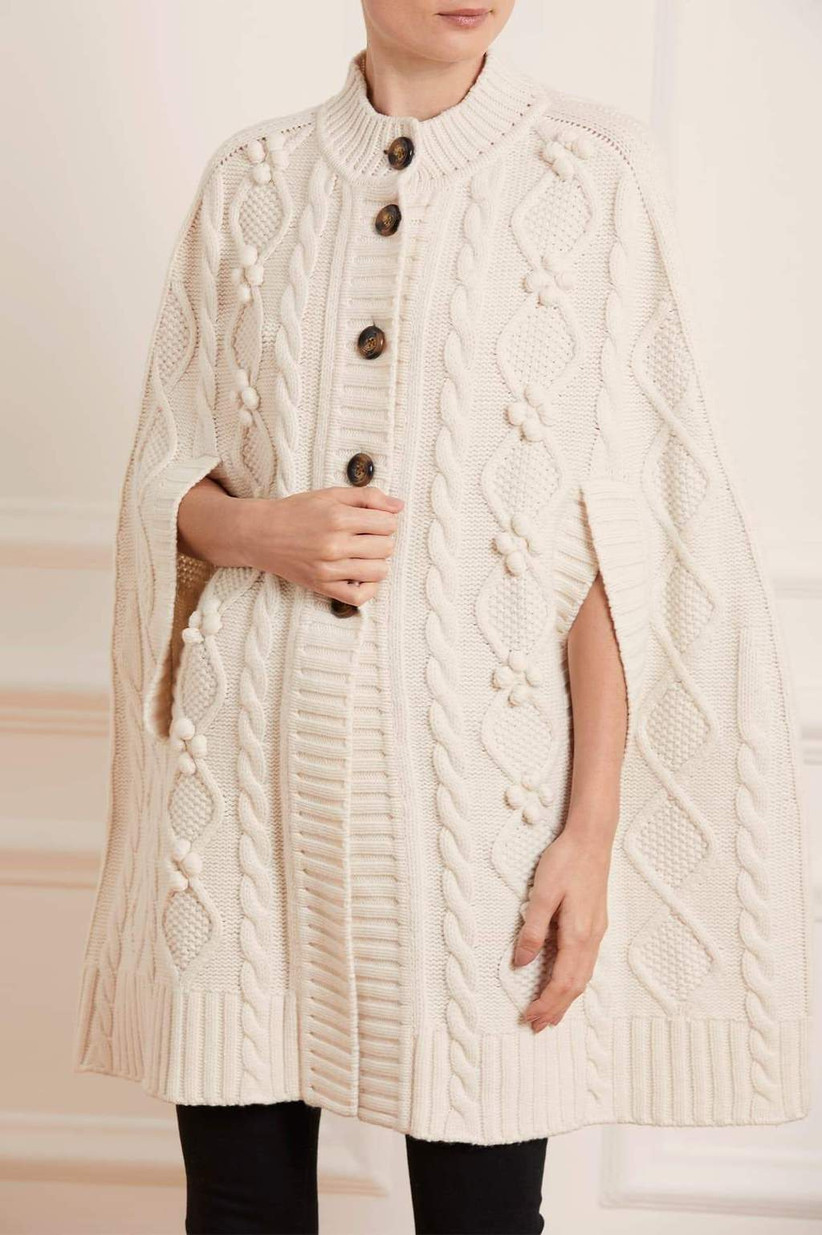 Looking for something substantial for a winter wedding? This cable cape leads the pack in the snuggliness stakes. Pair with a delicate, floaty dress for a cool contrast.
15. Faux Fur Bridal Cape - £119.99, Etsy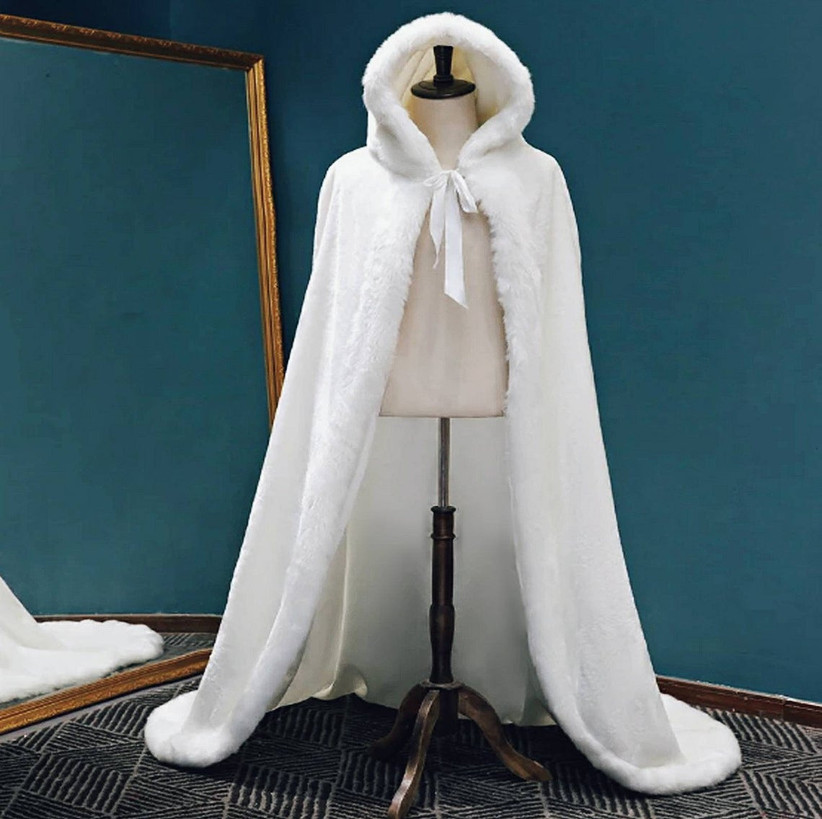 If your wedding style has a distinct winter wonderland vibe, this long cape is the bridal cover up to reach for. Remember to include some hood-up poses for the photos.
16. Jolie Silver Capelet - £495, Britten Weddings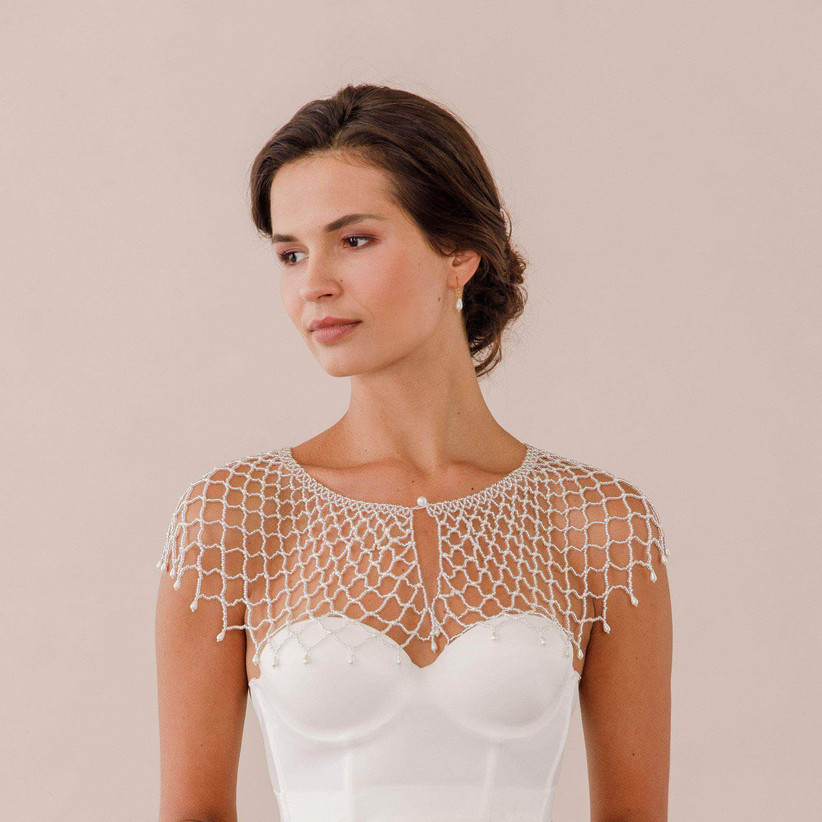 Want to switch up your look between day and night? Simply add this beautiful bridal capelet for a subtle dose of sparkle, handmade from silver and glass beads in the UK.
17. Bridal Chiffon Drape Cape - From £79.95, Etsy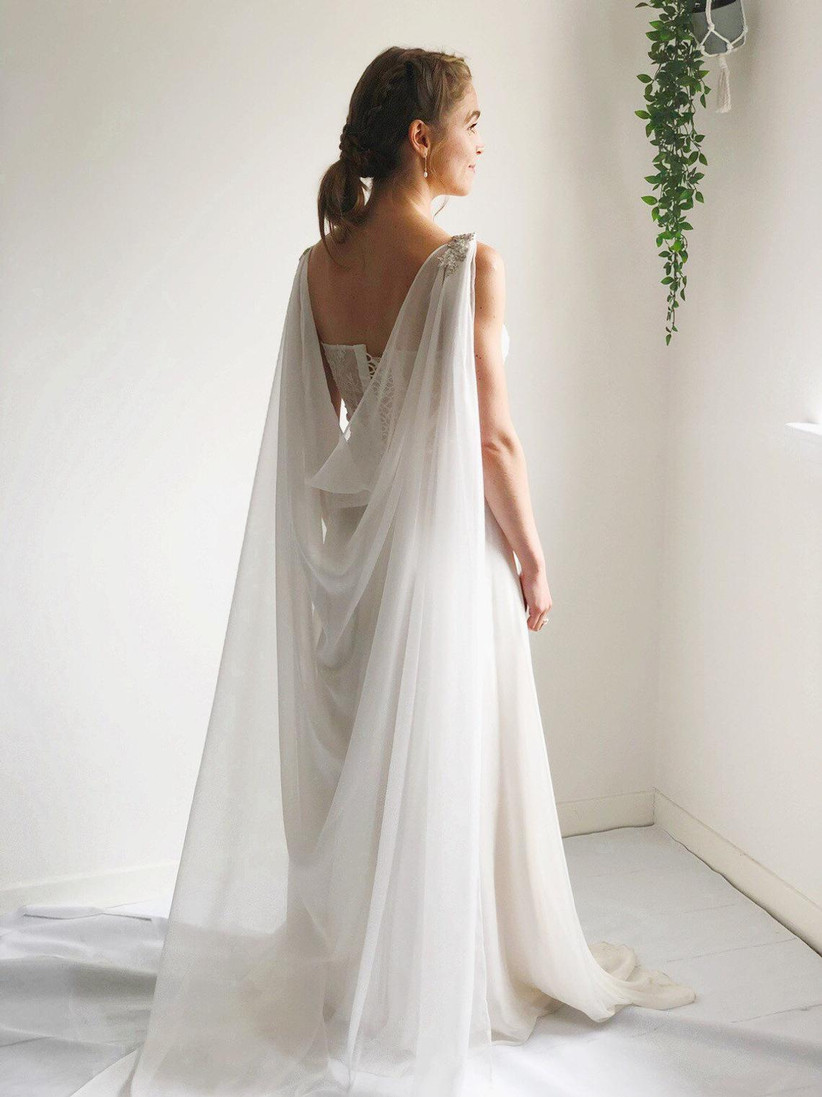 This draped cape is a stunning alternative to a veil or wedding dress train. All the interest is at the back, so we suggest wearing it for the ceremony and drinks reception, then remove in the evening for dancing.
READ MORE: Alternative Wedding Dresses: The Best Statement Styles
18. Chocolate Faux Fur Cape - £115, Liberty in Love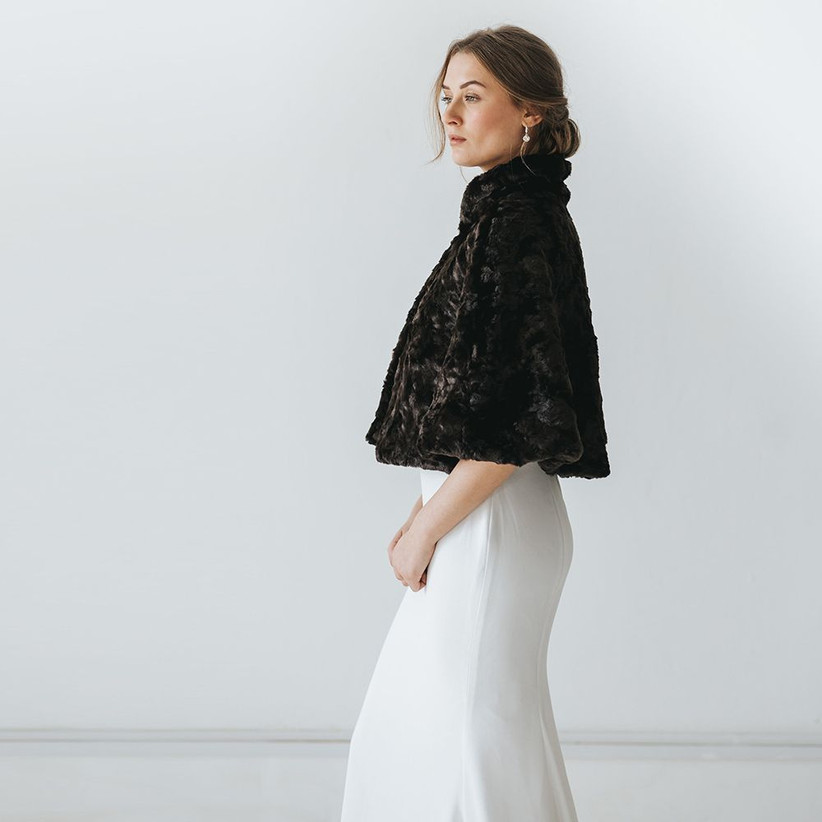 A rich, dark colour makes for a stylish contrast with a white wedding dress. But as well as looking gorgeous, this Liberty in Love cape feels amazing too - it's lined with duchess satin that's silky-soft against the skin.
19. Feathered Wedding Cape - £155, Not on the High Street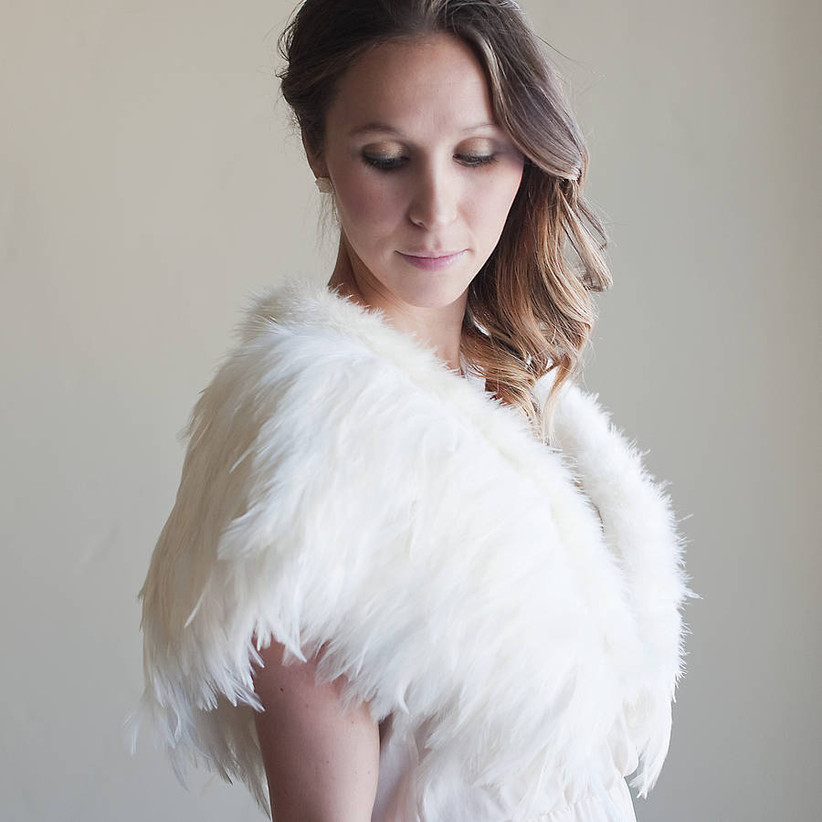 Feathers can add a note of opulence to a bridal look, and this feathered weather cape is a prime example. This is the kind of bridal cover-up that works with any winter wedding dress, from embellished beaded styles to pared-back designs.
20. Style CP25 - £POA, Allure Bridals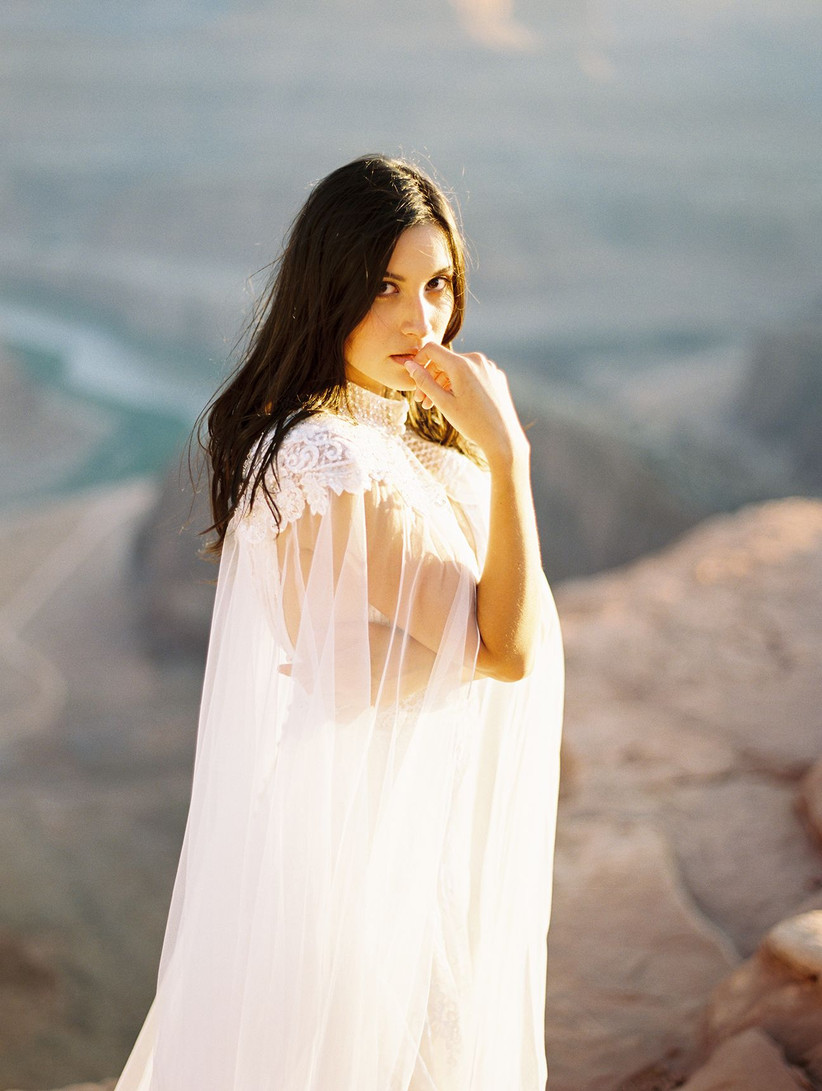 Not only do Allure Bridals have some stunning wedding dress collections, they also design some utterly enchanting accessories - like this full-length cape. If you want to amplify the romance, this is the style to choose.
Loving the cape look? You'll find even more styles to browse in our guide to the 29 best bridal capes.
Bridal Jackets
A bridal jacket is a great option if you don't want your look to be too soft - good tailoring can add a contemporary feel to a wedding dress. Of course, you can keep it pretty by choosing an embellished, feather or faux fur style.
21. Rica Jacket - £495, Catherine Deane
What elevates this Catherine Deane sequin jacket is the bow detail at the neck, which keeps it current. It's just the thing to add interest to a pared-back dress for the evening.
22. Lace Bridal Bomber Jacket - £POA, Martina Liana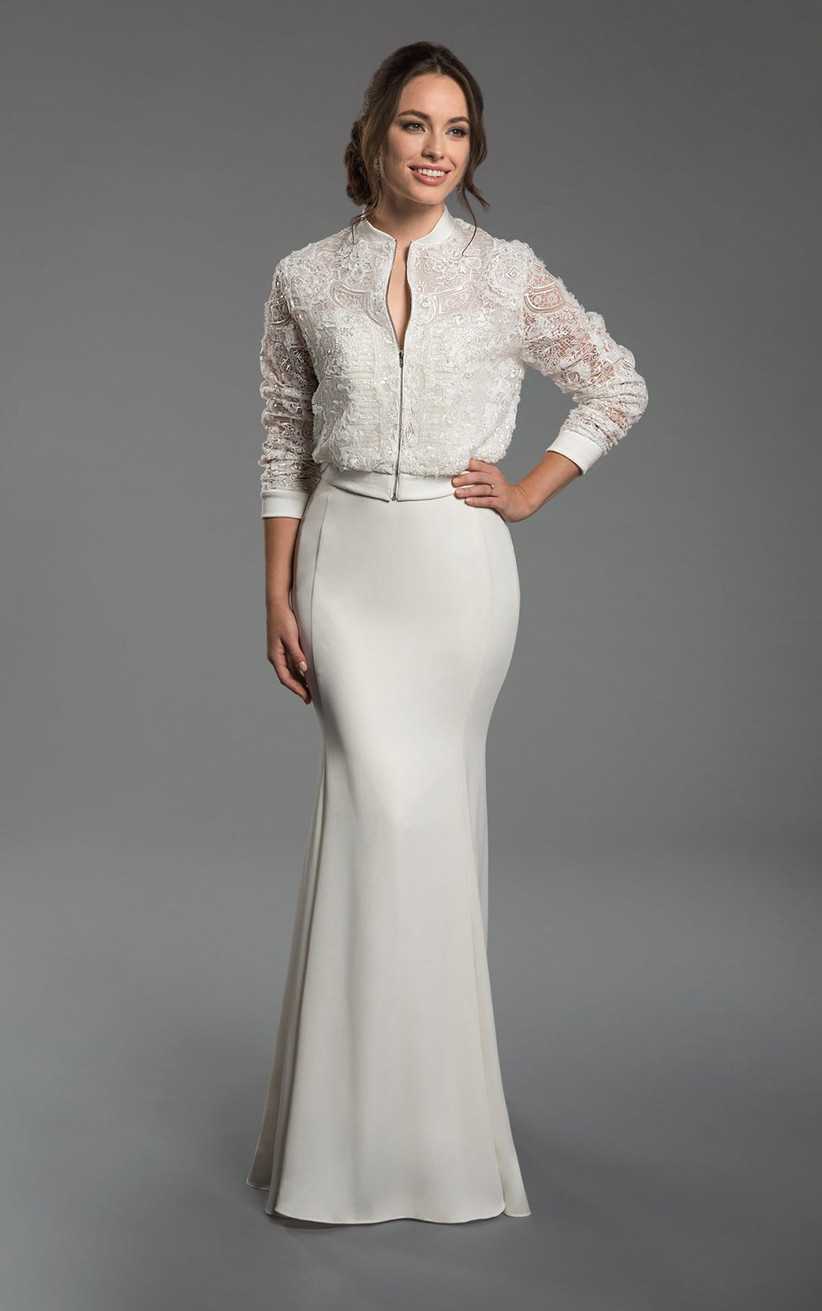 Give your wedding dress a casual-cool injection by adding a bomber jacket. This lace jacket from Martina Liana still feels bridal thanks to the fabric, but adds a carefree note to a formal wedding look.
23. Bridget Split Sleeve Jacket - £110, Phase Eight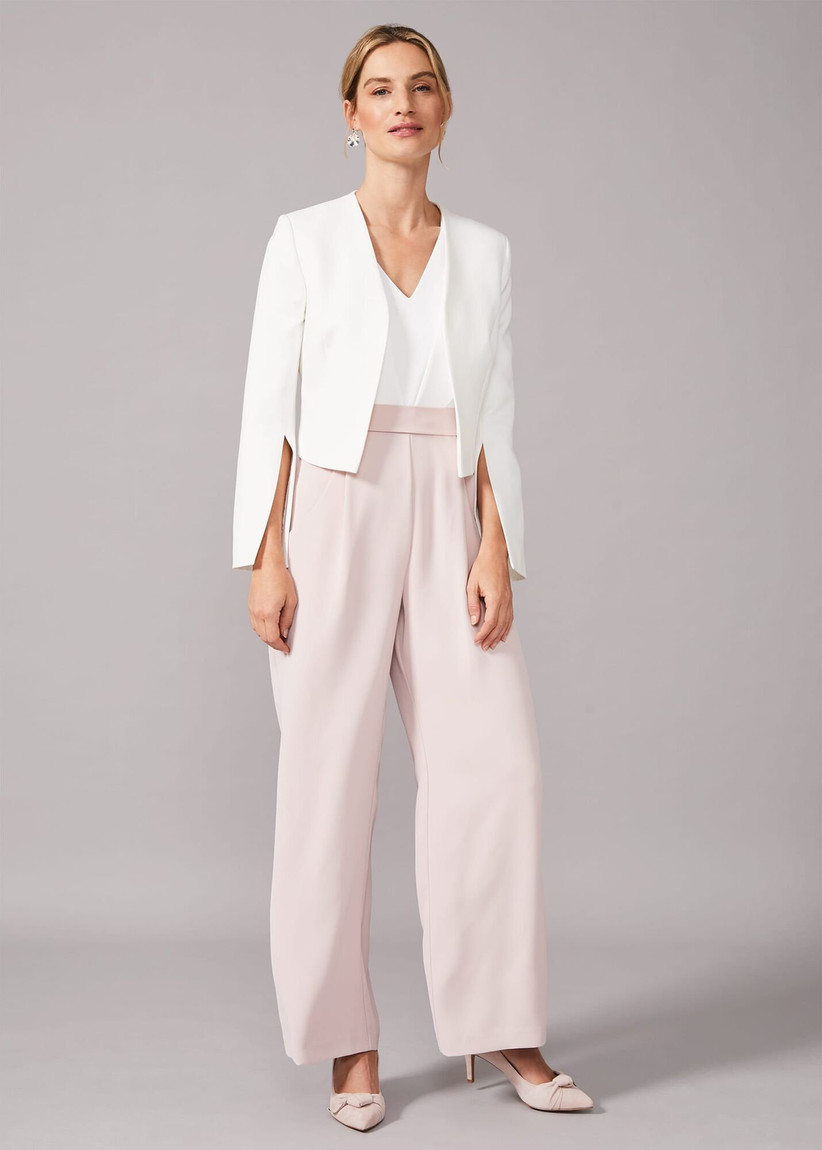 This ivory jacket has a slick silhouette, and the split sleeves are a point of difference. It's also available in a bright plum, if you want a colour contrast.
READ MORE:
33 Chic Wedding Suits for Women to Buy Now
24. Custom Leather Jacket - £103.54, Etsy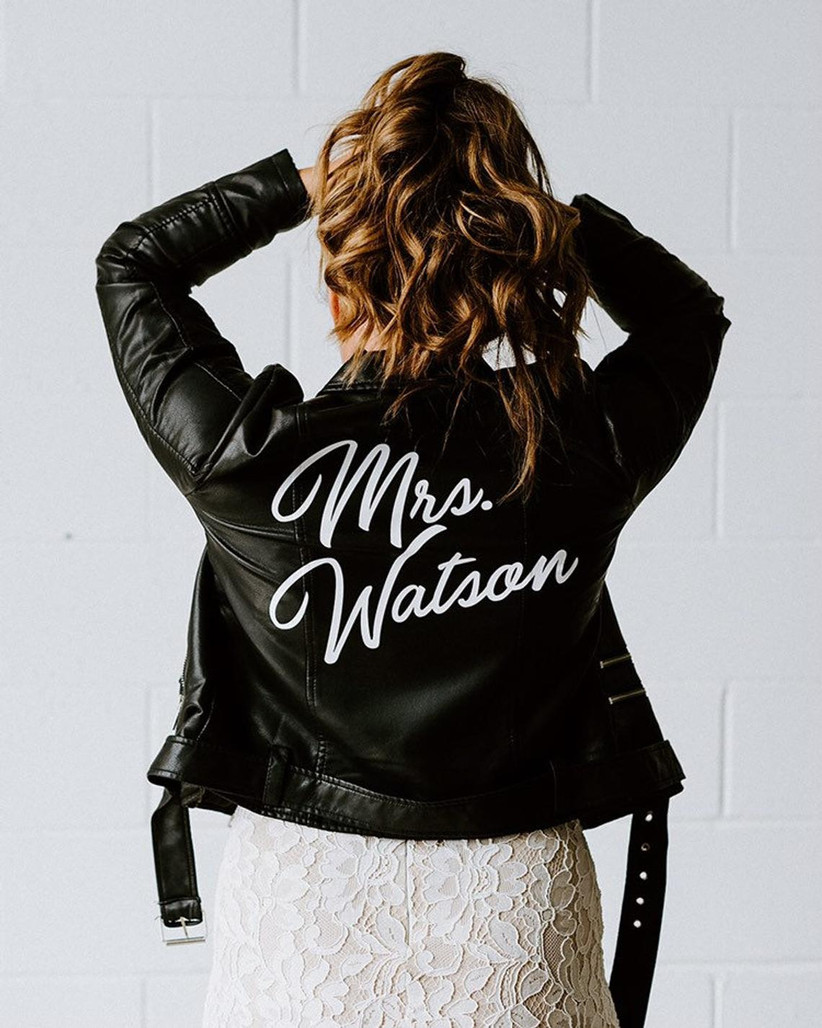 If you love the idea of a bridal leather jacket, Etsy is the place to go, with a huge range of custom designs. We found ourselves particularly drawn to the elegant simplicity of this faux leather design, which also comes in white and can be customised with different fonts.
25. Mia White Fluid Blazer - £115, Reiss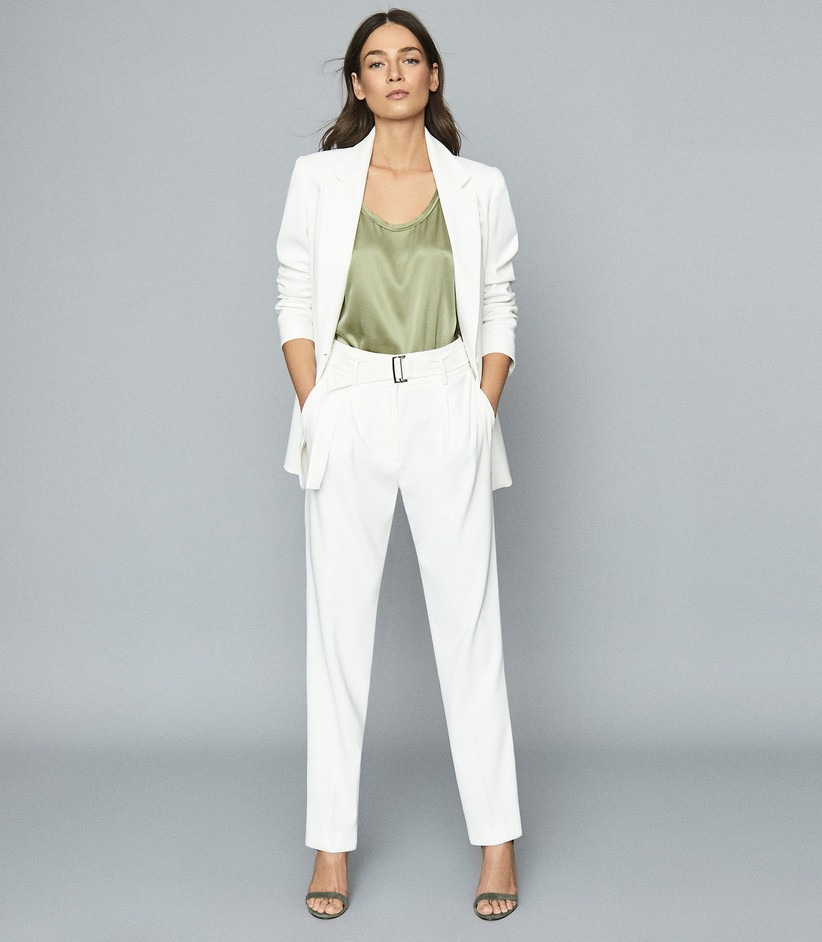 Give a classic bridal look an instant contemporary update by adding some relaxed tailoring Reiss are known for their excellent tailoring, and this sophisticated white blazer is a case in point. The silhouette is silhouette-skimming for a laidback yet smart feel.
26. Relaxed Sequin Jacket - £65, Marks & Spencer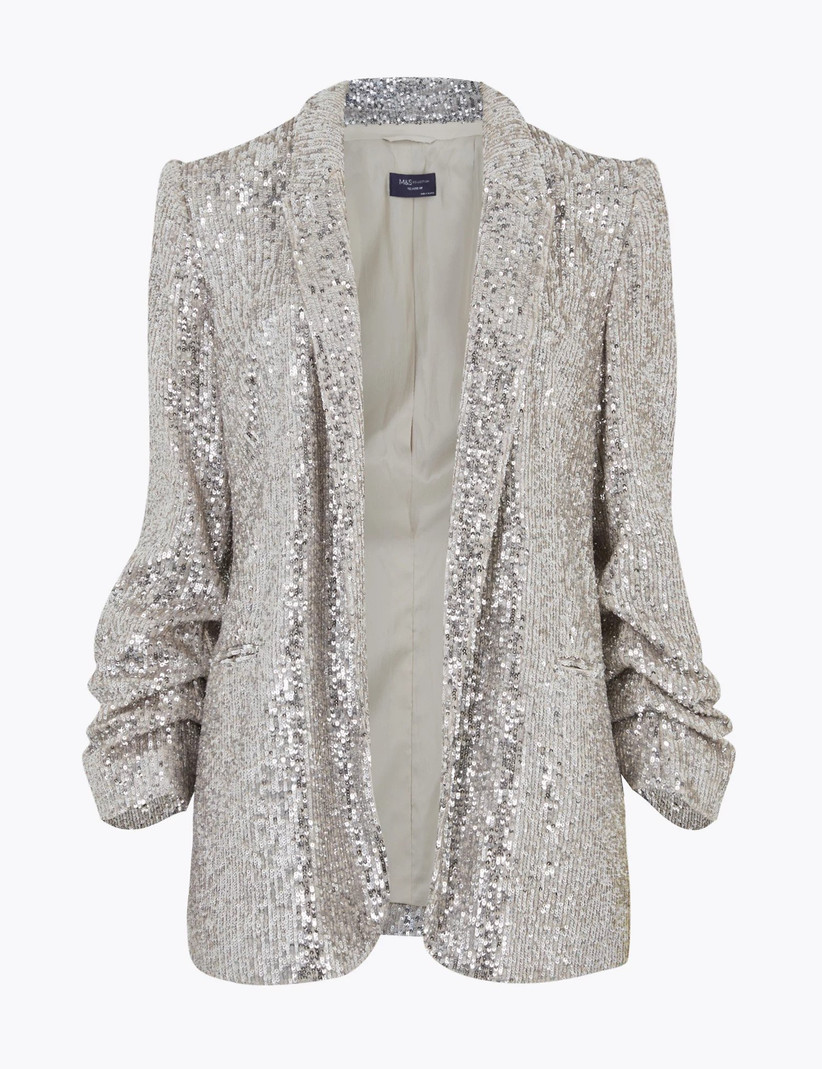 In the mood to party? Say it with sequins! This M&S sparkly jacket would look fabulous against a white wedding dress, and we just love those rucked sleeves - so chic.
27. Blush Pink Feather Jacket - £225, Liberty in Love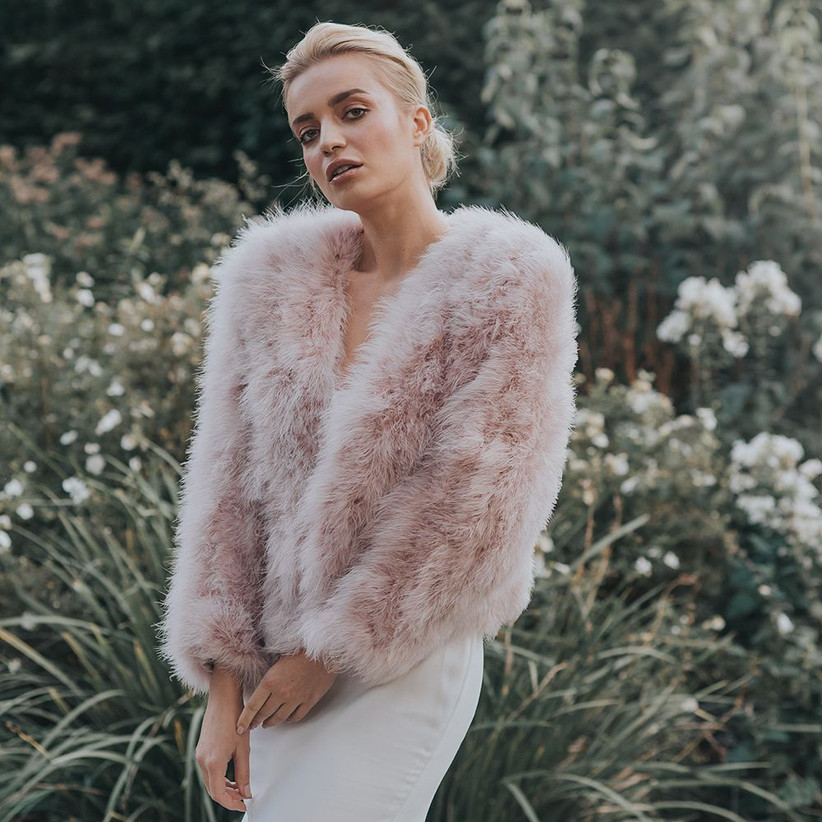 Be stylish and cosy in colder temperatures with this blush pink bridal jacket, created from strokeably soft marabou feathers. The flatter-all colour is so romantic.
READ MORE: 20 Winter Wedding Shoes Perfect for Finishing Your Bridal Look
28. Nariko Faux Fur Coat - £185, French Connection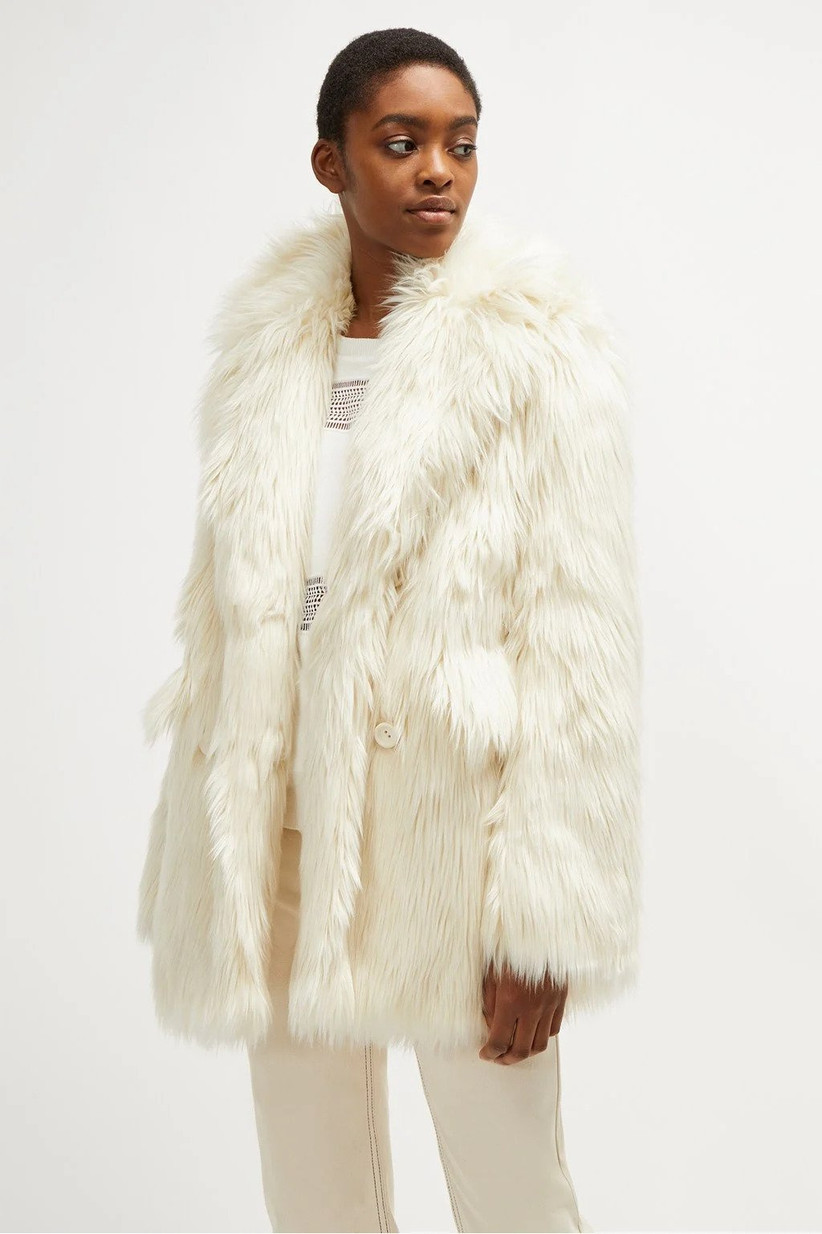 Most bridal jackets are on the shorter side, even for winter. We get it - that makes sense for showing off the dress. However, if you're anticipating a serious cold snap, it really does make sense to go for a longer length, like this French Connection faux fur coat. It's the perfect balance between practicality and glamour.
Find even more gorgeous ideas in our edit of the 25 best bridal jackets.
Bridal Toppers
A bridal topper is, quite simply, a top that goes over your wedding dress. This is not to be confused with a top-and-skirt bridal separates combination - the idea of a topper is that it changes the way your dress looks, often adding sparkle or embroidery. Toppers are for style rather than warmth, so you'll probably still need another bridal cover up for autumn and winter.
29. Lily Tulle Cover-Up - €145, Engaged Apparel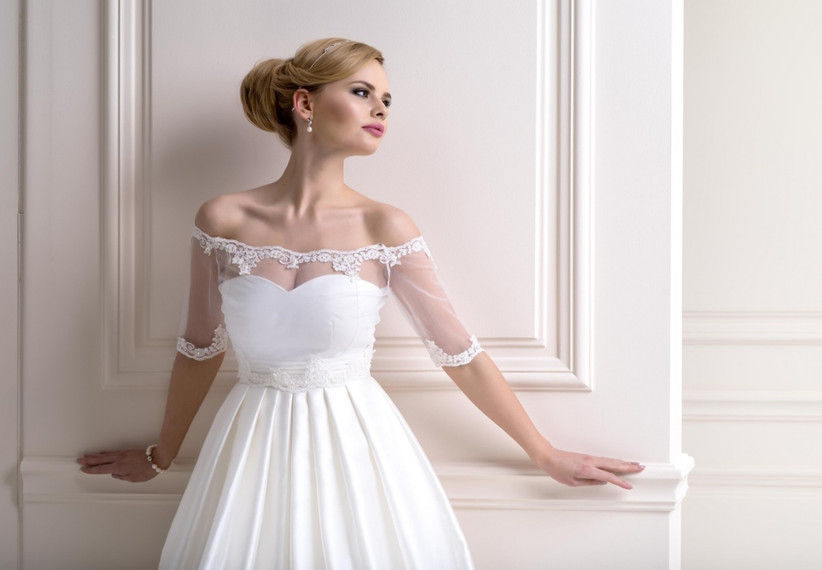 This off-the-shoulder tulle topper adds interest to a simple wedding dress, with that lovely lace trim across the neckline and sleeves.
30. Delorie Top - £POA, Charlie Brear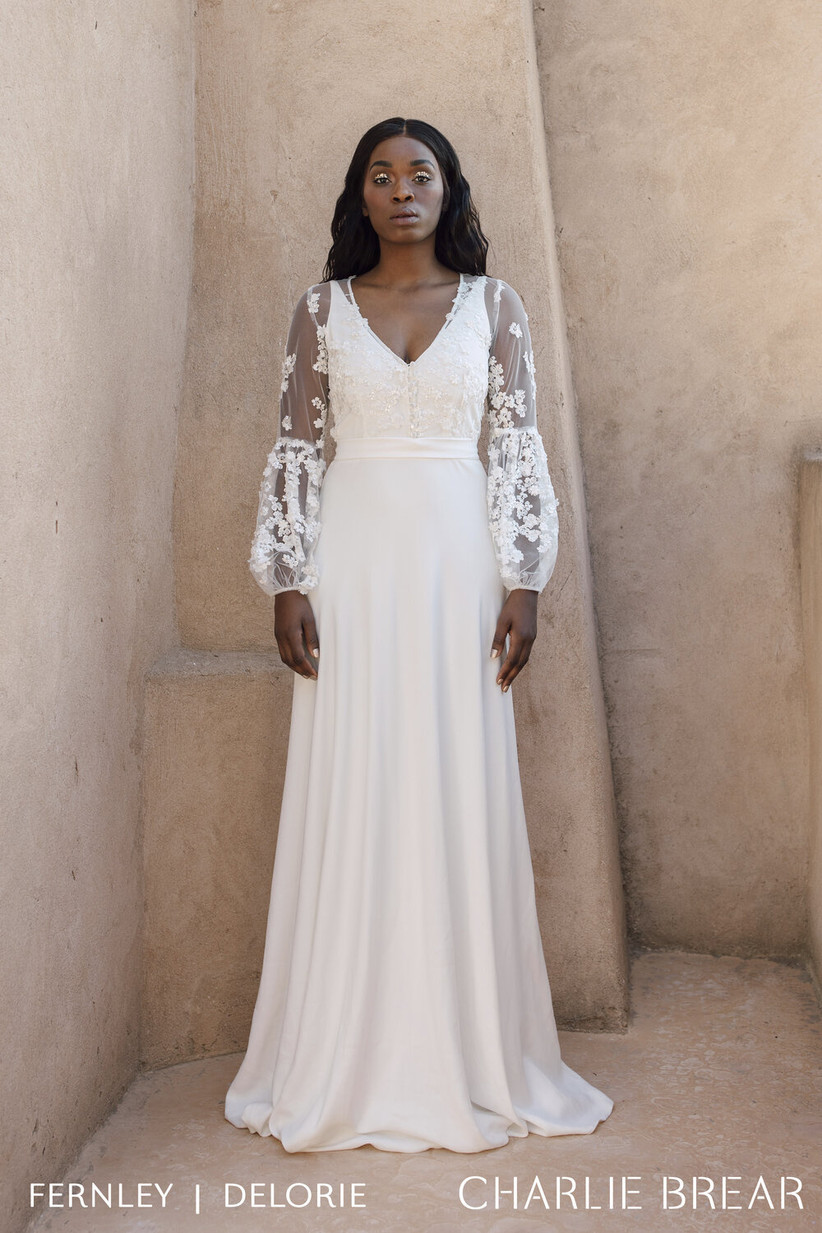 This floral top will bring a minimalist wedding dress to life, with intricate embellishment and balloon sleeves.
31. Mermaid Sparkle Bridal Blouse - From £149.65, Etsy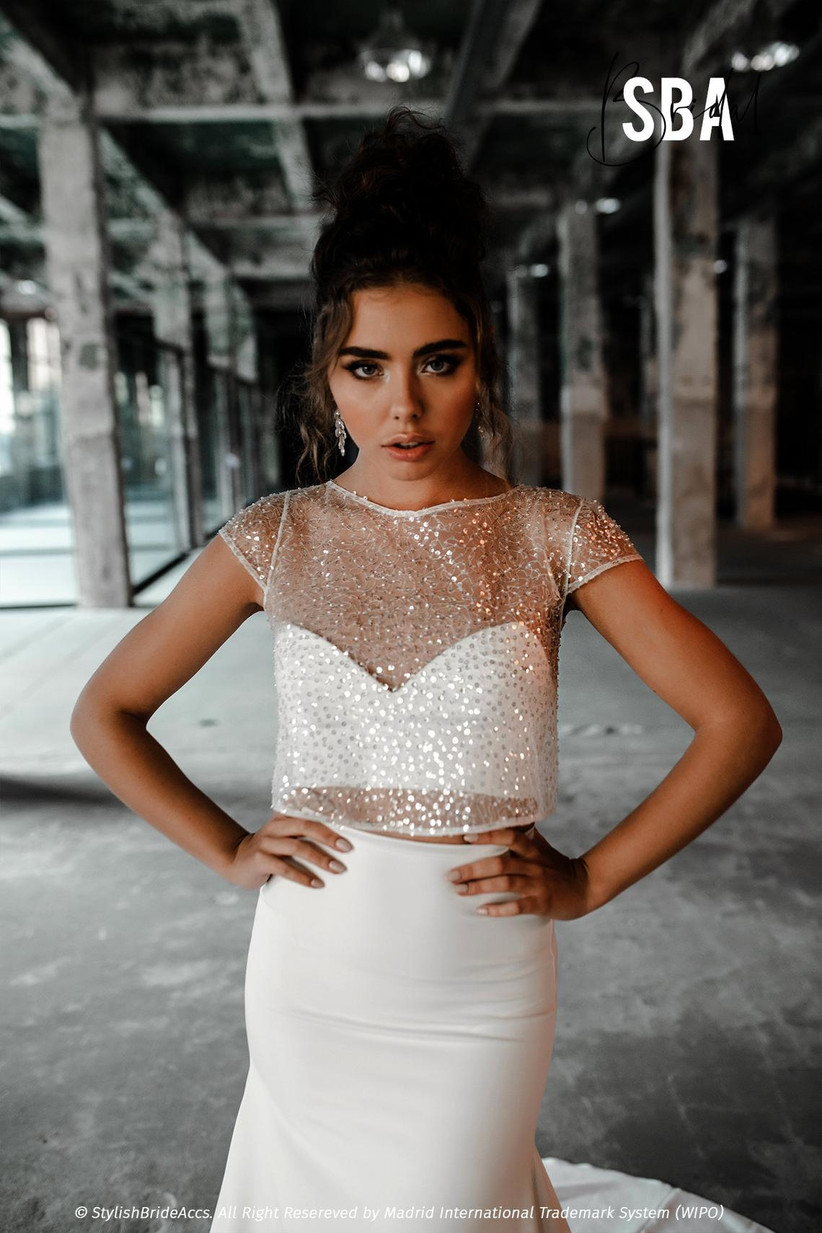 Bring some sparkle to your dress with this cute bridal blouse. It's pictured with a silk bustier but can be ordered without this for slipping over a wedding dress.
READ MORE: 31 Sparkly Wedding Shoes Your Feet Deserve
32. Swirl Lace Top - £150.40, Etsy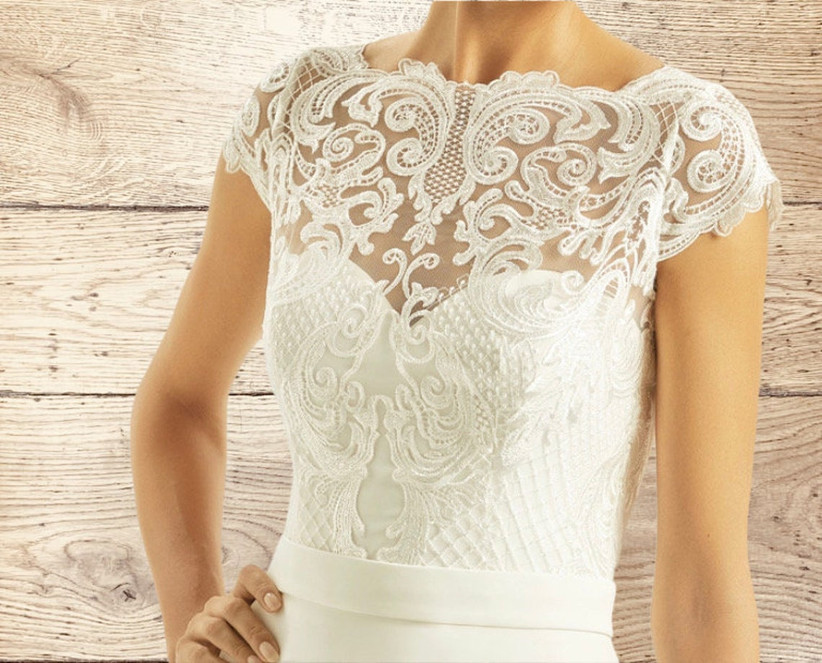 Want to add some texture to a satin dress? This lace topper will do the trick. If you're planning on taking it off for the evening party, make sure you practise doing so without messing up your 'do.
33. Daniel Top - £POA, Halfpenny London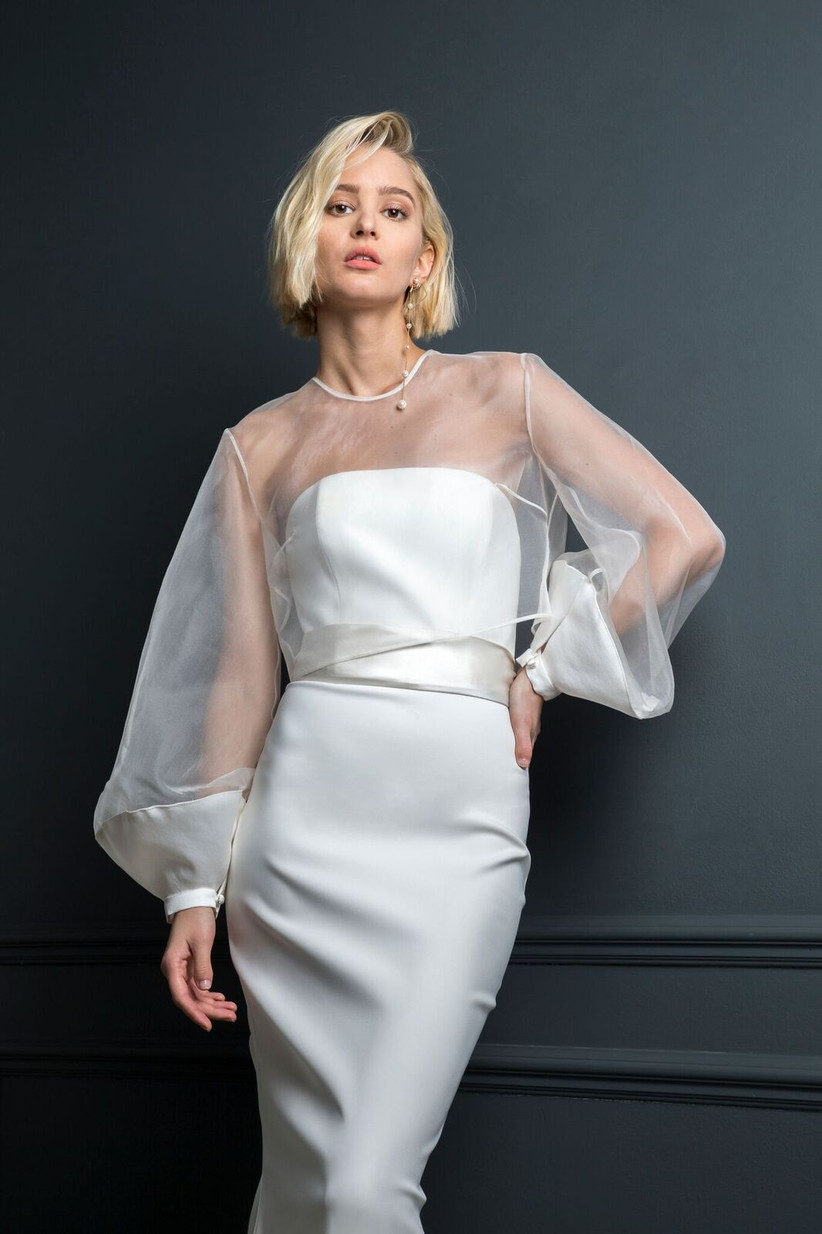 This sleek bridal top lets the dress underneath sing while adding a fashion edge thanks to those trimmed sleeves.
34. Polka Dot Top - £195, Etsy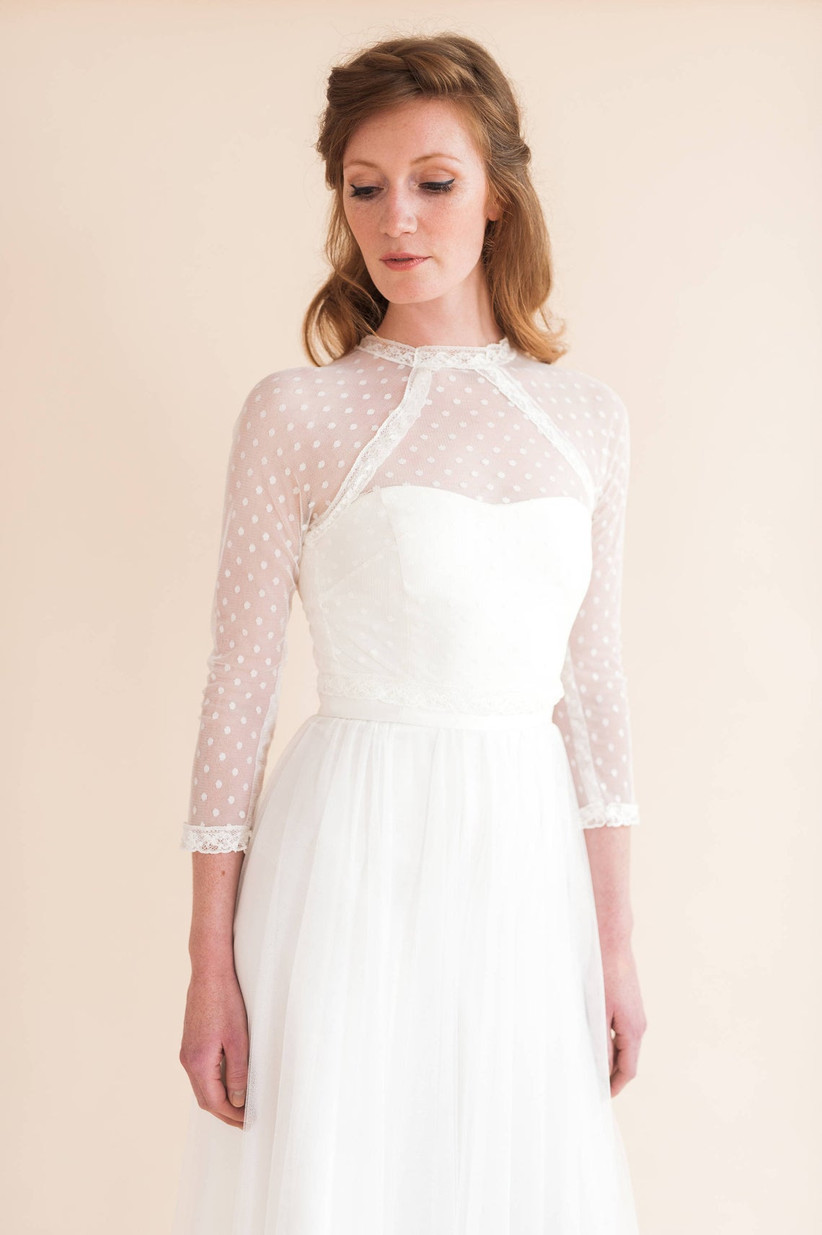 This tulle polka dot topper makes a change from the usual lace and sparkle, so it's ideal for brides who want an alternative look. It would be super-chic with a strapless dress.
Alternative Bridal Coverups
If none of the traditional options suit, there are other beautiful bridal cover ups to consider, from catwalk-inspired styles on the high street to glamorous bridal designs.
35. Fitted Wrap Cardigan - £55, & Other Stories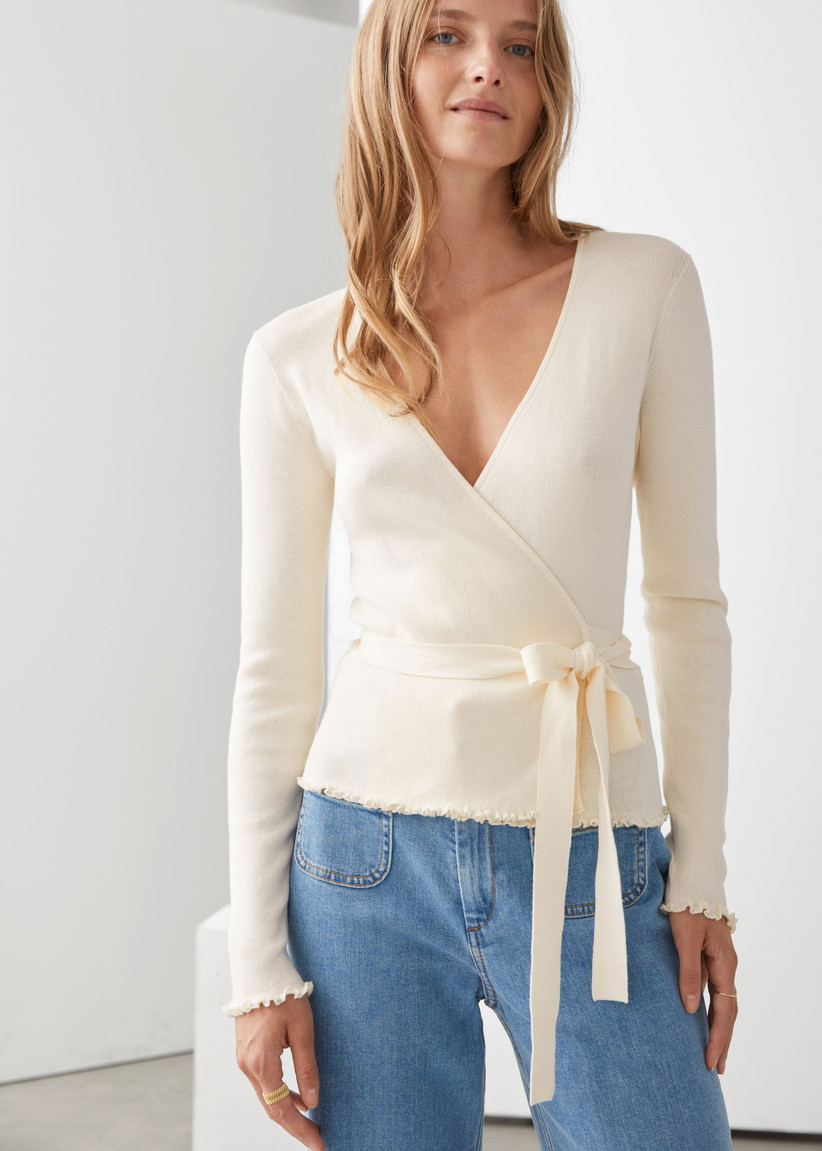 Ballerina-style wrap cardigans are having a moment, so to freshen up your wedding look, choose this & Other Stories design. The romantic ruffled hem and pretty sash give it a bridal feel.
READ MORE: 23 High Street Wedding Shoes That Look Seriously High End
36. Faux Fur Bridal Wrap Stole - £148, Britten Weddings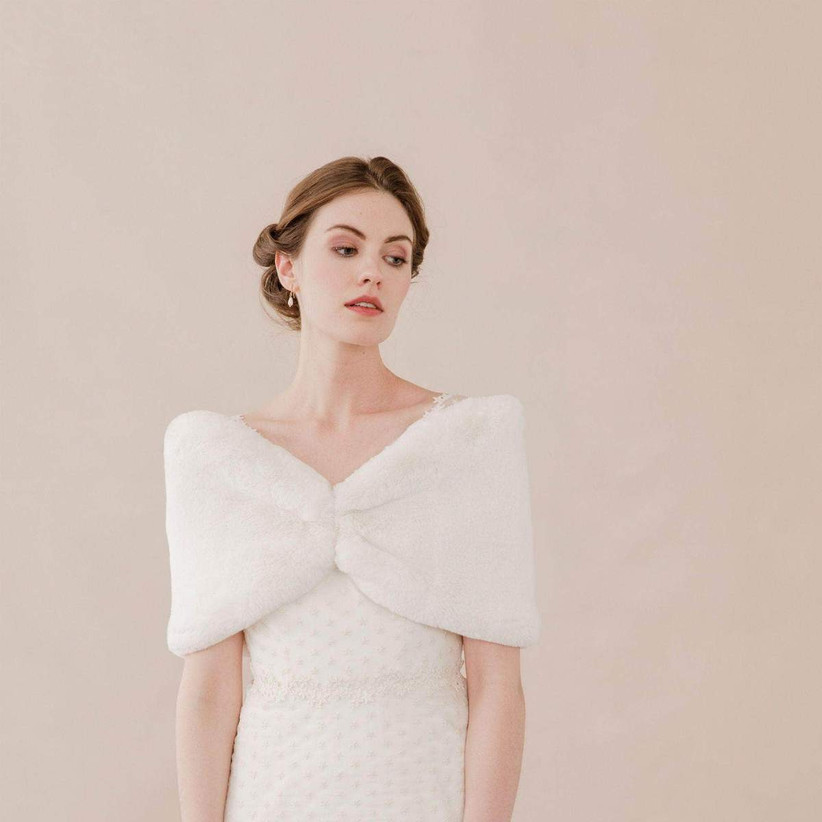 We could spend hours debating the difference between a wrap and a stole. All you really need to know is that this Britten Weddings cover up is a cross between the two - and that it has a magical air of Old Hollywood glamour.
37. Wide Sleeve Floral Print Kimono - £15, Boohoo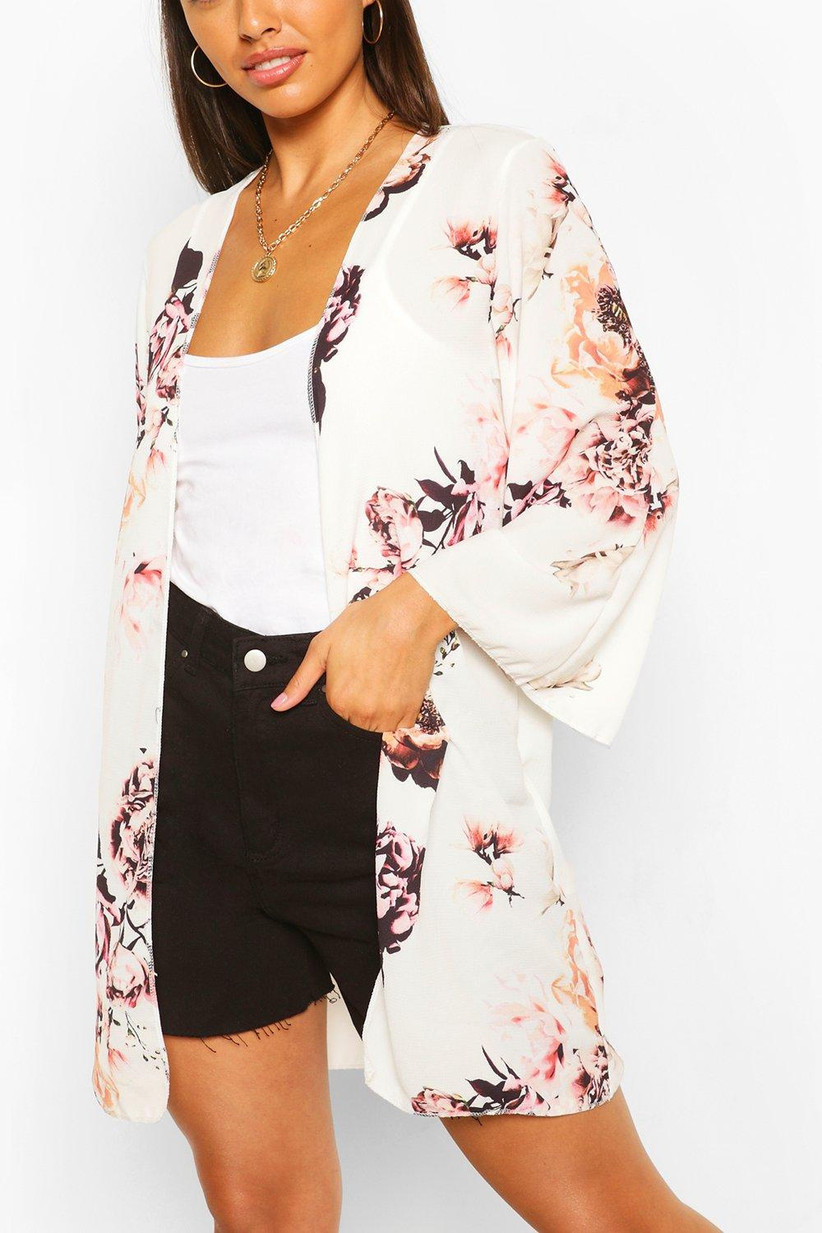 Bring some florals into your look with a printed kimono as your bridal cover-up. Boohoo have some excellent affordable options, including this wide sleeve version. It comes in different colourways, including a black floral that would look striking against a white wedding dress.
38. Bow Coat - £POA, Halfpenny London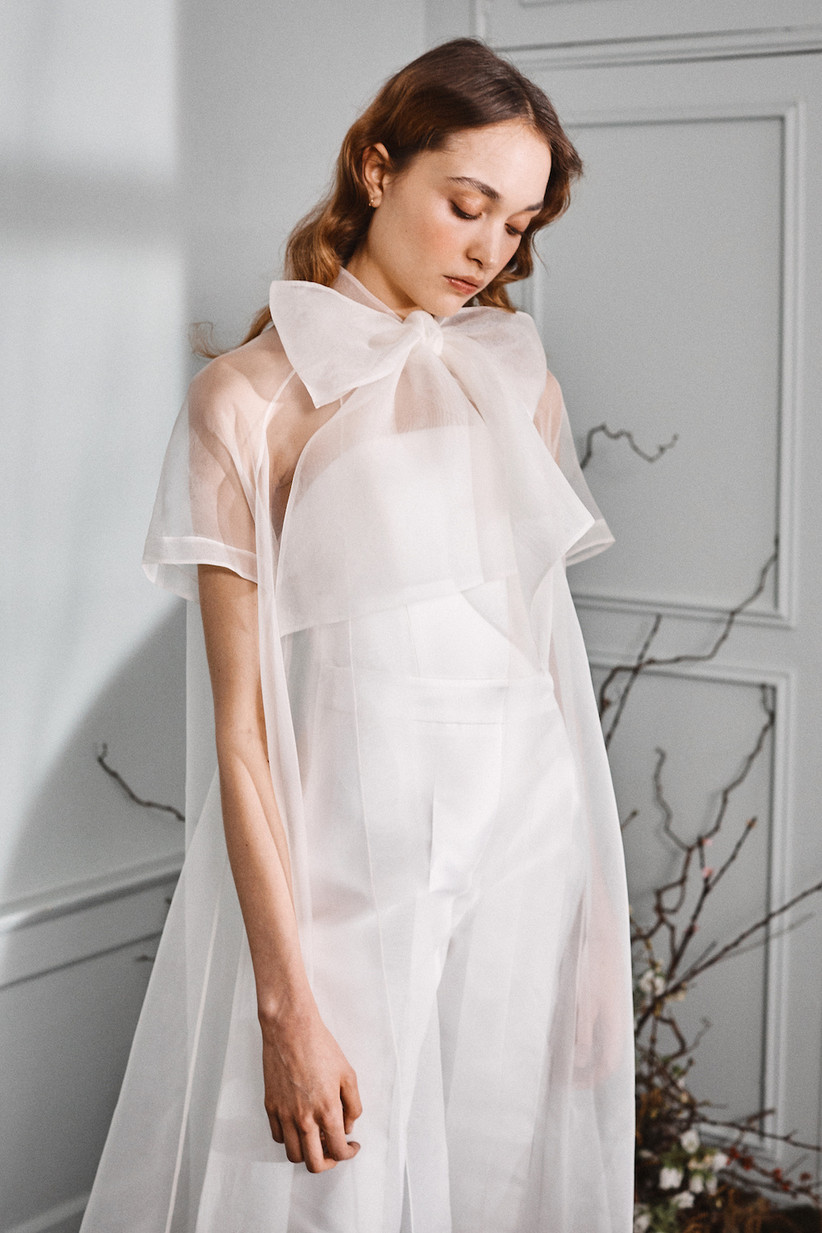 This sheer bridal coat will add interest to any wedding outfit, and it's light enough for spring and summer.
39. Mid Blue Long Faux Fur Stole - £110, Liberty in Love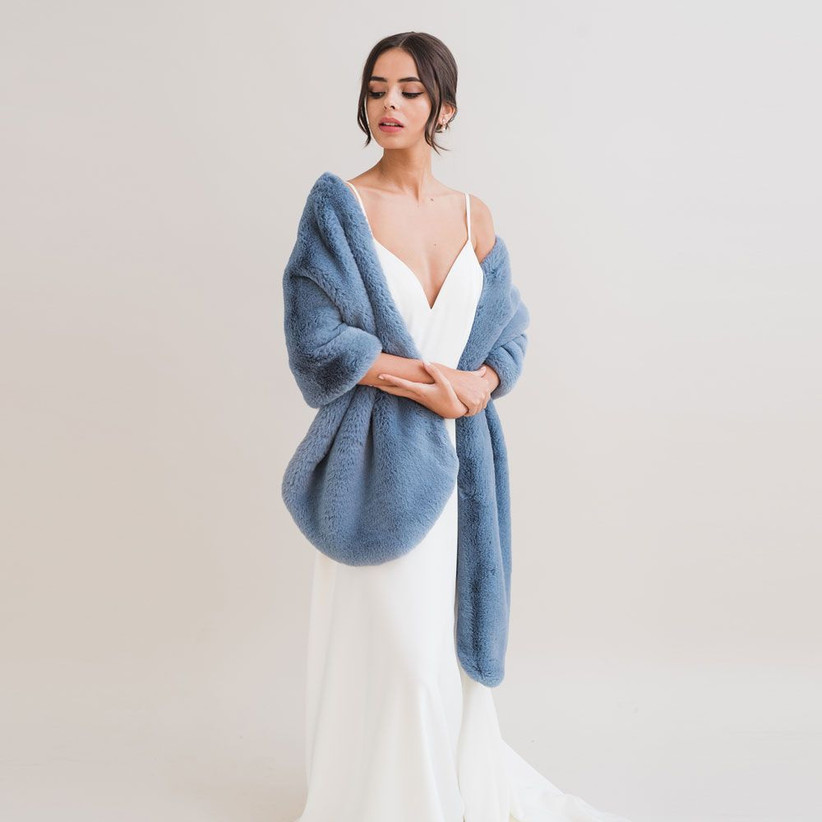 This Liberty in Love stole is available in different colours, but we're keen on the blue, so your bridal cover up can double up as your something blue! What's more, the style will bring some old-school glamour to a winter wedding.
READ MORE: Something Blue: 33 of the Best Blue Wedding Shoes
40. Cable Knit Cardigan - £34.99, H&M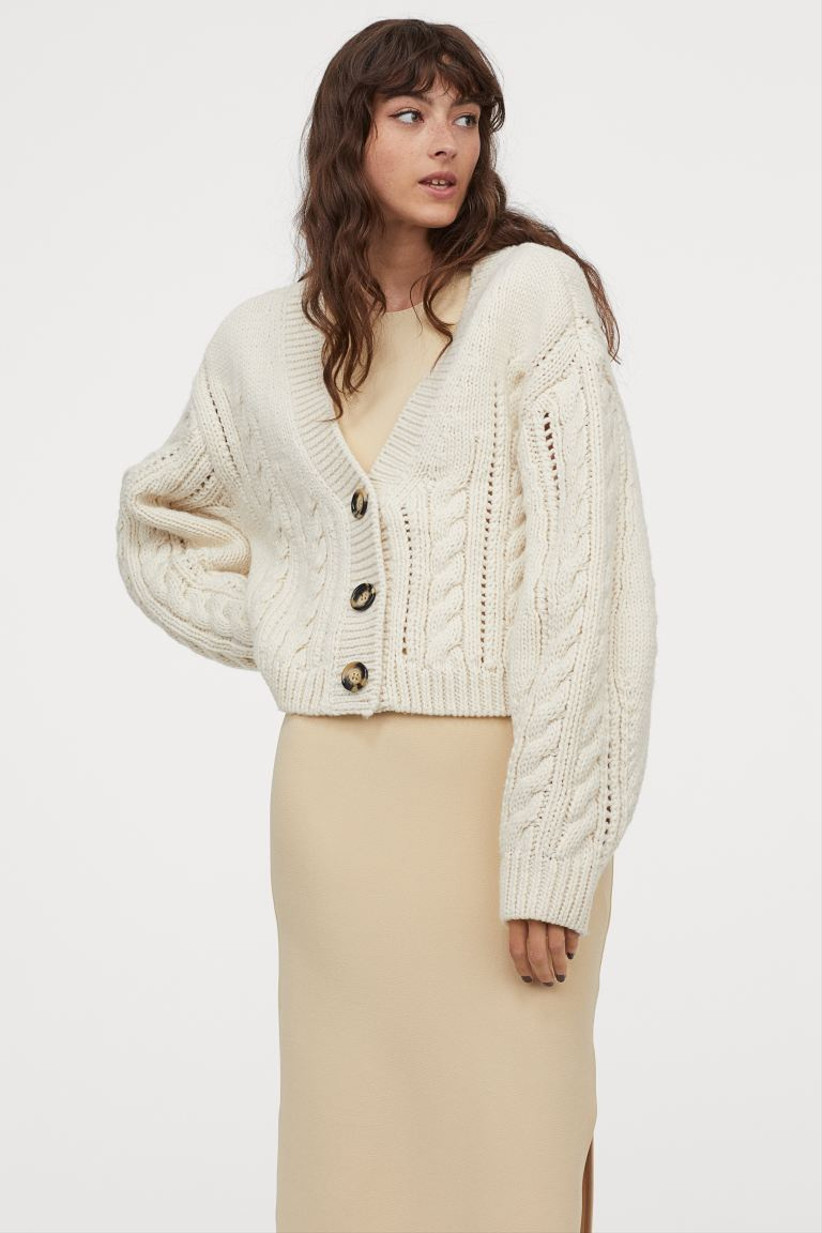 This short cable cardi would be so cosy in winter, and you'd definitely wear such a timeless piece again after the wedding - dare we suggest Katie Holmes-style, with just a bra underneath?
41. Regency Garden Jacket - £250, Needle & Thread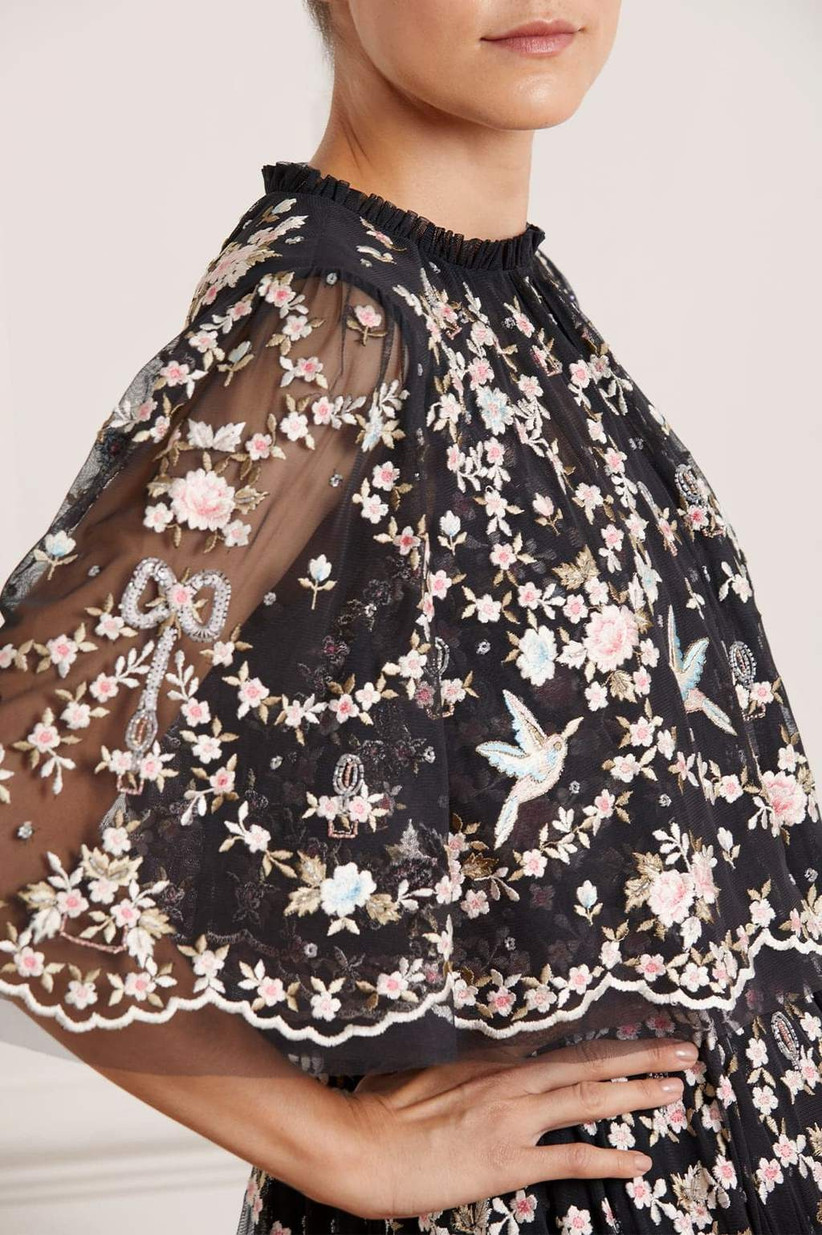 For a shot of pure prettiness, add this floral jacket to your wedding dress. Dotted with sparkling glass beads, it's a vision of loveliness, and it also comes in champagne.
42. Bridal Sweater - £101.12, Etsy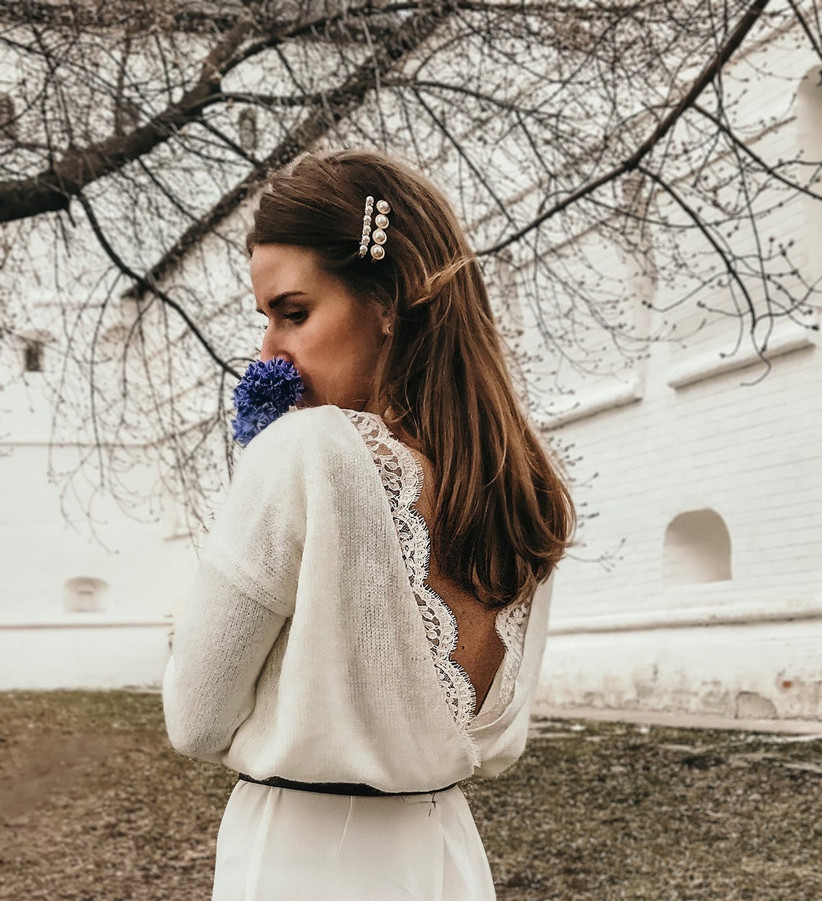 Knitwear goes fully bridal with this elegant sweater. You can wear the deep v to the front or the back, depending on which part of your dress you want to show off.
43. White Reversible Padded Puffer Jacket - £59.99, Topshop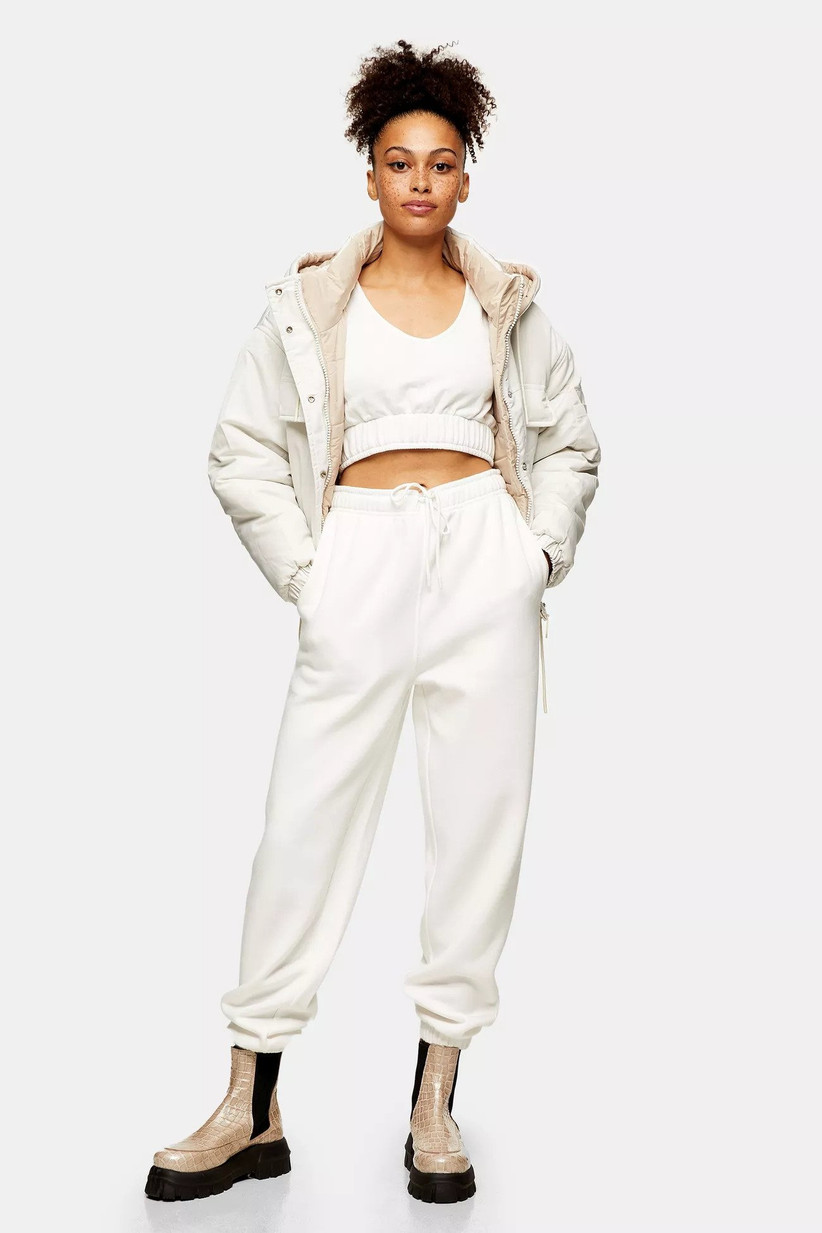 Bring together street style and wedding style by covering up with this short puffer. The contrast between athleisure outerwear and a glamorous wedding dress will be utterly delicious - and very fashion.
Don't forget the finishing touches that can make a big difference to your bridal look - we've put together an edit of the 53 most covetable wedding hair accessories.