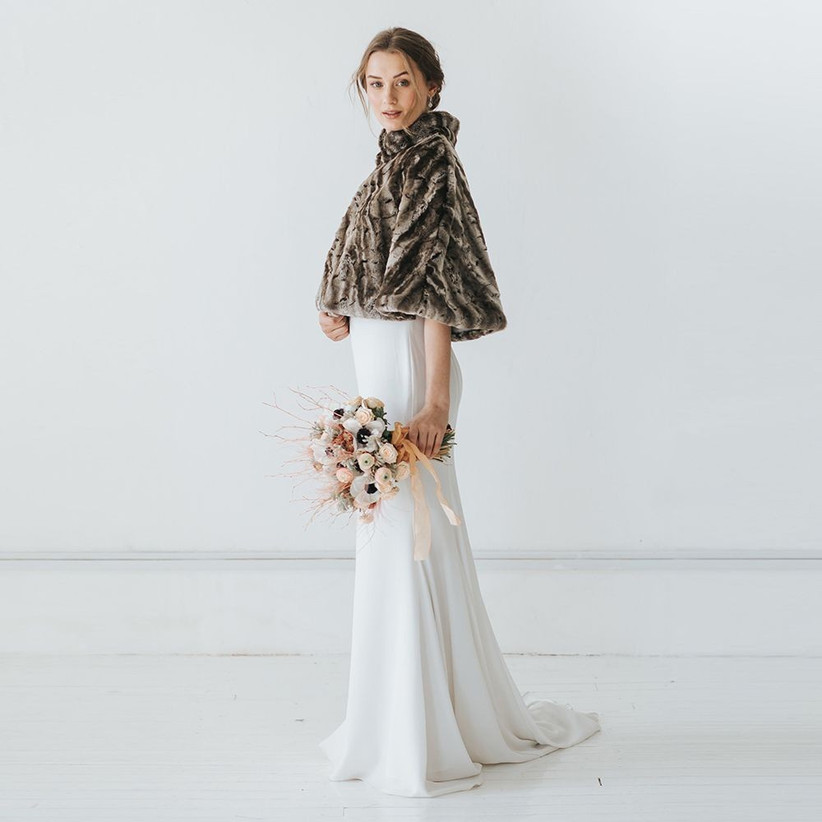 Picking the outfit for your wedding day is one of the biggest bridal decisions. There are so many options out there these days, and be it a dress, a two piece skirt and top, or a chic suit, all of them can be made better by a little bridal cape.
Capes are as versatile as they are pretty; many of them can be worn for years after your actual wedding, meaning they are a wonderful investment piece for the future, as well as for your big day. They also come in a great range of different designs.
If you're opting for a winter wedding, you can pick up a warm, fluffy, faux fur cape to keep you warm, while making you look elegant and sophisticated. Those going for a summer occasion have plenty (if not more) options too. There are so many lightweight tulle, lace, and silk bridal capes, and they all come in varying lengths, from mini capelets to cropped styles, midis, and maxis that hit the floor.
Intrigued by the style? We've picked out 29 of the best bridal capes for all styles, tastes, and budgets. Keep reading to find yours.
1. Diamond Storm Scalloped Lace Cape – £525, Liberty In Love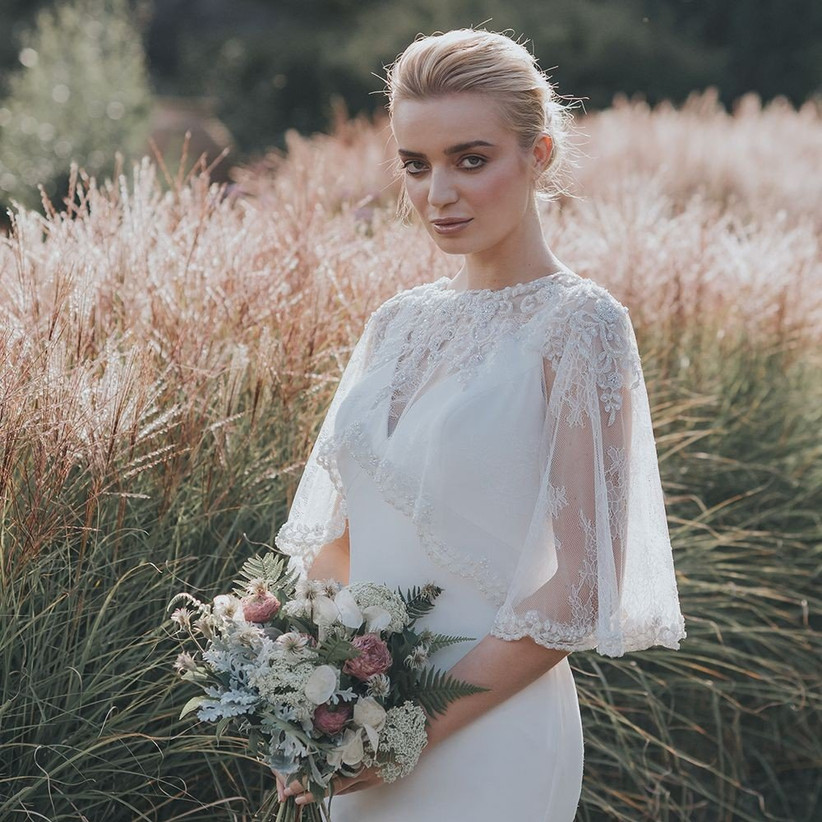 Made from fine floral lace and decorated with intricate hand-beaded detailing and a scalloped edge, this cape has lots to fall in love with.
2. Floral Jewellery Bridal Cape Veil – £102.15, Etsy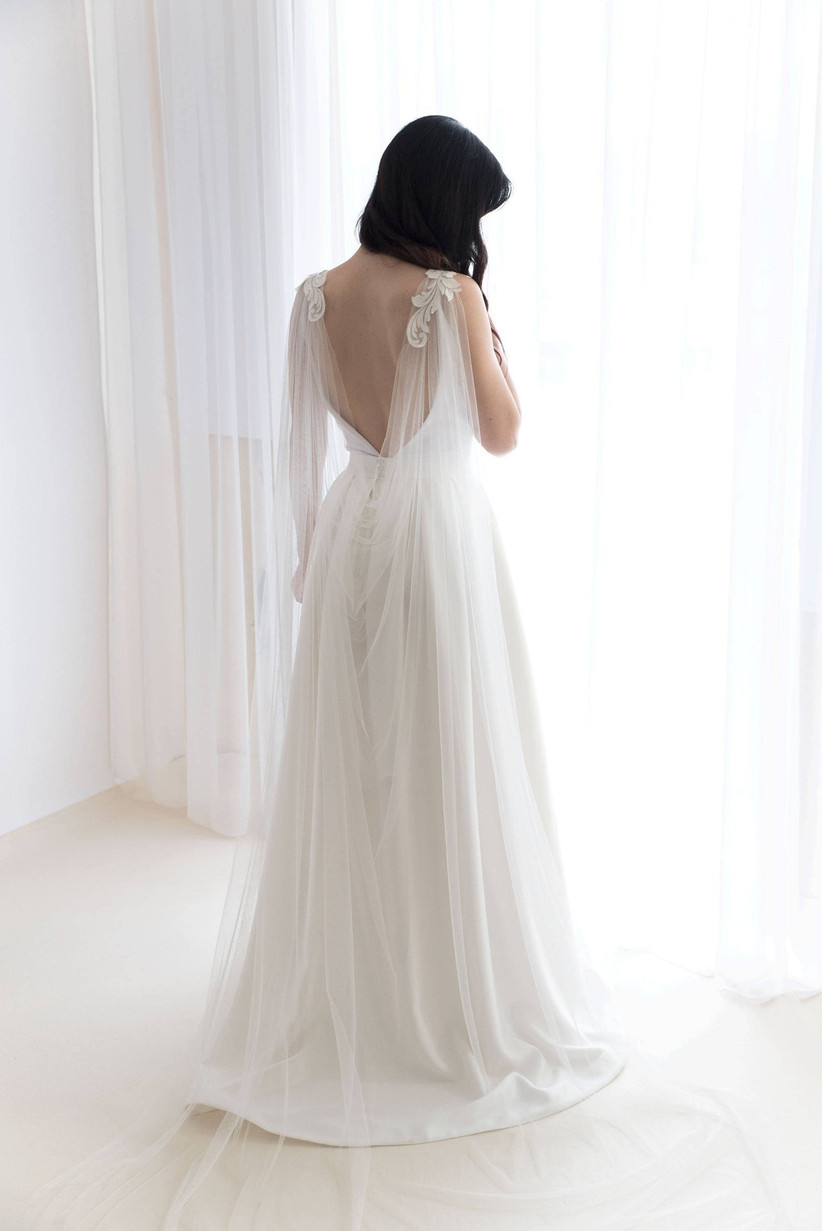 This versatile piece perfectly bridges the gap between the veil and the bridal cover up. It's made from soft English tulle, and the edges are decorated with chic lace with a thin silver thread.
3. Emma Gordon Ivory Tulle Bridal Wedding Cape – £76.47, Etsy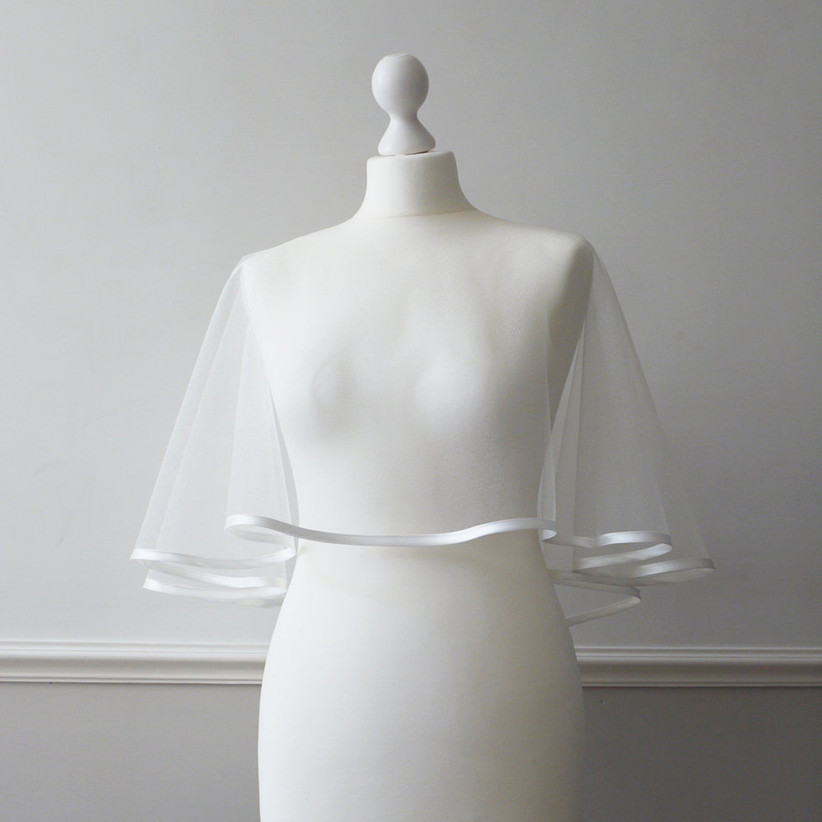 There's nothing more chic and covetable than an ultra simple, understated design to add that finishing touch to your bridal look. This dreamy piece brings all the romance.
4. 'Edwina' Hand Beaded Silver Cover Up Capelet – £168, Britten Weddings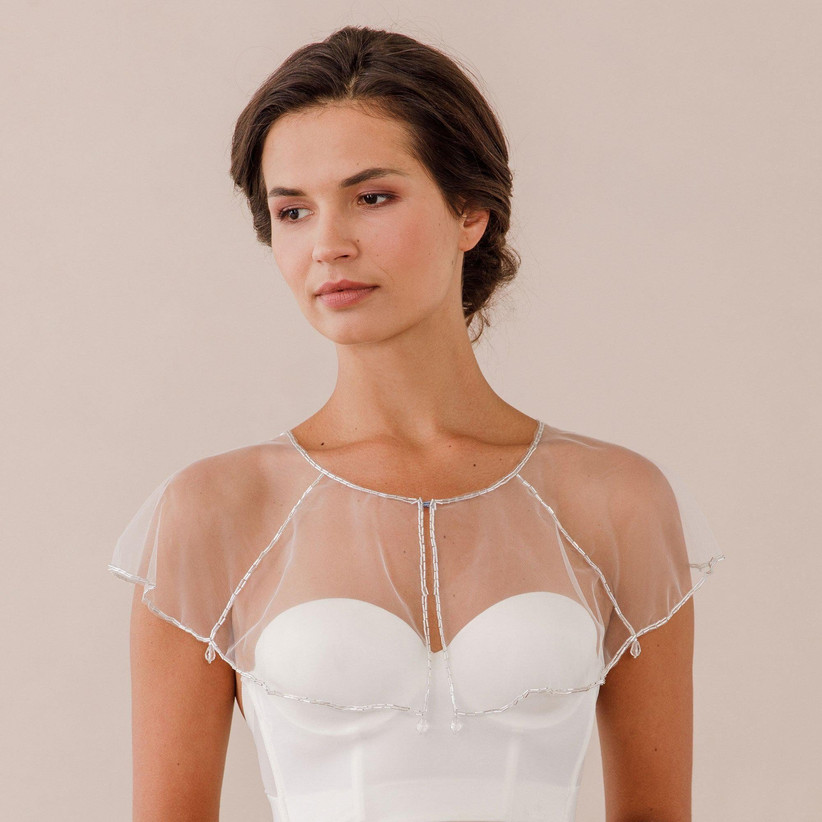 Not quite convinced by the cape? Why not opt for the humble capelet, which adds a stunning mini touch to your wedding outfit. This one is made with twinkling silver beads, which are hand-sewn in.
5. No. 1 by Jenny Packham Ivory Feather Shrug – £55, Debenhams
Perfect for an autumn or winter wedding, this feminine feathered cape provides style as well as warmth – no matter the weather.
6. 'Imogen' Tulle Bridal Cape – £112, Britten Weddings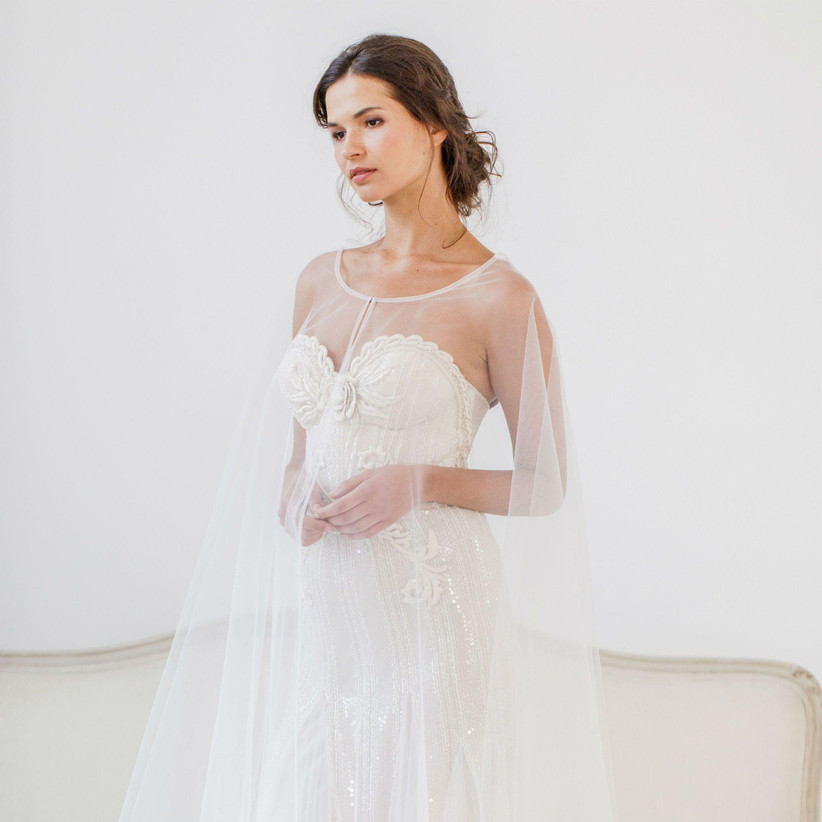 If a veil is not on your radar, this is the next best thing. All Britten Weddings' products are handmade in Bath and are excellent quality. You can have this cape made with a high or low neckline and at your preferred length, depending on your dress style.
7. Silver Brown Faux Fur Cape – £115, Liberty In Love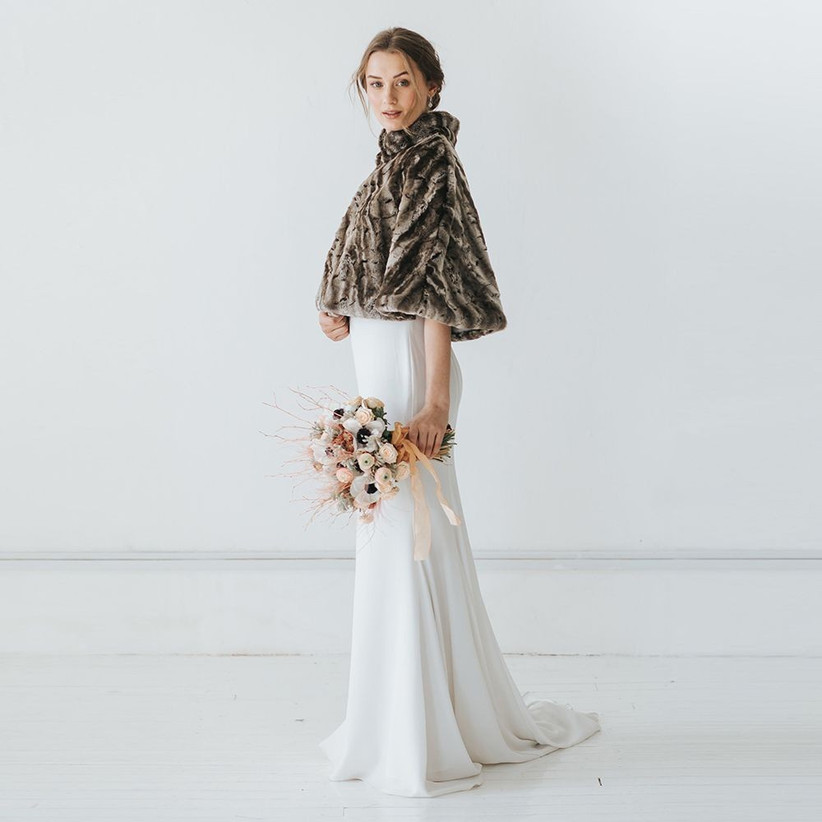 Winter weddings can be incredibly romantic and beautiful, but there's always the worry you might get cold. This super warm design has a luxury feel and looks sophisticated.
8. Wildflower Sequin Midaxi Cape – £295, Needle & Thread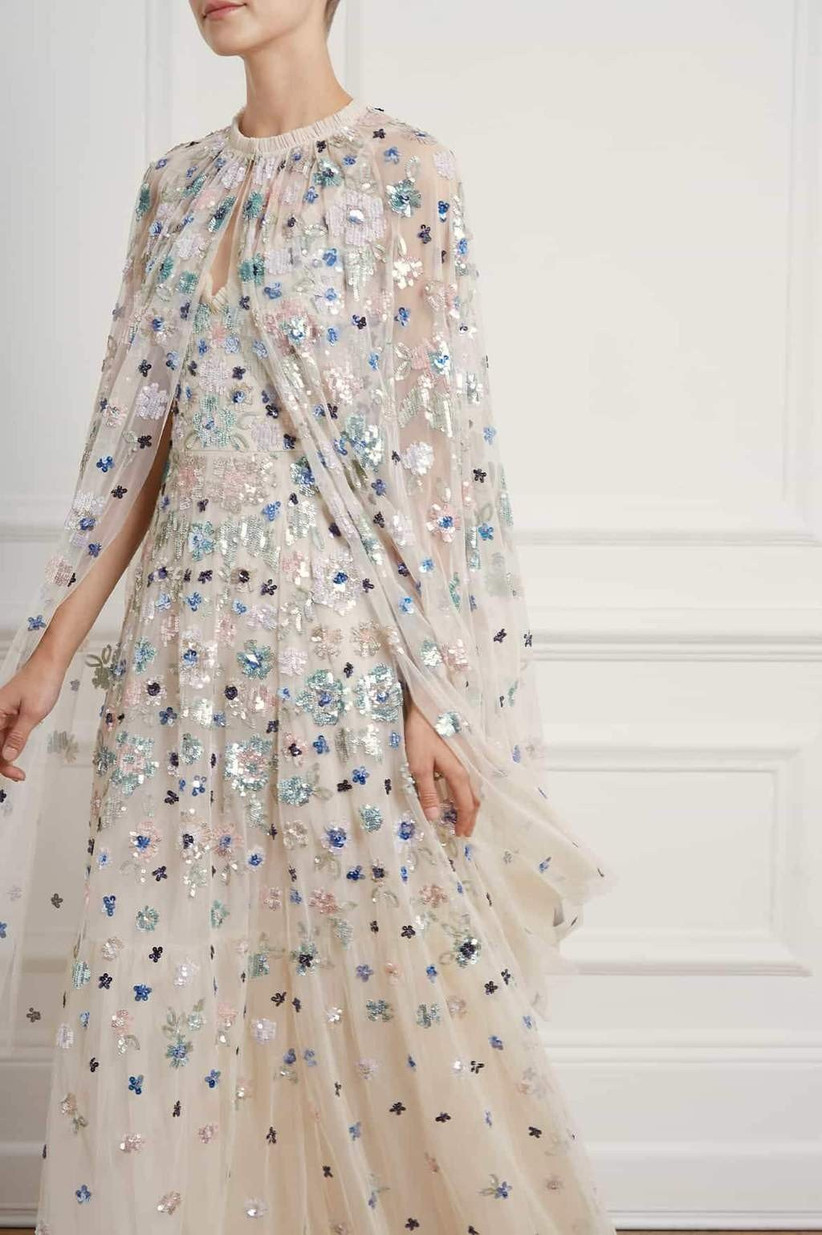 This champagne hue is ideal for anyone after a neutral shade, but who wants to sway away from straight up white. It'll sparkle under the light as you walk down the aisle!
9. Chiffon Bridal Cape – £57.99, Lacey Bell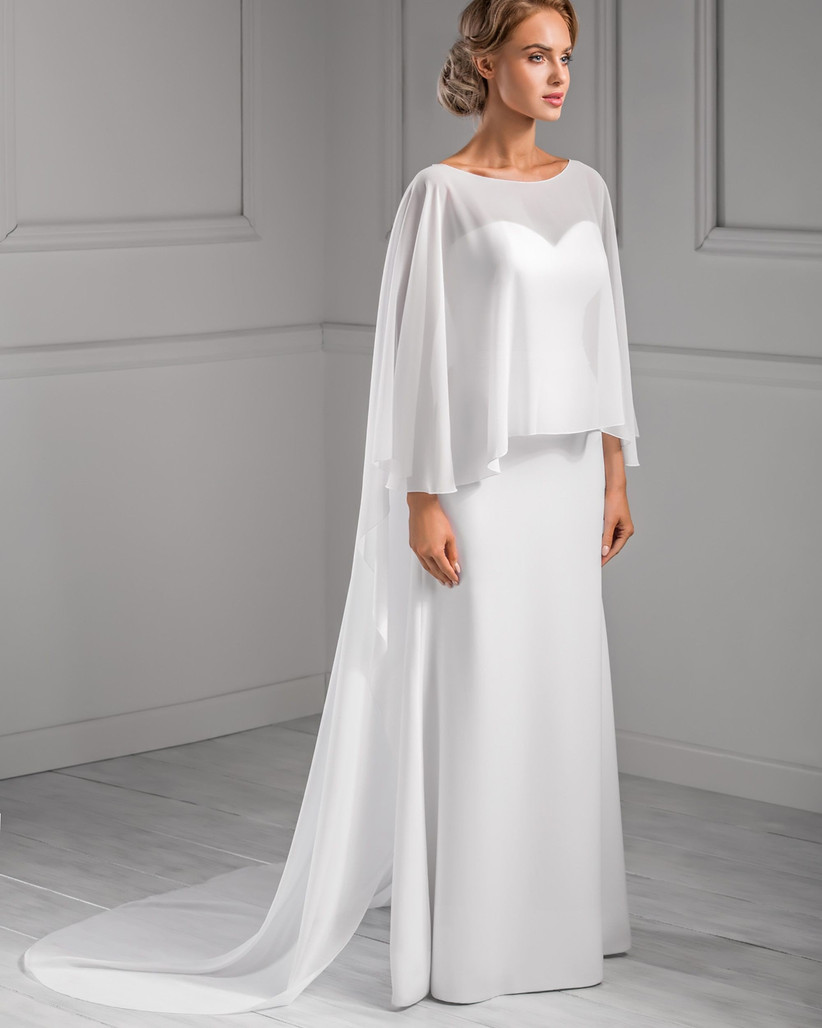 Keep it simple and elegant with this pretty design, which would work just as well with a two-piece outfit (a suit or skirt) as it would a dress.
10. Gatsbylady London 'Sophie' Embellished Cape In White – £29, SilkFred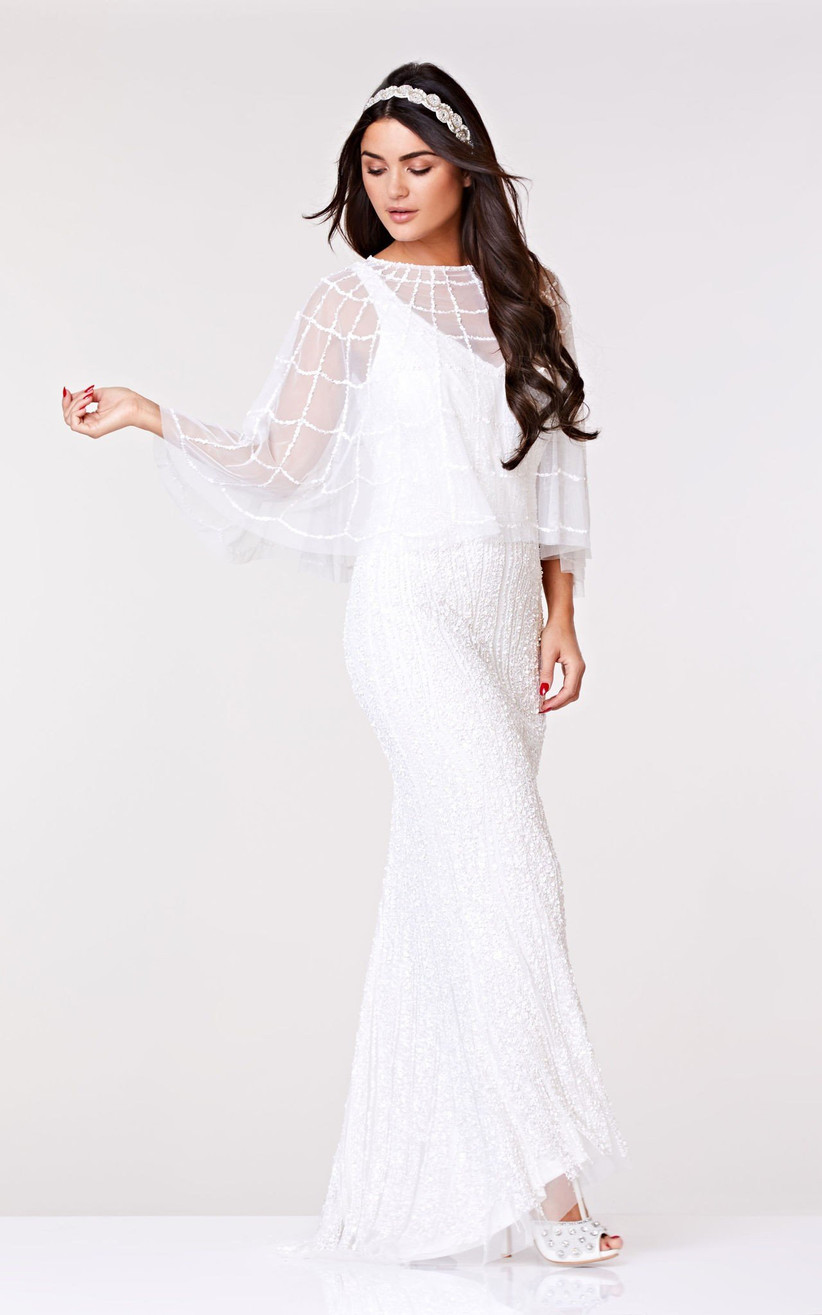 Looking for something you can wear again and again? This sequinned piece is glam enough to wear for occasions and parties after your big day.
11. Rachelsmaids Ivory Bridal Veil Cape – £42.50, Etsy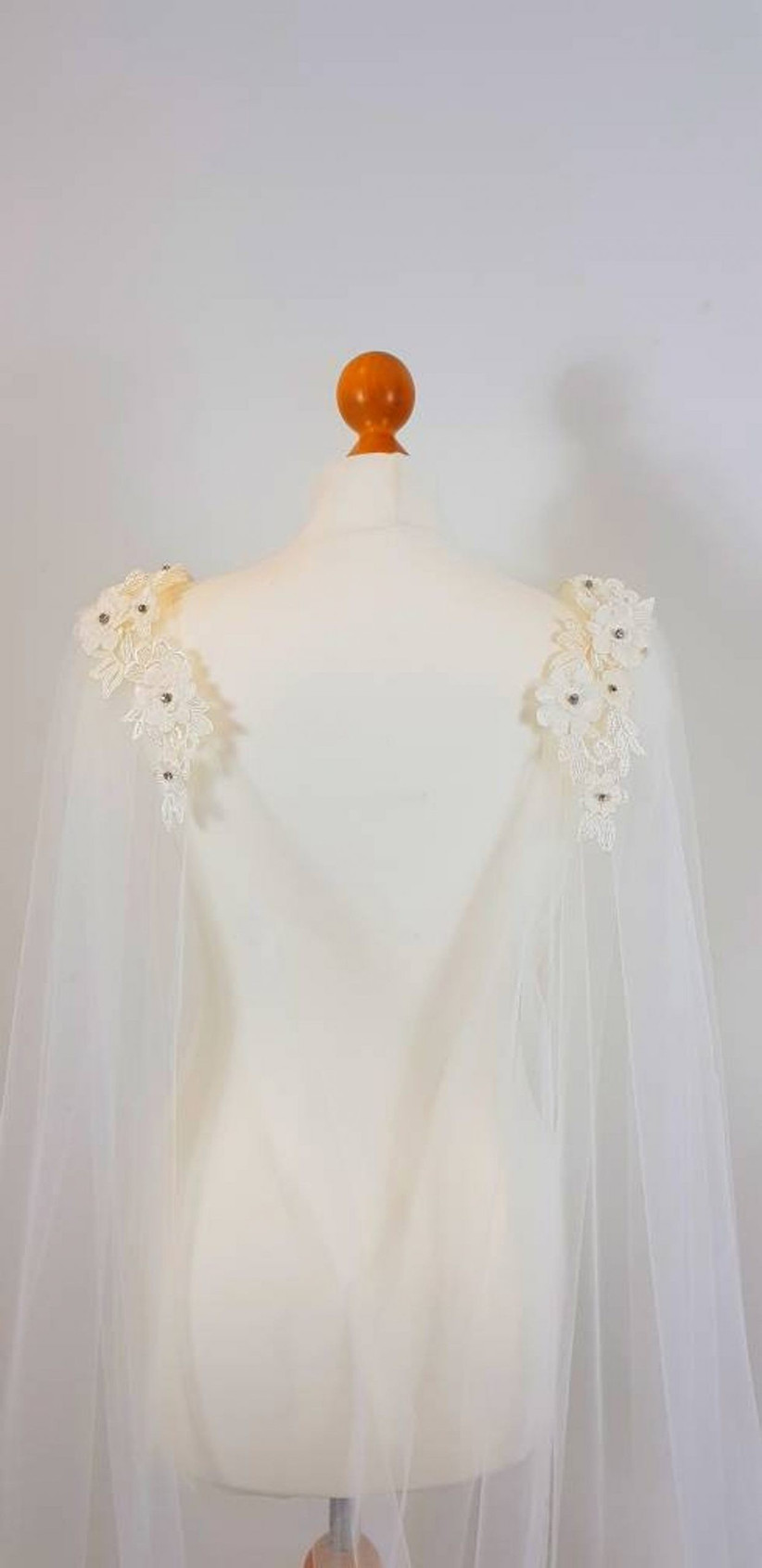 This handmade design, sold on Etsy, is truly stunning. Made from soft, lightweight tulle fabric, it boasts two gorgeous floral appliqués with rhinestones. Secure this with a standout pin or brooch.
12. 'Jade' Silk Style Tulle Short Front Cape – £112, Britten Weddings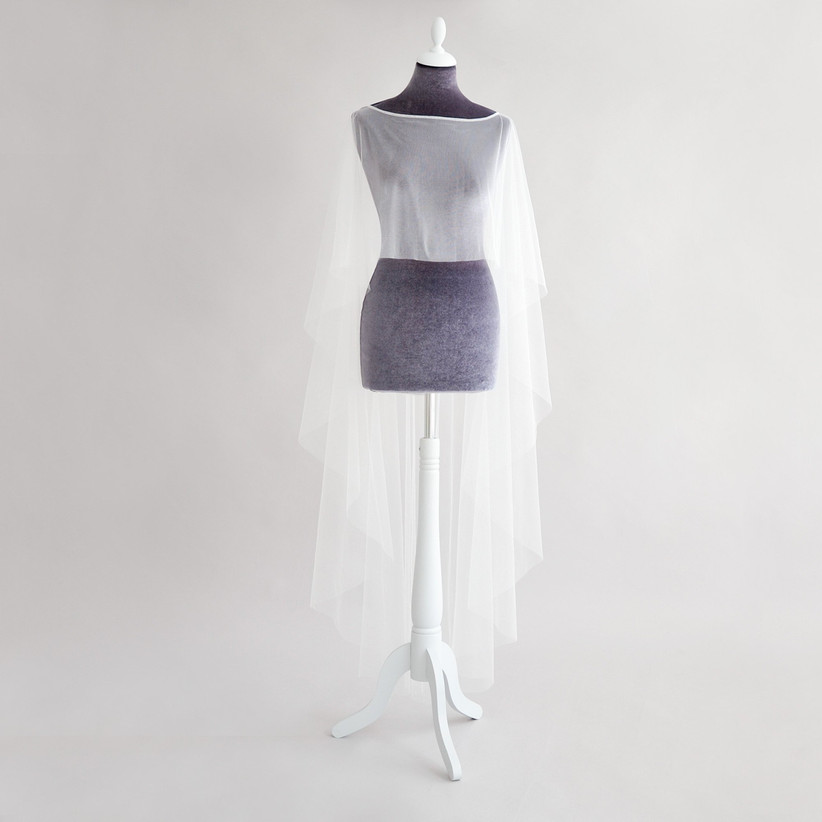 This design has a graduated length style, being shorter at the front and longer at the back. It is fastened with a cute blue thread, which can count as your 'something blue.'
13. Ivory Feather Bridal Cape – £245, Liberty In Love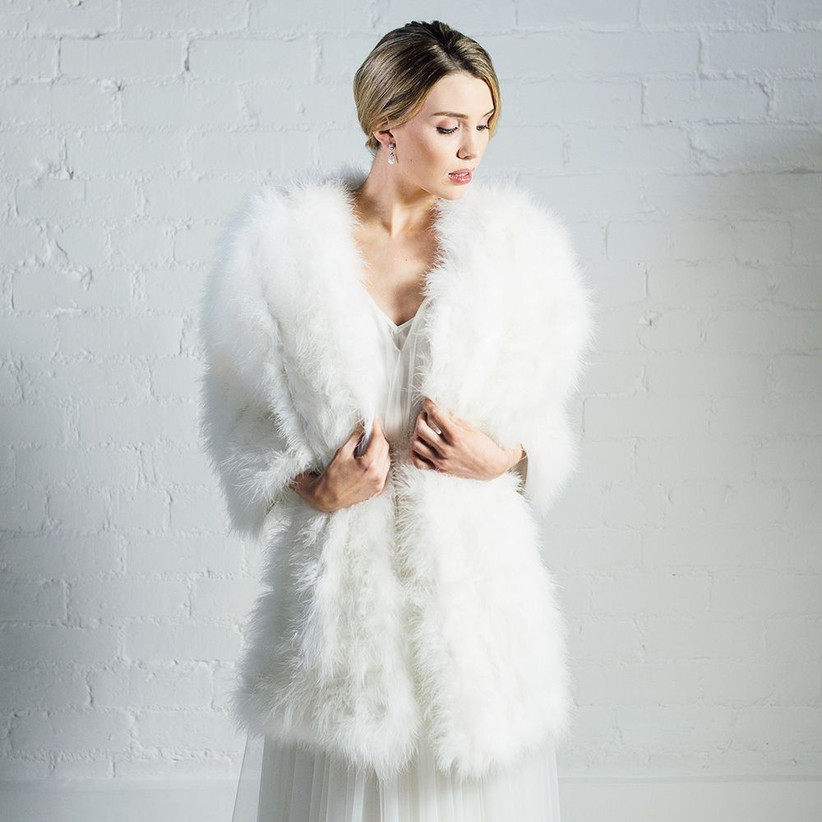 Getting married somewhere super chilly? This ultra-fluffy cape, which uses real marabou feathers, oozes Hollywood glamour and can be worn for years after your actual wedding.
14. Magnificence Bridal 'Valerie' Beaded Bridal Cover Up – £266.51, Etsy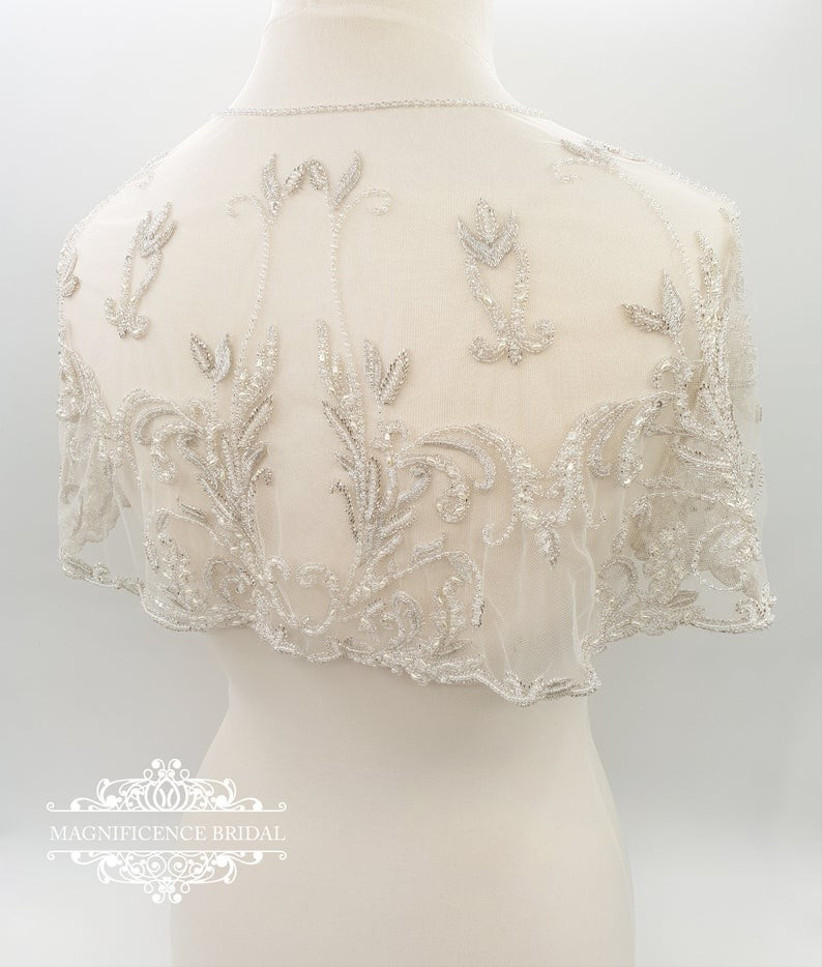 A gorgeous, immaculately beaded design, which wouldn't look out of place in the Great Gatsby, this ivory, soft tulle capelet would look stunning with a strapless dress. The closure can be worn at the front or back for versatility.
15. Hand Beaded Silver Capelet Cover Up- Jolie – £495, Britten Weddings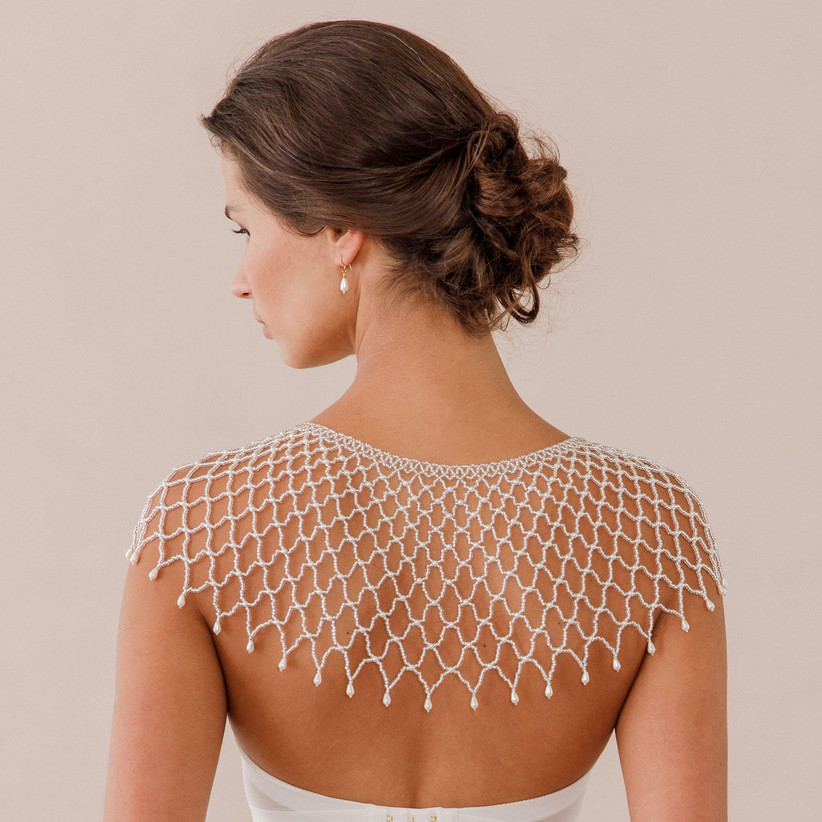 Another great version of the cape's little sister, this capelet is extra special, made with glass beads and silver beads.
16. Tulle Bloom Jacket – £225, Needle & Thread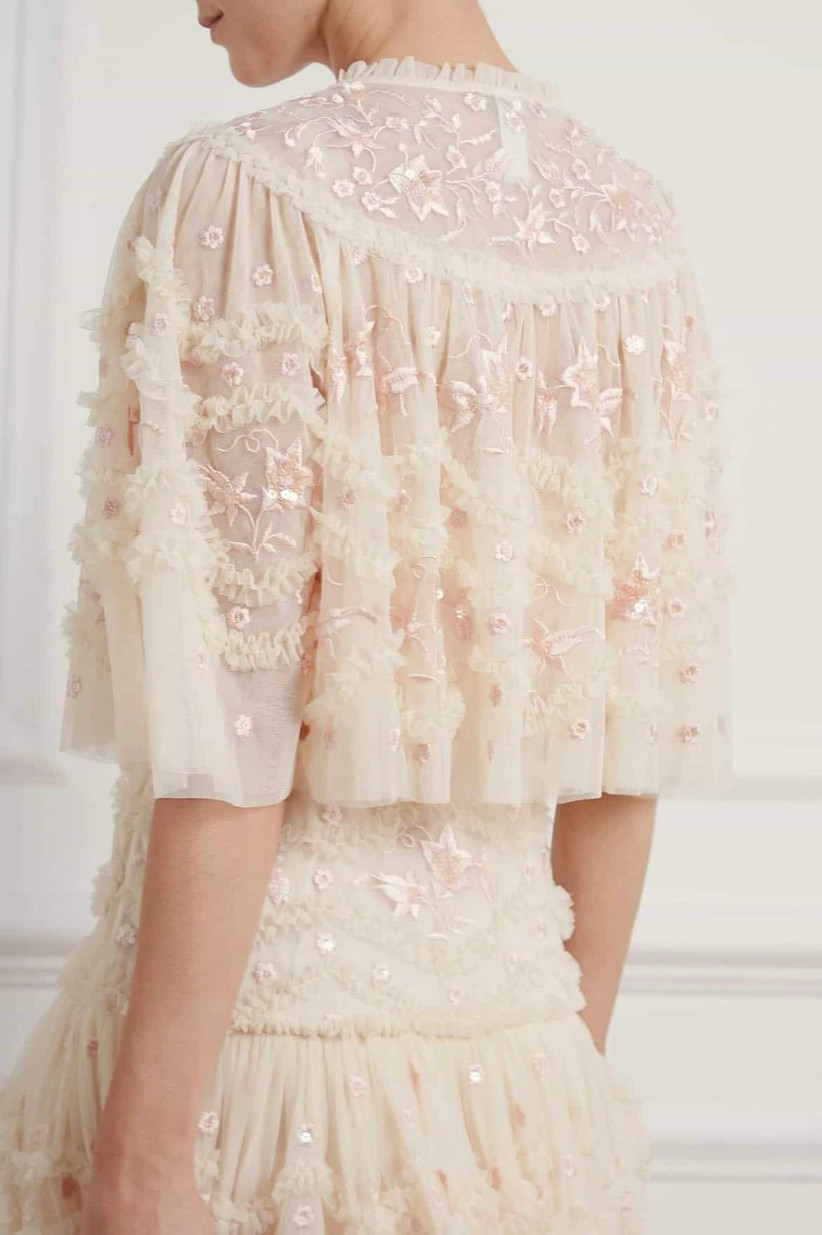 How amazingly pretty is this little number? You can continue to wear this cape jacket for years to come, and it works for bridesmaids or wedding guests also.
17. Gloss Maxi Bridal Cape – £325, Needle & Thread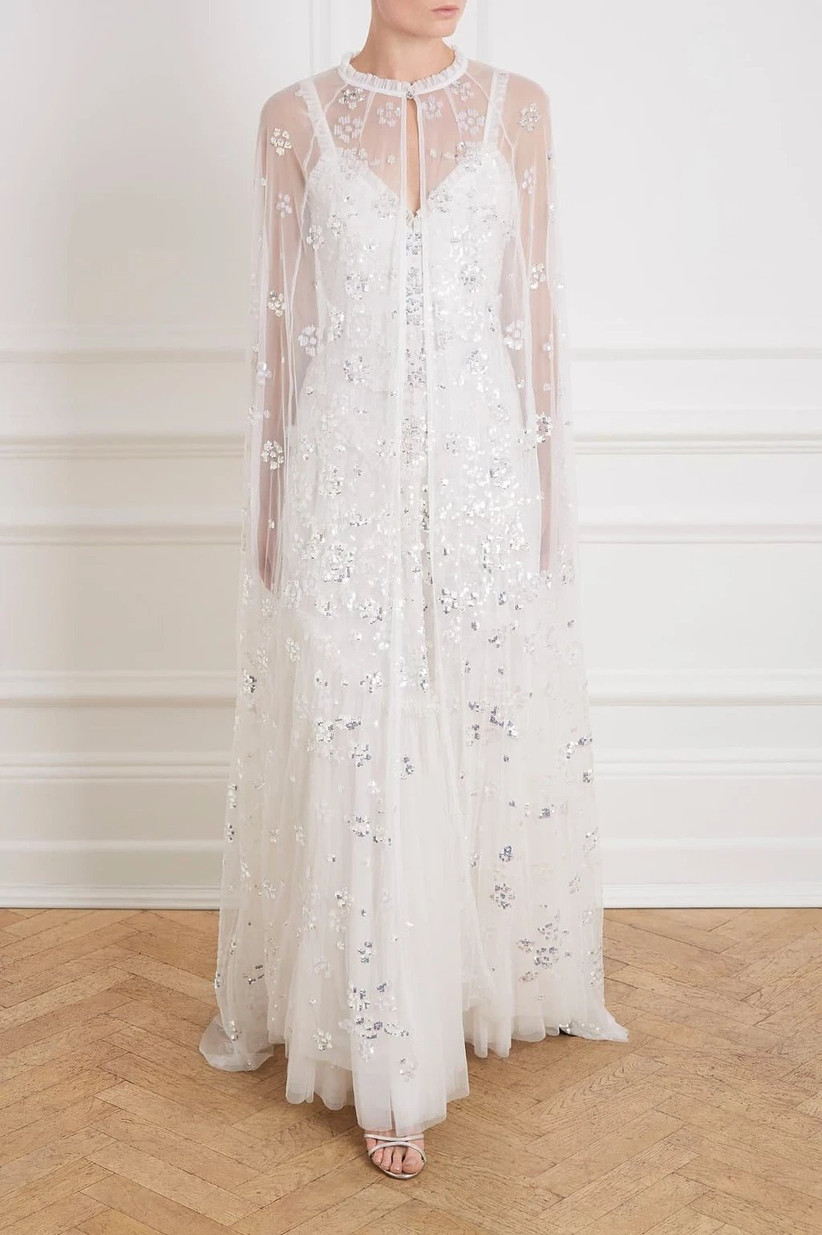 Want something that screams 'more is more'? Make it maxi, and wear an ultra-embellished cape like this one.
18. Jenny Packham Neva Sequin-Embellished Tulle Cape – £950, Net-A-Porter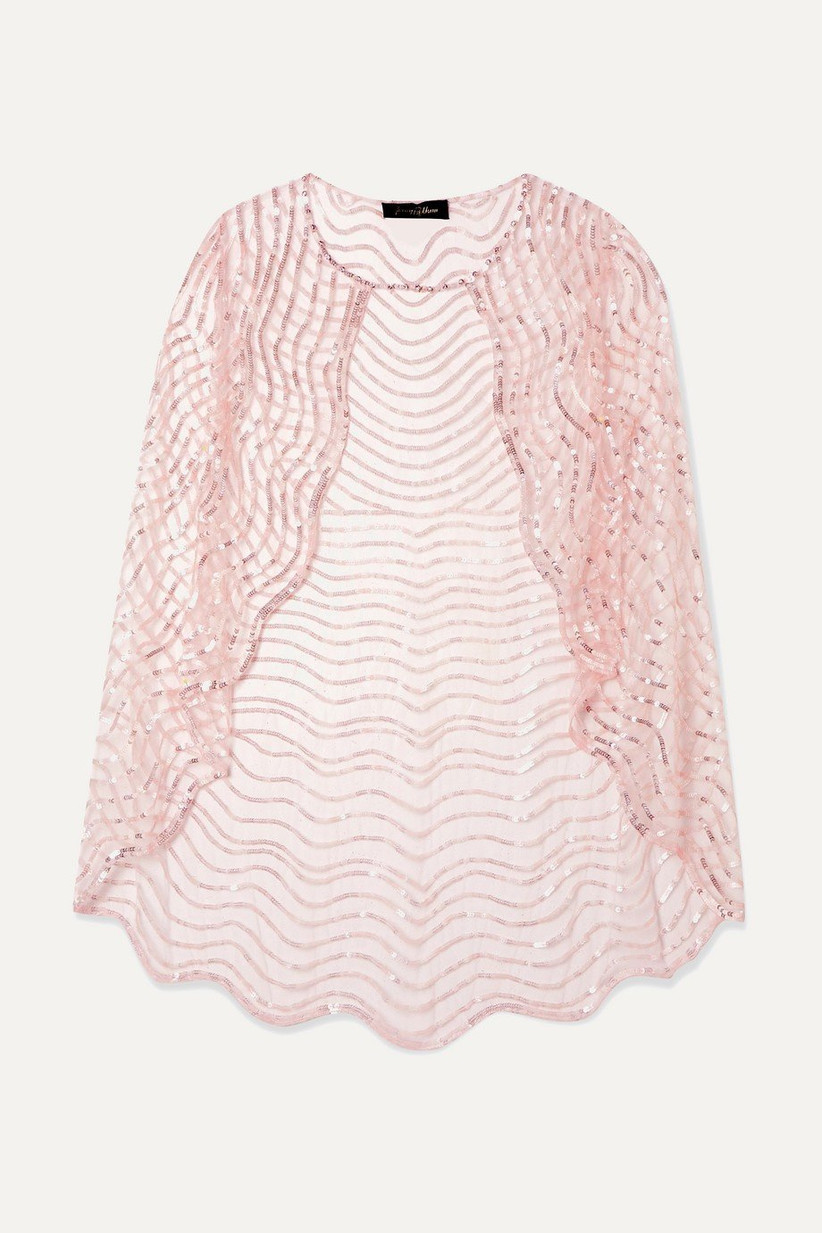 If you fancy something a little more colourful and embellished, opt for something like Jenny Packham's sequin number, which features crystals and blush tulle.
19. Lace Bridal Cape With Sequins – £81.99, Lacey Bell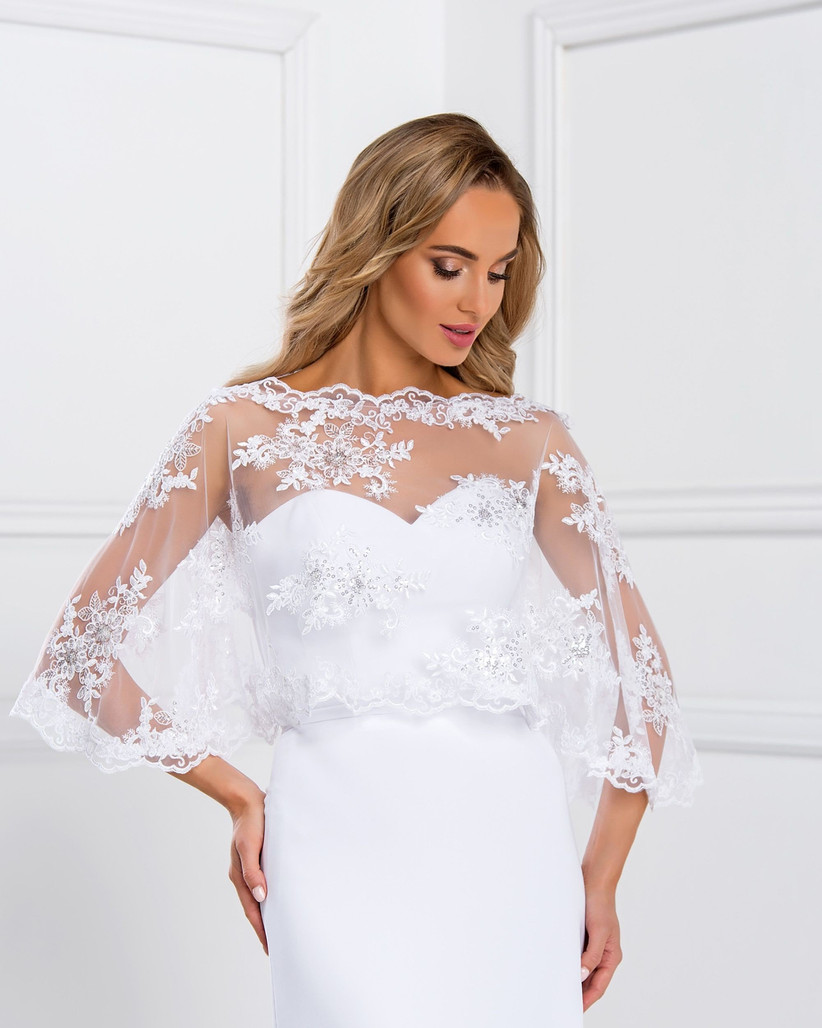 Sporting a plain strapless dress on your special day? Why not add this lacy cape on top for an extra edge?
20. 'Serenity' Elbow Length Barely There Cape – £98, Britten Weddings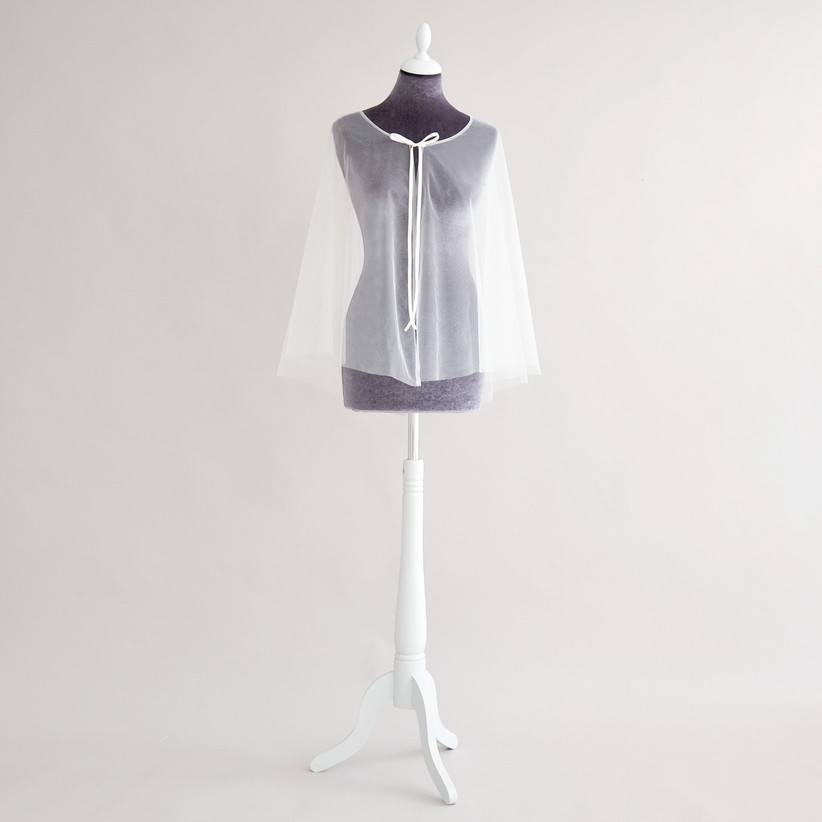 If you're after something super, super lightweight and delicate, this illusion tulle number is your dream cape. It closes at the front of the neck with an equally pretty ivory satin ribbon, adding a beautiful extra detail.
21. Tulle Bridal Cape With Lace – £70.99, Lacey Bell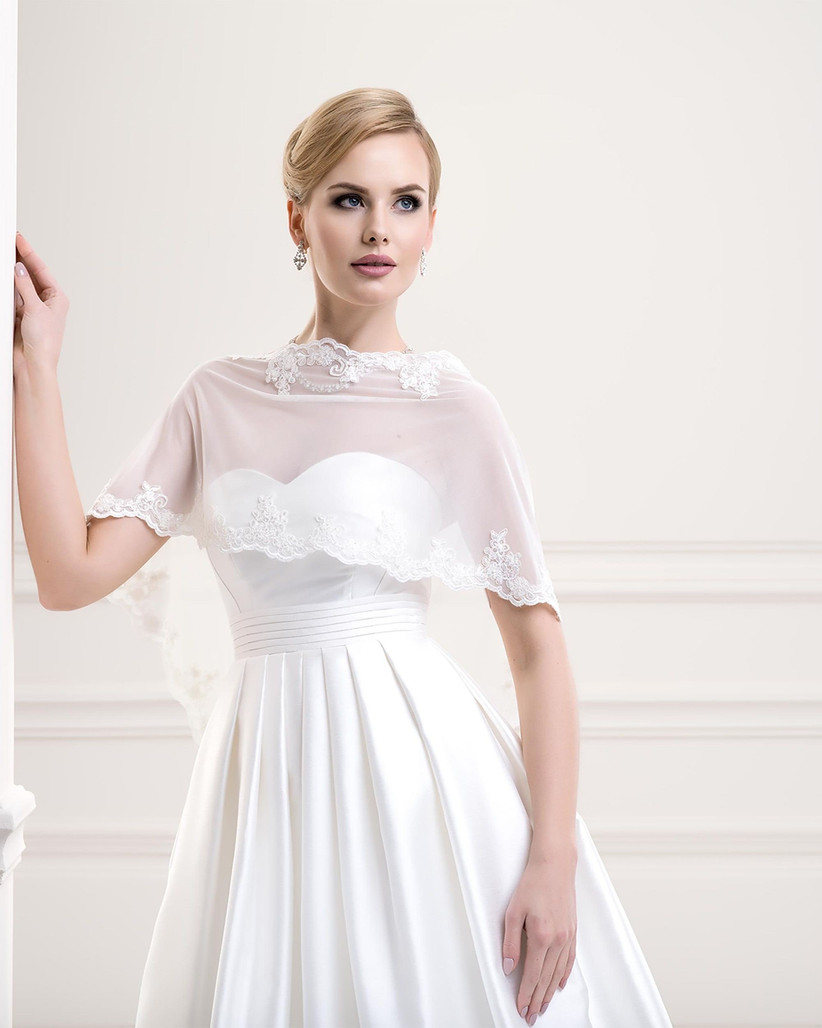 After something with a distinct vintage feel? This cropped design is incredibly romantic with a traditional vibe.
22. Chiffon Bridal Cape – £49.99, Lacey Bell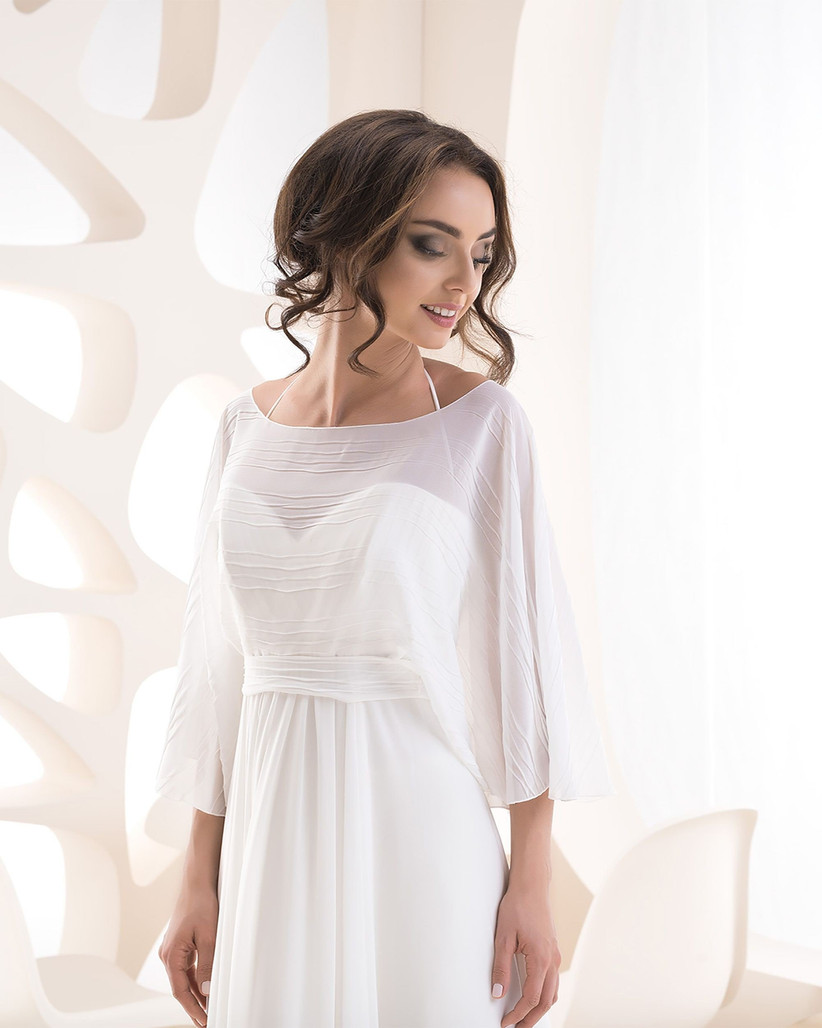 Worried about being overly warm if you're getting married in the hot summer months or abroad? This chiffon design is incredibly lightweight, so you can still wear a cape without overheating!
23. Adele Couture Designs Bridal Cape Cloak – £65, Etsy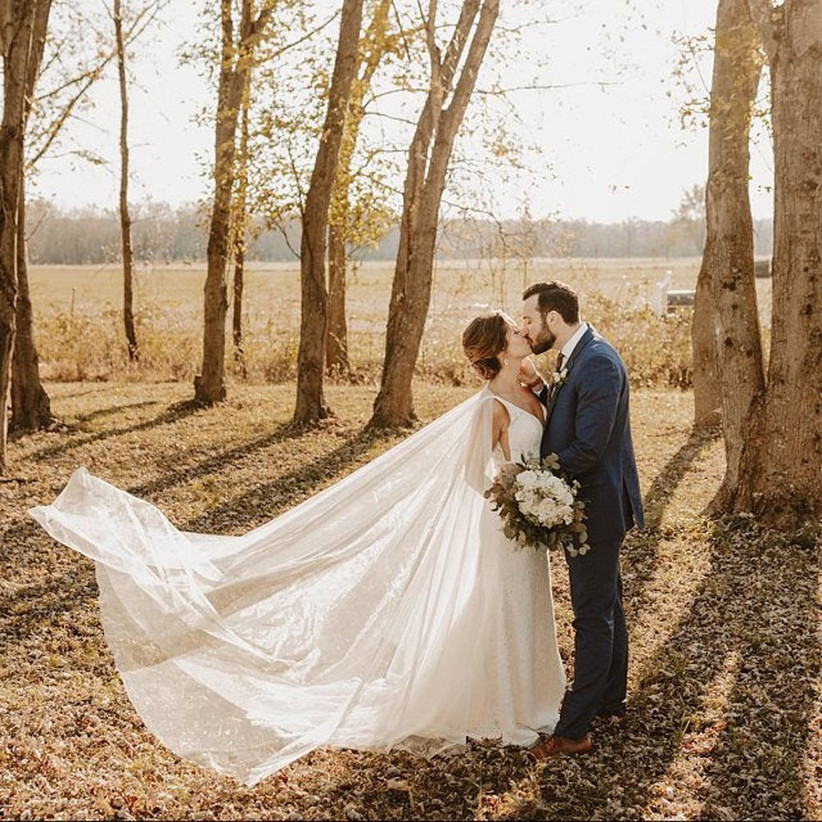 If your wedding dress is fairly low-key and simple, this standout long tulle cloak will add all the drama you need by simply throwing it on. It won't hide the back of your dress or your hair either.
24. Ivory Ostrich Feather Bridal Stole – £125, Liberty In Love

This ruffled feather design falls off the shoulders for a nonchalant feel, but is also highly glam and full of drama.
25. Maria Faux Fur Bridal Jacket – £99, Monsoon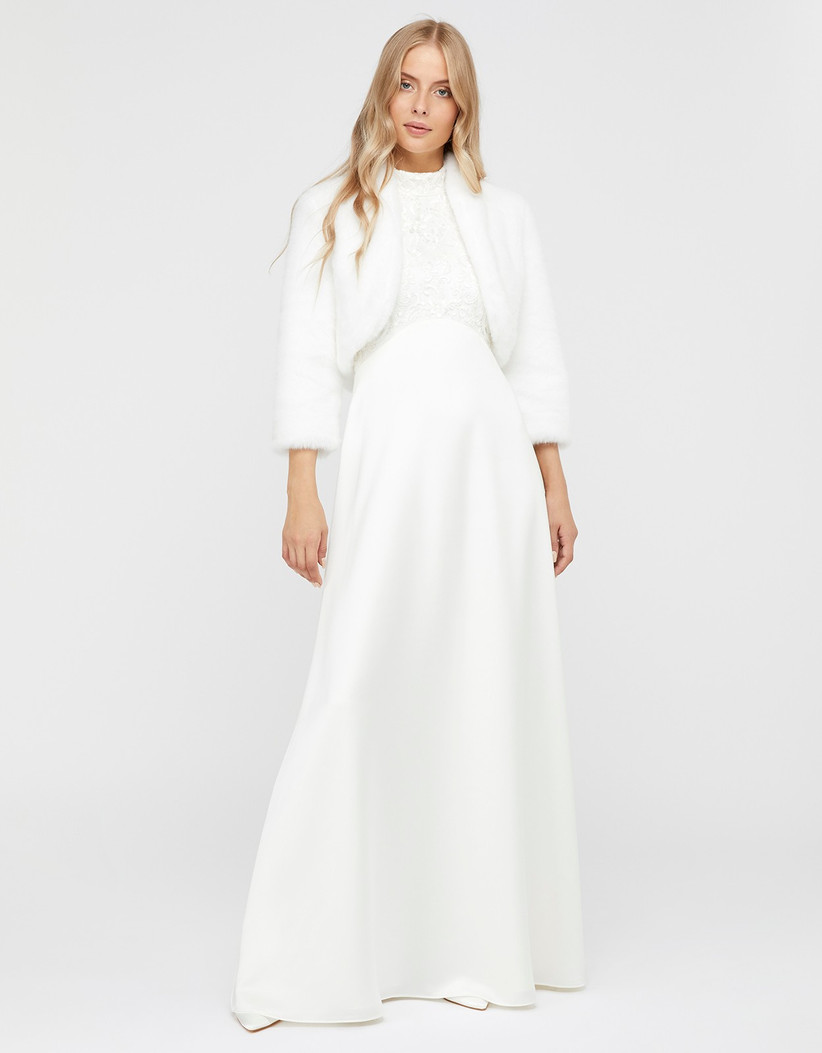 Made from plush faux fur, this has a satin lining and a cropped fit. It's open at the front, so you don't have to worry about covering up your beautiful dress. While not technically a cape, this jacket would look fab slung over your shoulders for some relaxed wedding photos in a cape-style.
26. Navy Feather Bridal Bolero Plus – £117, Liberty In Love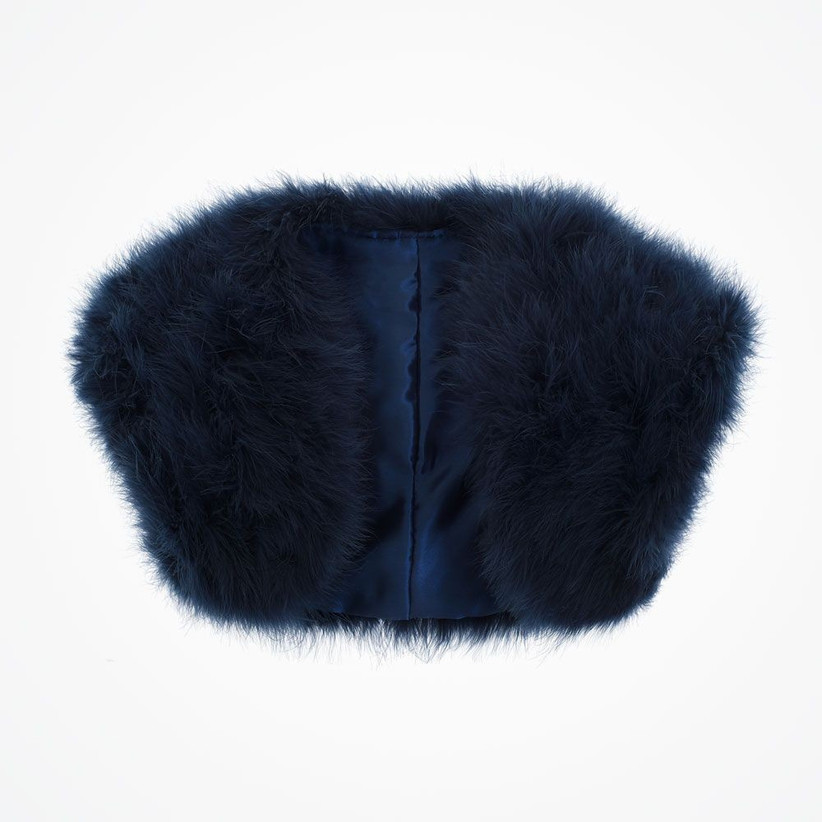 Made from real marabou feathers, this deeply-hued bolero feels both vintage and modern. It adds a touch of colour to an all-white outfit and is available in sizes 16-24.
27. Leilah Dotted Bridal Midaxi Cape – £300, Needle & Thread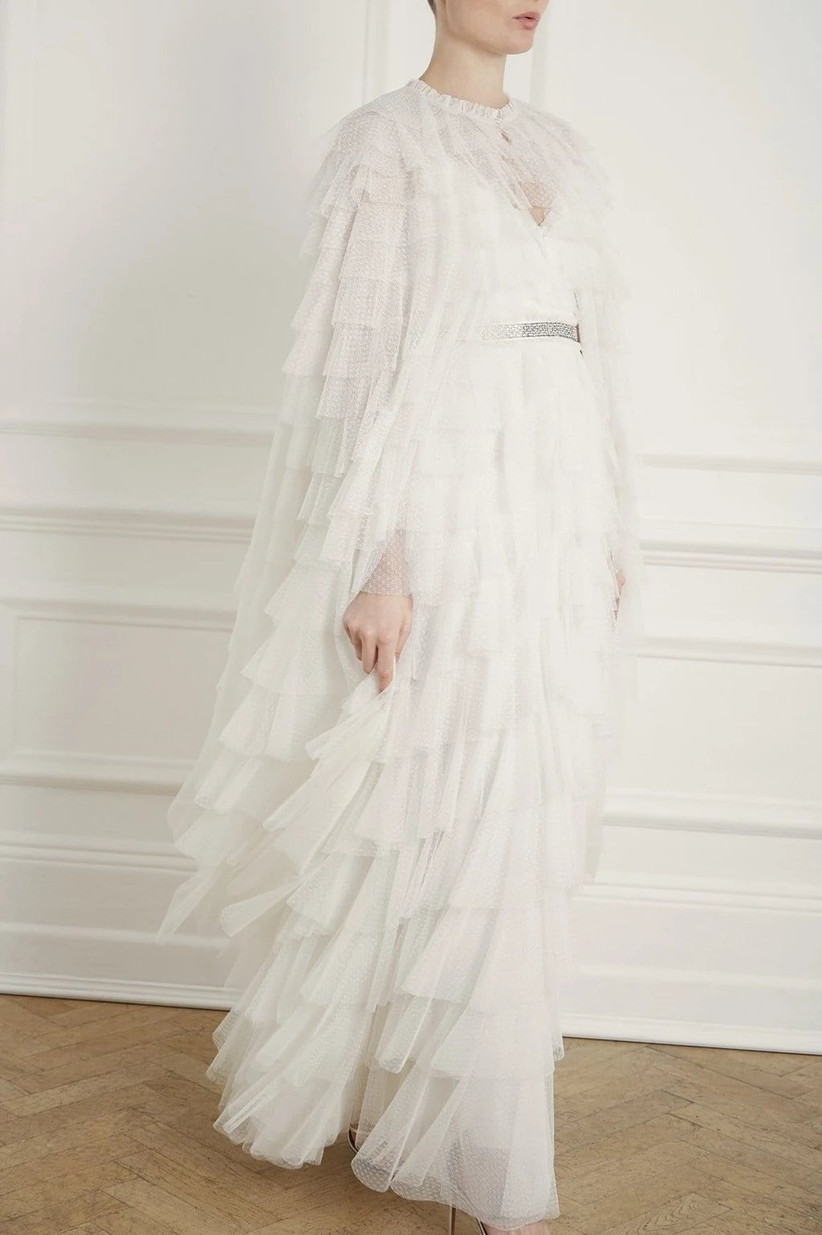 This standout cape has all the impact to jazz up a simple and pared-down dress or two piece. The ruffling creates gorgeous texture, while the midi length is super flattering on all.
28. Petunia Cape – £235, Needle & Thread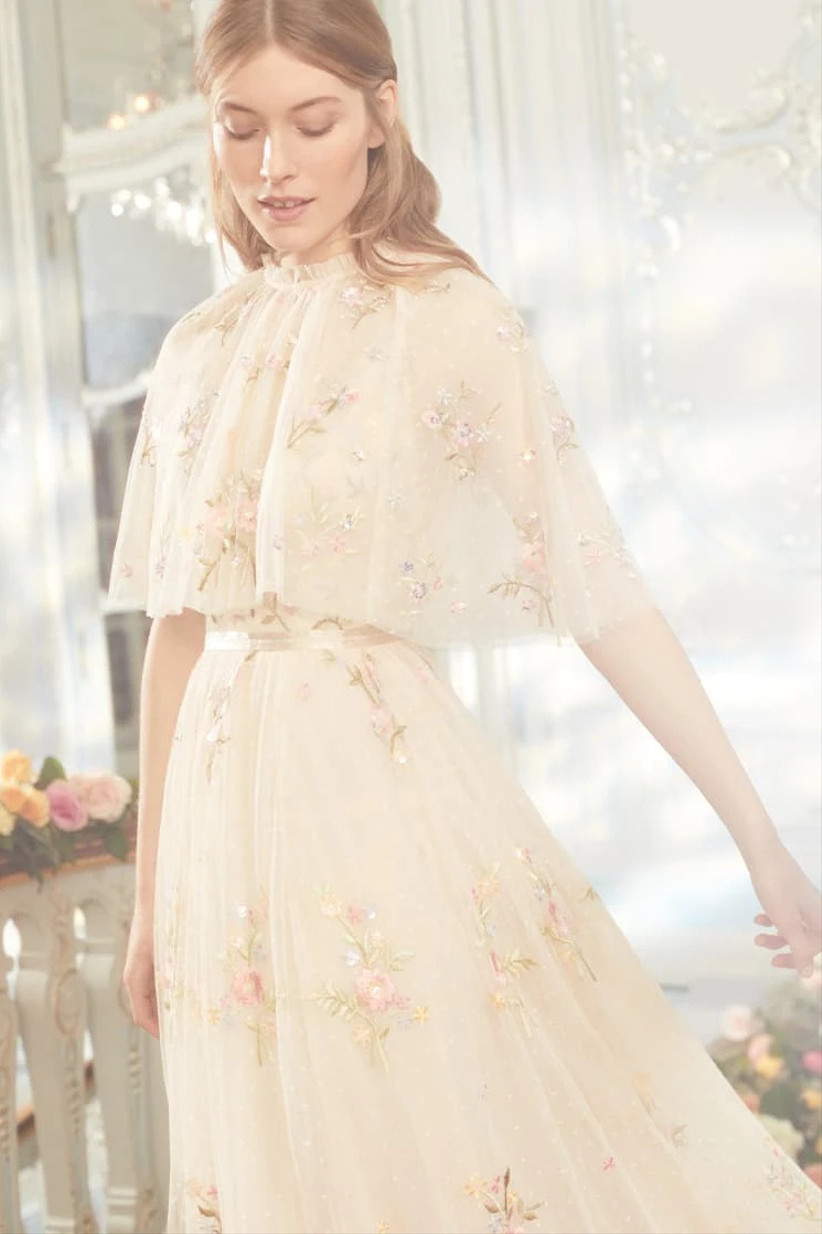 Inspired by Edwardian vintage artwork, this richly-embroidered tulle cape features a number of pastel hues, along with delicate floral detailing and iridescent sequins.
29. Zara Shawl in Ivory – £69, Ghost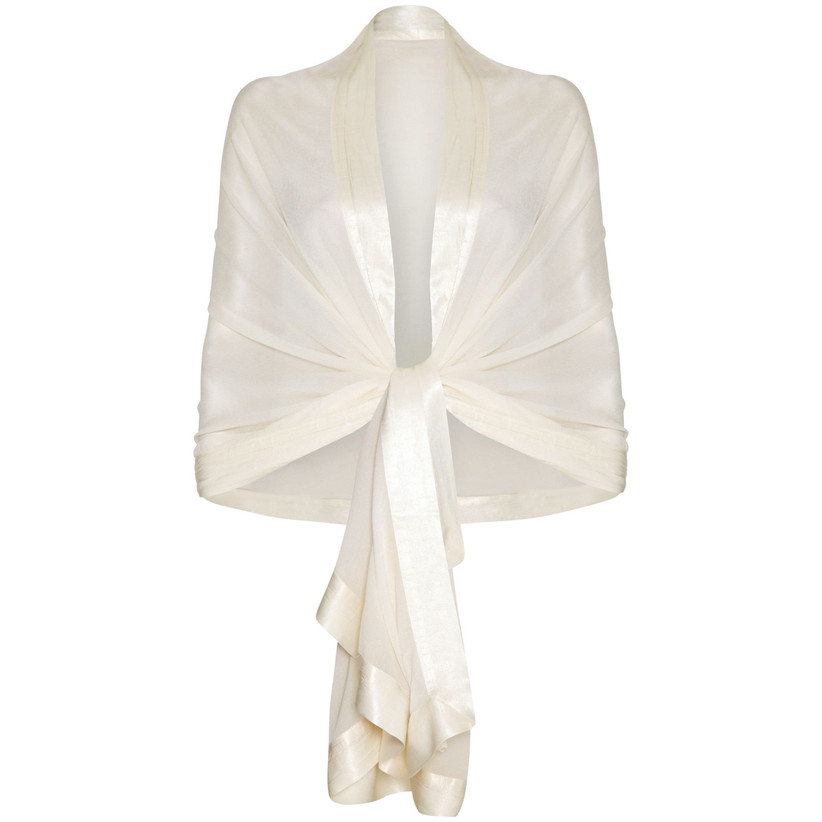 This piece can work as a cape, shawl, and thrown-on cover up, making it incredibly good value for money and very versatile. Continue to wear it after your wedding for special occasions.
Why not take some inspiration from these wedding dresses with secret messages? You could get a message stitched into a tulle cape!