30 White Bridesmaid Dresses That Won't Upstage the Bride
From Kate Middleton to Poppy Delevigne and Kim Kardashian, bridesmaids in white is a chic, subversive wedding trend. Here's some all-white ideas that won't compete with your wedding outfit…
We have included third party products to help you navigate and enjoy life's biggest moments. Purchases made through links on this page may earn us a commission.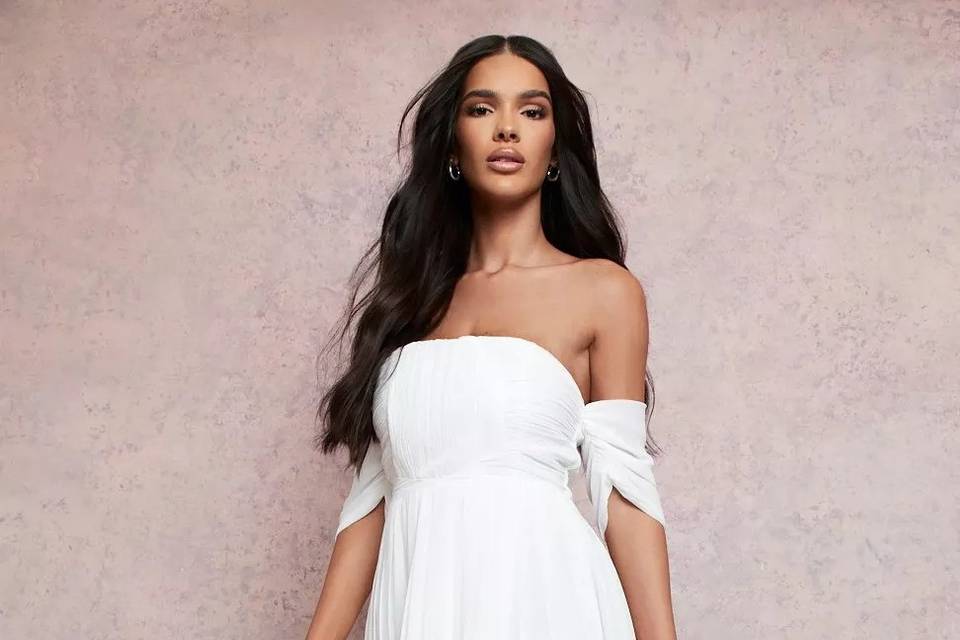 There's something fresh and oh-so-gorgeous about white bridesmaid dresses. They're unexpected, there's definitely no mistaking them for wedding guests, and it defies traditional wedding rules if you want to branch out from the norm.
"White is a really stylish approach to bridesmaid dresses and with monochrome and neutral wedding colour themes being everywhere at the minute, white bridesmaid dresses are a great way of modernising your wedding," says Alice Corcoran, Junior Dresses Buyer at Boohoo.
If you need convincing further, see Cara Delevigne in floaty Chanel at her sister Poppy's wedding, Beyoncé in a clean white slip at her sister Solange's wedding and, of course, *that* dress worn by Pippa Middleton at the wedding of William and Kate. Nicola Peltz also opted to dress her young bridesmaids, including Harper Beckham, in white for her big day and you can too as our edit includes the sweetest white children's bridesmaid dresses - they're a great option if you're looking for ideas for your flower girl.
Whether they're slinky, ruffled, polka dot or printed, white bridesmaids dresses are a modern choice that prove you needn't follow convention if you don't fancy it. If you're dreaming of a white wedding, look no further than this white bridesmaid dress edit…
Short White Bridesmaid Dresses
Black and White Bridesmaid Dresses
Children's White Bridesmaid Dresses
Long White Bridesmaid Dresses
1. One Shoulder Bodycon Dress – £85, Chi Chi London
One shoulder bridesmaid dresses are a flattering option and when styled in white give a gorgeous Grecian feel. This design from Chi Chi London is also available in green, blue and pink.
2. Maxi Dress – £75, Dorothy Perkins
If you're looking for plus size bridesmaid dresses, we adore this simple long white bridesmaid dress from Dorothy Perkins. It's the perfect example of just how fresh and beautiful a neutral bridesmaid dress can be.
3. Fine Knit Dress – £34.99, H&M
Square necklines are seriously on trend and this affordable white bridesmaid dress from H&M showcases one beautifully. It's crafted from a fine knit material so it'll keep your maids warm if you are having a winter wedding.
4. Embellished Bridesmaid Dress – £130, Boohoo
This dress from Boohoo is a bargain at just £130 for the amount of embellishments that adorn it. The flared sleeves and open back give it a relaxed vibe while the sparkling sequins keep it wedding-ready.
5. Pleated Bridesmaid Dress – £50, Boohoo
Another beautiful buy from Boohoo is this bardot white bridesmaid dress - the pleated layers of fabric that make up the skirt flow so elegantly and the off the shoulder sleeves are a pretty touch.
READ MORE: 14 Sumptuous Velvet Bridesmaid Dresses
6. Mykonos Dress – £165, Rewritten
This cold-shoulder dress from Rewritten is double-lined and VPL-proof, plus it strikes the perfect balance between fitted and relaxed. We adore it!
7. Joni Dress – £525, Rewritten
The Joni Dress is double layered, meaning you won't have to worry about what underwear you're wearing if you opt for this frock - a common problem when wearing white! Part of Rewritten's sustainable collection, the wide waist tie, draped sleeves and mini train are so flattering.
8. Berlin Dress – £160, Rewritten
Not only are square necklines on trend, they're universally flattering too! The Berlin Dress also has adjustable bow strapped shoulder ties which can be worn in a multitude of ways, making it a great option if you're thinking of having several bridesmaids and love to mix and match styles.
9. Delphine Dress – £195, Ghost
Ghost never fail to impress when it comes to timeless silhouettes and they've done it again with the Delphine Dress. Cut into a gentle V neck, it has a button-through front which allows a little leg to be shown while walking. Crafted from sustainable satin, it'll look and feel luxurious.
10. White Maxi Dress – £24, ASOS
The gathered detailing on this dress makes it a real standout summer bridesmaid dress. The leg splits give it a flirty look and will keep your bridesmaids cool and comfortable.
READ MORE: 25 Satin Bridesmaid Dresses
Short White Bridesmaid Dresses
11. Klarika Dress – £225, Ted Baker
White bridesmaid dresses don't have to be floaty and relaxed, we love how sophisticated a structured style like this Ted Baker number can look.
12. Lottie Lace Midi Dress – £350, Needle & Thread
Ethereal appliqué, floral embroidery, and frills – this is as extra as white bridesmaids dresses get. If you've got a boho wedding dress in mind this option from Needle & Thread brings the romance to your wedding party too.
13. Lace Long Sleeve Midi Dress – £95, Chi Chi London
Looking for lace bridesmaid dresses? Chi Chi London have you sorted with their short white bridesmaid dress that is cut in a romantic and feminine silhouette.
14. Halter Neck Shift Dress – £50, River Island
Contemporary brides will adore this modern take on a white bridesmaid dress from River Island. The shorter length gives way for some statement-making wedding shoes.
15. Lace Back Midi Dress – £45, Boohoo
This pretty piece from Boohoo reminds us of Marylin Monroe's iconic dress and we're obsessed. It looks just as gorgeous from behind as it does from the front as it reveals an all-over lace panel back.
READ MORE: The Most Iconic Celebrity Wedding Dresses of All Time
16. Dominga – £280, Grace Loves Lace
The most 'pinned' bridal brand in the world aces bridesmaids dresses too, particularly in the intricate bohemian lace that the companies' designs are so famed for. The Dominga has some gorgeous Latin spirit going on – the feathered bodice and hourglass shape create a sophisticated yet sexy feel.
17. White V Neck Midi Dress – £29.99, Dorothy Perkins
Simple, sleek and chic, this bridesmaid dress from Dorothy Perkins is ideal if you're planning a minimalistic wedding. It won't steal any thunder from the bride's gown but if you did want to dress it up then a little gold jewellery is the perfect pairing.
Off White Bridesmaid Dresses
18. One Shoulder Slip Dress – £39.99, H&M
This gorgeous satin one shoulder off white bridesmaid dress has a luxurious feel to it with a really affordable price tag. It's from one of our favourite high street fashion brands but it could be mistaken for designer.
19. Claudia Dress – £225, Ghost
Inspired by the 1930s, the Claudia dress from Ghost has a delicate Georgette bodice and draped cowl back that oozes old Hollywood glamour. The ivory colouring gives it a traditional, vintage feel.
20. Ivory Winslow Dress – £285, Reformation
An easy, breezy kimono-style white bridesmaid dress that suits every body shape and gives maids plenty of space to move on the dance floor. It's the perfect partner for big earrings and the light fabric is ideal for warm summer weddings.
READ MORE: 31 Beautiful Blue Bridesmaid Dresses
21. Pleated Dress – £34.99, H&M
How dreamy is this off white bridesmaid dress from H&M? If you deck your maids out in this pleated number they'll look so heavenly as they walk down the aisle!
22. Tie Back Maxi Dress – £199, Whistles
Sleek and sophisticated, Whistles have created a winner when it comes to this tie back maxi dress. It makes an effortless statement and its simple silhouette means it'll suit everyone.
23. The Georgia Dress – £463.70, Vanessa Cocchiaro
Gathered details give this simple satin gown an edge. It's at the higher end of the price spectrum, but we know your bridesmaids would be happy to wear this again at special occasions many times after the big day.
Black and White Bridesmaid Dresses
24. Mariella Dress – £250, Rat & Boa
Flouncy sleeves, chunky dots, a plunging neckline and frills aplenty – the Mariella came for a very good time. She'll swish flamboyantly from aisle to last dance and the curved seams ensure a perfect fit. It would also make a stunning wedding guest dress!
25. Lace Floral Midi Dress – £85, Chi Chi London
The black panelling on this lace white bridesmaid dress gives it a contemporary upgrade. We love the idea of pairing it with matching black accessories like this model has done.
READ MORE: 28 of the Best Black Bridesmaid Dresses
Children's White Bridesmaid Dresses
26. Baby Cancan Lace Ruffle Dress – from £52, Monsoon
We bet we don't need to say much to let you know why you should buy this adorable children's white bridesmaid dress from Monsoon. Available from 0-3 months to 2-3 years, it'll melt hearts.
27. Secret Garden Bodice Kids Dress – £175, Needle & Thread
The same can be said for this secret garden dress from Needle & Thread. The delicate floral details complement the pretty tulle skirt perfectly.
28. Lilybelle Long Sleeve Kids Dress – £195, Needle & Thread
This long sleeve children's white bridesmaid dress from Needle & Thread is embellished with sparkly sequins that'll shimmer and shine as little ones take to the dance floor.
29. Mini Maya Mesh Sequin Waist Dress – £45, New Look
New Look has some lovely and affordable options for children's white bridesmaid dresses - ideal for messy fingers! The metallic band on this tulle frock will look gorgeous with silver ballerina shoes.
30. Girls Lace Strappy Dress – £27.99, New Look
For bridesmaids who are a little older, consider New Look's lace strappy dress. Available for 9-15 years, it'll suit all kinds of weddings - from country houses to rustic barns.
Are White Bridesmaid Dresses Acceptable?
White bridesmaid dresses are totally acceptable and can actually complement a bridal outfit!
"I think they look great and don't take anything away from the bride as long as the dresses look different enough to the wedding dress," explains Alice Corcoran, Junior Dresses Buyer at Boohoo. "I especially think it looks great when bridesmaids wear different shades of white/off white or wear different shapes. We have some mix and match ranges launching for bridesmaids which are a great way of flattering all figures and helping all the bridesmaids feel comfortable throughout the day."
How Do You Style a White Bridesmaid Dress?
They key to styling a white bridesmaid dress is to keep it minimalistic and chic. "For bridesmaids I would keep it simple with white or silver shoes and bag, clear accessories are also a great way to avoid taking anything away from the bride," recommends Alice.
Looking to shop for more wedding fashion online? Check out the best high street bridesmaid dresses