A Musical, Rustic Barn Wedding in Essex with an Iconic Charlotte Balbier Dress
With a beautifully rustic backdrop and a soundtrack provided by talented friends, Hannah and Enoque's day hit all the right notes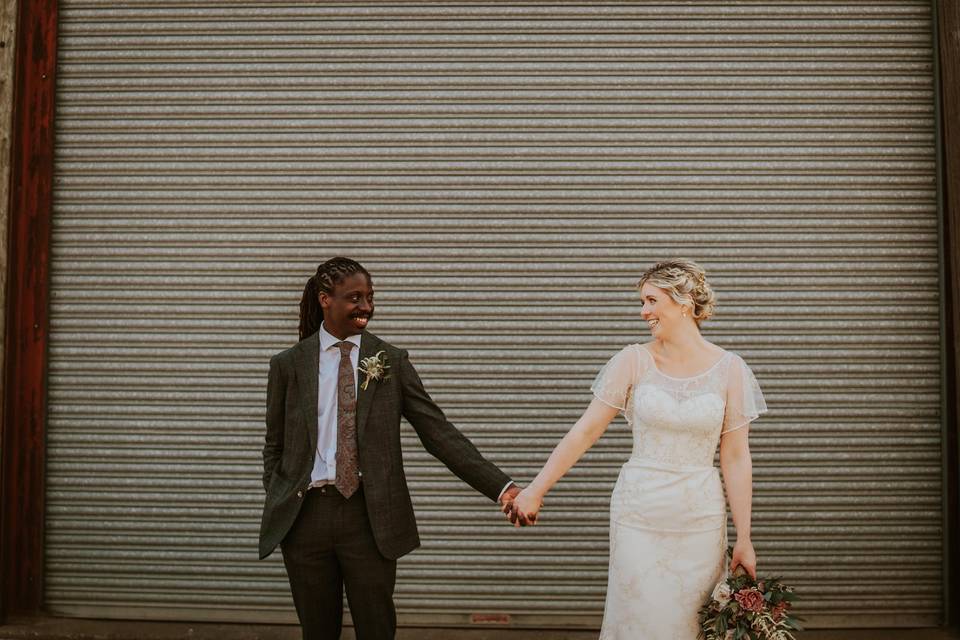 Hitched Featured Supplier:
It's no surprise that it was music that brought professional musician Enoque and music teacher Hannah together. Back in 2014, the couple met through mutual friends before finding out that they were heading to the same music festival.
While they share a major musical passion, in almost every other way the couple are total opposites.
"We're as opposite as a couple could ever be but we make it work, the phrase 'opposites attract' is an understatement for us!
"Extrovert meets introvert, festival head meets 'seated at the opera', spontaneous adventurer meets Excel spreadsheet enthusiast, travel addict meets home-bird, thrill seeker meets playing it safe… it's a comical number of differences - but we make it work and life is so much more exciting because of it!"
One of their most exciting chapters yet was Enoque's thoughtful proposal. One October day in 2019, Hannah and Enoque set out on their usual walk along the Thames Path to the meadow when Hannah noticed a familiar face among the bushes.
"I noticed Enoque's best friend Jon hiding in a bush (a six-foot something man crouching behind a bare autumn bush was a hilarious sight!) but before I had time to process what was going on, Enoque led me around the corner where there was a picnic laid out with one of my favourite Eva Cassidy tunes playing in the background.
"It was very picturesque, and very private nestled between the beautiful autumnal trees and bushes. Enoque pointed to an envelope in the middle of the blanket, written on it were the words 'you said I had to ask permission first…' and inside was a selection of pictures of Enoque with my mum, with my grandparents and with my dad - all of whom live three hours away in different parts of Norfolk.
"When I turned around to react, Enoque was on one knee and asked me to marry him. It was one of the very first times I ever recall being speechless - my first response was 'Is this actually happening?' and he said 'Yes, it's happening', so I exclaimed 'Of course I will!'."
The couple planned to say 'I do' just six months later but the pandemic intervened leading to a legal ceremony in 2021 and finally, the big celebration seen below.
Filled with fun, laughter and, of course, music, Hannah and Enoque's special day was more than worth the wait.
Credit: Inline Film
The Wedding Fashion
Hannah's gown was an unexpected find from ex-sample and pre-loved bridal studio, Something Old Something New in Norfolk.
"I tried on about eight gowns in the studio before the lady said: 'I do have one more in the cupboard which just came in, it's very different to what you want and quite unusual, but if you'd like to try it you'd be very welcome to' - and that was that!
"The designer is Charlotte Balbier, the dress is from her Iscoyd Park collection inspired by her own wedding day and named after her wedding venue (which you can view here). My dress 'Iscoyd Park' I believe is actually one of the designs worn by Charlotte Balbier on her own wedding day.
"The dress fit beautifully, there was no alteration needed. Compared to other dresses I put on, this one just felt like 'me' - I don't know how to explain it. I had a small tear in my eye - so did my mum - the colouring really suited me and it showed off my figure without being too overt. I felt really beautiful - and that was without any hair and makeup on at all, so I knew it was definitely special."
Hannah paired her gown with pearl earrings and a pearl and gold hairpin. A braided up-do and some natural glam makeup completed the look.
READ MORE: Browse our selection of pearl wedding dresses and pearl wedding shoes.
Groom, Enoque, wore a two-piece wedding suit from Suit Supply.
"He didn't want to go traditional (like tails or bow ties) because it's not like him to be old-school, he wanted to be a modern groom. The suit itself was made out of pure wool and had a subtle check pattern that could only be seen up close. Enoque liked the subtlety of it and the clean cut, he said it felt amazing to wear and the quality of the fabric felt gorgeous against his skin."
For Enoque, accessories were a huge part of his look, with one item holding particular importance.
"Enoque is a man of many rings and he certainly wasn't going to leave them behind for such a special day! So along came the big lion ring, the dove ring, the Russian ring, an old silver band that was his very first ring as a teen and the onyx pendant. The rings hold a lot of symbolism for him as well so he felt he'd be doing a disservice to himself if he didn't keep his natural jewellery on for the big day.
"He loves silver, so everything is silver! He also had silver cufflinks with his initials on and a ringed earring with a small dangling crucifix in his left ear.
"Enoque also never goes anywhere without his Ray-Ban sunglasses - so they were out too."
The Wedding Ceremony
The couple chose a Christian Church of England style ceremony but as they had already legally married, they chose to say 'I do' in the Barns at Lodge Farm's stunning Granary, rather than a church.
"The ceremony was such a joyful celebration of our love and marriage. We based it on the church of England ceremony but added some things in to make it more 'us'. We asked our friend Akhtar to lead the service for us and to guide us in our wedding vows. As we're both musicians the day and the ceremony had to be full of music and we were so pleased to work this into the ceremony.
"We had some friends and my brother play as a small band with a small acoustic set up (violin, keys, cajon, acoustic guitar and three voices). They did the hymns/worship songs in a really contemporary style (Blessed Assurance, Amazing Grace and Waymaker), they were very upbeat and got the whole crowd singing their hearts out - it was great!
"Our friend Vicki did a short wedding reading from the bible which led to another friend Joel doing a short talk about the types of love expressed in the bible, and the best type of love (unconditional agape love) we can move forward with in our marriage. We had our friends Polly and Michael pray for us and our life together too.
"Two of the most special moments in the ceremony were when our wedding party did performances for us. My bridesmaids Natalie and Tonye, along with another friend Aaliyah, did the most gorgeous rendition of Let Praises Rise in three part harmony.
"It's one of my favourite songs and definitely gave us goosebumps - it was absolutely stunning. It was also really special to watch our friend Josh with my brother Sam perform a duet of one of Enoque's favourite Mumford and Sons songs."
The Wedding Reception
Following the ceremony, the couple continued their celebrations at the Barns at Lodge Farm, using the mix of rural and industrial buildings as the backdrop for their photographs and festivities.
"We loved that there were multiple spaces to use, that we could have a ceremony in a beautiful rustic timber-frame barn wedding venue, a drinks reception in an outdoor courtyard with festoon lights and hay bales, a wedding breakfast in this huge old grain store with corrugated iron and concrete, and drinks from a very tastefully decorated bar.
"We really made good use of everything throughout the day, using the different spaces for the different parts of the wedding.
"Another perk of using the Barns is that they partner with Occasion Queens so that you get an on-the-day wedding coordinator - but they do so much more than this. We were introduced to the amazing Nina very early on as soon as we'd booked the venue, and she has done so much for us in these past few years to support us with planning, but also with postponement and everything that comes with us.
"She has so many incredible bits of inspo as well and the networks and contacts to make it happen too.
"One month before the wedding day, Nina took the details of all of our suppliers and made a very comprehensive plan of the day so that everything would run smoothly. On the day itself she was a machine, the day couldn't have been in more capable hands. It was such a relief to not have to worry about anything and just relax and enjoy the day we had spent so long dreaming of."
As the barns are dry hire, the couple were able to make their day truly personal with their own choice of caterers and their favourite tipples.
Personalised wedding cocktails were served up alongside a delicious menu of sharing platters prepared by Caiger & Co.
"The food throughout the day was incredible. Caiger & Co did such a fantastic job for us - from canapés in the courtyard with the drinks reception, to a magnificent sharing feast on the tables for the starters and mains, a beautifully laid out dessert table and then the tastiest night time treats of chicken burgers and chips. Everything was divine and the portions were perfect."
The Décor and Special Touches
Working with a palette of dusky rose, gold and dark green, the venue was sprinkled with rustic touches. Foliage was utilised on the banquet style tables along with candles and fairy lights for an ambient feel.
A semi-naked wedding cake was served as the centrepiece - the design beautifully complimented the botanical wedding theme.
"We had an almost naked two tier cake with a small heart etched into the side saying 'E & H 4 EVA' as a little in-joke. The wedding cake flavours consisted of a top layer which was earl grey loaf (the only sweet thing Enoque will eat!) and the a bottom layer of carrot cake (my favourite!).
"We cut the cake at the end of the drinks reception as a way to get everyone's attention ahead of going into the wedding breakfast. It was then cut up and served as part of the dessert table which meant it was all eaten - not a single slice left to take home."
The Entertainment
"We are musicians with many talented friends so we called in all the favours for our big day.
"After the ceremony in the granary (rustic barn area) we had an outdoor drinks reception in the courtyard with a live brass band performing in a little covered shed with fairy lights.
"There was a lot of space for people to mingle in the sunshine and have a drink and a dance - it was great! Enoque even got involved for a song and switched with the drummer to do his own performance with them which was a lot of fun. Sweet Caroline was a definite highlight.
"Whilst this was all going on we had organised for a professional worker from This is Bash to run some games on one of the surrounding fields. Kids can often be left out of weddings or not catered for and we wanted to make sure our littlest guests had as much fun as possible and that we had plenty of ways to entertain children at the wedding!
"We'd bought them all wedding-related activity packs as well to complete throughout the wedding breakfast, including a sticker pack to give out awards to different guests for the best dressed and best dancer - it was a lot of fun for everyone. Any adult that received a sticker felt very honoured.
"In the evening, after the wedding breakfast, we provided a game for the adults - a tug of war in the courtyard which became very competitive. So many people got involved and it was great to see so many friends and family working together to win - I'm pleased to say the bride's side won.
"After the tug of war, just before the evening reception we did some sparklers for everyone which was a nice touch and provided a moment of calm after the big game."
Band, Vivid, and DJ, James Macnaughton, kept guests entertained and on their feet for the rest of the evening. Vivid kicked off the party with an acoustic rendition of La Vie En Rose for the first dance.
The Suppliers
Feeling inspired by Hannah and Enoque's beautiful wedding? Check out these articles for more inspiration: