Tracey & Martin's Church Wedding With Friends, Family & Assistance Dog Martha
Tracey and Martin decided to tie the knot after more than a decade together, and celebrated their wedding day with friends, family and of course, Martha the assistance dog!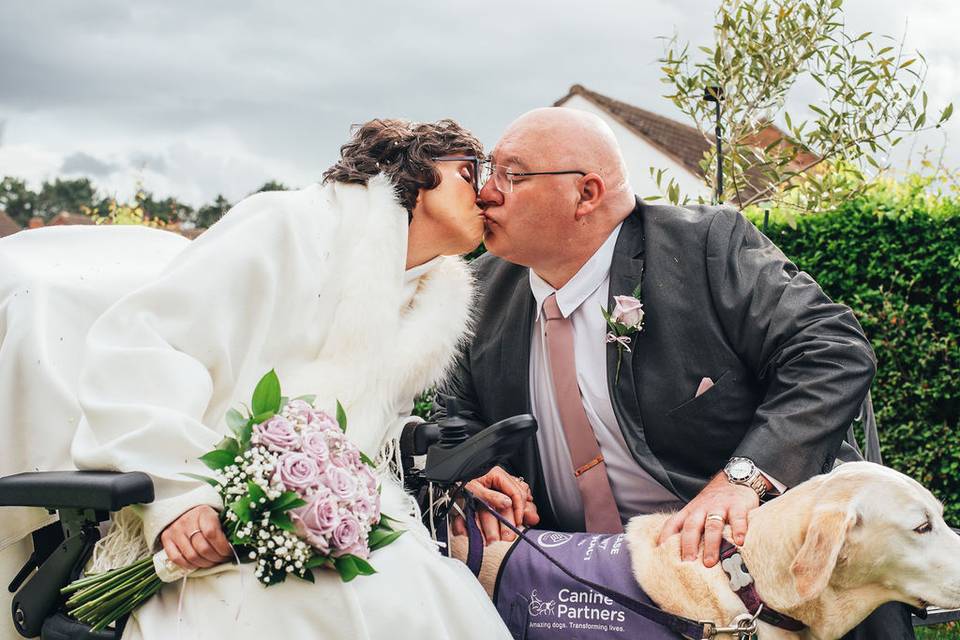 Tracey and Martin had the wedding of their dreams in May this year, surrounded by friends, family and Tracey's adorable assistance dog, Martha.
The couple wasted no time tying the knot, saying 'I do' exactly a year to the date that Martin proposed. But unlike their engagement, Tracey and Martin's relationship has several years under its belt - these two have been by each other's side and enjoying life together for more than a decade now!
Telling the story of how they met, Tracey said, "Martin and I met on the internet, but we lived quite far apart. Martin lived down in Devon, and I had my adapted bungalow up in Northampton."
Long distance relationships can be a challenge, but this wasn't something these two had to face, as, within just three months, Martin already had plans to up his roots in Devon and move in with Tracey.
"We were planning to get married at the start, but you know what it's like - 'life' gets in the way. Mart had problems with his flat, he was dealing with moving his stained glass window business from Devon up to Northampton - and before we knew it, we were celebrating 10 years together!"
The Proposal Plans
Despite being together for more than a decade, Martin still had marriage on his mind.
"I had no idea Martin was planning to propose, as we'd already reached our 10 year anniversary," explains Tracey, "But he'd already asked for my dad's blessing!"
Martin enlisted the help of the couple's 'dust fairy', aka their cleaner, and the ring hunt began. "Martin and I have a 'dust fairy' to help us hoover and do jobs around our house, so Martin had asked her to try and find out what ring size I was.
"He then asked me if I wanted to go to dinner. Sadly for him, my response was 'Not particularly, can we just have a takeaway instead?' - I'm really not foodie.
"But poor Martin had bought me a really unique heart shaped ring box which, when you opened the it, shone a light on the ring inside. He decided to delay the proposal, as a takeaway didn't have the same sort of ambiance as a romantic restaurant."
Although Tracey had no idea what her partner Martin was planning, the case wasn't the same for her friends and family, who were all dying for Martin to pop the question.
"He'd told everyone he was going to propose, so people kept asking him whether he'd done it yet every time they saw him."
The Engagement Story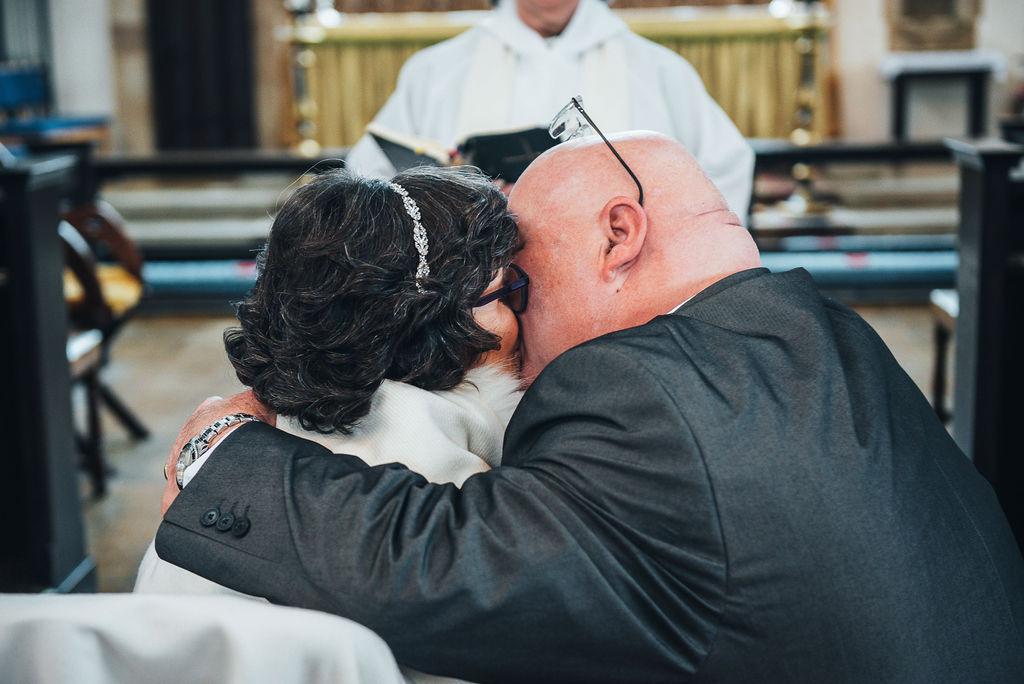 Determined to make Tracey his wife, Martin found the perfect moment to pop the question.
Describing how it happened, Tracey said, "One morning, he was getting ready to go to the Frank Bruno Foundation - a place that's supported Martin for years through anxiety, depression and all round health care and fitness - they also really helped give him the confidence to propose.
"Before we left, he asked me if I wanted to go outside and sit on the patio for a while. Well, I was perplexed. Afternoons with cups of tea and cake were perfect for sitting on the patio - but we were both in the middle of getting ready to go out!
"But Martin was determined, so we went and sat on the sunny patio, and listened to the birds tweet. We chatted for a while, and then he reached into his pocket and brought out a box."
For most people, that would be the moment you realised you were about to get engaged, but not for Tracey, who was still completely unaware of Martin's romantic plan.
"Funnily enough, my first thought was, 'Oh earrings, I haven't had a new pair for years!' - but of course, it wasn't earrings. I don't remember what he said next, just that he opened the box and I saw the ring. I was so shocked, my jaw fell open and then I heard him say, 'So, is that a yes or a no?'"
The Beautiful Ring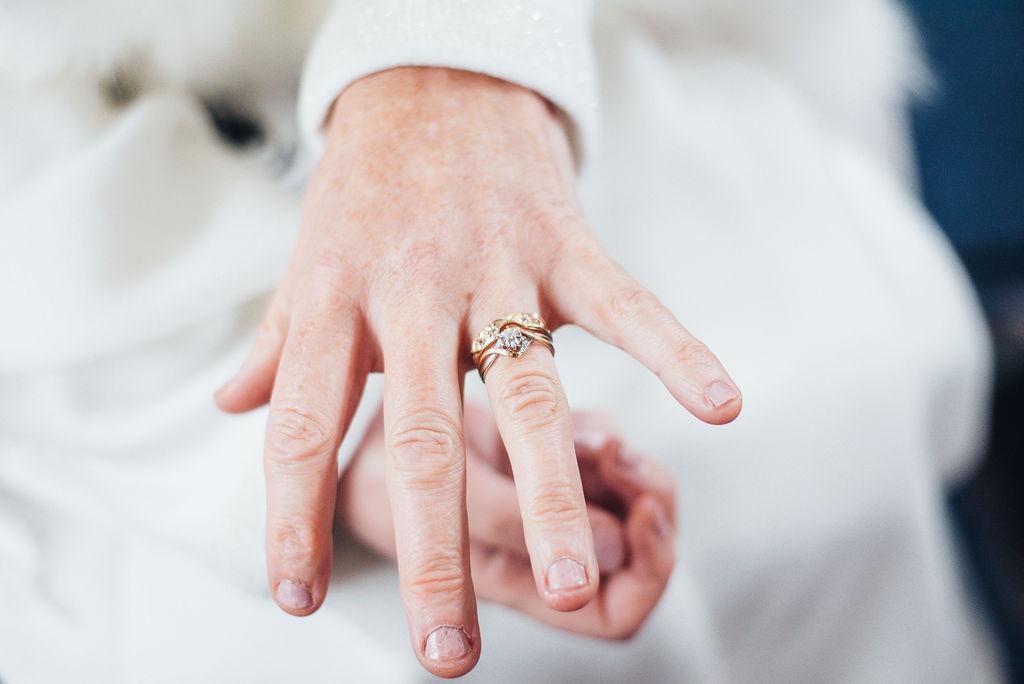 When it came to choosing Tracey's engagement ring, Martin went with his gut, and it more than paid off.
"Martin bought my engagement ring online and had been poring over his screen for ages trying to find the perfect one. After a lot of looking, he kept coming back to this one diamond ring. He said to me that he felt a 'God nudge' every time he went back to it - and I can get on board with that!
"It's just perfect for me."
A Custom-Made Warm Wedding Dress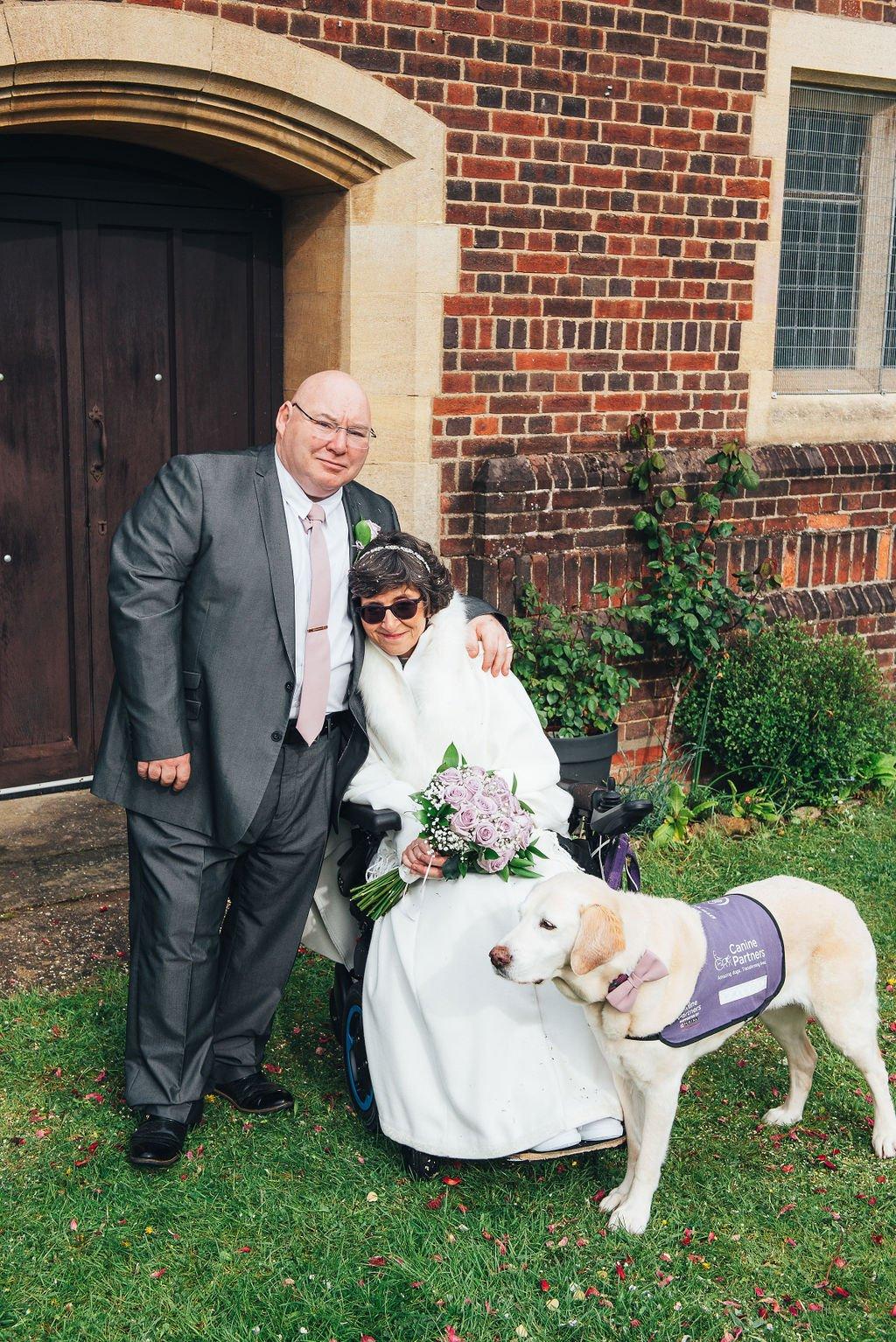 When it came to what she wore on the day of the wedding, there was one thing on Tracey's mind - the weather.
"People who know me always laugh at the number of layers I wear, as I'm always cold. I tend to wear about eight layers, plus a hot water bottle most days, I'm just hopeless when it comes to the cold."
Finding a warm wedding dress was no easy feat for Tracey, as she explains, "Google seemed to think that when it comes to long sleeved wedding dresses, lace counts. Not for me it doesn't! I can't wear three thermal vests underneath lace sleeves and not have them show through."
With off-the-rack wedding dress designs just not fit for purpose for what Tracey needed, she looked closer to home for solutions.
"Luckily for me, my sister Karen and niece Rose offered to make a wedding dress for me that would be warm enough.
"They had a real mother-daughter bonding experience during the process, and had a whale of a time shopping in London for fabric, and WhatsApp-ing warm samples for me to choose from - very technical as you can see!
"And so they made me a long sleeved wedding coat that was lined and fitted with four warm layers underneath. My friend then leant me a fur-lined shawl - so with that, and my custom-made dress, I was lovely and snug."
Assistant Dog-Friendly Accessories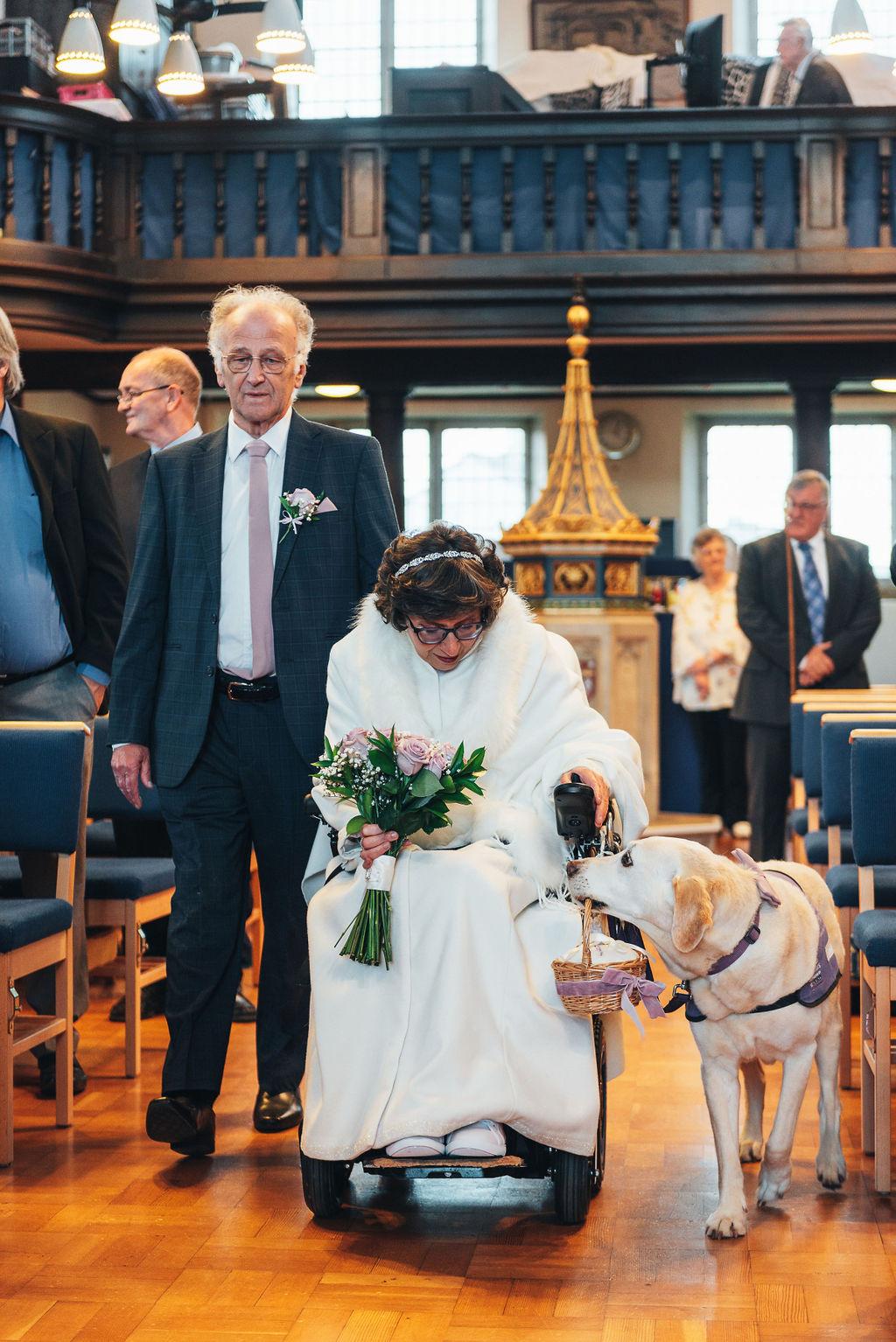 When it came to accessorising her look, Tracey kept things simple with her gorgeous engagement ring, and a pair of Austrian crystal droplet earrings as her only sparkles. But for her, there was one other accessory she absolutely had to include - and it had everything to do with her right-hand-pooch and assistance dog, Martha.
"I usually wear a bum bag when walking Martha, that contains all my doggy treats, poo bags, whistle and other necessities. But I was told I couldn't wear one on the big day - not even a white one. Why not?"
Martha being by Tracey's side was always non-negotiable, so she had to find a way around it, and solved it with a cheeky eBay find.
"I needed a treat bag on the day - that's Martha's wages after all. So in the end, I found a small white bag on eBay, my niece tells me it's a Pandora charm bag. I changed it so it could hang from my wheelchair and was easy to access."
Martin's Wedding Day Look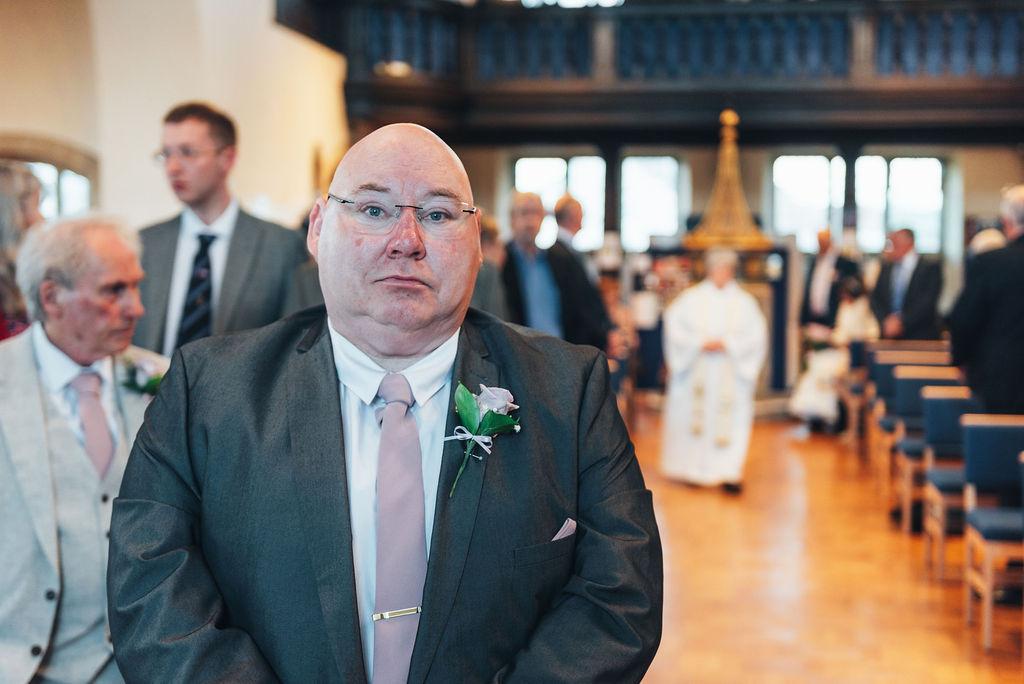 To match Tracey's look and feel, Martin picked a great wedding suit colour for his wedding day debut.
"We both thought that a charcoal grey coloured suit would really compliment our colour scheme, and fortunately Martin already had a smart grey suit which he wore on the day."
What inspired Martin's wedding suit accessory was actually the cake topper which the couple had made.
"Sarah, who modelled our cake topper, styled Martin with a triangular handkerchief in his pocket, which led him to begin research on how to fold a triangular handkerchief. He really wanted to match the cake topper - I told him he didn't have to, but he was determined."
Accessories-wise, Martin kept things smart and simple with his watch, and of course, his wedding ring, and he, the best man and the father of the bride all wore matching ties and handkerchiefs in a lilac rose gold colour which matched Martha's doggie bow tie - all from Swagger and Swoon.
For hair and makeup, Tracey said her dad offered his services, explaining, "Martin has no hair, but my dad did offer to polish his head for him for the special occasion!"
Nearest and Dearest
Tracey and Martin were surrounded by their closest loved ones on the day of their wedding.
"My sister Karen and her daughter Rose who made my dress helped me get ready on the morning of the wedding. I can't stand, so I'm not sure how I wouldn't have got a long dress on without them. My friend Paula came to do my hair, and Annie did my makeup and tied the flowers onto my wheelchair-accessible car."
For Martin, the need for a best man led him to reconnect with an old friend.
"Martin's best man was his childhood friend who he hadn't seen since school. They reconnected over the last year and have spent hours talking on the phone during that time - but it wasn't until the day before the wedding that they saw each other for the first time."
The Miracle Transportation
When it came to organising their wedding transportation, Martin and Tracey had a dilemma on their hands.
"Our wedding was at 4pm on a Friday, which completely clashed with school traffic. After a long search, we realised that all wheelchair accessible vehicle taxis (WAVS) were completely booked up and contracted for the school run.
"I really didn't want to hire an expensive limo to take me just a mile down the road. We enquired everywhere - even with the local undertakers who's accessible vehicle driver was out of the country on that day.
"In the end, we sent a plea to our local BBC radio station and the morning presenter, Bernie Keith, read out our dilemma, asking if anyone knew of a wheelchair accessible car that could get me to the church."
In a miracle turn of events, the radio presenter called Tracey and Martin with some really good news.
"Bernie phoned us to say that a man named Mark had called in to say that, despite not having a car, he had a disabled wife himself and knew how to safely clamp a wheelchair to a car. He said that if we could find a car, he would drive us to the church - and even wear a suit!
"So, my WAV had a wash and brush up, flowers were ordered to attach to the car - which was done by my friend Annie - and Mark came to our rescue."
A Sentimental Church Wedding Ceremony & Reception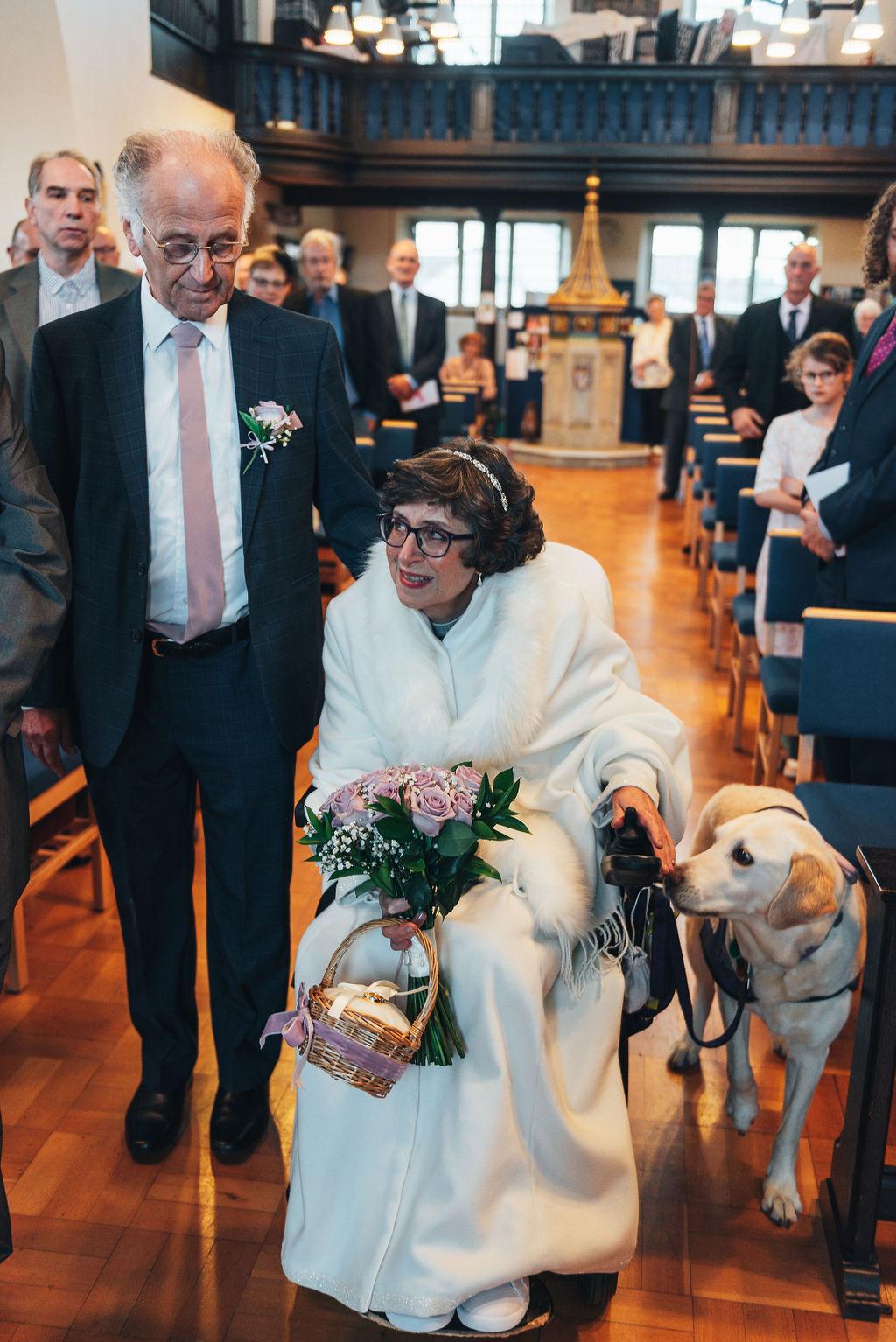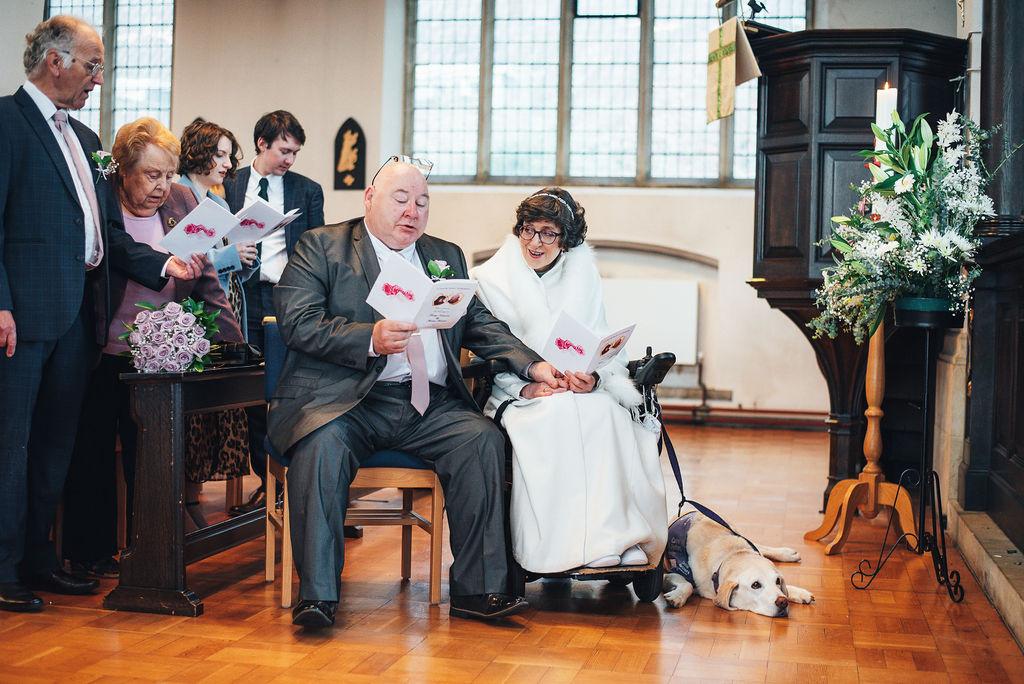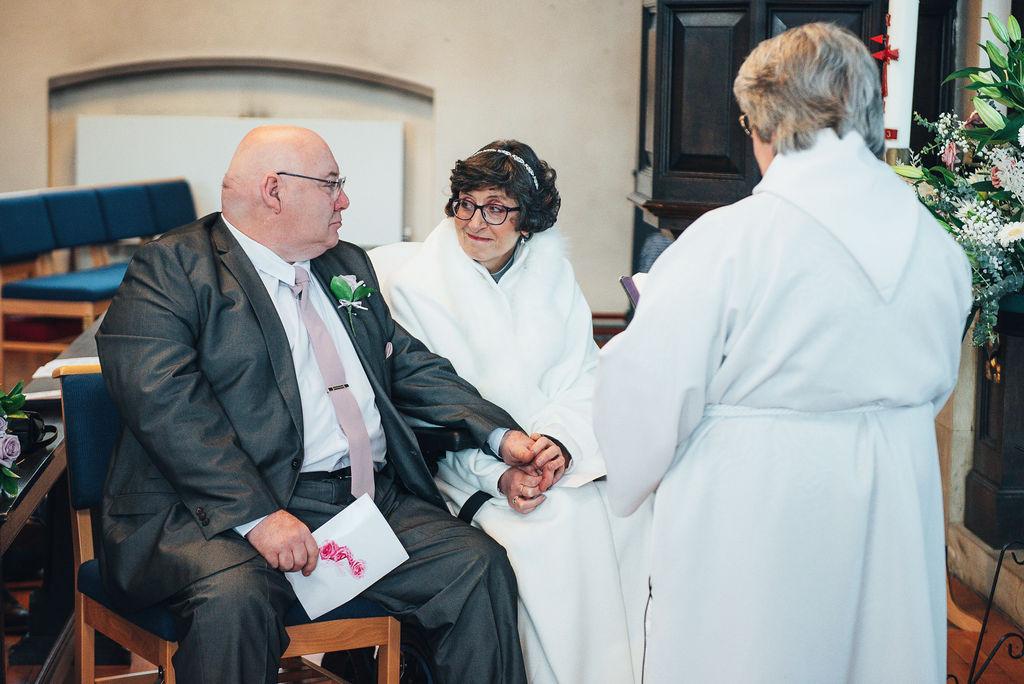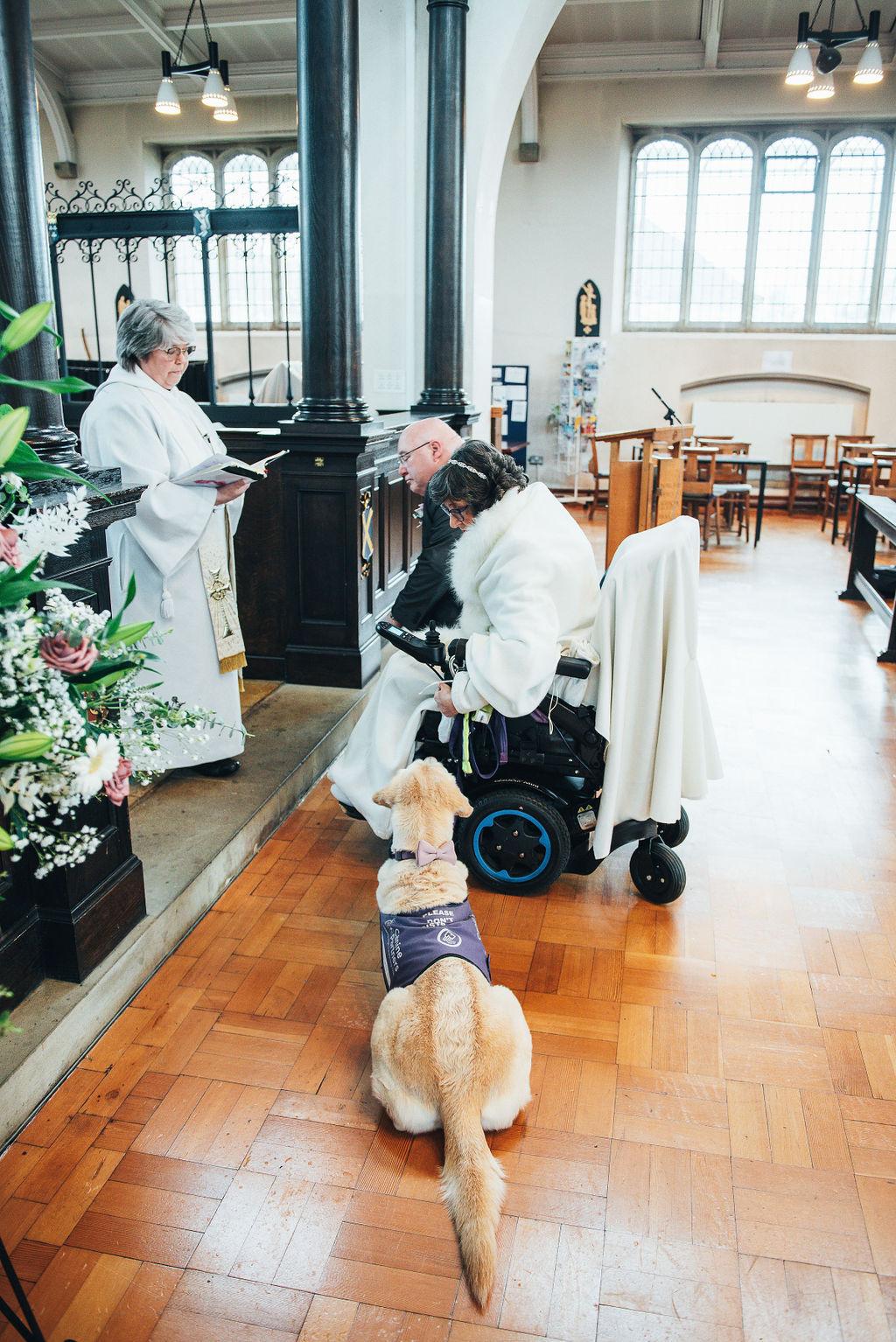 Tracey and Martin got married at their local church, with a reception at the church hall which was just a short walk away.
"Martin and I had a Church of England wedding ceremony, led by Rev Judy Evans who I've known for years. Because of my MS causing me such mobility issues, we now have Communion brought to our home, which still connects us to the church, though it's not quite the same.
"The thing I loved most about our wedding venue was that it felt like I was coming home, having spent such a long time not being able to go there. Martha and I walked down the aisle together with my dad, while the organist played Canon in D Major by Pachelbel."
The couple exchanged wedding rings which were both bespoke. Tracey's was an beautiful gold diamond wedding ring which was adapted to fit around her unique engagement ring by The Jeweller's Workshop, and Martin wore a made-to-measure ring by the same people.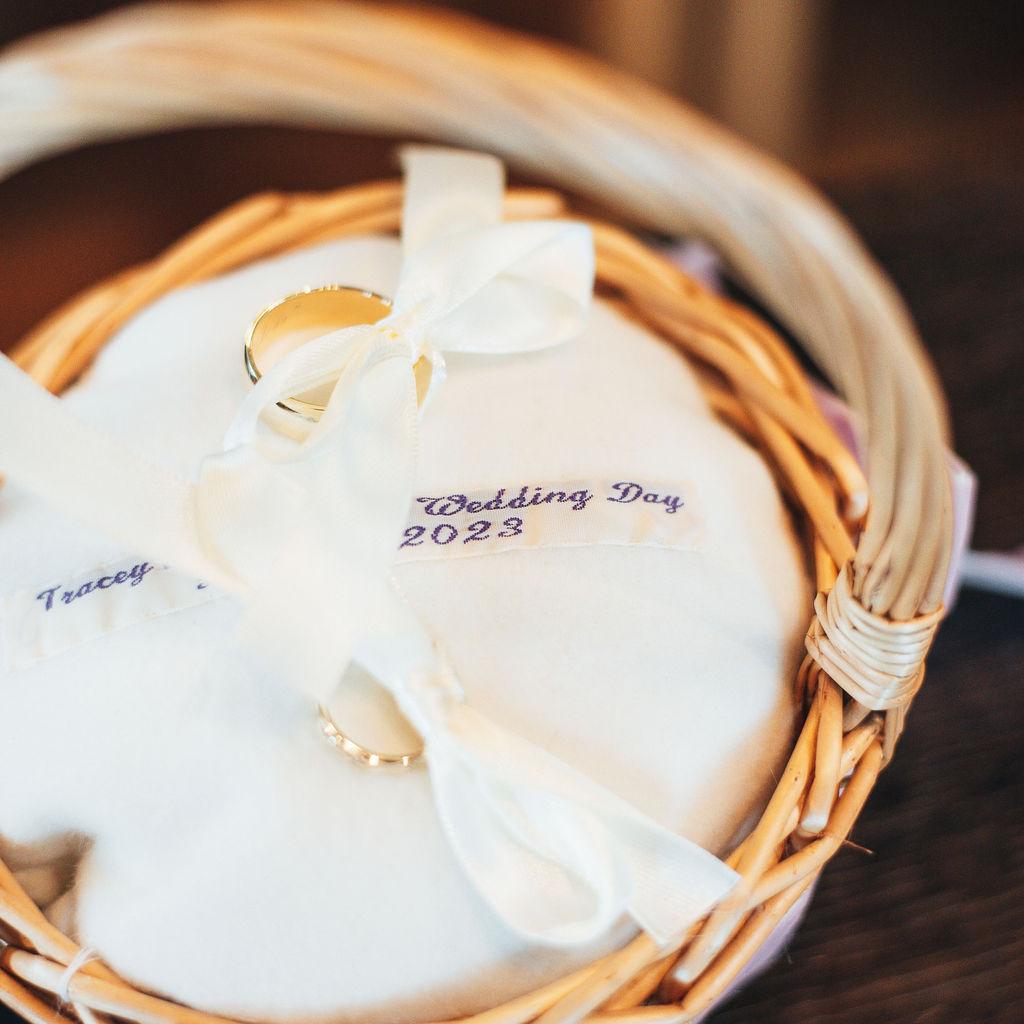 Not only was the ceremony venue significant for the couple, but the reception food had meaning to it, as well.
"We had a buffet with a 70s theme, in honour and memory of Martin's late mother who would have loved it - even the cheese and pineapple hedgehog!"
The Special Details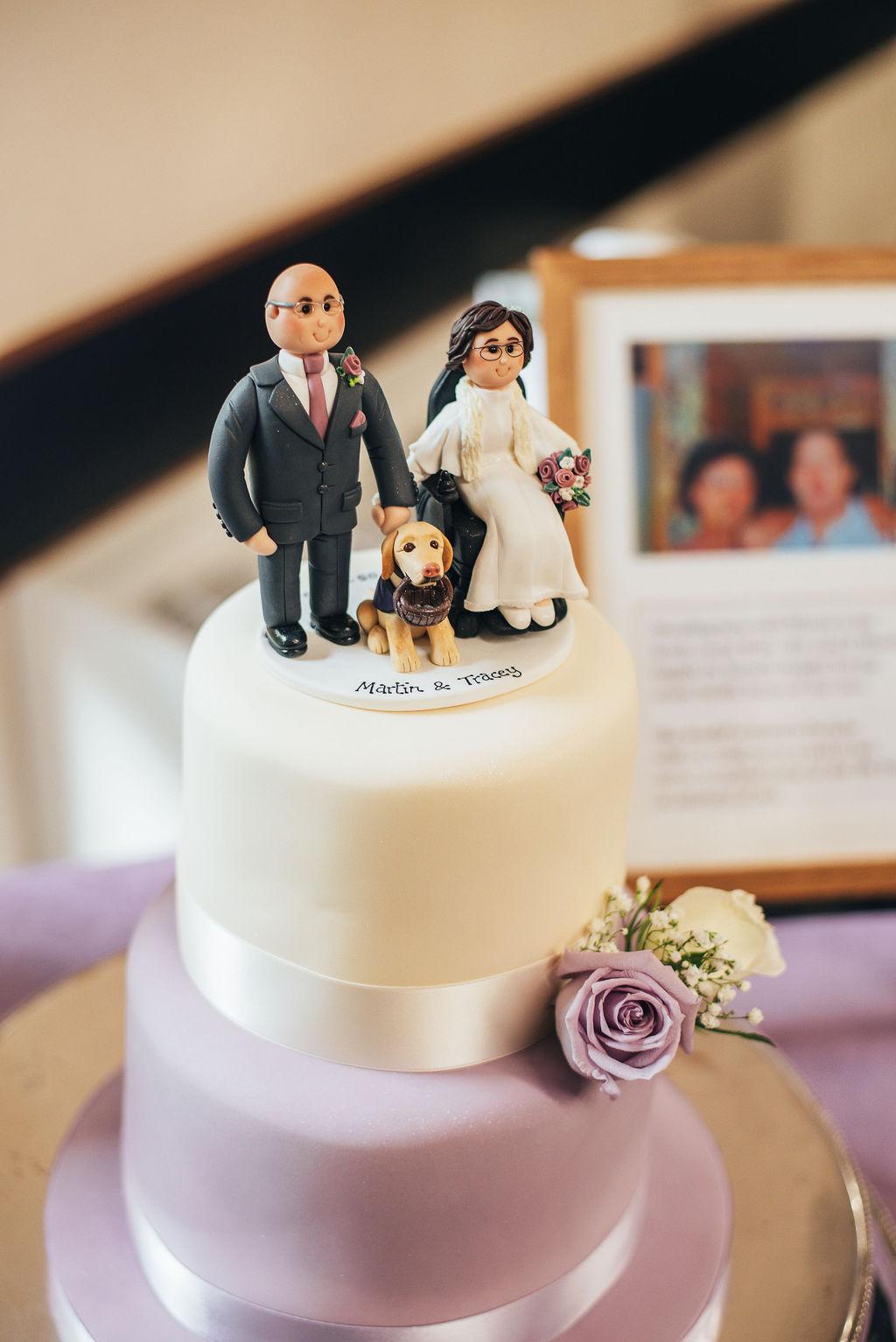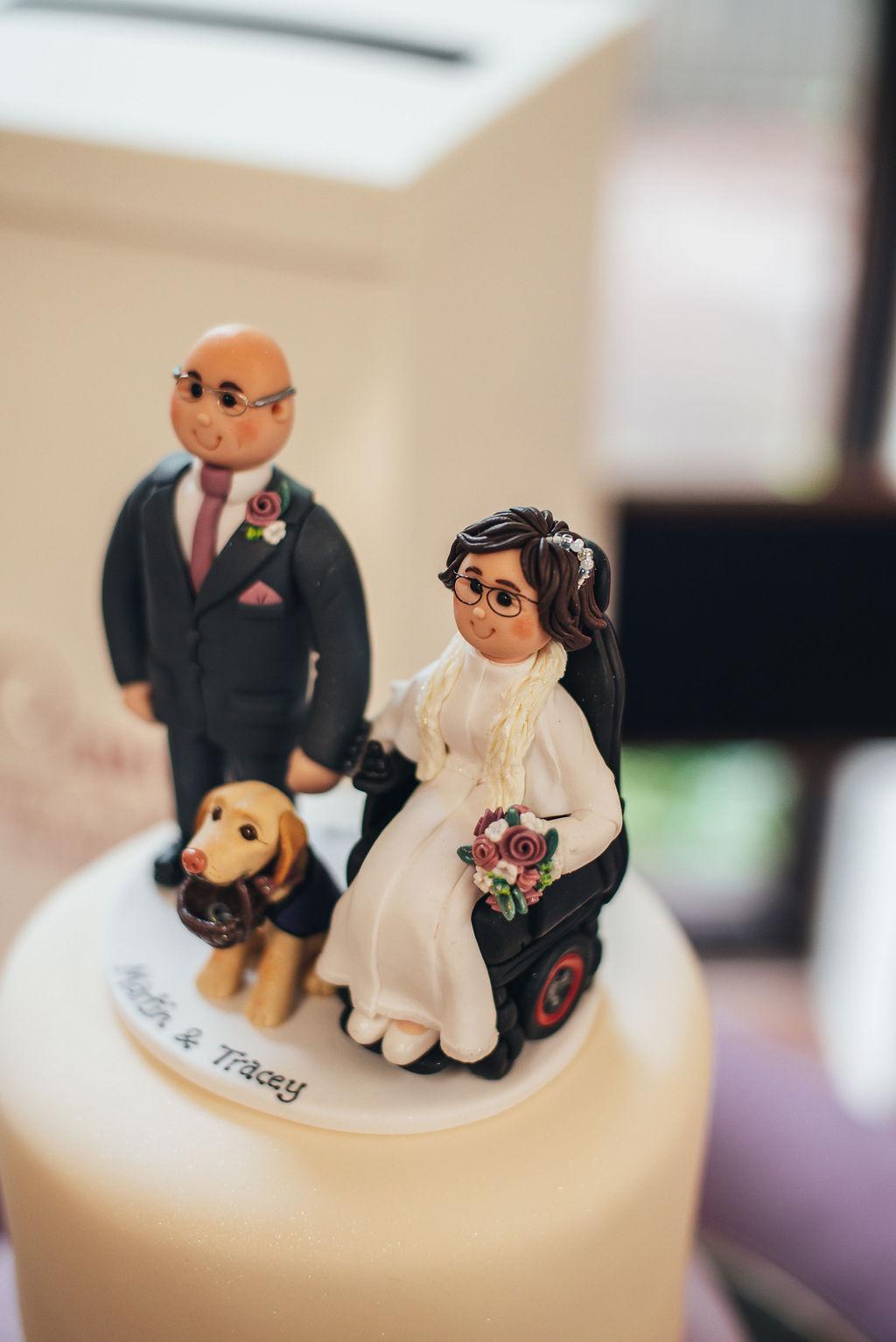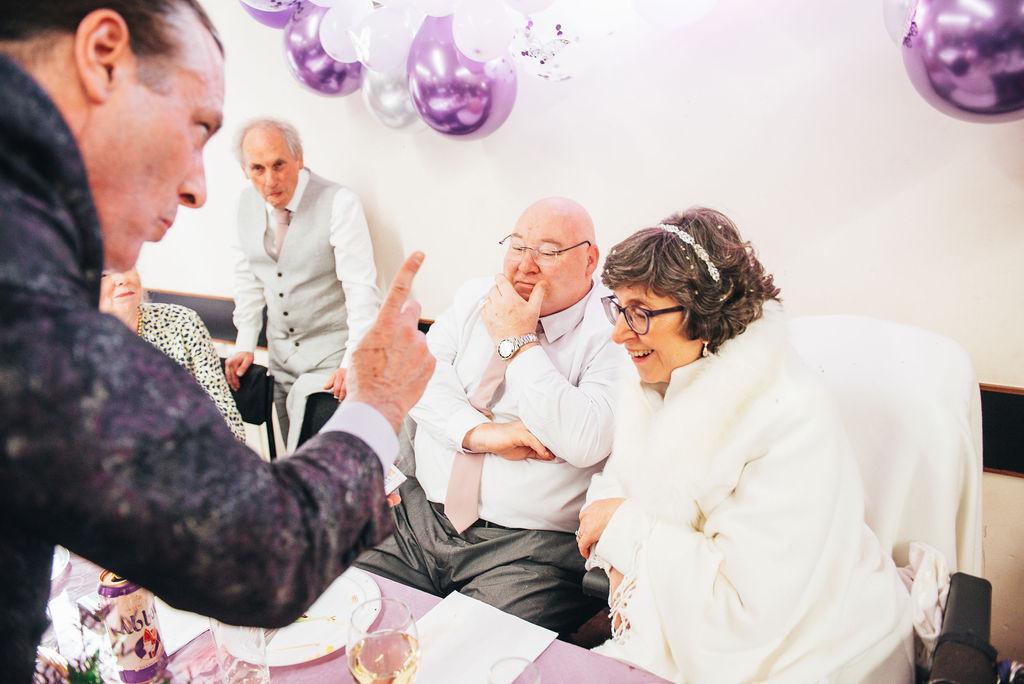 Tracey's vision for the wedding flowers spanned across her own bouquet and the decorative florals. "I had lilac rose silk roses with white flowers for my wedding bouquet, and this style was mimicked in the table top flowers too."
The couple's talented wedding cake maker was also the person who put together all of the flowers, her bouquet and the three corsages, as well as a selection of thank you bouquets for everyone who helped out.
"Although the wedding cake itself was made by Jill Webb from Fondant and Flowers, we wanted a wedding cake topper which represented us, and had a bride in a wheelchair, and an assistance dog standing next to the groom.
"We had quite the hunt to find this, but eventually Martin found Sarah Pitcher from Character Creations. We knew she'd be great immediately, as her slogan is, 'What can I create for you?'"
Wedding entertainment was front of mind for Tracey and Martin, with a classical guitarist, Jason Sidwell, and a magician, Adam, on hand to entertain all of the couple's guests.
Post-Wedding Relaxation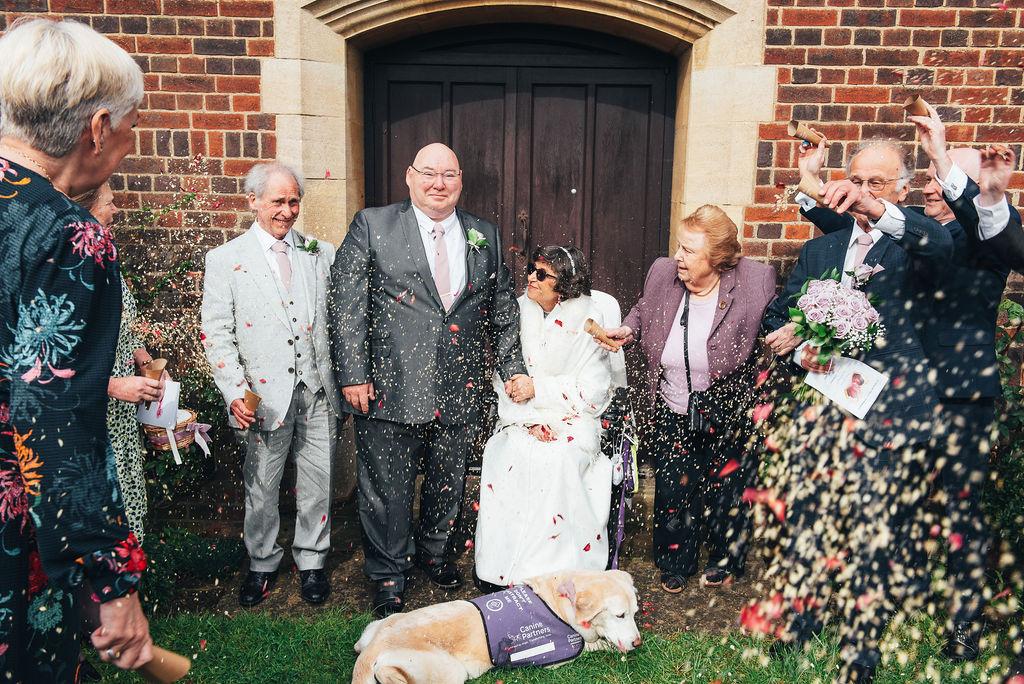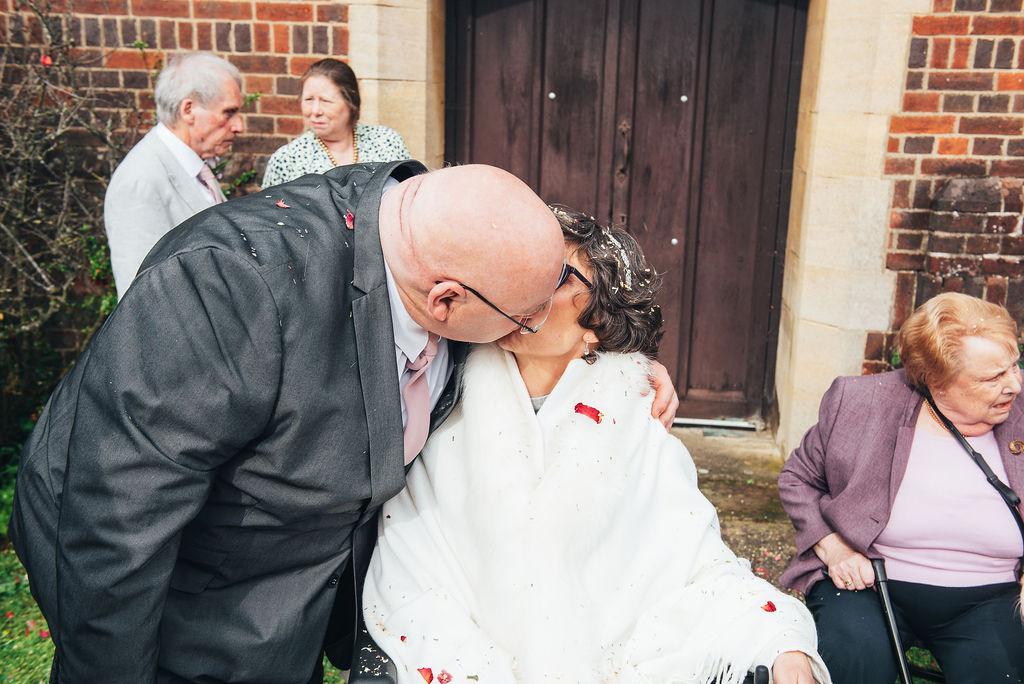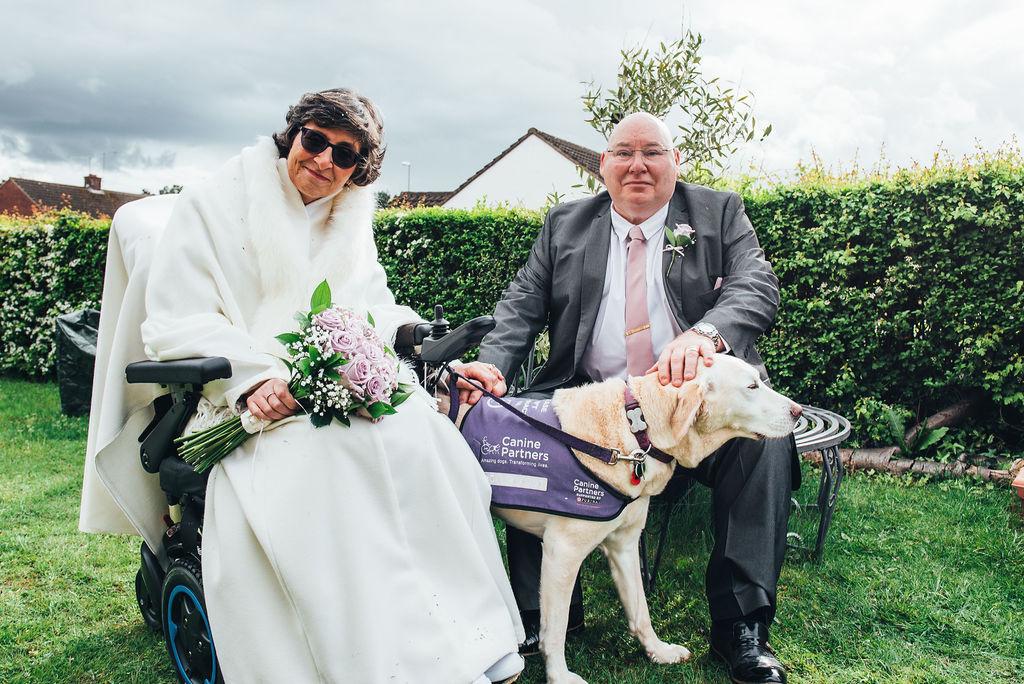 After the day of their dreams, Tracey and Martin spent their UK honeymoon in nearby Norfolk, in a village called Old Buckenham.
"I spent months searching for somewhere that was accessible for a wheelchair user and had a real struggle. In the end, we both found a chalet which wasn't completely accessible, but I could get my wheelchair into it.
"It was a really quiet chalet close to horses. It was peaceful and just bliss, with lots of good pubs with great food around, too."
Tracey and Martin's Wedding Suppliers:
Inspired by Tracey and Martin's wedding? Here are some articles to help steal their style!