Eliza & Michael's Colourful Celebrant Wedding With a *Very* Special First Dance
Influencer and disability activist Eliza Rain tied the knot with their partner Michael in a colourful celebrant-led wedding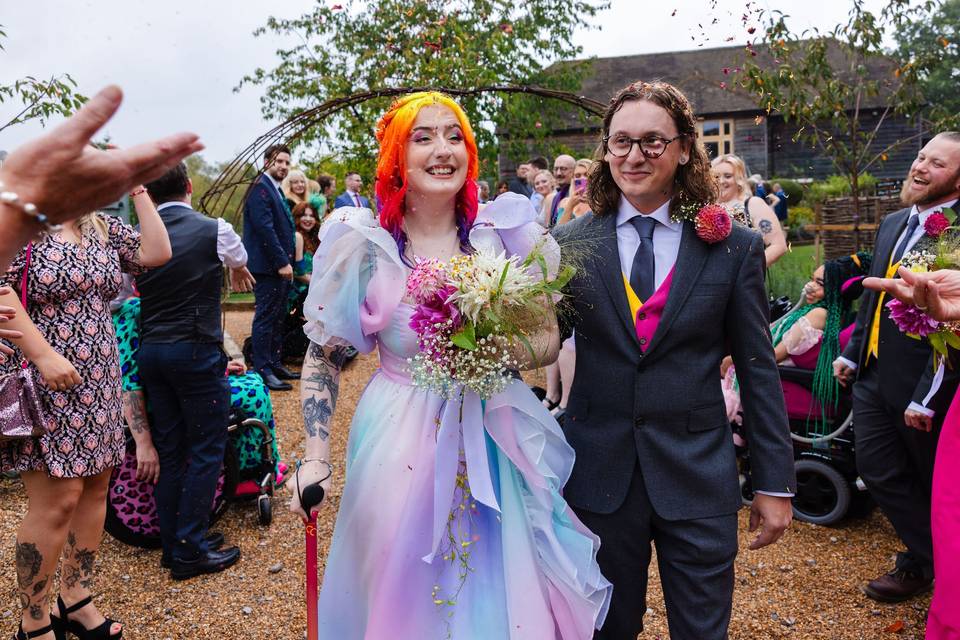 Hitched Featured Suppliers:
Anyone who's anyone will know that we've been following influencer and disability activist Eliza Rain's wedding planning journey for a while now.
Eliza talked us through what it's like to plan an accessible wedding as a wheelchair user as part of our #AlreadyWeddingReady campaign, and also shed light on very important issues around disability benefits and the impact marriage has on them.
Eliza & Michael's Colourful Celebrant-Led Wedding
But last week, Eliza and their partner Michael took some time out for themselves to do something pretty important. You guessed it - these two lovebirds tied the knot!
Eliza and Michael celebrated their wedding at Brookfield Barn on 17th September 2023, along with 90 of their closest family and friends.
Now, before we dive into the colourful details, talk about *that* stunning wedding dress and their celebrant-led ceremony, let's rewind to the moment that made this all happen.
Eliza & Michael's Story
"Me and Michael met when we were 16. A friend of mine started dating someone from a local school and mentioned their partner had a 'good looking friend with curly hair' who would be at a party we were going to," explains Eliza.
"I arrived at the party and met the 'good looking friend with the curly hair' AKA Michael, and we hit it off from there."
Eliza and Michael made things official a few months later, and after almost a decade of dating, took the next step in their relationship.
A Perfect Proposal & Matching Rings
"Michael asked me to marry him in front of the sharks at the London Aquarium - sharks are my favourite animal so it felt particularly special," says Eliza, and another thing that was thoughtfully considered was the ring.
"We chose my engagement ring together. It was made by a local ring designer called Tessa Metcalfe, and at the time only I wore an engagement ring as Michael couldn't find anything that felt like the right fit for him.
"But he now has a Tessa Metcalfe wedding ring which has the same stone in it as mine!"
Eliza's Colourful Wedding Fashion
Anyone who is familiar with Eliza's content will know that bright colours play a huge role in their personal style, and their choice of wedding dress was no different.
Describing their gown, they said, "I wore a big rainbow Selkie wedding dress with a long rainbow veil. I didn't want to spend loads of money on my dress, but I wanted something that felt like 'me', so I bought the Selkie dress online and it was just perfect.
"For me, the outfit I wore wasn't the most important thing, but the fun I could have in it was - and I wanted to feel like a princess haha. It also just felt ridiculously big and beautiful, while being in my budget of around £500."
Explaining the benefits of wearing a colourful wedding dress (aside from how amazing it looked!) Eliza told us, "On the day I liked the fact that I wasn't worried about accidentally getting a mark on the dress as that would be very impractical in my wheelchair.
"I also wanted a dress that I could reuse and cut down after the wedding, that didn't look like a wedding dress and that's what the Selkie design gave me."
Eliza had *the* coolest wedding day look, pairing their bright rainbow wedding dress with a pair of trainers. Speaking to this, they said, "I'll be honest, I spent the whole day in trainers but I just loved how they looked with my dress and am so happy with my choice."
And the accessories were just as unique. "I love sharks, in case you didn't already know - so my necklace and earrings were made from acrylic sharks. They were custom made by Acrylic Coco Frankie on Etsy. They sold what I wanted in grey, but I really wanted it in pink so I contacted the page and they custom made these ones for me."
Eliza paired these with a rainbow veil from Kit the Bobbin on Etsy which consisted of rainbow sequins.
"I wanted my jewellery to feel fun like me, and I really think I achieved this. I also had a flower arrangement for the back of my wheelchair which really made the chair look amazing."
Eliza's makeup was done by a local artist, Zoe Hodd, and local hairdresser Poppy Tallulah did their hair.
"For my makeup, I went for full rainbow eyes which was pretty similar to what I normally go for on a night out. I really loved how Zoe did my base makeup in the trial so I knew I wanted to have her with me on the big day - she also did a brilliant job at calming me down."
Michael's Wedding Day Look
Michael opted for a smart charcoal woollen wedding suit and paired this with a white cotton shirt.
"He wanted something that felt like him," says Eliza, "He spent a long time looking for different suit makers that could fulfil his image and he felt like Artefact covered that best as he wanted a wide leg trouser which was difficult to find.
"Michael's needed a suit for a long time as the only one he had in the wardrobe was from when he was 16 (he's 26 now!), and as our work has changed, we often end up at smart events which require a suit so we decide to invest a bit more in this as it's so multi-wear."
He also added a yellow and pink waistcoat to match the colours of the wedding party - the bridesmaids wore pink and the groomsmen wore a yellow waistcoat - and finished the look off with some smart brown shoes.
"Finding a two-toned waistcoat wasn't the easiest task," explains Eliza, "So in the end we bought two cheap waistcoats online, one pink and one yellow, and asked Donna at The Workshop in Brockley (who altered my dress) to sew the two together. It looked perfect!
The Couple's Special Wedding Parties
Eliza and Michael chose people very important to them to form their wedding party.
For Eliza, this was four bridesmaids, all of which were close friends they'd known for a long time and meant they could be themselves around them.
"My bridesmaids wore hot pink bridesmaid dresses. Originally we wanted everyone to choose their own dress, as long as it stuck to the colour scheme, but when we put them all together they looked quite messy.
"I have learnt through this process that it's a very difficult colour to match, so we decided to go with two different dresses in one colour for the group. We were also lucky enough to be gifted silver bridesmaid shoes from Schuh."
But it wasn't just bridesmaids who played an important role in Eliza's part of the wedding party, "I had my mum and dad there who supported me throughout the day and both took on very special roles during the wedding."
For Michael's wedding party, it was his friends and brother who stepped up to the mark, "He wanted people he felt close to that he could rely on to make the day nice, and people who could help and make sure things got done.
"One thing we come away learning is that Michael's best man was completely made for weddings. He played a huge role in making sure the day ran as smoothly as possible!"
A Very Special Celebrant-Led Ceremony
When it came to choosing a wedding celebrant, there was only one man for the job.
"My dad did it! I LOVED having such a personal wedding ceremony and the fact my dad did it made it feel really special. This also meant we could practise and rehearse the whole thing, which meant we weren't worried about something going wrong or unsure what would happen next.
"As soon as we walked in, my dad completely owned the room and both mine and Michael's nerves vanished - we knew we were in good hands and that it was going to be a beautiful wedding.
"I just loved it. We were both beaming with joy and got through our vows without (too much) crying which was an achievement in itself."
Michael and Eliza tied the knot in Brookfield Barn and had two weddings in one day!
"We actually got legally married that morning in the venue's outside ceremony area with just our immediate family and close friends, the rain held off for this part.
"When guests arrived later on, we had our celebrant-led ceremony with everyone all together in the barn area. Although the original plan was to do it all outside…
"We actually ended up loving doing it in two places and the barn was then flipped for dinner and the reception."
Choosing an Accessible Wedding Venue
Planning an accessible wedding was a huge priority for Eliza and Michael, and finding an accessible wedding venue that fitted the bill was vital.
"We chose Brookfield Barn because it was beautiful and we wanted a barn wedding - but also because they offered a level of accessibility that other venues don't.
"The venue had two accessible toilets onsite and an accessible room where we could stay overnight, and this doubled up as a room which guests could use if they needed a breather or lie down.
"We also had rooms upstairs for our family to stay in and the venue offered amazing catering for guests with allergies and different dietary needs.
"Something that was also really important to us as well was ensuring the venue had enough space to accommodate multiple wheelchair users.
"We wanted them to feel as though they could move around freely and wanted somewhere where doors and windows could be open to encourage airflow and minimise the risk of illnesses being spread.
"For us, accessibility was so important and we wanted all of our guests, as well as me, to feel comfortable. I didn't want to be worried about access on my wedding day!"
Sentimental Moments & Details
Throughout the ceremony and day itself, Eliza and Michael planned lots of little details that made it unique to them.
"Various family members were involved in different parts of the day. Michael's aunt and uncle did a reading during the ceremony - they read 'The Ent and the Ent-wife'."
As well as readings, Eliza's mum provided the flowers for the wedding. "She has an allotment and grew the flowers for us there. We had various different flower types in our wedding colours, and it meant so much that she took the time to grow every flower. It added such a personal touch to our wedding. She also chose various flowers that are significant to our families.
"She organised the bouquets, buttonholes and all the floral decorations - they looked so beautiful."
The couple's wedding cake was made by a friend of Eliza and Michael. Eliza explained, "We had a two tier cake which was white with blue and red icing. The cake toppers were (of course!) sharks - one with a veil and the other with a hat and bow tie.
"We were also very lucky that a family member had a Classic Lotus car that doubled up as a perfect wedding car so we were able to pose and get some great photos in front of it!"
And it wasn't just friends and family who helped out - Eliza used their own skills to carefully craft the wedding stationery, "I studied graphic design at university which meant I was able to design our wedding stationery at home. The theme was colour and bold patterns, using all of our wedding colours."
Michael also did his fair share: "He's an illustrator and he designed a flower pin in our wedding colours, which we put on each name card and these acted as our wedding favours.
"We both love invertebrates so we named each table after one and Michael designed an illustration of each invertebrate on each of the table numbers."
Another special moment was something Eliza and Michael did together: "We decided to do a time capsule ritual where we put keepsakes from the day into a box which we can open in the future. This included an instant polaroid picture that our photographer took for us with all our guests in! We haven't seen it yet. Our plan at the moment is to open it up together in five years time."
A Party-Filled Evening
Eliza and Michael really gave their guests a good time, with a whole host of wedding entertainment on display.
"We had a DJ saxophonist called DJ & SAX DJ-V," explains Eliza, "And we also had a portrait artist, Lucie Sheridan at Rubbish Portraits, who did quick three-minute portraits of each of our guests. Our guests absolutely loved this and so did we, so much so that we've already taken our portrait to be framed so we can put it up on the wall."
To start the party off, Eliza and Michael had their first dance to the Harry Styles hit Treat People with Kindness.
"We adapted the dance from his music video with help from our first dance teachers Tobi and Sam and surprised our guests with the dance. It was so much fun!"
And this moment ended up being Eliza's favourite part of the day, saying, "My partner is not much of a dancer, so the fact we'd secretly planned a choreographed dance was amazing and we loved how surprised and supportive our family and friends were about it."
Looking Back
Reflecting on the day, we asked the couple what advice they'd give other wedding planning couples.
They said, "Don't be perfectionists. Nothing is going to go 100% to plan and if you try to make everything perfect, you're less likely to enjoy yourself on the day.
"We'd also say take some time off after the day itself as it's exhausting!"
The pair managed to stick to their wedding budget, with the help of family and friends who enabled them to save in some areas, and now they're off to Amsterdam on honeymoon.
Eliza & Michael's Wedding Suppliers:
Love the look of this wedding? Check out these inspo articles to get the look...