Carmela & Miguel: A Lavish Portuguese Wedding With a Filipino Twist
Discover the destination wedding of dreams! Carmela and Miguel celebrated in three different countries - and these two sure know how to throw a party...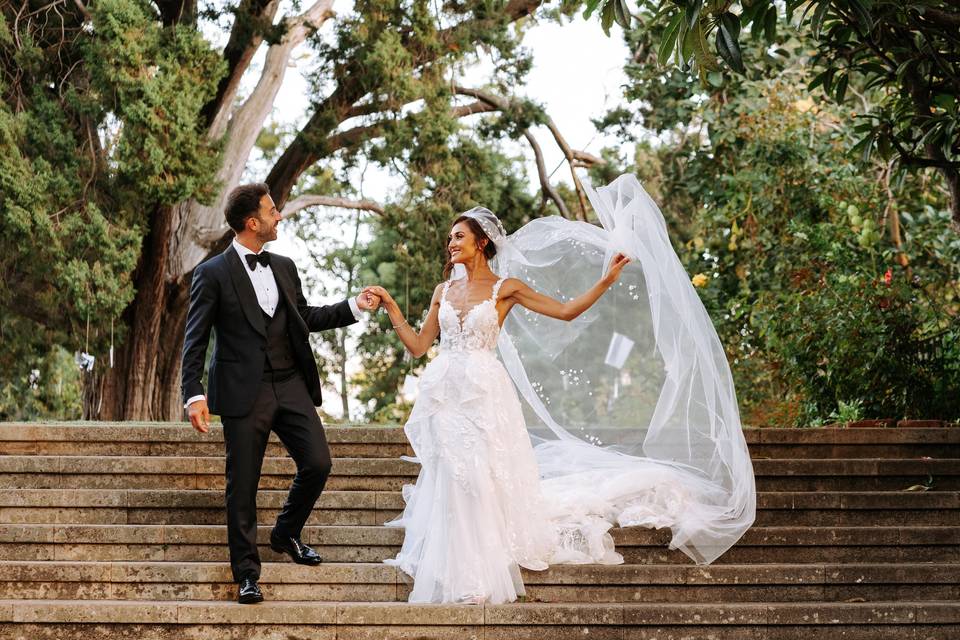 Carmela and Miguel's love story takes place all across the world. Portuguese Miguel and British-Filipina Carmela are explorers at heart and their international fairytale romance is sure to leave you craving your next holiday.
Their romantic tale begins in the city of Bristol in 2012, where student Carmela moved to study Politics and French, and Miguel was living and working. The pair met, fell in love and made their relationship official in 2013. Almost blissful years later, Miguel popped the question on 29th August 2021 in perhaps the most romantic place in the world - yep, you guessed it - Paris!
Carmela had lived la vie en rose in the French capital from 2013-2014, and it quickly became her favourite city in the world. Miguel was a frequent visitor during this time and Paris is still, to this day, a place that's very important to them as a couple - it's also home to one of the most amazing honeymoon hotels in the word, just saying.
The Proposal
After COVID-19 restrictions were lifted, travel enthusiasts Miguel and Carmela were eager to get on the road again after being couped up for so long.
Detailing what happened next, Carmela said, "Miguel had sourced the most stunning private terrace in Shangri-La Paris, overlooking the Eiffel Tower. It was like a movie, or a dream! Rose petals on the floor, champagne ready for us, it was the perfect day.
"We stayed in an incredible suite at the Shangri-La that was set up for our engagement, again with rose petals everywhere. We used the spa, drank champagne and facetimed our families – there were lots of happy tears!
"We then flew straight to the south of France and had the most perfect trip in Monaco, followed by Saint Tropez (another one of our favourite places). It was a real dream come true."
And it wasn't just the beauty of the French cities that blew Carmela away - she was also over the moon with her new engagement ring! She says, "I have always loved the elegance and glamour of elongated radiant-cut or emerald shaped rings. Miguel, with the help of my sister, picked out the most perfect engagement ring, a dream ring for me."
Carmela and Miguel enjoyed a blissful 13 month-long engagement before their wedding celebrations began - and trust us when we say these guys know how to celebrate.
Carmela & Miguel's Romantic Wedding in Madeira
Miguel and Carmela celebrated their marriage in not one, not two, but three separate ceremonies - very Kourtney Kardashian of them! The couple legally tied the knot in London in September, before jetting off to Madeira and finally receiving a wedding blessing over Christmas in the Philippines with Carmela's side of the family.
Describing the celebrations, Carmela says, "We legally got married in London on September 17th and I wore my mum's wedding dress which was so special. We then had a final wedding blessing over Christmas in the Philippines with my Filipino side of the family. This was on the beach overlooking the sunset."
We could talk about these beautiful celebrations all day, but for now let's focus on the dreamy pair's union in Madeira, which had the wedding theme of "Mediterranean Romance".
The Morning of the Wedding
"My husband's sister Carla did my hair; she is such a talented hair stylist with over 20 years' experience. I couldn't have trusted anyone else with my hair and I'm so thankful to Carla for making me feel like a queen," says Carmela.
"My makeup was done by the incredibly talented Erica Sousa from Erica's Make Up. She is incredible and gave me the wedding glow of dreams. The style I went for was glamorous and pretty, my usual style but bridal. I wanted to feel and look like a bride on my special day, so I went for a very traditional updo wedding hairstyle with a modern twist. "
It was important to Carmela to spend quality time with her wedding party before the ceremony. "I got ready with my bridesmaids, and in particular, had some special moments with my older sister Laura. She has been my rock and best friend since I was small, and to have the morning of my wedding day with her was so special.
"Laura was my maid of honour, and my best friend Tom was my man of honour. I had four more bridesmaids, Fiona, Emma, Yumi and Cecila."
Miguel also enjoyed kicking back before tying the knot. According to Carmela, "Miguel loved getting ready in his separate pool villa with his groomsmen, drinking whiskey and smoking cigars."
The Wedding Fashion
After wearing her mother's beautiful Filipino-inspired dress for the couple's legal ceremony in London, Carmela wanted to choose a completely unique lace wedding dress for the celebration in Madeira.
Carmela explains: "I wanted pretty applique flowers, layers, a dramatic long veil and something that no one else in the world had ever worn or seen. I got a custom made dress and worked with the designer's team to make sure it was my dream.
"It had detachable sleeves, as I wanted a sleeve look for the church. I then removed these for the reception and, because it was such a sunny, hot day, I'm glad I had this option. I also had a detachable skirt for extra drama in the church – I love the look of skirts, and then was able to have a much slinkier, fun look for dancing at the reception.
"The designer was Dany Tabet, I fell in love with his lace and materials. He is a Lebanese designer based in California – I really feel like his designs embody this mix so beautifully."
Carmela paired this gorgeous dress with pearl earrings, Mach&Mach pearl wedding shoes, a Cartier ring and a Tiffany's bracelet.
Working in premium menswear, it was always a given that Miguel would choose a well-tailored, dapper suit. His midnight navy wedding suit and suave white reception suit were from Hackett London, the luxury menswear brand where he works. And there was no expense spared when it came to the wedding parties either!
"The groomsmen and Tom wore Hackett suits, and the bridesmaids wore Pretty Lavish sage green bridesmaid dresses. Laura wore a special-made custom dress as maid of honour. I loved neutral tones and chic cuts, so the dresses were sleeveless high-neck dresses that looked so elegant."
The Church Wedding Ceremony
The wedding ceremony was held at the Monte Church Sanctuary, which Carmela describes as, "One of the top spots to visit in Madeira! Our guests loved the spectacular views as we entered and exited the Church." This is also the church in which Miguel's parents tied the knot many years ago!
As you'd expect, Miguel and Carmela made sure to travel in style. Carmela and her dad travelled to the church in a cream Rolls Royce, which Miguel and Carmela used to travel back to the wedding reception venue. Carmela walked down the aisle with her father to Pachelbel's Canon in D. She said, "It was emotional, but a moment I will cherish forever."
The couple incorporated some traditional Filipino elements into the ceremony to honour Carmela's Filipino heritage. They took part in the Lasso, when a rope is placed over the couple's shoulders or necks to signify the unity of marriage and a lifetime of love and dedication to one another.
Their wedding rings were from Cartier and a boutique jeweller in London.
The Reception At One of Madeira's Hidden Gems
The reception was held in the stunningly unique venue Quinta da Casa Branca. "It's a hidden gem, a breathtakingly beautiful and peaceful botanical garden in the heart of Funchal, Madeira's capital. We privatised the venue for 4 days, and had the beautiful Manor House to ourselves."
"It is so grand and stunning, with a beautiful Manor House, lawn and staircase down to a large pool area. We wanted our wedding day to have different moments and areas to it, so this was perfect.
"Canapes and cocktails by the pool and dance area, then upstairs on the grand Manor house lawn overlooking the Manor house as we ate dinner, then back down to the pool and dance area for dancing the night away."
And speaking of dinner, we *have* to talk about the five-star five course feast that Miguel, Carmela and their wedding guests enjoyed! Carmela describes it as, "A modern, luxury twist on traditional Madeiran food."
"The chef at Quinta da Casa Branca is very well-known and did an amazing job with all the dishes and the presentation was a dream. This included a palette cleanser which was a Madeiran cherry sorbet with edible flowers – incredibly stunning."
Carmela says her highlight of the day took place during the reception, "When we walked down the central staircase to all our guests to cut our cake, with huge sparklers behind us. This was a moment that really stood out for us, and made us feel on top of the world."
Cake, Flowers and Special Touches
Miguel and Carmela's amazing wedding cake can best be described as a creation as beautiful on the inside as it was on the outside.
"We had five tiers. It was luxurious and extravagant, but chic and beautiful at the same time - and all white, with different textures and flowers.
"On the top tier, we had a harp – a harp is an old tradition for wedding cakes in Madeira and Miguel's parents also had one on their wedding cake, so that was our inspiration. Ivetti, who owns 4cakes, made our wedding cake, and it really took our breath away when we saw it - everyone commented on how stunning it looked – and tasted.
"We had a mix of passionfruit cake and salted caramel cake – both INSANE! I never thought I would go for a fruit flavoured cake but the passionfruit sponge Ivetti makes is unbelievable, so moist and tasty."
When it came to wedding flowers, Carmela and Miguel stuck to peach-toned soft flowers for the bride and her party, with matching corsages for the groom and his party.
Attention to detail was the absolute key at this luxurious celebration - after all, the little details can make a huge difference. Carmela and Miguel made the decision to name all the tables at their reception after different places and locations around the world that have a special meaning to them as a couple.
Carmela gives a few examples: "Shangri-La (engagement), Saint-Roch (I lived on Rue Saint Roch in Paris), Pampanga (my family in the Philippines are from Pampanga), Thatcher's Rock (a place in Torquay that Miguel's mum loved to visit with u), and Quakers Friar (the square in Bristol where we first met)."
And guests didn't walk away empty handed - far from it. Miguel and Carmela arranged some amazing wedding favours for each guest to take home as a memento of their wedding celebration. "We had a small bottle of traditional Madeira Wine for all of our guests. We also printed a black and white polaroid picture of us with every single guest as part of the seating plan."
The Wedding Entertainment & Honeymoon
Wedding entertainment is something that singer Carmela and music lover Miguel take very seriously. As Carmela says, "Music brought an incredible energy to the day. We are music lovers so we invested in this. It really set the tone for each element of the wedding day, and everyone was partying from start to finish which was just what we wanted.
"We had a live quartet and pianist in the church, my friend singing a special song, 'The Prayer' by Celine Dion and Andrea Bocelli, in the church, and a live band for the cocktail reception which included sax, bongos and DJ.
"We then had a live duet singer and guitar during the wedding breakfast, followed by a live six-piece band to get the party started after dinner, and finished up with our favourite DJ – DJ Subz.
"Apart from the DJ, all of our musicians were from Madeira. We worked with Spot The Difference band to bring everything together and we have to say, the music was definitely a highlight. Tiago from Spot The Difference is really the best of the best and made all our music and entertainment dreams a reality. We are so grateful to Tiago and the team."
After a beautiful and busy wedding day, it was time for Carmela and Miguel to indulge in some relaxation. The jet-setting pair headed off to enjoy a honeymoon in the Maldives, where they stayed in a luxury suite water bungalow with their own swimming pool and sunset views. Magical.
Carmela & Miguel's Advice
Carmela and Miguel leave us with some wise words of advice for any couples planning their wedding day, "Set your budget and save. Have regular calls with suppliers and hire a wedding planner to help with coordinating the day."
If you're planning a destination wedding, take a leaf out of Miguel and Carmela's book and opt for local wedding suppliers:
"We felt passionate about using and working with local talent and local suppliers. Madeira is a small island, but it's filled with so many incredibly talented people! It's an island were lots of people know each other, so it really felt like a family on the wedding day!"
The Suppliers:
Inspired by Carmela and Miguel's wedding? You'll want to see these articles for more ideas: