Paige & Luke's Real-Life Fairytale Wedding at Botleys Mansion
After six years of dating, Luke popped the question to girlfriend Paige, and within 13 months of doing so, they found themselves tying the knot at stunning venue Botleys Mansion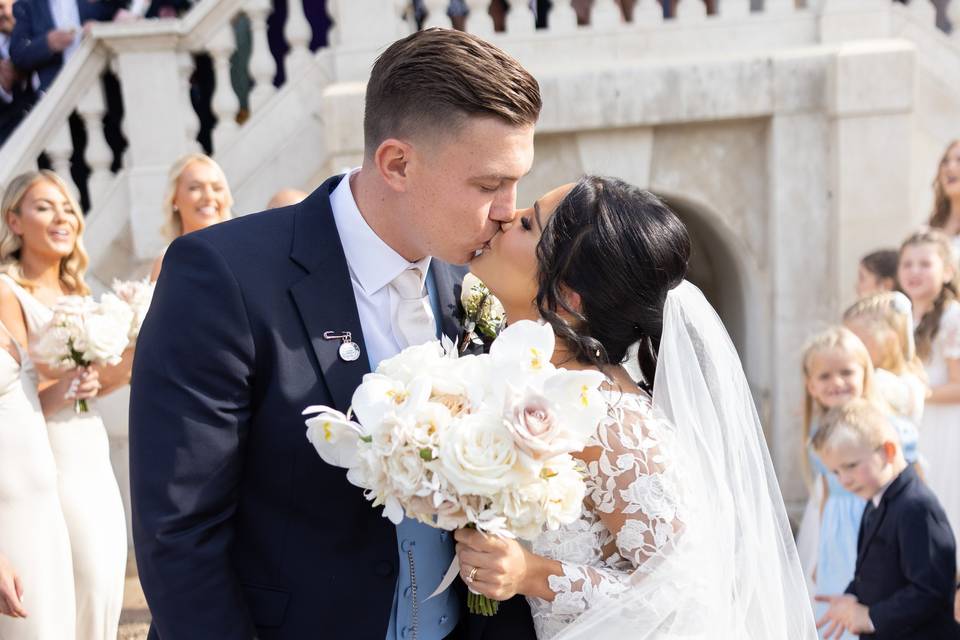 Hitched Featured Suppliers:
Paige and Luke's dream of a fairy-tale wedding surrounded by family and friends came true in September last year. The couple tied the knot at Botleys Mansion last autumn, in what was truly the most magical day of their lives.
But before we get into the dreamy wedding deets (we're talking Bridgerton-meets-the-Kardashians vibe), let's rewind to when this loved-up pair first met.
Sharing how it all began, bride Paige explains, "Luke and I first met in a nightclub in Croydon, where we're both from. We'd known of each other for years, as we'd grown up in the same area and had lots of mutual friends. I was working at the club at the time, and Luke and his friends wanted a table.
"Of course, I fixed them up with something and we had our first kiss that night - but we didn't start officially dating until I was in my last year of university."
Though Paige was living by the coast in Brighton, and Luke was still at home in Croydon, the pair made things work for that year, and have been inseparable ever since. The club where they met may no longer be up and running, (RIP Shoosh!), but the fate of Paige and Luke's relationship was quite the opposite.
A Dreamy Spanish Proposal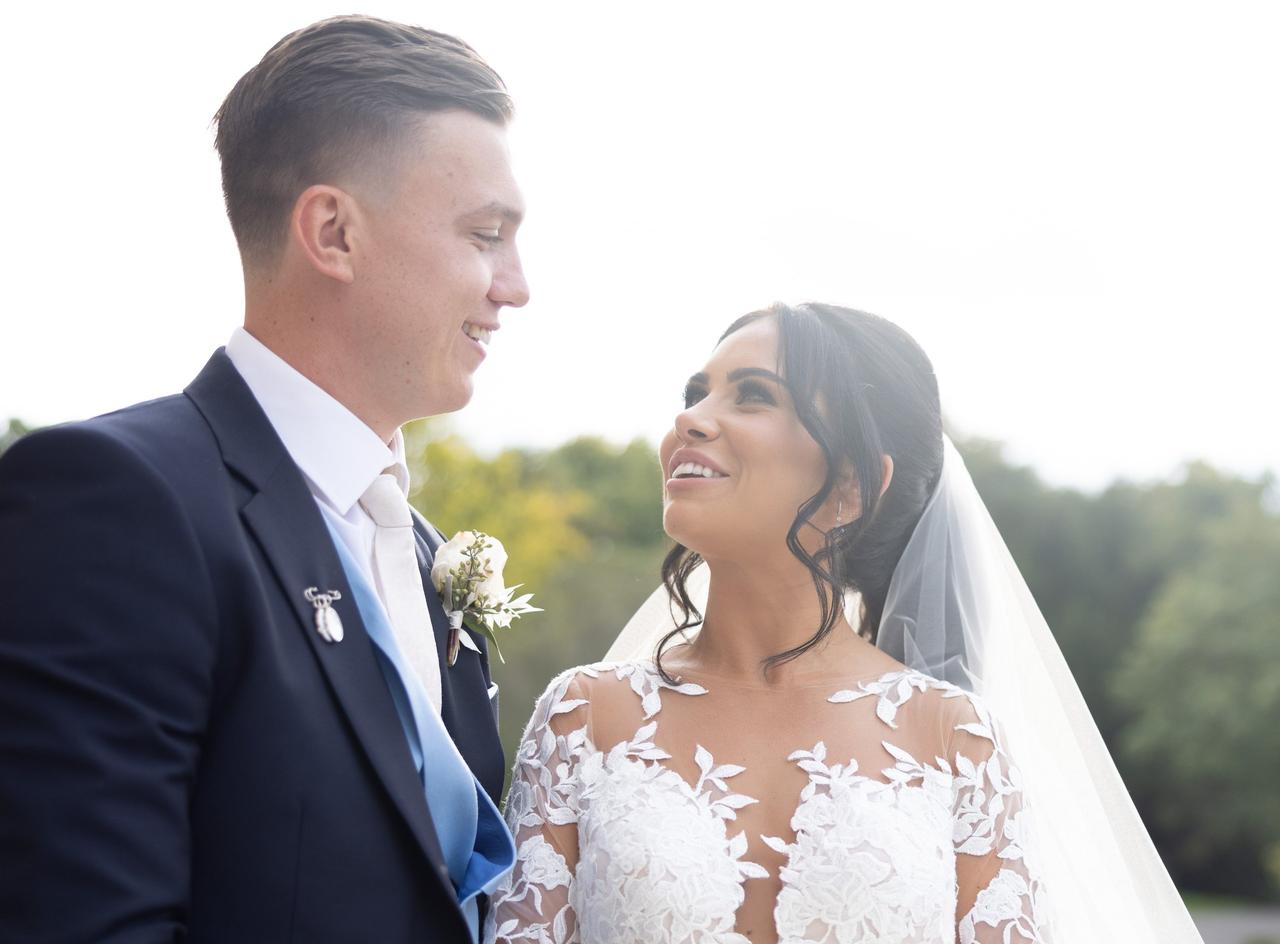 After six years of dating, Luke made the decision to ask Paige to marry him, and anyone who knows her knows that Paige's biggest priority is family - something which Luke kept front of mind when it came to getting down on one knee.
Explaining how it all happened, Paige said, "My family has had a holiday home in Almeria, Spain, for as long as I can remember, and we've been there every summer since I was about 12. It was also the first place Luke and I ever went on holiday together so it's special for us.
"In July 2021, we went with my entire family - parents, siblings, nieces, nephews, the lot - my best friend Emma even came along, too."
Having everyone closest to Paige there gave Luke the perfect opportunity to pop the question, and he chose the most beautiful setting to do so.
"We had all gone to a restaurant for lunch. It was beautiful and overlooked the sea," explains Paige, "Everyone knew Luke was going to propose, everyone except me, of course. My family started to get pictures on the balcony in front of the view, and my sister told Luke and I to stand together so she could take one. Next thing you know, Luke was down on one knee asking me to marry him!"
Though marriage was always on the cards, Paige was completely shell-shocked by the proposal, "I always knew we'd get married, it was something we'd spoken about a lot, but the fact that everyone was there when it happened meant I really wasn't expecting it at all. It was so amazing to have my family there, we're so close and it was really special."
And if being on holiday wasn't exciting enough, Paige and Luke continued the celebrations back in the UK with an engagement party that October. "I know loads of people who get engaged and don't have engagement parties," Paige says, "I think they are a must! Ours was so fun - it really set the tone for the wedding and got everyone really excited."
The Wedding Dress of Dreams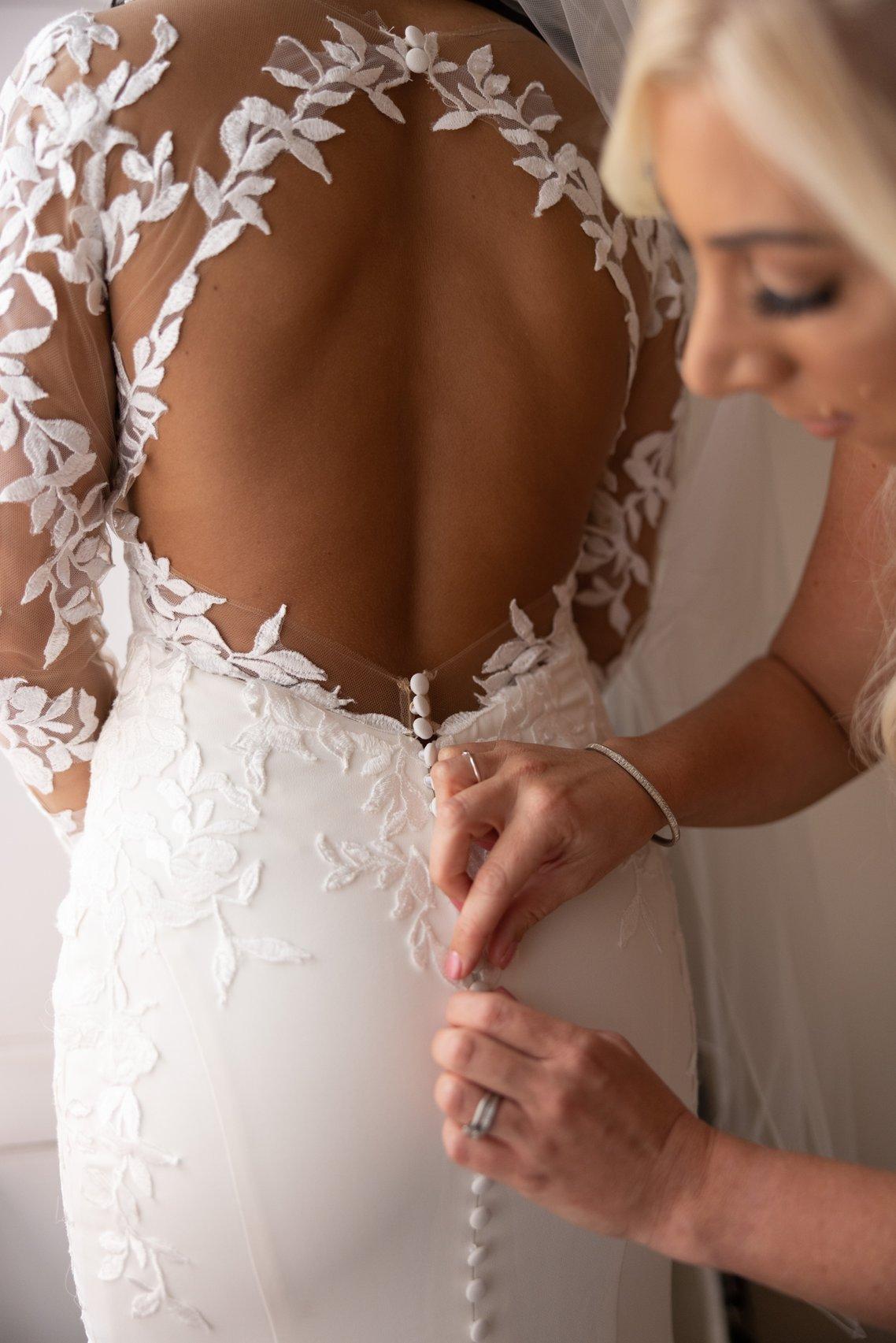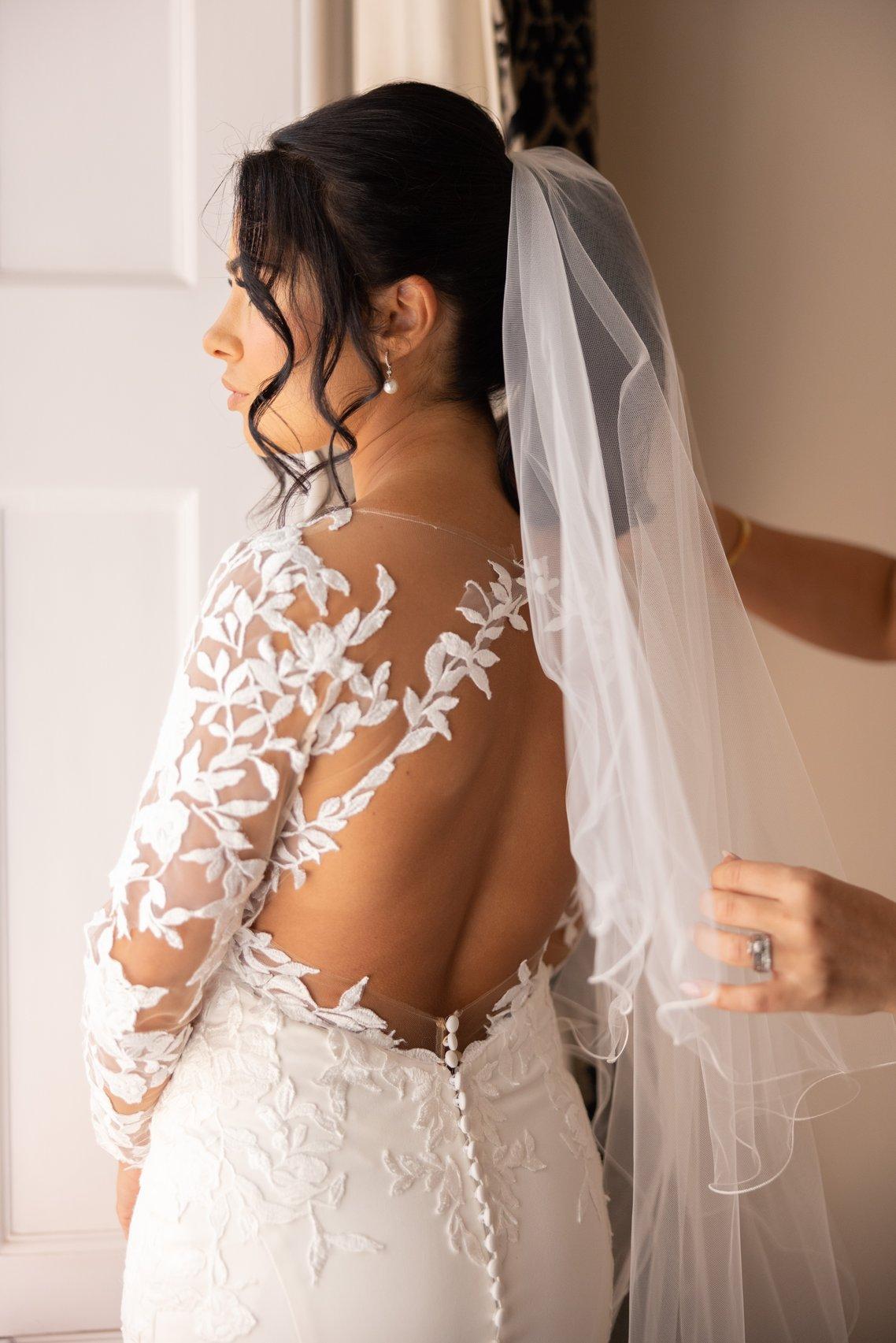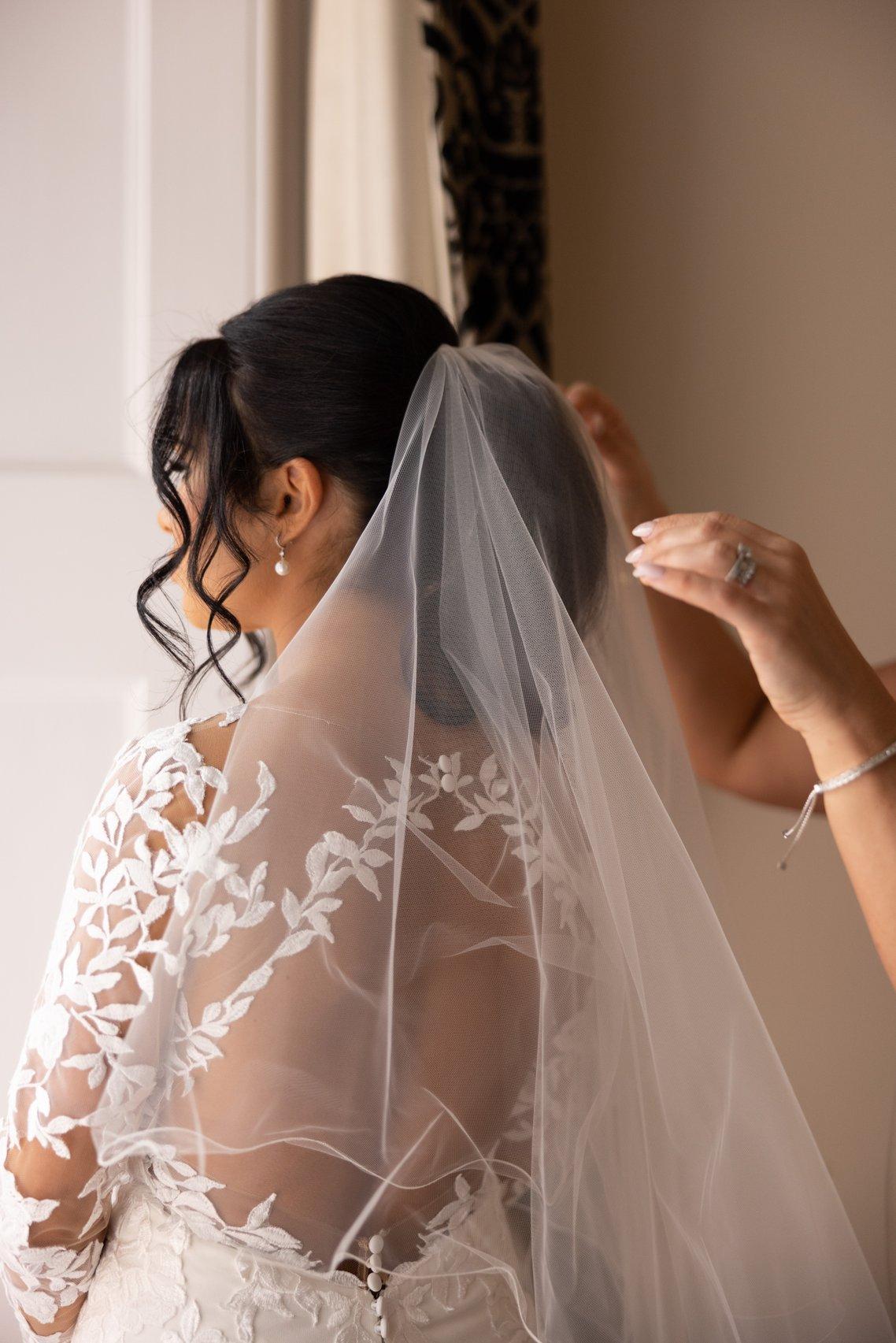 Anyone who knows Paige knows that her style has always been classic, and her choice of wedding dress was no different. Rather than opting for new wedding dress trends, Paige chose a timeless long sleeve lace wedding dress with backless detail and a mermaid silhouette.
"I wanted a wedding dress that felt like my taste, and I chose something that I feel like I will always love," says Paige, "The dress I chose was actually the first one I tried on, and I didn't opt for a second evening outfit because I just loved it so much. It was everything I wanted!"
She wore Essense of Australia design D3379 from Aurora Bride, a dress the shop call 'Willow' after one of Paige's adorable nieces who came to the appointment with her.
The gown combines a sultry neckline and backless cut-out, with elegant lace applique and an illusion neckline. The long illusion sleeves are adorned with thick-lined floral lace - the same fabric used to elongate the scalloped train.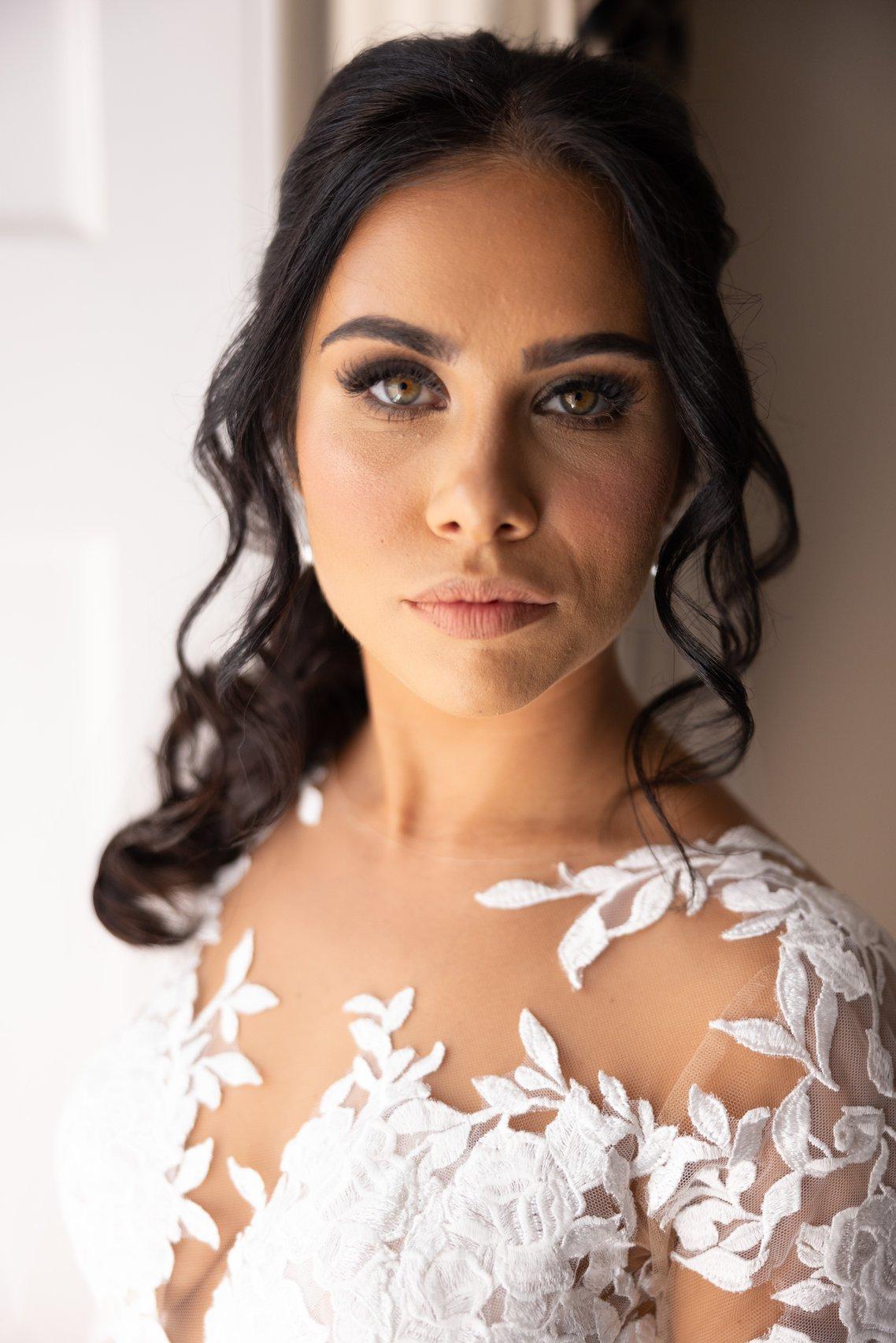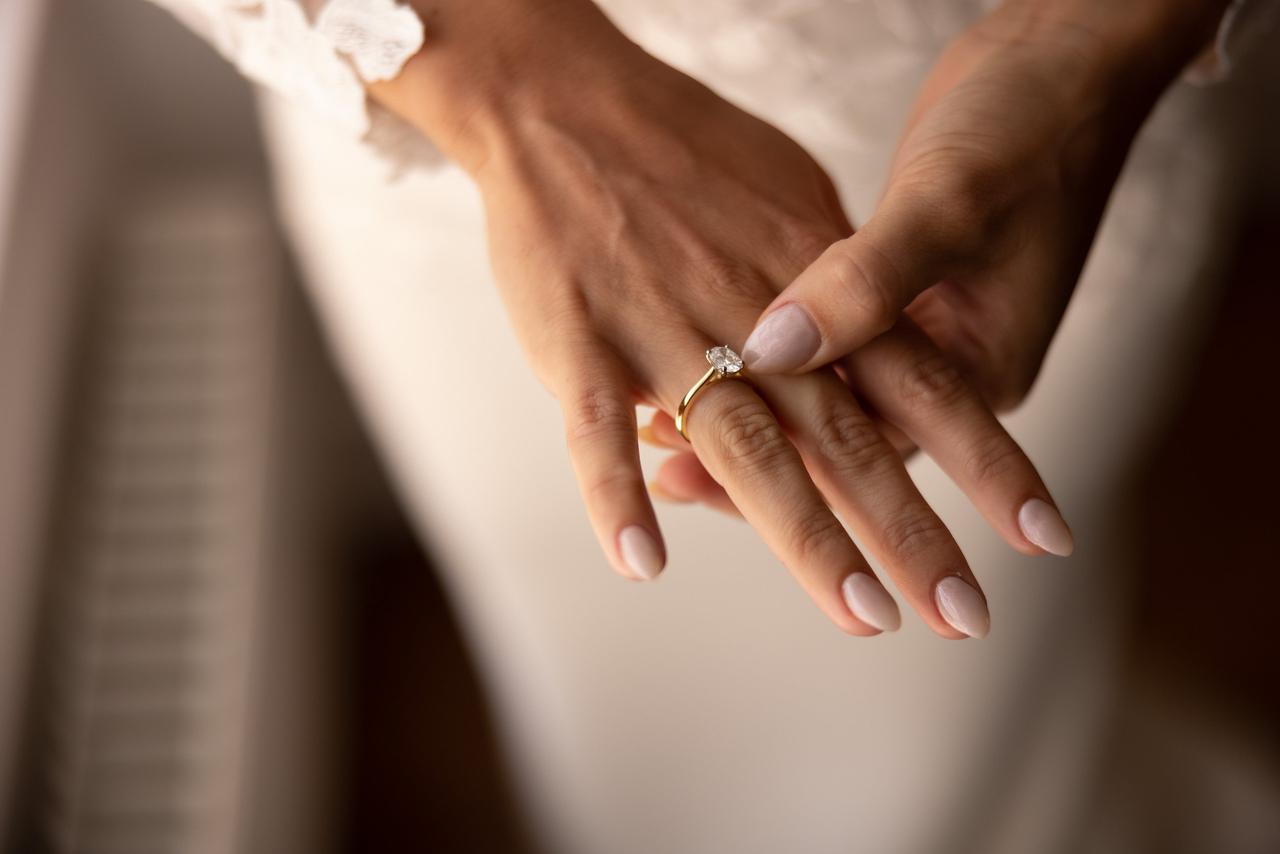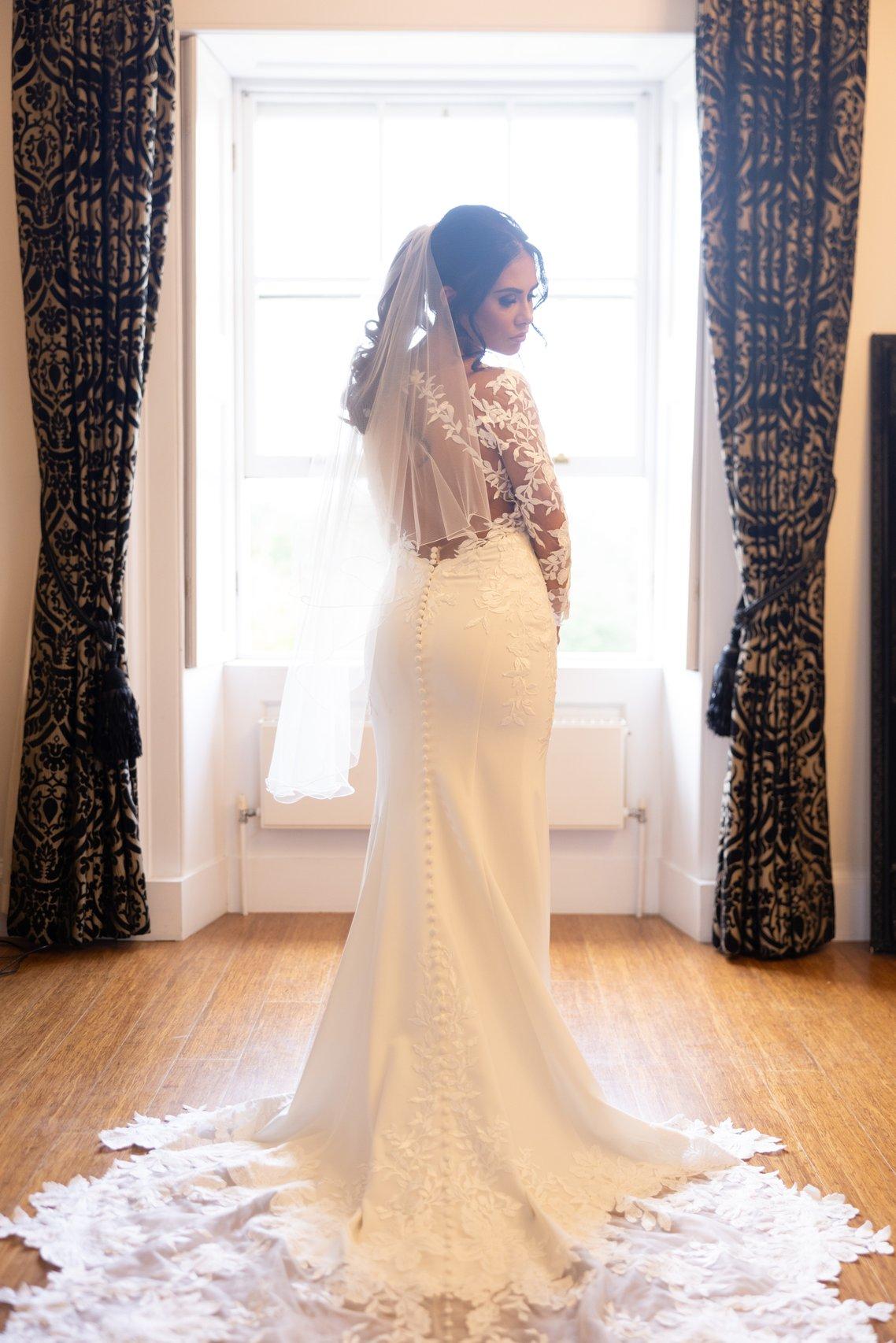 On the day, Paige paired her wedding dress with minimal accessories, to ensure the details on the gown were the stars of the show.
"I wore my sister's pearl drop earrings and a simple veil on the day. I always wanted a really long veil, but I didn't want anything to hide the back detail on the dress. I borrowed my cousin's court heels and my best friend Emma leant me her mum's garter to wear as my something blue."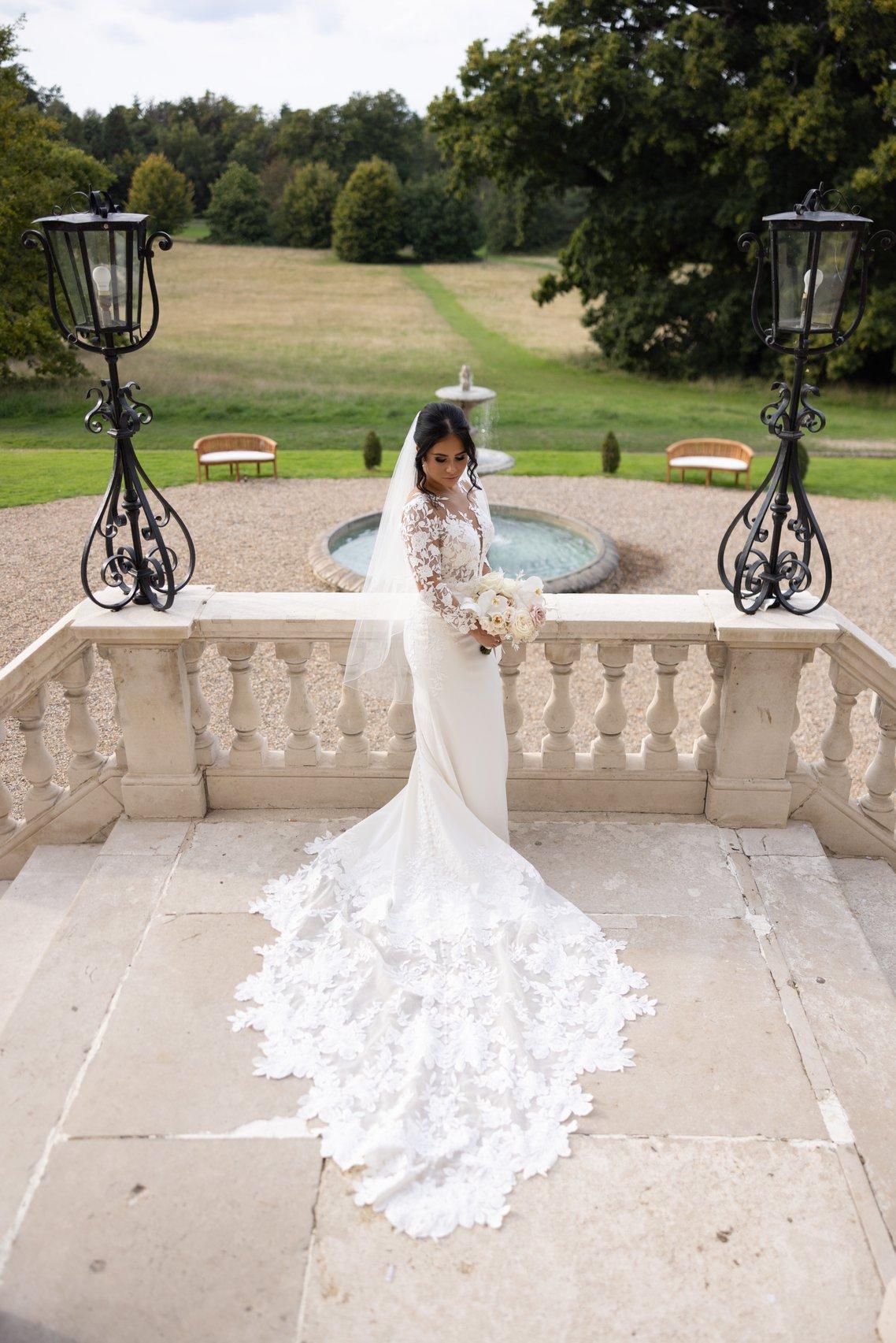 When it came to styling her wedding day look, Paige ensured that both her hair and makeup complimented the essence of dress, explaining, "I went for full Kardashian glam when it came to my makeup, and wore my hair up in a midi-ponytail. I tend to wear my hair down most of the time, but, again, I wanted the back of the dress to be on show."
Luke's Smart Wedding Look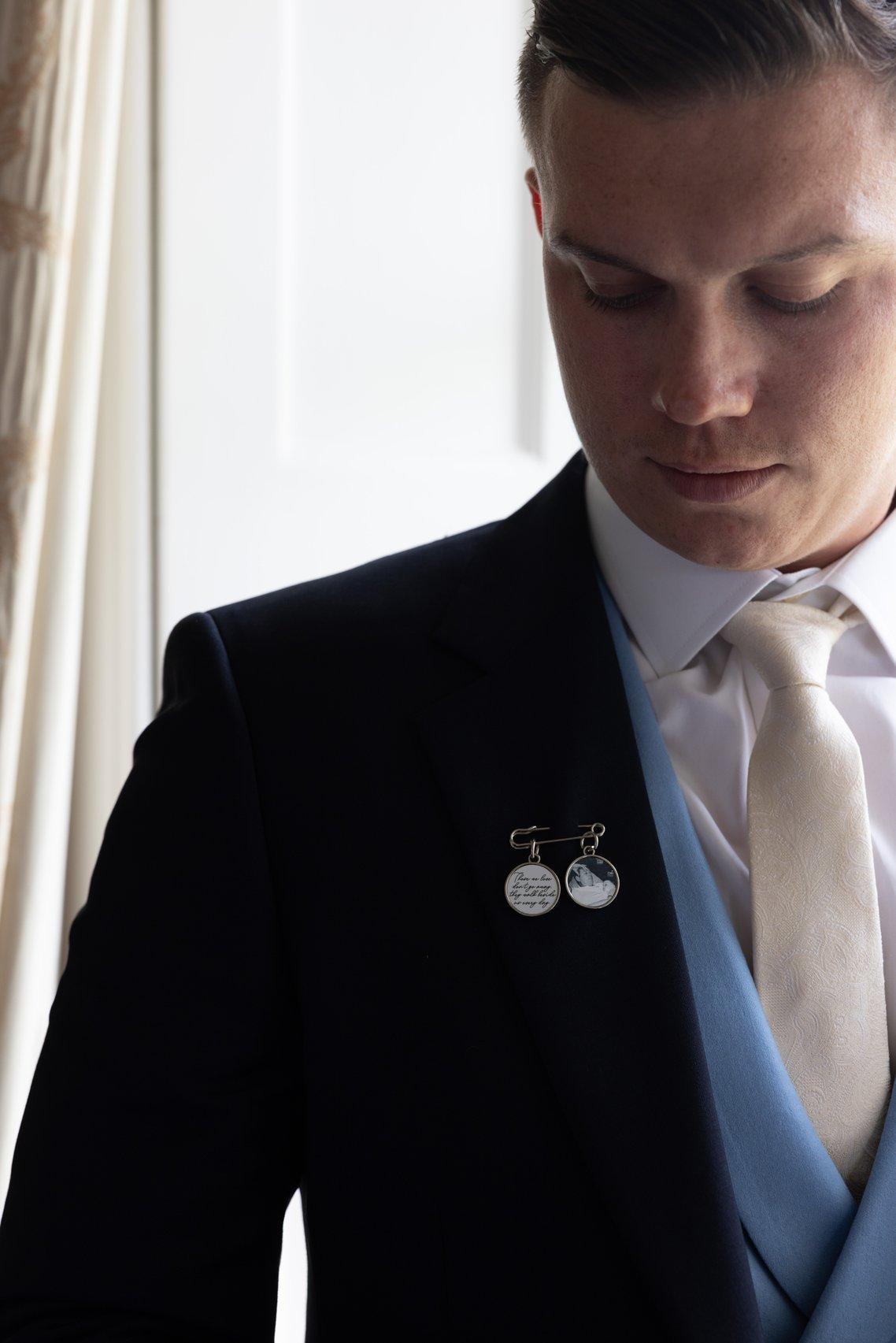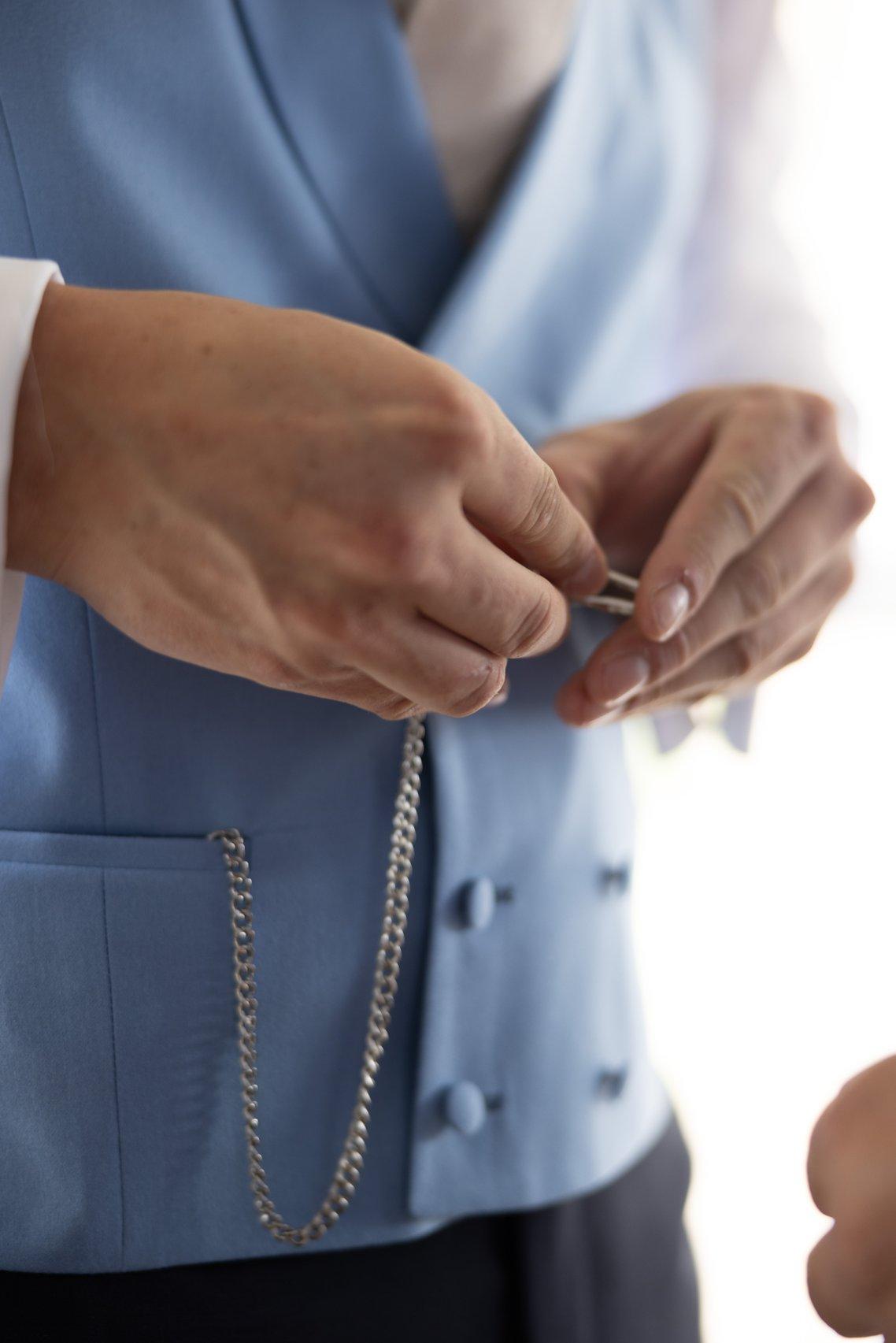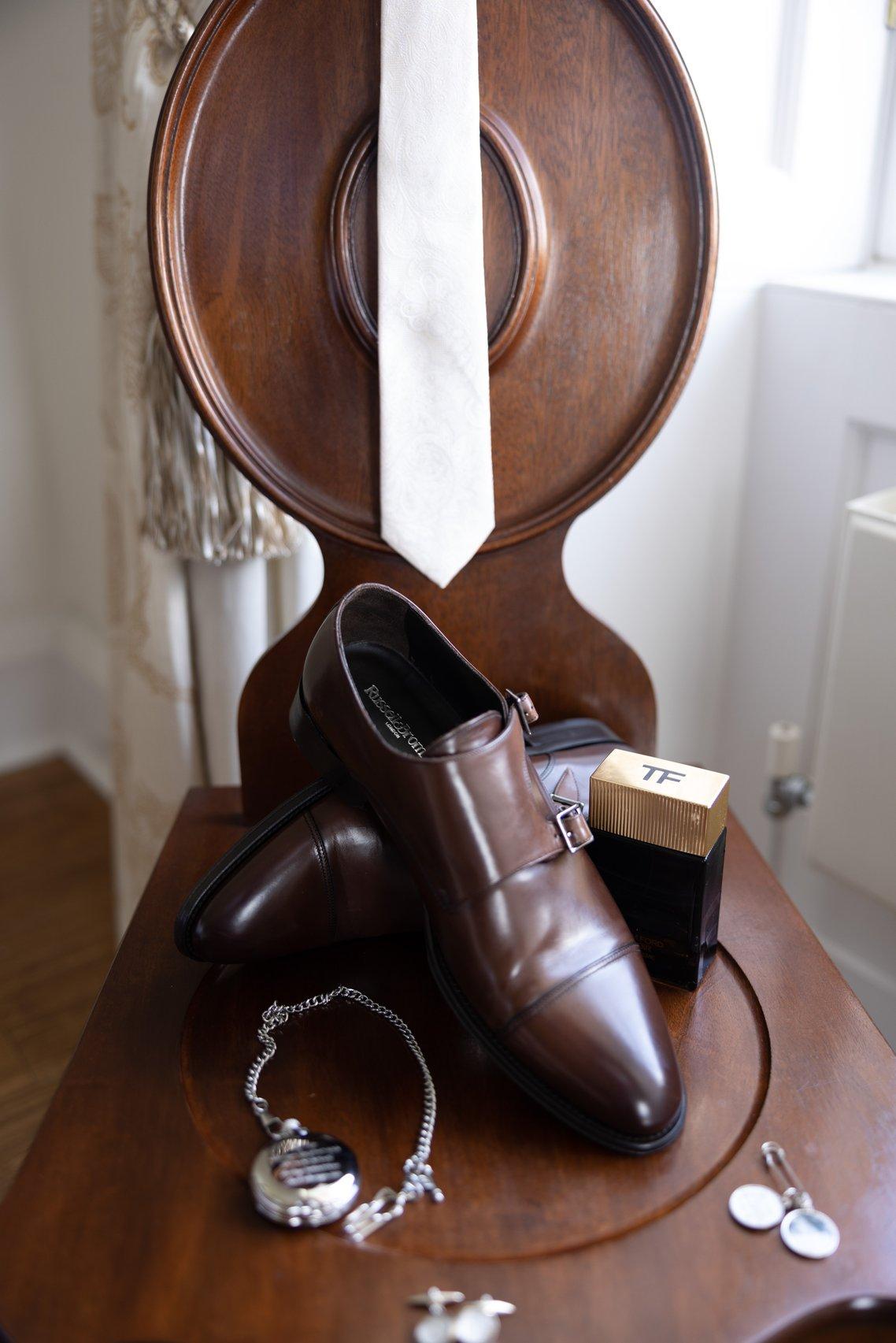 To match his bride's elegant and classic look, Luke opted for a wedding suit which fitted the bill perfectly - there's a groom who understood the assignment!
On the day, Luke wore a custom-made navy wedding suit from Jack Bunneys, with a baby blue waistcoat to complete the look. Speaking about her groom's suit, Paige said, "Blue is definitely Luke's colour, and adding the baby blue waistcoat made it a bit different, and more unique compared to other navy wedding suits.
"He tried on loads of different coloured waistcoats and styles, but to match the vibe at Botleys, he decided to go with the baby blue and navy in the end."
Luke paired his suit with brown monk shoes, a champagne coloured tie to match the bridesmaid dresses, a pocket watch and a pocket square.
But the most important accessories of all were the buttonhole and cufflinks, which were all worn in memory of his dad. The buttonhole was tailor-made to hold a picture of Luke's dad in it, and his cufflinks were made using his ashes, to ensure that his dad was there with him on the day.
Paige & Luke's Family-Centric I Do Crew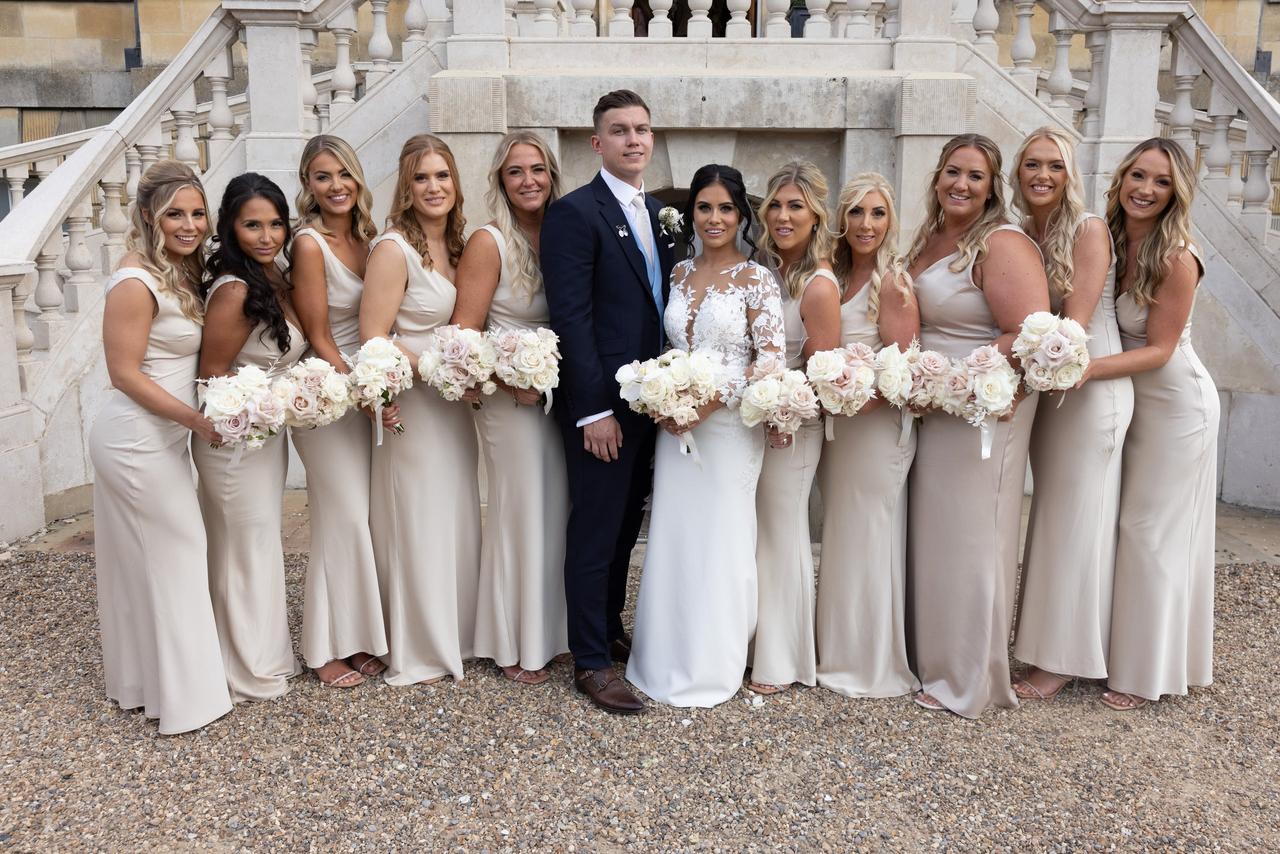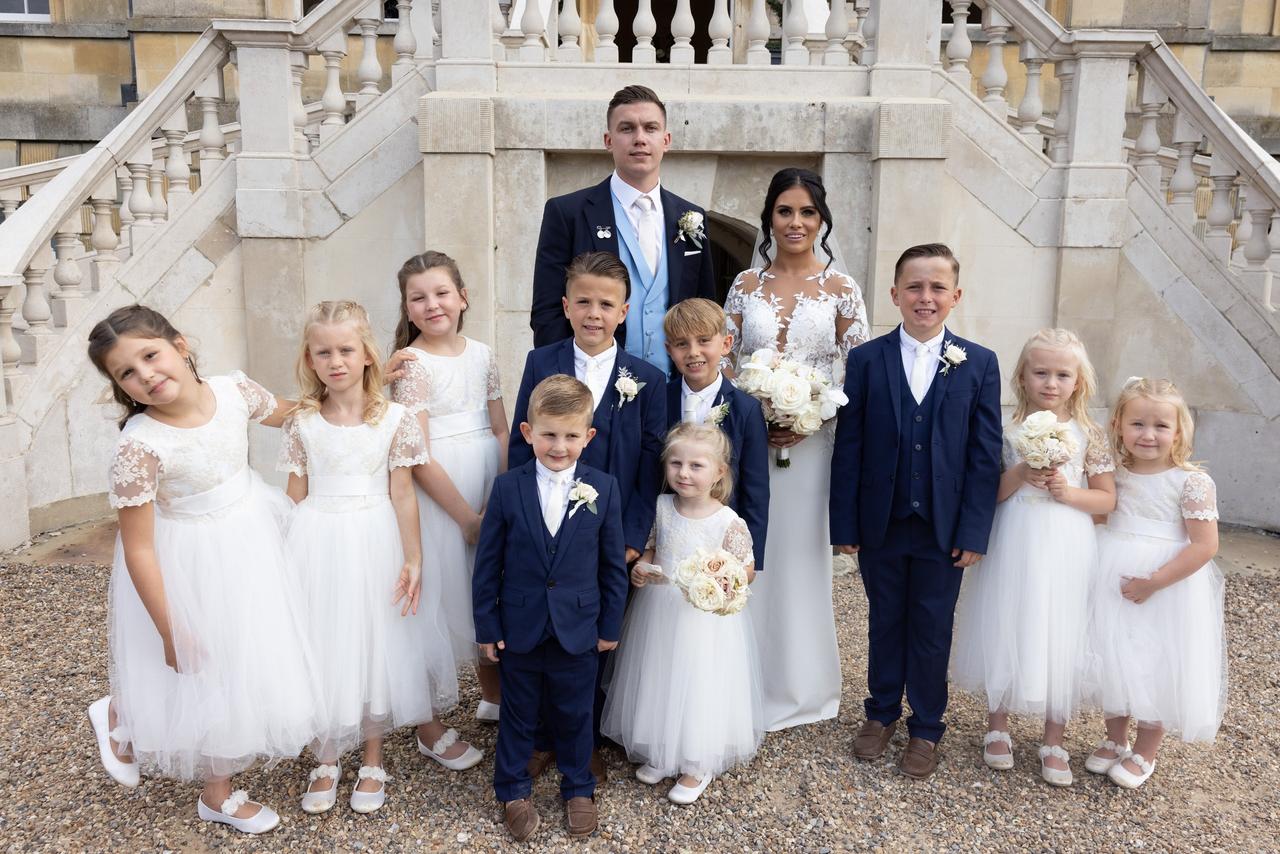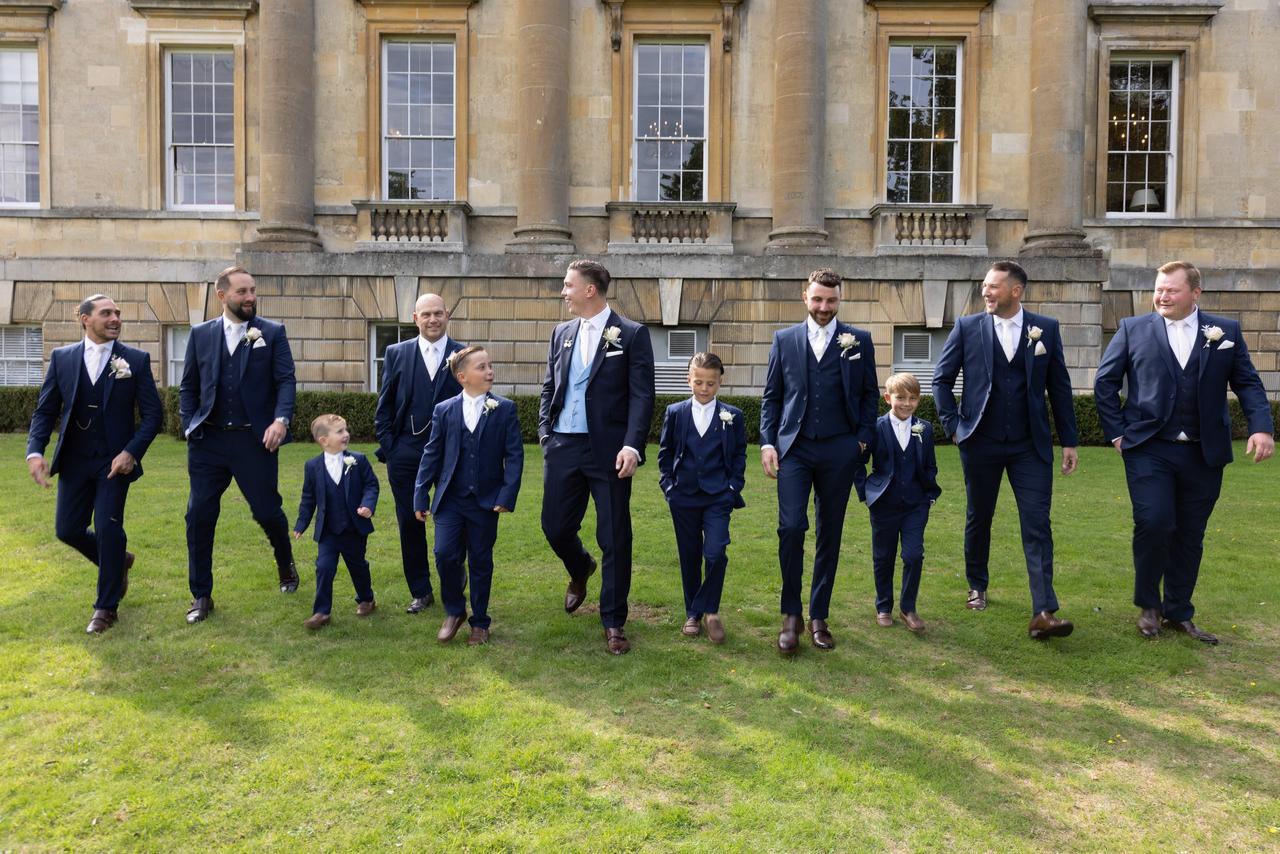 When we said family was important to these two, we weren't kidding! And the evidence is in the wedding party. No sibling, niece, nephew or cousin needn't worry about being left out, because Paige and Luke's priority was including everyone.
On the day, Paige had two of her sisters, Becky and Jess, as her maids of honour, and eight additional bridesmaids, which included her sister Maja, cousin Tara, Luke's two sisters, Carly and Claire and four of her closest friends.
Paige's bridesmaids all wore champagne coloured bridesmaid dresses from Quiz. Satin bridesmaid dresses are super on-trend right now and the figure-hugging V-neck gowns Paige's I-do-crew wore suited the vibe perfectly.
Children played a huge role in the couple's wedding day, with Paige and Luke sharing several nieces and nephews between them. There were eight flower girls in the wedding party procession, all of whom wore beautiful long sleeved ivory flower girl dresses from John Lewis.
By Luke's side on the day, was his childhood best pal, Chris, who was his best man, along with Paige's brother George, the couples' brothers-in-law from both sides and their four nephews.
A Very Special Morning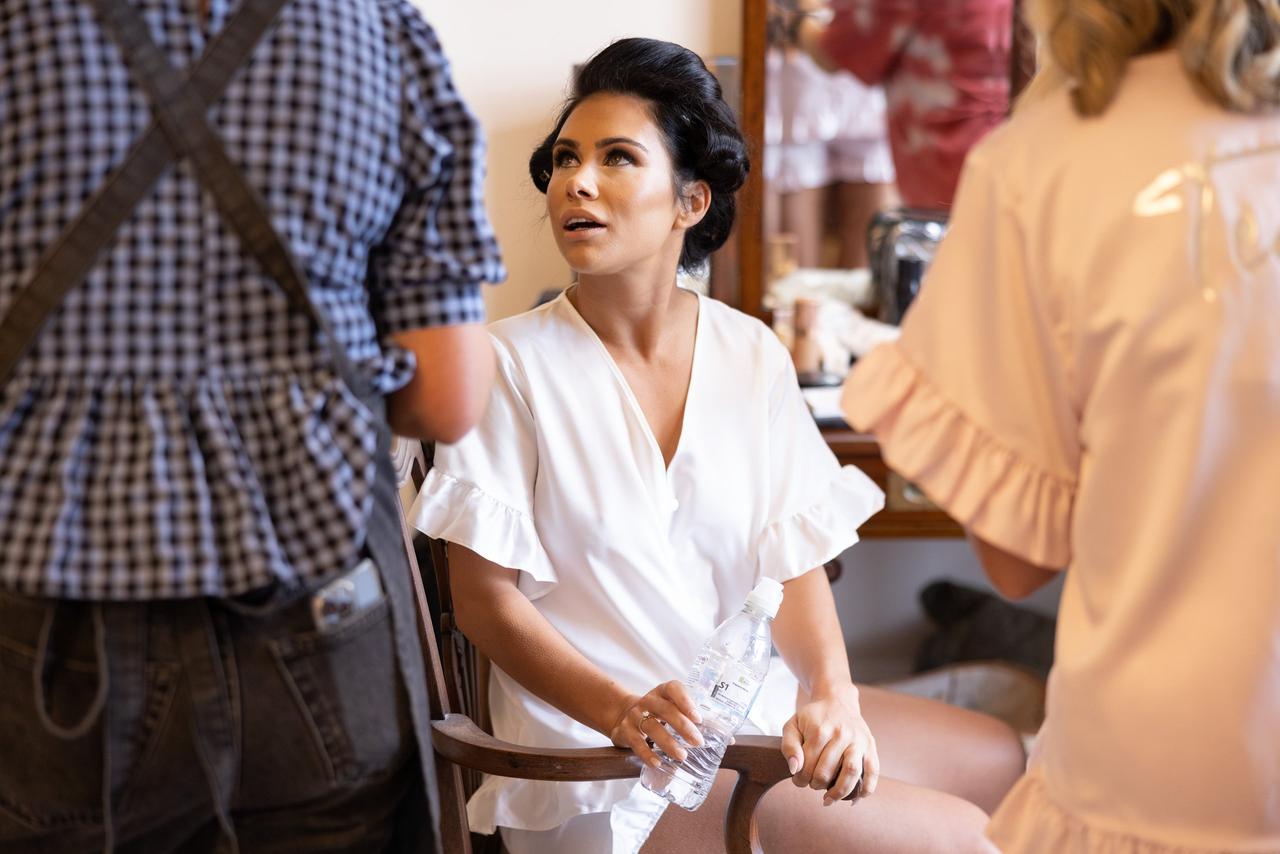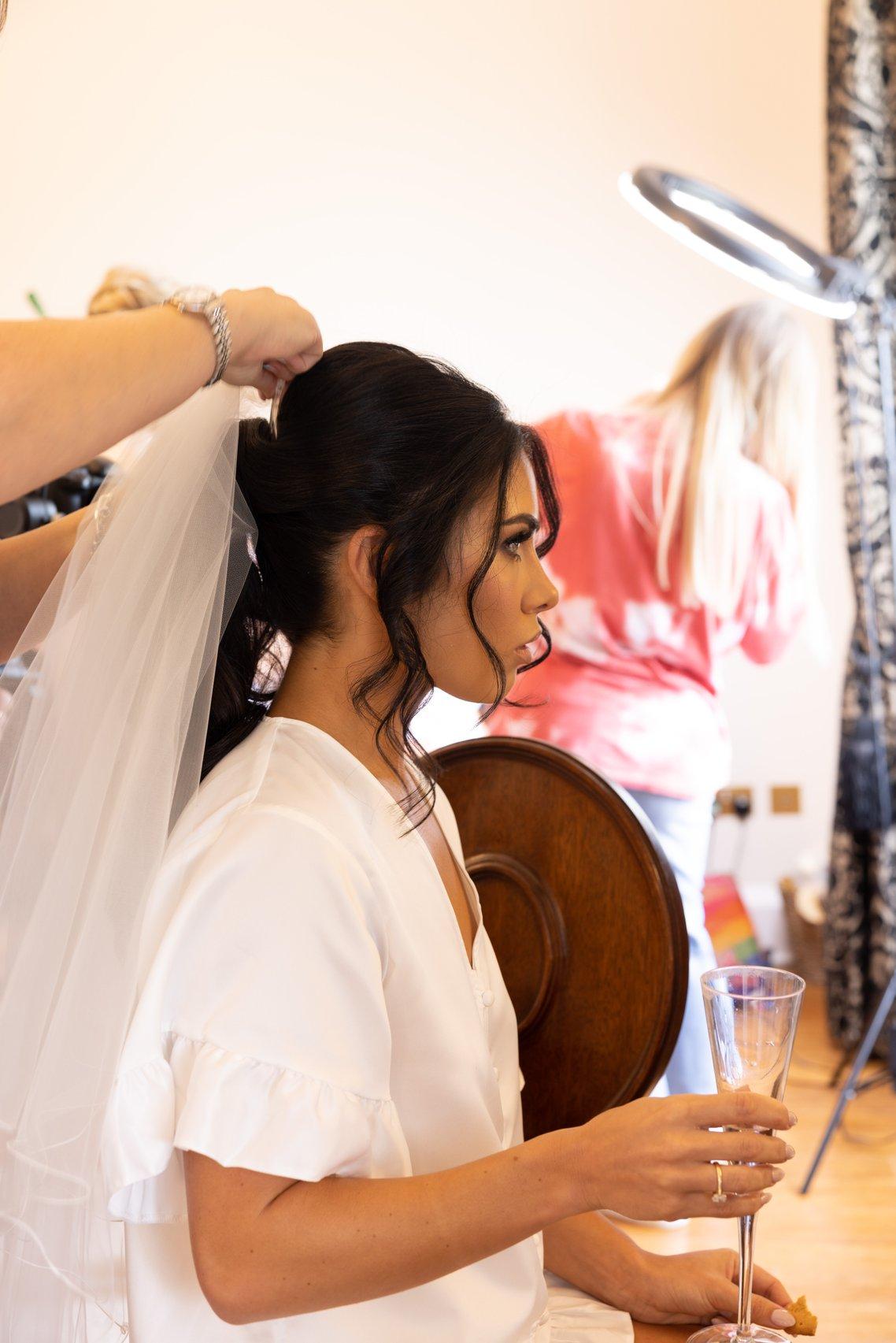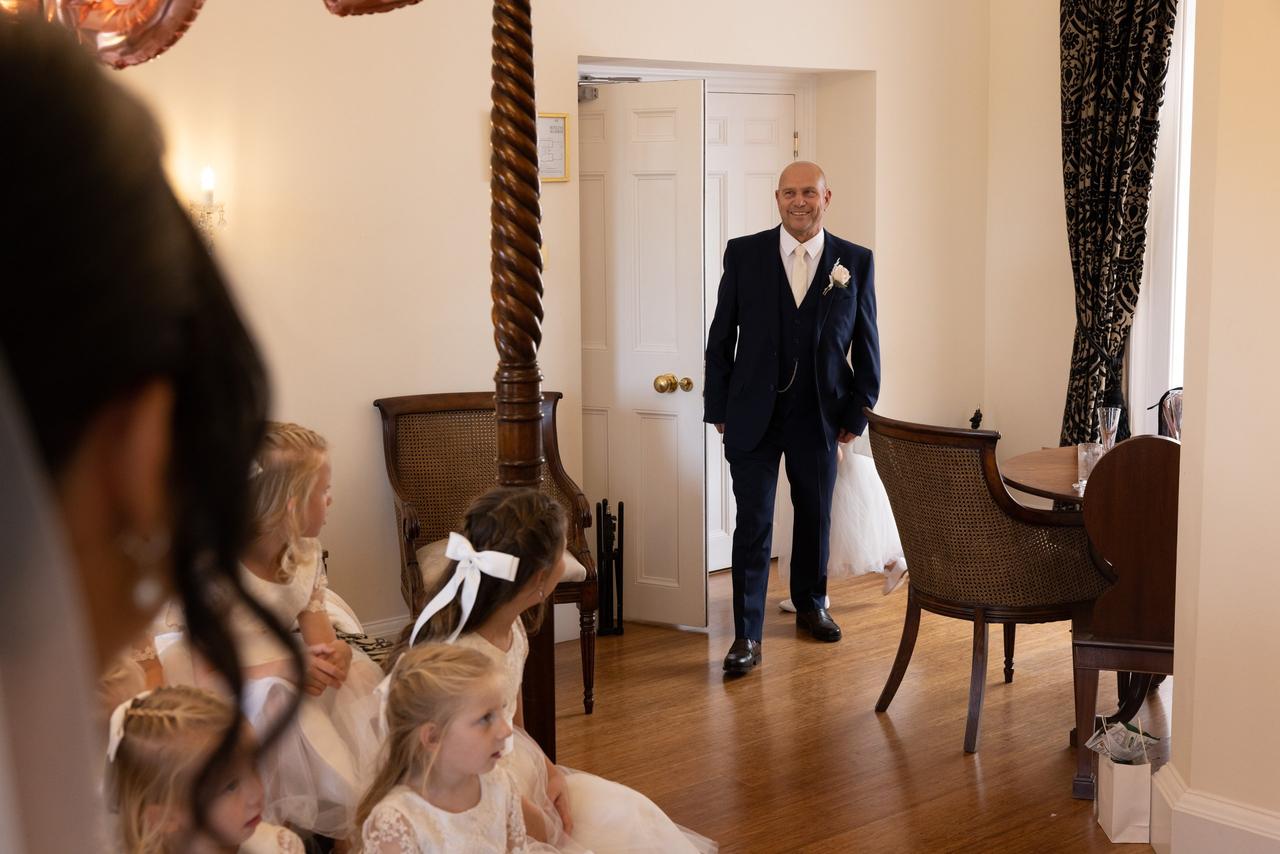 With such big wedding parties, it's no surprise that the morning of the wedding was a very special moment for both Paige and Luke.
"With so many bridesmaids and flower girls, everyone was running around the wedding suite on that morning, but it was like the perfect chaos. My bridesmaids made me an amazing book filled with notes and photographs in it as a gift, but I waited until the next day to read it as I'm such a crier!"
Surrounded by her mum, sisters, and best friends, Paige truly had the morning of her dreams with all of the women who are most important to her - and the little ones made it all the more special, "Watching my nieces having their hair done and putting on their flower girl outfits was just the cutest thing," says Paige.
Luke spent the morning with his side of the wedding party, getting ready with his best man, brothers-in-law and page boys, sharing drinks and getting excited about the day ahead, before heading to the lawns of Botleys for some pre-wedding pictures.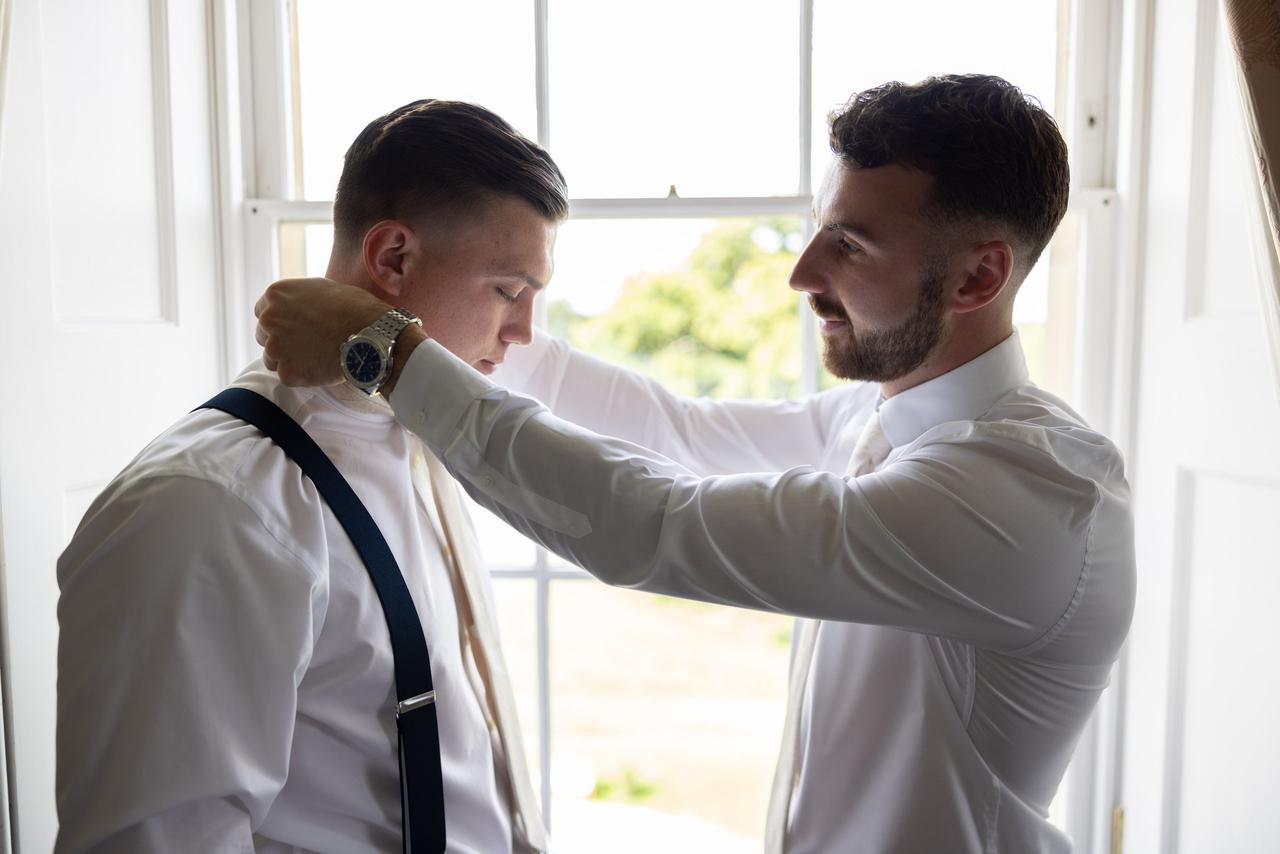 Time to Say I Do
Paige and Luke's entire wedding was held at Botleys Mansion. The couple and their families stayed at the venue the night before, got ready there and had both their ceremony and reception within the mansion's walls.
The ceremony took place in the orangery, which was decorated with a swanky red carpet, and an array of incredible floral arrangements, courtesy of Frankie Lane Flowers, who also prepared the wedding bouquets, buttonholes and table flowers - which was no small order - we're talking 19 bouquets, 11 buttonholes and enough blooms to adorn the entire staircase.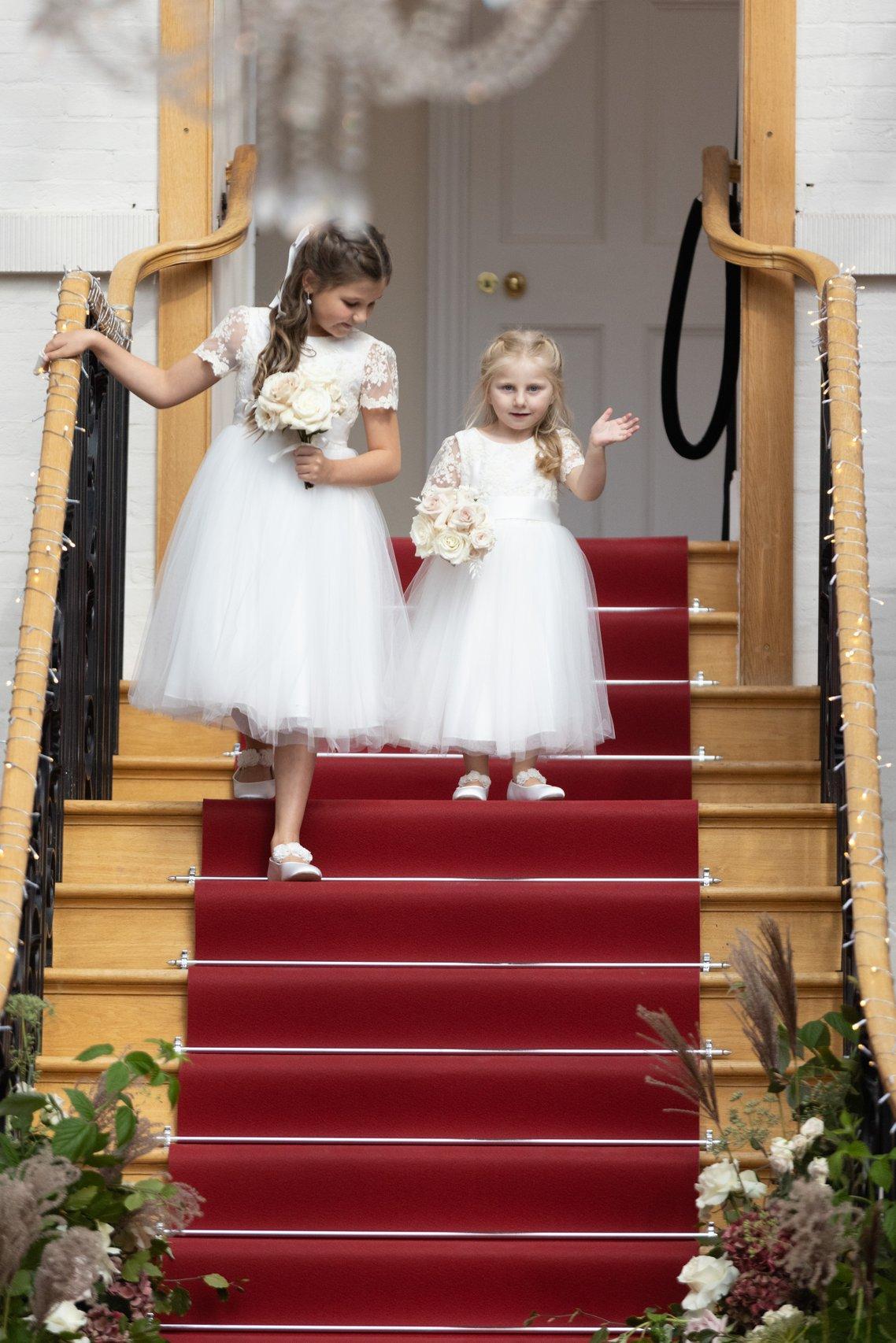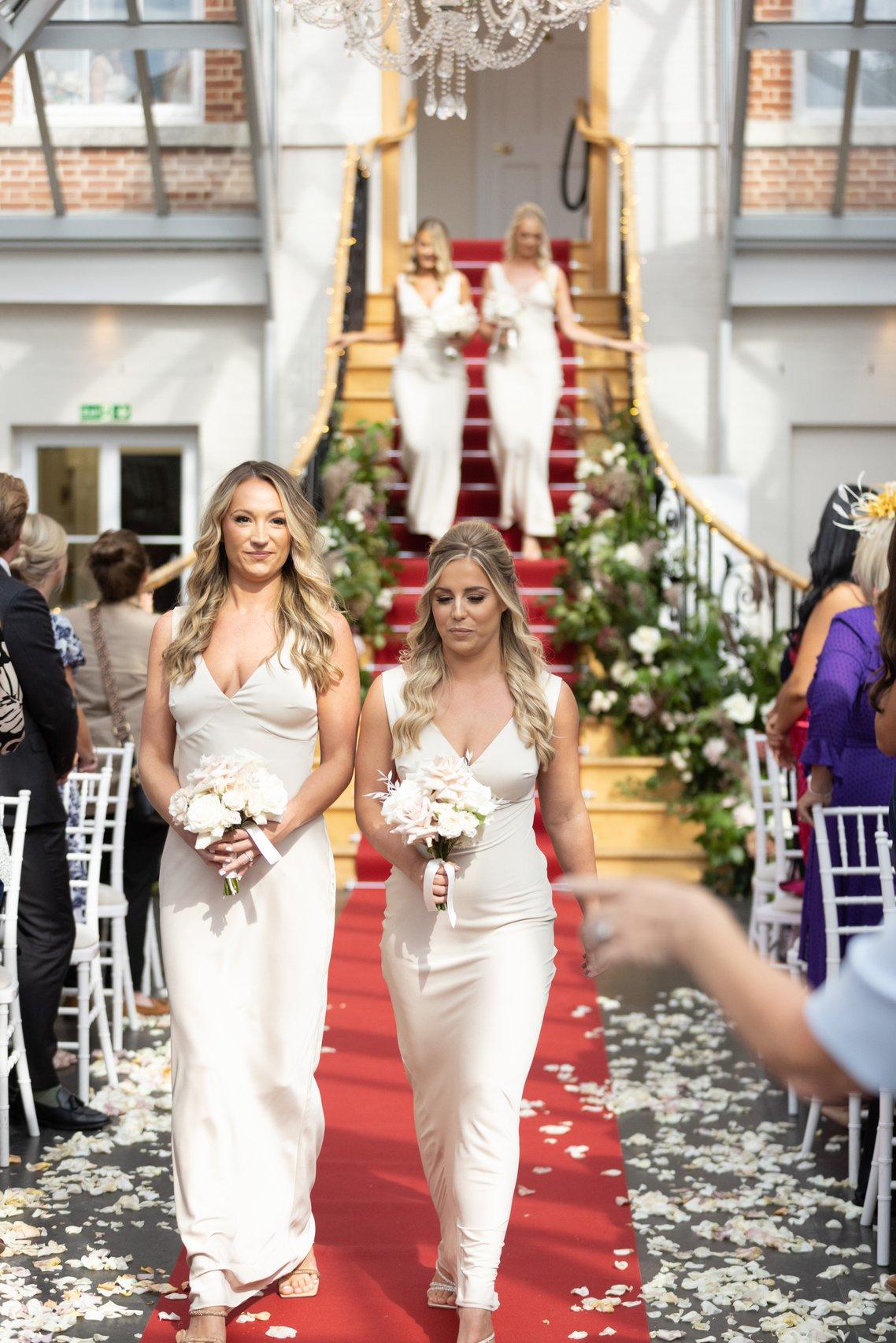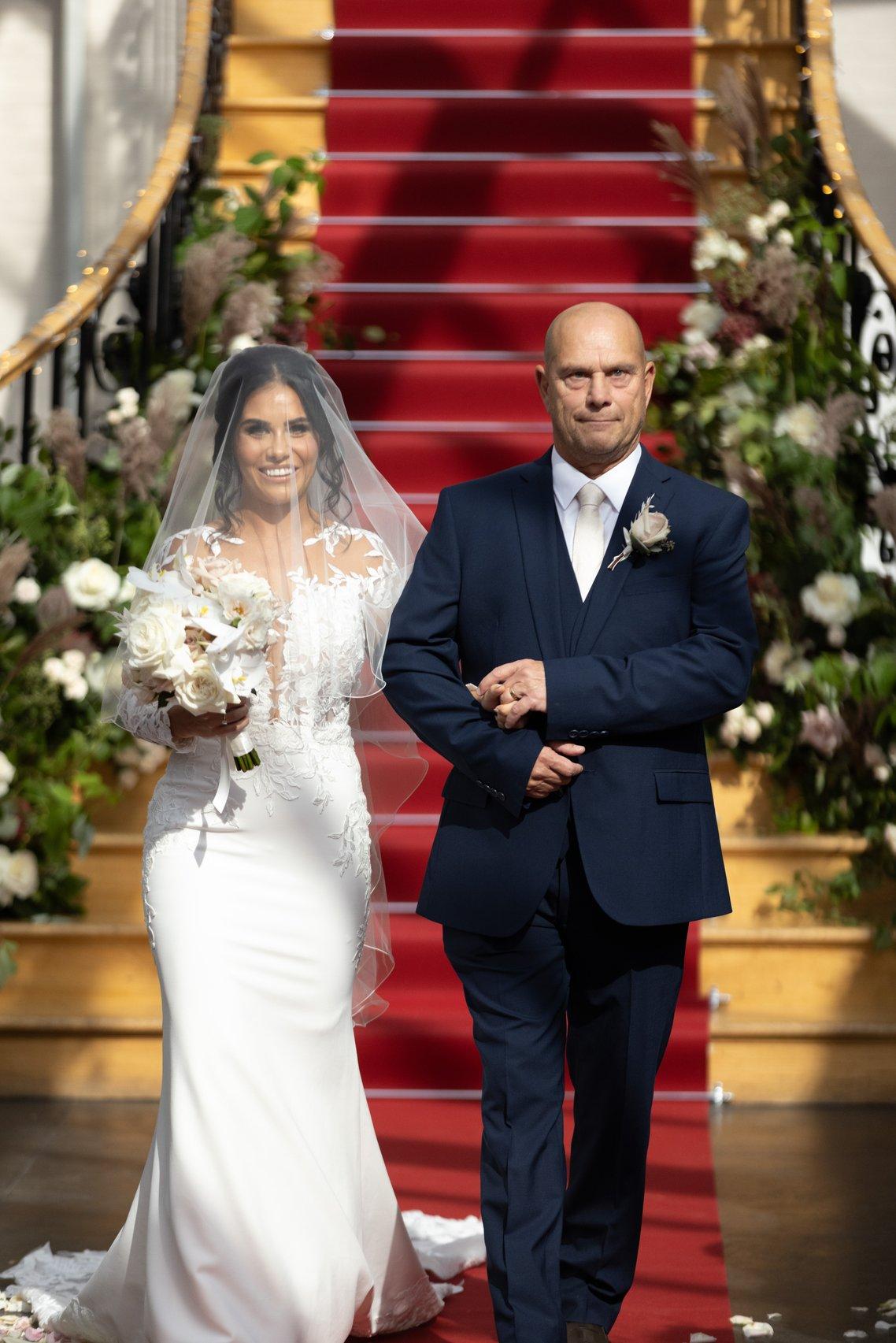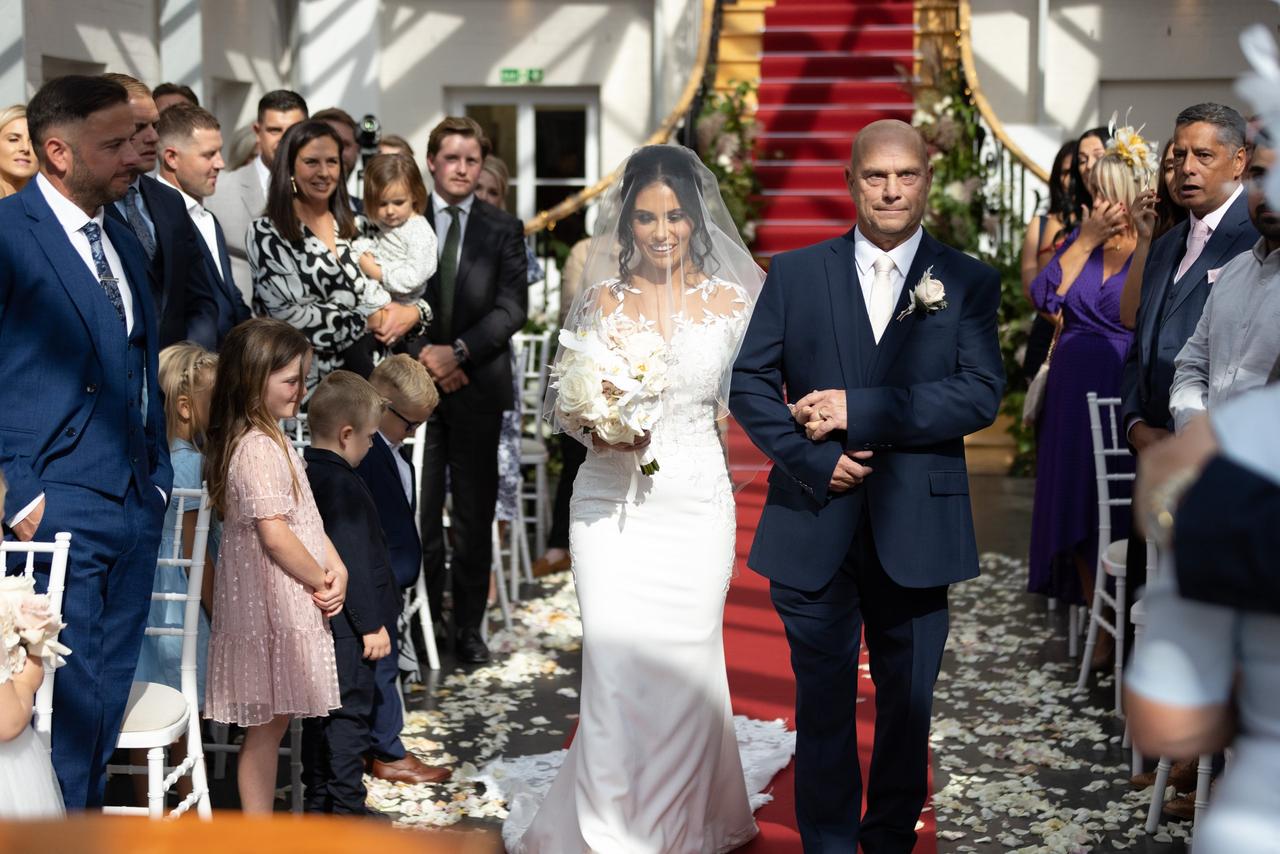 Paige, her dad Ivor and the wedding party walked down the famous Botleys Mansion staircase, which was draped in Frankie's floral displays, to Lauryn Hill's Tell Him.
During the ceremony, Paige's sister gave a reading and the couple shared wedding vows they'd written to each other.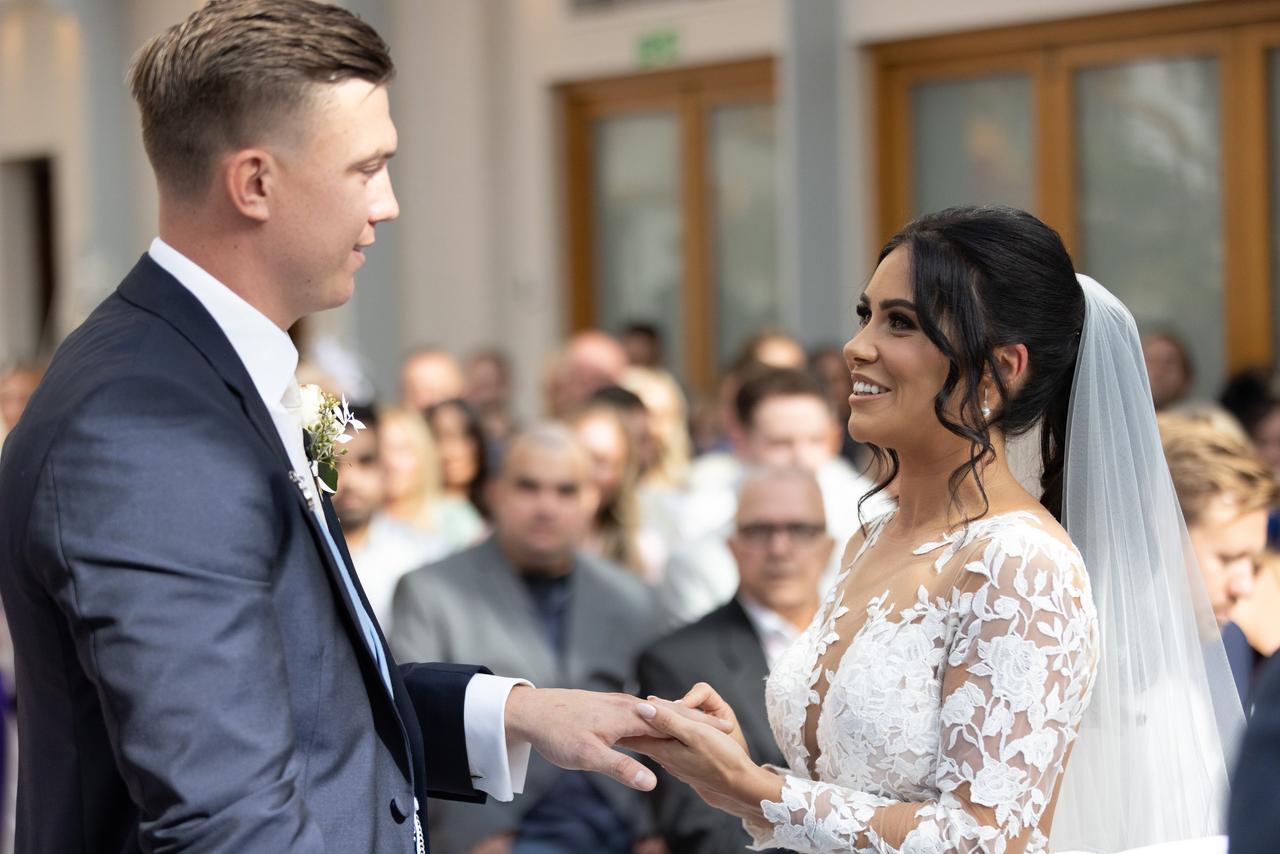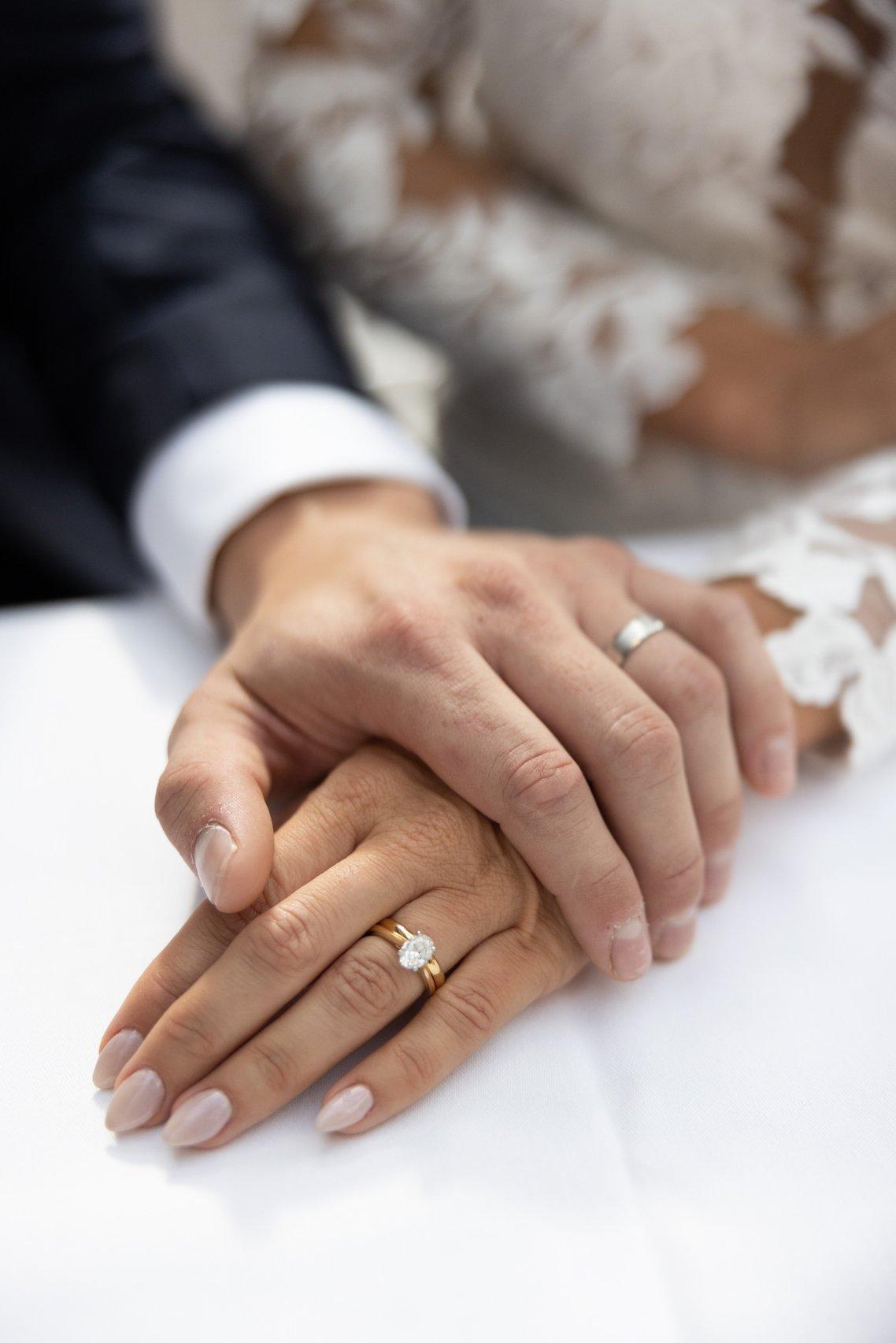 They then exchanged rings, made by YCL Jewels, who also made Paige's oval diamond engagement ring which Luke designed with the help of her sisters.
Post-Ceremony Celebrations
After the ceremony, guests enjoyed canapes and fizz on the grounds outside Botleys, giving Paige and Luke time to mingle with their nearest and dearest. Their wedding photographers snapped some roaming pictures, before stealing them away for their couple portraits.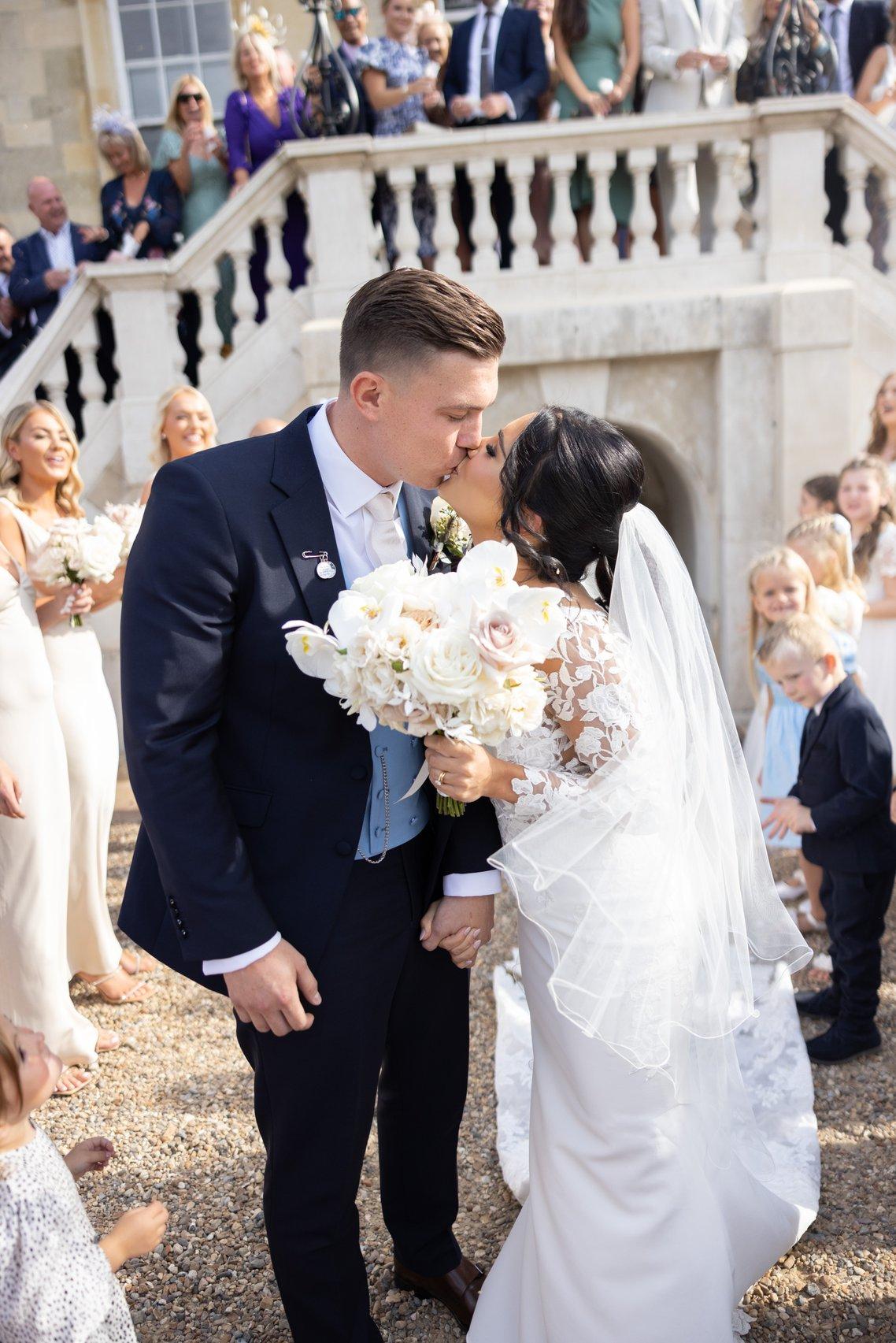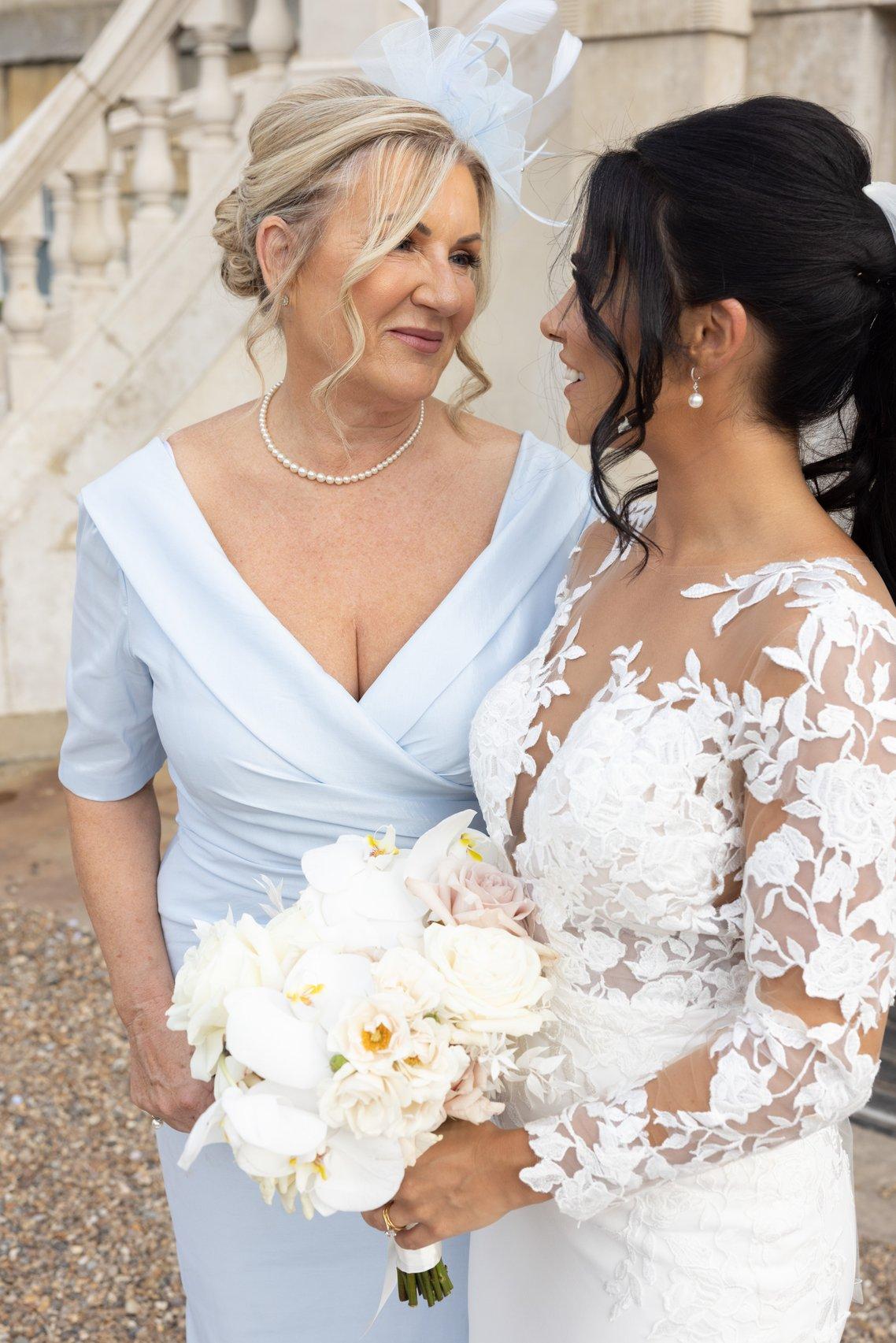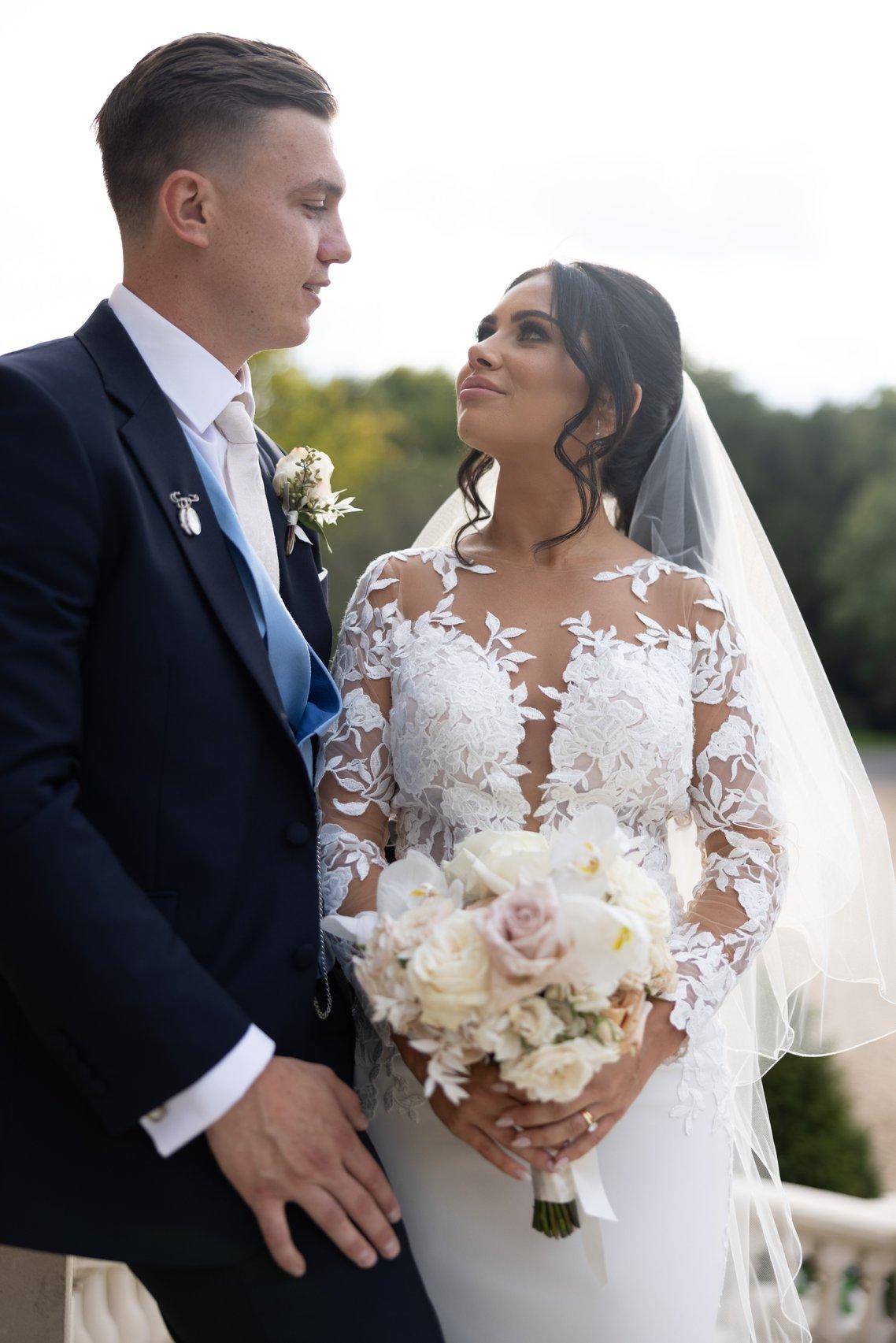 Shortly after, guests retired to the orangery again, which had been transformed into a wedding breakfast room. Paige and Luke are real foodies, so wanted to ensure their guests were well fed during the day.
The menu consisted of baked French brie with warm chutney to start, sticky Hampshire beef and mash for the main, and a melt-in-the-middle chocolate pudding for desert.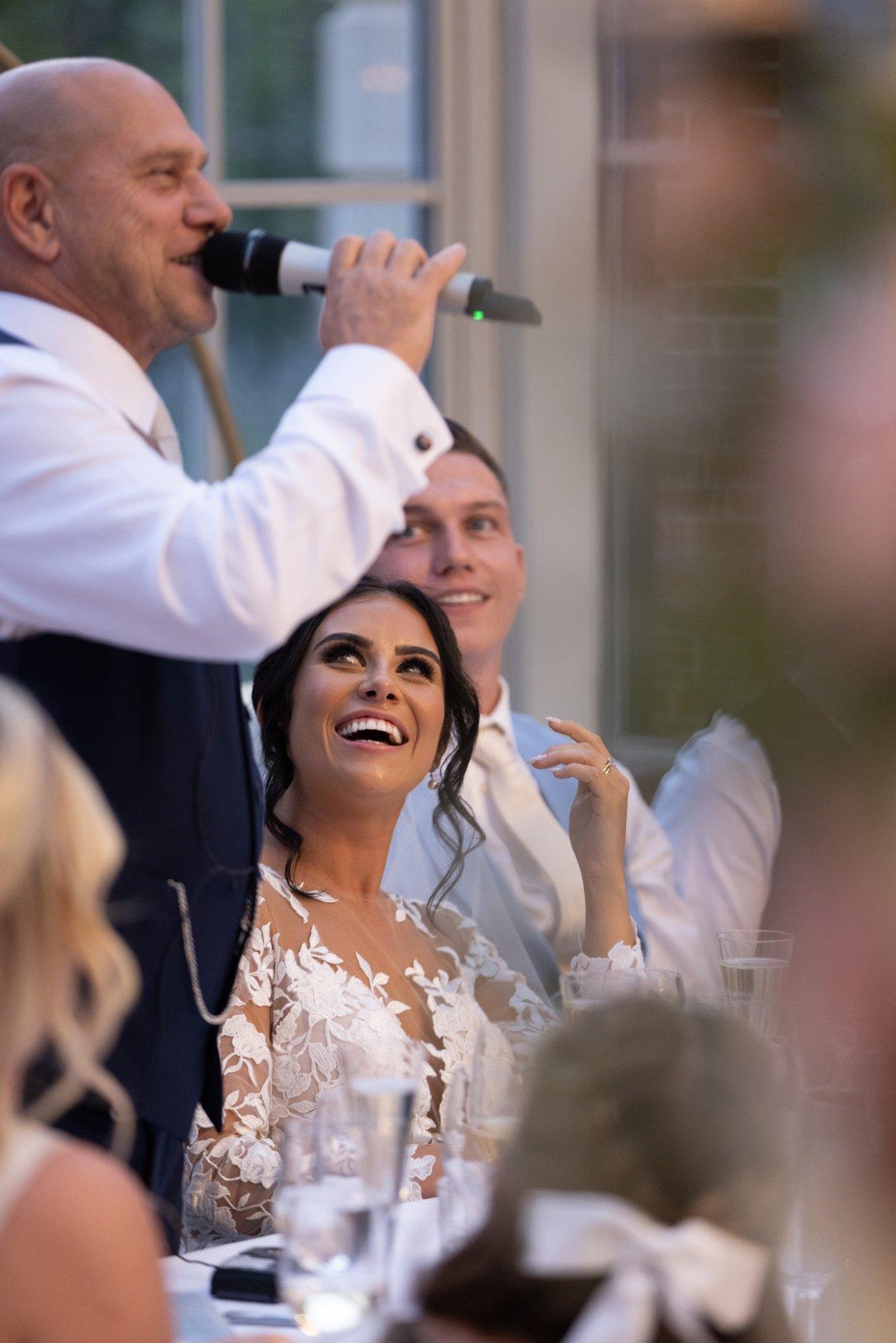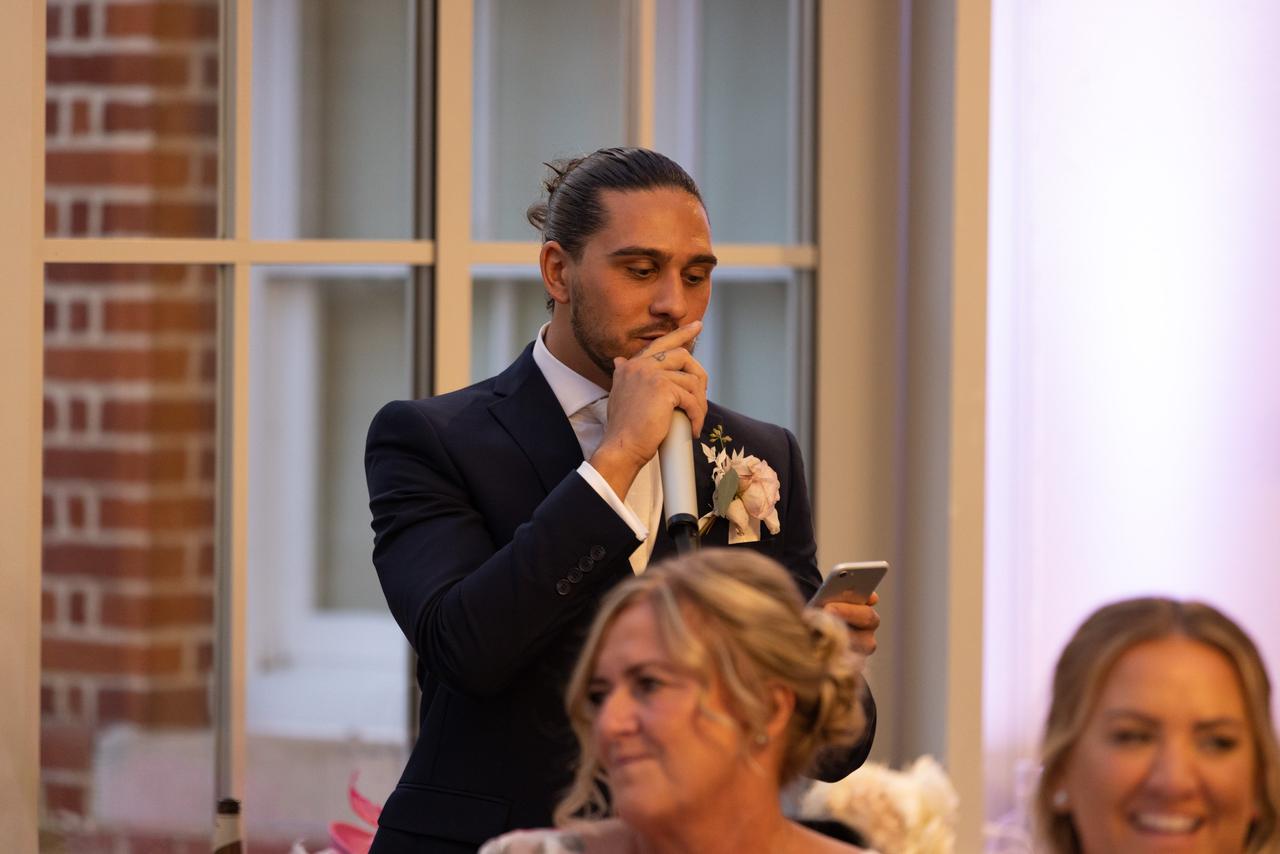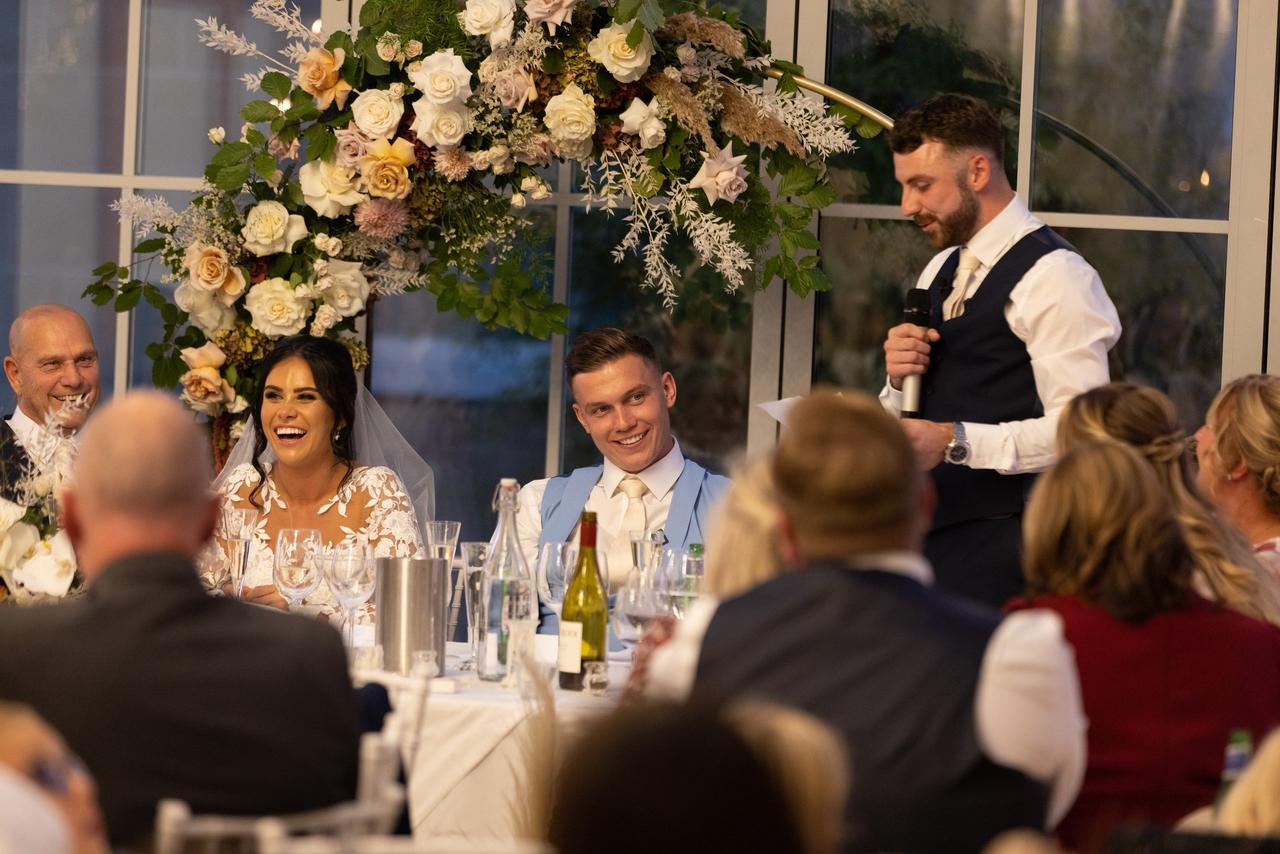 When it came to the wedding speeches, Luke, his best man Chris, and Paige's dad Ivor had the room both laughing and crying, for all the right reasons.
The wedding breakfast events were coordinated by Paige's brother George, who acted as the toastmaster for the day. He handled everything from introducing the new couple to moderating the speeches, and even prepared a surprise presentation with videos and pictures of Paige which he played to the entire room.
And that wasn't the only surprise the family had in store for the couple - Maja, one of Paige's three sisters, surprised the couple with a beautiful live song at the end of the speeches - that, along with a heartfelt toast to honour Luke's dad was more than enough to fill the room with love - as if there wasn't enough of that going around already!
The party began not long after, with wedding band Irreplaceable from Entertainment Nation kicking things off, before A Good Time Entertainment took over on the decks for the remainder of the night.
"We wanted a band to start things off, as it creates such a good atmosphere and caters for everyone, and then a DJ for later in the evening when the party vibes were needed."
Looking Back
Almost a year on from their wedding day, Paige and Luke have nothing but positive things to say about their celebrations.
"We loved it all. We loved that our family could stay there the night before, the decoration was just stunning and it was amazing having everything in one place - the dancefloor, the party and the bar - so no one had to leave the room," says Paige, "The whole day really was amazing, our families and friends really made it for us. There was so much love in the room."
When it came to advice for others, Paige explains, "The hardest thing was being strict about planning the guest list, it's one of those things you feel so guilty about, but our advice would definitely be to try and live in the moment and don't sweat the small stuff."
Paige & Luke's Wedding Suppliers:
Inspired by Paige and Luke's wedding? Here are some ideas and articles we know you'll love...