Pip & Daniel's Town Hall Wedding With a Chicken & Chips Dinner
If your dream wedding involves dogs, Prosecco and burger and chips for dinner, you'll obsess over Pip and Daniel's cool Hackney celebration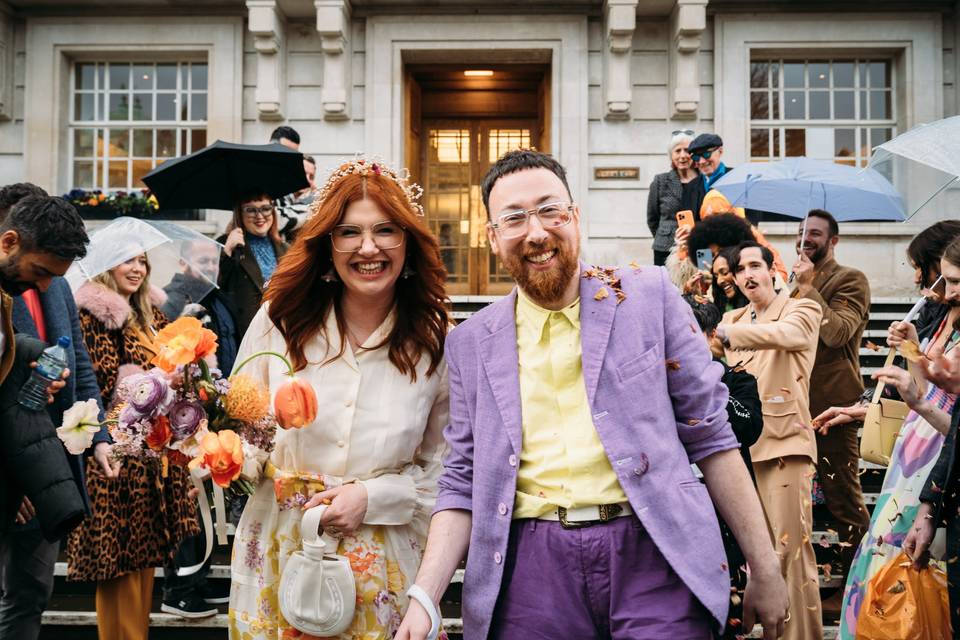 Hitched Featured Suppliers:
Pip and Daniel swiped right for each other more than five years ago after spotting each other on Tinder. Who'd have thought that a dating app meeting would lead to love at first swipe, a romantic proposal and a future together as a married couple?
Speaking about their first ever date, Pip explains, "We had our first day at the Tate. It should have been just a few hours long, but date number one ended up lasting a whole weekend, and in all honesty, we've been inseparable ever since."
A Romantic Beachy Proposal
The couple dated for three happy years before Daniel decided to pop the question with a family heirloom from Pip's side.
"We were on a walk in Brighton, along the beach," says Pip, talking about the moment she and Daniel got engaged, "We climbed up some rocks and sat to watch the water, when Daniel turned to me and asked me to marry him."
Daniel didn't have the task of buying an engagement ring, as Pip had already gifted him the sparkler she planned on wearing, explaining, "The ring he proposed with was my grandma's engagement ring which I gave to Daniel about a year before he proposed so he'd have it when he was ready."
Pip's Bright Vintage Wedding Style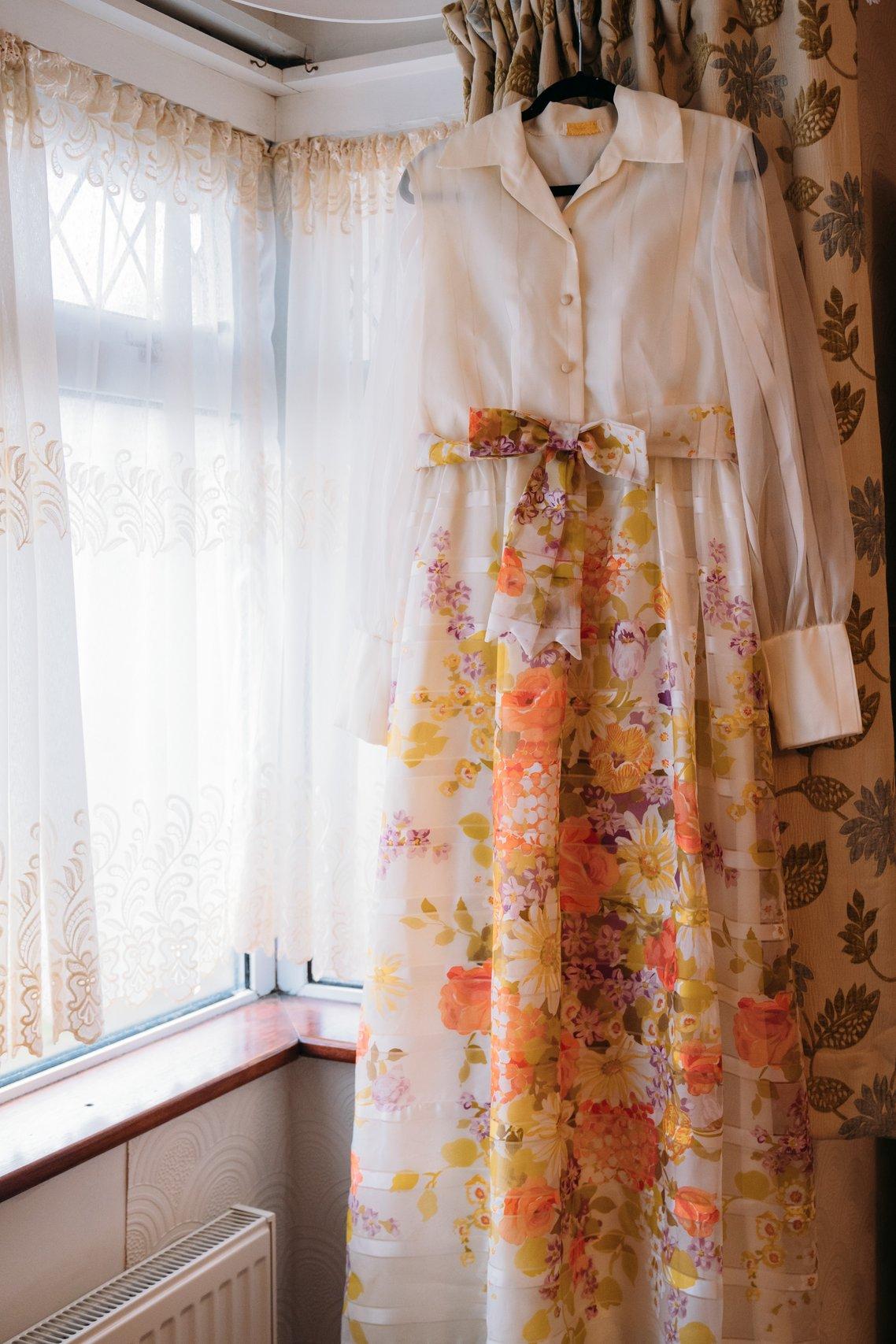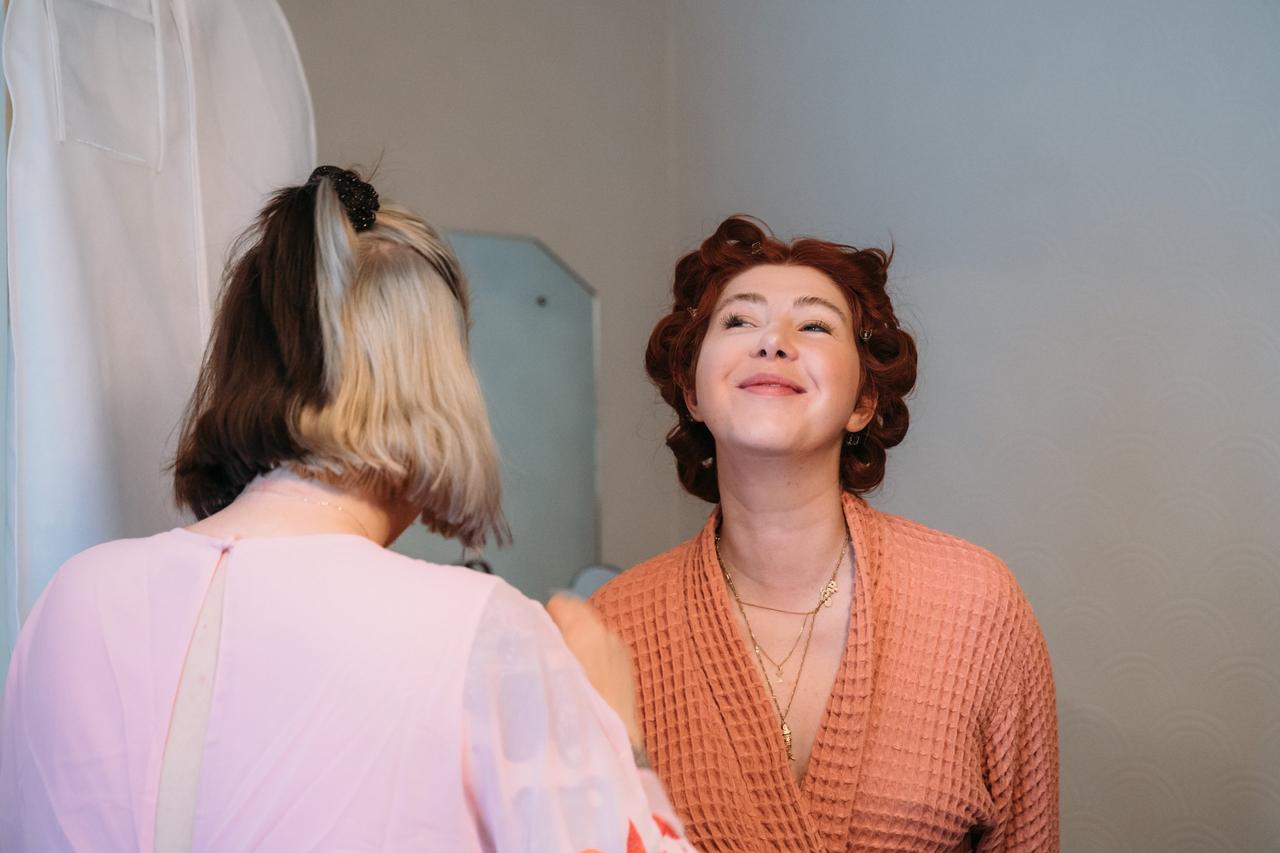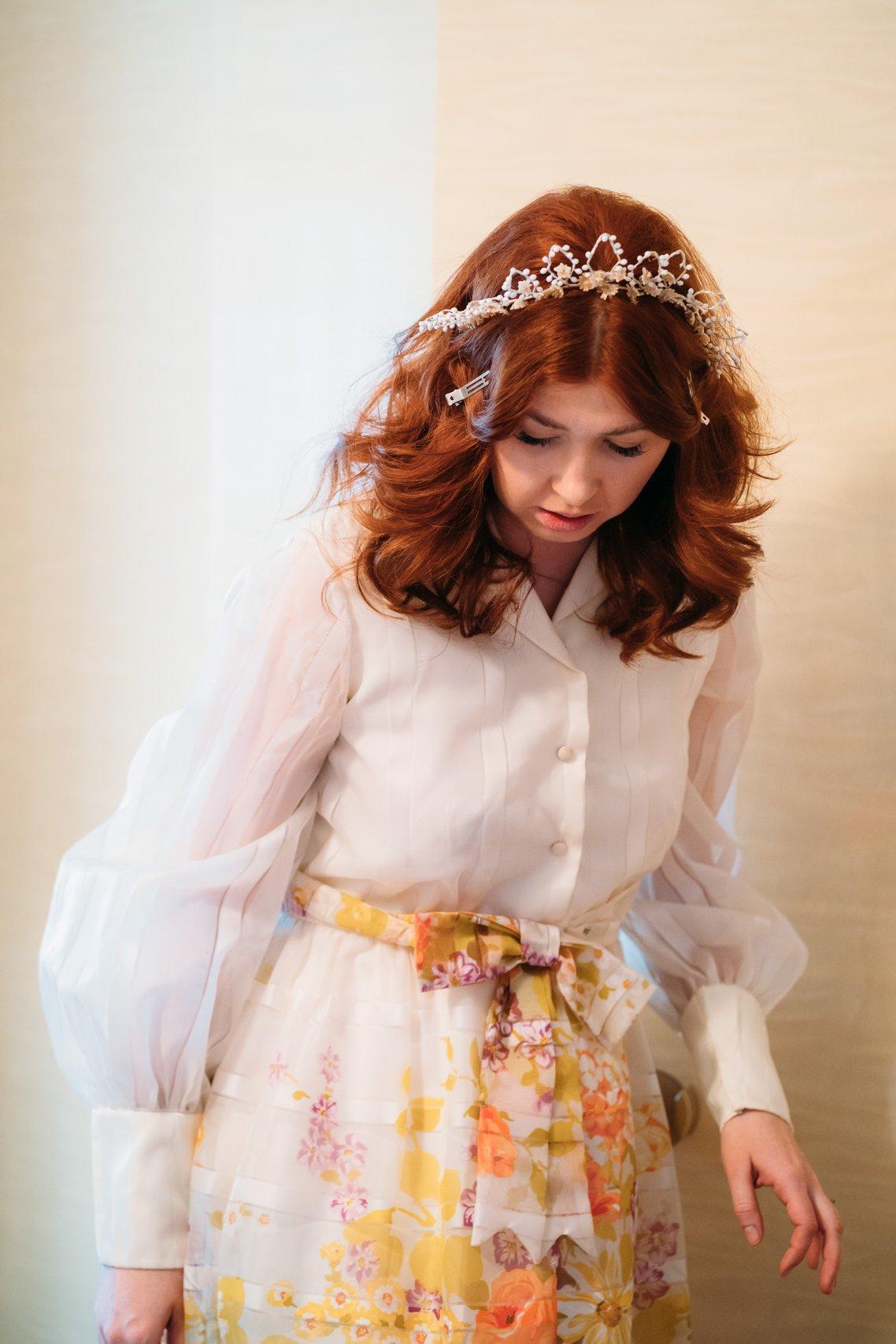 The wedding morning saw Pip surrounded by friends and family, "Daniel and I both got ready in our new house. There were lots of friends and family staying over for the wedding so it was quite chaotic but really fun at the same time. I did my own wedding hair and makeup and stuck to my usual style - big 70s hair and a natural wedding makeup look."
If you've ever found yourself on Pip's Instagram account, you'll know she's pretty stylish, and her threads for her and Daniel's Hackney wedding were no different. Pip's wedding style was vintage and colourful, as she explains.
"I wore a vintage 70s dress which had a full skirt covered in flowers. I bought it from a vintage shop called Darling and Vintage and it cost me just £40 in the sale. I actually bought this before my actual wedding dress because I just loved it.
"As soon as I saw the dress, I know it would be perfect for the legal ceremony, and it felt ideal for spring, too. In fact, I didn't try on any other dresses for the Hackney wedding, because I know straight away it was the one."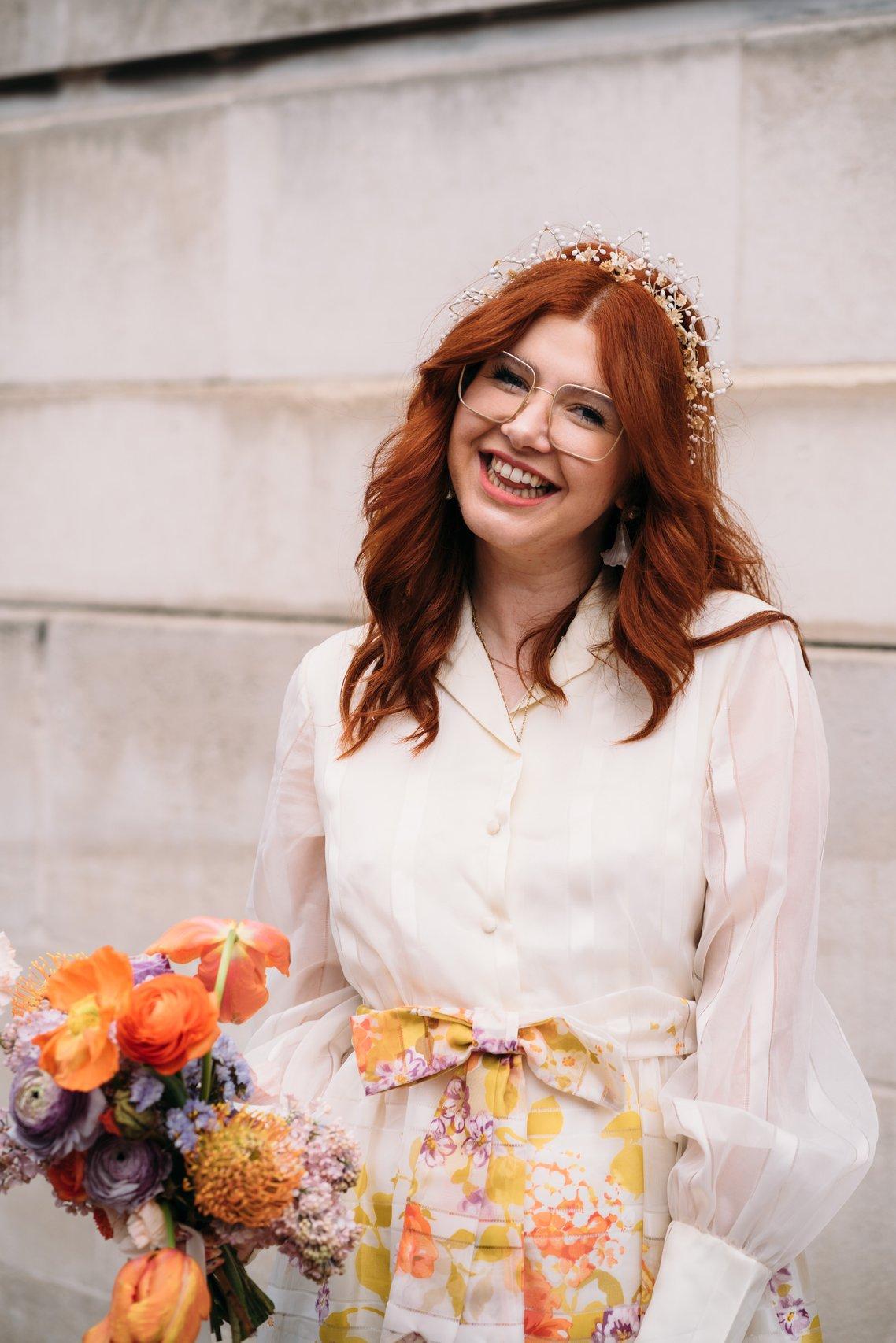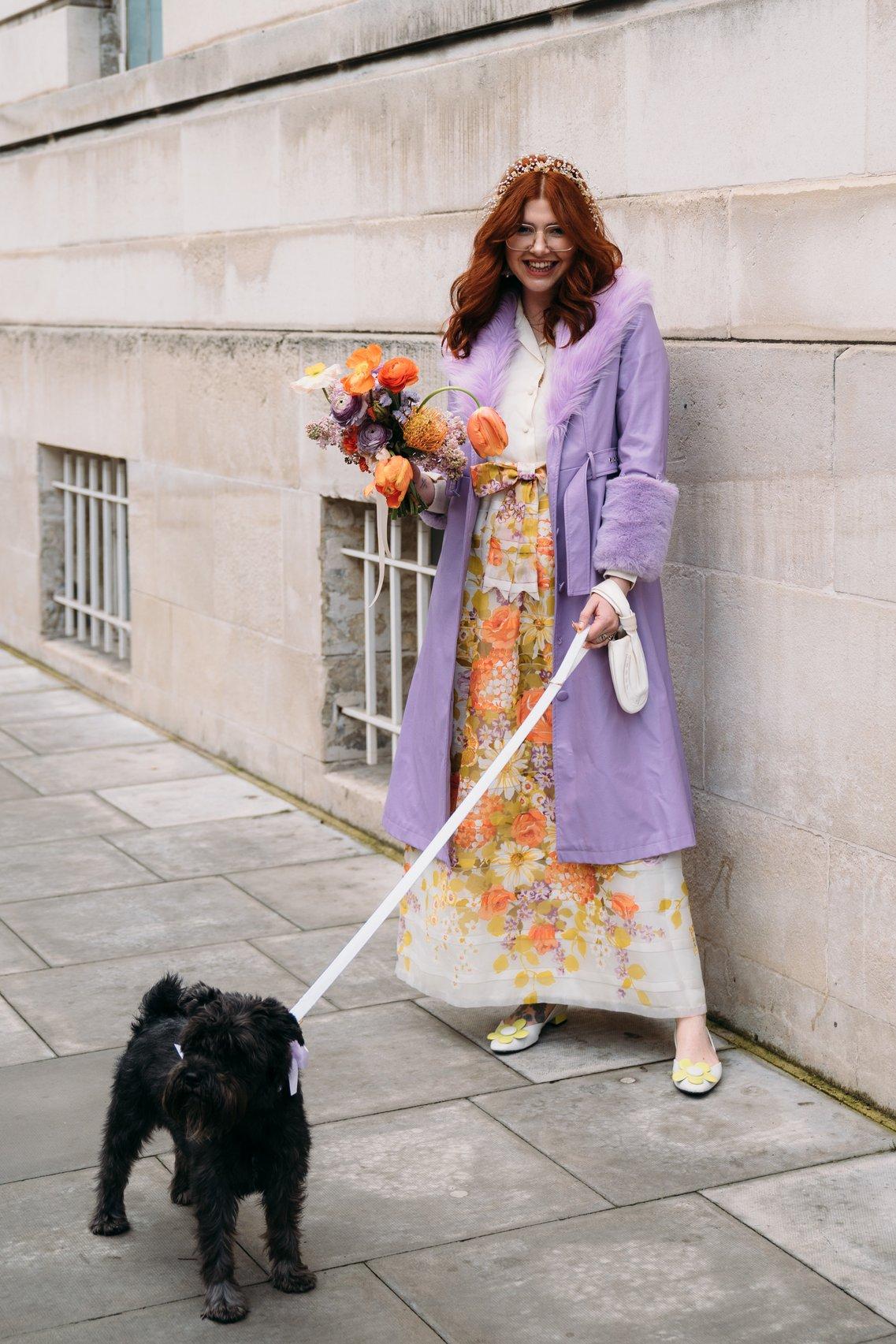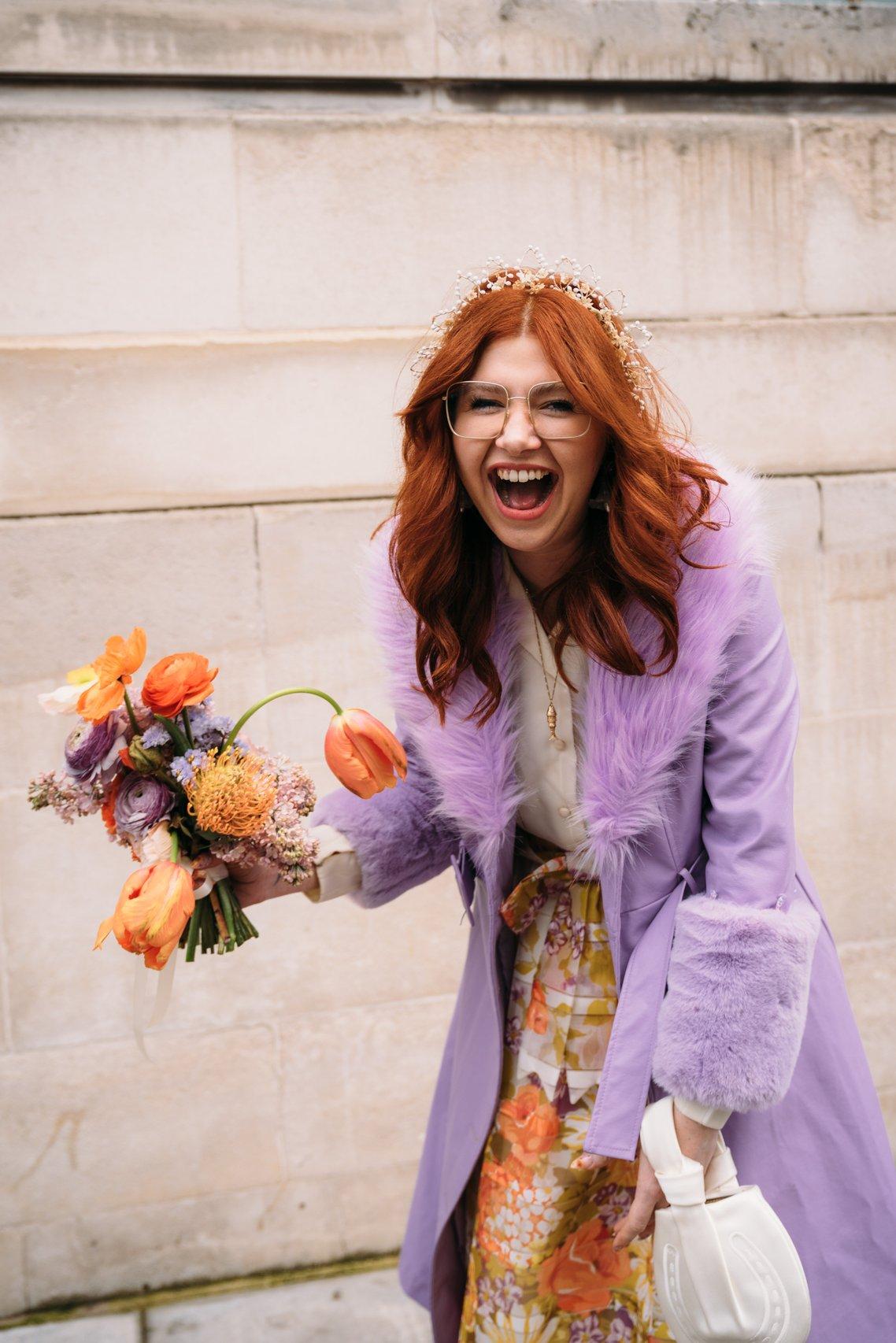 To complete the look, Pip wore a funky headpiece, which was actually worn by her great aunt at her wedding in the 1940s. She paired the hair accessory with earrings from Shrimps, a bag from Anya Hindmarch, shoes from L'Atelier de Charlotte and glasses from Ace and Tate.
Inspired by Pip's look? Check out these vintage wedding hair ideas.
Daniel's Vibrant Colourful Wedding Style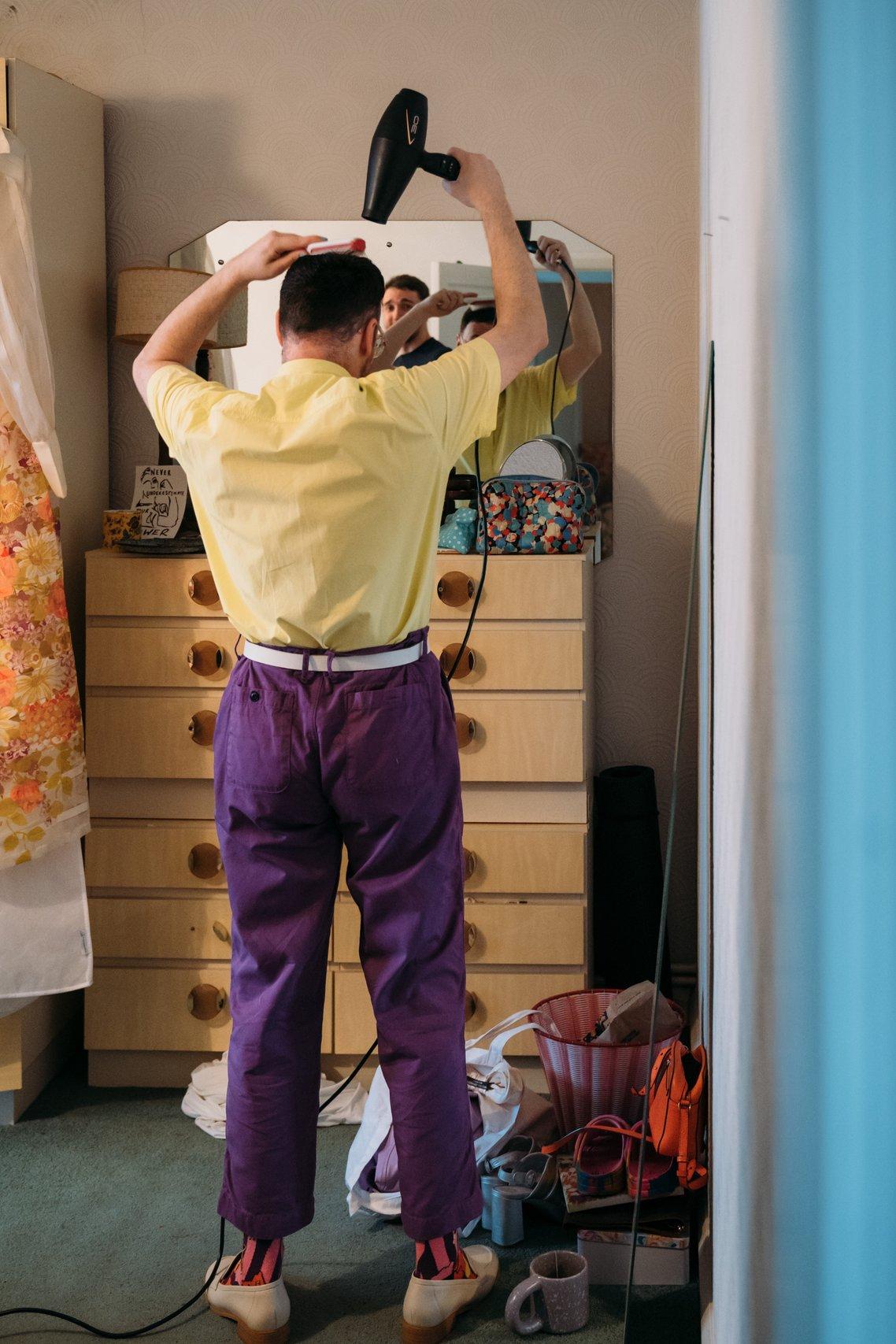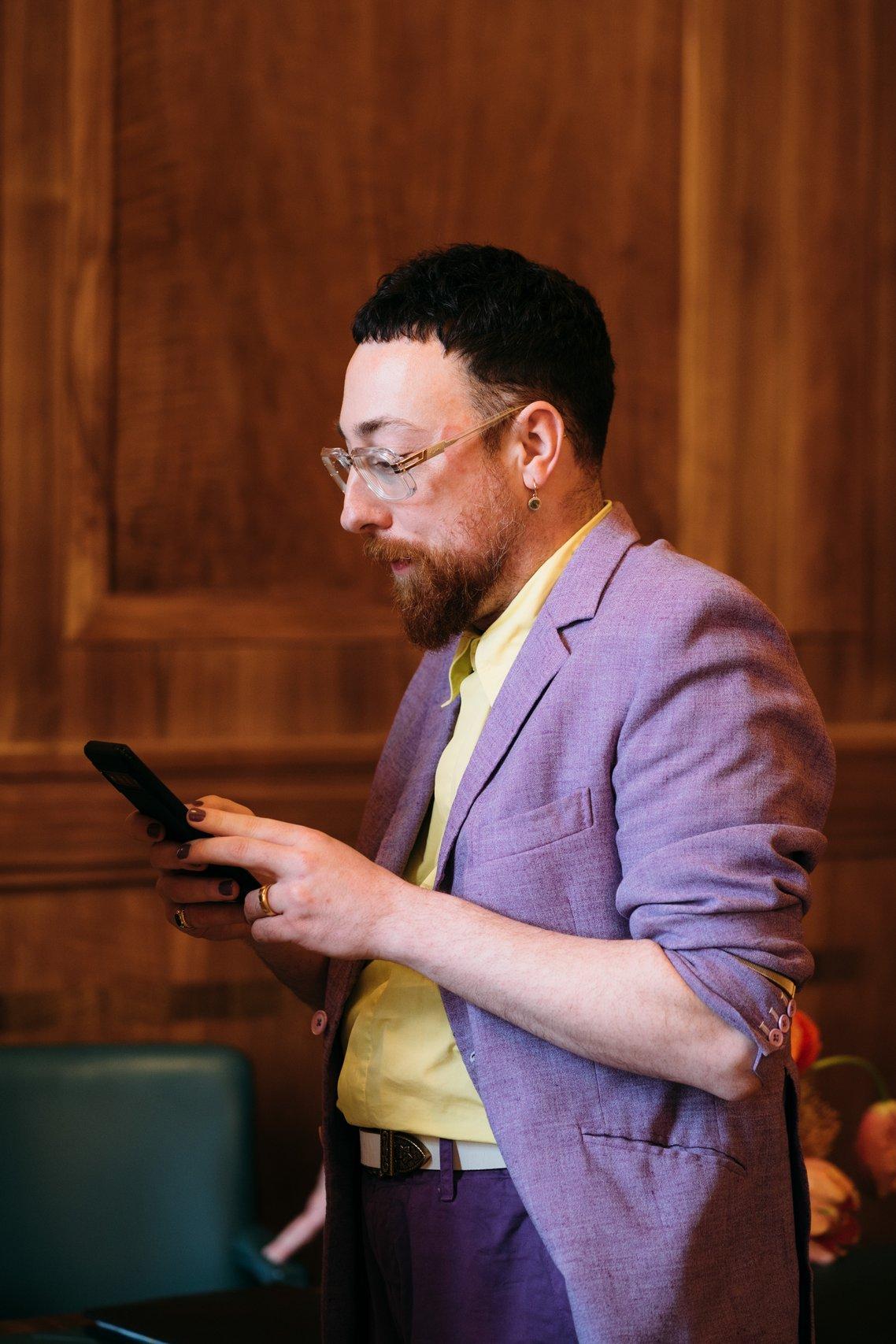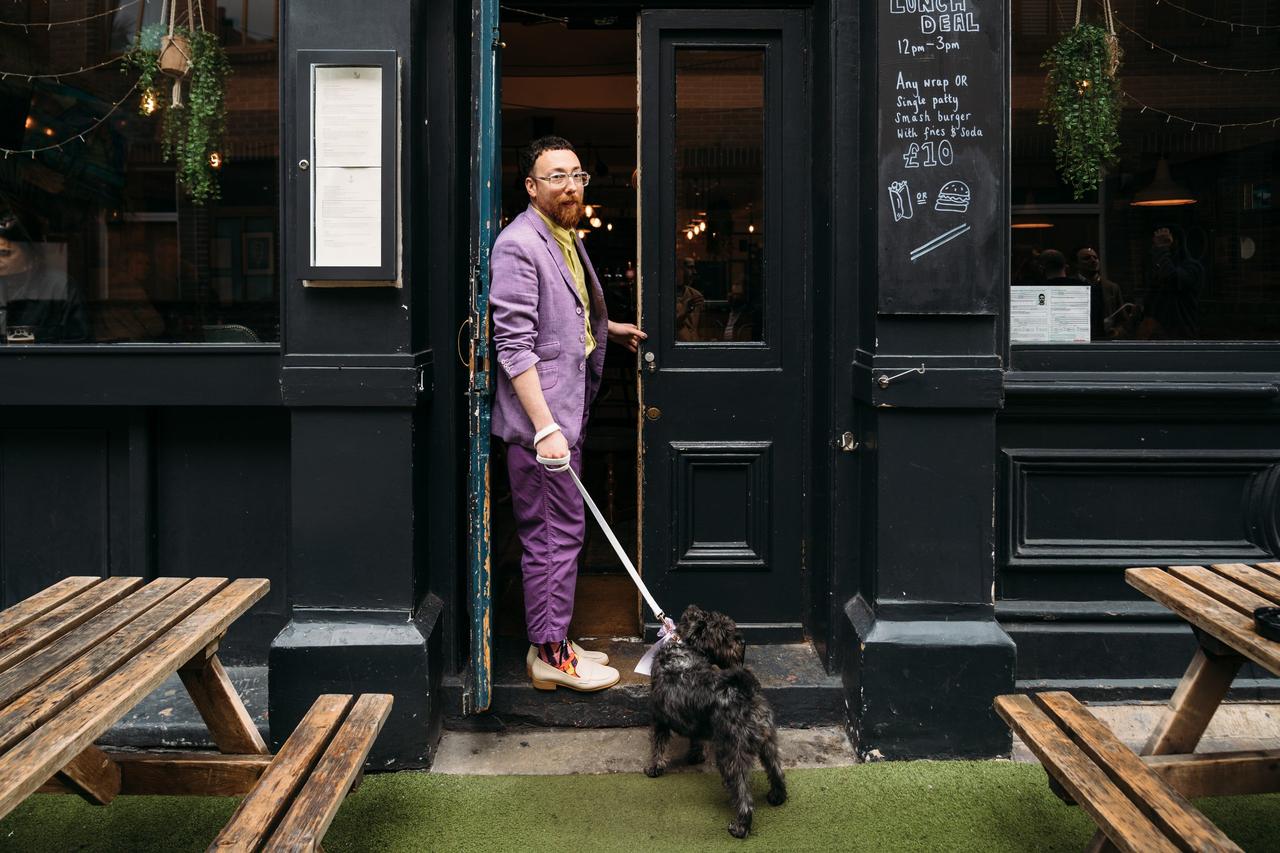 Daniel was no wallflower when it came to his wedding day attire. Much like Pip, he went bright and bold with his look and actually repurposed one of the suits from their first wedding for the civil ceremony. He and Pip dyed a wedding suit purple for the day and paired it with cool vintage accessories.
"We got ready in our house surrounded by all of our favourite people," explains Pip, and Daniel's look, like hers, was synonymous with his usual day-to-day style, "He wanted his outfit to be colourful and vibrant, taking some of the floral colours in my dress so our outfits felt cohesive."
Daniel paired his bright purple suit with a vintage Versace shirt, vintage blazer from eBay, L'Atelier de Charlotte shoes and a pair of vintage Cazal sunglasses.
The Intimate Hackney Wedding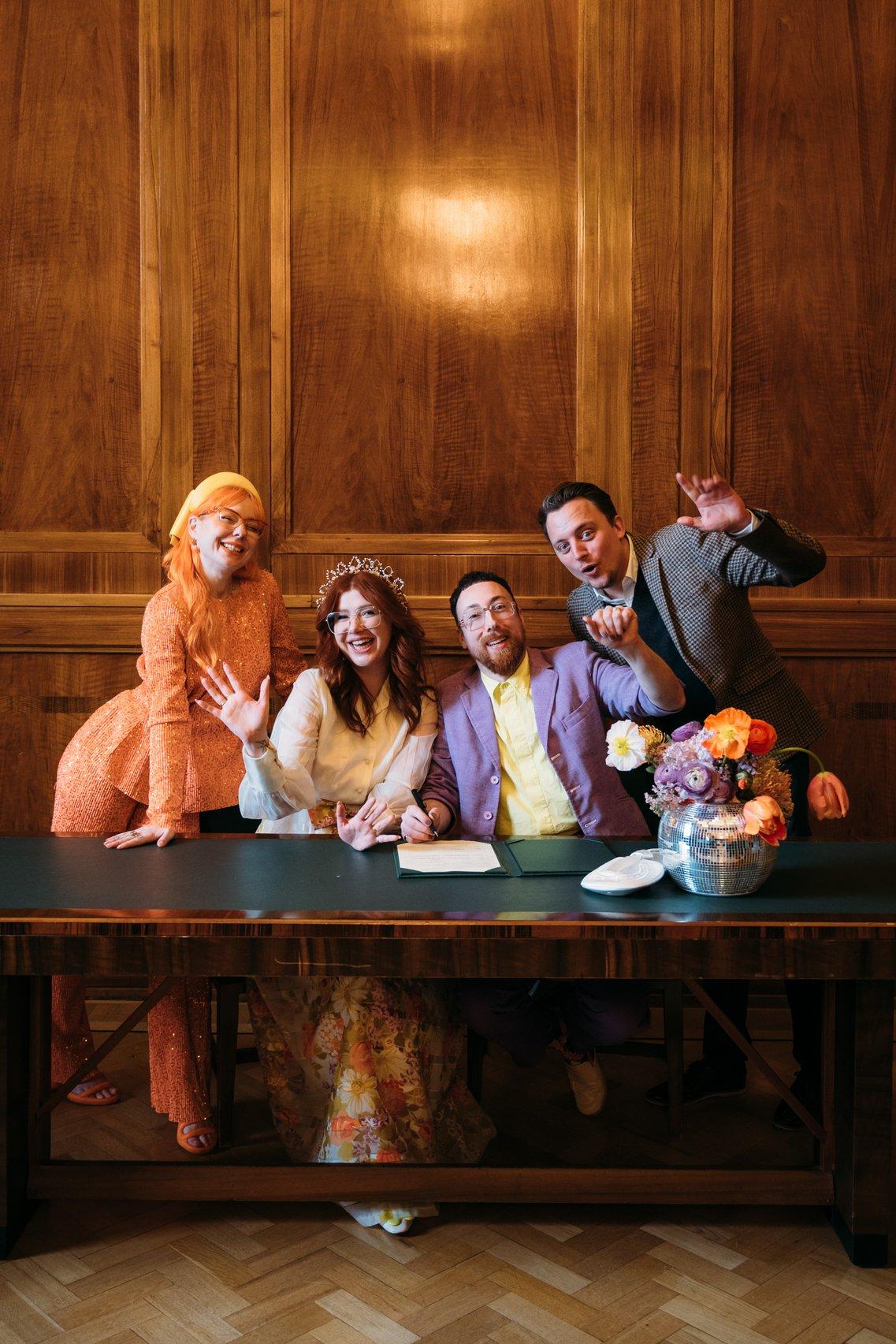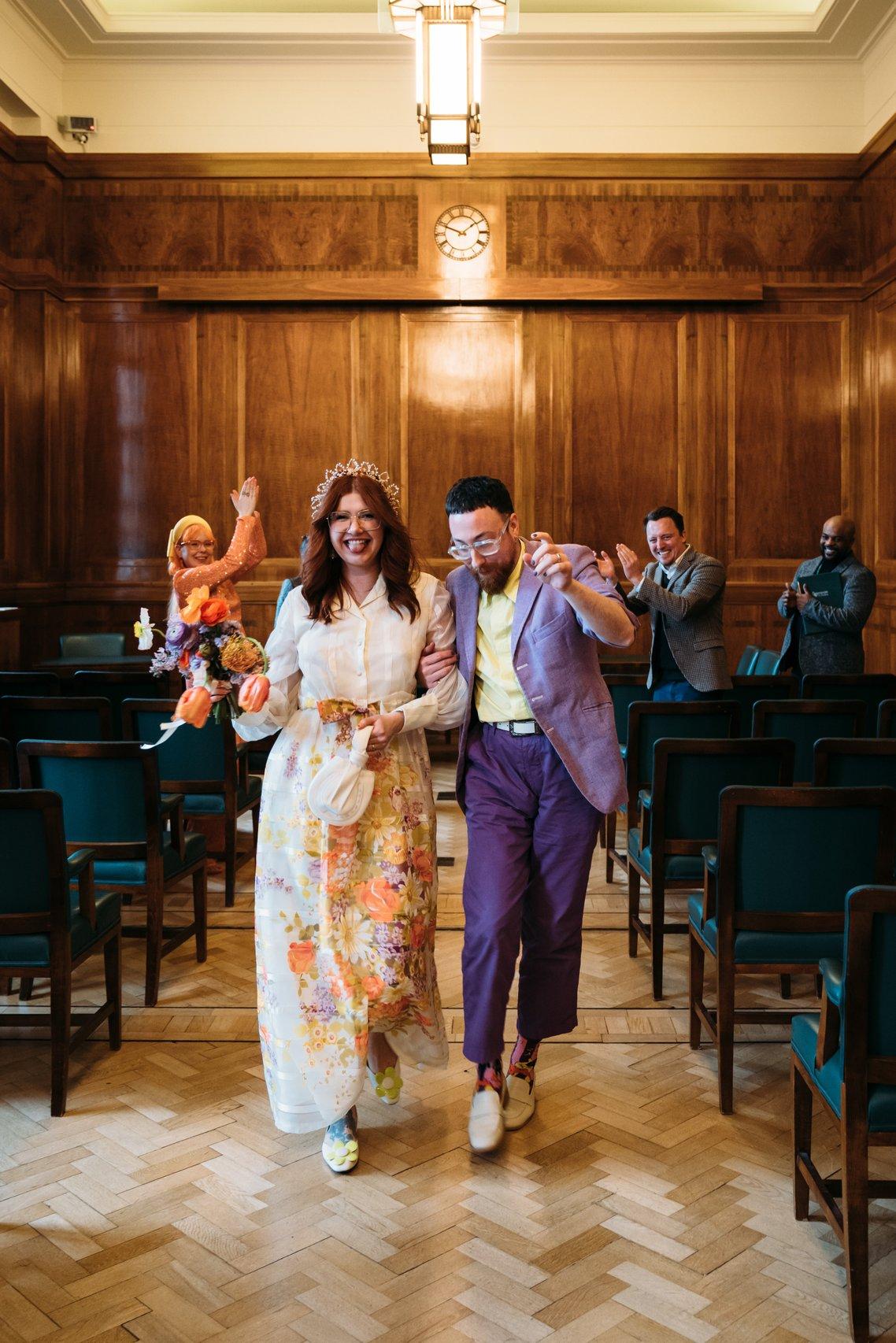 Pip and Daniel decided to have their civil wedding ceremony in Hackney, London, after tying the knot in a larger celebration prior. The couple chose Hackney Town Hall as their wedding ceremony venue, and deliberately went for a more stripped back, intimate vibe in comparison to their previous wedding.
Traveling from Ramsgate to Hackney, because of train strikes, the couple hired a minibus to take them, along with their two witnesses, to the venue in London. "It ended up being the best decision ever," says Pip, "We played our own music the whole way there and back, bought a few tinnies from the service station and had a great time on the bus together."
When describing the actual ceremony in Hackney, Pip explains that they wanted a different vibe for this wedding, "We wanted it to be stripped back and intimate, but we did decide to say our vows from our previous wedding again.
During the ceremony, Pip and Daniel steered clear of quite a few wedding traditions, but kept some, "We walked down the aisle together with no music, but as we were walking out after the ceremony, our two witnesses started singing 'Groove is in the Heart' which is our official wedding song.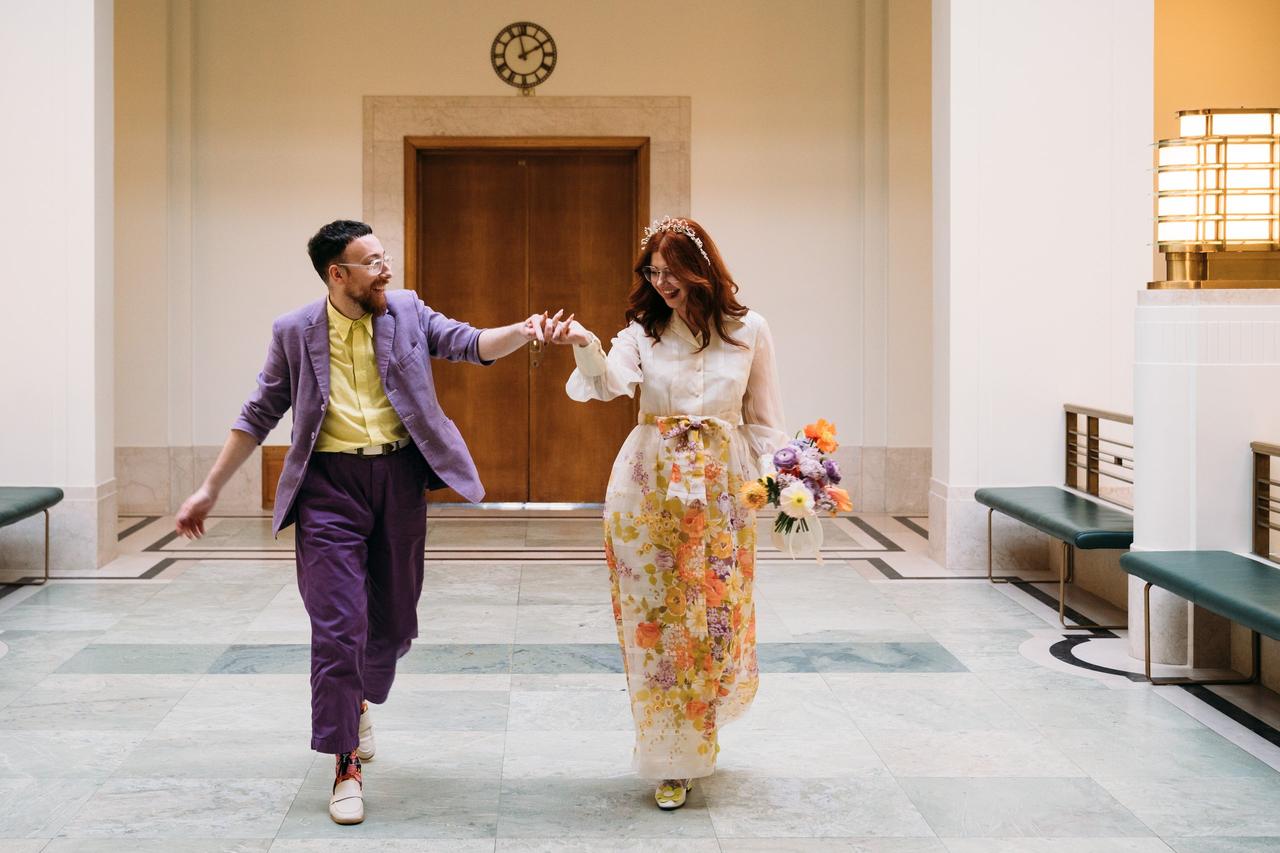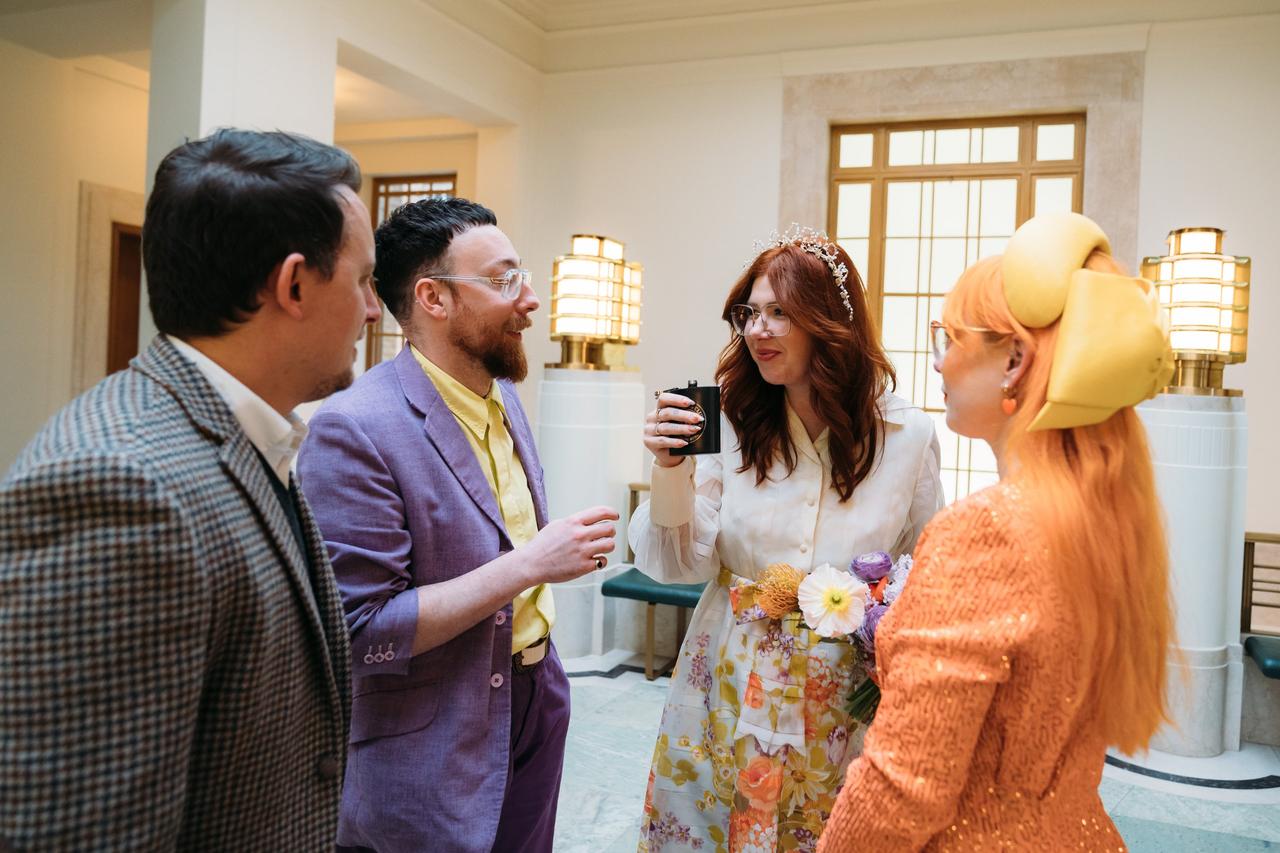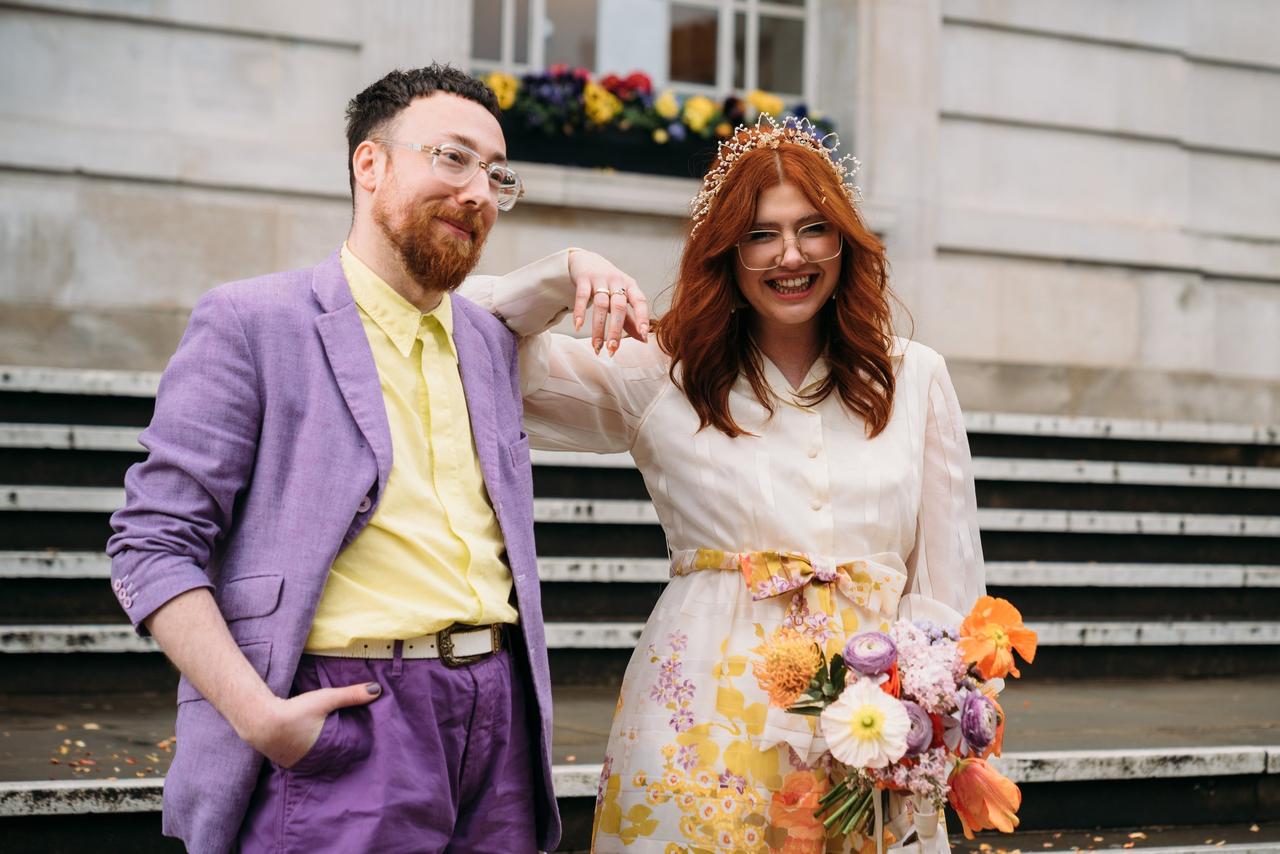 "Our wedding rings were made by jewellery designer Rachel Boston who I went to university with. I used to be a jeweller so getting this part right was important. We designed my wedding ring to fit perfectly around my grandma's engagement ring which Daniel proposed with."
Pip and Daniel wanted the ceremony to be much smaller than their reception, with the couple each asking just one best friend to act as a witness for them. The two witnesses chose their own outfits as the couple wanted them to feel comfortable in what they wore.
A Cool Pub Dinner & Reception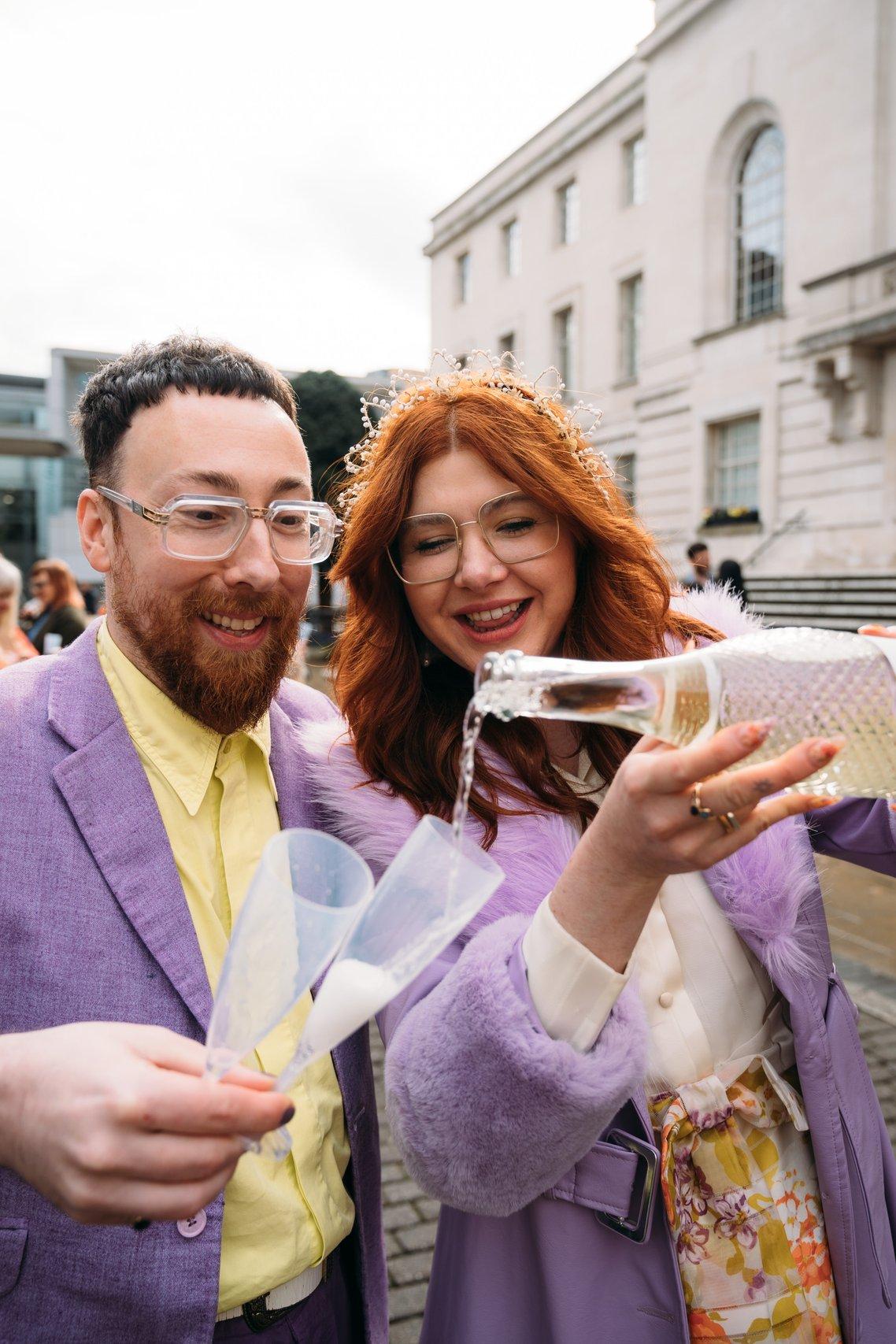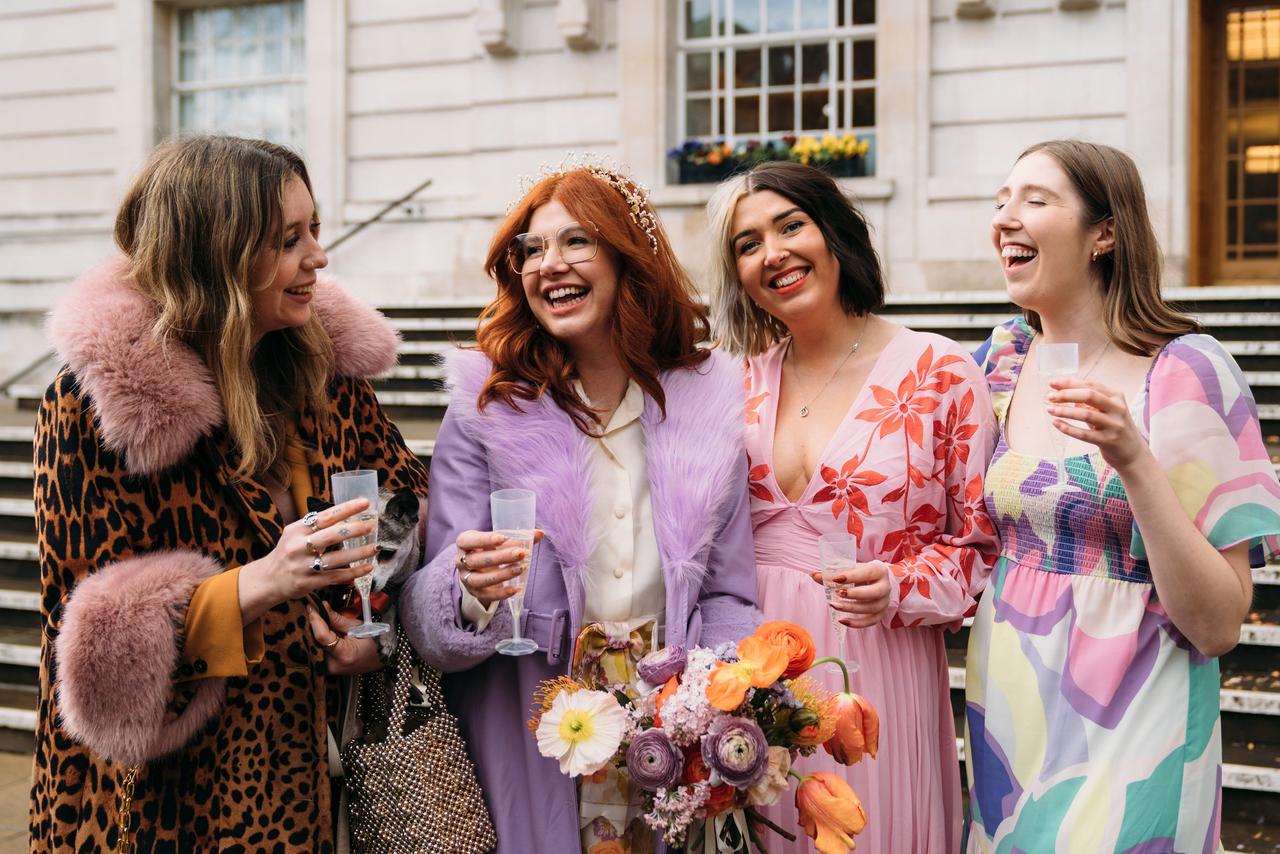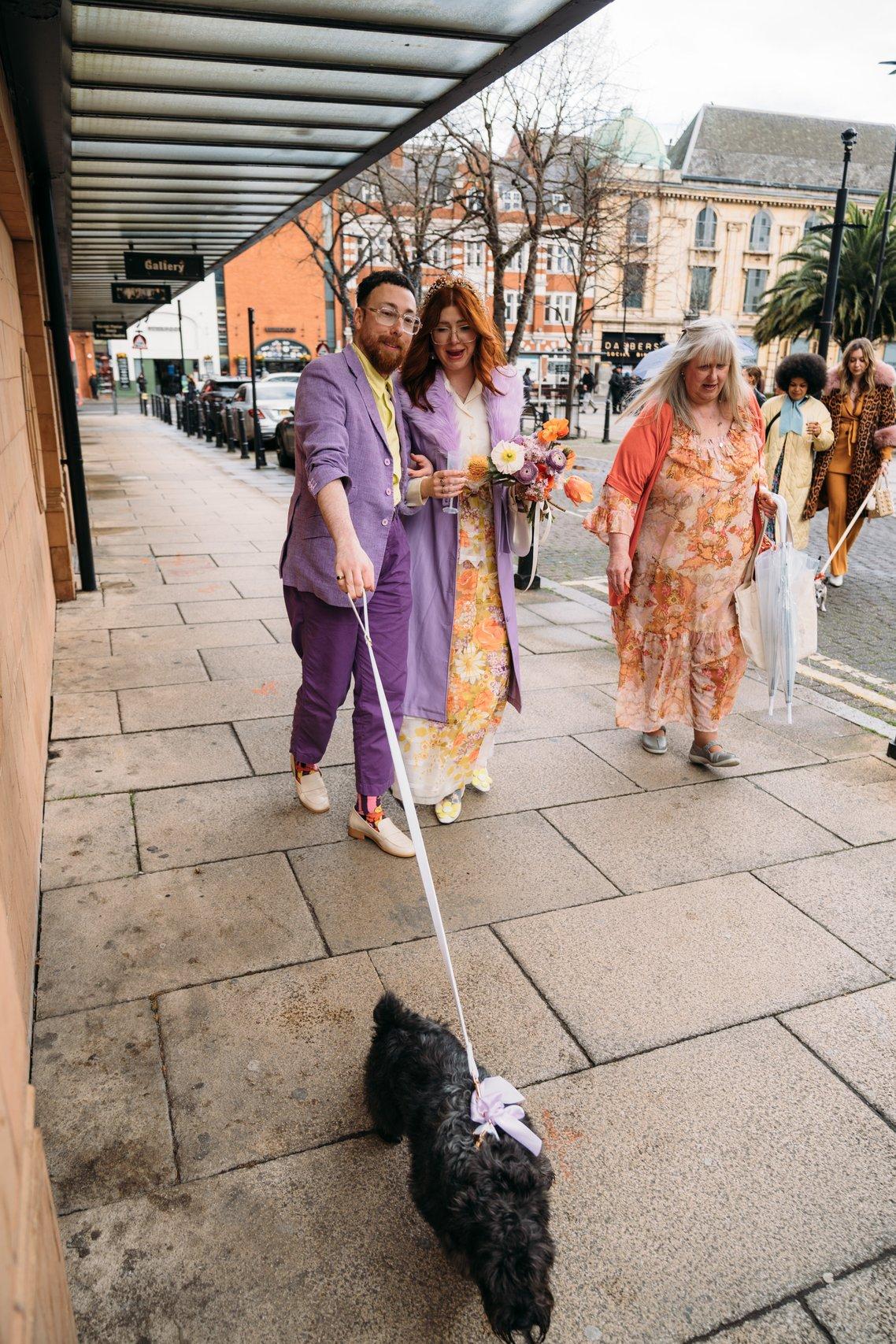 After the ceremony, Pip, Daniel and 30 of their closest friends and family enjoyed drinks outside the town hall, toasting to the happy couple. They then resided to The Old Ship, a cool London pub wedding venue nearby, for dinner and drinks.
They wanted a really fun and relaxed vibe for their reception, which is why they chose this particular pub. Enjoying a menu of chicken, burgers and chips (literally the best!), the small group drank and hung out for hours after the couple said 'I do'.
Pip's wedding bouquet, made by Ultramarine Flowers, was colourful and beautiful, made up of bright flowers that worked well with the couple's colourful outfits, and they even used it as décor, popping it in a disco ball to add to the overall vibe.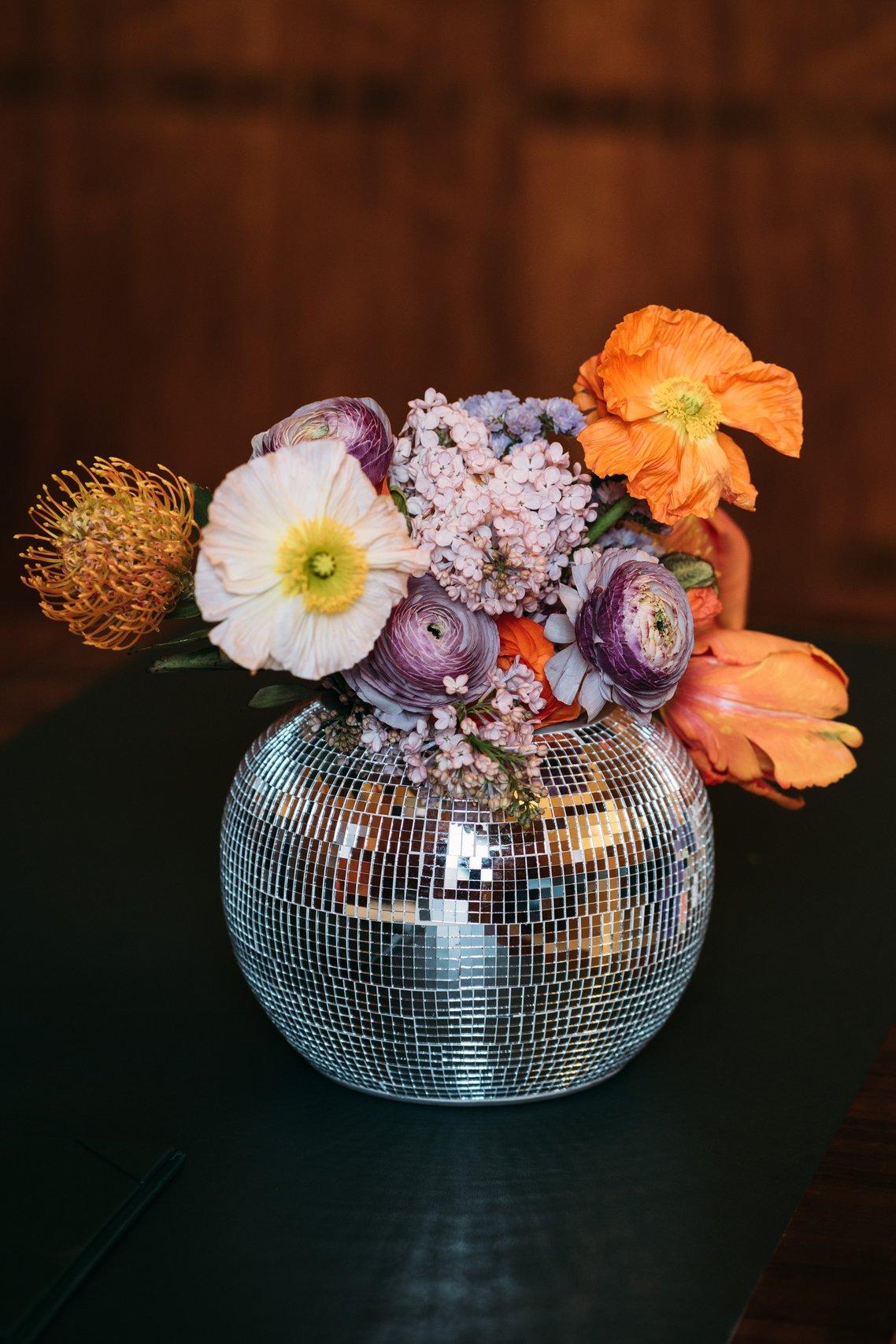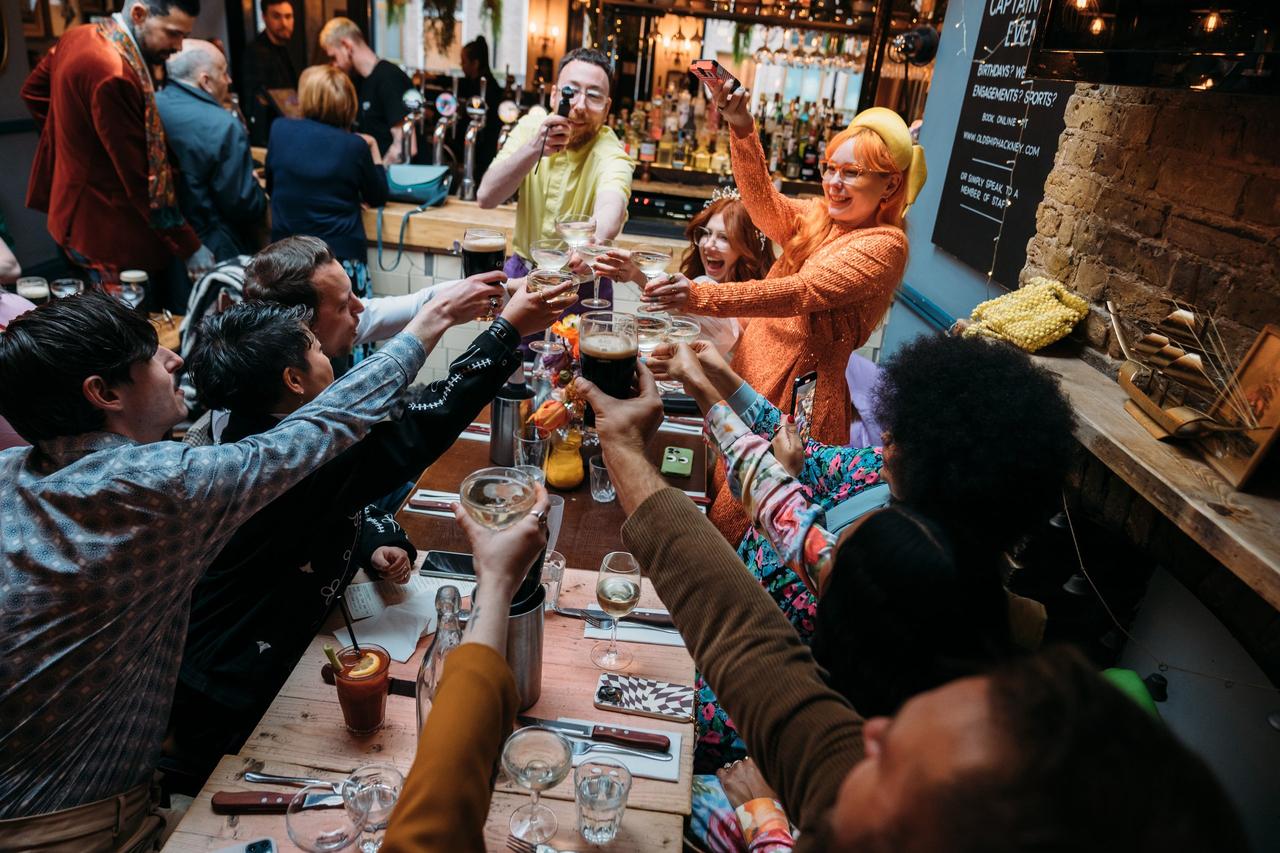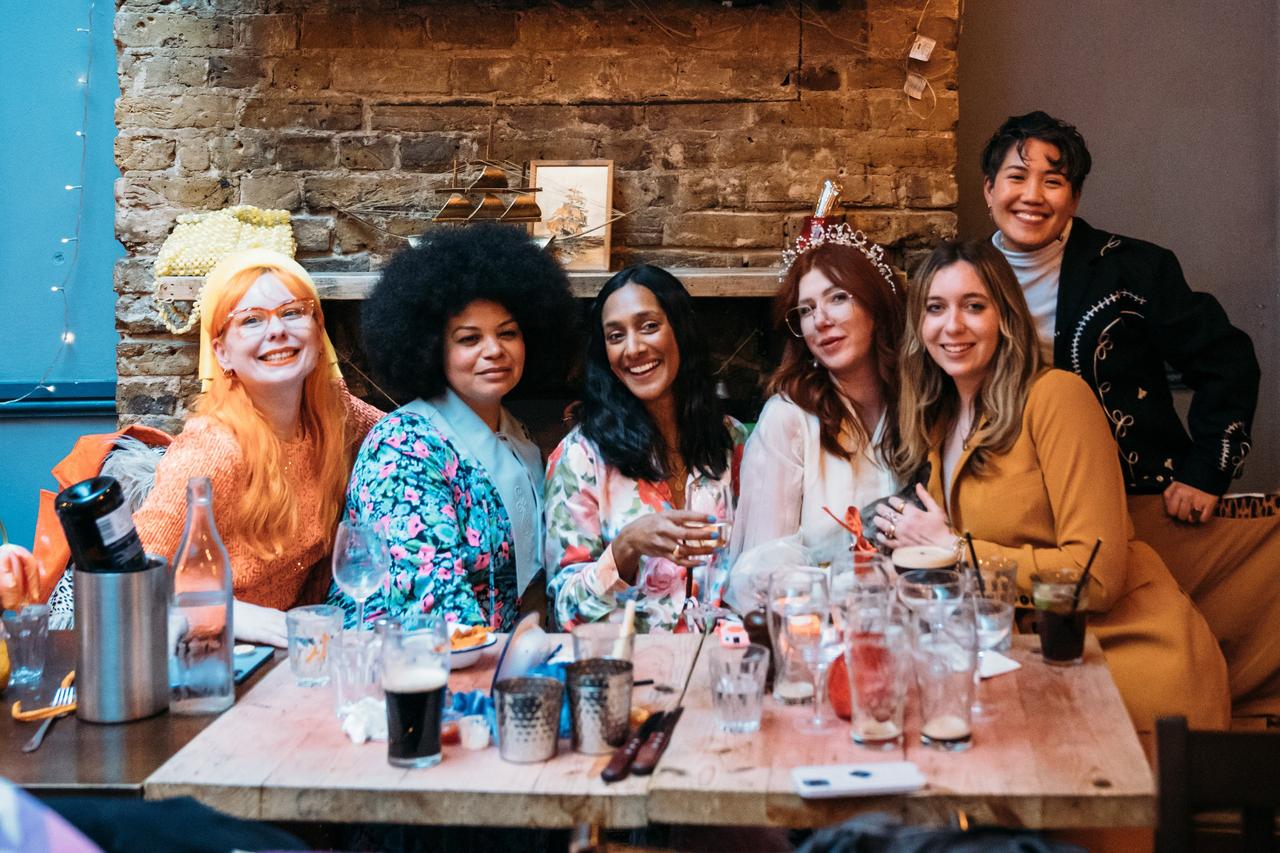 After drinks and dinner at the pub came to a close, Pip, Daniel and some of their nearest and dearest took the minibus back to Ramsgate to watch a friend's band play. Describing the journey, Pip says, "This was our favourite part of the day! We spent the entire journey singing at the top of our lungs - everyone was in such good spirits and we had lots of laughs.
"Truthfully, we wouldn't change anything about our day. It was fantastic and exactly what we wanted it to be."
Post-Wedding Plans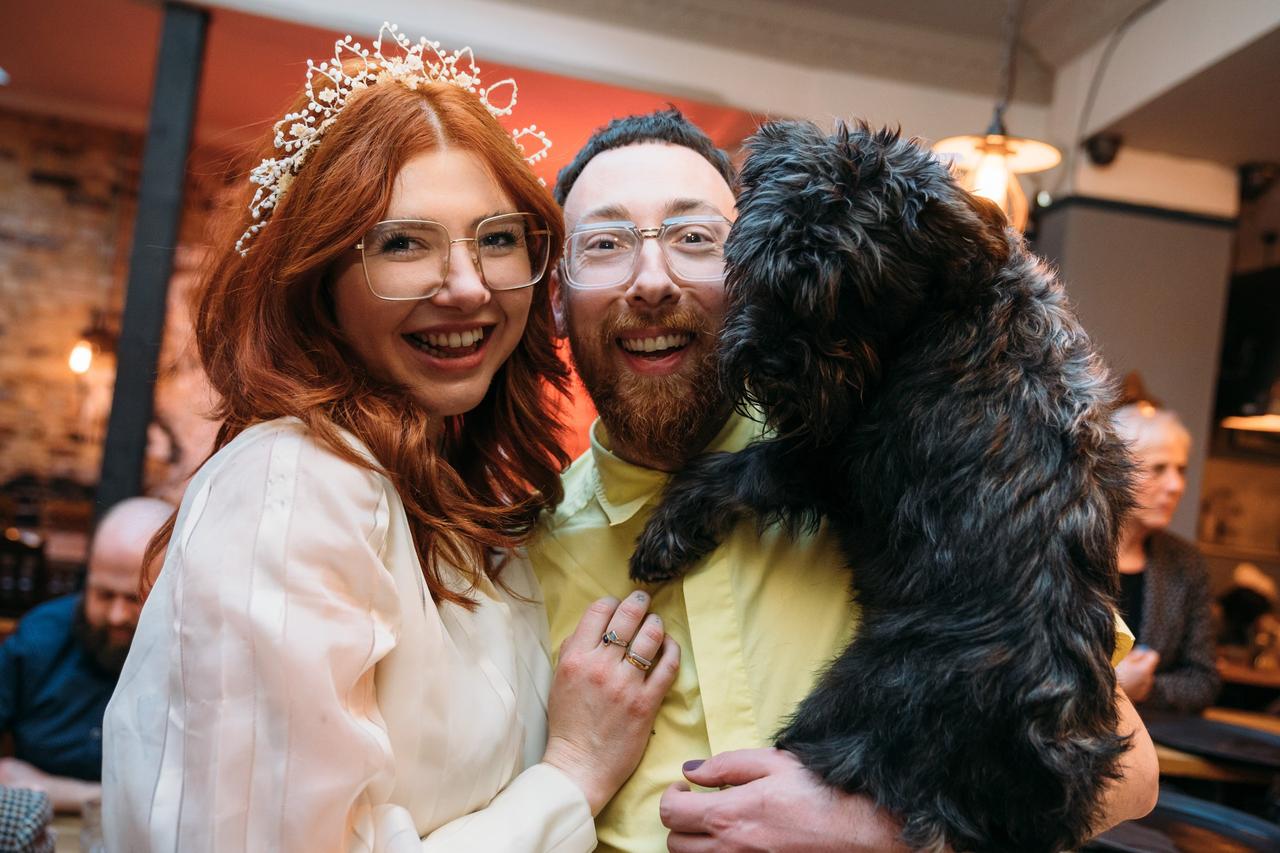 Now they're officially wed, Pip and Daniel are turning their attention to the honeymoon of dreams. The couple want to spend their first marital holiday exploring Nashville and New Orleans, with plans to go later this year. They've never been before and both really want to visit the southern states.
Reflecting on the wedding budget, Pip says, "We didn't really have a wedding budget, but we did know we wanted to keep our spend as low as possible."
We know that Pip and Daniel have no regrets about their day, and loved every minute. What's their secret, we hear you ask?
"Run through your day in your head, and look at the plans from everyone else's perspective. That way, you can figure out if anything is missing, or if you'd want to change anything," says Pip. Good advice if you ask us!
The Suppliers
Inspired by Pip and Daniel's wedding? Here are some ideas and articles we know you'll love...