Angus & Ben's Courthouse Wedding With Crowd-Pleaser Entertainment
From the live music and balloon artist, to the cheese wedding cake and street food menu, this is a real wedding we *all* want an invite to...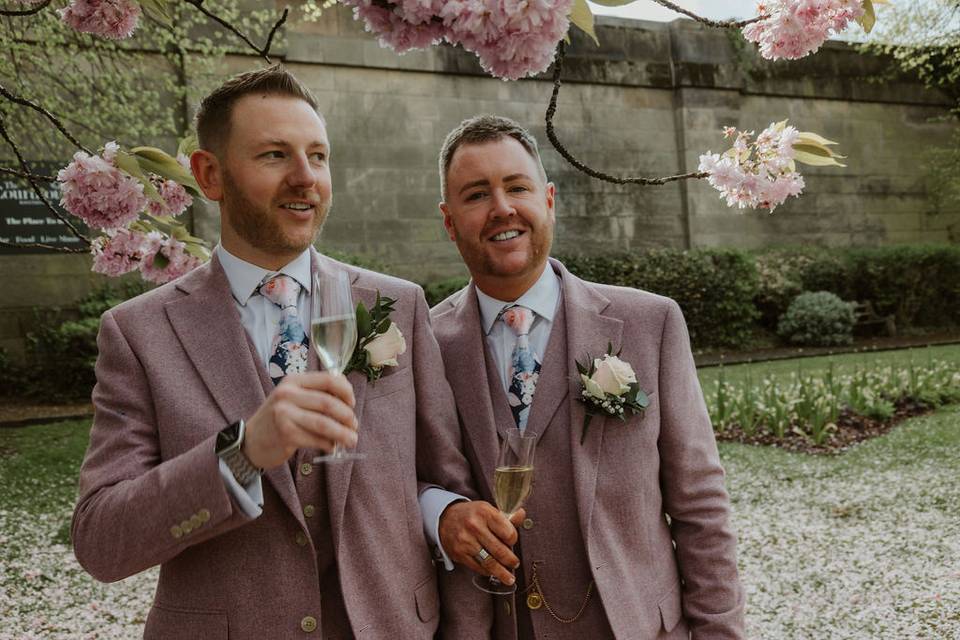 Hitched Listed Suppliers:
Angus and Ben's tied the knot in April this year at The Courthouse, and we can't wait to dive into the details - but first, let's take a look at where it all started. The couple's love story begun a decade ago in Manchester, "We lived in opposite apartment blocks and met one hot day on the fields near our flats while everyone was out enjoying the weather," they told us.
A Double Proposal
The couple was an item for six years before getting engaged, and the story is beyond romantic. Proving that the pair were clearly on the same page, they explain, "We had been together for six years, yet both randomly decided in the same week to propose to each other."
Angus got in there first, just two days before Ben was planning to propose to him - great minds and all that!
"We were due to go on holiday to Florida the morning after Angus proposed, and I was planning on proposing on the holiday during the fireworks at Epcot," says Ben, "Angus used an antique pocket watch to propose to me."
The fact that after six years together, both Angus and Ben planned to propose in the same week is beyond romantic - these two clearly knew what they wanted.
Fast forward five years, and these two were ready to tie the knot.
Two Stylish Wedding Suits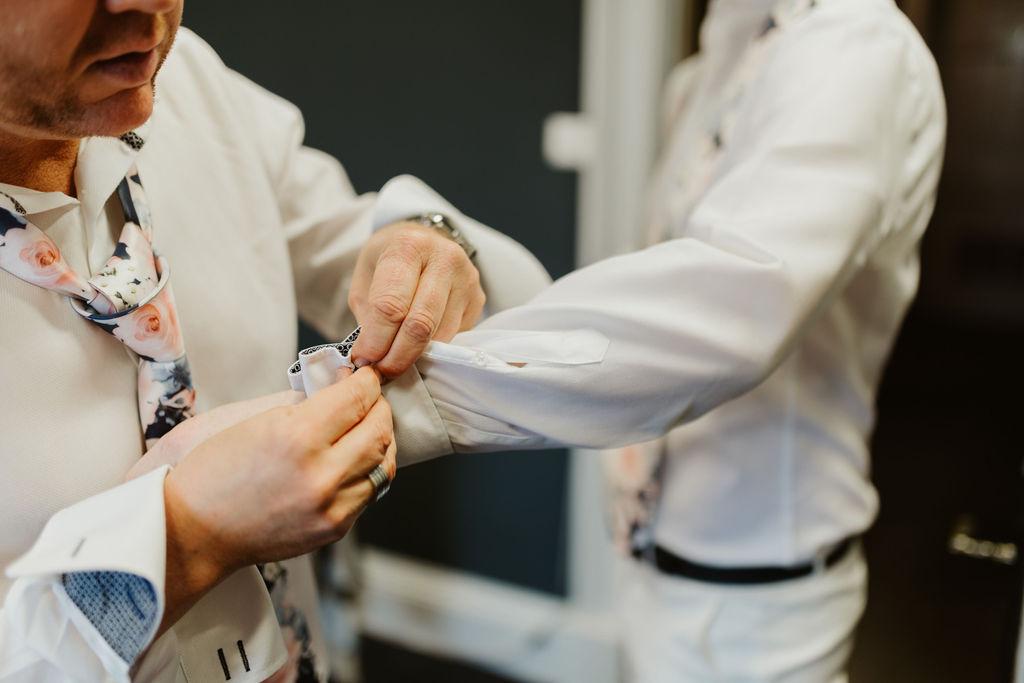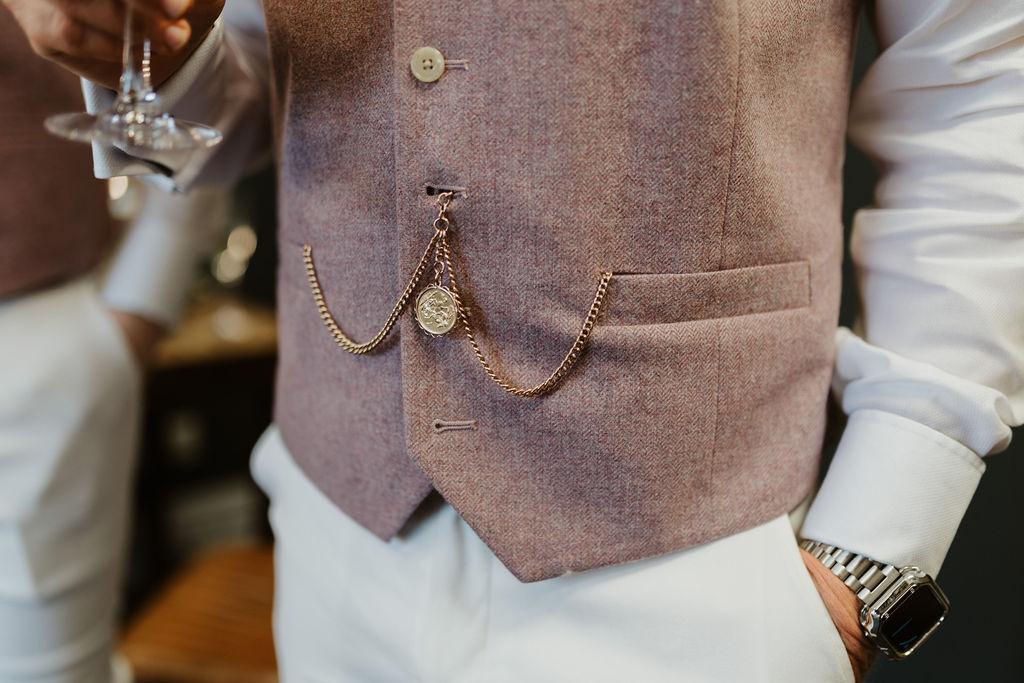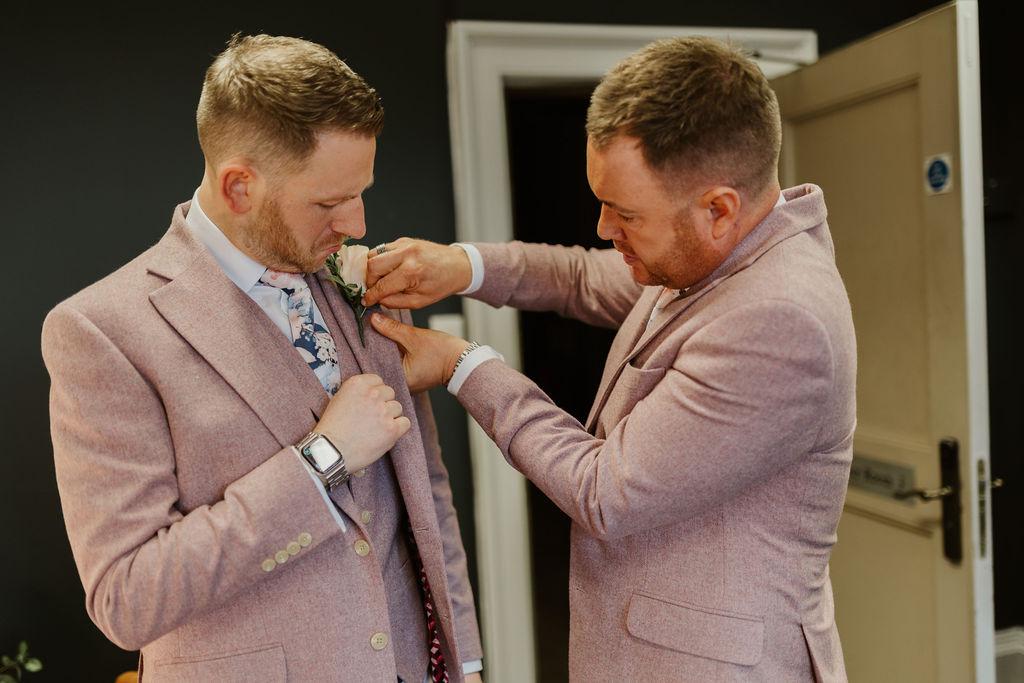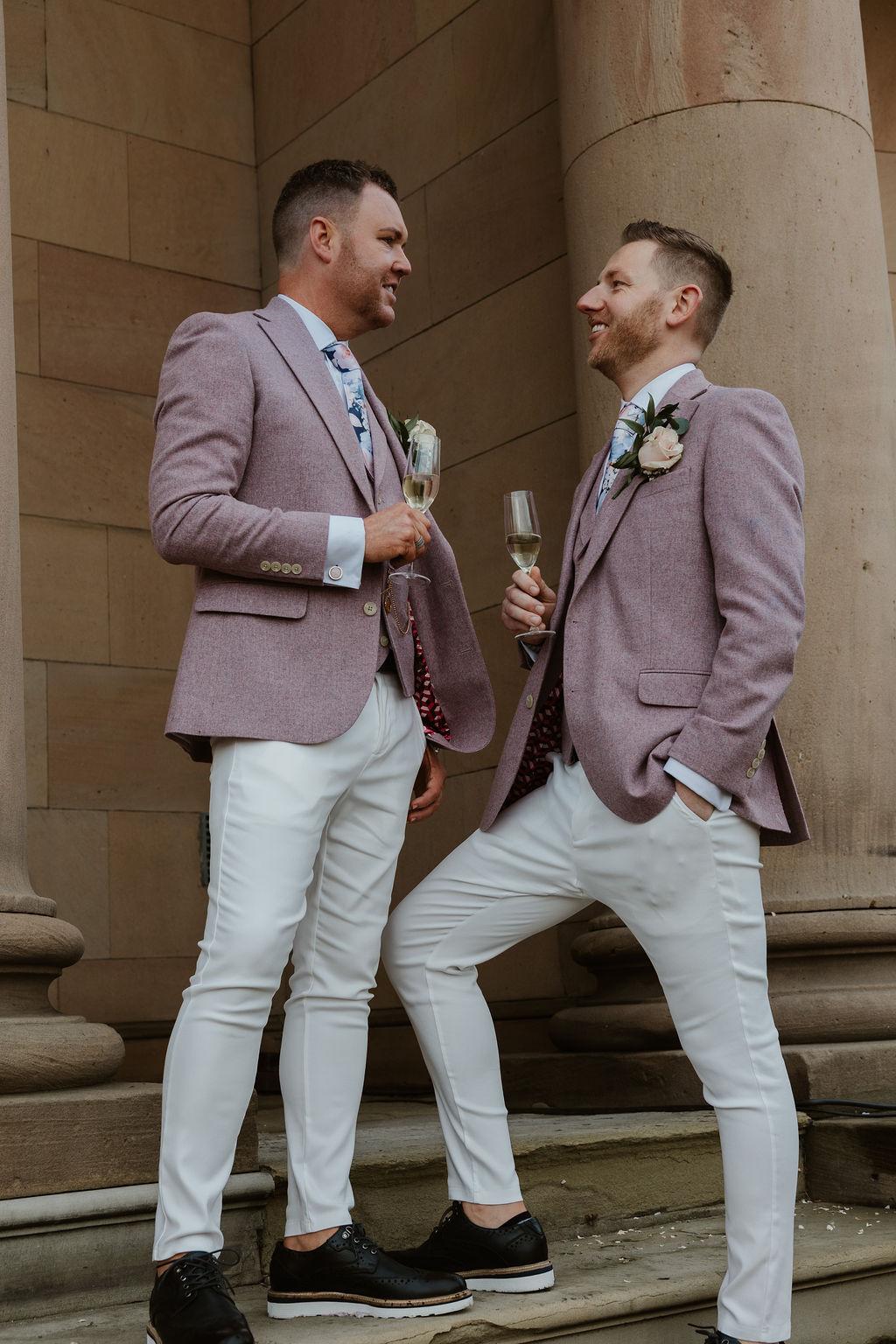 One of our favourite details from the couple's big day was their outfits - it was a serious wedding fashion moment.
"We'd seen a pink suit on holiday in Florida and really liked the look of it, but when we got back to the UK we soon realised it was a suit that just purely suited the Florida vibe.
"We still liked the idea of pink though, but wanted something country-esque to fit our theme, so to find our pink tweed suits was really lucky, and we chose light colours as a slight contrast."
The couple wore matching pink tweed suit jackets and light trousers from Moss Bros and paired them with antique pocket watches - Ben wore one that was a gift from his grandmother, and Angus wore one that once belonged to his late grandfather.
The grooms paired their suits with pretty buttonholes made using pink roses, white gypsophila and lush green foliage. They were crafted by Suzanne at Country Flowers Florist who also made the bouquets, corsages and floral wedding décor.
The Wedding Party Details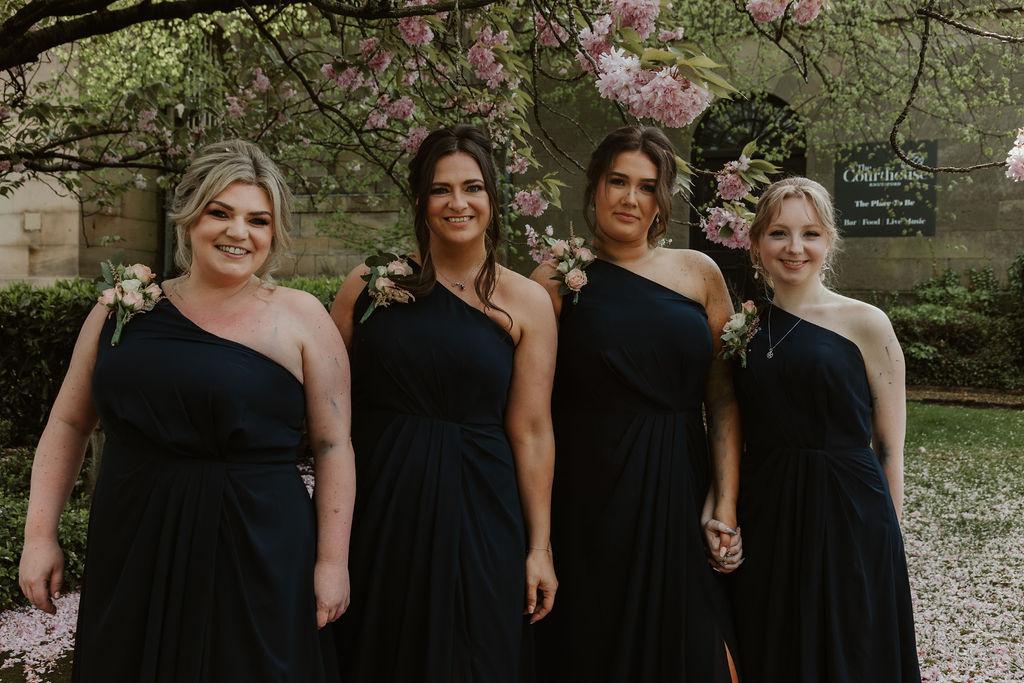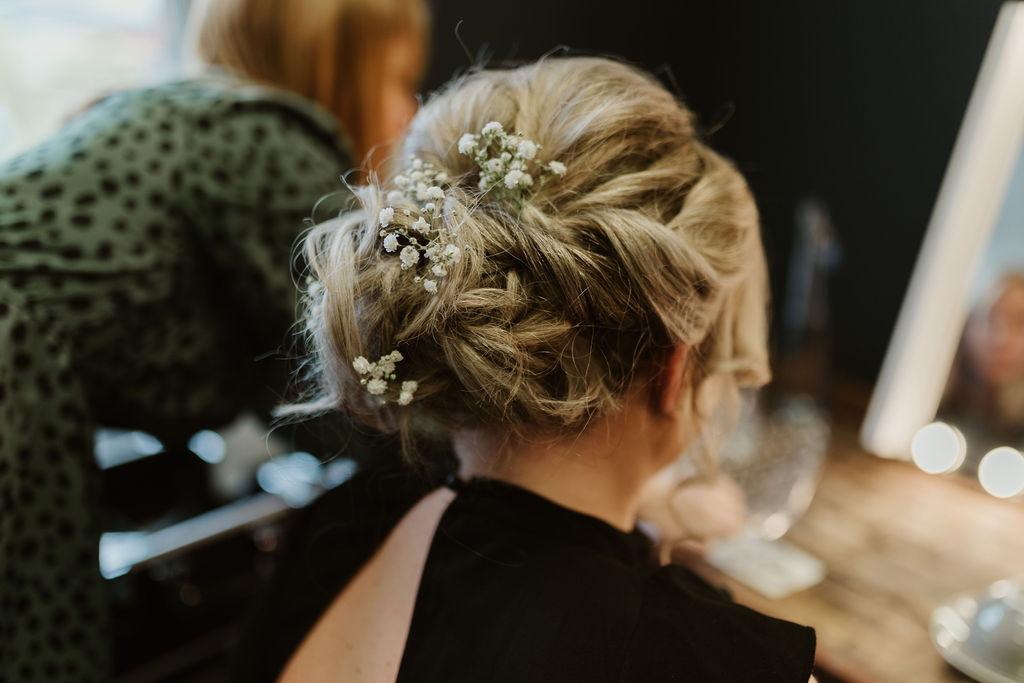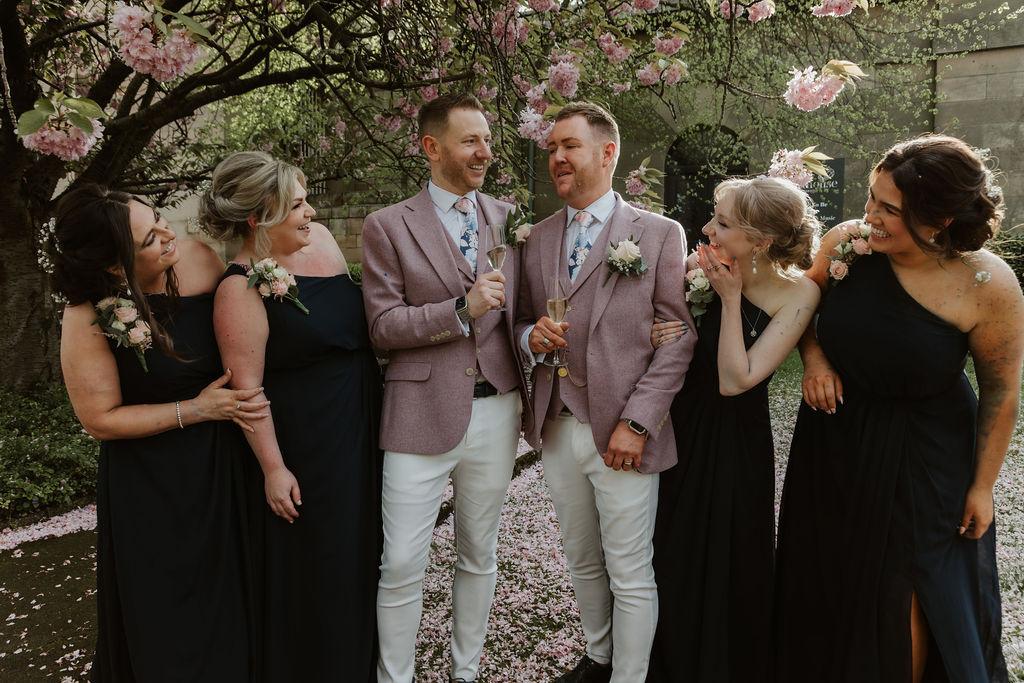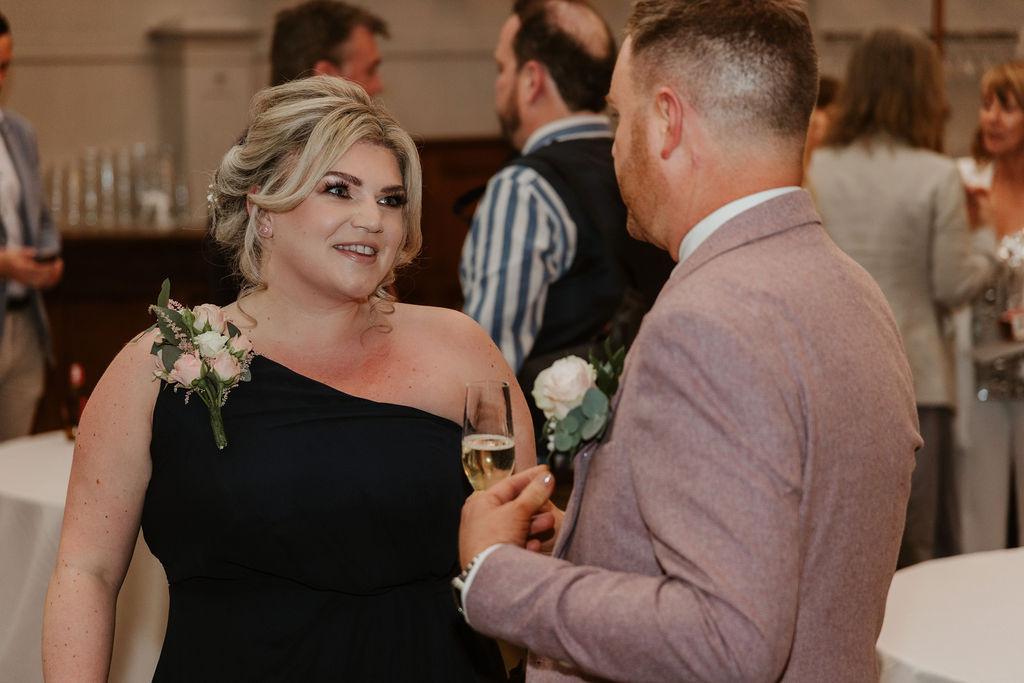 Describing their wedding party make-up, Ben and Angus explained, "We had two maids of honour, Theresa and Chantelle, and two groomsmaids, Bridget and Oona."
The wedding party wore dresses from Babaroni UK and paired them with stylish accessories including jewels from Vivienne Westwood and Steve McQueen - seriously chic!
As well as jewellery, members of the wedding party had gorgeous floral accessories.
"The groomsmaids had shoulder corsages made from blush spray roses, ivory spray roses, eucalyptus and deep pink astilbe.
"Angus's mum and gran wore pearl bracelet wrist corsages and my mum wore a jacket corsage, all with the same selection of flowers," explains Ben.
They maids of honour played a huge part in the wedding ceremony, with each one walking one of the grooms down the aisle to the couple's song, Tom Walker's 'You & I'.
A Romantic Non-Religious Ceremony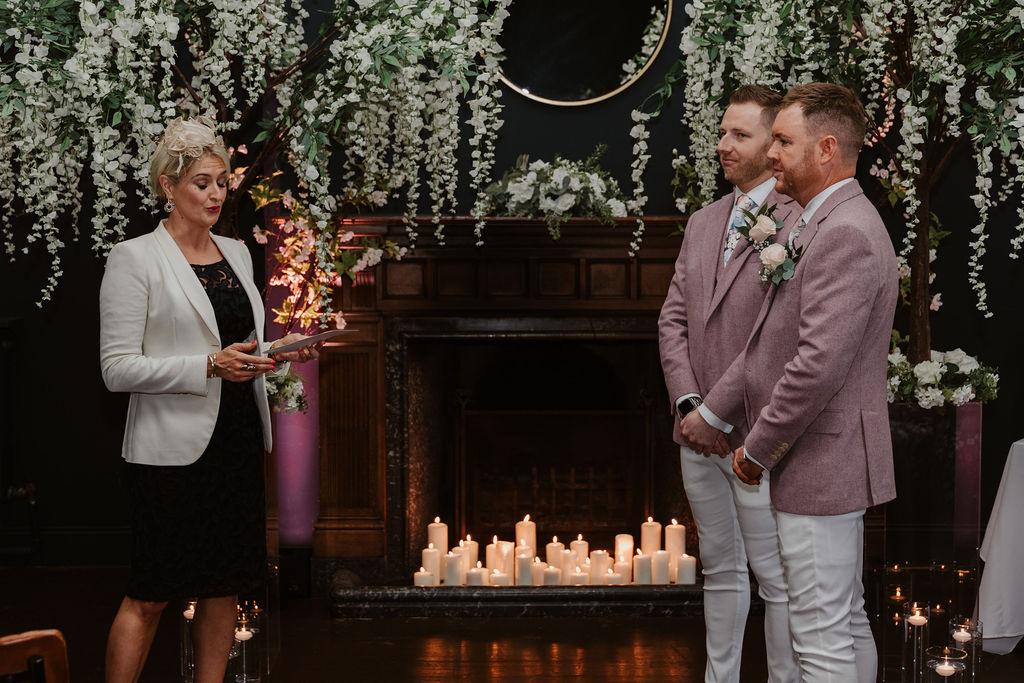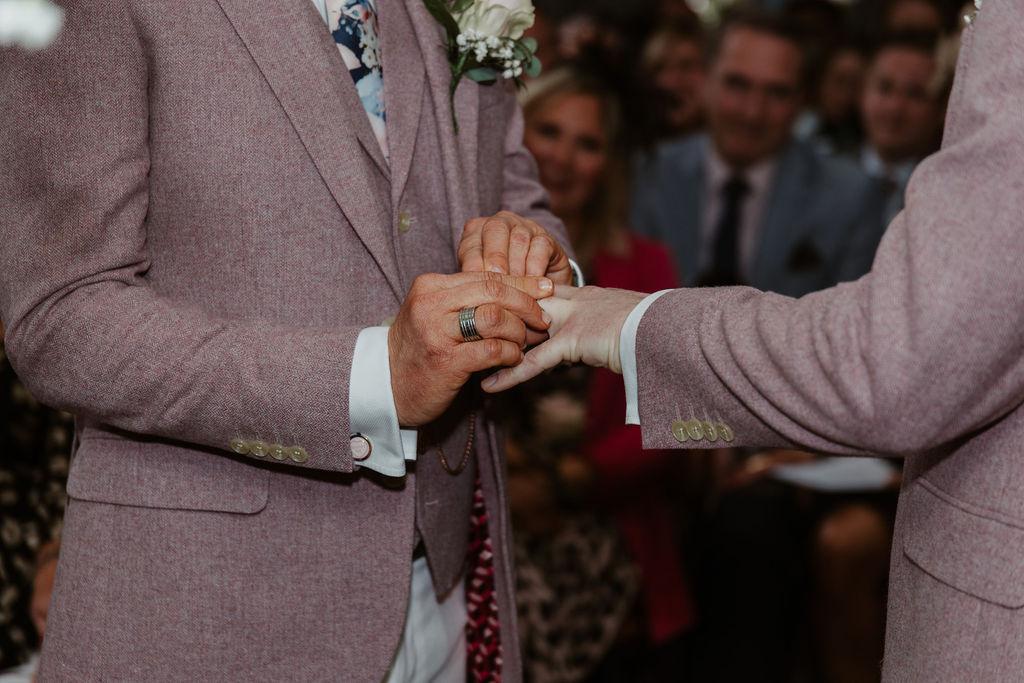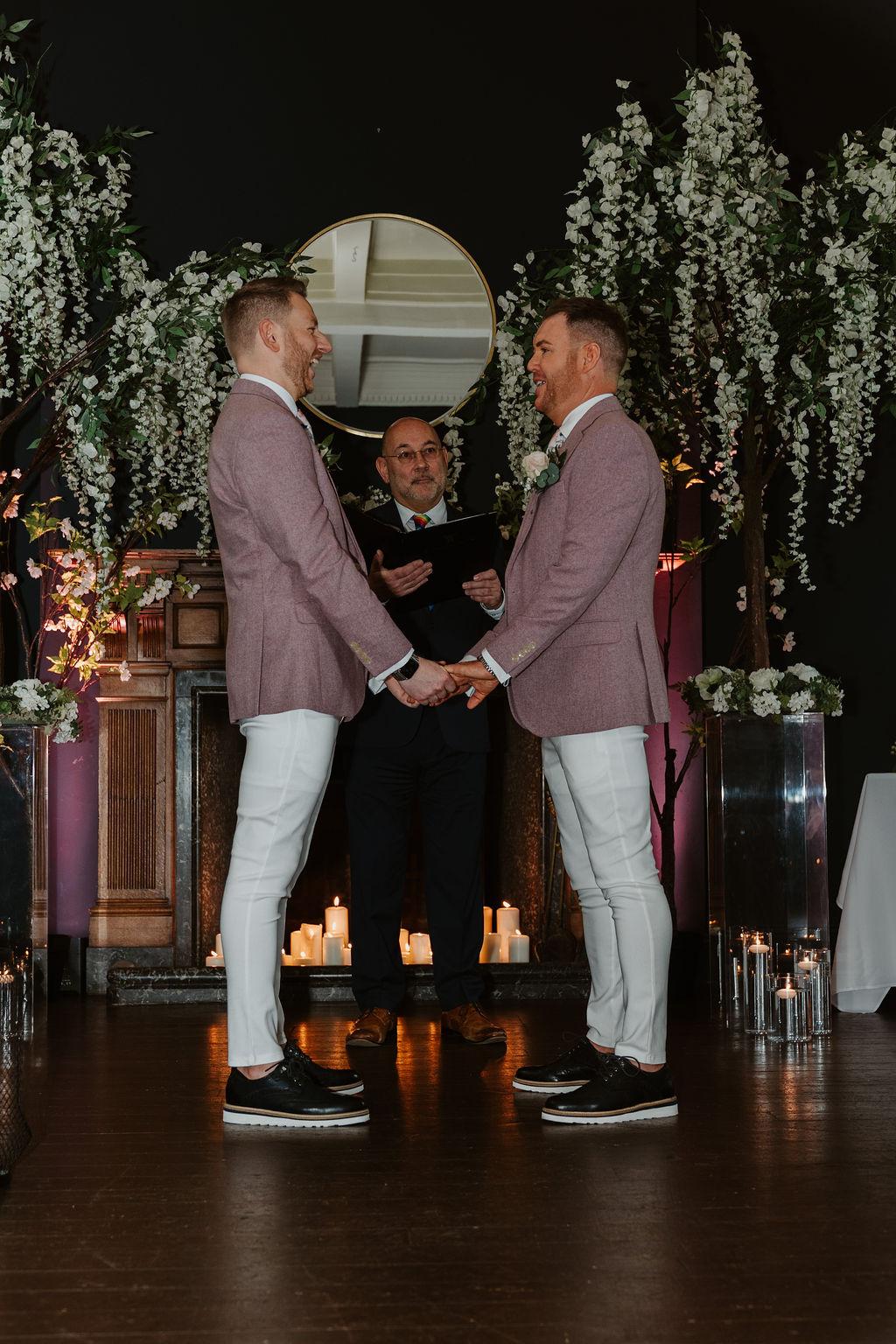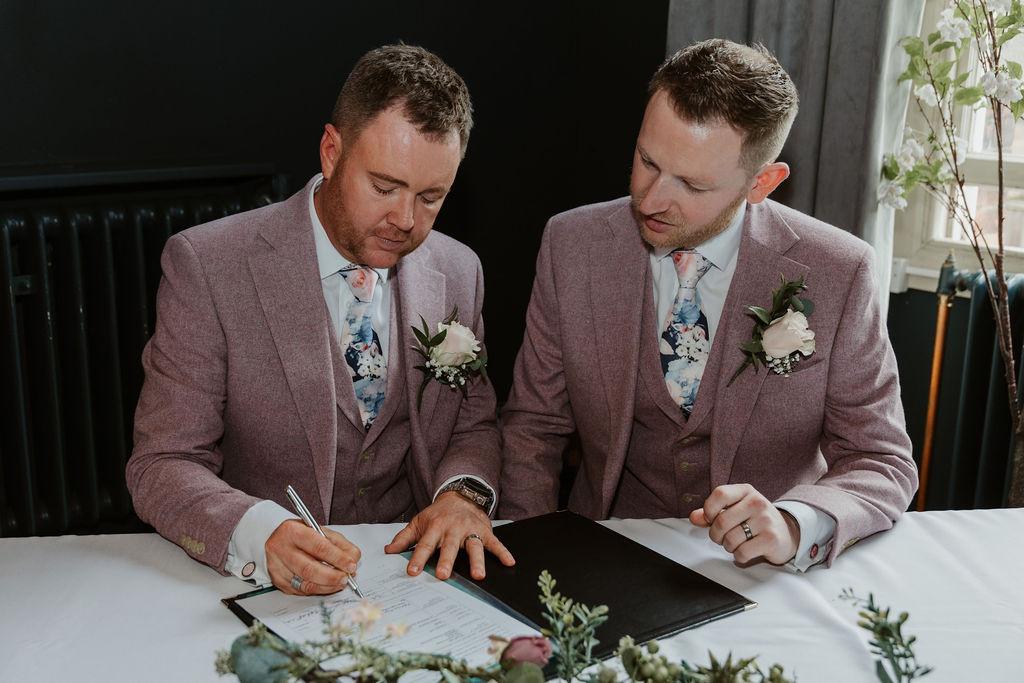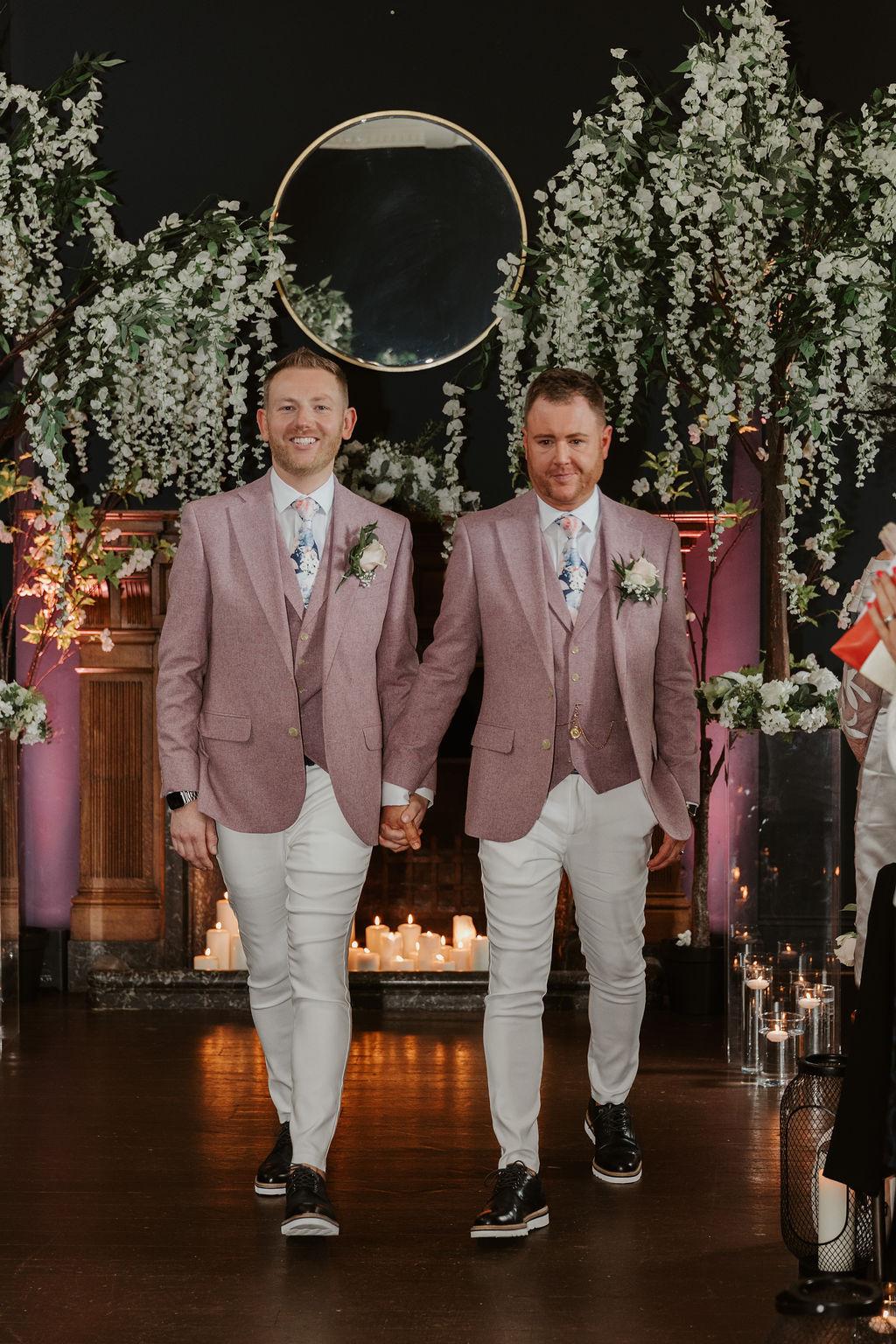 Diving into the details of the day, Ben and Angus explained, "The wedding ceremony took place at The Courthouse, and then the meal took place at The Lost & Found, both in Knutsford. We chose the buildings for their stunning rooms that we felt suited our requirements and also gave us 'something a bit different'.
"The Courthouse has a history and a modern elegance feel to it. It's a magnificent Grade II listed building which dates back 200 years. It's a remarkable building that exudes irresistible charm. We loved the stunning architecture combined with the warm and inviting atmosphere which creates a captivating ambience as you enter its doors."
As an alternative to petal scattering, the couple's groomsmaids walked down the aisle and handed pink and white roses to the ladies. For their ceremony at The Courthouse, Ben and Angus wanted it to reflect their relationship.
"We had a strict non-religious ceremony with three readings; The Owl and the Pussycat, Love Me and Marriage. We wanted one traditional one and two humorous ones."
A Lively Reception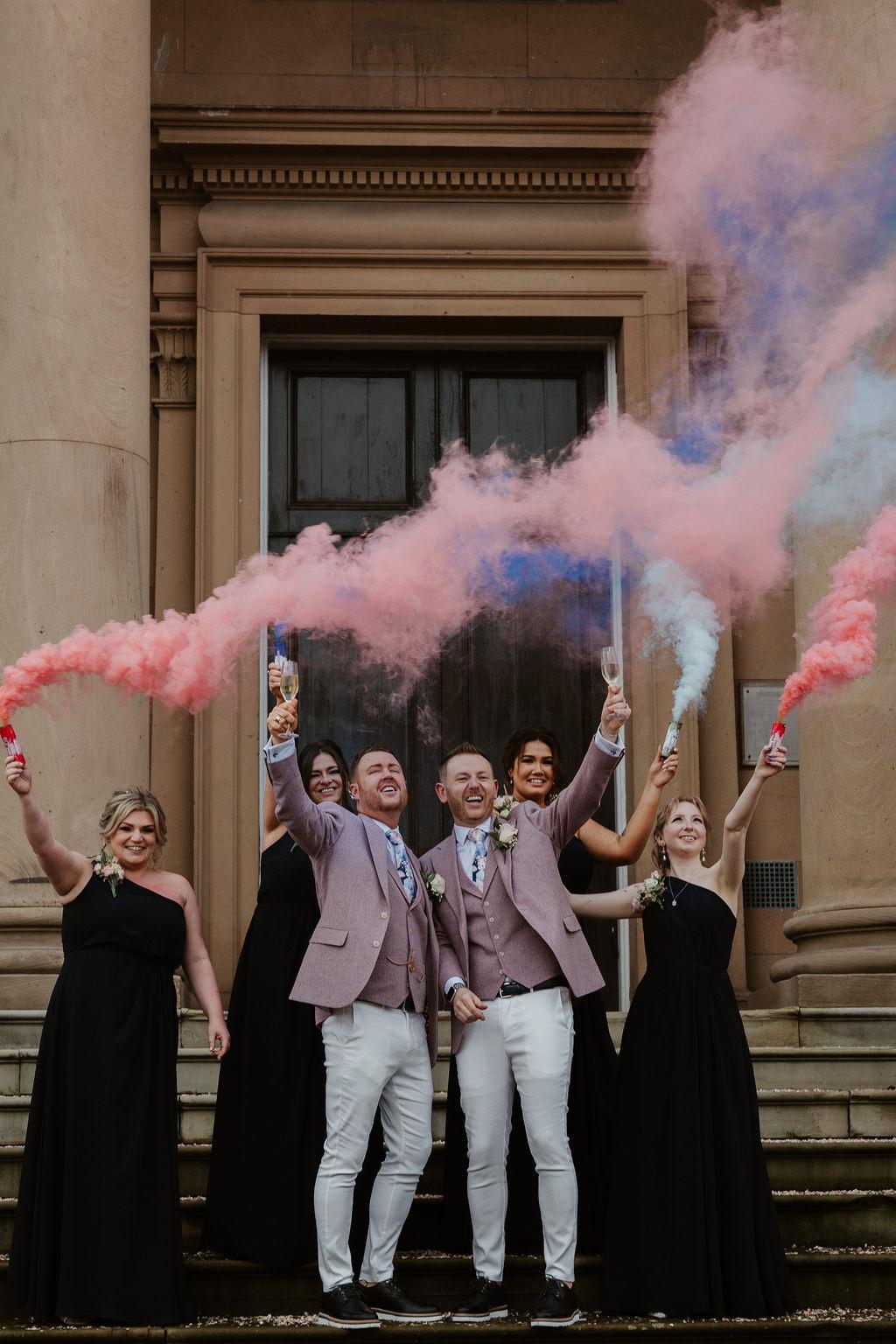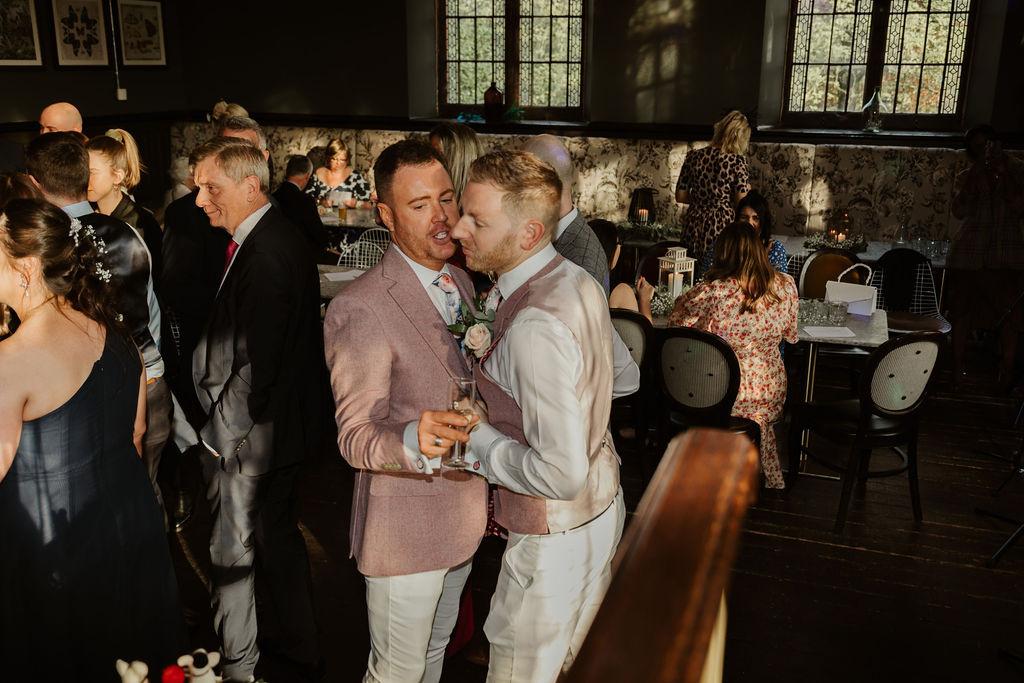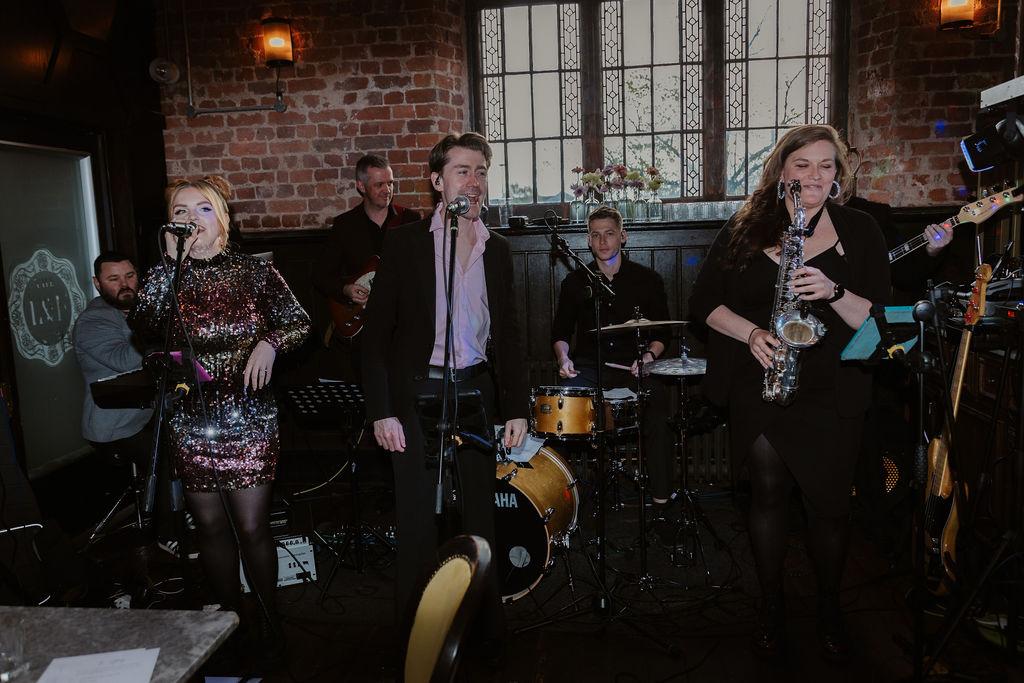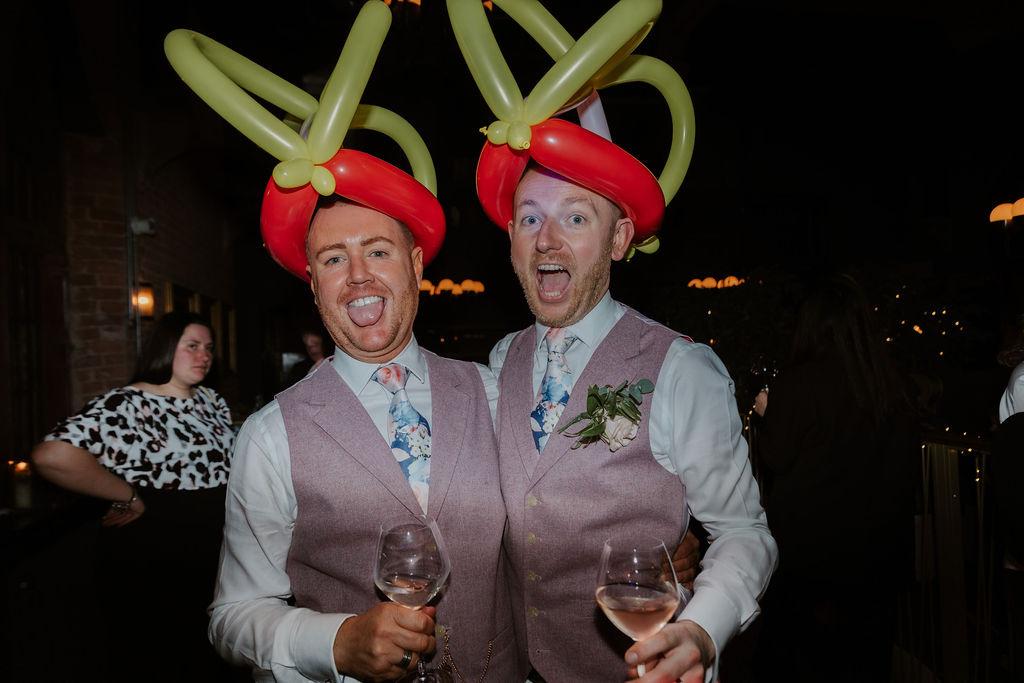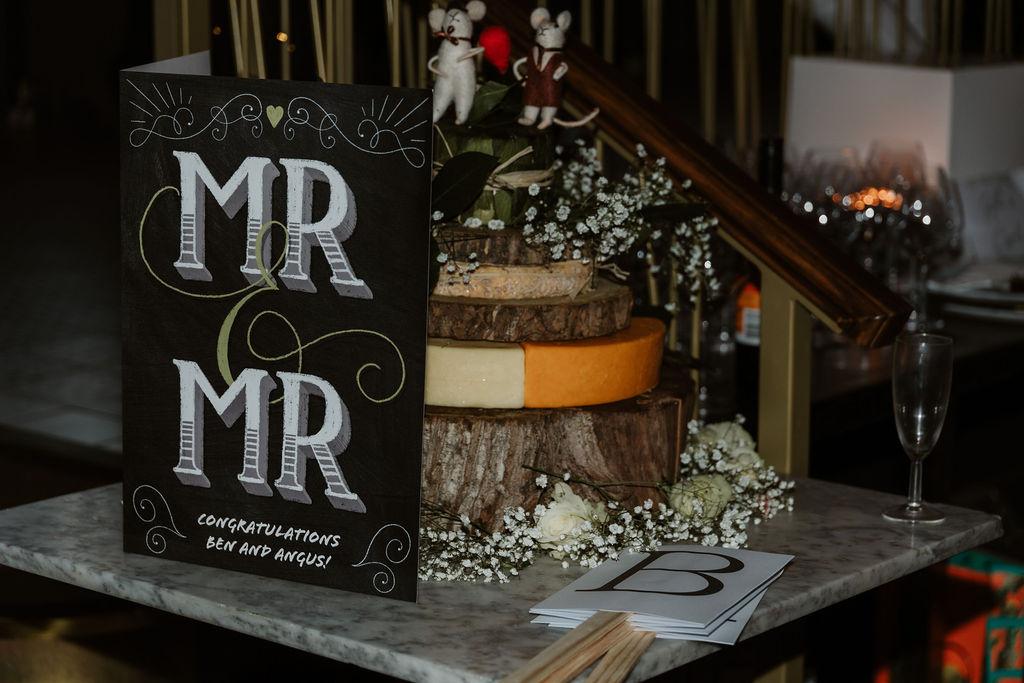 When it came time to party, Angus and Ben chose Lost & Found as their venue. "We loved all of this venue! The agent was outstanding and the food, although buffet, was excellent and received so many compliments. We especially loved the raised dance floor, too."
We're not surprised guests raved about the food - the wedding menu was fantastic. The couple served cornflake chicken, pork belly, Padron peppers, chicken skewers, skinny fries, hummus and a pizza selection at their reception which went down an absolute treat.
Instead of a wedding cake, the couple served layers of cheese from The Good Cheese Company to form a savoury wedding cake, and explained, "We did this to combine the wedding cake with a charcuterie as an evening snack for our guests."
For the evening entertainment, the couple really wanted to impress, "We had an amazing balloon artist - Alex from Bollington Balloons - who made hats for people, and the Manytones - a six piece band - who played for us. They were just phenomenal and the guest feedback was exceptional.
The pair had their first dance to Sigala's 'Came Here for Love', choosing it because, "It started slow and during the first chorus we ramped things up and got everyone on stage to join us."
"Many of our guests said it was the best wedding they've ever been to, mainly due to the excellent entertainment, food and upbeat atmosphere."
Post Wedding Celebrations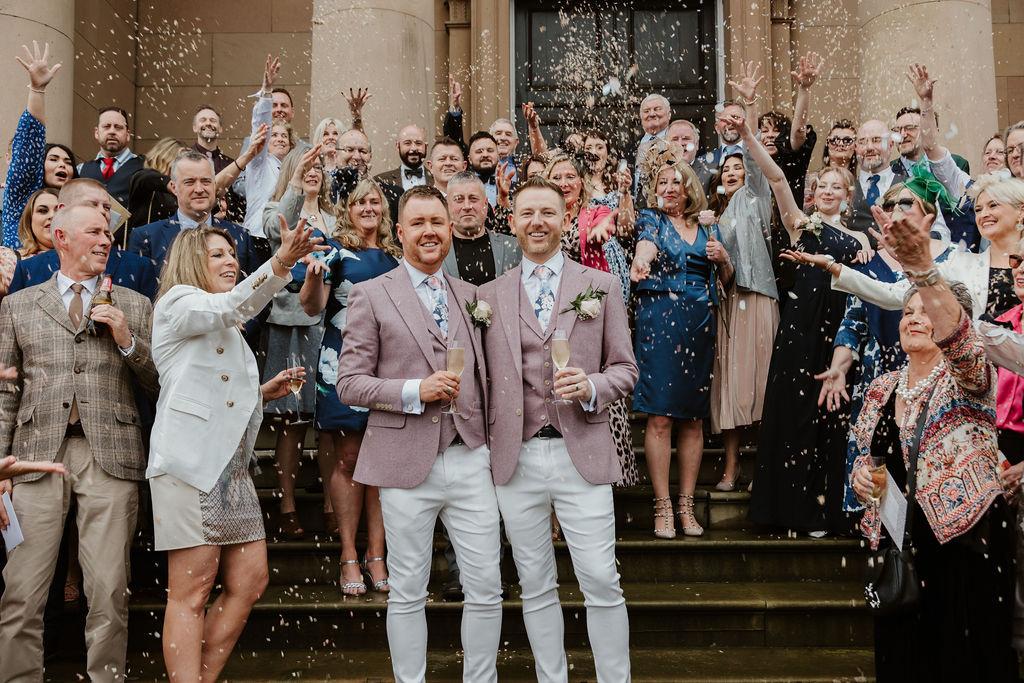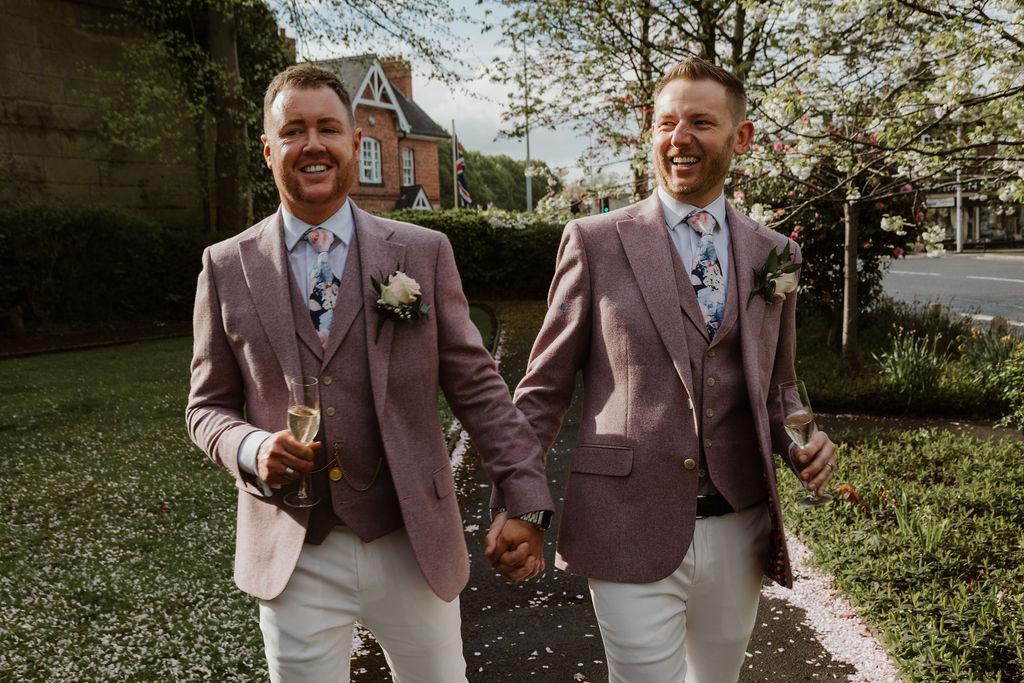 After what sounds like the wedding of the year, Ben and Angus headed to Spain for their honeymoon, and more celebrating, it seems!
"We have friends in Spain who couldn't make the wedding and we really wanted to see them so they hosted a reception for us out there which consisted of a very drunken pool party and amazing barbeque food," - sounds amazing to us!
When asked what, if anything, they'd change about the day, the couple told us, "We wouldn't change anything at all. We loved every minute. We didn't set a wedding budget, but we were happy with what we achieved for the money we'd spent."
And their favourite moment? "Although it was quite unnerving walking into a room full of people whose eyes are all on you, the ceremony was just wonderful. Everyone looked absolutely stunning, the room was beautiful and the registrar was fantastic.
"Our advice to other couples would be; don't leave anything to the last minute, keep a book with all your notes in it, and choose your wedding party wisely."
Wise words from these two dashing grooms!
Angus & Ben's Wedding Suppliers:
Inspired by Angus and Ben's wedding? If so, here are some ideas we know you'll love!