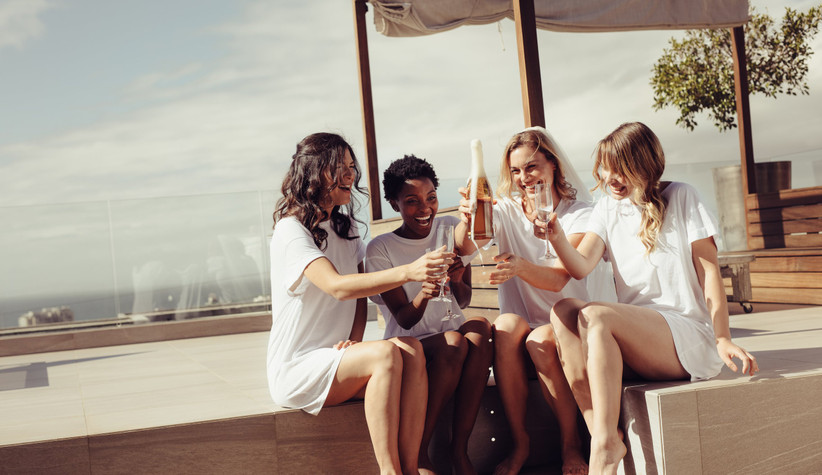 Even the most party-pooping guest (there's always one) will find these hen party games fun – and with the prosecco flowing, you're in for the ultimate hen celebration!
A hen weekend isn't complete without some brilliant hen party games. But when you've got a mixed group of all the bride's friends, it can sometimes be difficult to get conversation going and games in full swing.
We've rounded up 22 brilliant and foolproof hen party games, from ice breakers to get you all talking to some naughty challenges that'll bond you for life. Whether it's a drinking game, fun challenges or something completely unique, there's a hen do game for every occasion.
NB: We have included third party products to help you navigate and enjoy life's biggest moments. Purchases made through links on this page may earn us a commission.
READ MORE
Here is our list of the best hen party games:
1. Gin and Prosecco Pong
Gin and prosecco lovers (so that's all of us, right?), these hen party games are for you. For the ultimate makeover to the classic beer-based game, gin fans can find gin pong at gettingpersonal.co.uk, while there's a classy prosecco pong version available at Not On The High Street.
Hens are bound to love this as a way to get the party started and it's a great way to get a little light-hearted competition in to your evening! Although might we suggest adding gin and tonic rather than straight gin to the cups?
READ MORE: The Step-By-Step Guide To Planning The Perfect Hen Party
2. Advice for the Bride
Ask the hens to write down some valuable (or funny!) advice for the bride, she can then read these out to the group and you can guess who suggested what. We love these cute advice cards from Amazon.
3. Mr and Mrs Quiz
Challenge the bride by testing her knowledge of her other half with that hen party game favourite, the Mr and Mrs Quiz! Get everyone involved by giving each hen a question to ask and they can choose the forfeit if the bride gives a wrong answer – making her drink a shot or putting on an item of fancy dress are great ideas.
Check out our ultimate list of Mr and Mrs Questions for a winning quiz. Just make sure to have asked her partner for their answers beforehand!
For maximum bridesmaid brownie points, try the brilliant Him&HerVideos website to create a glossy Mr and Mrs video complete with graphics and music. It's a fantastic way to get the groom on-screen and the website does all the work for you.
4. New Nicknames
Get the bride to come up with nicknames for all the hens and reveal them with a name tag, a fab badge like the ones above from Livi & Belle, or a personalised sash for each girl. Then everyone else has to guess why they have that nickname.
For an added twist, why not turn this into a hen party drinking game? If someone slips up and uses a real name instead of a nickname they have to have a drink (just remember to buy lots of disposable shot glasses!).
READ MORE: Which Type Of Bridesmaid Are You?
5. Who's Who
If you want a hen do game that really challenges the bride, ask all the hens to write down a fact about themselves on a post-it note. It could be something really simple such as 'I got married last month' or 'I'm related to the bride', or more elaborate like 'I've broken my nose four times'. Give these facts to the hen to see how well she really knows her hen party.
A cute way of doing this is having her match up the post-it note fact with a polaroid photo of the hen (we love these light-up pegs from Not On The High Street). Then you can see which fact she has attributed to who, before the hens reveal the truth!
6. Would She Rather
Test out who knows the bride-to-be the best with these fun Would She Rather cards from Amazon. The options are all clean and totally innocent, so this is definitely a great hen party game pick for brides with mum and mother-in-law-to-be present for the shenanigans!
Have the bride go through the cards afterwards, find the winner and present her with an extra-special hen party sash or a bottle of fizz as a prize!
7. Bridal Bingo
Bridal Bingo is a fun take on the amazing wedding table icebreaker game but this time it's all about the bride. You can buy these bingo sheets from Not On The High Street or get crafty and make your own at home. Get your bride to fill in her sheet with words related to her wedding and then call them out; the first hen to tick off a whole row shouts "Bingo" to win!
If you have a small, close-knit hen group, try it with facts about the bride like, 'I passed my driving test on the fifth try'. This will really test who has the best knowledge of the bride!
8. About the Bride
Ask each hen to write down (anonymously) on a slip of paper their favourite or funniest memory with the bride. If you have some people in attendance who might not be that close (such as members of the groom's family or work colleagues) you could also include first impressions.
Then the bride has to read them out and guess who wrote it. This is a great way to involve the bride in the ice breaking and allows people to find out more about her from her friends' perspectives.
READ MORE: The Ultimate Hen Party Playlist
9. Cocktail Quiz
Kick off your night with some cheeky cocktails and test your hens with their knowledge of these naughty cocktail names. It's even more fun if you don't know the answers as there'll be some spectacular guesses that you can tease your hens about for years to come.
If you're starting your night in a bar, then order a few of each of these cocktails or ask the barman to design a special drink based off your wrong guesses. These quiz sheet (and an answer sheet) are from Not On The High Street.
10. Hen Party Dares
If you're going out, add extra fun to the evening and a competitive edge with some dares. We've rounded up the best hen party dares we can think of for you to jot down. Alternatively, you can buy a personalised set of dares like this one from Daisyley Designs.
11. Wedding Film Charades
Get a list of wedding themed films together and divide the hens into teams. They can pick out the name of wedding film from a hat and then they have to act it out for the other team to guess. You could always give away wedding-themed DVDs such as Bride Wars and The Wedding Planner as hen do prizes – they're priced from £2.74 on Amazon!
12. True or False
Compile a list of statements about the bride, some of which are true, and some which are funny and false. Read them out and get the hens to guess if it's true or false. It's fun to see what people believe to be true about the bride!
READ MORE: 30 Unusual Hen Party Ideas for Brides Who Want Something Different
13. Trivia Quiz
Split the hens up into teams: mix it up so you haven't got all her old school friends in one group and her work colleagues together in another one. Write a quiz about the bride – what's her favourite drink, how did she meet the groom, what's her job title etc – or get this personalised one from Not On The High Street and put everyone to the test to see how well they know the bride!
If you want to keep it more wedding related to give everyone a fair chance, why not have a go at writing your own focussed on the day itself? You'll be amazed at how many things you can think of!
14. Nail Polish or Porn Film?
Pulp Friction? Sugar Daddy? Bachelorette Bash? Divide everyone up in small groups and read out a list of names which everyone has to guess if they are nail varnish names or the titles of *ahem* adult films. The team to get the most right wins. May we suggest a cheekily named bottle of nail polish as a prize? Oh, and we'd probably do your research for this on your home computer - no one needs their boss seeing the web history after this!
15. Never Have I Ever
This classic drinking game was pretty much made for hen parties – and it's a great way to find out some more risqué things about the other hens. Naughty hen do games always go down a treat in our experience! (Just remember you still want friends left by the end of it so don't out ALL your bestie's biggest secrets!).
READ MORE: 47 Hen Party Ideas You Will Love
16. Pin the Trunks on the Hunk
Print a large picture of a 'hunk' – could be the groom, could be a celeb crush of the bride's (we recommend Idris Elba, but that's just us). Much like pin the tail on the donkey, you can then take it in turns to pin some trunks on him whilst blindfolded. This game could be a lot ruder…use your imagination.
17. Hen Party Pictionary
Our favourite drawing game is prime for a naughty makeover and this set makes the perfect hen party game. You can choose between clean, mixed or explicit cards, but we all know which one you should be buying… (unless your future mother-in-law is joining you.) It can easily be turned into a drinking game by making the artist take a shot every time their team can't guess what they've sketched.
18. Make a Man
Split the hens up into teams and equip them with plasticine or play-doh. Each team is given a body part to make, but they're not allowed to see what the other teams are doing. At the end it's the bride's job to put it together to make a man. It's our favourite kind of team-work!
READ MORE: Gorgeous Bridesmaid Dresses Under £100
19. Find the Groom
Print out pictures of various men, including one of the groom. Roll them up and put each one in a balloon. Get the hens to collect and burst the Team Bride balloons and the one that finds the groom wins.
20. The Toilet Paper Wedding Dress
Split the hens into two or more teams and have them create beautiful wedding dresses from rolls of toilet paper. The bride can then pick the best dress and that team win a prize. If you want to make this game even more fun, Amazon have toilet paper in some spectacular colours – including bright pink!
21. Hen Party Games Collection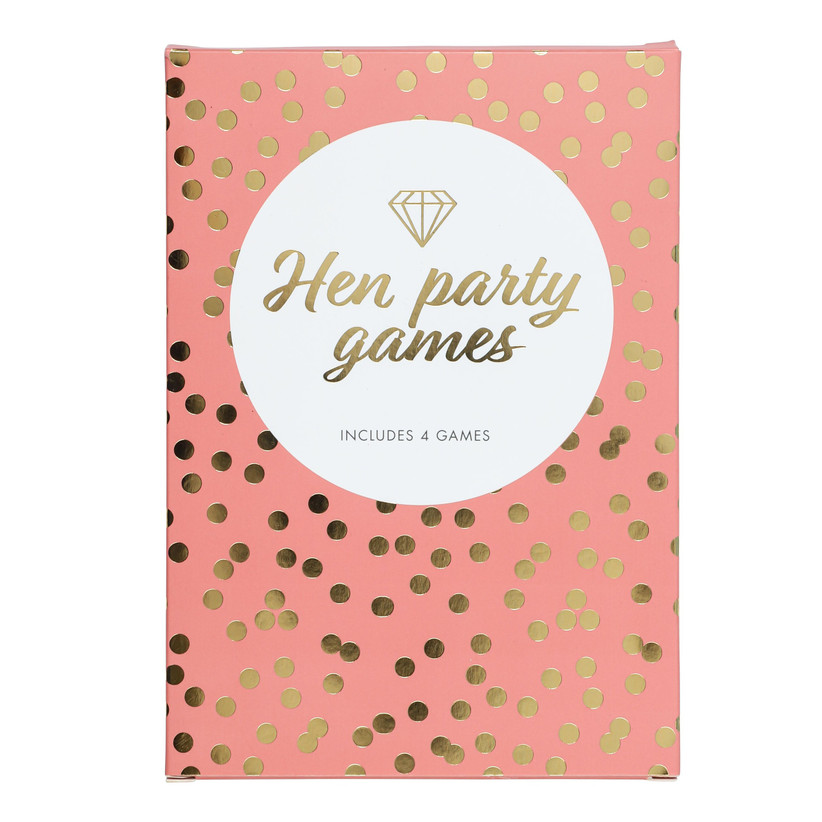 Purchase this handy little hen do essential from Paperchase and you'll get not one but FOUR amazing games to choose from. Our faves have to be 'Draw the Dress' - where each of you guess the dress the bride has chosen and use your *ahem* excellent artistic skills to put it on paper - and 'What's in Your Phone?', a game that involves digging out all those secrets and risqué photos that you never thought anyone would see - let the games begin!
22. And a Very Naughty One…
If you're looking for naughty hen party games, then this saucy game called 'Cock or What' is perfect. As the name suggests, it's a selection of pictures that could either be a pecker or something perfectly innocent. Think you know your schlongs, think again! This game is hard (pun fully intended).
If you're looking for even more fun ideas, don't miss our edit of bridal shower games – they're perfect if you're looking for something to suit day time hen party activities.