57 Fun Hen Party Themes for Every Type of Bride
From classy hen do themes to seasonal, colour-based and unique ideas, here's your ultimate guide to the best hen party outfits and themes!
We have included third party products to help you navigate and enjoy life's biggest moments. Purchases made through links on this page may earn us a commission.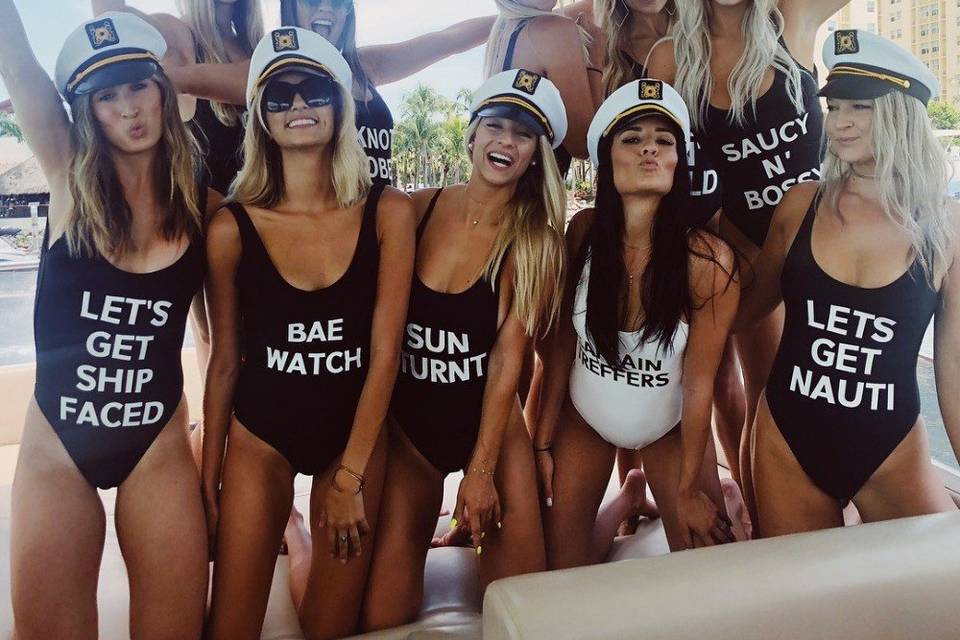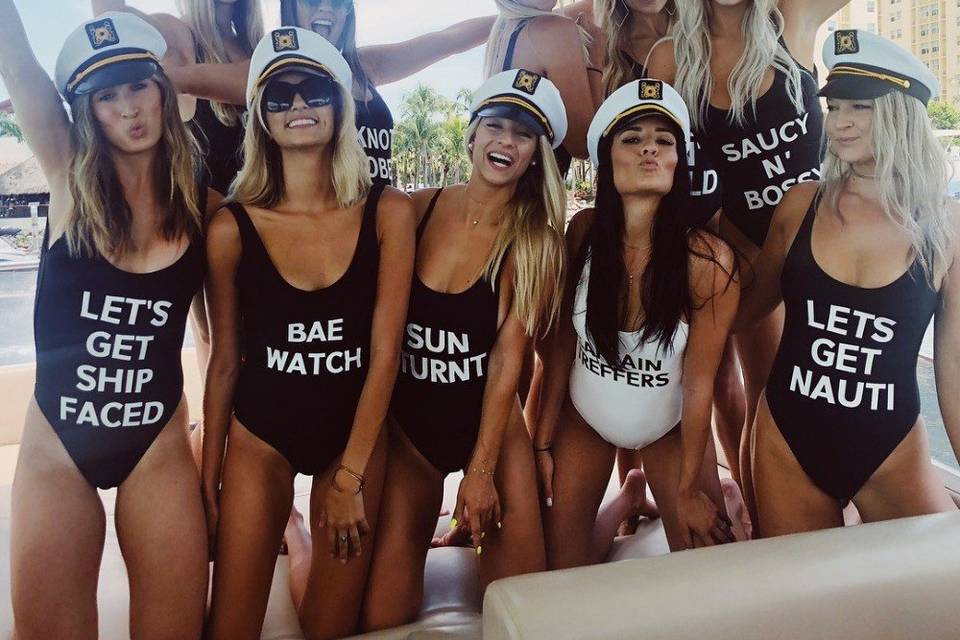 There's two types of hen party: classy and sophisticated – and fancy dress, willies and L-plates. And both of them are fantastic!
If you want to bond your group (whatever your style of hen), a theme is an amazing way to go about it. That might be all wearing the same colour, going as your favourite Disney Princesses, having a pyjama party theme, Great Gatsby, grannies, LBDs and more.
Before we launch into our list of the 57 favourite hen party themes, there's a few rules to hen party fancy dress:
You don't need to do fancy dress. It's fun and can help you decide on food, drinks, games and decorations – but it's not for every bride. Think about whether your friend would really love dressing up and the attention that will bring. (We reckon the answer's most likely yes though).
Themes do not equal tacky. You can make anything as classy as you like. In fact we have a list of non-tacky hen party themes below, just to prove our point.
Choose a theme that works with your venue. Swanky club? '90s sweat bands aren't right. Festival glamping? Leave the LBDs at home.
Make it broad enough that everyone can participate. The bride's mum probably doesn't want to dress as a Playboy Bunny, so make it sensitive to different ages and different styles. Colours are great for that.
Classic Hen Party Themes
1. L-Plates and Penis Paraphernalia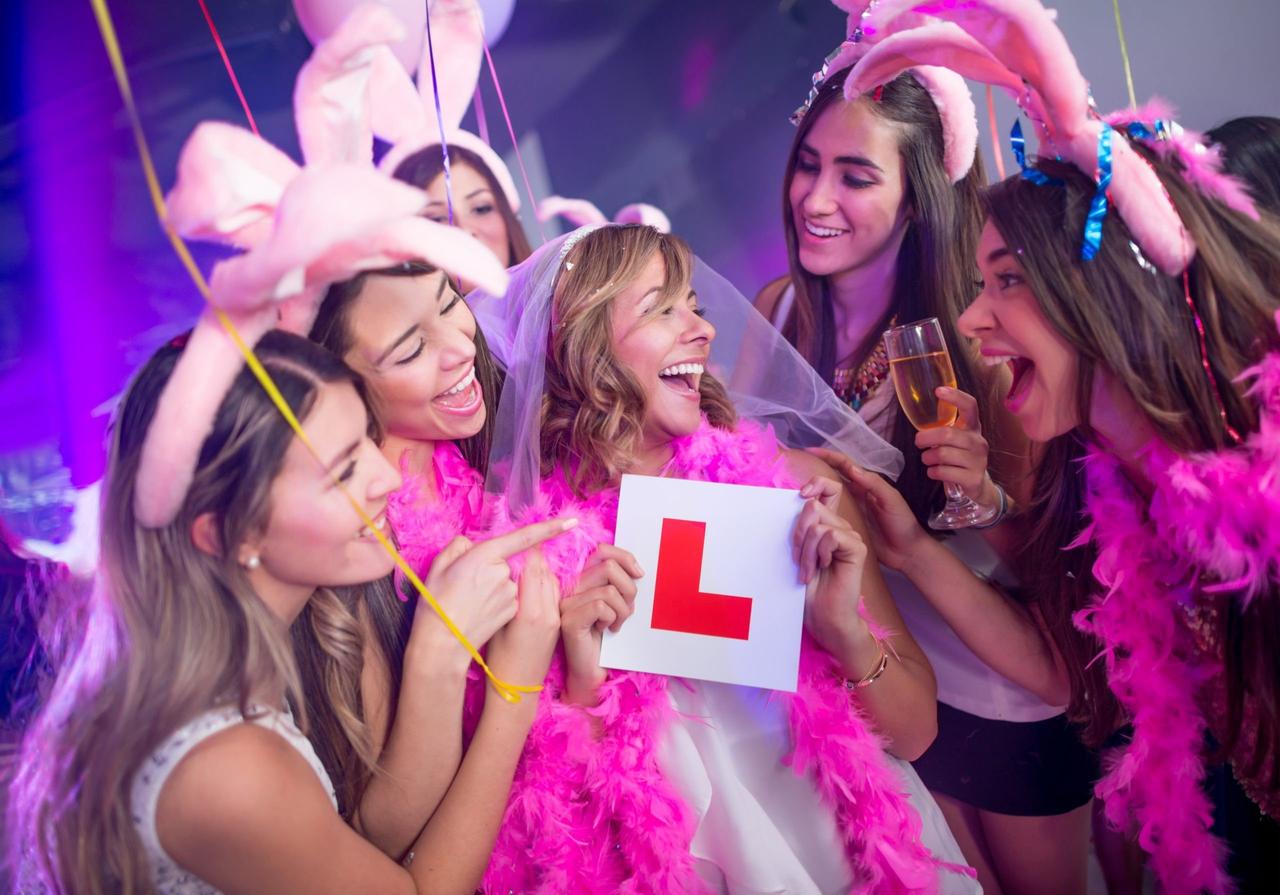 Sash, tiara, feather boa, L-plates, garter: you know exactly the kind of hen party we mean. It's tacky, yes, but you're guaranteed a good night out. Everyone you pass on the street will give you a cheer; barmen are always forthcoming with a few free shots; and the pictures are hilarious to look through the next day.
FYI, did you know there aren't any recyclable paper willy straws you can buy? Someone tell Greta Thunberg we've found her next campaign.
READ MORE: 75 Mr & Mrs Quiz Questions to Test Your Bride
2. Angels and Devils
The bride-to-be should, of course, be the devil on her final weekend of freedom! The rest of the hen party can dress all in white as angels, with wings and halos, while the bride wears all red and some wicked horns. It's the bridesmaids' job to be the bad influences and make up some seriously devilish dares.
3. Cheerleaders
Image: Pinterest
The hen party is likely to be made up of the bride's besties and close family, so you are her real-life cheerleaders. Live up to the name with cheerleader outfits, pom poms and some pre-planned chants (especially a few cheeky ones about her partner). All together now, "Give me a H…"
4. Pirates
Ahoy there, ladies! Get your stripy T-shirts, eye patches, fake parrots, plastic swords, skull and crossbones tattoos and show us your booty.
5. Naughty Nurse
Just about anything can be dressed up 'sexy' these days, but there's nothing that sets temperatures rising and pulses racing like a gaggle of naughty nurses. Outfits are easy to come by on Amazon;  just add stethoscopes.
6. Pink Ladies
Image: Pinterest
Love strutting around like Sandra Dee? Whether your bride is more of a preppy Sandy or all-in-black sexy Sandy, you'll all look amazing in some vintage '50s looks topped with that famous pink jacket.
7. Back to School
Pull your old school uniform out the wardrobe and go for this hen party fancy dress classic. Put your hair in bunches, add a pleated skirt, white shirt and even a little tie. Think more Britney Spears than The Inbetweeners.
8. Pyjama Party
Image: Pinterest
Whether you're going out-out or having an at-home hen do, matching PJs are such a great fancy dress option – and seriously comfy. If you've got the budget, order personalised ones online or you can just head down to Primark.
We're huge fans of throwing your hen do at home or hiring out an Airbnb for your girls where you can play loads of fun games and have the biggest brunch you ever did see.
READ MORE: 30 Unusual Hen Party Activities
9. Toga Party
Firstly, is there anything cheaper than this hen party theme? Got a bedsheet? Boom, you're ready to go! Wrap a white sheet around you and safety pin together, add a belt, gold sandals and an olive leaf wreath – voila! This theme works really well with a fun obstacle-course style activity or It's A Knock Out game.
10. Spice Girls
Image: Pinterest
Everyone knows if they're more a Sporty, Scary, Baby, Ginger or Posh and they're super easy to dress up as. This theme lends itself so well to a dance class or karaoke night – especially if someone dons Geri's Union Jack dress.
11. Moulin Rouge
Bring the City of Love to wherever you are with a little Parisian burlesque flair. Dress up in tassels, corsets, feathers and fishnets for a can-can class or wine tasting. You could even take the Eurostar to the French capital to watch the real show!
12. Cowgirls
Image: Pinterest
Yee-haw! Does the bride love America or country music? Cowboy boots, denim skirts or Daisy Dukes, plaid skirts and cute hats are easy and fun. It's ideal if you link it into an activity like line dancing, horse riding or a game of Cowgirls and Indians paintball. One last ride before she's a bride, right?

Funny Hen Party Themes
13. Grannies
Image: Pinterest
Sassy old ladies are the best. Grab a cane, spray your hair white, draw on some wrinkles, don your best cardi and pearls, and start calling everyone "Sonny". We knew Dot Cotton was always a style icon. The photos are priceless.
READ MORE: 21 Best Hen Party Games Your Girls Will Love
14. Babies
At the opposite end of the spectrum, we've got babies. Get the bride in a big nappy over her clothes, a huge dummy, a big bonnet. It's the perfect outfit for some truly embarrassing dares (we're sure we don't need to tell you). Just don't let anyone bring an actual baby.
15. Mr. Men and Little Miss
Each hen do guest has to dress up as the Little Miss or Mr Men that represents her most. Little Miss Trouble, Fun, Chatterbox, Giggle, Naughty, Brainy, Stubborn, Bossy, Fabulous? It'll be interesting (and potentially very revealing) to see which character everyone thinks  you dressed up as…
16. ABBA/Mamma Mia
Image: Pinterest
Yasssss dancing kween! ABBA have some of the most amazing music combined with the most iconic clobber of the Seventies – there's no better theme. Don your Donna and the Dynamos costumes, learn a group routine and down more ouzo shots than you'll care to remember the next morning. An ABBA dance class will make you all super troopers by the end of the night.
17. Jailbreak
Split up into cops or robbers, or all dress up as cartoon-style thieves with swag bags and face paint eye masks. Who knows if a few of the single bridesmaids might be making off with a couple of hearts tonight? Pair this theme with an escape room for a real jailbreak feel.
18. Disney Princesses
Image: Pinterest
Disney princesses are always a winner. Everyone can either get assigned a princess to dress as or come as their favourite (although be prepared for about 20 Jasmines and Belles). Wear them to a sing-a-long movie screening, while playing Disney games, or even to Disneyland Paris. If you want activity ideas, we've got a whole list of those.
19. Harry Potter
Bride a Potterhead? There's so many Harry Potter hen party activities you can do – like potion-making, afternoon teas, escape rooms and more – that it makes sense to have a dress code too. Cloaks, wands (a hefty twig is acceptable), glasses, and a big sorting hat are great basics, and then you can get the bride a 'Muggle to Mrs' sash.
20. Minions
Image: Pinterest
Getting yellow face paint off you the next day is a nightmare. Fact. But minions are an amazing hen party theme and make for awesome photos. Costumes are really easy to DIY (who doesn't have a misguided pair of denim dungarees hanging around?) with yellow tops and goggles. Bonus points if you can get the bride dressed up as Gru.
21. Childhood TV Shows
This could be a UK vs US showdown. We had Rosie and Jim, Chucklevision, Teletubbies and Tracey Beaker. They had Powerpuff Girls, Arthur, Rugrats and Recess. Whether it's Kim Possible, Sabrina or Even Stevens, there's so much choice and so much fun to guess everyone's character.
22. Safari
Image: Pinterest
Leopard print is our favourite neutral. Deck all your party out in Big Five outfits: leopard, lion, elephant, rhinoceros and buffalo. There's plenty of other safari and jungle prints to pick from, like snake, zebra and tiger. Every one of these animal prints is totally timeless so your girls probably already have something in their wardrobe.
23. ABC – Anything But Clothes
DIY your outfits from 'Anything But Clothes' e.g. bin bags, Twister mats, caution tape, an apron, newspaper, curtains, playing cards, cereal boxes. It's super creative and you could have a DIY session to make some accessories before you leave for your night out (with plenty of wine, of course).
READ MORE: 70 Hen Party Ideas for Every Kind of Bride
24. Flintstones
Fred, Wilma, Barney, Betty, Pebbles, Dino and Bamm-Bamm: there isn't a bad Flintstones character to dress up as.

Colour Hen Party Themes
25. Pretty in Pink
Image: Pinterest
Pink to make the boys wink. You can have a sophisticated hen if you all wear pastel pinks, or alternatively go for a fun, cheeky neon theme. The beauty of pink is the variety of shades, so everyone is likely to already have a pink outfit they love or be able to buy one easily. Pink is always a hen party winner.
26. Gold
Gold is super glamorous. Get your girls all dressed to the nines in their best gold outfits and own every single bar you walk into. If you're doing hen party decorations, everything from balloons to sashes, photo booth props, bunting and party cups come in glittering gold.
27. Black and White
Image: Pinterest
Monochrome is the chicest hen party them. Dress the bride in all white and the rest of the hens in black so she stands out as the star of the show, or have an all-white party. You'll be able to get into any swanky club in these outfits. On a destination hen, black bikinis for the hens and a white swimming costume for the bride looks so fashionable.
28. Neon
A neon paint party is the ultimate messy hen party for brides who love to rave. If you're heading to a festival too, neon dresses, leggings, shorts and tops are essential wear.

Unique Hen Party Themes
29. Favourite Memes
Image: Pinterest
Are you and your pals constantly WhatsApping memes to each? From Love Island and Gemma Collins memes to your favourite viral internet pic, transform into your favourite moments for a really unexpected hen party theme idea.
30. Silver Screen Legends
Marilyn Monroe, Vivian Leigh, Elizabeth Taylor, Brigitte Bardot, Lauren Bacall: brides who love old school movies and Hollywood legends will adore a unique hen dressing up as their favourite characters. Put on her favourite film and shake up some martinis for a really classy night.
31. Emojis
Preferably not the poo one – but dressing as your favourite emojis certainly is an unusual hen party theme.
READ MORE: 22 Fun and Affordable Hen Party Bag Ideas
32. Tuxedo/007
Image: Pinterest
Why should we just be Bond girls? Suit up in a dapper tuxedo look for a super sophisticated and sexy take on the world-famous spy. It's ideal for action-packed hen dos as you're able to move around a lot easier than in tutus.
33. Dress as Your Other Half
Have all the hen guests dress up as either their partners or the bride-to-be's partner. Masks of their face are optional, but encouraged. It's seriously freeing to be able to wear jeans on a hen do, although you might want to have a fancier part where you get to wash off the face beards and Lynx too.
34. Cabin Crew
All red like Virgin? Orange for easyJet? Cabin crew always look glam and sexy so you'll be the centre of attention all night. If your bride loves this, this is a great unusual fancy dress theme. You could even make up an airline based on her name, or surprise her with a spontaneous trip away!
35. Parisian Chic
Image: Pinterest
The ideal choice for any hen party heading to Paris – stripy top, beret, little neckerchief and optional moustache. We'd avoid the strings of garlic unless you want to annoy our French neighbours!
36. Masquerade Ball
There's something extravagant and mysterious about wearing a mask. Put on your most stylish dresses, long gloves and your best Venice masquerade ball mask and hit the town. No one will be able to recognise you and you can invent a whole new identity for the night.
37. Onesies
The ultimate in comfy hen party costumes is the onesie. You can get special ones printed with the face of the bride or go online and find a whole host of unicorns, walruses, cats, sloths and more. Just remember that they can be difficult to go to the loo in…

Classy Hen Party Themes
38. Vintage
Image: Pinterest
Vintage makeovers are a wonderful hen party activity and go so well with a rockabilly or '50s vintage theme. Everyone looks good in petticoats and bright red lipstick.
39. LBDs
Nothing is sexier than a Little Black Dress. Everyone looks good in one and you'll catch everyone's eye. Expect a few free drinks to be sent your way at the club.
READ MORE: 17 Stylish Hen Sashes
40. All That Glitters
Image: Pinterest
Sequins, sparkle and everything in between. All that glitters is an ideal hen do theme for a bride who loves anything with a little dazzle. After a pampering spa day, get her a glass of shimmering Prosecco and put her in her best sequinned dress for a cocktail masterclass.
41. Audrey Hepburn
How iconic is Audrey Hepburn's Breakfast At Tiffany's look? Emulate her chic style with updos, pearls and LBDs.
42. Pool Party/Nautical
Image: Pinterest
A destination hen or a spa day requires swimwear, and a pool party theme is ideal. Get matching swimming costumes, a giant diamond ring rubber float and book a cabana at a beach club.
Remember that some beach clubs in popular places like Ibiza and Marbella won't let you in if you're all wearing one colour as you stand out too much as a hen party. In that case, choose an all-white suit for the bride and pick a few colours or patterns for everyone else to wear.
43. Festival
Image: Pinterest
Boho festival wear like flower crowns and summery dresses will just make you look like a group of girls enjoying your favourite festival – it's great if you want to avoid the whole 'tacky hen party' vibe. Book in for a festival like Glastonbury, a local day festival, something abroad like Primavera in Barcelona, or throw your own in a back garden or while glamping. Here's our favourite festival hen party ideas.

Seasonal Hen Party Themes
44. Sexy Santa and Her Elves
Image: Pinterest
Mrs Claus knows how to work a fur trim. Any December hen party needs a nod to Christmas so a sexy Santa dress code for the bride and red or green dresses as elf costumes for the hens is magical. Reindeer costumes also look fab!
45. Valentine's Cupids
Cupid already shot his arrow for the bride and her partner. Now he's going to treat her to a night out like no other. This winged baby and his bow are great inspiration for a Valentine's hen.
46. Oktoberfest
Image: Pinterest
The German beer festival is the perfect excuse to dress up in a dirndl (or lederhosen) and get some Bavarian bier down you!
47. Easter Bunnies
A little cuter and more innocent than Playboy Bunnies, an Easter bunny theme is perfect for spring hen parties. It also justifies an extravagant chocolate tasting and chocolate cocktail-making activity. Win-win!
48. St Patrick's Day
Irish brides should always plan their hen for over St Patrick's Day weekend. In fact, everyone should. Fly to Dublin, cover yourself in green, gold and shamrocks, and drink Guinness like it's going out of fashion. Put on an Irish accent for the whole night as a hen party dare; most convincing hen gets a prize.
READ MORE: The Best Hen Party Decorations
49. Mean Girls Halloween/Christmas
Image: Pinterest
"In girl world, Halloween is the one night a year when a girl can dress like a total slut, and no other girls can say anything about it." We're not ones to disagree with Cady Heron, but any Halloween-inspired outfit is totally fetch in our eyes. You could go in The Plastics' Halloween outfits and in their infamous Jingle Bell Rock costumes.

Decade Hen Party Ideas
50. 1920s – Flappers
Image: Pinterest
Channel the Great Gatsby and wear flapper dresses, Art Deco headwear, cocktail outfits, victory rolls and pearls galore. It's the most decadent, glamorous and glitzy decade and such a fun theme. Activities that suit it include burlesque shows, afternoon tea and a vintage photoshoot with photos you'll cherish forever.
51. 1940s – Land Girls
Land girls were the unsung heroes of WWII. Dig deep for victory in green dungarees, a white shirt and a headscarf or Rosie the Riveter outfits. It's a really patriotic and empowering costume.
52. 1950s – Rock 'n' Roll
There's so much you can do with rock and roll, like classic American high school chic, swing skirts, biker jackets, sock hop dresses, poodle scarves and anything polka dot. The Fifities marked the birth of rock 'n' roll with Elvis and Buddy Holly all over the radio – both of whom would make excellent costumes too!
53. 1960s – Swinging Sixties
Image: Pinterest
1960s is either the flower-power hippy movement or the snappily-dressed housewives of the Mad Men era. Either of these approaches to the Swinging Sixties would make such a fun, retro hen party theme. Mary Quant skirts, peace signs, Twiggy's babydoll lashes, psychedelic baker boy caps and big, big, big hair would be our choice.
54. 1970s – Disco Fever
The Seventies was all about disco-powered dancing queens. That means funky flared trousers, bell sleeves, Farrah Fawcett's feathered blonde hair and a wild Studio 54 vibe.
55. 1980s – Neon Rockers
The 1980s hit a little bump in the road fashion-wise, with Jane Fonda's high-cut leotards and neon leg warmers, Madonna's crucifix and pearl wild child look, Where's Wally, and – closer to home – a newfound love of shoulder pads, shell suits and bold makeup. If we made that sound like a negative, it wasn't – it's an epic era for fancy dress!
56. 1990s – Clueless
Image: Pinterest
We had a poster of Cher and Dionne's matching plaid skirt suits above our beds and dreamed every night of finding a boy as dishy as Paul Rudd. Go rolling with your homies in some amazing Cher Horowitz-inspired looks, which, naturally, have now all come back into fashion. Other acceptable 1990s costumes include Pretty Woman, Baywatch, Mr Blobby, Spice Girls, Bob the Builder and 1990s Goth Madonna. Here's our guide to the ultimate '90s themed hen party.
57. 2000s – Noughties
Britney and Justin's all-denim outfits; matching Mary-Kate and Ashley looks; Paris and Nicole in The Simple Life – the Noughties had so many good fashion and pop culture moments. Shots for anyone who recreates the Gareth Gates-Will Young Pop Idol final moment.
Having a bridal shower too? Here's how to throw the best bridal shower and 15 awesome bridal shower games.