The 27 Best Wedding Lingerie Sets (& Our Top Tips for Bridal Underwear Shopping)
Struggling to choose the most important lingerie of your life? Here, we give you our top tips for choosing bridal underwear and whittle down the prettiest sets for this year
We have included third party products to help you navigate and enjoy life's biggest moments. Purchases made through links on this page may earn us a commission.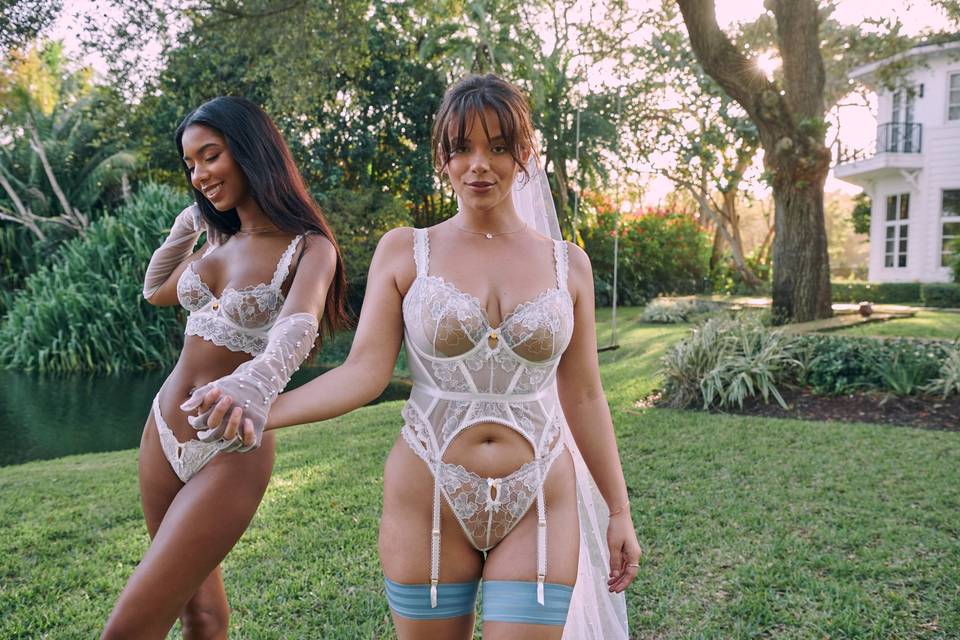 There's much more to bridal lingerie than something blue and a frilly bridal garter! If you want the wedding dress which you spent weeks choosing to look as beautiful as it can, you'll need to find bridal lingerie that works underneath it.
Whether you're all for comfort and practical shapewear or you're dreaming of something that's all about aesthetics, you need to know that the set you choose won't let you down. No one wants unsightly bra straps peeping out the side of their wedding gown in pictures, but it's still important that you feel supported and stylish.
To help you choose the best bridal underwear you possibly can, we've answered all of your FAQs with help from Zoe Price-Smith, Chief Design and Product Officer at Boux Avenue, and curated a beautiful edit of all the best wedding lingerie for to-be-weds. From fabulous nightwear and lace bras to suspender belts and thongs that'll ensure that you avoid the dreaded VPL, here's the best of bride lingerie. If you're looking for plus size wedding lingerie, we've got you right here!
27 of the Best Bridal Lingerie Sets: From Shapewear to Sexy Wedding Lingerie
Bridal Underwear
1. Suit Your Fancy Stretch Jersey Thong Body – £132, Spanx
Sizing: XS-XL
Colours Available: Beige, Black
If you've opted for a slinky wedding dress, a bodysuit will help to give you a smooth silhouette that enhances your natural figure.
This jersey thong body from Spanx is made from soft champagne beige that won't show through white fabric and features a plunge bra and VPL-free design allowing it to sit under just about any gown.
Pros & Cons: This brand has pioneered the shapewear scene, making some of the best on the market. If the scoop back is too low to give enough support, this bodysuit comes with an attachable strap that goes from one side of the body to the other.
2. Firm Control Shaping Briefs – £28, Boux Avenue
Sizing: 6-16
Colours Available: Nude, Black
Close-fitting wedding gowns look amazing, but they can show up every detail. If you're feeling a clingy dress but want the smoothest silhouette possible, opt for some control briefs.
These briefs from Boux Avenue are made from contouring fabric and feature a pretty pattern that ensures they look as good uncovered as they do covered up!
Pros & Cons: Some reviews state that the sizing of these briefs comes up small so we recommend going up a size if you don't want them to feel too tight.
3. Lace Wired Full Cup Bra & Knickers – £29.50 & £15, Marks & Spencer
Sizing: 30A-42E & 6-28
Colours Available: Chestnut, Black, Quartz, Rose, Amber, Topaz, Opaline
If you are on the hunt for wedding day lingerie that can also double up a wedding night lingerie, high street favourite Marks and Spencer is your answer. This bra and briefs from their Rosie collection has all the support you'll need with a wired, full-cup design, but has a sexy finish thanks to the French lace and sumptuous silk.
"I really struggle to find bras that fit me well and I usually buy for comfort rather than looks but this one ticks all the right boxes and looks amazing," says one reviewer. It's been rated 4.5/5 by over 500 shoppers!
Pros & Cons: This design doesn't come in white but the neutral colours won't be seen under any white wedding outfits.
4. Multiway Bra & Briefs – £49 & £19, Nubian Skin
Sizing: 32B-38G & S-XL
Colours Available: Caramel, Berry, Cinnamon, Café au Lait
The Nubian Skin mesh multiway bra is made to support your shape and skin-tone. It features a light foam lining and three-part cup - once you have the briefs on as well, it'll almost feel like you aren't wearing anything!
Pros & Cons: If you choose to wear it as a strapless style, the band is lined with silicon strips to provide a secure fit so you won't be hoicking it up all day and night.
White Bridal Lingerie
5. Tom Padded Bra – £82, Rigby & Peller
Sizing: 30A-36DD & 6-20
Colours Available: White, Black, Latte, Light blue, Navy, Red, Yellow
Rigby & Peller are among the best lingerie stylists in London, and their Tom Padded Bra reminds us why we fell in love with the brand in the first place.
With multi-way straps, this is the perfect t-shirt bra to be worn under a whole range of dress styles – even a halterneck wedding dress! We love the scalloped detailing to the straps.
Pros & Cons: This bridal lingerie set will feel so soft to the touch and on your skin. You can complete the set with your choice of underwear - from seamless shorts and full briefs, to a thong.
6. Wish Stretch Tulle & Lace Underwired Bra & Tanga Briefs – £82 & £55, Simone Perele
Sizing: 32B-38D & S-XL
Colours Available: White, Black
How pretty is this lacy white bra and brief set from Simone Perele? Guipure lace and floral motifs give this bridal lingerie set a classic bridal feel.
Inspired by the Parisian label's archive silhouettes, this brand is all about comfort so that you'll feel as good as you look in ultra-soft stretch tulle. Suspended by adjustable shoulder straps, the haute couture silhouette provides modest coverage with a natural lift.
Pros & Cons: The star of the show here has got to be the cut-out detail at the front which is a sensual finishing touch - it is perfect for wedding night lingerie and to be worn under a honeymoon outfit.
7. Superboost Lace Deep V Bralette ­­– £46, Gossard
Sizing: 30B-44E
Colours Available: White, Black, Blue, Pink, Purple
Looking for something to work with a plunging neckline? Look no further than this stunning lace bralette from Gossard.
Designed to lift and enhance, this little beauty will ensure your girls are looking their best while providing a touch of vintage style to your bridal lingerie look.
Pros & Cons: It has a front-fastening which makes putting it on (and taking it off...) quick and easy. The racer style back isn't traditional, but it adds support, looks very stylish and will ensure the straps don't fall off your shoulders.
8. Millie Lace Bralette & Boyshort – £18 & £10, Figleaves
Sizing: XS-XL
Colours Available: White
If you're not a fan of underwiring and fancy something a little more comfortable, we'd recommend this pretty white lace bralette from Figleaves.
Soft, stretch lace gives just the right amount of support, without digging in or constraining you. Plus, the boyshorts are super cute and comfy too.
One customer said, "I'm not always confident online with sizing, but I got this bralette and love it! I also ordered the matching boy shorts. They are soft and with some stretch."
Pros & Cons: If you're not entirely sure on your bra size, this is a fail-safe option as it is made from stretch fabric and will fit a number of different chests.
9. Ultimate Strapless Lace Bra – £49, Wonderbra
Sizing: 32B-38E
Colours Available: Pearl, Black
If you're rocking a plunge gown and want to show off your assets at their very best, a Wonderbra is the way to go.
This strapless bra features moulded cups and underwired support that acts as a pair of built-in hands to lift you up, plus silicone dots to make sure there's absolutely no slipping.
Pros & Cons: This bra is completely strapless with no option to attach them, which means it is specifically designed to be one of the best strapless bras around. You won't even notice there are no straps holding you up!
10. Revolution Front Fastening Underwire Bralette & Brief – £32 & £12, Pour Moi
Sizing: 32C-38G & 8-18
Colours Available: White, Black, Blue, Pink
If you're looking for a wedding lingerie set that's both flattering, stylish and practical, Pour Moi has you covered with their Revolution collection.
Sexy yet highly comfortable, the front fastening underwired bralette and thong will make getting dressed on the morning of your wedding super simple and taking it off after the big day even easier...
Pros & Cons: The gold hardware adds a luxe finishing touch. The racerback as eyelash lace detailing which gives it a pretty, rather than sporty, feel.
11. Fiesta Balcony Bra & Short – £41, £20, Gossard
Sizing: 32A-38E & XS-XL
Colours Available: White
The Fiesta bra and shorts from Gossard are a white bridal lingerie set with a difference - each piece is finished with opalescent shimmer and embroidery details making them a super special pick for your big day and night.
It is a non-padded design with an underwired balcony bra that is flattering on all chest sizes and provides lots of support. The cheeky shorts give some coverage, but they are still very sexy, made from sheer material and with an intricate cut-out.
Pros & Cons: This lingerie for your wedding can be dressed up or down depending on your taste and the occasion. It can be made even sexier with the addition of the suspender, or worn post-wedding as an everyday set.
Coloured Bridal Lingerie
12. Eladie Balconette Bra, Briefs, Suspender & Hold-Ups – £36, £18, £26 & £10, Boux Avenue
Sizing: 30B-38G & 6-18
Colours Available: White, Black, Blue, Pink
Think outside the box with your 'something blue' by opting for the Eladie bra and briefs from Boux Avenue. It's very sexy (made even more sultry with suspenders and stockings), yet the daisies look delicate and pretty.
It's a very unique design and you'll be hard pressed to find anything like it for such an affordable price!
Pros & Cons: One review explains that the sheer material means that your nipples might show through - if you want to avoid that, we recommend popping on some covers.
13. Evaline Balcony Bra & Knickers – £24 & £10, Marks & Spencer
Sizing: 28A-42DD & 6-18
Colours Available: Yellow
Coloured bridal lingerie doesn't have to be totally out there - this lingerie is still bridal, but with a subtle hint of yellow florals that looks so beautiful.
The Evaline bra and knickers from Marks and Spencer has lots of great reviews, with one person saying, "It is a beautiful colour and very comfortable," and another, "At first I was unsure about the padding, but it gives you a great shape."
Pros & Cons: The high waist knickers will smooth your silhouette and provide support but if that's not your taste, consider brief design instead. Some shoppers said that the silky straps may slip down your shoulders, but they are adjustable so can be tightened to fit comfortably.
14. Marie Jo Chen Balcony Bra & Thong – £113 & £57, Rigby & Peller
Sizing: 32B-36F & XS-XL
Colours Available: Ivory
A fun and floral upgrade to Rigby & Peller's best-selling padded balcony bra, the Marie Jo Chen bra and thong have textured embroidery that give a really luxury look and feel.
As well as lace edging, it also features mesh dobby material which pairs perfectly against the beautiful blooms.
Pros & Cons: If you love the pattern on this bridal lingerie but aren't too keen on the style, there are lots of different fits to choose from, including plunge and longline.
15. Fallon Cornflower Bra, Thong & Suspender – £45, £30 & £40, Playful Promises
Sizing: 30A-38F & 8-20
Colours Available: Blue
Another beautiful blue bridal lingerie set is the Fallon cornflower set from Playful Promises. The mesh cups have a sexy strap feature that will flatter all chests, and there are pretty satin bows dotted around that give it a pretty finish.
The straps are adjustable and wide, which not only adds to the gorgeous design, but provides practicality too as they will give you more support - especially if you have a larger bust.
Pros & Cons: The bows might show show through when worn under a figure-hugging outfit, so we suggest you save this set to slip into as wedding night lingerie.
Sexy Bridal Lingerie
16. Angelica Longline Basque Bra – £48, Boux Avenue
Sizing: 30B-38F
Colours Available: White
On your wedding day, you might want to choose some bridal lingerie that you wouldn't typically wear on your day to day. The Angelica longline basque bra from Boux Avenue is likely something that you'd only wear for special occasions, and it doesn't get much better than your wedding!
The bold floral mesh is a beautiful pairing with the lace trim edging - this is sexy bridal lingerie that you won't feel uncomfortable in if you prefer a little more coverage.
Pros & Cons: The sweetheart plunge neckline is flattering and right on trend. Be mindful that the floral trim may peek through if you are wearing a low-cut top but if you don't mind this, it can look very pretty.
17. Emerson Ivory Bra & Thong – £36 & £18, Bluebella
Sizing: 30A-36DD & 6-20
Colours Available: White, Black
If you're on the hunt for wedding night lingerie that is seductive yet playful, the Emerson Ivory Bra by Bluebella could not be a better choice. The lace bra is open-cup, where soft elasticated strapping creates a directional caged effect and the lace nipple coverings add a touch of femininity.
The Emerson bra looks fabulous paired with the Emerson Ivory Thong which features lace panels on the front and back. This set is so luxurious.
Pros & Cons: As there are lots of cut-outs on this set, make sure you buy true to size so the straps don't dig in and feel uncomfortable.
18. Nova Stretch Lace Suspender Belt – £24, Bluebella
Sizing: 8-16
Colours Available: White
Looking to spice things up on the wedding night? A suspender belt worn with some stockings is a guaranteed way to set hearts racing.
We love this floral take on the suspender belt from Bluebella. It perfectly balances girliness with sexiness, especially when worn with the floral bra and thong.
Pros & Cons: This white suspender can be matching with all kinds of lingerie pieces - including some that you may already own, so you don't necessarily have to buy a whole new set.
19. Rachel Longline Bra & Briefs – £38 & £16, Boux Avenue
Sizing: 30B-38G
Colours Available: White
Your wedding night lingerie doesn't have to be plain white, this pretty set with pink bows from Boux Avenue is a gorgeous choice.
The longline bra with eyelash lash is a little different than your ordinary set and can be paired with a thong to complete the look. You can also get the matching suspender belt for an even sexier style.
Pros & Cons: One review points out that there is only little padding in the cup, but it still provides lift.
20. Lorna Demi Cup Plunge Underwired Bra & Brief – £85 & £60, Agent Provocateur
Sizing: 32A-36D & 6-18
Colours Available: Black, Chestnut, Red, Sand
Fancy splashing out a little for the big day? Agent Provocateur is renowned for their playful takes on classic lingerie basics and we're swooning over the Lorna set.
The simple scalloped edges have a 60s-inspired feel and the French seam detailing is exquisite.
Pros & Cons: This sexy wedding lingerie is simple but still manages to look incredibly sultry. The scalloped embroidery is a bra design that we've never seen before!
21. Eloisa Body – £42, Boux Avenue
Sizing: 6-18
Colours Available: White, Black
A bodysuit is a sexy alternative to a two or three-piece lingerie set. The Eloisa body from Boux Avenue offers coverage but the mesh material and triangle cut-out is sure to get hearts racing.
If you thought the front was sultry, just you wait until you see the back. It's a thong style brief, with a stunning tie lace-up back.
Pros & Cons: One review said, "My girlfriend bought me this cute Eloisa lace body for my wedding to match her blue Eloisa one. It looks gorgeous on and fits me perfectly. So comfortable to wear all day but once she laced up the back for me I couldn't get it off." Make sure you have somebody on hand to help you take it on and off.
22. The Icon Plunge Bra, Thong & Waspie – £36, £15, £26, Ann Summers
Sizing: 32A-44DD & 8-24
Colours Available: White, Black, Green, Pink
In the words of Ann Summers, you'll look like an angel, but feel like a vixen in this gorgeous get-up! With the flattering plunge shape and padded underwired cups, you could easily wear this sexy bridal lingerie during the day, and slip into the waspie come evening.
One shopper commented that, "It is really comfortable and you just feel so sexy when wearing it," and another said, "This bra is absolutely stunning - so sexy with the curved cups and deep plunge! This bra gives me the most beautiful cleavage and is very comfortable to wear."
Pros & Cons: This is a traditional looking set of bridal lingerie but it can be given a contemporary upgrade like this model has done. We're obsessed with the gloves!
Bridal Nightwear
23. Silk Slip with Lace Details – £74, Intimissi
Sizing: XS-XL
Colours Available: Pink, White, Black, Navy, Red, Beige, Mint
This silk slip has got 'wedding night' written all over it thanks to the classic pink shade and pretty lace edging. Its warm hue will lift and complement all skin tones.
Sitting just below the bum and with a low back, it's as sexy as it is classy.
Pros & Cons: The shoulder straps are adjustable allowing it to be a comfortable fit whether you prefer something loose fitting while you sleep, or want a neckline with more coverage.
24. Lace Perfection Stretch Mesh Chemise – £62, Wacoal
Sizing: S-XL
Colours Available: Pink, White, Black, Blue, Red
Pretty in pink, we're a little bit in love with this candy-coloured lace dream of a chemise. Delicate lace and floral details make it perfect for the wedding night and beyond.
Plus, the adjustable straps and stretch material make it as comfortable as it is beautiful and the lightweight sheer fabric makes it a great choice for balmy honeymoon nights.
Pros & Cons: As this is made from sheer material, you might not want to head down to the breakfast buffet in it, but it'll be ideal for the bedroom.
25. Eyelash Lace Trim Cami & Short Set – £15, Boohoo
Sizing: 6-16
Colours Available: Pink, Black
Boohoo rules the bargain bridal accessory roost, and this eyelash lace trim cami and short set affirms our love for them. In pretty pale pink, it would be perfect on your honeymoon and wedding night – and it's only £15!
Pros & Cons: It is made from breathable, silky-smooth fabric, so you can wear it to sleep in without the worry of over-heating.
26. Briar Embroidered Bralette & Shorts Set – £50, Boux Avenue
Sizing: 6-16
Colours Available: White
A lace-trimmed set will be as comfortable as it is pretty and the Briar bralette and shorts set from Boux Avenue will be as ideal for your first night together as newlyweds as it will be in months to come.
It doubles up as nightwear and bridal lingerie, and every detail has been thought of. We adore the floral embroidery, sexy thigh splits and comfy racerback.
Pros & Cons: If you prefer to sleep in something with more coverage, you could swap out the sheer bralette for a cami top and pair them with the shorts when you go to bed.
27. Chemise – £30, Freya Fancies
Sizing: XS-L
Colours Available: White, Black
This timeless chemise from Freya Fancies has a double-layered cup to provide support and is made from soft and comfortable fabric, so you can wear it as underwear or nightwear.
Pros & Cons: The gentle shaping at the bust will be really flattering and the pretty lace and bow add a special touch.
What Kind of Bra Do You Wear with a Wedding Dress?
The choices are endless, and the type of bra you wear underneath your wedding dress will depend on your shape, wedding dress style and preference.
If your dress has a low or keyhole neckline, a plunge bra will stay out of sight and out of mind. If your dress is backless, you'll need an adhesive bra (the most invisible of them all!) or a convertible bra (which can also cater for sleeveless, one-shoulder, crisscross or halterneck dresses).
Strapless bras are great for strapless dresses, while bustiers are perfect if you're wanting to cinch your waist and boost your bust at the same time. Oh, and don't forget – if you feel comfortable not wearing a bra at all then that is fine, too!
Do You Wear Shapewear Under Your Wedding Dress?
Before you go ahead with purchasing shapewear, you should consider how comfortable and practical it will be on the big day. Shapewear can be slightly restrictive and might make sitting down or going to the toilet a bit of a nightmare.
That said, if you've got your heart set on a slinky satin gown then shapewear could be the perfect solution to create a smooth, sexy silhouette. It can make you feel secure under your dress – just remember to change into something sexier later on! This leads us to our next point…
Do I Just Need One Set of Underwear for my Wedding Day?
Some brides, if wearing something practical and comfortable during the day, decide to change into something different for their wedding night. Doing so will allow you to choose a special set without worrying about ruffles being seen or lace straps popping out of your dress.
Zoe Price-Smith, Chief Design and Product Officer at Boux Avenue agrees, saying, "You may want two different lingerie sets for your wedding day. A more practical option like a strapless bra, or a simple plunge bra to wear under your dress all day. Then you will definitely want something special for the wedding night, where you can keep the traditional white theme or experiment with colour.
"Your wedding night lingerie should be just as special as your wedding dress, full of intricate details and leave you feeling empowered and confident."
Does Bridal Underwear Have to be White?
Not at all! There's no reason why your bridal lingerie has to be white. Most to-be-weds aim to match the colour of their dress, whether that's white, ivory or a pastel shade. If that doesn't suit, you might wish to choose lingerie in a secondary colour, like the colour of your flowers or bridesmaid dresses.
"It is your day, so you can technically wear any colour," says Zoe. "For those who prefer a more traditional look then white or ivory lingerie is the way to go. In our bridal collection, it incorporates your 'something blue' within the lingerie, whether that is with a blue thread intertwining, or with a little blue bow detail."
Just remember, you've got to consider the material of your wedding dress. If anything darker than white or nude would be visible through the fabric, steer clear of such shades. Bright white can also be visible through some fabrics, so opt for ivory if you'd rather avoid practical but less glamorous nude.
Do I Buy My Wedding Dress or Bridal Underwear First?
You should definitely buy your wedding dress before your bridal lingerie as you cannot guarantee the style you'll need before the dress has been chosen. When you go wedding dress shopping, you should wear a nude bra and nude thong, as they'll work with most styles.
Once you've purchased your wedding dress, buy your lingerie ready to take to your fittings. That'll enable you to see exactly how everything looks when worn together. Oh, and don't worry if your dress has a particularly tricky neckline – most dressmakers will be able to look at sewing your lingerie into your dress!
Where to Buy Bridal Lingerie?
There's no one-size-fits all approach when it comes to finding your dream set of bridal lingerie and that is because everyone is looking for something different. If you are after comfortable bridal underwear, Nubian Skin is one of our favourites, offering a range of skin tones and a seamless finish. We're also big fans of Marks and Spencer who have a size inclusive range of bridal lingerie (30A-42E), in several colourways - including pretty pastels and bold hues.
For something a little bit sexier, Boux Avenue and Ann Summers are excellent, with sizes from 32A-44H.
Now that you've chosen your bridal lingerie, you and your crew will need dressing gowns or pyjamas to get ready in! They'll make your first pics enticingly Instagrammable. Click here for our round-up of the best robes for every budget