Whether you are throwing a hen party at home, hiring a beautiful hen party house or staying in a hotel, some fun hen party decorations are a must for your celebrations. You'll be amazed what a difference you can make to a room with some balloons and bunting, plus a few extra props to bring your refreshments and photos to life.
When you're deciding about the decorations you want to buy, there's lots to think about. Firstly, you'll want to make sure they fit with your theme for the day or weekend; secondly, consider how much of your hen party budget you have to spend on them and how you'll transport them. Decorations that pack down small and flat are your best friend - navigating a train to your cocktail making class with 20 already blown-up balloons is a guaranteed nightmare.
Luckily we've covered every price point and lots of different themes with these hen party decorations so there should be something for each kind of bride.
From photo props to hen party balloons, we take a look at some of our favourite hen party decorations.
NB: We have included third party products to help you navigate and enjoy life's biggest moments. Purchases made through links on this page may earn us a commission.
Hen Party Balloons
Make a real impact with your hen party decorations by having stylish hen party balloons, they will look great in your photos and they are a cheap and easy way to make the room look great.
Pastel Gold Streamer and Balloon Backdrop - £22.99, Party Pieces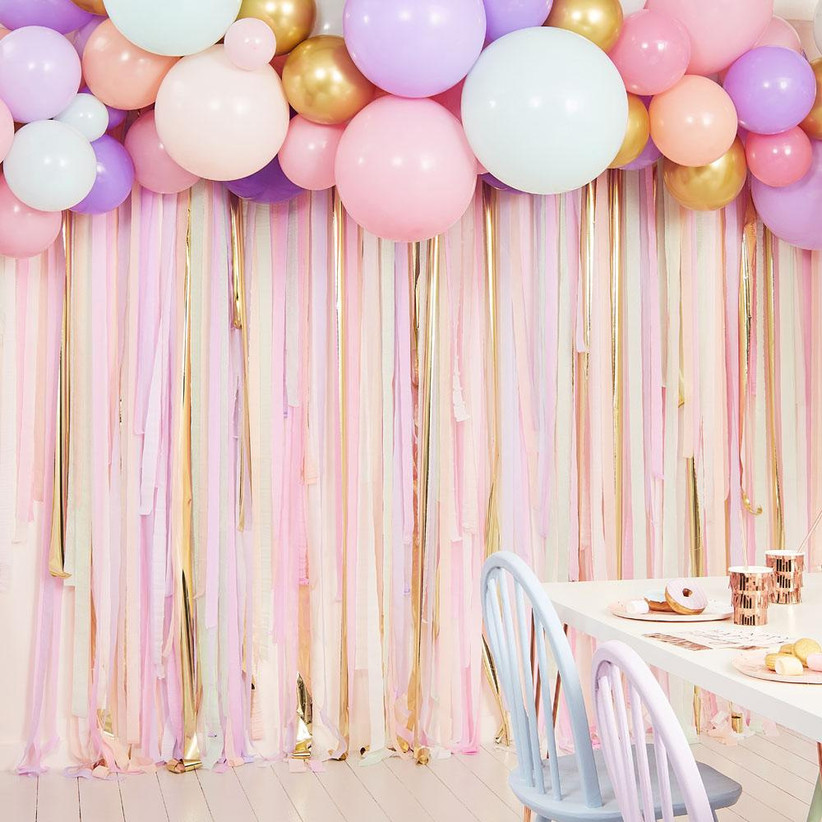 Brighten up a wall with a this streamer and balloon set that comes with 300 metres of streamers and 75 balloons. If you're in a hotel room and want to jazz it up, or make a great photo backdrop in your home, this is the perfect decoration idea.
Ombre Balloon Wall - £29.99, Party Delights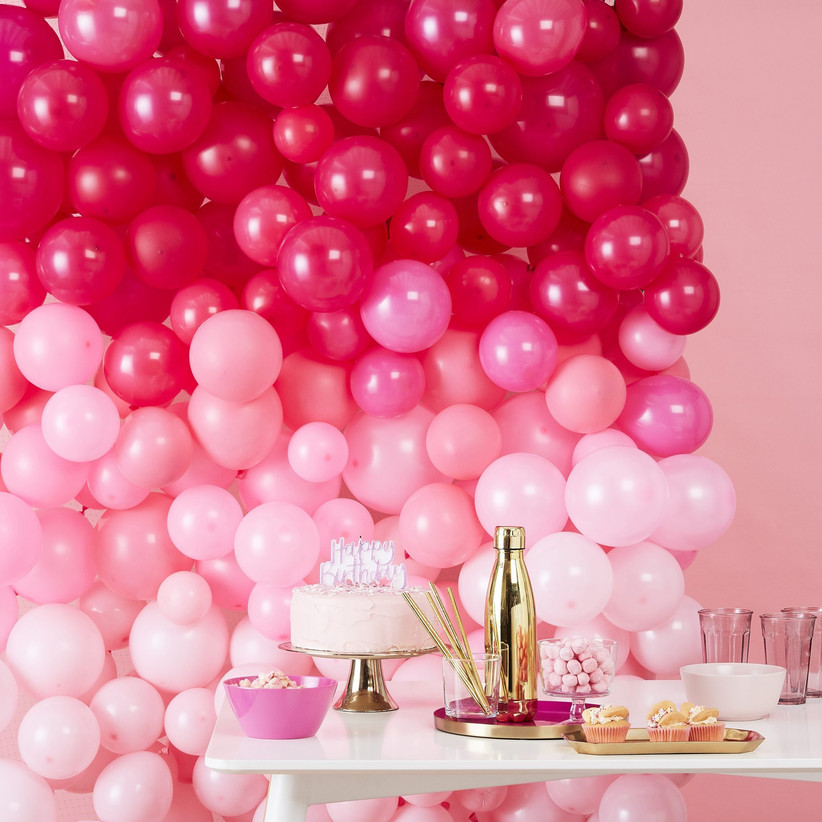 There are 210 balloons in this pink ombre kit so get yourself a pump if you want to put it together, but if you do, it makes for an absolutely epic hen party backdrop.
Engagement Ring Balloon – £3.95, Etsy
We are in love with this engagement ring balloon – who doesn't like a giant inflatable oversized diamond? It's the perfect way to celebrate your friend's engagement and add some style to your hen party pics.
Naughty Hen Party Balloon in a Box - £32, Bubblegum Balloons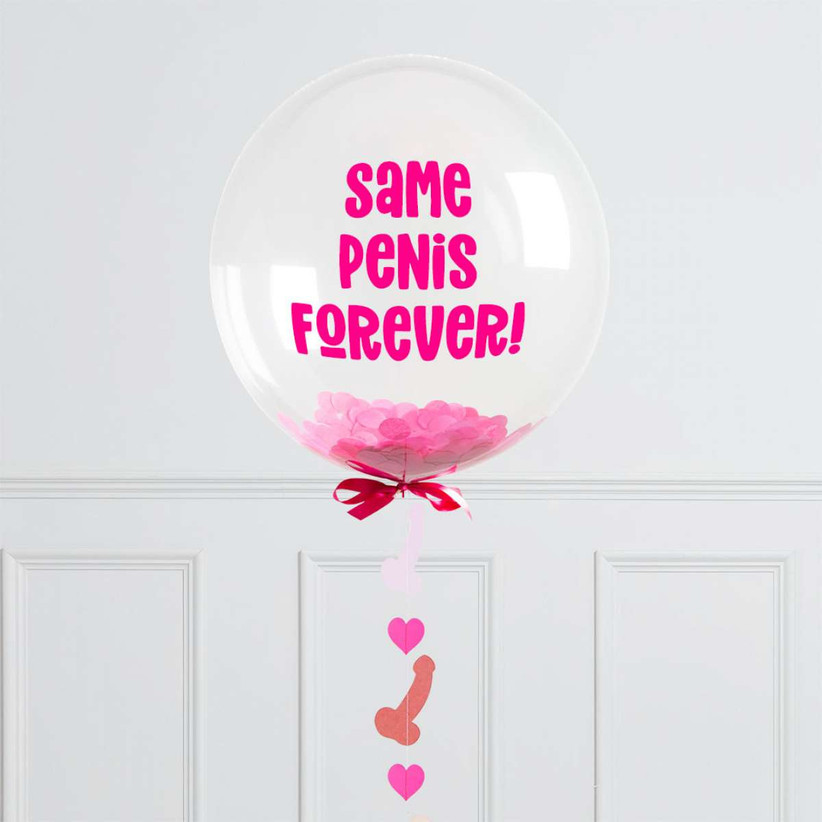 Your bride will have no idea what she's about to receive when this balloon in a box arrives in the post. It'll pop out to reveal itself and make for a wonderfully cheeky prop that the hens will want in every photo. A gift and décor in one, it's an absolute winner.
Hen Party Balloon Bunting – £6.99, Amazon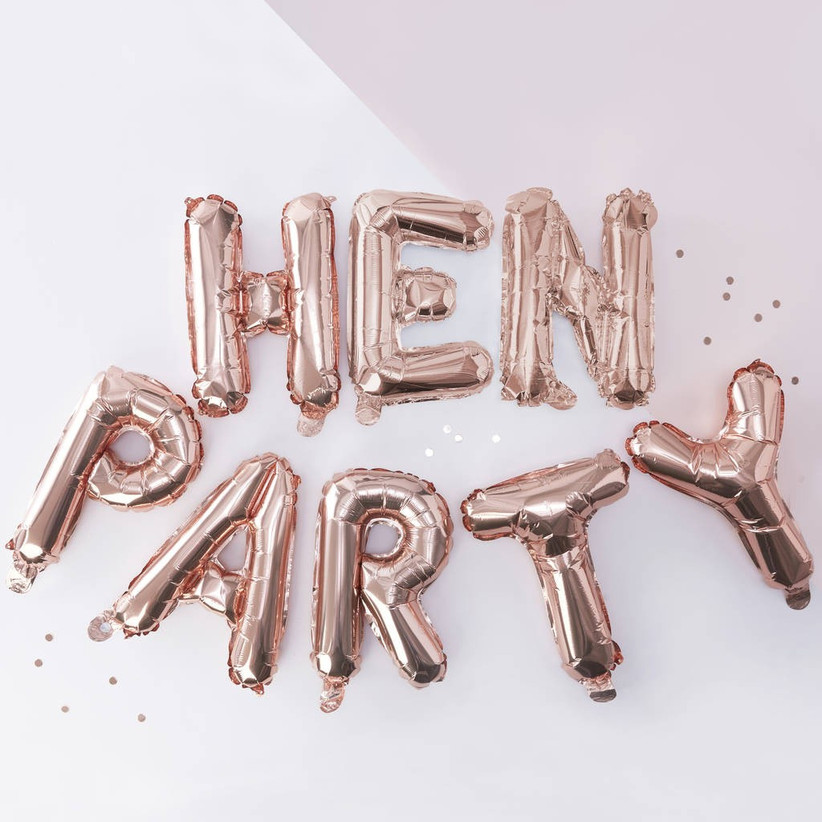 If you want to make a real statement with your hen party balloons then this rose gold hen party balloon bunting from Ginger Ray is the way to do it! The balloons fill with air so no need to worry about messing around with helium, you can blow them up hang them ready to greet your guests.
Tropical Cocktail Balloon Package – from £18, Bubblegum Balloons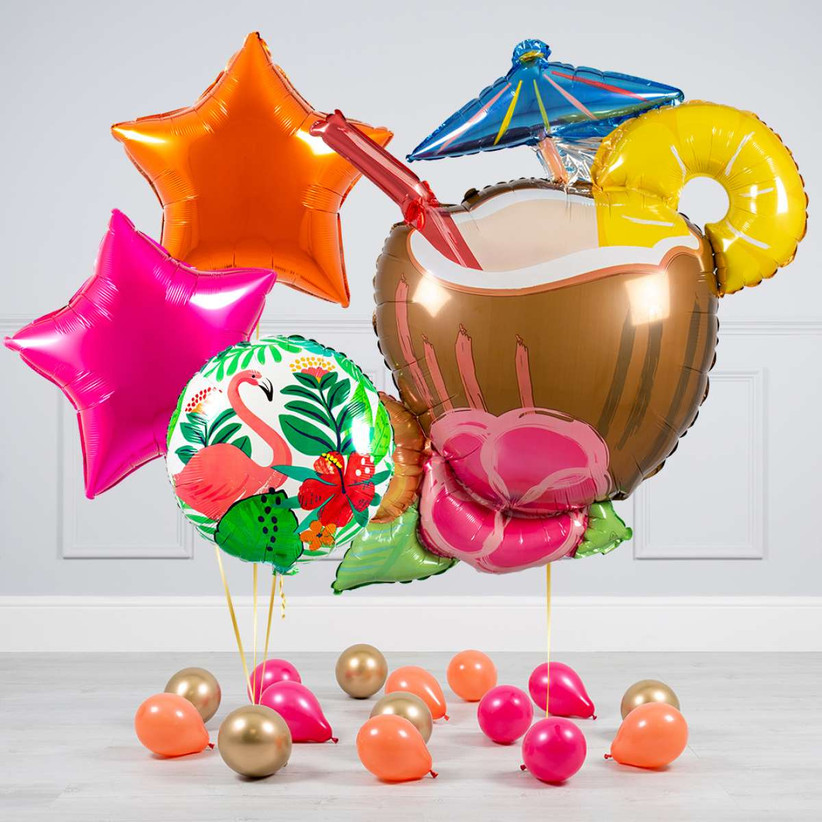 Having a tropical or travel-themed hen? This coconut cocktail and flamingo balloon set is the perfect way to create the fiesta atmosphere and get everyone in the mood for a drink.
Hen Party Rosé Inflated Balloon Package - form £18, Bubblegum Balloons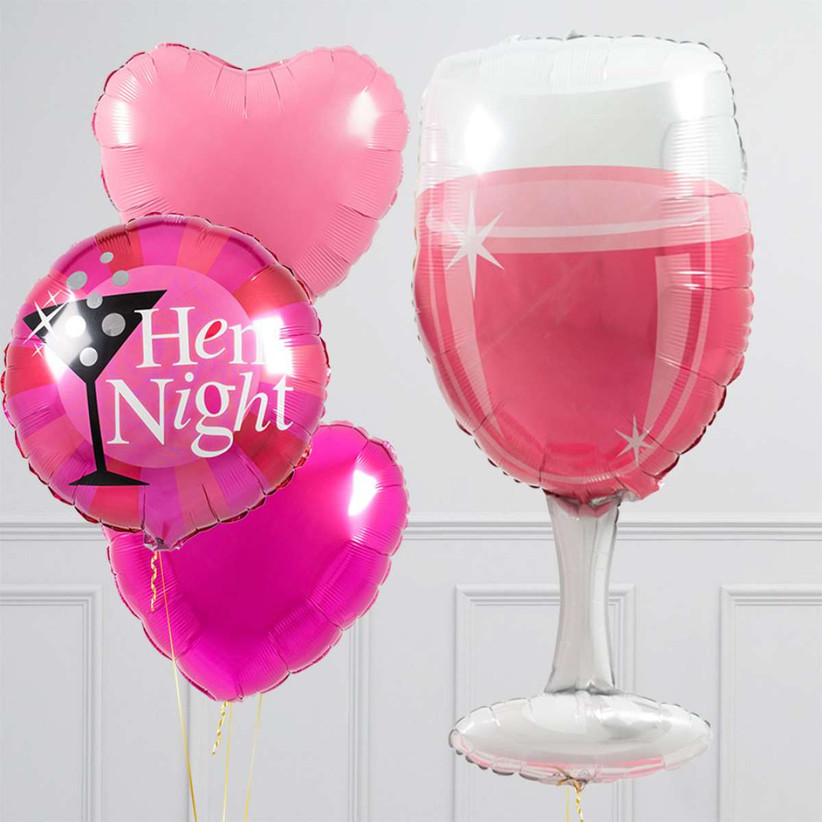 A fun, flirty rose wine balloon set is ideal for those brides who'll accept nothing less than a magnum of Whispering Angel. If you want to have some silly decorations without falling into tacky territory, these balloons in a box are it.
Luxe Pink and Pastel Balloon Arch Kit - £39.99, Ginger Ray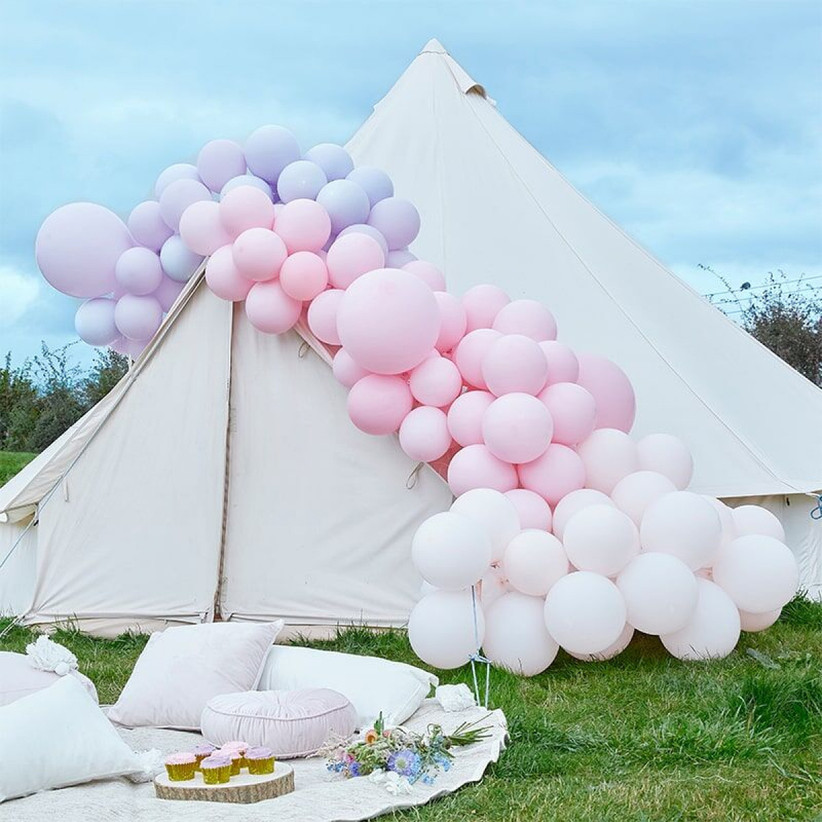 You can buy balloon arches in almost every colour under the sun and it's a fab way to create a dramatic entrance into a room or a tipi, like we have above. This luxe, pretty pastel garland is sure to impress the bride and everyone at the hen.
Hen Party Room Décor
If you want to add a few more finishing touches then a few well placed decorations make your hen party house even more impressive.
Tissue Paper Flower Decorations - £7.99, Ginger Ray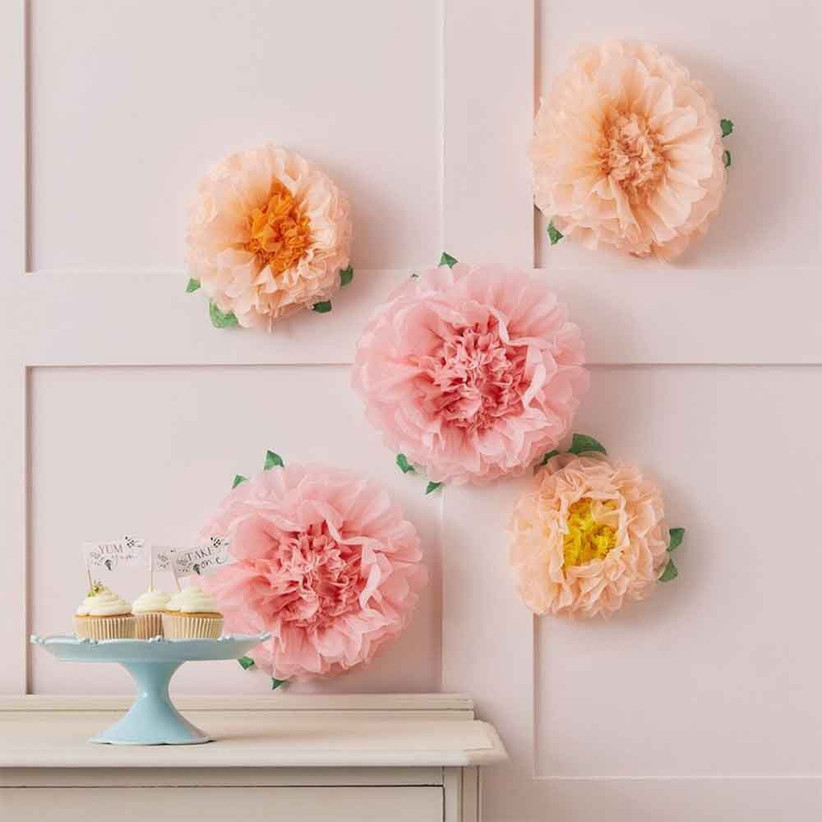 These tissue paper flower decorations look so good, but they literally only require you to unfold and scrunch them. So simple and super pretty!
Flamingo Hanging Decorations - £7.99, Party Delights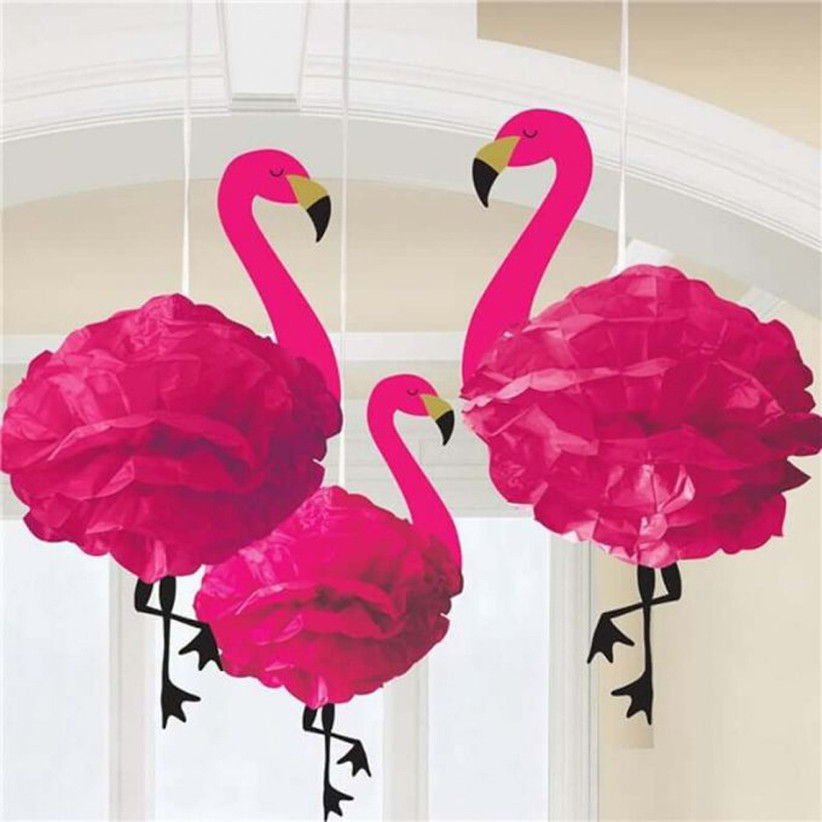 These three fluffy flamingo hangings are perfect if you're having a 'Last Flamingle' theme. Even if you're not, they're super fun and colourful.
Hip Hip Hooray Banner - from £5.99, Pretty Little Party Shop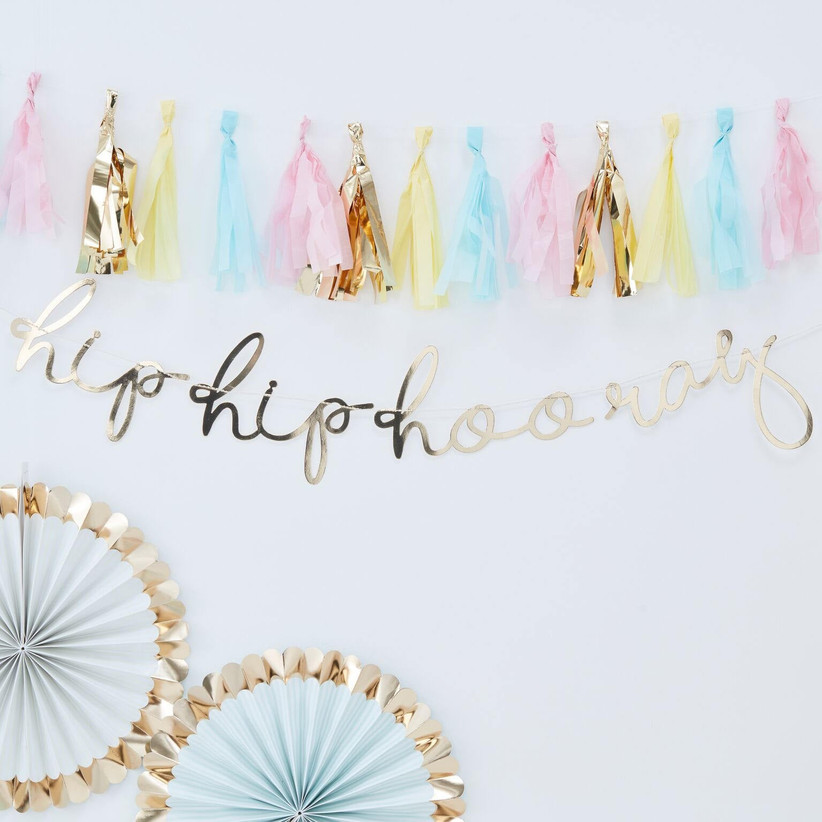 This selection of decorations all go together so well: the hip hip hooray banner, pastel and gold tassel garland, and pastel and gold paper fans. Your decorations are sorted, you're welcome.
Hanging Chandelier Hoop - £14.99, Ginger Ray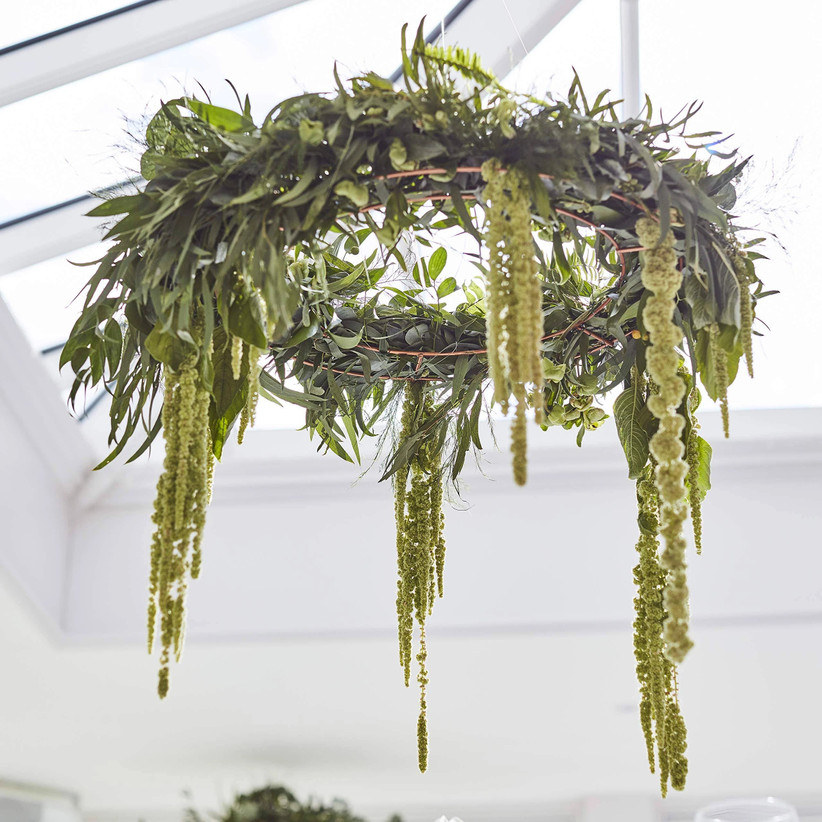 With some springs of real or fake greenery, a DIY queen will be able to transform this hoop into an amazing floral ceiling centrepiece that will look incredible at any themed hen do. It's rustic, whimsical and really simple to put together.
READ MORE: 20 Ideas for an Eco-Friendly Hen
Gold Sparkle Chandelier - £45, Etsy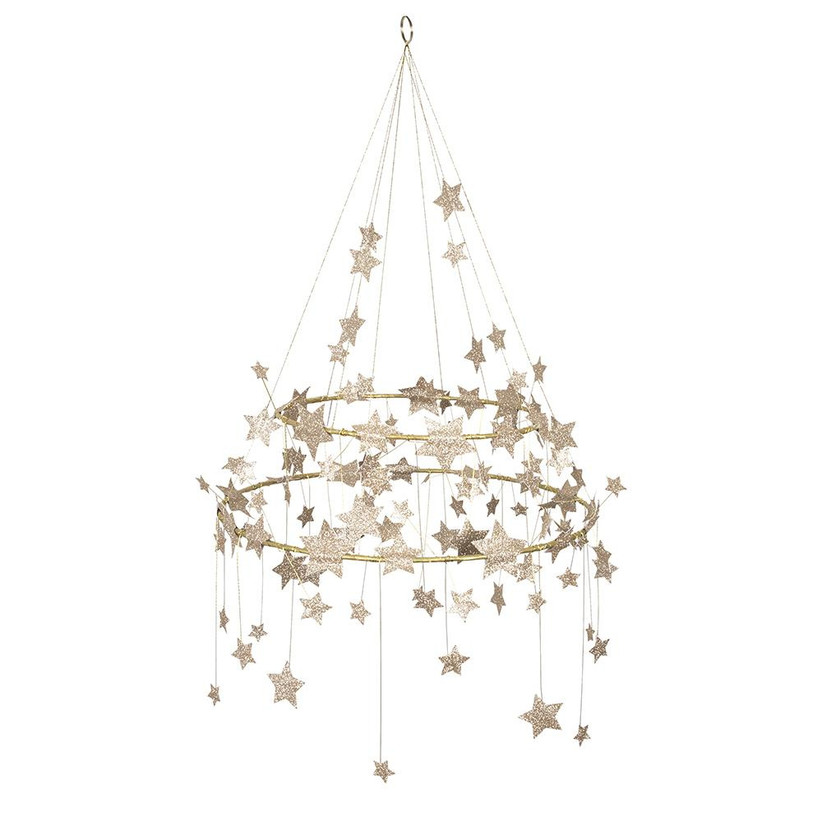 Are you having a celestial or zodiac themed hen party? You need this incredible sparkling chandelier which will take centre stage in your room. It's truly magical and could work for so many different kinds of parties. We can totally see this at a Harry Potter hen too.
12 Pack Honeymoon Tissue Balls - £10.99, Etsy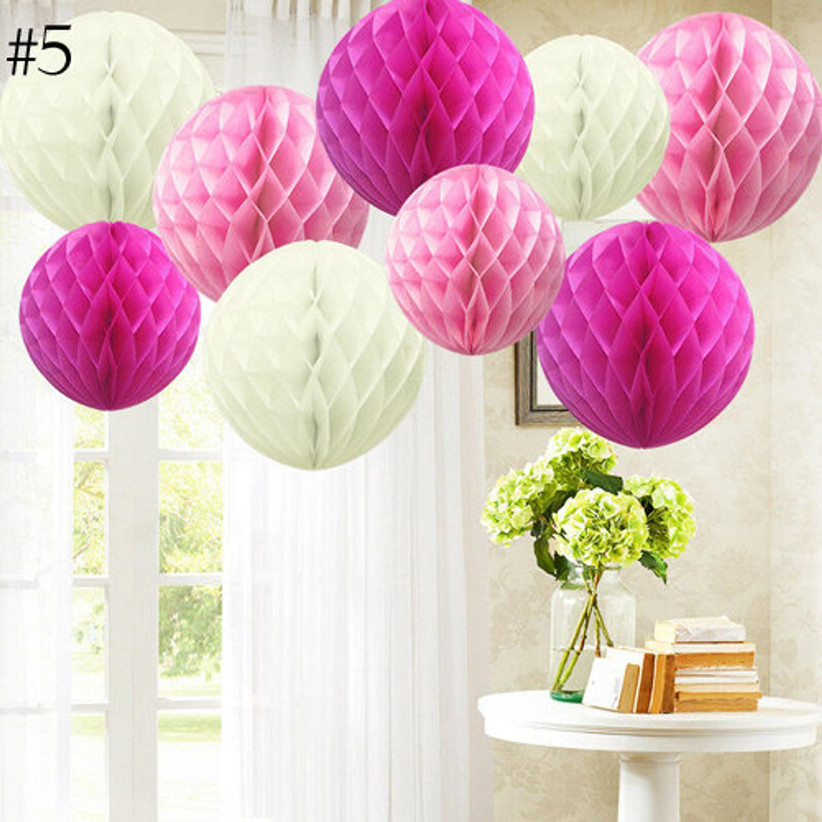 These honeycomb balls are super easy to put together and make a real statement with hardly any effort. Because they pack down flat, they're the perfect décor to bring with you if you don't have much storage space. These sets come in 10 different colour shades, but we love this pink and white selection.
Fairy Light Hanging Photo Decorations – £7.99, Amazon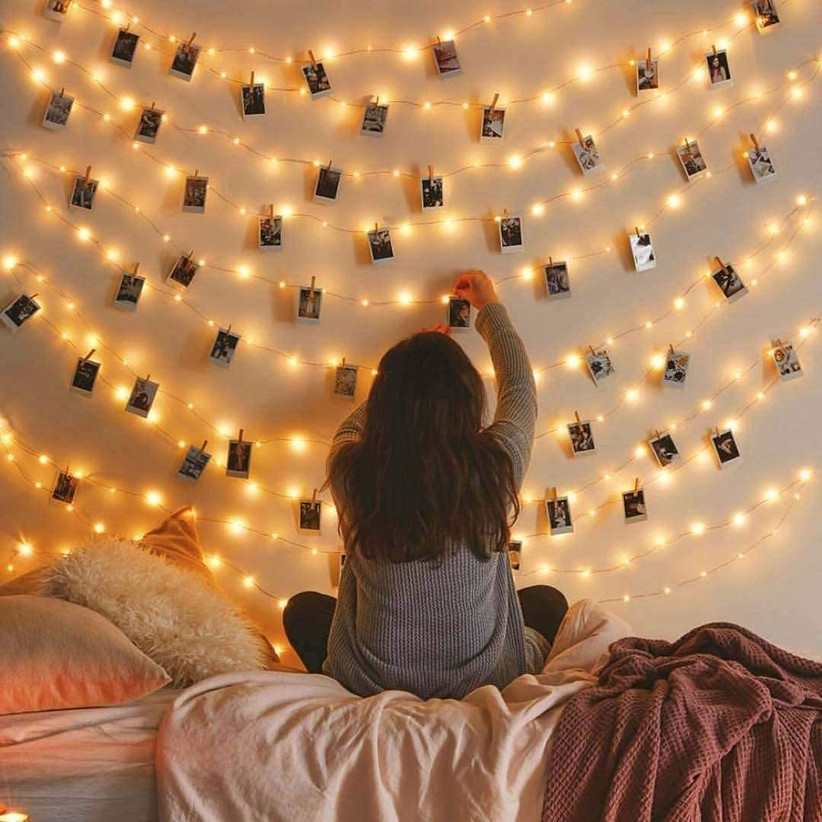 Make your hen party décor truly unique with these fairy light photo hanging clips. Ask all the hens to send you their favourite photos of them with the bride, get them printed out and then turn into a wall of memories for the bride to take home with her.
There's plenty of rustic versions too, with jute string and wooden pegs. They will look amazing at a boho or festival themed hen party.
Hen Party Photo Props
Any selfie-respecting bride will need hen party photo props for her hen party. It basically encourages everyone to take lots of photos and is a fun way for the hens to get to know each other. If you're going all out then you could also create a backdrop you can use and have your very own DIY photobooth.
Rose Gold Ring Photo Booth Frame - £15.99, Ginger Ray
Capture all your hen party shenanigans in this cute rose gold ring-shaped frame. It's the perfect prop to set up your photobooth.
Botanical Photo Booth Props – £5.22, Etsy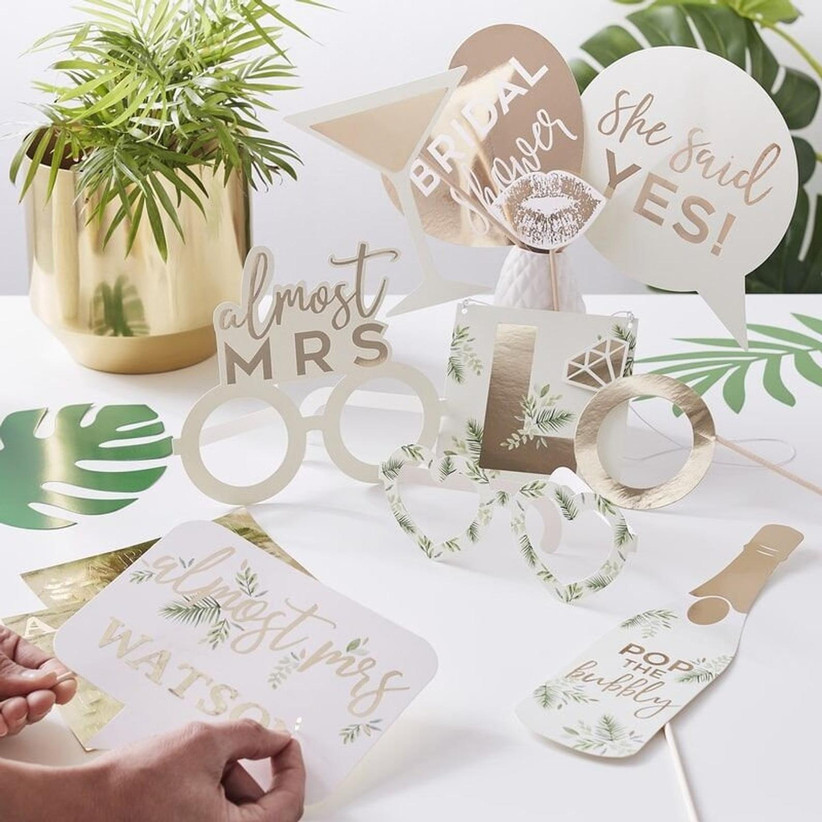 We love a botanical theme for a wedding and hen party and these photo props are no exception. The props include all the essentials – and there's even a classy version of a L plate. The set comes with gold letter stickers so you can customise the 'Almost Mrs' sign with her new surname!
Rose Gold Hen Photo Booth Props - £5.31, Etsy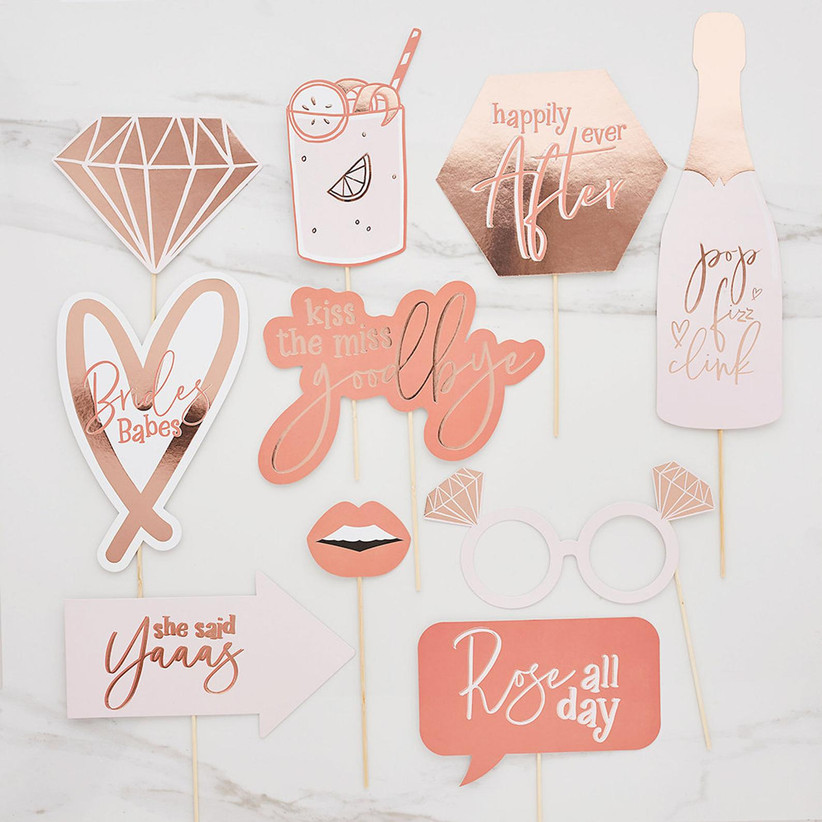 Full of all the classic hen party phrases, these rose gold photo booth props will become the mantra for the party! It's a really cute set that'll look amazing in photos.
Tropical Photo Booth Props – £6.99, Amazon
If you are throwing a tropical-inspired hen party for your bestie, then these fun Hawaiian-style photo booth props will be a perfect addition! Including the obligatory flamingo, sunglasses and tropical cocktails, just make sure you've perfected your '80s hen party playlist to match your vibrant theme.
READ MORE: How to Throw the Ultimate 80s Hen Party
Gold Foil Photo Booth Props – £11.50, Not On The High Street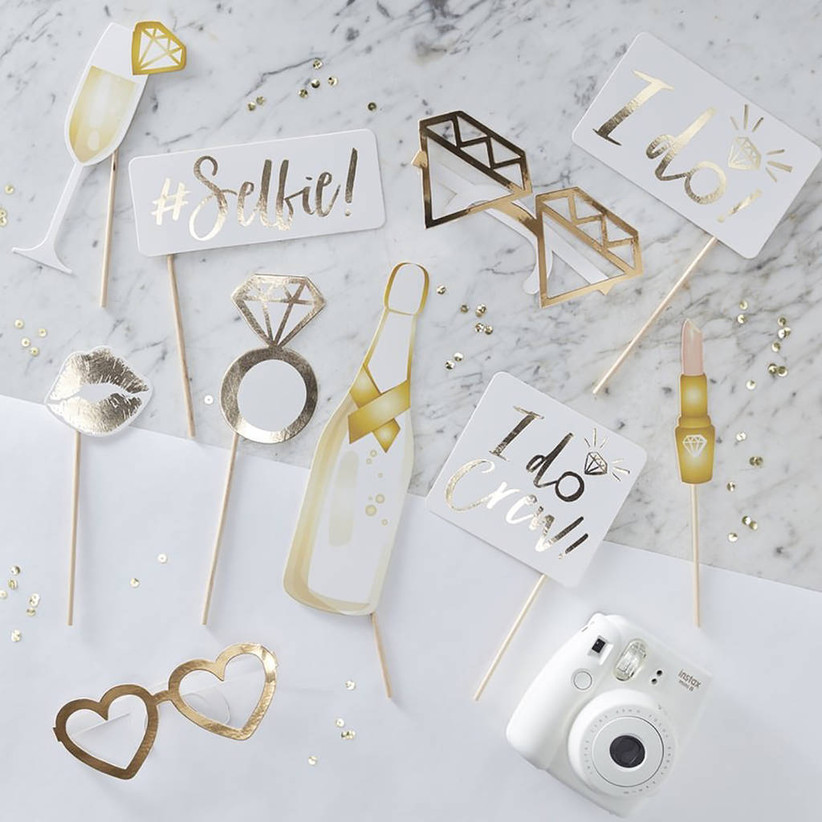 For a super-glam hen party, these gold foil hen party props from Postbox Party are an elegant finishing touch. Diamond sunglasses, a personalised sign for the bride and signs for the 'I Do Crew' are all included in this selection.
Hen Party Bunting
For a quick and easy way to stylishly decorate a room, hen party bunting will be a pretty finishing touch to your hen party decorations. Take a look at some of our favourites here.
Boho Eco Hen Party Bunting - £5.99, Ginger Ray
Do you want to go for chic and stylish? This pale pink hen party bunting is eco-friendly and looks beautiful as part of a boho-luxe or rustic-chic do.
Pastel Bunting – from £12, Etsy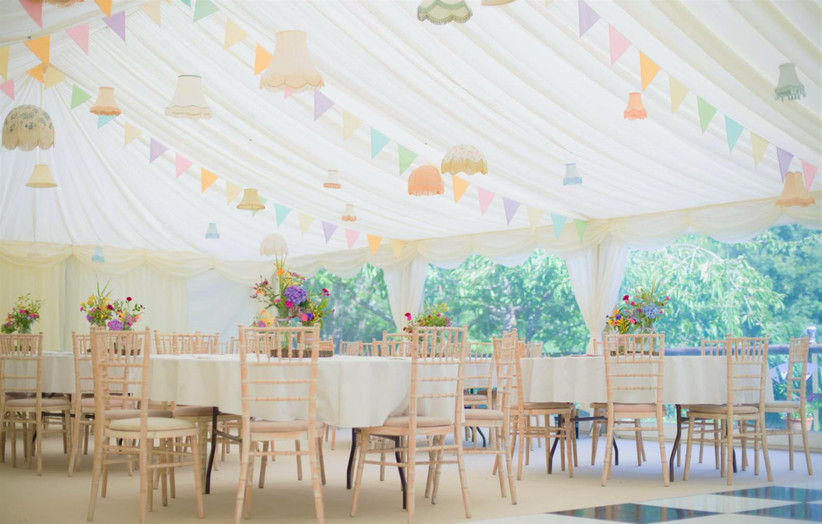 If you want to keep your hen party bunting traditional then this pretty pastel bunting will be a stylish addition to your hen party décor. If you are planning a vintage style celebration then the pastel tones will match perfectly.
Personalised Photo Bunting – £9, Not On The High Street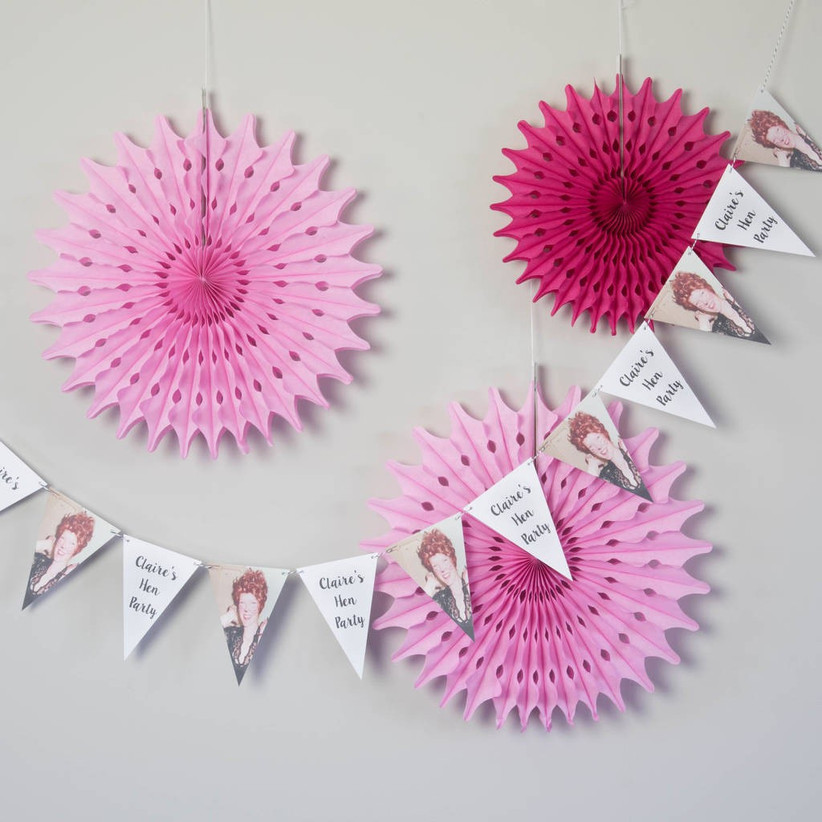 If you want to make the bride smile as soon as she walks in the room then this personalised photo bunting from Daisyley Designs is the way to do it. Choose your favourite picture of the bride and then alternate it with a personalised message of your choice.
READ MORE: 23 Best Hen Party House in the UK for a Weekend Away
Gold Glitter Fabric Party Bunting – £10.99, Pretty Little Party Shop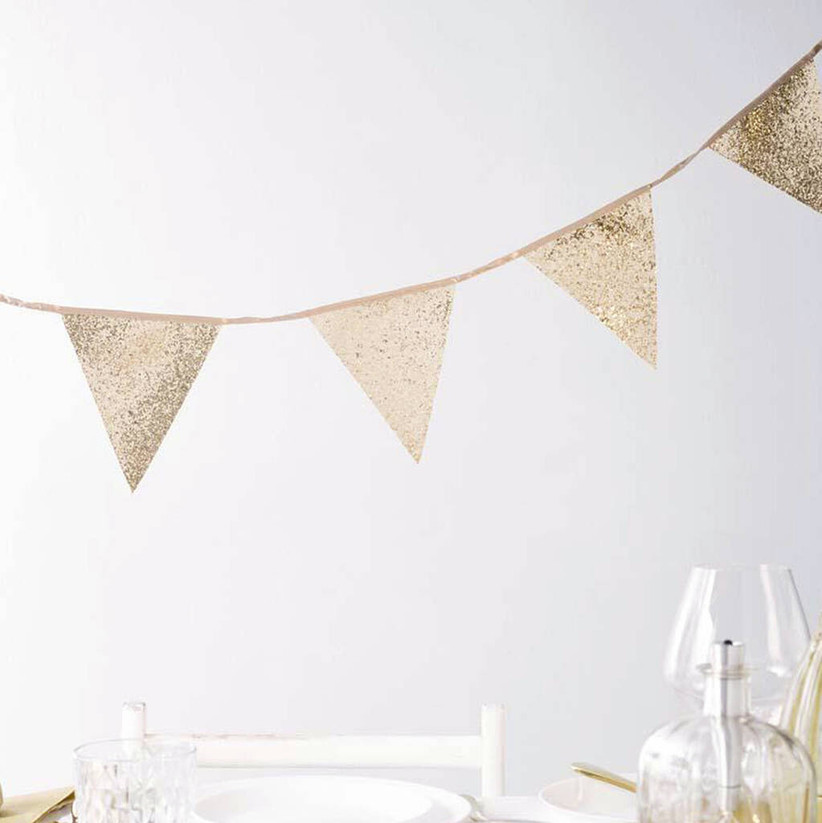 Add some sparkle to your hen party décor with this gold glitter bunting. It's made of fabric so can be taken down and used time and again making it a great eco-choice. It's super high quality and comes on golden sating ribbon, so this really is dream bunting for a glittering gold theme.
Foiled Lips Party Backdrop - £7.99, Ginger Ray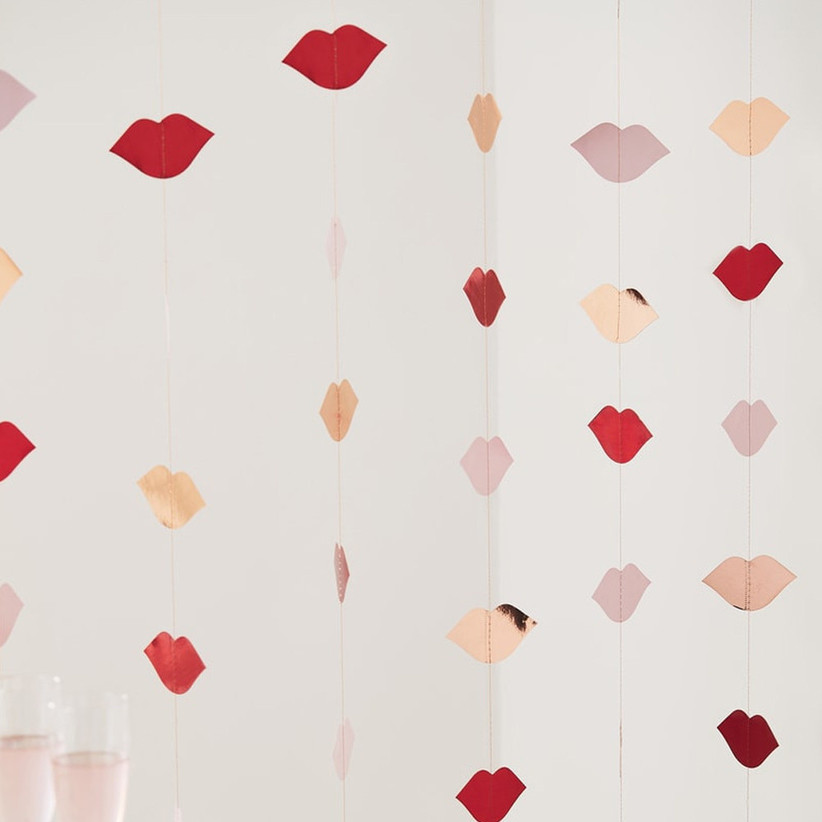 Seal your hen party decorations with a kiss! These red, pink and rose gold foil lips make up a cute backdrop for a photo booth or to cover a plain wall.
Hen Party Food and Drink Décor Ideas
Drink prosecco and serve nibbles in style with the perfect hen party food and drink ideas. From paper straws to stylish cups, it will save you any washing up and leave you more time to celebrate.
Rose Gold Foiled Team Bride Flag Straws – £4.49, Ginger Ray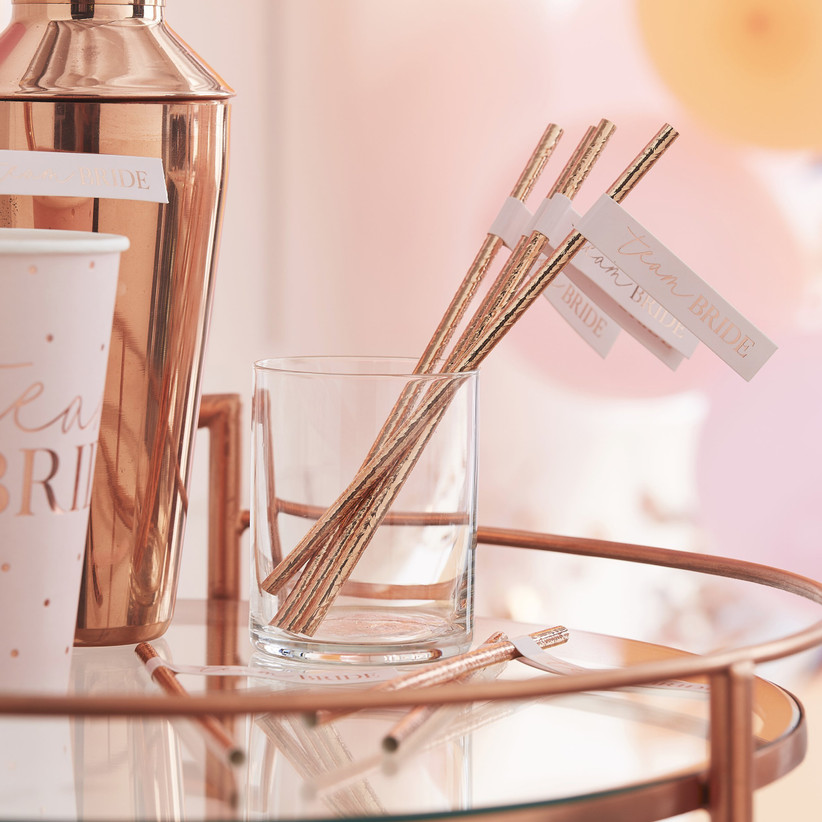 These rose gold foil straws from Ginger Ray will add a glam finishing touch to any hen party cocktail! Plus they will look fab in all your photos! You get 16 in a pack and they're recyclable.
I Do Crew Hen Party Cups – £3.45, Partyrama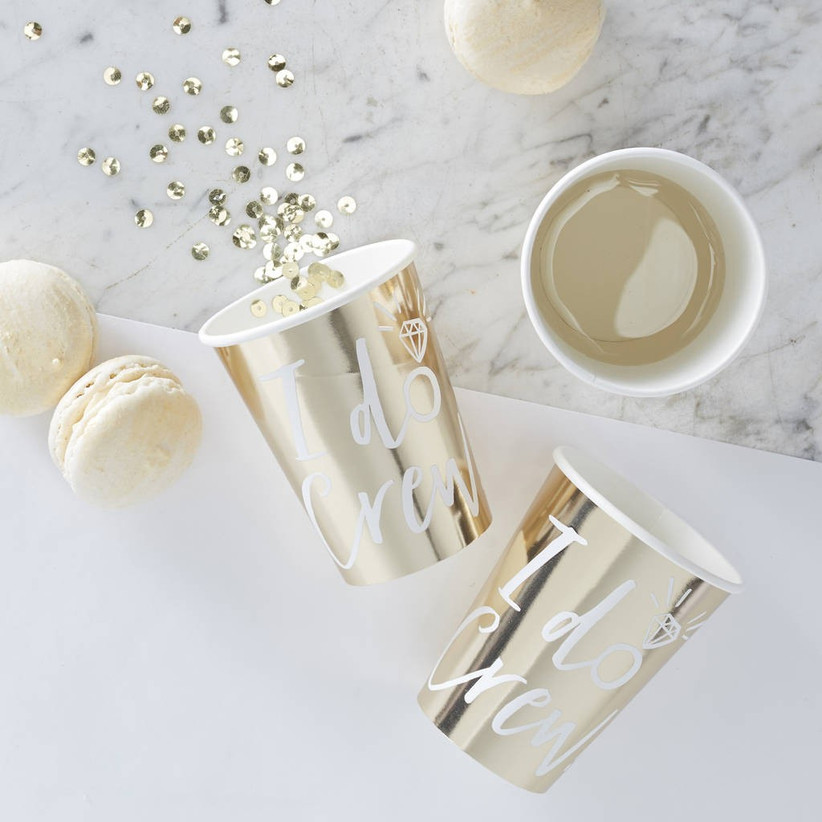 Make everyone feel part of the gang with these gold 'I Do Crew' paper cups from Ginger Ray. They are perfect for your G&T or you could use them in a game of prosecco pong.
Buy It Now
Rose Gold Bride Squad Paper Plates - £5.50, Etsy

Jazz up your table with these gorgeous paper plates that look amazing as part of a hen party tablescape. You get six in a pack and they're great for both a casual afternoon tea, brunch or a fancier dinner.
Ombre Paper Table Cloth - £9, Etsy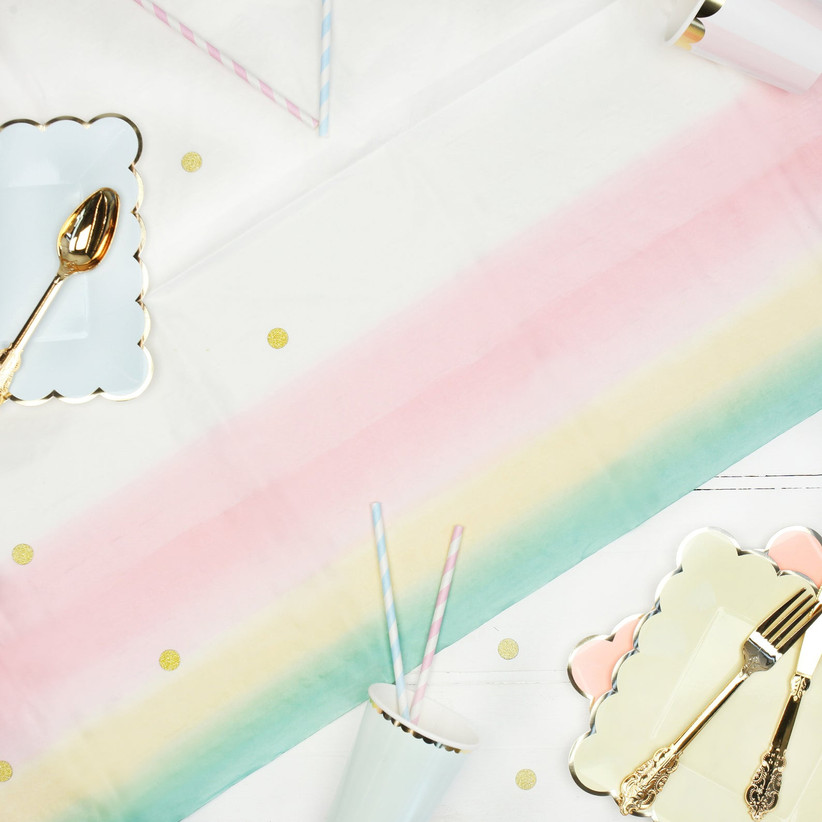 A pretty pastel tablecloth in rainbow shades that'll brighten up any hen party table. It's disposable for easy clean up (our favourite phrases when we've got a hangover the next morning).
Prosecco Wall Drinks Holder - £15.99, Etsy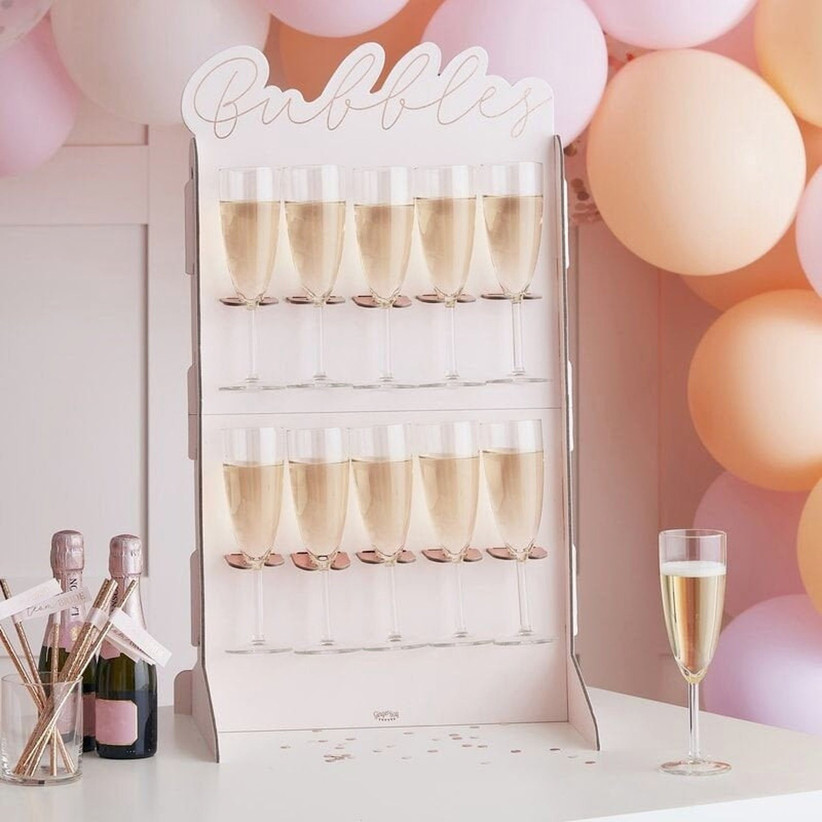 What an unforgettable way to serve drinks at your hen party! Transform one area of your room into a drinks corner with this gorgeous Prosecco holder.
Rose Gold Shot Wall - £17.99, Ginger Ray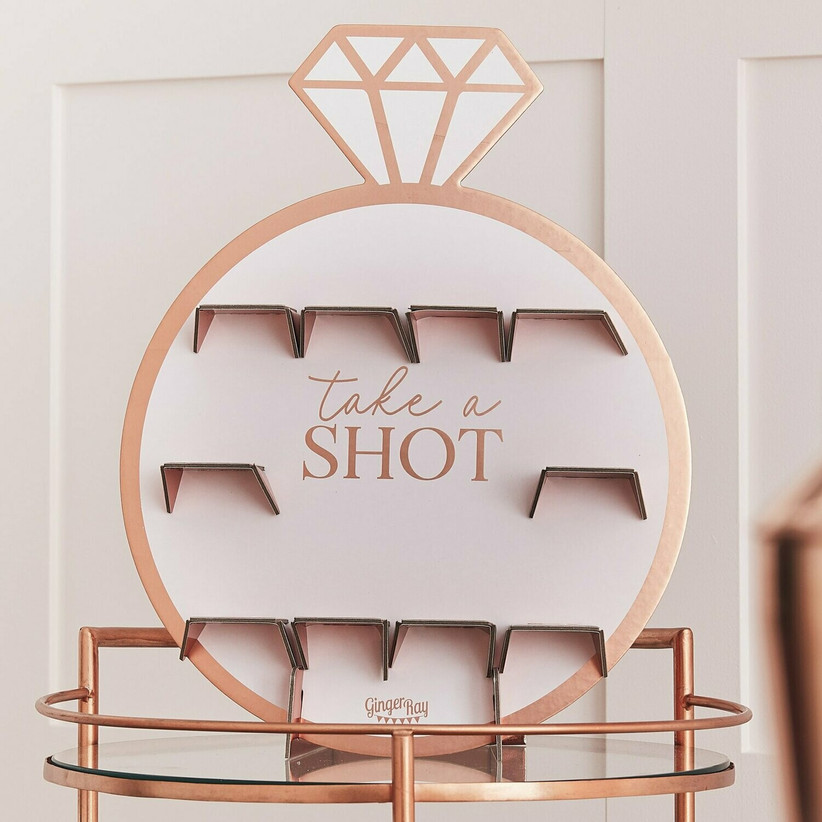 Want something a little harder than Prosecco? You need this shots wall. Put it at the centre of your celebrations and stack it up with colourful (and strong) shots! We recommend these spotty shot glasses.
Yay Wooden Table Confetti - £3.99, Ginger Ray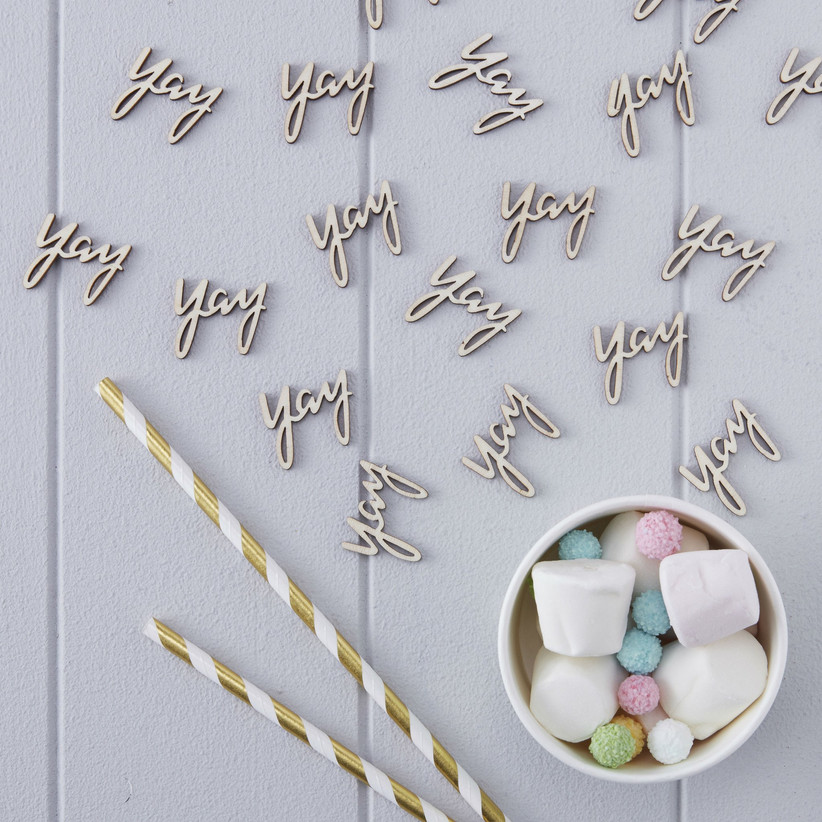 Scatter these wooden pieces of confetti across your hen party table to instantly upgrade it. The 'yay' takes the table from plain to party and will look so good with all the other table decor.
Pink and Gold Napkins – £6.30, Not On The High Street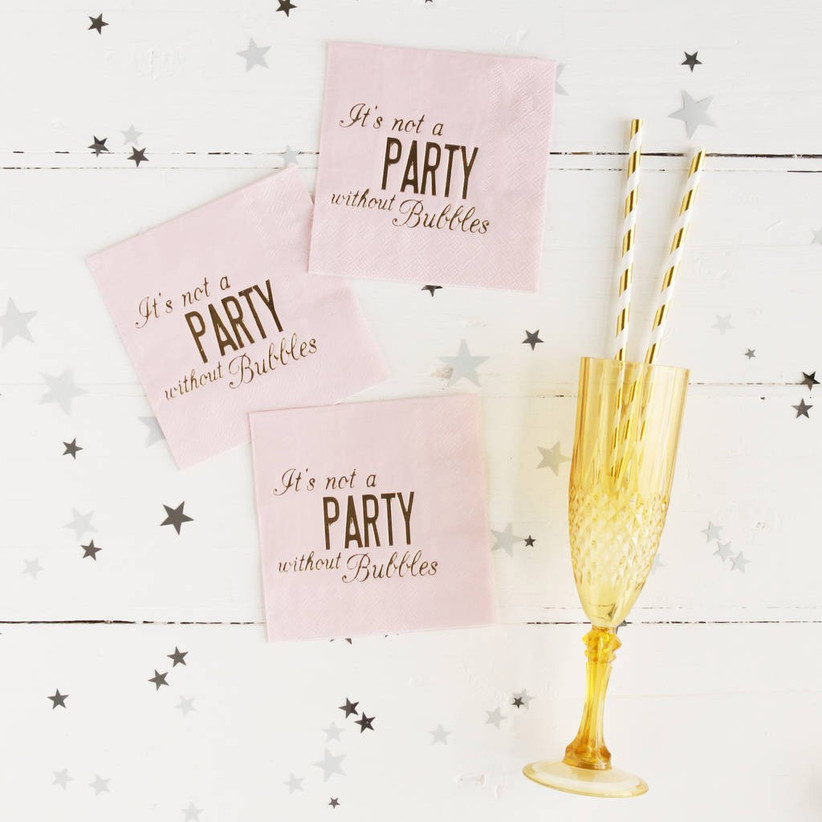 If you are embracing a pink and gold theme for your hen party, then these pink and gold foil napkins from Postbox Party are essential. They are an inexpensive and easy way to make your theme and your décor stand out even more.
Team Bride Edible Drinks Topper - £4.99, Ginger Ray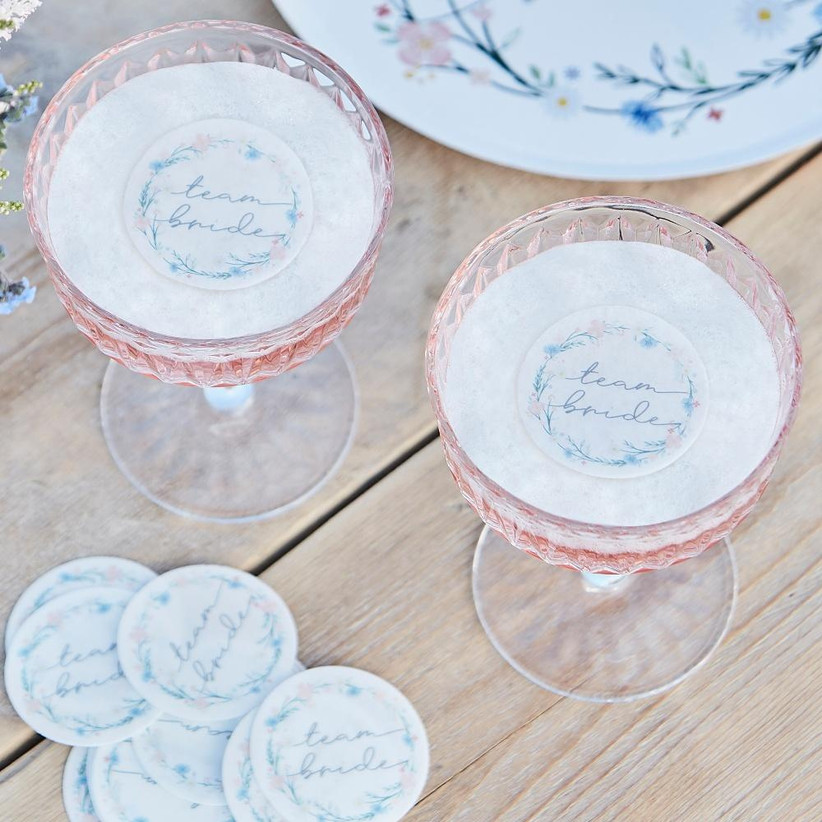 We love these boho drink toppers which are completely edible and will look amazing alongside your team bride straws. Remember to take your snaps before they get eaten!
Hen Party Décor Extras
For those Insta-worthy finishing touches, choose one of these fun extras.
Cactus Pinata - £16.99, Party Pieces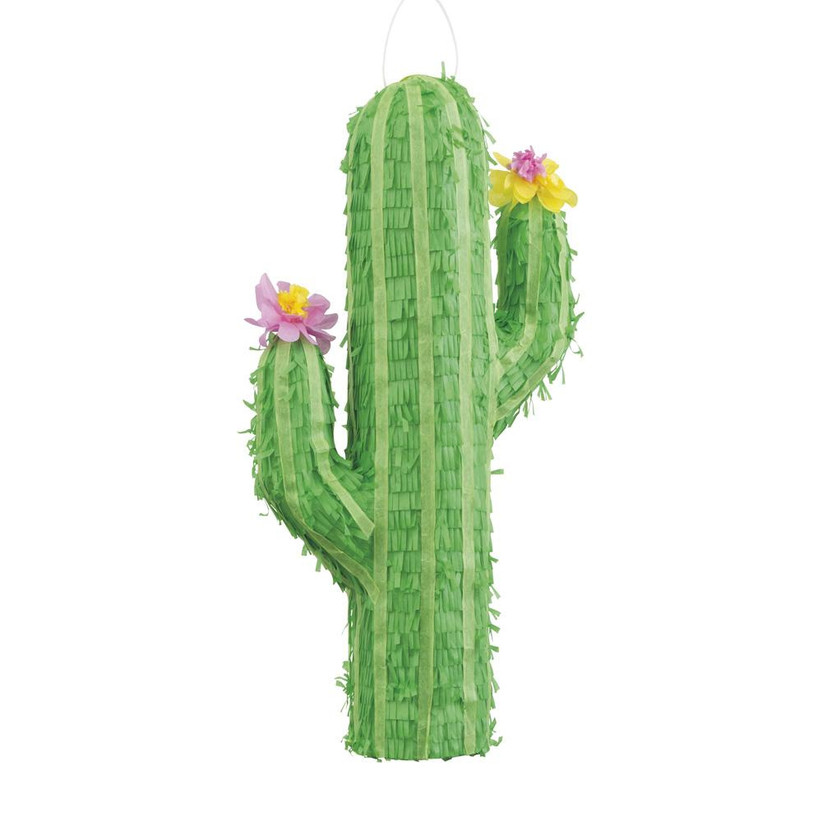 A piñata is such a great piece of interactive décor to have at a hen do. You can get them in all kinds of designs, including massive shiny diamonds, but we love this cool cactus piñata.
Multicoloured Smoke Cannon - £3.99, Etsy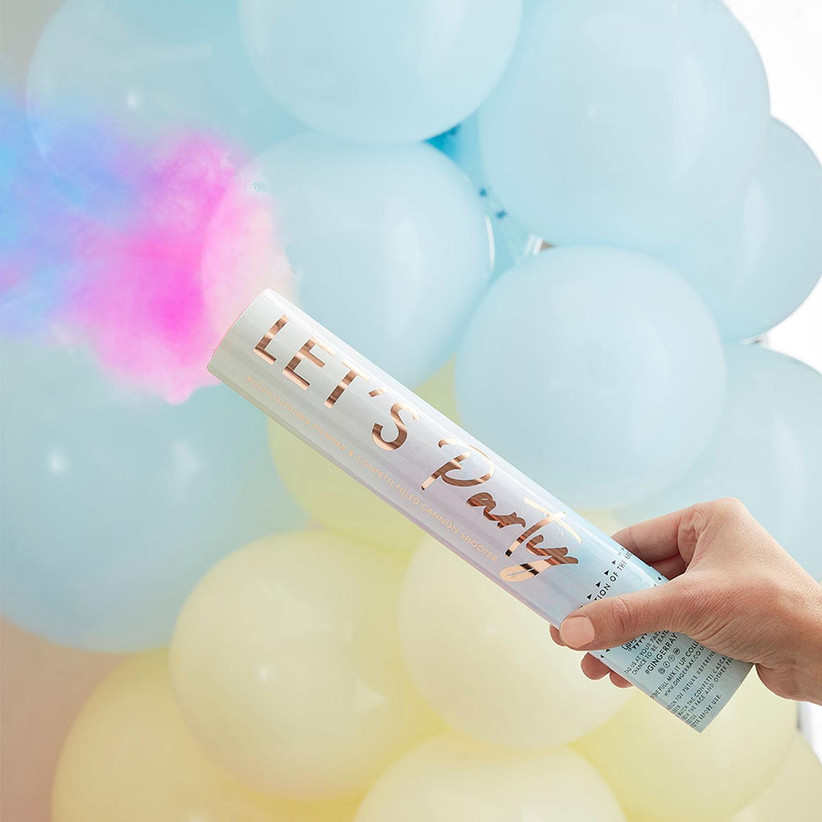 Get your party started with a smoke bomb! This one shoots coloured powder and confetti and is perfect for setting off as your bride arrives for a dramatic entrance.
Macrame Moon Dream Catcher - £6.99, Amazon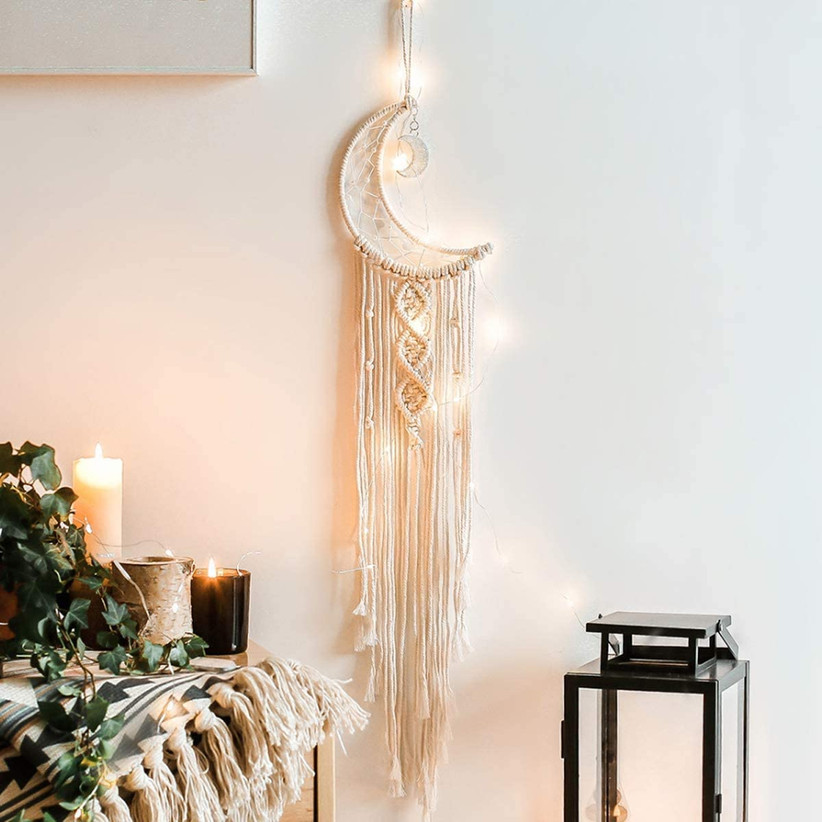 Boho brides need this gorgeous moon dream catcher dotted around their hen party. If you're hosting part of the day outside, try tying these into trees and stringing lights around them.
Still looking for hen party ideas? Don't miss our best hen party games or take a look at how to throw the ultimate 90's hen party.