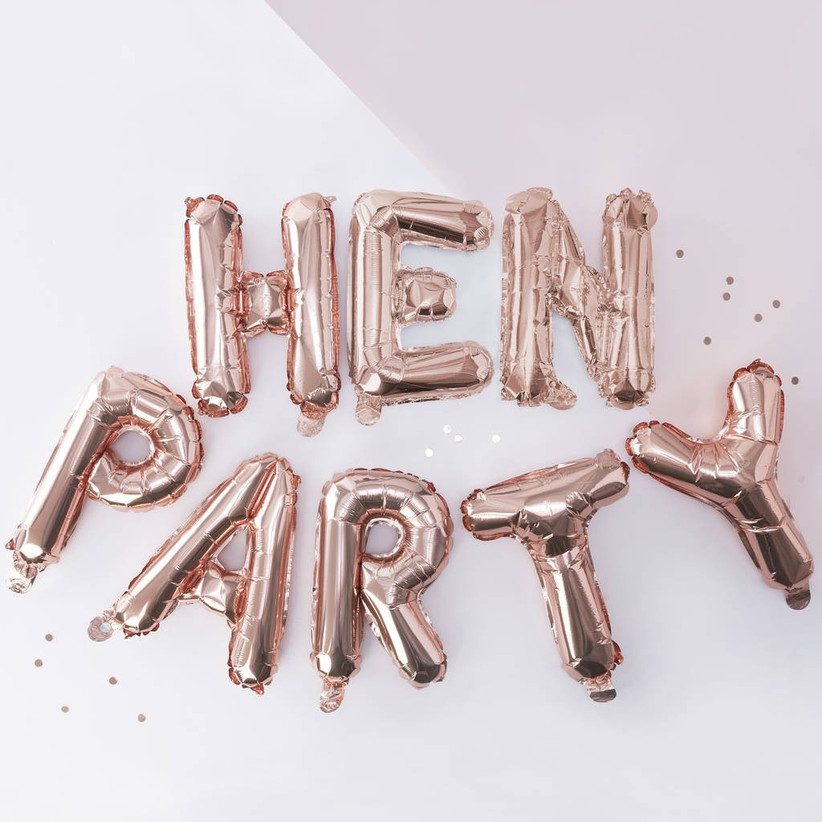 Whether you are throwing a hen party at home, hiring a beautiful hen party house or staying in a hotel, some fun hen party decorations are a must for your celebrations.
READ MORE: 47 Hen Party Ideas You Will Love
From photo props to hen party balloons, we take a look at some of our favourite hen party decorations.
Hen Party Photo Props
Any selfie-respecting bride will need hen party photo props for her hen party. It basically encourages everyone to take lots of photos and is a fun way for the hens to get to know each other. If you're going all out then you could also create a backdrop you can use and have your very own DIY photobooth.
Team Bride Photo Booth Props – Ginger Ray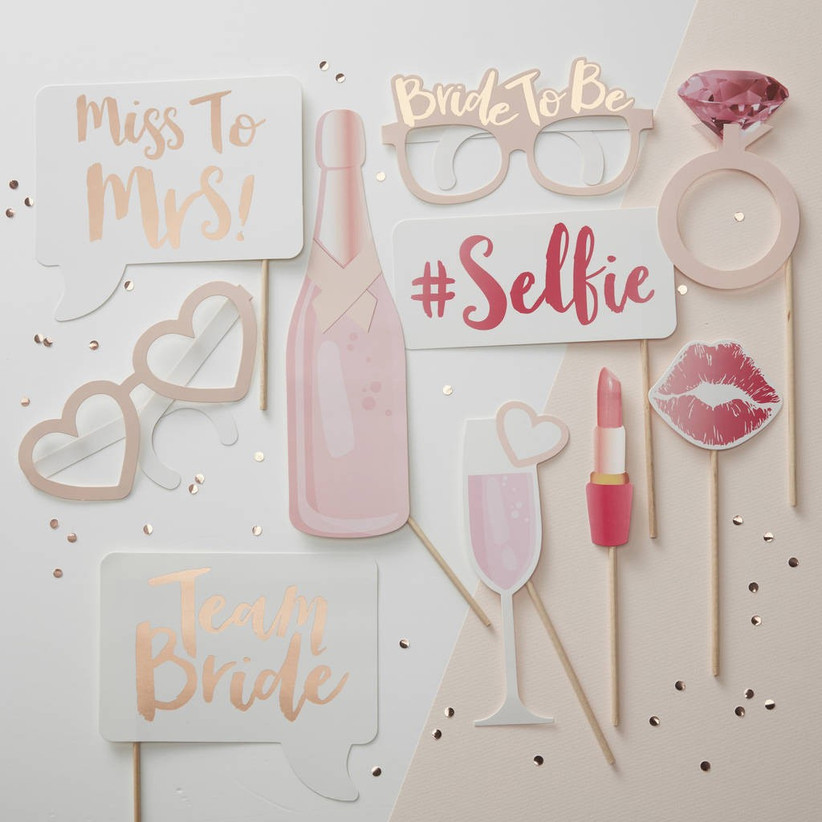 We love all the blush and rose gold hen party ideas from Ginger Ray and these photo props are no exception. The props include all the essentials – a giant diamond ring, a champagne bottle and some fun rose gold bride to be signs. You can also buy matching hen party games, napkins and more all in the same shade.
Tropical Photo Booth Props – Postbox Party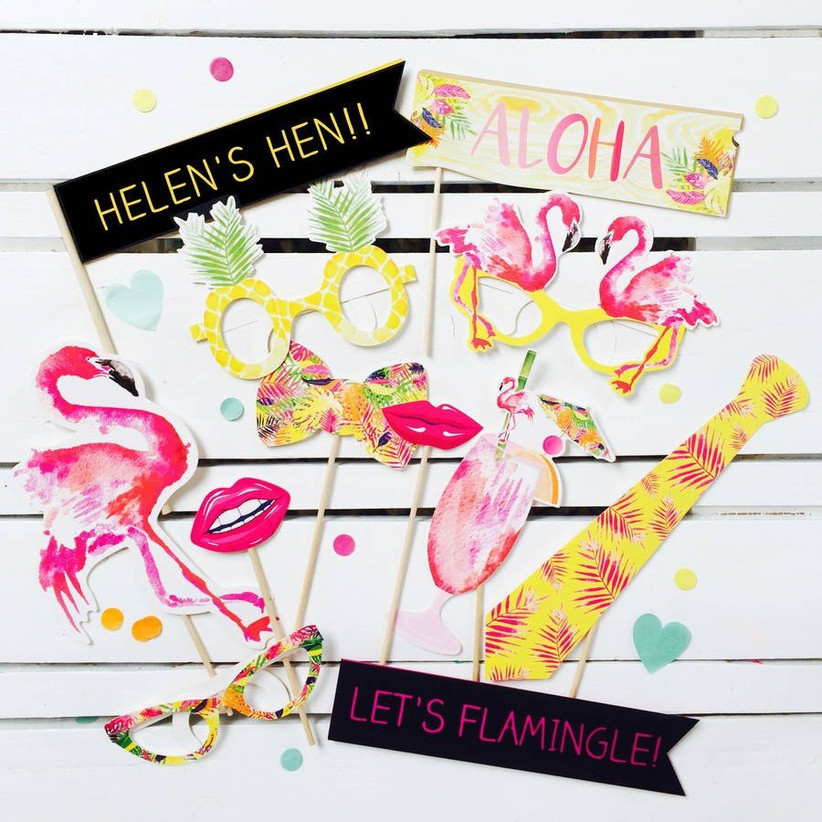 If you are throwing a tropical-inspired hen party for your bestie then these fun photo booth props from Postbox Party will be a perfect addition! Including the obligatory flamingo, sunglasses and tropical signs, just make sure you've perfected your 80's hen party playlist to match your vibrant theme.
READ MORE: How to Throw the Ultimate 80s Hen Party
Gold Foil Photo Booth Props – Postbox Party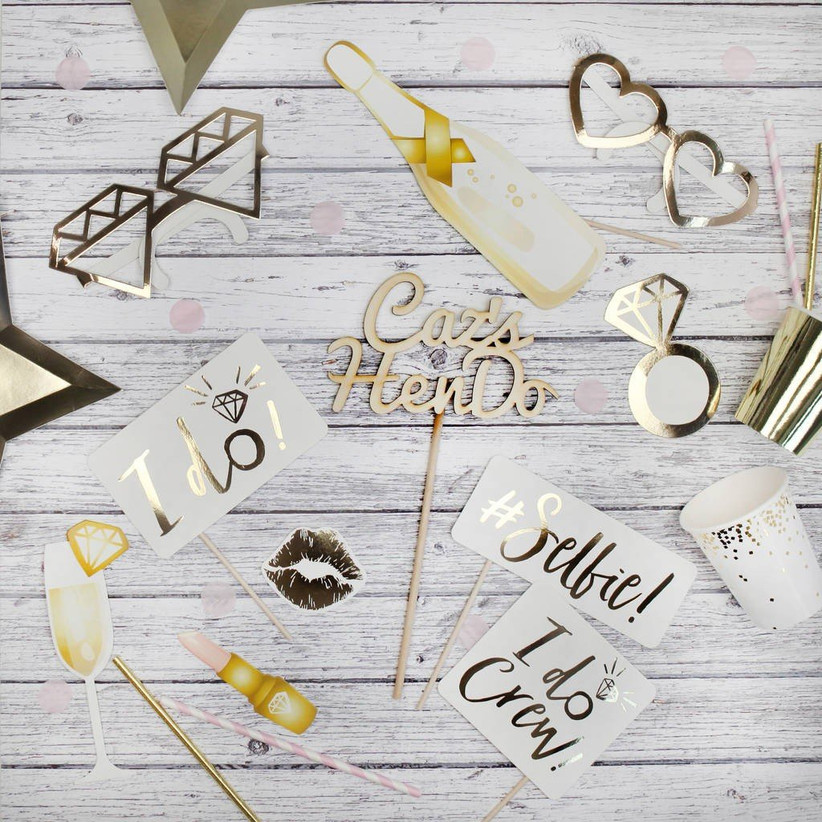 For a super-glam hen party, these gold foil hen party props from Postbox Party are an elegant finishing touch. Diamond sunglasses, a personalised sign for the bride and signs for the 'I Do Crew' are all included in this selection.
Hen Party Sashes
No hen party is complete without hen party sashes! And you are no longer subjected to itchy, shiny, pink and white sashes. You can order something stylish, personalised or even themed.
READ MORE: 29 Stylish Hen Party Sashes for You and Your Hentourage
Bride to Be Sash – All Things Brighton Beautiful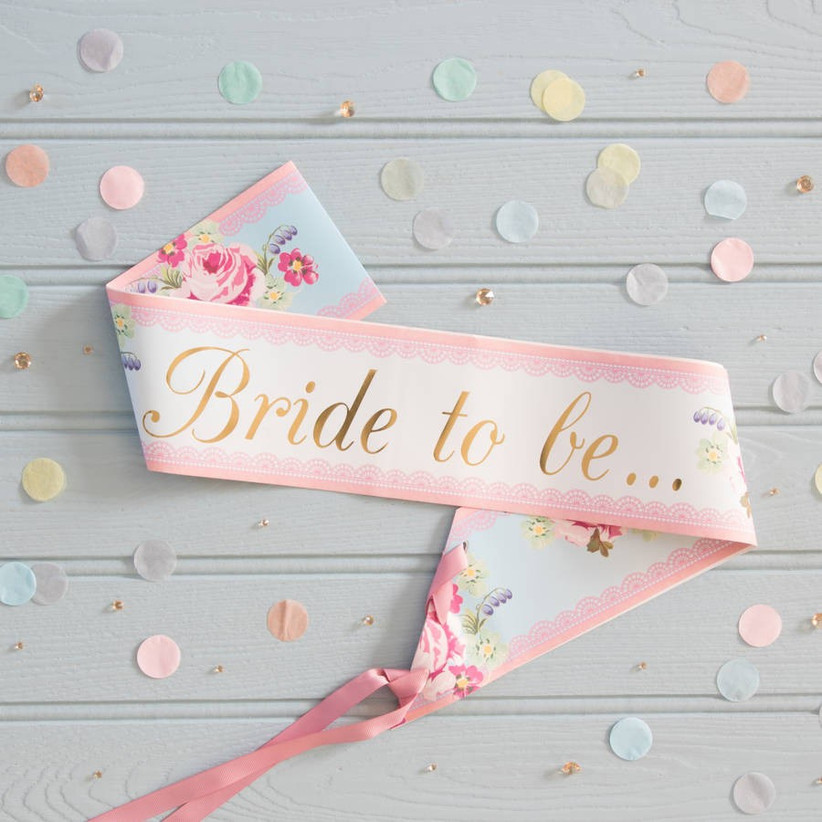 Perhaps you are throwing a vintage hen party? Or you are headed for a vintage afternoon tea? Then this floral bride to be sash from All Things Brighton Beautiful will be the perfecting finishing touch to the bride's hen party attire!
Gold Bride to Be Sash – Glitter Sash Shop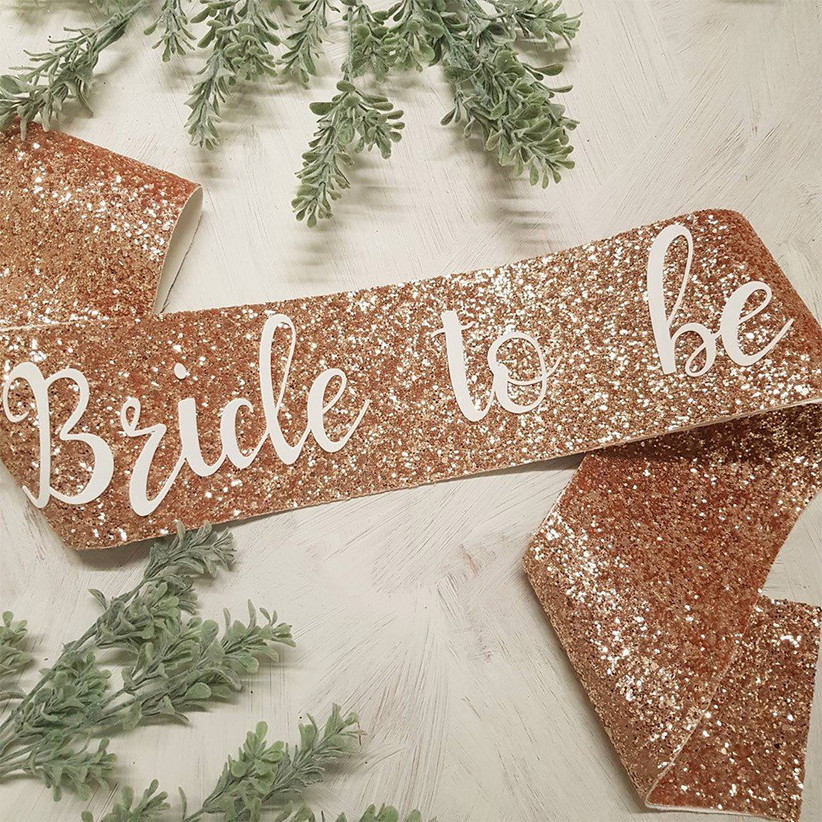 Add some serious sparkle to the bride by gifting her with this glittering gold bride to be sash from the Glitter Sash Shop. If gold is not your thing then you can choose from lots of other glitter shades. These handmade sashes are great quality so it's a lovely momento the bride can keep to remember her hen party.
Team Bride Sashes – Ginger Ray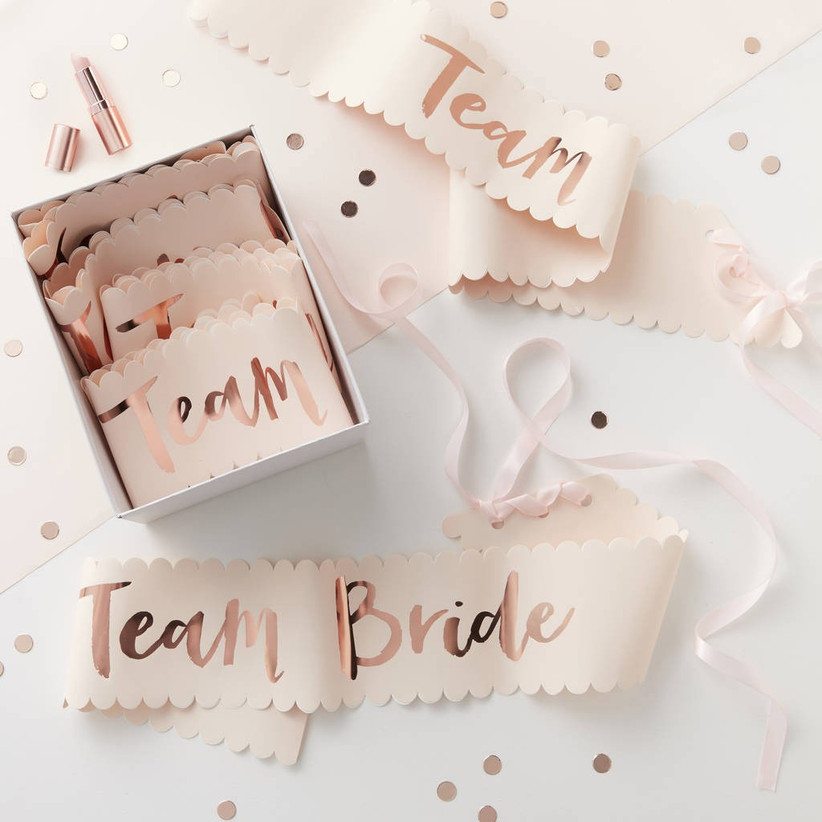 If you chose the rose gold photo props for your hen party photo booth then these stylish team bride hen party sashes from Ginger Ray will match perfectly. They come in a pack of six for you can order then for each of the hens, then order the bride to be version for your bestie.
Hen Party Balloons
Make a real impact with your hen party decorations by having stylish hen party balloons, they will look great in your photos and they are a cheap and easy way to make the room look great.
Engagement Ring Balloon – Ginger Ray
We are in love with this engagement ring balloon from Ginger Ray – who doesn't like a giant inflatable oversized diamond? It's the perfect way to celebrate your friend's engagement and add some style to your hen party pics.
Hen Party Balloon Bunting – Ginger Ray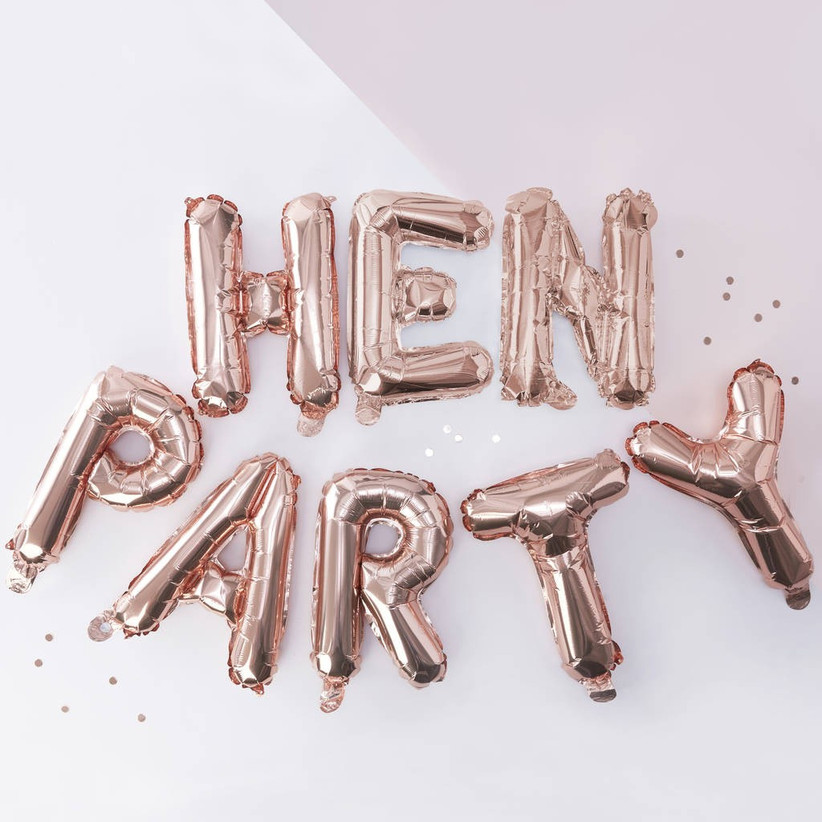 If you want to make a real statement with your hen party balloons then this rose gold hen party balloon bunting from Ginger Ray is the way to do it! The balloons fill with air so no need to worry about messing around with helium, you can blow them up hang them ready to greet your guests.
Hen Party Balloon Pack – Bubblegum Balloons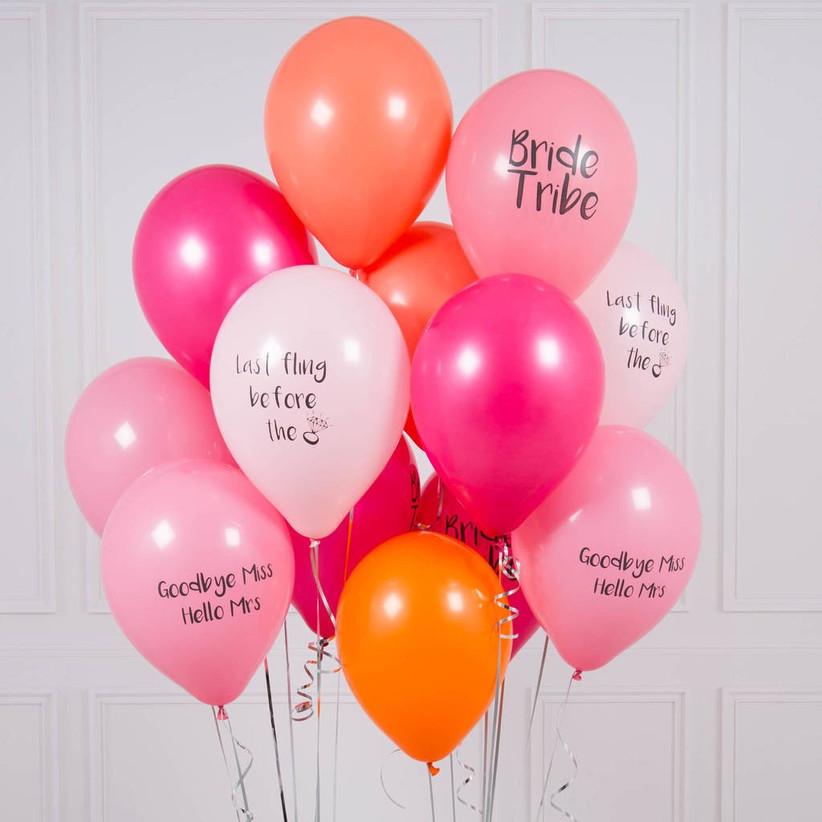 We love this pack of 14 vibrant hen party balloons from Bubblegum Balloons – including designs that say Goodbye Miss, Hello Mrs, Bride Tribe and Last Fling Before the Ring. They are perfect for adding some fun girly style to your hen party.
Hen Party Bunting
For a quick and easy way to stylishly decorate a room, hen party bunting will be a pretty finishing touch to your hen party decorations. Take a look at some of our favourites here.
Personalised Photo Bunting – Daisyley Designs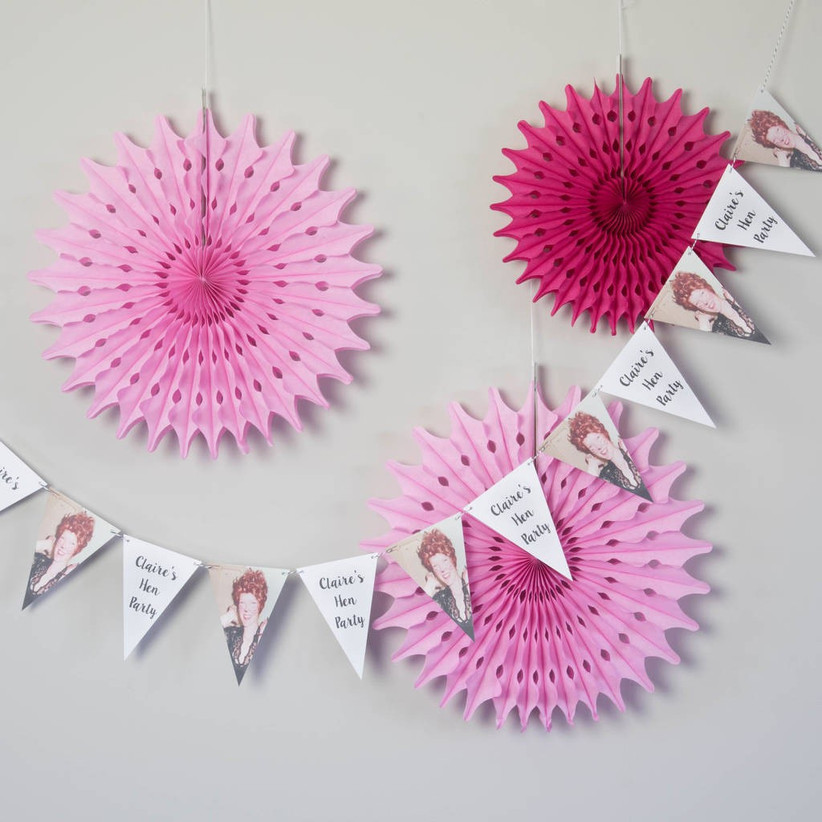 If you want to make the bride smile as soon as she walks in the room then this personalised photo bunting from Daisyley Designs is the way to do it. Choose your favourite picture of the bride and then alternate it with a personalised message of your choice.
Glitter Party Bunting – Postbox Party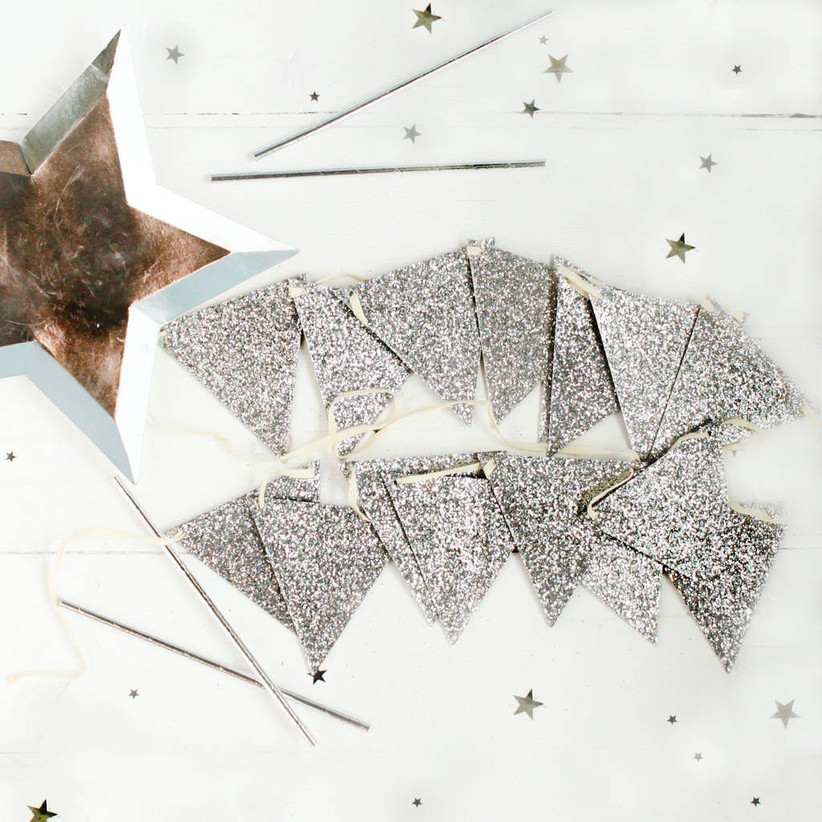 Add some sparkle to your hen party decor with this silver glitter bunting from Postbox Party. You can also choose to add stars and matching table confetti to your order so you can really embrace a glittering silver theme!
Neon Pastel Bunting – Postbox Party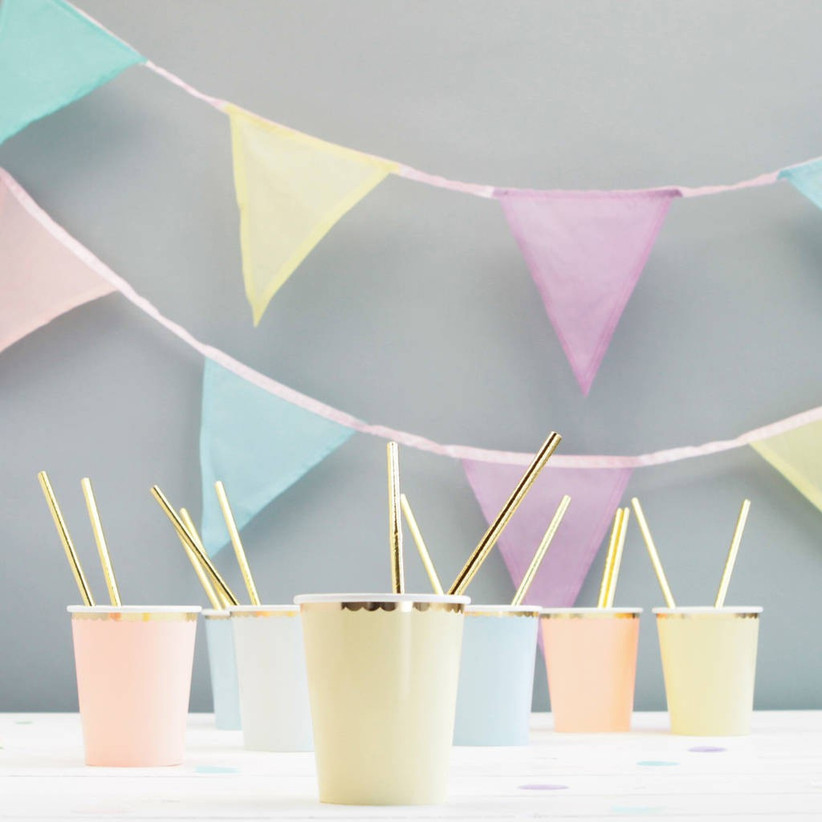 If you want to keep your hen party bunting traditional then this pretty pastel bunting from Postbox Party will be a stylish addition to your hen party decor. If you are planning a vintage style celebration then the pastel tones will match perfectly.
Hen Party Food and Drink Decor Ideas
Drink prosecco and serve nibbles in style with the perfect hen party food and drink ideas. From metallic straws to stylish cups, it will save you any washing up and leave you more time to celebrate.
Rose Gold Foiled Hen Party Straws – Ginger Ray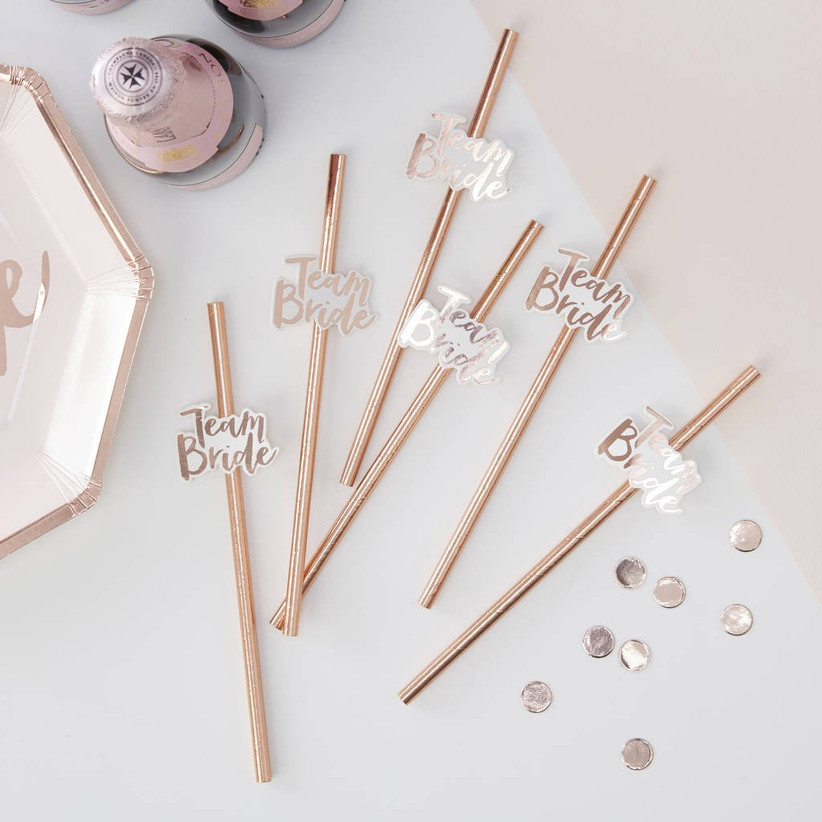 These rose gold foil straws from Ginger Ray will add a glam finishing touch to any hen party cocktail! Plus they will look fab in all your photos! Team them with matching Team Bride cups, plates and napkins for maximum effect.
I Do Crew Hen Party Cups – Ginger Ray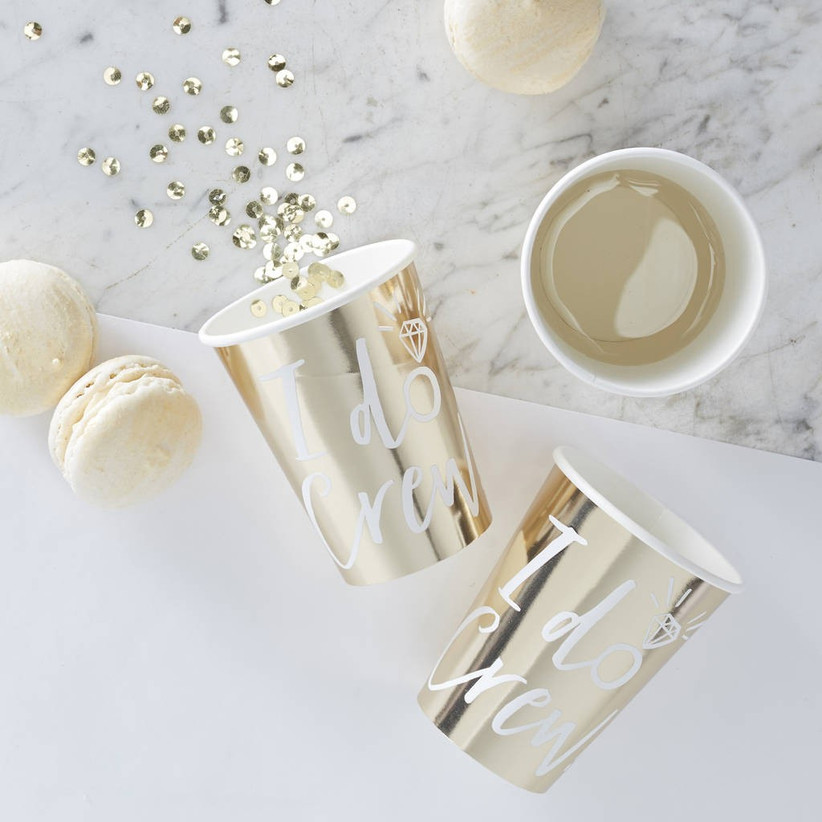 Make everyone feel part of the gang with these gold 'I Do Crew' paper cups from Ginger Ray. They are perfect for your G&T or you could use them in a game of prosecco pong.
Pink and Gold Napkins – Postbox Party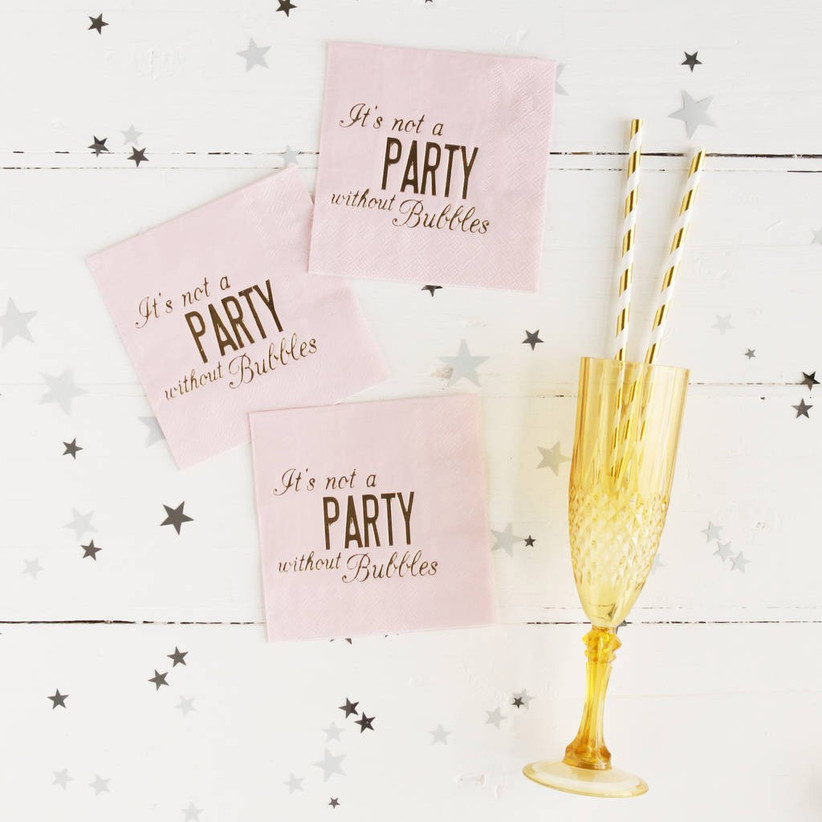 If you are embracing a pink and gold theme for your hen party then these pink and gold foil napkins from Postbox Party are essential. They are an inexpensive and easy way to make your theme and your decor stand out even more.
Hen Party Room Decor
So you have you bunting and your balloons but if you want to add a few more finishing touches then choose a few well placed decorations to make your hen party house even more impressive.
Hen Party Pink Paper Balls – Peach Blossom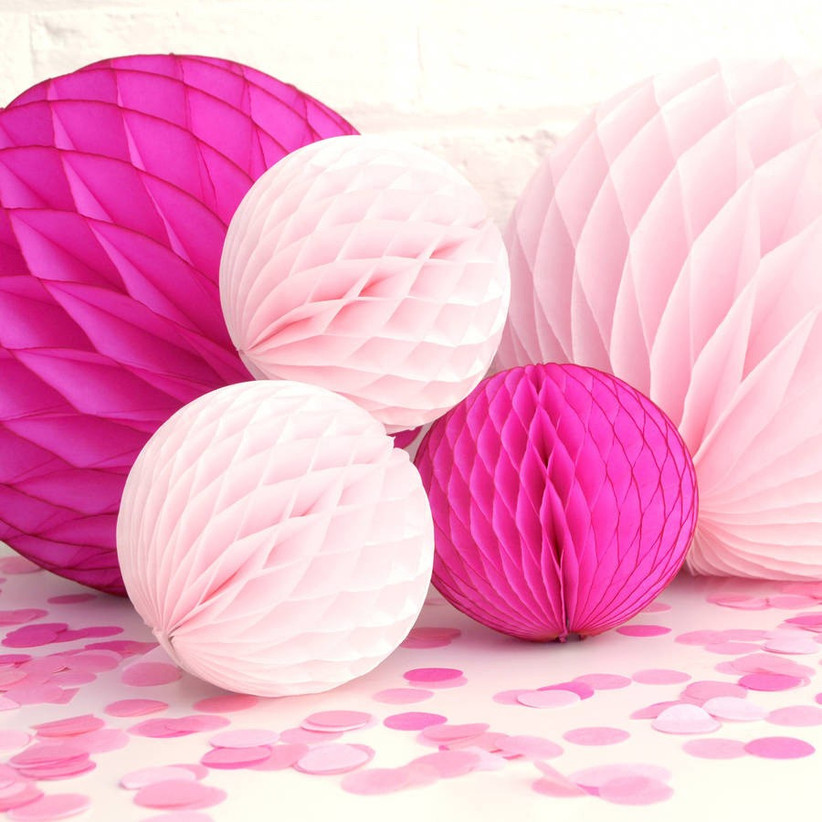 These pretty pink paper balls from Peach Blossom come in two shades of pink and can either be scattered around the room or hung down from the ceiling. They could also make a great DIY photo booth backdrop.
Personalised Hanging Photo Decorations – Instajunction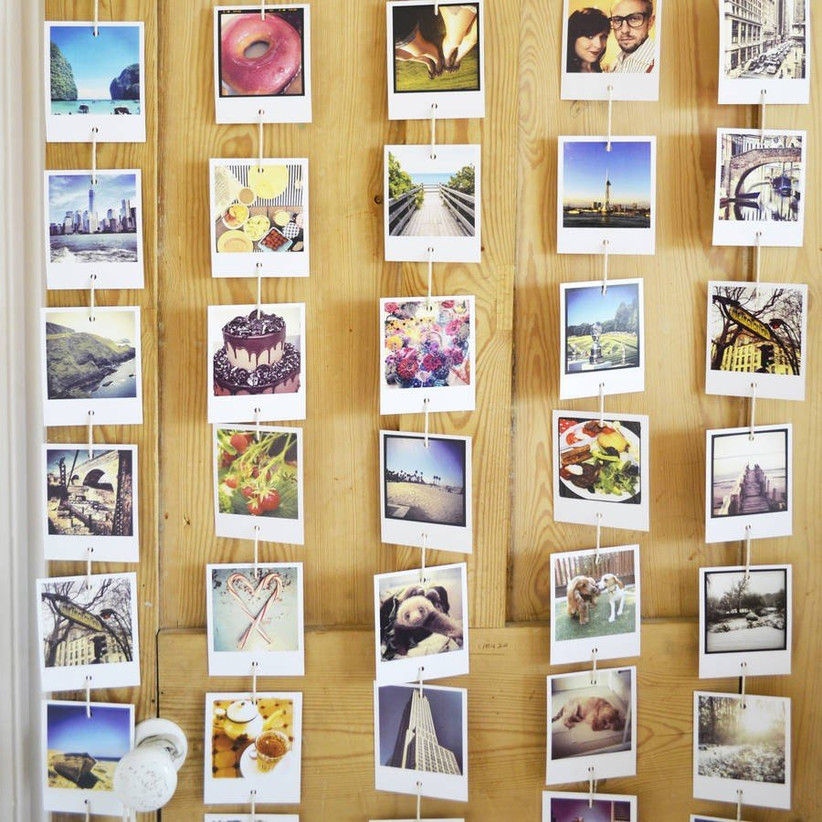 Make your hen party decor truly unique with this personalised hanging photo decor from Instajunction. Ask all the hens to send you their favourite photos of them with the bride to create this thoughtful keepsake.
Fluffy Pom Poms – Postbox Party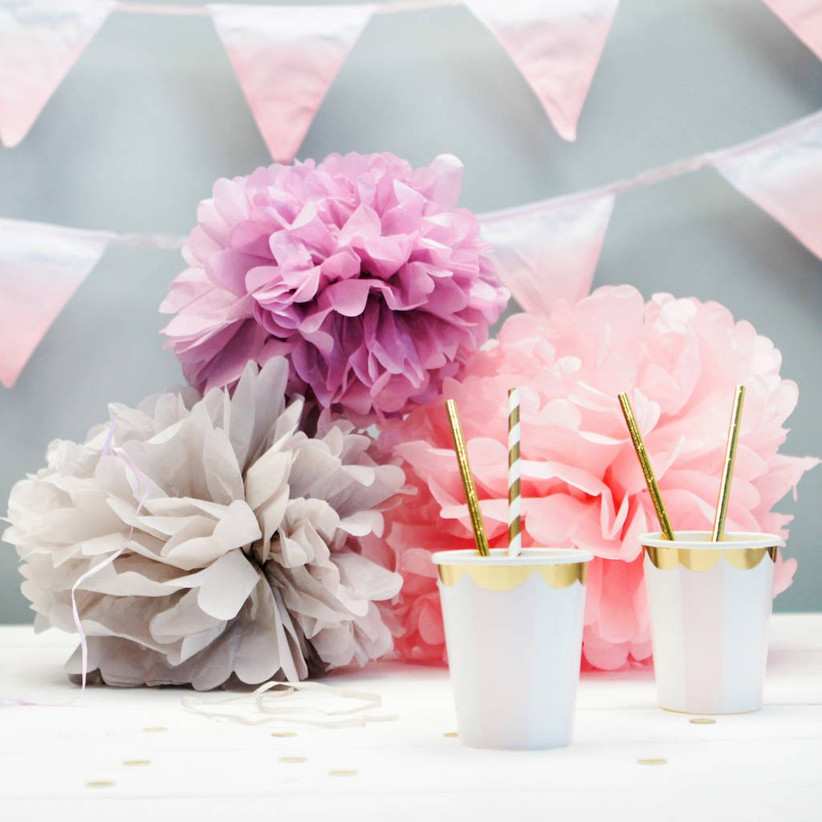 Add some fun to your hen party decor with these fluffy pom poms from Postbox Party – they come in a range of colours so you can choose a shade to match your hen party theme. Place them throughout the room or hang them from the ceiling.
Still looking for hen party ideas? Don't miss our best hen party games or take a look at how to throw the ultimate 90's hen party.