30 Classy Hen Party Decorations for a Stylish Celebration
We've rounded-up some of the best pieces for your hen party decorations. From balloon arches to photo booth props and tableware, there's something for every kind of celebration here
We have included third party products to help you navigate and enjoy life's biggest moments. Purchases made through links on this page may earn us a commission.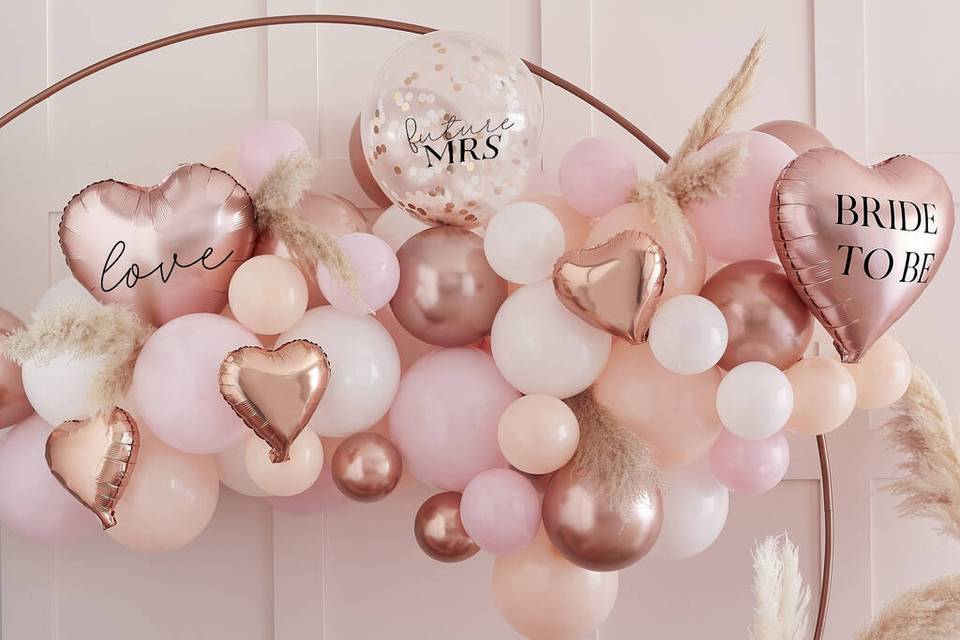 Whether you're throwing a hen party at home, hiring a beautiful hen party house or staying in a hotel, some fun hen party decorations are a must for your celebrations. You'll be amazed what a difference you can make to a room with some balloons and bunting, plus a few extra props to bring your refreshments and photos to life.
When you're deciding on the hen party décor that you want to buy, there's lots to think about. Firstly, you'll want to make sure they fit with your hen party theme for the day or weekend; secondly, consider how much of your hen party budget you have to spend on them and how you'll transport them. Hen party decoration ideas that pack down small and flat are your best friend - navigating a train to your cocktail making class with 20 already blown-up balloons is a guaranteed nightmare.
Luckily, we've covered every price point and lots of different themes with these hen party décor ideas so there should be something for each kind of bride.
From photo props to hen party balloons, we've rounded-up some of our favourite hen party decs and organised them by type. You can thanks us later!
30 Stunning Hen Do Decoration Ideas
Classy Hen Party Balloons
Make an impact with your classy hen party decorations by making hen party balloons the focal point, they will look great in your photos and they are a cheap and easy way to give the room wow factor.
1. Ombré Balloon Wall – £24.99, Party Delights
This pink ombre kit will not only make for an amazing photo or food table backdrop but it could also provide plenty of fun when you take it apart at the end of the night. If you're in a hotel suite and want to jazz it up, or make a great photo backdrop in your home, this is the perfect hen party room decoration idea.
Pros & Cons: There are 210 balloons in this kit which will make an amazing impact, but you might want to get a pump to put it together. It is very easy to put together, using glue dots and a net for assembly - trust us, it will be absolutely worth it!
2. Engagement Ring Balloon – £3.99, Team Hen
We are in love with this engagement ring balloon – who doesn't like a giant inflatable oversized diamond? It's the perfect way to celebrate your friend's engagement and add some style to your hen party pics. If the bride has a diamond engagement ring - even better!
Pros & Cons: It is suitable for both air and helium inflation as it will look just as good held up with hands, or floating on its own.
3. Naughty Hen Party Balloon in a Box – £35, Bubblegum Balloons
Your bride will have no idea what she's about to receive when this balloon in a box arrives in the post. It'll pop out to reveal itself and make for a wonderfully cheeky prop that the hens will want in every photo.
A gift and hen do décor in one, it's an absolute winner if your bride has a brilliant sense of humour.
Pros & Cons: Yes, we know we said these were classy hen party decorations but this balloon is chic and naughty in one! As it arrives in the post, it doubles up as a bridal shower gift as well.
4. Hen Party Balloon Bunting – £7, Amazon
If you want to make a real statement with your hen do party decorations then this rose gold hen party balloon bunting from Ginger Ray is the way to do it! The balloons can be filled with air so no need to worry about messing around with helium pumps, you can simply blow them up yourself and hang them ready to greet your guests.
Pros & Cons: Rose gold is a really popular hen party colour theme so you're bound to find lots of other hen do decorations that match. This kit comes with string to hang but some reviews state it can be hard to thread so we recommend brining some spare along.
5. Tropical Cocktail Balloon Package – from £21.95, Bubblegum Balloons
Having a tropical or travel-themed hen? This coconut cocktail and flamingo balloon set is the perfect way to create the fiesta atmosphere and get everyone in the mood for a drink. They arrive inflated in the post and you can choose how many balloons you receive.
Pros & Cons: This kit is best suited for a summer hen party but if the weather isn't quite what you'd hoped, these vibrant balloons will brighten up any space.
6. Pastel Pink Balloon Arch Kit – £15.99, Team Hen
You can buy balloon arches in almost every colour under the sun and it's a fab way to create a dramatic entrance into a room or a tipi. This luxe, pretty pastel garland is sure to impress the bride and everyone at the hen.
Each kit contains 60 peach and pink hen party balloons in different diameters, plus balloon tape for easy assembly.
Pros & Cons: The pops of glitter from the confetti balloons add a glamorous touch without being too much.
7. Hen Party Team Bride Banner – £6.99, Ginger Ray
Let everyone know they have officially arrived at the party with this awesome pink team bride foil balloon banner. You can team it with a backdrop or let it do all the talking against a plain wall. The hot pink will really stand out and make a simple yet effective statement.
Pros & Cons: No helium is needed and a straw is included in the kit so you can easily blow up the letters. You'll need to tie them onto string but that is also included.
8. Confetti Filled Team Bride Hen Party Balloons – £3.99, Team Hen
Looking for cheap hen party decorations from the UK? Look no further! Give the bride-to-be a taste of things to come with these confetti filled balloons from Team Hen. This bundle contains five balloons - it is recommend that they are filled with helium and a puff of air to help the confetti stick to the sides.
Pros & Cons: They are subtle enough to fit into any hen party theme so you can buy them even if you haven't quite decided what to go for yet.
9. Pink, White and Rose Gold Hen Party Balloon Arch Kit – £24.99, Team Hen
Take your hen do decorations to the next level with this stunning white and rose gold balloon arch. Featuring metallic hearts and a confetti-filled balloon, we predict this will be a favourite selfie-taking spot. There are 65 balloons included so it'll certainly make an impact.
Pros & Cons: We adore the variation of balloons in this arch - from hearts, to slogans and confetti, it has them all. This kit includes easy to follow instructions - just make sure you leave enough time for construction.
Hen Party Backdrops
Make sure the 'maids have something fabulous to take photos in front of. A bold backdrop will encourage people to get snapping and bring the whole theme together.
10. Tissue Paper Flower Decorations – £8.99, Ginger Ray
These tissue paper flower decorations look beautifully handmade but all you need to do is unfold and scrunch them, giving you plenty of time to plan hen party games, choose some nibbles and stock-up on fizz!
Pros & Cons: As these are made from tissue paper they look seriously delicate and realistic - we recommend keeping them away from the drinks table though as they will get damaged when wet.
11. Neutral Ombre Tissue Paper Disc Party Backdrop – £14.99, Team Hen
Team dried flowers or pampas grass with this nude ombré disc backdrop for a chic hen party setting that's cool and stylish. Perfect for the pared-back bride-to-be or laidback celebrations, with hen party decorations like these you won't have to worry about it not being classy.
Pros & Cons: As this hen do décor is understated, you might want to add a few extra touches too, such as balloons, banners and bunting.
12. Fairy Light Hanging Photo Decorations – £8.99, Amazon
Make your hen party décor truly unique with these fairy light photo hanging clips. Ask all the hens to send you their favourite photos of them with the bride, get them printed out and add them to a wall of memories for the bride to take home with her.
There's plenty of rustic versions too, with jute string and wooden pegs. They will look amazing at a boho or festival themed hen party.
Pros & Cons: If you're looking for sentimental hen do decoration ideas, this is a really sweet idea. The lights are battery powered so ensure you bring some along with you.
13. Pink Floral Rose Gold Balloon Boxes – £15.99, Etsy
We're obsessed with these floral boxes with rose gold lettering. Stack them at a slight angle as shown and fill them with co-ordinating balloons for an impressive backdrop or focal point. These hen party decs could even be re-used at the wedding.
Pros & Cons: The balloon boxes comes folded which makes them easy to transport. The letters are not pre-stuck, but glue dots are included so you can stick them on.
Hen Party Photo Props
Any selfie-respecting bride will love having a good selection of hen party photo props at her hen do. Photo props can help those that usually shy away from the camera to shake-off self-consciousness and get involved. If you're going all out then you could team one of the backdrops above and have your very own DIY photo booth.
14. Rose Gold Ring Photo Booth Frame – £16.99, Team Hen
Capture all your hen party shenanigans in this cute rose gold ring-shaped frame. It's the perfect prop to set up your photo booth and is big enough to be used for a group shot. You could even bring this sign with you if you're heading for a night out - it'll be so fun!
Pros & Cons: Remember that this is the rose gold frame only - we suggest buying some added extra photo booth props as well for guests to hold.
15. Rose Gold Hen Photo Booth Props – £5.90, Etsy
Full of all the classic hen party phrases, these rose gold photo booth props will become the mantra for the party! It's a really cute set that'll look amazing in photos and they'll even look great when not in use.
Pros & Cons: This set comes with 10 props - perfect for each hen to hold if you are having a large group.
16. Tropical Photo Booth Props – £6.99, Amazon
If you're throwing a tropical-inspired hen party for your bestie (see the balloons above), then these fun Hawaiian-style photo booth props will be a perfect addition! Including the obligatory flamingo, sunglasses and tropical cocktails, just make sure you've perfected your '80s hen party playlist to match your vibrant theme.
Pros & Cons: These aren't technically hen do decorations, but they will work just as well. You can even use them for events in the future, such as birthdays.
17. Rose Gold Floral Hen Party Photo Booth Props – £6.99, Ginger Ray
How beautiful are these rose gold floral photo props? We can totally see these at a summer garden, festival or afternoon tea themed hen party. They come with tons of fun props, even glasses that you can wear for the rest of the day.
Pros & Cons: If you hadn't guessed by now, we are big fans of rose gold, and these beautiful props are as pretty as they are fun.
18. Pink & Black Hen Party Photo Booth Props – £6.99, Team Hen
Chic and stylish, bringing an element of black into your hen party décor ideas is ideal for a sophisticated set-up. We're obsessed with the slogans written on these props, including 'Always the bridesmaid' and '1 tequila, 2 tequila, 3 tequila, floor!'.
Pros & Cons: This unique colourway adds a little bit of edge to your classy hen party decorations.
Stylish Hen Party Bunting
For a quick and easy way to stylishly decorate a room, look no further than hen party bunting. Bunting will be a pretty finishing touch and offer an opportunity to personalise your hen do party decorations. Take a look at some of our favourites here.
19. Boho Eco Hen Party Bunting – £6.99, Ginger Ray
Do you want to go for chic and stylish? This pale pink hen party bunting is eco-friendly and looks beautiful as part of a boho-luxe or rustic-chic do. The hen party banner measures 1.5m so is long enough to stretch across a room or a balloon arch like above.
Pros & Cons: This hen party decoration idea is simple, but if you want it to look more impactful you could DIY with glitter or hang flowers and photos from the string.
20. Personalised Photo Bunting – £9, Daisyley Designs
If you want to make the bride smile as soon as she walks in the room then this personalised photo bunting from Daisyley Designs is the way to do it. Choose your favourite picture of the bride and then alternate it with a personalised message of your choice. You could even customise it with a funny photo of their partner!
Pros & Cons: This personalised decoration can be as classy, cheeky or sentimental as you choose. Give yourself enough time to choose some great photos.
21. Personalised Hen Party Bunting – from £8.50, Etsy
A pearlescent finish gives this bunting a classy feel and we love that this bunting can be personalised – it would make a great keepsake for the bride after the party. The scalloped edging is super pretty and the old-school bunting style has a playful, vintage feel.
Pros & Cons: You can choose between white or rustic jute string. Their name can be up to 11 characters long.
22. Dried Flower Posy Bunting – £50, Lisa Angel
We think this flower posy garland is adorable and will look fabulous at a spring or summer hen do. Plus, it could be used for lots of other occasions too, making it an eco-friendly choice.
Better yet, Lisa Angel are passionate about reducing waste when creating their dried flower wedding bouquets so they recycle all the parts of the flowers that they snip off and the offcuts are then bundled and tied together with twine to make this beautiful bunting.
Pros & Cons: This bunting is handmade with actual flowers so it is a luxury pick. Make sure you don't store them in direct sunlight and keep them away from water.
Classy Hen Party Table Decorations
Drink prosecco and serve snacks in style with the perfect hen party table decorations and accessories. From paper straws to stylish cups and floral wreaths, these pieces will elevate your nibbles table.
23. Rose Gold Foiled Team Bride Flag Straws – £4.49, Team Hen
These rose gold foil straws from Team Hen will add a glam finishing touch to any hen party cocktail! Plus, they will look fab in all your photos. You get 16 in a pack and they're recyclable.
"For a bride that didn't want sashes or willy straws, these added a touch of class," says one reviewer.
Pros & Cons: The cute flag detail elevates these straws into special heights. You could even use them to write the name of each hen, so you don't get your drinks mixed up.
24. Rose Gold Bride Squad Paper Plates – £4, Etsy

Jazz up your table with these gorgeous paper plates that look amazing as part of a hen party tablescape. You get six in a pack and they're great for both a casual afternoon tea, brunch or a fancier dinner.
Pros & Cons: You can buy the matching accessories to these, such as rose gold bride-to-be napkins.
25. Prosecco Wall Drinks Holder – £13.99, Etsy
What an unforgettable way to serve drinks at your hen party! Transform one area of your room into a drinks corner with this gorgeous Prosecco holder. You could use it whether you're having bubbles before a night out, or a mimosa in the morning.
Pros & Cons: Be careful where you place this holder - it's sturdy enough to hold ten glasses, but you wouldn't want anyone knocking into it.
26. Rose Gold Shot Wall – £18.99, Team Hen
Fancy something a little stronger than Prosecco? You need this shots wall as part of your hen night decorations. Put it at the centre of your celebrations and stack it up with colourful (and strong) shots! We recommend these spotty shot glasses.
Pros & Cons: The shot glasses don't come with the wall so be mindful that whichever ones you go for, they fit onto the stand.
27. Meadow Inspired Artificial Flower Garland – £14.99, Ginger Ray
Planning a festival themed hen do? This artificial flower garland will finish off a picnic table perfectly and sit beautifully alongside floral tableware and flower crowns. Each garland measures 1.9m so will drape wonderfully, or can be hung up as a photobooth backdrop.
Pros & Cons: With a mix of artificial daisies, cornflower, lavender and foliage, there is so much detail added to this garland that it hardly looks faux.
28. Fringed Rose Gold Paper Cups – £5.25, Ginger Ray
Add a touch of rose gold to your table décor or Prosecco pong table with these fringed paper cups. At just over a fiver for eight cups, it's a purse-friendly way to add glamour to your get-together. They are the perfect example that you don't have to spend tonnes to make an impact!
Pros & Cons: These cups are a simple way to inject playfulness into your hen party table decorations.
29. Gold Willy Confetti – £2.70, Etsy
Add a cheeky yet glam touch to your hen party table decorations with a sprinkle of gold willy confetti! Watching your girls' faces as they realise what the confetti is will be totally priceless and thanks to the stylish gold colourway, they're still classy.
Pros & Cons: Each packet contains 30g which is more than enough confetti to scatter your tables with. There might be a bit of a clean-up job post hen-do to gather them all up.
30. Boho Bride Paper Party Napkins – £4.99, Party Pieces
The hen party you're planning might be a classy occasion, but we guarantee a drink or two will be spilt. Mop up any mess in style with these gorgeous, floral team bride napkins. They feature a delicate design that will look so pretty when placed on your tables.
Pros & Cons: They are eco-friendly and fully recyclable. You'll get 20 in each pack that will help keep your party venue clean, whilst make it look amazing.
Who Pays For Hen Party Decorations?
Typically, whoever is in charge of planning the hen party, will cover the costs of the hen party decorations. They might wish to split this price between the hen party guests, but they should let them know these costs up front so that the hen party decorations are kept within budget.
Our recent survey around bridesmaid costs revealed that nearly two thirds of people think hen party costs sit with the bridesmaids/hen party attendees, not the bride - so whilst you can ask for everyone in the hen squad to chip in a bit, avoid asking the bride!
Still looking for hen party ideas? Don't miss our best hen party games or take a look at how to throw the ultimate 90's hen party