Typically one of the most popular hen party games, the Mr & Mrs quiz is the ultimate way for a couple to prove how well they know each other.
Even though the traditional name is a 'Mr and Mrs' quiz, there's no limit to who can play it, and it works with brides and grooms on hens, stags and stens - all you need are some probing questions and shots for every answer they get wrong!
To help, we've got 75 brilliant Mr and Mrs (or 'Mr and Mr'/'Mrs and Mrs') questions that'll break the ice and reveal some interesting facts about the couple...
No doubt you've seen the TV show, where couples are asked 'Mr and Mrs' questions about each other in a bid to prove they know everything about their other half – usually with hilarious results!
Put on your best Phillip Schofield impression and challenge your bride or groom to answer these Mr and Mrs questions to see how much they really knows about their partner. We've got funny, naughty and tricky Mr and Mrs questions!
Tips for Throwing the Best Mr and Mrs Game!
When you are planning your Mr and Mrs Quiz game, think about what your friend is like, which questions would give the funniest answers and what they would enjoy. Family there? Don't ask the sex questions or the whole party could get awkward.
Why not turn it into a drinking game? For every question they get wrong, they have to down a shot. For every Mr & Mrs quiz question they get right, the rest of the party have to down a shot (just remember to order lots of plastic shot glasses!).
If the bride or groom isn't a big drinker, you can have an item of fancy dress for them to put on for every Mr and Mrs question they get wrong. The more embarrassing, the better – and ideal for sending their partner-to-be a picture at the end.
Decide whether you want to use all or some of our Mr and Mrs questions (there's 75 to pick from!) and start off by getting the answers from their partner ahead of the hen/stag/sten night. You can edit the questions to make them personal to the couple or add in a few of your own and watch your friend squirm! You know that 'Never Have I Ever' you've been dying to bring up – now's the time.
Handily, you can download and print our Mr and Mrs Quiz questions, so it's all ready for you to fill in and get ready to giggle!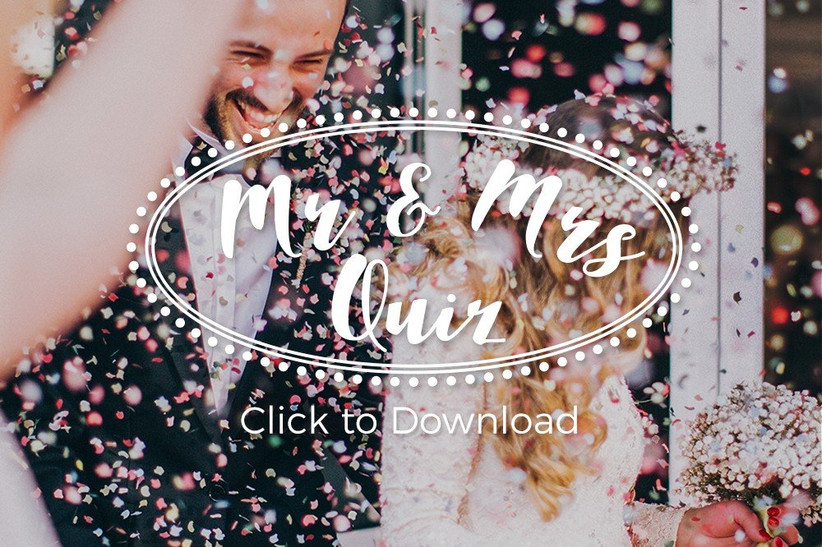 "Funny" Mr and Mrs Questions
1. What would your partner say are your worst habits?
2. What are their worst habits?
3. What three words would you use to describe your partner?
4. What three words would they use to describe you?
5. If they had to take one thing to a desert island, what would it be?
6. What would he/she grab first in a fire?
7. What was the best present he/she ever gave you?
8. Who would play them in a movie of their life?
9. What are you most likely to argue about?
10. What is he/she most scared of?
11. What is his/her guilty pleasure?
12. What is his/her most embarrassing moment?
13. What is his/her proudest moment?
14. What were their exact words when they proposed?
15. If you compared yourself to any celebrity couple, who would it be?
16. If they could have plastic surgery, what one thing would they have done?
17. Where in the world do you most want to travel together?
18. If your partner could have dinner with anyone, living or dead, who would it be?
19. What's the most romantic thing they've done for you?
20. What was the last movie he/she cried at?
21. What's his/her party trick?
22. Which celebrity does he/she think they look most like?
23. What's the one thing (apart from you) he/she couldn't live without?
24. If they could have a super power, what would it be?
25. Who is his/her celebrity crush?
26. Which one of you would fetch more in an auction?
27. If your partner could be famous for anything, what would it be?
28. You, their favourite sports team, their mates, their job – order these in priority (use ones relevant to their partner)
"Who is?" Mr and Mrs Questions
29. Who's the funniest?
30. Who takes the longest to get ready?
31. Who's the most attractive?
32. Who's the best dancer?
33. Who gets the last word?
34. Who takes up the most room in bed?
35. Who does most of the cooking/housework?
36. Who's the one to remove the spider from the room?
37. Who's the better cook?
"Naughty" Mr and Mrs Questions
38. Which of your friends do you think he/she fancies the most? And which one fancies him/her?
39. Are they a boob or bum person?
40. Where is the strangest place you've had sex?
41. How many dates did you go on before you did the deed?
42. What is his/her favourite position?
43. Who has the weirdest orgasm face?
44. In which room do they most like to have sex?
45. What do they think your bra size is?
46. Which celebrity, should they meet, would your partner be allowed to sleep with?
"First" Mr and Mrs Questions
47. Where was your first kiss?
48. What was the first film you ever saw together?
49. What was his/her first job?
50. What's the first thing he/she does in the morning?
51. Where did you go for your first date?
52. When did you first say "I love you"?
53. What was the name of their first boyfriend/girlfriend?
54. How old were they when they had their first kiss?
55. What was the name of his/her first pet?
"The Basics" Mr and Mrs Questions
56. How many times did they take their driving test?
57. What perfume/cologne does she/he wear?
58. Who is his/her best friend?
59. What colour eyes do they have?
60. Name all his/her cousins
61. What are your pet names for each other?
62. How do you like to fall asleep? Cuddling or apart?
63. How many children does he/she want?
64. What's his/her alcoholic drink of choice?
65. What shoe size do they have?
"Favourite" Mr and Mrs Questions
66. What is your favourite body part of theirs?
67. What is their favourite body part of yours?
68. What is his/her favourite restaurant?
69. What is their favourite song?
70. What would they say yours is?
71. What is their absolute favourite meal?
72. What is his/her favourite film?
73. What is his/her favourite book?
74. What is his/her favourite dessert in a restaurant?
75. What was his/her favourite subject at school?
Click here to download the Mr and Mrs Quiz PDF!
Mr and Mrs Quiz Props
If you want to ramp up the fun of your Mr and Mrs game, there's lots of props you can use, like personalised shot glasses! Here's a few of our favourites:
Mr and Mrs Quiz Paddles – Bluesky's Creation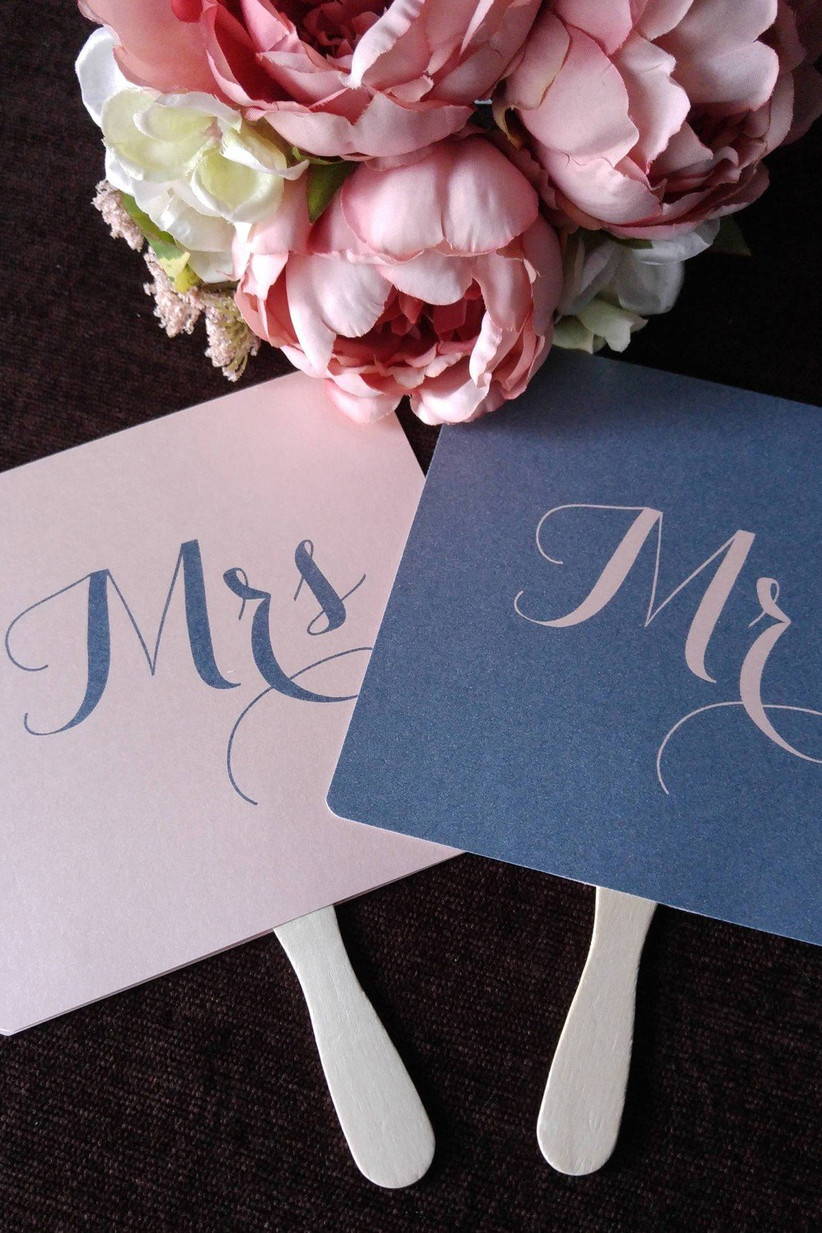 If you're filming the bride/groom's partner giving their answers beforehand, these Mr and Mrs paddles are fab for them to hold up to the camera! You can buy Mr and Mr, and Mrs and Mrs sets too.
Hen Party Keepsake Games Board – The Hummingbird Card Company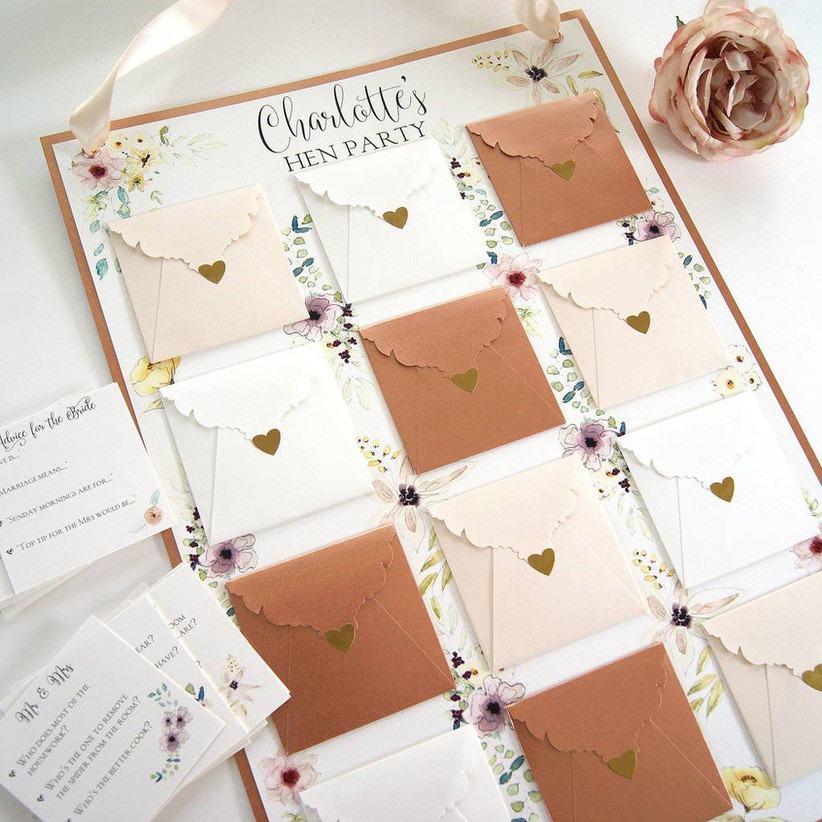 Kick off the hen party or bridal shower with the Mr and Mrs question cards in the envelopes on this personalised board (and a few of your own from the list above!). Get the guests to fill in advice cards (provided with the board) and messages for the bride which she can take home in the cute ivory, blush and rose gold envelopes as wonderful keepsakes of her party.
Personalised Shot Glasses – Bespoke Wedding Gift Co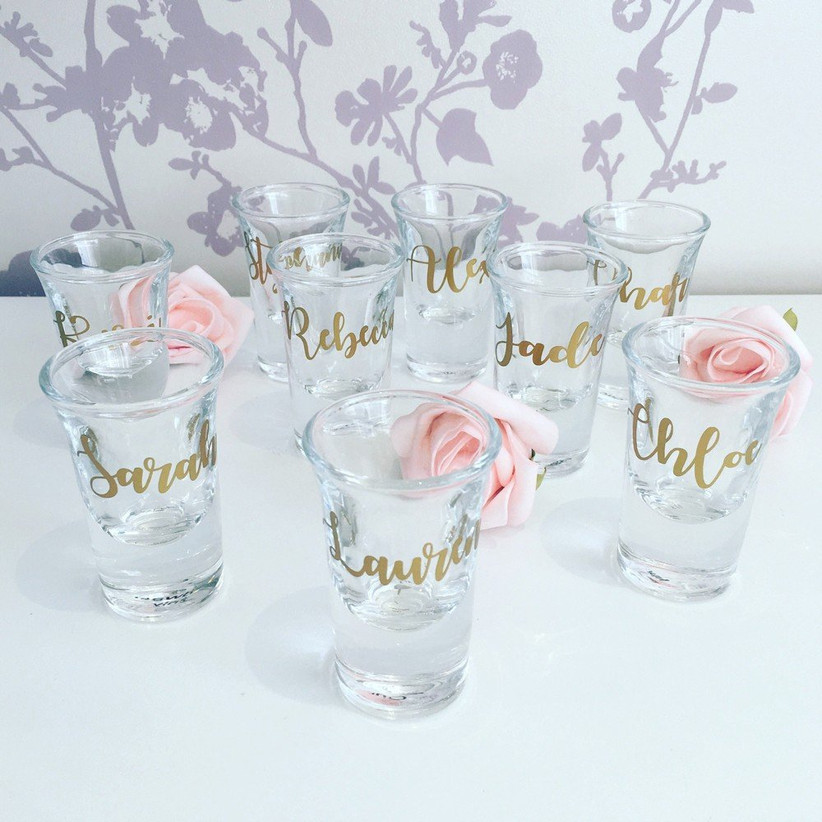 If you're turning the Mr and Mrs quiz into a drinking game, your bride or groom will love a personalised shot glass to down their spirit of choice from! You could get these for all of the hen or stag party if you're planning lots of drinking games and it's a lovely thing for them to take home at the end.
The Hitched Shop has a huge range of designs you can pick - from 99p each.
Mr and Mrs Pocket Edition – John Lewis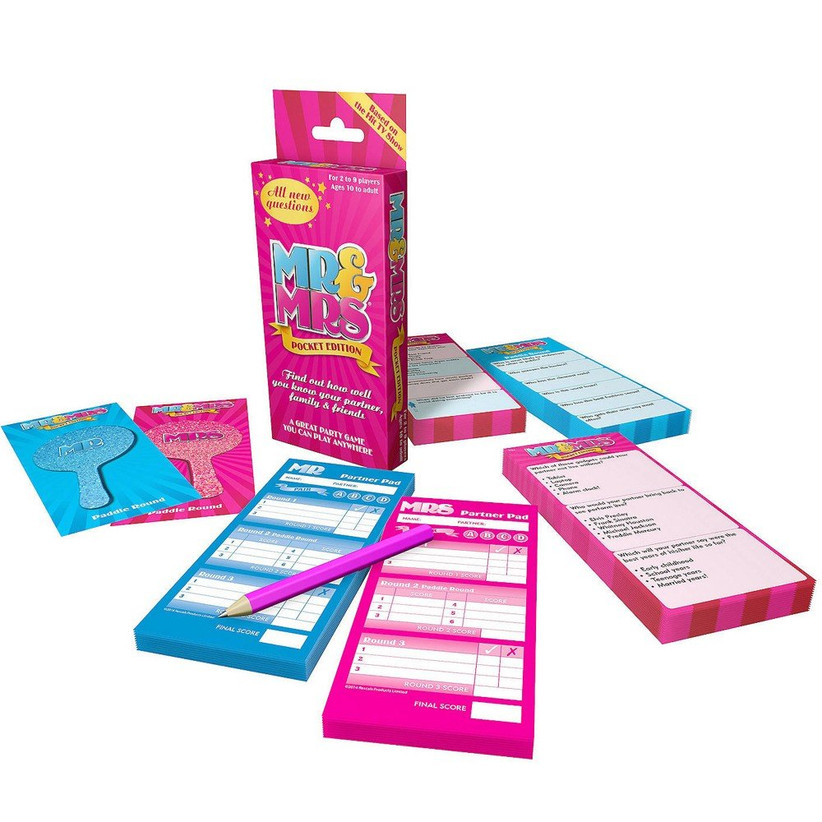 If you're making a hen party bag for your bride, include this take-home pocket version of the Mr and Mrs game that she can play with her partner. It's a great little dinner party game they can crack out with fellow newlyweds that'll make her remember how much fun she had on the hen do every time she plays it. It doesn't yet come in same-sex couple options, unfortunately.
If you're planning a hen party or looking for even more hen party game ideas, why not download our list of hen party dares or check out our list of hen party bag fillers?