Your London Hen Do Guide: 35 Activities to Add To Your London Hen Itinerary
From what to do, to where to go and places to drink, here's everything you need to know about planning a hen do in London
We have included third party products to help you navigate and enjoy life's biggest moments. Purchases made through links on this page may earn us a commission.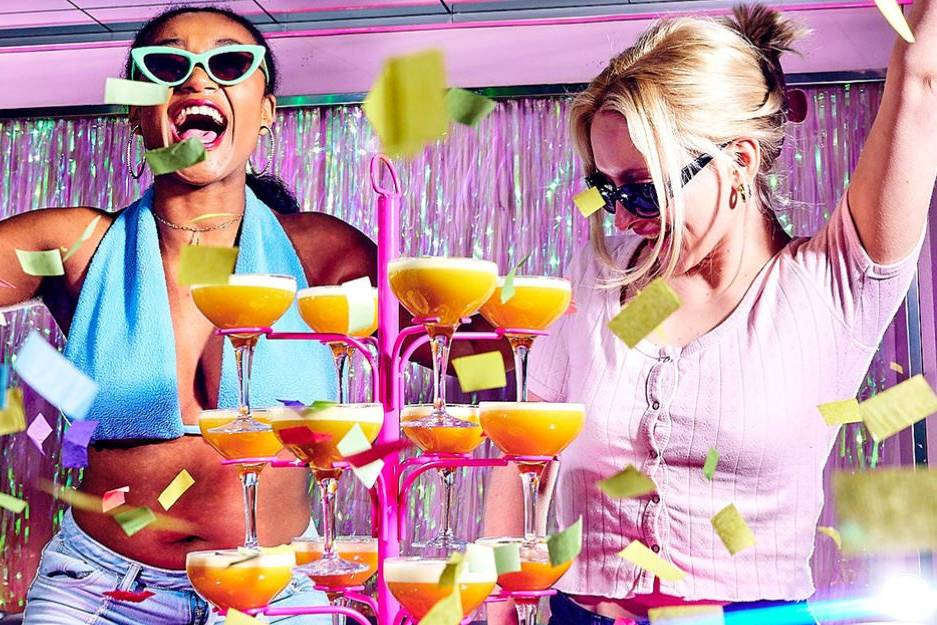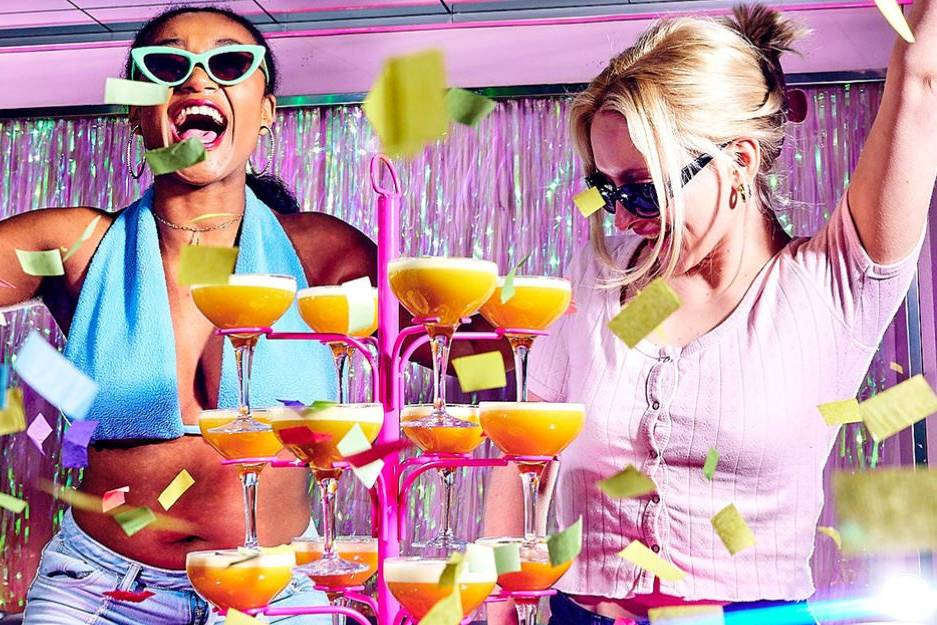 Searching for hen do ideas in London? If so, you've come to the right place!
Planning a hen do can sometimes come with its challenges - but if you're here, you've already overcome one of them which is choosing the perfect hen party location, and boy have you picked a good'un!
The UK's capital is a brilliant place to host a pre-wedding celebration as there's no shortage of amazing London hen do ideas, but the trouble is, how do you pick from such a large pool?
That's where we come in. We've rounded up our pick of the best hen do ideas in London, from classy to unusual, to help you narrow down your options and find something that suits your hen perfectly.
Hen Do Ideas in London: 35 Hen Do Activities in London
Our list has everything from unique hen night ideas in London, involving drag queens and ABBA songs, to London hen do activities that'll have your fellow hens' jaws on the floor at how wild you've gone.
No matter what kind of London hen do you're planning, from sober, to classy, to fun and everything in-between, we have hen ideas in London to suit you.
Classy Hen Do Ideas in London
If your nearlywed likes the finer things in life, and doesn't want a willy straw or L-plates anywhere near their celebration, you'll love the activities in this section.
Perfect for groups looking for hen do ideas in London that are classy and chic, you'll be spoilt for choice here.
1. Create Your Own Perfume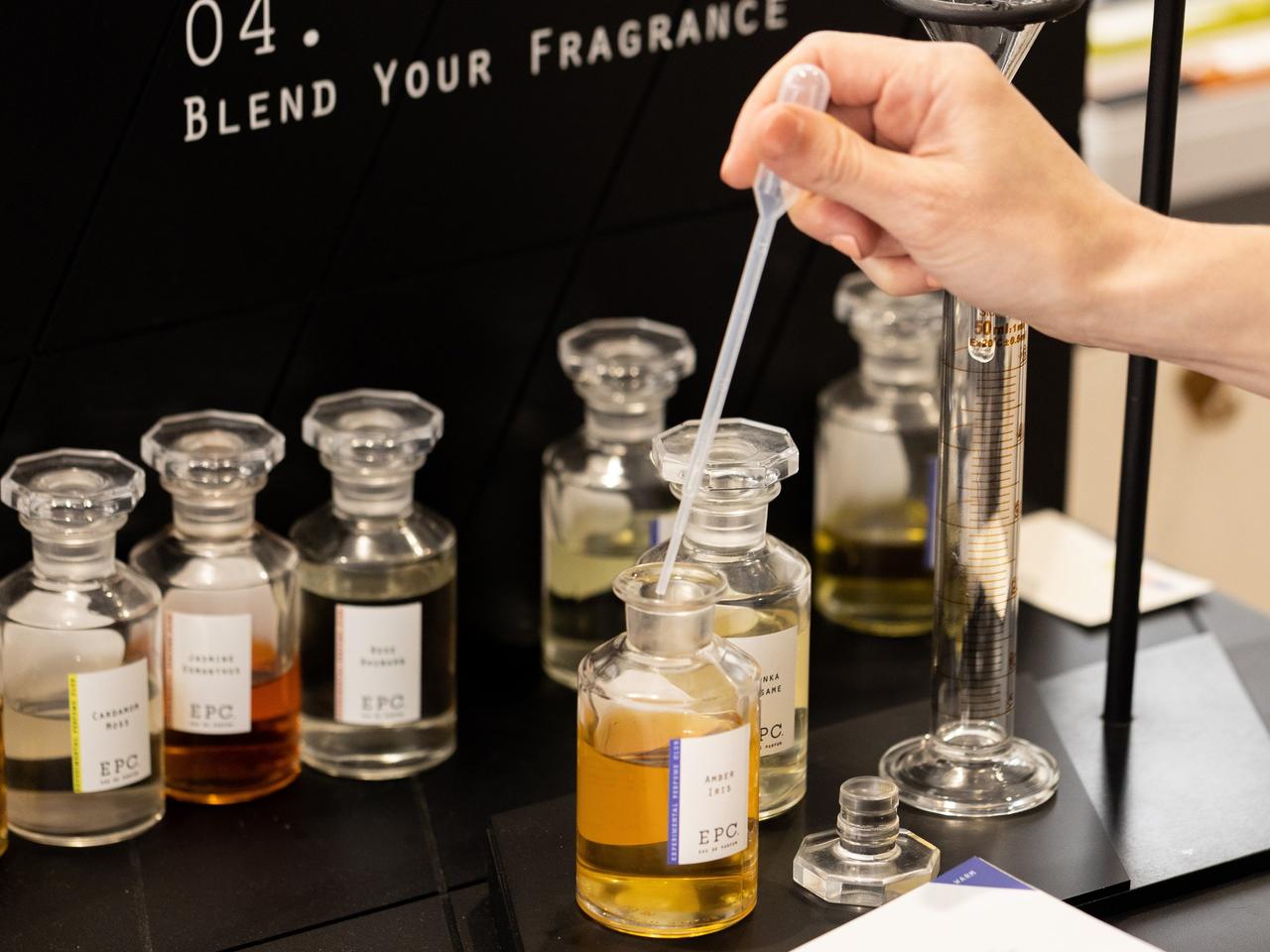 Who doesn't love a fancy perfume? Having a sophisticated scent to spritz all over yourself is something everyone enjoys, but what if we told you there's a way you can create your own personalised perfume?
The Experimental Perfume Club can make this happen with their perfume-making workshops, and they cater to large hen groups, too.
"To make the lead-up to the wedding extra special, hen parties can be hosted by the Experimental Perfume Club with expert-led blending experiences which are perfect for private events," says the team.
"Guests can blend their own bespoke fragrance and it's perfect for special celebrations. The experience is relaxed, fun and educational."
The experience for groups as small as five, and up to 20, and lasts approximately 4 hours. Prices start from £60pp and we recommend looking at their special Bubbles and Blending package which includes fizz for the group.
2. Cruise the Thames
If you're after classy London hen do ideas that'll help you see more of the city, consider a cruise along The River Thames.
London is famous for the swirling Thames that flows through it, and there are a number of cruise options for hen party groups. You could opt for a Thames lunch cruise which retails at £44.50pp, or go all-out with a luxurious three course Thames dinner with wine, which will set you back £135pp.
Whatever your budget, the good news is there are plenty of River Thames hen party activities on offer, and you can view them all here.
3. Rom Com Movie Tour
Remember those epic sleepovers with your gal pals where you'd marathon your favourite rom com movies? Why not bring an element of that into your hen do planning with one of our favourite London hen do ideas ever - a rom com tour of London!
This tour includes sights from Love Actually, Four Weddings and a Funeral and Notting Hill. Up to 11 of you can attend this amazing London hen do activity, but for bigger groups, the Love Actually walking tour, which dives much deeper into landmarks from that film, can accommodate much larger groups of up to 20.
Prices start from just £15pp making it super reasonable, too.
4. Duck & Dry Blow Dry Bar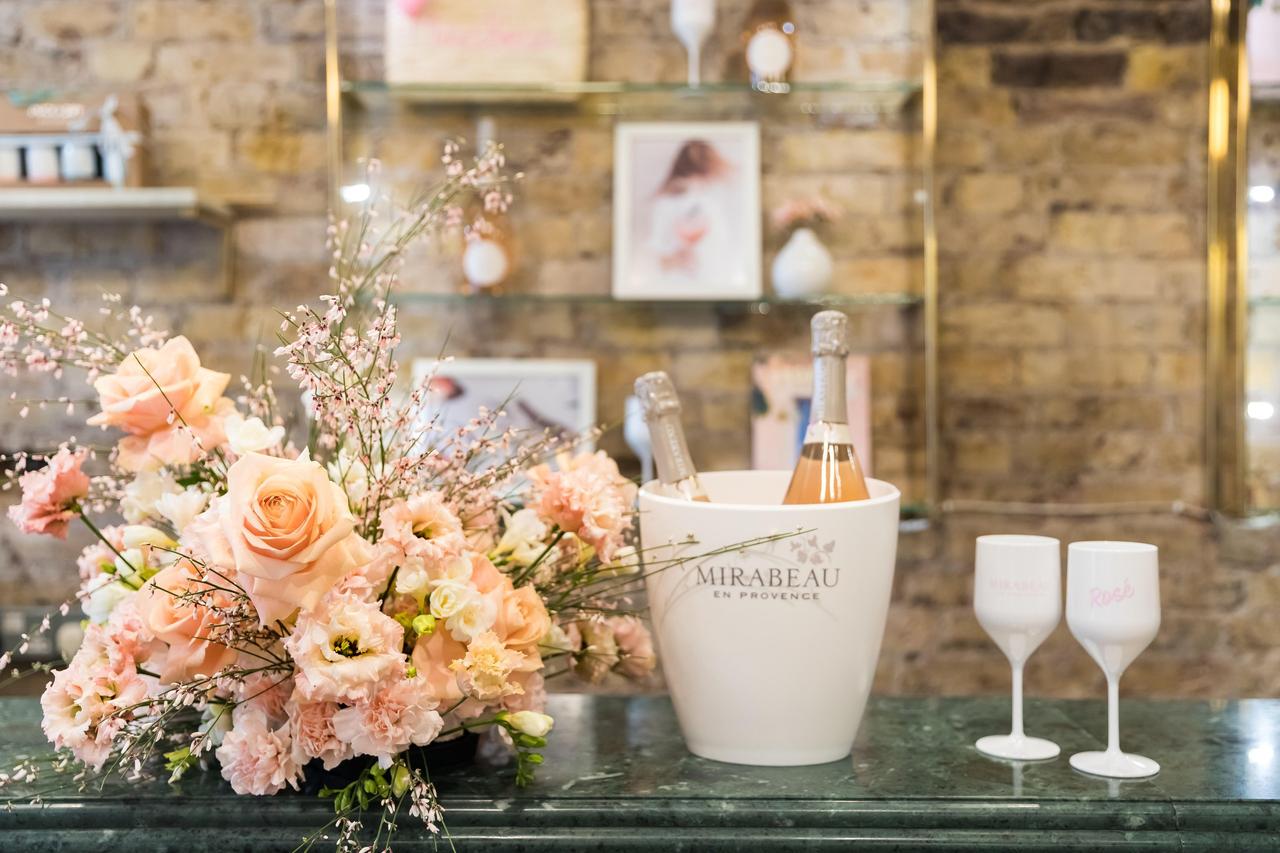 Whether it's to prepare for a night out on the town, or simply to make yourselves feel amazing, we love the idea of visiting blow dry bar Duck and Dry on your London hen do.
"Our Instagrammable London salons make the perfect venue for any private event or occasion, hen parties included. We have group tables. a cocktail bar and talented stylists and nail technicians on-hand to create the perfect hairstyles and manicures," say the brand.
Duck and Dry have salons in Chelsea, Mayfair and Islington and offer private hire, group bookings and blow dry workshops for you to choose from.
5. Immersive Lightbox Yoga
If you're more about relaxing and unwinding on the hen, this could be the idea to top all other hen do ideas in London.
Lightbox yoga involves taking your classic yoga session to a whole new level of relaxation. The class is tailored to all abilities, so yogi pros and first-timers can all get involved, and all of your stretching is done underneath 25,000 LED lights, creating the most amazing and calming visuals during the session.
6. Champers on the London Eye
Climb into one of the capsules on the London Eye with a glass of Champagne from just £53pp. Your Champers experience ticket includes a fast-track pass that takes you to the front of the queue, 360 views of the city and of course, your fizz.
What a way to start your hen night in London!
7. Enjoy a Spa Day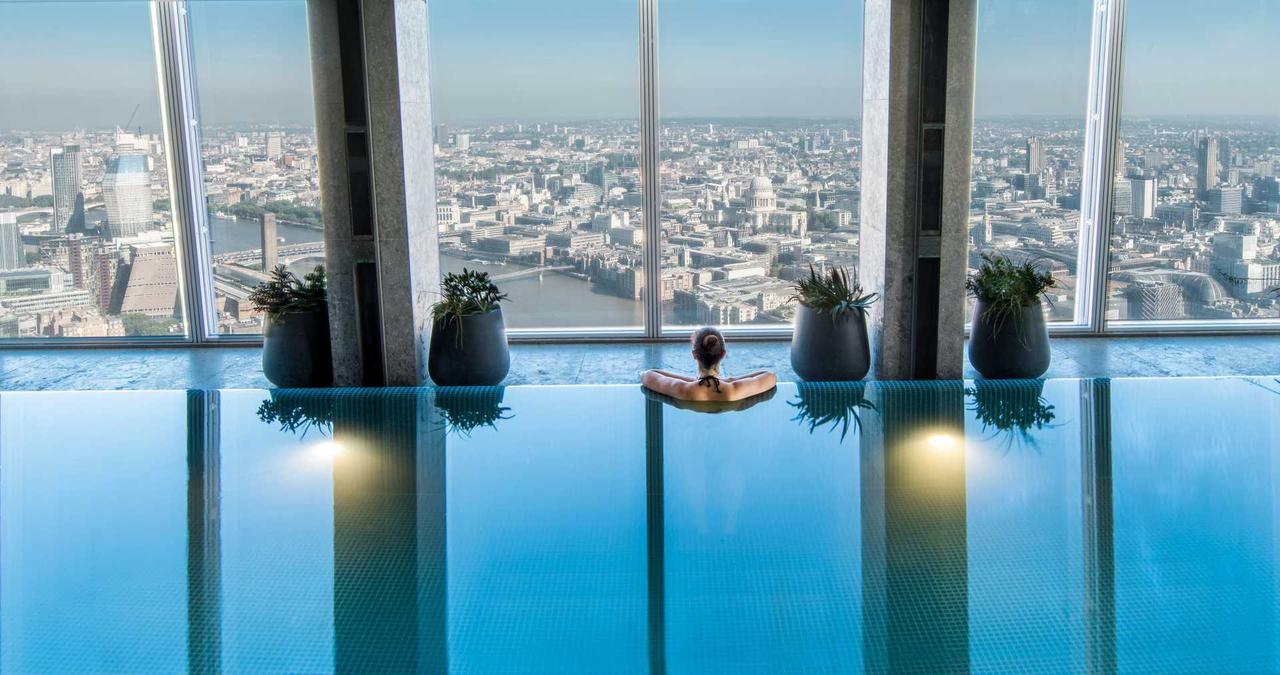 Although London is the city known for its buzzing nightlife, there are plenty of luxurious and relaxing spas for you to enjoy spa days or even full on pamper weekends.
Some of our favourite London spas include NYX Hotel London (from £45), Shangri-La The Shard (from £155), Chuan Body and Soul at The Langham (from £160) and The Lanesborough Club (from £347) - and that's just to name a few.
You can browse a range of London spas here and find a package and price that suits you and the group.
8. Catch a Show
London is famous around the world for its West End shows, and we love the thought of having a trip to the theatre as one of your London hen do ideas. Theatre tickets can be purchased from as little as £13 for some shows, making them excellent hen do activities for groups on a budget.
The choices are vast, but Hitched Deputy Editor Rima frequents the theatre and shares her recommendations.
"When it comes to hen do ideas in London, I think seeing a theatre show is one of the best. It's excellent value for money and there's something for everyone.
"For fun groups who want a crowd-pleaser, shows like Grease, Moulin Rouge and Mama Mia! are bound to fit the bill. All are incredibly entertaining and include songs from the original films they're based on, so there's plenty to sing along to.
"If you want to see a bucket-list show, Hamilton is a must - it really is as good as the critics say, as is Les Misérables and of course, Jersey Boys. There's a reason all three have maintained their place on the West End for so many years.
"And finally for a real laugh, it really doesn't get much better than The Book of Mormon. It's not for the faint-hearted, but if you're a group with a good sense of humour, that's the one I'd recommend most highly."
Fun London Hen Do Activities
If the number one goal on the brief is to ensure the weekend or night out is fun, these are the hen do ideas in London we recommend you consider...
9. Magic Mike Live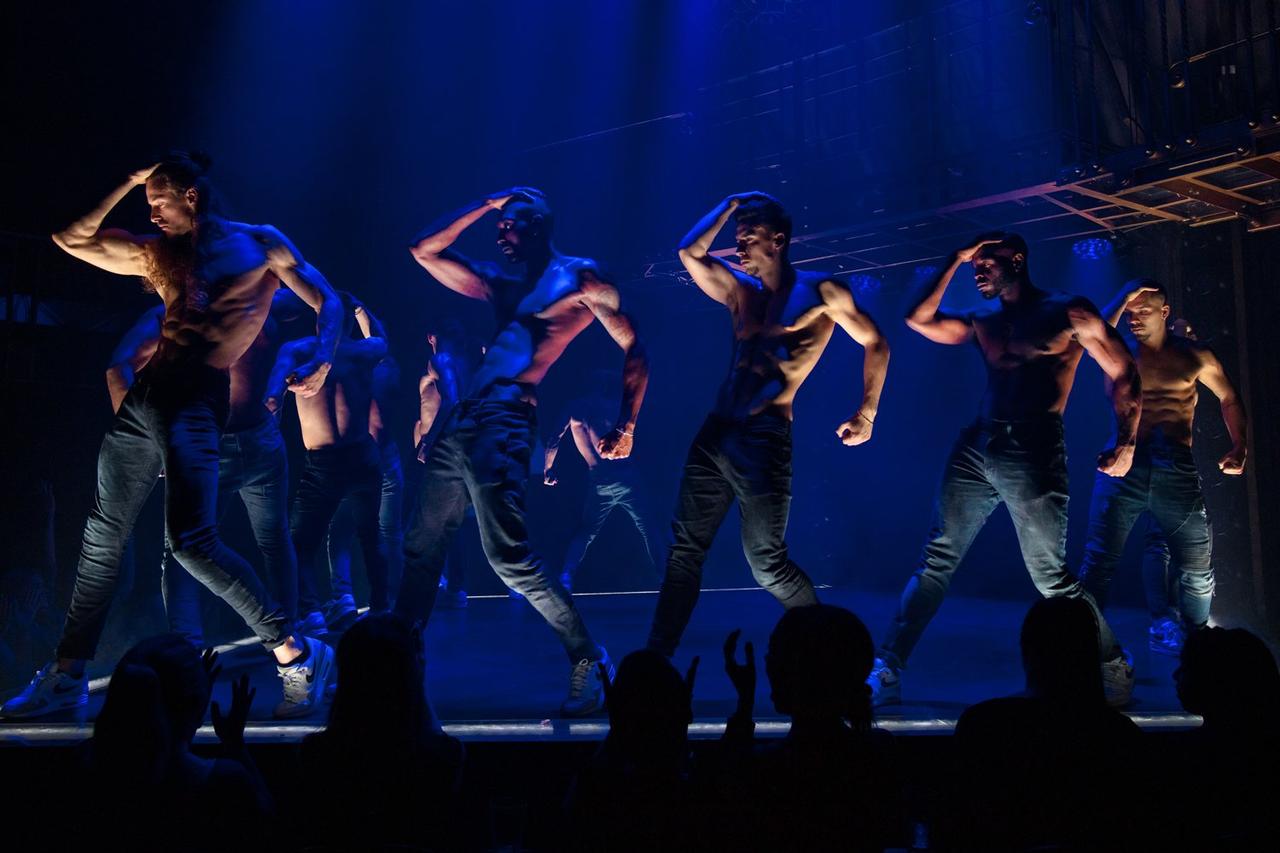 Make this London hen party one to remember with a trip to Magic Mike Live.
If your hen has a naughty streak and can't do without a willy straw in hand, there's nothing better than a hen party activity like this. This live version of the Channing Tatum film is sexy, raunchy and a damn good time. Pretend you're there to admire their acrobatic skills if you must, but get yourself a ticket.
They start from just £48 which is brilliant for a few hours of unforgettable entertainment.
10. Immersive Great Gatsby
Groups who want to be right in the middle of the action will go wild for this immersive Great Gatsby experience. With the next round of shows coming soon to London (you can sign up now to find out about dates), it's an activity you really don't want to miss.
The Great Gatsby show is an immersive experience that combines a classic theatre show with audience participation and transports the entire audience back to the roaring 20s.
11. Moonshine Saloon
If your TikTok algorithm has been overhauled by #CountryTikTok, you'll be delighted to hear that there's now a bar in London which offers an immersive wild west cocktail experience.
Moonshine Saloon brings immersive theatre and cocktail mastery together to create a real-life country and western atmosphere in the heart of East London. The bar keepers here will take your smuggled booze (it's BYOB, btw!) and masterfully craft cocktails for you and the group.
12. Hunsnet Brunches
Let's go for brunch girlies! Anyone who's anyone knows about the Hunsnet Instagram account - it's been teaching us about hun culture and keeping us entertained for years now, and we're delighted to announce that they have now launched The Hun Brunch - where a hun can be hunself with zero judgement.
Gareth Howells, founder of Hunsnet, explains the importance of getting the hen party planning right, "This is the moment that you have to make her feel loved and adored by the girlies. If you fail, your friendship is on the line and you will lose the respect from the other hens, the bride and the whole of her family, no pressure!" - said in true hun jest, of course (we think).
But he's right, this is your chance to really wow the nearlywed, and we reckon the Hun Brunch is the way to do it - it's a staple for the Hitched team, we've attended more than we can count!
13. Knock Pins Down at Bowling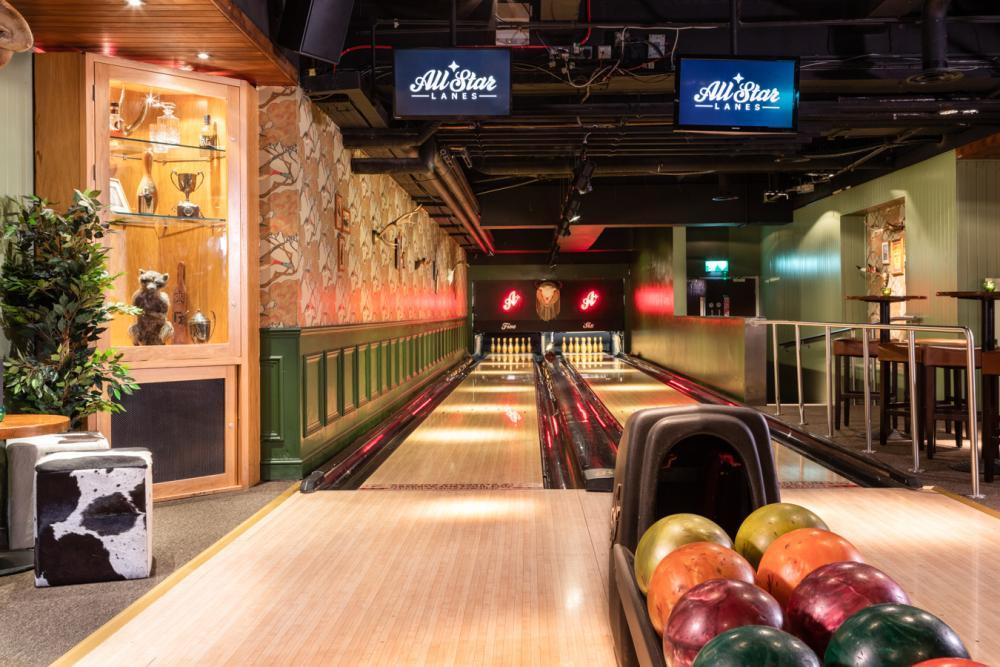 This ain't your childhood bowling alley. At All Star Lanes, cocktails and shots are encouraged; your Mum isn't going to shout at you if you skip your turn to chat up the barman; you can even hire a private space with your own lanes and unlimited bowling!
Maids of honour, the retro vibes of this place make it an absolute winner. There's four locations across London to choose from (and they have karaoke too).
14. Disney Dance Class
Is the nearlywed a huge Disney fan? Perhaps they're planning to get married at Disney or having a themed wedding? If that's the case, there's no better London hen night idea than taking them to a Disney dance class, right?
Included in your ticket, you get a private dance studio for you and the group where an instructor will teach you all the moves to some of the most iconic Disney hits.
15. Go on a Beer Bike
If the hen loves a pint, consider hiring a beer bike and enjoy beers on wheels as you pedal through the city. One of the most unique London hen do ideas around, you can hire your own personal bike for £450. Each bike can seat up to 13, so the hire works out at just under £35 per person - so reasonable for the amount of fun you'll have.
And for bigger groups, good news - the company have two bikes so up to 26 of you can ride the streets of London in convoy. Cheers to that!
16. Record a Song Together
If you all love a sing song, why not make things official and record a song together? Recording studios and companies like Singsational often offer group deals for hens who want to record music together, and the packages here are pretty tempting.
At Singsational, each hen gets a complimentary glass of Prosecco on arrival and the group receives a professional sound engineer, studio host and photographer, the recording of two professionally produced songs, group and individual pictures and a USB with the recorded songs for everyone there.
The session lasts two hours and can accommodate groups as large as 10.
17. Sing Your Hearts Out at Karaoke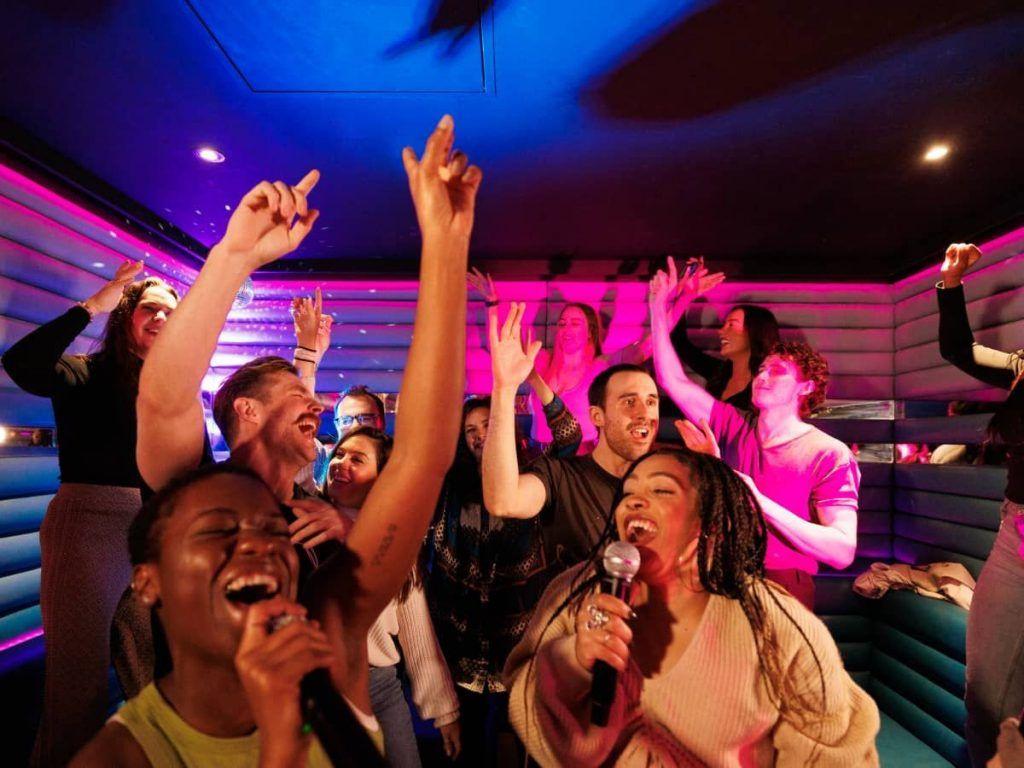 On the topic of songs, why not book yourself a private karaoke room at Lucky Voice for the ultimate hen night in London? There's three locations – Soho, Islington and Holborn – where you scream your lungs out to the Barbie soundtrack (surely everyone's number one karaoke request?) or add in a cocktail masterclass too.
Hen parties get a free shot to start – which is great considering every song sounds better than after some tequila. This is one of those London hen party ideas that'll have everyone talking about it for months to come.
18. Enjoy Boozy Golf at Swingers
We love the idea of Swingers for an awesome hen party in London - and no, not like that. We're of course talking about Swingers the amazing golf bars. With locations in the West End and the City, hen do groups can enjoy drinks, dinner and a few rounds of crazy golf for as little as £13.50pp.
19. Visit the Comedy Club
Want to laugh your butts off? London is the right city to do so, as it's brimming with hilarious (and super cheap!) comedy clubs.
Up and coming comedians often do the rounds in smaller comedy clubs before heading to big festivals like the Edinburgh Fringe and doing TV gigs, so it's a great place to see new talent for much less than you'd pay for the pros.
In London, there are loads to choose from, and tickets can be bought from as little as £1.
Rima says, "One of the best comedy shows I've ever been to was the Friday Late Show at The Top Secret Comedy Club. The ticket cost £12 and I couldn't believe how funny the comics were. I love the idea of heading to a comedy club on a hen do because you never know what you're going to get at these clubs and I think that's all part of the fun.
"What's more, the tickets are so reasonable, if the comics aren't quite pro-level, you can just enjoy the drinks and know you've experienced something new for less. One of the Tuesday shows at the Top Secret Comedy club is free, and the other costs £1 - why wouldn't you give it a go?"
20. Bunga Bunga Pizza Making
We struggle to believe there are hen groups who wouldn't want to spend an afternoon drinking fizz and making pizza, so let us introduce you to the legend that is Bunga Bunga. With a super central location in London's Covent Garden, the pizza restaurant offers bottomless brunches and shows, as well as pizza making classes.
Available from just £45pp, you get a pizza to share (and speaking from experience, they're enormous!), lessons on how to make your own, as well as your own Bunga Bunga dough to take home and try yourself.
Unusual London Hen Do Ideas
For something a little different, we've rounded up a list of unusual hen do ideas in London that'll make the weekend you plan memorable for everyone there.
21. Go on a Hot Tub Boat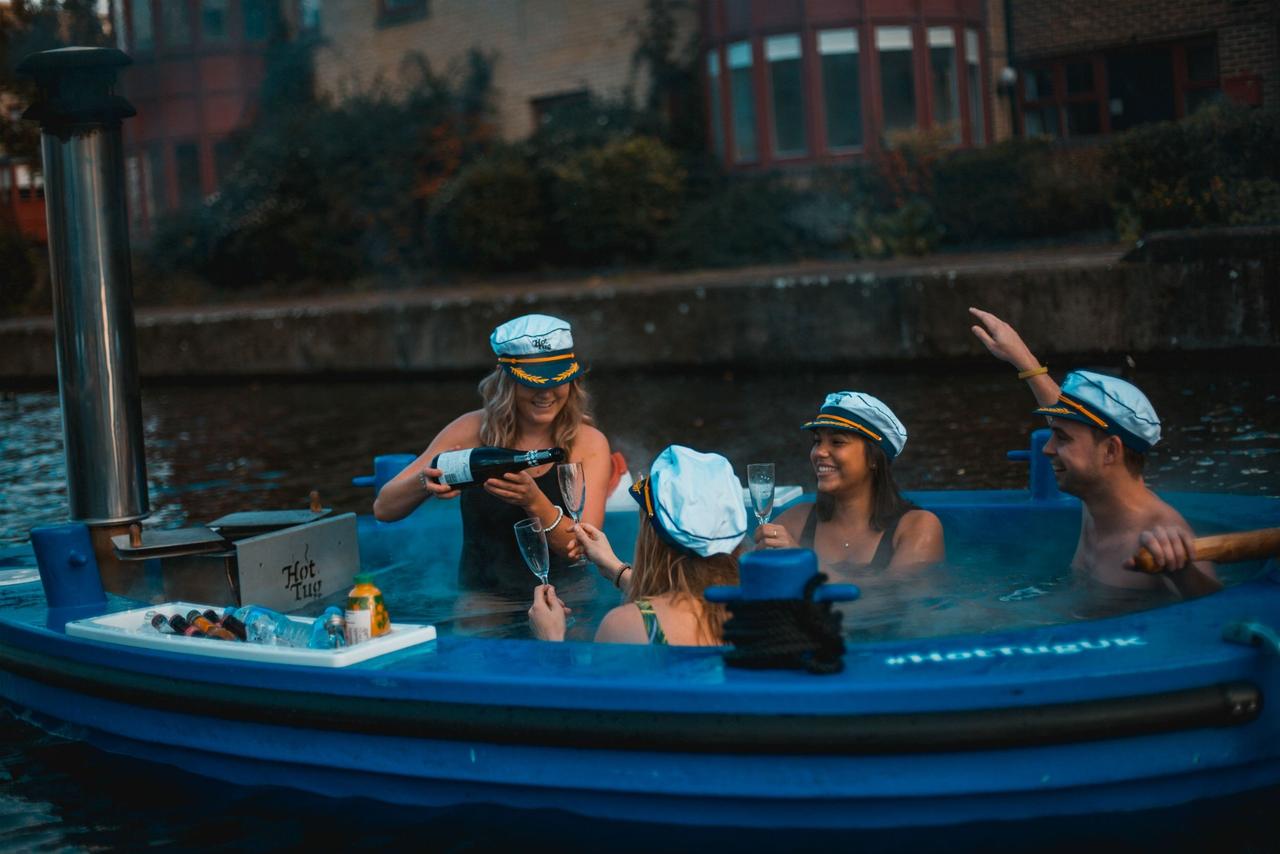 Have you ever been in a Hot Tug? We thought not - but that's all about to change as we introduce you to one of the most unique London hen do ideas ever.
You and the crew can hire a Hot Tug, a wood-fired self-driving hot tub which floats down the Regent's Canal. The experience lasts 90 minutes and guarantees a good time come rain or shine.
22. Sweat Together Barry's
Sweating together is the new getting together at Barry's UK. Choose an alternative hen do idea in London and opt for a fun fitness class you can all do together. Not only can you book a group hen do class to enjoy as a group, but the brand even offer branded water bottles filled with healthy drinks so you can swap the prosecco for the protein and feel fresh all day long.
23. Go Ape at Go Ape
Head into the trees, shake off your inhibitions and Go Ape on Tarzan swings, high ropes and zip wires – perfect for an adrenaline rush before the wedding. There are two London locations – and hen groups of over six save 10%.
You can find out more about Go Ape experiences here.
24. Boogie Together ABBA Voyage
ABBA fans can plan the most iconic London hen do by booking tickets for you and the group to see ABBA Voyage.
Rima visited herself and loved the experience, "When I heard about the concept of ABBA Voyage, I'll admit I was sceptical - how realistic could the live experience be? But I was absolutely blown away by the performance. From the intricacy of the technology and picture, to the immersive light show happening around you, in all honesty it was one of the best musical experiences I've ever been to.
"Before entering, there is a big reception area with food and drinks galore, as well as loads of merch to purchase. Once inside, we went into the standing area and found ourselves a space at the front. Surprisingly, there was plenty of room to dance, go to get drinks, pop to the loo and return to your place and group again - but for those who don't want to dance, the seats offer just as good of a view.
"I went with a group of seven and it was brilliant to dance and sing along together - I'd highly recommend it as an amazing London hen do idea without hesitation."
25. Scale the O2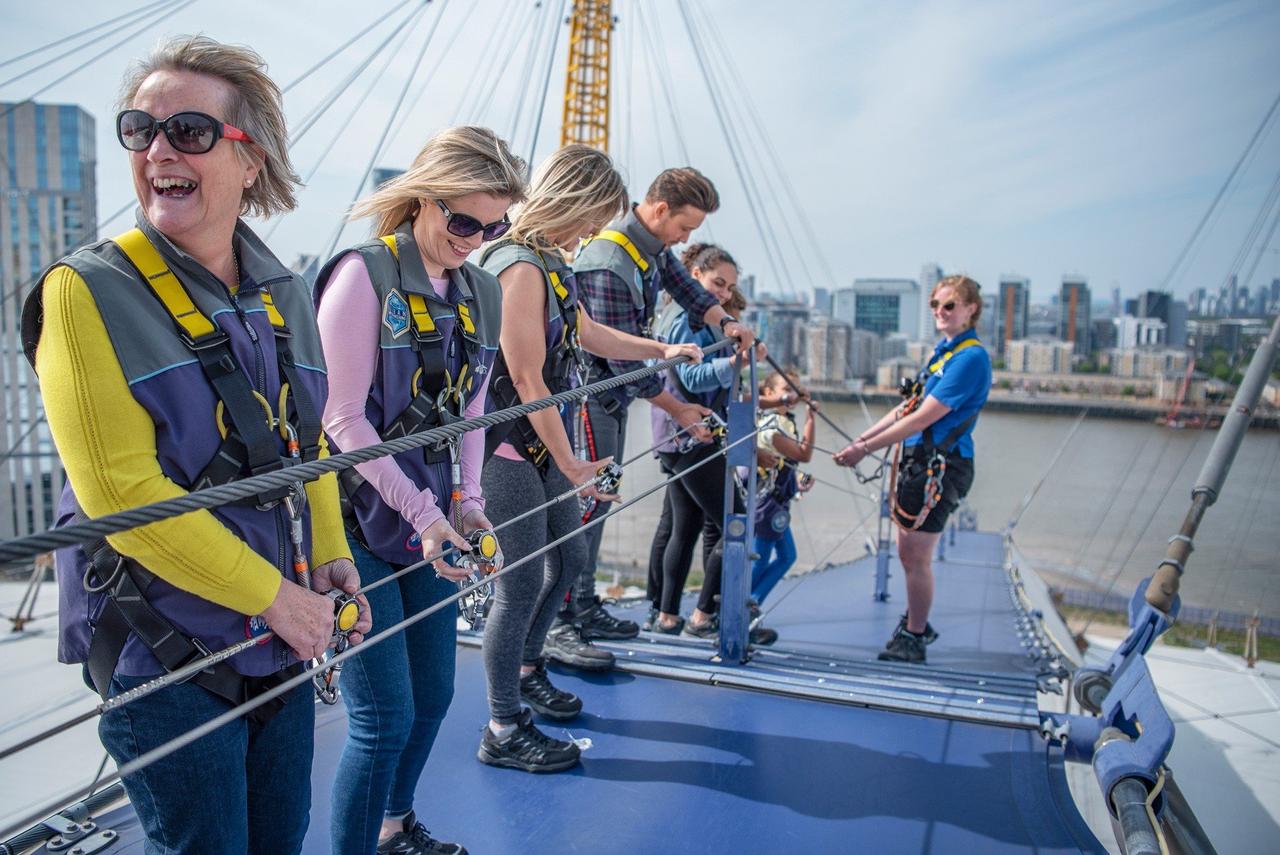 Want to get your pulses racing whilst seeing more of London? You can actually climb the O2 arena for the most incredible views across London! Book a dusk spot for Up At The O2 to watch a glorious sunset and catch the best lighting for your photos. Tickets can be bought here.
26. Crystal Maze Live
Whether you're a fan of the show or not, we highly recommend you consider the Crystal Maze Live as a fun hen do activity in London.
The immersive experience is a great way to get active and have plenty of fun while you do it, and it's great for groups to get to know each other a little better before cocktails in the evening.
Prices start from £59pp for the standard ticket, but premium packages are available as well.
Rima's been and says, "The Crystal Maze Live experience is a must if you want a unique activity in London. The staff who take you around are enthusiastic and are more than equipped to handle a group of up-for-it hens.
"The challenges range from brain-teasing puzzles to more physical ones - just like the TV show does - and there's nothing that compares to the cash-grabbing dome experience at the end."
27. Dive into Ballie Ballerson
A ball pit cocktail bar that also offers a bottomless brunch? Yes, please. Throw yourself into this Instagram-heaven playground and spend two hours rolling about with your hen crew.
The fun ball pits at Ballie Ballerson are not only Instagram-heaven, but they'll take you all back to your childhoods (plus the cocktails, obvs!).
You have a number of options for hosting your London hen party here - free walk-in (but we wouldn't risk it), reserving a booth, booking tickets in advance and also their bottomless brunch offering.
The Best Bottomless Brunch in London for a Hen Party
London bottomless brunches have been a staple in the list of London hen do ideas ever since they started trending, and they're not going anywhere anytime soon. And why would they?
Bottomless brunch hen dos in London give value for money, bags of entertainment and they help to set spending expectations for big groups.
No one needn't wonder how much the bill will be, or watch how many drinks they order, because bottomless brunches mean you all pay one price for as much (or as little) as you want. Brilliant isn't it.
And to help you decide which bottomless brunch hen do ideas in London are worth it, we've rounded up our favourites.
28. Rooftop Bottomless Brunch in London
Bottomless brunch on a London rooftop is about as luxurious as it gets, and is a perfect option for groups who want hen do ideas in London that are classy and feel up-market.
One of our favourite rooftop bottomless brunch spots is Wagtail. Wagtail offer a bottomless brunch on their esteemed rooftop with sprawling views over London's finest landmarks.
The brunch costs £40pp for a starter, main and side, and can become bottomless for an additional £50. The drinks selection for the bottomless option is super impressive, with Prosecco, Cotes de Provence Rose, Pinot Noir, Bloody Mary's on offer, plus more.
29. Lively Bottomless Brunch in London
If you and the crew love to spend a London bottomless brunch on your feet, napkins in the air dancing and singing away to classic party tunes, you'll love the bottomless brunch offering at The Skinny Kitchen in Islington.
Famed for its unique entertainment and quirky performers, the theme here are all about immersive dining. Enjoy your brunch courses whilst being entertained by saxophonists, acrobats, singers, dancers and more.
30. Bottomless Sushi Brunch
If a bottomless sushi brunch in London is what you're after, head to one of the Inamo restaurants - they've got you covered.
Their unlimited bottomless brunch offers you free-flowing fizz, wine or beer, alongside dishes from their lengthy menu. The bottomless brunch here is award-winning and has a special offer for early diners.
Tables who get seated by 11.30am (it's 5pm somewhere!) will get a £10 Inamo gift voucher for each person dining - so they're basically paying you to be there. Win - win.
31. Nobu Bottomless Brunch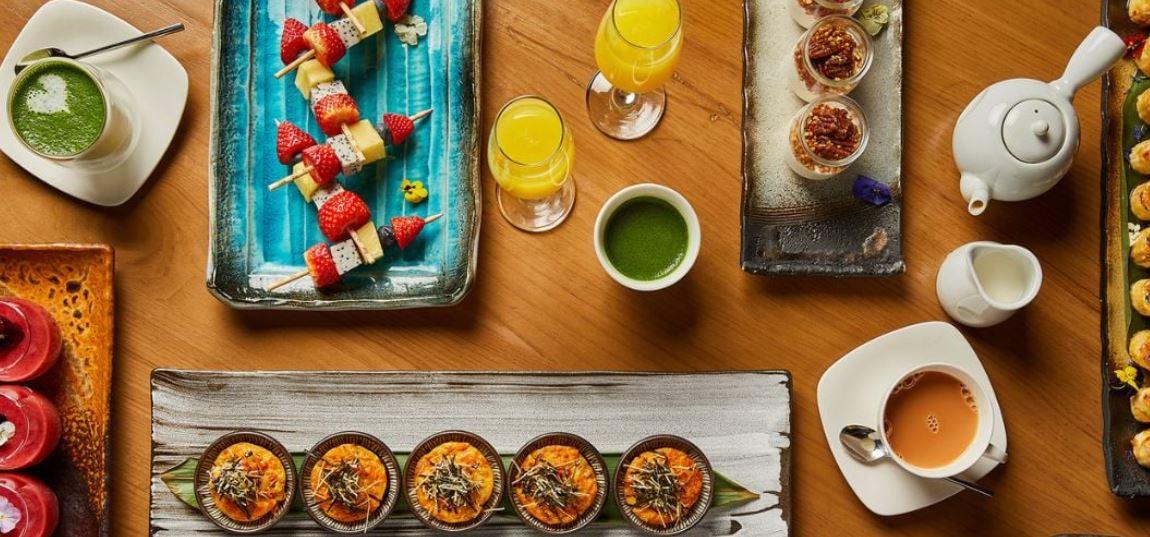 If you want an Asian bottomless brunch at a high-end London restaurant, Nobu is just the ticket. The Nobu bottomless brunch in London offers two different menus for groups to enjoy.
The £90 menu includes unlimited access to the brunch buffet, as well as one main dish and one dessert. The £130 menu includes all of the above, plus unlimited Prosecco, Asahi or Lychee Elderflower Cooler.
The brunch is available every Saturday, between 12pm and 3.30pm, and Sunday from 12.30pm to 3pm.
32. The Real Housewives Bottomless Brunch
Yes, this is really a thing. Bravo superfans and Real Housewives obsessives can bask in the fact that there is *finally* a Real Housewives bottomless brunch and it's in London.
The Real Housewives dinner and quiz (yes, quiz!) costs just £49pp and gives you the chance to show off your reality TV knowledge while sipping on unlimited fizz. Who's feeling Jovani? It's turtle time...
Located at Restaurant Ours, the spot also host a range of other brunches, including a 90s bottomless brunch live, Mama Mia bottomless brunch and more.
33. Drag Bingo Bottomless Brunch
What could be better than a drag bottomless brunch, we hear you ask? How about drag bingo bottomless brunch in London? Combine two of the most joyful sources of entertainment - drag and bingo - and put them together to create the most entertaining brunch possible.
Hosted at Tonight Josephine branches in Birmingham, Cardiff, Liverpool and of course, London, brunchers will get 90 minutes of bottomless cocktails or bubbles risqué lip sync performances and a wild few games of bingo.
34. 80s, 90s & 00s Bottomless Brunch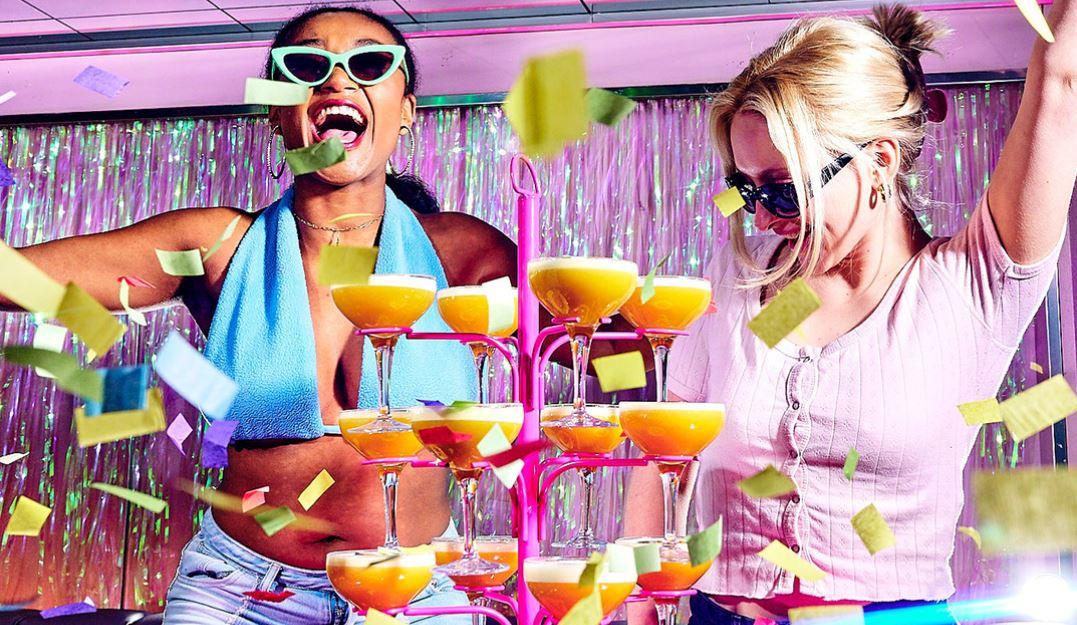 We may have just uncovered *the* best bottomless brunch in London for millennial hens. If you're a group of hen do goers who listen to Kisstory or Capital Reloaded and think, "HOW is this already a throwback?", you will love the Now That's What I Call Brunch event at Tonight Josephine.
Bringing pop world to the world of bottomless brunches, this could be one of our favourite hen night ideas in London. The event promises to burst at the seams with pop bangers whilst serving your choice of bottomless Pornstar Spritz, Aperol Spritz, London Lady, bubbles or beer.
35. Bottomless ABBA Brunch in London
Huge fans of ABBA but Voyage tickets a bit out of your price range?
Not a problem - we have a London hen do activity that allows you to sing all the classic ABBA tunes, have 90 minutes of unlimited fizz and cocktails, eat a delicious brunch dish and experience incredible entertainment from West End stars and drag queens.
Yes, we're talking about a bottomless ABBA brunch in London. Hosted at Blame Gloria, it'll only cost you £55 and you can choose from the Clapham Junction or Covent Garden branches - both excellent areas for a London hen do in our opinion.
How to Plan a Hen Party in London
The hen party experts Team Hen are no stranger to London hen do ideas, and their founder, Danielle Kendall has shared her expert tips on how to plan the perfect hen do in the UK's capital.
"Planning a hen party in London can be a blast," explains Danielle, "It's convenient location, huge range of activities and accommodation mean it's often the most obvious choice of hen party location.
"I had my hen party in London back in 2010 and it was the most perfect weekend, but whether you live locally or are just visiting, there are some things to consider to make sure you keep the wed-stress to a minimum."
When coming up with your London hen do ideas, here are the five things Danielle says you should keep front of mind.
1. Location
"London is a sprawling city," says Danielle, "So pick a central location for your activities and accommodation. Areas like Covent Garden, Soho, or South Bank are great options. This makes it easier for everyone to access and minimises travel time between activities.
"Opt for accommodation that's within walking distance or a short ride from your chosen activities. This will save you time and effort on transportation and give you more quality time together."
2. Itinerary and Reservations
When it comes to planning your London hen party activities out, Danielle advises, "Create a detailed itinerary for the day, including addresses, postcodes and estimated travel times between activities. Make sure you have enough time for each event, allowing for getting from A to B, how you're going to travel ( walk, tube, cab etc), traffic and delays in the schedule.
"Since Covid, you can barely breathe in London without having made a reservation - so you'll need to be organised. Hen parties often involve large numbers of people, so reservations even for a table in a bar or pub are a must.
"Make reservations for restaurants, activities, and any special experiences well in advance. London can get busy, and you don't want to be stuck waiting for a table or missing out on something you had your heart set on."
3. Think About the Hen and Budget
This may sound like an obvious one, but it's surprising how many hen party planners lose sight of the budget or what their friend *actually* wants from their London hen do.
Danielle explains, "Consider the likes and dislikes of the nearlywed and the group when planning activities and dining options. It's their special day, so tailor the experience to their tastes.
"Also keep in mind the budget - seemingly inexpensive activities and meals will quickly add up, so always look for group bookings, deals and discounts where possible. London can be pricey, but there are plenty of budget-friendly options for dining, entertainment, and hen do activities."
4. Communicate
Yep, you guessed it, it's time to set up that hen party WhatsApp group...
"Set up a group chat or use messaging apps to keep everyone informed about the day's plans and any changes," advises Danielle, "This ensures that no one gets lost or left behind. The detailed itinerary will also help anyone who is joining later on, or for part of the hen party."
5. Go With The Flow
Danielle's final piece of advice when piecing together all of your London hen do ideas is to go with the flow and allow for spontaneous activities too, "While planning is essential, don't forget to build in some flexibility.
"Unexpected delays can happen, and you want to be able to adapt without stressing out the group. Consider leaving gaps in the itinerary for a walk by the river, enjoying the street performers in Covent Garden exploring a famous landmark."
Now you have ideas of what to do, and tips to help you plan it, check out our guide to hen party dares, and our selection of hen party games to ensure everyone stays entertained all weekend.