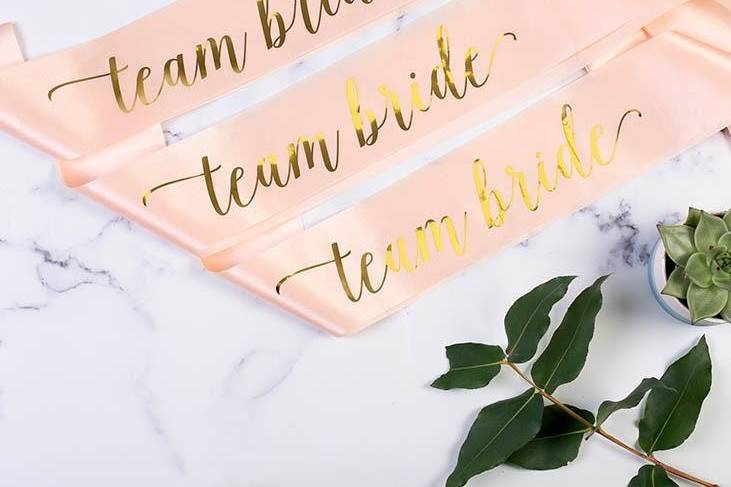 Congrats! You're a maid of honour (or bridesmaid), and you've been given the *hugely important* responsibility of planning your girl's hen party!
Of course, you want to give her the night she's always dreamed of, so you'll already know that any great hen party starts with stylish and sophisticated hen party accessories.
Here at Hitched HQ we're total suckers for a great set of hen party sashes, so we've rounded up the prettiest designs of the moment. From pink hen party sashes to sashes for a monochrome-loving bride, this edit has something that every bride-to-be and her squad will love. It's time to get shopping!
NB: We have included third party products to help you navigate and enjoy life's biggest moments. Purchases made through links on this page may earn us a commission.
READ MORE: How to Plan a Hen Party
Ginger Ray Team Bride Hen Party Sashes – £14.99 for 6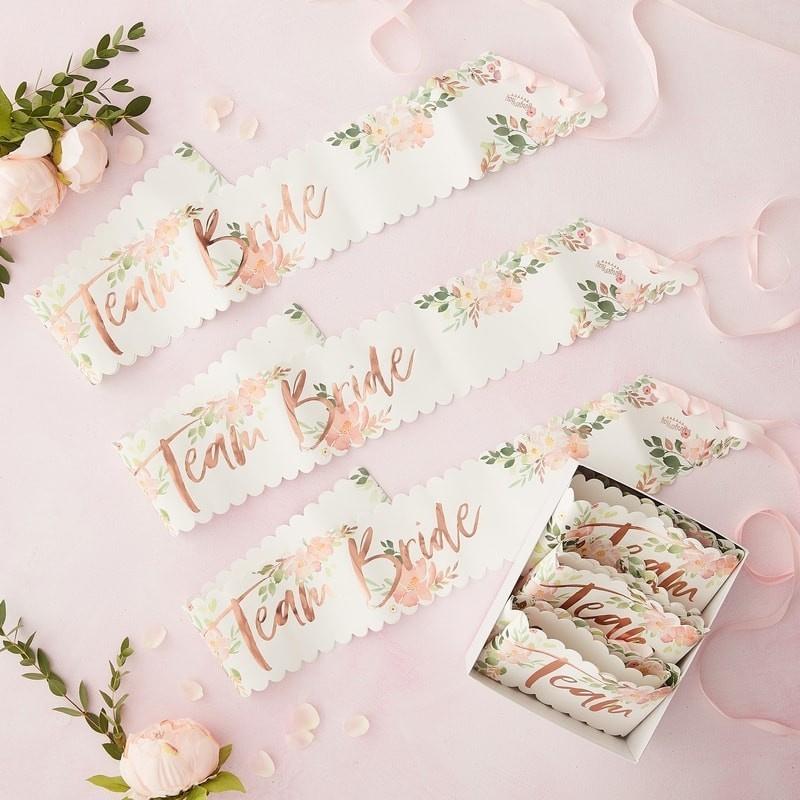 Ginger Ray has always been a firm favourite here at Hitched for their impossibly pretty party accessories.
We're huge fans of these white sashes, which have rose gold "Team Bride" foiling and a beautiful floral design. They'll be loved by all the hens and ensure you celebrate in style!
Ginger Ray Pink Bride Tribe Sashes – £14.99 for 6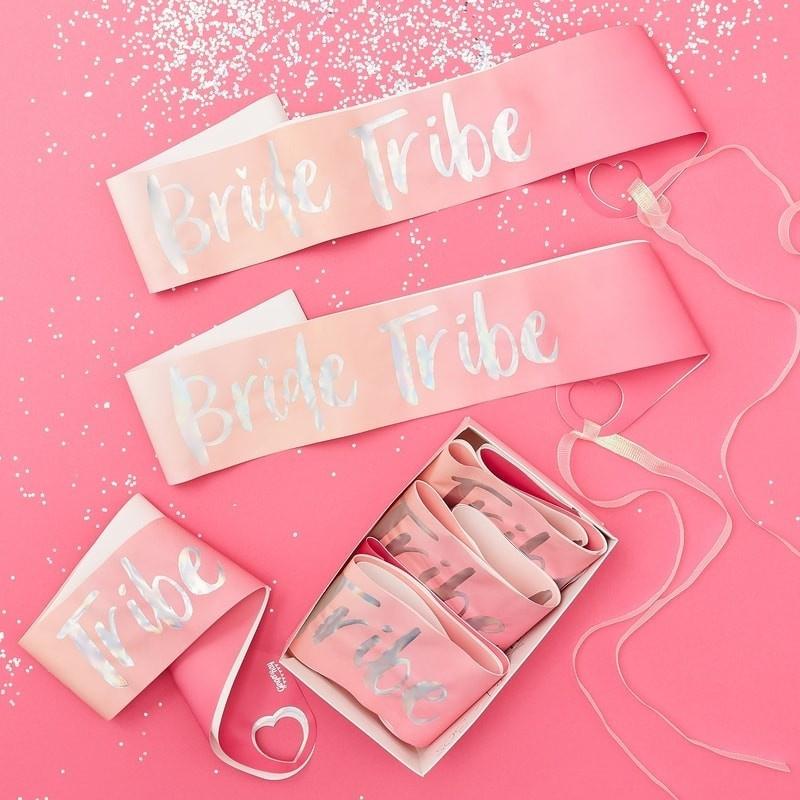 Up next is another design from Ginger Ray, but this time something a little brighter.
Their pink hen party sashes cost £14.99 for a pack of six and feature iridescent "Bride Tribe" foiling. Thread the pretty pink ribbon through the sash to fasten.
READ MORE: How to Plan the Ultimate 90s Hen Party
Ginger Ray White & Gold Foiled I Do Crew Sashes – £14.99 for 6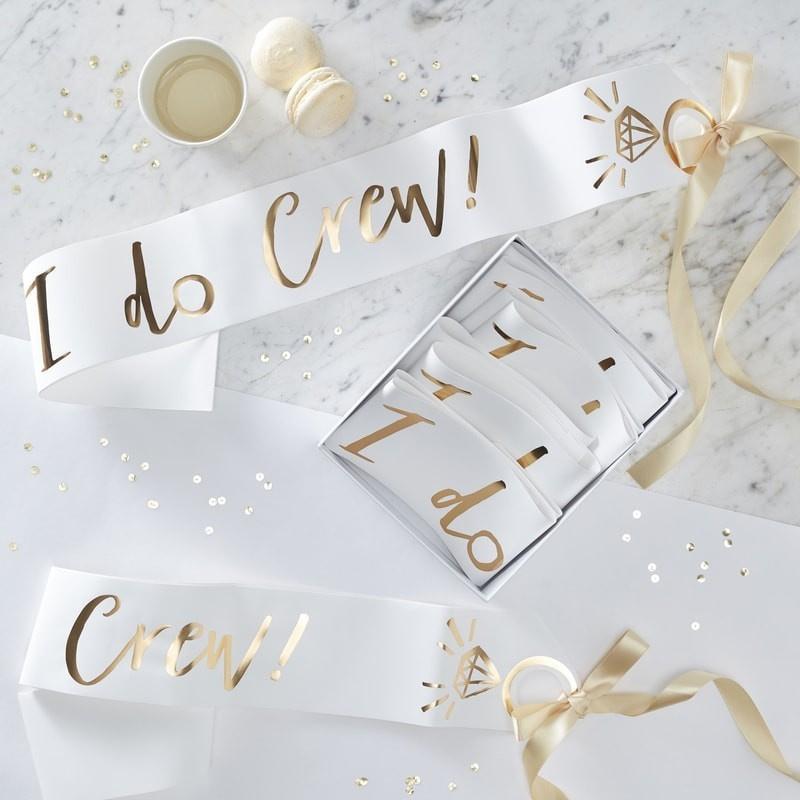 Go for something a little more traditional with these white foiled sashes by Ginger Ray. They'll have everyone feeling part of the 'I do' crew.
The gorgeous gold foiling is a stylish addition to an otherwise simple design. Hens can even take them home as a keepsake!
Cherry Hen Party Sash – £10.99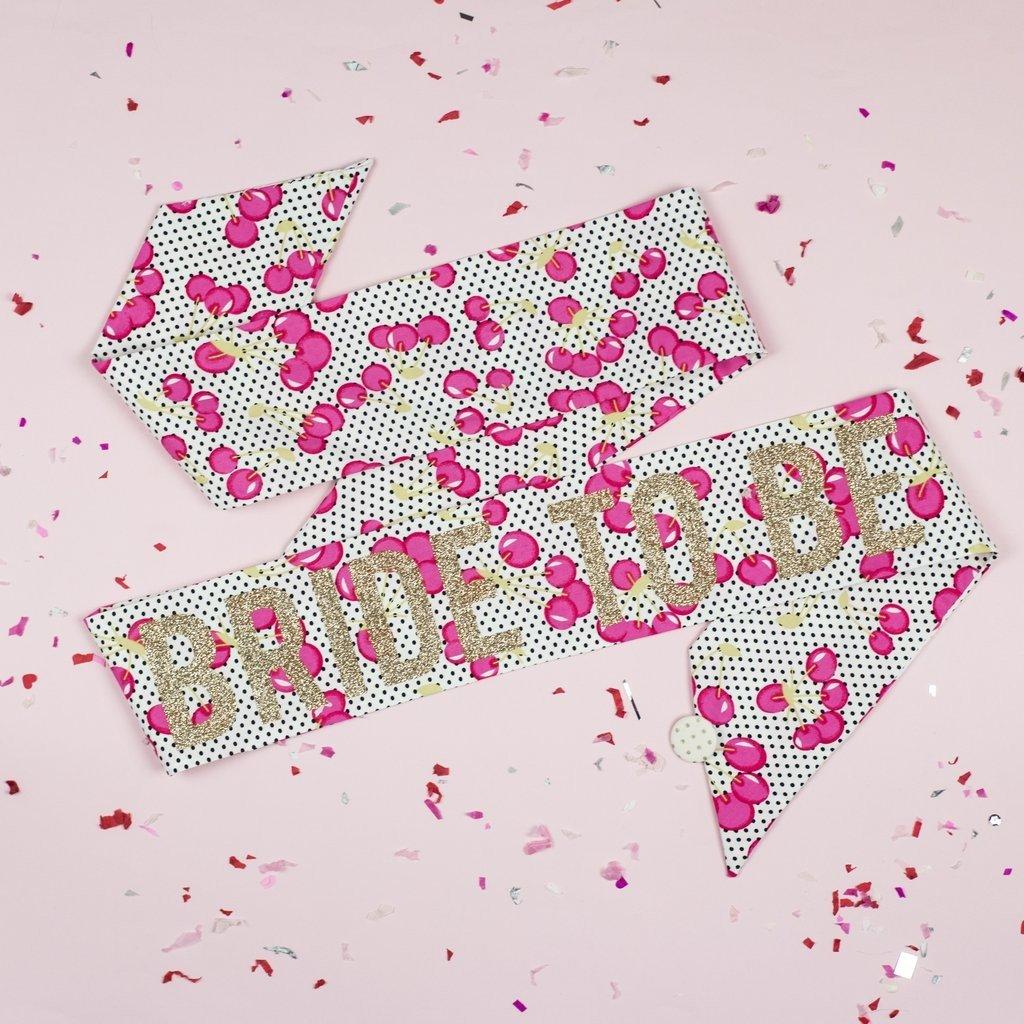 Inject a bit of fun into your party with these adorable handmade cherry hen party sashes. They're perfect for a retro-loving bride!
These sashes are made from a bright, rockabilly print fabric and feature gold, glittered text. One thing's for sure: if you don these sashes at the hen party you won't go unnoticed.
READ MORE: 47 Vintage Ideas for Your Wedding
Black & Gold Bride to Be Sash – £8.99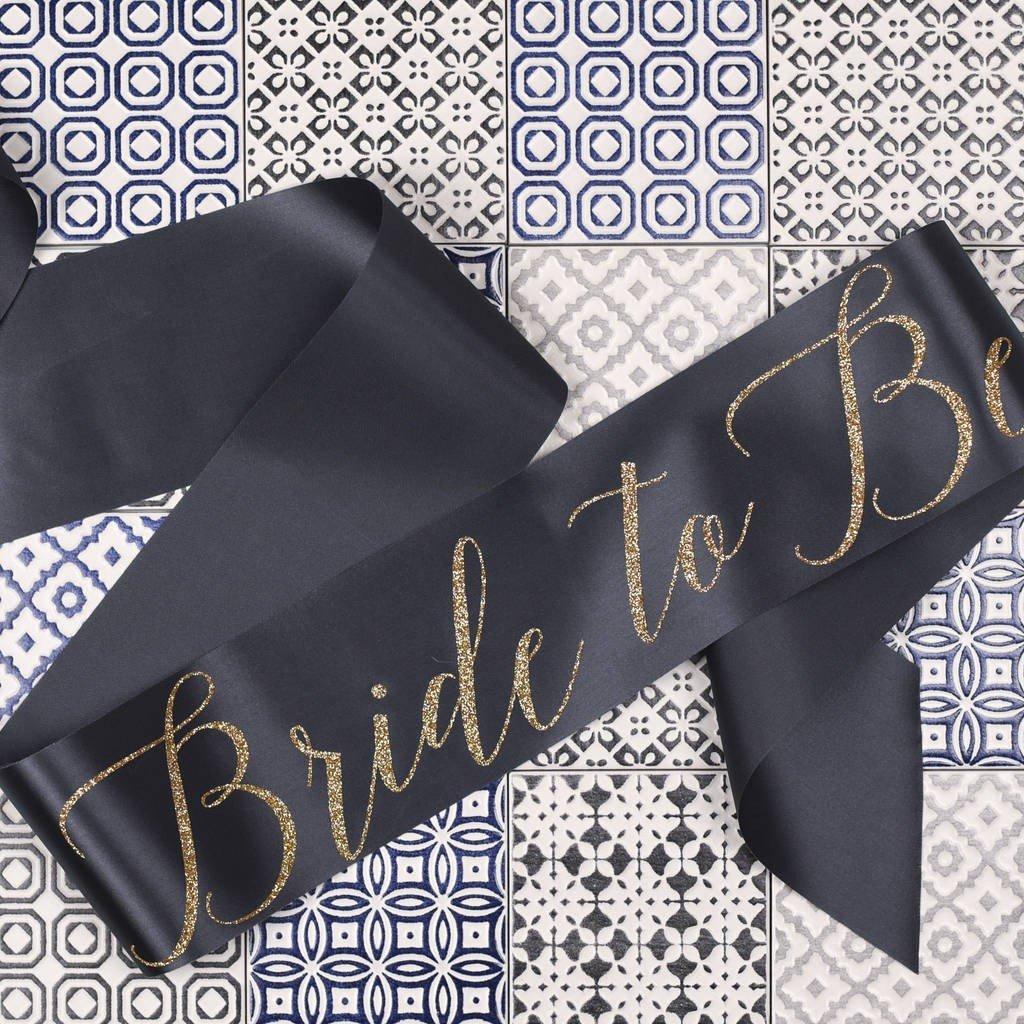 Keep it simple with these beautiful black and gold sashes from The Hen Planner.
They're perfect for that bride who isn't so girly and feature gorgeous calligraphy-style text. They'll even come wrapped in a pretty box – what a lovely touch.
Oh Squirrel Gold Glitter Pin Dot Hen Party Sash – £19.95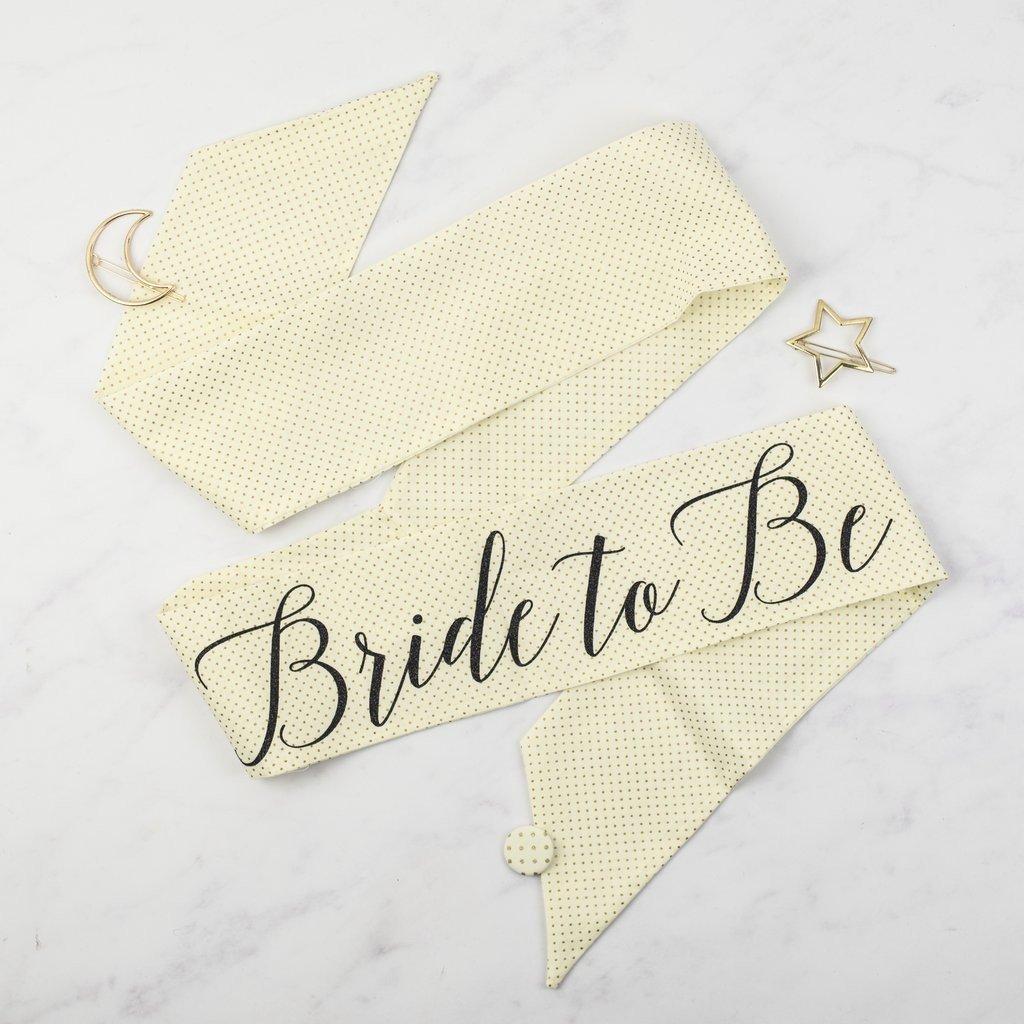 If your BFF is the sunshine in your life, treat her to this lovely yellow bride-to-be sash by Oh Squirrel.
Not only is this sash handmade, but it can be personalised with striking glitter lettering to really make the bride feel special. Oh, and did we mention it'll look great in your photographs?
Oh Squirrel Star Print Personalised Hen Party Sash – £16.95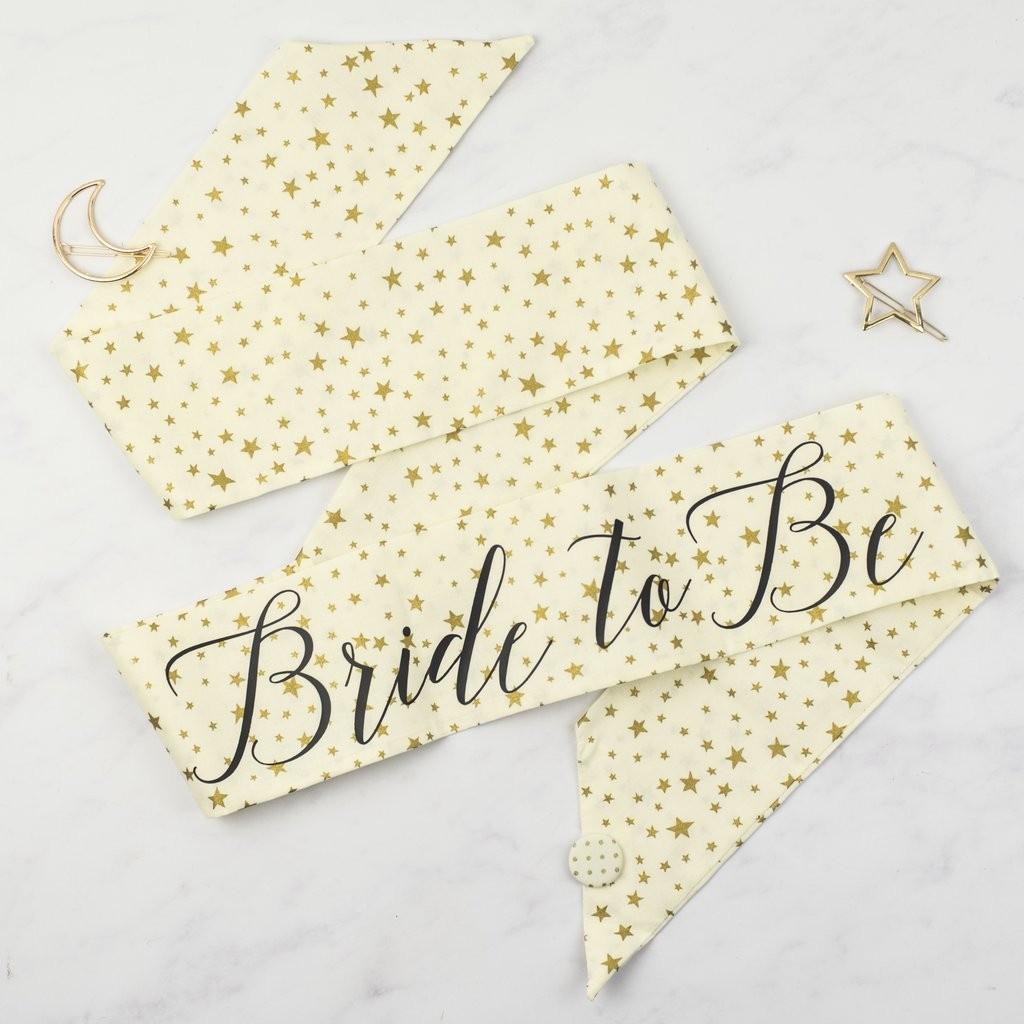 Is your bride having a celestial-themed celebration? These gorgeous star print sashes will be a gentle nod towards her out-of-this-world big day.
Since all sashes by Oh Squirrel are handmade from lovely fabrics, they're perfect for that bride who's adamant she doesn't want any tat at her hen do.
Choose from "bride to be", "blushing bride", "future Mrs. Surname" or "Mrs. Surname to Be" personalisation.
READ MORE: The Ultimate Guide to Wedding Themes
Oh Squirrel Pretty Blue Floral Personalised Hen Party Sash – £15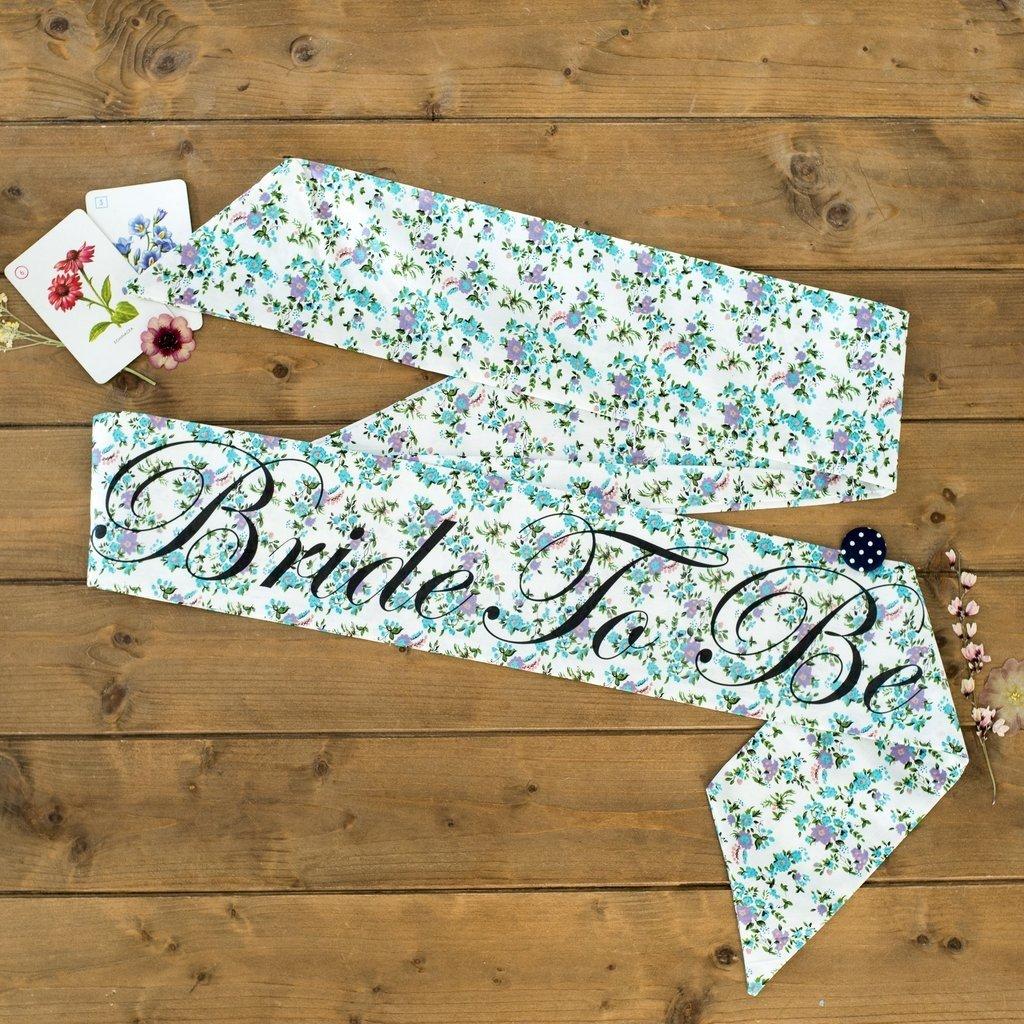 This vintage style floral sash will be sure to make any bride feel special at her hen do.
We love the beautiful blue and purple floral fabric, and there's a whole host of phrases which can be embossed on the front! Whether you're a bridesmaid, mother of the bride or beautiful bride-to-be, there's a sash in this range for you.
Oh Squirrel Flamingo Personalised Hen Party Sash – £16.95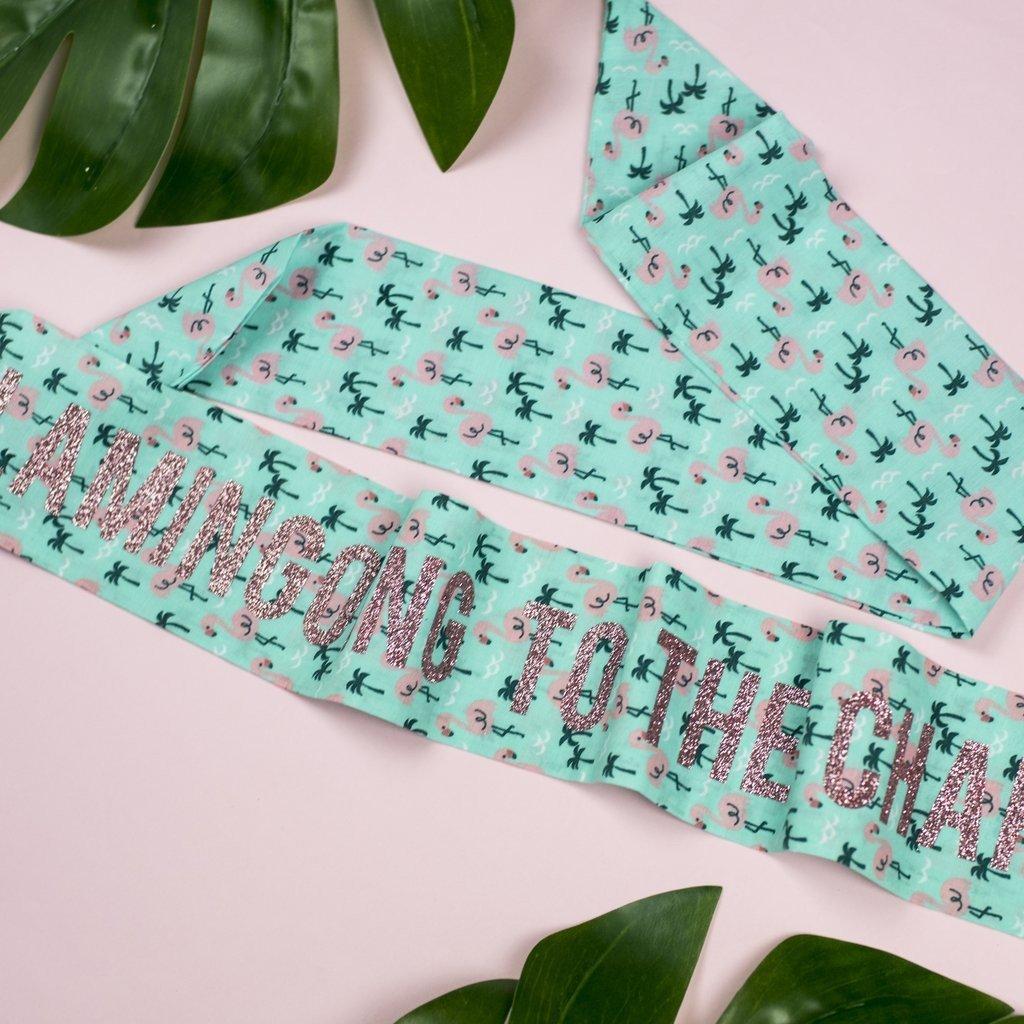 How cute are these flamingo hen party sashes? They're perfect if you're heading abroad for a hen party in the sun.
We love the "Flamingoing to the Chapel" glitter wording, although this can be switched up to read "Bride to Be", "Bridesmaid", "Maid of Honour", "Blushing Bride" or "Wifey for Lifey". Ibiza hen party, here you come!
READ MORE: 22 Fun & Affordable Hen Party Bag Fillers
Team Hen Bridesmaid Hen Party Sash – £3.99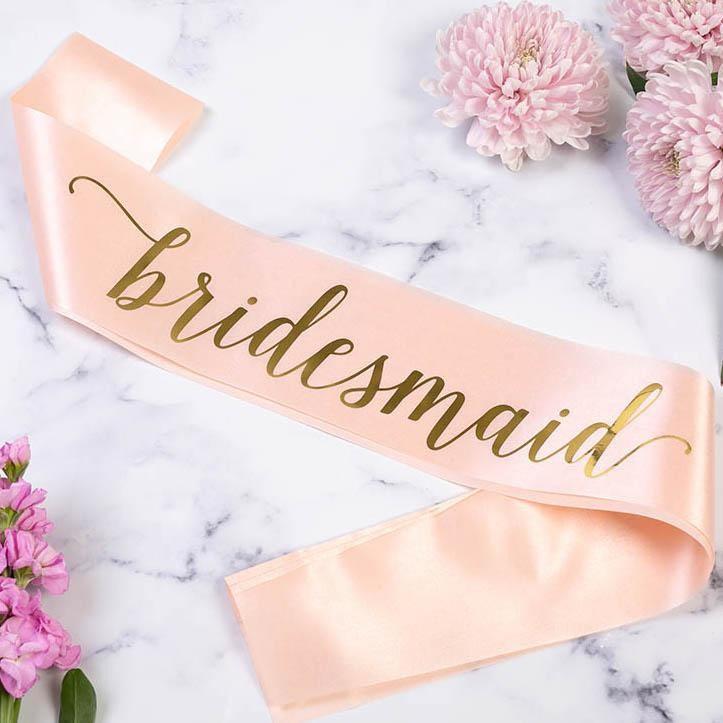 Not only are these gorgeous bridesmaid sashes just £3.99 (we know, total steal!), but they're made from a lovely satin fabric and look totally elegant.
For that bride who likes to keep things subtle and understated, we can't think of a better design.
Team Hen Team Bride Hen Party Satin Sash – £2.50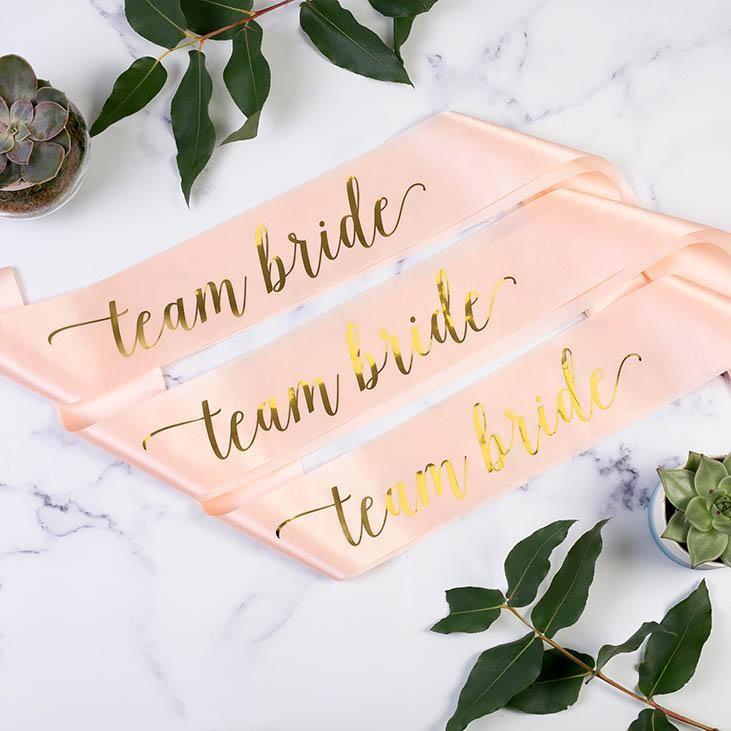 These gorgeous soft pink and gold Team Bride sashes are the perfect addition to any hen party – and they're only £2.50!
If your bride is a lover of all things rose gold, these affordable yet beautiful hen party sashes are the way to go.
READ MORE: The Ultimate Rose Gold Wedding Guide
Blossom Girls Bride to Be Sash – £5.99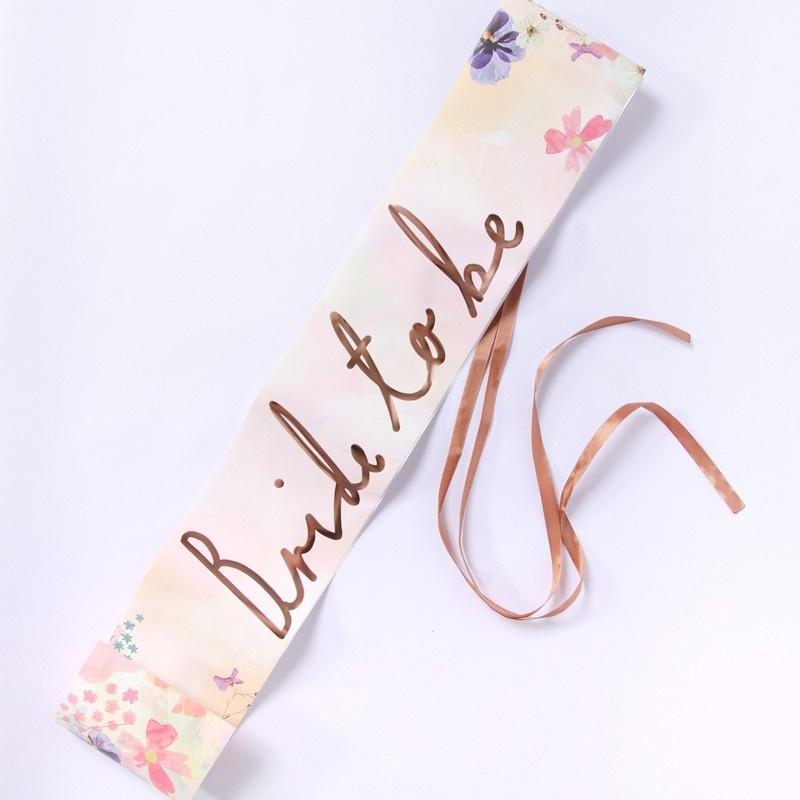 Boho brides will love these pretty, floral hen party sashes.
Featuring the phrase "Bride to be" in sparkly gold-foiled calligraphy, this sash is a stylish way to celebrate the bride-to-be in your life. Why not make her a flower crown while you're at it?
READ MORE: 47 Beautiful Boho Wedding Dresses
Oh Squirrel Pink & Red Spot Hen Party Sash – £16.95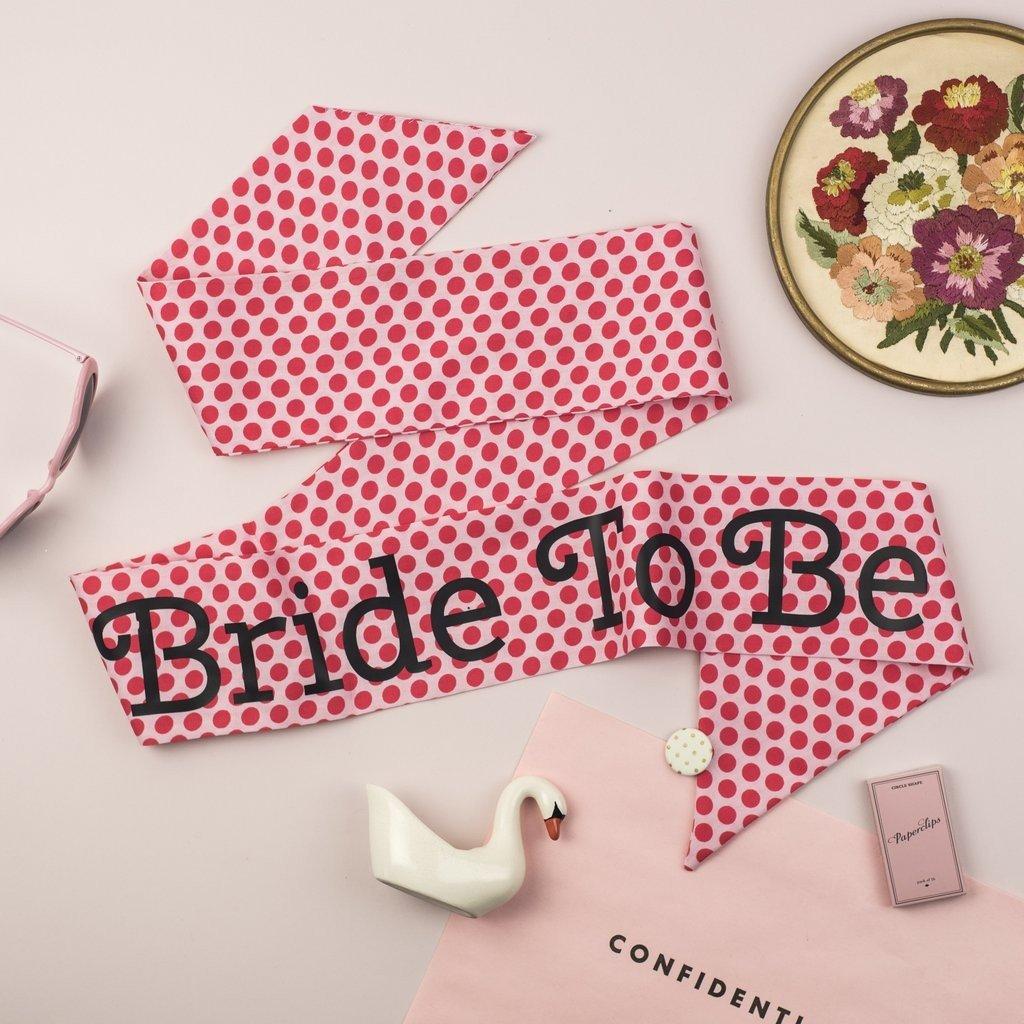 If flowers aren't really your bride's thing, how about opting for something spotty? This gorgeous pink and red hen sash is so cute and screams all things retro.
Choose from a range of different phrases – the bride will treasure this long after her big day!
Oh Squirrel Tropical Personalised Hen Party Sash – £16.95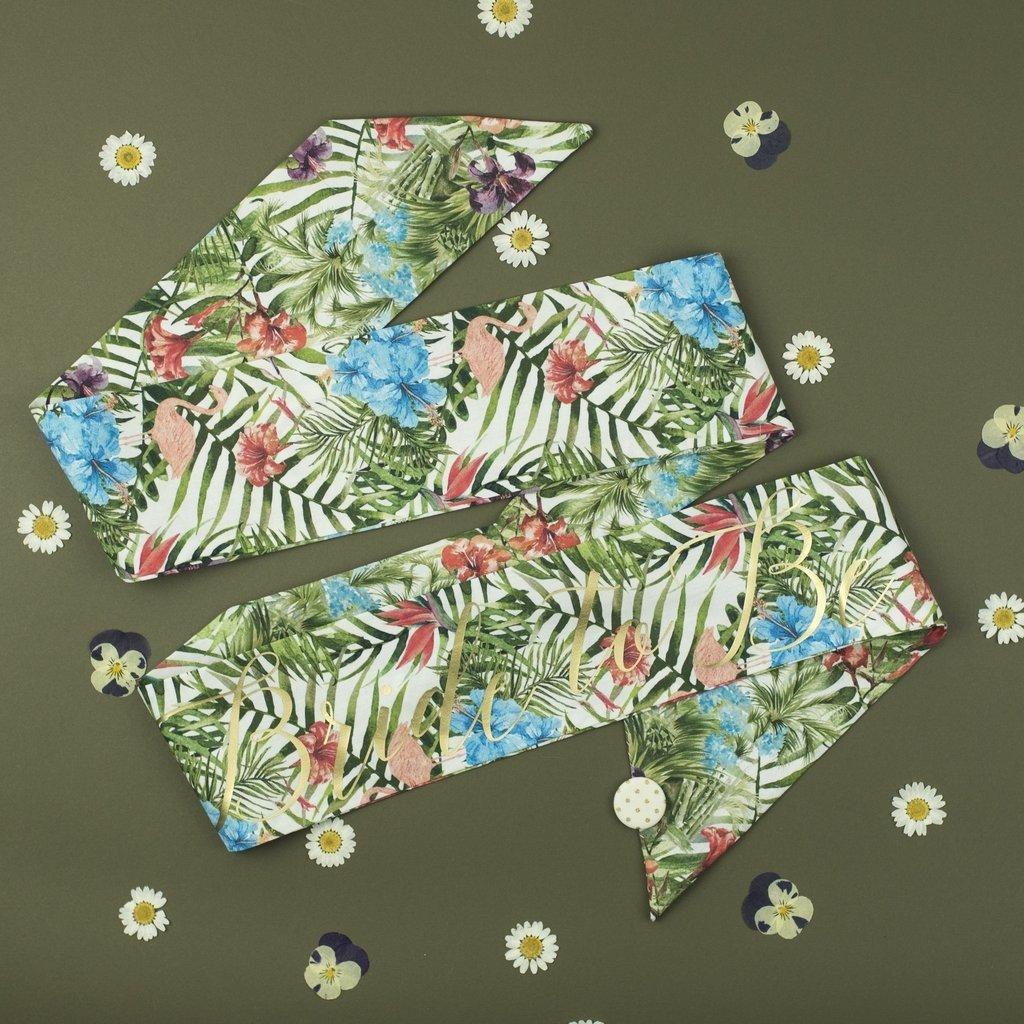 We're so obsessed with this amazing tropical print hen party sash, perfect if the bride is getting married abroad!
Set the tone for her tropical big day by choosing a fabric which is equally as sunny. These sashes can be personalised in a variety of ways – we're huge fans.
Livi & Belle Personalised Papercut Style Bride to Be Sash – £19.95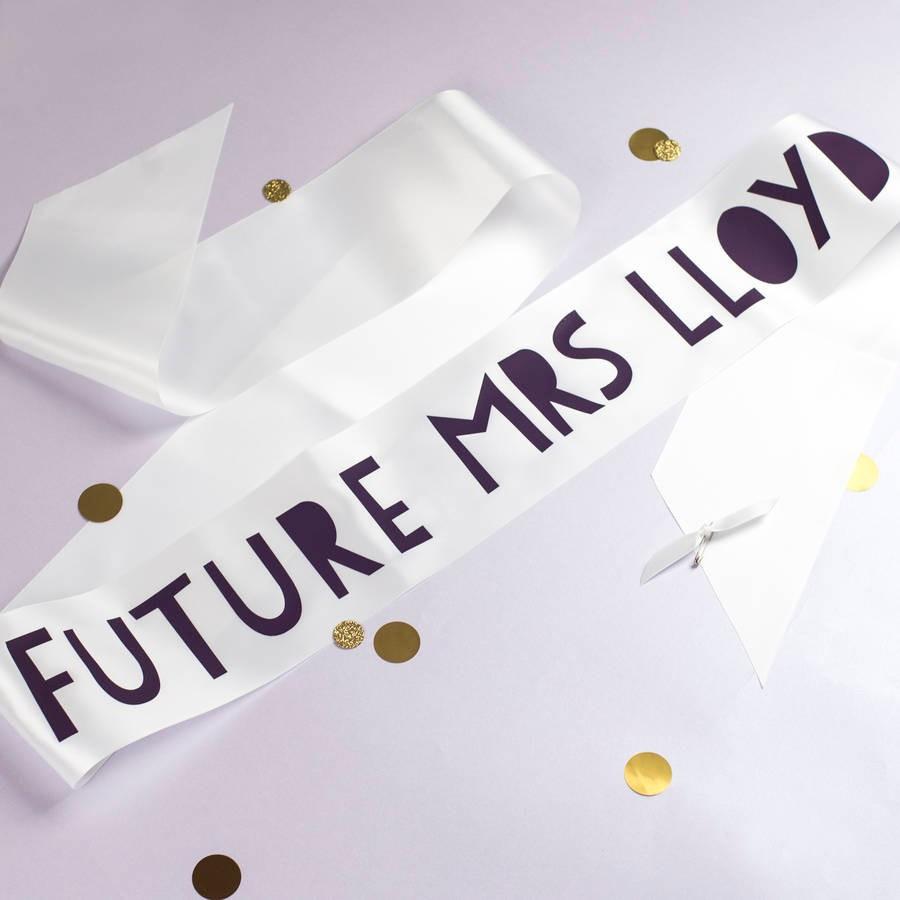 We love this beautifully luxurious hen sash made from double satin ribbon. It is personalised and printed in a contemporary papercut style and can be ordered boxed or unboxed.
For brides that want something a little different to the usual pink and floral hen party sashes, this Livi & Belle design is perfect .
Team Hen Bride to Be Sash – £4.49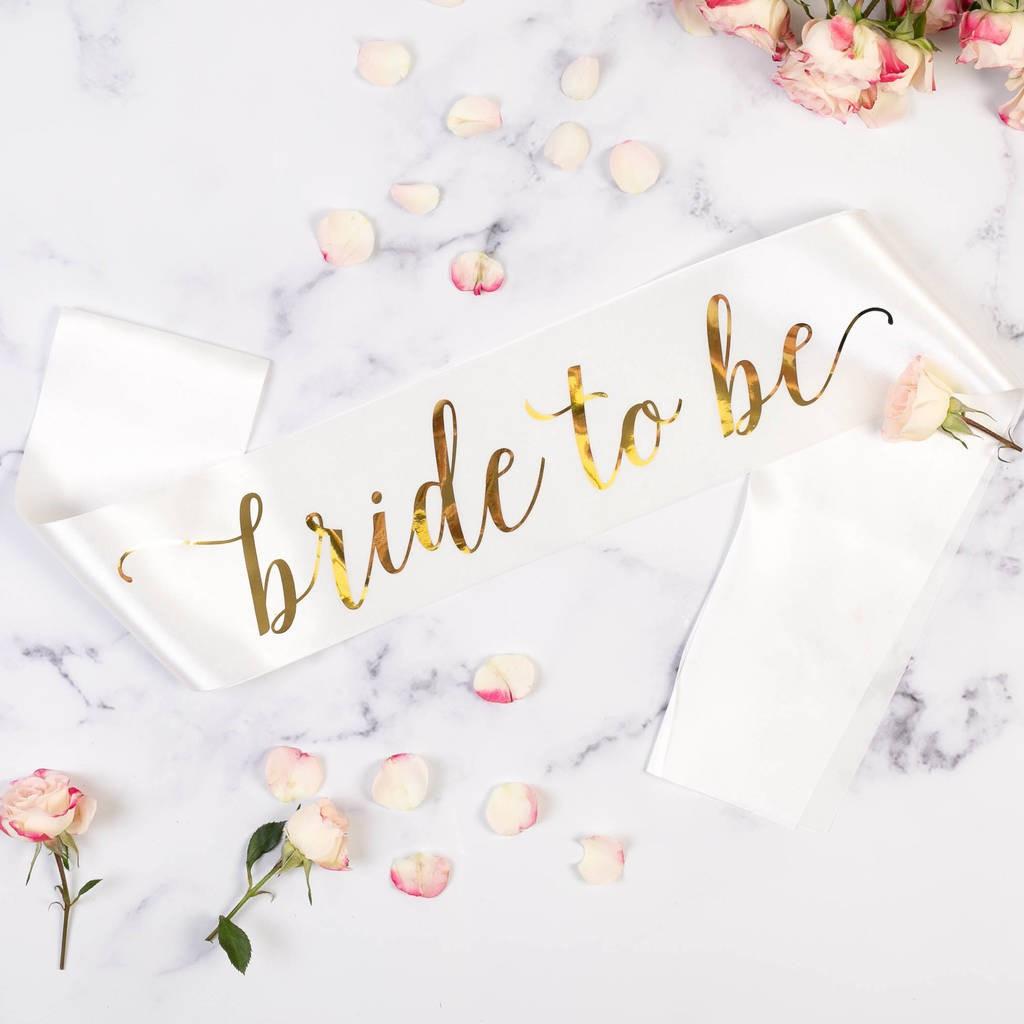 This gorgeous satin sash is the perfect accessory for the bride-to-be on her hen night.
It is available in white or pink, and matching "Maid of Honour", "Bridesmaid" and "Team Bride" sashes are also available.
Postbox Party Hen Party Floral Blossom Sash – £7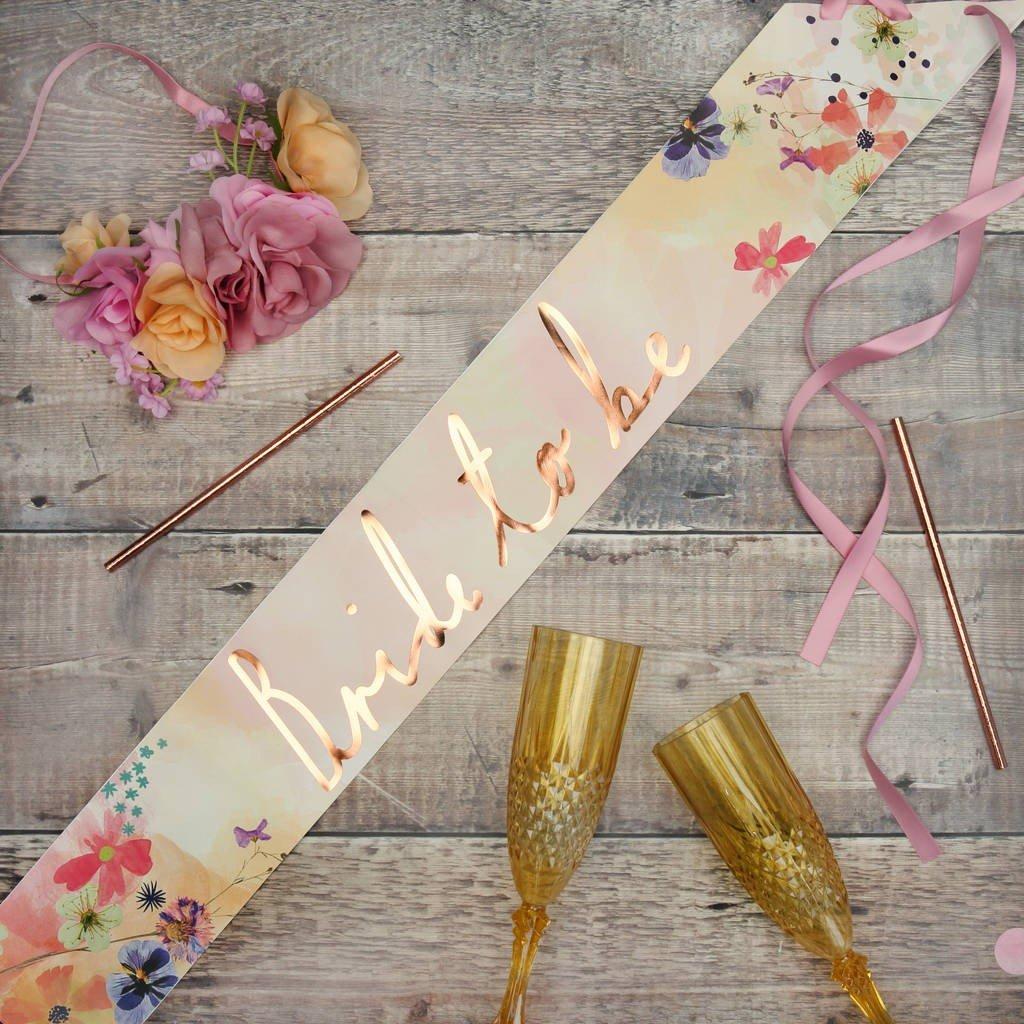 There's no way that the bride-to-be won't feel super special at her hen party if you treat her to this lovely floral wedding sash by Postbox Party.
The floral print paper sash is tied with pretty pink ribbon and embellished with "Bride to Be" rose gold foiling. We're in love!
All Things Brighton Beautiful Bride to Be Sash – £4.95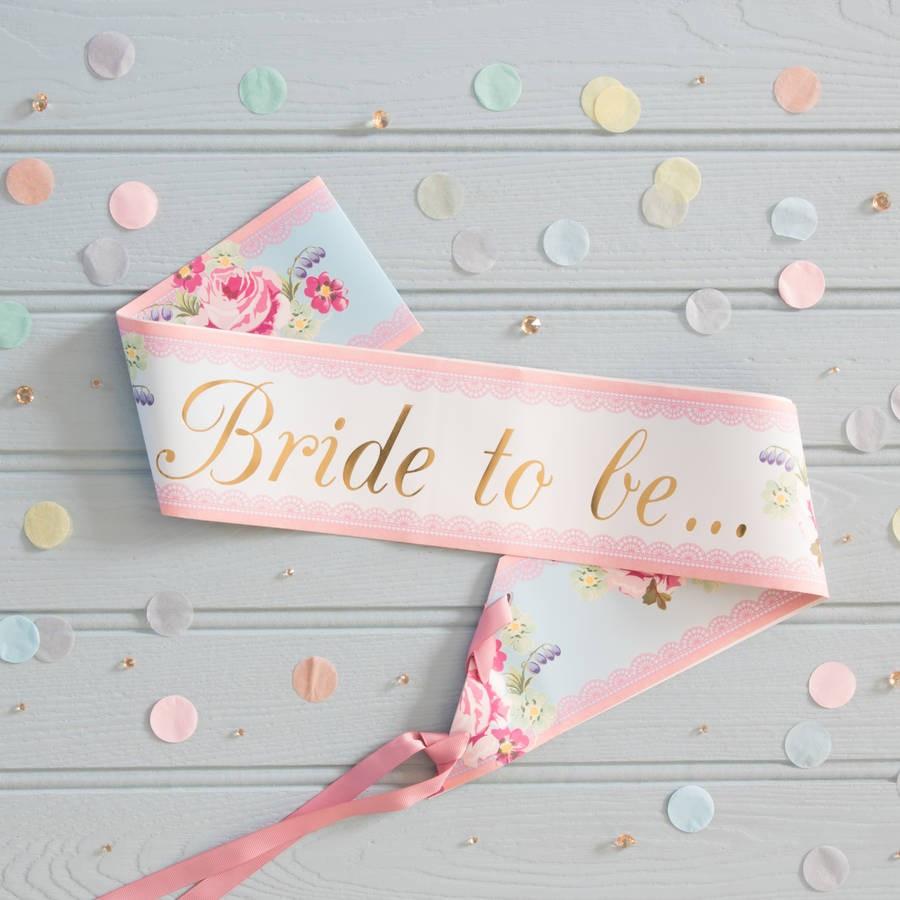 Perfect for the girly, pink-loving bride in your life, this cute vintage-inspired hen party sash will ensure your bride remembers her night forever.
The writing on the sash is gold and there's a lovely pink ribbon to tie the sash together.
Oh Squirrel Glitter Ribbon Bride to Be Sash – £12.50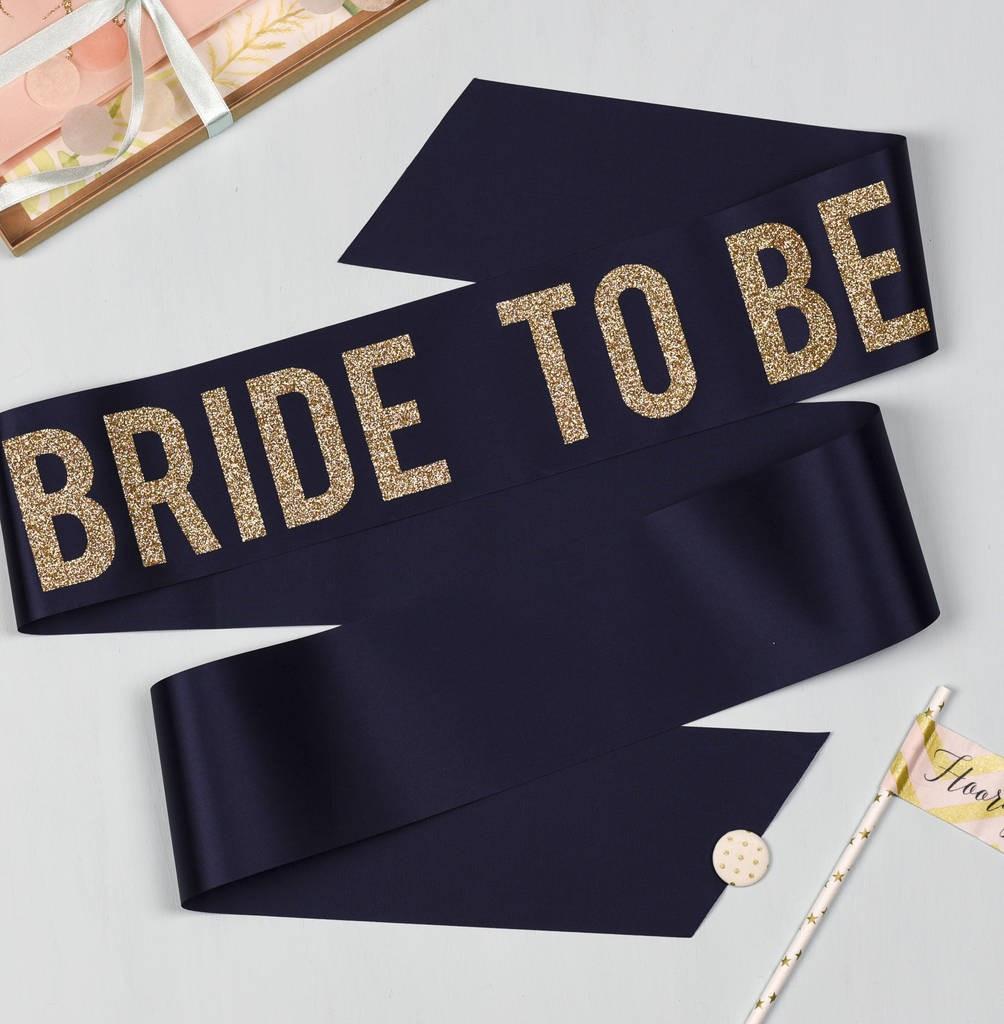 This glitter sash by Oh Squirrel is available in seven on-trend colours, but we love the navy shade.
You can choose to have your text printed on just the front or the front and the back, and it comes boxed up and wrapped in tissue paper creating the perfect gift for your bride-to-be. What's not to love?
Postbox Party Hen Party Floral Sash – £7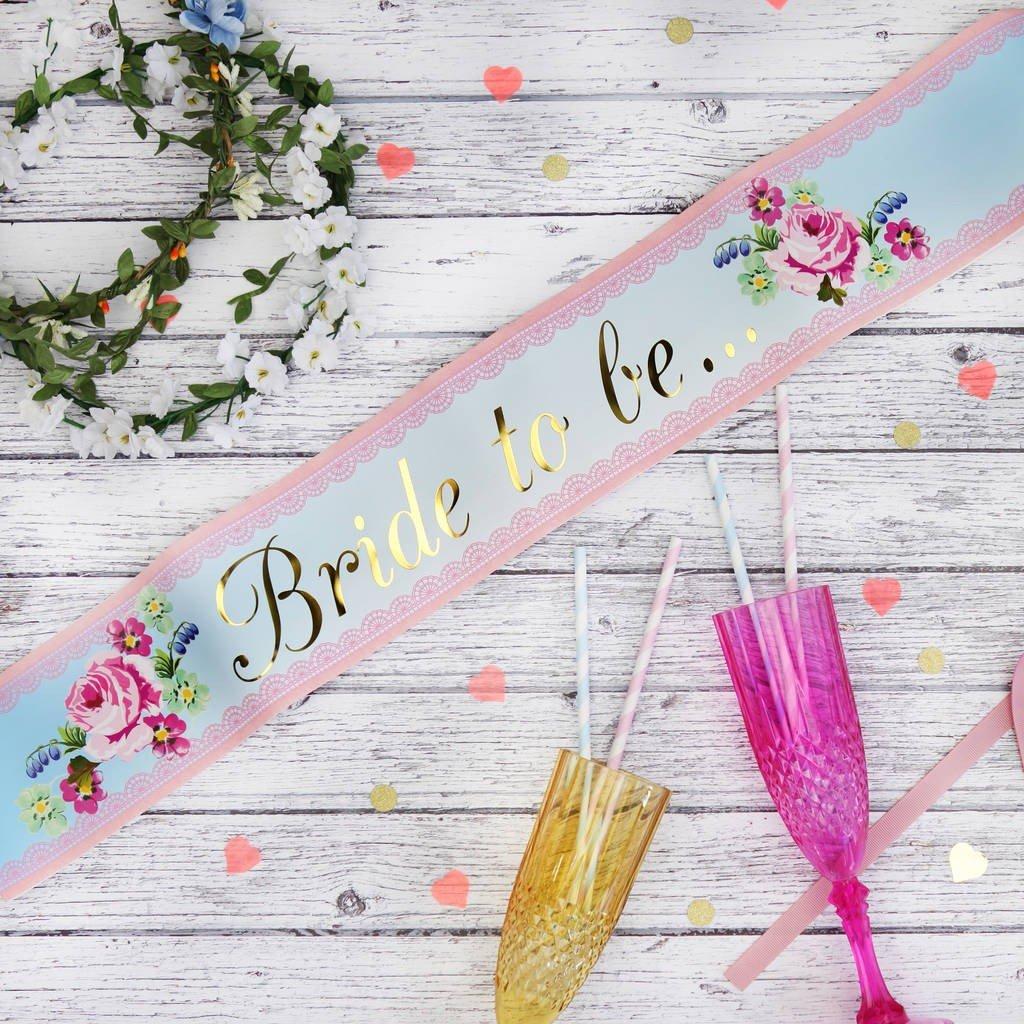 This wonderfully unique and tasteful sash is the perfect addition to any hen party.
The blue and pink sash has a floral design with gold lettering and ribbons – it'll make the bride-to-be feel totally fabulous on her hen night!
Add additional extras like badges, inflatable crowns, temporary tattoos and more to any order.
Livi & Bella Papercut Style Hen Sash – £16.75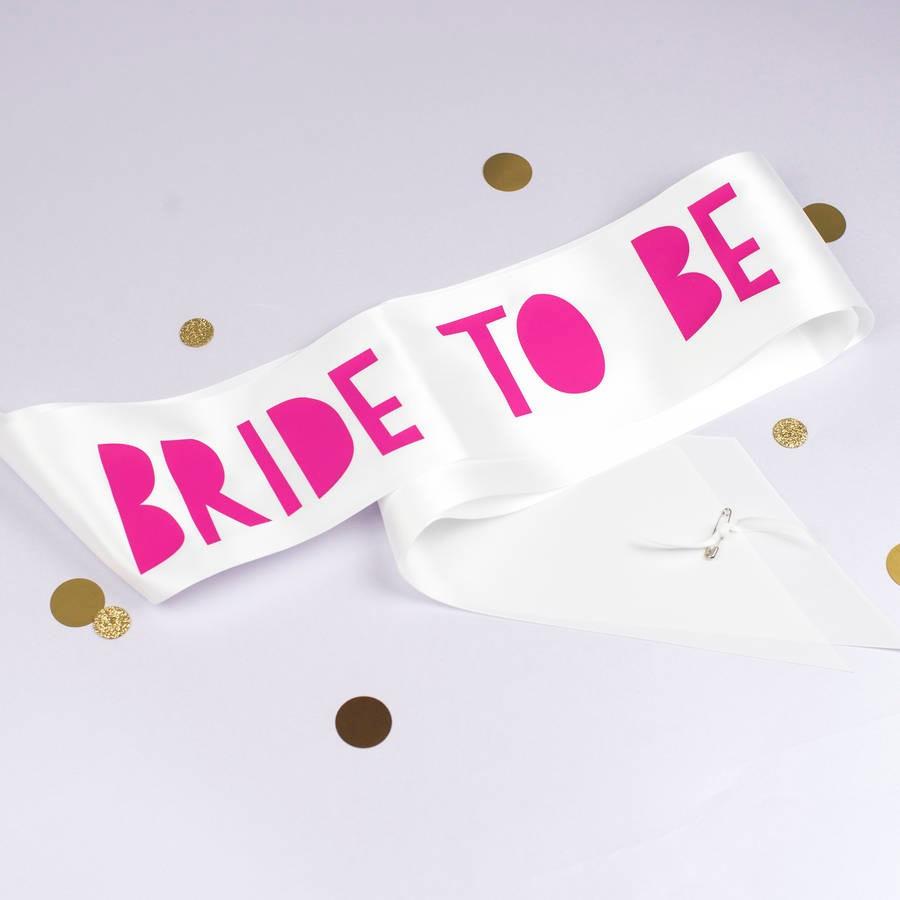 How lovely is this modern bride-to-be sash? We're huge fans of the papercut style lettering – it's a great alternative to traditional calligraphy fonts!
This sash comes with a safety pin and matching ribbon to allow the bride to secure it and ensure fit and comfort.
Ginger Ray Team Bride Floral Hen Party Badges – £5.99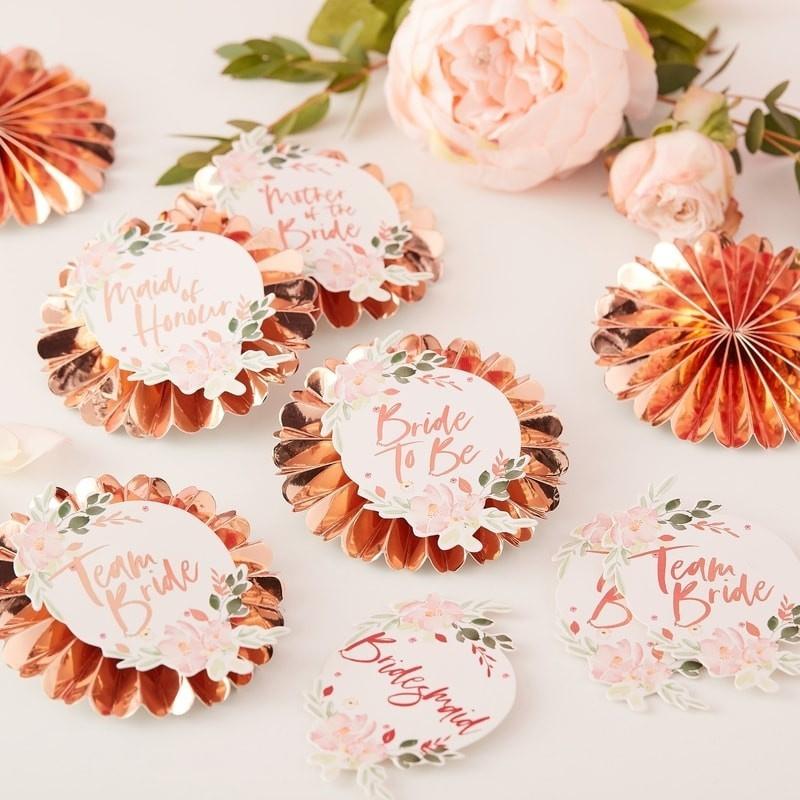 If a sash is not floating your boat, how about picking up these fabulous team bride badges instead? They're customisable, super pretty and each pack comes with six badges and 12 stickers. We're huge fans.
READ MORE: 31 Unusual Hen Party Ideas for Brides Who Want Something Different
Now you've got your hen party sashes selected, you'll want to pay attention to the finer details! Check out our round-up of the best hen party games which will break the ice and get everyone chatting.