15 of the Most Stylish Hen Party Sashes for You & Your Squad
From personalised designs to stylish accessories, these hen party sashes are the perfect finishing touch for you and the rest of the I-do-crew
We have included third party products to help you navigate and enjoy life's biggest moments. Purchases made through links on this page may earn us a commission.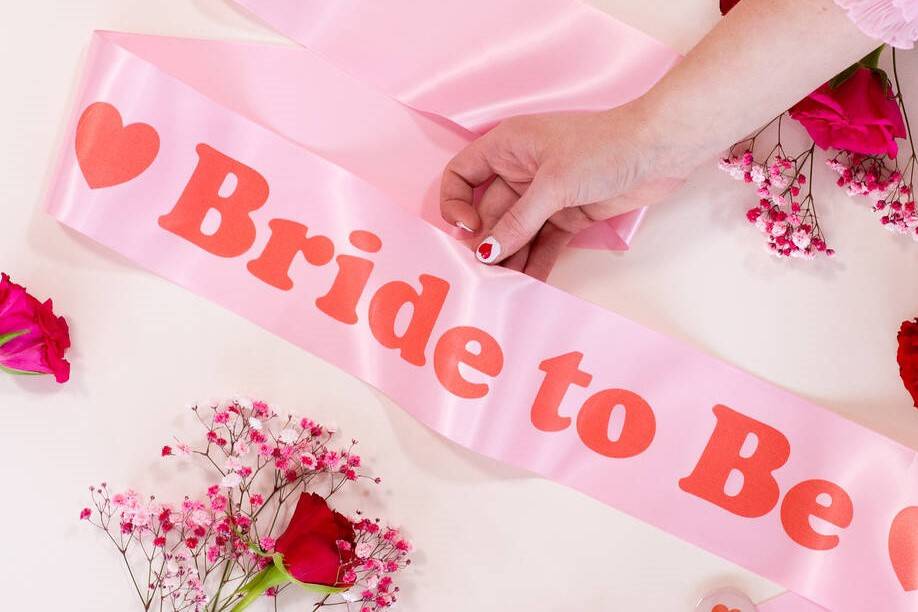 Congrats! You're a maid of honour (or bridesmaid), and you've been given the (hugely important) responsibility of planning your pal's hen party, and when doing so, there's one accessory you absolutely need on the list - and that's hen party sashes.
Of course, you want to give them the day or night they've always dreamed of, and you'll already know that any great hen party starts with stylish and sophisticated accessories. We're total suckers for a great set of hen party sashes, so we've rounded up the prettiest designs of the moment.
Hen Party Sashes: 15 of Our Favourite Hen Night Sashes for the Crew
From pink hen do sashes for a Barbie themed hen do, to personalised hen party sashes that will make a lovely keepsake, and even hen sashes that are crafted from luxe fabrics, this edit has something that every squad will love.
And the experts agree, "If it's something that the bride definitely wants, then it's such a great way to make them feel really special," explains Katie Wagstaff, creator behind Oh Squirrel. "I've seen so much footage (and had IRL experience) of the hen party really kicking off when the bride puts on their sash, I don't know what it is, but it's so much fun to see!"
1. Silver Hen Party Sash – £9.99, The Wedding Of My Dreams
If the bride has decided their hen do outfit has to be white, this silver design will match perfectly. This hen party sash features an adjustable tying silver ribbon and we're obsessed with the attention to detail - the white engagement ring decoration is so cute.
Pros & Cons: This hen sash is coated in glitter so will look amazing under sunlight or fairy lights. If any transfers during the day or night, that'll only add to a sparkling outfit.
2. Custom Hen Party Sashes – £16.10, Etsy
Keep it simple with these beautiful pink and gold designs from Etsy. The foiling on these hen do sashes is available in rose gold or silver too, plus if you're not into the pink colourway, choose from other colours such as soft blue, black and champagne.
They've received lots of great reviews, including one which said, "Fantastic quality, the sashes were the perfect material and the lettering was clear and beautiful. It arrived exactly as ordered, and was very nicely packaged and arrived early. I kept them in the individual boxes until the night of our outing and they were not creased at all, which definitely shows the quality and care that went into packaging them."
Pros & Cons: Each hen sash is individually wrapped in a box so they'll make a lovely gift to pop inside a hen party bag. They come with an adjustable pin to fit around any outfit.
3. Hearts Bride To Be Hen Party Sash – £10, Oh Squirrel
Oh Squirrel have got to be one of our favourite places to shop hen party accessories. This modern design is so fun and playful - ideal for someone who wants something a little different from the rest. The contrasting red and pink design will stand out from the crowd and make an entrance.
Choose from several wording options, such as 'maid of honour', 'hen party' and 'mother of the bride' so everyone can have hen party sashes that match in design.
Pros & Cons: There are two lengths available, a regular and a longer length which is ideal if you are catering for different heights and body shapes. It is recommended that you hang the sash up before wearing, so any creases drop out, but it's nothing a steamy bathroom couldn't iron out.
4. Boho Bride To Be Sash – £5.49, Team Hen
No festival hen party would be complete without a beautiful boho accessory - and we love this bohemian style hen party sash, so chic. This design from Team Hen is adorable, featuring a pretty pink velvet ribbon fastening and a delicate floral design.
Pros & Cons: This sash is part of Team Hen's boho hen collection, so you can buy hen party decorations to match the theme. It's made from durable paper so will withstand any spilt drinks.
5. Personalised Hen Party Sash – £7.50, Postbox Party
Whether you're planning a Manchester hen party, are heading to a Brighton hen party house, or anywhere in-between, personalised hen party sashes with the location outlined is a really fun way to reveal to the bride where she'll be celebrating.
This design comes in seven different background and text colours, and you won't have to poke a hole in the satin to attach as they come with separate sticky Velcro strips that each guest can fit to themselves.
Pros & Cons: A custom hen party sash means you won't bump into any other hen parties with the same style. Make sure you have finalised the hen do destination first before printing.
6. Star Print Personalised Hen Party Sash – £20, Oh Squirrel
Is your friend having a celestial-themed celebration? If so, these gorgeous star print accessories will be a gentle nod towards her out-of-this-world big day. Since hen party sashes by Oh Squirrel are handmade from lovely fabrics, they're perfect for that nearlywed who's adamant she only wants classy hen accessories at her celebration.
"These are beautiful. Fantastic quality and add a touch of class to a hen party. Plus, it will go with any outfit," explained one reviewer.
Pros & Cons: The hen night sash was specially developed to fit comfortably with shaping around the neck rather than just being a simple strip - it moves with you and is easy to wear.
7. Bridesmaid Hen Party Sash – £3.99, Team Hen
Not only are these gorgeous accessories just £3.99 (we know, total steal!), but they're made from a lovely satin fabric and look totally elegant. For that nearlywed who likes to keep things subtle and understated, we can't think of a better design for her bridesmaids to rock.
Pros & Cons: The soft satin fabric of this hen party sash not only looks luxurious, but also means it'll be comfortable to wear all day and night. It is stitched at the hip so isn't adjustable but could be altered with a simple safety pin.
8. Team Bride Hen Party Satin Sash – £2.50, Team Hen
These gorgeous soft pink and gold 'Team Bride' designs are the perfect addition to any hen party – and they're only £2.50. If your friend is a lover of all things rose gold, these affordable yet beautiful hen party sashes are the way to go.
Pros & Cons: The soft pink satin is durable and doesn't scratch so it'll be able to withstand whatever it is you have planned! This is a great choice if you have a large hen party as Team Hen offer discounts if you buy six or 12 sashes.
9. Personalised Papercut Style Bride to Be Sash – £19.95, Livi & Belle
We love this beautifully luxurious hen sash made from double satin ribbon. It is personalised and printed in a contemporary papercut style and can be ordered boxed or unboxed. For those that want something a little different to the usual pink and floral hen party sashes, this Livi & Belle design is perfect.
The sash is supplied with a safety pin, with matching ribbon, to allow you to secure it to ensure fit and comfort.
Pros & Cons: You can choose from eight different font colours to match the hen party theme. Be mindful that the white background could get a little dirty - but this can be washed post-hen.
10. Floral And Rose Gold Foiled Hen Party Sash – £5.99, Ginger Ray
If a delicate and pretty design is what you're after, this style from Ginger Ray could be it. It has gorgeous rose gold foiling and a pink ribbon that threads through to tie up.
This style is so beautiful that one reviewer said their friend even used it in her wedding photo album - "Really good quality. Very pretty and bang on trend with the rose gold details. The bride has kept to use it in her wedding album."
Pros & Cons: This design is bold and beautiful so will look best paired with a hen do outfit that is on the simpler side. That's not to say you can't wear something patterned - but be mindful that it doesn't clash with the floral print.
11. Bride to Be Sash – £4.49, Team Hen
This gorgeous satin design is the perfect accessory for the nearlywed on their hen night. It is available in white or pink, and matching 'Maid of Honour', 'Bridesmaid' and 'Team Bride' sashes are also available.
It has received many glowing reviews, with customers saying these sashes are high quality and arrived in plenty of time.
Pros & Cons: As this design is simple, it is a fail-safe option that will be loved by everyone. You can even buy them before you've fully decided on your hen party idea as they'll match any theme.
12. Hen Party Floral Blossom Sash – £8, Postbox Party
There's no way that the nearlywed won't feel super special at their hen party if you treat them to this lovely floral design by Postbox Party. The floral print paper sash is tied with pretty pink ribbon and embellished with 'bride to be' rose gold foiling. We're in love!
Pros & Cons: It is made from paper and not fabric, but is still super durable. It is advised that you take the sash out the box and unravel flat for the best look in time for your event.
13. Wife Of The Party Glitter Sash – £4.50, Team Hen
This design is for the nearlywed who is always the life and soul of the party. It's a seriously fun design, with a glitter coated pink background and a holographic 'Wife of the Party' slogan. You can also buy matching 'hen party' sashes so your whole squad can get the look. We love a play on words and this one os genius.
Pros & Cons: This is no shed glitter so it'll still look incredibly sparkly, without any transfer. Your hen party will certainly stand out from the crowd with these beauties.
14. Black And Gold Hen Party Sashes Set – £1.99, Etsy
Whether you're after hen party sashes in a pack of 10 or hen party sashes in a pack of 20, these elegant gold and black beauties can accommodate - you can buy them in quantities of one to 1,000! They're perfect for someone who prefers modern styling and gorgeous calligraphy-style text.
Pros & Cons: At just £1.99 for one, they're a brilliant bargain but that doesn't mean you sacrifice quality. "Bought for a hen party and I couldn't believe the quality of them despite the low price. They are brilliant and so soft," says one reviewer.
15. Rose Gold Hens Sash – from £3.32, Etsy
Go for something a little more traditional with these pink foiled designs from Etsy. They'll have everyone feeling part of 'team bride' and will make for an awesome squad photograph. There's a lovely pink ribbon to tie the sash together, and the scalloped edging is beautiful.
Pros & Cons: Many reviews state that these hen party sashes arrived very quickly, making them a great pick if you've left it until the last minute. We recommend giving them a quick steam before wearing, as there may be creases from the folded packaging.
Where to Buy Hen Party Sashes?
You can buy hen party sashes to suit all kinds of tastes on Not On The High Street, Etsy and Team Hen. There you'll find paper designs, satin styles and every colour and pattern you could want.
If you're looking for something extra special, we love the hen party sash designs by Oh Squirrel. They're made from fabrics so they'll make for a gorgeous keepsake - and they look super classy.
"I started making the sashes over a decade go because at that time everything else available was just so tacky. There are dozens of designs, with new ones being added in every year, plus, different sizes are catered for, as well as personalisation," says Katie Wagstaff, creator behind Oh Squirrel.
"Instead of buying a mass produced hen merch, your Oh Squirrel sash is made to order for you, and the kind of accessory you'll want to wear all the way through to your big day, with plenty of nearlyweds opting to wear it when getting ready on their wedding day too."
How to Make Hen Party Sashes?
Fancy your hand at a bit of DIY? You can make your own hen party sashes with some satin fabric and iron-on-transfers. You'll need a length of satin to make into the sash, your chosen iron-on-transfers and any added decorations you want to complete the look.
See this handy video below for a step by step guide:
Now you've got your hen party sashes selected, you'll want to pay attention to the finer details! Check out our round-up of the best hen party games which will break the ice and get everyone chatting. And need a little help with logistics? See our complete guide on how to plan a hen party from start to finish.