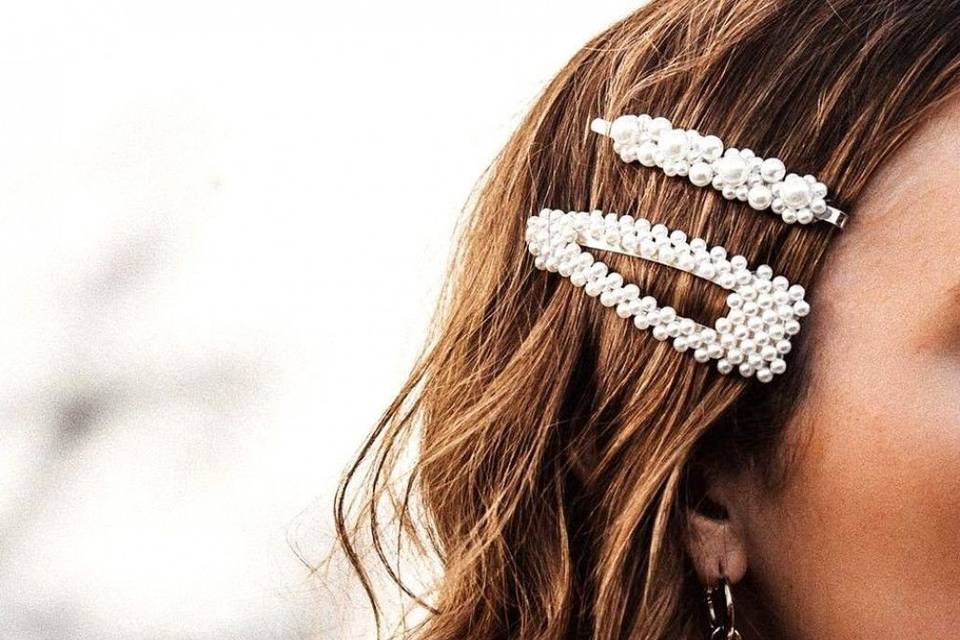 Pinterest is a wedding couple's best friend. It's the home of all the hottest inspiration and wedding trends for 2020, from where to go on honeymoon to wedding themes, hairstyles and dresses.
Pinterest have released their Hot 100 for 2020, it's your get-ahead guide to what's going to be trending all over social media for the next 12 months. Luckily for us, there's plenty of wedding inspiration among their predictions of what will be in vogue in 2020!
It's based on what real people have been pinning, saving and sharing, so if you're nosy about what other wedding couples are planning, this list is your Bible.
Here are Pinterest's 11 biggest wedding trends for 2020.
Pinterest Wedding Dress Trends 2020
1. Androgynous Wedding Wear
Image: Pinterest
Searches for androgynous wedding dress were up 51% this year. If you're not sure what we mean by androgynous, it means eschewing the traditional gender stereotypes of what a man or a woman should wear. Puffy princess dresses are out and instead structured jumpsuits, sharp suits and relaxed two-pieces are in. It's incredibly chic, with the benefit of being comfy too. Couples could wear matching versions of suits for the ceremony, but if you don't want to go the whole hog, change into a white suit for your reception.
Image: Pinterest
2. Thrifted Wedding Dresses
Image: Pinterest
Couples are growing increasingly eco-conscious and the thought of wearing a dress for just one day if off-putting for some – especially if you can bag a bargain! Searches for thrifted wedding dress have gone up 41% on Pinterest, with brides seeking out pre-loved dresses they can make their own. Whether you wear it as it is, use it as base to add embellishment and straps, or cut it up and use the fabric, a charity shop, vintage or second hand dress is great for the environment and your pocket.
Image: Pinterest
3. Tuxedo Dresses
Image: Pinterest
Tuxedo dresses follow on from the androgynous trend. It's all about mixing up gender stereotypes and being playful with your wedding outfits. Tuxedos are traditionally the male choice of black tie wear, but worn as a dress or teamed with a skirt or luxe trousers, it's an incredibly sexy, powerful, feminine style. Just look at Rosie Huntington-Whiteley!
Image: Pinterest
Pinterest Wedding Theme Trends 2020
4. Low-Waste Weddings
Image: Pinterest
Sustainability is the buzz-word for 2020. And, let's face it, the typical single-use-plastic-filled wedding day isn't that. Couples will prioritise eco-friendly choices in 2020, from paper straws to wildflower seed wedding favours, paperless invites to vegetarians menus, hired décor to green gift registries. The key aim is to say 'I do' with as little environmental impact as possible. Reduce, reuse and recycle will be your 2020 wedding mantra.
If you need some ideas, we have a guide to throwing an eco-friendly wedding; the best eco-friendy wedding invitations; and the 23 best eco-friendly wedding products.
Image: Pinterest
5. Astrology-Themed Parties
Image: Pinterest
Is your love written in the stars? Your zodiac sign can tell you everything you need to know about your wedding day (you can find out your predictions here) so why not throw an astrology-themed party? Searches have shot up 247% as Pinterest users look to the stars for answers. Galaxy-inspired décor and colour schemes look amazing at weddings and engagement parties, embracing metallics, purples and inky blues. Why not have the constellations of your star signs on your wedding invitations or tables named after the zodiac signs? How about an astrology-themed cake?
Image: Pinterest
Pinterest Wedding Hair Trends 2020
6. Braided Hairstyles
Image: Pinterest
Braided styles like box braids are going to be huge for 2020. Searches for 90s braids hairstyles have rocketed 329% and the iconic traditional African box braids have had a particular resurgence in popularity for wedding days. Modern versions of the braid are decorated with beads, coloured threads and highlights.
Image: Pinterest
7. Hair Clips
Image: Pinterest
It's all about '90s accessories too in 2020. Butterfly clips, jewel-encrusted barrettes, pearl hair slides, mini claw clips and bedazzled bobby pins: the ways of adding flair to your hair are endless. Pinterest reported a whopping 930% rise in users searching for 'hair clips 90s' so you know you'll be in good company if you adopt this wedding look in 2020.
Image: Pinterest
8. Lip Gloss and Liner
Image: Pinterest
The Miss Sporty Precious Shine is out and Fenty's Gloss Bomb is in. The new killer lip glosses are non-sticky, moisturising, with explosive shine that'll look amazing in wedding photos (and at the hen party!). You can go really naturally nude with this look for the ceremony and then vamp it up for the evening reception with a deep glossy berry lip in the evening.
Image: Pinterest
Pinterest Honeymoon Trends 2020
9. Train Travel
Image: Pinterest
Looking for a smart way to have an eco-friendly honeymoon? Go globetrotting by train! You'll get to see the scenic route and nearly all the world is connected by rail one way or another. Whether that's a long train journey like the opulent Orient Express to Venice, exploring Sri Lanka by rail, two days through the Canadian Rocky Mountains or Europe-hopping with an Interrail pass (there's no age limit, FYI), honeymoons by train are not only great fun, but you see more and save money too. If you hate flying or want to reduce your carbon footprint, it's the only way to go.
Image: Pinterest
10. Staycations
Image: Pinterest
A staycation might not cut it for your honeymoon but its a fab idea for a minimoon. We don't mean literally spending a weekend at home, but you'll see more couples in 2020 choose to take a weekend break in a city or countryside hotel close to home. If you're from near London, Manchester or Edinburgh, that could mean a swanky night away in a posh hotel, taking advantage of the spa and tourist attractions that you never normally get time to see. Town-folk, swap your house for a cute country cottage or cosy pub with quaint rooms for a weekend and go walking, for Sunday lunch and farmers' market exploring.
Image: Pinterest/The Ned
11. Social Media Detox
Image: Pinterest
Your honeymoon is the perfect time for a social media detox. By all means get your Insta-worthy snaps, but save uploading them until you get home. Focus instead on spending your time on honeymoon connecting with each other and immersing yourself in the local culture. You'll find social media free honeymoons a big trend for 2020 and you can do it anywhere in the world. We love the idea of mixing an action-packed South East Asia honeymoon with a digital detox mindfulness retreat. Or how about losing yourself at a luxury eco-resort in the Costa Rican jungle where there's no way you'll get a bar of signal?
Image: Pinterest
Make sure you follow Hitched on Pinterest for the best wedding inspiration! If you want even more advice and ideas, make sure to follow our favourite wedding Instagram accounts too.