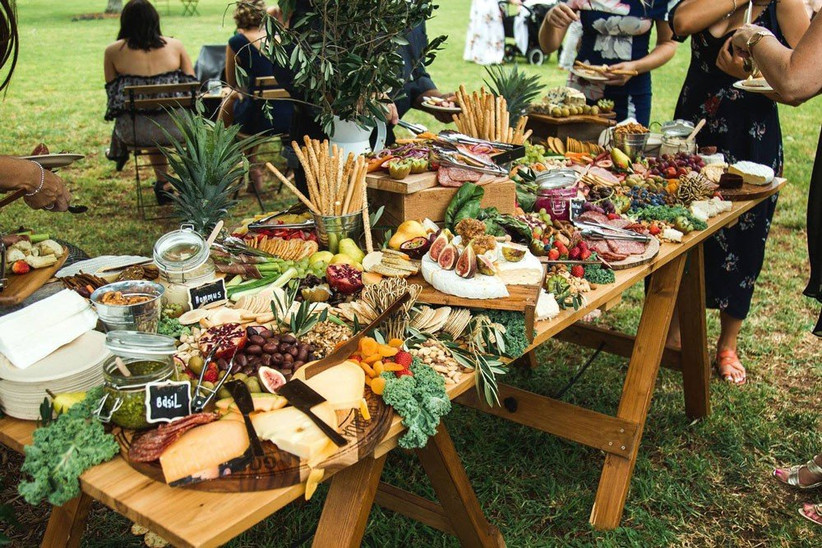 If you want to know what's going to be hot next year, Pinterest is the place to go.
They've just released their Pinterest Top 100 featuring all the biggest trends for 2019 – and luckily for us, there's loads of wedding trends there too!
READ MORE: The Biggest Wedding Trends for 2019
This list is made up of all the amazing things that Pinterest users have been pinning, saving and searching this year. It's the ultimate inspiration guide to wedding themes, decor, dresses, photography and even honeymoon ideas!
Read on to find out Pinterest's biggest wedding trends for 2019.
Garden Weddings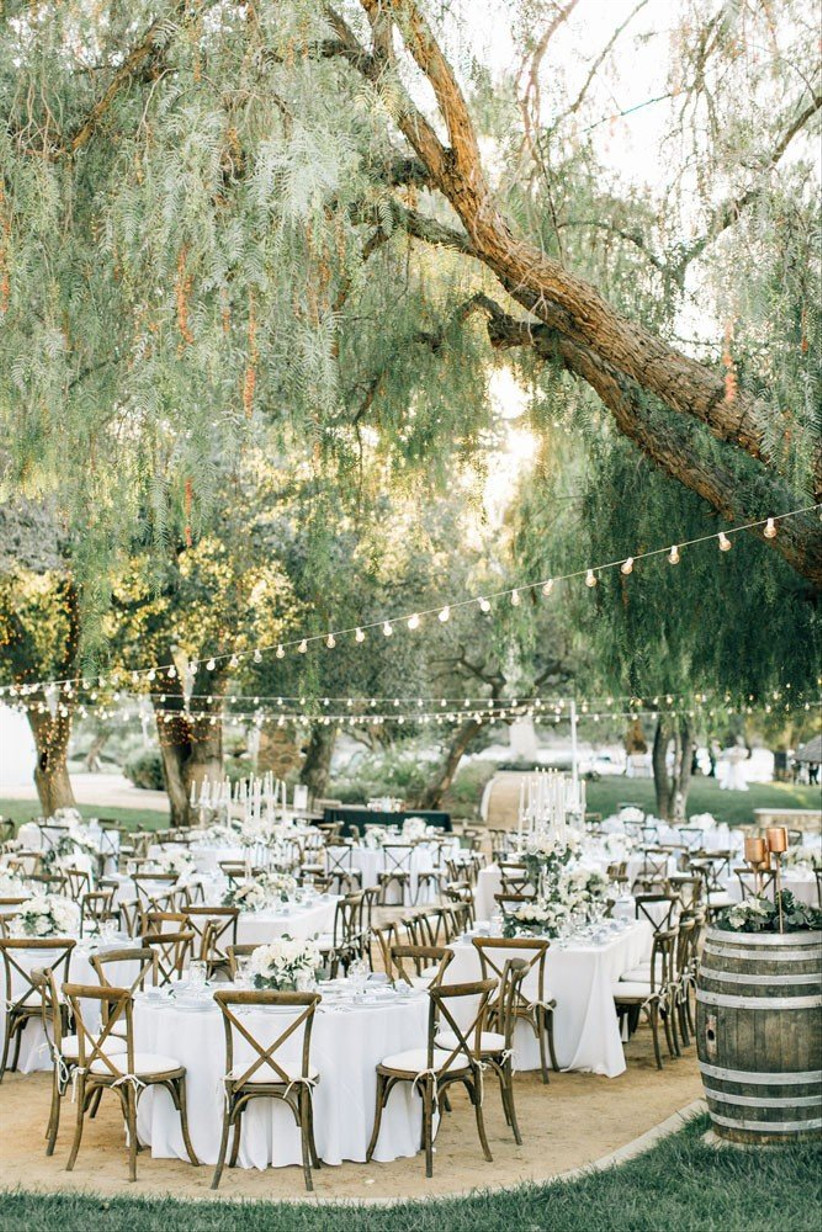 Image: Pinterest
The law changed in the UK in October 2018 to allow weddings to take place outdoors (previously you could only marry in a licensed venue with a roof). For couples, this has opened up a whole new world of wedding venue options, including farms, parks, festivals and more. But the one we know we'll be seeing lots more of in 2019 are garden weddings.
The search term has shot up 441% in the last year, with lots of couples choosing to marry in their or their parents' back garden. It's an amazing location to throw a DIY wedding to keep costs down and put a personal touch on your day. If 2019 holds another heat wave, we can't imagine anything more perfect! But this trend extends to gardens just about anywhere – it's such a great trend for a destination wedding or an English country garden.
READ MORE: Our Favourite Outdoor Wedding Venues
Smoke Bombs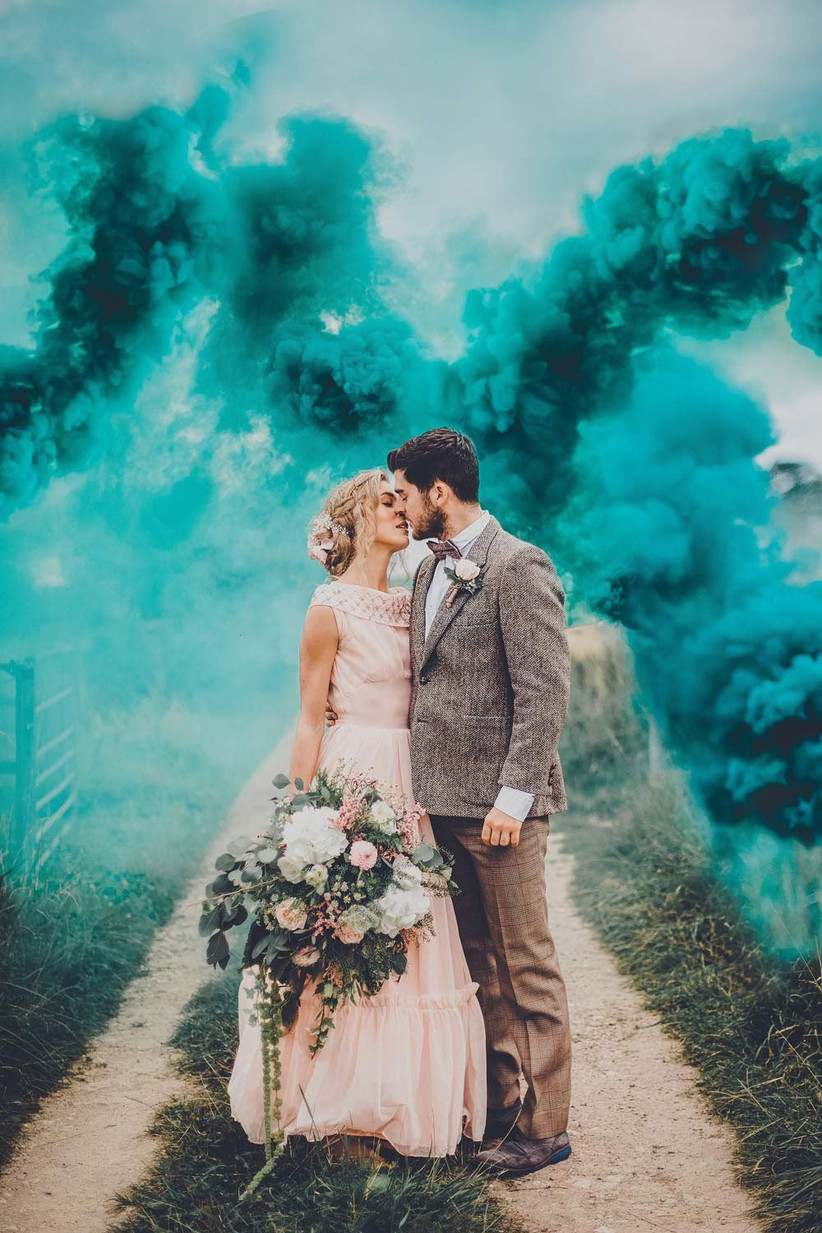 Image: Pinterest
This wedding photography trend is one of our favourites and it shows no sign of abating. Even if you're Instagram-averse, you're certain to have seen the amazing shots of couples (and their wedding party) with streams of vibrant, vivid smoke around them.
Smoke bombs are a really simple way of adding big drama to your wedding or engagement photos. With searches for 'smoke bomb photography' going up 436%, you better start stockpiling them now before they run out!
Gold Wedding Dresses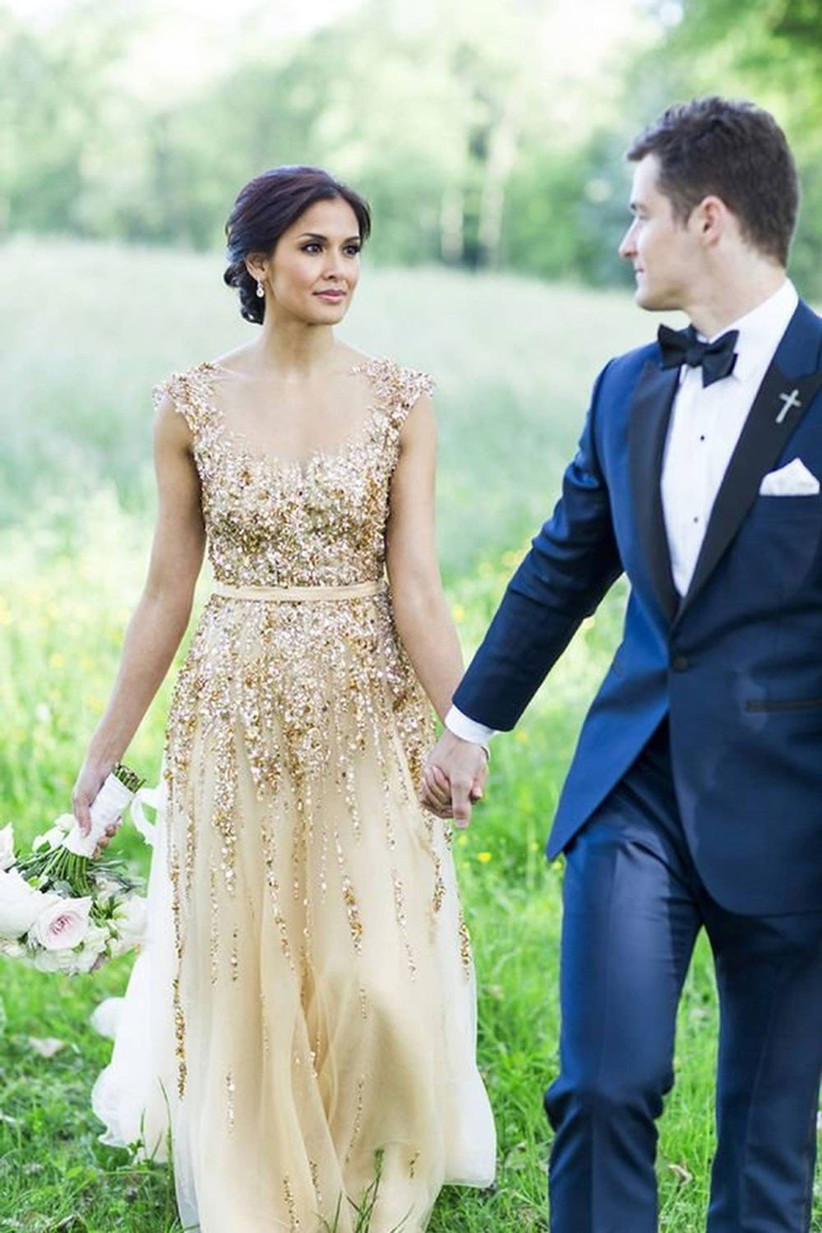 Image: Pinterest
2019 is all about breaking with tradition, whether that's having a bride and maid of honour speech, having a four-legged pal as your ring bearer or choosing a different ceremony from the norm, like handfasting or a sand ceremony. One huge way to make your own mark on your day is with your dress, and gold wedding dresses are going to be a huge trend for 2019.
Incredibly the search for gold wedding gowns has rocketed up an astonishing 1,552%! And really, what bride wouldn't want to shimmer and shine their way down the aisle? Gold dresses look amazing in autumn and winter weddings with rich, warming tones, but they also have an ethereal edge with combined with nudes, pastels and florals for spring and summer weddings. FYI, it works amazingly well with the new trend for your bridesmaids to wear white!
READ MORE: Wedding Dress Trends for 2019 You Need to Know
Flower Garlands
Image: Pinterest
If you want your wedding to be Pinterest-worthy for 2019, make flowers a huge focus of your decor. Flower garlands are predicted to be one of the big favourites, with couples creating flower garland curtains, draping them around tables, bannisters and chairs, hanging them from ceilings and tying them around hoops.
We've picked out some of the best flower garlands on the market with something to suit every theme. Whether you go for fresh, paper, silk, even knitted flowers, they're an easy (and pretty cheap) way to add romance to your wedding instantly.
Doughnut Decor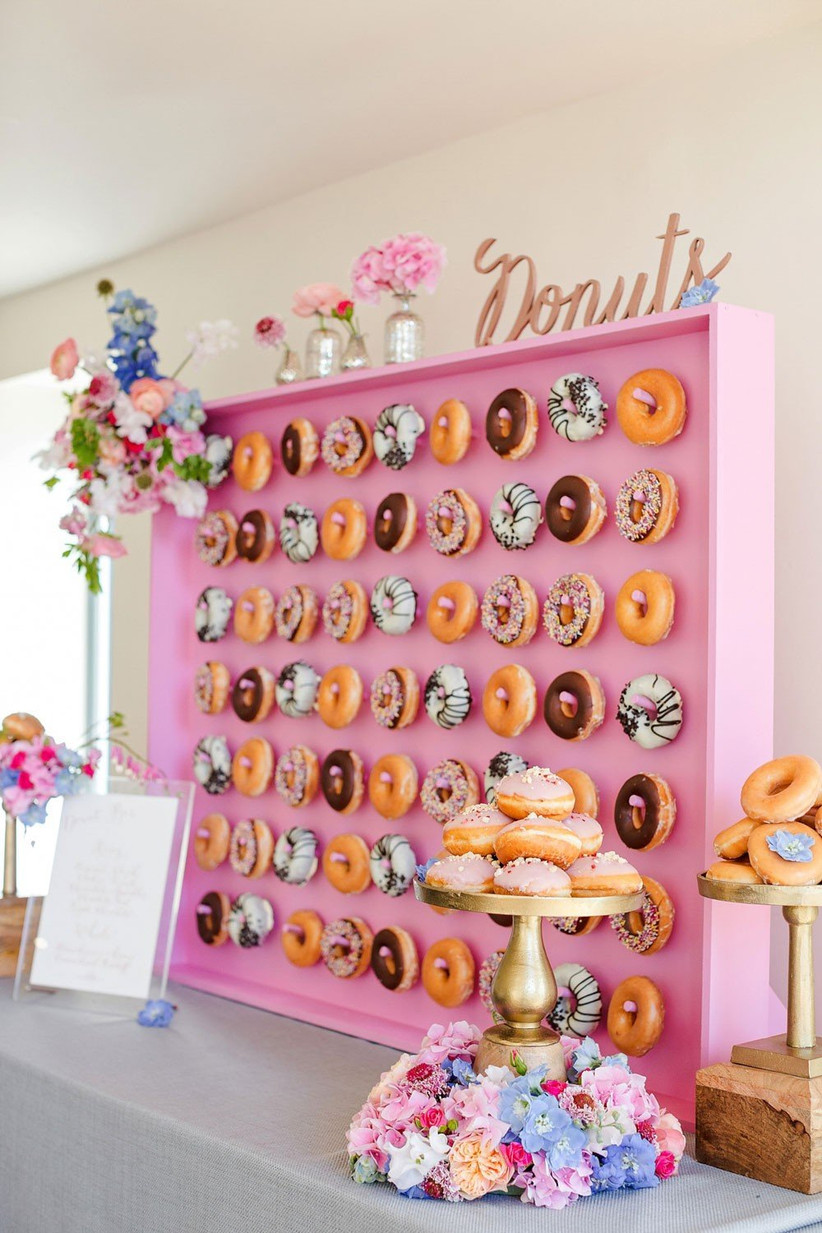 Image: Pinterest
Mmmmmm, doughnuts. Who can resist the sticky, sweet treat? Not us – or most of Pinterest, it seems. Pinners are going nuts for them, with 2019 predicted to be the year of not just doughnut walls, but all colourful, edible displays. Think doughnuts spelling out words, hanging from ceilings, being stacked as a cake alternative.
And we aren't talking about your plain glazed Krispy Kremes. Sprinkles, metallic glazes, custom fillings, and decadent toppings will all make this treat wedding-worthy. Don't forget, doughnuts also make great wedding favours and you could even have a doughnut decorating station to keep little guest entertained.
READ MORE: 11 Amazing Ways to Include Doughnuts in Your Wedding
Grazing Tables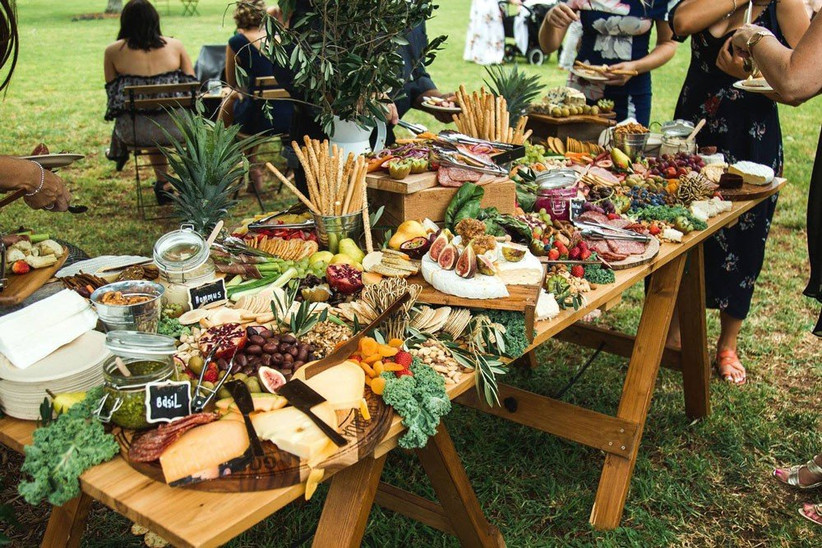 Image: Pinterest
A table piled high with charcuterie, antipasti, dips, spreads, breads and more? Yes, please! Grazing tables are exactly that – a delicious spread of nibbly bits that your guests can pick on. It could be instead of canapes during cocktail hour; it could be put out during the reception so your evening guests don't get hungry.
It's such a popular idea that searches have gone up 163%. The general idea is to keep your grazing tables as a snack, but you can even have a ramped-up version as the main course for your wedding breakfast, where it becomes a feast in the centre for your guests to fill their plates from. Just keep it piled high with delicious foods and your guests will be happy.
Glossy Make-Up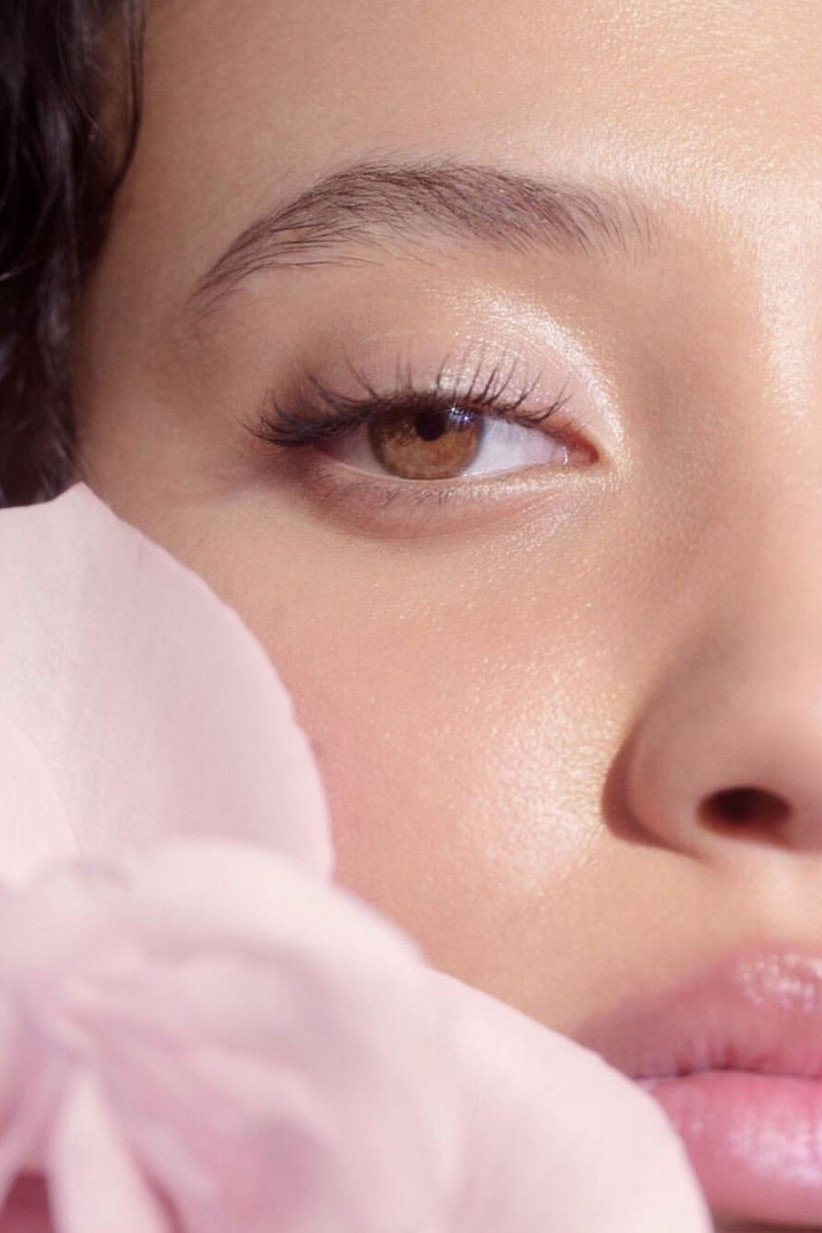 Image: Pinterest
You should look like yourself on your wedding day but it doesn't mean you shouldn't go for a bold look that makes you the centre of attention. We love that searches for standout lip colour is up 467% – a postbox red, hot magenta, or on-trend coral are all great choices that will pop in your wedding photos. (You can always add it on for the evening recpetion if you don't want it during your vows).
The trend we're obsessed with, though, is glossy make-up. Gloss makes all your best features shine, whether that's seriously silky-smooth hair that picks up the light, to glossy lids, lips or a killer highlighter that makes those cheekbones pop. Gloss is something you can use as much or as little as feels comfortable. If you want to dip your toes in, consider an illuminating primer and add a lip gloss to your bridal look.
READ MORE: 39 Bridal Beauty Hacks That Will Change Your Life
Quiet Island Honeymoons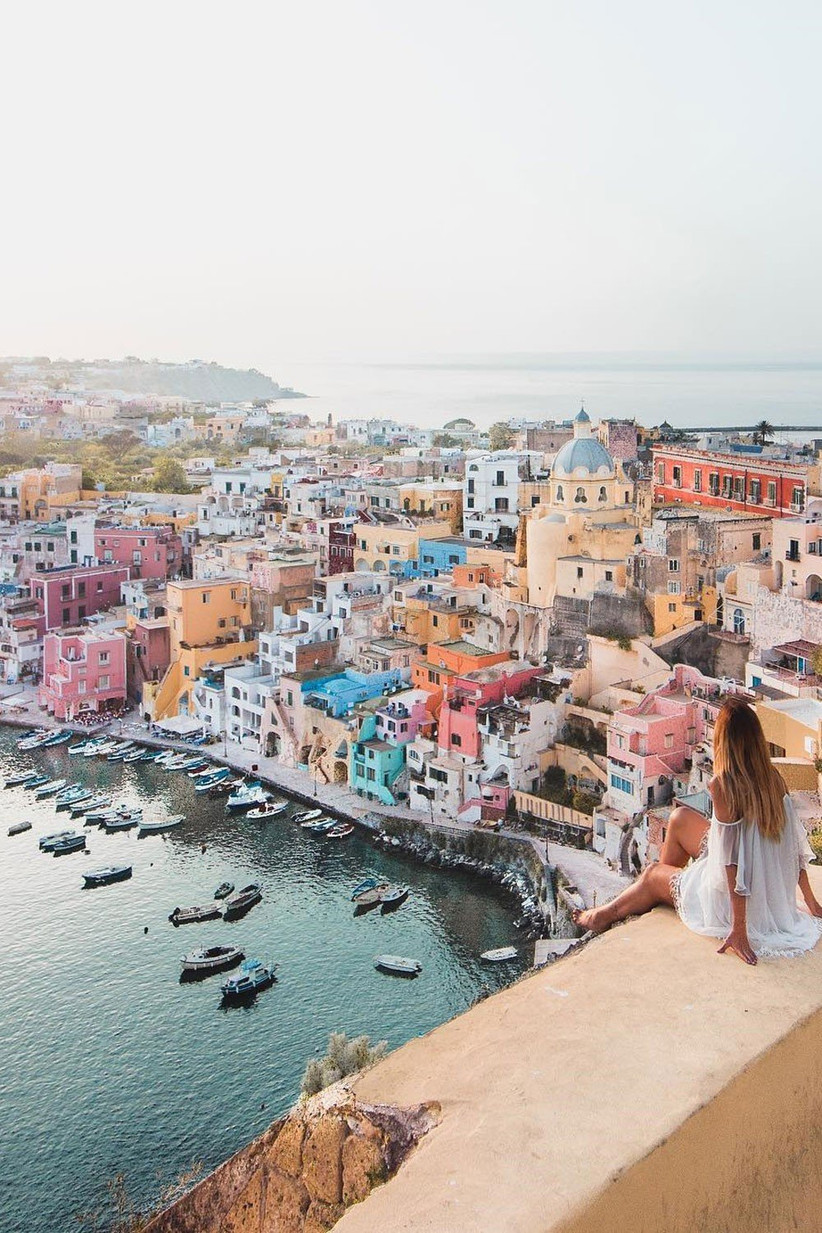 Image: Pinterest
Forget the crowds and busy nightlife of islands like Ibiza. Pinterest's hot 2019 honeymoon trend is 'less travelled islands', where you'll be able to escape from it all and have some R'n'R just the two of you. It's a rare thing to be able to find an island that's not on the honeymoon hot list – just think of the Maldives, Mauritius, Bora Bora – but it's doable.
Italy has lots of gorgeous small islands that you might not have considered: Elba, Panarea, Stromboli, Procida (above), La Maddalena. Portugal's Azores have the most jaw-dropping scenery. The Caribbean islands of Guadeloupe, Barbuda and Dominica are off-the-beaten-honeymoon-track. Try Reunion in the Indian Ocean instead of the Maldives. How about Nosy Be, an island just off the coast of Madagascar?
Bike Tours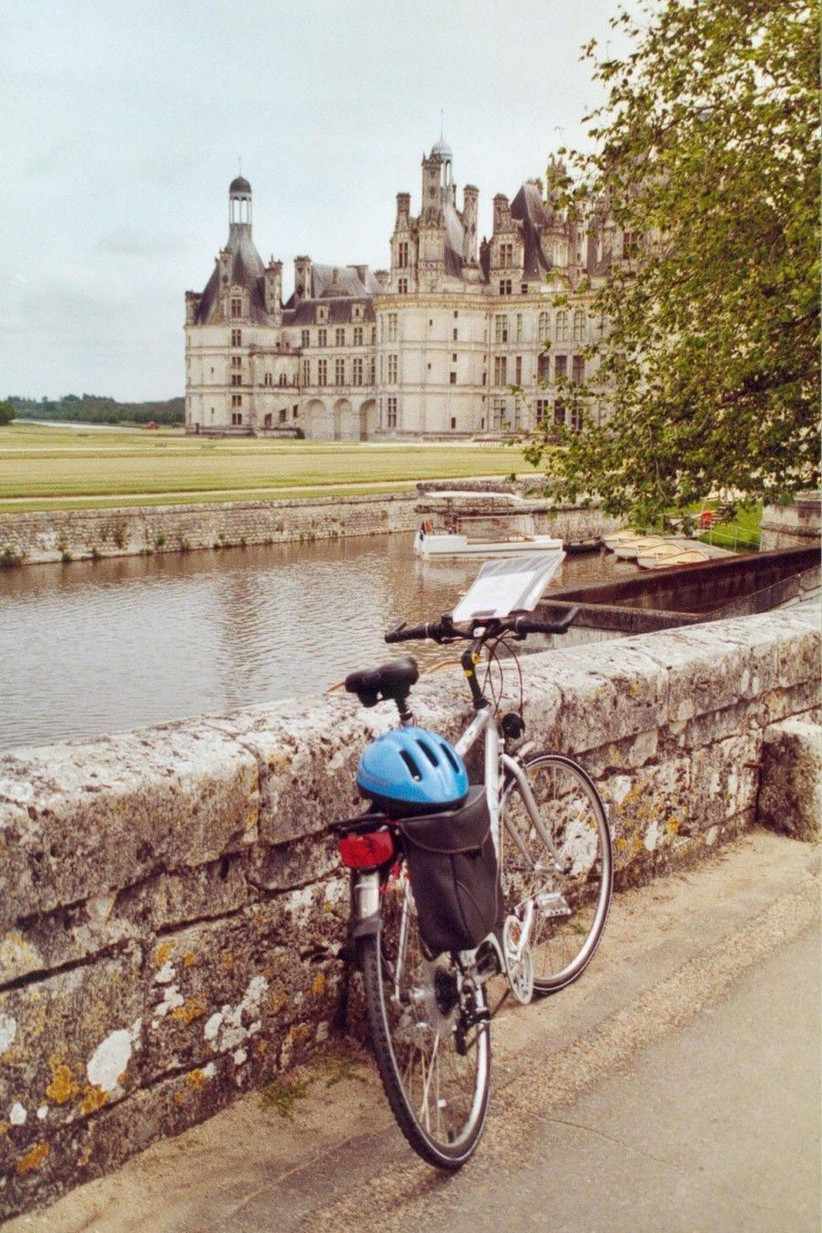 Image: Pinterest
Everything's that much sweeter when you've had to work for it, isn't that the general idea? Well, how about trying a bike tour then, where you cycle between your destinations for the day. Cycling enthusiasts and casual peddlers alike are taking on bike tours to explore more of the country and get a huge sense of acheivement out of their honeymoon. Plus, all those calories burned mean more space for cheese and wine, right?
It ties in perfectly with another big honeymoon trend for 2019 – 'small town travel'. Couples want to find little towns that have unique B&Bs, gorgeous views and a relaxed pace of life. Cycling between them is a fantastic way to explore more of these.
READ MORE: 2019 Honeymoon Trends and Where to Experience Them
For lots more inspiration for your wedding day, advice, hints and tips, make sure you follow Hitched on Pinterest!