26 Personalised Wedding Favours Your Guests Will Adore
Make your guests feel extra special by presenting them with wedding favours that have a personal touch
We have included third party products to help you navigate and enjoy life's biggest moments. Purchases made through links on this page may earn us a commission.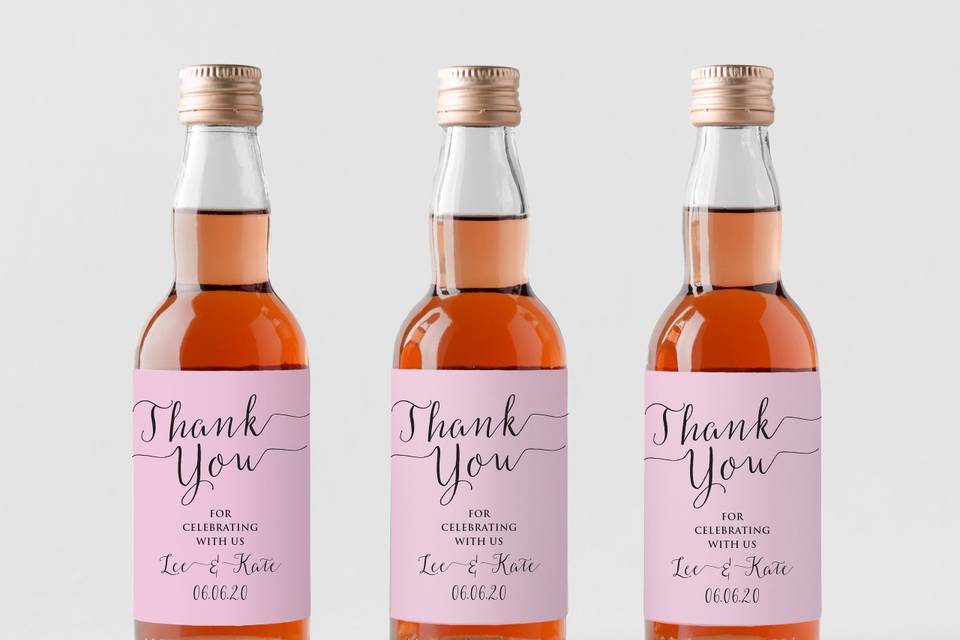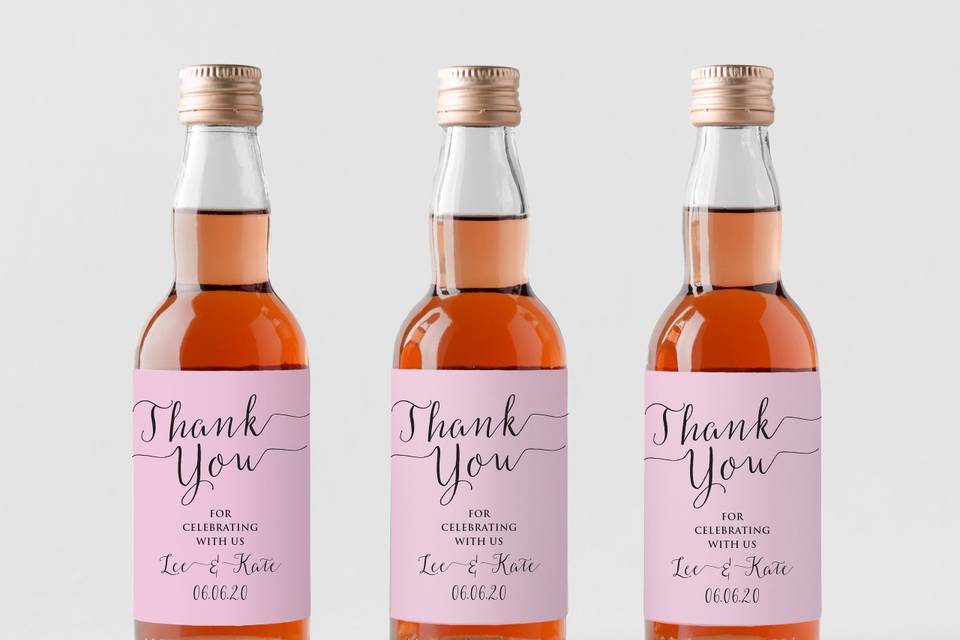 If you present your lovely guests with amazing wedding favours to take home, they'll be left with an everlasting memory of your day. Why not make these tokens that little bit more special by adding a personal touch?
From mini personalised bottles of flavoured gin to cheap wedding favours like cute pic 'n' mix bags, there are lots of options to choose from.
Here's our round-up of personalised wedding favours that will delight your guests.
NB: We have included third party products to help you navigate and enjoy life's biggest moments. Purchases made through links on this page may earn us a commission.
READ MORE: Will You Be My Bridesmaid Gifts
Personalised Wine Cork Wedding Favours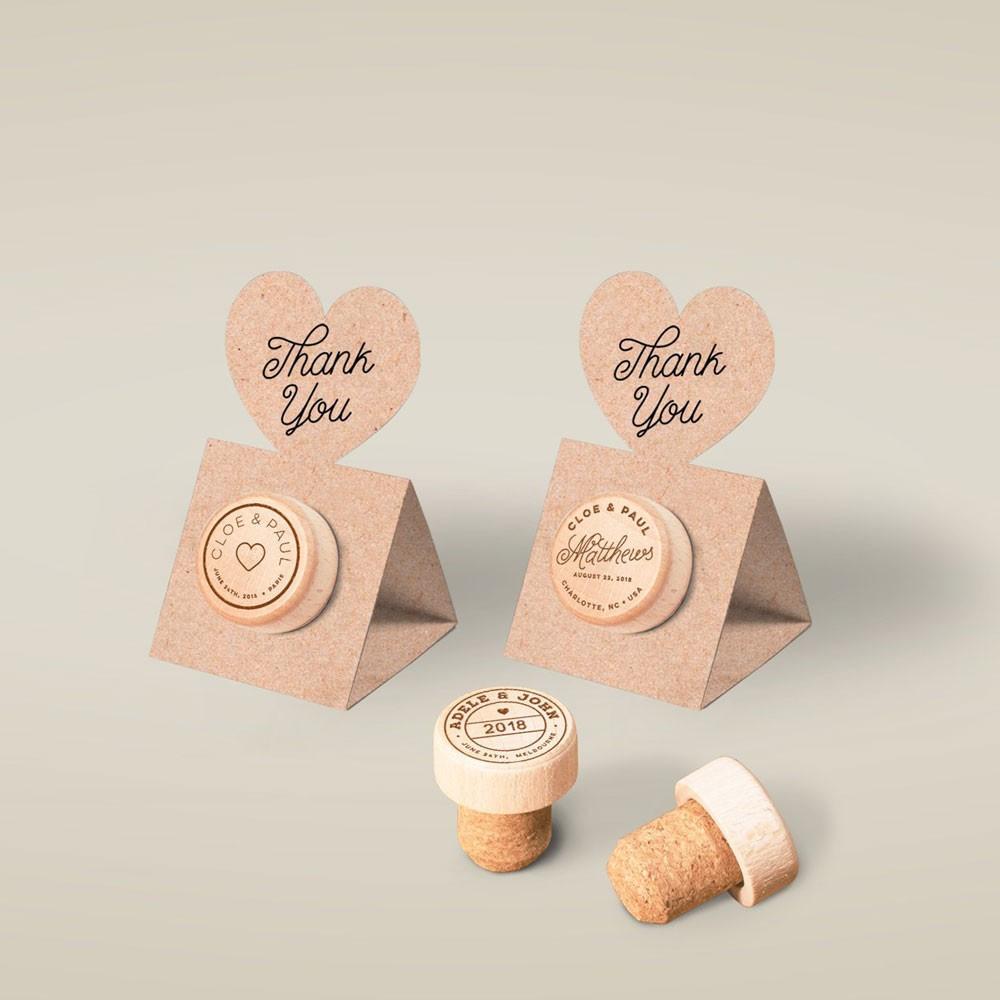 These personalised bottle stoppers which come in a cute, pop-up stopper box, are the perfect wedding favour if you're looking for something that guests can use for years to come.
You can personalise the top of the stopper with your names and one of 16 designs, and you can unfold the box to become a book mark once you get home! Genius.
DISCOVER MORE: The Best Wedding Favours from Not On The High Street
Personalised Compact Mirror Wedding Favours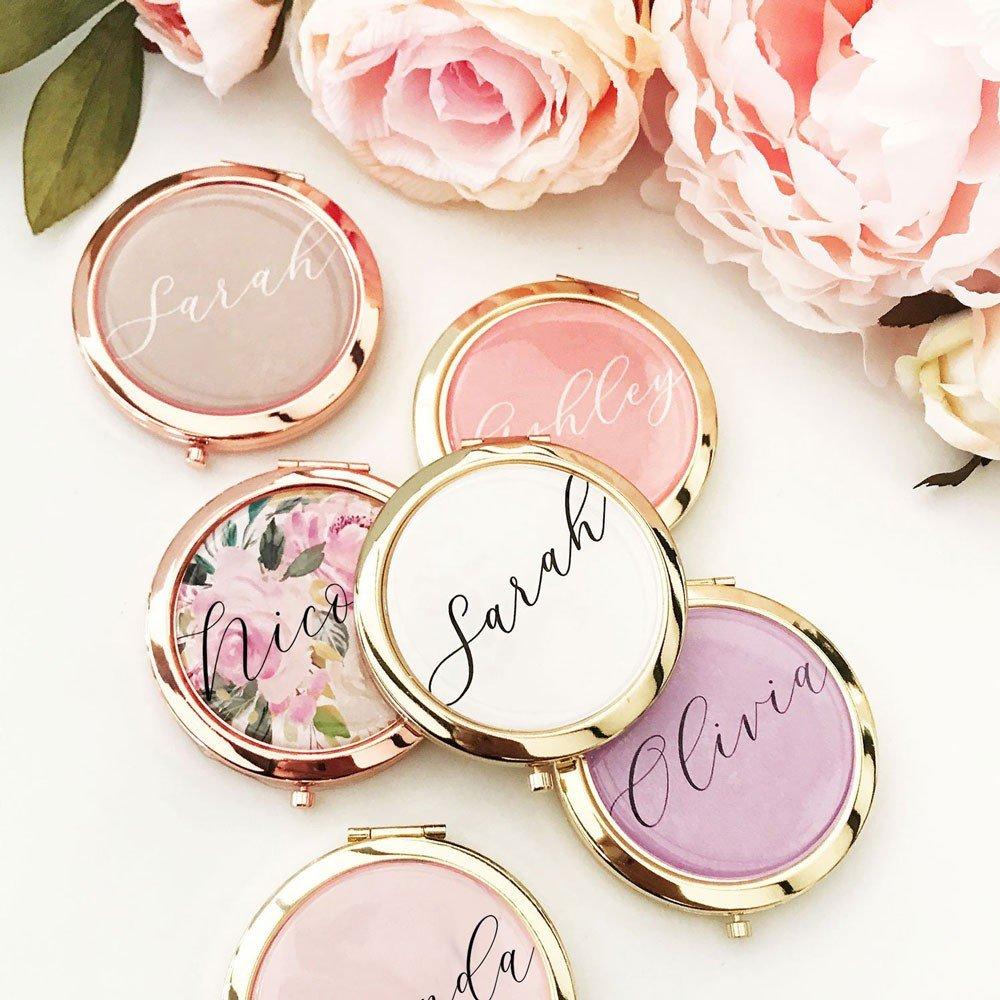 Treat the ladies at your wedding to a lovely, handmade compact mirror each. They'll come in very handy when they're checking for lipstick smudges during dinner!
We love the pastel colours and gold hardware. How cute!
Personalised Candle Wedding Favours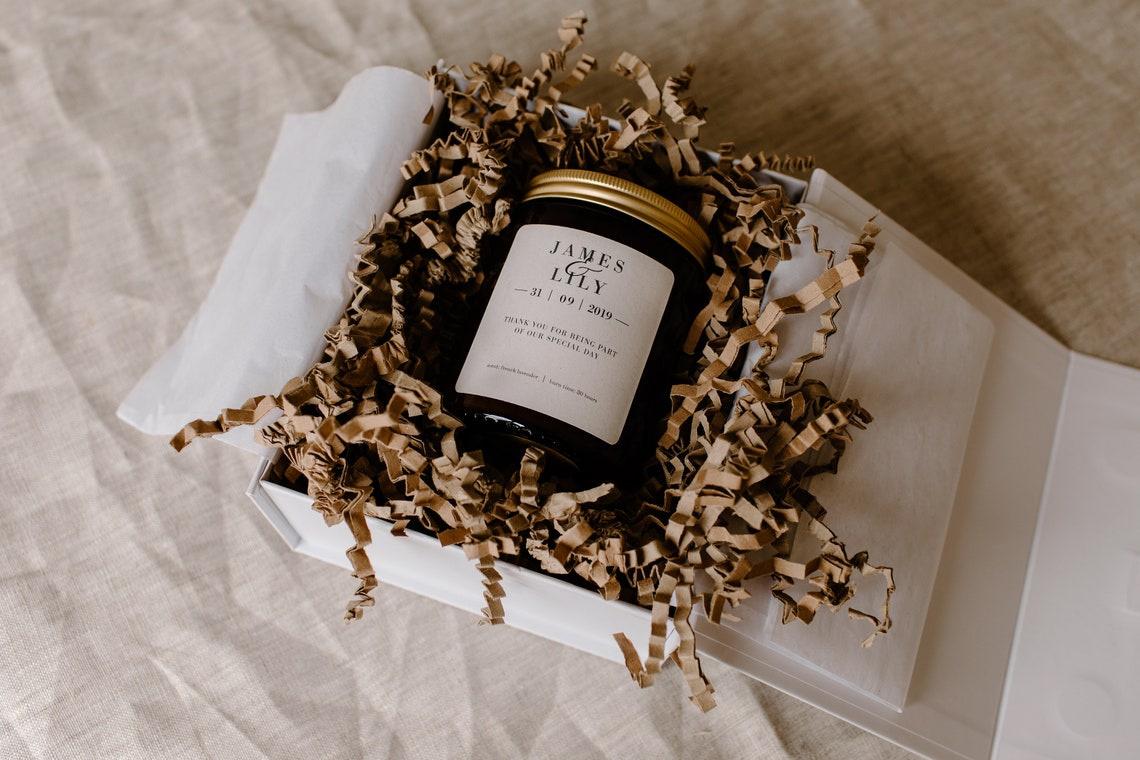 Personalised candle wedding favours are a great choice if you want to personalise your gift with more than just a name – the scent of these candles can be personalised too!
You might like to keep a couple burning around your reception venue. Your celebrations will be scented, and when your guests burn their candles at home, they'll immediately be transported back to your special day.
READ MORE: Our Favourite Wedding Candles
Personalised Shot Bottle Wedding Favours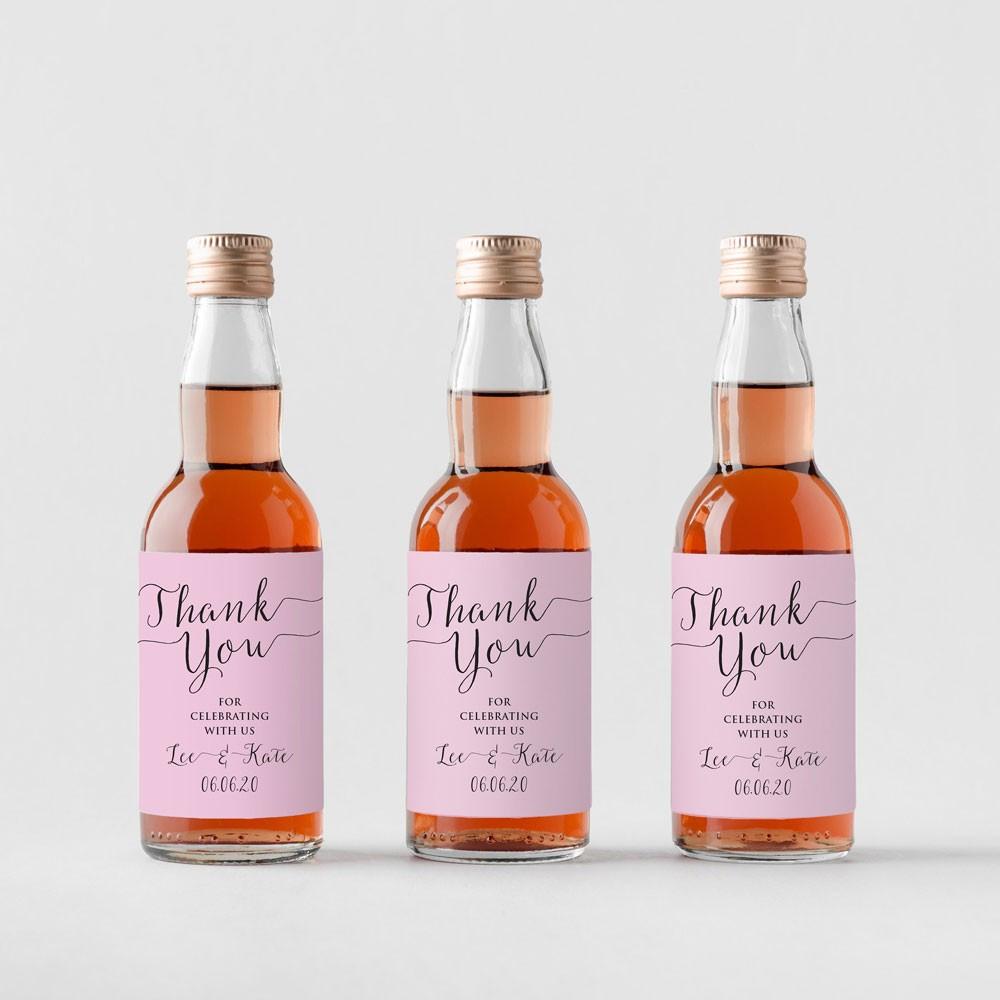 Treat your guests to a post-dinner tipple with these super cute personalised shot bottle wedding favours.
Add your names and the date of your wedding to the label, then fill with whichever spirit you desire. We love this idea!
Personalised Shot Glass Wedding Favours
Who doesn't love a bit of rose gold?! Not only is this shade totally on trend, but shot glasses are a really fun way to toast to the newly married couple.
We love the personalised calligraphy which runs down the side of these glasses – such a pretty touch.
Personalised Candy Bag Wedding Favours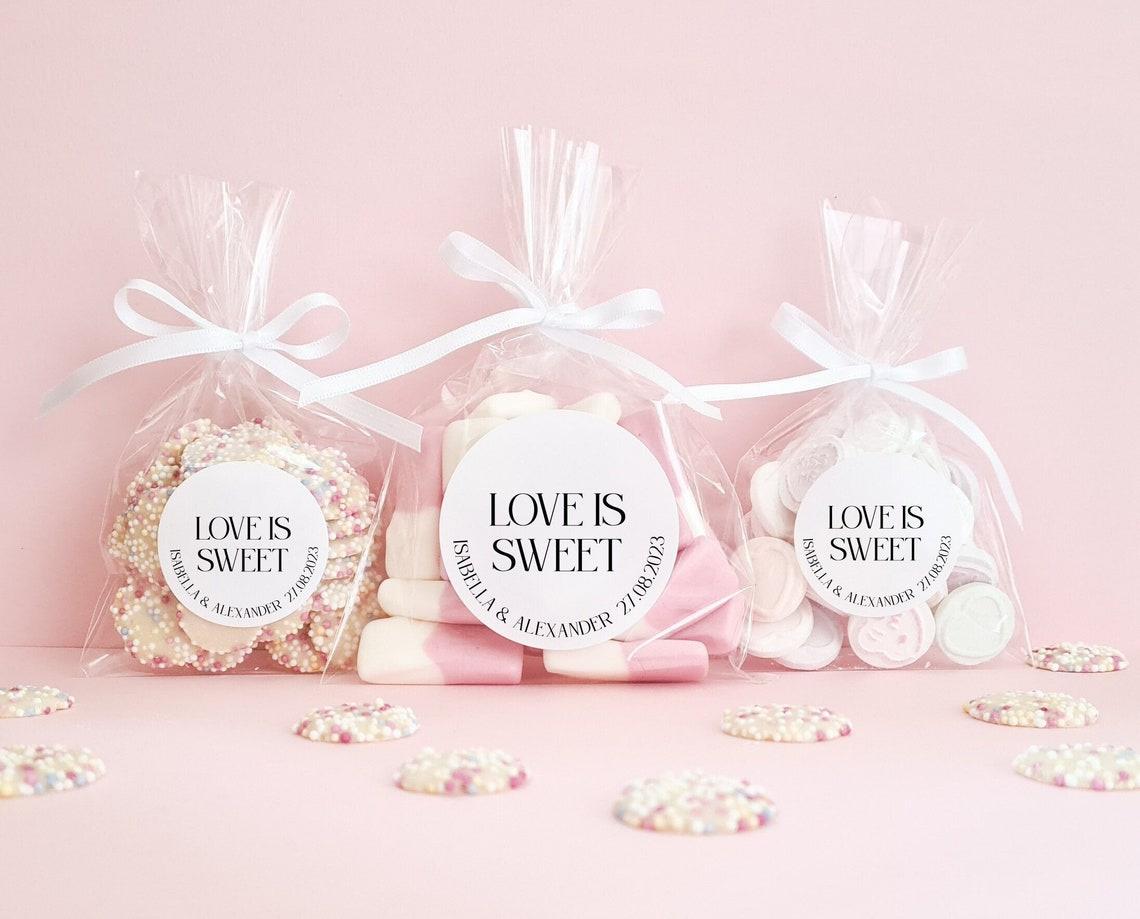 If you're going to be enjoying a vintage themed wedding, why not put together a pick 'n' mix station, then gift your guests with these adorable wedding favour candy bags?
Personalise the sticker with your names and wedding date – they're too good to ever throw away and the children at your wedding will love them.
READ MORE: Fun Wedding Favour Ideas for Children
Personalised Laser Cut Place Card Wedding Favours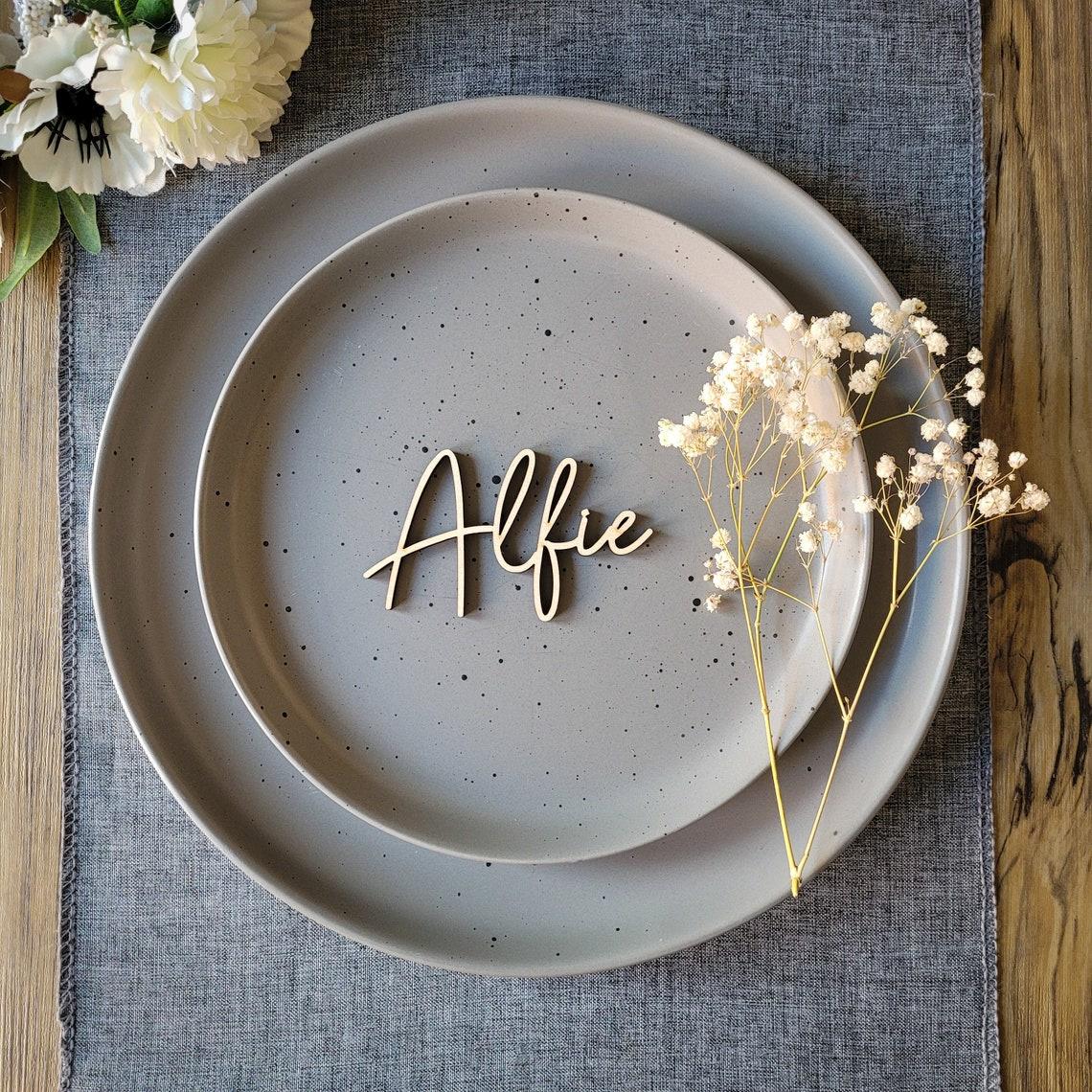 These laser cut place names are a great alternative to the usual card cut-outs, because they double up as the most beautiful wedding favours!
Not only are they the perfect addition to your wedding place settings but your guests will love to take them home and keep them as a memento of your day too.
READ MORE: 19 of The Prettiest Place Setting Ideas
Personalised Place Setting Wedding Favours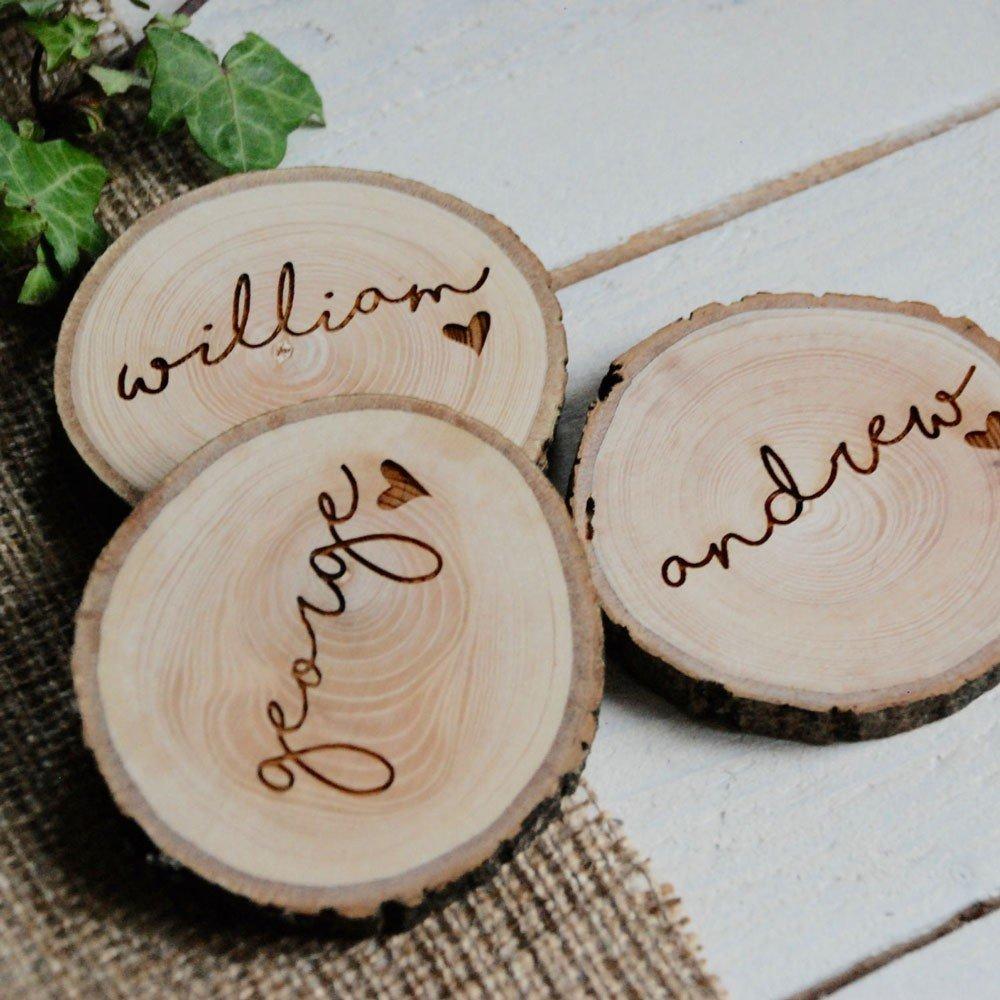 If you're getting married in a rustic wedding venue, why not stick to the theme with your favours and present your guests with these gorgeous name place settings?
They're the perfect addition to a rustic wedding, and your guests will have a handy memento they can keep using at home.
READ MORE: Our Pick of The Best Vintage Wedding Favours
Personalised Drink Flag Wedding Favours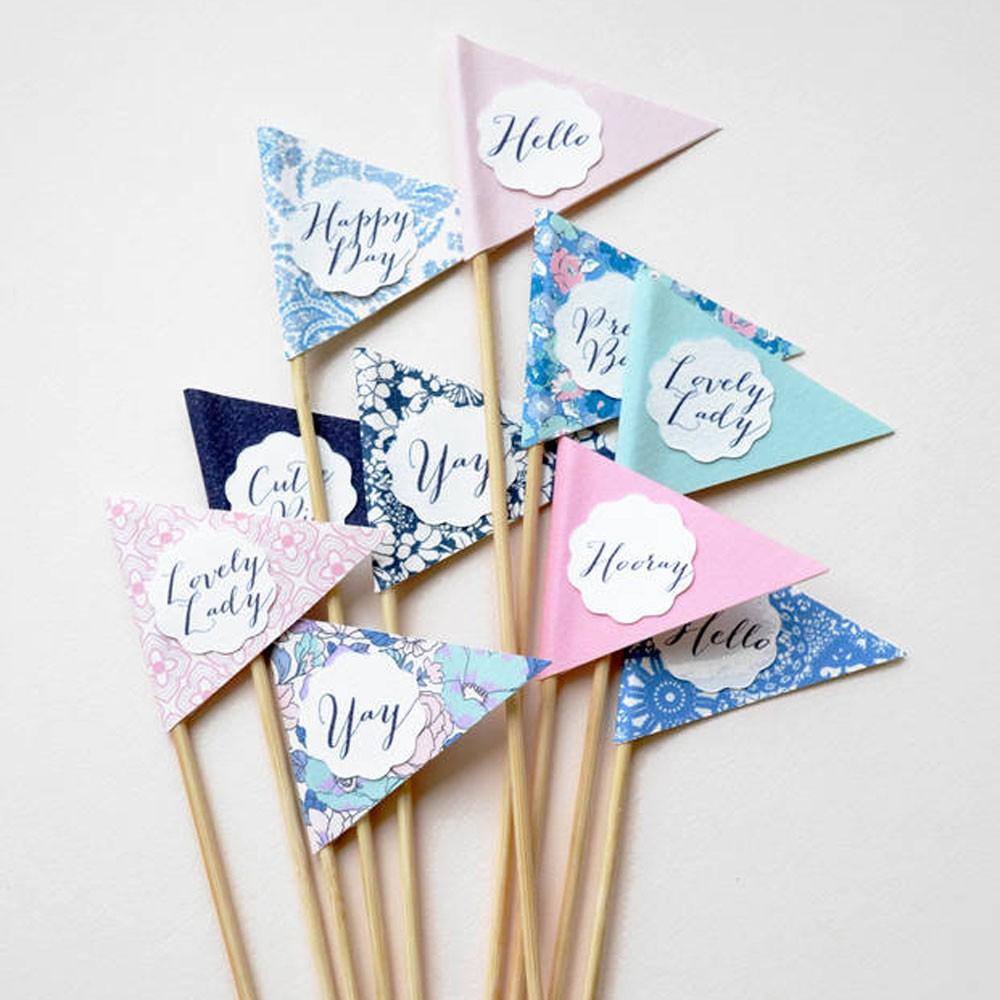 If you're all about the shabby-chic wedding theme, these drinks flags are perfect personalised wedding favours. All you need now is a jam jar cocktail to put them in…
Personalised Cocktail Stirrer Wedding Favours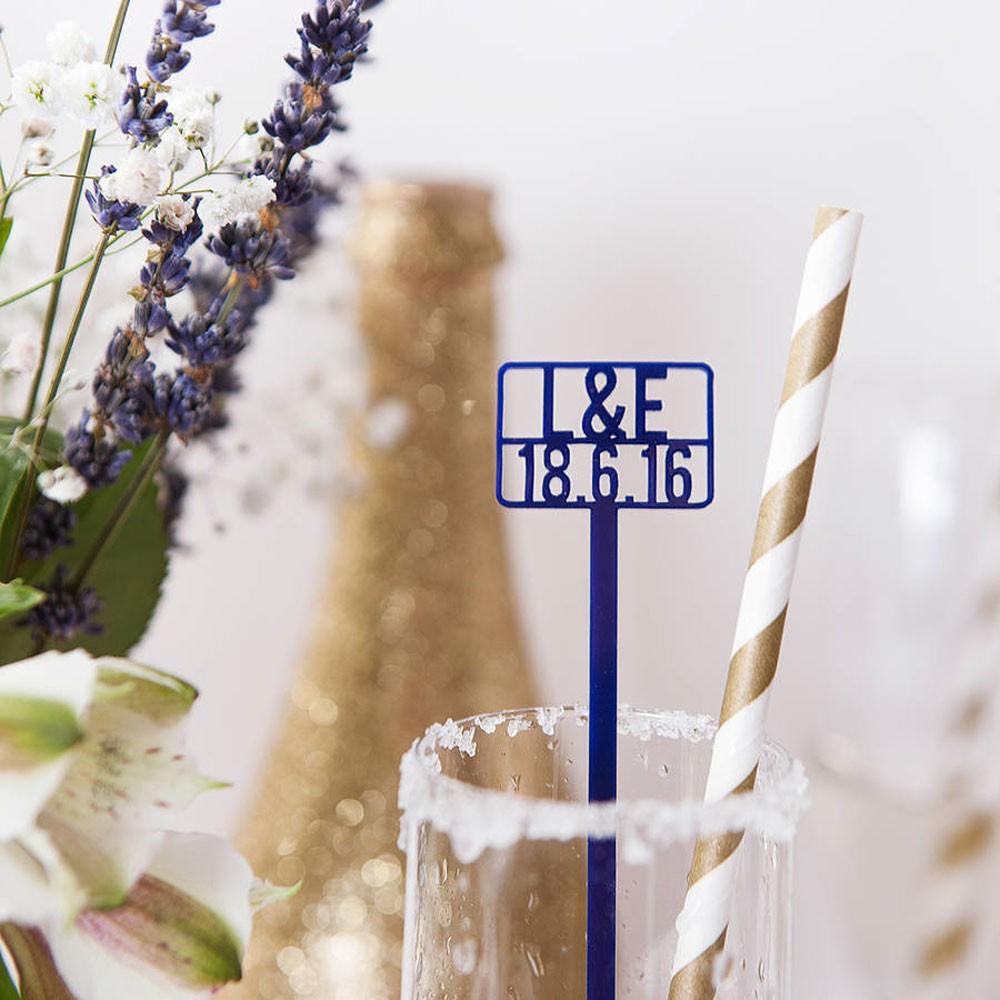 Your big day calls for some signature wedding cocktails. Add a personal touch to your Prosecco, Pimms and Pina Coladas by providing guests with their own personalised drink stirrer! They're sure to jazz up any tipple.
READ MORE: Fabulous Ways To Include Prosecco At Your Wedding
Personalised Lip Balm Wedding Favours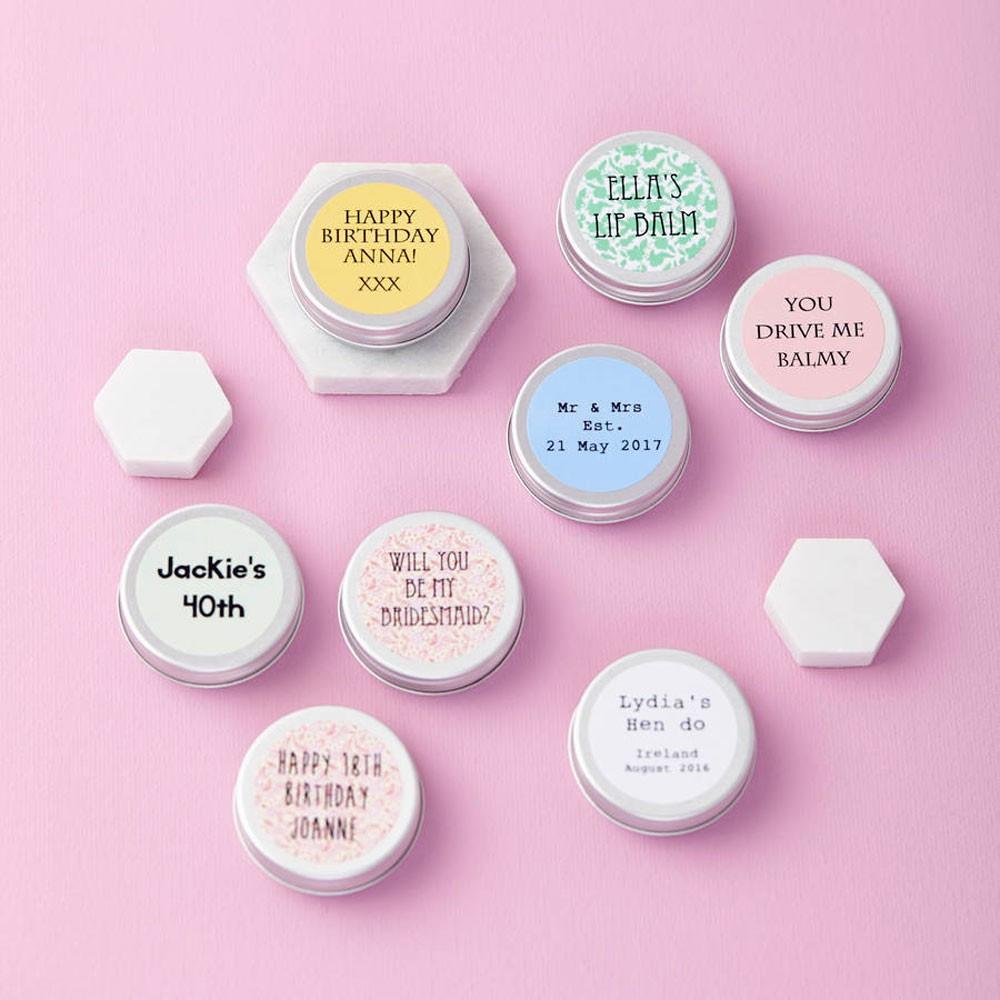 Pretty pouts in all your wedding photographs start with these pretty lip balm wedding favours!
Personalise the tub and the flavour inside… from Prosecco and peach to mojito or strawberries and cream – what will you choose?
Personalised Chocolate Square Wedding Favours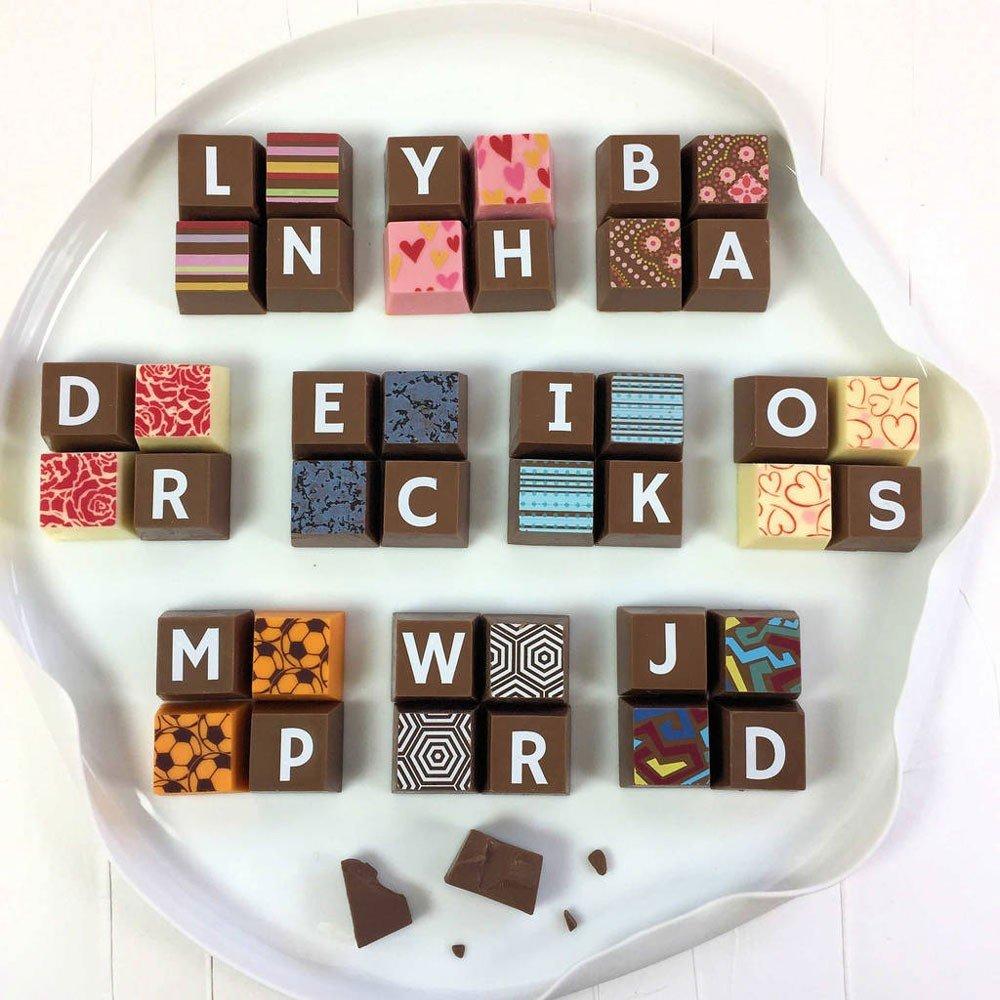 Keep your wedding favours short, very sweet and to the point with these cute chocolate squares. They're unlikely to last past dinner, but your guests will love them all the same.
READ MORE: The Cutest Chocolate Wedding Favours
Personalised Lollipop Wedding Favours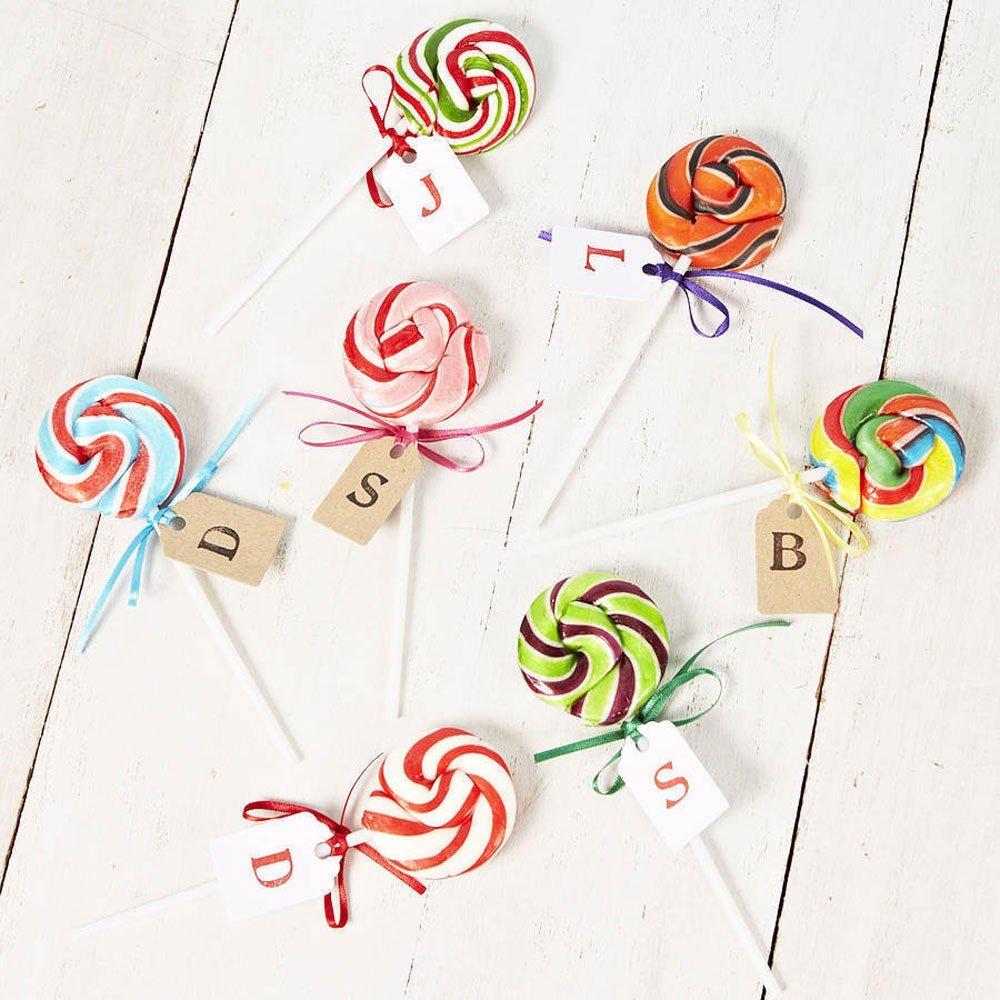 Go all Charlie and the Chocolate Factory and treat your guests to the sweetest wedding favours of them all. The labels on these swirly lollipops can be personalised with your initials, and there are so many flavours on offer.
We'd go for blackcurrant and apple… or strawberry… or bubble gum. We're spoilt for choice!
READ MORE: Edible Wedding Favours
Personalised Beer Bottle Wedding Favours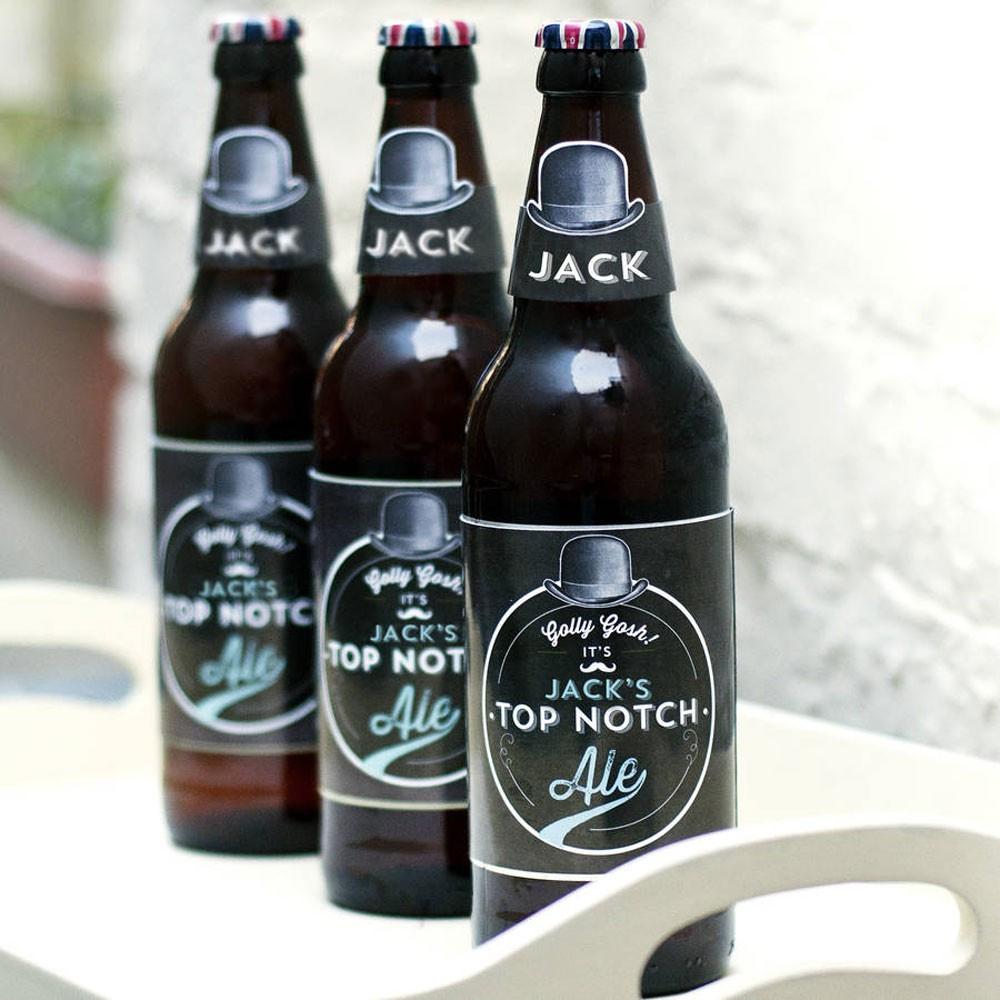 If the guests at your wedding are lovers of beer, treat them to a bottle with a personalised label that will look like you brewed it all by yourself!
Even once the beer has been drunk, guests can keep the labelled bottles as a memory of your glorious day.
READ MORE: Alternative Food and Drink Ideas
Personalised Botanical Bath Oil Wedding Favours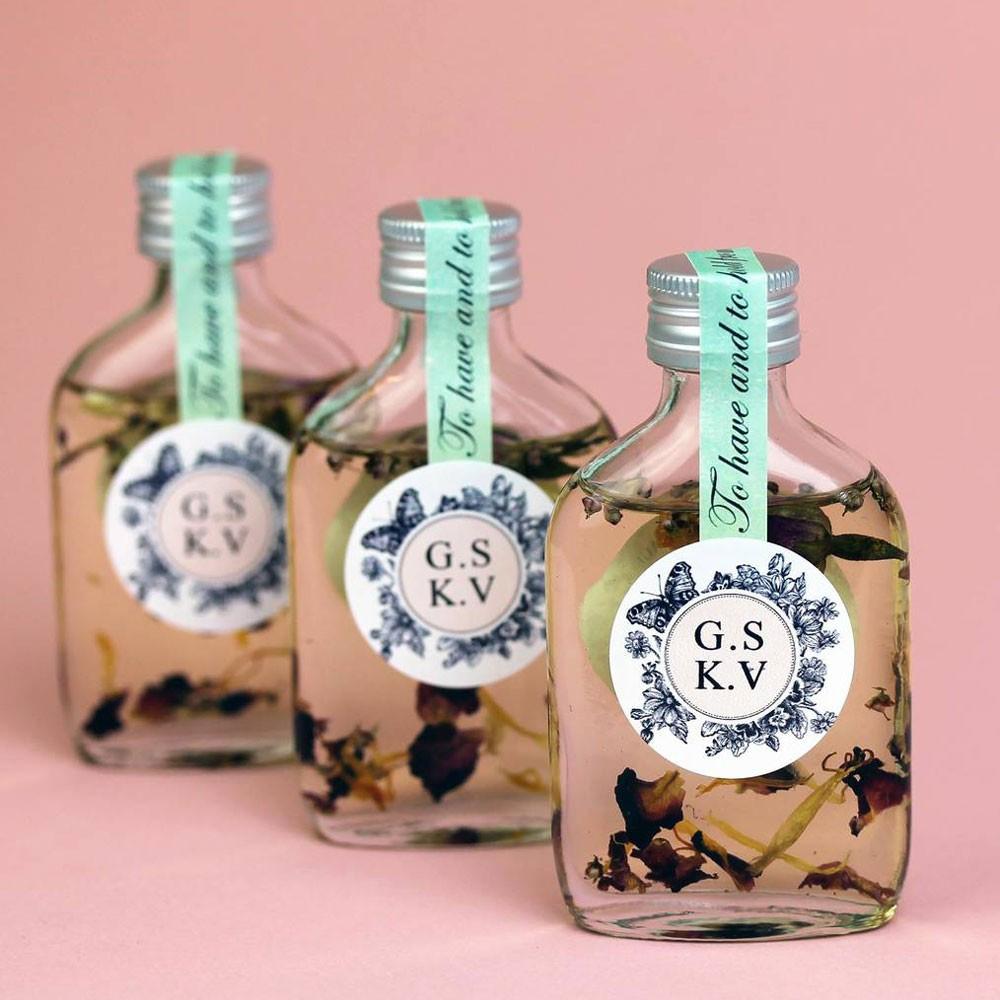 With all these signature cocktails and beers you're providing, your guests might be feeling a little worse for wear the day after your wedding. But fear not! Save the day with these personalised bottles of bath oil.
Your guests will be able to relax, recover and let that post-wedding hangover melt away.
READ MORE: The Best Wedding Mobile Bar Services
Personalised Marble Coaster Wedding Favours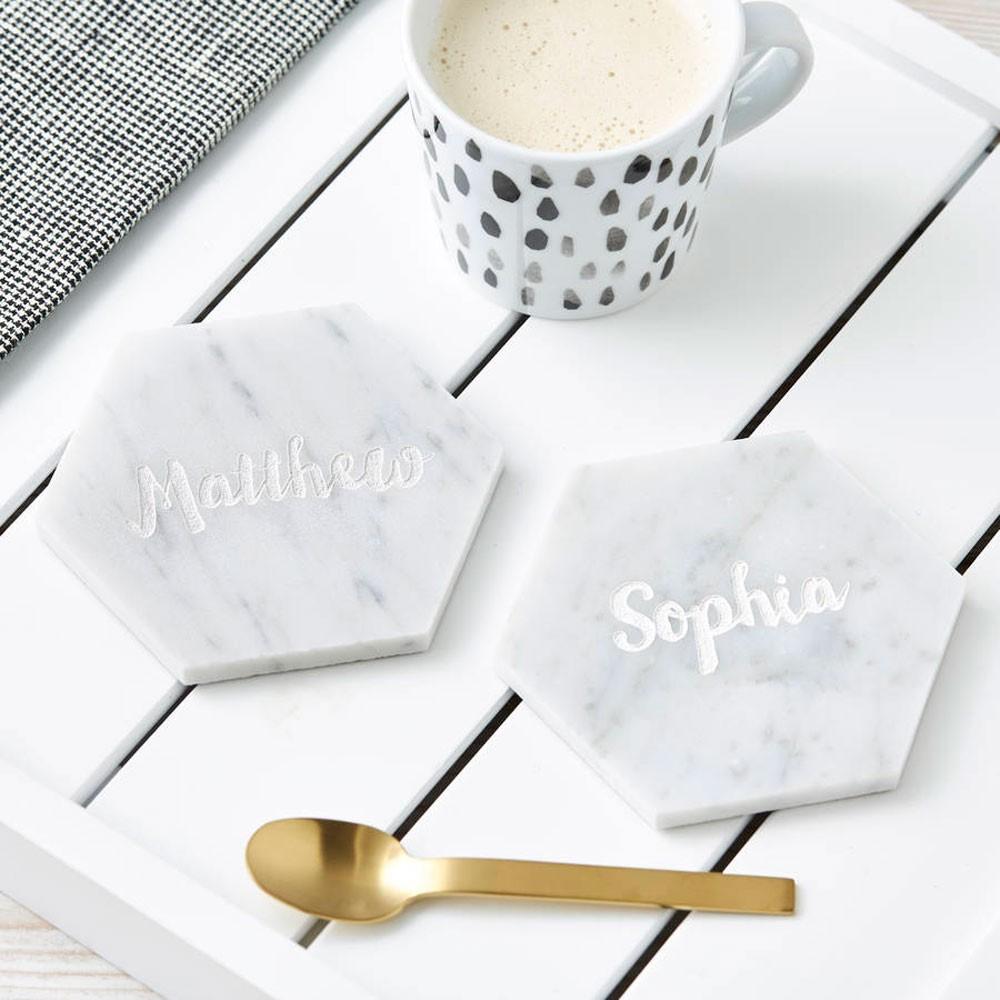 If you want to splash out a little bit more on your wedding favours, these personalised coasters are a beautiful choice.
We love the marble effect which is not only totally on trend, but in keeping with a variety of wedding themes. Your guests will really appreciate the effort you've gone to if you treat them all to these.
READ MORE: The Ultimate Guide to Wedding Themes
Personalised Matchbox Wedding Favours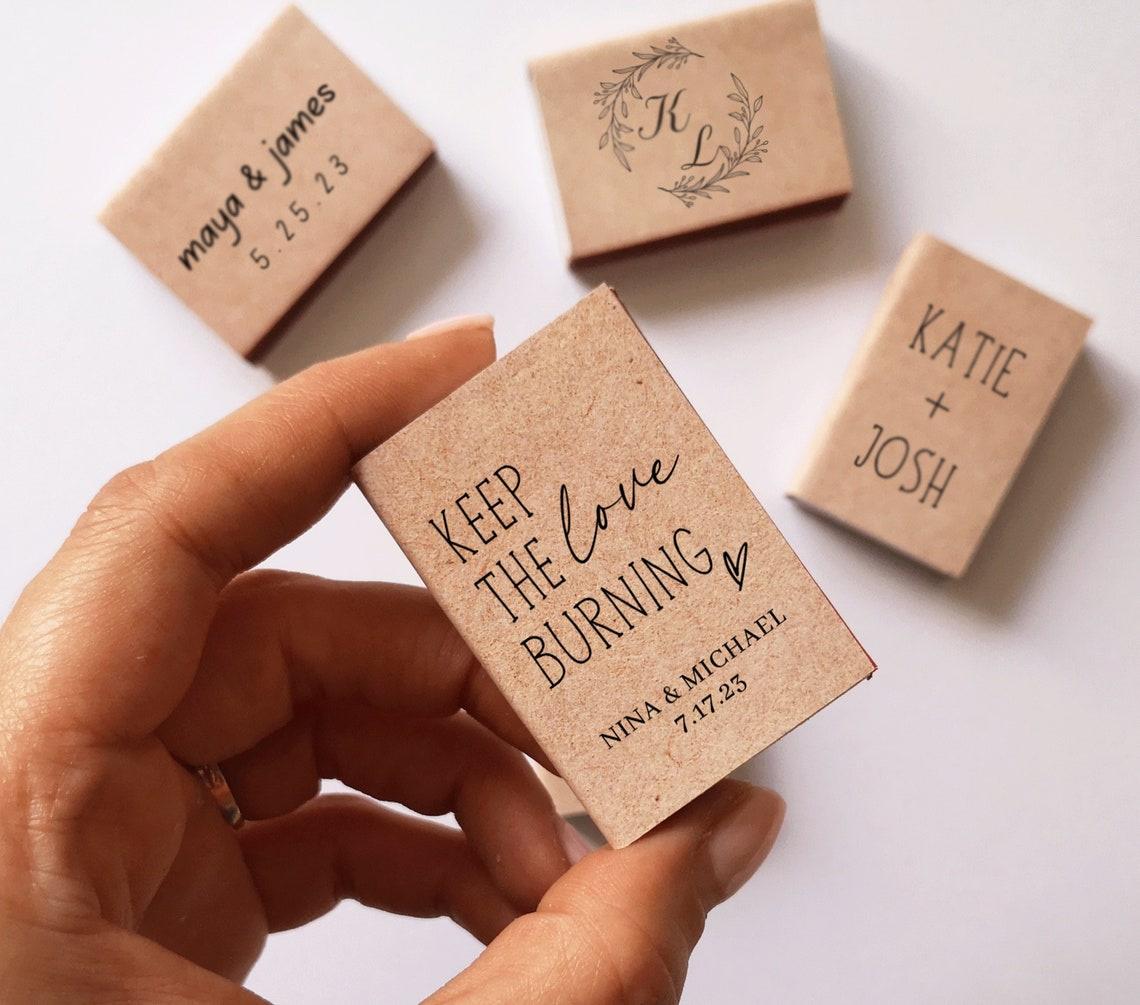 An unusual wedding favour might be the way to go if you and your partner aren't the traditional types, and we love a good old wedding pun.
These personalised matchboxes had to make it onto the list, for the funny label and gorgeous printed designs. Useful and pretty!
Personalised Bracelet Wedding Favours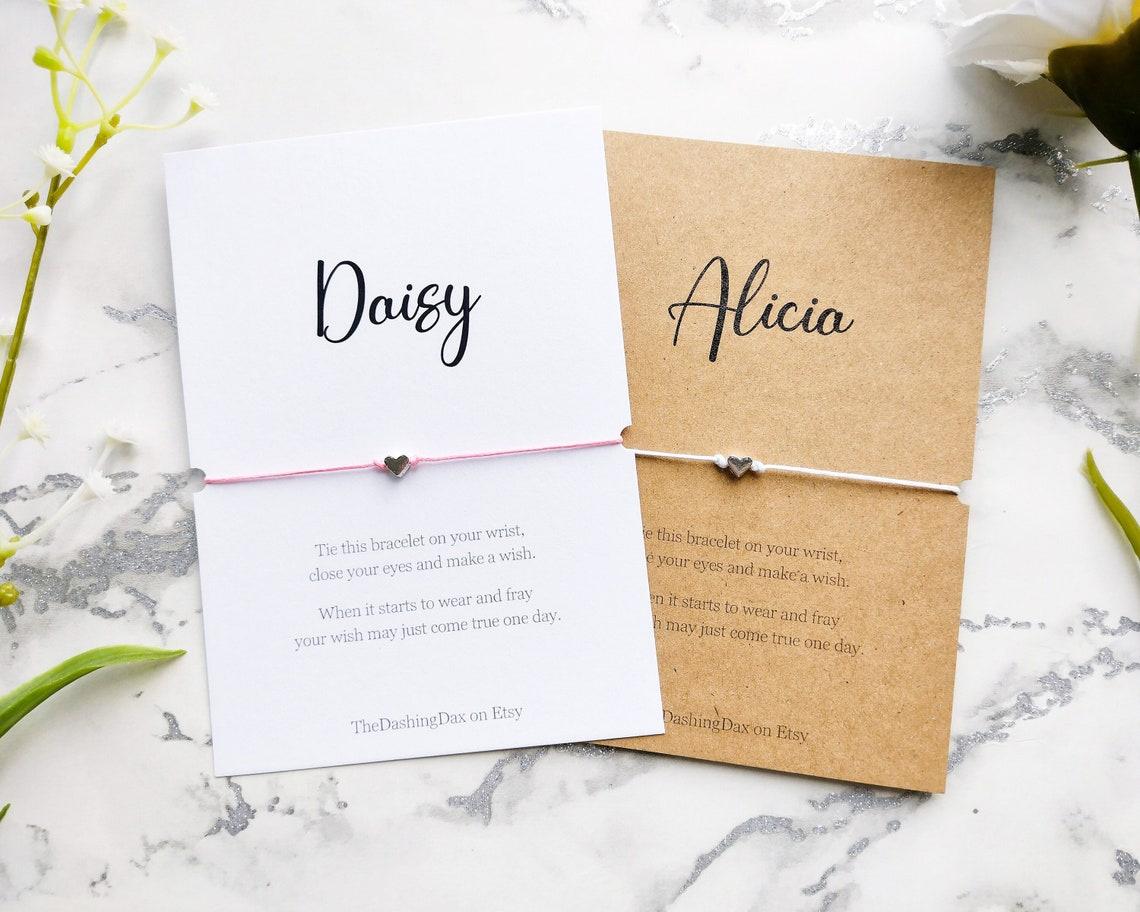 Treat the ladies on your guest list to these gorgeous, delicate wish bracelets, which come wrapped around a personalised card.
They'll be over the moon to accessorise their wedding guest dresses with these.
Personalised Lottery Ticket Holder Wedding Favours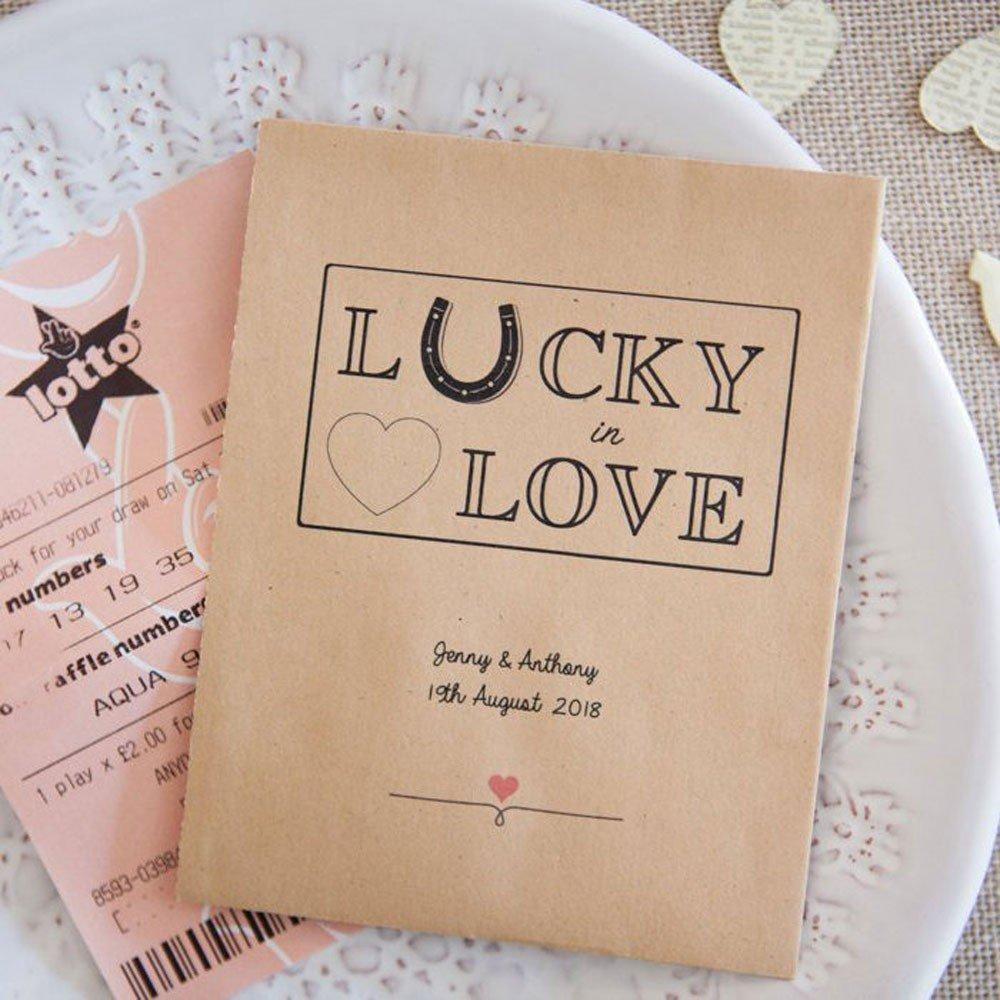 You're bound to be feeling like the luckiest person in the world on your wedding day, so share this luck with your guests and treat them to a lottery ticket or scratch card inside a personalised "lucky in love" ticket holder.
We love these lottery ticket holder wedding favours, because not only are they super sweet, but at 70p each they're one of the best cheap wedding favours we've seen in a long time!
Personalised Seed Packet Wedding Favours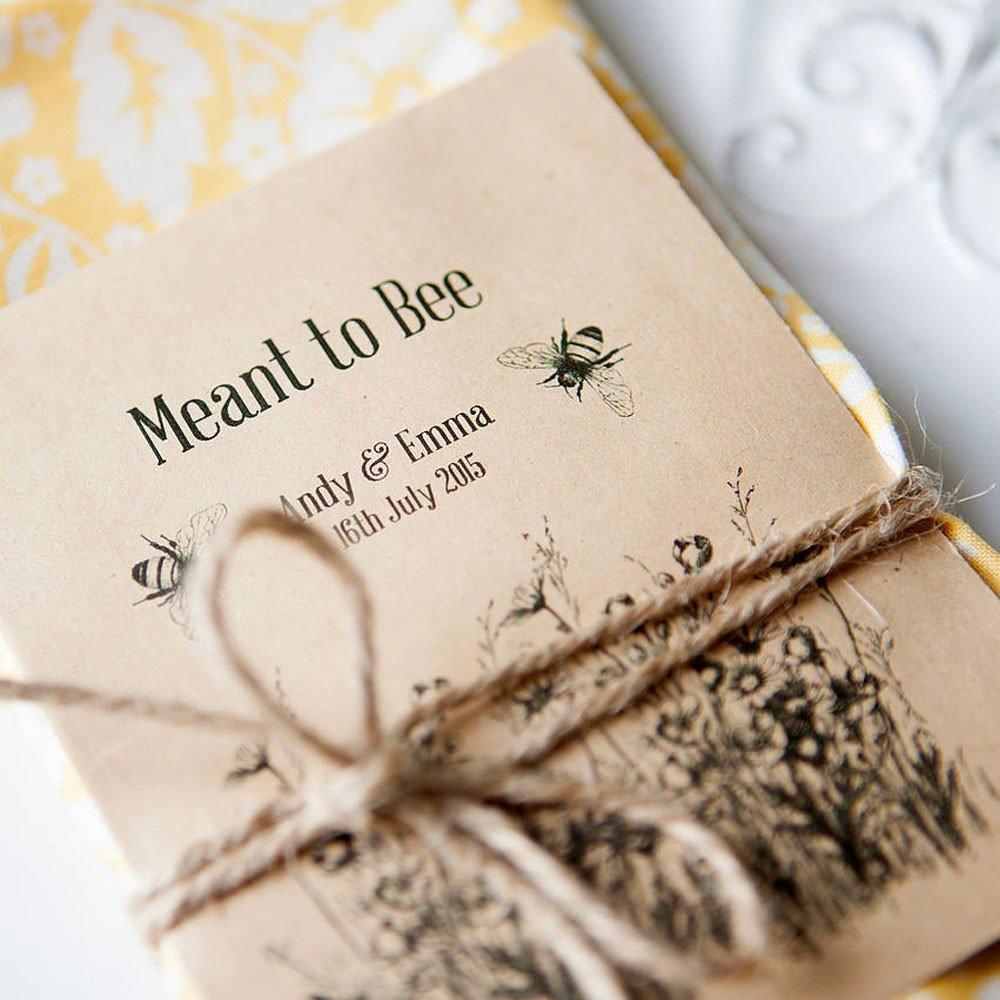 If you've chosen an outdoor wedding venue for your big day, then continue the green fingered theme and treat your guests to a seed packet wedding favour.
They'll be able to grow their own wildflowers, and as they bloom they'll be reminded of your day in a beautiful way. This is a truly romantic and meaningful wedding favour.
READ MORE: Gorgeous Green Wedding Reception Decor
Personalised Photo Box Wedding Favours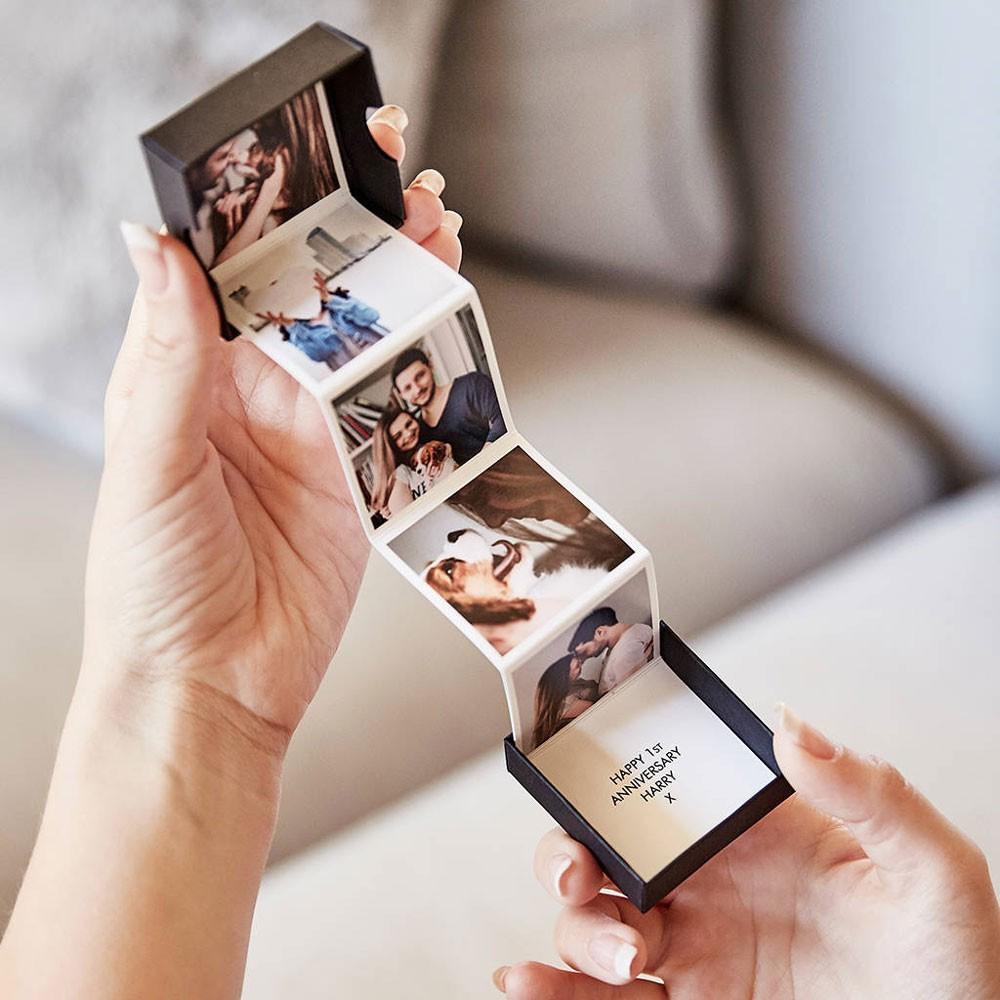 These sweet little photo box wedding favours make a totally unique gift to share memories with your special guests.
Use these as favours for the members of your wedding party, or really push the boat out and give them to all your wedding guests at a smaller wedding! You can personalise with a message, and you could select photos of yourself with the guest who'll receive it. Something to treasure forever.
READ MORE: Stylish Venues for Small And Intimate Weddings
Personalised Hangover Kit Wedding Favours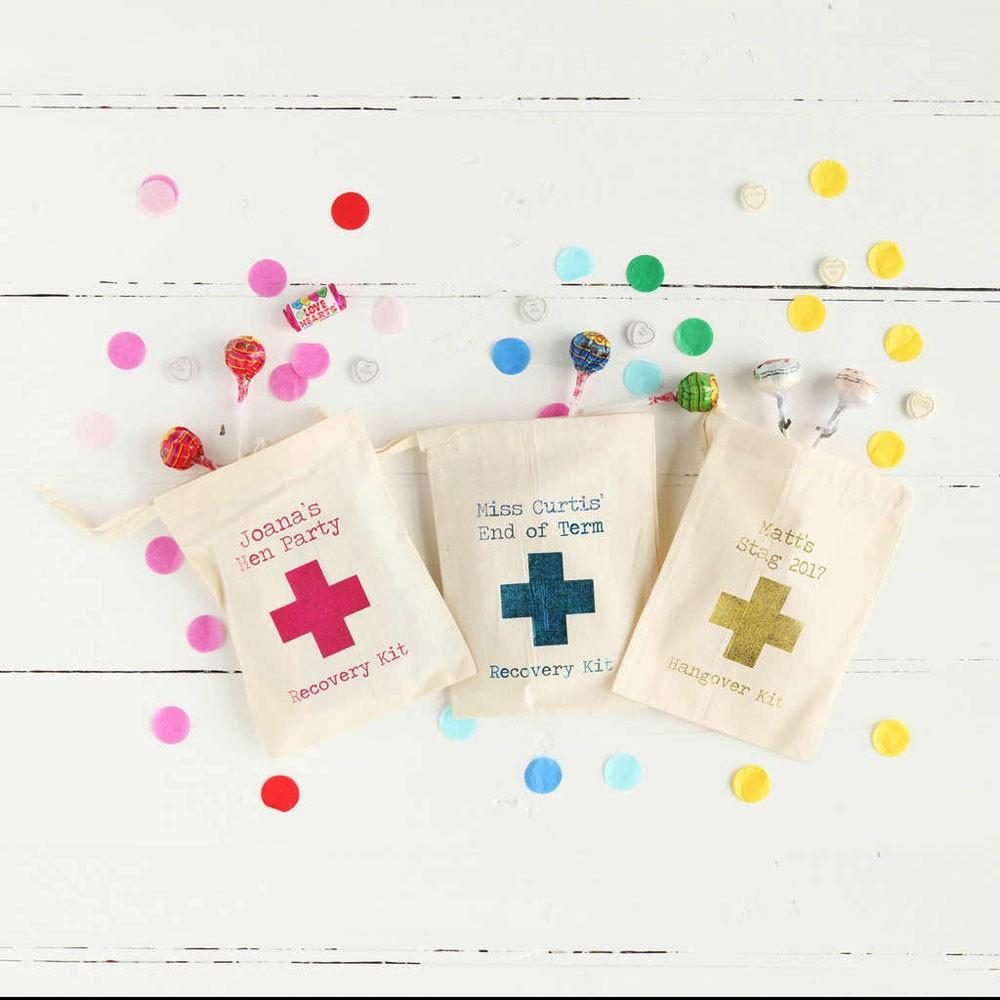 If you think your guests might be struggling the morning after your wedding, treat them to a hangover recovery kit wedding favour.
Personalise the bag with your names and the occasion, and fill with anything you think might help them the morning after the night before! Face masks, eye masks, paracetamol… the list goes on.
Personalised Badge Wedding Favours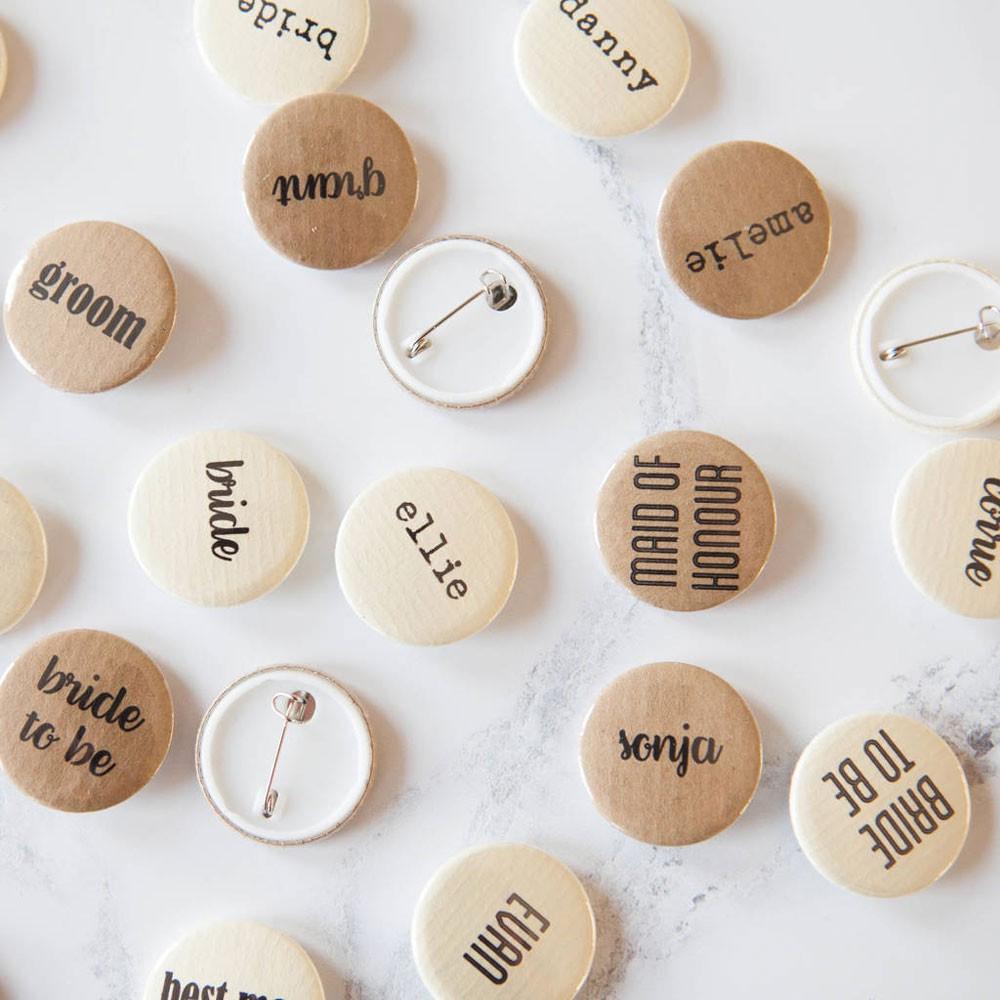 If you're watching your pennies, this wedding favour idea is a totally affordable and makes for lovely personal touch to your day. Personalise badges with either the guest name or their role in the wedding party, and choose the font and colour.
These are a great way for guests who don't know each other to start chatting – they'll really break the ice!
READ MORE: How To Plan a Wedding On a £5000 Budget
Personalised Succulent Wedding Favours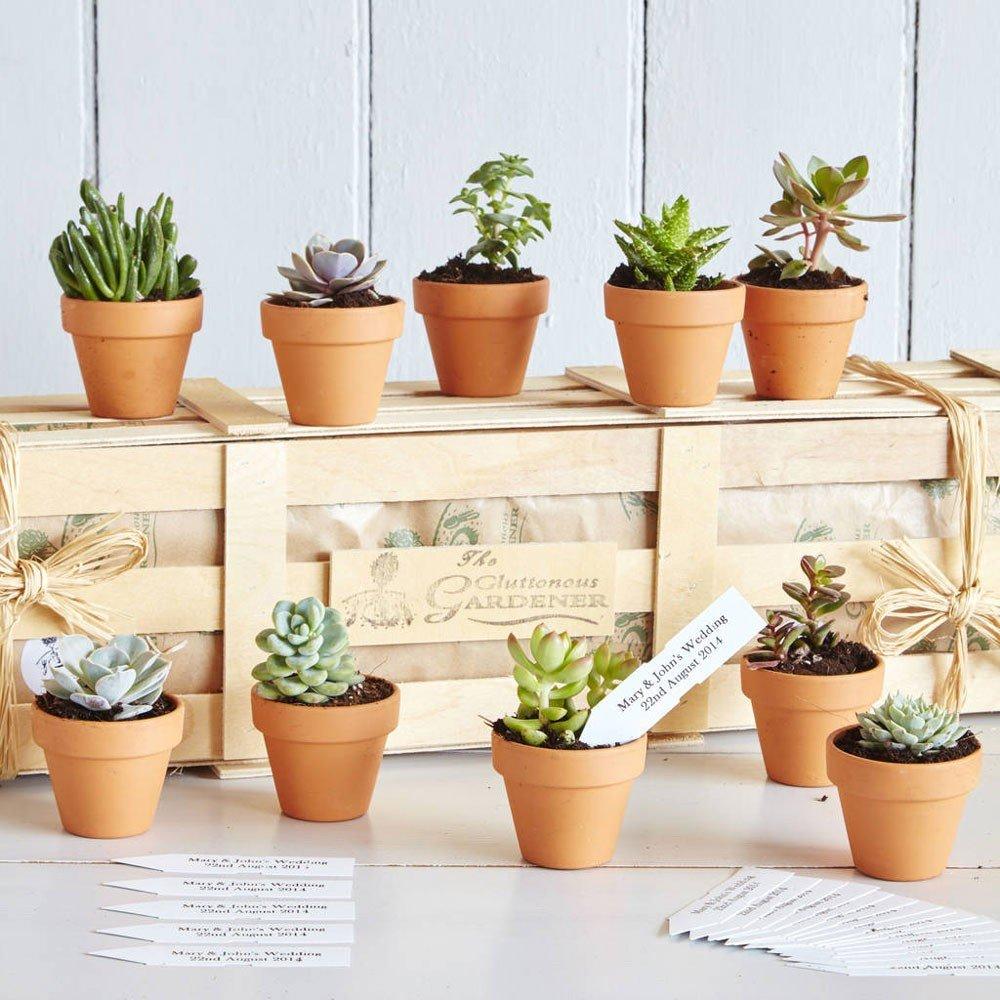 A gorgeous green succulent with a personalised label is a unique way to thank your wedding guests for making the day so special.
These beautiful little wedding favours come in terracotta pots, accompanied by a weatherproof label personalised with the names of the happy couple and the date of the big day.
The exotic plants are easy to grow and will be a lasting reminder of your special event.
Personalised Tea Blend Wedding Favours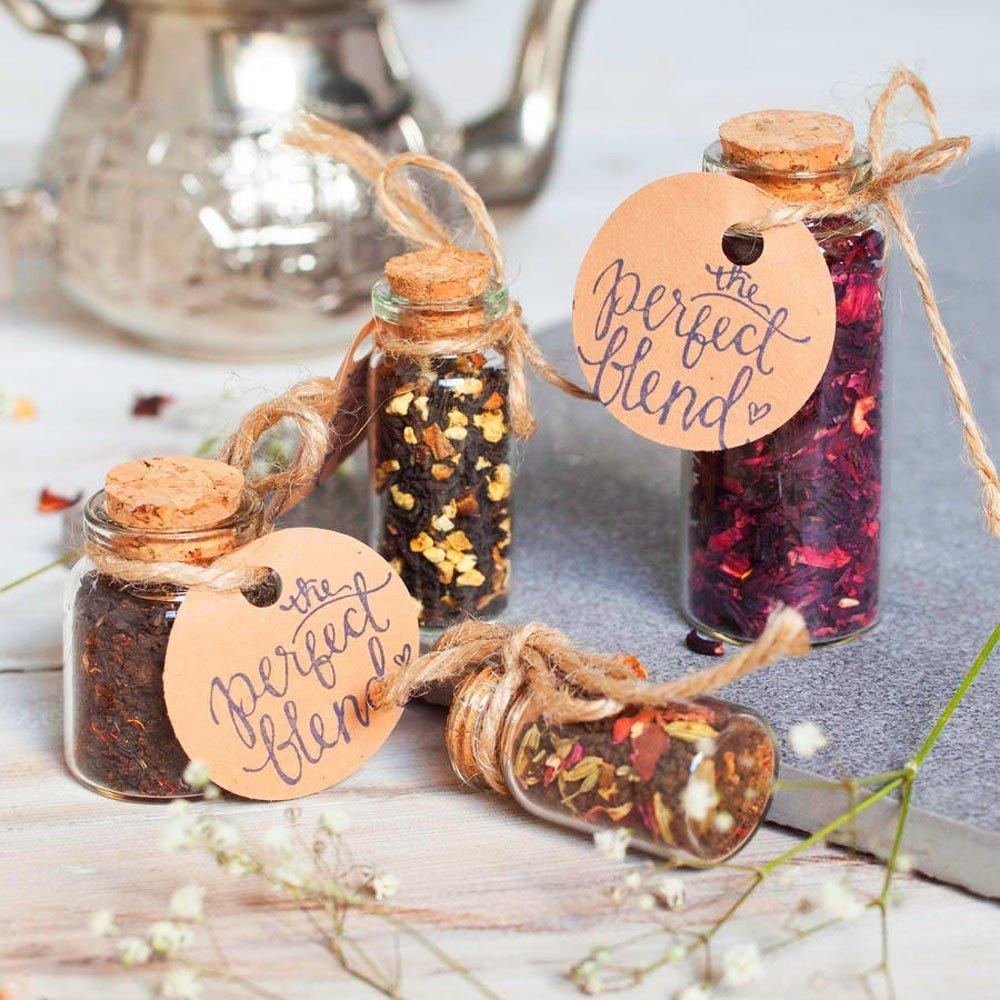 Personalise with more than just your names with this wedding favour – choose your own stunning tea blend which can be presented to your guests in an adorable corked bottle!
Add your own message to the label and select from a seriously long list of flavours. We'd go for the delicious Orange Spice tea.
READ MORE: Unusual Wedding Favour Ideas
Personalised Christmas Bauble Wedding Favours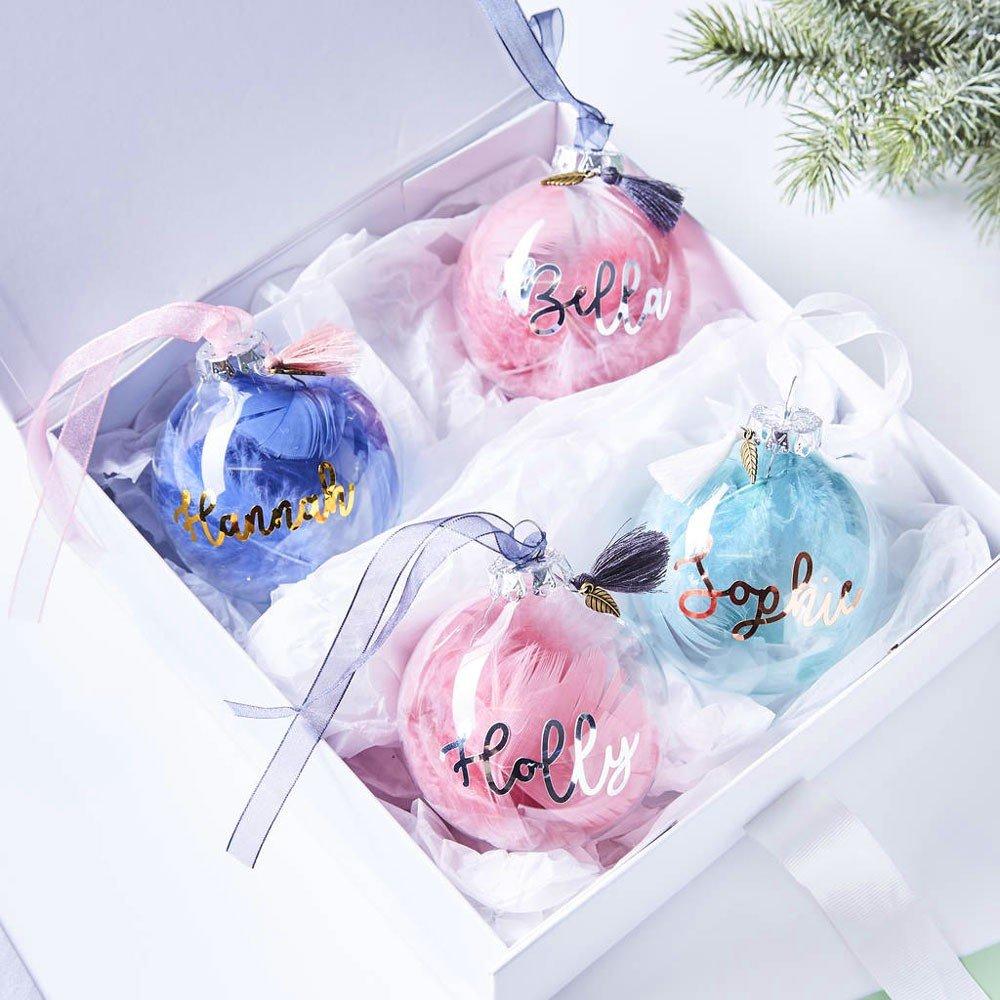 Getting married at Christmas? Why not treat your nearest and dearest to a personalised Christmas bauble wedding favour!
We love these pretty, transparent baubles. They're filled with pastel feathers and decorated with metallic foil lettering. The most perfect table decoration!
READ MORE: The Most Magical Winter Wedding Venues
Looking for some pretty ways to wrap your personalised wedding favours? Check out our selection of lovely wedding favour boxes for inspiration.Buy It Now