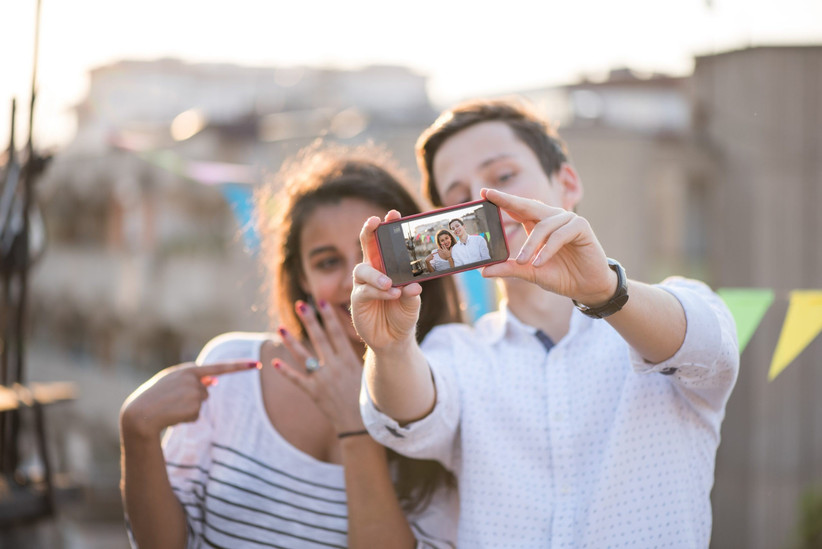 Getting engaged is one of the most exciting life events and usually one filled with fun and celebrations with family and friends. However, if you've said 'yes' during the Coronavirus lockdown, your big moment is probably not quite how you imagined it would be.
The good news is, lockdown or no lockdown, with a little creativity and a whole lot of enthusiasm you can announce your upcoming nuptials and kick-off your celebrations in style. Trust us, with the help of technology, some clever timing and a cute prop or two, you can totally nail this.
Still not convinced? Read on for our best ideas for your online engagement announcement and prepare for some seriously boozy Zoom celebrations!
NB: We have included third party products to help you navigate and enjoy life's biggest moments. Purchases made through links on this page may earn us a commission.
1. TikTok
While the Coronavirus pandemic has certainly been a difficult time for us all, it has also brought with it some pretty weird trends that we never saw coming (big cats and banana bread, anyone?). One of our favourite things to emerge from lockdown is the exploding popularity of TikTok. Sure, it's mostly packed with carefully narrated videos of dogs and excellently lip-synced movie clips, but it is also a fun way to announce your engagement.
Make use of the filters, sound bites, music clips and even your pets, if you have them, to add flavour and get creative with your announcement. Make sure you let your closest pals know when you plan to go live with your important video and then download it to your phone afterwards so that you can admire your work for years to come!
2. Instagram Post
If you're obsessed with the 'gram and your feed is basically a beautifully curated online diary then it makes total sense for your engagement announcement to feature here. You could upload a classic #ringfie (that's an engagement ring selfie, FYI), a snap of the two of you with the ring in full view or a pic of the set-up when you or your spouse-to-be popped the question.
To create some extra excitement around the announcement, why not record a quick Instagram story first, telling your followers that you're going to post some huge news and the time you plan to go live? Let's face it, everyone could do with something to look forward to right now!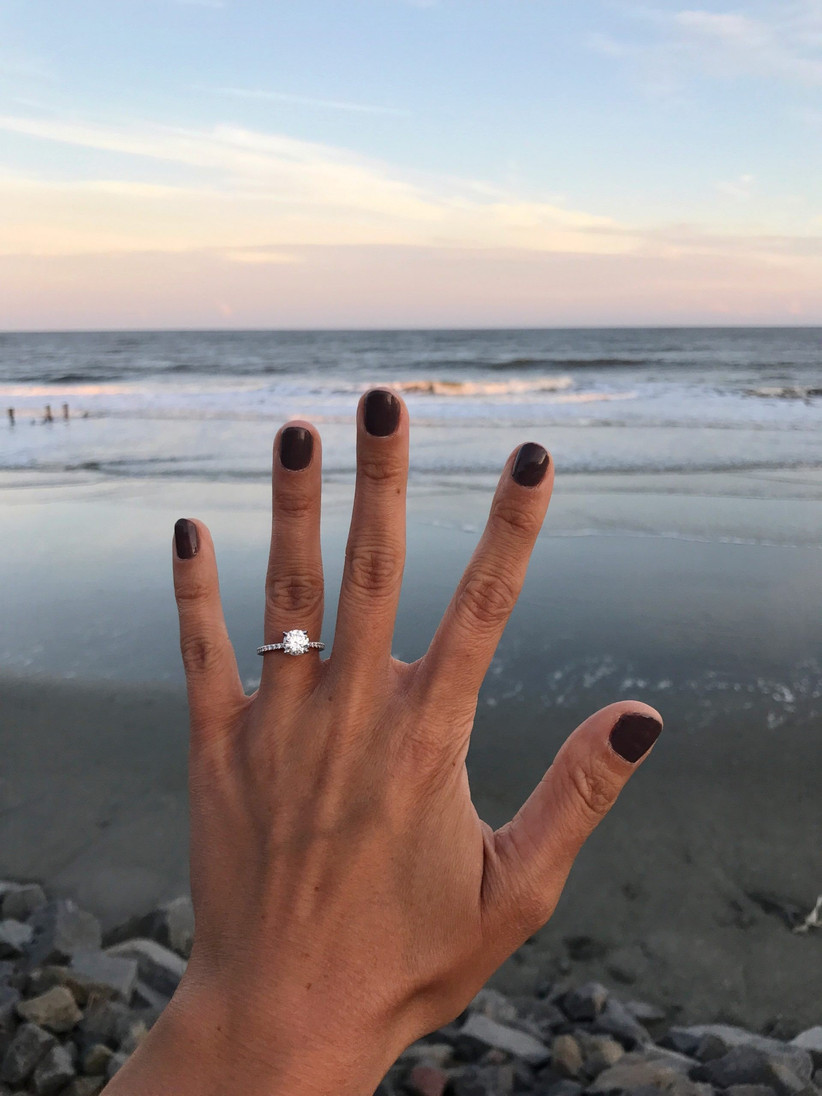 3. Instagram Story
Like the above but in reverse, you could post a pic of the two of you letting your followers know that you're going to be posting an announcement to your story and then think of a fun way of telling them you're engaged.
You could lead your viewers through the house or garden to the proposal spot or simply upload a video showing off your diamond (twinkling effect optional but totally recommended).
4. Facebook Live
Let all of your friends and family know that you're going live at a specific time and then get online together and spread your news! We love this idea because you can get live reactions and comments from people, making it feel as though you're celebrating together.
Like with an Instagram story, you can guide watchers to the proposal spot and flash your bling or simply shout it from the rooftops and toast your upcoming nuptials with some bubbles and encourage your friends to join you.
5. Video Call
This isn't for everyone, but may we suggest actually proposing to your partner while on a video call with your family? If you know your partner has always dreamt of their family or friends being around for this moment, you could always set up a standard catch-up call and then pop the question. This way you can start a virtual celebration straight away – just remember to put the fizz in the fridge before you get started!
If you'd rather keep the proposal for just the two of you, you could always invite friends and family to join you on a call afterwards and ask them to come prepared with a drink. Once everyone is online, you can reveal your news and ask them to join you in a toast to your future.
READ MORE: How to Get Married: Your Step by Step Guide
8 of the Best Online Engagement Announcement Props
Everyone loves getting a package in lockdown, right? Why not make your next one a box brimming with props that will make your big online engagement announcement pop? Here are our faves.
Dog Engagement Bandana – £11.91, Courtanai at Etsy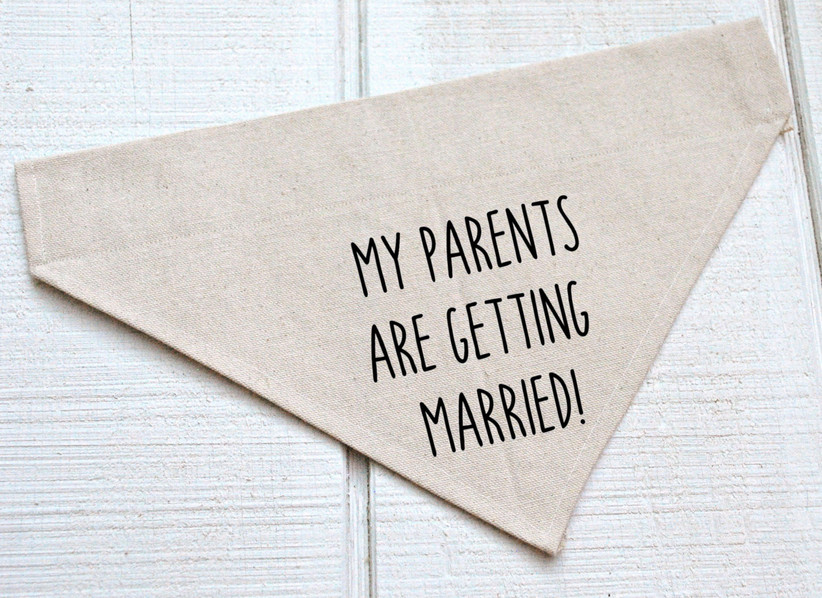 If you have a fur baby and like to include them in everything you do, then you need this engagement announcement bandana from Courtanai at Etsy. Seriously cute and will guarantee maximum likes. Winner.
Cake Topper – £25, The Letter Loft at Not on the High Street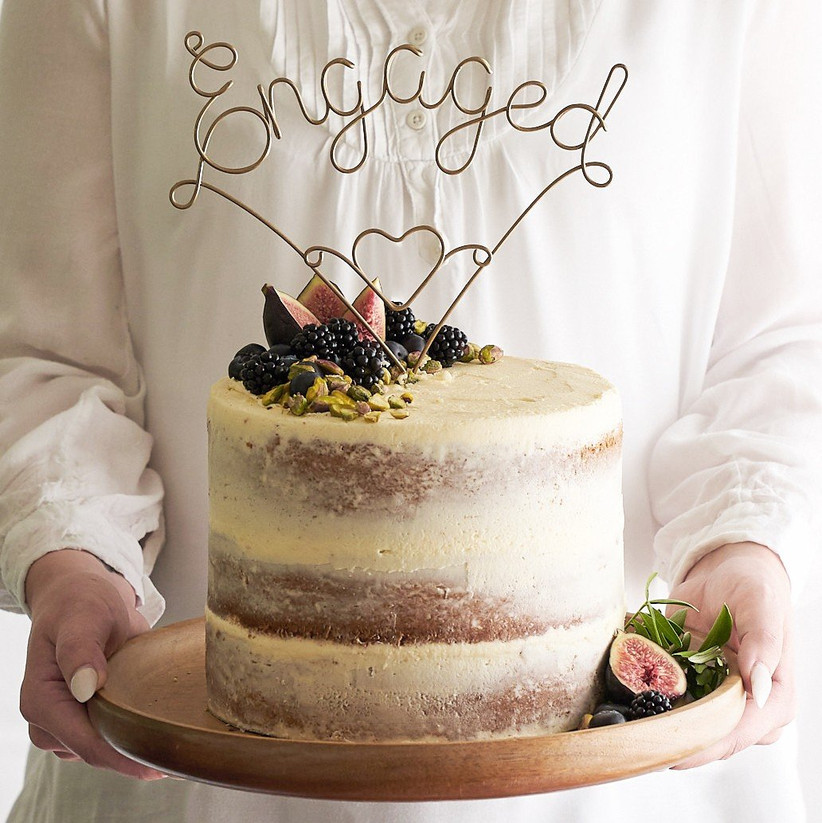 So this topper from Not on the High Street is probably made for an engagement party cake but we reckon it will look just as amazing on your home-baked banana bread in a cute Instagram post.
'He Put A Ring On It' Balloon – £32, Bubblegum Balloons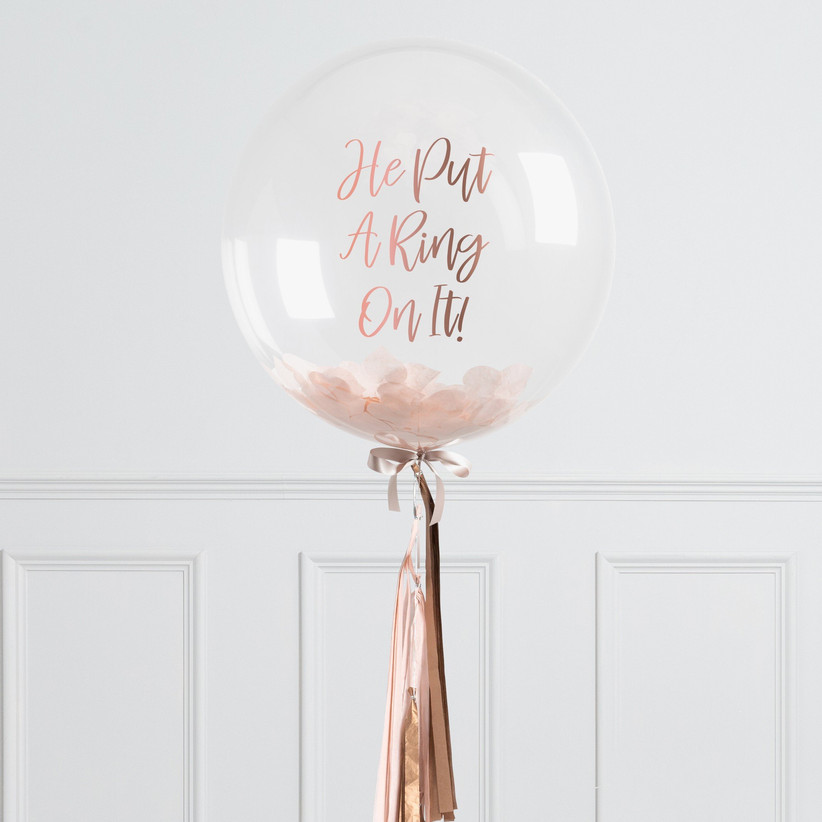 For a beautiful engagement announcement post or video prop, you can't beat a tassel and confetti balloon. This rose gold beauty from Bubblegum Balloons would be our pick (plus it's customisable so it can say 'she put a ring on it' too).
Engagement Mug Set – £24.99, Perfect Personalised Gifts at Not on the High Street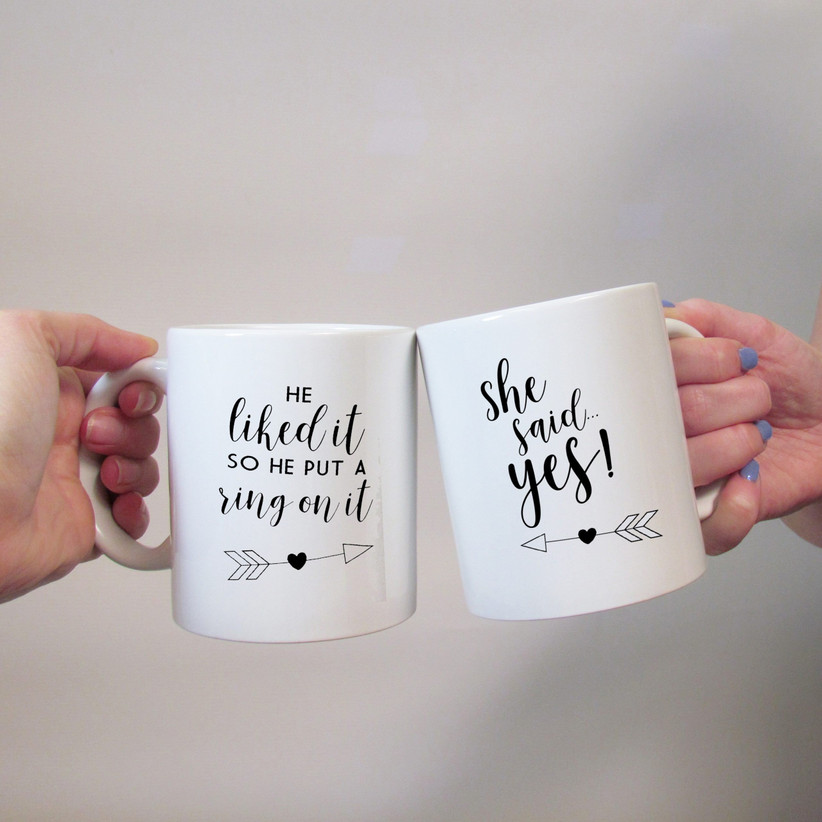 If understated is your vibe, then what better way to announce your upcoming nuptials than with a good old cuppa? These mugs from Not on the High Street are adorable!
Personalised Engagement Ring Dish – £22, White Rain Designs at Not on the High Street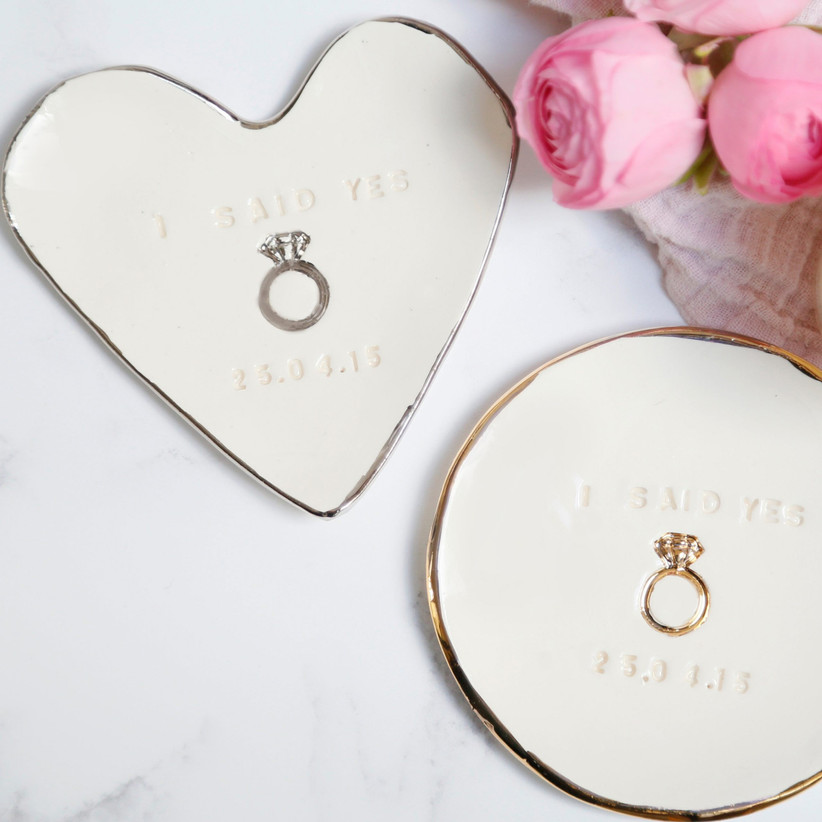 You're going to need somewhere to store your bling from time to time, making this personalised ring dish from Not on the High Street a pretty and practical purchase. Place it next to some florals and create a Pinterest-worthy flat lay for engagement announcement goals.
'I Do' Crew Balloon – £3, Designs by Beatrice at Etsy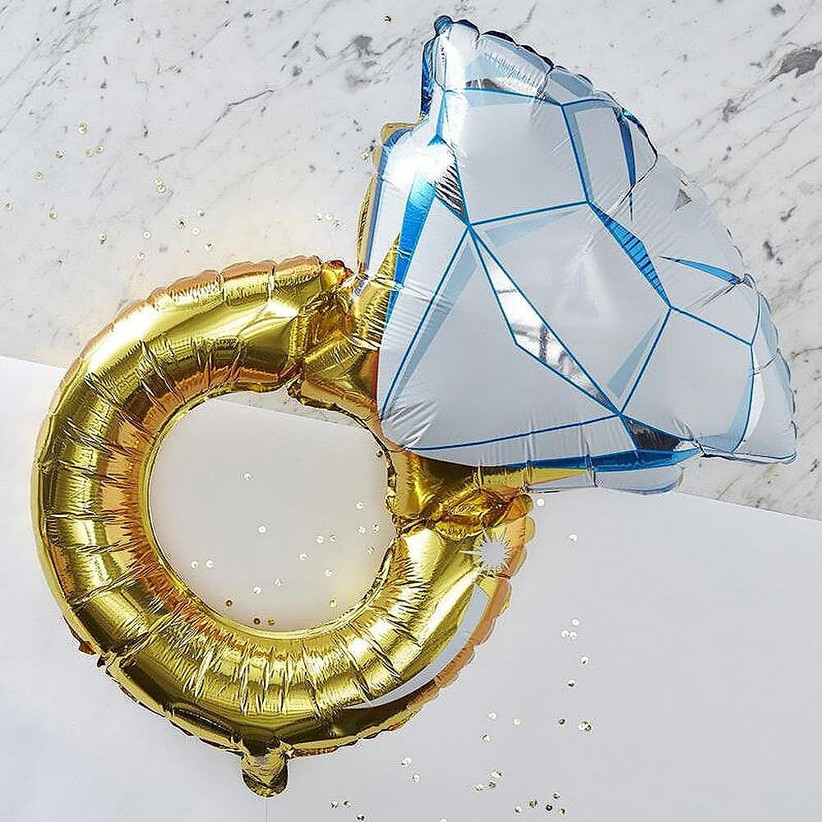 Because sometimes one ring is just not enough! Grab the attention of your loved ones with this giant, metallic engagement ring ballon from Etsy.
Engagement Map – £8.95, Mermaid Mary's at Etsy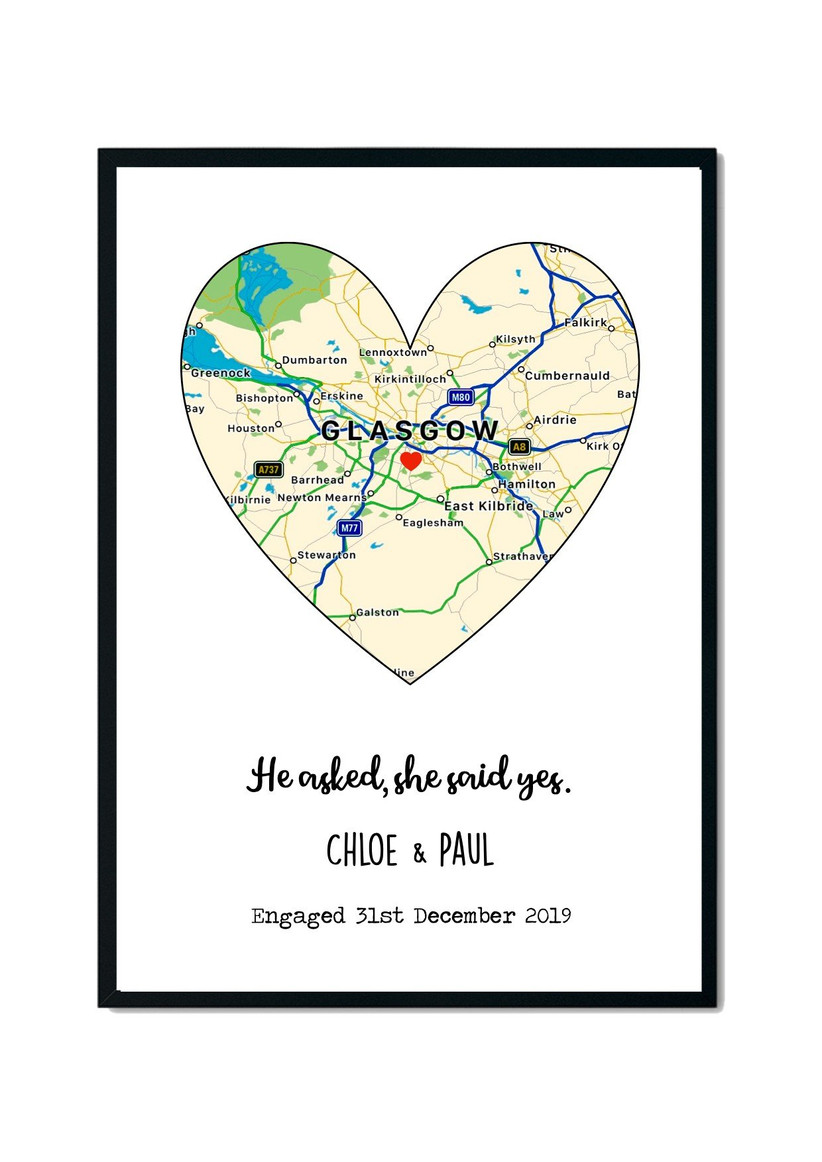 Home is where the heart is, as the saying goes, and so why not mark your home and proposal spot on this personalised map from Etsy? It makes a great social media announcement post and you can also hang it on your wall afterwards!
Engagement Photo Booth Props – £10 Postbox Party at Not on the High Street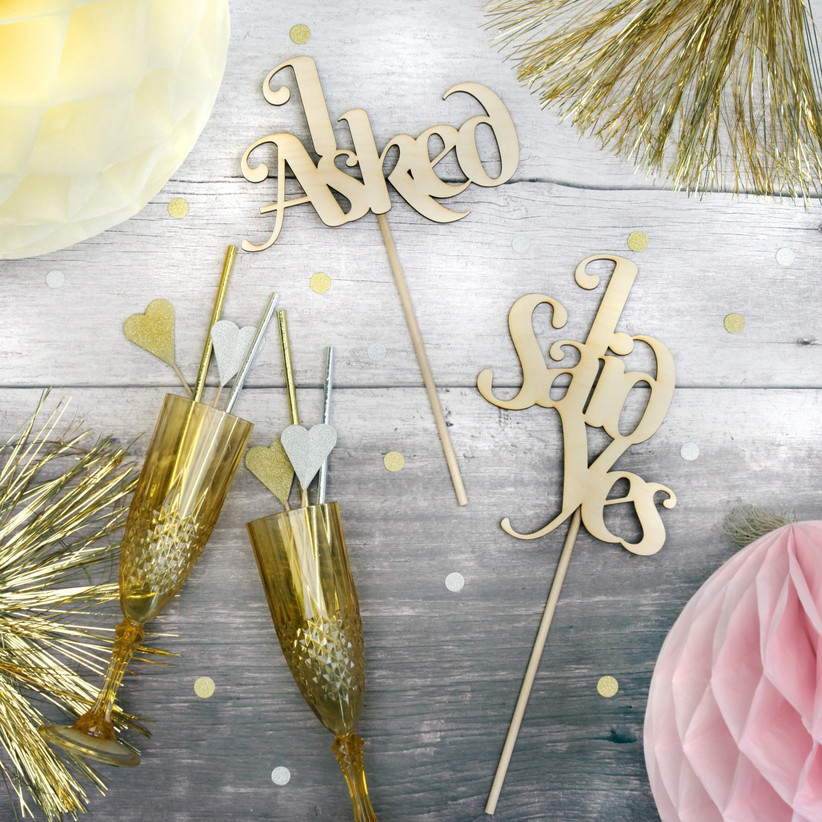 Get your pose on with these cute photo booth props from Not on the High Street. You can give them a starring role in your social media announcement snap or surprise your friends and family by holding them up in a video call.
How to Celebrate Your Engagement in Lockdown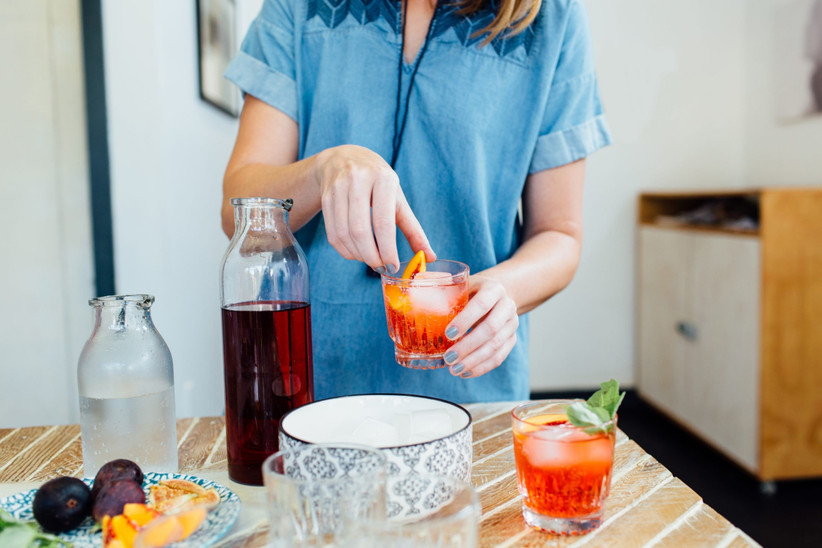 Order In – these days, a takeaway from your favourite place is one of the biggest treats you can get. Stock up on your favourite tipple, light some candles and create the romantic meal out you'd probably be having out of lockdown.
Host a Zoom Party – if you're the one doing the proposing, why not secretly arrange a Zoom get together straight afterwards so that you can both celebrate with your loved ones? You could create a Spotify playlist to share with everyone first and instruct everyone to come prepared with drinks and snacks.
Organise a Drive-By – again, if you're proposing you can arrange this in advance. Have any loved ones from nearby to drive past your house after the proposal and shout out their congratulations. Alternatively, you could both drive by the houses of friends and family to give them an early (from two metre distance) glimpse of the ring!
Recreate Your First Date – sometimes going back to where it all began can help you to appreciate everything you have and how far you've come. If you went to the cinema on your first date, why not watch the movie you saw? If it was a picnic, set one up in your garden or living room and if it was a meal, order in or cook the same dishes.
Plant a Tree – give something back to the world and create a lasting memory of your engagement by planting a tree on the day. Imagine how lovely it will be to watch it grow as your years together go by!
Start Planning – there's no reason why you can't start looking at wedding inspiration and begin to plan your wedding online. During a time like this it's important to look to the future and focus on the good things to come, so there's no harm in using this time to explore the options together.
We get that many of you will have dreamt of adventurous proposals on mountain tops or sun-soaked declarations of love on the beach followed by a celebration surrounded by loved ones, but we promise that however you start your journey to becoming a married couple, it will always be a special time that you'll look back on with happiness.
Lockdown won't last forever and this way, you can stage a fun and quirky online engagement announcement and celebrate IRL just as soon as this is all over. Trust us, the wait will make it even sweeter.
Just because you're at home, it doesn't mean you can't recruit your wedding A-team. Get a guaranteed 'yes' from your girls with these amazing bridesmaid proposal boxes.