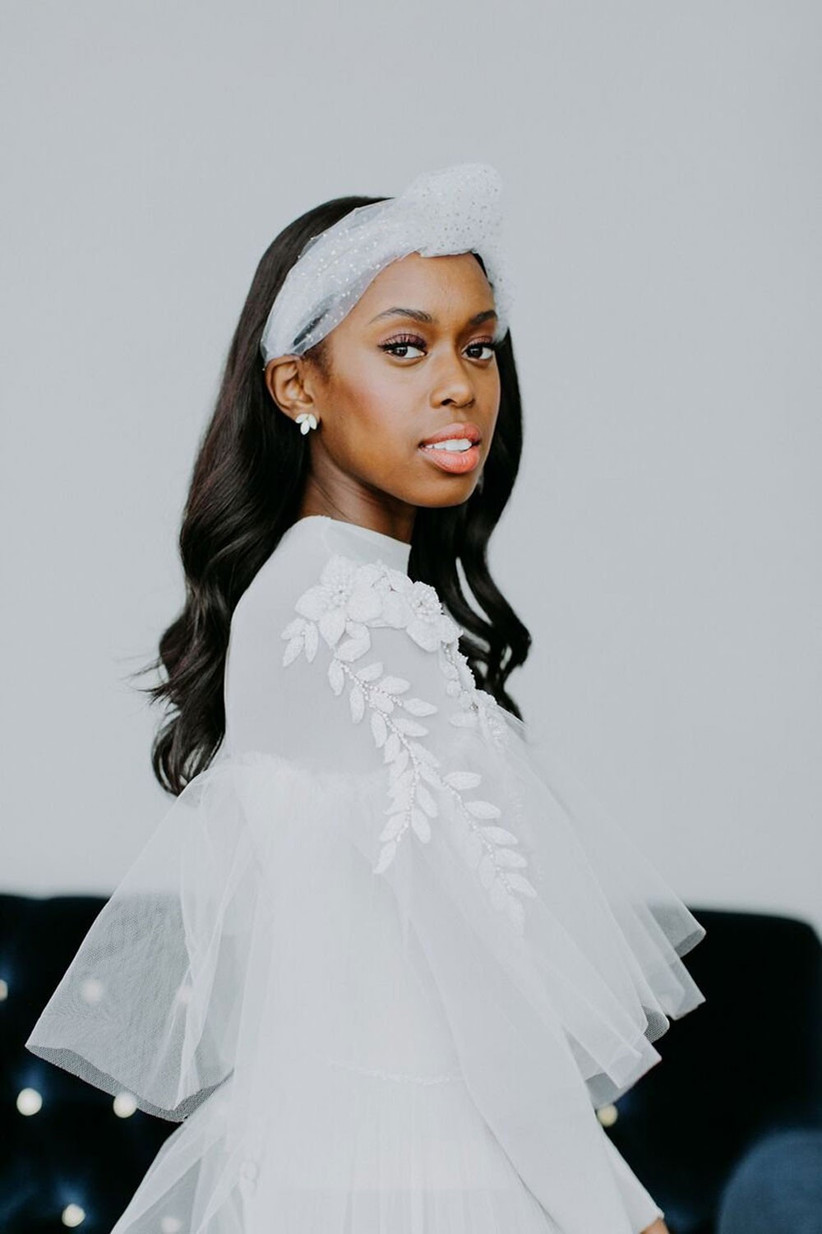 Etsy is a treasure trove of goodies for every couple planning their wedding. Full of unique and personalisable items – most from small, independent businesses – you'll find so many thing to make your big day completely individual to you.
Now they've scoured their site to find the most searched for wedding trends to predict what'll be hot at weddings in 2019.
READ MORE: 2019's Biggest Wedding Trends
From unusual veil alternatives to cool eco-friendly ideas, get ready to want to include everything.
Here's Etsy's top wedding trends of 2019 to inspire you.
Statement Sleeves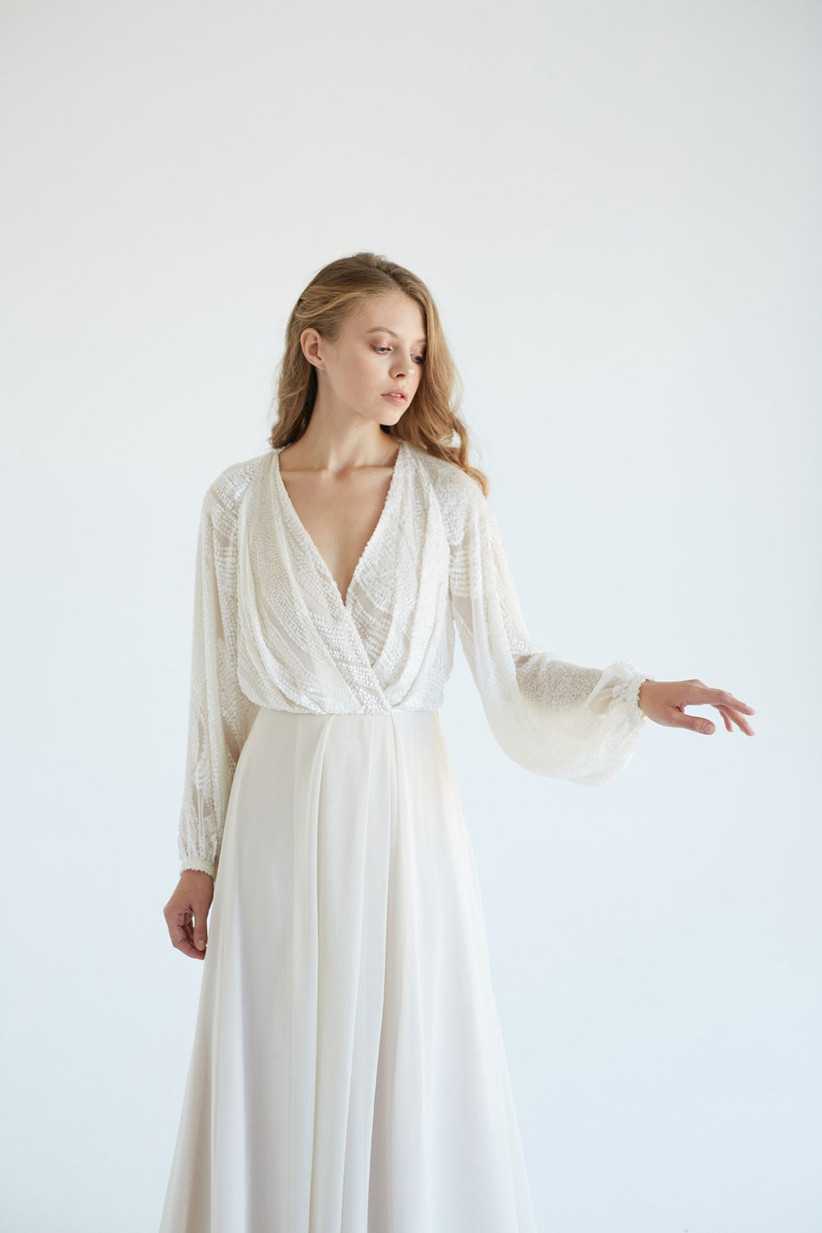 Image: Mywony Bridal
More is definitely more when it comes to wedding dresses in 2019. Channelling the maximalism trend, statement sleeves are a gorgeous way to add drama, romance and Insta-worthy style to your dress.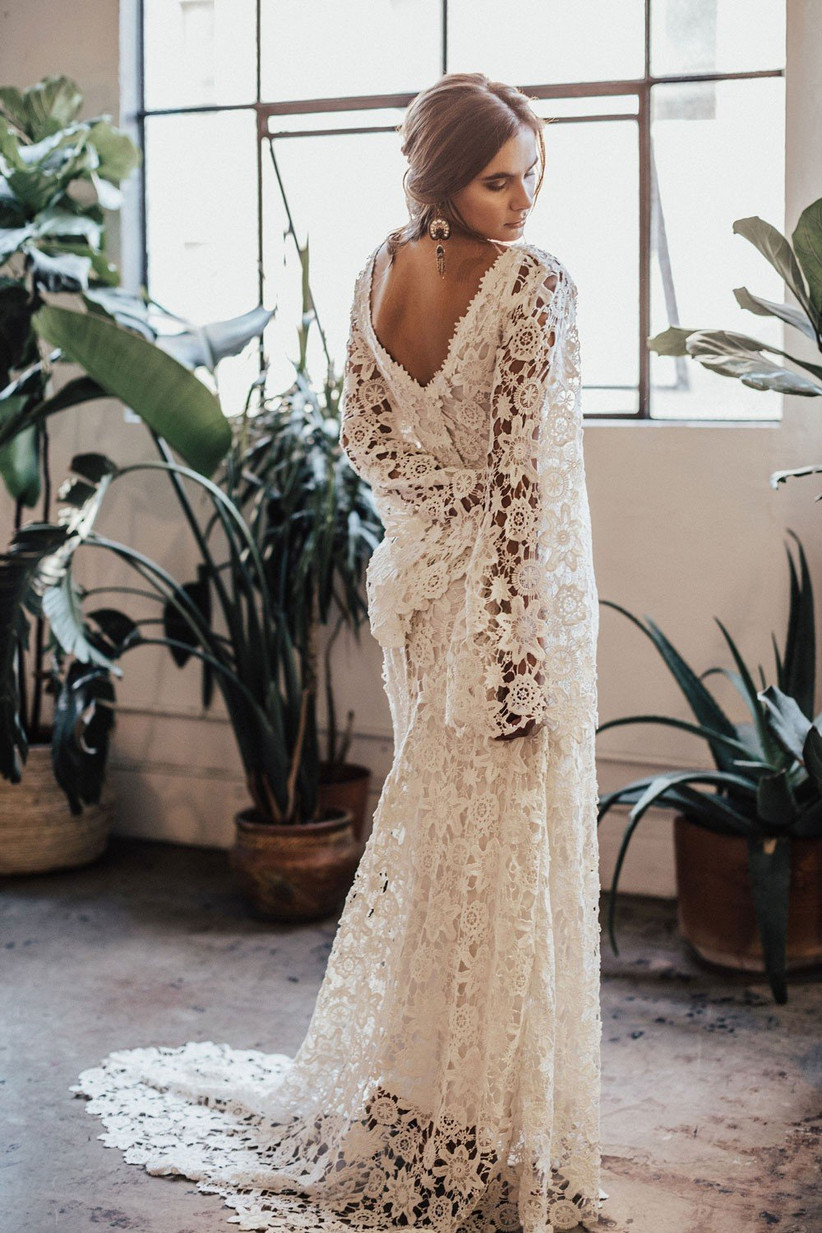 Image: Dreamers & Lovers
Etsy have seen over 155,000 searches for wedding dresses with sleeves in the last three months alone. Whether that's breezy boho style, fluttering lace or clean, straight lines like Meghan Markle's sleeved gown, there's so many ways to adopt this trend.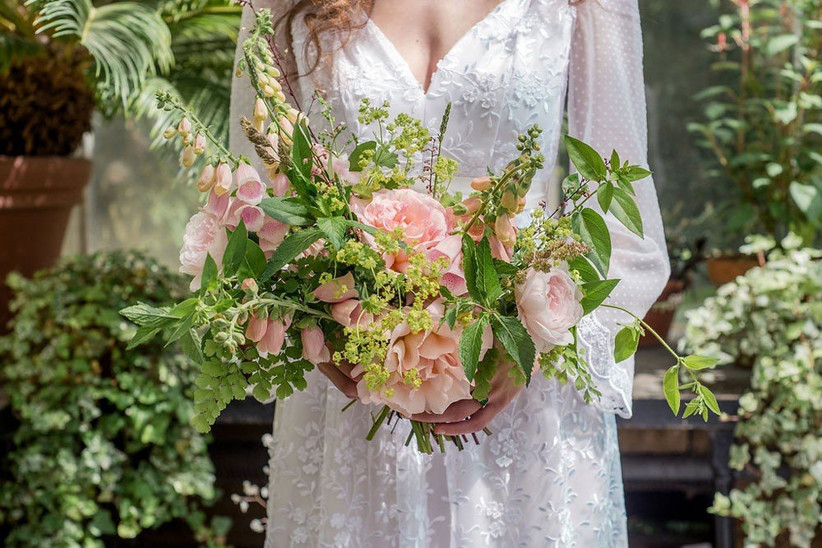 Image: MaudiKa Bridal
What's so great about this trend is that it defies seasons – you can wear a sleeved dress any time of year. Make them sheer and light for spring and summer and add a little warmth with heavier sleeves for autumn and winter
READ MORE: The Hottest 2019 Wedding Dress Trends
Veil Alternatives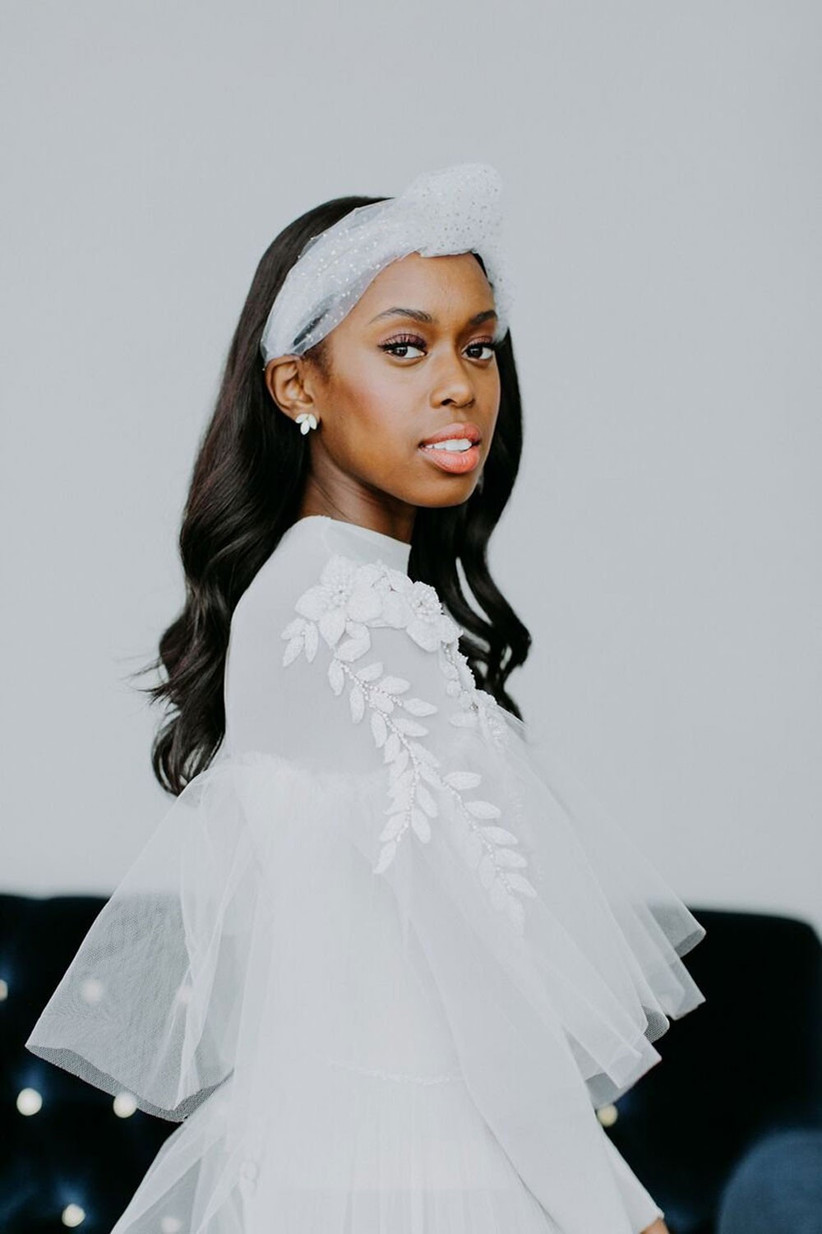 Image: hushedcommotion
The traditional veil is a gorgeous choice, but lots of modern brides are choosing to turn convention on its head. In 2019 expect to see a huge rise in brides choosing unexpected – and showstopping- alternatives to the veil. In the months leading up to wedding season, Etsy saw 43,000 searches for bridal headpieces: everything from tulle headbands (above) to feathered headpieces (below).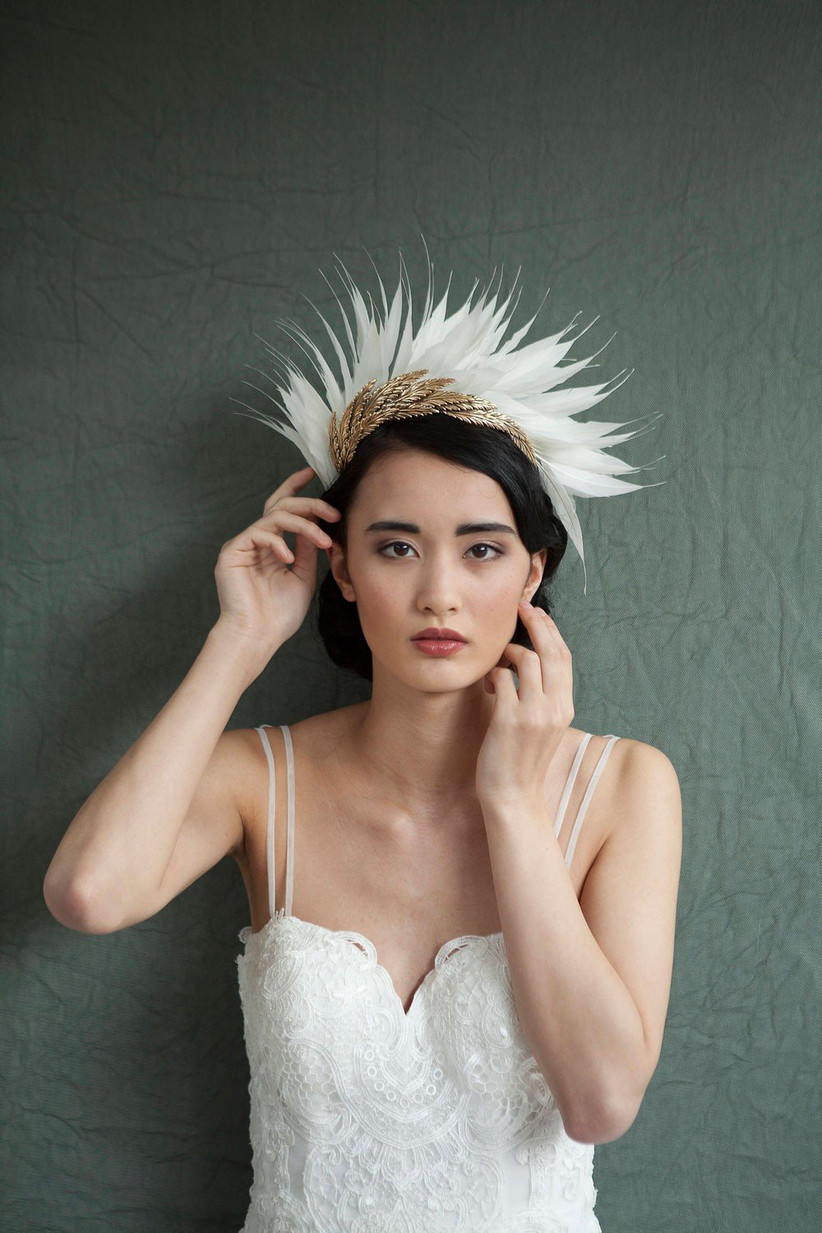 Image: Agnes Hart
If you're looking for something to suit your theme, a wedding hat is a chic choice for a vintage wedding, while a floral halo crown works so well for a rustic, boho or festival theme.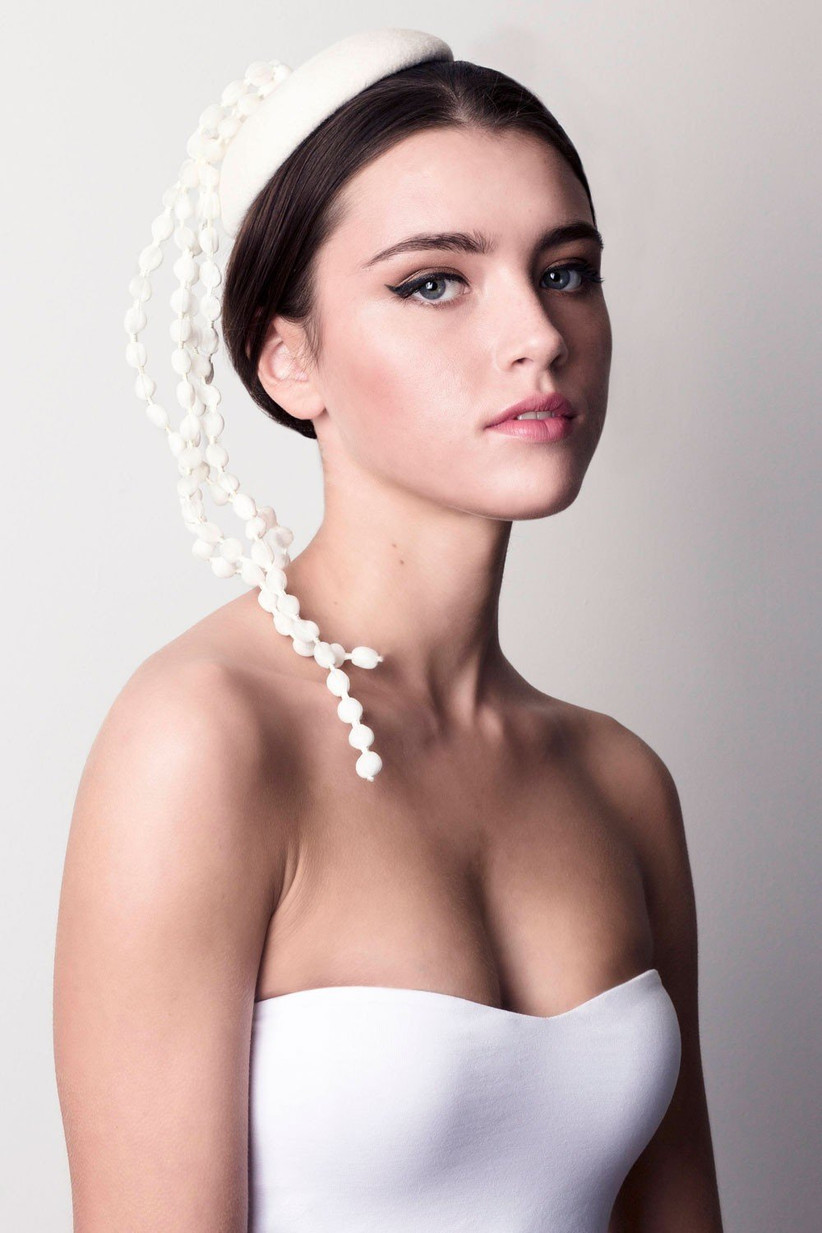 Image: Maggie Mowbray Bridal
Don't feel like you have to limit yourself to white either. The beauty of ditching the veil is that you can really mix it up and make your choice of headwear totally special to you – metallics, textures, dried flowers and foliage all look amazing.
READ MORE: Pinterest Predict What's Big For 2019 Weddings
'90s Style
Image: RachelEmmaStudio
Oh, the '90s! The years of Clueless-inspired plaid skirts, pedal pushers, tube tops and combat trousers. Our hair was crimped, our platform trainers strapped high, and at least one thing featured a dragon or flame motif. Don't worry, those bits of the '90s haven't made their way into weddings.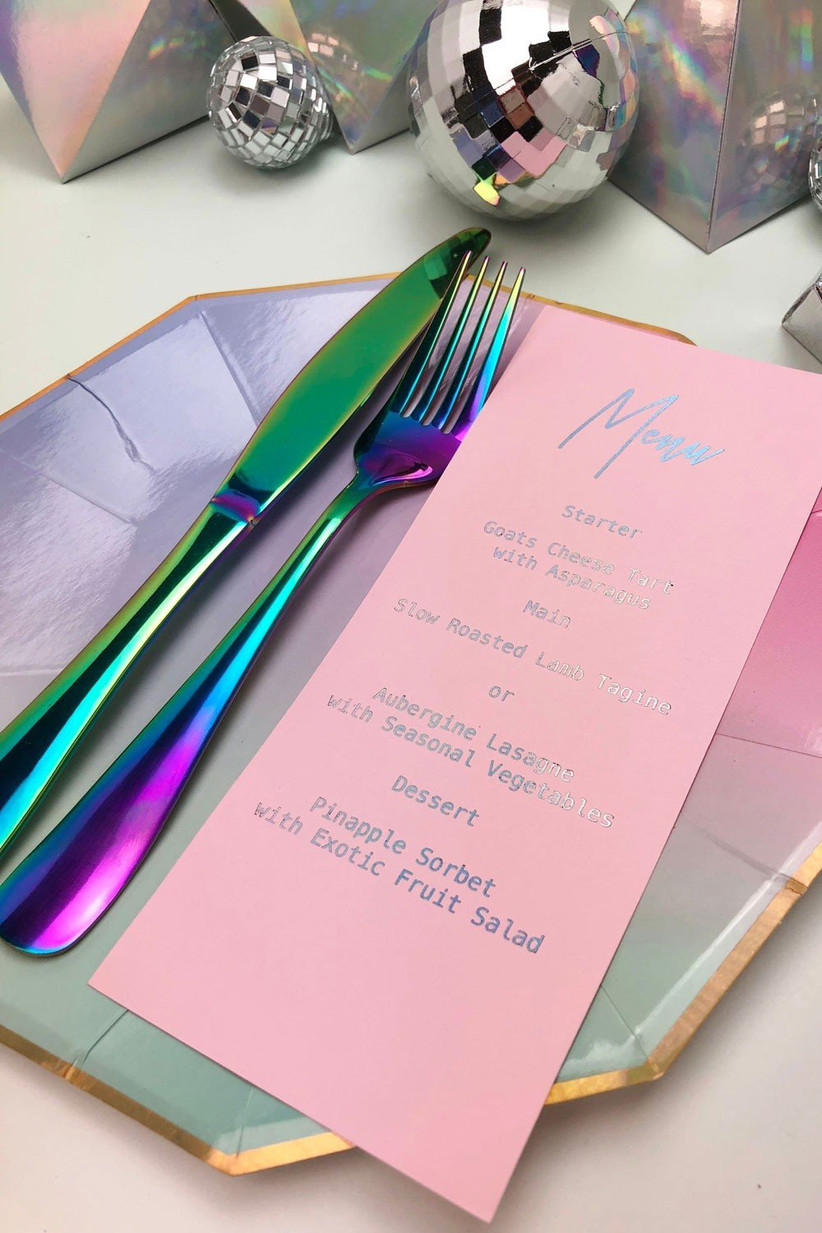 Image: RachelEmmaStudio
Instead the iconic silhouettes and love of holographic patterns and rhinestones are influencing wedding decor and bridal accessories. You're going to see more shimmering holographic foil on place cards, cutlery, plates, vases, centrepieces and more. It's amazing for any decor that catches the light.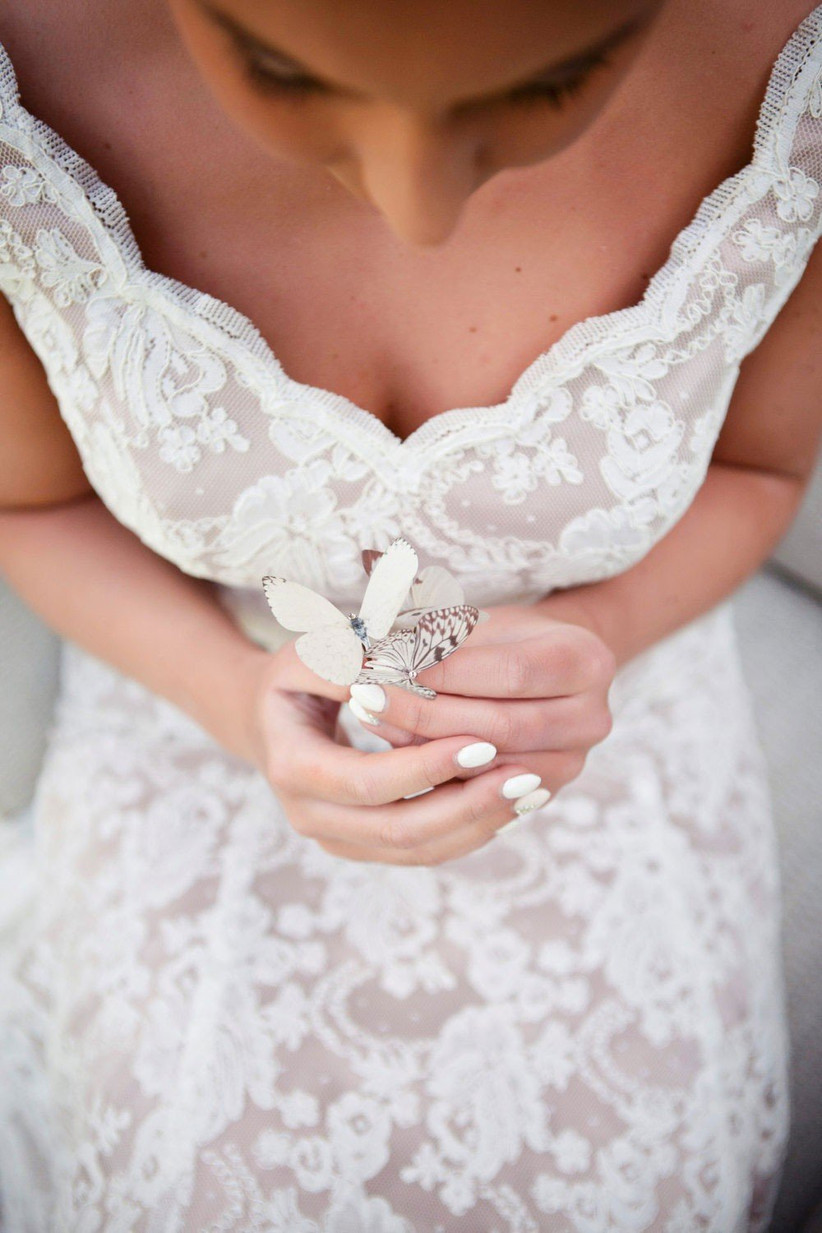 Image: flutter2me
In terms of accessories, Etsy have seen searches for butterfly clips shoot up 14% in the last year and those tiny handbags we loved squeezing our lip gloss into are back. There's also been over 307,000 search for rhinestones so far this year. Sparkly slides or butterfly clips instantly make a simpler up and down do look more glamorous and work so well with an embellished dress.
READ MORE: How to Throw the Ultimate 90s Themed Hen Party
Sustainable Celebrations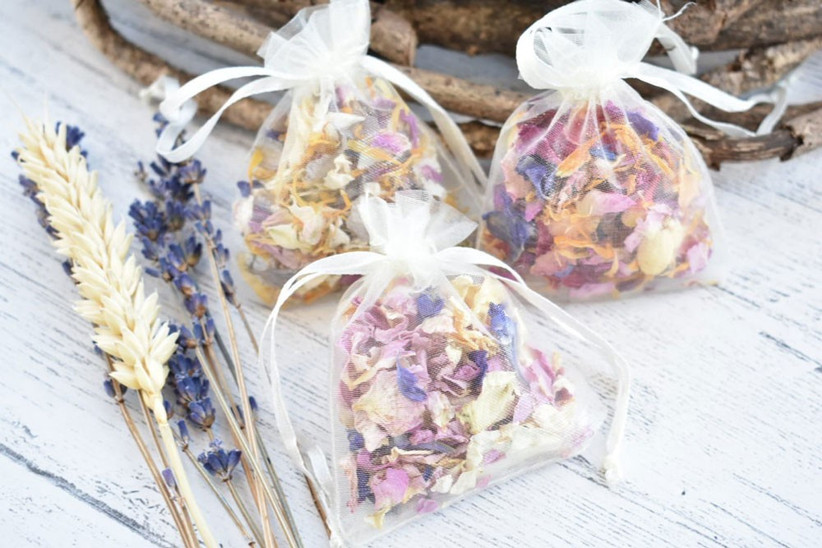 Image: Adam Apple Ltd
Eco-friendly is a huge trend for 2019. As well as incorporating reusable straws and biodegradable petal confetti into their big day, couples are seeking cool new ways to make their day special and sustainable.
Image: Gilbert & Crick
In the last three months, searches for eco-friendly wedding items has reached 107,000, making 2019 likely to be the greenest wedding season yet. Couples looking to make a big impact on their guests but not the enviroment have chosen vintage or upcycled decor items, giving a second life to candlesticks, photo frames, mirrors, chairs, lanterns and more.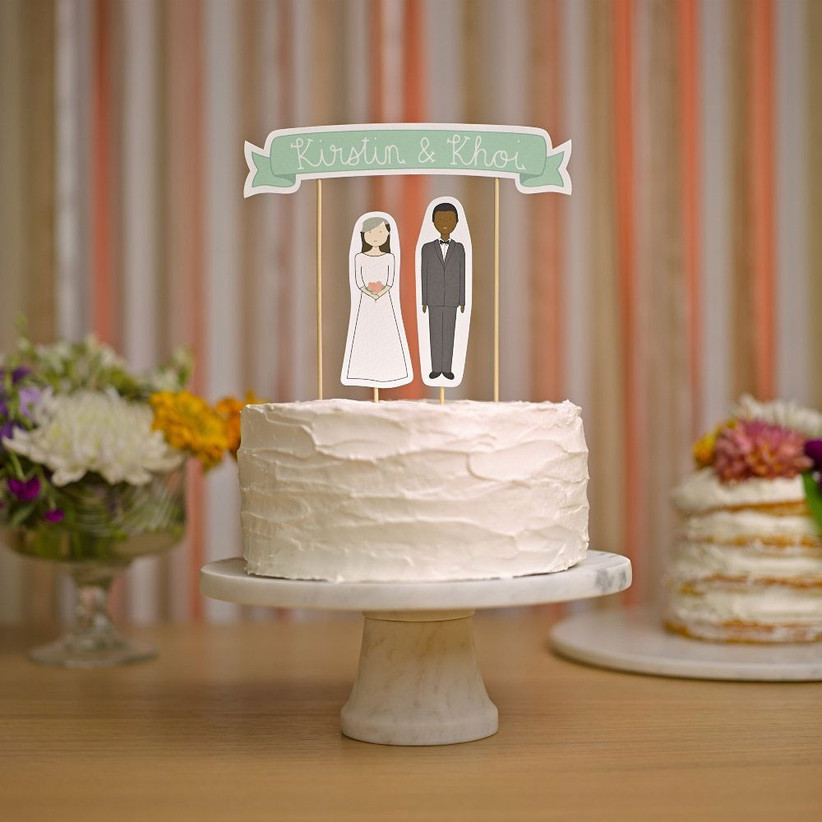 Image: ReadyGo
A stunning cake topper is essential for most brides-to-be, but if it's plastic, it can end up being thrown away. There's been a surge in paper or card cake toppers that can be recycled instead and looks equally as cute topping your three-tier.
READ MORE: 34 Ways to Make Your Wedding More Eco-Friendly
Unexpected Textures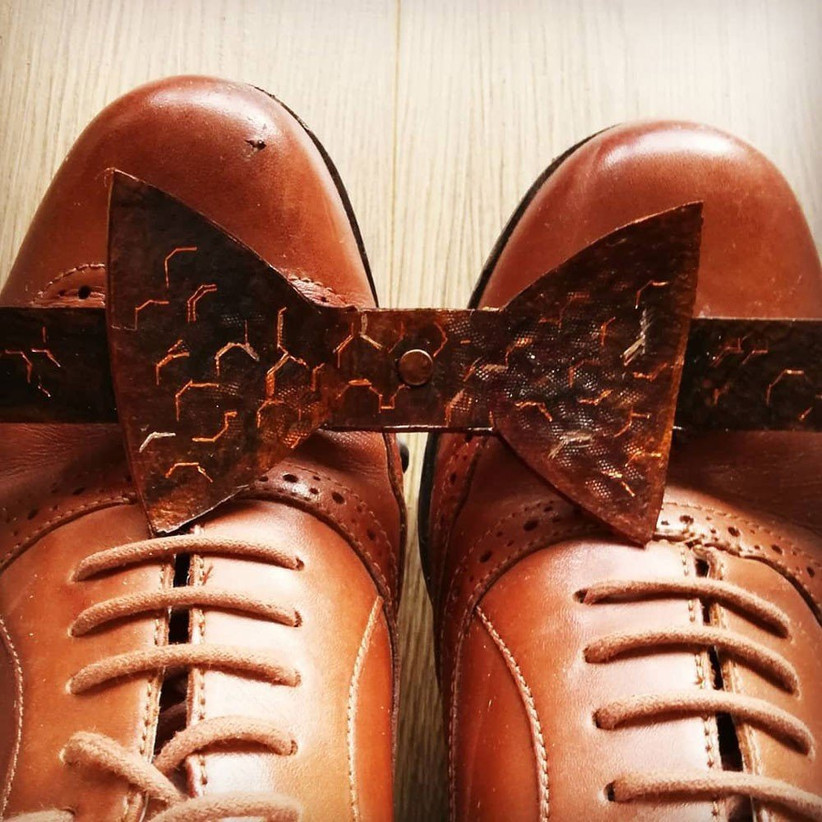 Image: Silverclock Costumes
The ultimate way to push boundaries with your wedding is the element of surprise – and textures are an excellent way to do this. Leather bowties or rough-cut quartz cufflinks for groomsmen and velvet bridesmaids dresses or bridal party accessories are cool twists on the traditional. They'll look great in photos and add personality and edge to any outfit.
Image: EspritNOMAD
In terms of bouquets, forget a simple bunch of roses or peonies. Searches for pampas grass are up 692% so far this year compared to last and adding a spray to your bouquet is a wonderful way to add texture and height. Dried flowers or foliage in general can carry a theme through from your wedding invites to confetti to hair accessories and bouquet.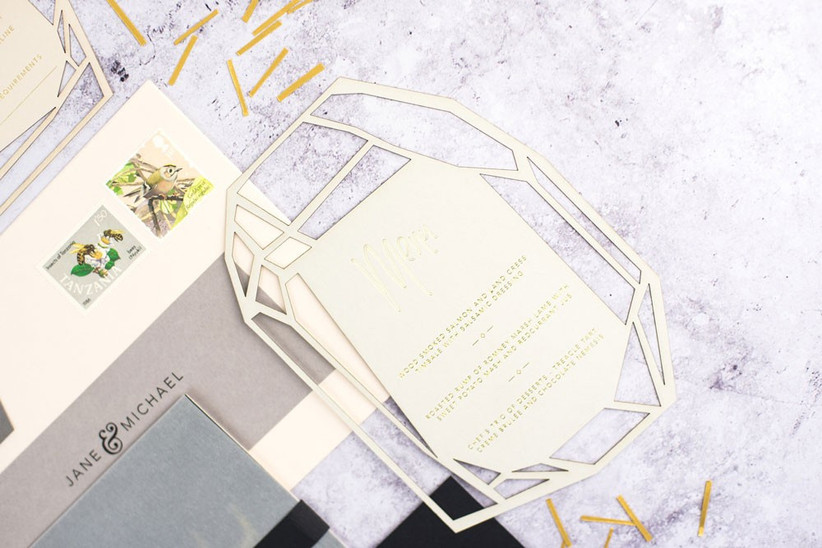 Image: Pen&Fold
For unique invites, Etsy have seen 23,000 searches for laser cut wedding invitations in just one month and searches for vellum invites have over doubled. Vellum paper is that semi-transparent, smooth insert you can put in your invite that looks incredible with metallic or holographic writing on top.
READ MORE: 12 Templates to Help You Word Your Wedding Invites
Secret Messages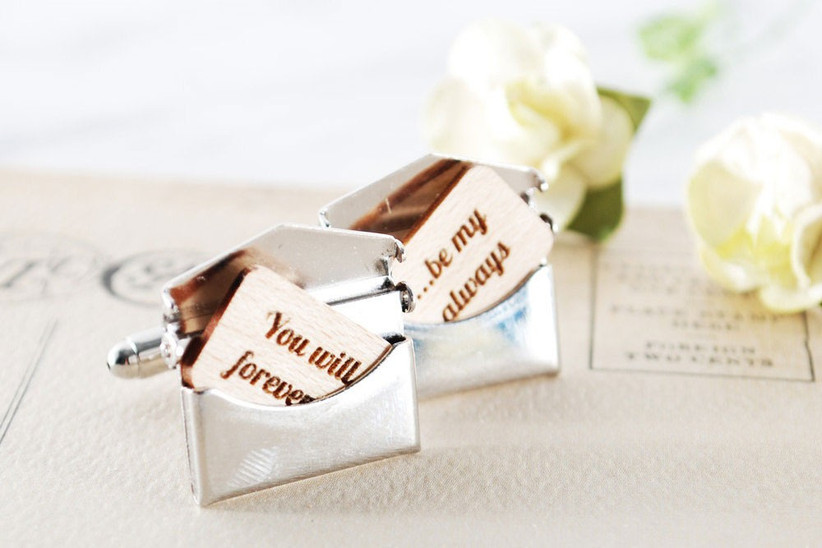 Image: MoodForWood
In case you missed the memo, hidden messages in your wedding outfits and accessories are BIG for 2019. Priyanka Chopra had a whole eight secret messages embroidered into her wedding gown when she married Nick Jonas, including her husband's full name, their wedding date and her parent's names. You can buy embroidered dress patches of your own to get gently stitched in.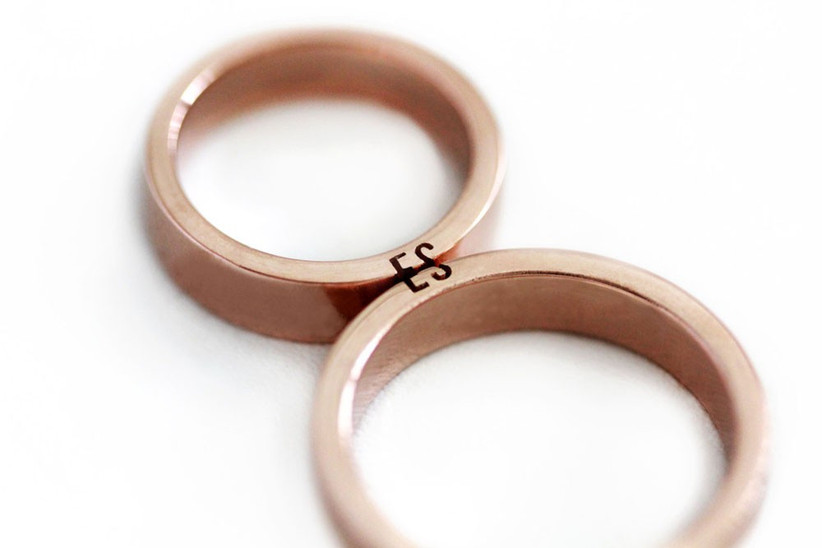 Image: Cadi Jewelry
If you don't want to go all out and put it in your gown, there's plenty of cute ways to wear your devotion to your partner. Some couples like writing a message on the bottom of their shoes, while others go for wedding rings privately inscribed with their initials, date or a meaningful word.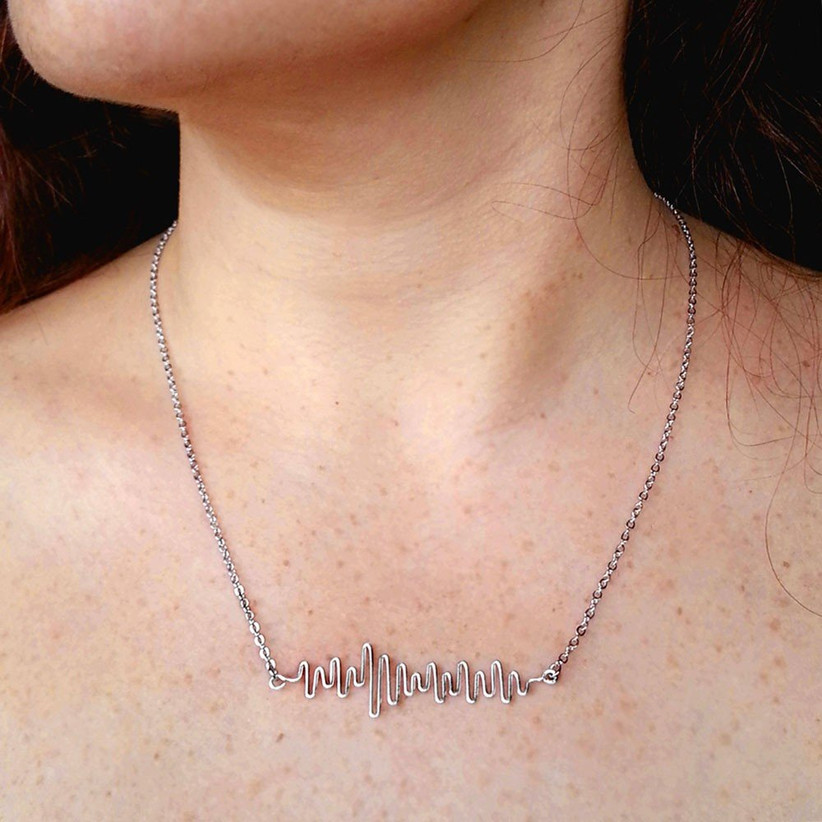 Image: Fiore Jewellery
Groom accessories lend themselves so well to secret messages, whether that's on a tie clip or hidden in his cufflinks. For brides, you could go all out with a custom soundwave necklace of your partner saying "I love you" or add a locket, earrings or bracelet containing or inscribed with a few words. It's such a beautiful present to give to you partner on the wedding morning for them to wear and that most special touch is often the one the guests can't see.
Functional Favours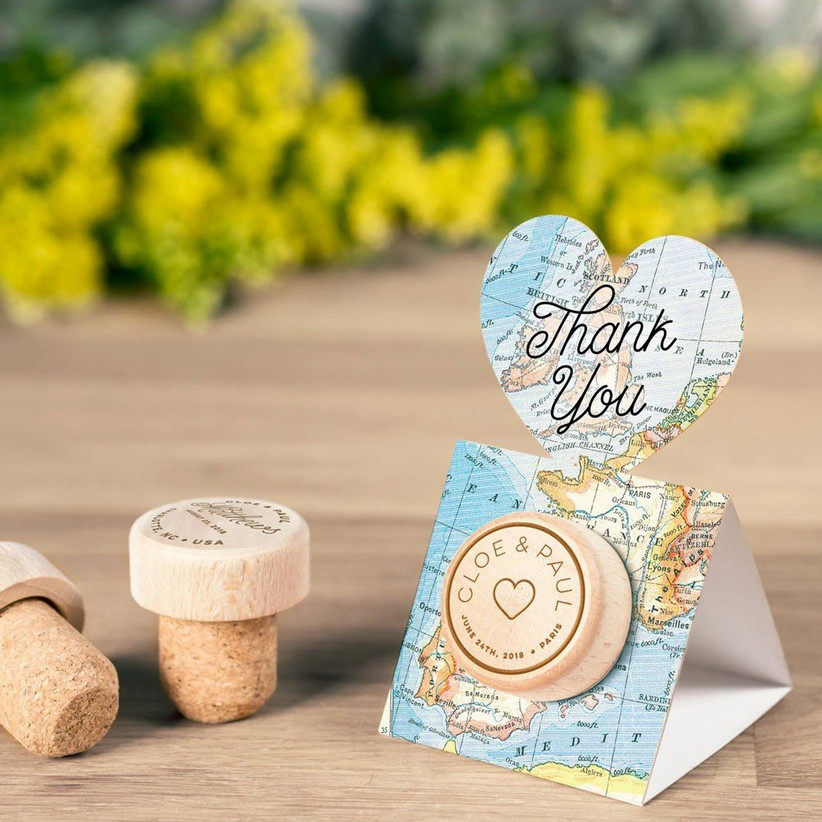 Image: My Fair Guest Book
We've all been to a wedding and seen bags of sugared almonds left on the table at the end of the night. That's because if you're going to splash out for wedding favours, make them something your guests will want to keep (or eat on the night or wear…) Etsy had 11,000 search for wine favours in Janaury 2019, showing either you lot are too keen on the Pinot Grigio or you know it's something your guests will really want to take home.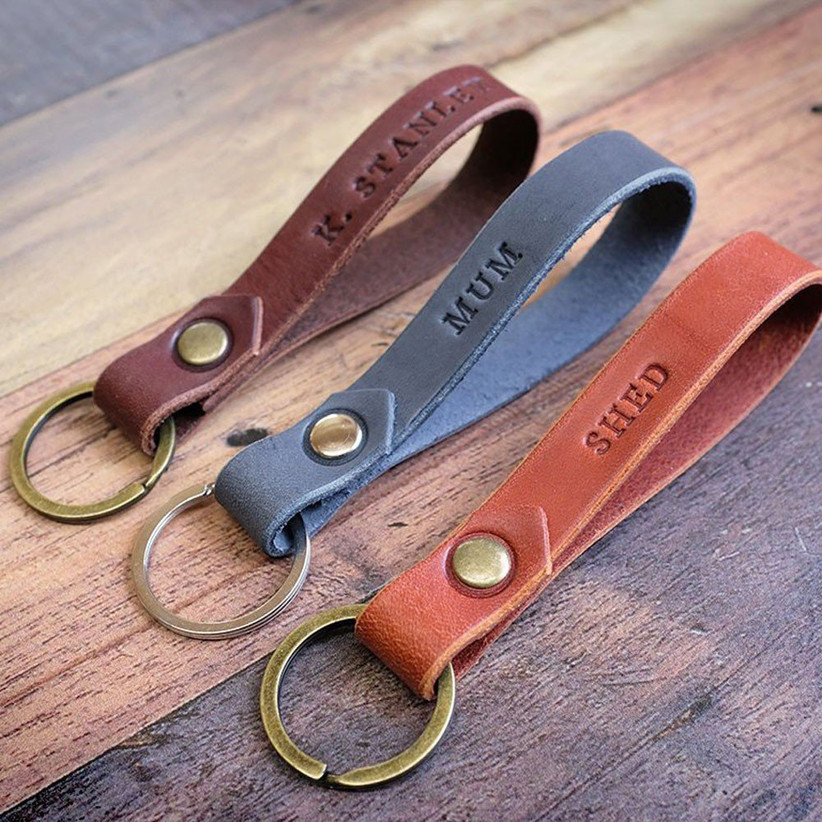 Image: Hide&Home
We love these personalised wine stoppers for adult guests, or bottle openers and corkscrews as an alternative. Leather personalised keyrings are an ace idea too as everyone has keys.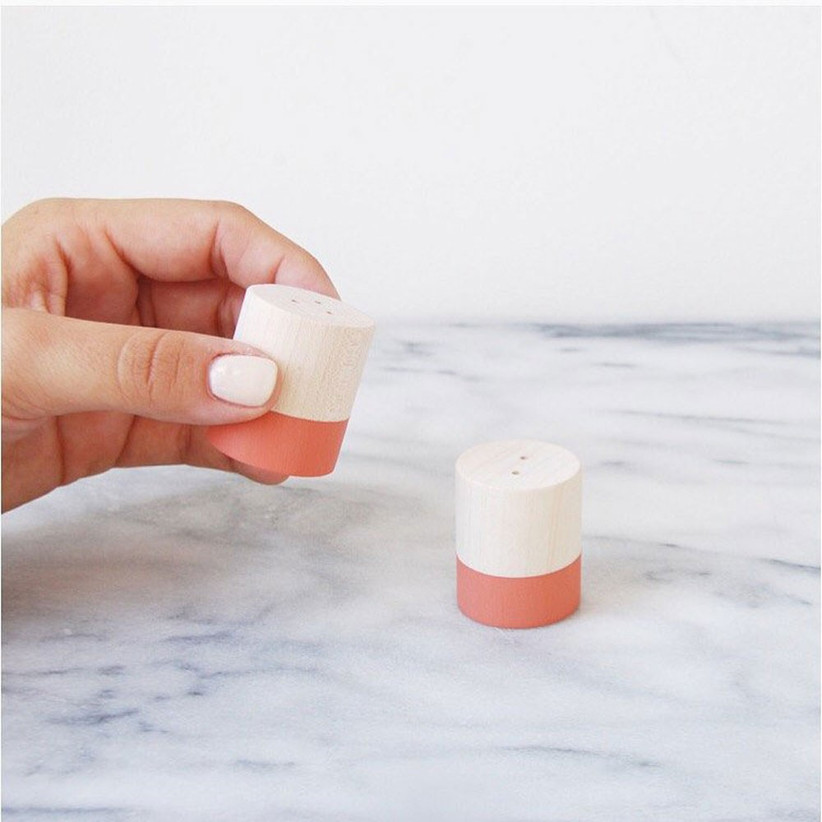 Image: For The Host
Favours are a great way to reflect your personal interest. Love writing or drawing? How about engraved pens or pencils that'll remind your guests of your day everyt time they use them. A whizz in the kitchen? What about a mini salt and pepper shaker set, which isn't only adorable but totally practical too. Outdoorsy? Consider personalised matchboxes and sticks (which are great with sparklers!)
To find your perfect wedding favours, check out our ultimate guide to wedding favours which includes everything from favours under £1 to chocolate and charity ones!