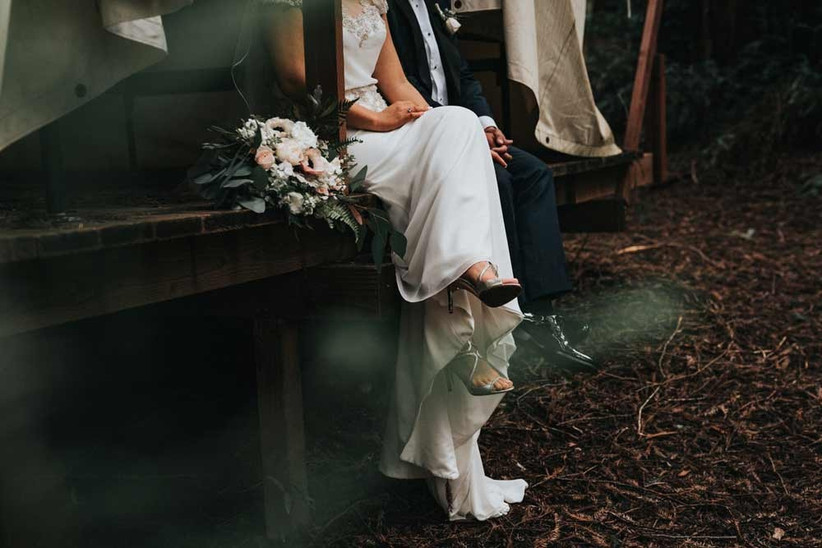 Hindsight is a beautiful thing, and it's so easy to fall into 'what if' mode after the wedding – looking back on all the things you wish you'd done.
Here are the things you will totally regret not doing on your wedding day (just trust us on this one!).
READ MORE:  How to Avoid Post-Wedding Blues
1. Not Doing Morning of the Wedding Gifts
Missing this off your wedding to-do list is a big mistake. It's the cutest way to connect with each other without actually being together and whatever gifts you give are sure to be treasured. Tears guaranteed!
READ MORE:  How to Surprise Your Partner on Your Wedding Day
2. Not Having 'The Chat' With Your Photographer
You know, the one where you fill them in on all the photos you definitely want taking. If you specifically want a photo with great aunt Edna or your school friends make sure they know about it.
READ MORE: 23 Wedding Pictures You Need to Capture
3. Not Having a Videographer
It flies by so quickly that being able to re-watch the special moments from your day is priceless. If your budget won't stretch, ask a friend to film the ceremony and speeches instead – it's worth having at least a bit of your day on camera, even if it's by a guest!
READ MORE: How to Choose a Videographer
4. Not Adding Personal Touches
Some of the coolest weddings we've been to are ones where the bride and groom have filled their day with unique touches. Think cute personalised vows, quirky readings and imaginative DIY touches. It's the easiest way to make your wedding day all about the two of you and doesn't have to cost a fortune.
READ MORE: Amazing Ways to Personalise Your Wedding
5. Not Having a Pamper Treatment
OK, so this is the one time you can totally justify that pricey facial, tan or pedicure. It is a bride's prerogative to treat herself don't you know!
READ MORE:  How to Get the Perfect Wedding Nails and Hair
6. Not Getting Ready With Your Bridal Party
You know how much fun it is getting ready with your girlfriends before a big night out? Well times that by 1,000 and you're not even close to how amazing it is to spend the morning of your wedding with your gorgeous bridesmaids. Best fun ever!
READ MORE: The Ultimate Hen Party Playlist
7. Not Making a Speech if You Want To
If you've got your heart set on making a speech, but are worried about the nerves taking over or guests getting restless, relax. Everyone is there because they love you, and chances are your speech will be one of the highlights of the day.
READ MORE: The Ultimate Guide to Making a Bride's Speech
8. Not Taking 10 Minutes Alone With Your Partner
Your wedding day is going to be a blur of fun – but make sure you put aside a few minutes just with your new husband or wife, to reflect on just how awesome it is to be officially married.
9. Not Choosing the Bridesmaids You Wanted
When it comes to picking the girls you want by your side, don't compromise. You don't have to pick your old friend just because she picked you or your little cousin because she's never been a bridesmaid. Make sure you go with your heart on this one.
READ MORE: How to Choose Your Bridal Squad
10. Not Setting a Budget
As tempting as it is to dive headfirst into planning, it's essential to have a budget in place before you make any big decisions (well, unless you've won the lottery, in which case hooray!). You don't want to start married life with a big credit card bill.
SEE MORE: The Hitched Wedding Budget Planner
11. Not Wearing Comfy Wedding Shoes for Dancing
You've got all your favourite people in one place so of course you want to dance the night away with them. Don't let skyscraper heels get in the way of your fun – buy a pair of low heels or flats for the evening do.
READ MORE: Gorgeous Flat Wedding Shoes