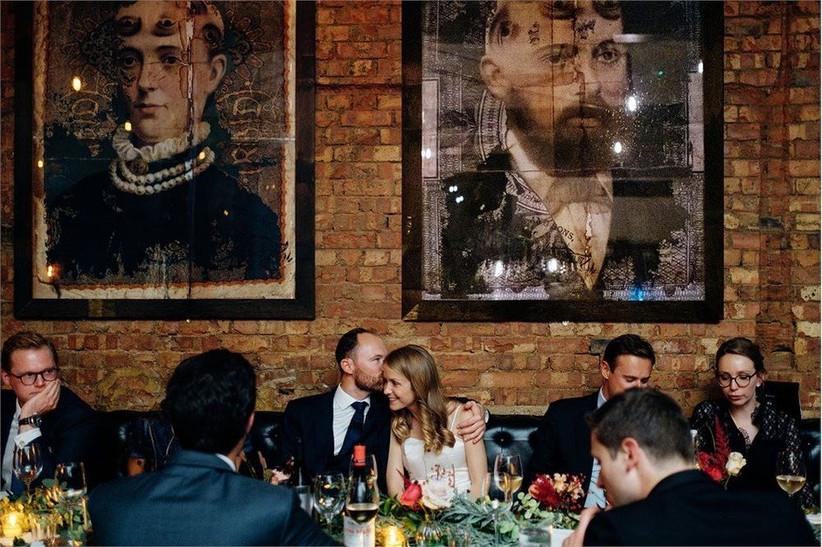 If thoughts of tying the knot in a relaxed city setting with traditional food and plenty of booze fill you with excitement, you should add a few London pub wedding venues to your shortlist.
The great British pub is the perfect choice for laidback couples, offering cheaper hire prices, easily accessible locations and plenty of cool photo opportunities. Most of them also cater for a range of different guest list sizes too.
From cool and contemporary pub restaurants to rustic wedding venues, here are the best pubs available for wedding day hire in the capital.
1. The Admiral Hardy – Greenwich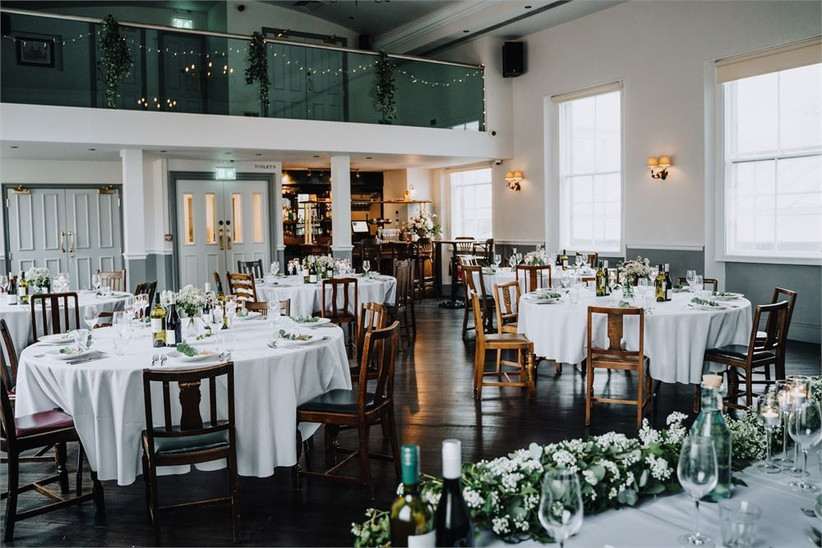 The Admiral Hardy is a chic and contemporary pub wedding venue nestled in the heart of maritime London. It sits on the corner of the bustling Greenwich market and oozes charm.
Located on the second floor is the spectacular Clarence Hall, the perfect spot for your wedding breakfast. It has a capacity of 120 guests and boasts impressively large windows which flood the space with natural light.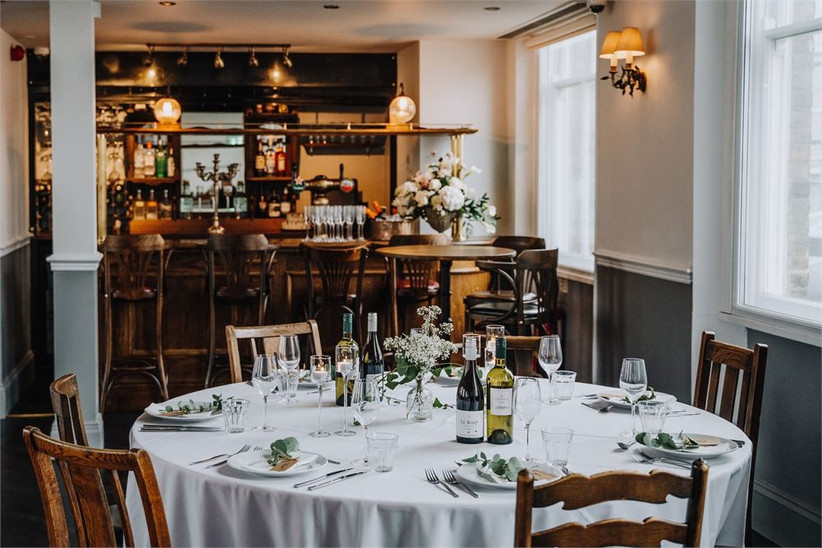 For more intimate celebrations, there's The Admiral Room. Ideal for up to 60 guests, it can be used for both a banquet-style reception or canapés and dancing.
Whichever reception space you chose, you'll be treated to an array of delicious menu options and a wonderful list of locally sourced drinks. Oh, and plenty of wedding photo backdrops including the iconic Cutty Sark.
2. The County Arms – Wandsworth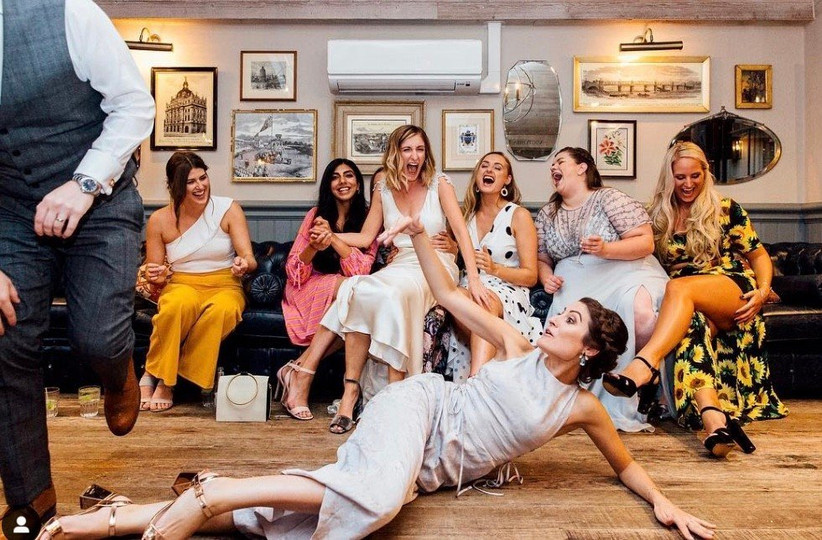 Located at the North end of Trinity Road and right opposite Wandsworth Common is The County Arms, a traditional family pub with exceptional service.
The County Arms is perfect for weddings in every season. In the winter, you can warm up in front of roaring log fires, and in the summer the beautiful lavender-lined gardens will be the ideal spot for a barbecue.
READ MORE: 13 Ways to Keep Your Guests Warm at a Winter Wedding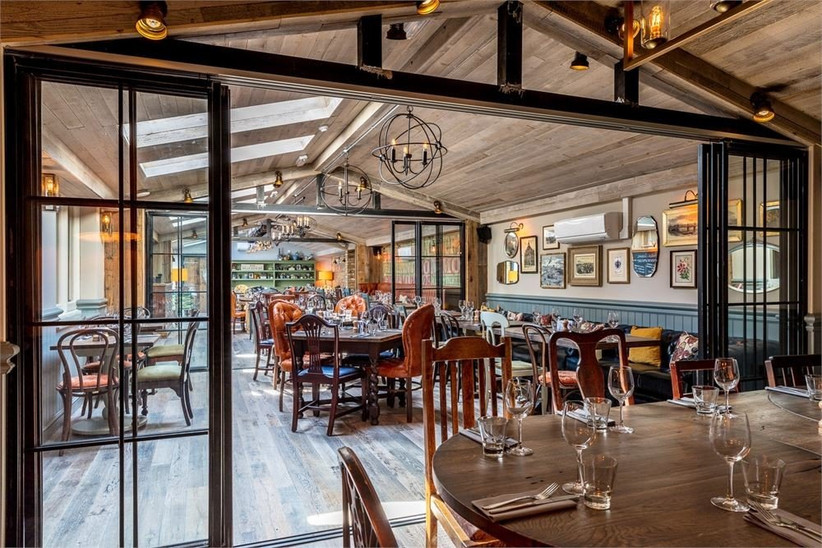 Whether you're looking for an intimate sit-down dinner with your closest friends and family or a full party with DJ, the dedicated team will be able to cater.
The County Arms is also fully licensed to hold wedding ceremonies, so you can host your entire day under one roof. What's not to love?
3. The Counting House – Bank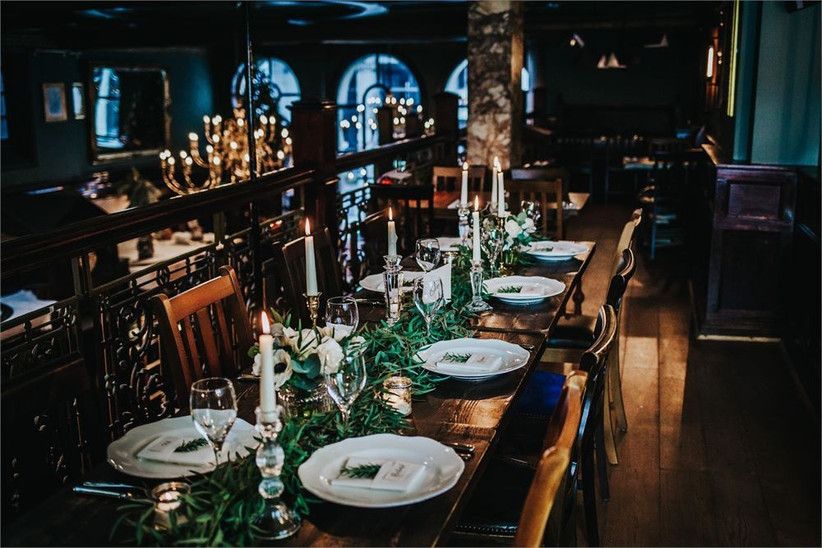 Quirky couples will love The Counting House, a beautiful 19th century pub situated in the City.
With a warm, welcoming environment, bags of character and exceptional food, it's the perfect pub wedding venue for your big day in the capital.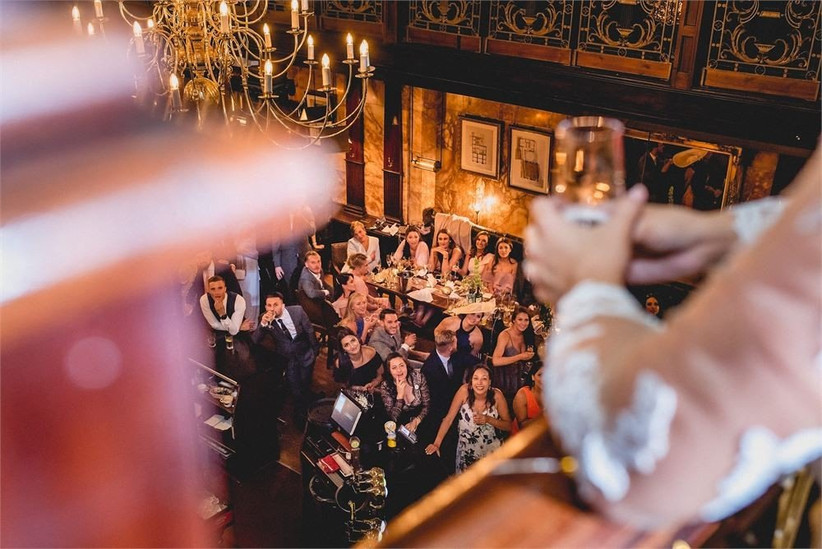 You can hire one of four reception rooms or the entire pub at once. The Griffin Room has the largest capacity with space for up to 80 guests. The Club Room is perfect for an intimate celebration with capacity for eight, while the Dining Room is perfect for 30. If you were to hire the entire pub out exclusively, you'd be able to seat 120 guests.
New for 2019, there are also 15 beautiful bedrooms at The Counting House. Finished to a high standard, each room offers Egyptian cotton sheets, a Nespresso machine (ideal for curbing those post-wedding hangovers) and stylish décor. Oh, and breakfast is included, so you can catch up with your guests the morning after the night before.
4. The White Horse – Parsons Green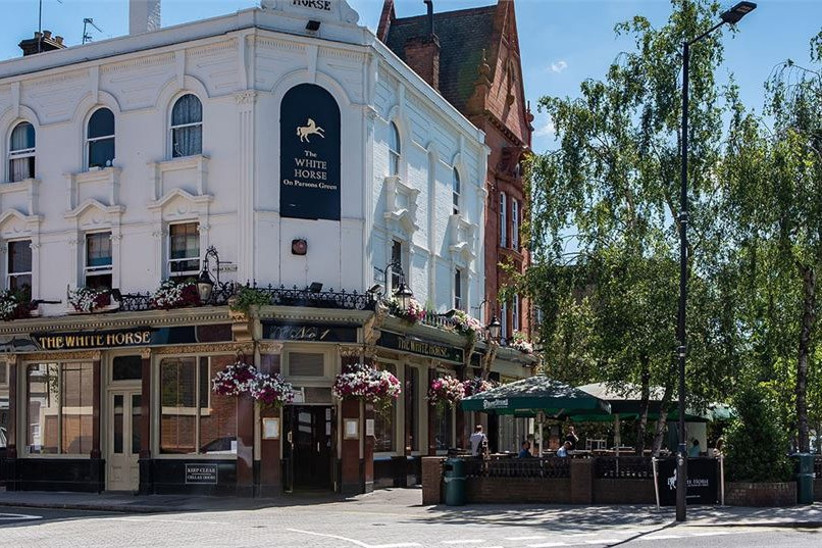 Located on the tip of Parsons Green is The White Horse, a charming and inviting pub with a history which dates right back to the 19th century.
The White Horse has always prided itself on creative food and drink options, making it the perfect venue for your unforgettable wedding day.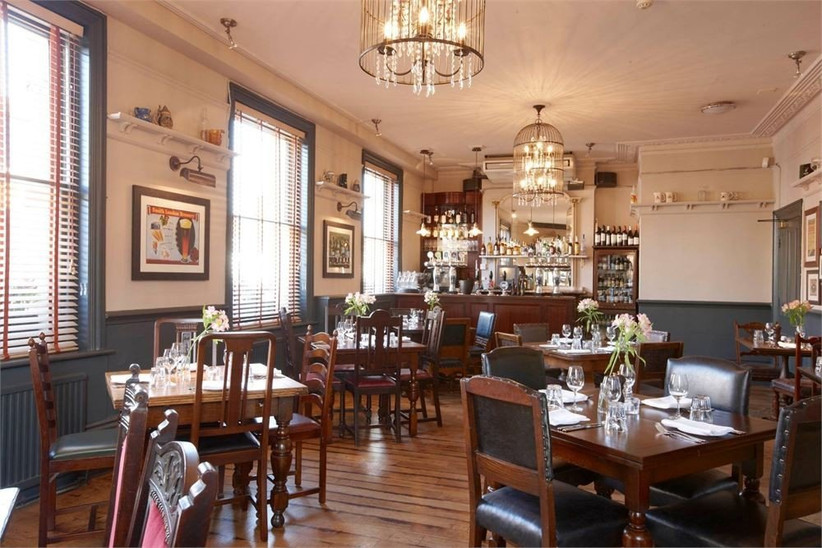 With the pub's largest room seating up to 100 guests, there are a range of spaces ideal for whatever size reception you choose.
When it comes to the food, your wedding breakfast will be prepared by a team of esteemed chefs. Specialising in British classics, they'll bring you a dining experience that your guests will never forget.
READ MORE: The Best Foodie Wedding Venues in the UK
5. The Small Beer Brewery – Bermondsey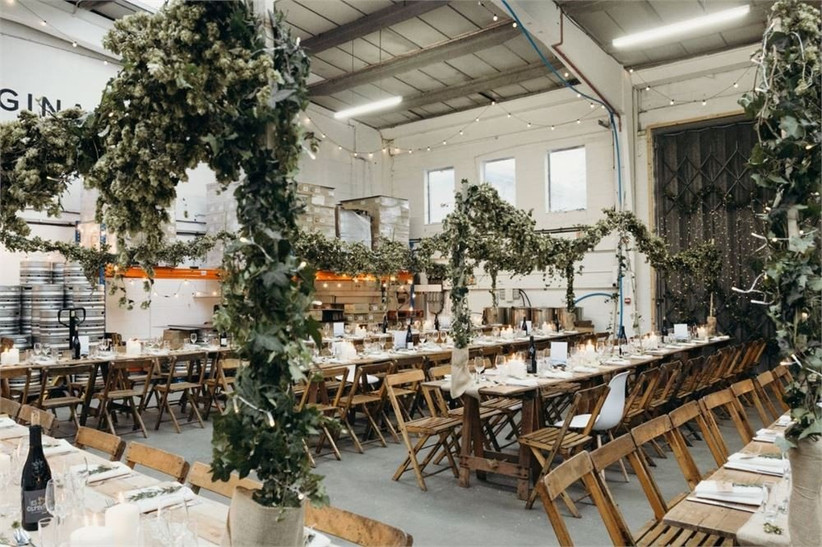 Okay – this place isn't technically a pub, more of a working brewery, but it's so cool that we couldn't not include it. And pubs and breweries kind of fall into the same category, right?
The Small Beer Brewery is a reception venue located just a stone's throw from the Thames, meaning there are a range of venues for your wedding ceremony nearby.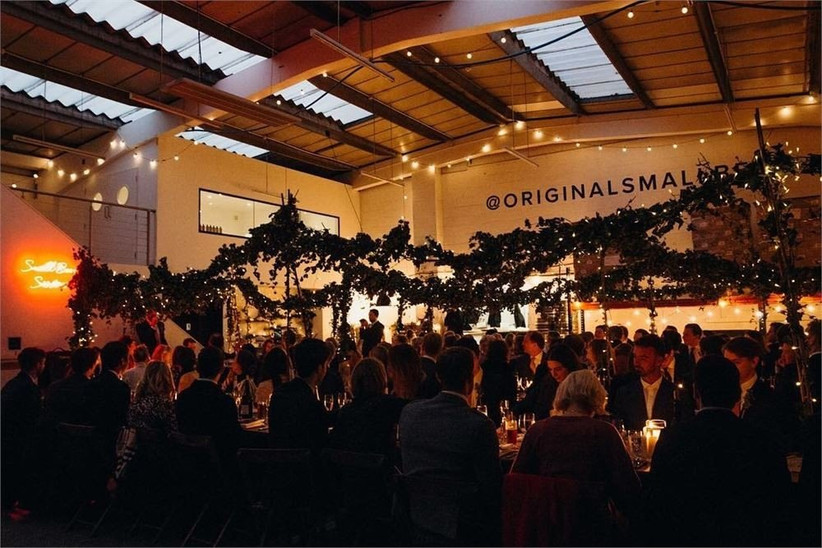 When you arrive at your reception you'll be greeted by a light and airy open-plan space. It's a cool and contemporary blank canvas which you'll be able to totally transform. There's space for 150 guests, a dance floor, entertainment license and corkage option.
If toasting to your new marriage with the brewery's own delicious and sustainably-sourced beer sounds right up your street, add it to your shortlist!
6. Camberwell Arms – Camberwell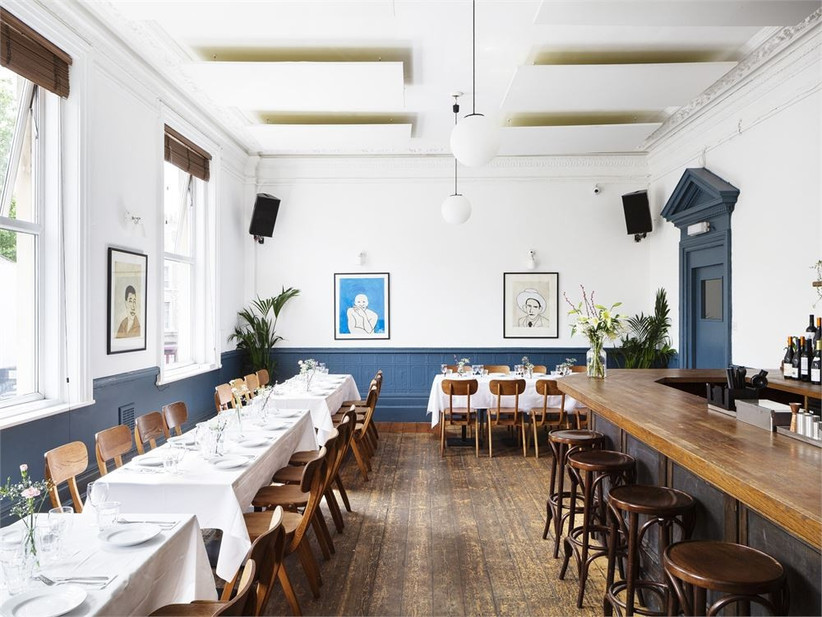 If you're looking for the ideal pub wedding venue in South East London, look no further than The Camberwell Arms.
Despite being voted number one in the Guardian's list of the 50 best Sunday lunches, there's far more to this cool and quirky wedding venue than succulent roasts.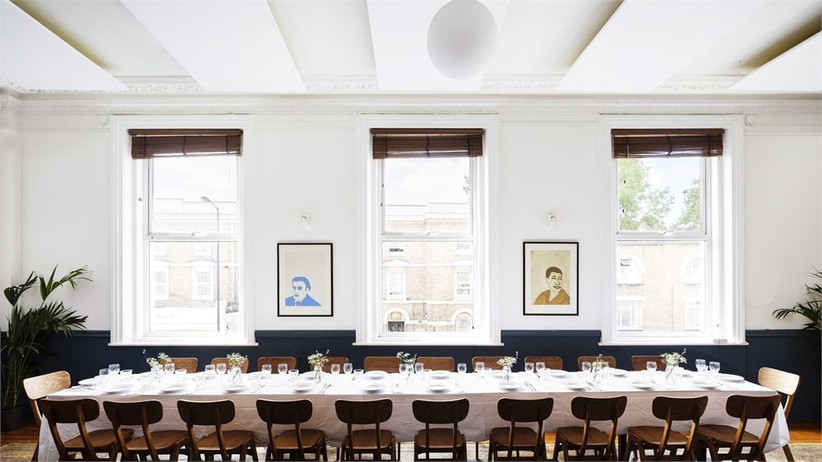 Your reception party will take place in the light and airy private dining room, above the main pub and overlooking the bustling Church Street. It's a wonderfully intimate space for you to celebrate in with room for 65 standing guests and 50 seated.
Of course, the cherry on top is the food. You and your guests will be blown away by the food you're served – the generous seasonal feasting menus will have everyone talking for months!
7. Harild & Sons – Farringdon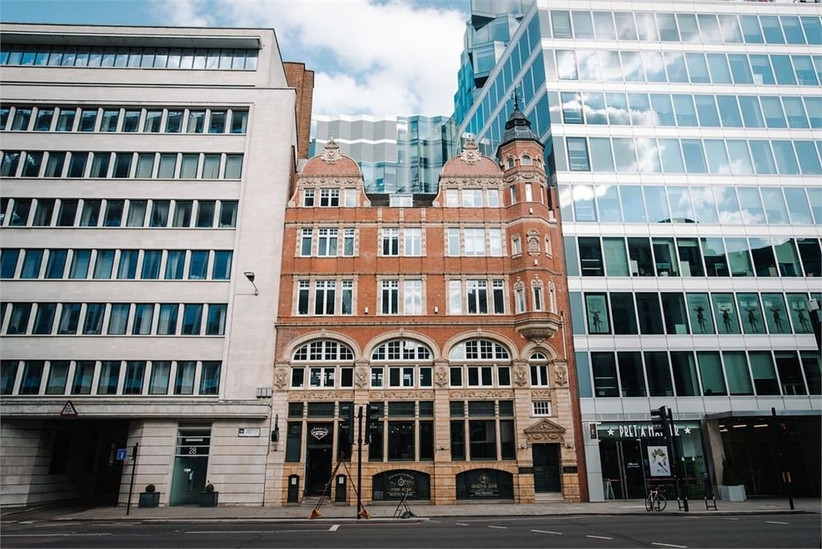 Situated on Farringdon Road in the heart of the City is Harrild and Sons, a grade II-listed former printing press factory with exposed brickwork and industrial features.
The large and modern space is perfect for your wedding reception with its stylish interior, striking bar and large dining tables. Natural light fills the space thanks to large windows and skylights, and there's even an outside patio area available in the summer!
READ MORE: 19 of the Best Warehouse Wedding Venues in the UK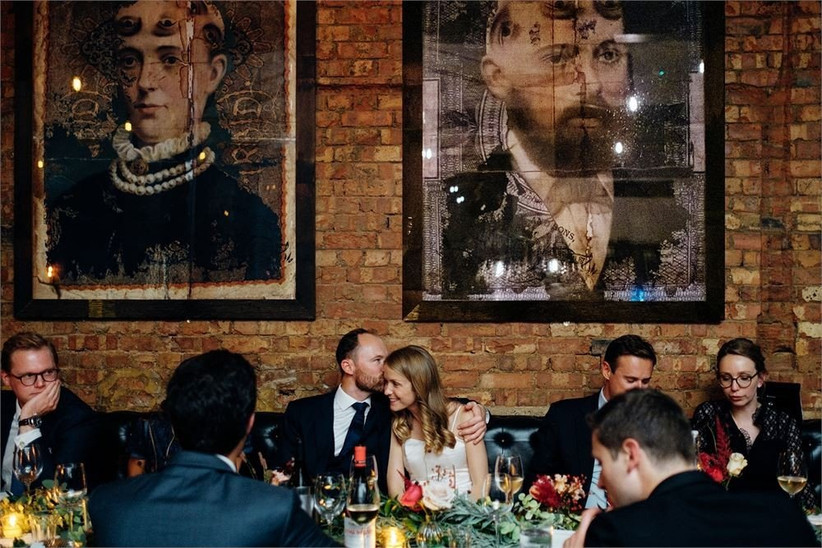 120 people can be hosted by an industry-leading kitchen team and exceptional team of bartenders who are dedicated to ensuring your wedding day is spectacular.
They offer a three-tiered, specially tailored wedding menu developed by executive chef Dan Spence, as well as paired wines, prestige spirits and a personalisable cocktail list.
READ MORE: 15 of the Best Small Wedding Venues in London
8. The Kitty Hawk – Moorgate
The Kitty Hawk is a rustic yet ultra-glamorous bar and restaurant wedding venue in the heart of London. The versatile space makes it perfect for weddings of all sizes, from small and intimate celebrations to grand affairs.
If you host your wedding reception here, you can have your drinks reception on the ground floor before heading to the restaurant space for your wedding breakfast.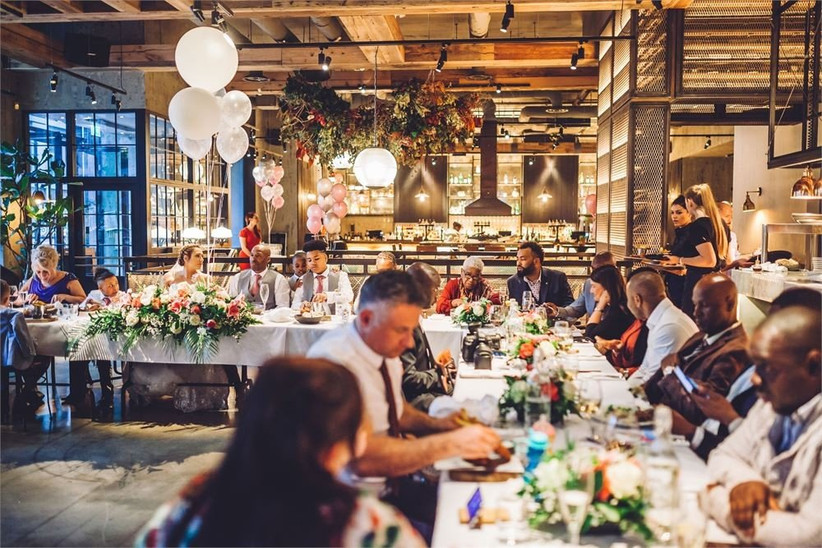 After the speeches and a delicious meal, return to the bar side of the venue for drinks and dancing well into the early hours.
This pub wedding venue has a capacity of 250 standing guests and 100 for dining.
9. The Princess Victoria – Shepherds Bush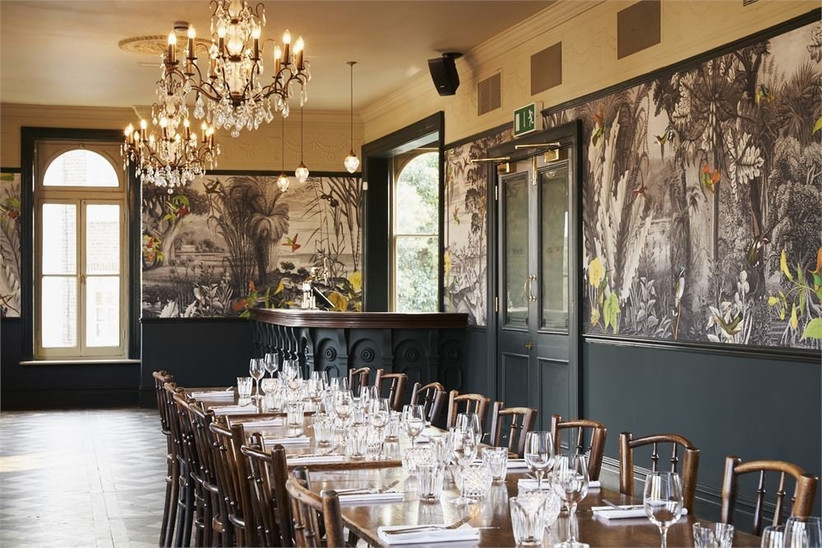 If you're dreaming of a wedding celebration which is understated and intimate, The Princess Victoria is the London pub wedding venue for you. They pride themselves on simple and elegant wedding parties rather than over-the-top affairs.
When booking your wedding here, you have the choice of exclusively booking out the entire pub or celebrating in their stunning 1829 room. This room is decorated in deep greens and can host between 50 and 90 people.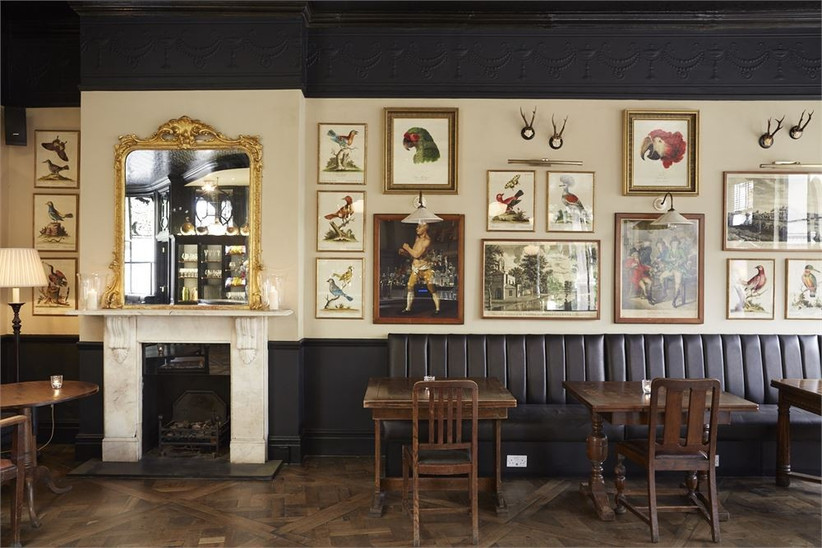 If you choose to hire the entire pub, there's a maximum capacity of 280 – no need to cut that guest list down!
The range of menus at The Princess Victoria are what really set it apart. Plus, with over 100 gins, 40 craft beers and award-winning wines, there will be plenty to wash all that delicious food down!
10. Heist Bank – Paddington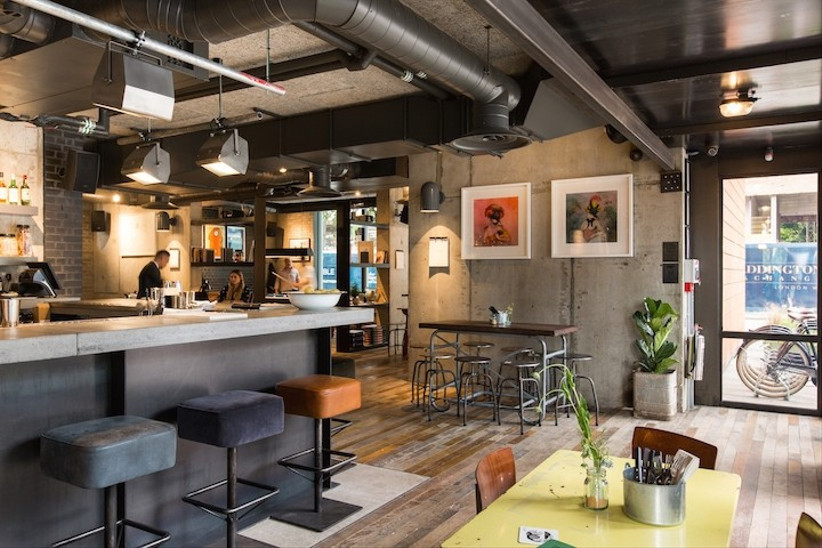 Heist Bank is full of personality and offers a range of quirky and unique wedding reception options for between 20 and 300 guests.
If you get married here you can have the whole place to yourselves, from the restaurant to the games room (complete with 1920s football table and a classic Nintendo 64) and every other cosy room on-site.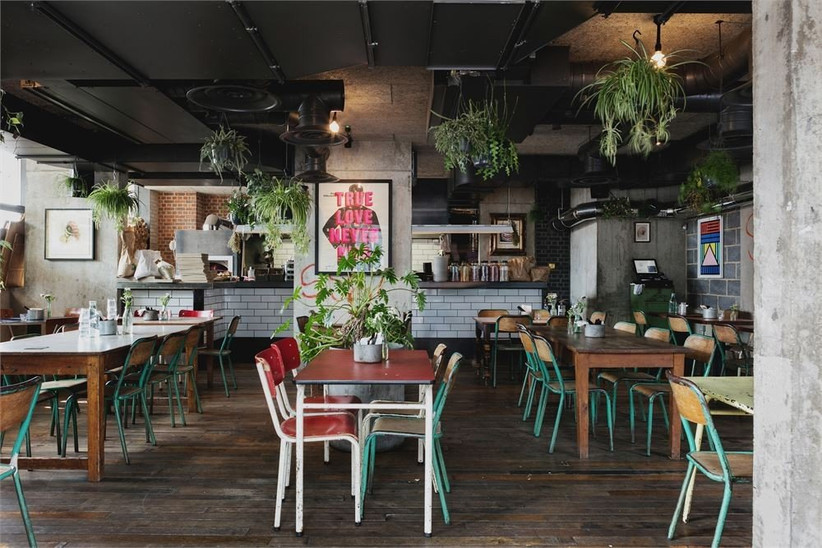 Heist Bank can seat 100 guests in the restaurant alone or 140 spread out across the entire ground floor.
The drinks are sure to be flowing with a fantastic range of local beers and large sharing cocktails for you to enjoy. The team will also be happy to create bespoke cocktails for your wedding to suit your theme!
11. The Depot – Holloway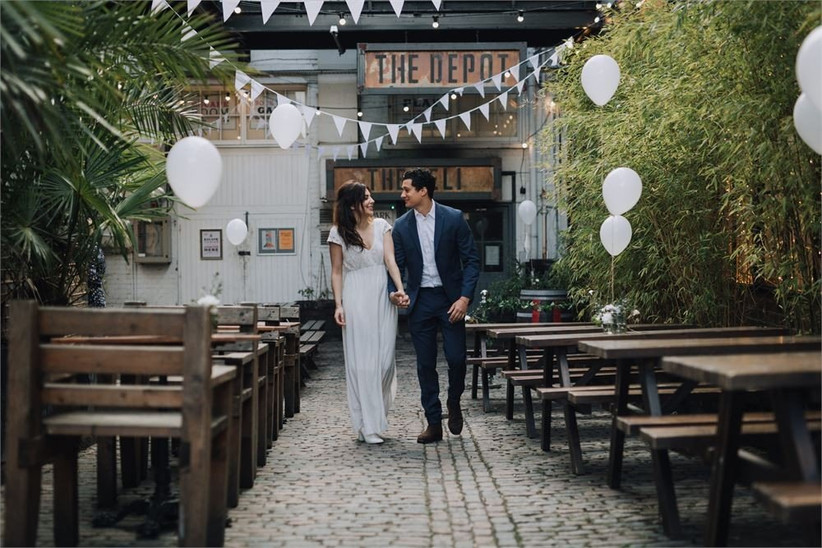 We're head-over-heels in love with The Depot, North London's very own contemporary and stylish wedding venue which radiates its own individual charm.
With fantastic transport links to Caledonian Road and Kings Cross, The Depot is situated in an ideal location for guests travelling from afar.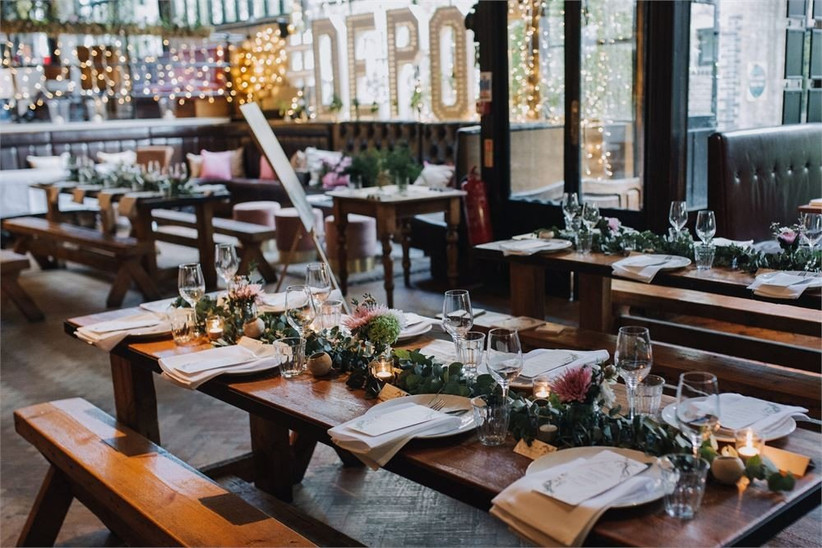 You can host weddings for between two and 280 guests here, so you won't have to cut back on your guest list. The venue offers a relaxed and modern atmosphere that is paired with a bar full of craft keg beers, local ales and a delicious menu.
If you want to add a little something extra to your wedding day, why not hire out the Handmade Mysteries Escape Rooms next door? Your guests certainly won't forget your big day in a hurry.
READ MORE: 20 of the Best Cheap Wedding Venues in Essex
12. The Dukes Head – Putney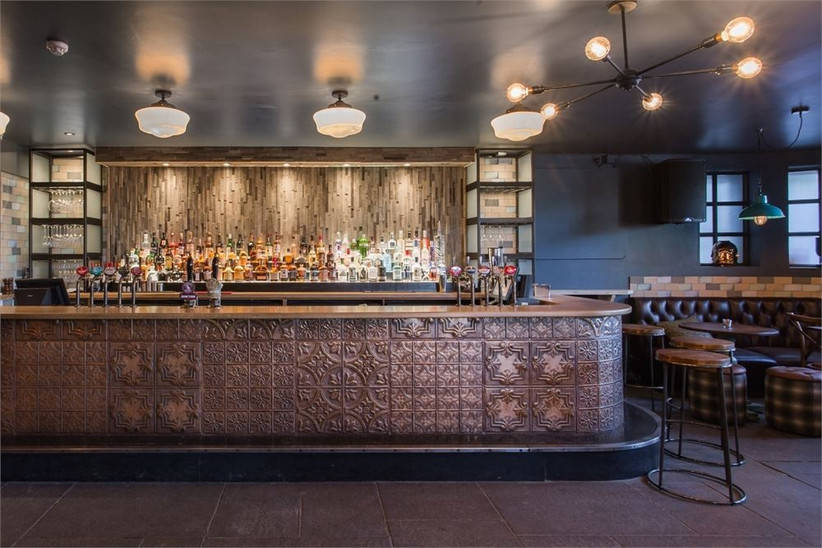 The Duke's Head is a grand Victorian grade II-listed building that has stood proudly over the River Thames in Putney for nearly 150 years. It sits at the start of the Oxford and Cambridge University Boat Race, so it's a pretty special spot!
It has a range of different spaces available for any event size. The Wolsey Room is a bright first floor Victorian drawing room with a wall of windows ideal for an intimate wedding ceremony with 50 guests.
For up to 80 people is The Coxswain, a fabulously bright and airy space with views of the river.
End your night in The Rowing Club, a riverside terrace room perfect for hosting drinks, canapé receptions and parties for up to 120 people. It's a great space to have live music or a DJ in!
13. Austin Friars – Liverpool Street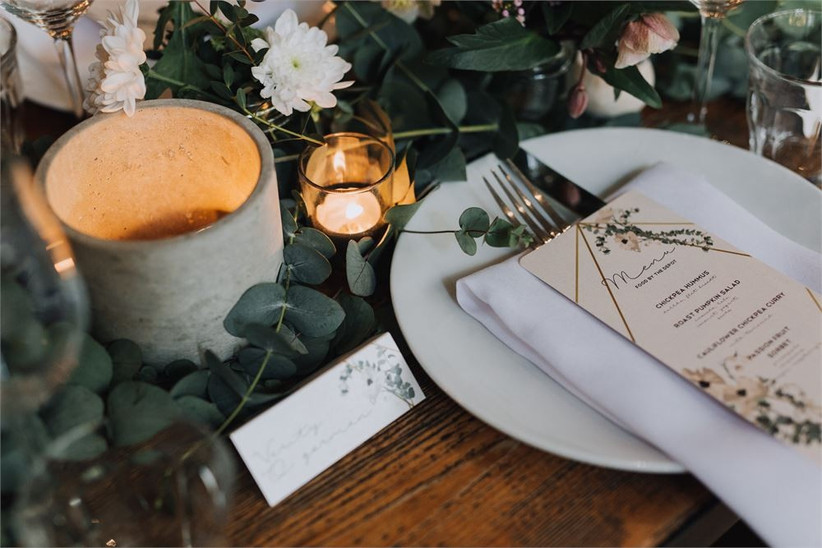 Nestled away in the heart of the City is Austin Friars, an expansive and chic wedding venue perfect for a contemporary wedding.
It's situated close to Liverpool Street Station, meaning it's wonderfully connected to both the rest of London and beyond.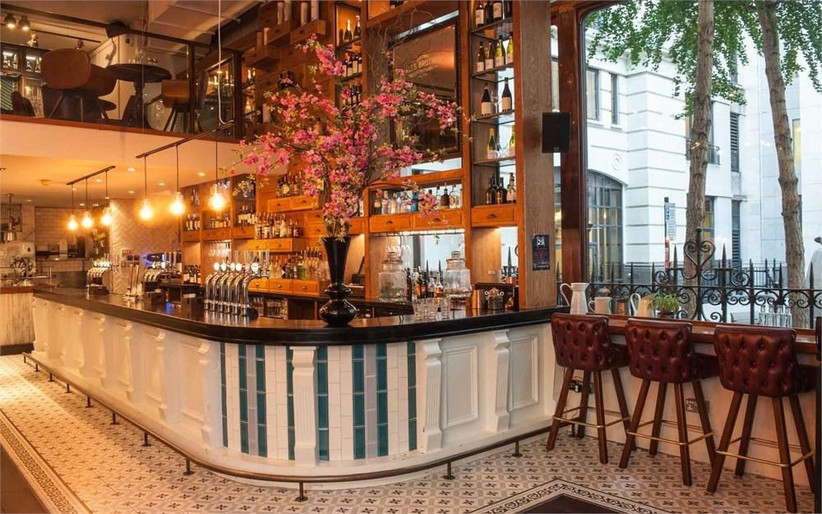 There's a range of function spaces spread across several floors, perfect for every style of wedding. There's a lavishly decorated, sweeping ground floor, an intimate Green Room and more.
Planning a wedding can seem a daunting task, however, with the help of Austin Friars' experienced and dedicated events team, it could not be simpler. They will help with everything from room set-up, to assisting with menu choices to ensure you get the wedding day you've always dreamed of!
14. The Grange – Ealing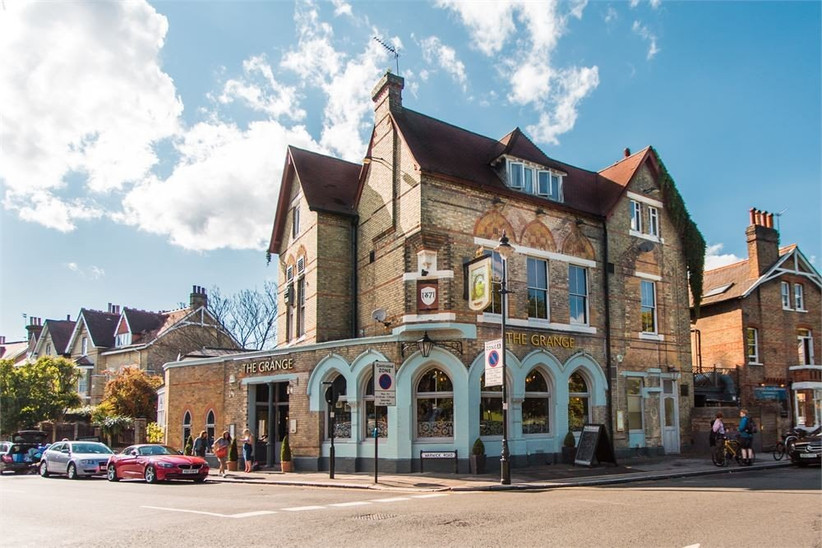 If you're looking for a unique and laidback wedding venue in West London, look no further than The Grange. It has a range of quirky and stylish spaces perfect for a range of guest list sizes.
Whether you're planning a summer celebration or a cosy winter wedding, The Grange can cater for you. In the summer, the garden is a lovely place for reception drinks and The Summer House (complete with exposed brick walls and quirky palm prints) is great for a wedding breakfast.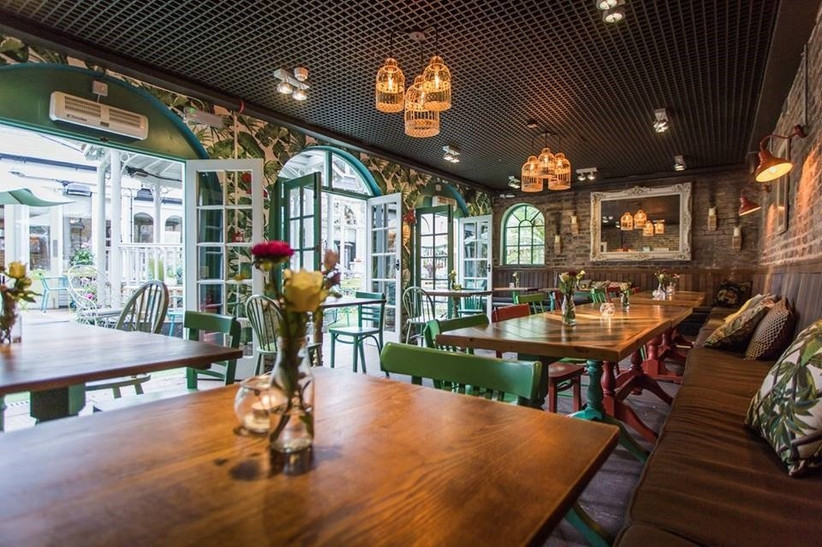 In the winter, The Reading Room offers a cosy atmosphere, views over Ealing Common and space for between 40 and 80 guests.
Whatever season you choose to get married in, you can rest assured the food you're served will be delicious. With an innovative and sumptuous menu, everything from the cake and canapés to your sit-down dinner will be memorable.
READ MORE: 40 of the Best Small Wedding Venues in the UK
15. The Anthologist – St. Paul's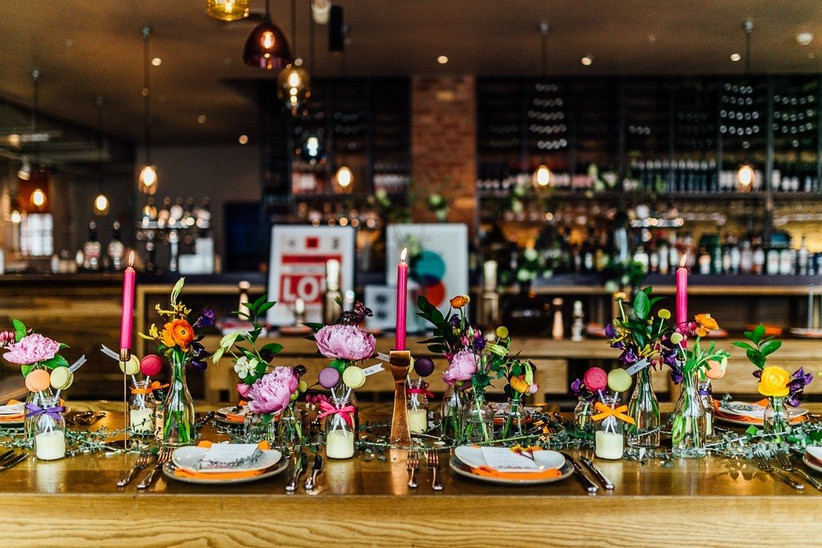 Set in the centre of the vibrant City of London is The Anthologist, a unique and sophisticated venue perfect for a city wedding.
As your guests arrive at your wedding reception they'll get a glimpse inside the venue from the glass-fronted façade. They'll quickly realise they've arrived at the perfect party location, complete with a fantastic bar, two cocktail lounges and a contemporary kitchen.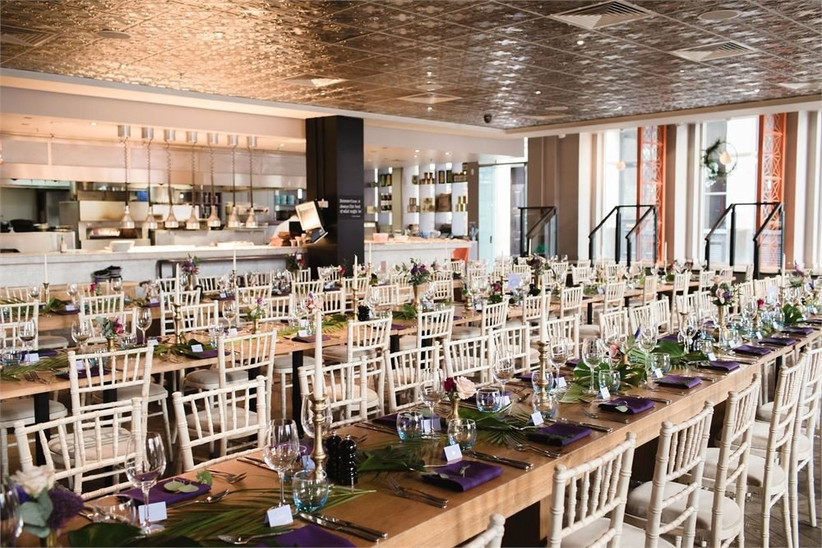 The food and drink is the star of the show here, and from your canapés to your cocktails, everything you devour is in the safe hands of The Anthologist team. Your food is created using the finest, fresh and seasonal ingredients for memorable and delectable dishes.
Once your day draws to a close, there's a range of accommodation options close to your pub wedding venue, so you won't have to travel far to rest your head.
16. The Rosendale Pub & Garden – Dulwich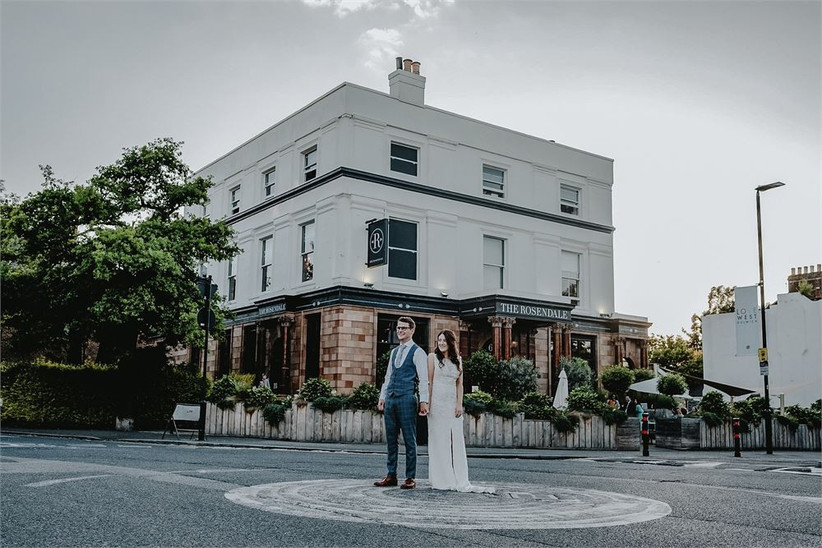 Whether you want something relaxed and informal or chic and intimate, The Rosendale is the perfect London pub wedding venue to help you realise your dreams.
Situated in the leafy village of Dulwich, it has hearty and seasonal food at its centre as well as excellent service and an array of drinks.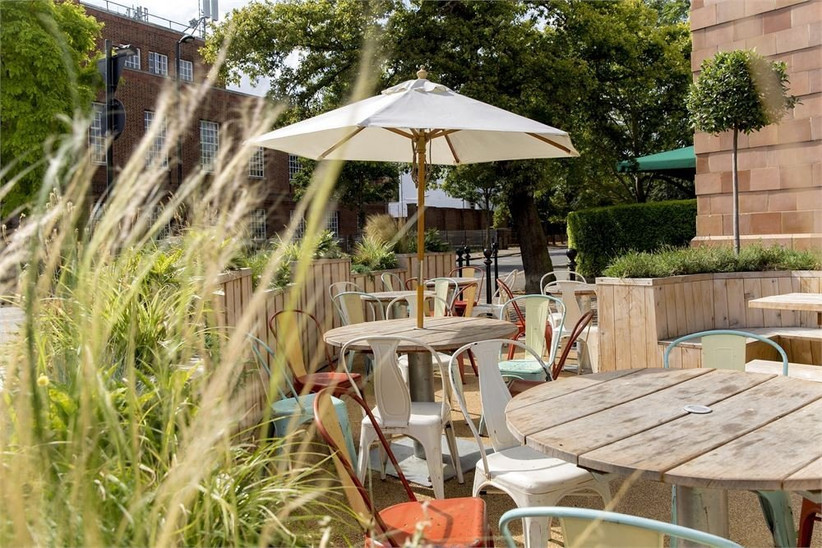 You can hire the pub exclusively or choose to reserve any of the individual private rooms or alfresco areas.
The West Room can seat up to 100 plus a further 60 at night, while the East Room can host up to 20 guests for dinner and 40 guests for a cocktail party. The possibilities are endless!
17. The Trafalgar Tavern – Greenwich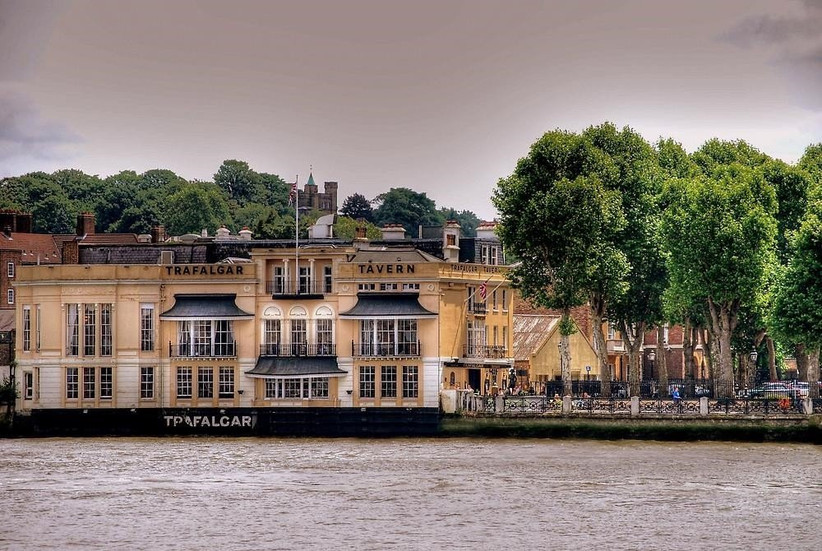 Couples looking for a wedding venue in Greenwich should add The Trafalgar Tavern to their shortlist. It was built in 1837 and sits right on the bank of the River Thames – perfect for wedding photographs!
This pub wedding venue is jam packed-full of history. Charles Dickens was once a regular visitor to this historic tavern, and the Nelson Room became famous for holding its renowned whitebait dinners. If you get married here, you'll be in good company!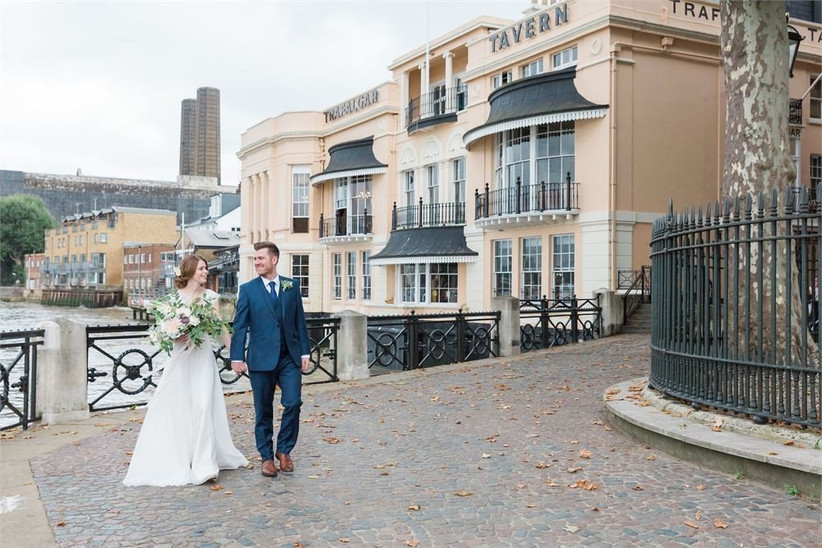 The first floor of the tavern can be hired out in its entirety exclusively for your wedding. The venue will be available to you for the whole day, so there will be plenty of time for your suppliers to set up and transform the space.
The Nelson Room can accommodate up to 200 guests for a sit-down dinner and 300 for a standing reception. This room is also licensed for civil ceremonies, so you can host your entire day under one roof!
READ MORE: 25 of the Best Hotel Wedding Venues in the UK
18. The White Horse – Liverpool Street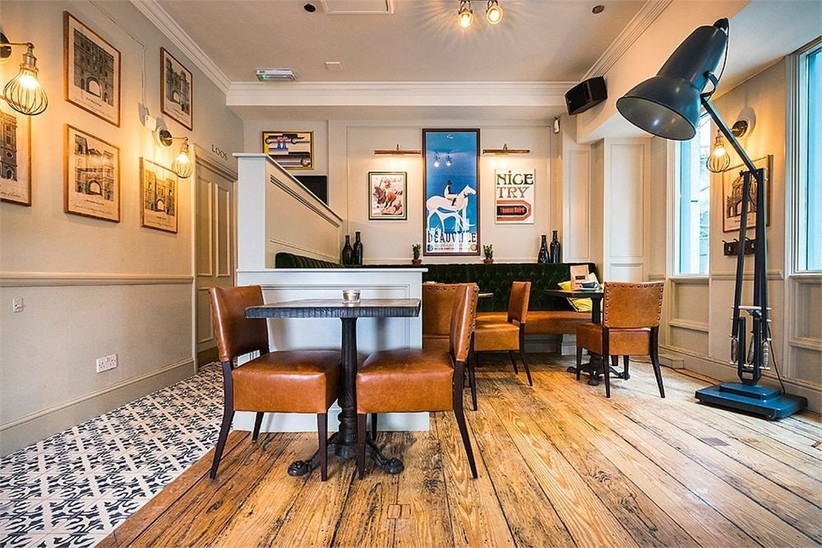 We're huge fans of The White Horse – not least because of its heated outdoor terrace which overlooks Exchange Square.
The pub is available for exclusive hire on weekends and can accommodate up to 70 people for an intimate seated meal and 180 for a spectacular reception.
The team of chefs can create bespoke three-course menus inside or BBQs, hog roasts and feasting banquets on the terrace if you're after something a little more unusual.
What's more, their wine list is expertly selected to include exciting new choices and plenty of classics. Oh, and we mustn't forget about their close proximity to the City of London Registry Office and Islington Town Hall! You won't have far to travel after your wedding ceremony.
19. The Trafalgar Arms – Tooting Broadway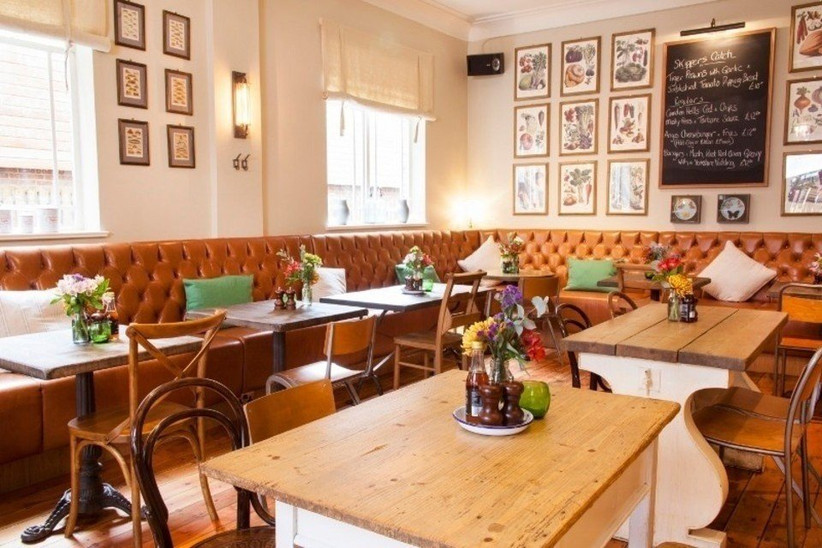 Say hello to The Trafalgar Arms, a cool and contemporary British pub located just five minutes from Tooting Broadway tube station.
It's a home-away-from-home with fresh artisanal food, delicious wines and the best beers that Britain has to offer. What's more, the dedicated team are knowledgeable and helpful, thriving on throwing unique parties full of original touches.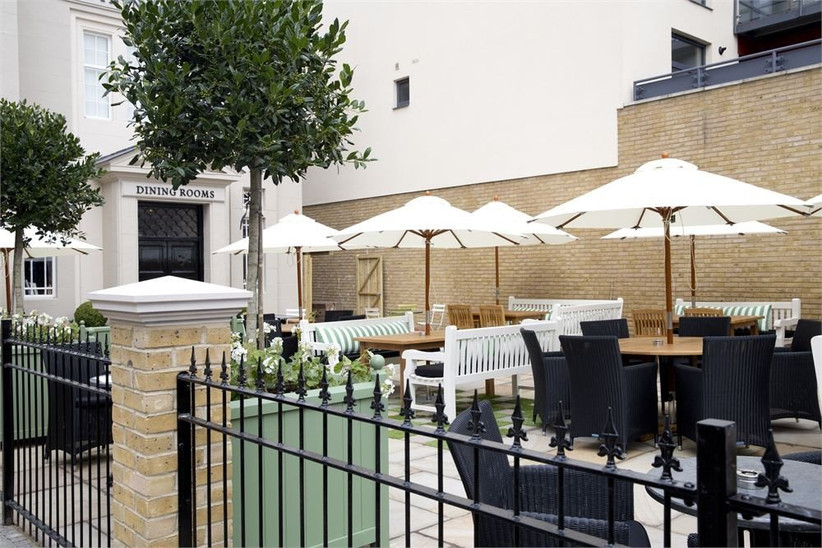 " classes=""]
There are five rooms available for you to host your special day. Whether you're having something small and intimate for 15 people or a celebration with 90 guests, they'll be able to cater.
The Trafalgar Arms is close to a variety of wedding ceremony locations and accommodation options to ensure your day runs smoothly.
20. The Prince Albert – Battersea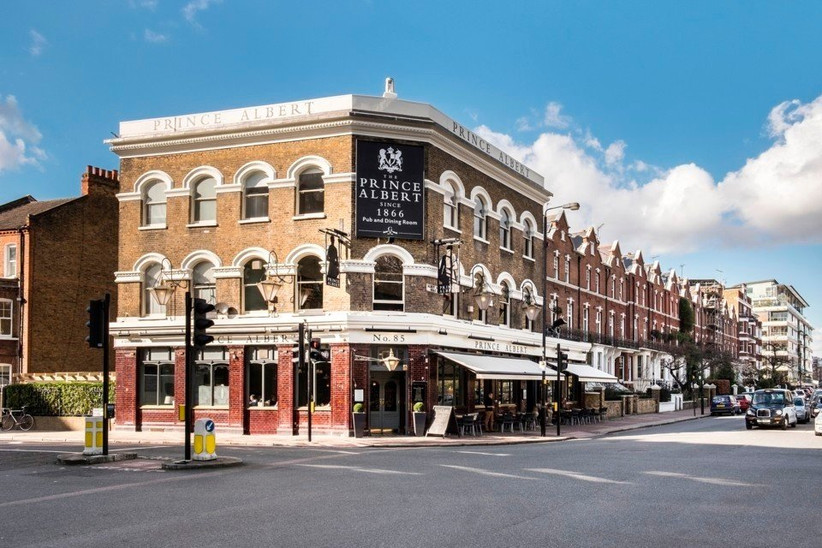 Located on the Western flank of Battersea Park is The Prince Albert, a rustic yet elegant pub with food at its heart.
It has a large selection of guest ales and craft beers, perfect for couples who like a tipple. It also has a contemporary outdoor terrace for your reception drinks.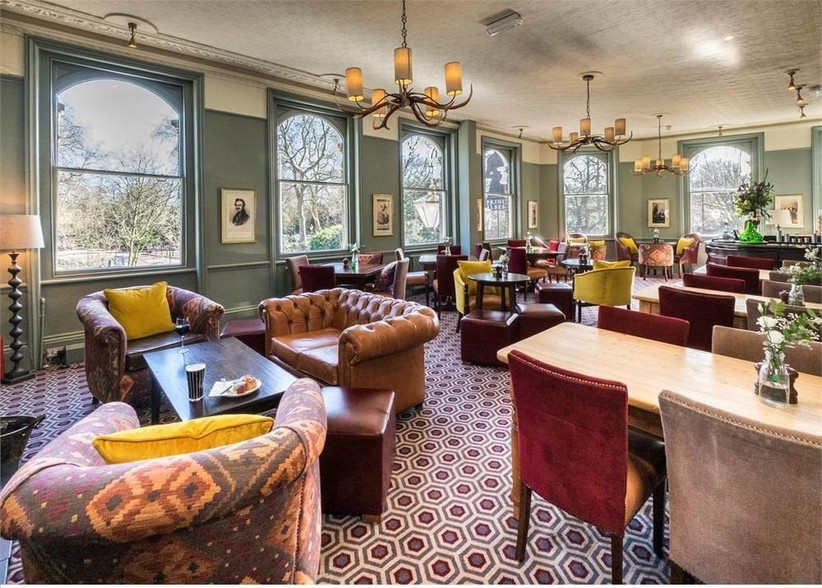 For your wedding breakfast, there's space for 50 seated guests and 80 standing, and once the speeches are over, there's an entertainment license so you can dance the night away.
READ MORE: 23 of the Best Bridal Suites in the UK
21. The Hollywood Arms – Chelsea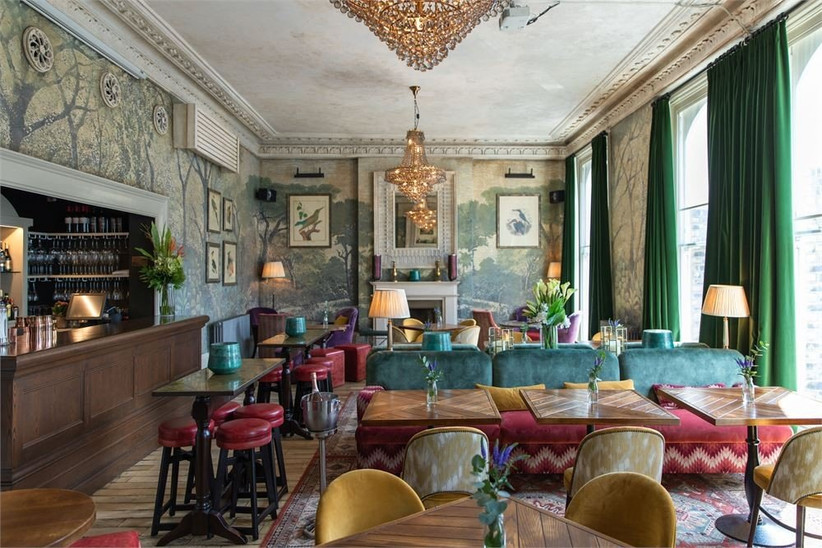 How cute is The Hollywood Arms in Chelsea? It'd be perfect for your London pub wedding!
Located just a stone's throw from Kings Road, it has been designed with a mix of modern and vintage in mind.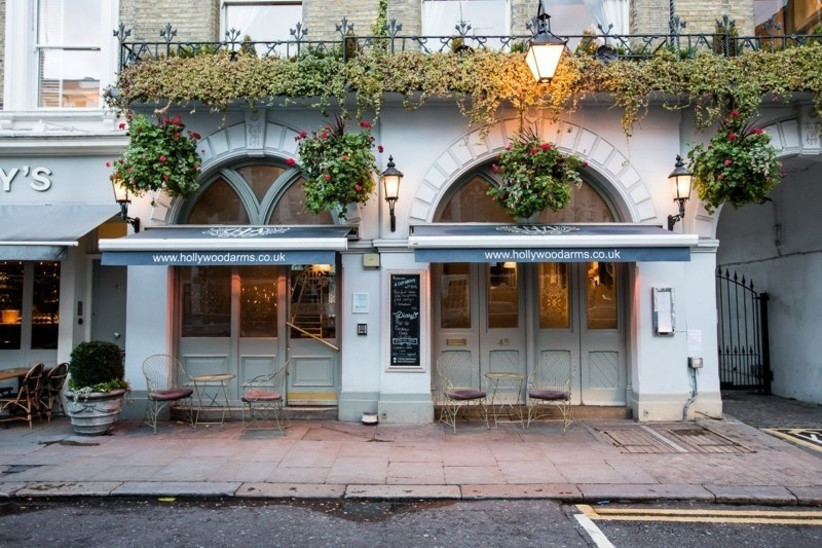 Located on the first floor and inspired by classic English country estates is The Boulevard Bar, a space bursting with vibrant décor and quirky colours. There are also floor-to-ceiling windows meaning the space is flooded with natural light.
The relaxed ambience of the pub makes it perfect for any occasion, whether you're just after drinks and canapés , a banqueting feast or a sit-down meal. There's even a fully-stocked gin and cocktail bar to really get the party started.
22. Tramshed – Hackney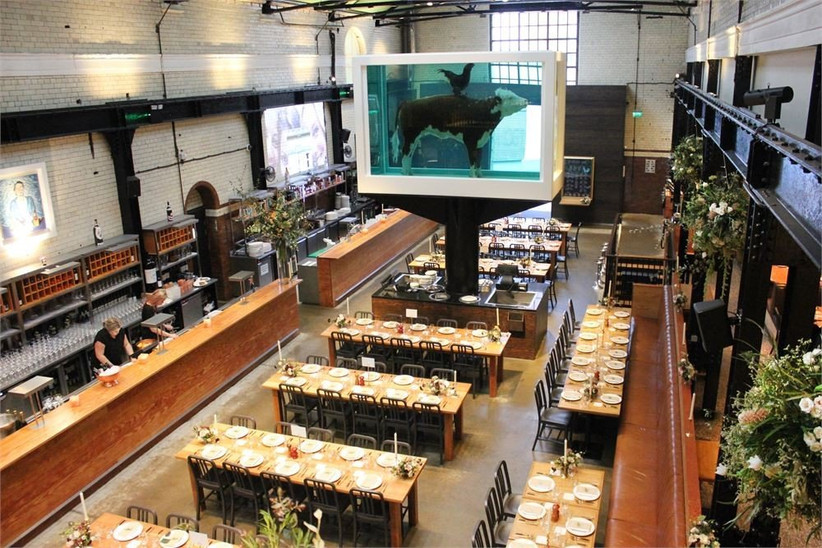 Found in what used to be an East End tram generator building and nestled in the heart of trendy Shoreditch is Tramshed, a totally unique venue for your celebrations.
If you get married here, you'll be surrounded by the work of Turner Prize-winning artist Damien Hirst on your big day. You'll also be able to sample some of London's finest chicken and steak!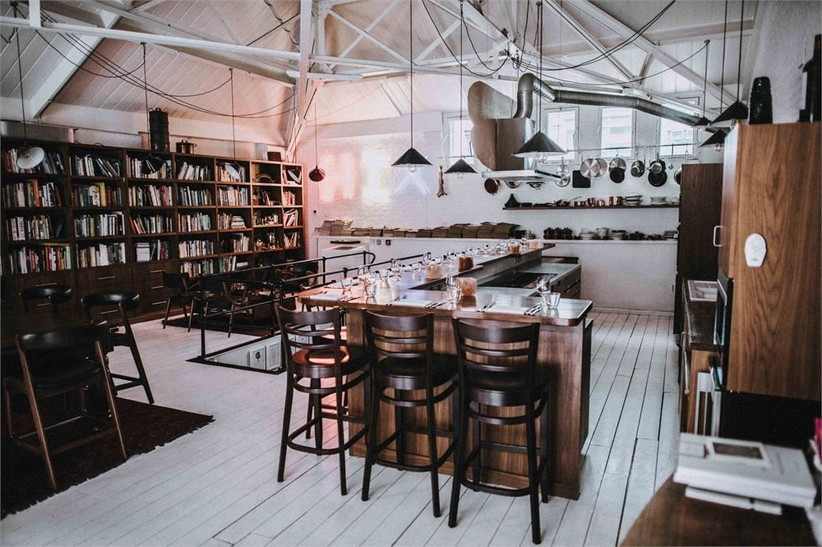 There are two options at Tramshed: one for intimate weddings and one for large celebrations. You can dine for 12 around the chef's table in Mark Hix's Kitchen Library or host every single one of your loved ones in the subterranean art gallery. For something even bigger, you can hire out the whole venue exclusively.
Whether you want to say 'I do' with a sit-down feast or a laidback cocktail reception, Tramshed is a truly impressive venue to do it in. Your guests won't be forgetting your wedding day in a hurry.
READ MORE: The Most Unusual Wedding Venues in London
23. The Old Ship – Hammersmith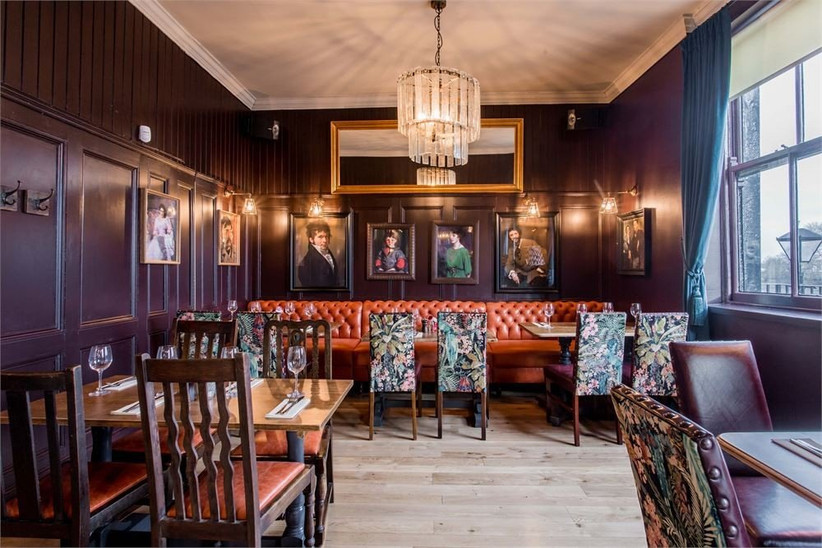 The Old Ship in Hammersmith has been hosting bespoke weddings since 1722, so if it's your chosen wedding venue, you'll be in good hands.
Situated just 10 minutes from Hammersmith's registry office, this is the perfect location for couples looking to escape from the hustle and bustle of the city and enjoy a laidback celebration.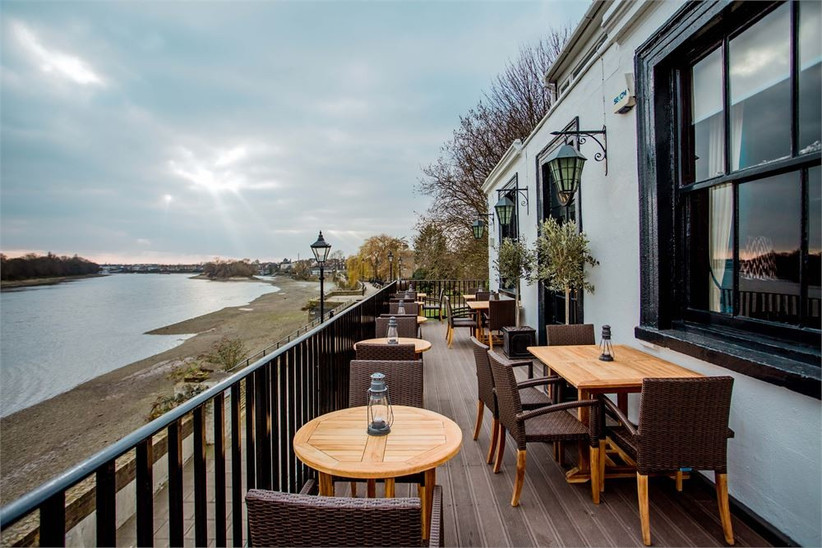 This gorgeous venue has three spaces which are all perfect for your wedding reception. There's The Drawing Room which boasts stunning views across the river, The Riverview Bar for intimate gatherings and The Upper Deck. This space is ideal for a wedding breakfast with 40 guests or a cocktail reception for 65.
READ MORE: 19 Alternative Food & Drink Ideas for Couples Looking for Something Different
If you love the idea of getting married in a pub wedding venue but want to venture outside of London, check out our round-up of 21 of the best pub wedding venues across the country!