The 30 Most Unusual Wedding Venues in London
From giant conservatories to indoor pool party venues, these unusual wedding venues in London are far from the norm...
We have included third party products to help you navigate and enjoy life's biggest moments. Purchases made through links on this page may earn us a commission.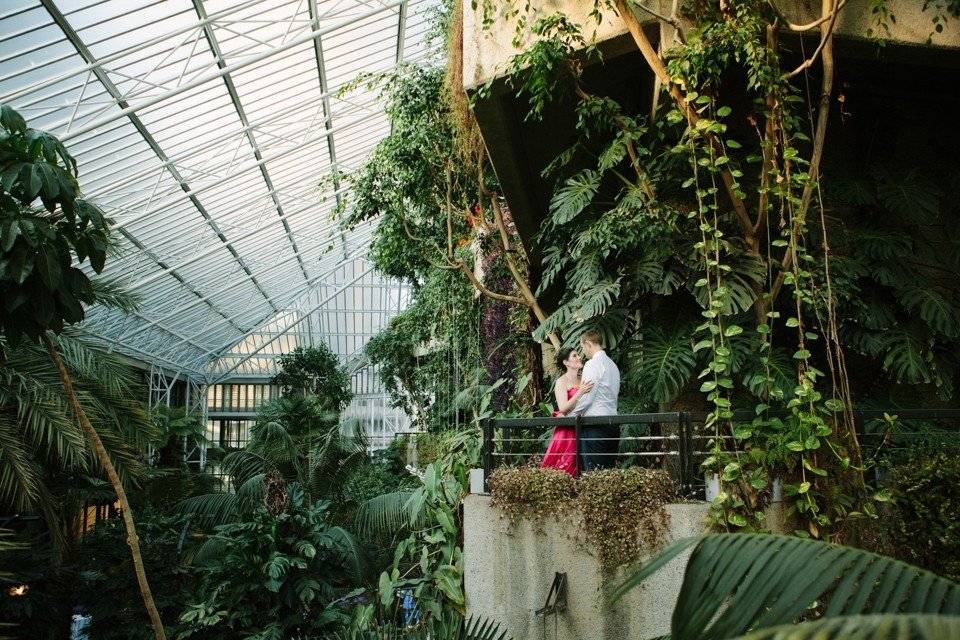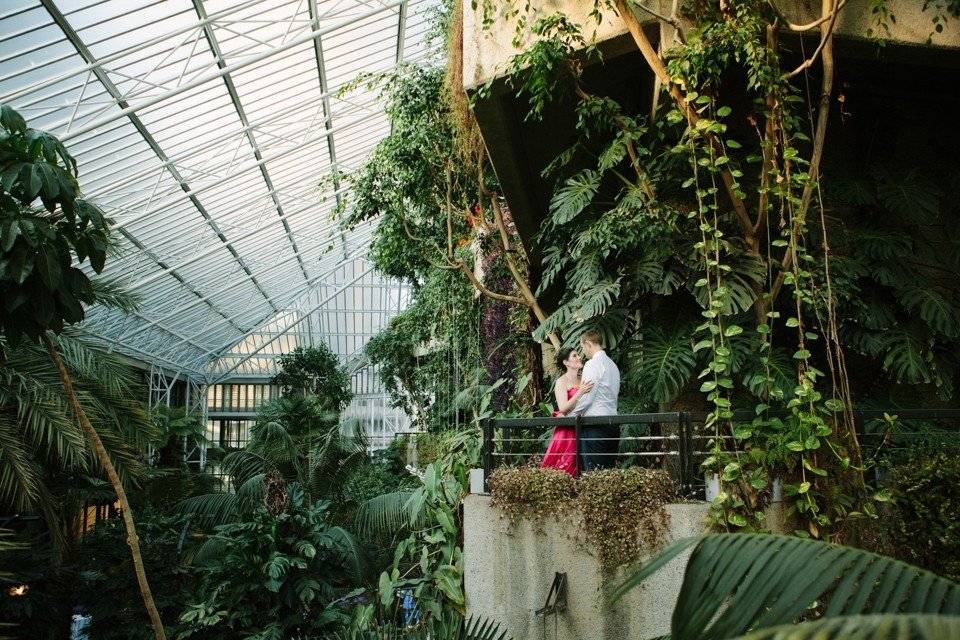 Some couples like to shake things up and challenge traditions, and what better way to show your individuality than on your wedding day? Whether you're planning a grand soirée or a small function, the celebration of your relationship should be uniquely your own. When choosing your wedding venue it's particularly important that it reflects your personality and style. That's why we've rounded up 30 unusual wedding venues in London that couples looking for a cool and alternative setting for their big day in the capital will love.
From a bowling alley to a zoo, from a hidden castle to The Globe, these are the best unusual wedding venues in London. Whichever location you choose, we know it'll be a wedding to remember!
If you're looking for unusual wedding venues outside the M25, make sure you check out our list of 75 of the most unique wedding venues in the UK.
1. Tanner Warehouse, Southwark
Located in trendy Bermondsey lies Tanner Warehouse, a unique wedding venue for the coolest of couples. Anyone looking for a blank canvas wedding venue with the most gorgeous potential will adore the infrastructure and cool vibes that Tanner Warehouse offers. They also have an extensive vegetarian, vegan, gluten-free and dairy-free menu so every one of your guests will be happy.
Find Out More

READ MORE: The Best Warehouse Wedding Venues
2. Kew Gardens, Richmond
You can throw your wedding in the largest Victorian glasshouse in the world at Kew Gardens, eating your meal in a glistening cathedral of glass housing over 10,000 rare and endangered plants. Beautifully restored, the Temperate House is just one of the unique areas across these 300-acre gardens where you can host your big day. The Nash Conservatory is a breathtaking location for your ceremony, while the Princess of Wales Conservatory and the Orangery make stunning backdrops for your photos.
Find Out More
3. The Lamb Tavern, City of London
The Lamb Tavern is an unusual venue situated in the centre of Leadenhall Market. It could prove to be a more affordable option for your London wedding venue, as there is no venue hire fee. There's also a licensed bar until 1 am which is perfect for party animals. The cobbled walkways and Victorian roofs give an authentic historic feel to your London wedding.
4. Tramshed, Shoreditch
Vegans, look away. You can host your wedding under Damien Hirst's famous 'Cock and Bull' – a cow and cockerel preserved in a tank of formaldehyde. If you're art lovers, this striking work is a fascinating talking point. The restaurant itself, run by award-winning chef Mark Hix, serves only steak and roast chicken. Yes, really. With industrial-chic decor from its former life as an East-End tram generator, Tramshed oozes East London cool. You can even host an intimate wedding breakfast around the chef's table in the Kitchen Library for the ultimate foodie wedding.
5. Severndroog Castle, Shooters Hill
Want an affordable castle wedding venue? The Gothic-style Severndroog Castle in South East London was built in 1784 as a testament of love from Lady James to her late husband – with such a romantic history, what a place to host a wedding! As well as a truly unusual backdrop, you can exclusively hire Severndroog for the day and enjoy amazing 360-degree views across London from their rooftop viewing platform as well as a delicious meal from the in-house caterer. You might not expect to find something like this in a wood in London, but it's well worth a visit.
READ MORE: 29 Surprisingly Affordable Wedding Venues in the UK
6. London Museum of Water and Steam, Brentford
As far as unusual wedding venues in London go, the London Museum of Water and Steam might be up there! Built in 1838, the original pumping and treatment station played a major role in the Industrial Revolution. The dramatic wedding venue features a Grade I-listed Victorian Waterworks, and combines an industrial feel with elegance. There is a doorman on hand and engine drivers available to drive the steam engines you select – is there a cooler way to celebrate your wedding?
READ MORE: The Most Amazing Museum Wedding Venues
7. Raven's Ait Island, Kingston
Marry on your own island in the Thames! This two-acre ait is an idyllic, riverside location, where you can host the most private and bespoke of events. You and your guests will travel by boat across to the island before hosting your day in their marquee or ceremony rooms, with drinks on the landscaped lawn.
Find Out More
8. Queen Mary University of London, East London
If you're looking for a wedding venue in the East End, consider Queen Mary's University. The amazing Octagon is, as the name suggests, an octagon-shaped library, lined with leather-bound books. It's the ideal choice of wedding venue for couples who love to read and are wonderfully colourful.
9. Searcys at The Gherkin, City of London
Why not celebrate your wedding at an iconic London building like The Gherkin? The glass dome at the top of The Gherkin is home to Searcys, a restaurant and bar that can host weddings on Saturdays and Sundays. The venue provides 360-degree views of London from 180 metres up in the air. Every time you see the building in the London skyline you'll remember your day too.
10. Foundling Museum, Bloomsbury
Art-loving couples will adore the Foundling Museum, which celebrates the history of Thomas Coram's Foundling Hospital and the way artists have helped improve children's lives over the past 270 years. By hosting your wedding there, you enjoy exclusive use of the whole museum and can take in the collections and exhibitions on display by artists such as Hogarth, Reynolds, Ramsey, Brooking and Gainsborough. Music lovers will also be keen – the quirky London venue houses artefacts relating to Handel, who also helped to establish the hospital.
11. The Deck, South Bank
This is an amazing choice for a summer wedding – The Deck is the National Theatre's al fresco summer space. It gives you amazing views across the city and you can mingle with your guests high above the bustling South Bank. You even have access to the National Theatre's costume hire – perfect if you're having a themed wedding!
Find Out More

READ MORE: The Prettiest Summer Wedding Venues
12. The Depot, Holloway
Want to add a little style and adventure to your big day? The Depot in North London offers that and more with its chic, industrial décor and unique Handmade Mysteries Escape Rooms available to hire. Not only will your guests be in awe of the cool surroundings, but they'll be captivated by the unusual challenge room entertainment.
13. Barbican Centre, Barbican
Really wow your guests with your unusual wedding venue by choosing The Conservatory in the Barbican Centre. Couples can say their vows surrounded by the most beautiful selection of tropical plants and ponds, and the conservatory itself will make for an incredible backdrop when it comes to the wedding pictures!
14. MKII, Clapton
MKII (previously known as The Old Dairy) in East London is the ultimate blank canvas wedding venue. It's perfect for creative couples who want to make their wedding venue totally personal to their big day. Unlike other venues, The Old Dairy allows couples to book it for three days as a standard booking, meaning you have plenty of time to prepare the venue and can even carry the party on over a long weekend!
READ MORE: 21 of the Best Pub Wedding Venues
15. Balfour St Bart's, Farringdon
Looking for an unusual, urban wedding venue in London? St Bart's Brewery is a former bank renovated into a brewery in 2012 that overlooks London's iconic Smithfield Market. With aircraft hangar lighting, this venue oozes contemporary cool, topped up by excellent drink choices, eclectic artwork, sumptuous furnishings and a brilliant mezzanine level. It's striking and totally special.
16. Little Bat Bar, Islington
Little Bat Bar in North London is a unique and cosy space to host your wedding. This hidden gem is bursting with character, from dark wood interiors to eclectic artwork and some rather jazzy chandeliers that'll look amazing in your photos. There's no hire fee – just a minimum spend – and you can choose a really relaxed wedding breakfast of bowl food or tacos to go with their award-winning cocktails.
17. Cutty Sark, Greenwich
It doesn't get much more unusual than tying the knot aboard a beautiful ship! This beloved London icon now serves as a stunning backdrop for couples' special celebrations. You and your guests can dine beneath the hull, which is surrounded by a glass canopy that lets in the evening light from above. If you're looking for a truly atmospheric, unique venue, then Cutty Sark might be the one for you.
18. Bluebird Restaurant, Chelsea
Located on the King's Road in West London, Bluebird Restaurant's notable interiors make this an unusual venue to celebrate your love. The historic building started as the garage that housed Sir Malcolm Campbell's land speed record car before being turned into a stylish restaurant in the late '90s. The venue is licensed to host civil ceremonies and is home to a range of spaces that you can use for your special day, including a terrace, modern bar, and multiple function rooms.
19. The Bulls Head, Richmond Upon Thames
Versatile and atmospheric, The Bulls Head is a perfect unusual wedding venue in London for couples looking to host an intimate celebration of 10 to 80. Situated right on the river Thames, this bright pub venue offers a jazzy, upbeat aesthetic. You'll be able to work with the venue's events team to make sure that your vision is brought to life, for a day filled with joy.
READ MORE: 15 of the Best Small London Wedding Venues
20. Davy's Wine Vaults, Greenwich
Wine lovers will feel right at home in this snug venue. Davy's Wine Vaults is a quirky, charming location situated near the Thames. Many of the building's original features have been thoughtfully restored and couples and guests will find antique wine artefacts nestled throughout the venue. Able to accommodate anywhere from 40 to 180 guests, Davy's Wine Vaults is home to a number of candlelit corners and spaces to celebrate for a cosy, intimate atmosphere.
21. Ham Yard Hotel, Soho
Couples looking for a really unusual wedding venue in London will adore the Ham Yard Hotel. Not only does it offer the luxurious feel and high-end service that you'd expect from a Soho hotel, but it also has a super quirky bowling alley where you and your guests can enjoy a few games! If that isn't a unique setting for a wedding, we're not sure what is…
22. The Century Club, Soho
Ultra-cool couples will be excited to know that the exclusive private members club The Century Club has opened its doors to weddings and, boy, are they trendy! Set right on London's famous Shaftesbury Avenue, it has sophisticated and industrial-chic decor that's calling out for a chic modern wedding. Out of their four wedding spaces, we're torn between the striking Green Room with an amazing arched ceiling and the Rooftop Terrace, one of Soho's largest roof terraces, complete with a fully retractable glass roof so you can party there whatever the British weather.
READ MORE: 23 Stylish Wedding Venues With Accommodation
23. Tower Bridge, City of London
If you're looking for panoramic views, look no further than Tower Bridge. Most people don't know that you can actually legally marry on the glass-floored, high-level Walkway of Tower Bridge with up to 250 wedding guests present. If you're afraid of heights, this famous London landmark offers another two spaces for weddings and receptions: its North Tower Lounge for intimate affairs and the Victorian Engine Rooms for an industrial feel.
READ MORE: Landmark Venues You Can Get Married In
24. The Soho Hotel, Soho
This is a super cool, quirky wedding venue situated in the heart of Soho. The Soho Hotel has 91 bedrooms, all individually designed, and is surrounded by some of the best nightlife London has to offer. There are several stylishly decorated spaces to choose from to wed, and even a couple of screening rooms. This is the perfect venue option for couples who love colour.
25. London Zoo, Regent's Park
For animal lovers, hosting your wedding at a zoo is a must! And let's face it, who wouldn't want to go to a wedding at London Zoo? Enjoy your drinks reception at Animal House and enjoy a photography session at Penguin Beach and Tiger Territory. There are also Live Animal Encounters available if you really want to wow your guests!
READ MORE: The Coolest Zoo Wedding Venues
26. Dead Dolls House, Islington
The Dead Dolls House isn't as scary as it sounds! It's actually seriously elegant. The Victorian building occupies three floors and is beautifully decorated in a quirky and contemporary style. As they're able to host up to 250 guests, you don't need to worry about restricting your guest list. This is a great choice if you want to surprise your guests with your choice of venue.
27. The Aviary, City of London
READ MORE: The 25 Best Hotel Wedding Venues
28. The Swan at Shakespeare's Globe, South Bank
What could be more romantic than marrying at Shakespeare's Globe? Shakespeare wrote some of the most memorable love stories of all time and you can live out your own love story by marrying there. If you love the idea of having your wedding at a venue associated with a literary great, you'll love this one!
29. Boulevard, Soho
Theatre lovers? Marry on a state-of-the-art, spectacularly lit stage at this new theatre venue right in the heart of Soho. Your guests will sit around you in the circular auditorium, looking on as you say 'I do' – it's perfect for any couple who loves the limelight. With a bar and restaurant on site, their head chefs will whip you up a bespoke menu for an unforgettable wedding in London's iconic Theatreland.
30. Sunbeam Studios, Notting Hill
Sunbeam Studios is a gorgeous Grade II-listed building near Notting Hill. It's a blank canvas that you can totally transform to suit your wedding style, as well as priding itself on being eco-friendly. It also hosts lots of fashion shoots and only books 25 functions a year making it super exclusive! Outside there's a private garden to capture some beautiful wedding photos.
If you have your heart set on having a city wedding but are open to other places in the UK, be sure to check out these city wedding venues!