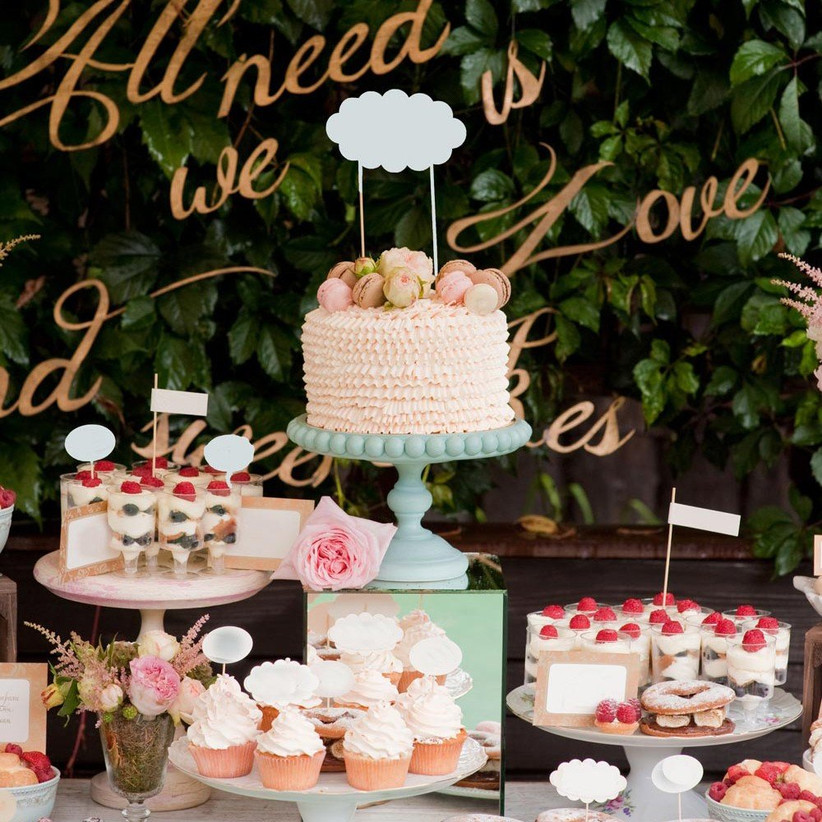 Let's face it – who doesn't get excited at the thought of cake? Your wedding cake will be one of the highlights of your wedding reception and it's important that you show it off as much you possibly can. To help you out, we've compiled a guide to creating the perfect wedding cake display. Filled with expert advice, elegant cake stands, theme inspiration and more, everything you need to know is here.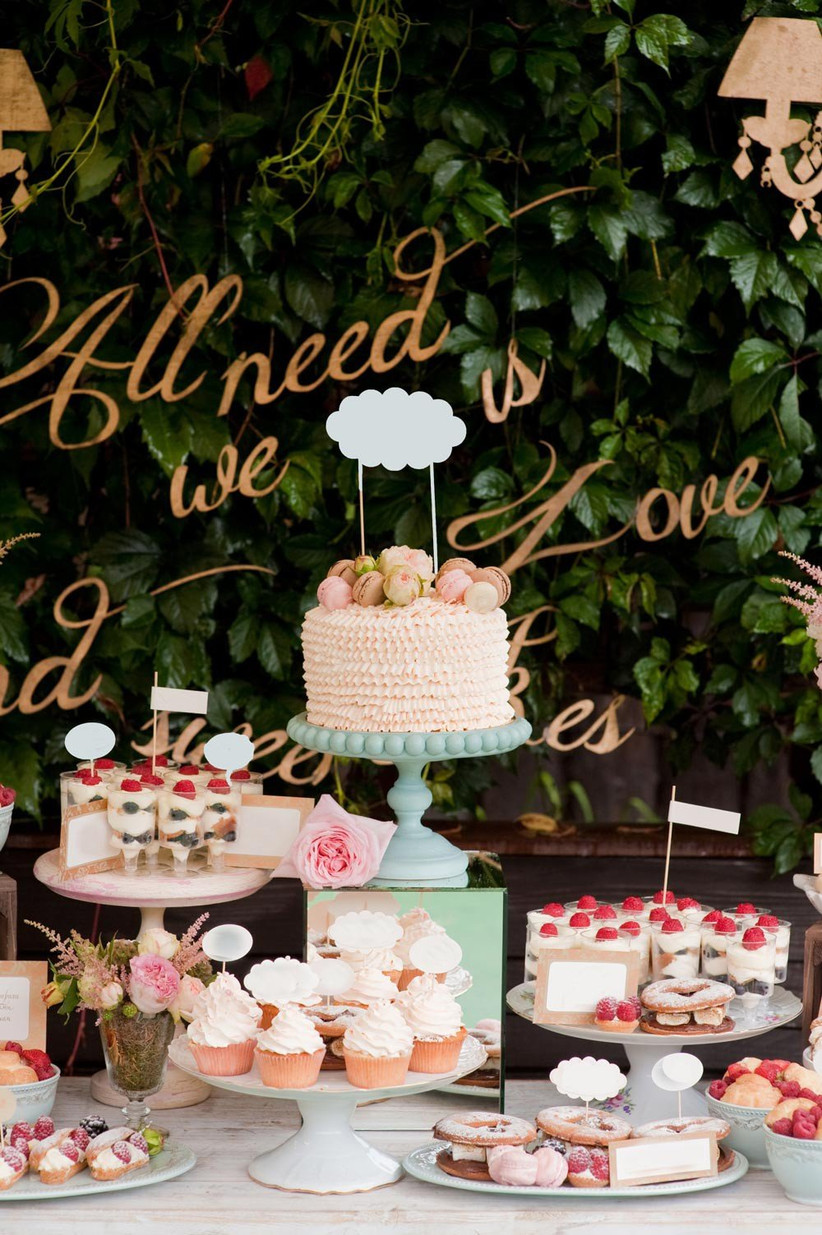 Where to Display the Cake
The wedding cake is usually brought out at the start of the wedding reception and cut just before the evening celebrations begin.
Depending on how long you expect the reception to last, the wedding cake could be on display for a considerable length of time.
To ensure that the cake holds up for the duration of this time, follow these top tips for positioning it correctly: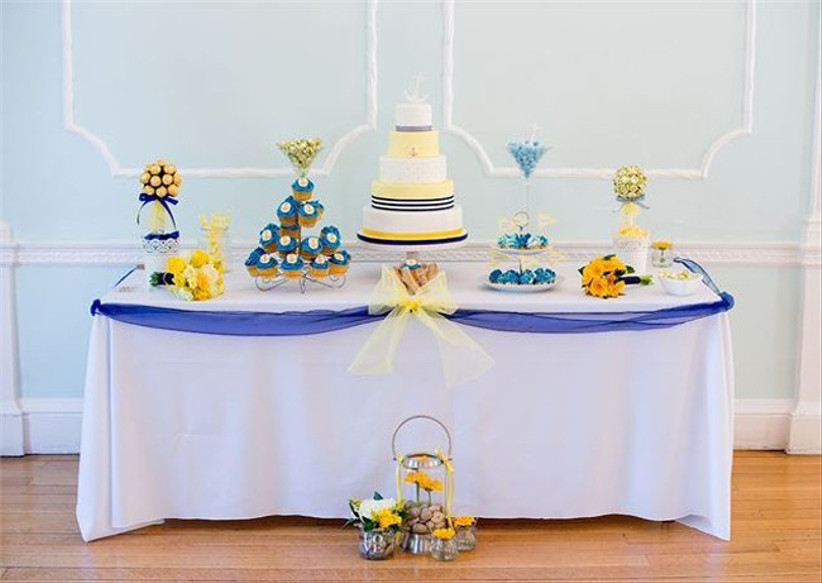 Image credit: The Historic Dockyard Chatham
Display the cake in a prominent location – Make sure that the cake can be easily be seen but is not in a place where guests or venue staff are walking past. The last thing you need is your beautiful cake on the floor!
Talk to your cake maker – "Give your wedding cake decorator as much information as possible before they make the cake," suggests Jaime James, the pastry chef and founder of Ginger & Cacao. "They can provide the best guidance on where to position the cake and how long is best to leave it out for."
Think about your photos – "Speak to your venue and try to find a place where the cake can be displayed and easily photographed," says Jill Chant, the owner of Jill the Cakemaker. "Make sure it's not put directly in front of a window as it may deteriorate quicker. It should go without saying but never place the cake in front of a fire extinguisher or a door either."
Be wary of the dance floor – "Never display your wedding cake too close to the dance floor," warns Jill. "Enthusiastic guests may end up too close to the display when dancing to an energetic song and this is an accident waiting to happen."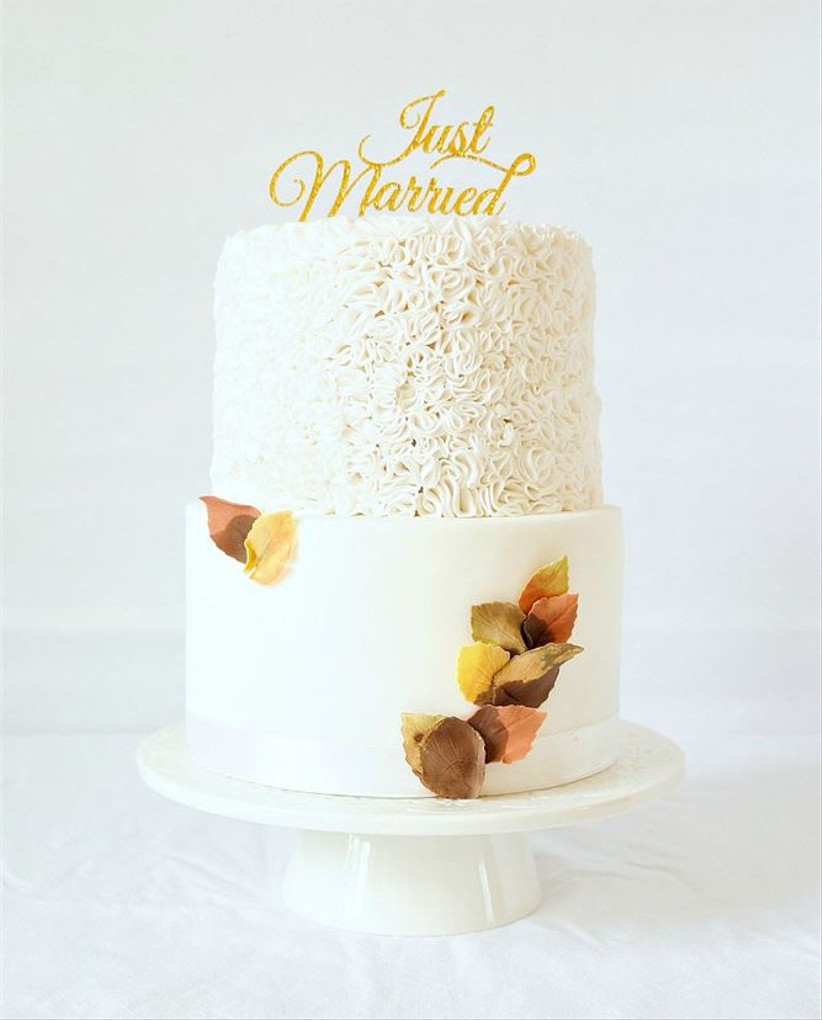 Image credit: Ginger & Cacao
The Table
The size of your cake will determine how big the table for your wedding cake display is, but it should be neither too big nor too small.
Your venue will provide a table cloth for the cake table and sometimes a wedding cake knife and stand as well, although you can bring your own if you have a specific look in mind.
"The tablecloth for the wedding cake display should be clean, ironed and long enough to reach the floor all the way round the table," recommends Jill. "Visually, round tables generally work best but square tables are popular too."
Make sure that the display has plenty of lighting – a dark corner of the venue is definitely not where your cake should be. A spotlight is a great way to put more focus on your cake, however, make sure that the light is not harsh enough to cause the icing to melt.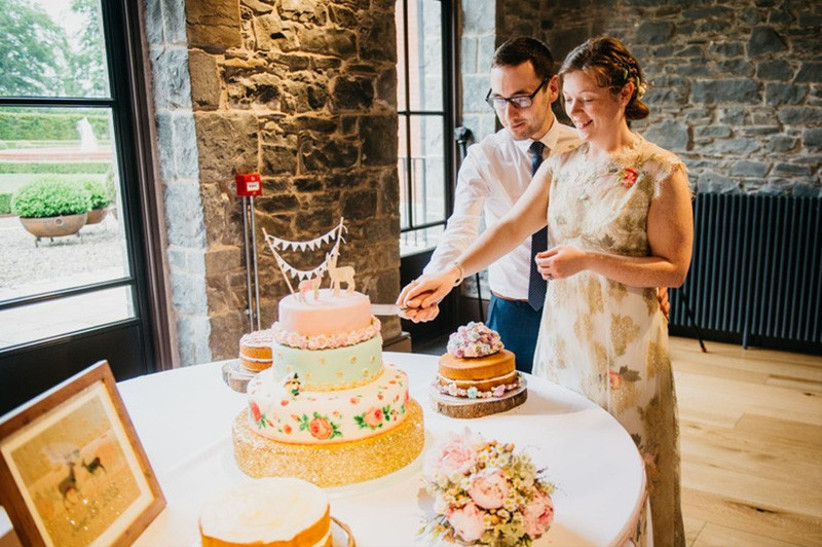 Image credit: The Carriage Rooms at Montalto
Cake Stands
"When choosing a cake stand, always go for something that will be able to take the weight of your wedding cake," suggests Jaime. "I personally love Mosser glass cake stands. Not only are they beautiful and elegant, they're also incredibly sturdy. I also have a few really strong ceramic stands."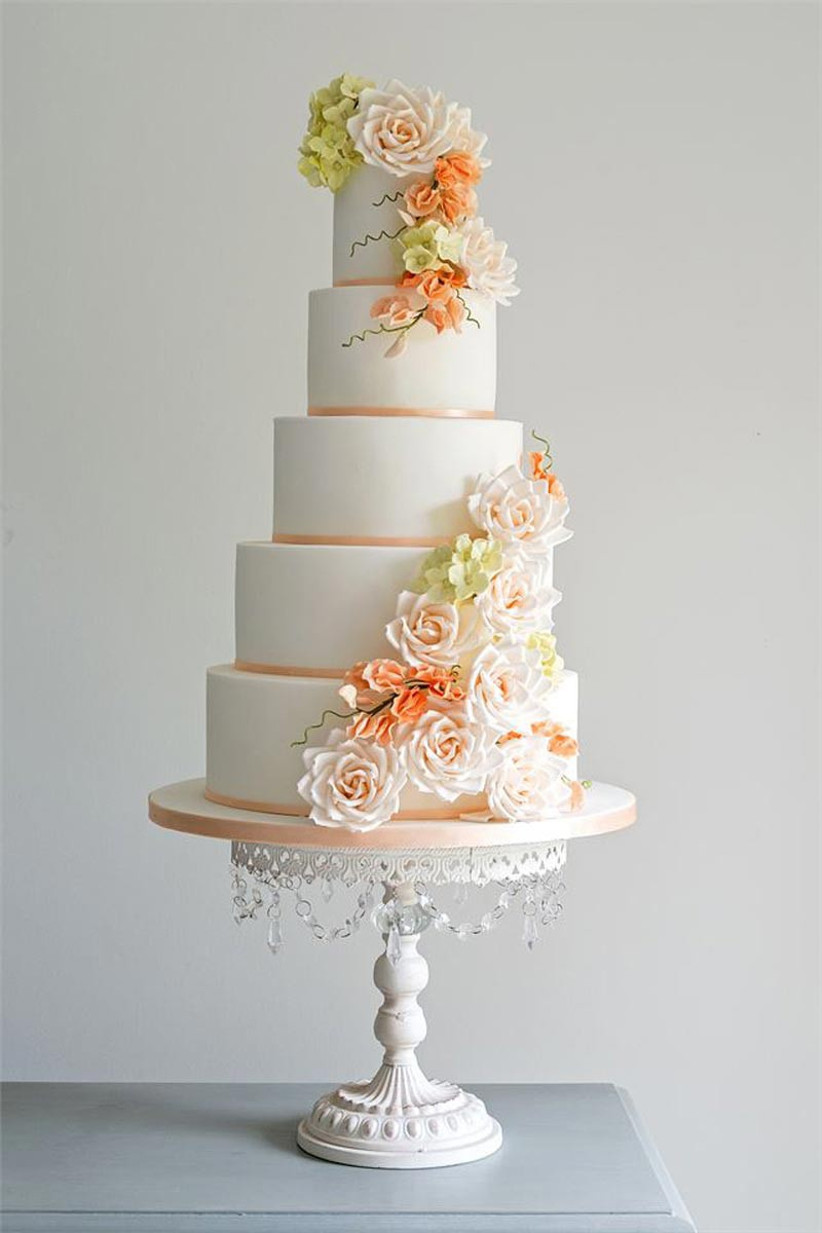 Image credit: Charlotte Emily Design
Whether your venue is providing you with a wedding cake stand or you're sourcing one yourself, make sure that it is clean and polished so that your cake has the best possible base. This especially applies to a silver stand – your venue will need to make sure that it is gleaming with no obvious smear marks.
Once you've found your perfect cake stand make sure that it's the right fit, as Jill explains: "Always check that the stand is the same shape as your wedding cake. I know it sounds obvious, but you be surprised at the number of times that I have delivered a cake and been given the wrong shape cake stand!"
We love these pretty ceramic cake stands from The Wedding of My Dreams. Not only are they a wonderful addition to your wedding cake display, they also come in a range of colours and sizes too.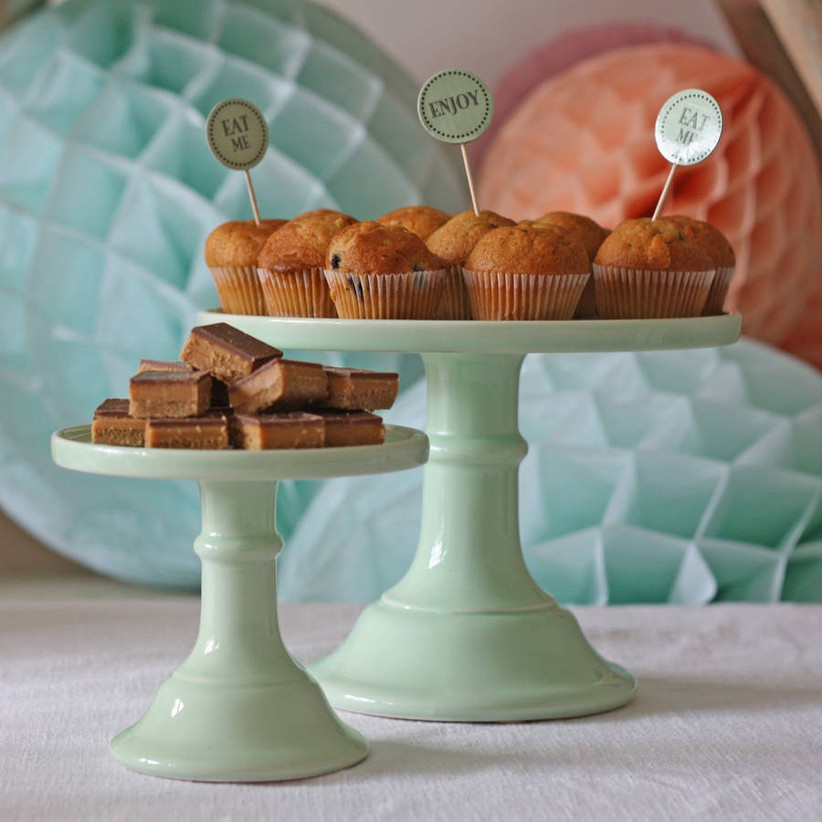 Dessert Tables
Wedding dessert tables are so popular right now and they're the perfect way to add more wow factor to your cake.
"It's easier to start creating a dessert table by first choosing a theme and colour palette to match your wedding decor, such as elegant, rustic, vintage or contemporary," suggest Jaime. "These form the platform that your cake maker or co-ordinator can build on to create a delicious looking dessert table."
We're in love with this wonderful and whimsical wedding cake display that Jaime created for Ginger & Cacao. The red and white cake does make a statement by itself, but the surrounding wedding biscuits, cupcakes and macarons make it impossible to resist.
The style of the table and the red heart on the cake is ideal if you're looking to add subtle Alice in Wonderland references to your wedding. If you're inspired by this display, then take a look at these amazing Disney wedding cakes for more fairytale-worthy ideas.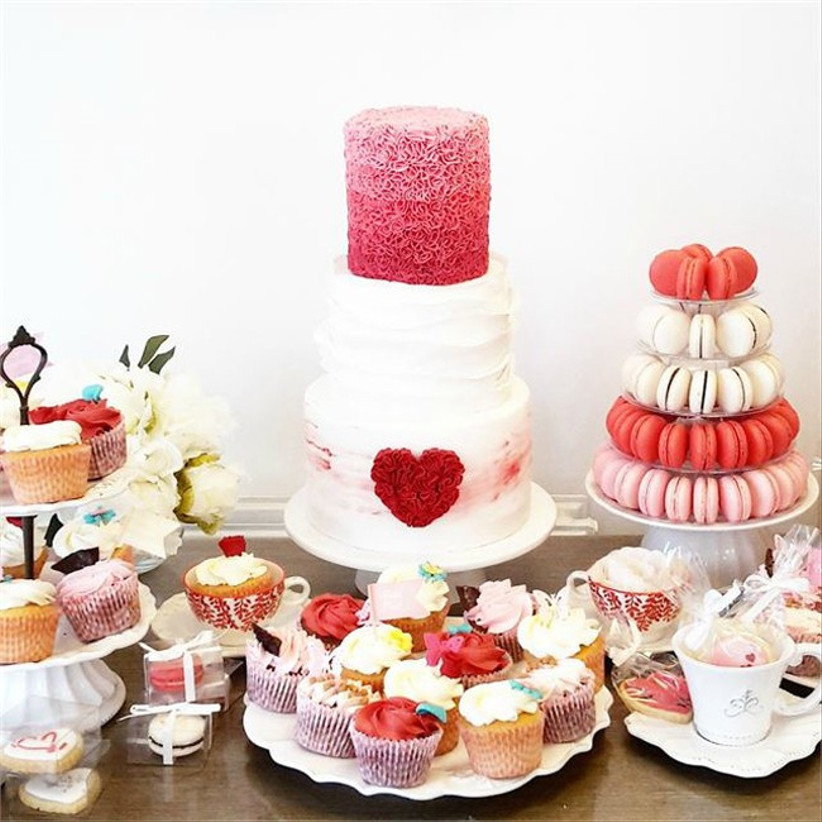 Rustic Ideas
An alternative idea for a cake stand is to perch your cake on a tree log slice if you want to give the display a rustic vibe. Surround the cake with bits of foliage, fruit, flowers and branches for even more of an 'outdoorsy' feel.
We love how Jill the Cakemaker has styled her rustic themed cakes here. Take note from the naked wedding cake on the right and give the tiers extra height by separating them with a tall cake stand.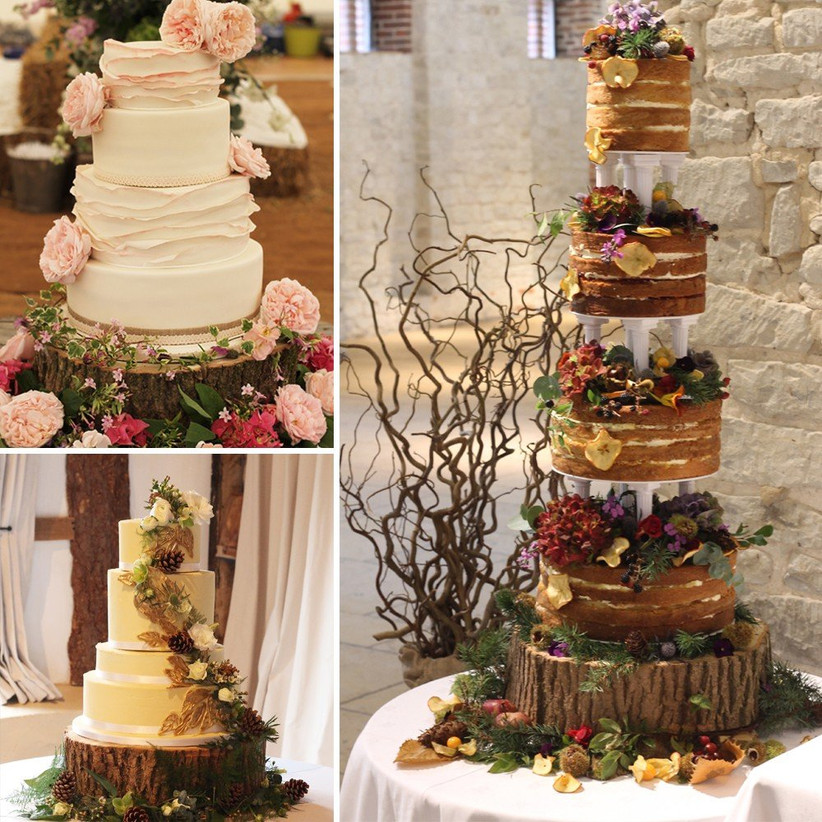 For a unique but effective wedding cake display idea, you could even put your cake on top of a crate which will certainly grab your guests' attention.
To style up this look, surround the crate with floral arrangements, petals, frames or other desserts.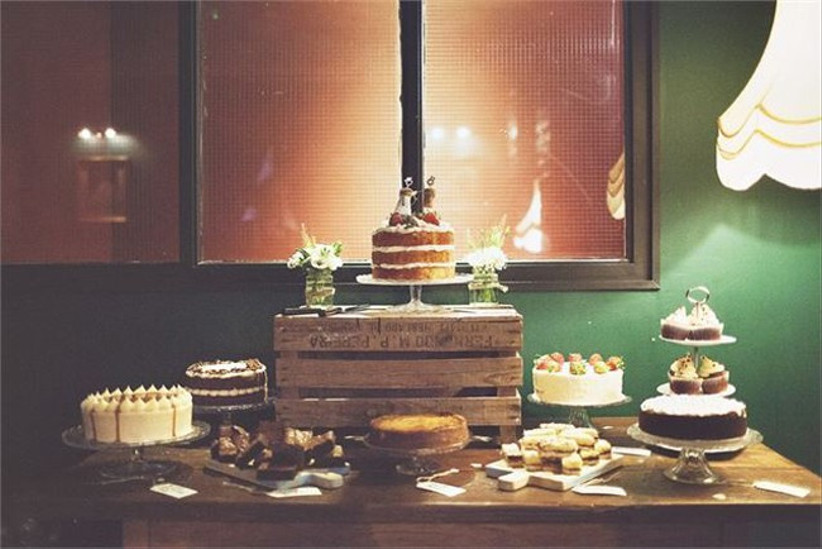 Image credit: Lock 91
Fabulous Florals
"If you are having fresh flowers on your cake, sprinkle a few petals around the cake stand," suggests Jill. "Arrangements of flowers and candle votives are a great way to decorate your cake table if you prefer a more formal look."
Even if you don't have a floral wedding cake, try matching the colour palette of your chosen cake with the floral arrangements on your cake table. However you style the flowers, make sure that your cake stays the focal point of the table and that it doesn't get overshadowed.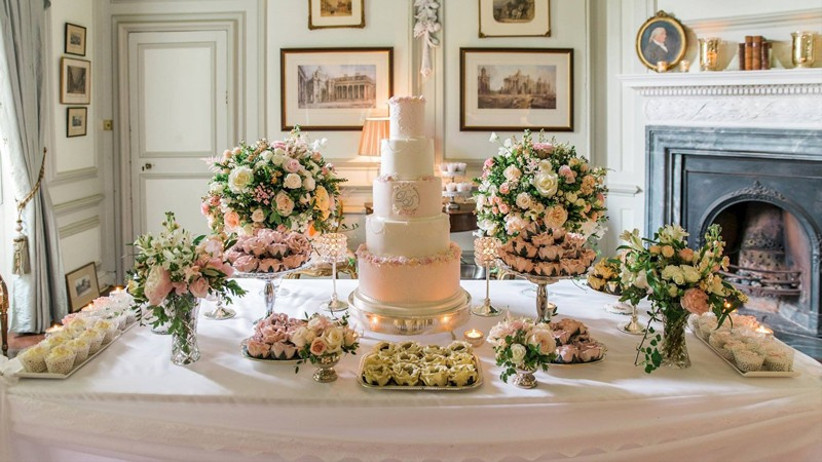 Image credit: Brympton D'Evercy House
Glamorous Touches
Metallic wedding cakes are so on trend right now. The best part about having one is that it makes enough of a statement by itself, so you don't have to add much more to your wedding cake display other than a beautiful cake stand.
Even if you're not having a metallic cake, giving your wedding cake display touches of gold and silver way is an easy way to glam it up – think confetti, metallic distressed look vases or even a gold table cloth.
This beautiful gold and white wedding cake by Ginger & Cacao would look lovely at a glamorous wedding venue. "This is a sugarpaste design with hand-painted leaves, using edible metallic food colour in dark gold," explains Jaime. "The sugar cookies are iced with royal icing and handpainted."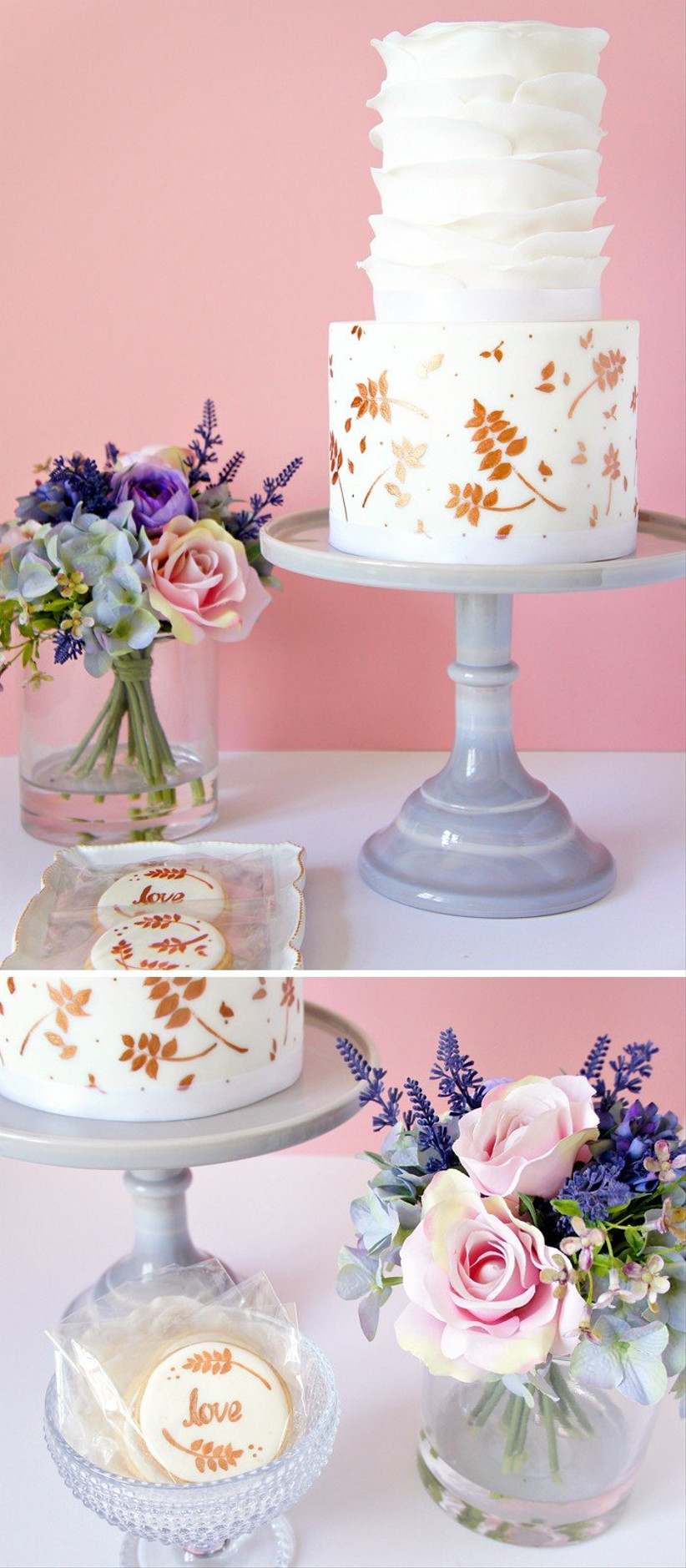 Pastels paired with jewel toned details are a very modern way to add luxe to your wedding décor, and this extends to the cake table as well. Use divine colour combinations such as dusky pink and gold or blue and silver.
We love this display by Cakes by Katherine which makes use of the whole table – the pink and gold cupcakes and elegant cake stand capture the glamorous theme perfectly and really show off the wedding cake.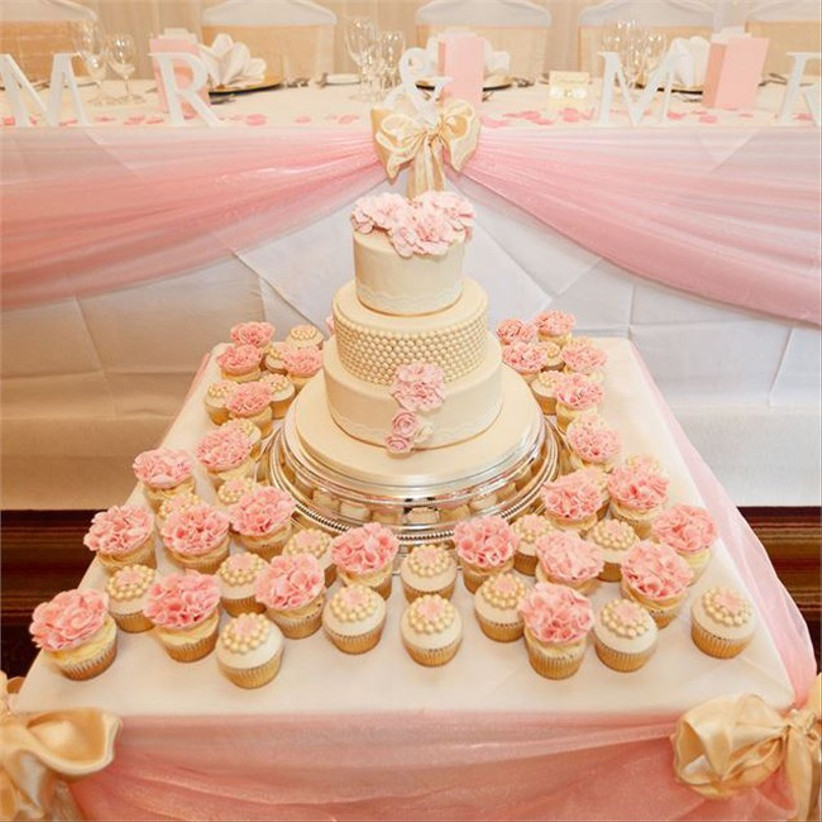 Use these balloons for your display and your guests certainly won't be able to miss your wedding cake! These seriously luxe letter balloons are from Bubblegum Balloons and are available in an array of gorgeous colours – go for gold if you want your display to have a luxurious twist.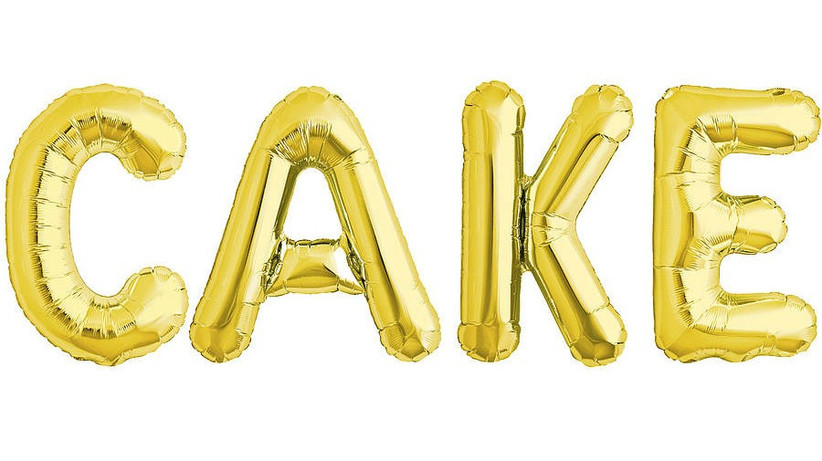 Simple Yet Elegant
Of course, sometimes less is more and you may just want to let your wedding cake do all the talking without surrounding it with lots of fancy decorations.
For the absolute bare minimum, your cake display should include your cake on a stand and a cutting knife so that the all-important first slice is ready to be cut.
"When displaying a wedding cake on its own (with no other cakes or desserts), choose table decorations to enhance the wedding cake rather than overwhelm it," suggests Jaime. "Sometimes, just a plain white tablecloth is the best match for a large and elaborate wedding cake."
If you want to highlight your cake display with just a few wedding table decorations, think small vases of flowers, tealights or a few vases of additional sweets to complement your cake without overshadowing it.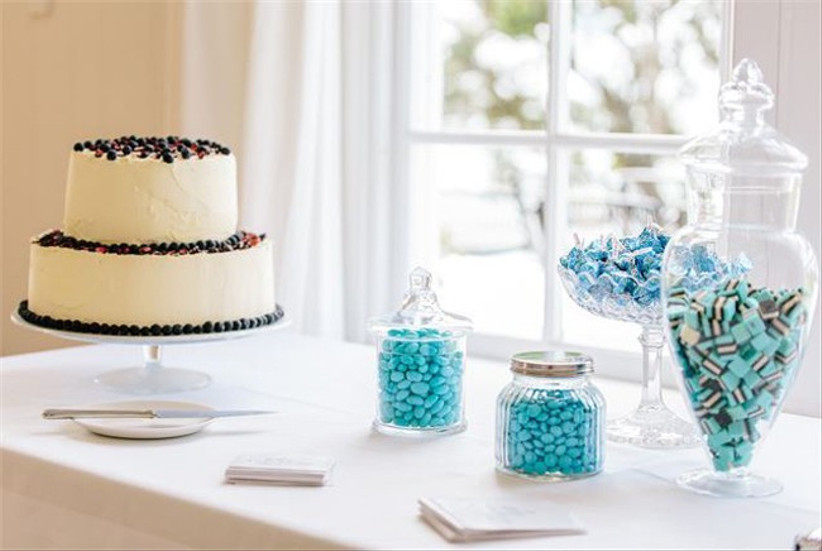 Image credit: Diana V Photography
Beautifully Retro
Brides planning a wedding filled with vintage wedding décor should make sure that this flows through the cake display as well.
"If you are having an afternoon tea wedding reception, then why not use a few pretty pieces of china crockery and bunting around your cake display to accentuate the theme?" says Jill. "If you are serving cake as dessert, you could decorate the table with strawberries and cream in retro style jugs and plates."
When putting together a vintage cake display, consider displaying your cake on an antique look cake stand and finishing it off with a bunting cake topper. Fairy lights are also a great addition to a retro themed display.
If you're including cupcakes alongside your wedding cake, pop mini flags with whimsical prints and quotes in the top of each one to continue the vintage theme. Placing dishes of pick 'n' mix sweets around the table is another idea that your guests will love – just don't forget to provide the traditional sweet scoops and some stripy paper bags.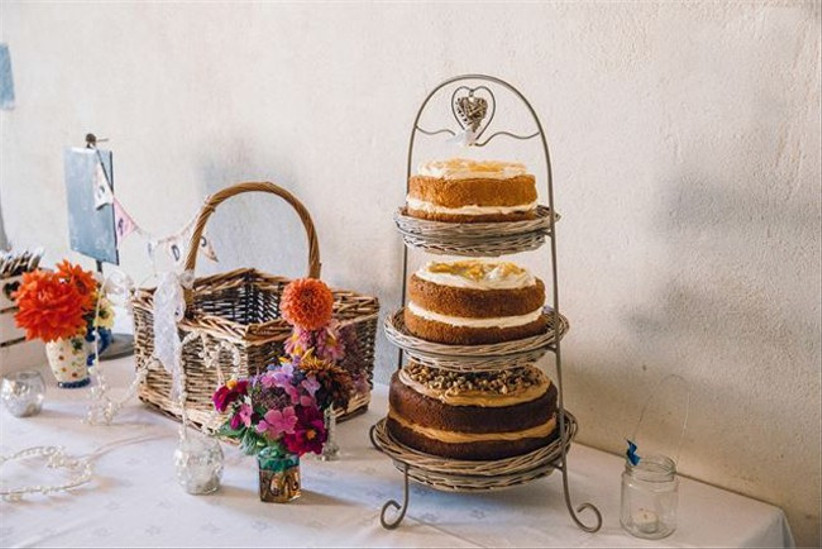 Image credit: Belmount Hall
Isn't this just the prettiest looking cake stand from The Orchard? Available in blush pink or pastel blue (colours that are very on trend for vintage weddings), this cake stand would make a beautiful addition to your cake display. You could use it to display your cake once it's been cut up or perhaps some macarons or fondant fancies.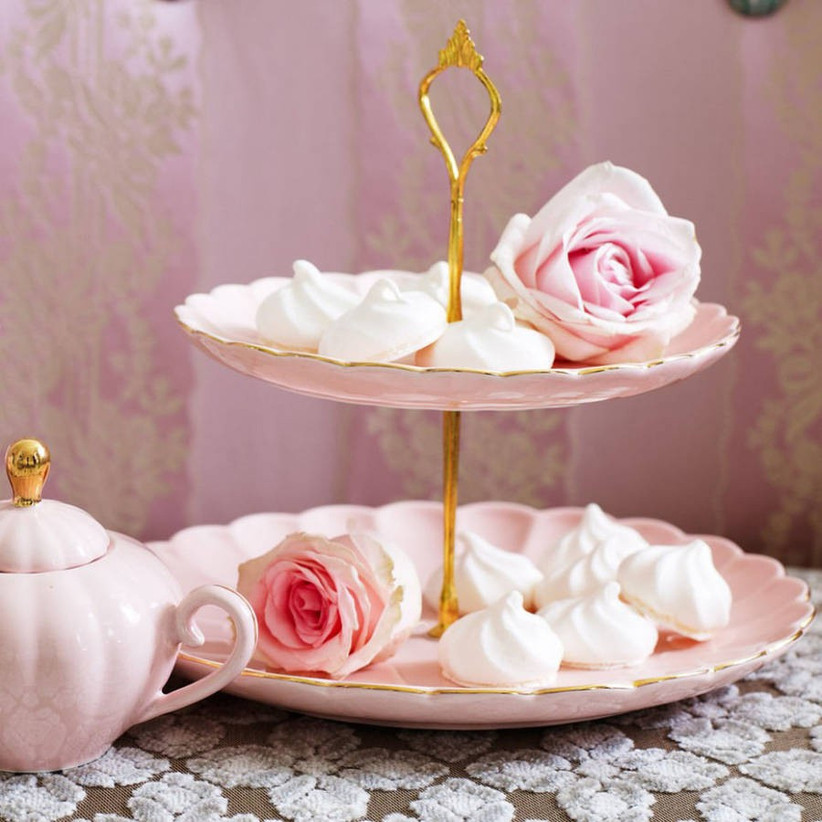 Top it All Off
Don't forget one of the most important parts of the cake display (aside from the actual cake of course) – a unique cake topper for the finishing flourish.
You don't need to worry about this if your cake maker has already decorated the top of your cake, but if not, then consider this romantic gold cake topper from Metal Moments. With its oh-so-pretty heart design and the word 'love' for all to see, it's the perfect topper to transform any wedding cake.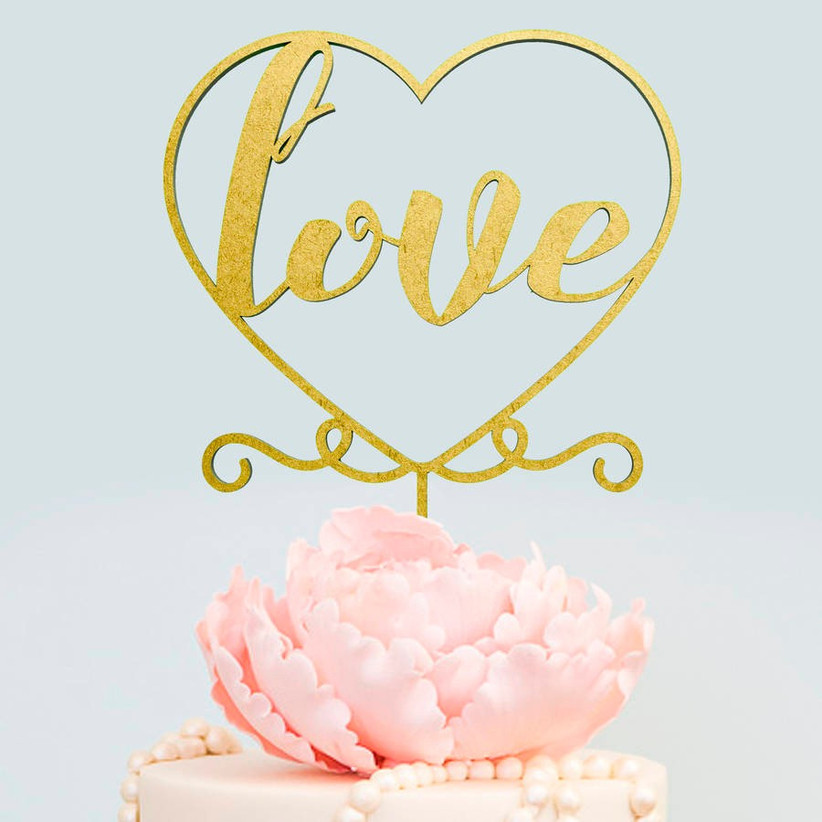 If you're having an unusual wedding theme, then the cake topper could be a prime opportunity to highlight this. This flamingo cake topper from Suzy Q Designs would be a fun idea for a quirky celebration in the summer – continue the theme throughout the cake table with pink accents and flamingo plates and flags.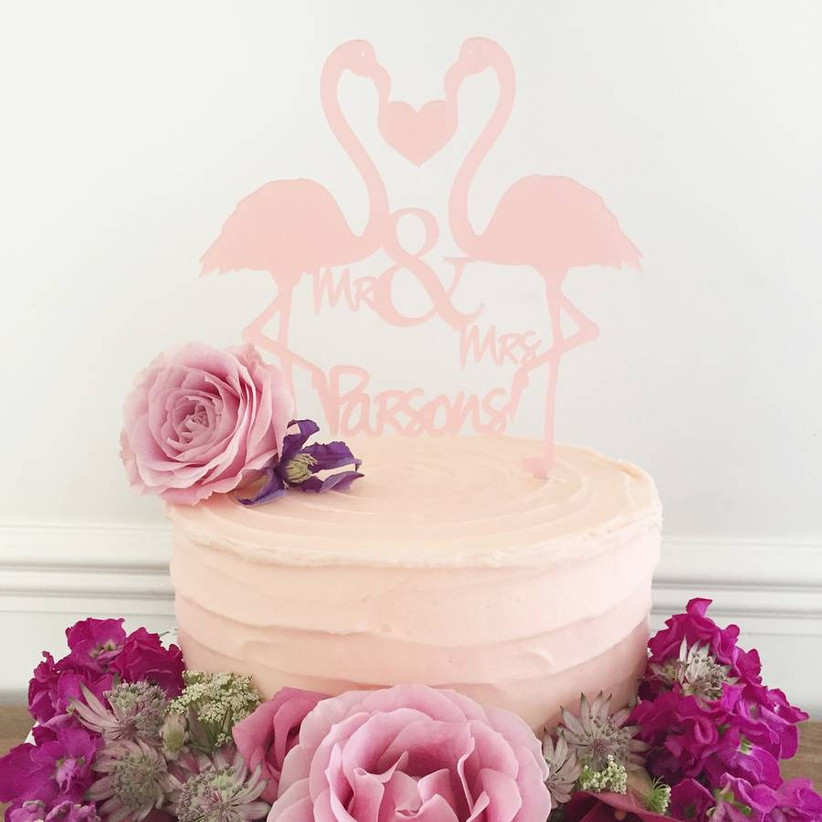 Or for couples who want to add sparkle to the wedding, this gold cake topper from Ginger Ray would be just the thing. The wording is so appropriate for your big day!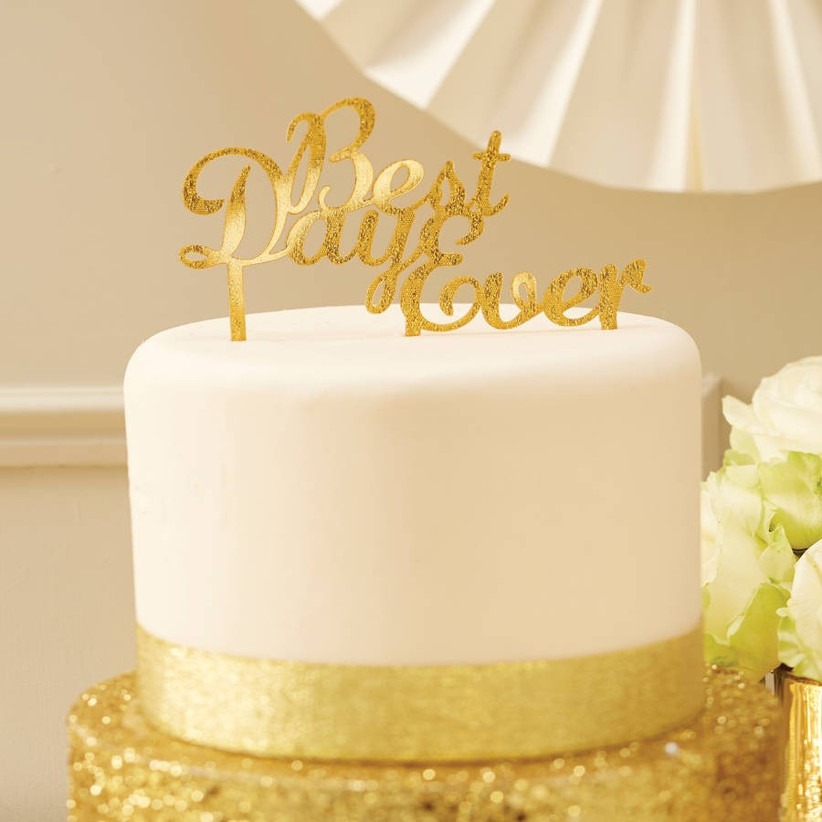 If you're looking to do something different with your cake display, check out these 23 alternative wedding cake ideas which you and your guests will love.