21 Long-Lasting, Kissproof Wedding Lipsticks Tried & Tested by Us
Wondering which lipstick is best for wedding makeup? Here's your insider guide to long lasting, kiss proof lipstick that's comfortable and glamorous
We have included third party products to help you navigate and enjoy life's biggest moments. Purchases made through links on this page may earn us a commission.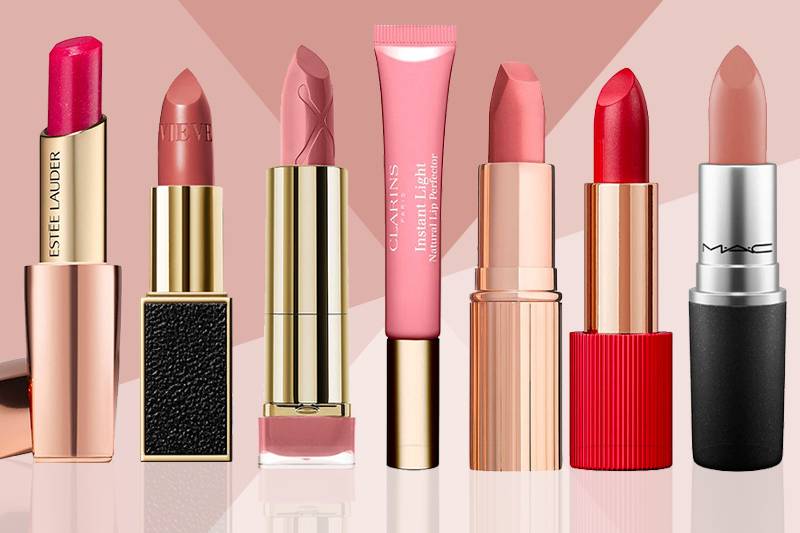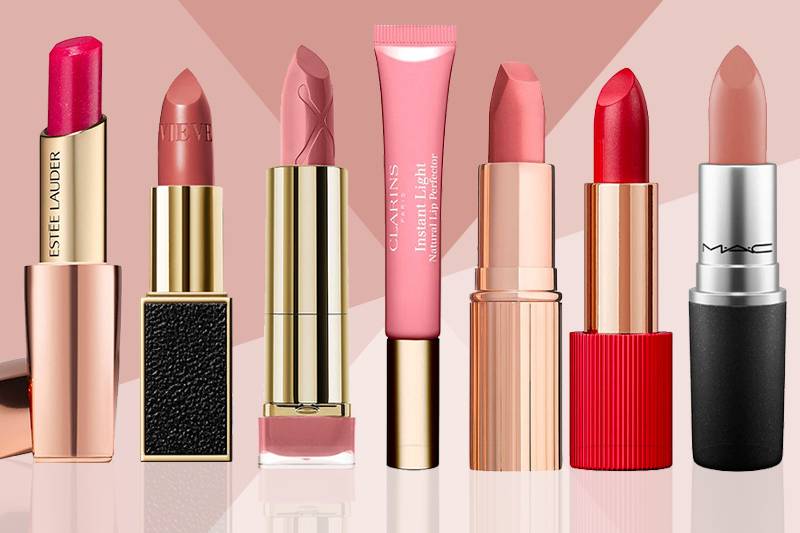 Of all the big day beauty decisions, choosing a wedding lipstick is one of the toughest.
From deciding whether you want to go for a neutral hue like Kate Middleton's classic nude wedding lipstick, or a bold red like Gwen Stefani wore for her celebrity wedding to Blake Shelton, to picking between matte and satin finishes, or liquid or bullet formulas, there is much to consider!
Nude is a hugely popular bridal lipstick shade – everyone from Kim Kardashian, to Meghan Markle, to Lily Collins wore nude lipstick on their big day. Nude is a classic choice because not only is it forever in style, it's low maintenance and goes with so many different wedding makeup looks.
A bold lipstick for bridal, such as pillar-box red or a punchy pink like Priyanka Chopra wore for her wedding, requires all-day upkeep.
"A bright wedding lipstick is high maintenance and you'll need to take time to top-up - in front of a mirror - throughout the day," confirms makeup artist Ruby Hammer. "With a bold colour you have to keep an eye on it to make sure you're not leaving traces on your partner, on glasses, or if your hair is sticking to it."
Nude lipstick on the other hand is easy to re-apply throughout the day and is a fail-safe option, according to Ruby. "Finding the perfect nude lipstick for your wedding depends on your natural skin and lip colour," she says. "But sometimes finding the perfect nude can feel overwhelming – speak to someone over the counter at your favourite make-up brand and they'll be able to help."
The Best Wedding Lipsticks: 21 Tried & Tested Bridal Lipsticks
Here, you can browse the best wedding lipsticks on the market, as well as read reviews from the team on products we've tried and tested ourselves.
Best Nude Wedding Lipsticks
1. Vieve Modern Matte Lipstick in Promise - £21, Cult Beauty
From her much-loved makeup collection, Jamie Genevieve created Promise as the shade she'd have worn on her own wedding day. It's a dusky rose nude, for a more neutral take on pink wedding lips. For an even lighter look, you can apply this by blotting it on with your finger, leaving a delicate tint that is fresh and kissable.
One shopper said that they had, "Been searching for a 'perfect nude' shade forever and this is the best yet! Gorgeous formula, long lasting but not drying on the lips. Highly recommend."
2. MAC Matte Lipstick Velvet Teddy - £20, Look Fantastic
This is one of those classic MAC lipsticks everyone knows – and is apparently loved by Meghan Markle. It's the perfect dark beige warm nude that seems to suit everyone. As with all MAC lipsticks, this is comfortable to wear and feels smooth on the lips.
When we tried it, we found that it had such a smooth texture. It'll needed reapplying during the day but the formula is so gorgeous you won't mind.
Another reviewer gave big brownie points to MAC saying, "MAC lipsticks are like no other. For someone who suffers with dry skin, these lipsticks never dry out my lips. I would highly recommend velvet teddy as the perfect nude wedding lipstick shade for many skin tones."
It's definitely one to stash in your bridal essentials kit and gives a hint of nostalgia that will be lovely on your wedding day.
3. Pat McGrath Labs MatteTrance Lipstick in Christy - £36, Selfridges
Remember Adele's internet-breaking Vogue cover from late 2021? This was the very slightly pink lipstick she was wearing for the shoot. Brand fonder Pat McGrath did Adele's makeup for the cover and said she put this colour on the back of her hand then used a fingertip to firmly press it into Adele's lips for a long-lasting finish with a soft edge.
The packaging is so cool, featuring a gold lip latch that ensures the lid won't come flying off in your bag. This pinky nude wedding lipstick is a must-have.
4. Huda Beauty Power Bullet Matte Lipstick in Wedding Day - £24, ASOS
The Huda Beauty wedding day lipstick is one of the best bridal lipsticks around - add it to your basket when you next do an ASOS order and you won't be disappointed. It has a highly pigmented formula and a cushiony plush-matte finish.
It even has a custom pointed tip for easy application and lip contouring. Huda Beauty wedding day lipstick was literally made to be worn at weddings, so buying it for your special day is a no-brainer.
5. Max Factor Colour Elixir Lipstick with Vitamin E in Toasted Almond - £9.99, Superdrug
This Max Factor product is a nude wedding lipstick with a satin finish that has a hint of pink to it, for a 'your lips but better' look. It makes your pout look pillowy and full but is subtle enough for you to add extra drama to your wedding eye makeup, if you want to. It has a unique nourishing formula, containing antioxidants and Vitamin E that will keep your lips soft and moisturised.
6. Crushed Creamy Colors for Lips & Cheeks in Latte - £26, Bobbi Brown
If you love a multi-tasking beauty product, this lip and cheek formula will be right up your street. This is a buildable creamy formula for cheeks and lips which blends in seamlessly for a soft haze of glassy colour. Latte is a peachy brown colour that looks gorgeous on deeper skin tones especially, and anyone who wants a slightly darker nude wedding lipstick.
If you're trying to keep the makeup you carry around in your bridal bag to do touch-ups to a minimum, it's a great pick as it works for both the face and pout.
7. Kissing Lipstick in Bitch Perfect - £27, Charlotte Tilbury
We asked professional wedding makeup artist Amy Rose Macdonald her go-to wedding day lipstick and she recommended Bitch Perfect by Charlotte Tilbury.
"Yes I know this isn't the most wedding sounding shade but is by far the most popular shade amongst my wedding clients. It is a gorgeous nude-toned wedding lipstick with a hint of peach and subtle satin finish and screams bridal!" she says.
She also swears by Runway Royalty, describing it as, "The perfect rosy soft nude with a dewy satin finish," and Dance Floor Princess as her "Go-to shade for bridesmaids, as it is a soft subtle pinky nude that suits all complexions." It would be a great bridesmaid gift idea!
Best Pink Wedding Lipsticks
8. Watermelon Burst Hydrating Lip Oil - £14, Ciate
This watermelon burst hydrating lip oil is a innovative gloss-oil hybrid that combines the hydration of a balm, with the shine of a gloss. It has a slight hint of pink colour for a youthful look, and it won't feel sticky on your lips.
Rima Barakeh, Deputy Editor of Hitched, tried it out and found that it was ideal if you want a natural finish.
She says, "If you're a natural nearlywed who just wants their lips to be hydrated and look plump and fresh, the Watermelon Burst Hydrating Lip Oil from Ciate is perfect for you. I used this with a really natural makeup look and it was the perfect finishing touch. But if you're a super glossy person (like me!), pop it over a matte lipstick to bring the colour to life."
9. Ultralip in Villa - £14, Glossier
Glossier calls these lightweight balm-lipstick hybrids 'the cashmere sweatpants of lipstick' and we can totally see why. This pink wedding lipstick is comfortable yet chic, for a sheer, buildable wash of colour that you don't need a mirror to apply.
Villa is a wearable dusty rose that has the colour payoff of a lip tint, but the silkiness of a balm.
10. Matte Revolution Lipstick in Pillow Talk, £27, Charlotte Tilbury
We don't know any makeup lovers without this cult classic in their beauty stash and for good reason. It's a kiss-proof lipstick that will stand up to all the big day smooching on the horizon, with a velvety texture that makes your lips look plump and full.
This is the lipstick the makeup artist used on the Bridgerton set for Phoebe Bridgerton's just-been-kissed look, so it has the celeb seal of approval too.
Rima tried this celeb-loved lipstick and was very impressed, despite matte lipsticks not typically being her go-to. "I loved the Charlotte Tilbury Pillow Talk lipstick. I don't tend to wear matte lipstick as it always dries out quickly and leaves residue that doesn't feel nice on my lips, but this product had enough moisture to avoid that horrible dryness.
"The colour isn't super pigmented, which I really like as bright shades really don't suit me. It lasted hours and would be perfect for a wedding!" she says. We are also big fans of the aptly named Wedding Belles lipstick, and you can browse even more Charlotte Tilbury wedding beauty products here.
11. Fenty Beauty Icon Semi-Matte Refillable Lipstick in Scholar Sista - £18, Harvey Nichols
Fenty's first ever bullet lipstick drop comes in 10 red and nude shades with a semi-matte, gently glossy finish. It has hyaluronic acid in, as well as vitamin E and C for ultra-comfortable wear, plus the unusual shaped bullet makes it easy to apply this precisely. This shade is the perfect rosy nude to suit all skin tones looking for the best bridal lipstick.
12. Colour Brilliance Lipstick in The Met - £28, Code8 Beauty
With long-lasting, vibrant colour pay-off, we can see where the Code 8 colour brilliance lipstick gets its name from.
When Rima tried it she found the texture to be extremely smooth and comfortable, commenting, "The first thing I noticed about the Code 8 lipstick was the creaminess. I used a liner before applying the lipstick, but unless you want an extremely defined line, I'd say you don't even need it.
"The lipstick lasted me all day with hardly any fade, and, if you let it dry properly before using your setting spray, the transfer is minimal."
13. Clarins Instant Light Natural Lip Perfector - £21, John Lewis
This gloss-lipstick hybrid is loved by MUA Hannah Martin, who reportedly gave Kate Middleton makeup lessons before she did her own makeup for her 2011 wedding to Prince William. This is a non-sticky, gently shimmering gloss that makes lips look kissable and plump.
It has received loads of glowing reviews, with one shopper saying, "I really love this product. It's a great texture with just a hint of colour when you don't want to wear lipstick or a lipgloss and smells absolutely divine!"
14. Estée Lauder Pure Color Revitalizing Crystal Balm in Caring Crystal - £29, John Lewis
You know this lip buy is going to be special from the name alone – anything with crystal in the name gets our vote. Inspired by the shimmery beauty of natural gems, this comes in six shades that react to your lips, for a unique shade on each wearer. This pink bridal lipstick has a fuchsia meets ruby hue for a bold wash of pink for healthy-looking, natural lips.
Reviews say that it has a slight mint scent to it - perfect for wedding day kissing.
Best Red Wedding Lipsticks
15. Intense Colour Semi-Matte Lipstick in Lagos - £23, Emolyne
Emolyne create makeup that celebrates every ethnicity, gender, age, and lifestyle. Their collection of lipsticks come in 30 different shades, and each colour is named after an African country, city or landmark in an homage to the Emolyne founder's birthplace.
It was the semi-matte hue Lagos that caught our eye and when we tested it we thought it was a seriously special pick - just what you want for a red wedding day lipstick. To start with, the packaging is beyond stunning, with the lipstick case coated in glittering gold. The lipstick provided an intense colour and the pointed tip made applying a bold shade easy.
16. Dior Addict Lip Glow Colour Awakening Lip Balm in Cherry - £32, John Lewis
Here we have another red wedding lipstick that has a balm-like texture but leaves the prettiest glaze of red in its wake. This glides on with cherry oil to nourish the lips for a silky-soft wear that needs zero skill to apply. It has a luminous, shiny look with zero stickiness that lights up your whole face.
Lots of reviews say it is well worth the money: "It slides on and transforms the colour of my lips to 'natural but better'. The texture is great, not sticky or gloopy, and the ingredients are highly effective as I only need to apply it once a day to keep my lips soft and hydrated," says one shopper.
If the red isn't for you, there's also plum, nude and pink shades of this delightful formula.
17. La Perla Beauty Satin Lip Balm in Bitten Lips - £45, Harvey Nichols
If you've splashed out on luxury wedding lingerie, chances are you've come across La Perla. Their lingerie is exquisite and this lip balm feels just as fancy.
For a balm, it delivers an impressively opaque veil of colour that feels soft and buttery on the lips as a balm but gives the colour you'd expect from a lipstick bullet. Another wedding lipstick you don't need a mirror to apply, just swipe and go.
18. Velvet Matte Lip Pencil Dragon Girl - £23, NARS
For ultra-precise application, go for a lip pencil. It allows you to follow the curve of your lips perfectly. This punchy red shade is Taylor Swift's lipstick of choice and, as Queen of the red lip, we trust her judgment implicitly when it comes to the best red wedding lipsticks.
It's also a firm favourite among beauty buffs, with one person saying, "It's so long lasting, but most importantly easy to apply. It doesn't smudge, it has an amazing colour and it gives such a great vibe to any look you are trying to achieve."
We'd recommend using a lip liner with this to keep the bold shade from feathering into fine lines.
19. Dear Dahlia Paradise Dream Velvet Lip Mousse in Teddy - £28, Look Fantastic
This mousse texture lipstick is featherlight, to the point you forget you're wearing it, yet it gives a pretty, full coverage colour. Liquid lipsticks are notoriously hard to keep in place, but this bridal gloss one has good staying power, with minimal transference to glasses you're sipping or lips you're kissing.
It's a burnt orange shade, perfect if you don't want to go pillar-box red. "I have olive skin with neutral undertones and it suits me perfectly. It's a lovely terracotta shade and I have dry lips but find this very hydrating and long lasting with no smudging," explains one customer.
20. Lancôme L'Absolu Rouge Intimatte in 888, £31, John Lewis
Euphoria and Spiderman fans, listen up! This is actress Zendaya's matte red product of choice. This wedding day lipstick is the perfect creamy, wearable red, with a hint of pink. Zendaya says she mixes it with fellow Lancôme red lipstick 155 to create a bespoke rouge hue.
According to reviews, you won't even feel like you are wearing lipstick, so you can relax and enjoy your day. "This Lancôme matte lipstick is an absolute dream. It feels so light weight in my lips, like I'm not wearing anything. Amazing!"
21. O Face Satin Lipstick in Vocal, £9, e.l.f.
For an affordable wedding day lipstick, look to Elf's collection of satin lipsticks. This pick is less than £10 and it comes in 20 different colours.
"Elf lipsticks and products are a makeup bag staple for me because they are so reasonable," Rima explained before putting this bridal lipstick to the test.
"My favourite thing about these lipsticks is the pigment. They give full coverage without ever drying out or giving that clumpy texture that no one wants on their lips. I paired this with a gloss for a super shiny finish, but without a gloss, it still had a satin feel which always looks amazing in pictures. For me, this is one of the best wedding lipsticks out there, especially when you consider the price!"
How To Choose Your Wedding Lipstick
We spoke with top wedding makeup artists about their tips for making your wedding day lipstick kiss-proof, last all day, as well as how to pick the perfect bridal lipstick. Read on for everything you need to know.
1. Think About The Lipstick You Wear Every Day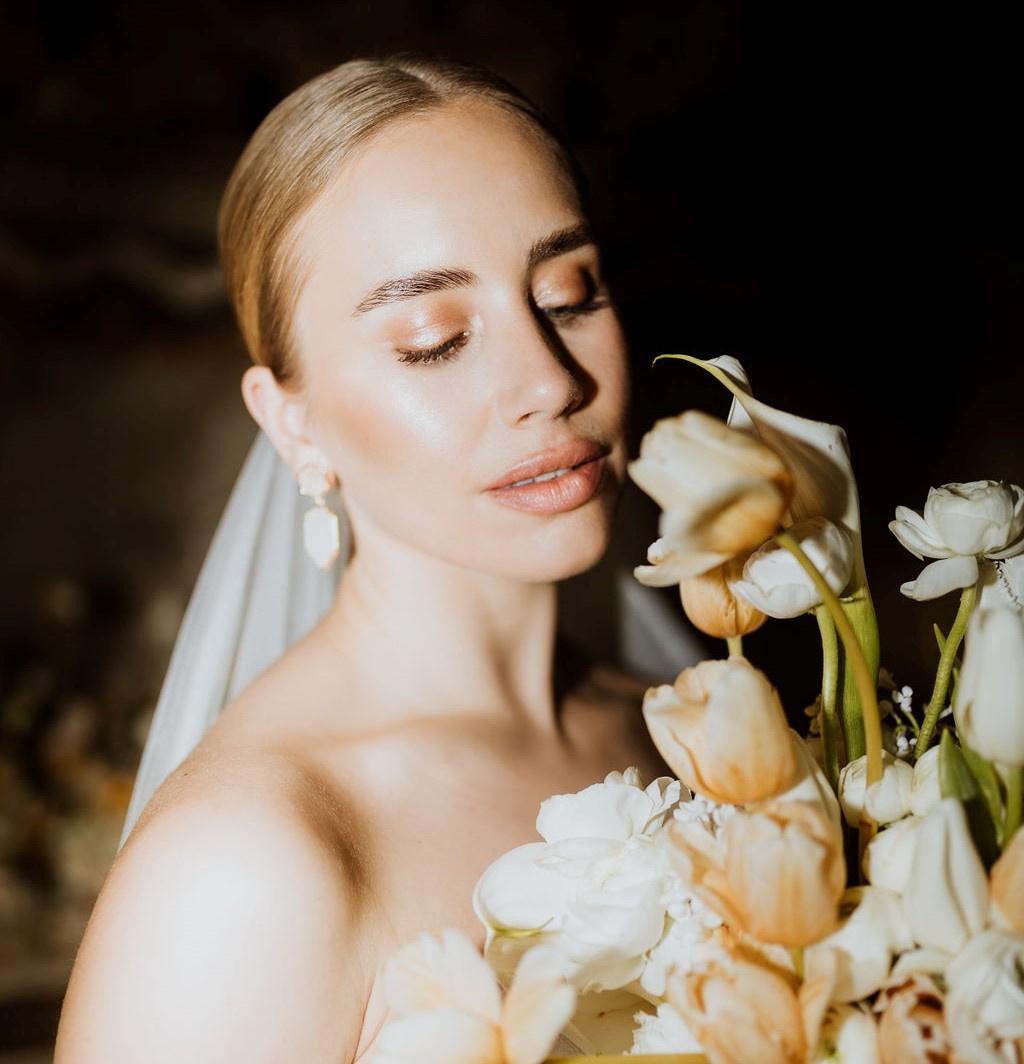 The makeup pros always say that you'll feel most comfortable if you look like yourself on your wedding day. "Choosing a colour that is true to yourself and your personal style is key," says makeup artist and Vieve brand founder Jamie Genevieve.
With this in mind, choose a wedding lipstick similar to the shade you wear on a day to day basis. If you've never rocked a crimson lip, your wedding day might not be the best time to try it out.
"Try and pick a wedding day lipstick that you know you already love," says Aimee Connolly, makeup artist and founder of cult brand Sculpted by Aimee. "If you want to change up the shade, choose something that complements the overall makeup look and makes your eyes pop, but try and stick with a formula you know is comfortable for you.
Choose a lipstick similar to your everyday choice and you'll feel confident and happy. Having said that, if you really want to make a big day statement with your lip choice, Jamie has some solid advice…
2. Trial Your Wedding Lipstick Before The Big Day
"If you want to be adventurous with your wedding lipstick, I would suggest wearing it a few times prior to the big day to ensure it is the direction you want to go in," Jamie says.
Not only will this get you accustomed to the shade, it'll also allow you to find out how well it wears and how often you'll need to reapply.
3. Decide On The Lipstick Texture, Then Choose The Shade
Lipsticks come in matte and satin finishes. Satin is a classic, glossy look while matte is very of the moment, for a chic, pared back wedding look. Hailey Bieber wore a subtle satin bridal lipstick look on her big day, while Ariana Grande opted for a matte nude.
Makeup artist Lisa Caldognetto says choosing your lipstick texture is key to finding the perfect wedding lipstick. "Get the texture you like then choose a shade," she advises. "Hydrating lipsticks tend to need more topping up whilst mattes are long-wearing."
4. Think About Your Wedding Makeup Look As A Whole
"My top tip is to choose a blush and lipstick shade in the same colour family as this makes even the most natural of makeup looks really come together," Aimee says.
How To Make Your Wedding Lipstick Last All Day: 3 Tips for Kiss-Proof Lips
This is the question on many-a-nearlywed's lips, because nobody wants to spend half their wedding day repainting their pout in the mirror.
"On your wedding, longevity for your make up is key. Yes, there is time for touch ups but using products which are going to last is crucial, " explains Emolyne Ramlov, founder of Emolyne Cosmetics.
Look for lightweight, creamy formulas that can be easily applied and be layered to last. Effective, colour intensive products which can be applied to last throughout the day is key. Also consider more hydrating formula's which won't dry out your lips, for comfortable, all-day wear."
1. Wear Lip Liner
Not just to outline your lips, but all over them too. "If you want to keep your lipstick on for longer, use your favourite lip liner then apply a lipstick on top," advises makeup artist to the stars, Bobbi Brown. "That will help seal it in place."
Jamie Genevieve agrees. "Liner, liner and more liner is how to make your wedding lipstick last all day," she tells us. "Lip liner doesn't only prevent smudging but it can also create a base for your lipstick to sit on top of. When your lipstick starts to fade it prevents the colour looking patchy."
2. Make Sure You're Hydrated
If your lips are dry, lipstick struggles to stay on and you'll find it wears off much quicker. Bobbi explains that dry lips means you're dehydrated, so make sure to always drink plenty of water.
3. Wear Matte Lipstick On Your Wedding Day
Matte lipstick is a little harder to apply as it doesn't glide on as smoothly as satin formulas so you need to be more precise, but it does tend to last longer.
"The formula and finish of your chosen lipstick will determine its longevity," explains Jamie. "Matte finishes are long-wearing so you won't need to worry about top ups as often."
Can I Wear a Red Lipstick to a Wedding?
It's your wedding day, and you can wear whatever makes you feel amazing! "Emolyne Cosmetics encourages anyone on their wedding day to both feel and look their best. If you want to wear an elegant red lip for your big day, then you should," says Emolyne.
Your wedding day is all about your love and is a deeply personal affair, and your choice of make-up should represent you. If you love a bright, red lip, then own it! Do what feels right for you and will make you feel your best on your wedding day."
What Lipstick Did Kate Middleton Wear On Her Wedding Day?
Sticking to her signature natural makeup look, Kate Middleton wore Bobbi Brown Lip Colour in Sandwash on her wedding day. When applied, this is a pink hue that is creamy and lightweight, without being too shiny.
This exact shade is sold out, but MAC's Mehr lipstick is an excellent dupe.
What Lipstick Did Meghan Markle Wear On Her Wedding Day?
The lipstick that Meghan Markle wore on her wedding actually features in our round-up so you can get your hands on it (Hint: it's number 16!). She wore the Dior Addict Lip Glow in Coral - it suited her ultra-sophisticated look perfectly.
Now you have the lips sorted, let's talk skin. Have you browsed our edit of the best foundations for your wedding yet?