35 Dreamy Nude Wedding Shoes to Suit All Styles & Skin Tones
Want your wedding dress to be the star the show? You need to get some nude wedding shoes - we've rounded up the UK's best, from inclusive skin-tone styles to transparent designs and barely-there sandals.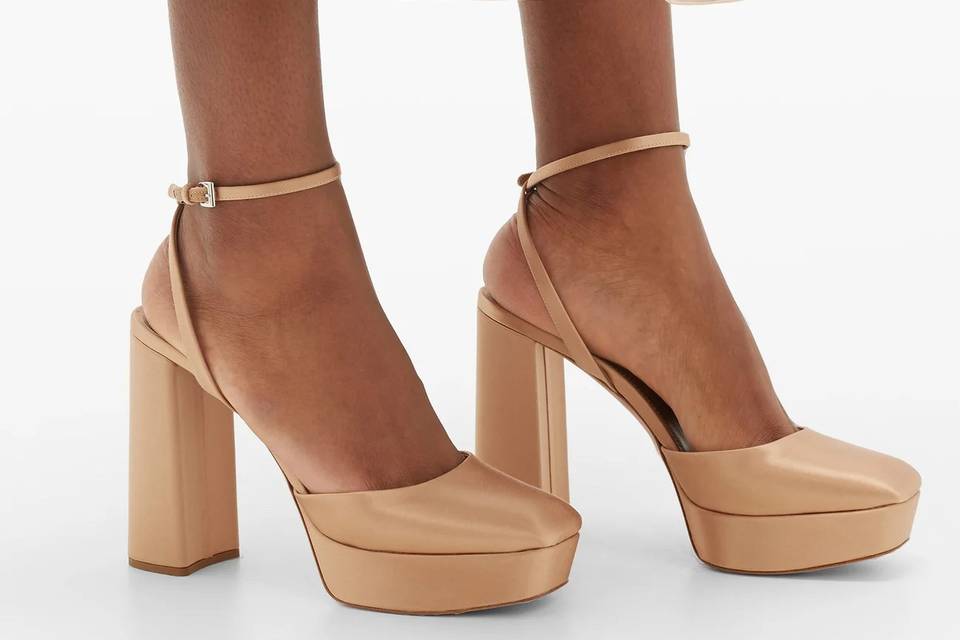 After your wedding dress, your shoes are probably the next most important purchase for your big day look. But what do you want? High heels to elevate your aesthetic, chic and demure flats or something in-between? And what colour should you pick? There are so many variations that it's hard to know where to start looking, but you can't go wrong with nude wedding shoes.
While many brides opt for something in a white tone or perhaps for blue wedding shoes, nude wedding shoes are a super elegant alternative – and will look great with any style of gown. Even better, nude wedding shoes will look great with whatever colour wedding dress you select, be it white, ivory, champagne or something totally different, like a black wedding dress. They are totally versatile and are so easy to wear again and again as they will go with a huge range of styles thanks to their colour.
And speaking of colour, why exactly does nude mean? Strictly speaking, nude isn't a colour, it's all about matching something to your skin tone. For too long in the fashion world, nude has referred to a hue that matches a western-European skin tone. But, thankfully, the term nude is transitioning to refer to neutral; barely there whatever the skin tone. And while there aren't as many options available for darker skin tones, things are changing and high street and designer brands are offering more variety.
One label that is making waves in nude shoes for everyone is Kahmune, which offers 10 different shades for every style of shoe. Founder Jamela Acheampong says: "It is my goal to ensure all women have nude products that celebrate the diversity of the human complexion."
Ready to find your dream nude wedding shoe? Get inspired by our pick of styles – we've found something for every price point. So, whether you want high street or high end, we've got you covered.
The Best Nude Wedding Shoes Under £50
Satin Bow Detail Heeled Mules by Miss Pap – Debenhams, £28
Looking for a sexy but chic style? The Satin Bow Detail Heeled Mules, £28, tick all the right boxes and will amp up the glamour for your big day look.
Isobel Mocha Square Toe Mule – Silk Fred, £31.99
These slip on mules are a great fashion-forward choice for your big day look. We adore the double ruched front straps on the Isobel Mocha Square Toe Mule, £31.99.
Nock Woven Cross Strap Heeled Sandals – ASOS, £35
Perfect for boho wedding dresses, or even cool jumpsuits, we adore this woven style. The square toe keeps it bang on trend, and it's super affordable too.
Asymmetric Stiletto – Mango, £35.99
At just £35.99, this Asymmetric Stiletto is a real bargain. We love the understated style with a cut out side and delicate mock croc print, and of course the 10cm heel to make your legs look even longer.
Luella Nude Fluffy Clear Mules – Simmi London, £40
If you want to conjure up sultry vibes, these are the shoes for you. The Luella Nude Fluffy Clear Mules, £40, feature a square toe, clear front strap, fluffy trim and a 11.5cm stiletto heel. They'd also look pretty special with your wedding lingerie - just saying!
Chelsea Ribbon Strap Perspex Stiletto Heels – Silk Fred, £44.99
If you're looking for something to add maximum height, the 12cm heels on the Chelsea Ribbon Strap Perspex Stiletto Heels, £44.99, will make sure you rise above. The frilly ribbon style adds a flirty twist to this striking design.
Sling Back Court Shoes – River Island, £45.99
We adore the mesh fabric style of these Sling Back Court Shoes, £45.99. They have a summer vibe and would be perfect for a wedding day in the warmer months. A great medium heel of 5cm, and they're wide fit too.
READ MORE: Our Favourite Wedding Dresses to Suit Older Brides
Chain Link Heel Mules – River Island, £48
The mix of puffy faux leather, chain link, gold hardware and the square toe make these nude wedding shoes bang on trend. The Chain Link Heel Mules, £48, would look great with a figure hugging fishtail gown.
Affordable Nude Wedding Shoes Under £100
Mabel Closed Back Two Part Heels – Office, £52
This block heel style is elegant in every way. A versatile shoe that's elevated with touches of gold hardware, the Mabel Closed Back Two Part Heels, £52, are perfect for a spring or summer affair – or a destination wedding. Even better, they are sure to fit as they're available up to a size nine. Check out even more comfortable wedding shoes here.
Satin Bow Mules by GlamQueenCo – Etsy, £53.99
These Satin Bow Mules, £53.99, prove that kitten heels can be on trend and super chic. The low heels make a real statement while staying utterly demure – we love them!
Signature Leather Court Shoes – Next, £54
Made from soft and supple leather in a classic pointed toe shape, along with a 11cm stiletto heel, there is nothing that we don't like about this Signature Leather Court Shoe, £54. Shown here in Taupe Rochelle, the shoes come in four different shades.
Twist Vamp Stiletto Heels – Office, £69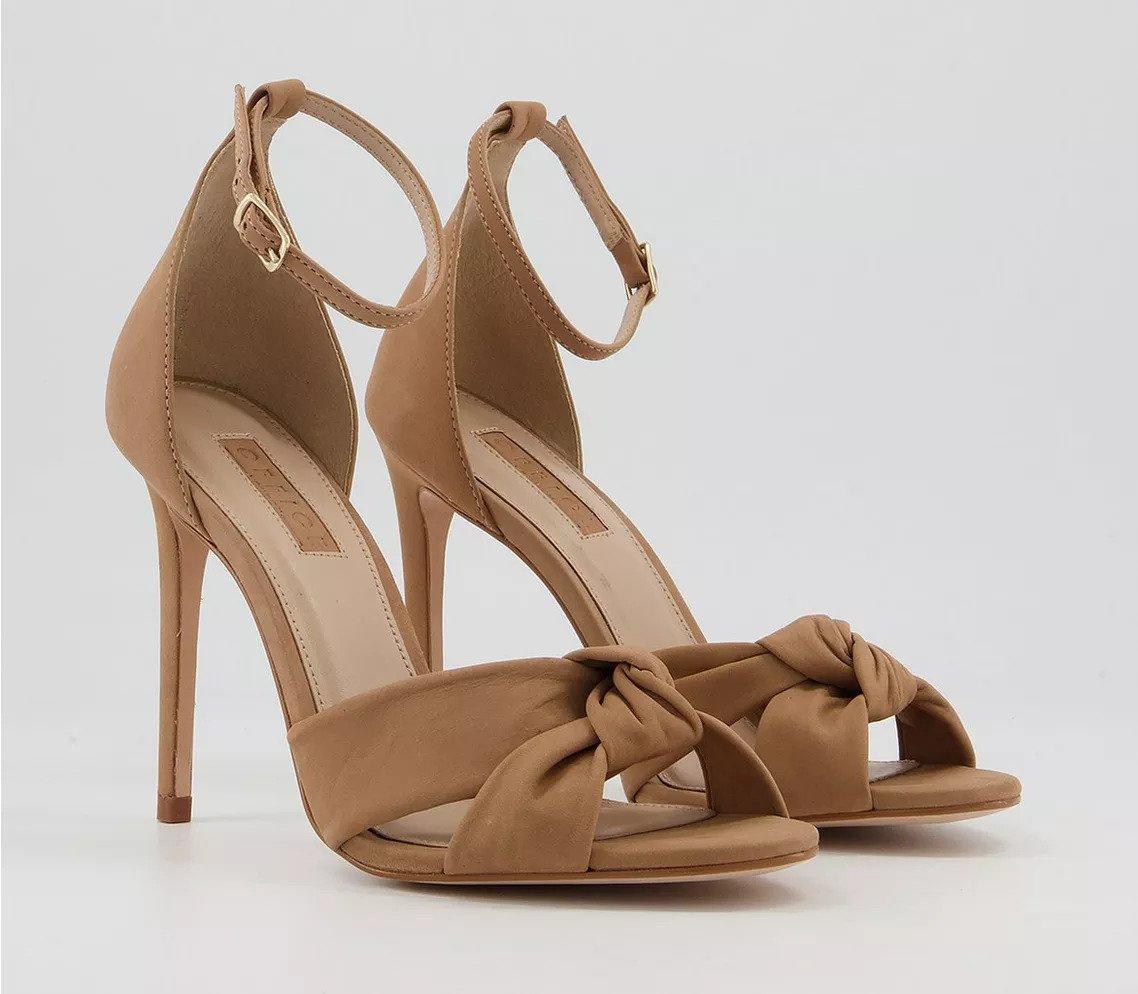 The Twist Vamp Stiletto Heels, £69, are perfect to complete a glamorous wedding day look. The nubuck upper features a subtle gold buckle fastening and a 10.5cm heel.
Lillie by Steve Madden – Shoeaholics, £80
This classic Lillie, £80, is effortlessly chic, and we love the added shine from the patent finish. These versatile nude wedding shoes can be worn again and again for a variety of occasions – a perfect feminine style.
Flared Heel Leather Mules – & Other Stories, £85
The Flared Heel Leather Mules, £85, feature a square heel and gorgeous narrow bar strap. Ideal if you're trying to add a 90s edge to your bridal look.
Perfect Bridal Esme T-Bar – Lace & Favour, £85
The beautiful Esme T-Bar shoes, £85, have an elegant matt suede finish that's paired with a little shimmer for an ultra feminine wedding day shoe. The T-bar strap gives support and the cushioned leather keeps them extra comfy.
Chunky Strap Heeled Leather Sandals – & Other Stories, £85
Chic and easy to wear with a chunky mid-sized heel (6.5cm), the strappy design of these shoes would be perfect for a simple wedding dress. The Chunky Strap Heeled Leather Sandals, £85, are versatile choice.
Carrson Blush Leather – Steve Madden, £90
With a semi-chunky heel, this sandal style would work with a range of bridal aesthetics – from classic chic to all out glam. Carrson, £90, has a generous 10cm heel and comes in leather or suede.
Second Skin Sandal by Carvela – Shoeaholics, £99
If you want to dance the night away, then a comfy pair of shoes are a must. So step into Carvela's Second Skin Sandal, £99. Featuring a 7cm heel and a padded toe strap, it offers a simple but chic silhouette. The adjustable ankle strap has a gold buckle and matching brushed gold branded rivet on the heel, as well as gel pads just where you need them most!)
Stylish Nude Wedding Shoes Under £400
Cindy Jewelled Buckle Mule – Russell & Bromley, £125
If you are looking for an easy-to-wear pair of sandals for your beach wedding, then look no further than the elegant Cindy, £125. These super chic flat wedding shoes have the perfect touch of sparkle with a golden crystal buckle.
Park Lane by Kurt Geiger – Fenwick, £129
Ideal for black tie bridal looks, the patent tan Park Lane Stiletto, £129, is an effortlessly elegant open-toe design. The 9.5cm heel, sleek straps and slimline buckle create a highly chic silhouette.
Sharp Ombre – Carvela, £139
If you are looking for fresh twist on a classic style, the Sharp Ombre, £139, could be perfect for you. They feature an ombre upper in a patent fabric with an enclosed heel (10cm) for a unique style. Even better, the arch is supported alongside the toe for added comfort. You could be forgiven for thinking they were designer wedding shoes!
Duke Drench by Kurt Geiger – Shoeaholics, £169
Add some sparkle to your wedding shoes with the gem embellished Duke Drench, £169. This pair of kicks is perfect for a glam look, with its curved silhouette, all over studding, sparkling strap and jewelled stiletto heel.
Rolake by Jojo Shoes – Wolf & Badger, £205
If heels aren't your thing, but you still want something delicate and elegant, then these might just be the perfect shoe. Rolake by Jojo Shoes, £205, feature a soft point, as well as the detail of the moment – an oversized bow. Gorgeous.
Mojito 90s Heeled Mule – Russell & Bromley, £225
90s fashion is all the rage right now, and these mules are one style we know will stay on trend. The Mojito, £225, come in soft brown calf leather and with a comfy leather lining and a padded instep. They would look perfect with a slimline bias-cut wedding dress. They'll also be a must-have for your honeymoon too!
Becky Pump – Kahmune, £328
So elegant and versatile, we adore the Becky Pump, $445 (approx £328). Ideal for adding height on your wedding day with the 11cm heels, these shoes will work with all manner of bridal styles, from slim and minimal through to classic lace gowns.
Designer Nude Wedding Shoes
Hot Chick 100 by Christian Louboutin – Matches, £545
The name of these Louboutin shoes speak for themselves – Hot Chick 100, £545. Sexy and cool, with the glossy signature red sole and an 11.5cm heel, these are for brides that want to make a vampy statement.
Kat by Milky Aisle – Wolf & Badger, £568
This nude pair of wedding shoes by Milky Aisle, £568, really packs a punch in terms of detail. Not only does it feature all over handmade pearl embroidery, but the gorgeous organza ankle bow takes things to the next level – a real statement shoe. Pair with a pearl wedding dress to really nail that pearlcore trend.
Metropolis 70 PVC by Gianvito Rossi – Matches, £560
We adore the almost futuristic glamour of the Metropolis Sandals by Gianvito Rossi, £560. The perfect pair if you want an edgy and non-traditional bridal look – this is a style you can wear again and again.
Suede Platform Sandals by Prada – Matches, £580
These chunky heels will give off the perfect vibe and if you want to evoke a retro wedding style. The Prada Suede Platform Sandals, £580, feature a crossover open toe and a covered platform heel. We love the 70s feel!
Actina 85 by Christian Louboutin – Net-a-Porter, £645
This pair of shoes are possibly the epitome of elegance – what's not to love about the shape? Featuring a sleek front band, plus a slingback strap, Christian Louboutin's Actina 85, £645, is a gorgeous and graceful choice.
Square-Toe Satin Platform Pumps – Matches, £645
We've fallen head over heels for these graceful Square-Toe Satin Platform Pumps, £645. They're crafted in Italy from lustrous, glossy satin – the comfortable block heel and platform make then ideal for dancing.
Saeda Heeled Suede Courts by Jimmy Choo – Selfridges, £795
If you want to sparkle from head to toe on your big day, these shoes will suit you to perfection. The Jimmy Choo Saeda Courts, £795, are adorned with glittering gems with a crystal-embellished ankle chain. Luxurious and gorgeous.
The Alessandra Sandal 105 by Mia Becar – Wolf & Badger, £926
Super elegant and bang on trend with an oversize bow, these unique sandals are perfect for princess brides. The Alessandra Sandal 105, £926, is hand made with exquisite attention to detail.
Still thinking about the perfect finishing touches? Make sure you check out our edit of the best bridal clutch bags.