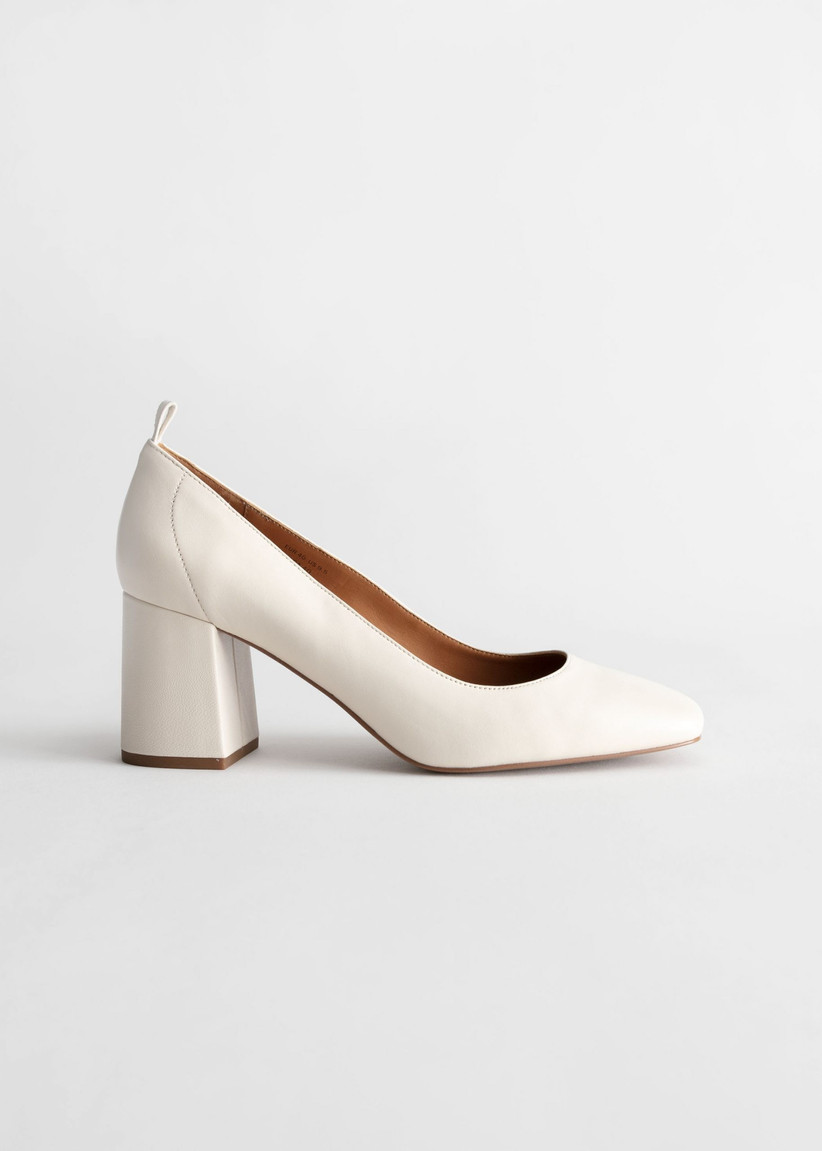 You spent months tracking down the perfect wedding dress, and now you need the most comfortable wedding shoes to match. But while lots of styles look incredible on the shelves, slip them on and you'll soon realise they're a one-way ticket to blister city. Not what you want on the happiest day of your life.
Fear not: truly comfortable wedding shoes do exist, and we've done the hard work for you by tracking down some of the best shapes, designs and fits on sale in the UK right now. From flat wedding sandals you can dance all night in, to higher heels that give the right level of support to get you down the aisle trip-free, there's something here for every gown, venue and budget, and in a range of colours and sizes too.
Got shoes you're already head over heels for, but finding them painful? Wear them for your entrance, then swap out to one of these pairs for the rest of the day. And remember: insoles, plasters and gel pads have saved many a bride from a sore and sorry fate!
33 of the Most Comfortable Wedding Shoes to Buy Now
1. New Look Wide Fit White Leather-Look 2 Part Courts – £19.99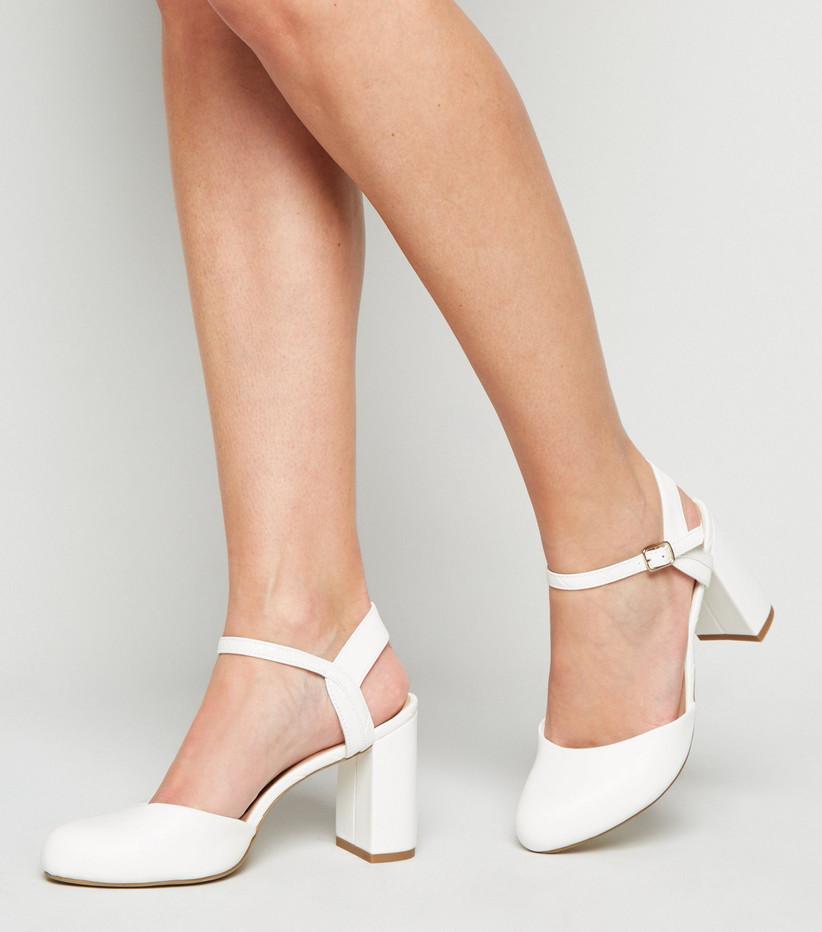 New Look's range of affordable footwear is a saviour for any special occasion, and your wedding should be no exception. These block heels are part of the brand's wide-fit collection, with extra room in the sole, joint and insole, making them super comfy no matter how long you spend spinning around the dance floor.
2. & Other Stories Square Toe Leather Ballerina Pumps – £85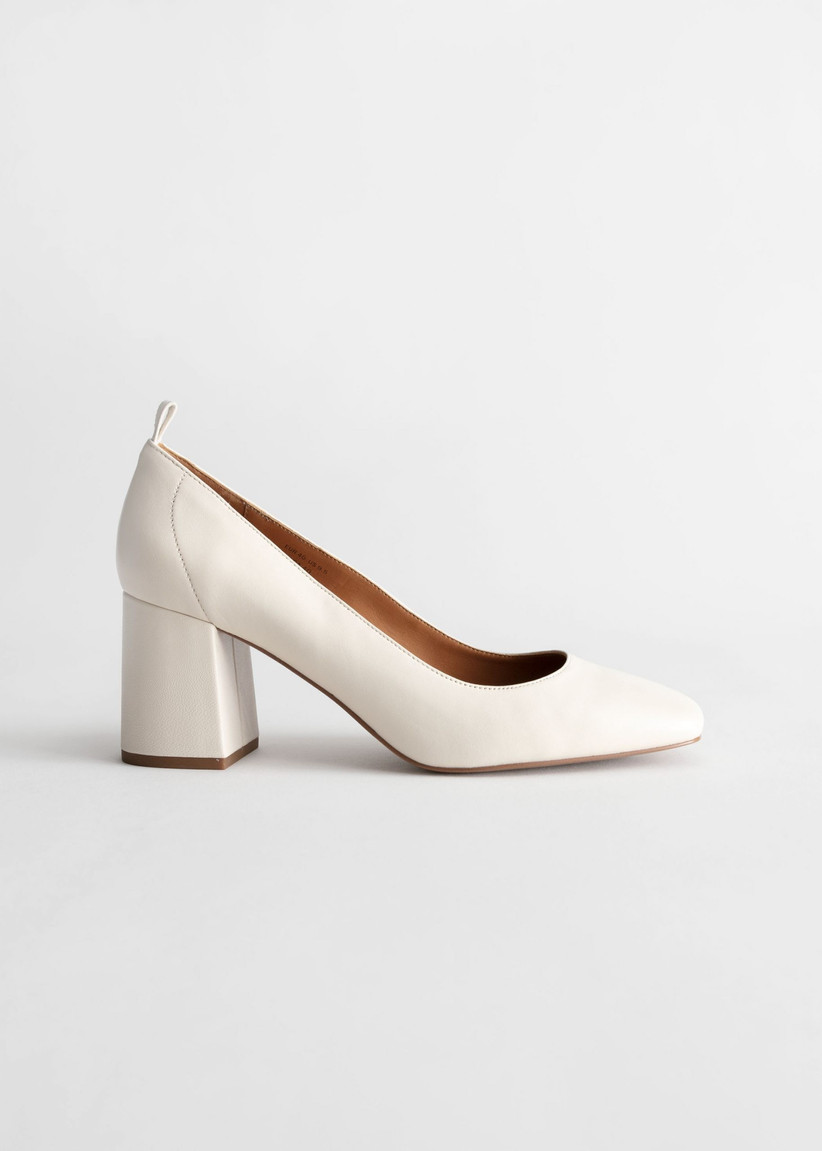 Square-toed shapes are one of 2020's biggest shoe trends, and the upside of that is no more squished toes in tight-fighting points – hooray! This & Other Stories pair also have a chunky block heel to support your feet all day long, and would look great with a shorter vintage-inspired hemline.
3. Russell & Bromley Grace Mid-Heel Halter Slingback – £295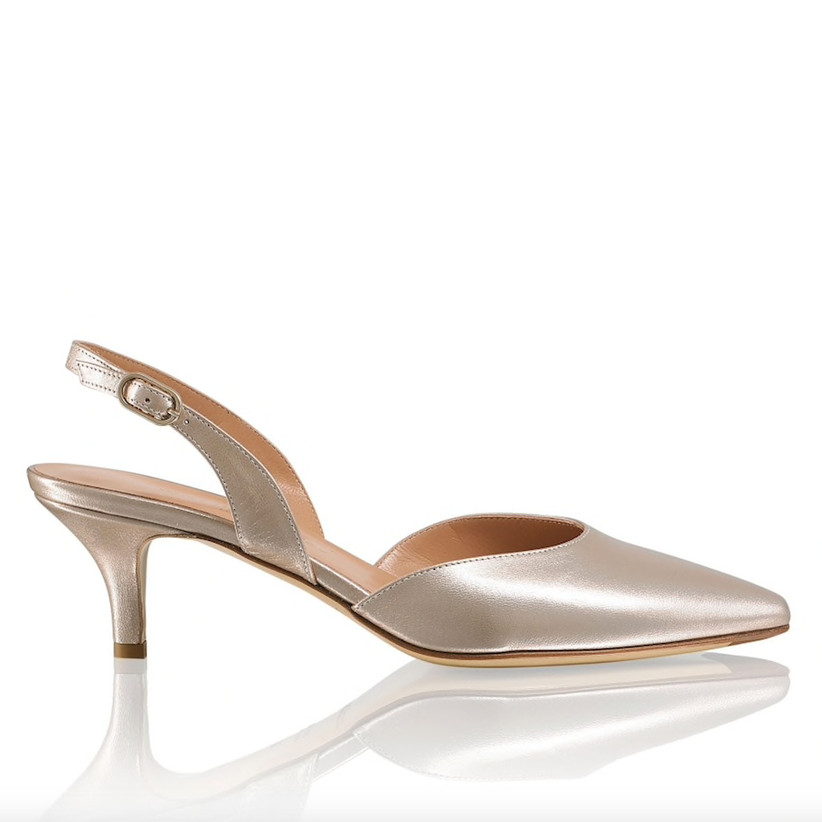 We couldn't be happier about the current kitten heel comeback, and it turns out neither could Russell & Bromley. We love the idea of breaking from traditional white or ivory with this soft oyster leather slingback – the heel is high enough to look smart but low enough to avoid tricky tottering.
4. Marks & Spencer Kitten Heel Pointed Toe Court Shoe – £25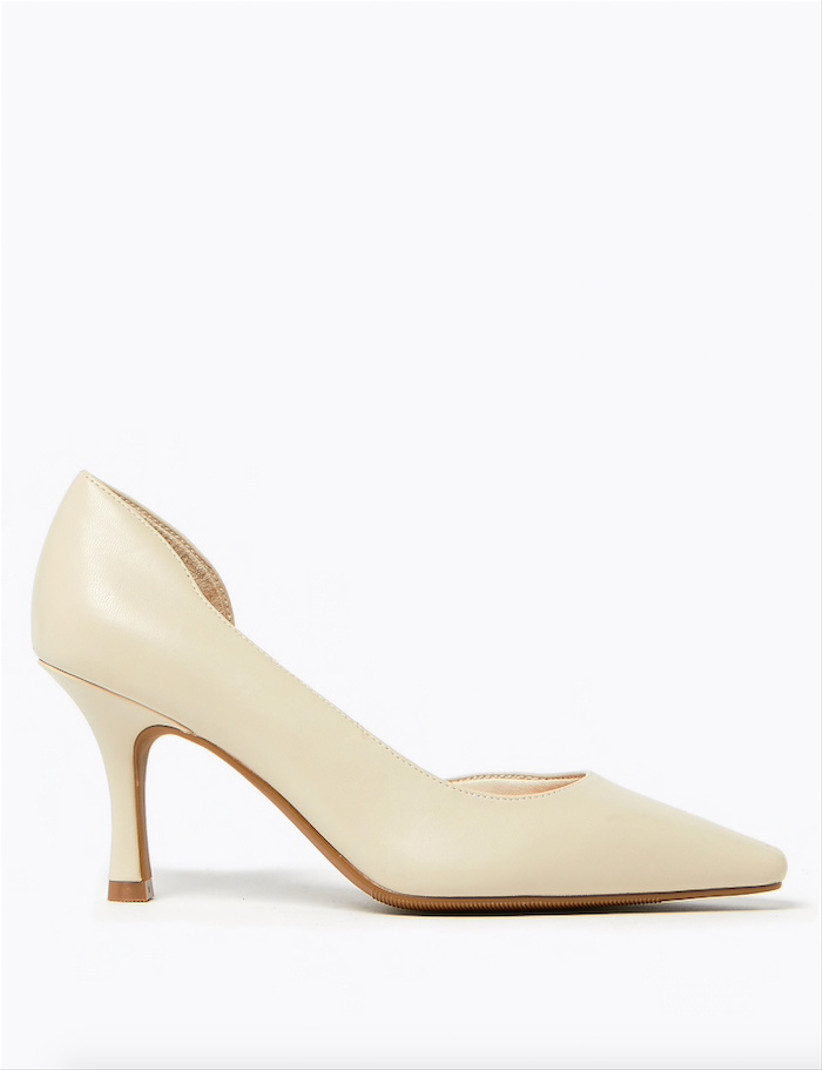 Lots of M&S shoes – including these kitten heel courts – have signature comfort-boosting Insolia technology, which redistributes weight from the balls of your feet so they don't get sore or tired. The amazing price point is an added bonus.
5. Karl Lagerfeld Paris Dixie Ankle Strap Sandals – £98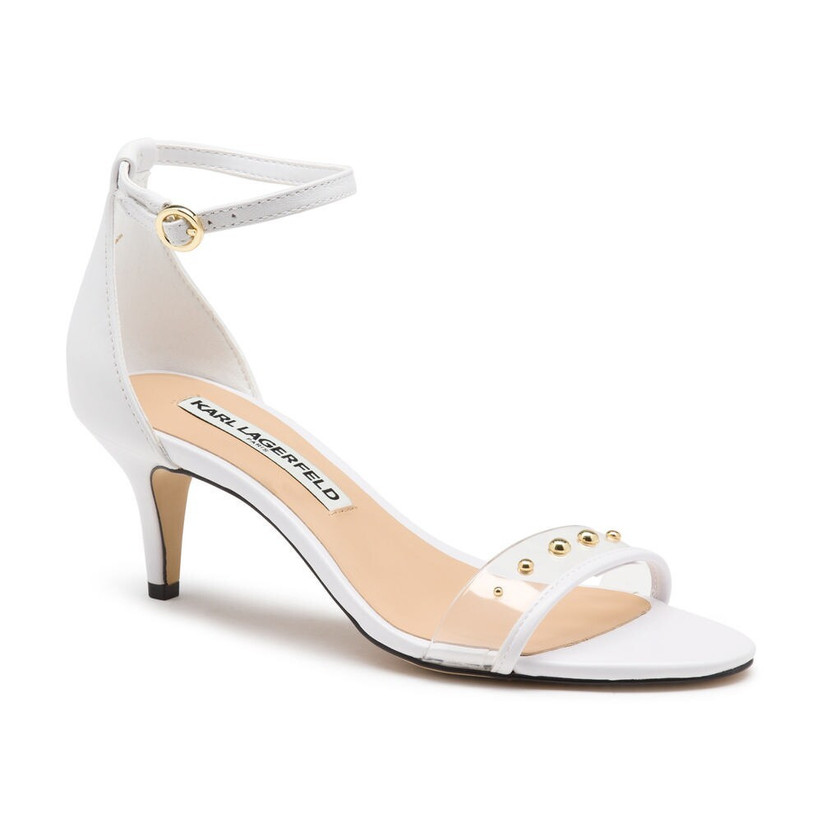 If you struggle to find shoes that are big enough, you need to check out the collection on the Long Tall Sally website. Sizes on these Karl Lagerfeld sandals with cool studded detailing extend beyond the usual 7 or 8 up to a 12, which the low heel and ankle strap will ensure that you feel secure.
Buy It Now
READ MORE: Something Borrowed: Creative Ideas and Inspiration from Real Brides
6. Harriet Wilde Peony Low – £200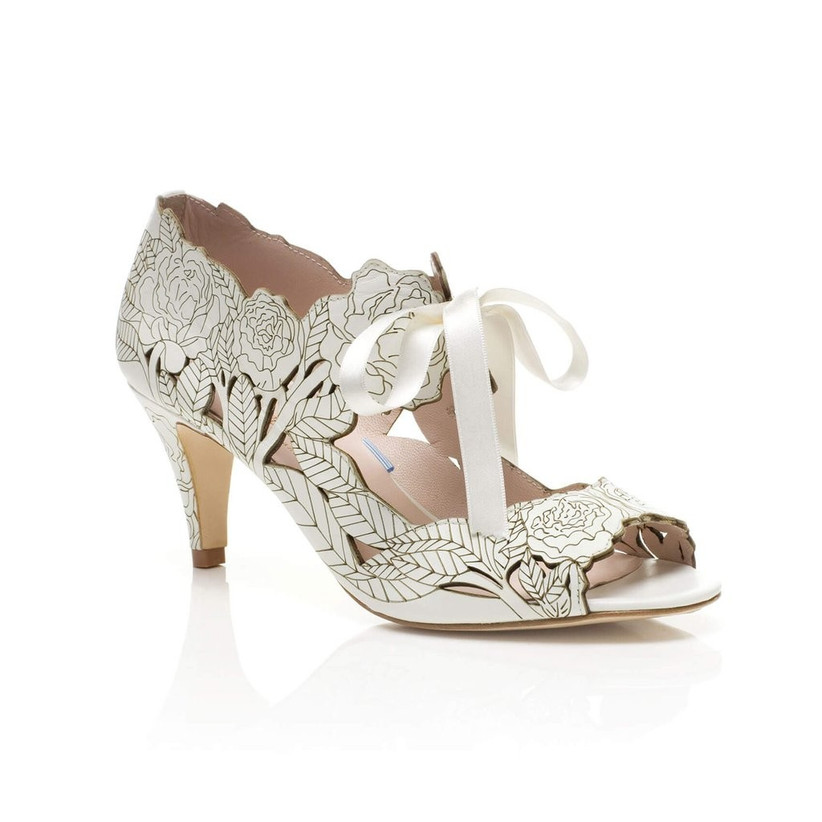 This unique Harriet Wilde design is available in a choice of ivory, gold or blue, and looks equally stunning in each. One of the most frequently mentioned words in the review section is 'comfort' – along with 'beautiful', of course! You can even get a personalised message added to the soles.
7. The Perfect Bridal Company Georgie – £95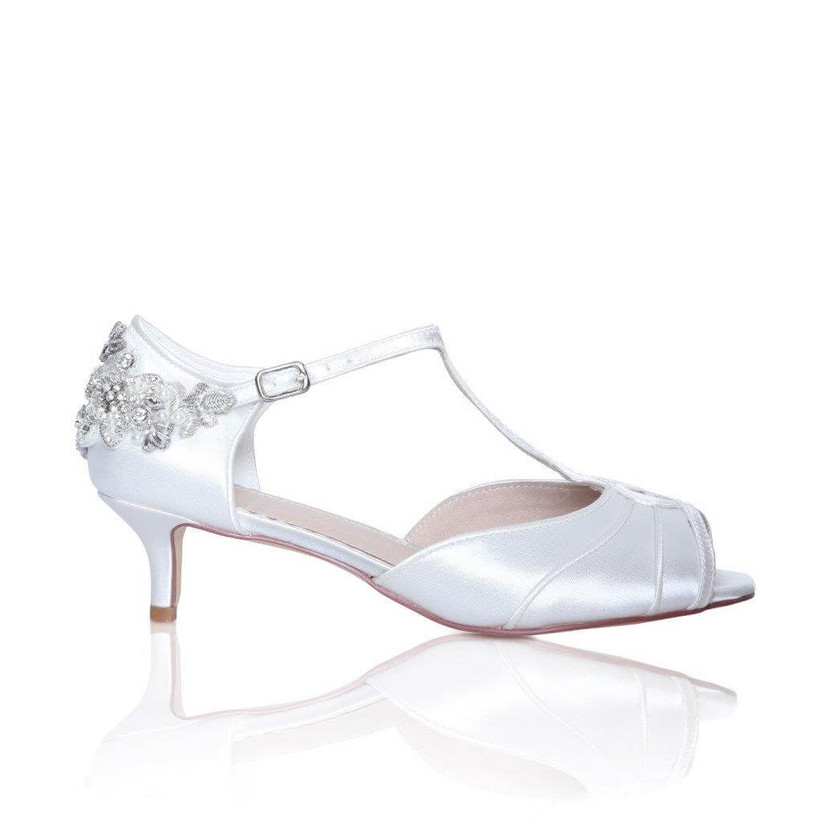 The delicately embellished Georgie shoe, adorned with crystals, pearls and beads, is ideal for brides who hate wearing heels – the kitten heel is so small you'll hardly even notice it but it'll give your posture that little extra boost. The T-bar strap helps to prevent slipping.
8. Monsoon Sasha Scallop Edge Bridal Shoes – £70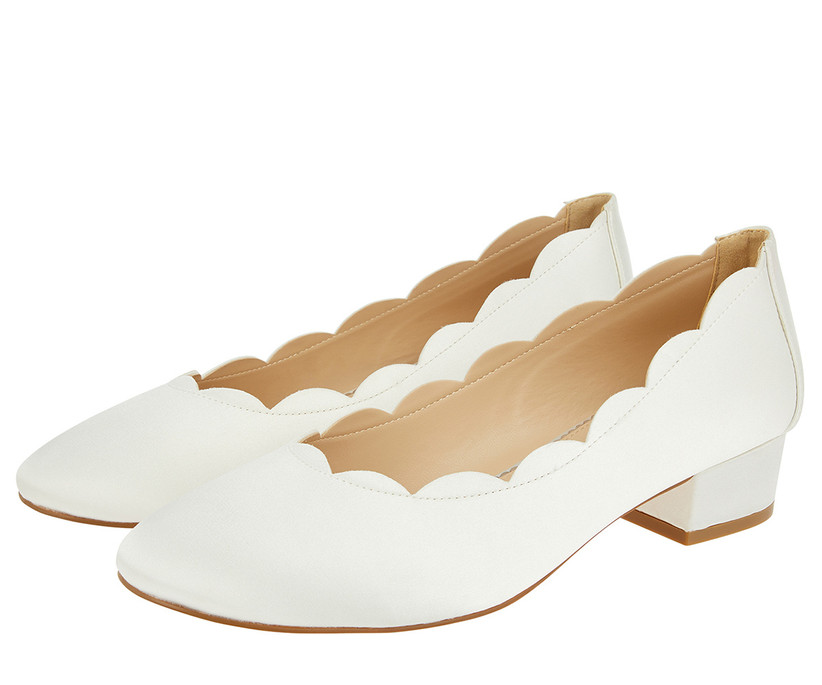 Definitive proof that flat wedding shoes don't have to be dull, Monsoon's Sasha pair still feel special enough to walk you down the aisle. The scalloped edge sits neatly against your foot without rubbing or irritating, and the block heel will make you stand a little taller, despite being so low it's barely there.
9. ASOS Design Wide Fit Waterloo Platform Block Heels in Rose Gold – £40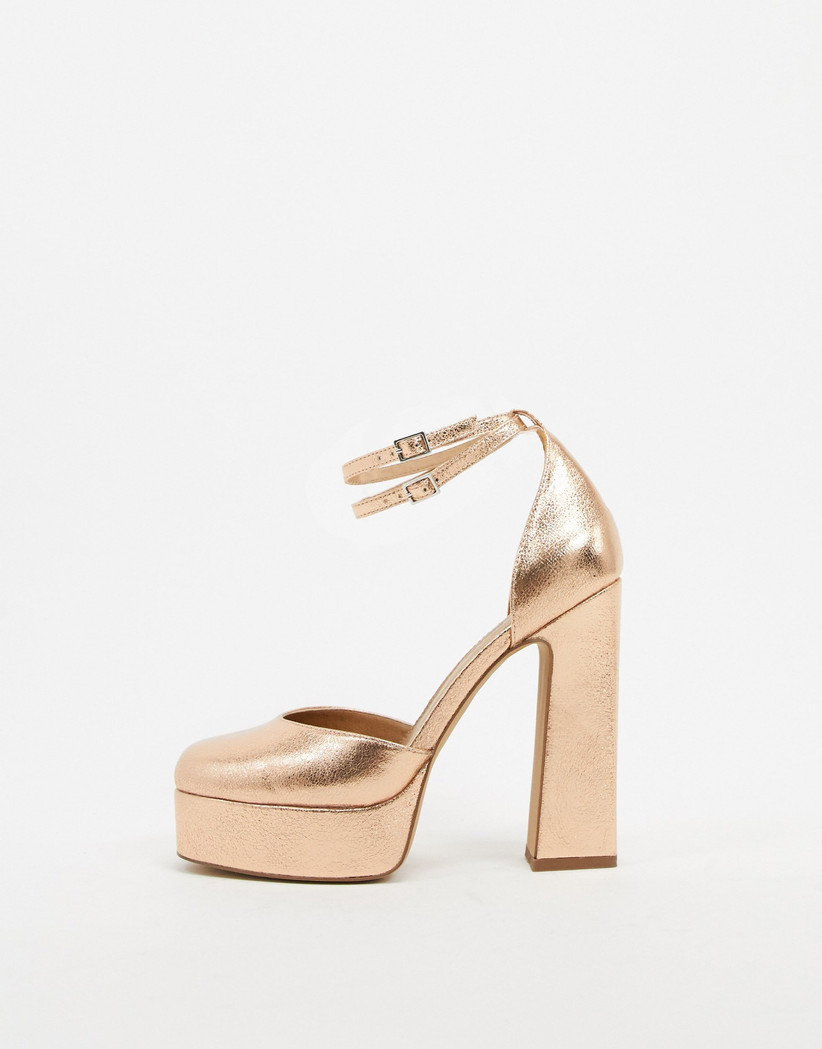 If you want the illusion of towering heels but find it difficult to… you know, walk in them, these ASOS beauties are just the thing. The chunky platform sole levels out the elevation, meaning they're actually only half as high as they look – plus, how gorgeous is the rose gold finish?
10. Nicholas Kirkwood Delfi Faux Pearl-Embellished Leather Slingback Pumps – £238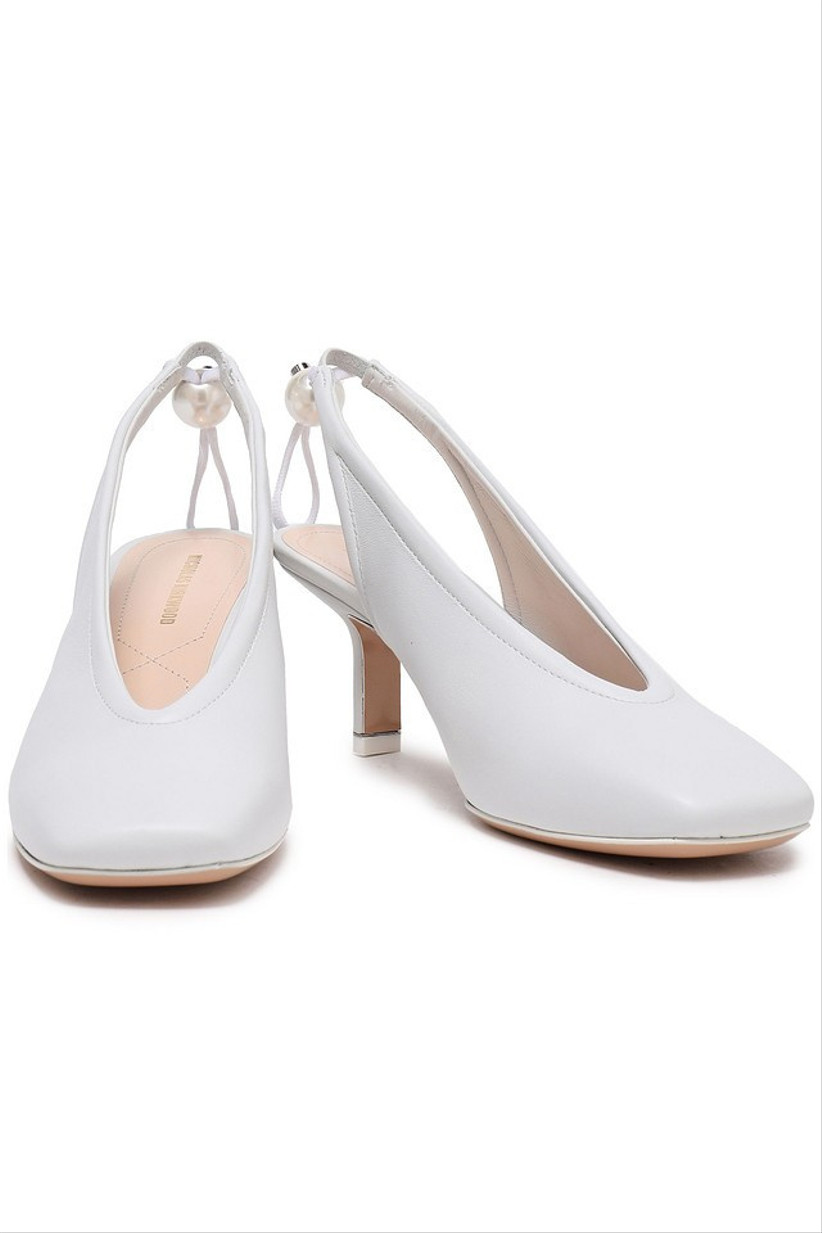 Designer shoes for half price? Yes please, The Outnet! These Nicholas Kirkwood pumps, which were originally close to £600, are finished with pretty pearl embellishment and shaped with a delicate V towards the toe that'll make your legs look ever longer. The slingback strap is adjustable so you can make it the perfect tailored fit.
11. Kurt Geiger Duchess – £149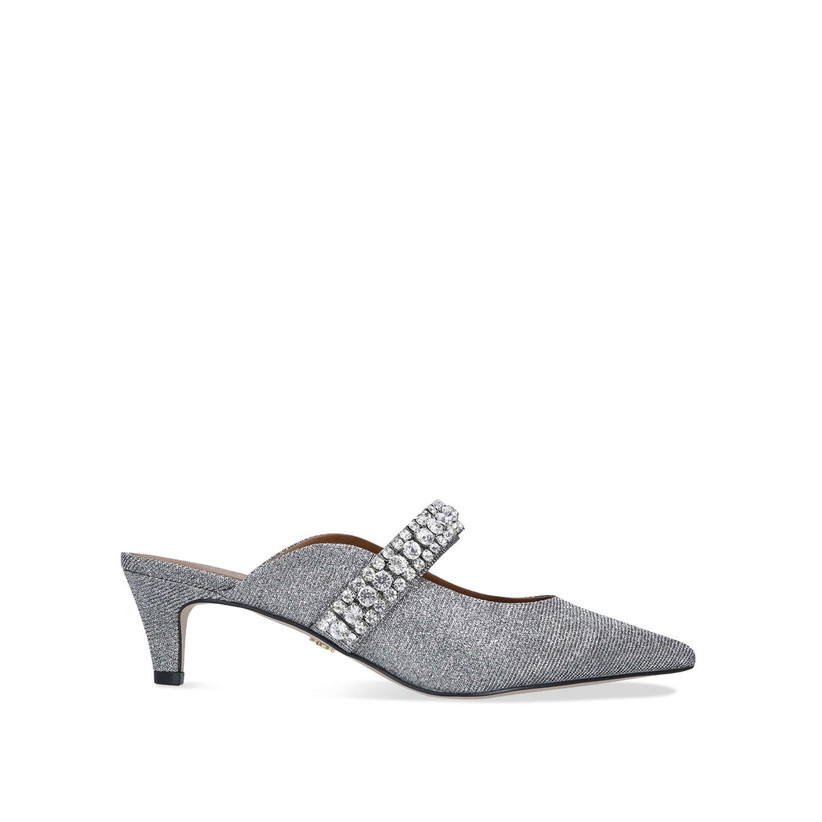 Duchess is the smaller-heeled version of Kurt Geiger's popular stiletto Duke design, and therefore much more feasible for all-day wear. The gunmetal colourway and crystal strap give us serious Carrie Bradshaw vibes, and there's an elastic insert for extra comfort.
12. Charles & Keith Open Toe Ankle Strap Block Heel Sandals – £43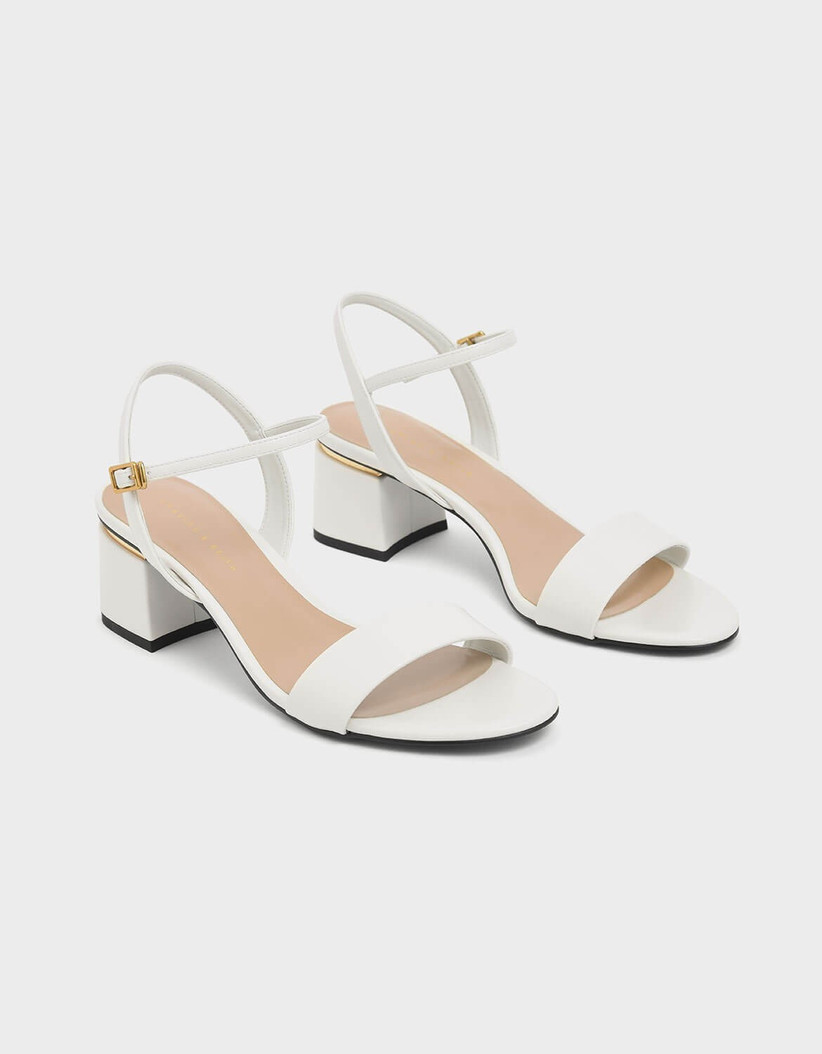 Comfy + strappy don't often go together when it comes to heels, but under-the-radar shoe brand Charles & Keith have come up with the ideal combination with these block heel sandals, and for under £50, no less. If they're on show below your dress, you can tie in the gold buckle with coordinating jewellery.
13. Dune Debut Ivory Diamante Strap Court Shoe – £120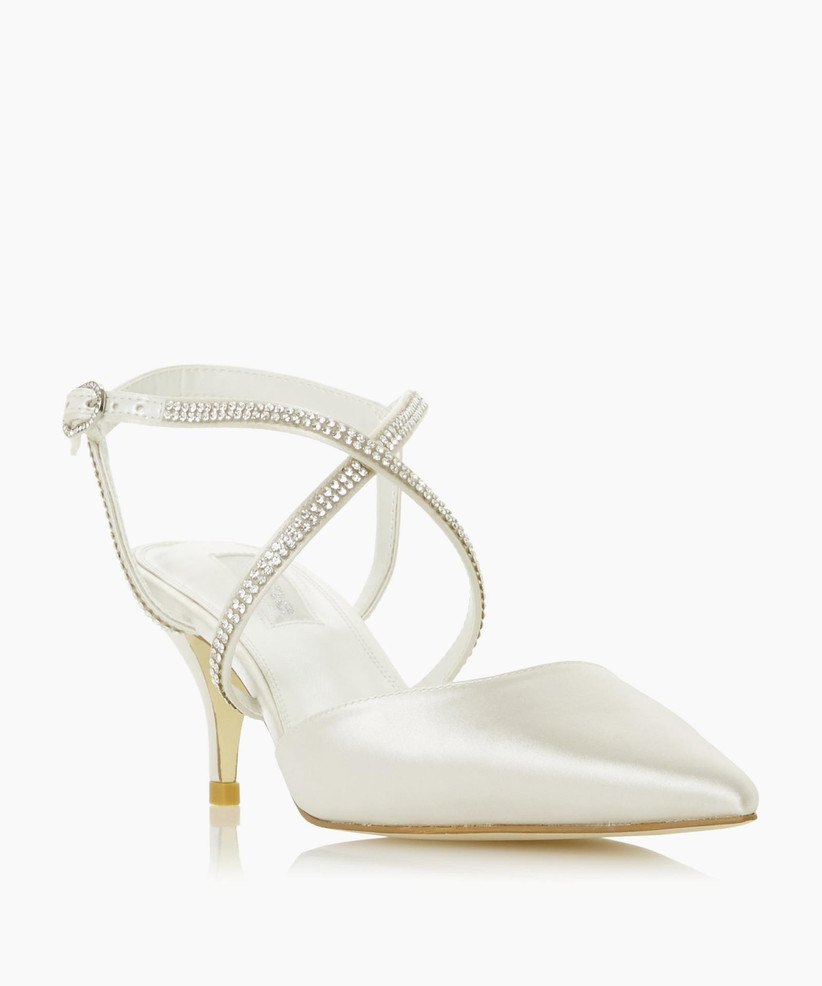 Dune's range of bridal footwear is second to none, not least because it carries a great range of heel heights. The Debut Ivory style is the perfect middle ground, giving a little extra lift without making you feel wobbly. We love the sparkle of the crossover diamante straps, too.
Buy It Now
READ MORE: 29 Things You Need to Know Before You Go Wedding Dress Shopping
14. La Redoute Jonak High-Heeled Soft Suede Sandals – £67.50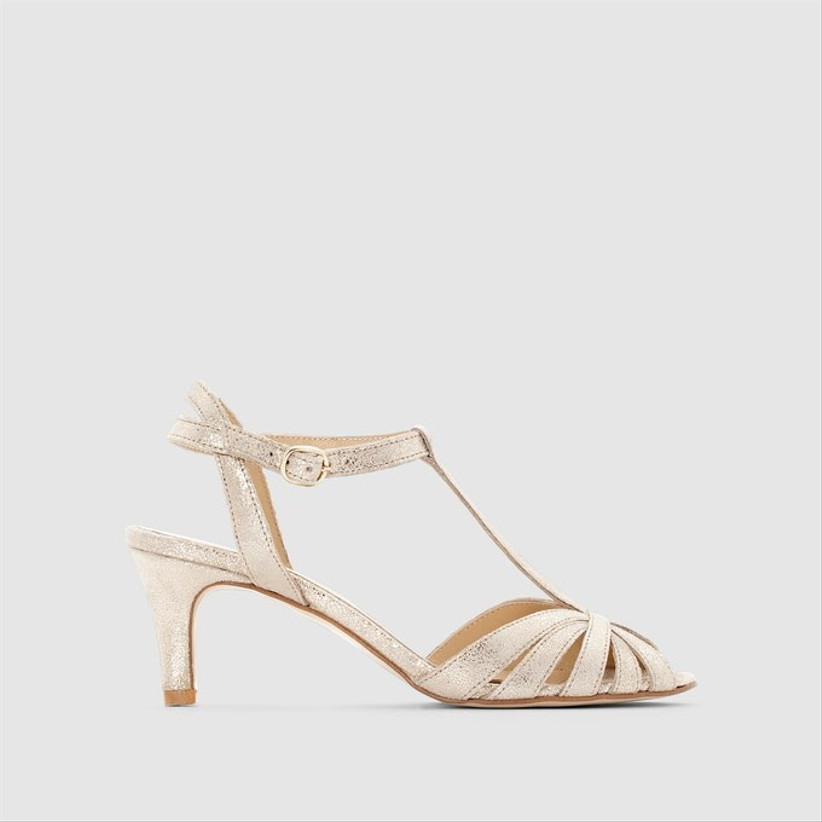 The cut-out shape and metallic texture of these leather La Redoute shoes are a stunning yet wearable nod to Old Hollywood glamour. If there's a lot of walking or standing involved in your big day, add a set of invisible Party Feet insoles and you'll still be good to go.
15. Rainbow Club Hollie Ivory Satin Low Heel Court Shoes – £85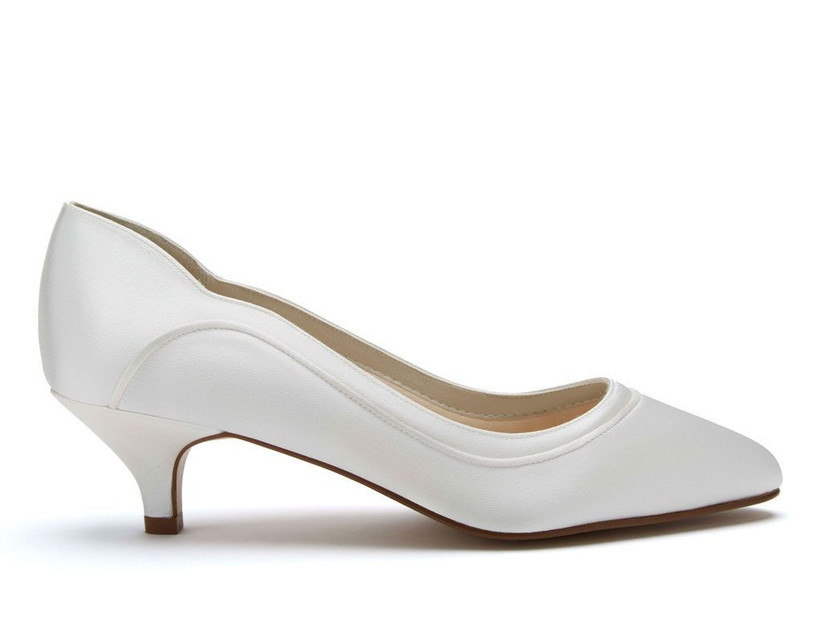 The Rainbow Club Hollie is a court shoe, but not as you know it – the quirky piping, elegant almond toe and satin fabric makes it stand out from the crowd. If you love these, you could also look at their other low-heel options including the wide fit Gisele, lacy Bobbie, and Briana, which has the addition of an ankle strap.
16. Ravel Silver Glitter Pembroke Low Heeled Closed-Toe Pumps – £65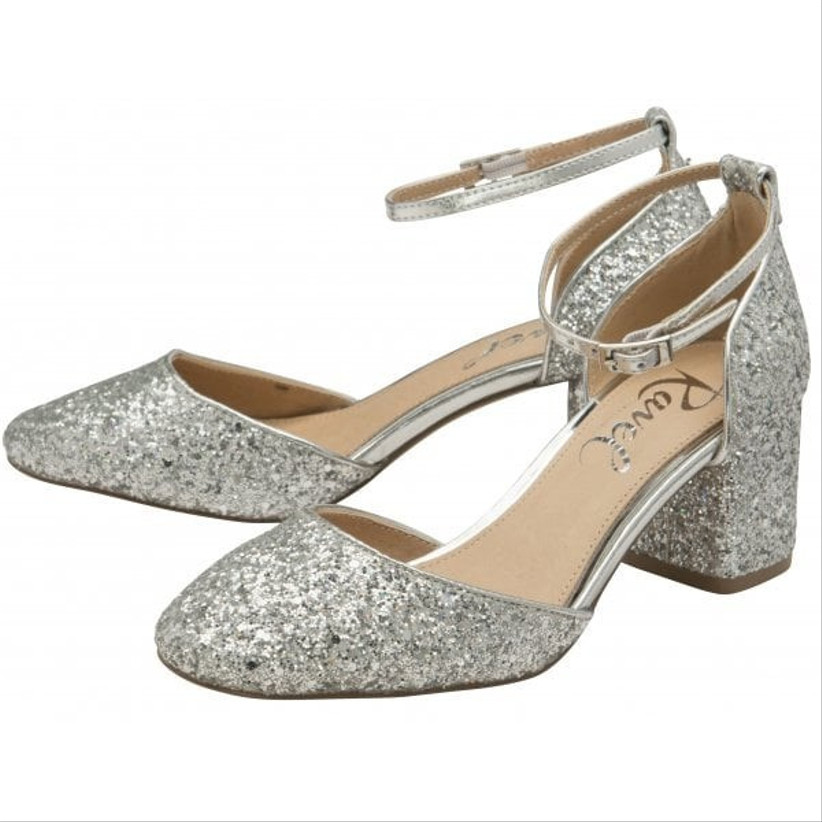 Ravel's silver party pumps are so glittery, they almost make you want to click your heels three times and whisper 'there's no place like home'. The sturdy block heel is just right for getting you through a long day in style.
17. Debenhams Pink By Paradox London Satin Fantasy Mid Kitten Heel T-Bar Shoes – £75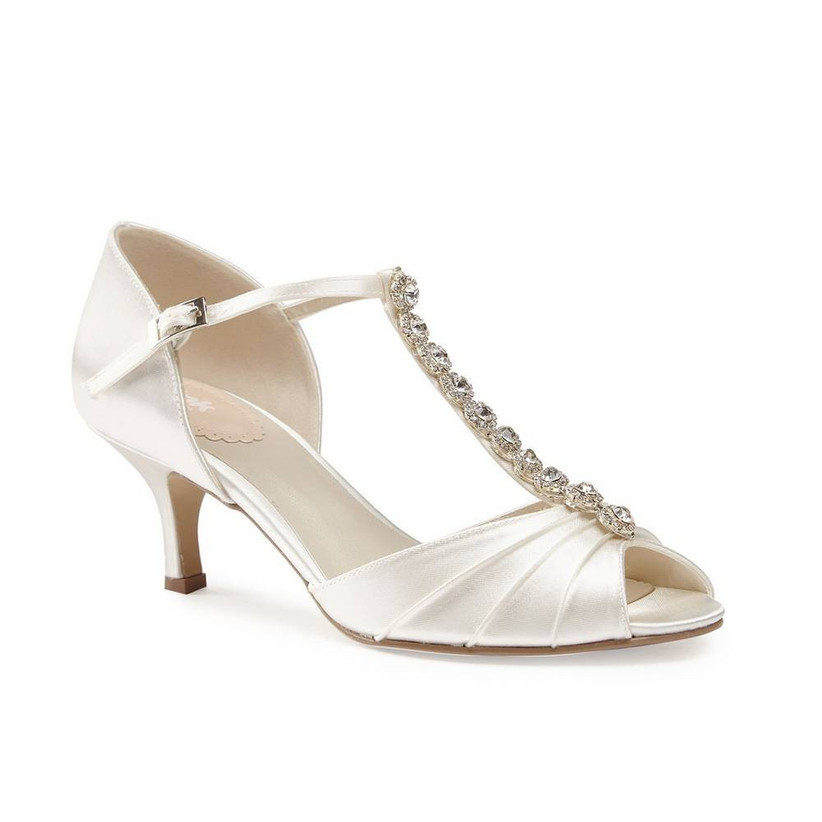 Pink By Paradox has designed its range of slim kitten heels with your comfort in mind, thanks to the addition of soft memory foam padding – which is why they're a fab fit from the moment you pop them on. Fantasy is our pick of the bunch – we're obsessed with that jewel-studded T-bar.
18. Ganni Low-Heel Slingback Pumps – £220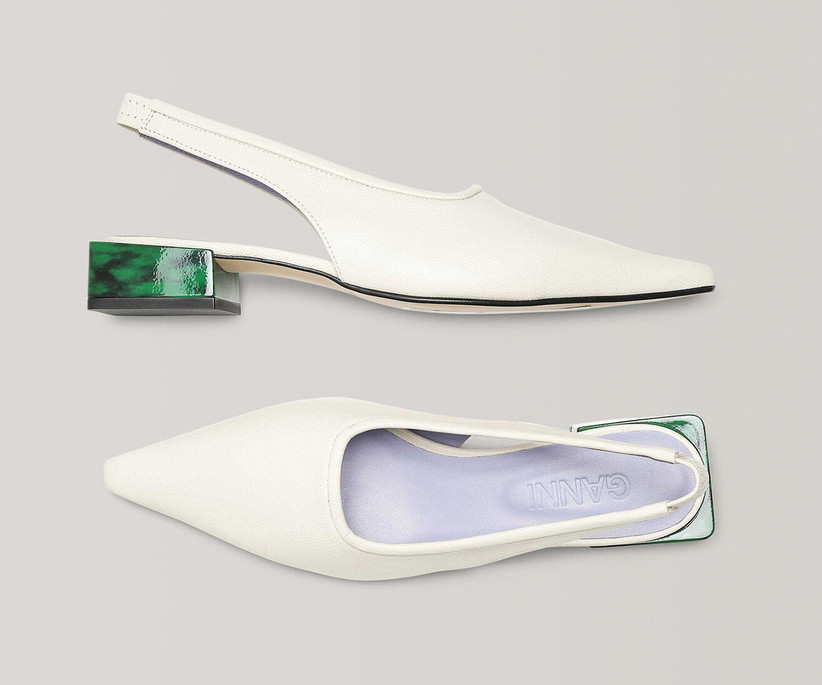 City brides, fashionistas, and those blessed with an emerald engagement ring, these Ganni wedding shoes were made for you. The slip-on style contrasts creamy leather with chunky dark green heels for super chic colour-blocking, and not just for 24 hours – they're a stylish investment you'll want to wear again and again.
19. Clarks Linvale Edyth – £49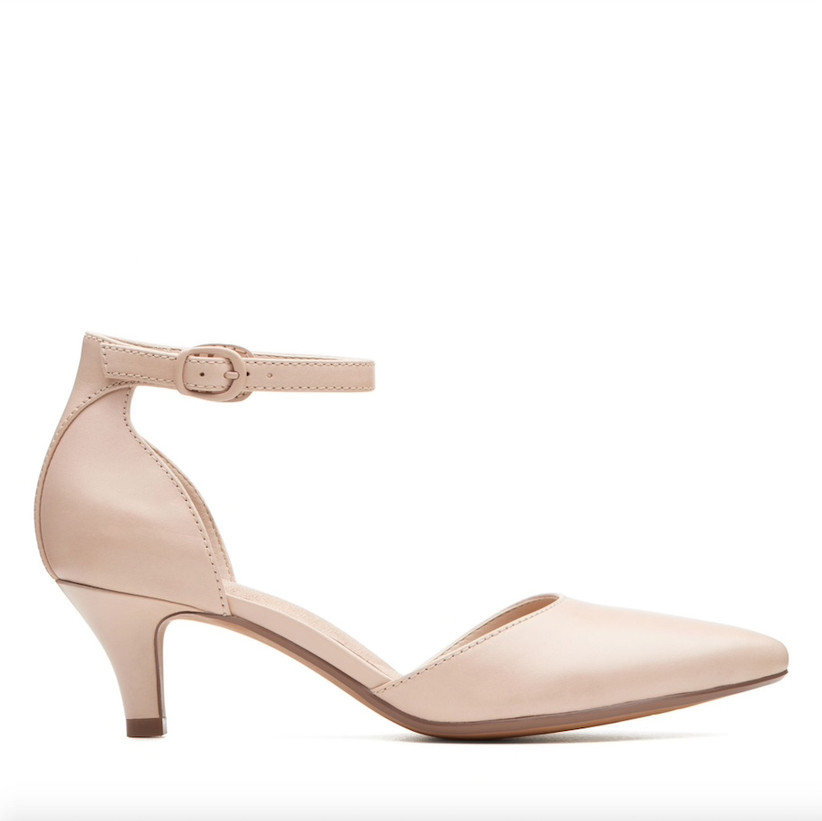 Okay, so you may have memories of getting your school shoes from Clarks, but don't count them out for bridal footwear (they won't make you stand on the measuring machine as a grown-up, we promise). And in fact, they have a pretty impressive selection of inexpensive low-heeled options, like this feminine blush pink pair – brilliant if you're working to a tight wedding budget.
20. Phase Eight Dasha Grosgrain Jewelled Kitten Heel – £95.20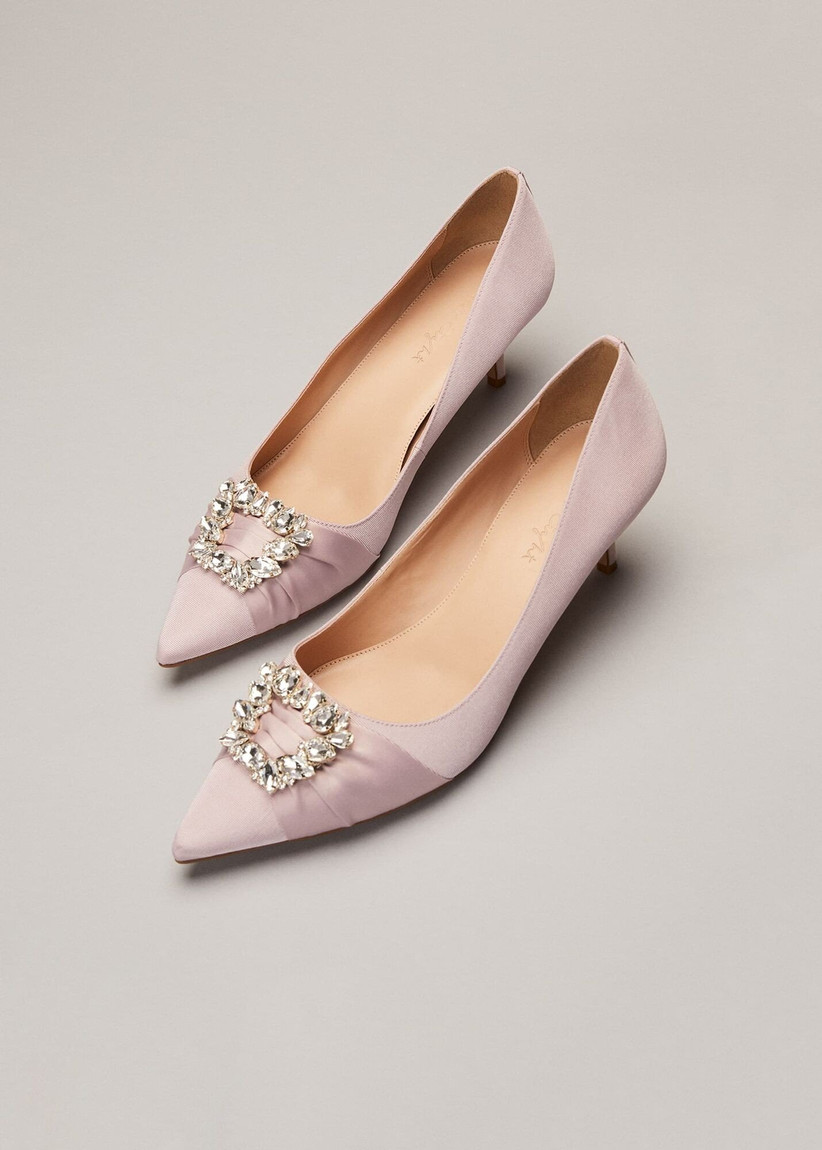 Lots of embellished heels have an intimidatingly spindly stiletto to set them off, but Phase Eight's Dasha shoe is a little more down to earth. It also gets extra points in our books for that stunning powdery antique rose hue.
21. Deichmann Graceland White T-Bar Court Shoes – £19.99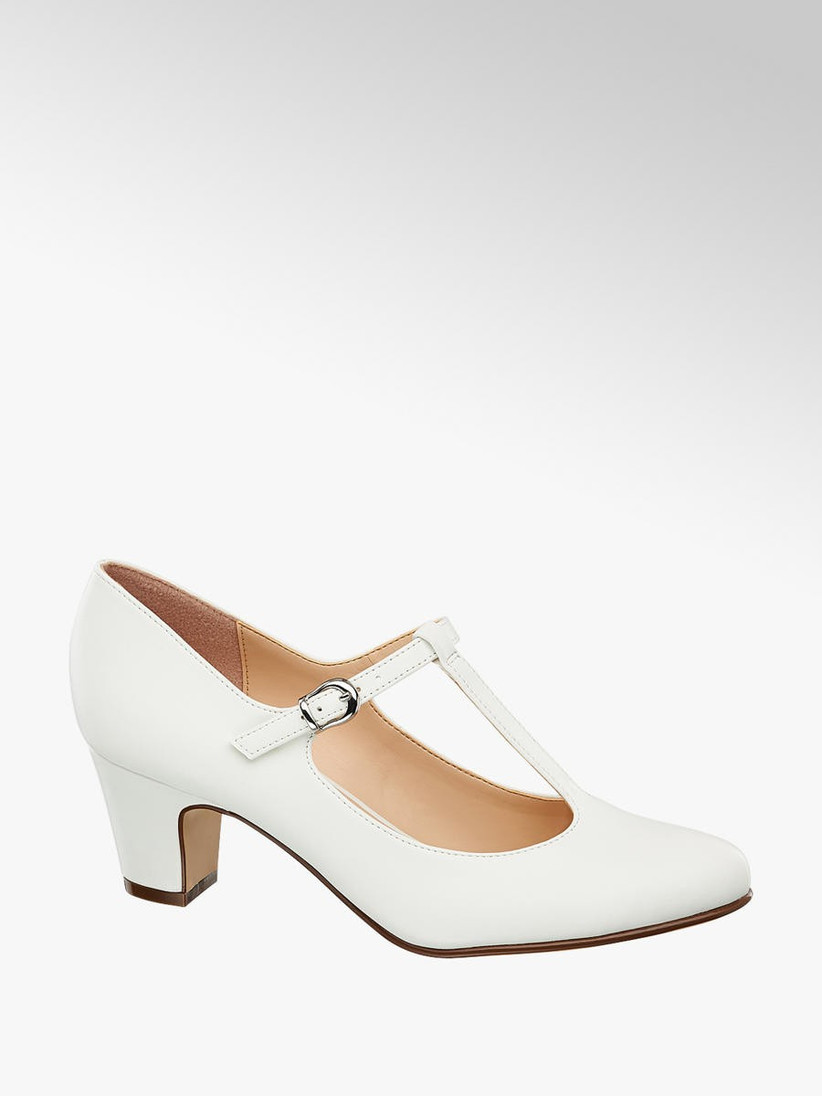 If you're after a simple, comfortable wedding shoe that'll go with any dress, check out the cute Deichmann Graceland. The clean lines and classic shape also make an excellent option for bridesmaids – at less than £20, it won't be too pricey to kit out a group.
22. Coggles Yuul Yie Women's June Leather Mules – £284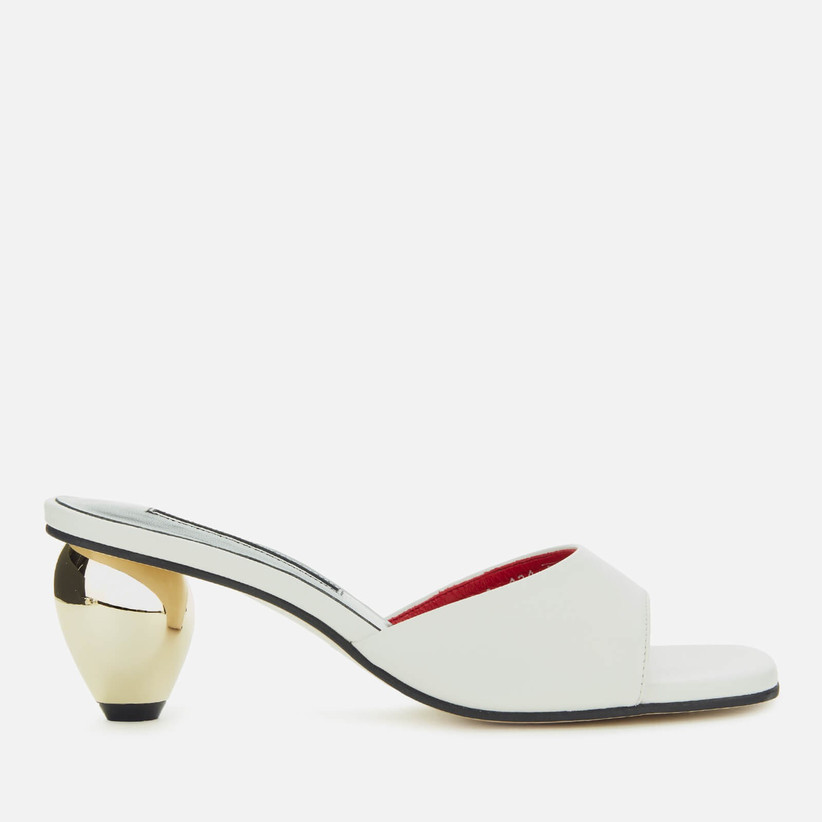 Sculptural heels are one of the best ways to make a sartorial statement with your shoes, as evidenced by Yuul Yie's snazzy slide-on mules. The pear-shaped gold accent is wide enough to ensure no sinking into any country manor lawns.
23. Shoeaholics Carvela Kiki – £79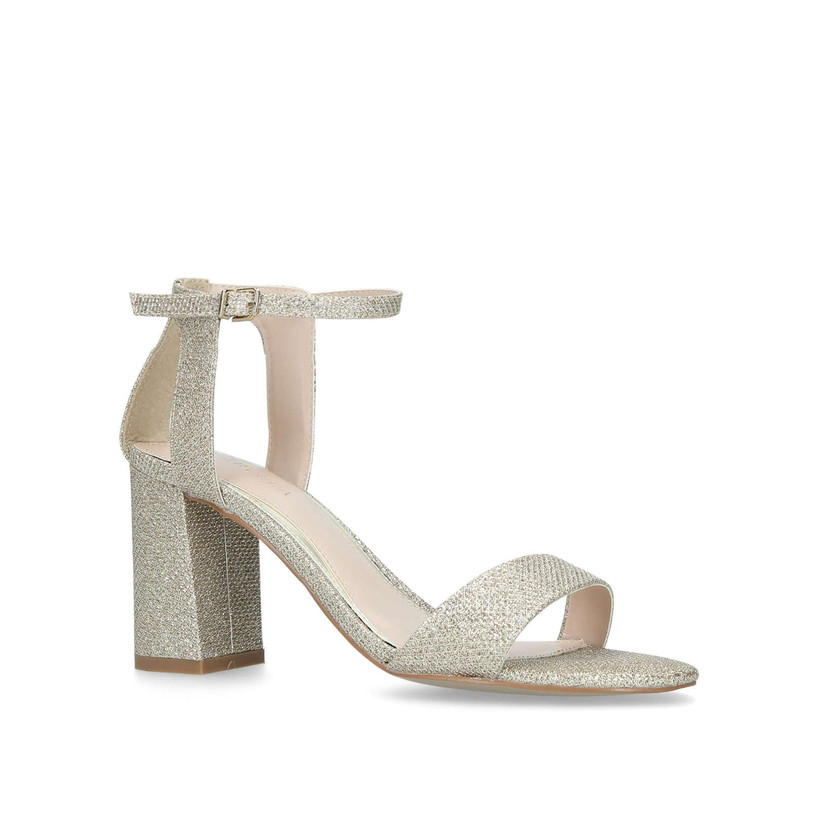 Shoeaholics operates like a designer shoe discount outlet, so you can buy high-quality footwear like Carvela's Kiki for less. The pewter and gold shades are a fun twist on the usual bridal offerings, they're wide fit, so extra roomy, and if you're going to wear a mid-height heel, the straps this style has provide all-important extra support.
Buy It Now
READ MORE: 51 Free Wedding Ideas To Transform Your Big Day
24. Public Desire Celine Block Heel Barely Theres in Nude Croc – £29.99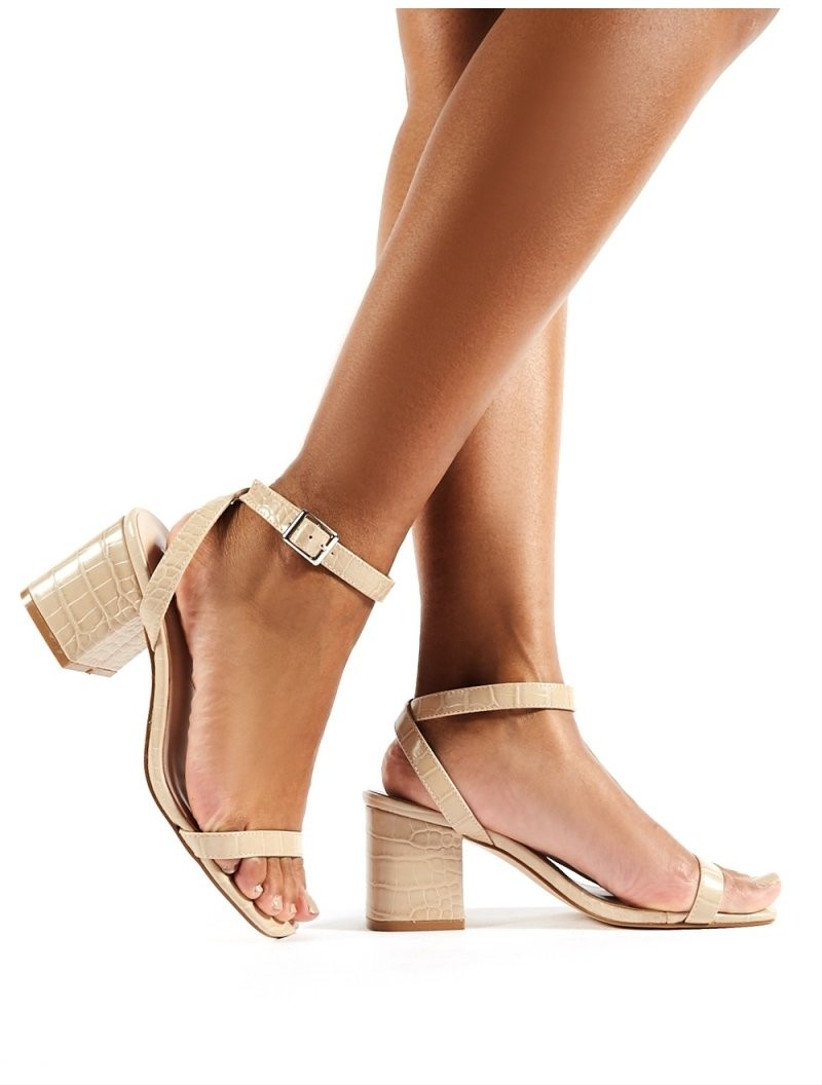 Public Desire is a great brand to check out if you want wedding shoes with a little extra edge – think perspex, unicorn inspired metallics, over-the-ankle straps and thicker, toughened-up soles. For comfort's sake, however, steer clear of their loftiest looks, and opt for approachable levels like the Celine mock crock design.
25. Dorothy Perkins Wide Fit Gold 'Dreamer' Wedge Court Shoes – £16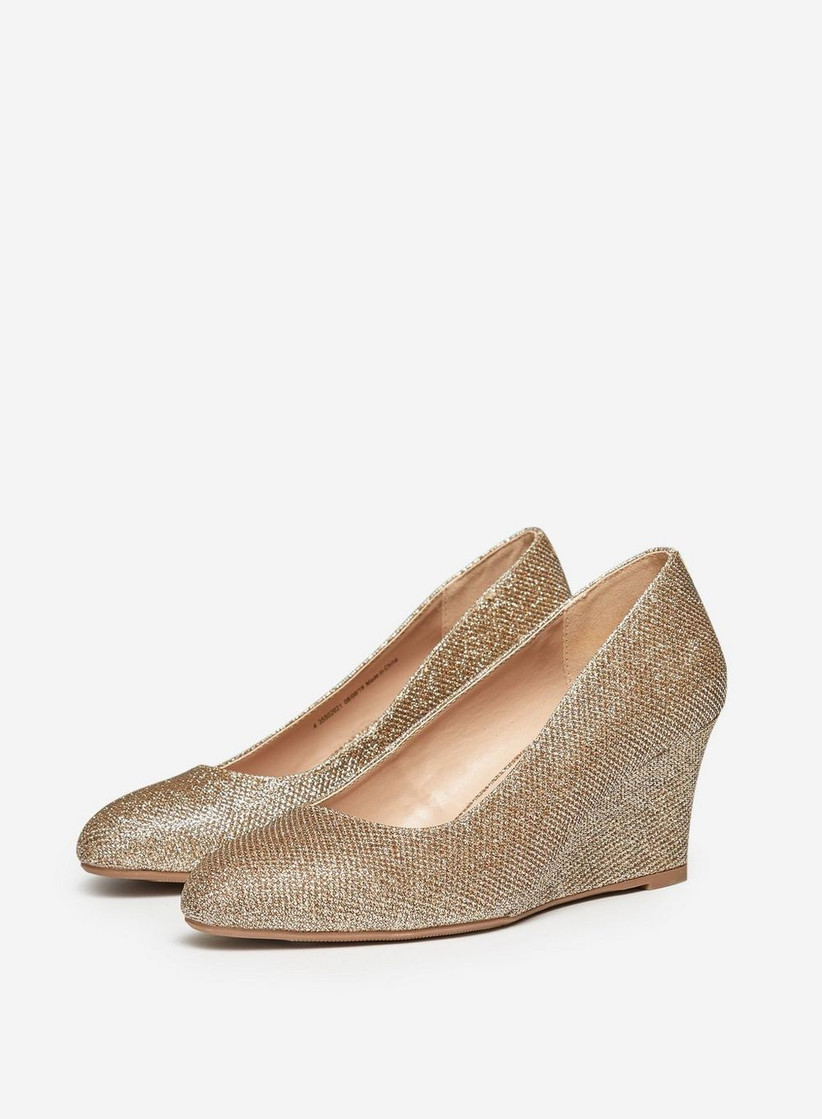 Short of wearing slippers up the aisle, we can't think of a comfier combination than wide-fit and a 3-inch wedge. The gold glitter makes these Dorothy Perkins Dreamer Wedges totally wedding appropriate – also, can we talk about the fact they're only £23?!
26. Moda In Pelle Shore White-Nude Leather – £129.95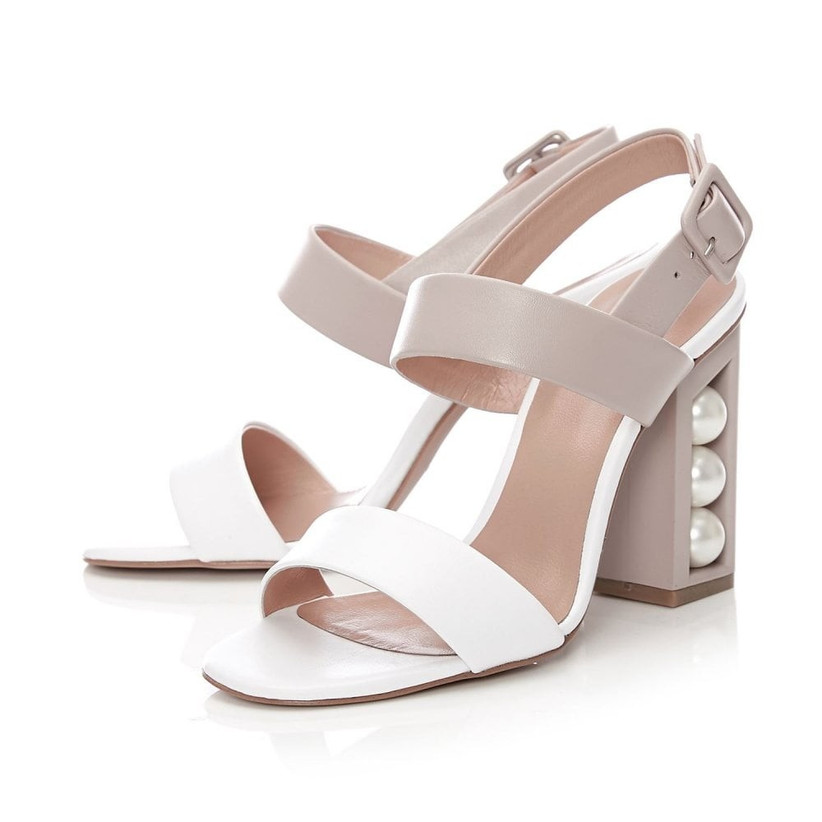 Just in case set of pearl earrings or a necklace weren't enough to accessorise with, Moda In Pelle thought it'd stack your heels with a few hand-placed pearls too. The added joy of its Shore style? This means the heels have a reassuring width and depth, with soft leather straps to boot.
27. Rebecca Minkoff Nanine Sandal – £128.63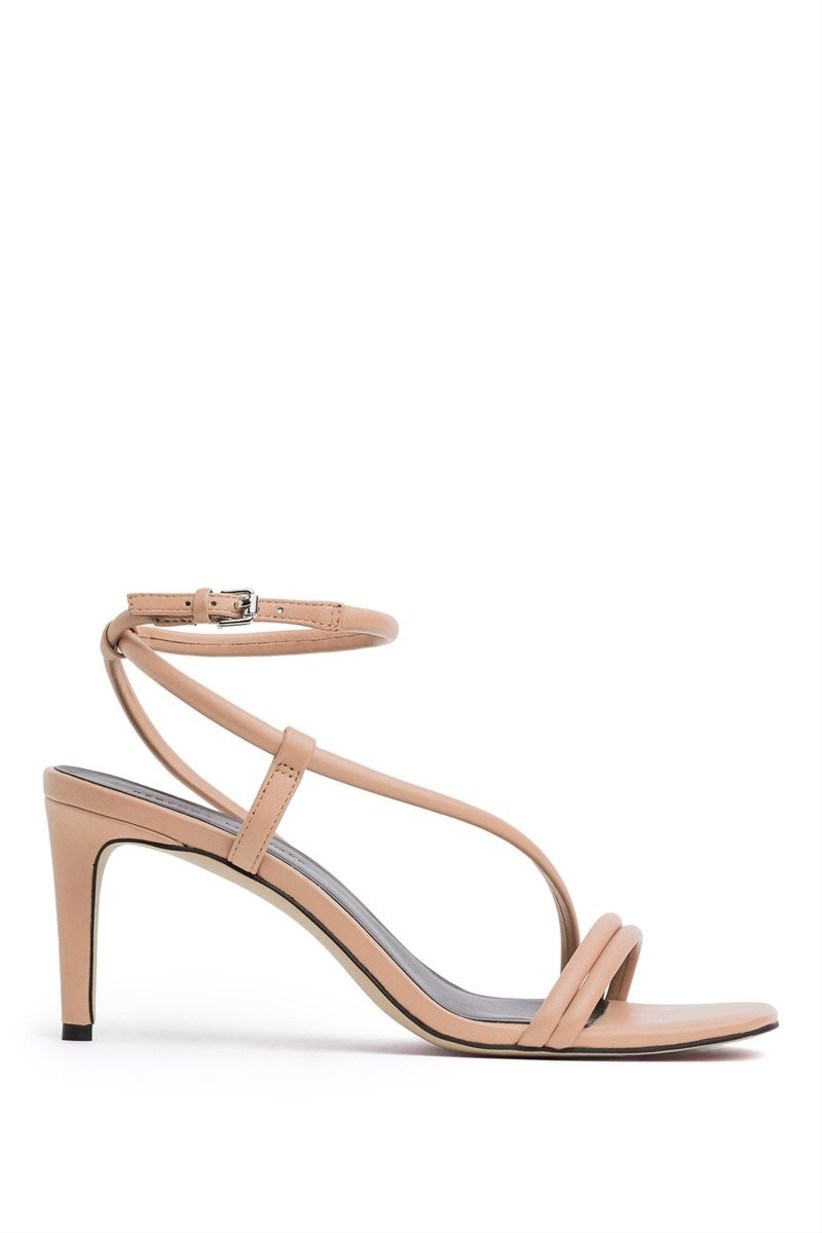 Strappy sandals are everywhere this season, but it's hard to find a pair that won't leave the balls of your feet aching by midday. Rebecca Minkoff's Nanine is a nude, slender shape that walks the fine line between crippling and cosy, with just the right height of heel to ensure you stay standing (and smiling).
28. John Lewis & Partners Allina Scalloped Stiletto Heel Court Shoes – £85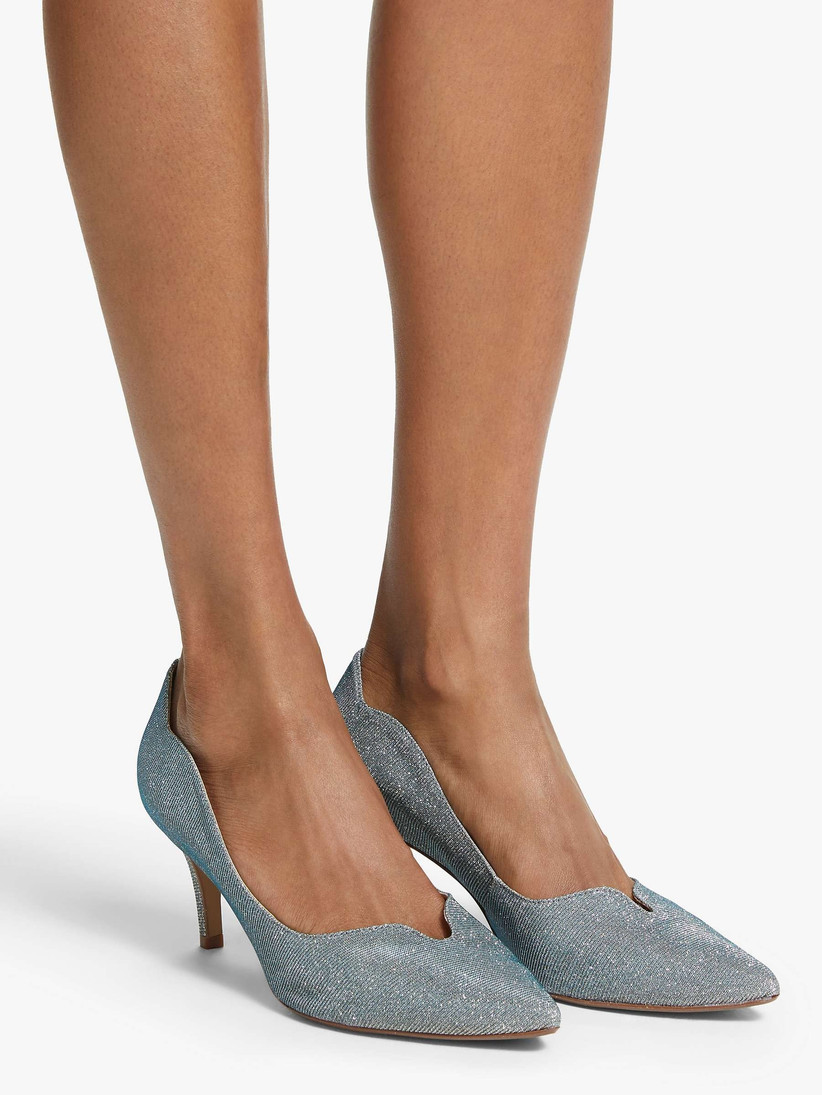 The product description on the John Lewis Allina may say gold, but they catch the light so amazingly that they've got the magical shimmery properties of mermaid scales, for a true twinkle toes moment. The 5cm heel height is ideal for long days, and we love the vampy scalloped edges.
29. Quiz Pewter Diamante Strappy Low Heeled Sandals – £16.99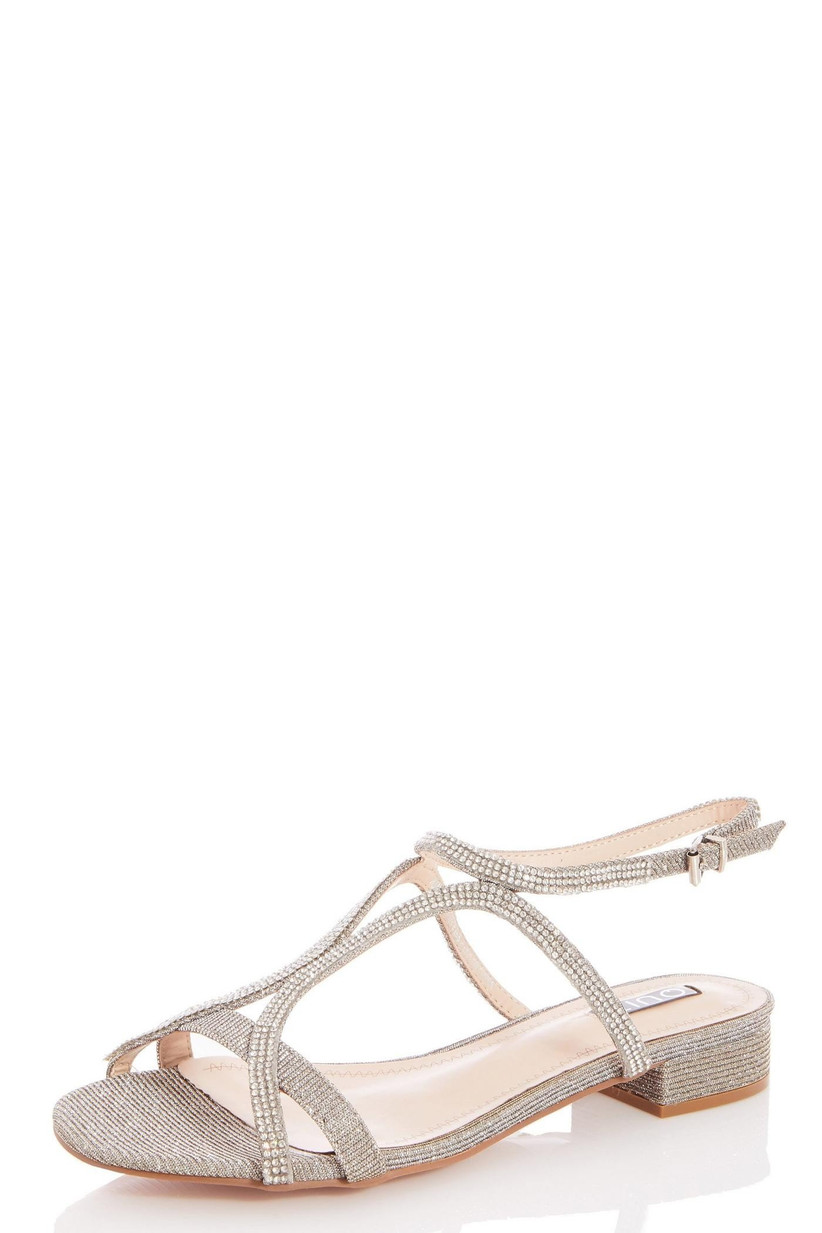 If you can't wear a sandal that's entirely studded with sparkle on your wedding day, when can you? These glitzy shoes from Quiz make things extra special with intricate crossover straps, and they're versatile enough to work with any length or colour of gown.
Buy It Now
READ MORE: How to Plan a Wedding If You Suffer From Anxiety
30. Lace & Favour Rachel Simpson Gardenia II Powder Blue Leather Vintage T-Bar Wedding Shoes – £215
Planning on making your shoes your something blue? Run, don't walk to snap up a pair of these Rachel Simpson blue and silver showstoppers. The shape might say 40s but the Art Deco cutwork feels very 20s – either way, retro-inspired brides won't regret their purchase.
31. Linzi Gold Metallic Heavy Glitter Block Heeled Sandal – £25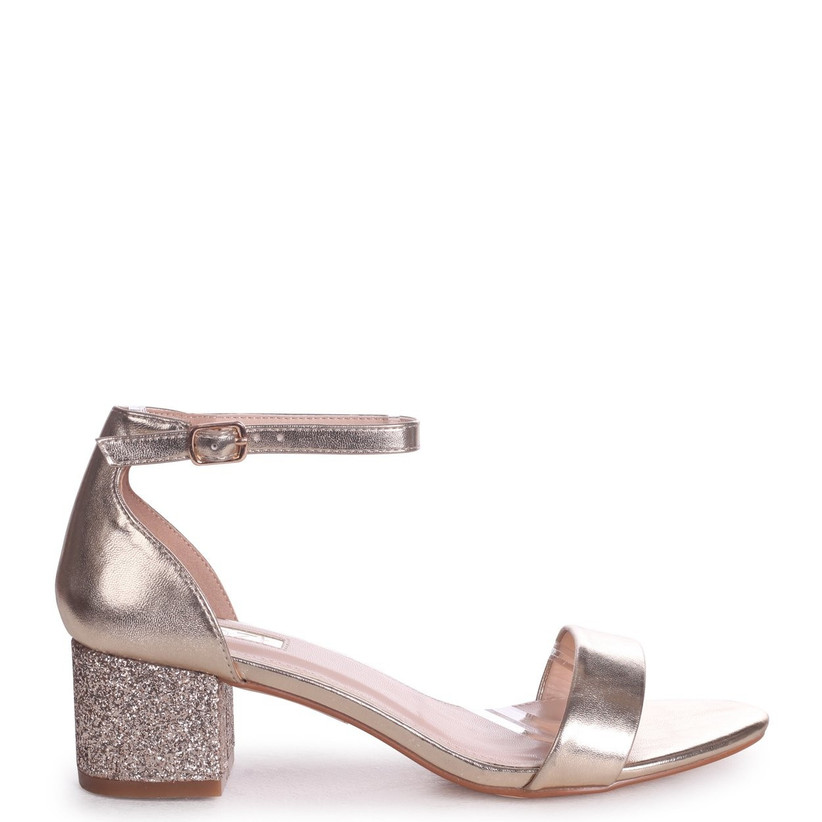 All that glitters definitely is gold when it comes to these cushy Linzi sandals. The block heel isn't just dazzling, it's easy to walk around on for as long as you need, and will help you to hit every beat of your first dance without so much as a stumble.
32. Irregular Choice Carriage Ride – £99.99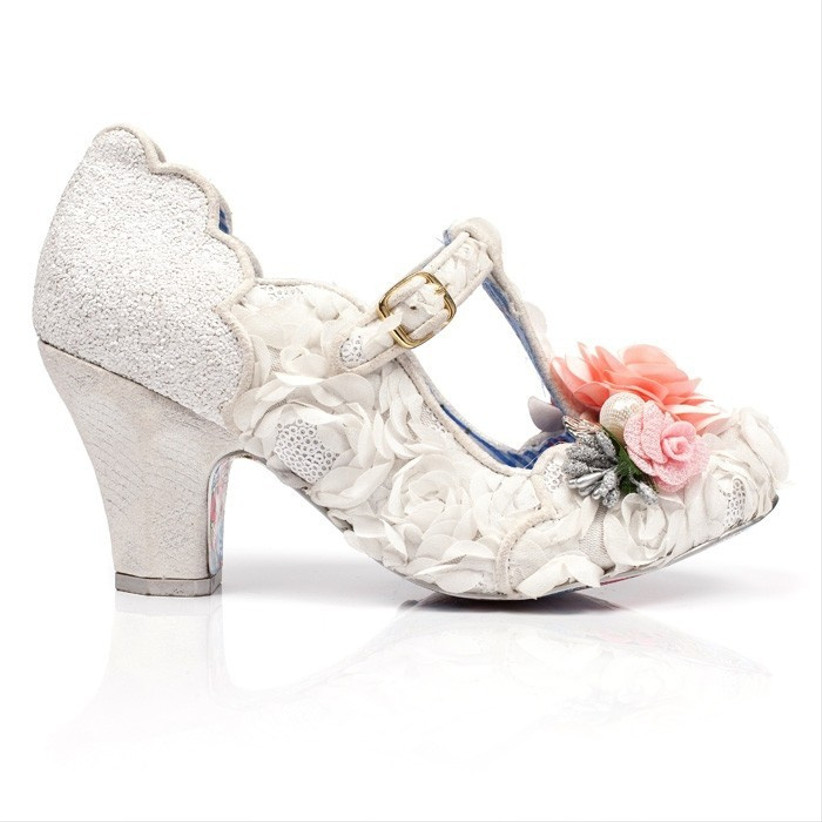 Block heel? Check. Ankle strap? Check – these frankly spectacular Irregular Choice Mary Janes tick all of our comfortable wedding shoes boxes. They're too good to tuck away under a longer dress – if you're wearing a skirt that will cover them as you walk, be sure to lift it slightly so they're captured in at least some of your pictures!
33. Aldo Adore Trainers – £65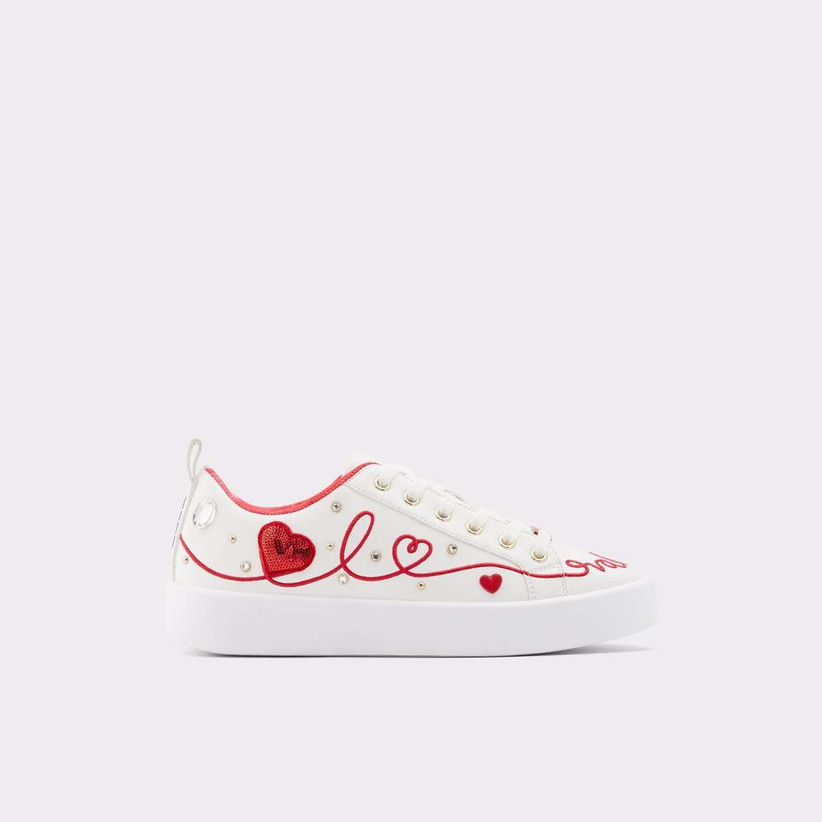 Well, if you're going to do a wedding trainer, whether it's for the reception or the ceremony itself, it doesn't get much cuter than Aldo's heart-embellished Adore set. All of the romance of hearts, sequins and sparkle on a comfy sneaker? Consider our hearts well and truly stolen.
So you've got your comfortable wedding shoes all lined up, but what about your bridal underwear? Don't miss out edit of the best to buy now!