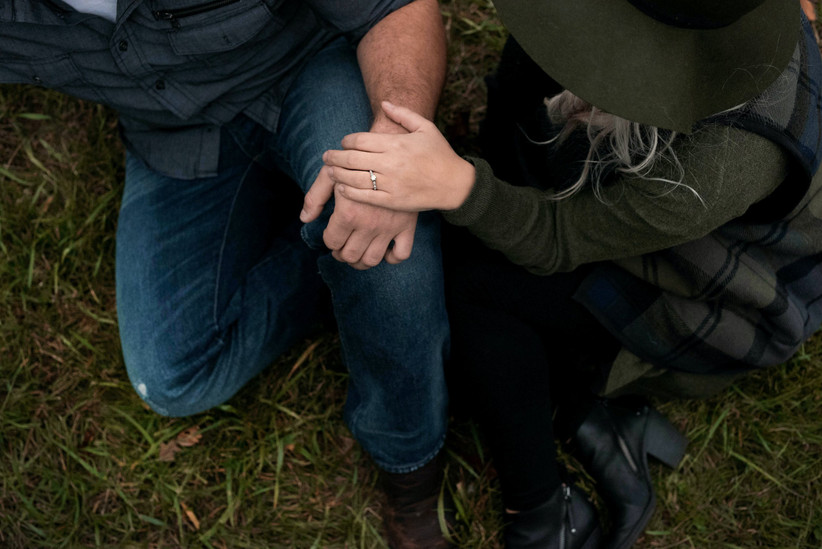 Forget everything you've been told about how much you should spend on an engagement ring (particularly that ubiquitous three month's salary myth) – it's completely possible to find a beautiful band on a smaller budget. In fact, the selection of great cheap engagement rings on offer has increased in both size and quality in recent years, so no matter how much you have set aside to spend, don't panic: you'll still be able to find a precious piece that'll really wow your partner when you open up that box.
If you want to keep things traditional, then a small but still dazzling diamond is within reach. Alternatively, there are lots of other precious and semi-precious stone alternatives that still give that classic look, as well as more accessible gemstone options that can add plenty of colour, sparkle and personality to the design.
From high street jewellers to more affordable engagement rings from high-end designer names, plus a plethora of independent designers on sites like Etsy and Not On The High Street, here's our pick of the best budget engagement rings to shop this year. Now all you've got to do is figure out exactly how you want to propose…
NB: We have included third party products to help you navigate and enjoy life's biggest moments. Purchases made through links on this page may earn us a commission.
Cheap Engagement Rings Under £250
If you have an engagement ring budget of £250 or less, then take a look at these stunning designs which won't break the bank.
1. White Gold and Amethyst Ring – £200, Goldsmiths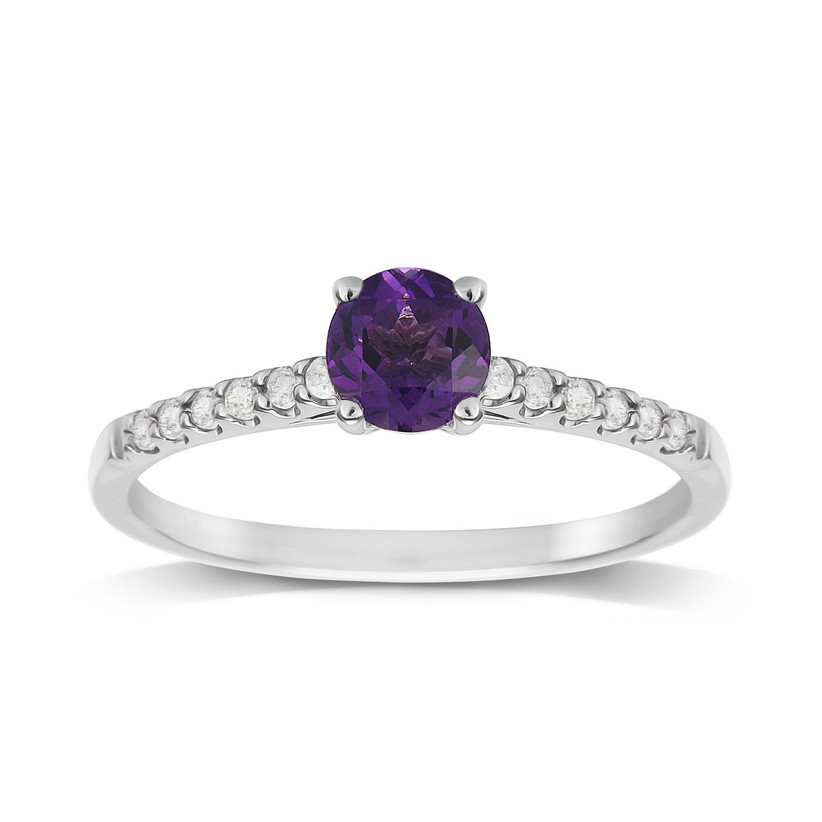 To push your budget further, consider swapping a diamond for another semi-precious stone. This pretty design from Goldsmiths includes an eternity band of diamonds with a round-cut amethyst taking centre stage.
2. Solid Gold and Simulated Diamond Engagement Ring – £179.99, Yefvm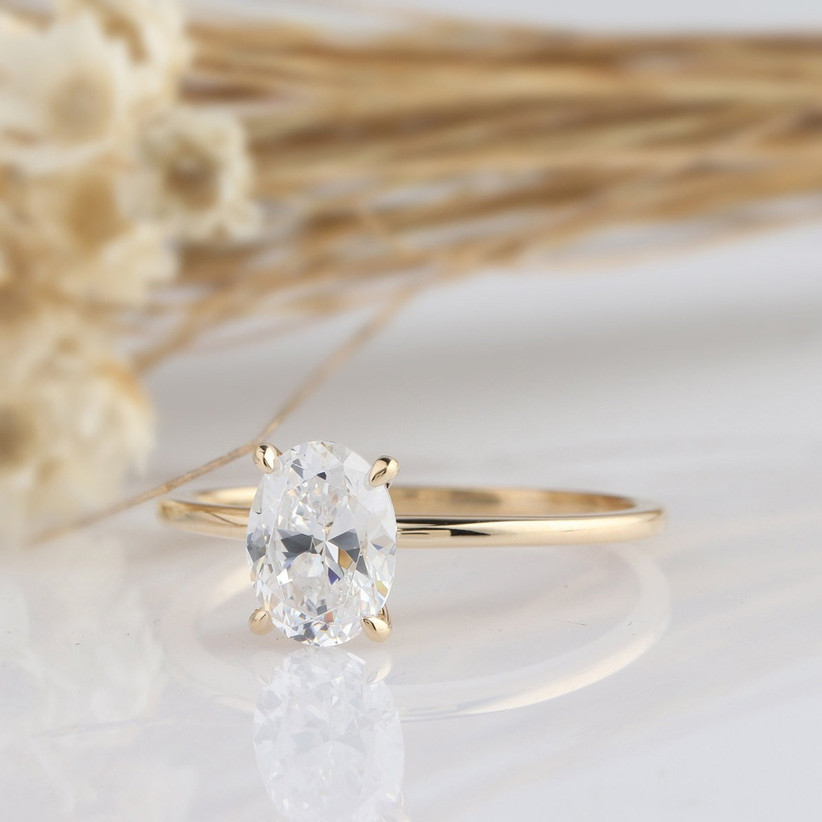 If you know your other half wants the look of a traditional diamond then you could consider a simulated diamond. We adore this modern oval-shaped stone mounted onto a solid gold band.
3. 9ct Gold Moissanite Diamond Ring – £142.99, The Ivy Bee Handmade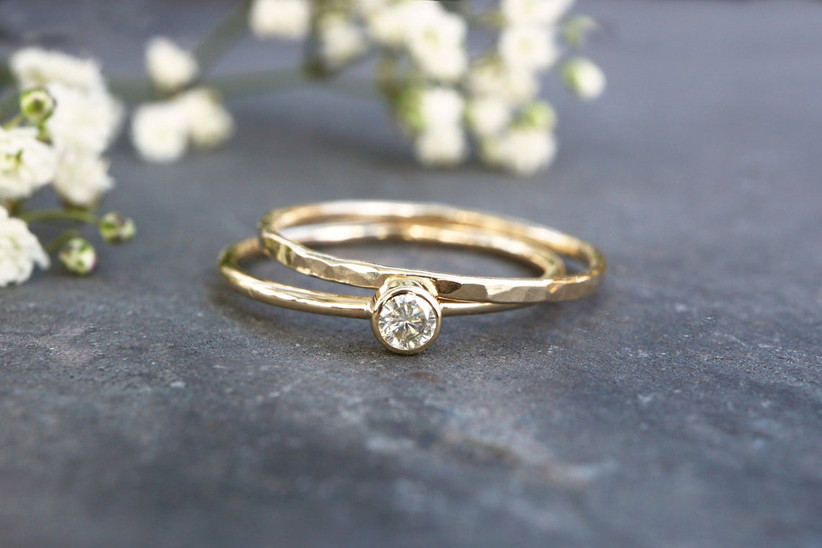 Moissanite is another word for a simulated diamond, so be sure to include this in your search terms too. You'll stumble across lots of lovely options like this Ivy Bee Handmade stacking ring, which has a moissanite stone in a hammered 9ct yellow gold band.
4. Quartz and Diamond Ring – £189, Amazon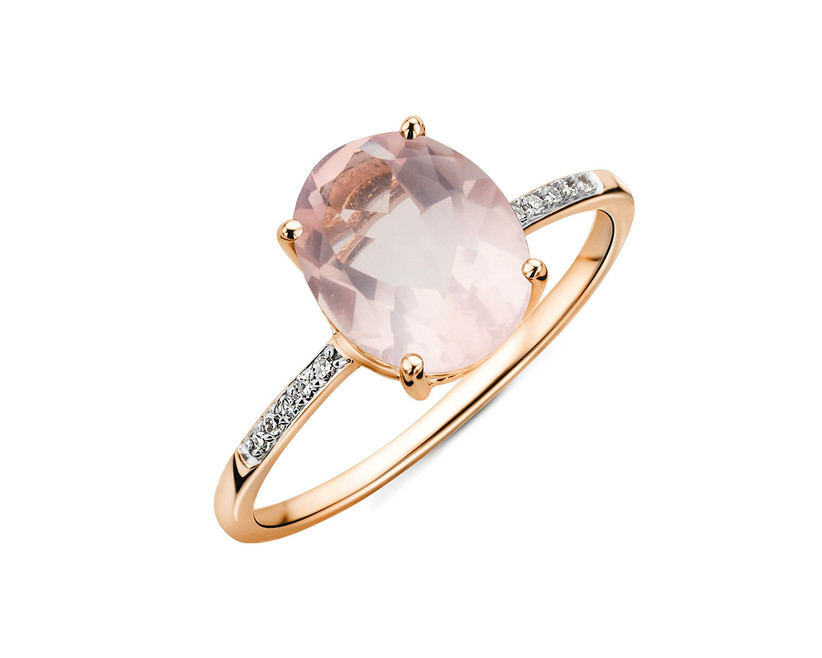 How stunning is this rose quartz engagement ring surrounded by a halo of diamonds? The pretty pink stone gives a warm glow and suits the rose gold band beautifully.
5. Blue and White Sapphire Engagement Ring – £207, Amelia May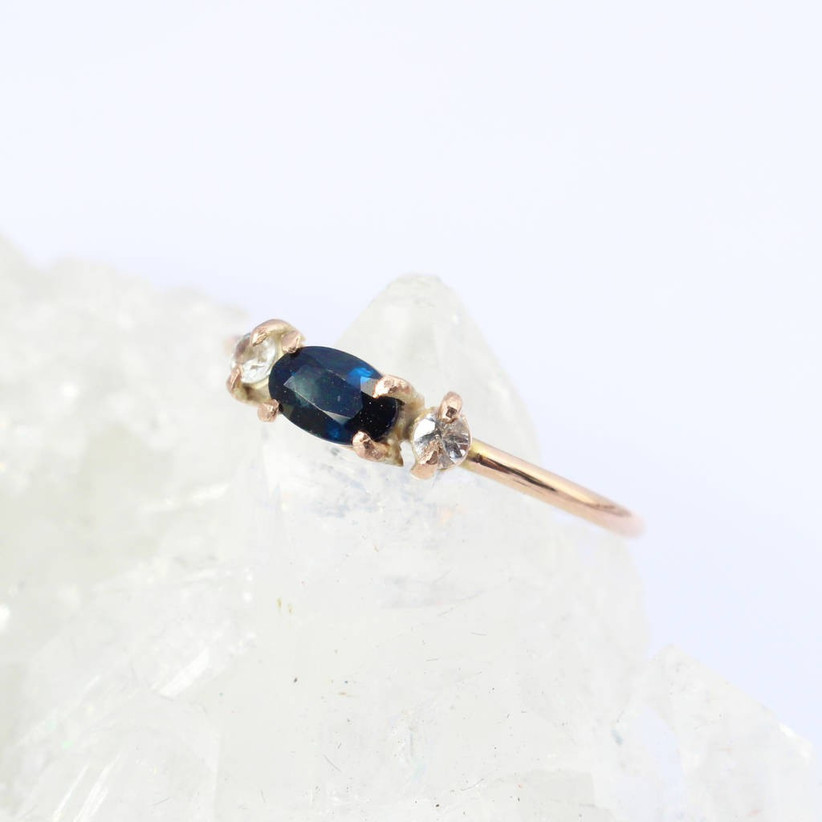 This blue and white sapphire ring from Amelia May is a brilliant option if you're shopping for an engagement ring on a budget. An oval blue sapphire is nestled between two white sapphires and set on a 9ct gold band – it's incredibly elegant and unique.
READ MORE: Sapphire Engagement Rings – Our Favourite Designs
6. 9ct Yellow Gold Diamond Solitaire Ring – £249, H Samuel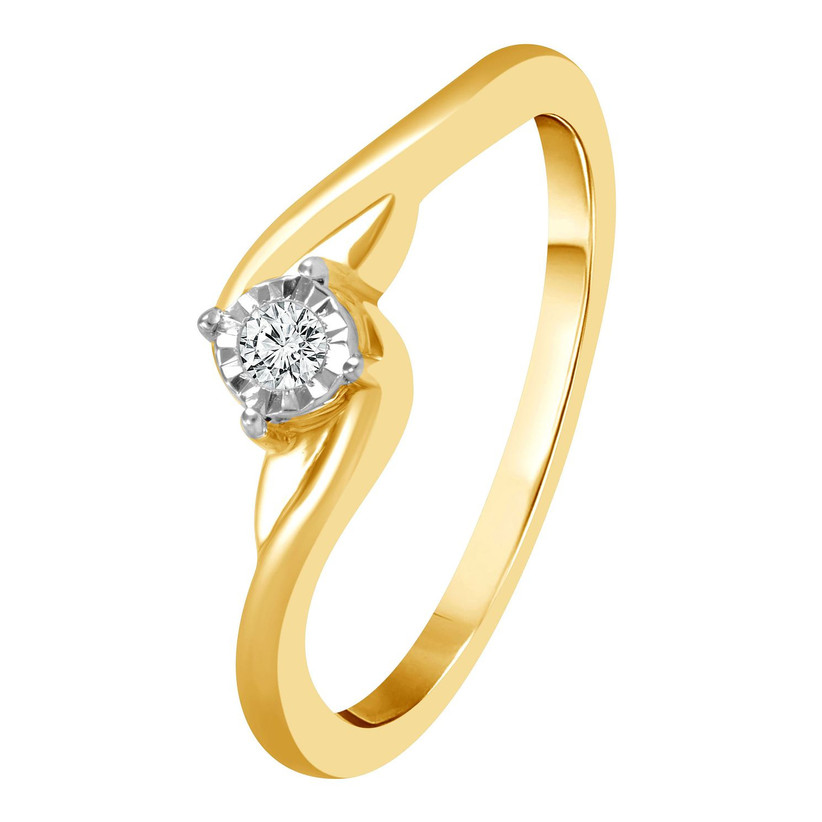 Choosing a 9ct gold ring like this H Samuel offering instead of 18ct gold or platinum is a great way to save some money but still get a lovely ring - the quality is different but 9ct gold is still hard-wearing and will last a lifetime (just like your marriage!)
7. Wwake Posy Gold Sapphire and Diamond Ring – £230, Net-A-Porter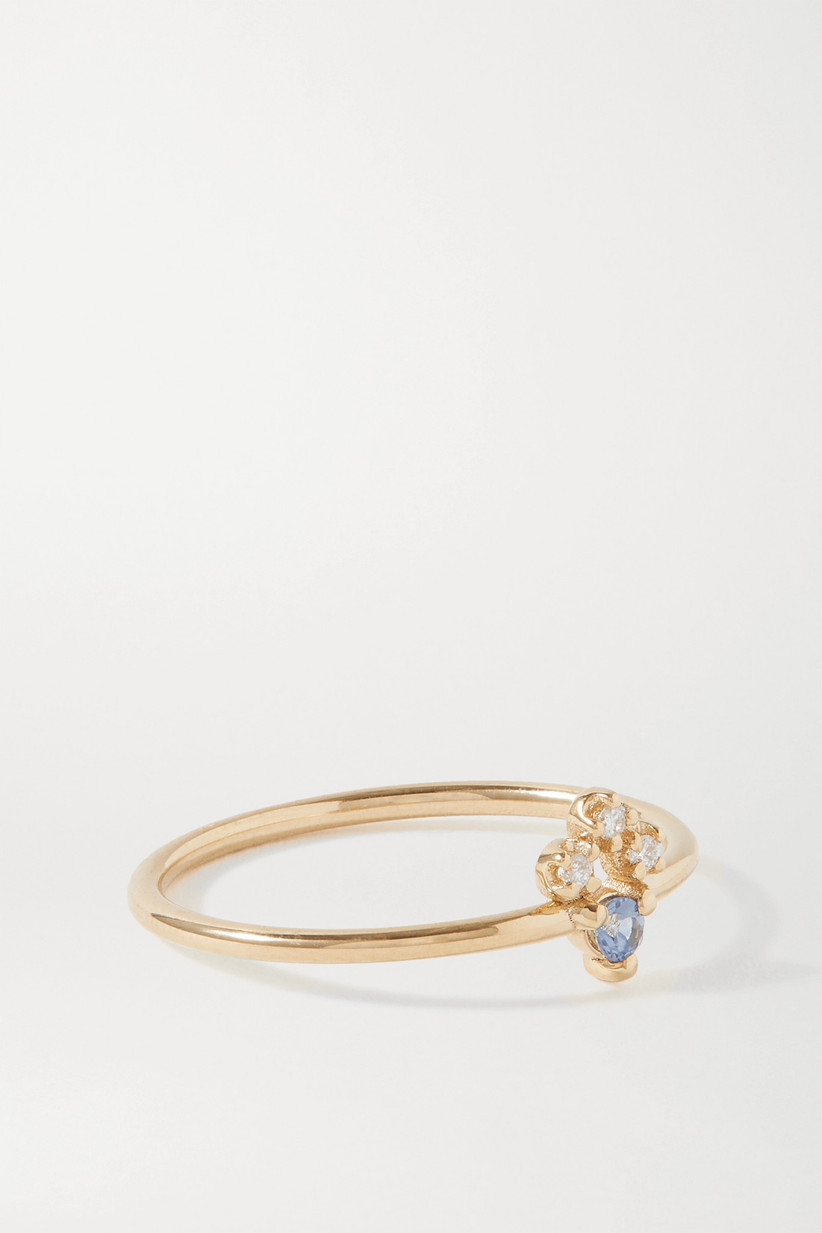 If your fiance-to-be really knows their stuff when it comes to fashion, don't overlook sites like Net-a-Porter for some hidden gems (pun intended) like this Wwake posy ring. They'll love that it's such a chic twist on the typical engagement ring look.
8. White Gold and Cubic Zirconia Ring – £180, Goldsmiths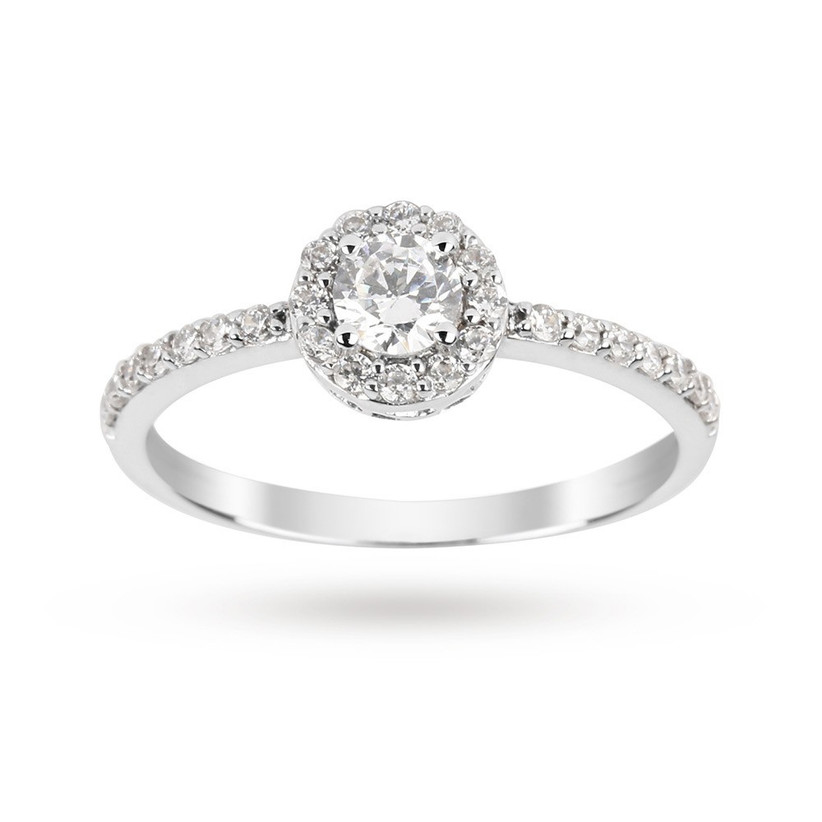 This white gold and cubic zirconia ring from Goldsmiths would make a perfect placeholder ring – whether you wanted to propose with it then save up for a diamond ring or if you wanted to then have your other half pick out their own engagement ring.
READ MORE: Rose Gold Engagement Rings – Our Favourite Dreamy Designs
Cheap Engagement Rings Under £500
With an engagement ring budget of £500 you could choose a subtle diamond ring or look into other centre stone options, which often give you more bang for your buck.
9. Marquise Diamond Engagement Ring – £277.19, JSV Concepts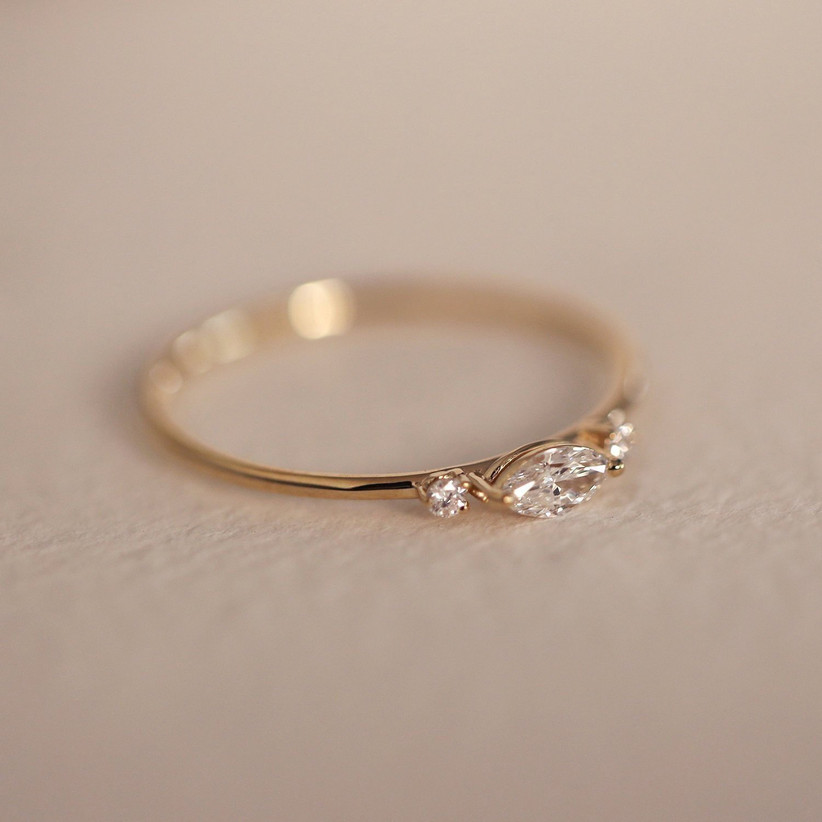 We love the regal style of a marquise diamond and this elegant design also includes two small solitaire diamonds either side. You can choose from a white gold, yellow gold or rose gold setting.
10. Naava Brilliant Solitaire Engagement Ring – from £294.95, Amazon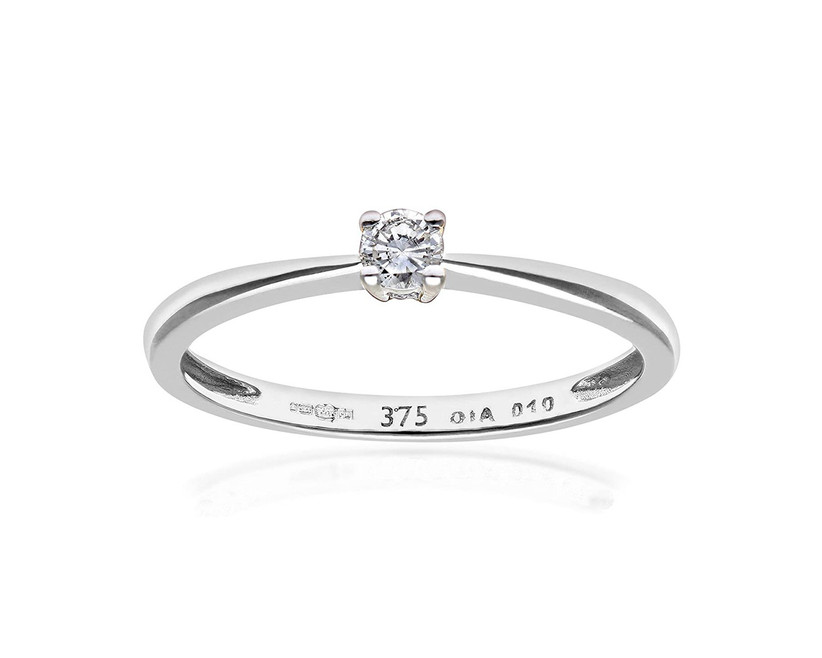 Keep things classic and traditional with a simple solitaire ring. The timeless design includes a certified diamond mounted onto a 9ct white gold polished band.
11. Jenny Packham White Gold Ring – £400, Goldsmiths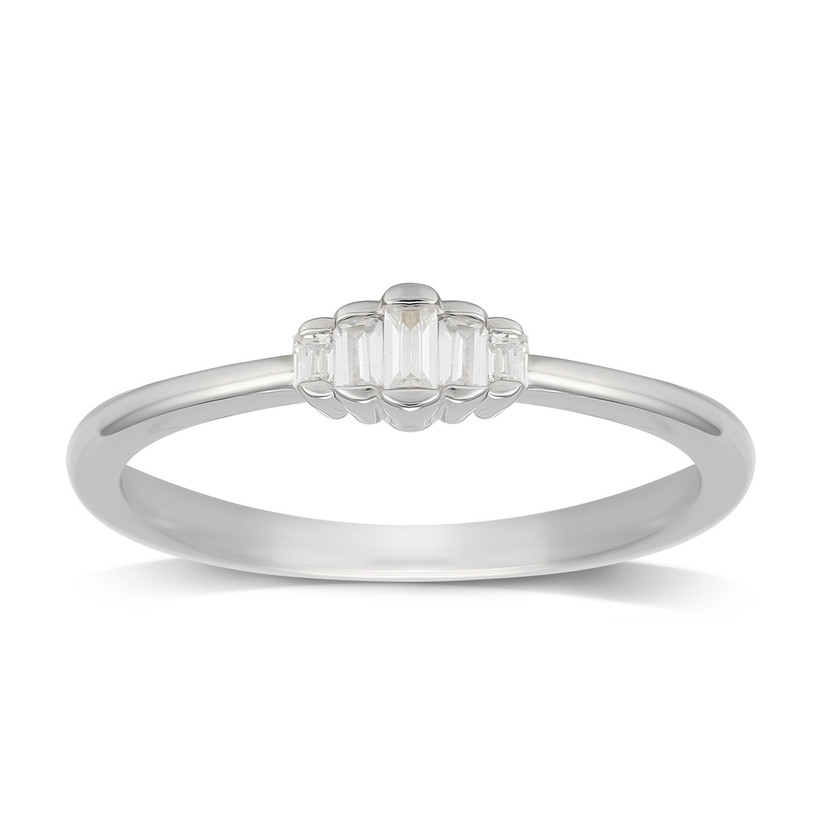 Yes you really can get an engagement ring designed by renowned wedding dress designer Jenny Packham for less than £500! This dainty design features a collection of baguette cut diamonds and we love the nod to 1920s jewellery style.
12. Oval Morganite Engagement Ring – £331.98, Brilliant Forever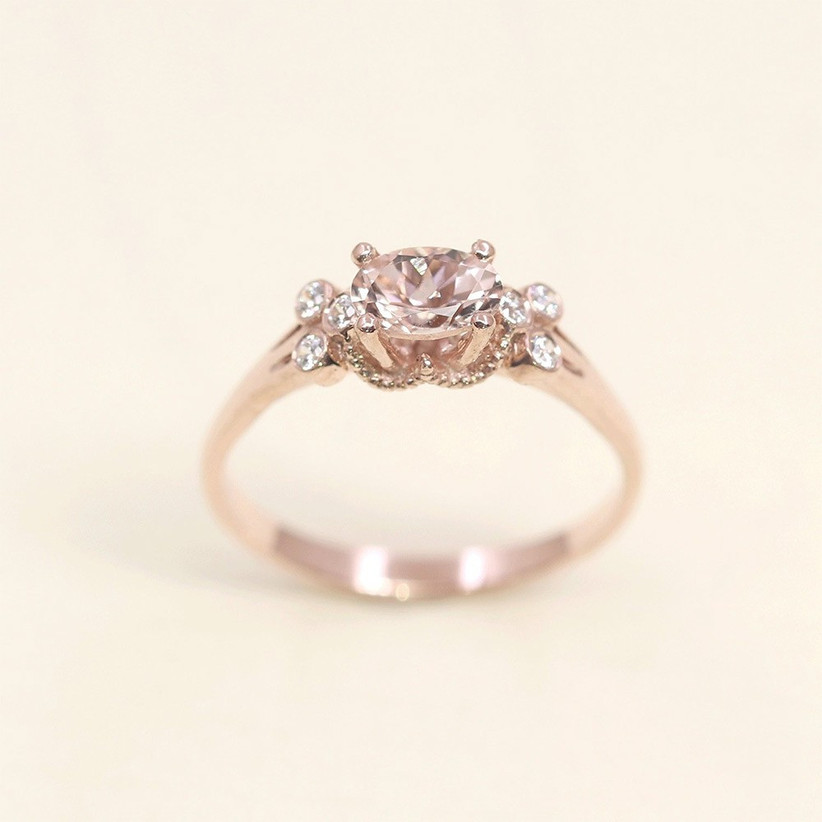 Morganite is beautiful alternative to a traditional diamond and it has a lovely peachy tone that gives a subtle glow. This morganite ring from Brilliant Forever has an oval centre stone that is flanked by six tiny solitaire diamonds.
13. I'd Be Lost Without You Solid Gold Ring – £421, Chupi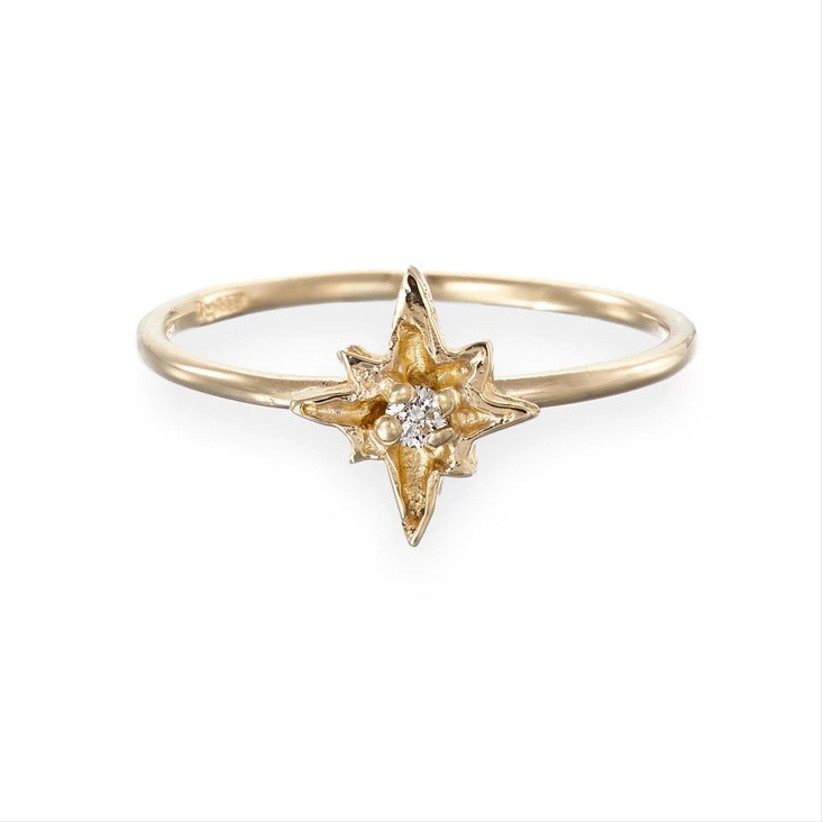 The sentiment behind this solid gold and diamond 'I'd be lost without you' engagement ring is so meaningful – the design is inspired by the North Star and is there to be your guiding light through life.
14. Moissanite Engagement Ring – £262.55, Shy Gems Studio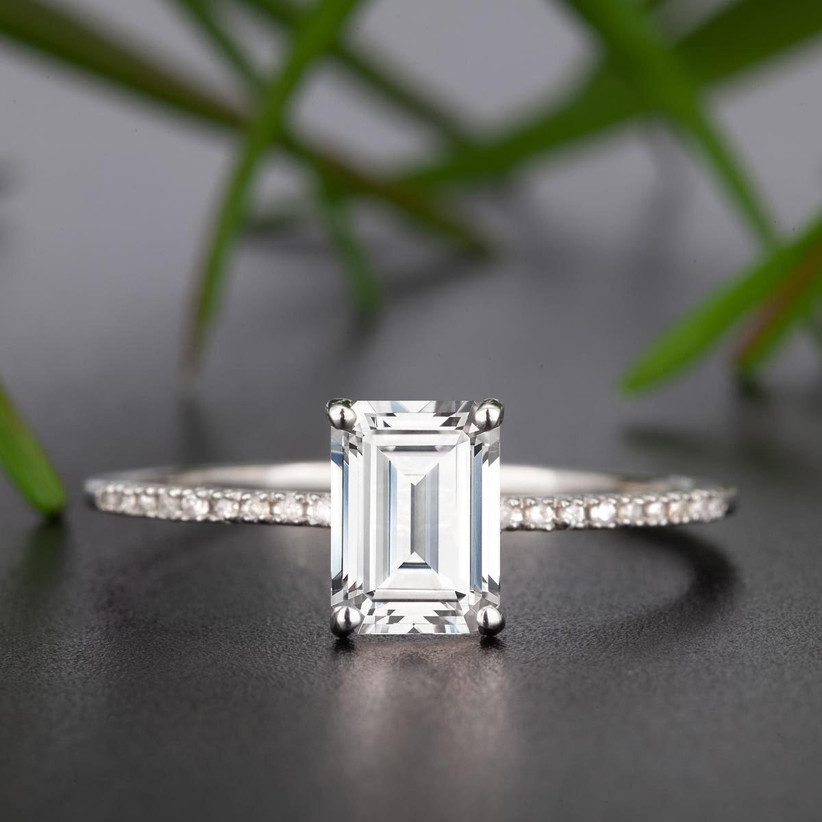 If you think your other half would love an engagement ring that is timeless and elegant, then this emerald cut moissanite set onto a sparkling eternity band is perfect for the sophisticated lady in your life.
15. White Gold, Diamond and Opal Engagement Ring – £450, Ernest Jones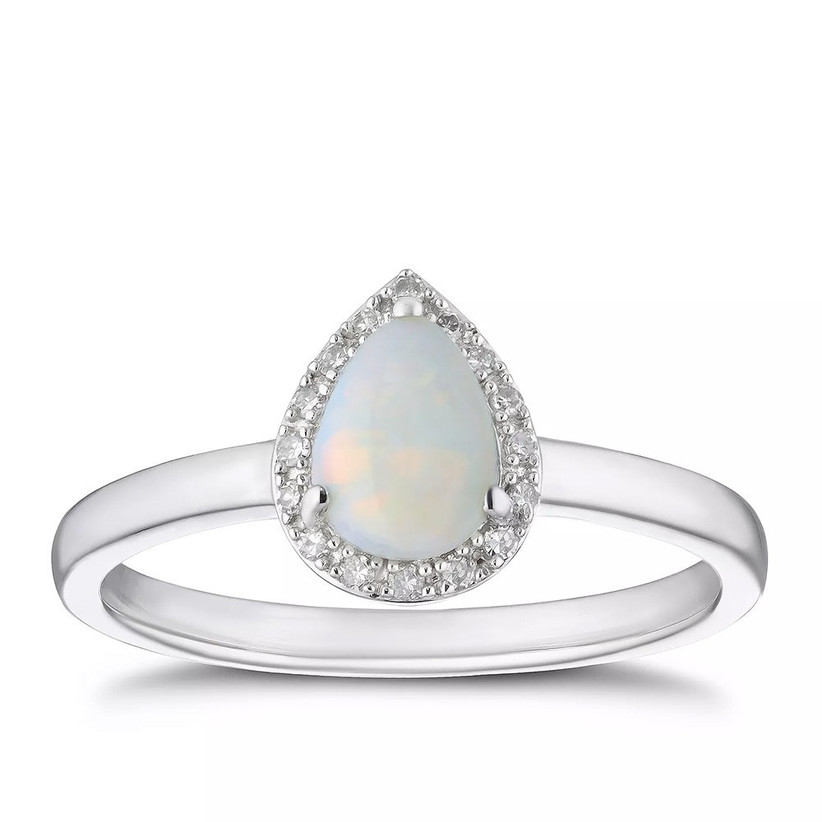 Opals – with their milky white pearlescent appearance – are the perfect unusual choice for an engagement ring. In this Ernest Jones engagement ring, a pear shaped opal is surrounded by a halo of diamonds and sits on a 9ct white gold band (plus it's a very affordable £450!).
16. Diamond Heidi Storybook Engagement Ring – £445, Alison Moore Designs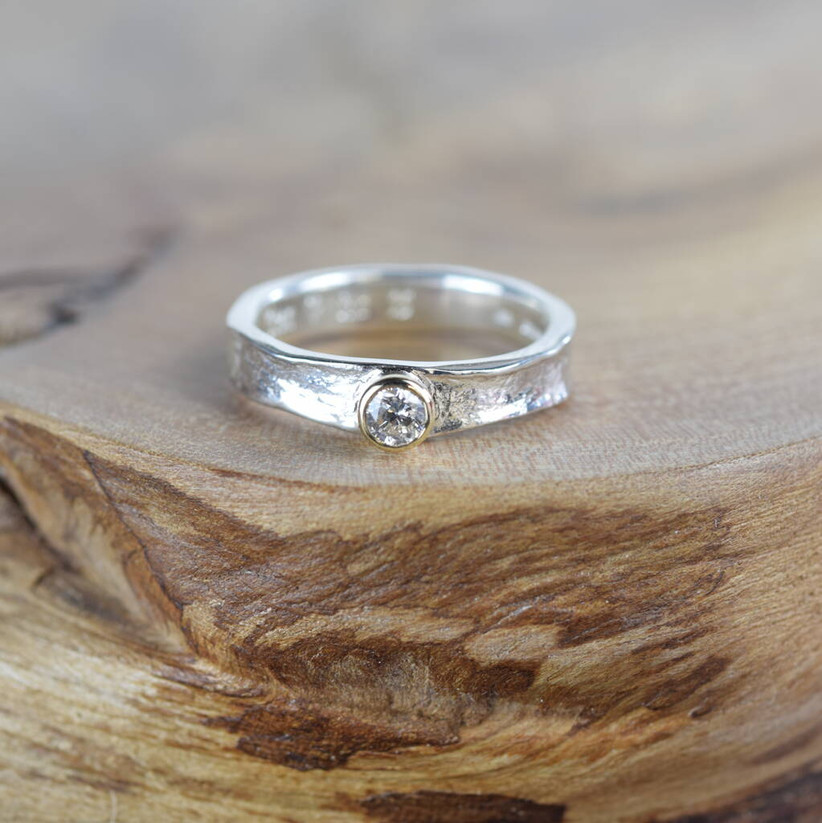 Practical but still incredibly pretty, this Alison Moore Designs engagement ring uses a solid gold setting on a contrasting silver band. Everything is handmade in Alison's workshop in Orkney, which means each ring is one of a kind.
17. Gold and Emerald Engagement Ring – £490, Kirsty Taylor Goldsmiths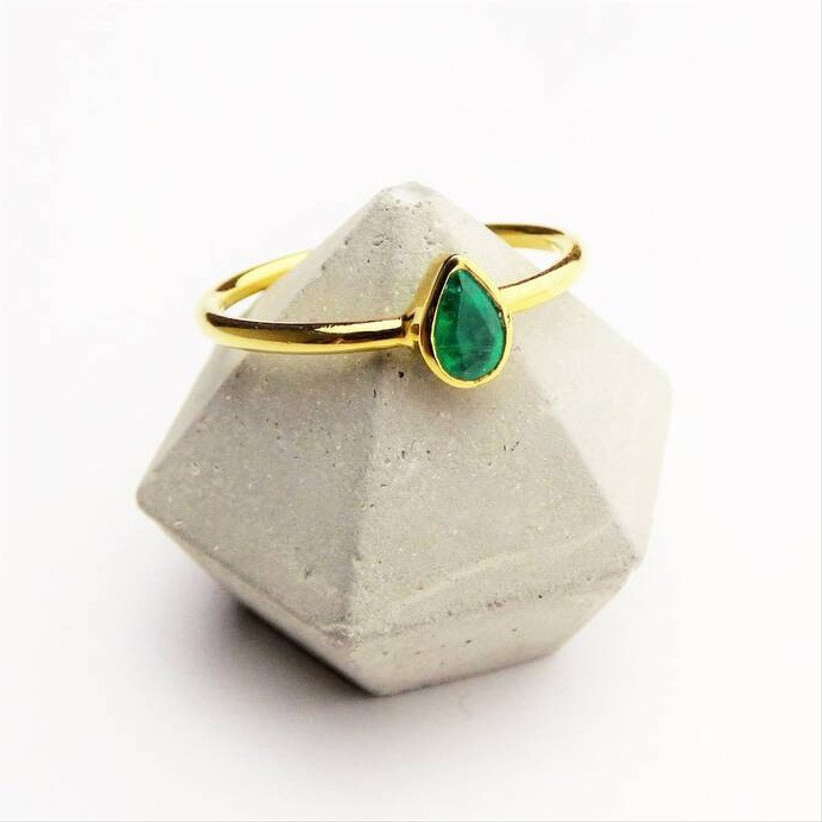 Speaking of pear-shaped stones, take a look at the pear-shaped emerald encased in a yellow gold setting in this stunning design from Kirsty Taylor Goldsmiths. This ring is eye-catching without being overly showy, which is ideal if they're not into particularly fussy jewellery.
18. White Gold and Diamond Illusion Set Solitaire Ring – £499, Ernest Jones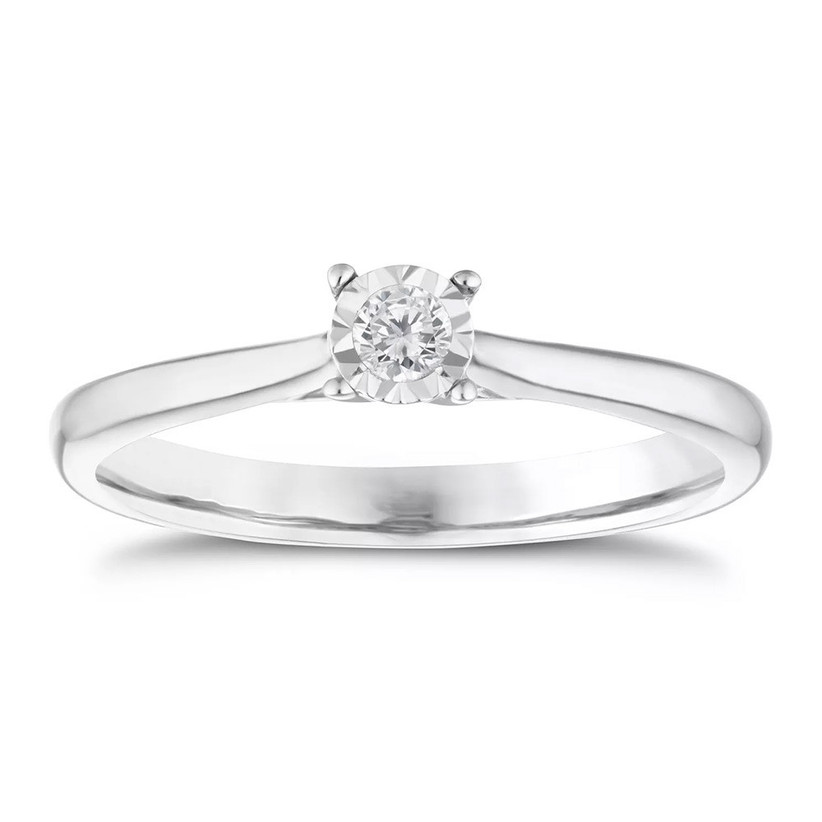 For a simple and elegant engagement ring under £500, this design from Ernest Jones could be exactly what you're searching for. A dainty 9ct white gold band leads to a single solitaire diamond in a delicately designed four claw setting that really helps the diamond sparkle in the light.
19. Rose Gold and White Sapphire Engagement Ring – £350, Ring Only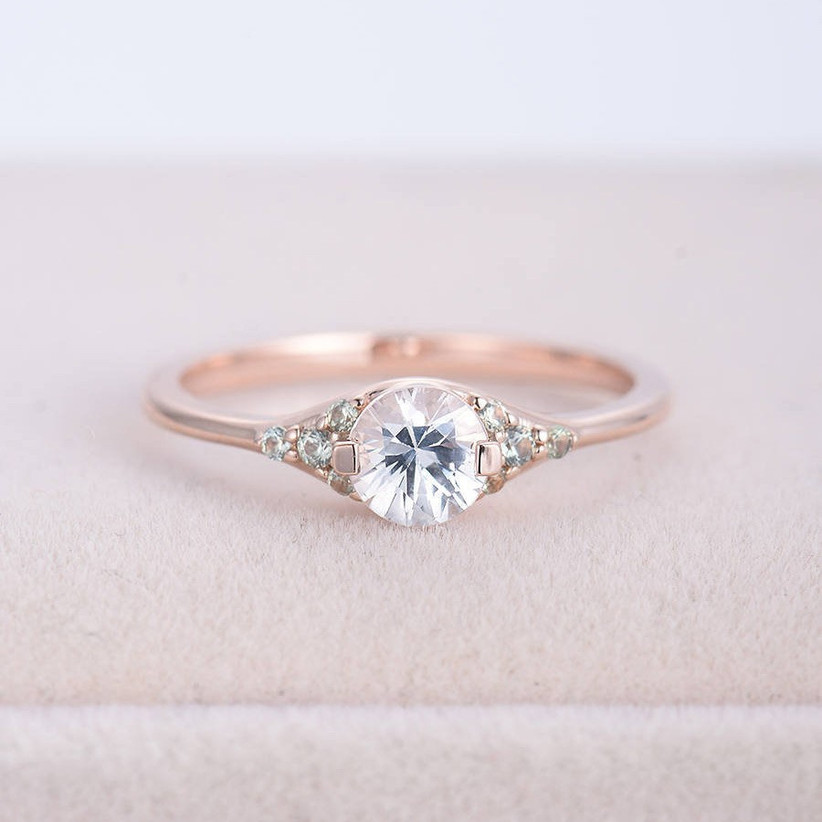 Here's a nifty insider tip: swapping a central diamond for a white sapphire will give you a similar look but with a much more affordable price tag. This rose gold and white sapphire engagement ring from Ring Only exemplifies just how gorgeous this money-saving hack can look.
20. Mizuki Gold Baby Tiara 14-Karat Gold Diamond Ring – £440, Net-A-Porter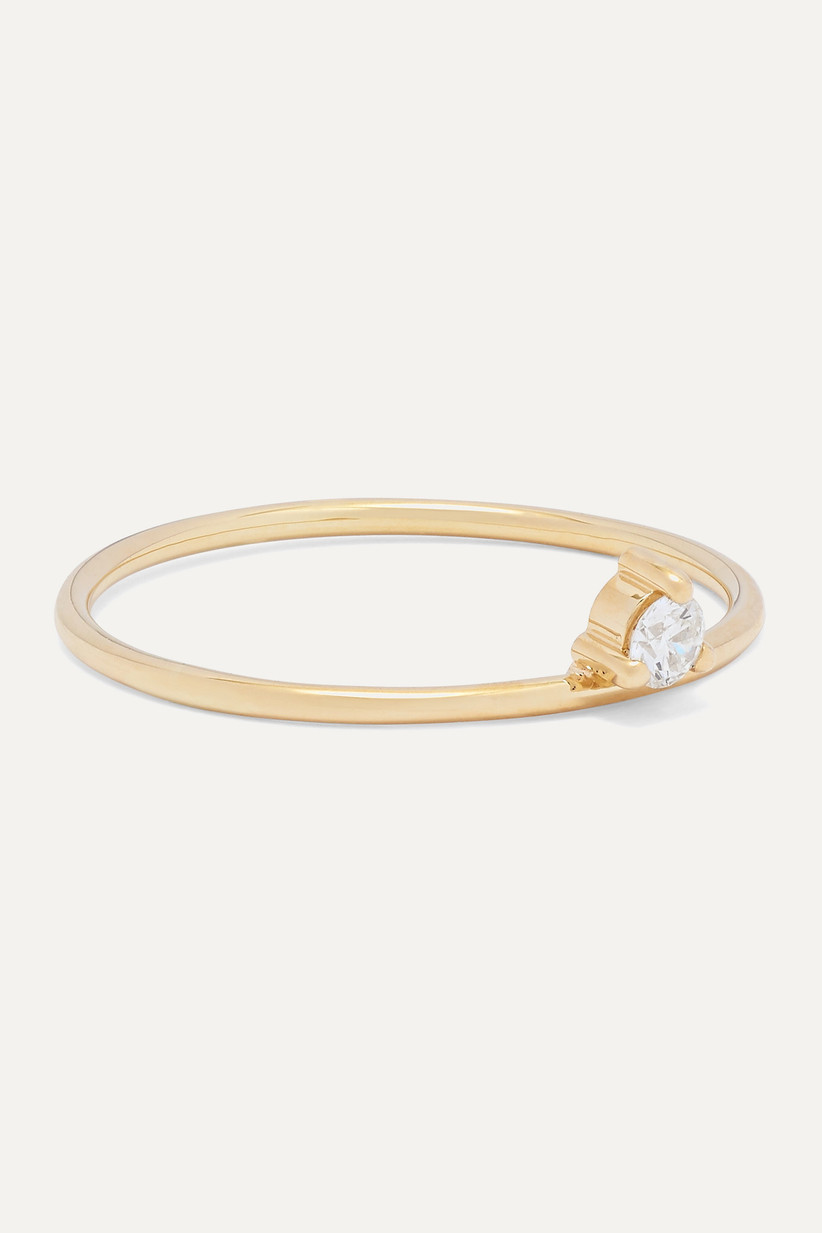 Is this a traditional engagement ring? No. Do we think it's worth considering anyway? Absolutely! The way the glistening diamond sits above the gold band is such a fun, inspired update – this is the ultimate cool, contemporary piece for fashion-forward couples.
READ MORE: Alternative Engagement Rings for Untraditional Couples
Cheap Engagement Rings Under £1,000
If your engagement ring budget is roughly £1,000 then a traditional diamond engagement ring is certainly within your budget. Alternatively, stones such as sapphires, rubies and morganite with diamond accents would also be a gorgeous option.
21. Vintage-Style Moissanite Engagement Ring – £507.54, Amanda Fine Jewellery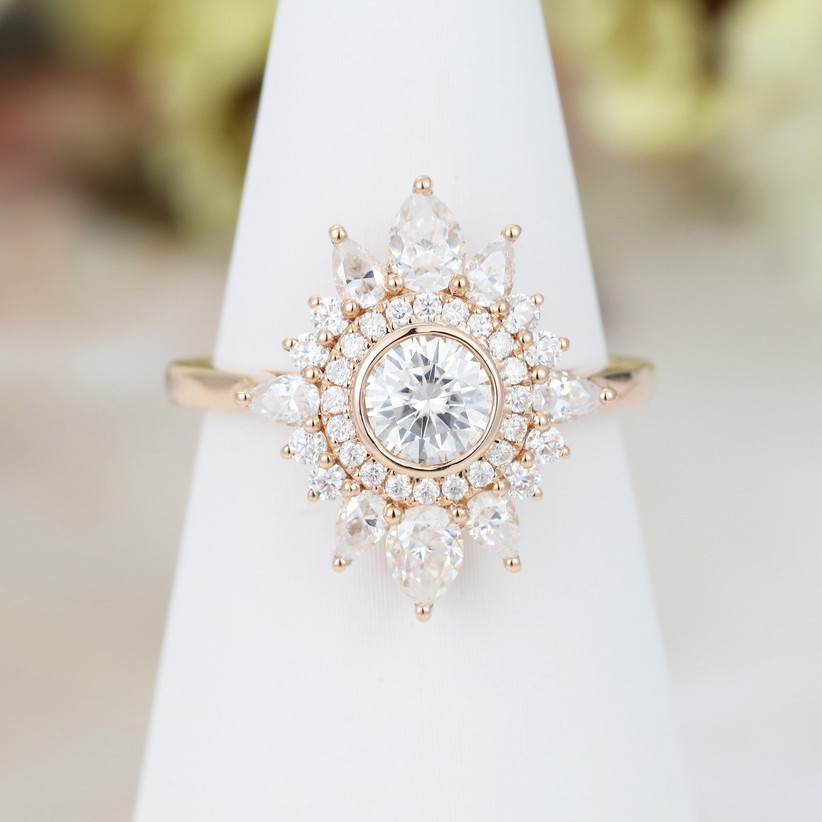 You can instantly see the vintage inspiration behind this striking moissanite engagement ring. The cluster halo design is so unique – we'd rank this very high on the wow factor stakes.
22. Astley Clarke White Gold Medium Icon Nova Diamond Ring – £595, Liberty London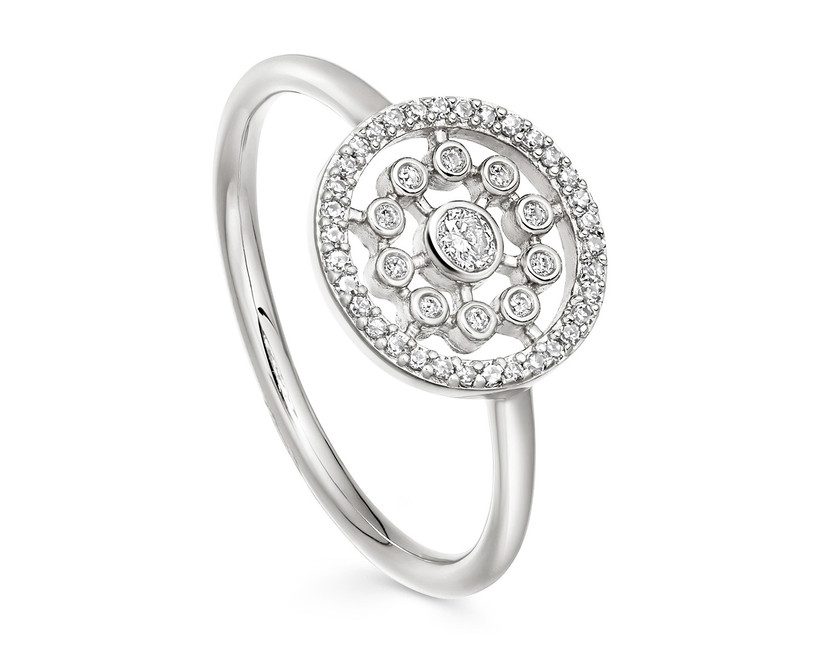 If funds don't stretch to a large diamond then the same weight of diamonds cut into small sizes will always be more affordable. The style of this diamond ring from Liberty London will give plenty of sparkle without blowing your budget.
23. Hera Ethical Diamond Engagement Ring – £990, Lebrusan Studio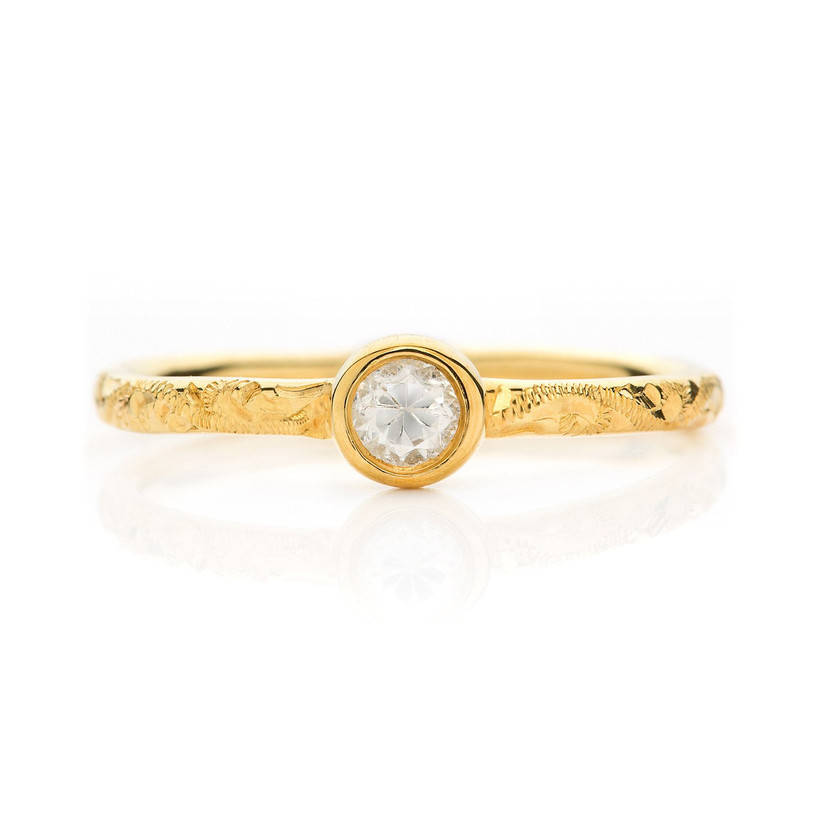 A round stone is a timeless pick, but we love the way this Lebrusan Studio ring elevates it with a band adorned with delicate scroll engraving. There's also a platinum version for the same price.
24. Round Solo Ring Fine – £975, Shimmell and Madden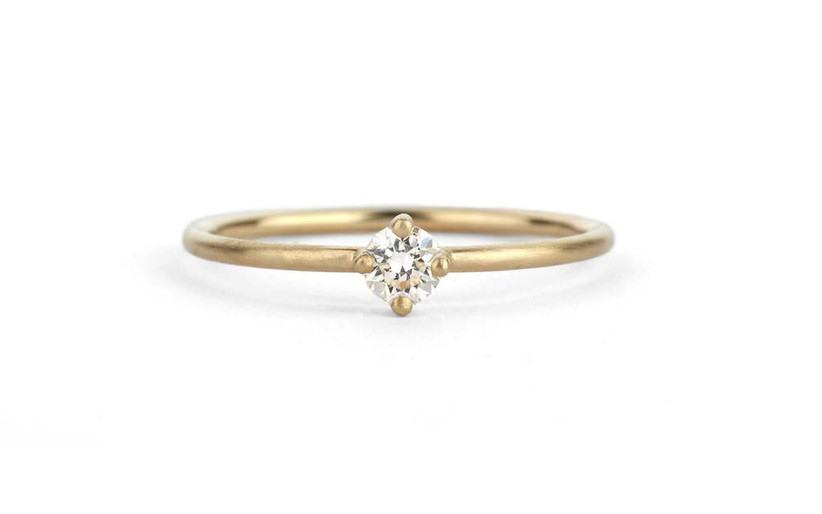 For something slimmer and more dainty, but still with a real diamond centre, Shimmell & Madden's 18ct gold engagement ring is an excellent choice. The setting is slightly raised so that it can be worn comfortably with your chosen wedding band slotted underneath.
25. 9ct Gold and Amethyst Guinevere Ring – £585, Alison Moore Designs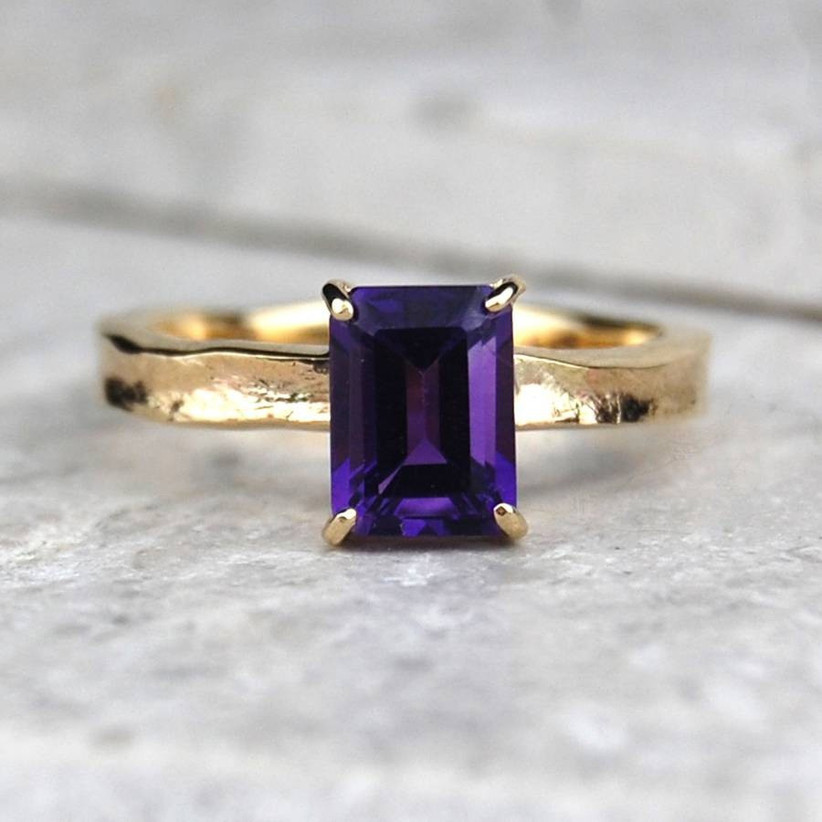 For an engagement ring that stands out from the crowd, this 9ct gold and amethyst Guinevere ring from Alison Moore Designs is a beautiful choice. An elegant emerald cut amethyst sits in a four claw setting on a textured 9ct gold band - a dream come true for anyone who definitely doesn't want a ring that looks like everyone else's.
26. White Gold and Sapphire Engagement Ring – £700, Caroline Brook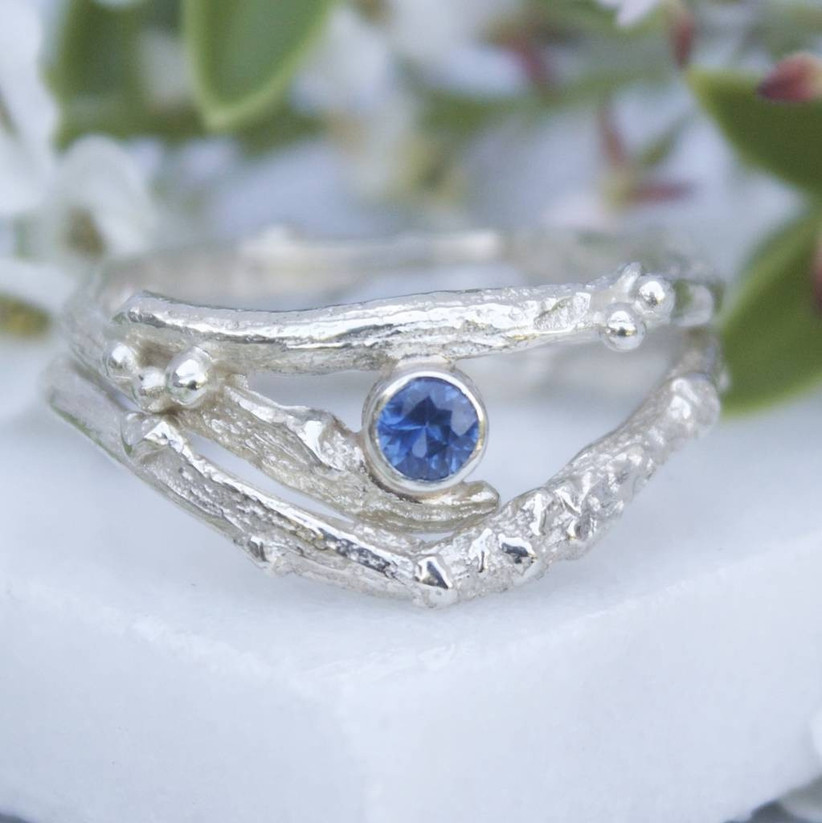 Need something even more outside of the (ring) box? Forgo the traditional polished band and solitaire diamond – this white gold rustic style ring is cast from a twig with a glistening blue sapphire as the centre stone.
27. Brilliant Cut Diamond Solitaire Ring – £550, Goldsmiths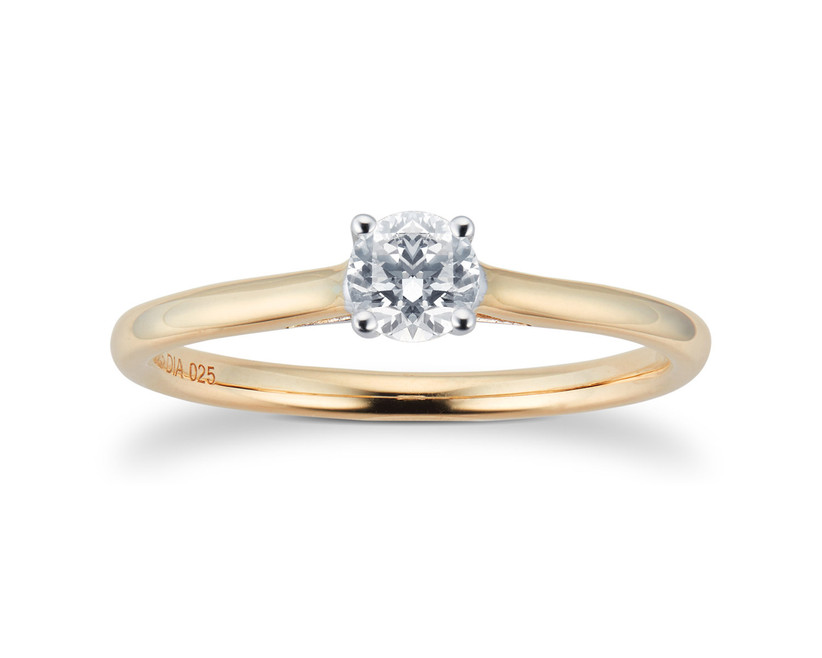 It's hard to believe this gorgeous traditional style engagement ring from Goldsmiths is just £550. A 2.5 carat solitaire diamond is held in a four claw setting on a polished 9ct gold band - it really ticks all of the 'great engagement ring' boxes.
28. Uncut Grey Diamond Engagement Ring – £890, Caroline Brook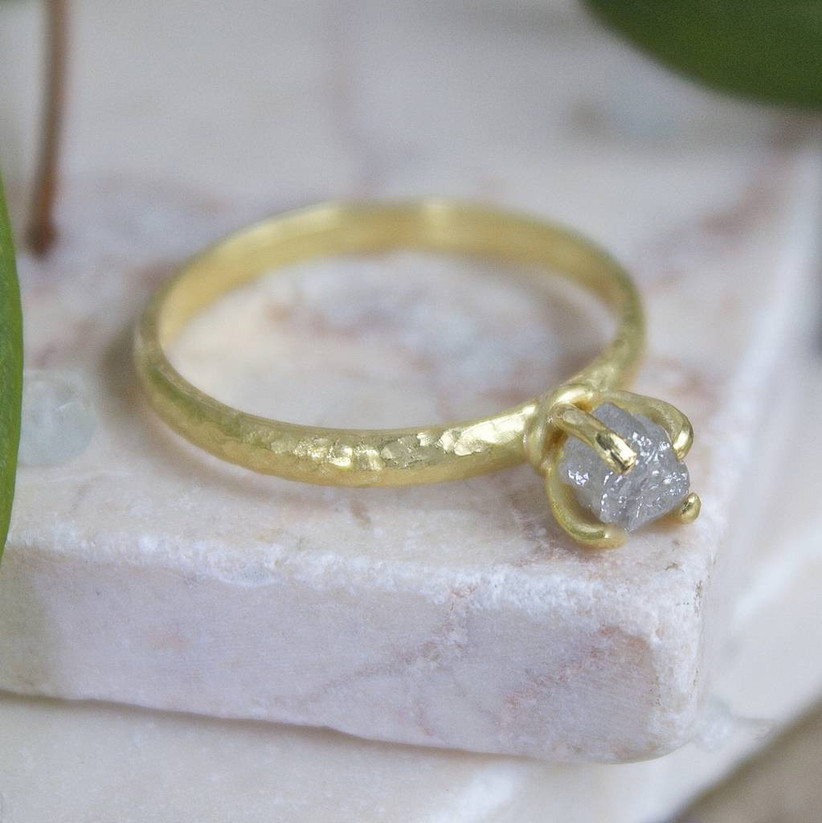 The translucent charm of grey diamonds is really starting to grow in popularity and it's easy to see why when you look at this ring from Caroline Brook. A raw uncut grey diamond is encased with a four prong claw setting of 18ct white gold – the textures really play off each other for a magnificent finish.
29. Salt and Pepper Diamond Ring – £950, Alexis Dove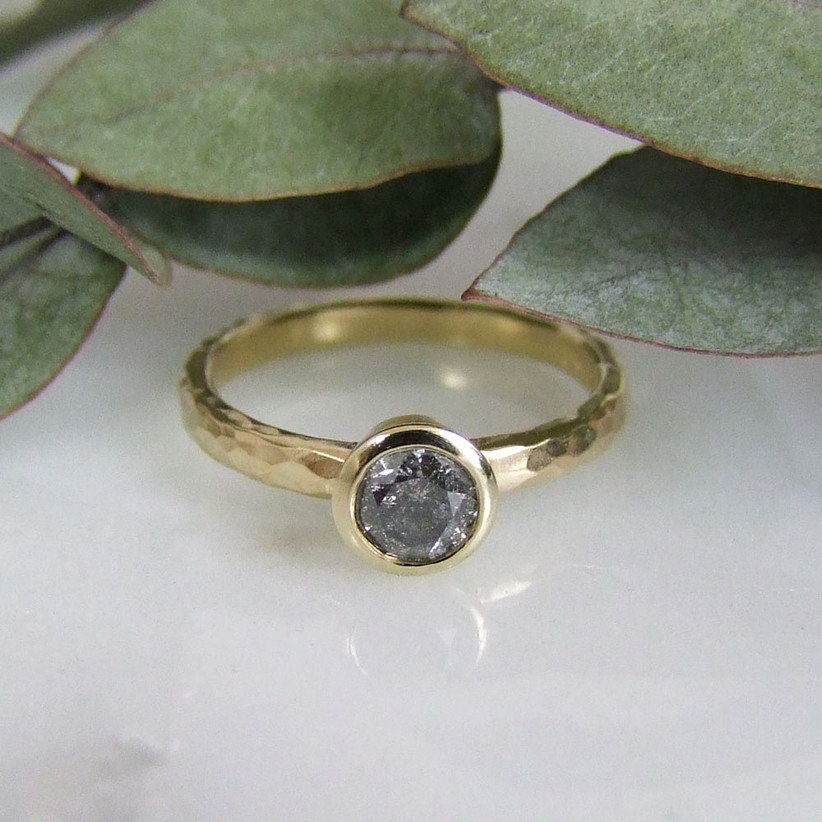 A stone doesn't have to be clear and sparkling to be jaw dropping - just look at this salt and pepper ring from designer Alexis Dove. It's also available in rose gold if you've got a quirkier metal in mind.
30. Elphin Pear Diamond Engagement Ring 18k White Gold Solitaire – £765.66, Angelic Diamonds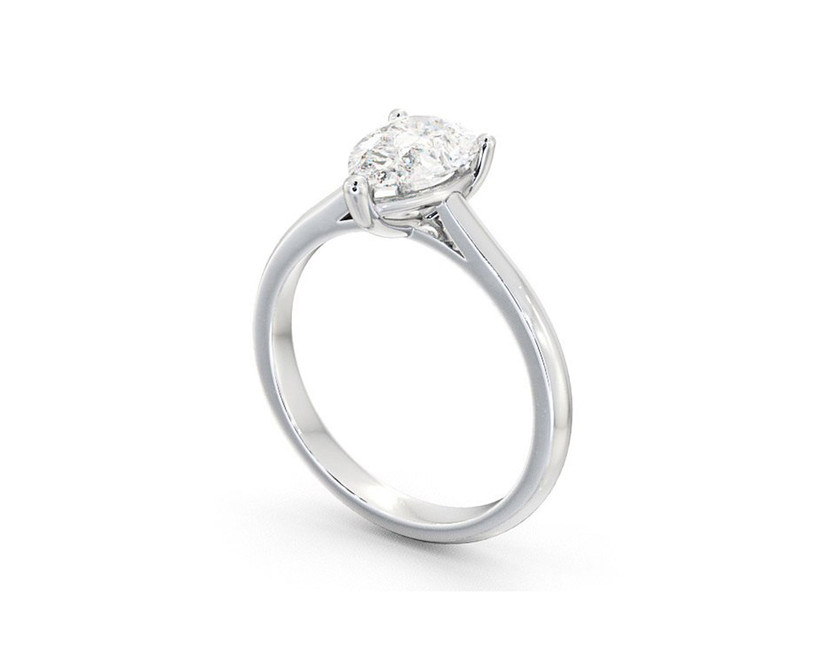 There are literally hundreds of diamond engagement rings under £1,000 on the Angelic Diamonds website, and because the process is custom, you control how much or how little you spend on the finished product. We're particularly smitten with the pear-shaped Elphin ring.
31. Mars Ring – £950, Laura Lee Jewellery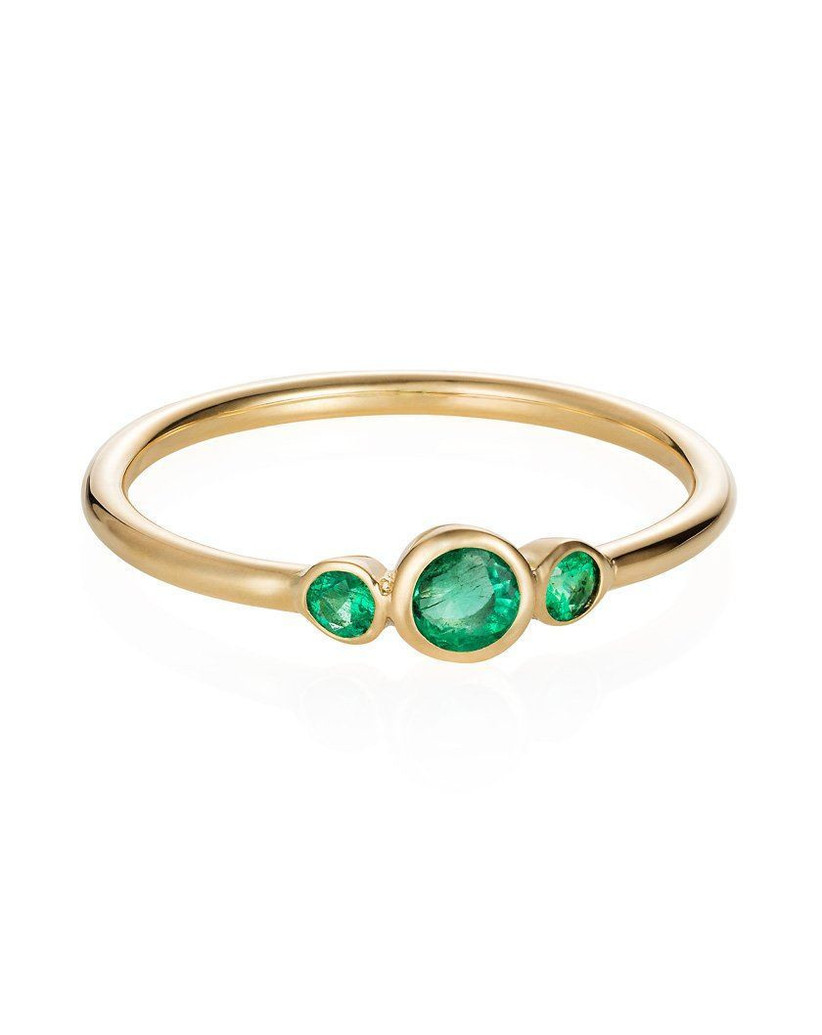 Three precious stones for under £1,000? It can be done, thanks to Laura Lee Jewellery's gorgeous 18ct gold Mars Ring. Emeralds make an especially thoughtful engagement ring for anyone born in May, as it's also their birthstone.
32. Nature Inspired Engagement Ring – from £823, Aardvark Jewellery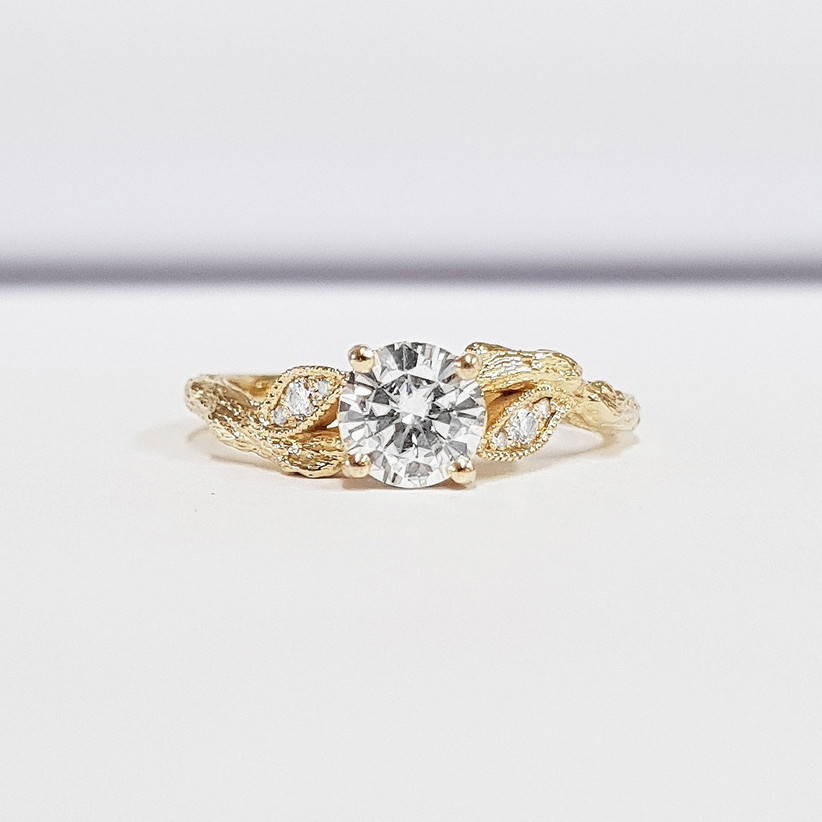 This rustic-style engagement ring features moissanite stones set into a rough finished gold band with intertwining leaves and twigs. Choose from a yellow gold, white gold, rose gold or platinum band – everything except 18ct gold and platinum comes under the £1k mark.
33. Emerald and Diamond Ring – from £978, Aardvark Jewellery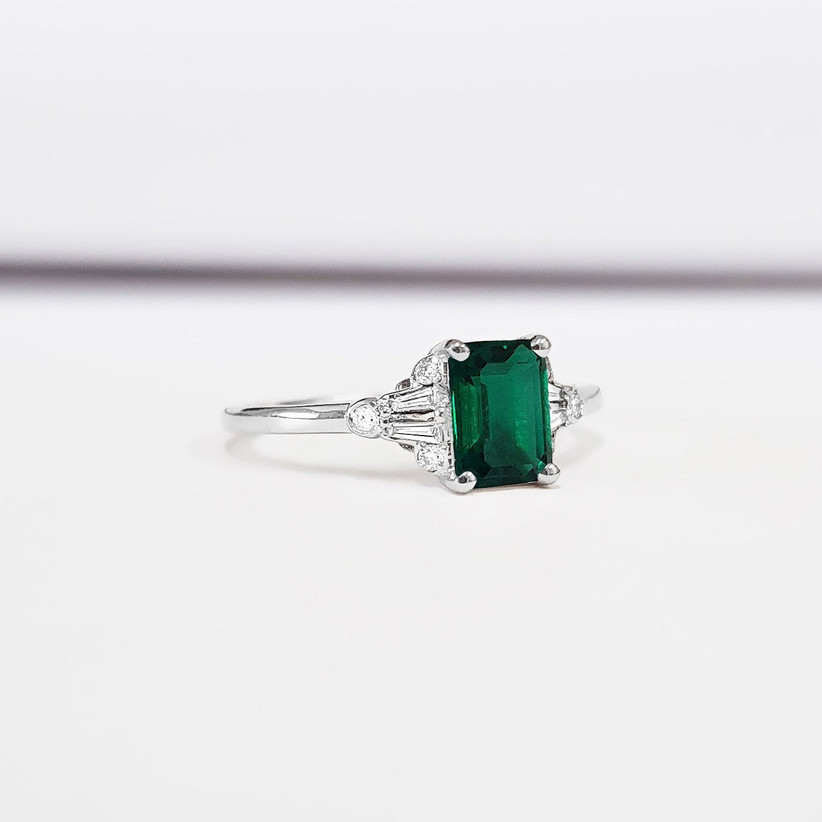 Just squeaking in under budget – add some 1920s glam with this emerald and diamond engagement ring. A lab-grown emerald sits in the centre with tapered baguette diamonds and six dainty solitaire diamonds surrounding the stone.
34. 18ct Gold Accent Blue Diamond Ring, £900, Lilia Nash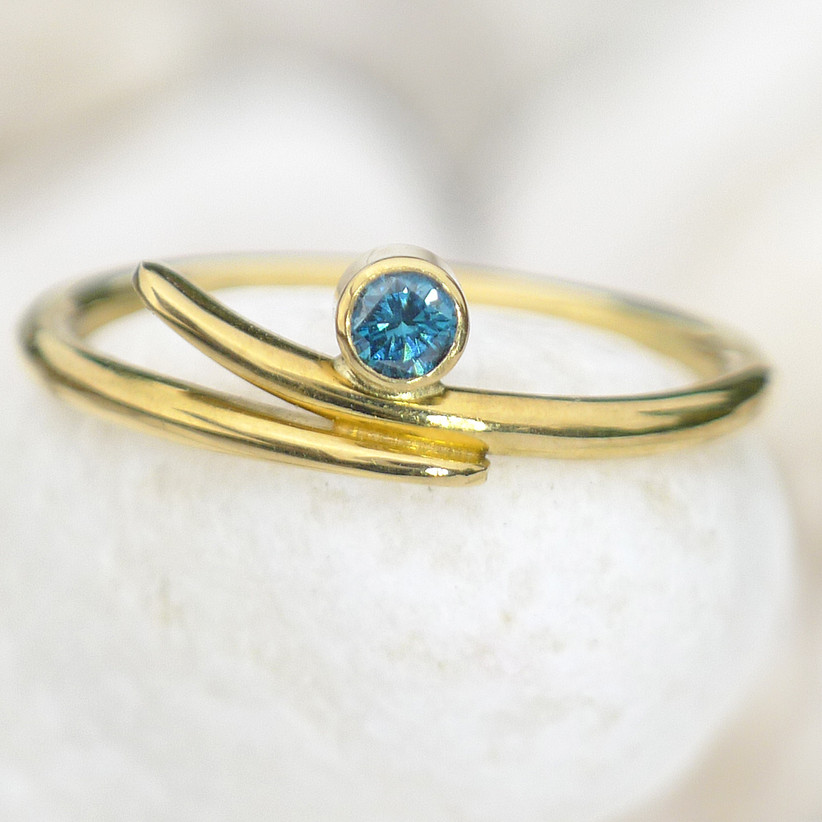 The vibrancy of the unusual blue diamond in this dainty Lilia Nash ring is unrivalled for the price tag. The band is made from recycled gold, which means less damage to the environment in the manufacturing process.
35. Green Amethyst Forest Jewel Ring – £780, Alex Monroe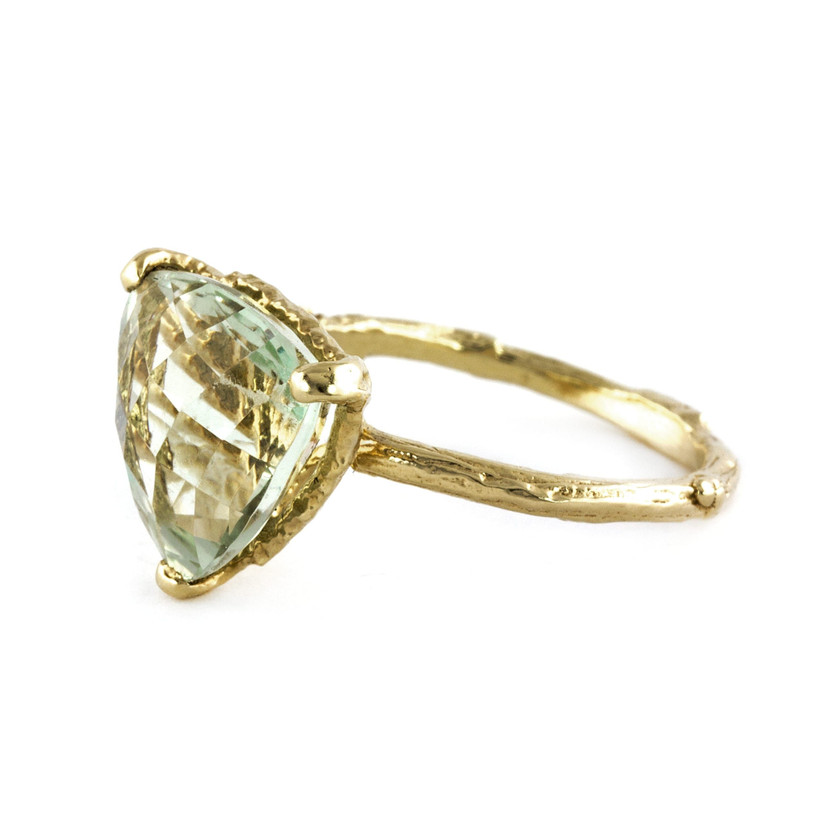 You've probably come across plenty of purple amethysts on your search, but how about a green one? This trillion cut stone slots seamlessly into the twig textured band – the ultimate ring for nature lovers who want something distinctive and individual to celebrate their engagement.
36. Delicacy Solitaire Engagement Ring – £665, 77 Diamonds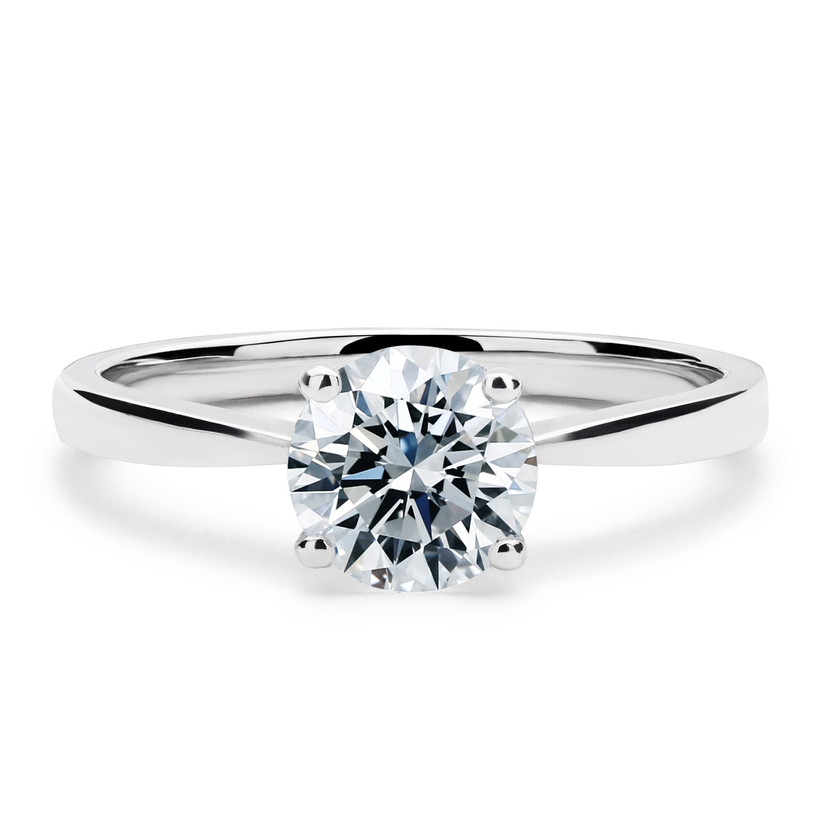 Brides who like to keep things simple will absolutely love this delicate design by 77 Diamonds. The stone is showcased with grace and subtlety, with its size and brilliance enhanced by a tapered band.
READ MORE: Cushion Cut Engagement Rings – Our Top Picks
37. Ava Fine Ring in Platinum – £910, Ruberg Jewellery
Ruberg's jewellery prices can range up into the tens of thousands, but scour the website thoroughly and you'll find a smaller selection of more affordable options too. There's nothing we don't love about the Ava – the slim, symmetrical design make it a crowdpleaser you can't go wrong with.
38. White Gold and Diamond Halo Engagement Ring – £799, Ernest Jones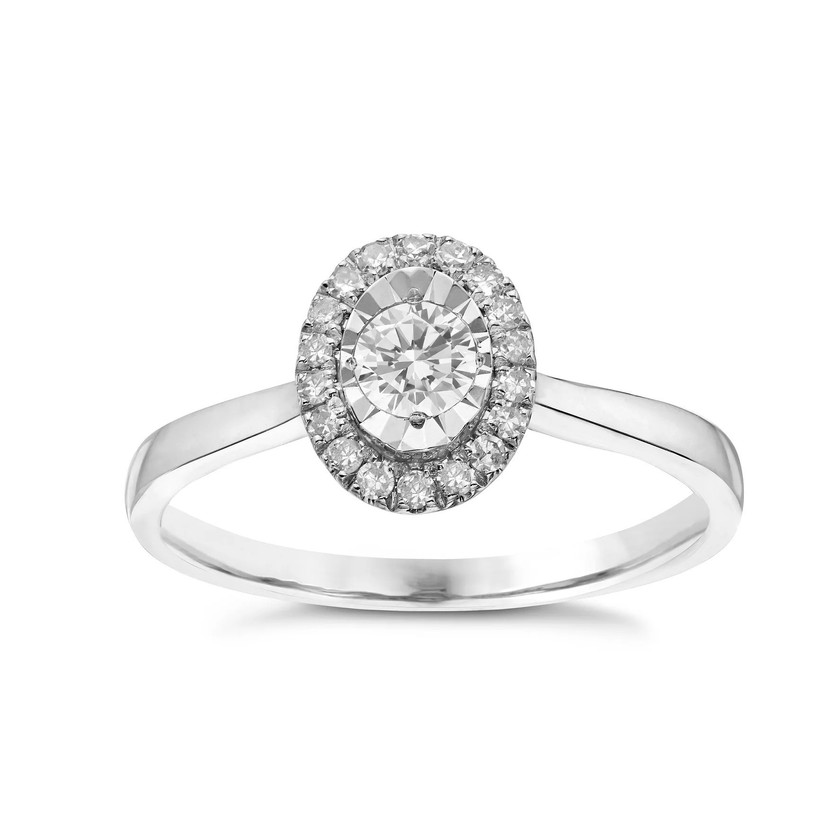 If you're buying an engagement ring on a budget but you still want some serious bling then an illusion setting or halo setting are the most cost efficient ways to make the ring appear bigger. This white gold and diamond engagement ring from Ernest Jones features an illusion setting around the centre stone and a halo of diamonds – they'll be so excited to slip this beauty onto their finger.
READ MORE: Halo Engagement Rings – Our Favourite Dazzling Designs
If you are still looking for your dream engagement ring then take a look at our ultimate guide to buying an engagement ring.